Here we share our types of driveway pavers design guide including concrete, grass, permeable edge, interlocking, cobblestone, rubber, travertine, and which is the best paver to use.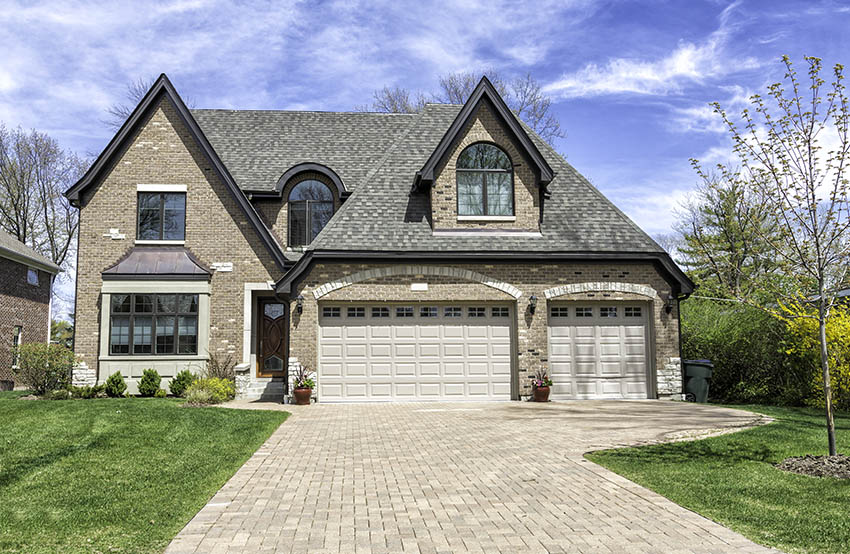 Pavers are a very popular building material for good reason. They are frequently used for a variety of purposes such as backyard patios, walkways, pool decks and of course driveways.
Driveway pavers can make a luxurious first impression when approaching the home. Not only do pavers increase the resale value of the home, but they also provide long lasting durability and excellent curb appeal.
Concrete Driveway Pavers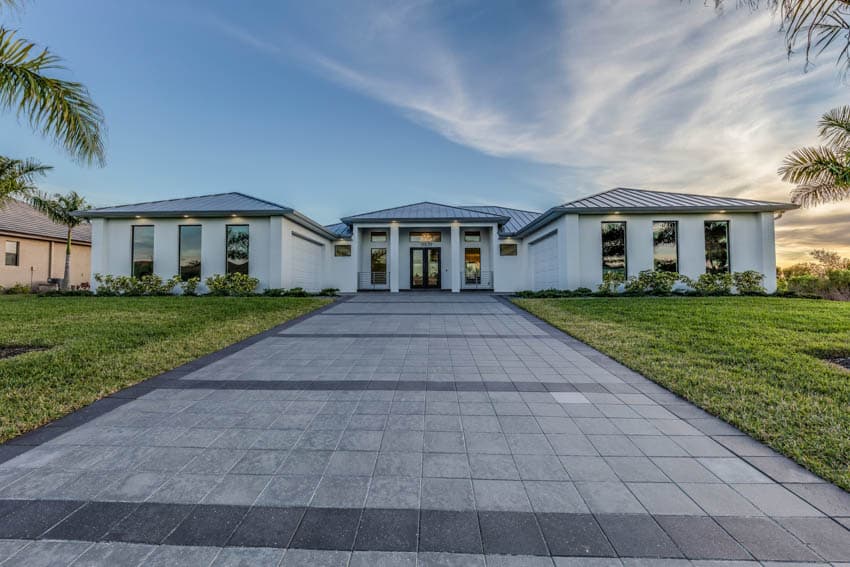 Concrete driveway pavers are made up of a mix of sand, cement, gravel, and (although optional) pigments. They're manufactured in a brick-like manner.
This mixture of concrete is usually poured into molds, compressed, and then set out to cure. Concrete driveway pavers are always professionally made and installed and although they can be a little pricey, they do come with a lifetime warranty.
Another huge advantage when it comes to opting for concrete driveway pavers is that they can withstand a lot of weight. A typical poured concrete driveway can withstand up to 3,000 pounds of pressure per square inch.
This option can withstand up to as much as 8,000 pounds of pressure per square inch. Read more about our guide on the different concrete driveway finishes here.
Grass Driveway Pavers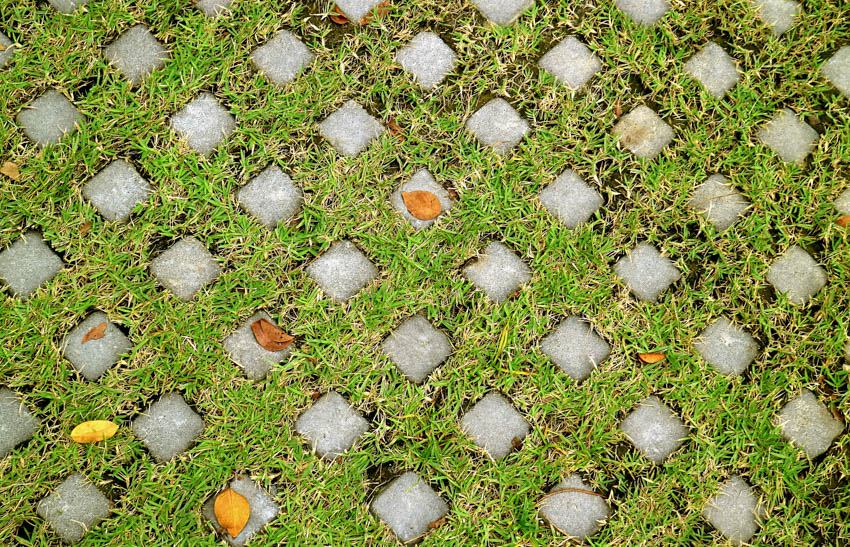 Grass driveway pavers are a great option to go for if you're looking for something greener or something that melds with the rest of your landscaped area in the exteriors of the home. They're one of the most environmentally friendly options out there.
Among the types of driveway pavers, this type can also be quite efficient as they often allow rainwater to drain back into the ground instead of running off into any other drainage system. Flooding is so much more controlled or even averted. Grass driveway pavers can also be pretty easy to install.
As a matter of fact, if you have the right materials, you can even opt to go ahead and do it yourself. It definitely has the advantage of ease of installation compared to the typical poured concrete driveway.
Also, should you want some flexibility with the design and aesthetics, they can be something that you can easily change up while at the same time, require very low maintenance to keep it in its best shape.
Permeable Driveway Pavers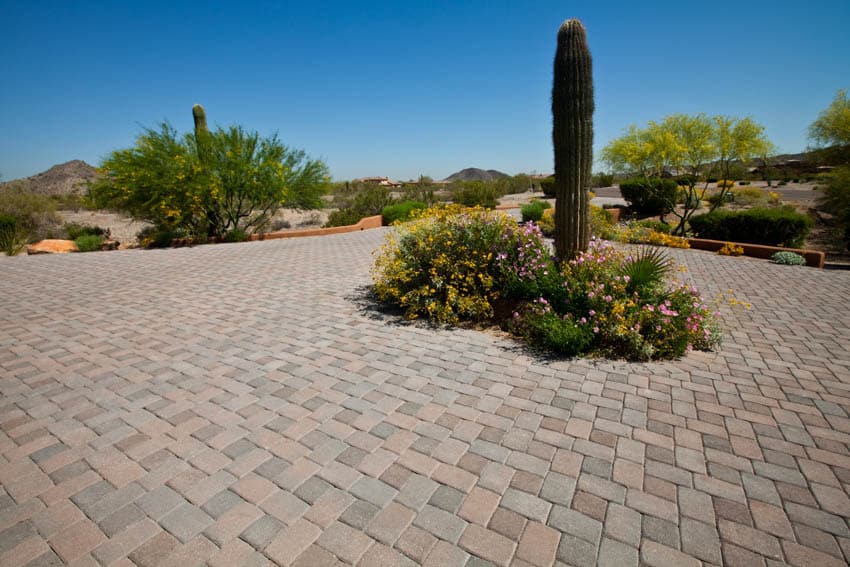 Permeable driveway pavers are porous urban surfaces. This means that they can catch rainwater and other types of surface runoff and stores it into its reservoir while at the same time, giving it enough time to slowly get absorbed by the soil below.
In cold weather, permeable driveway pavers require less salt in order to get it de-iced during the winter season. It needs only about 25% of the typical salt volume requirement compared to asphalt or concrete driveways.
They can also be a great way to help out with the ecology of your garden at home. If you have large shrubs or trees surrounding your driveway, opting for permeable driveway pavers would mean that they are given enough root space so that they can grow unimpeded.
Standard construction materials often stifle the root growth of nearby greenery and this is why this is a great option to go for if you want to keep the surrounding area in your driveway lush. Read more about our guide on the different ideas for modern driveways here.
Driveway Edge Pavers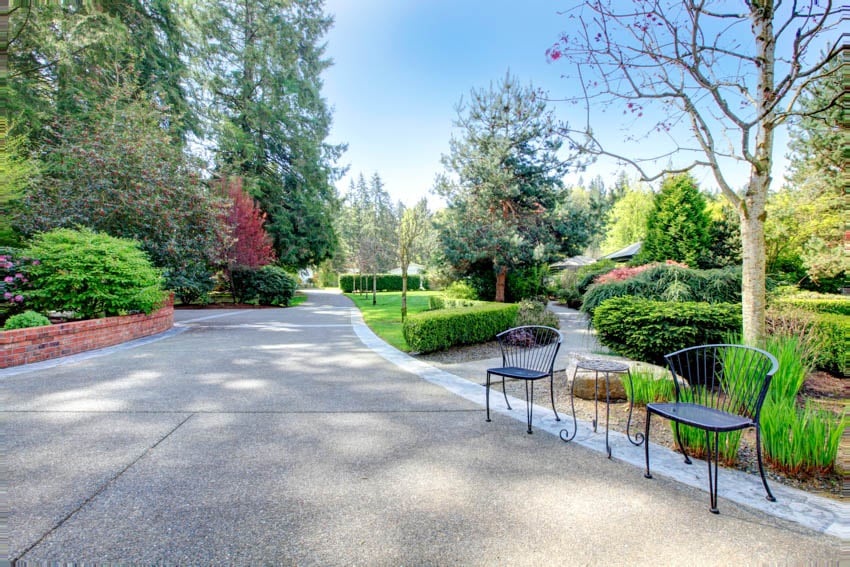 One downside to most driveways is that the edges tend to get mulched or crumble away over time. The simple solution to such a problem is driveway edging.
Driveway edge pavers basically border the driveway. They have been around for a while now even dating back to colonial times.
The reason why they're still around today is that they're easy, aesthetic, and quite efficient when it comes to protecting your driveway.
By extension, these pavers can also protect your lawn. Because it creates a visual barrier between the driveway and the lawn, people are less prone to walk over your grass and cars are less likely to drive over it as well.
This is also a great way to keep maintenance at bay. If you have driveway edge pavers installed, you wouldn't have to constantly shovel the borders to keep them maintained.
It's a small price to pay for you to get some extra time by not having to work on maintaining it and can be quite priceless for your peace of mind as well.
Interlocking Driveway Pavers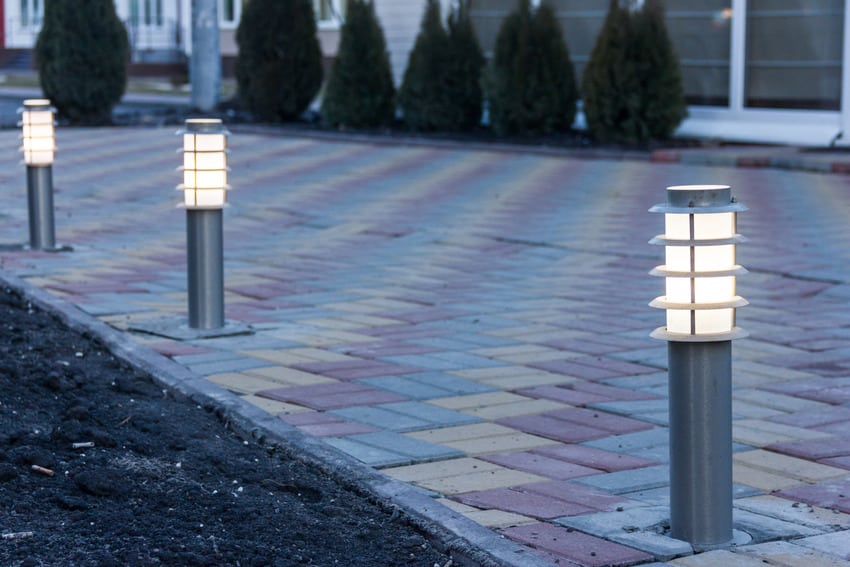 Interlocking driveway pavers are made out of hardscape material that is often prized by contractors and builders all across the board. They're extremely adaptable to any design plan so whatever the design of your home may be, you can easily find one that will complement it with this kind of option around.
It comes with a much higher price tag in its initial installation compared to asphalt or concrete but you get to make up for it as the years go by because its maintenance is minimal.
It is considered as one of the strongest driveway materials out there and it boasts a lifespan of about 20 to 30 years as opposed to the typical asphalt or concrete driveway which only lasts up to 10 years.
Cobblestone Driveway Pavers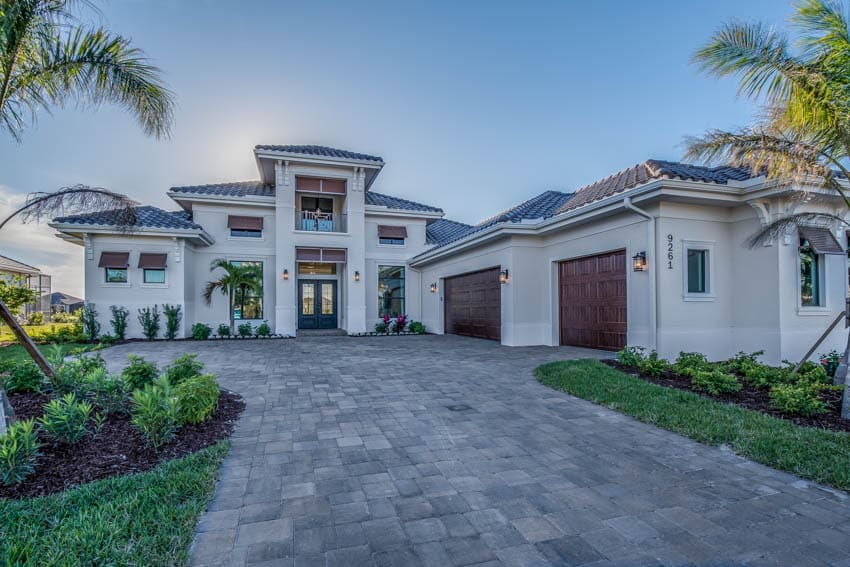 Cobblestone driveway pavers are extremely durable and strong. Not only can they withstand the continuous weight of vehicles over time, but they also are less likely to crack or damage because of harsh weather elements.
This is why cobblestone can be seen all over Europe and those usually date back to historical times. They still exist today because they're among the most durable types of driveway pavers.
Also, when sealed properly, cobblestone driveway pavers can be stain-resistant. Staining is usually a common problem in the driveway as there are constant oil spills, tire marks, and other leaks or discharges from vehicles.
In the event that stubborn stains do occur, they can easily be scrubbed off or you can easily replace a portion of the driveway that's affected with minimal cost and effort.
Rubber Pavers For Driveway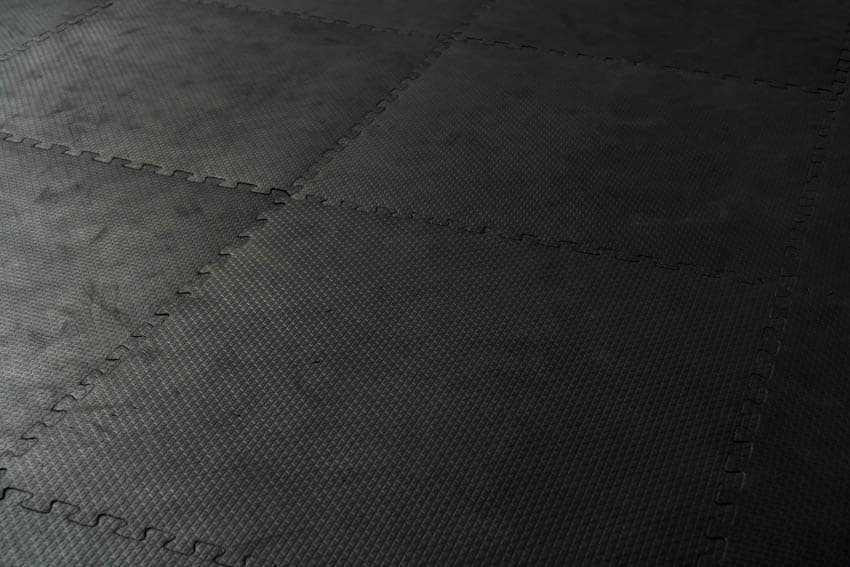 Rubber isn't one of the most common materials used for the driveway but it can be used for it. they can be quite environmentally friendly as they're usually made out of recycled tires.
On top of the fact that you're contributing to a global recycling effort, they can be quite aesthetic, too. They're comfortable to drive over and present a unique appearance to your driveway.
Rubber pavers are usually installed using the interlocking method, similar to the rest of the other driveway paver options. Their main advantage though is comfort.
Concrete can be harsh on the tires whereas rubber feels comfortable and firm without streaking them. They are also slip-resistant so they're ideal for locations that are prone to a lot of precipitation or snow.
Travertine Driveway Pavers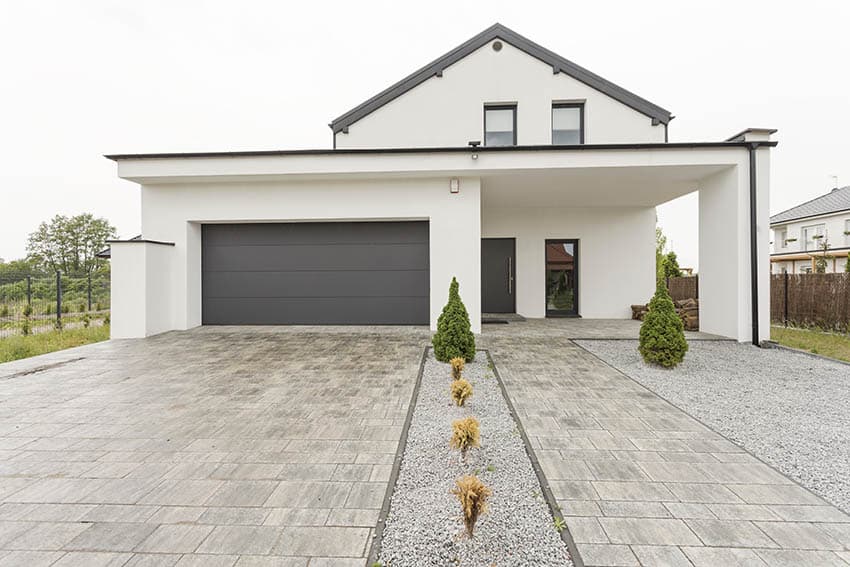 If you have a penchant for heavier vehicles, travertine driveway pavers may be a good choice to go with. They may not always be the conventional choice but they are the sensible one among most types of driveway pavers.
Travertine is categorized as limestone but is actually much harder and more solid than that. It has the ability to reflect heat back so this means that during the hot days, your pavers remain cooler compared to the rest of the surroundings.
Since they're textured, travertine also offers the added benefit of being slip-resistant, which is always good for any driveway. Read more about our guide on the pros and cons of travertine pavers here.
Best Pavers For Driveway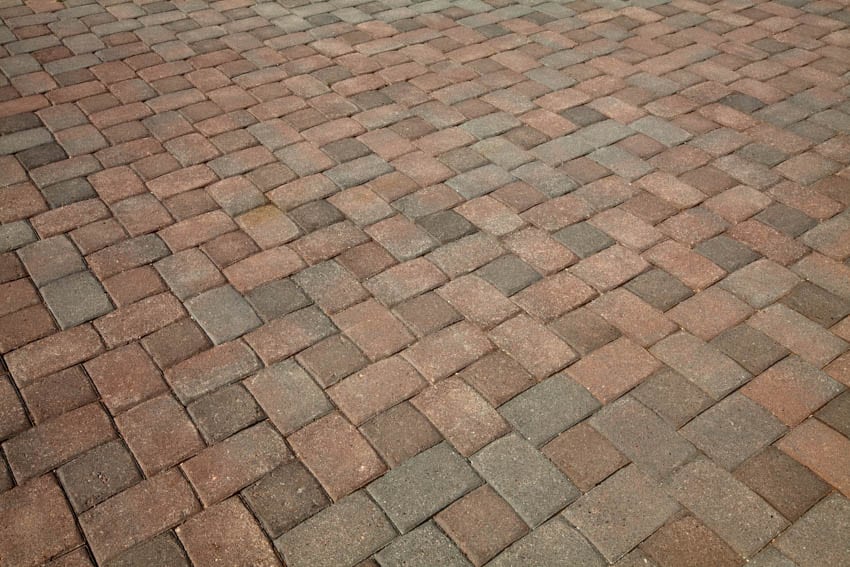 When deciding on what paver to choose for your driveway, there are a few things you need to consider. The first is what kind of look you're actually going for.
Once you've nailed the aesthetics down, the next thing to consider would be the issue of drainage as well as how well it would hold up against the climate in your location.
And of course, lastly, you need to consider issues such as eco-friendliness, cost, maintenance requirements, and durability. Local regulations and requirements should also be taken into account.
With all of these things considered, our vote would have to go to the permeable type. They're eco-friendly, quite easy to install and maintain, and can be quite aesthetic.
Are there any types of driveway pavers that we missed, please let us know in the comments. See more related content at our article about the different types of driveways on this page.