This gallery features the types of curtain rods, including the different styles, features, where they can be used, materials, hardware, and tips on how to choose a curtain rod design.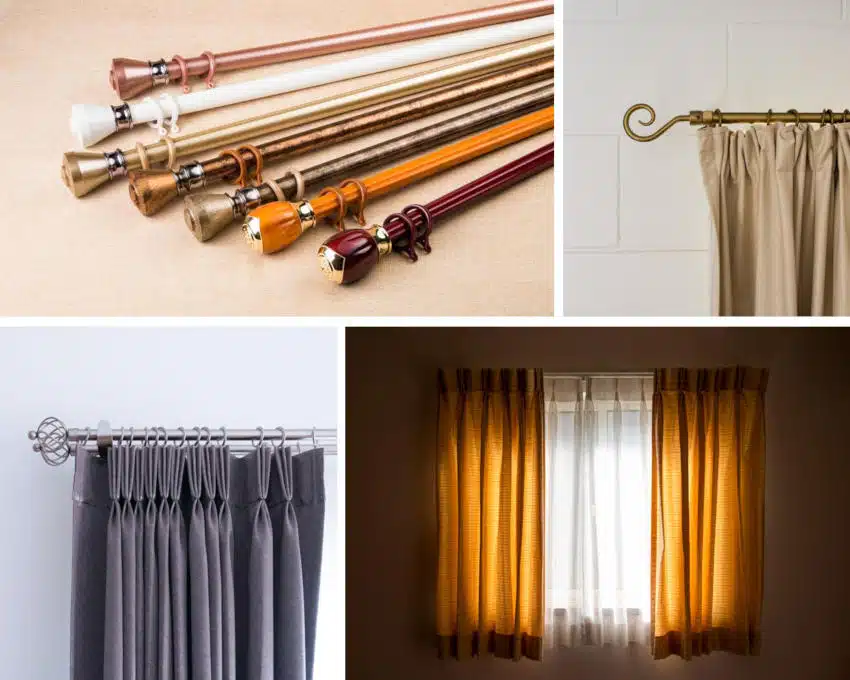 Curtain rods are fundamental components of any curtain and drapery arrangement. Rods come in a wide range of sizes and shapes. This comprises the traditional pole, loops, pockets, holders, rings, and various decorative forms.
Understanding which curtain rod to select is critical since it must complement the room's overall appearance. The appropriate curtain poles can significantly alter the window's appearance, whether you already have curtains or are planning to acquire some.
Drapery poles are often overlooked. Nonetheless, once you see the difference that a stylish curtain rod with the proper finials brings, you will understand the importance of their role.
If you are considering what types of poles for draperies are available to help you limit your options, this article includes some of the most popular drapery support types you can use. Keep reading to learn about all of them.
Quicklist: Different Styles of Curtain Rods
Standard Rail
Double Pole
Tension

Rails

Adjustable Suspensions
Magnetic Rod
Corner Rod
Wrap Around Rod
Ceiling Rod
Curved Bars
Traverse Drapery Poles
Café Curtain Rod
French Return Drapery Fixtures
Wrapped Rod
Concealed

Bars

Extra Long Poles
Swing Arm Pole
Decorative Bar
Electric Drapery Fixtures
Continental
Heavy-Duty Rods
Inside Mount Railing System
Arched Rod
Custom Drapery Fixtures
Door

Poles

Room Divider

Poles

Shower

hardware
Curtain Rod Styles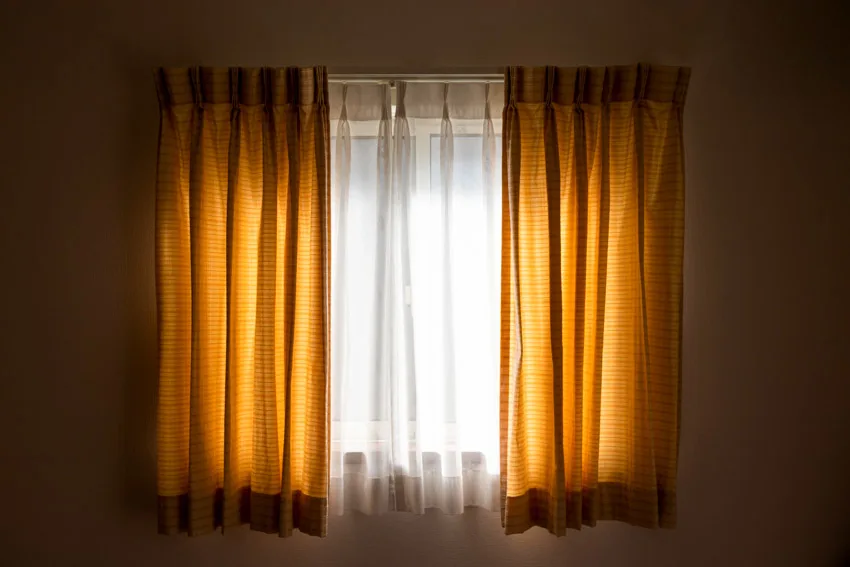 Here we share the most popular window embellishment types and their use.

Standard Rod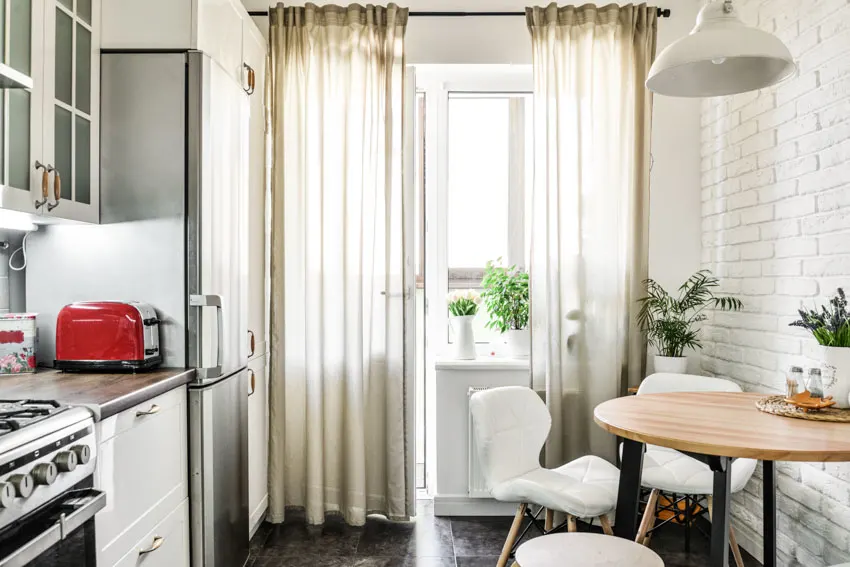 Standard window shade poles are normally available in single poles or dual linear bars. Drapery rings, finials, and wall fastening brackets are frequently included in standard window bar systems.
The most prevalent are metal standard bars, distinguished by their hollowed pipes. Some versions are constructed of wood and plastic.
Furthermore, standard window poles can be made of wood or metal poles of various sizes. Standard wood drapery poles in regular dimensions are available from retailers in addition to adjustable steel rails. Read more about curtain rod sizes here.

You can get a single drapery fastener or two poles to hang sheers behind privacy curtains. Standard window dressing poles are frequently sold in sets with corresponding wall mounting brackets, finials, and rings.
Some standard window poles are customized according to the customer's precise specifications by specialized manufacturers. Made-to-measure drapery rails are significantly more expensive than off-the-shelf poles. A homeowner can design the appropriate finish and configuration with custom models.
Double Rod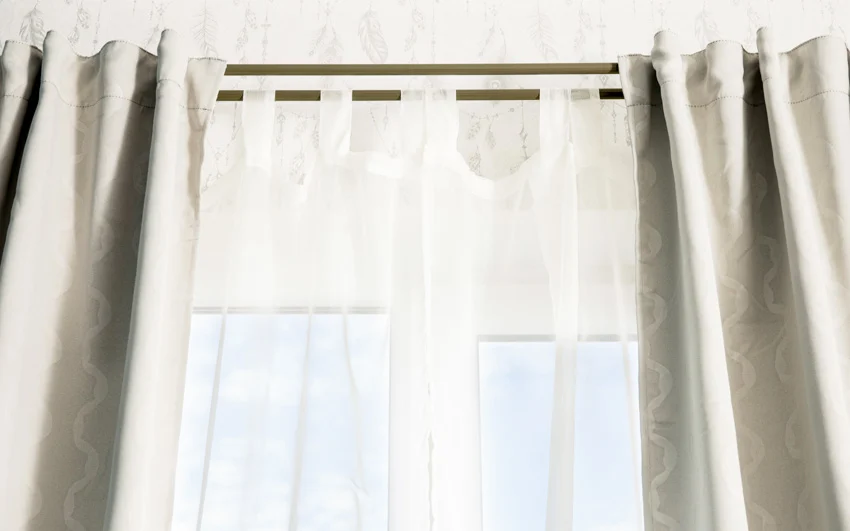 This type of hanging pole has two parallel steel bars that allow you to hang two curtains simultaneously. A steel bracket holds the drapes together.
As a result, the room has a 2D look since the layers of curtains add depth and a lot of aesthetic value to any space. It can also be used to improve sunlight screening.
Furthermore, twin window dressing poles allow you to overlay curtains in a room. They are made up of two distinct window poles that are parallel to each other.
Many homeowners like to use twin curtain poles in areas that serve numerous functions. For instance, you may prefer blackout curtains in your living room if you enjoy watching films.
When you are not viewing movies, you might want to let some light in without compromising privacy. Using a double drapery pole to layer blackout curtains over sheer curtains enables you to use both.
Tension Rod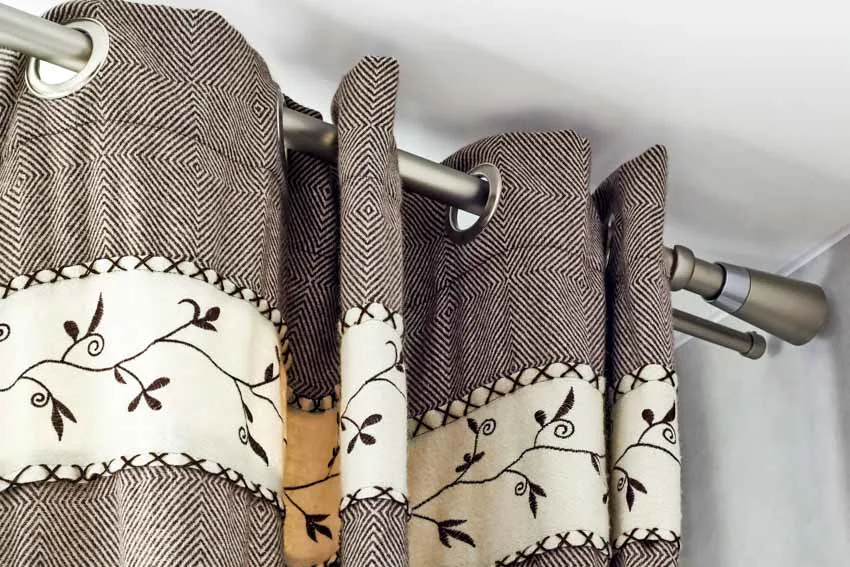 Tension drapery poles are perfect for application with shower curtains in bathrooms but can also be utilized in other home areas. It is strong, robust, simple to install, and rust-proof. They acquired their name from being made under constant tension.
These window hardware pieces are available in various lengths and sizes, as well as contemporary and minimalist styles. They are among the most traditional window treatments since they can be installed immediately on the window sill.
Unlike any other drapery fixtures attached to your walls or window frames with hardware, a tension bar fits tightly between two walls and is held in position by the tension of the fit. The majority of tension rods can be adjusted in length within specific measurements.
Indeed, you can stretch the tension rod as far as it will go between the two walls. Usually, these window treatments include rubber tips on both ends to prevent your walls from scratching. They are similar to shower-view window hardware and operate on the same concept. You may hang your curtains after your tension rod is in position.
Adjustable Rod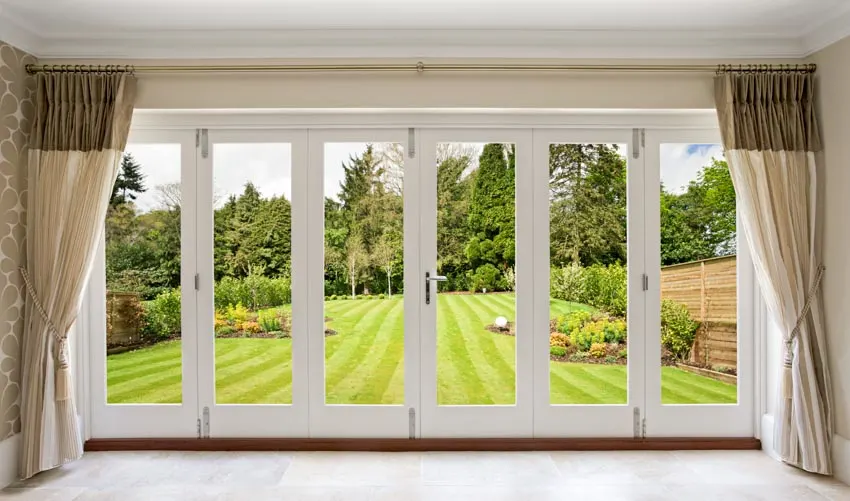 Adjustable drapery poles are essentially two rods, one with a covered end while the other has a marginally smaller size. The smaller bar fits into, the bigger rod, compressing a spring inside.
When the spring is attached to two smooth, level surfaces, it goes into operation, releasing its energy into the two layers and thus keeping the rod in position.
Moreover, these drapery fixtures have a delightful quality that cannot be overlooked. This window pole is a great option with enough space between the window and the wall.
The best feature is that they are quick to install and, of course, simple to adjust. They can also be made to fit any room size.
Magnetic Rod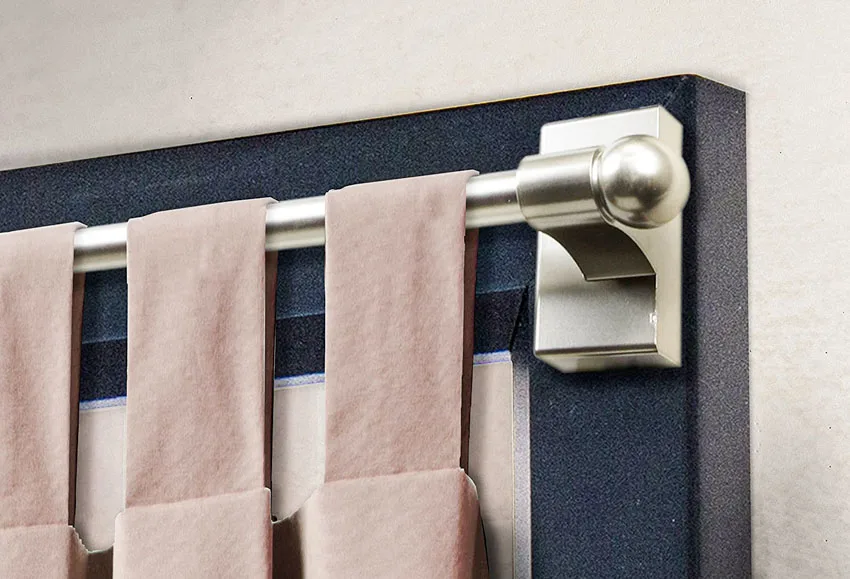 See this magnetic curtain rod at Amazon [sponsored link]
The magnetic draperyrod is probably one of the most practical drapery poles ever developed. This type of window shade rod almost installs itself. Place it against the door, and the magnets will latch onto the steel. These rods require no tools or hardware to install. They come off just as quickly, with no openings to patch.
Magnetic rods are not only attractive, but they are also quite simple to install. Unlike the tension rod, this one is attached with a magnetic mechanism. Although stylish, they can only be used on metal window frames.
Reinforced magnetic rods are now available to make it work for additional window sills. Unfortunately, they are also more expensive and necessitate more labor.
However, if the curtains are thick, the adhesive may not be firm enough to hold them in place. Magnetic drapery tracks look great with sheer or thin curtains. Nevertheless, drapery poles with stronger magnets are available if you wish to hang a window dressing made of a heavier material.
Corner Rod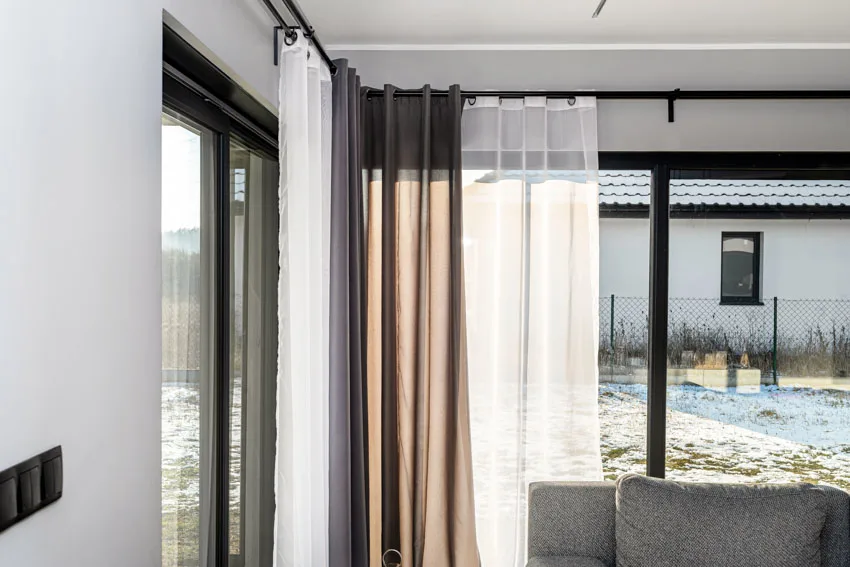 Corner drape rods, as the name suggests, are designed for tight corners like those seen in bedrooms. They help create a warm and stylish atmosphere in the room, making the corner more prominent and much airier. It also creates the illusion of space in small places.
Aside from that, corner drapery poles are conventional rails joined by a specific connection. You can adapt your rails to fit through the restricted areas provided by corner types of windows by using special brackets or swivel sockets.
Mounting corner rods are similar to attaching two standard hanging poles, except for the drapery hardware connector. Corner curtain rails do not require any specific window rod system brackets. You only need a standard wall or ceiling bracket that matches the drape rod of your preference.
Although the technique is largely similar to hanging standard curtain rails, the arrangement of corner drapery pole brackets is slightly different.
You must consider the brackets' depth while installing them on either side of each angle, ensuring they do not collide but are close enough to hold the poles on every side of the swivel sockets.
Wrap Around Rod
See this wrap around curtain rod at Amazon [sponsored link]
The wrap-around rod can be ceiling- or wall-mounted for indoor or outdoor applications. The rod best suits light and moderate-weight curtains and works very well with grommet curtains.
Wrap-around rods are normally made of an all-metal structure that provides durability for everyday usage. This rod is also adjustable, making it simple to tailor to your needs. The wrap-around design of this rod allows drapes to touch the wall and block off the light while also insulating the space.
Ceiling Rod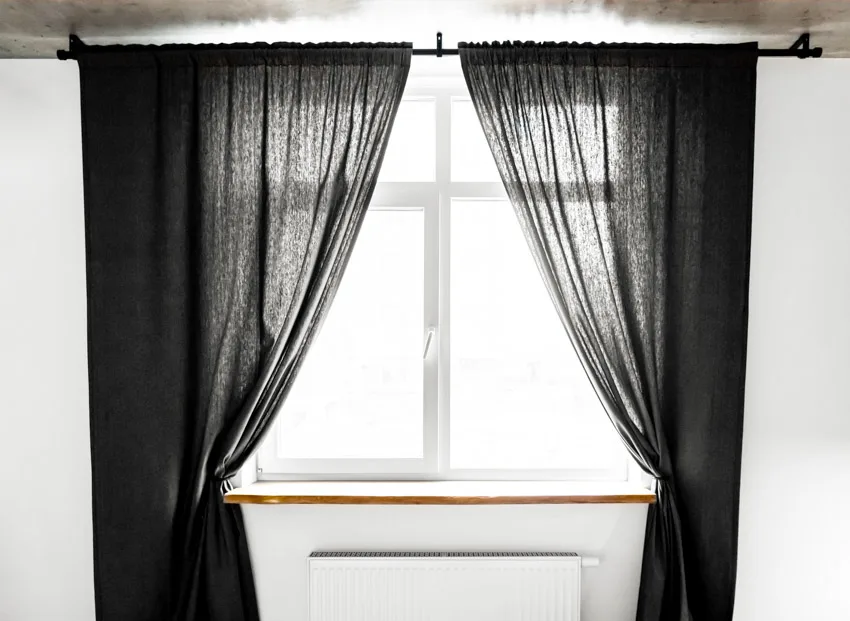 Simply put, ceiling curtain poles are attached to the ceiling instead of the wall. Although ceiling rods are uncommon, they can provide a unique hanging system for your curtains.
Curtain tracks and rails are also more prevalent and are intended to be fixed to the ceiling or other horizontal structures. Ceiling window panel tracks can be bolted straight into the ceiling using mounting apertures or fastened to the ceiling using ceiling mount accessories like clips, fasteners, hooks, retainers, or brackets.
Furthermore, some ceiling curtain tracks can be sunken into ceilings, making it simple to link the track to the acoustical array ceiling without drilling or reinforcing.
Curved Rod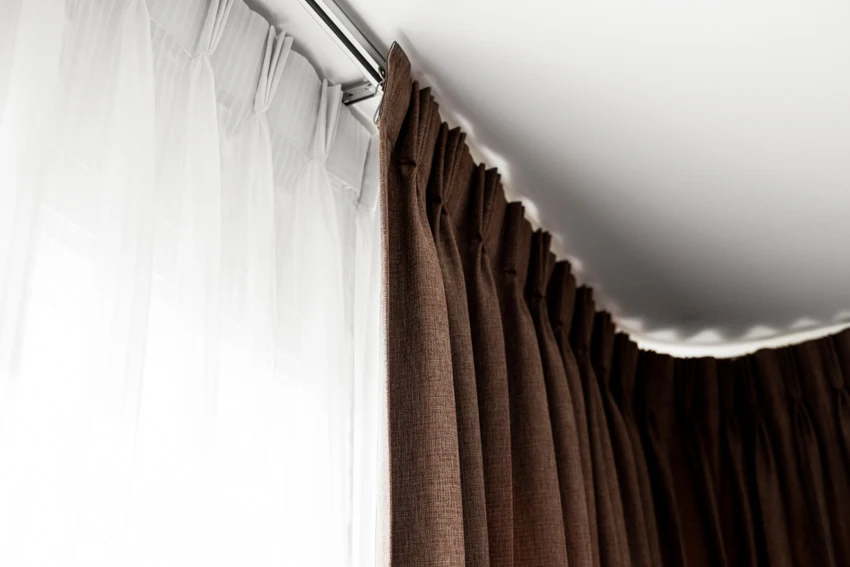 Curved drapery rods are usually found in shower areas primarily designed for shower curtains. The growing popularity of curved shower rods implies that these rods have numerous advantages.
A curved rod will provide up to 33% more space than a standard rod. This is due to the outward bulging shape, which allows for extra space to be curved in from the bathroom into the shower area.
You may constantly move freely within the shower without fear of ruining the linen with foam. A curved drapery support also aids in properly hanging a shower so that water does not leak through the floor into your bathroom. This decreases your chances of slipping and falling in your bathroom while walking about.
When installed correctly, the style of a curved curtain rod with curtains will make your bathroom appear more sophisticated and beautiful. You will most likely need to get an extra-long shower drapes to fit the length of the rod from close to the ceiling to the floor.
Traverse Rods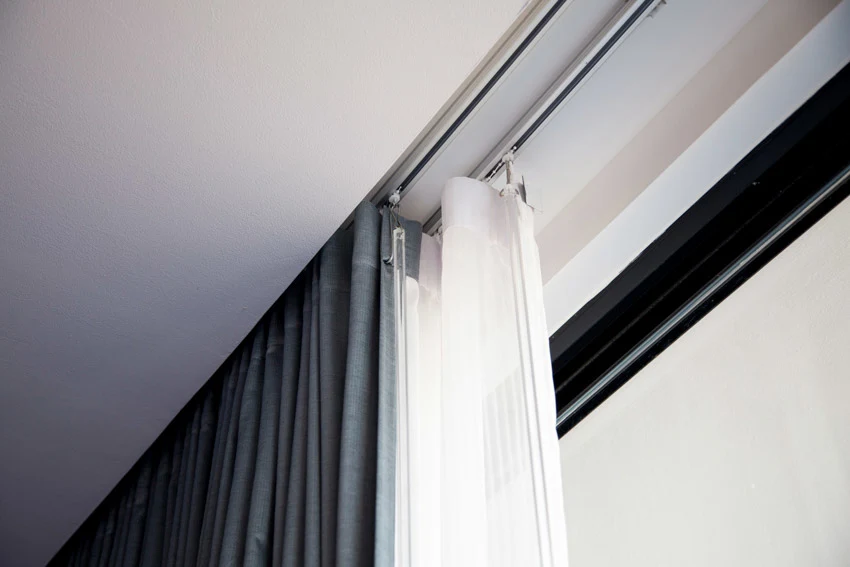 Curtains that are operated by a wand or cord typically use traverse rods. Whenever the curtains are open, curtain hooks are placed into sliding holders, and the rod is displayed.
The most popular variety is a two-way traverse rod, which allows curtains to be adjusted from the center to each end. Usual sliding types of glass doors employ one-way traverse rods, which limit the movement of the shades or curtains to one path.
Furthermore, this is a popular curtain rod frequently used for windows with huge openings. Traverse rods can be installed against a wall or in the ceiling. They are simple to install, fashionable, and closely resemble drapery perforations.
They are also popular for pinch-pleated curtains and sheer fabric drapes. In addition, these rods are distinguished by their metal track and carriers.
The metal tracks on traverse rods can be installed on the ceiling or hung on the wall. Since they are fastened into studs at standard intervals, they are quite durable, making them an excellent choice for heavy drapes and allowing them to cover long distances. They are perfect for oversized windows as well.
Although most people associate traverse rods with basic metal tracks, they come in various designs, some resembling typical metal or wood curtain rods.
Since traverse rods incorporate drapery hooks, they cannot be utilized with grommet or rod pocket curtains and must be coupled with flat or pleated patterns.
Café Curtain Style Rod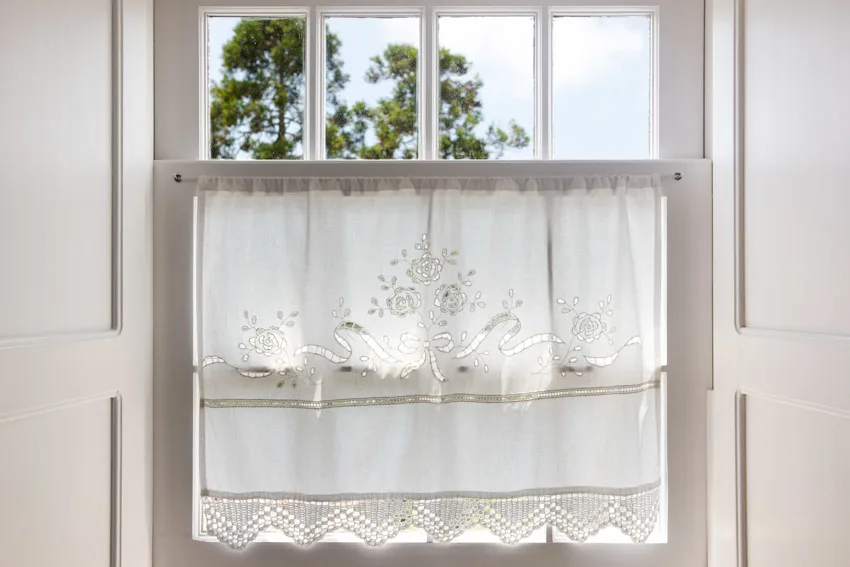 Café curtains, also known as tier curtains, are smaller curtains that conceal the bottom part of a window, making it appear shorter and allowing the entire space to feel cozier.
As a result, the curtain rods built exclusively for these types of curtains, called cafe curtain rods, are casual and somewhat inconspicuous.
In addition, these rods are often modest in diameter and circular or fluted, with little, discreet finials. Although they are available in various materials and finishes, they are most commonly marketed with brass finishes.
"Cafe rods are slender rods, usually white enamel or brass, with small unobtrusive brackets." – Madlyn Easley, Quick and Easy Window Treatments
Café curtain rods, with their relaxed appearance, look especially attractive when paired with rod pockets, tab tops, or tie drapes.
Due to their small diameter, such rods must only be utilized with lightweight curtains. This type of curtain rods is common in bathrooms because they cover the bottom part of the window and provide seclusion while allowing sunlight to shine through the top.
They are also frequent in places where people prefer to feel comfortable such as kitchens, eating nooks, and laundry areas.
French Return Rods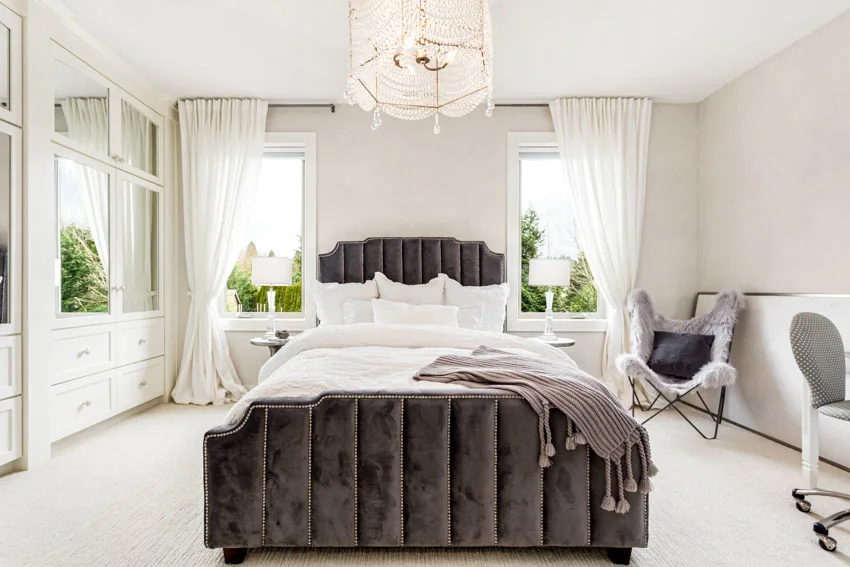 The French return curtain rods are common in today's modern homes. The curving return lets your curtains draw in on one side, reducing light and window visibility while providing additional privacy.
Normally, French return rods contain two distinguishing features. They do not use finials and adhere to the wall. These characteristics contribute to its minimalism while limiting the light gap that typically develops where the curtain panel reaches the end of a traditional curtain rod.
How French Return Rods are built is a significant factor. If you want your curtain screens to open and close without being hung up on a split in the returning section of the rod, make sure the curve in the returning section of the rod is uninterrupted. Sealing a grommet panel and having one or more grommet openings become jammed in this manner can be unpleasant.
A decent French Return Rod should be powder-coated so you do not have to fret about the abrasion or scratching while moving metal drapery hooks or grommet screens across it.
Powder coating also protects against corrosion and lets you place the rod confidently in windows that may acquire moisture or in outdoor settings such as a gazebo or patio.
Unlike a hanging curtain rod, the returning wall bracket on French Return Rods must be built to retain the rod tightly. Professional return rods are made to support longer panels and heavier materials.
Wrapped Rod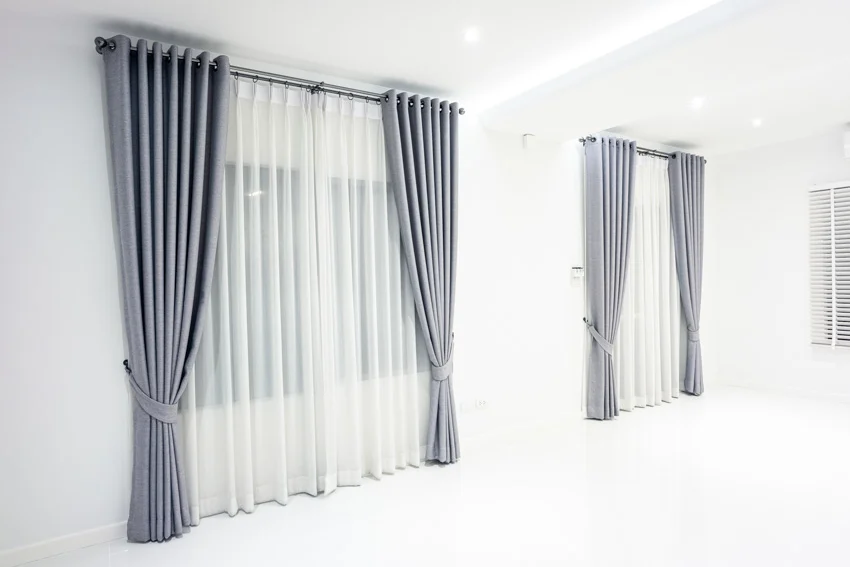 Wrapped curtain rods, instead of single and double rods, bend around to form a bracket shape. This helps to keep light out from the sides. This is particularly handy when attempting to darken a room, so many curtain rods are frequently paired with blackout curtains.
Wrapped curtain poles have a curved end where they are attached to the wall, which serves to obscure light at the edges. These rods normally do not necessitate any brackets on small windows. However, a supporting bracket in the center of the rod may be required on bigger windows.
Wrapped rods are a widely known option for bedrooms because they are good at blocking out illumination, especially when combined with blackout curtains.
Concealed Rod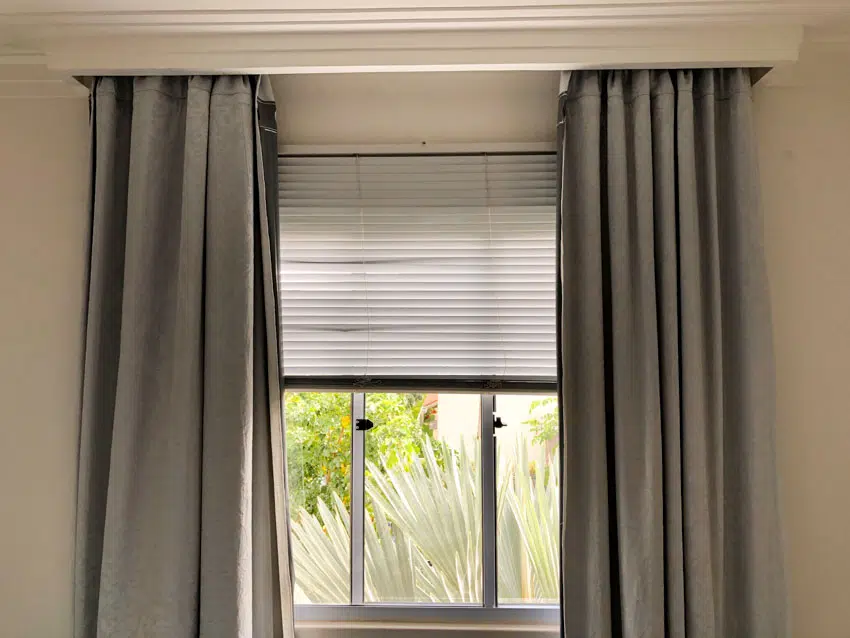 As the name suggests, a concealed curtain rod is concealed beneath the drapes. They are generally adjustable and white or shiny in color. Typically, sash, tension, and wide pocket rods are hidden. Tension rods, like shower curtain poles, use spring technology to keep the rod in position. Such rods must be used exclusively with lightweight drapes.
The most popular design is the white steel lock-seam rod, a wrap-type rod with two thin, flat, interlocking metal sections. The broad pocket rod is substantially the same as the narrow pocket rod, except it has a broader arm and is most usually employed for shirred valances.
Certain tension rods with narrow end caps and numerous sash pole, such as those used to support curtains on French doors, can be used as concealed curtain rods. Regardless of style, these rods can only be utilized with window coverings with a rod pocket to obscure the rod completely.
Moreover, since these rods are not designed to be visible, they are normally best employed in spaces where the curtains are generally closed. You can also buy a dual concealed curtain rod and install a valance on the exterior rod to disguise the associated pole whenever the curtain is open.
Extra Long Rods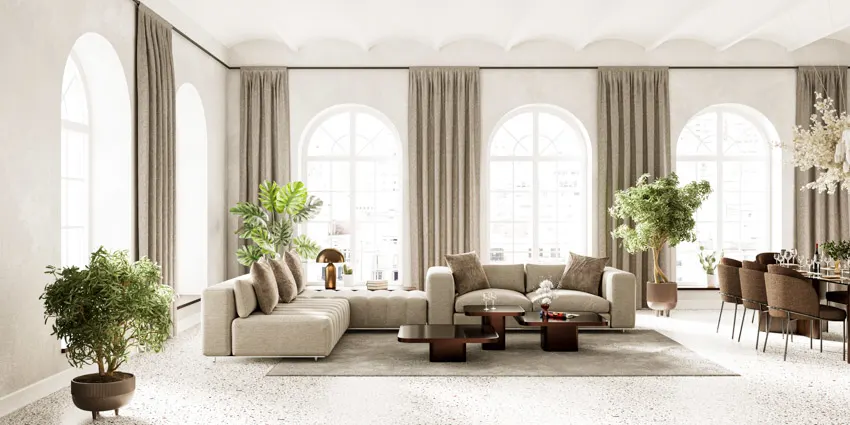 Extra-long curtain rods normally have a length of more than 120 inches. Unfortunately, while prominent shops sell 120-inch rods, they are usually more difficult to find than conventional rod diameters.
As a result, if you have uncommon or custom-made windows, finding the proper extra-long curtain pole in stores may be challenging.
Extra-long curtain rods of high quality can improve your home's overall appearance and ambiance. Placing an extra-long curtain bar is similar to installing a standard-length pole. However, take careful measurements to ensure your drapery pole does not wrinkle in the center.
Swing Arm Rod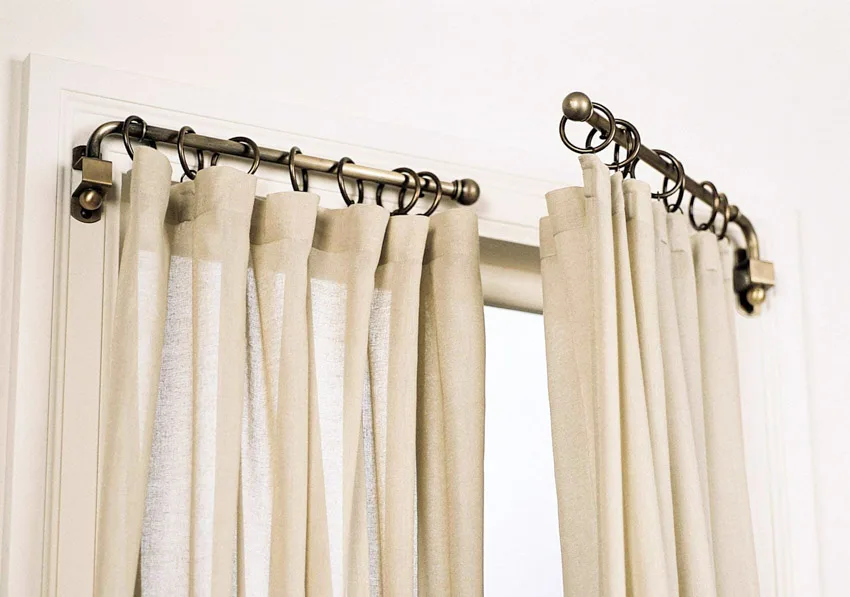 See this swing arm curtain rod at Amazon [sponsored link]
A swing-arm rod offers features that other drapery poles do not. They have a distinct appearance since they are hinged and only connected to one side of the window. This implies that the rod's arm will glide toward the wall-mounted bracket.
This curtain bar is only fastened to the wall on one side. The mounting gear consists of a customized bracket with a hinge that enables the rod to swing 180 degrees to the left or right, contingent on which side of the window it is installed on.
The elegance of this one-of-a-kind design is that it enables you to open your window treatments or curtains in one move. If you have a heavy curtain, you can add supporting brackets in the proper areas to allow the swing-arm rod to carry additional weight whenever the open end is closed against the wall or window.
Lining your draperies with a different fabric would be an artistic way to use this drapery pole style. Whenever you swing the pole against the wall to open the window, the unique color or pattern of the fabric appears on the opposite side.
A swing-arm curtain bar could be ideal for suspending a lightweight curtain over the entryway in a short hallway linen closet. You can freely swing the drape out of the path to get fresh linens.
Swing-arm bars are ideal for use with French doors, blinds, closets, café-type window coverings, restrooms, windows on doors, and other similar applications. Swing-arm poles are placed in pairs on larger windows.
Decorative Rod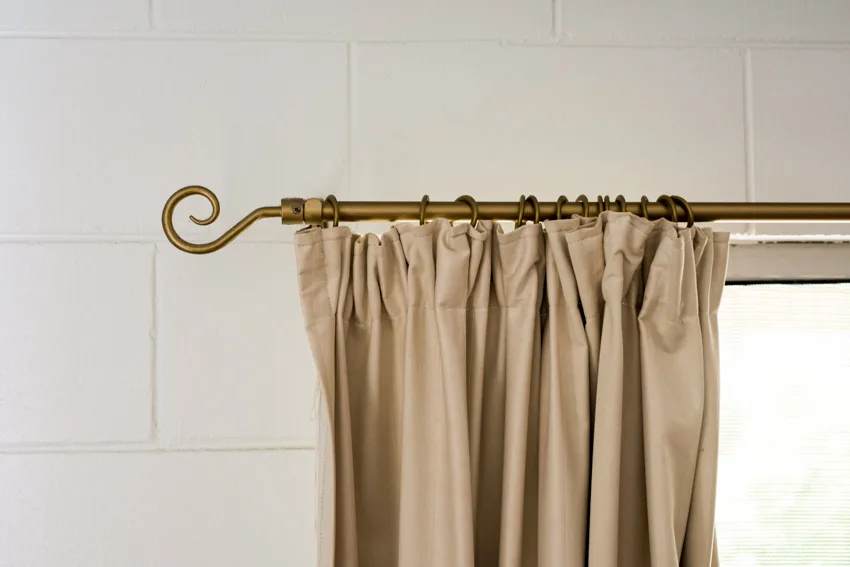 Designer-look houses must have fashionable drapery poles, which is what decorative rods are for. These come in various shapes and sizes, including balls, golden leaves, and more, and offer unique methods to spruce up any room in the house.
They are meant to be displayed in various colors, materials, and sizes. Hardwood, brass, wrought iron, brushed nickel, silver, verdigris, and other materials, can be used to create them. Decorative bars are typically used in conjunction with fancy finials.
Furthermore, decorative poles for drapery offer a spectacular effect on the environment. These specialized poles are frequently costly, and many are custom-made.
Since decorative drapery bars are supposed to be visible, they work best in spaces where guests spend a lot of time, including the family room, lounge room, and dining area.
Electric Rods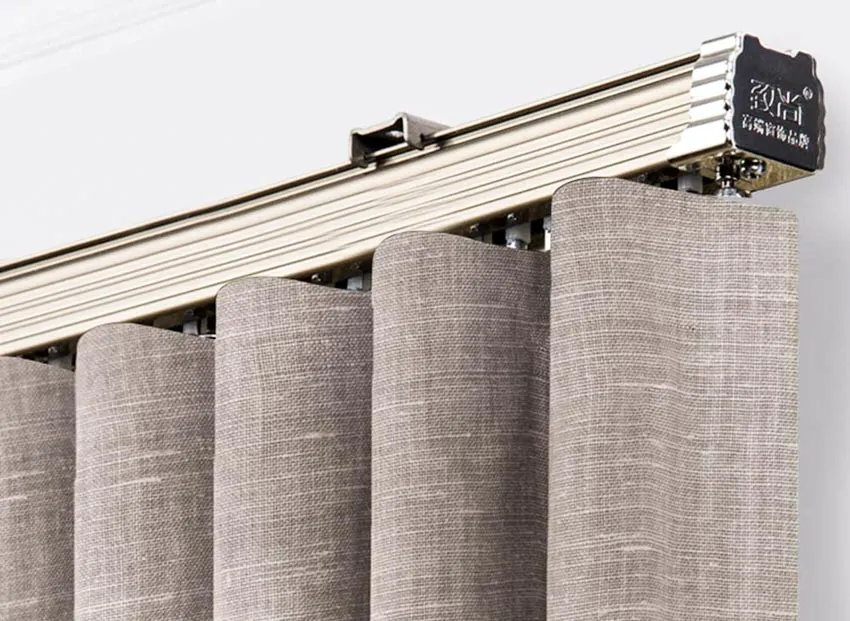 See this electric curtain rod at Amazon [sponsored link]
Curtain rods have also been inhabited by technology. Electric curtain rods enable you to manage the movement of your curtains wirelessly with a single tap. This one works well in meeting rooms, huge living rooms, and other places. They can also be found in offices.
Electric curtain rods resemble ordinary decorative rods, but they have the added convenience and elegance of motorization. You have ultimate command over the movement of your drapes electronically by employing a cordless remote control.
Make sure that the product has the CEE label to ensure that the product can utilize energy effectively. Check at what tier its motor is to know how well it can utilize and save energy. [Source: Consortium for Energy Efficiency]
Continental Rod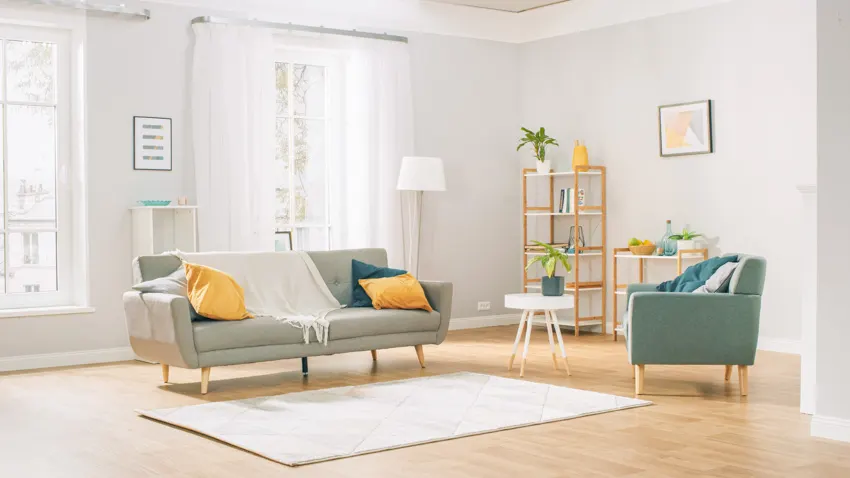 Continental rods, also known as dauphine rods, are distinguished by their flat-faced sections. They are particularly designed for heavier curtains, draperies, or valances featuring rod pockets.
They can sometimes be bent to accommodate bay windows. Aside from that, they are popular because they are hidden underneath the curtains or drapes.
The continental rod will function well if you are making curtains without pleats. The broad, flat rods will make your draperies appear firmly gathered or shirred at the upper end. Continental rods are so adaptable that there are numerous applications for them.
They are frequently used instead of standard curtain rods to produce different valances. The wide rod and tight shirring give a ruffle that softens the appearance of the windows.
Heavy-Duty Rods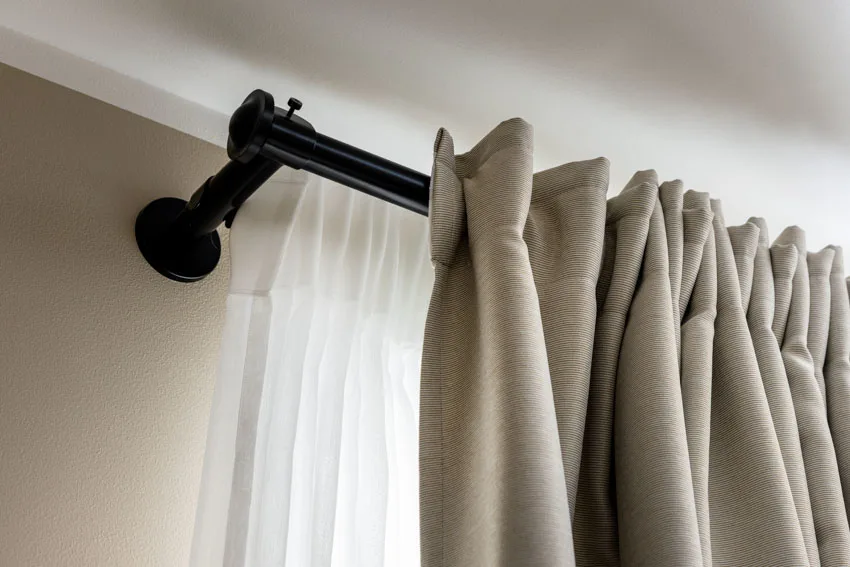 Heavy-duty curtain rods are suitable for both home and commercial applications. Indeed, there are numerous advantages to utilizing heavy-duty rods over standard ones. These rods are extremely useful when working with heavy fabric curtains.
Heavier curtains look best when matched with heavy-duty drapery rods. Large high-ceiling commercial venues, such as ballrooms, theaters, and hotels, require drapery equipment that can withstand the weight of their tall drapes. Heavy-duty curtain rods are ideal for industrial curtain rod applications.
Selecting a creative curtain rod to bring a touch of refinement to your commercial area can be tough, particularly when looking for something useful and decorative.
There is a vast array of commercially available heavy-duty drapery rods in several styles to complement the atmosphere of your area. Thus you will undoubtedly have many options.
Inside Mount Rod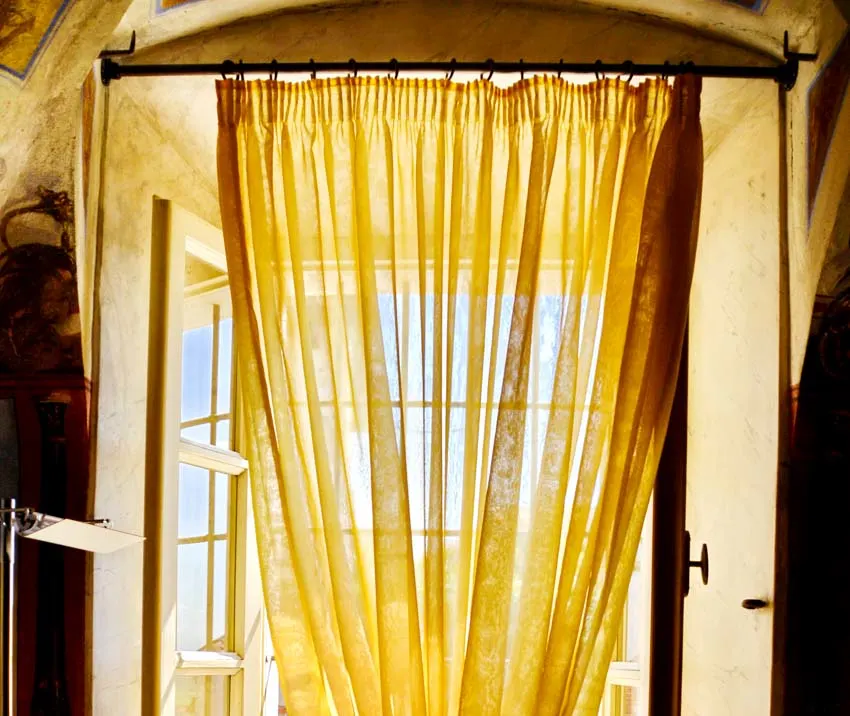 As the name implies, inside-mount curtain rods are installed inside the window frame to highlight intricate hardware.
The wall curtain brackets do not necessitate any installation or assembly. These curtain rails will give your windows the appropriate balance of sparkle and brightness.
Arched Rod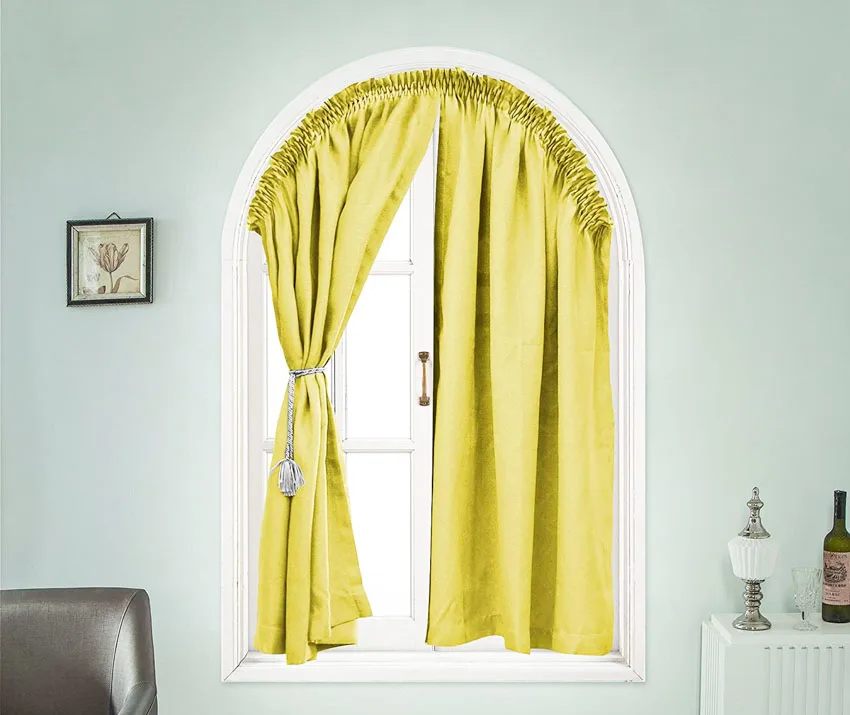 See this arched window curtain rod at Amazon [sponsored link]
Arched rods with a bend or curve come in various shapes and sizes. These rods can be contoured into a bay or corner window, moved up and above an arch, or bent out into the space to rest over a window sill.
Numerous arched rods are flexible, contingent on the material employed; they can be twisted and shaped to the exact curve of your window for a customized appearance.
In addition, arched curtain rods can practically fit any window in the home, regardless of shape or design, to benefit from the privacy, warmth, and adornment that window treatments bring.
We recommend purchasing an arched-style curtain rod for any customized, curved, or bay window to get the right balance.
Custom Rods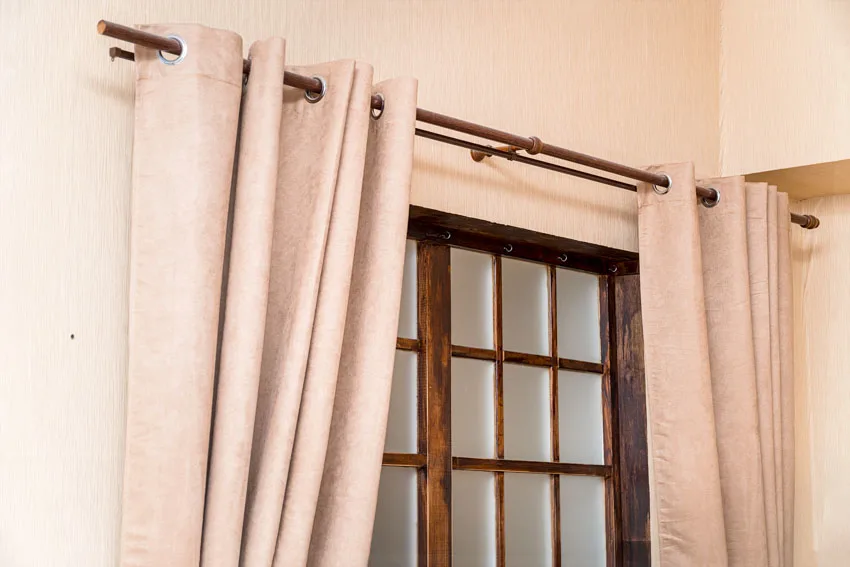 Custom curtain rods are generally completely customizable, allowing you to choose your preferred finish, materials, and size. Every window is unique, and the custom curtain rod designs will allow you to develop your specific window treatment aesthetic.
Customized collections deliver unique two-toned finishes, made-to-order sizes, and features only available from professional curtain hardware makers.
Door Rod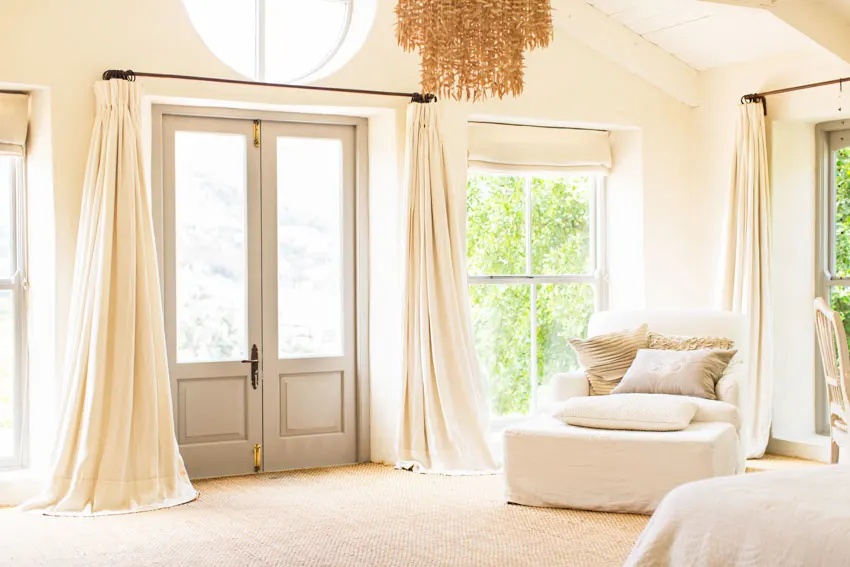 Door curtains keep chilly temperatures at bay while adding color to your entrance hall. A door curtain rod would be an efficient solution to hang a pleasant and stylish door curtain without sacrificing space or accessibility.
These rods are hinged curtain poles that hold a single curtain. They can be used for doorways and dormer windows.
Room Divider Rod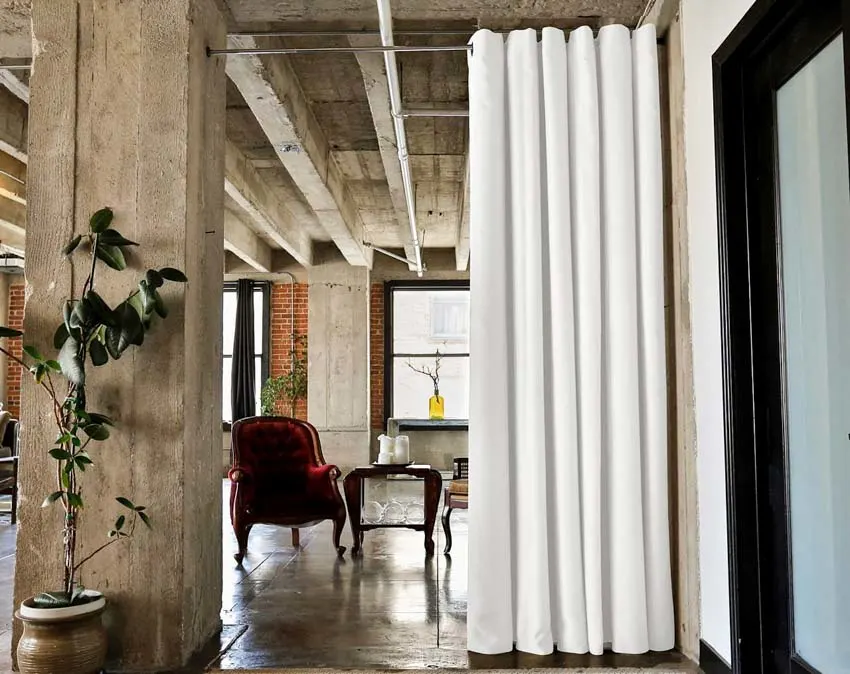 See this room divider curtain rod at Amazon [sponsored link]
Curtain rods for room dividers are often multipurpose tension rods. They are also ideal for tight places and window openings when drilling is impossible.
If you use the same room for multiple purposes, you may divide it into separate zones using curtains and pull them across when you wish to block off an area. This is when room divider curtain rails come in handy. Normally, they are suspended from the ceiling.
Shower Rod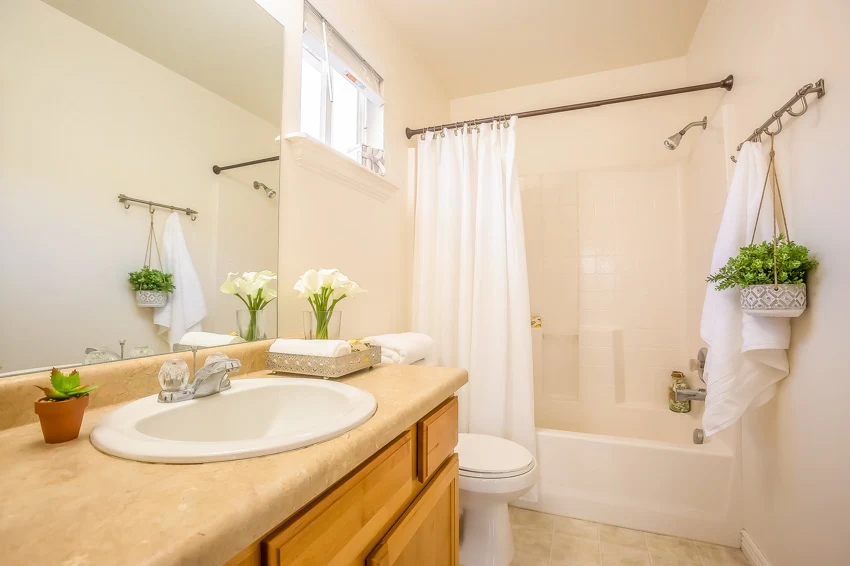 As the name implies, shower curtain rods are designed to hang shower curtains. They normally enclose a shower area, bathtub, or tub and shower combination. Usually, these rods are horizontal and adhere to the shower walls.
Other designs, however, are available for various shower and tub arrangements. Shower curtain rods in square, L-shaped, and round shapes are offered for open showers and standalone bathtubs with showers.
Double rods comprise two parallel rods – one for the decorative shower curtain and one for the waterproof lining. Some shower rods include a tiny outward bow allowing more space.
Moreover, shower curtain rods can come in tension or mounted varieties. And generally, they are composed of metal or plastic. You can consider getting a long-lasting one that matches the style of your bathroom.
Numerous metal shower curtain poles are pre-treated with a water-resistant treatment to lessen the risk of rust and corrosion. Plastic rods have advanced significantly but are still less durable than metal ones. These should only be used for lightweight types of shower curtains.
Rod Materials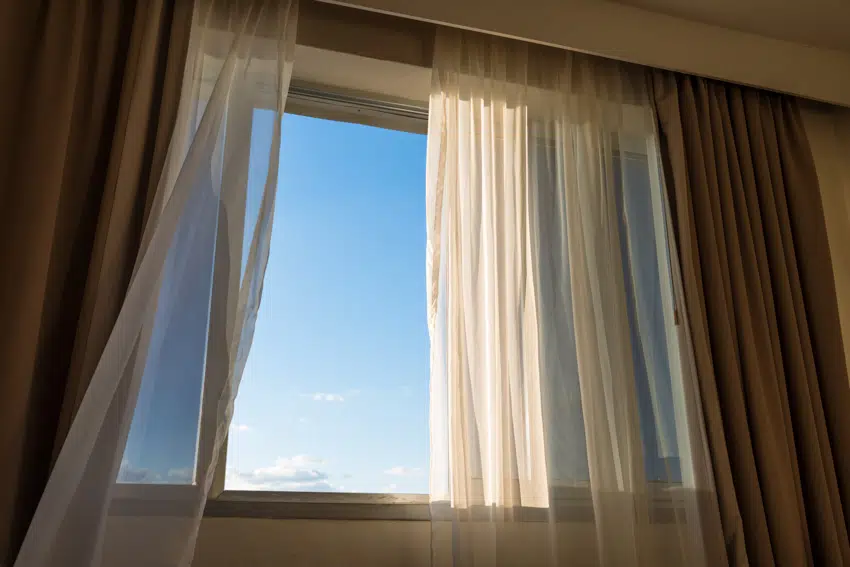 Wood: Wood curtain rods are lovely to use but are quite demanding about the home's interior design. Because wood is easy to stain and paint, this curtain rod style conforms to the traditional rustic design of a room where you wish to create a colorful window décor.
Acrylic: The appearance of acrylic rods is normally similar to glass, but they are more durable. It will not become yellow over time, will not fracture, and comes with UV protection incorporated.
Acrylic curtains are also popular among homeowners due to their superior machining properties, increased clarity, heat deformation resistance, and tensile strength.
PVC: PVC curtain rods are a cost-effective option for any area. Because most curtain rod store consumers require more utilitarian models than beautiful solutions, many curtain rods are designed to provide these low-cost options.
Because they are made to perform their purposes as well as possible without varying in a special ornamental component, a PVC curtain rod matches this description quite well.
Metal: Metal curtain rods are more robust and must be utilized in areas where the design will not change frequently. Metal curtain rods are an excellent substitute if your curtains are quite heavy. Because of their great tensile strength, these rods are a fantastic choice for modern and distinctive styles.
Popular metal curtain rod finishes include brushed nickel, satin nickel, brushed black nickel, matte black, chrome, satin gold, brushed bronze, oil-rubbed bronze, and antique brass.
Rod Hardware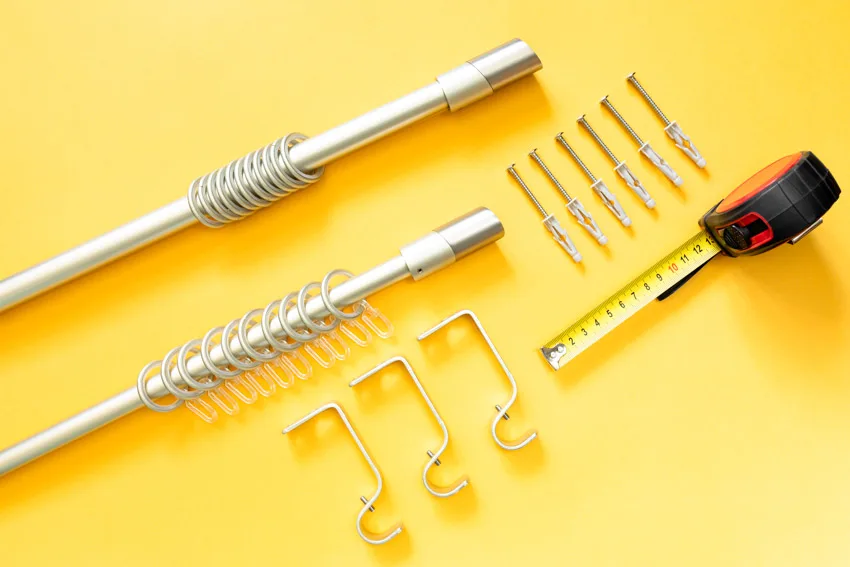 Brackets: The curtain bar is held in position by brackets, which are pieces of reinforcing hardware. Wall sconces are a form of an ornamental bracket with fabric woven through it.
Brackets and sconces can be constructed of a distinct material from the drapery bar and feature various decorative patterns such as flowers, animals, and geometric themes.
Even though some curtain rods, like tension rods, support themselves, most do not. This implies you will almost always need a bracket or a sconce to hold up the pole and the drapes.
Brackets are the most basic of these solutions, consisting of metal or wooden hooks or loops affixed to the ceiling or walls. A wooden or metal bracket or sconce can bring a lot of sense of style to your décor if you want something particularly striking.
No Drill Curtain Rod Brackets: No-drill curtain bar brackets mount quickly and easily, saving time and effort. No, taking measurements or leveling is required to mount these no-drill curtain rail brackets.
Simply tap the curtain bar brackets into the upper end of the window framing to complete the look. These curtain brackets make hanging curtains a breeze and can often support up to 20 pounds of fabric.
End Caps: End caps, like finials, are simpler attachments that adhere to the ends of curtain rods. They are typically used on tension rods to prevent them from sliding once fixed within the window framing.
Finials: The curtain rod's ends, known as finials, keep the curtain from falling off. Although not all rods necessitate them, since some have ends that connect directly to the wall, the finial you choose can add a great deal of beauty to the overall design of the curtains.
"Adorning the ends of rods like jewelry, finials are an effortless way to add style." – Domino (Conde Nast Publications), Deborah Needleman, Dara Caponigro, Sara Ruffin Costello, Domino The Book of Decorating
Although many curtain rods are offered with finials, they are often marketed in universal sizes, allowing you to alter them if the ideal finials are utilized apart from your chosen rod.
Curtain Rod Extension: A curtain pole extension is created to fit within the rails and connect two or more compatible rods to make one long piece. These interior tubes screw into position, and holes must be bored at the ends of the curtainbar parts to complete the construction.
A wooden peg or cork could join two rods in various instances. A curtain bar bracket underneath each point of connection secures the framework.
Pulls & Wands: Most curtains are arranged without pulls, but they can make it much easier to open and close your curtains. It is important to note that pulls can also be called wands when constructed of solid materials.
Curtain Tiebacks: Tiebacks for curtains surround the curtain and are typically attached to a wall hook. They can also arrange and hang a curtain in the center of a window. Tiebacks are formed of elastic materials such as a cord or rope. Moreover, tiebacks are an excellent alternative if your curtains are decorative and are normally left open.
Additionally, tiebacks are often constructed of cloth wrapped around the curtain and either attached to a wall hook or knotted together in a knot or bow. Tiebacks are sometimes sold alongside curtains to complement or enhance the color or pattern of the drapes.
Curtain Holders/Holdbacks: Valance holdbacks are u-shaped pieces of hardware that connect to the wall along a window frame. Drawing a curtain behind a holdback keeps it open.
Curtain holdbacks are typically formed of tough materials such as iron, metal, or hardwood. Holdbacks are a fantastic alternative if your curtains are more utilitarian than decorative. Their constant position makes it simple to open and close curtains.
As the name suggests, curtain holders or holdbacks are intended to hold back drape panels to allow natural lighting. They keep the drapery fabric in place outside the window framing. These are sometimes sold as part of a curtain rod system or with additional hardware to produce a unified look.
Curtain Tracks: The discreet drapery tracks are made to fit underneath decorative features like a pelmet or valance or to merge in with a wall. The underlying tracking system is concealed and can be wired, cordless, or electric-powered.
Curtain tracks can be tailored and twisted to fit unusual window shapes and are usually composed of metal or plastic. A pole track that appears like a curtain pole mounted above a window and placed on the top of a window frame is one kind of drape track.
Rod Finishes & Colors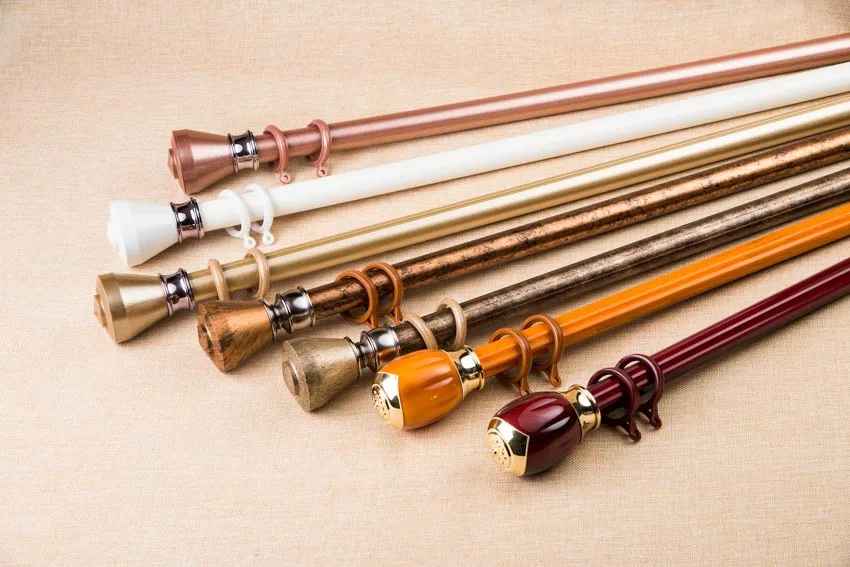 Valence rods are often overlooked as a practical component of window coverings. They can, nevertheless, be as fashionable as your curtains. There are numerous aesthetic alternatives, ranging from finials to finishes.
Gold with crystal window fixture system are ideal for glitzy spaces, whereas black drape rods are a timeless option that can be used in any design, from farmhouse to mid-century modern.
On the other hand, silver or gray windowpole systems are a more modest option that works well in children's rooms or Scandinavian-style houses.
Once you have selected your options, let your creative ideas and imagination guide you. Choose window treatment rods and curtain colors that enhance your current décor, or go for bolder, accentuating selections to make your room outstanding.
How to Choose a Rod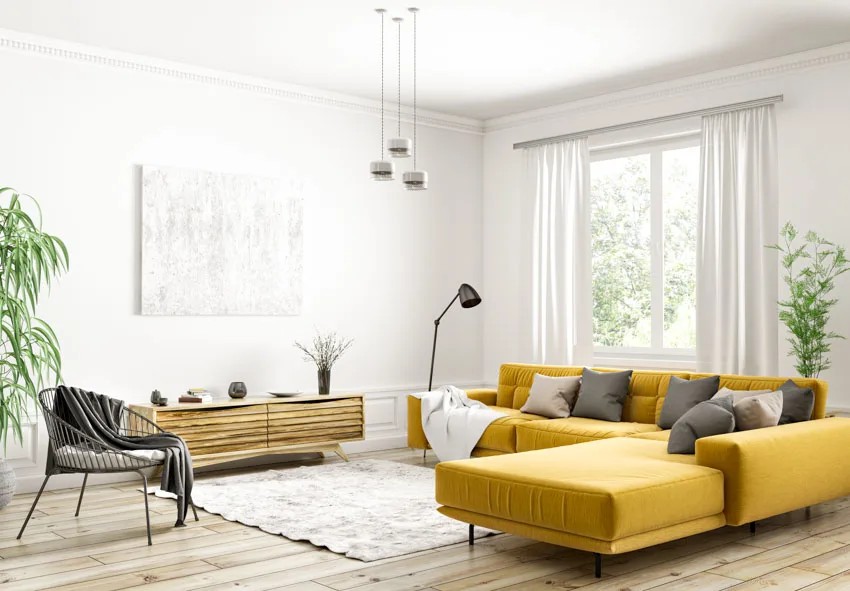 Here we share several tips on how to choose a drapery rail.
How to Measure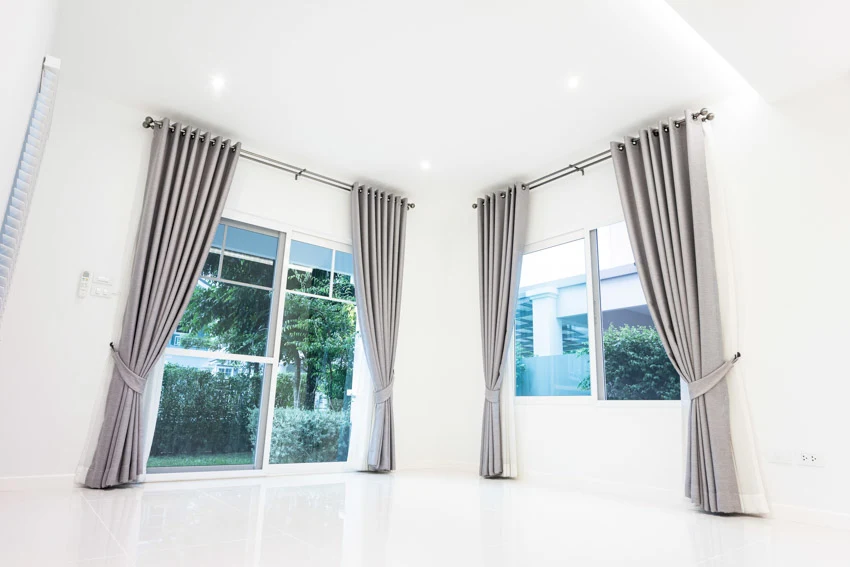 You should determine the diameter of your curtain bar for two reasons. First, this will establish whether the curtain heading will match the rod. Second, if your drapery rail is purchased separately from its accessories, this will assist you in choosing a window treatment bracket.
Here Are the Steps on How to Measure Curtain Rods:
• To figure out the ideal drapery rail width, measure the width of your window and the frame or trim. Measure your window three times: once at the upper end, once in the middle, and once near the lower end.
These measurements will very certainly differ slightly. Use the largest of the three to determine the width of your window.
• If there is not much room on both sides of your window, search for a window support the same width as your window.
Nevertheless, if space allows, we suggest that your drapery pole span 5 inches on either side of your window. Whenever your curtains are open, only a small area of your window will be covered by the fabric.
How to Measure Drapery Rods for an Inside Mount: Determine the width of your window frame whether you are utilizing a tension rail or putting another form of window treatment within the frame, or trimming your window.
Measure the distance from the interior edge of the framing on one side to the interior edge on the other.
As previously said, repeat this measurement 3 times. But as for the width of your window, you should use the smallest measurement. This will also be the length of your curtain rails.
Choosing a Rod Style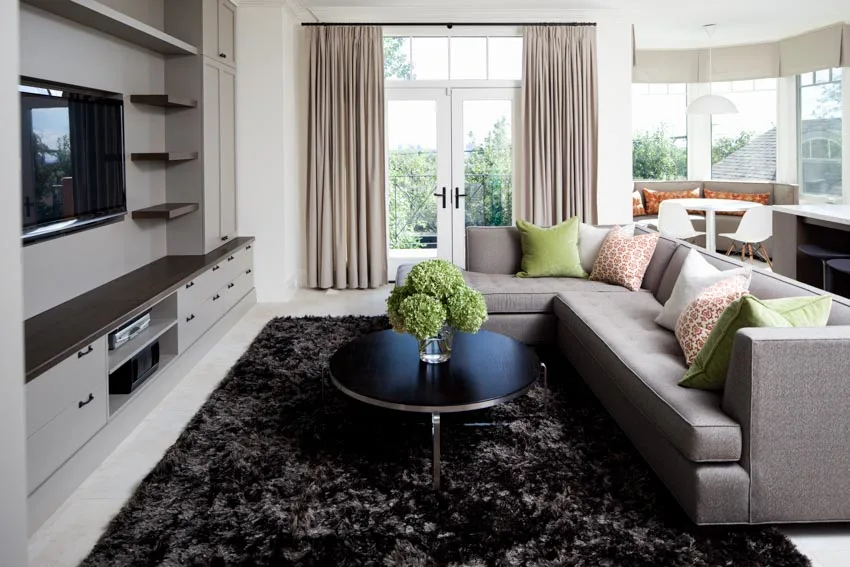 The style of drapery rails you select will be determined by your objectives for your curtains. After reading the drapery rails above, you should know what kinds of rods are accessible and what size you require.
It is now time to think about style. Do you want a typical wood pole or something more contemporary? It will be easy to limit your alternatives once you have decided on the overall design.
If you are still unsure which curtain support type is best for you, consider the remainder of the décor in your space. Is your furniture vintage or modern? Do you have eye-catching wallpaper or neutral paint colors? Your drapery pole should coordinate with the other features in your room.
Furthermore, remember to emphasize the small details. Finials, brackets, and other attachments can significantly improve the appearance of your drapery rail. Consider what type of hardware would work ideally in your space and with your particular style.
A few pointers are when selecting the best hanging rods for your house. To begin, determine whether you want a double or single drapery rod.
It is critical to pick the correct drapery rail and attachments to complement the look of your home. Read more about the types of curtains on this page.
Are Thicker Rods Better?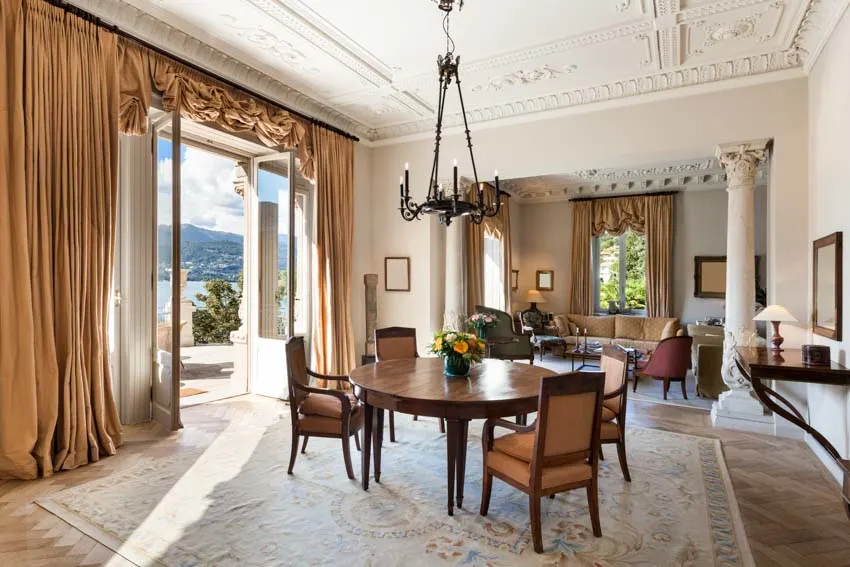 In terms of durability, yes. They are ideal for holding heavier curtains. However, the accessories associated with thicker drapery rail styles must also be extra durable.
They should be able to withstand the thick and heavy drapery rails. Nonetheless, lighter and thinner drapery rods should suffice if you only wish to hang lightweight curtains.
How Thick Should Your Pole Be?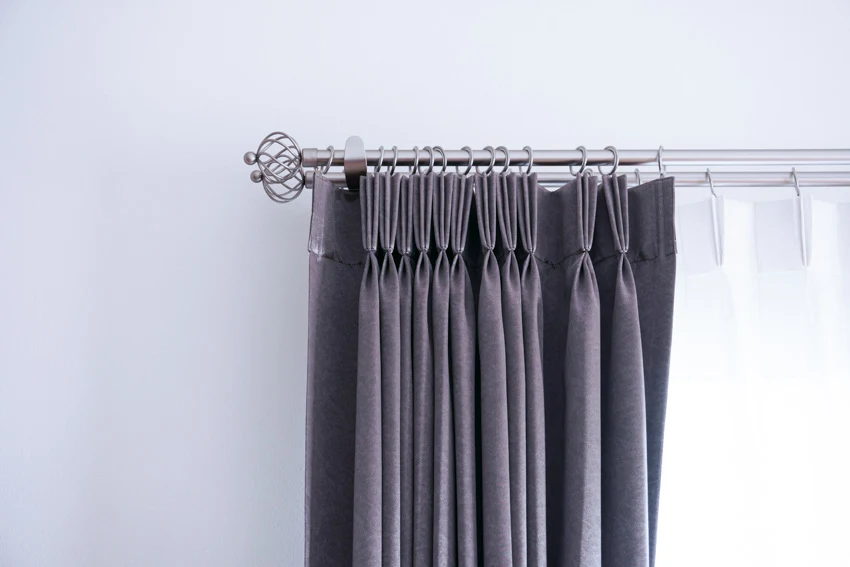 For superb aesthetics and drapery stability, use a valance pole at least 1 inch thick. However, a thinner pole with a diameter of around 0.63 inches can be used for sheer and linen curtains. A slim spindle will better complement these drapes' light, breezy nature.
A thicker rail, about 1 inch in diameter, is recommended for silk and velvet curtains. A thicker drapery rail is not only required to ensure that it can sustain these heavyweight materials, but it will also better match their showy appearance.
How Do You Close a Gap Between Curtains and Walls?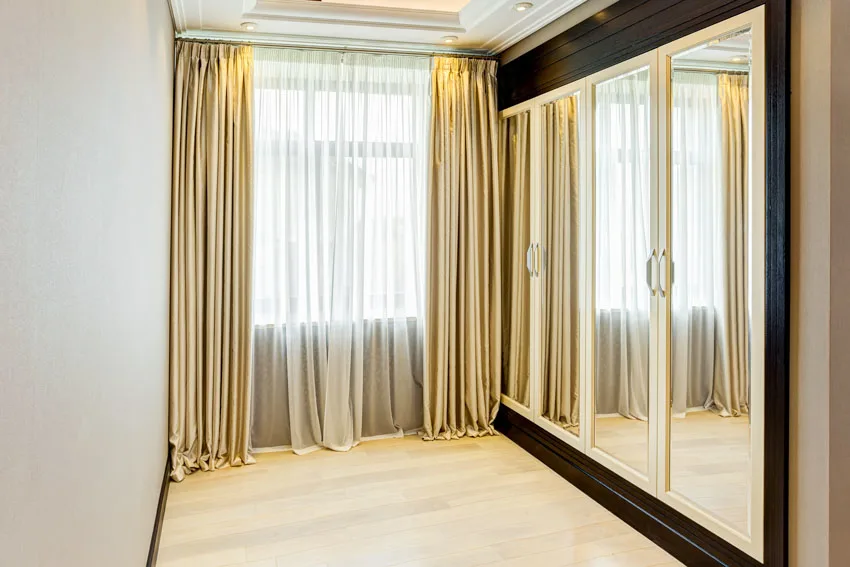 You can add a wrap-around drapery rail and arrange drapes that are longer and broader than the window they cover to close a bothersome gap between drapes and walls. Tapes, hooks, or Velcro strips can connect the sides of your curtains to the walls near a window.
How Far Should the Drapery Pole Extend Past The Window?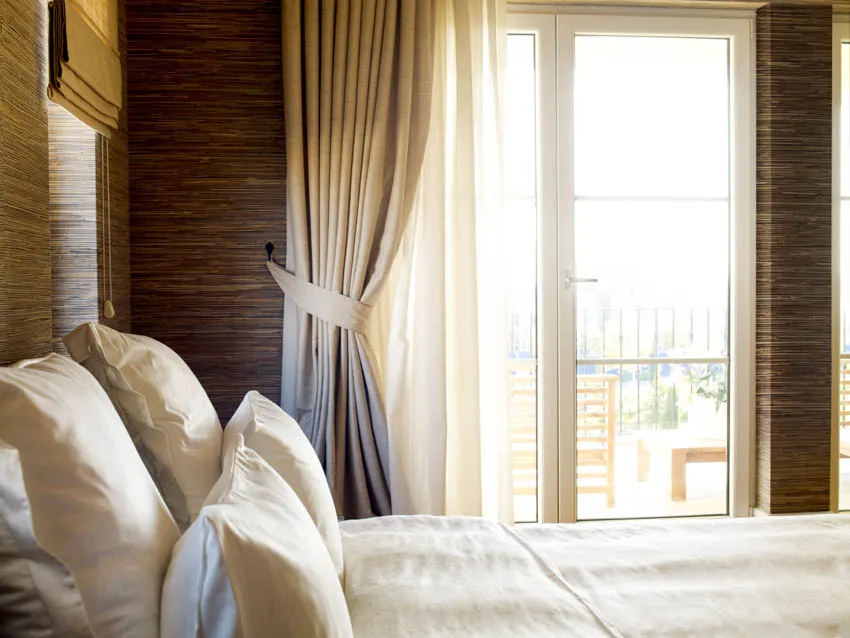 As a rule of thumb, curtains will be open during the daytime, thus ensuring that the drapery rail extends at least 4 inches on each side of the interior framing of the window. You can try to extend the pole up to 10 inches past the window to give the appearance of a bigger window.
Should You Use the Same Poles in Every Room?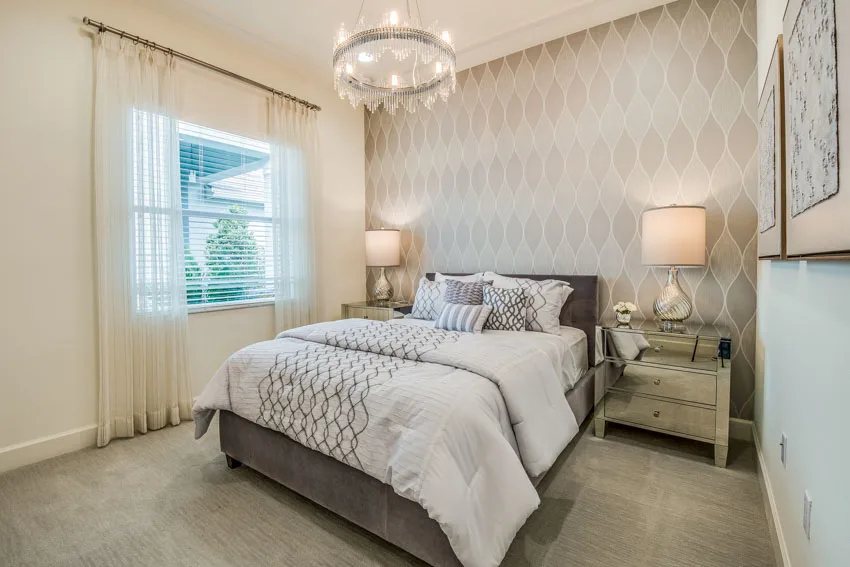 Your drapery rails in every room do not have to be the same, but they must at least coordinate if they are placed in the same room. Even if the spaces are distinct enough for diverse treatments, you can even alter things.
How Do I Keep My Curtains Closed in the Middle?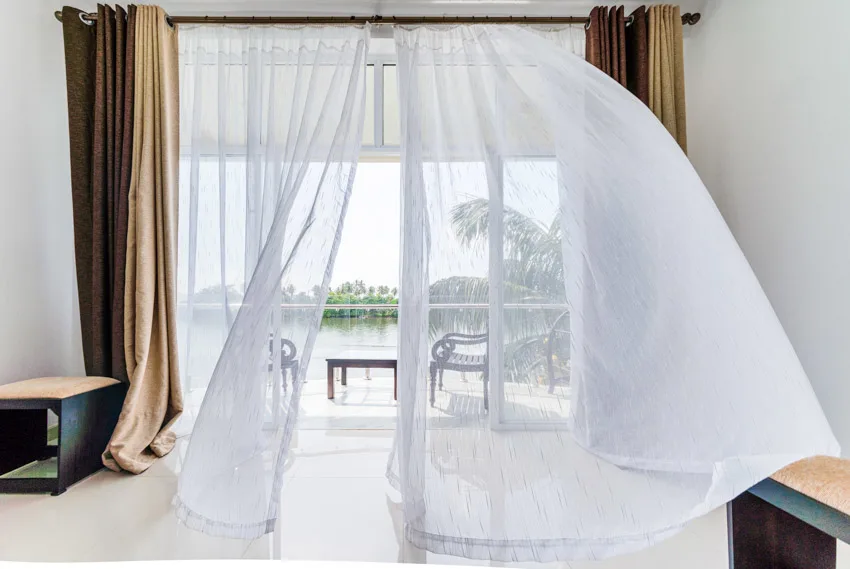 Safety pins are an easy yet excellent way to keep your drapes closed. To make a good sealing, you can overlap the edges of the two sheets where they meet in the center, then insert many pins horizontally and perpendicularly along the border.
How Long Can Rods Go Without Support?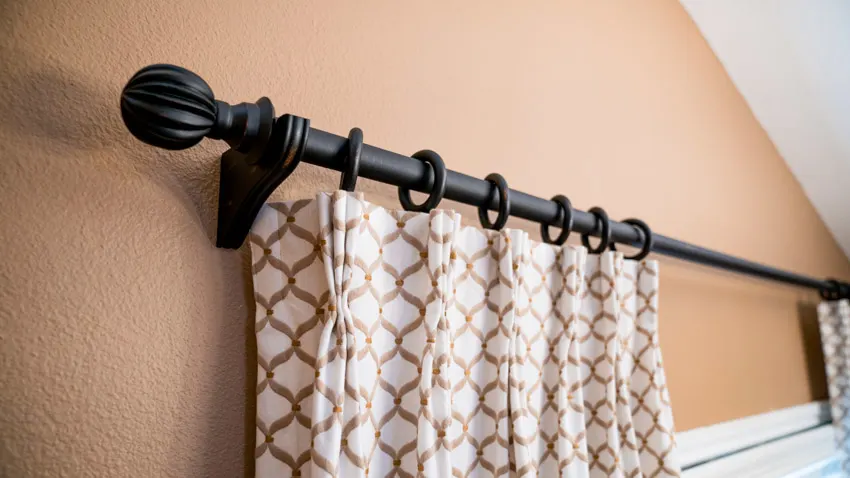 Normally, 1.5-inch metal or wooden drapery rail can go for 50 to 60 inches without support.
See more related content in our article about how high to hang curtains on this page.