Here we share the best types of shower curtain rods including different styles, tips on how to choose a shower rod, and ideas on how you can install curtain rods.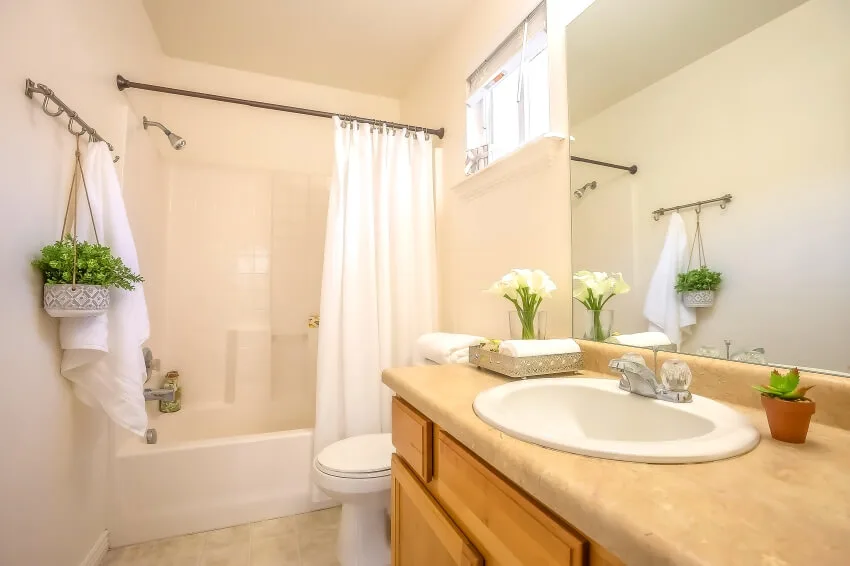 Depending on the size and configuration of your shower, you might need a particular style of the curtain rod to ensure a proper installation. You can also choose different rods based on your personal preferences or the décor of your bathroom as well as the overall appearance of your walls.
Well, the various types of shower curtain rods are almost as abundant as the various types of showers. With so many selections, it can be difficult to identify the one you need or want. Thus, in this article, we will go through the many forms of shower curtain rods so that you can choose the ideal one for you.
Single Shower Curtain Rod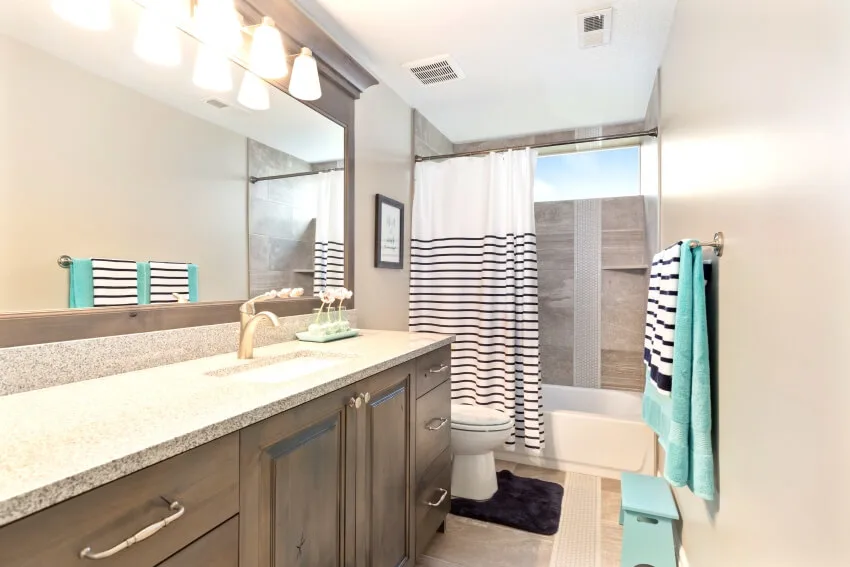 This is the style of shower curtain rod that most people envision when they imagine shower curtain rod – it runs straight across from one end toward the other. Single shower curtain rods are normally available in fixed configurations.
Single shower curtain rods simply provide a secure spot to install your shower curtain. For a long-lasting appearance, they are frequently fixed on metal equipment that attaches to the wall.
These simple-looking rods with suitable lengths for the most common bathtubs and showers are readily available. Furthermore, there is minimal to zero possibility of the curtain rod collapsing.
Moreover, this is the most common form of a shower curtain, hence it is relatively inexpensive and easy to obtain. This is the solution employed in most households nowadays. A single shower curtain rod may be the most ideal pick if you have a standard-length bathtub.
In typical shower rooms, a single shower curtain rod covers the entire showering area. This implies that what you observe from the exterior is the same proportion as what you get when you go inside your shower area.
Double Shower Curtain Rod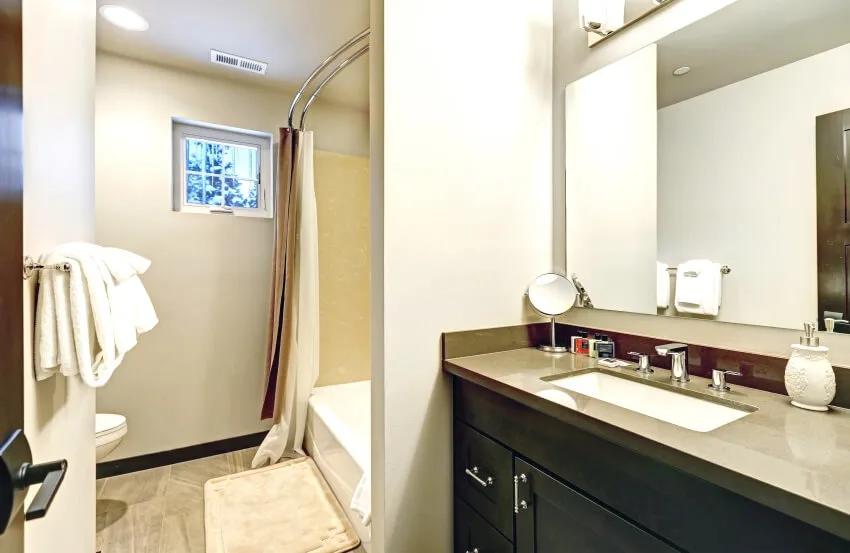 In terms of design, the double shower curtain rod can help enhance things by allowing you to keep the ornate curtain open while taking a bath or shower to let in greater illumination. The exterior rod can be utilized to store towels or bathrobes, transforming it into an improvised bathroom rack. Numerous double shower curtain rods come with bathroom fittings such as complementing curtain hinges and rings as well.
Installing double shower curtain rods in the bathtub or shower area offers some more functional uses when it comes to maintaining the bathroom, aside from the elegant style and greater space for getting completely clean.
By arranging your initial curtain or liner on the inner rod and the ornamental curtain on the outer rod, you can remove simply either one of them for cleaning rather than both. Since the double rod splits the curtain and liner, there is greater space between the two, allowing for more rapid drying and the reduction of mold growth.
However, because they take up extra space on the exterior of the shower, such double shower curtain rods are not necessarily the best bathroom layout concept for every bathroom. If your vanity or toilet is near to the bathtub, this might make the space appear cramped, thus conduct some measurements first.
Curved Shower Rod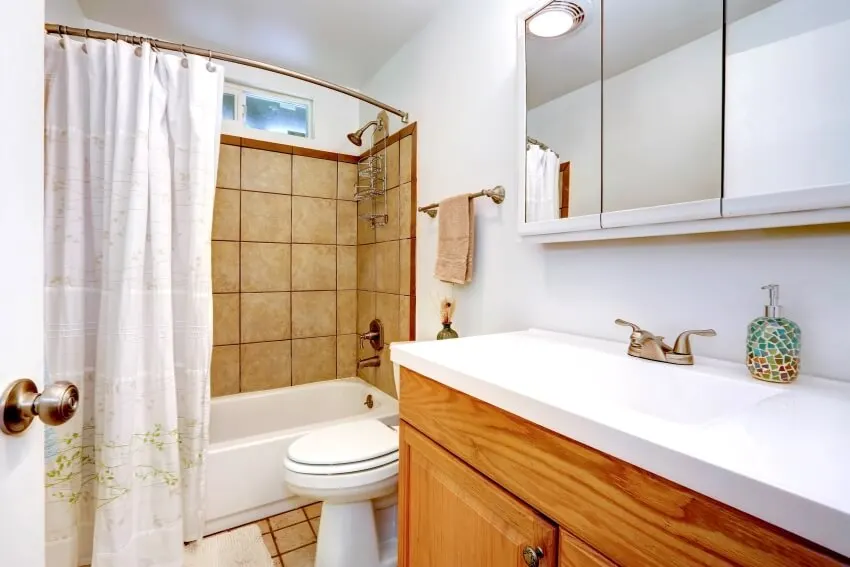 A curved shower curtain rod arrangement gives you more wiggle room than a standard curtain rod. This is due to the outwardly expanding shape, which allows for extra space to be curved in from the bathroom into the shower section.
You could always roam freely within the bathroom shower area without fear of ruining the linen. Your shower curtain will still be hung properly, preventing water from splashing or dripping onto your bathroom floor. Curved shower curtain rods are also perfect for curved bathtubs since the contour of the rod corresponds to the configuration of the bathtub.
When installed correctly, the structure of a curved shower curtain can make your bathroom appear more sophisticated and beautiful. More often than not, you will need to get an extra-long shower curtain to support the span of the rod from the ceiling down to the floor. A long and curved shower curtain adds an incredibly cool aesthetic to a modern-style bathroom.
Nevertheless, if you have a compact bathroom, a curved shower rod may not be the best option. Your main bathroom's space is reduced, resulting in less room in the primary bathroom area.
Adjustable Shower Curtain Rod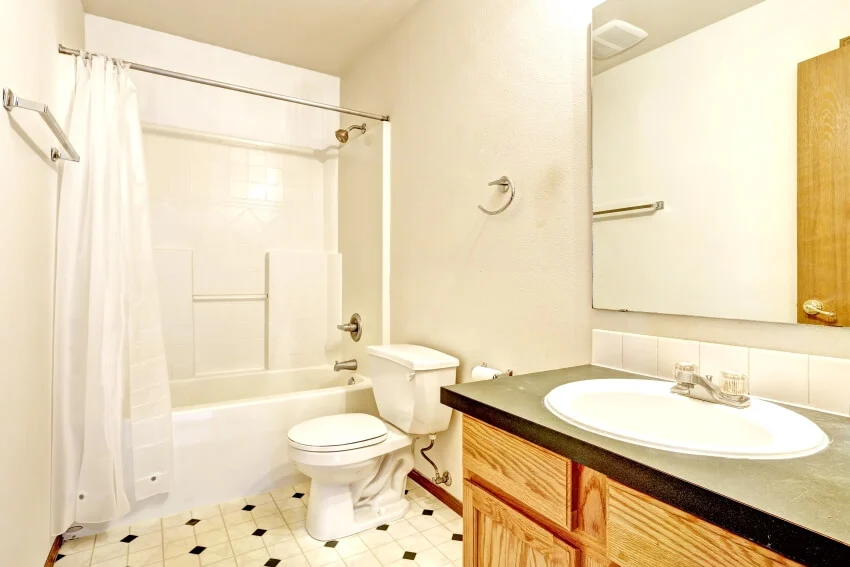 One of the most prevalent forms of shower curtain rods is the adjustable straight curtain rod. They are normally attached to the wall by a tension spring included within the rod. This design of shower curtain rods is, in fact, one of the greatest options for compact and non-typical-sized showers.
The adjustable shower curtain rod, which is maintained in position by spring support, is one of the simplest and most used shower rods nowadays. This type of shower curtain rod is an ideal option if you are unsure of whether you want a rod in its location constantly or if you are only renting the house.
It is also incredibly simple to set up. It also contains a tension spring, so you will not have to drill any openings in your bathroom walls.
Tension Shower Rod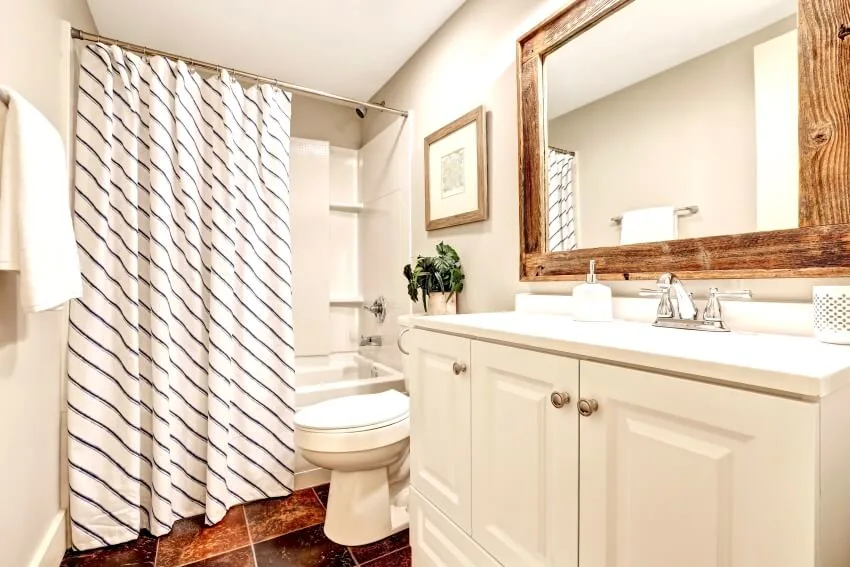 You can consider installing tension curtain rods if you want an inexpensive and simple way to hang curtains. These curtain rods are extremely simple to install. Because they eliminate the need to drill openings in your walls, they can be an excellent choice for hanging curtains in a leased home.
The procedure of mounting a tension rod differs from that of other types of curtain rods. A tension rod, not like the other rods that are attached to your bathroom walls, just fits neatly between two walls and is secured in position by the tightness of the fitting.
The length of most tension rods can be adjusted within specific parameters. You can adjust the length of the rod to fit as firmly as possible between the two bathroom walls.
Most rods include rubber tips on both ends to save your walls from stripping. They are like standard shower curtain rods and operate on the same concept.
Tension rods are easy to install as they are quite lightweight. Hence, if your shower curtains are weighty, the rods might not be able to sustain them. A double tension rod can occasionally remedy the problem, but even two tension rods are not always adequate to support substantial shower curtains.
Round Shower Curtain Rod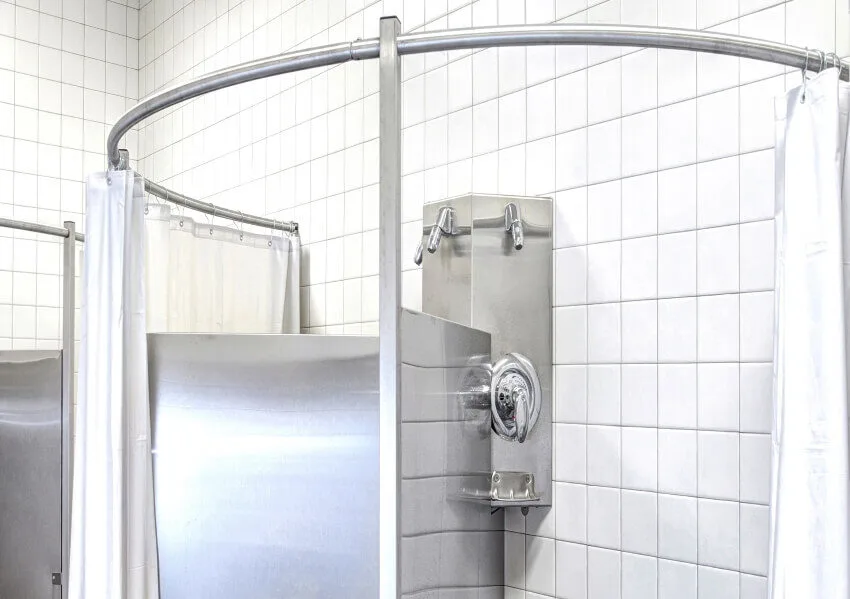 A round shower curtain rod has a circular form that encompasses the whole bathing area, which is normally circular as well. Generally, round shower curtain rods are required when you have a round-shaped bathtub or shower area, a freestanding tub, or want to establish an outdoor shower area.
Wall-mounted rods, ceiling-mounted rods, as well as rods that incorporate the shower head pipes are all available in this curtain rod variation.
Corner Shower Curtain Rod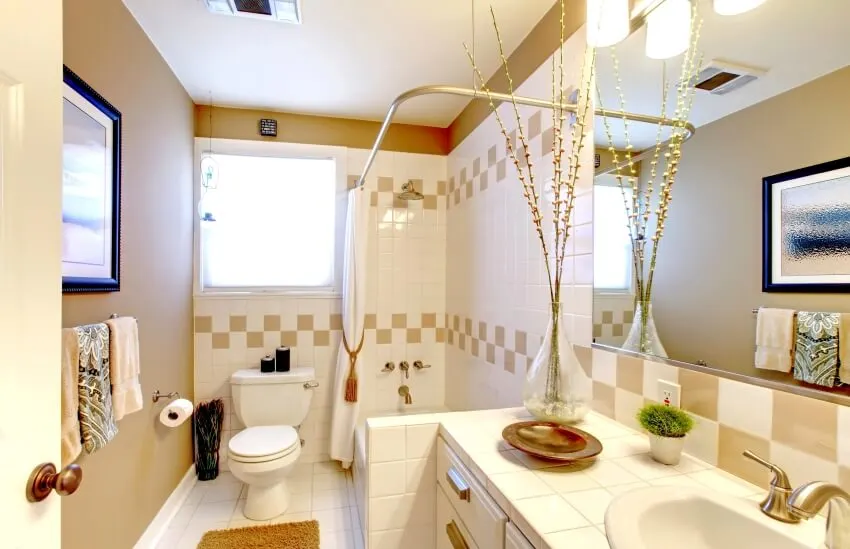 Corner shower curtain rods have a unique design that allows them to fit into any corner space within the bathroom. Customarily, it can move smoothly along the rod without being hindered by the ceiling support. It is suitable for a full enclosure, completely covering any bathtub or shower area.
Ceiling Mount Shower Curtain Rod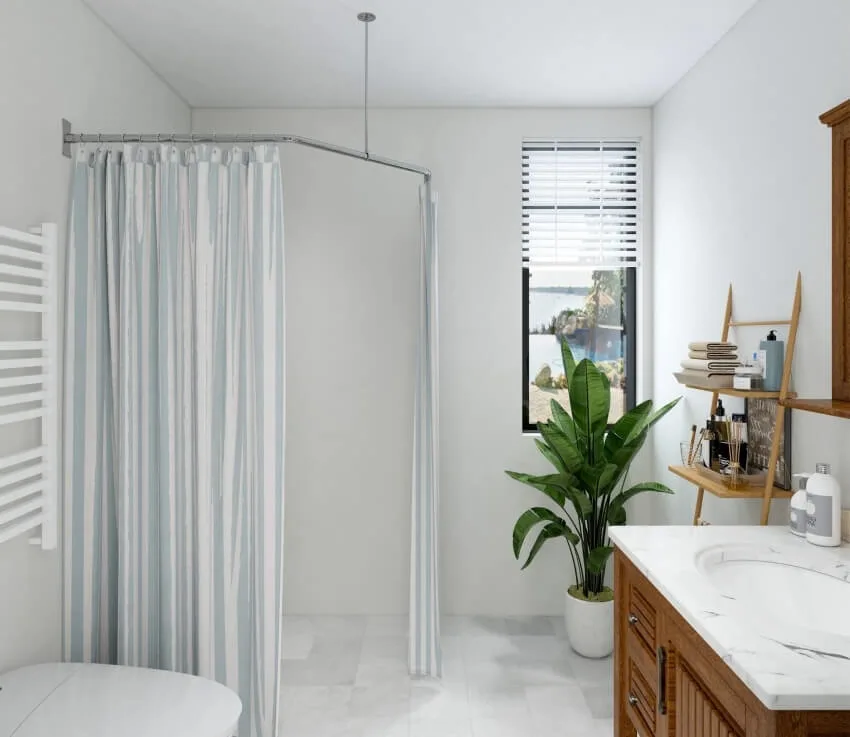 See this ceiling mount shower curtain rod at Amazon [sponsored link]
In general, ceiling-mount shower curtain rods are attached to the ceiling. Hence, you will use long shower curtains in this type of shower curtain rod. However, sometimes, it has a rectangular shape that is made to hang down from the bathroom ceiling to hold the shower curtain.
This is commonly implemented if you have a bathtub that is not connected to a wall and thus has no location for a shower curtain pole to be attached. This is typically used for baths with simply a bathtub and no shower, which explains why this is so infrequent.
Clawfoot Tub Shower Curtain Rod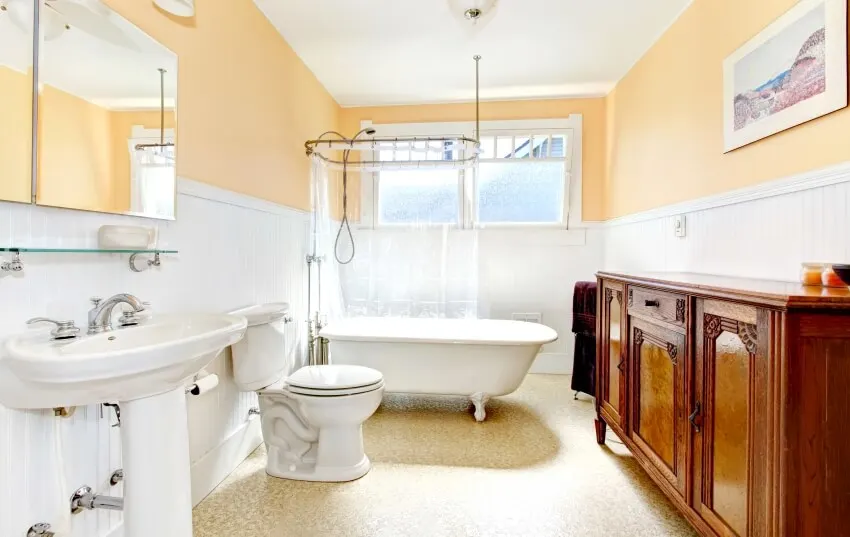 Clawfoot tub shower curtain rods are most commonly used for freestanding clawfoot bathtubs with a shower combo, as the name implies. It can also be utilized for outdoor shower areas, like those seen in a seaside home or a rustic cottage getaway.
This form of the rod is frequently reinforced by one or two ceiling rods inclined parallel to the shower rod, and the form of the rod could be a rectangle or oval. Normally, it will depend on the design and manufacturer as well.
How Do I Choose A Shower Curtain Rod?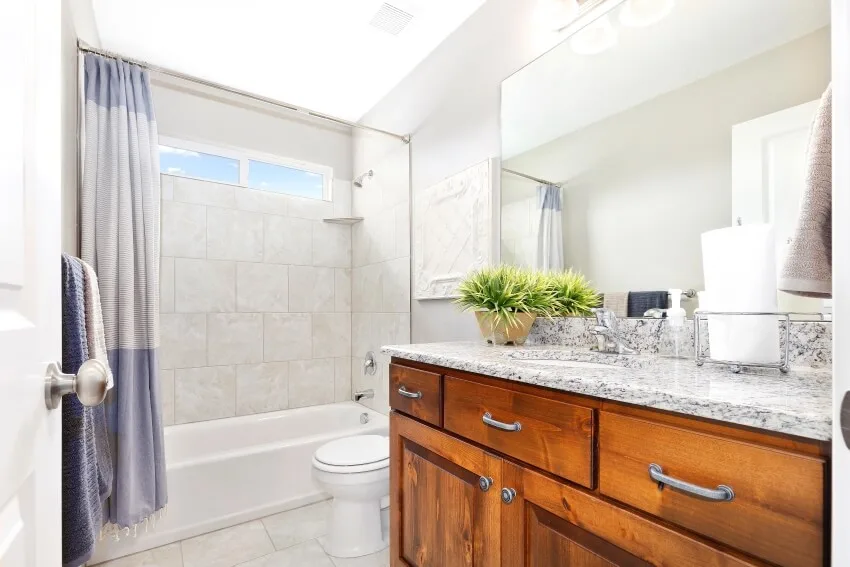 Here are the tips when choosing a shower curtain rod:
• Most shower curtain poles are constructed of plastic or metal. Wooden shower curtain rods are another alternative. A plastic rod that matches the style of your bathroom is a terrific way to add to the room's décor.
Plastic rods are available in a variety of colors and are fairly priced. Their only disadvantage is that they are not as strong as metal rods. A chrome rod complements chrome lamp fixtures, faucets, and towel racks and adds a contemporary look to the bathroom.
• Try a rod that curves outwardly if you need more space in the shower area. A round-shaped rod is required for a shower over a clawfoot tub, whereas an L-shaped rod is required for a corner shower.
Measure the bathroom space to ensure you have the right size of rod. Normally, curtain rods are adjustable, but consider the fact that while a long rod may be reduced in length, it is impossible to extend the length of a short rod.
• Consider the structure and material of the wall where you intend to place your shower curtain. If your bathtub or shower enclosure is tile, for instance, a tension rod that stretches by twisting and clings to the wall with friction would be an excellent alternative because it does not require drilling into the wall to attach. Read more about shower curtain rod sizes here.

Best Type Of Shower Curtain Rod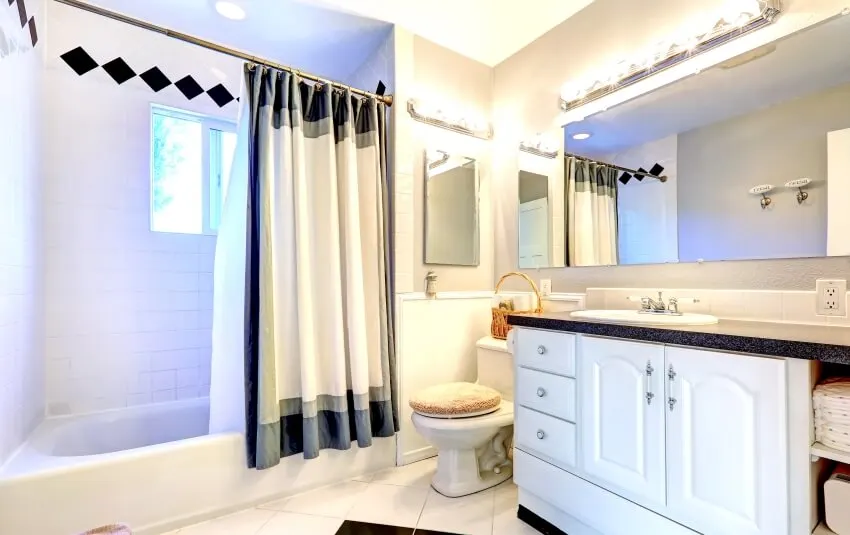 Nowadays, any type of shower curtain rod that is adjustable would be the best option. It is highly versatile and is normally made of metal, which is highly durable and long-lasting. Plus, adjustable shower curtain rods are compatible with practically any bathroom or shower area configuration.
What Should a Shower Rod Match?
The shower curtain rod you will choose should match the style of your bathroom. Wall decorations and colors, as well as lighting types and finishes, must all be considered.
The design, style, and material of the shower curtain that will be hung from the rod, as well as the types and colors of towels, bathmats, and rugs, are all important considerations.
What Is The Point Of A Curved Shower Rod?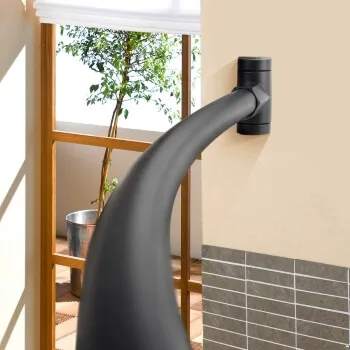 See this curved shower curtain rod at Amazon [sponsored link]
Installing a curved shower rod serves its important purpose by providing more space within the shower or bathtub area. This is due to the protruding shape, which allows for extra wiggle room.
Can You Use A Regular Shower Curtain On A Curved Rod?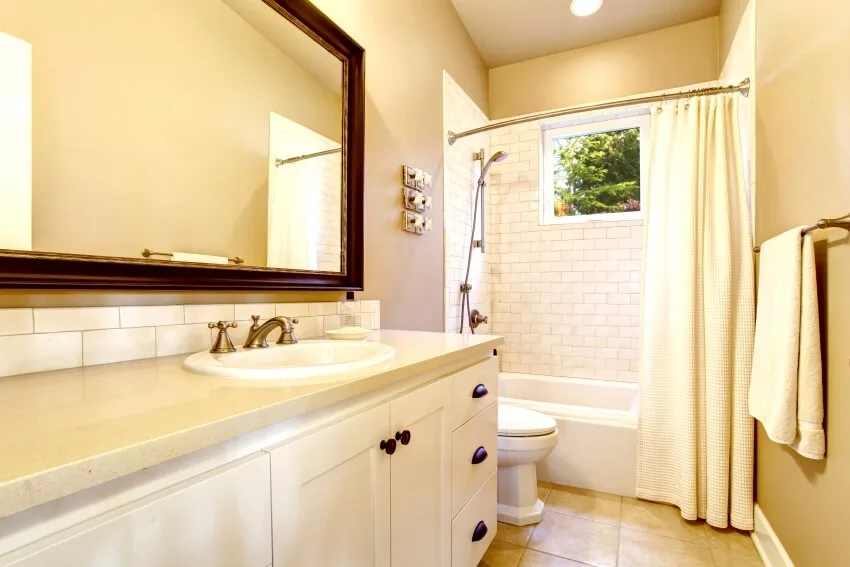 Yes! A curved shower rod does not necessitate the purchase of a specialized shower curtain. If you mount the curved shower rod upward on the shower area walls and near to the ceiling, you will need an extremely lengthy shower curtain, just like with conventional straight shower curtain rods.
How Do I Get my Shower Curtain To Stay In Place?
Here are some ways how you can get your shower curtain in place:
• Binder clips can be used to further weigh down the shower curtain. If you have at least 4 to 5 large binder clips on hand, this would be an excellent solution to rapidly stabilize your curtain. Binder clips should be placed evenly around the bottom border of the curtain.
• Buy curtain weight clips for a quick and easy ready-made solution. Weighted curtain clips are available in stores and can be clipped right onto the bottom part of your shower curtain to prevent it from moving and falling.
• Suction cups can be used to keep your shower curtain in position. These products are available in stores and should be positioned at the bottom border of your curtain, with the suction cup facing the bathtub.
Why Does My Shower Tension Rod Keep Falling Off?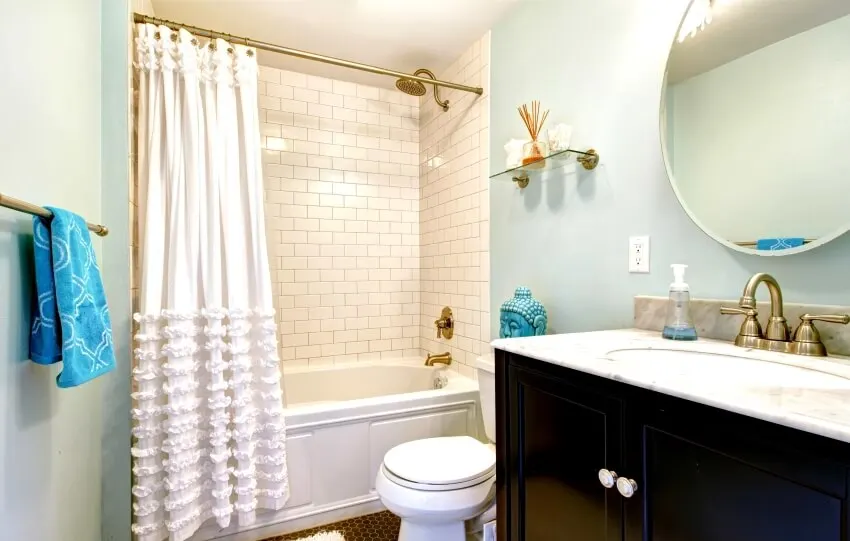 If the walls on both sides of the shower are pure drywall, you might be unable to adjust the tension rod sufficiently without breaking them. Given the lack of solid support, drywall induces the curtain rods to become weak, forcing them to collapse.
Visit our guide on shower curtain sizes for more related content.