These utility sink ideas include different styles, materials pros and cons, features, costs, and tips on how to choose the best utility sink for your home.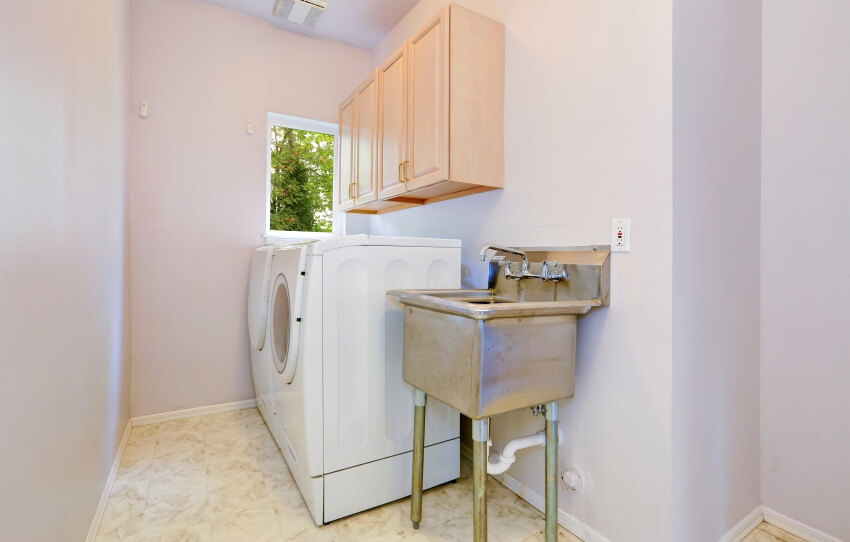 Utility sinks are the core components of all residential sinks and must be made accordingly. Such multi-functional watering channels can be used for a variety of purposes, not just laundry.
The fundamental difference between a utility sink and a bathroom or kitchen sink is the emphasis on ductility and efficiency, as well as the capability to withstand staining, heat, and dealing with messier annoyances like mud and other dirt.
Utility sinks, often known as laundry sinks, are usually located in the laundry room. Utility sinks, on the other hand, can provide valuable practicality to your workshop, cellar, mudroom, and even your outdoor space.
Since there are so many adaptable sinks on the market, we will provide you with some ideas on how to choose the ideal utility sink for your home.
What Is A Utility Sink?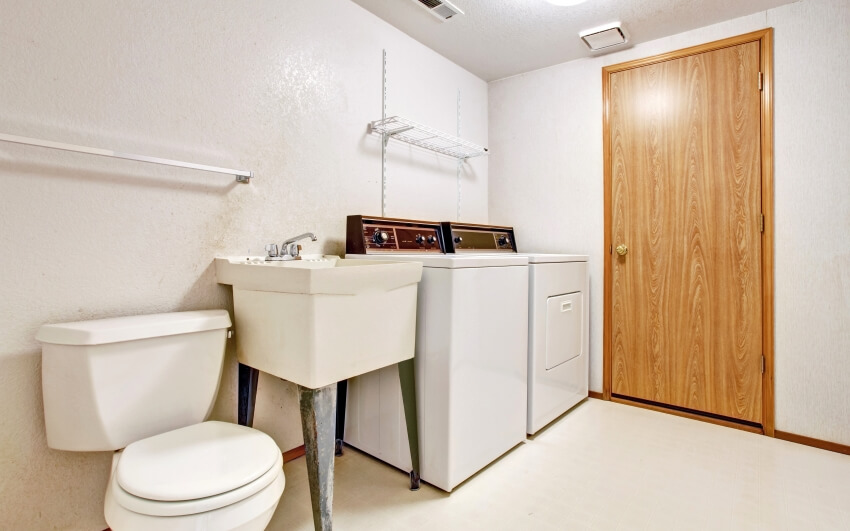 A utility sink, as the appellation suggests, is a beneficial addition to any house or yard. Homeowners could have compact rooms with utility sinks, particularly if they are just next to the front or rear doors.
These sinks differ in cost and style, but they typically feature a significantly larger and deeper basin than a standard kitchen sink. Several homeowners utilize their utility sinks to connect transportable washing machines or dishwashers, preventing them from draining into the kitchen sink. Some make use of them for a range of home chores.
For example, the utility sink might be ideal for hydrating plants that require frequent watering. You can put houseplants in the utility sink rather than putting plant soil and debris all over the sink or tub.
Several households use these sinks for chores such as cleaning floors, which implies you do not need to get chemicals or floor grime into your standard kitchen sink. Huge utility sinks, in particular, could be ideal for bathing dogs or cats.
Utility Sink Styles
There are different styles of utility sinks. Here are their names and details:
Drop-In Utility Sink
A drop-in utility sink setup is also known as self-rimming or over-mount sinks designed for laundry room sinks. These sinks are engineered to fit into a perforation in the countertop. The basin then fits underneath the counter, with just the sink rim visible above.
Aside from that, drop-in sinks are usually compatible with the majority of laundry room counters or surfaces. Drop-in utility sinks are the simplest to install since they just slide into the countertop sink opening. You just have to make sure to strengthen the framework structure of the cabinet below if the material of the utility sink used is hefty.
Undermount Utility Sink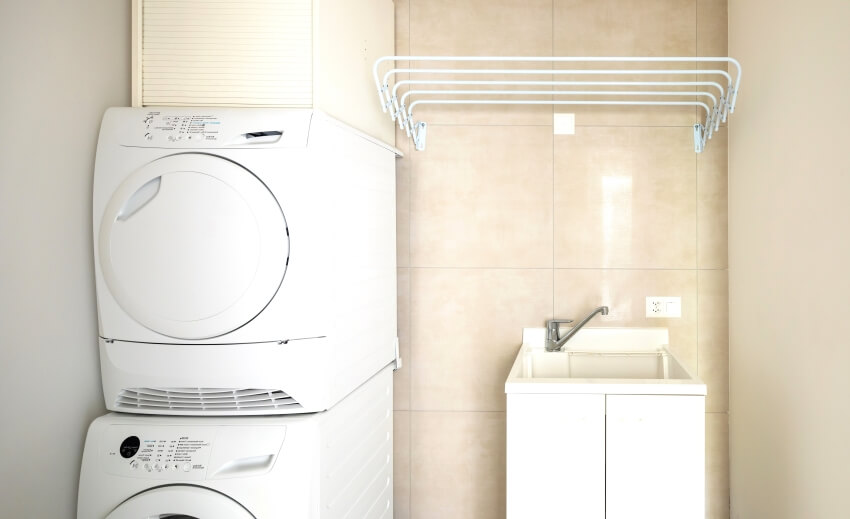 Undermount laundry sinks are normally placed totally beneath a counter, with the countertop totally covering the sink's borders. This installation technique gives the sink a modern appearance and ends up making cleaning simple because you can easily wipe anything into the utility sink from the countertop.
Furthermore, certain undermount laundry sinks are available with matching coverings, allowing you to enclose the sink to free up counter space whenever the basin is not in operation.
Truly, undermount utility sinks are convenient to use and install because they do not have a rim where dirt and filth can accumulate or fabrics or threads can tangle. To adhere to the bottom of the countertop, they usually necessitate clips and adhesives.
Wall Mount Utility Sink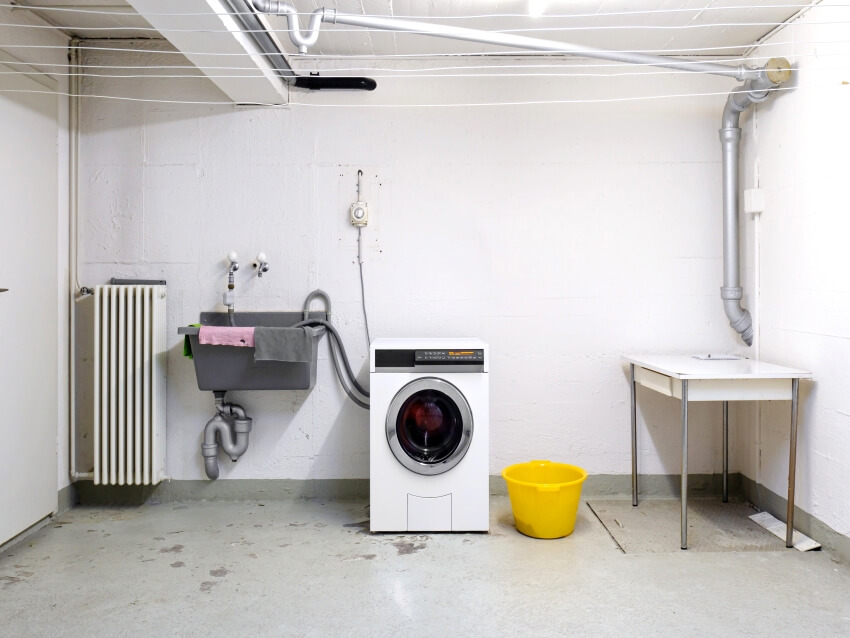 Wall-mounted laundry sinks are attached to the laundry room's wall. These sinks must be fastened directly to wall studs situated behind the drywall owing to weight limitations. Hence, if you are looking for a space-saving utility sink, Installing a wall-mount utility sink on the wall would surely help you save room.
These sinks, also known as flush-mount utility sinks, are suitable for areas where there is no cabinet sink clearance. As stand-alone sinks, these utility sinks are situated apart from counters. This setup type can be useful if you have messy cleaning duties that may cause your counters to become sullied.
Wall-mount laundry sinks are ideal for small spaces since they are elevated above the floor, allowing for huge storage space underneath.
Freestanding Utility Sink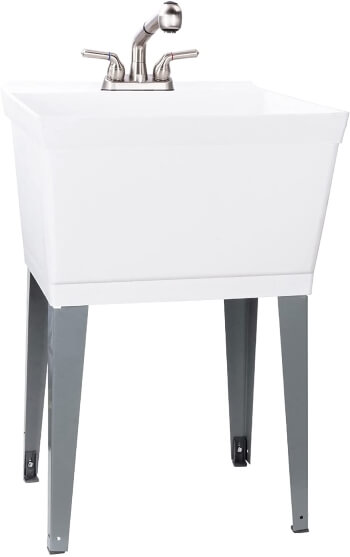 See this freestanding utility sink at Amazon [sponsored link]
A freestanding or floor-mount laundry sink is a huge single or double-basin that has its supporting legs. These legs are either directly connected to the basin or are purchased individually.
Moreover, a freestanding or floor-mount laundry sink could be the best option if you prefer the most basic, low-cost laundry sink imaginable. Because this style of sink simply needs to be fixed to the rear wall and the plumbing lines installed, the entire setup would be simple.
These sinks with four supporting legs could be most suited for usage in a garage, entryway, or other utility areas. They are often built of steel or cast iron and come in industrialized structures.
Freestanding utility and laundry sinks are often single-basin sinks that are large and deep to minimize splashing, whether you are bathing or clothing your pet.
Double-basin utility sinks are very handy, particularly if you require two basins for washing, rinsing, wiping, or other multi-tasking activities. It all depends on how you intend to utilize your utility sink to determine what you require.
Laundry Sink with Base Cabinet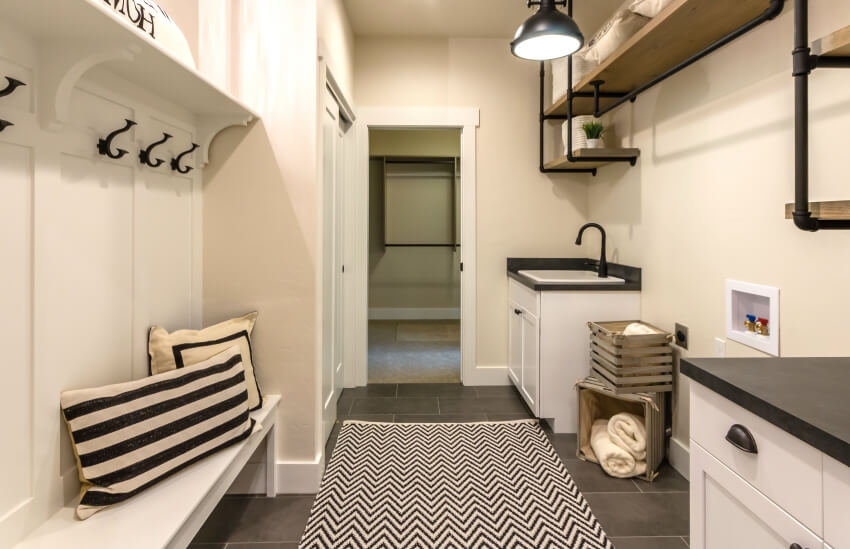 You can make a base cabinet-mounted utility sink by combining a vanity cabinet as well as a utility sink. This style of sink has a plain, functional cabinet with doors on the bottom, and also the sink on the upper side.
If you want to keep the aesthetic of your washing room, these sinks would be ideal. These sleek cabinets obscure the underlying plumbing and offer minimal storage. Normally, this storage is mainly for cleaning supplies.
Such sinks have a lower capacity than others. The usual capacity ranges from 10 to 15 gallons, in contrast to 20 gallons for freestanding or wall-mounted utility sinks.
Farmhouse Style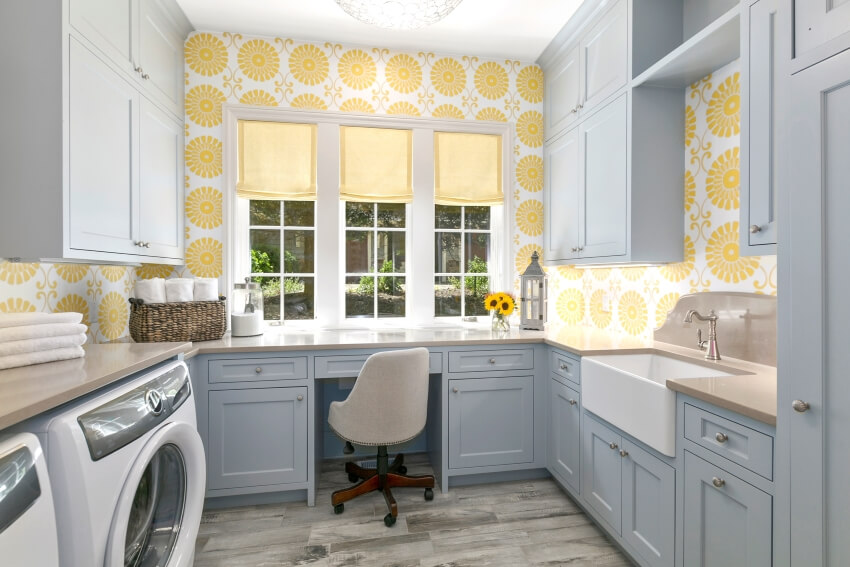 Due to their depth, farmhouse-style utility sinks may be employed in both the kitchen and the laundry area, and they can be implemented for an incredible number of activities, from washing the dishes and clothing to bathing infants and pets.
Such sinks are currently obtainable in a variety of materials such as fireclay, stone, stainless steel, granite, and copper, rendering them a desirable option in both modern and classic farmhouse-style kitchens. There are also a variety of sizes and basins offered to accommodate any space.
Aside from that, farmhouse-style sinks are usually extremely long-lasting, stain-resistant, and scratch-resistant. Larger and heavier objects, meanwhile, must be handled with caution because these sinks can be chipped and shattered with a great deal of force, such as putting a pot into it.
Furthermore, they are much easier to clean than stainless steel sinks and will look terrific for years to come with little upkeep.
Utility Sink Materials (Pros & Cons)
Acrylic
Acrylic is indeed a great choice as it is scratch- and stain-resistant, making it a long-lasting material. It is also relatively affordable, which is why it is so prevalent among DIY enthusiasts.
It is also a lightweight sink material. Keep in mind, nevertheless, that when water is flowing through an acrylic sink, it can be extremely loud. They are also not that heat-resistant.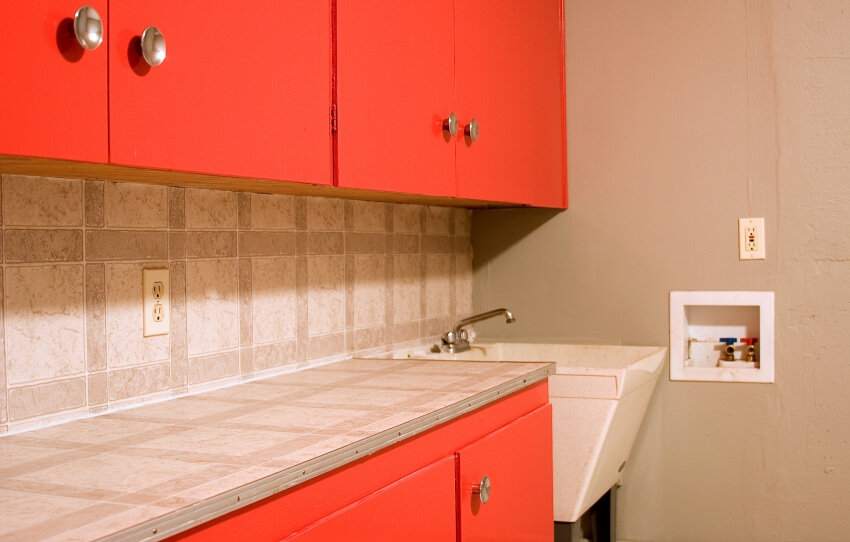 Pros of Acrylic Sinks
• They are made of lightweight components.
• Acrylic utility sinks are reasonably priced.
• They are the most ideal wall-mount option you can find in the marketplace.
• Acrylic sinks are widely available at home improvement shops.
Cons of Acrylic Sinks
• Acrylic sinks are not completely stain-resistant.
• The martial is relatively thin and prone to cracking.
• Some chemicals can cause the acrylic to badly react.
• At extremely hot temperatures, acrylic might melt.
Fiberglass
If you do not want to operate around a steel sink, fiberglass utility sinks would be a good option. You can use this sink for various activities other than washing dishes because it is basin-type, simple to set up, and has up to three basin sections.
Fiberglass is robust and lightweight, as well as inexpensive, thus you will earn your money's value. It seldom cracks or chips, but if it does, it is indeed easy to repair with the help of an expert.
The most essential aspect to remember while maintaining your fiberglass sink is to use non-abrasive cleaning chemicals to avoid thinning the sink of its color, finish, or damaging it.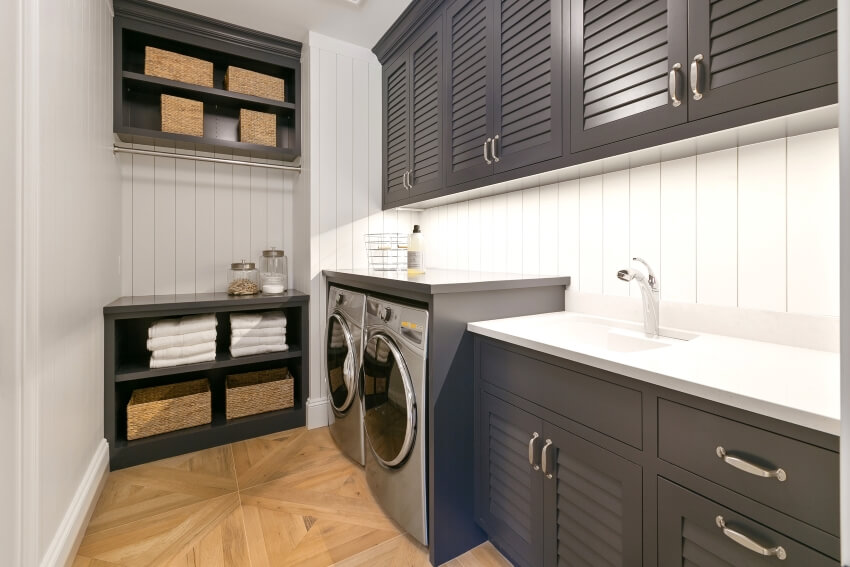 Pros of Fiberglass Sinks
• Fiberglass utility sinks are quite durable and long-lasting.
• Very easy to wipe and clean using a soft cloth
• Inexpensive
• Very lightweight and easy to install
Cons of Fiberglass Sinks
• The quality tends to deteriorate when it is in persistent contact with different types of chemicals.
• Abrasive cleaning tools might damage the surface.
Stainless Steel
Although stainless steel is less expensive, it is still more inexpensive than acrylic-made utility sinks. Stainless steel utility sinks are normally dent-resistant, but scratch more readily than acrylic. Brushed-style stainless steel sinks are popular among homeowners as they cover scratches easier.
This strong workhorse is antibacterial, corrosion-resistant, and extremely durable, making it an excellent selection for utility sinks. Certain stainless steel sinks are susceptible to dents and scratches, as well as making noise, although this can be remedied with noise dampeners installed at the time of installation.
Thicker gauge steel (also known as low-gauge steel) is sturdier, quieter, and less vulnerable to denting; nonetheless, it is more costly. The neutral sheen of stainless steel complements the majority of design types.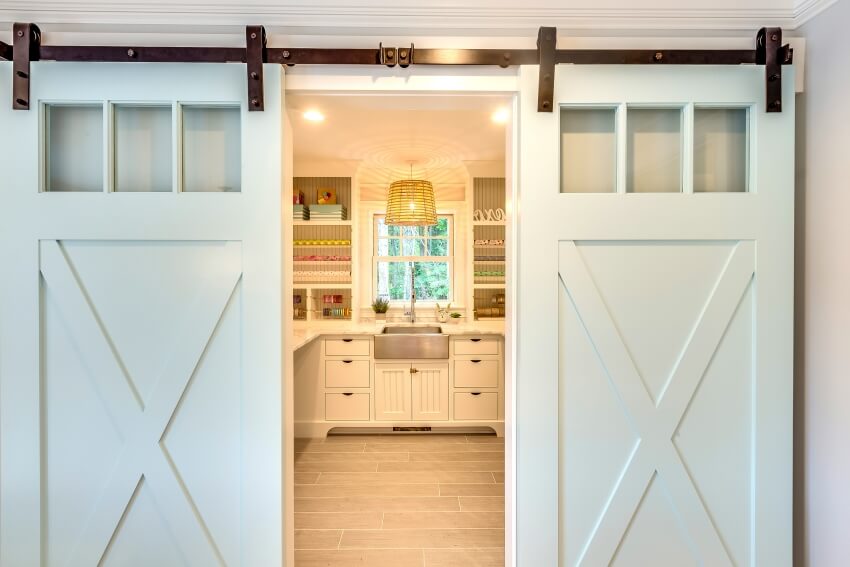 Pros of Stainless Steel Sinks
• Stainless steel sinks are normally easy to install as they are lightweight.
• Stainless steel is quite simple to clean.
• They do have an industrial vibe and style that works well in utilitarian areas.
• They are extremely durable and chemical-resistant.
• Stainless steel is extremely heat resistant.
Cons of Stainless Steel Sinks
• They will dent if enough power is applied.
• Severe scratches on stainless steel cannot be sanded out.
• Stainless steel can be fairly costly.
• Whenever water contacts stainless steel, it may generate noise.
Porcelain & Ceramic
Porcelain or ceramic utility sinks are usually non-porous and heat-resistant. Plus, they are more stain-resistant than other sink materials used in utility sinks. Ceramic materials are also strong, easy to maintain, and feature a beautiful luster.
Ceramic sinks are attractive, tough, and relatively long-lasting, making them resistant to stains, cleaning, and hot temperatures. It is also impervious to rusting, acid, and discoloration. Moreover, it is simple to manage and sanitize using dishwashing liquid and water, or baking soda for harder stains.
Nevertheless, it is susceptible to cracks caused by heavy or fallen objects. Depending on your needs, a grid at the bottom of a ceramic utility sink may be useful. It is a less expensive yet less durable alternative to cast iron.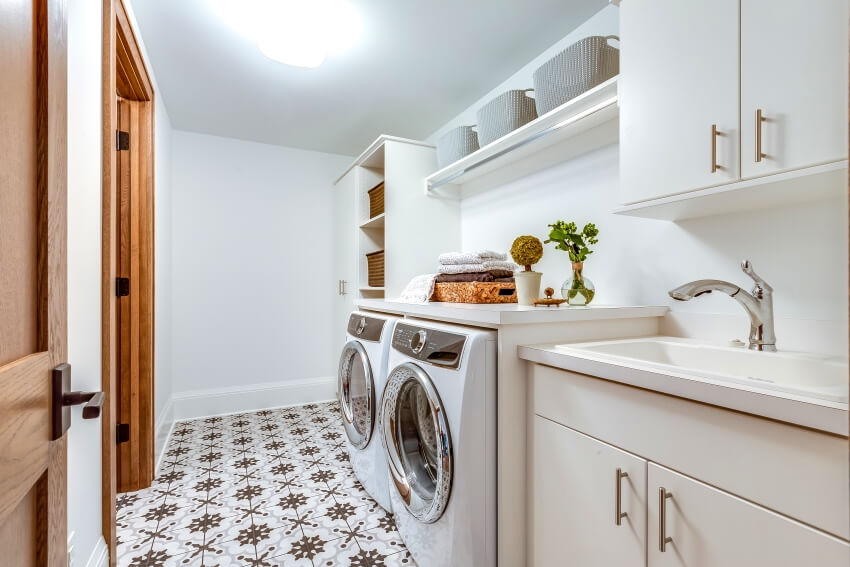 Pros of Porcelain/Ceramic Sinks
• Porcelain or ceramic utility sinks are very resistant to heat.
• They are non-porous.
• These utility sink materials are quite easy to maintain.
• They offer a very gorgeous luster.
• Porcelain or ceramic utility sinks are stain-resistant.
Cons of Porcelain/Ceramic Sinks
• Porcelain or ceramic sinks are weak against high impacts such as fallen heavy objects.
• Not ideal for DIY installation as this material is heavy.
Enamel Coated Cast Iron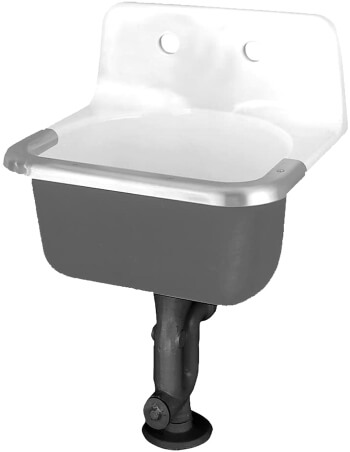 See this cast iron utility sink at Amazon [sponsored link]
An enamel-coated cast iron utility sink is another sink material option that is extremely durable. Cast iron sinks are indeed popular for utility sinks because they are durable and elegant, with a non-porous enamel covering that comes in a variety of colors.
The main difference is that the enamel may need to be cleaned more frequently with gentle detergents and sodium bicarbonate (baking soda). The coating may discolor if you use abrasive cleaners or harsh chemicals.
Dropping items may also shatter or damage the enamel, revealing the iron underneath to rust. A grid on the base of a cast iron utility sink can help defend it from accidental drops. Because of their weight, cast iron sinks may necessitate cabinet reinforcements and possibly professional construction.
Pros of Enamel-Coated Cast Iron Sinks
• Enamel-coated cast iron utility sinks are very durable.
• They are incredibly stain-resistant.
• These sinks can exceptionally withstand heat.
Cons of Enamel-Coated Cast Iron Sinks
• The surface can be susceptible to chipping.
• Enamel-coated cast iron sinks can be hard to install as they are very heavy.
• This expensive type of sink material can sometimes be hard to find.
Plastic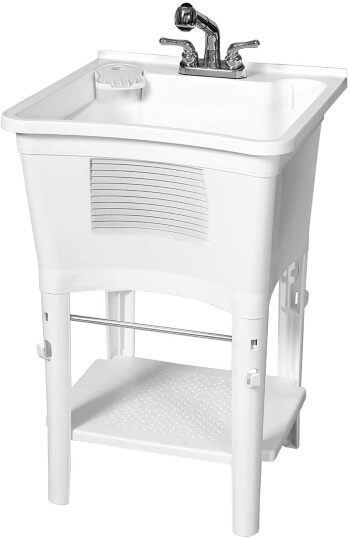 See this plastic utility sink at Amazon [sponsored link]
Plastic-made sinks are somewhat durable and stain-resistant. They are also very easy to install as they are extremely lightweight. Numerous homeowners choose this sink material as it is very affordable. On the other hand, they are not made for long-term use.
Pros of Plastic Sinks
• Plastic-made sinks are durable and stain-resistant.
• They are simple to install and very lightweight.
• They are affordable.
• They are easy to repair.
Cons of Plastic Sinks
• Plastic sinks are not built for long-term use.
• They turn brittle after a few years.
Concrete
Concrete is a relatively affordable material that has grown in popularity in home décor over the last several years. When utilized in a sink, it provides a one-of-a-kind piece that undoubtedly stands out. Furthermore, since concrete is incredibly malleable, it can be molded to make any size or shape sink to exactly match your kitchen or bathroom.
High-performance concrete and specific moldings are used to create concrete sinks. Recyclable sink molds make the procedure easier and are available in a variety of forms. Concrete is, without a doubt, a highly solid and durable surface.
When it pertains to your sink, this is no exception. Because concrete sinks are extremely tough to destroy, you will have lots of years practically provided to you.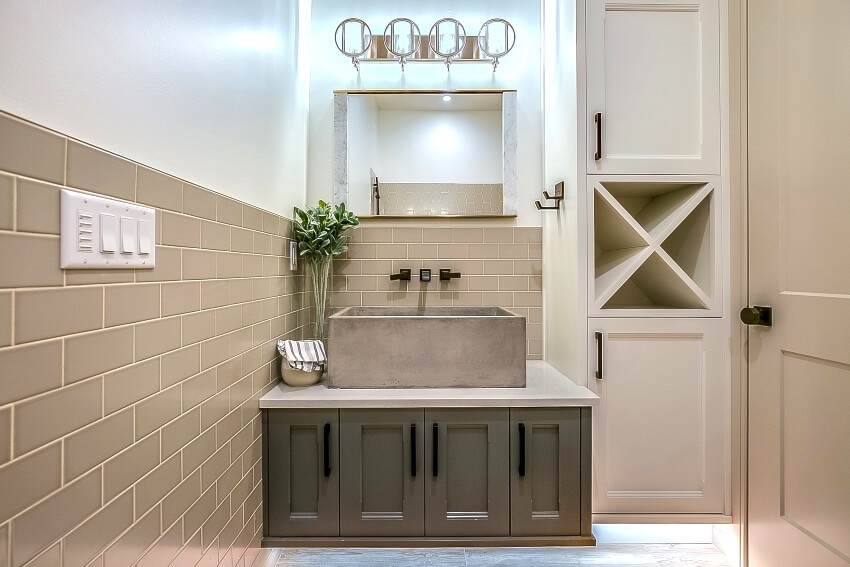 Pros of Concrete Sinks
• Concrete sinks have a unique appearance.
• They can be molded to any shape to complement your bathroom or kitchen sink.

• They are highly durable.
Cons of Concrete Sinks
• Concrete sinks need to be sealed occasionally.
• They are complicated to install as they are heavy.
Utility Sink Basin Features
Here are the most popular utility sink features.
Double Basin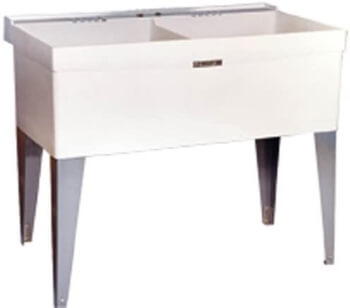 See this double basin utility sink at Amazon [sponsored link]
Dual basins, which are among the most common types of sink layouts, allow for washing on one surface and drying and drying on the other. Dual-basin sinks are incredibly versatile and very adaptable, covering all sink activities: washing, rinsing, and emptying. A high-quality double basin sink is indeed a great choice for utilitarian purposes.
With Sprayer
A sprayer is a useful addition to any utility sink. It is adaptable for a variety of cleaning tasks, such as bathing your pet, loading a mop pail, or cleaning up the sink surface.
Extra Deep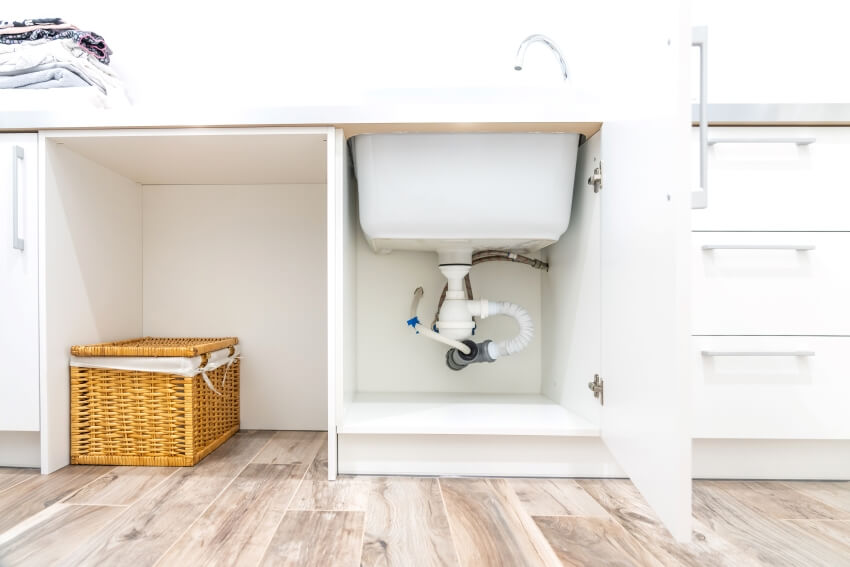 Extra deep sinks offer certain benefits. A deeper utility sink, for instance, reduces splashing. It can also be used to wash more items. Before purchasing a utility sink, you should think about a variety of factors, including depth.
If you consider purchasing a big utility sink with a deeper basin, you will be able to wash, rinse, and dry more objects. Nevertheless, if you choose models with a single basin and you plan to use it as a kitchen sink, you must be careful not to make meals while dishes are soaked in the sink.
Narrow Utility Sink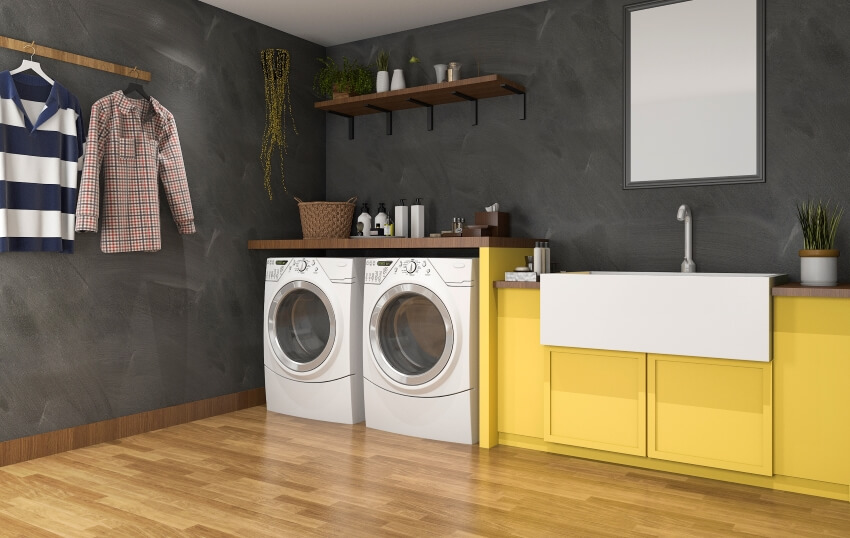 If you want something more rectangular, you can go with a narrow utility sink with thin, squared edges. Even though porcelain and ceramic sinks become tougher and more durable, sinks with thinner edges are being manufactured, making them ideal for small areas while also appearing more stylish and contemporary.
Built-In Shelf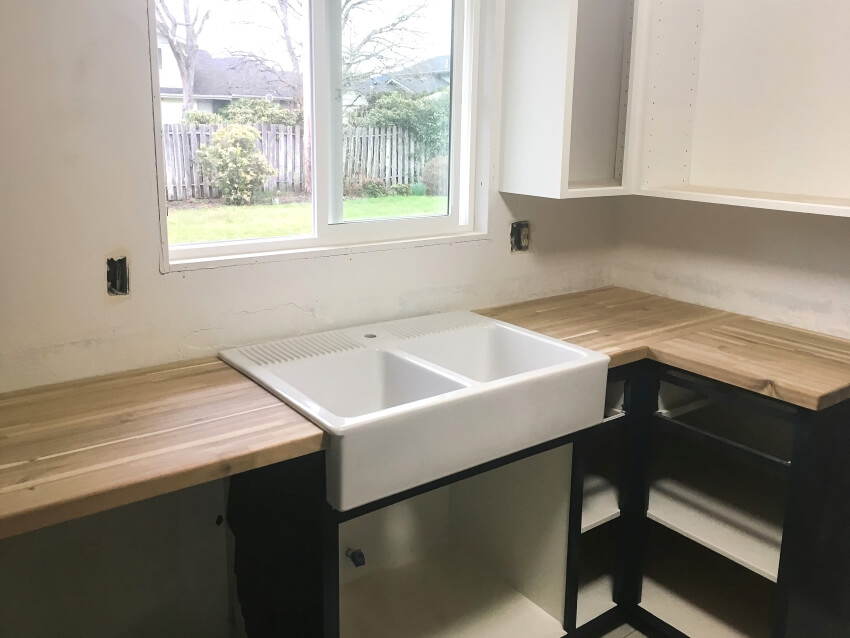 Take thorough measurements of your space before purchasing a utility sink, and be sure to take into account the connections. You can select a design that includes a shelving system that is somewhat smaller on either side for simple storage.
To keep your sink accessories and other items in an organized way and to extend the lifespan of your utility sink with built-in shelves, you can choose waterproof materials such as durable plastics, bamboo-based resins, and stainless steel. Various components, such as hinges or rolling wheels, should also be composed of non and water-resistant components.
Drain Board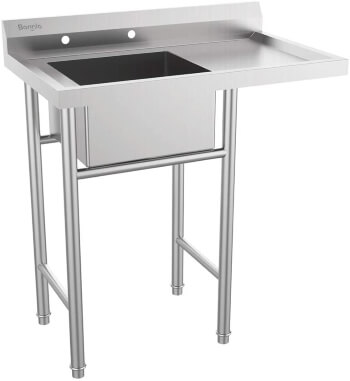 See this double basin utility sink at Amazon [sponsored link]
Drainboard sinks have an associated apron, generally on one side but occasionally on both. The apron covers a portion of the counter. The drainboard is perforated and somewhat inclined down so that the water drains straight into the sink.
Drainboard sinks make the second side of twin-basin sinks available. Rather than taking up one of a large or double-basin sink's completely acceptable basins for a plate drying object, you can place it on top of the drainboard.
Furthermore, drainboard sinks maintain your countertop cleanliness and help dry it by containing water and channeling it directly into the sink and down the drain. Furthermore, the drainboards can be utilized to gather food waste. You can push those leftovers directly into the basin as long as the neighboring basin has waste disposal.
Self Draining Back
Utility sinks with self-draining backs are designed for convenience so that extra water and soap run into the kitchen sink rather than accumulating in the bottom as with a sink saddlebag.
Corner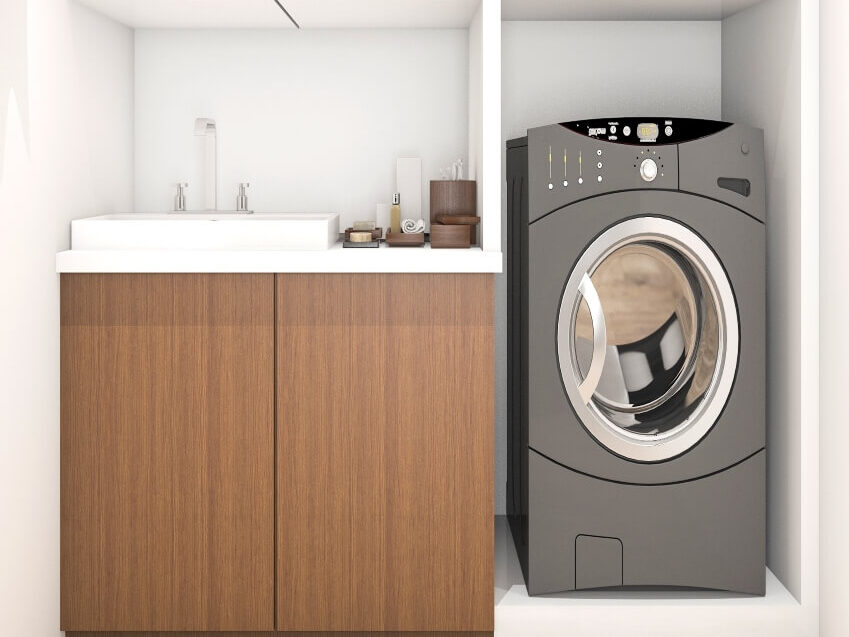 A corner sink is a sink type that is positioned in a countertop corner. Corner sinks offer numerous advantages, particularly in compact kitchens where optimal usage of space is critical.
A corner sink is often built with several sink basins on each side of the corner of the countertop and a sink outlet in the center. Nonetheless, there are other designs obtainable, including those with single basins.
Furthermore, since they take a section of the counter that is often unused and make it very functional, such sinks are an extremely effective application of counter space. That commonly overlooked area within a countertop's corner can be exploited to accommodate a huge sink basin that the kitchen would not have had the capacity for otherwise.
Dog Bath Utility Sink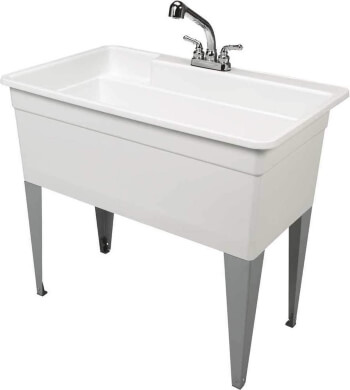 See this dog bath utility sink at Amazon [sponsored link]
Dog bath utility sinks, as the name suggests, are sinks that are particularly built for dogs. This dog-bathing unit is frequently an excellent integration of a high-quality sink and faucet that not only looks attractive but is also effective for both dog cleaning and everyday duties around the house. It is indeed big enough as well to clean your dirty shoes after a long day of walking in the woods.
Moreover, dog bath utility sinks often have extra-large basins to accommodate differently-sized dogs. They are also normally made out of stainless steel.
Portable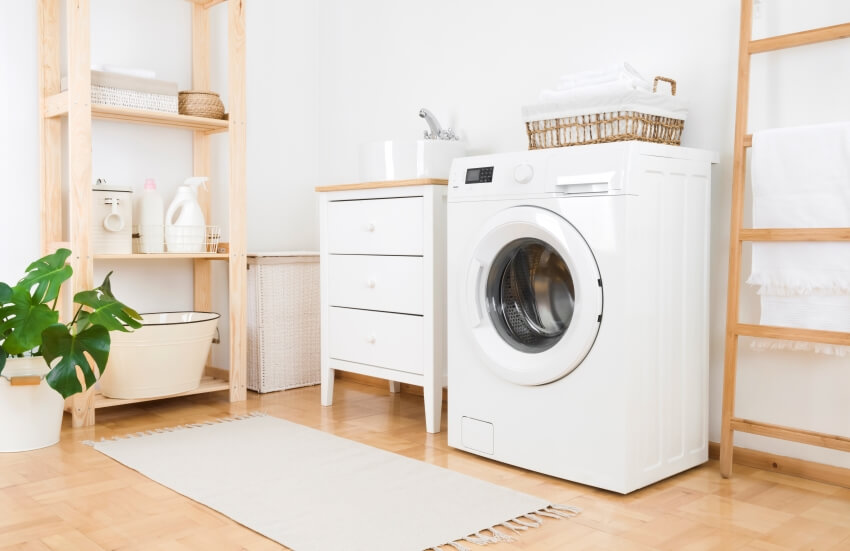 Portable sinks offer hand washing units with warm and cold running water for usage in areas where plumbing or water is unavailable.
You can effortlessly unpack them, position them in the proper spot, load them with water, and connect them. Several variants are available with batteries or propane-based power, allowing them to run without the aid of electricity.
Utility Sink Faucets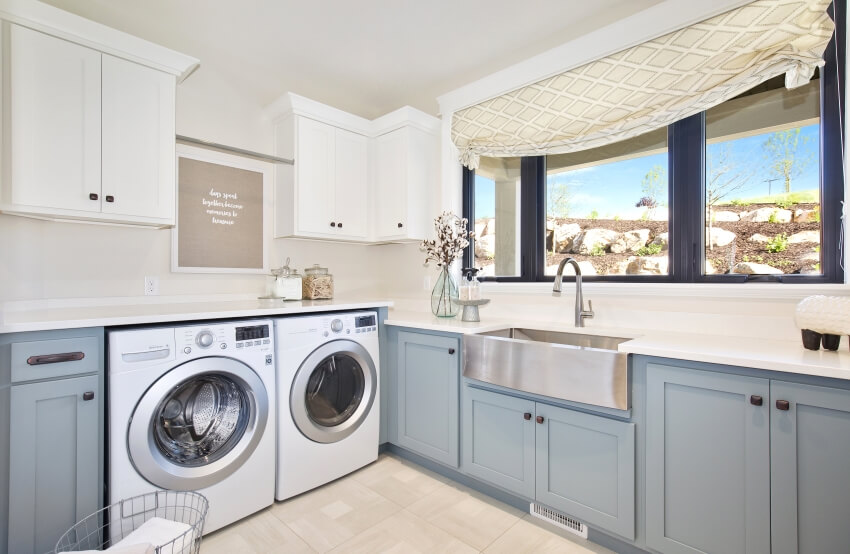 Brass Utility Sink Faucet
The first benefit of utilizing brass faucets is their long life. Because brass is the most corrosion-resistant material, it is ideal for laundry area faucets. Harsh and contaminated water rapidly corrodes faucets, thus if you have hard water in your home, you must use brass faucets.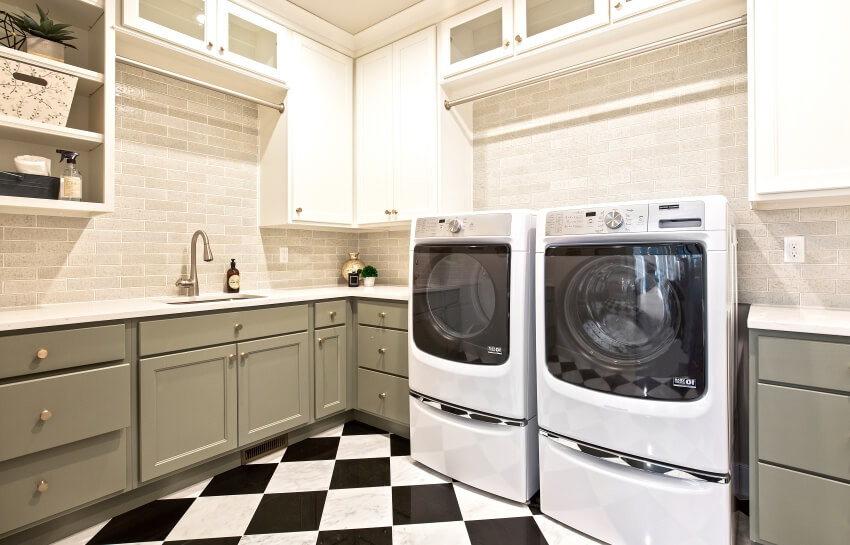 Furthermore, because brass is germicidal, brass faucets eliminate bacteria as water passes through them. Nonetheless, be certain that what you are purchasing is genuine brass. Numerous so-called "brass" faucets are only brass-plated. These faucets are not as robust as pure brass faucets and do not provide antimicrobial properties.
Chrome Utility Sink Faucet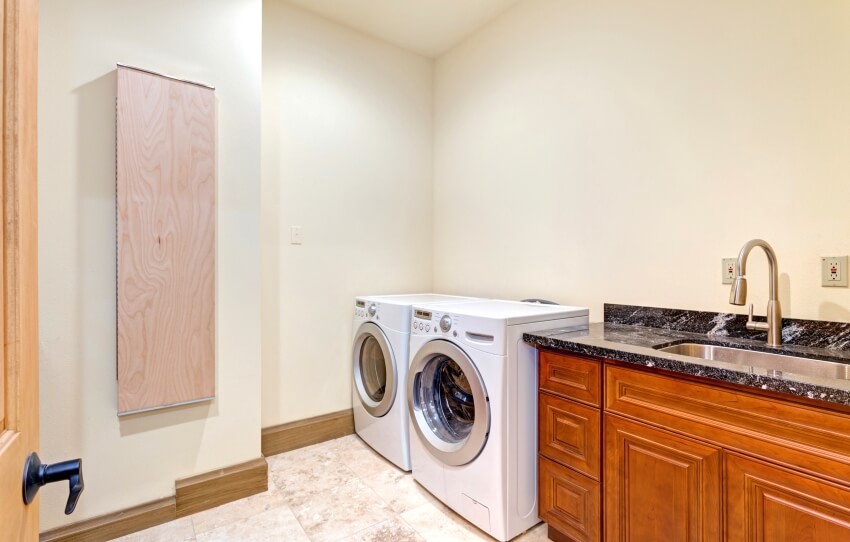 Chrome is popular because of its toughness and adaptability. It is very simple to maintain and sanitize, and the material is compatible with a wide range of attachments and fittings. The main downside of chrome faucets is that water stains, scratches, and fingerprints seem to be readily noticeable.
Copper Utility Sink Faucet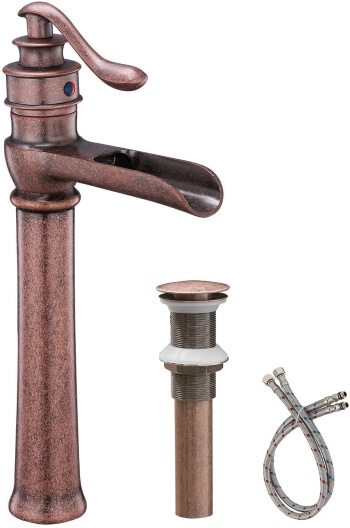 See this copper faucet at Amazon [sponsored link]
Copper faucets have various perks, the most important of which is their antibacterial capabilities. Bacterial elements are unable to live in a copper faucet. Even if an unknown component penetrates the faucet by accident as a result of a burst, there would be no danger of bacterial transmission.
Stainless Steel Utility Sink Faucet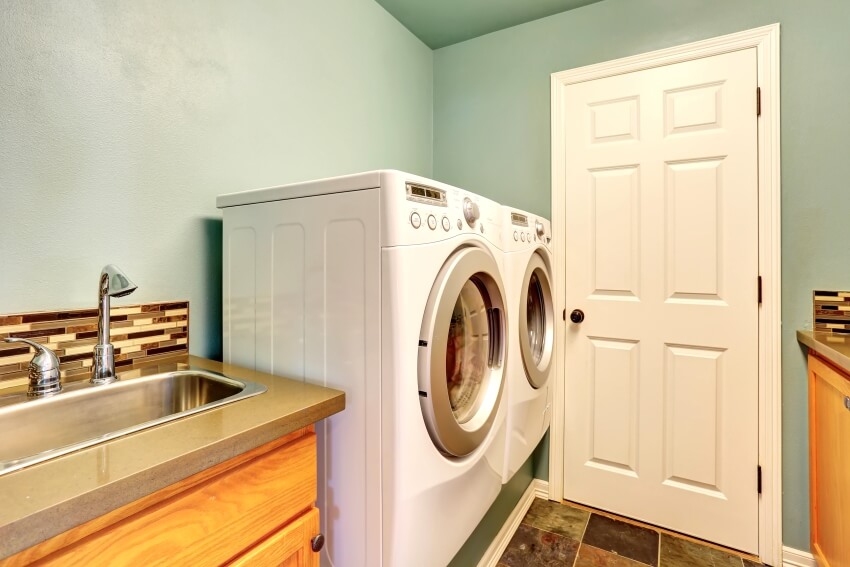 Since it includes no lead and emits no odor, stainless steel is the ideal faucet element for environmental conservation. Furthermore, because it creates no water contamination, it successfully guarantees water quality and safety. It is also resistant to alkali and acid and does not corrode quickly.
Nickel Utility Sink Faucet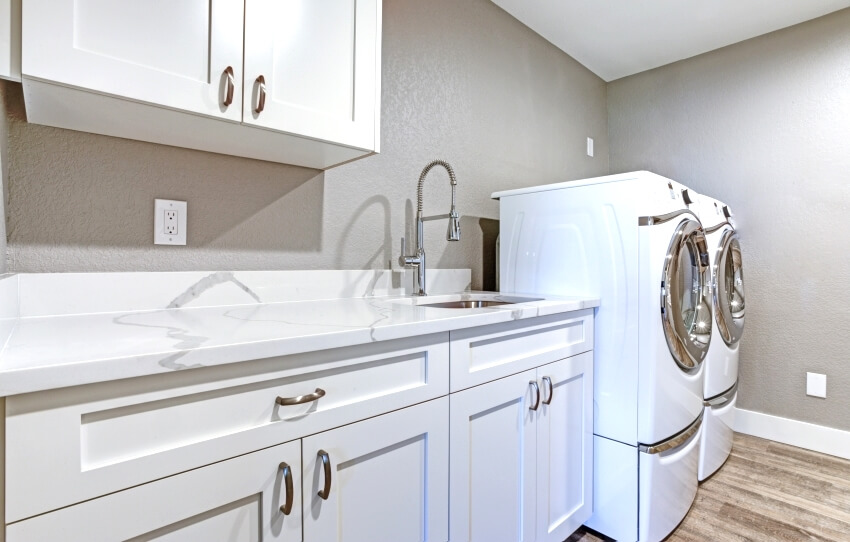 Brushed nickel lasts a considerable time and keeps its sheen for a long period. It has no watermarks or fingerprints and is reasonably priced. For more information visit our article about bathroom sink faucets.

Utility Sink Faucet Setups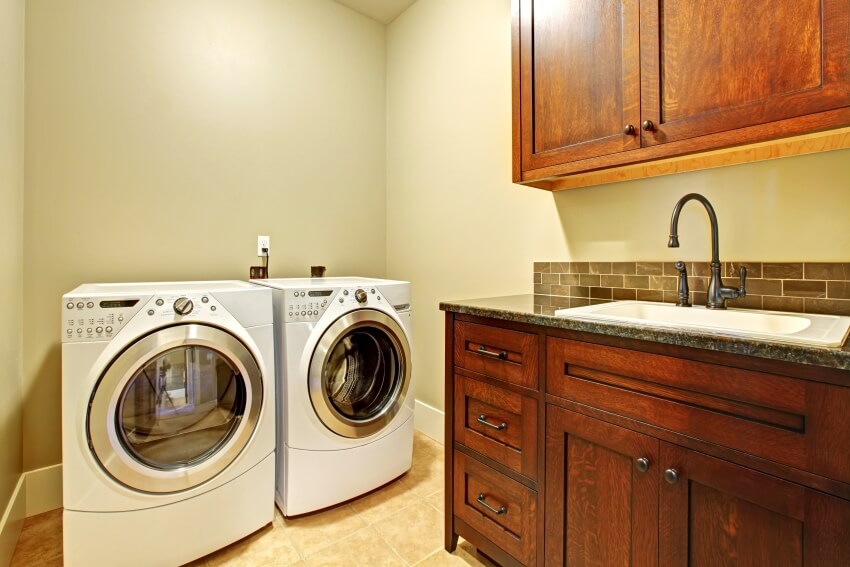 Wall-Mounted Utility Sink Faucet
Because some utility sinks are freestanding or wall-mount or have restricted accompanying countertop areas, these faucet setups are also prevalent, as opposed to being positioned on the countertop or sink decking.
Two-Handle Utility Sink Faucet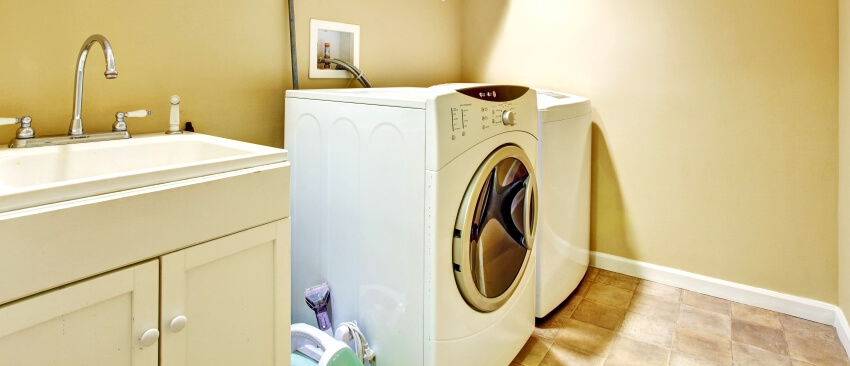 This setup is particularly beneficial for utility sinks since it allows you to quickly change the water temperature by using one lever to regulate hot and the other to regulate cold. Two-handle faucets live much longer and are less susceptible to spilling than single-handle faucets due to their simpler structure.
The majority of utility faucets have two handles. A bridge faucet is a two-handle faucet as well that displays the plumbing around the nozzle and handles, giving it the appearance of a literal bridge.
Pre-Rinse Faucet
Pre-rinse faucets are ideal for deep utility sinks and are especially useful for bathing dogs or cats due to their versatile and flexible roto-flex spout and increased water pressure.
How Much Does A Utility Sink Cost?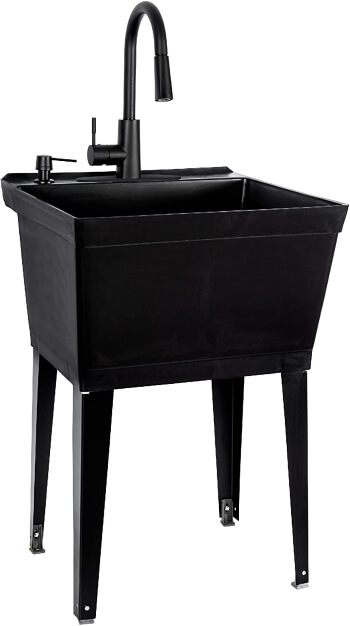 See this black utility sink at Amazon [sponsored link]
Utility sink prices vary depending on dimensions, depth, and material quality. A standard one-basin, no-frills utility sink made of heavy-duty acrylic or fiberglass costs around $50 to $150.
One- or two-basin stainless steel or cast iron models normally cost $150 to $900 or more, while exceptionally resilient commercial-grade utility sinks with features such as multiple faucets or a built-in shelf normally cost $1,000 to $3,000 or even more.
Further material expenses of $100 to $300 or more may be incurred if hook-ups and venting are not yet in operation, contingent on what is required to connect to preexisting water, sewer, and venting lines.
A plumber will typically charge between $200 and $500 to install a conventional utility sink with basic hook-ups and vents currently in place, providing no major new plumbing or venting is necessary, but it may cost more if considerable labor is requested.
If the utility tub connections are not yet in position, supplies and expert installation cost $500 to $800 on average but can range from $900 to $1,300 or more, depending on what is needed to correctly attach to pre-existing piping and venting lines.
Utility Sink Sizes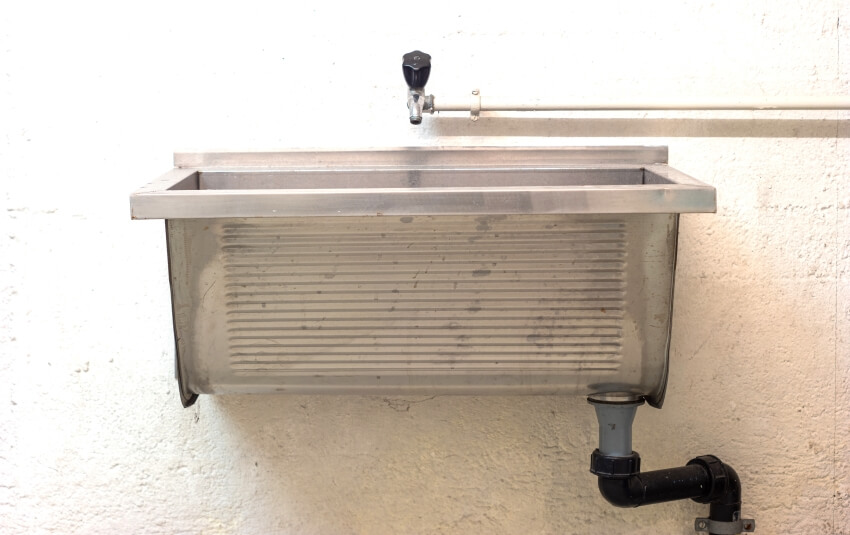 Sinks are available in a variety of sizes, hence when looking for a utility sink or laundry sink, size is indeed an essential factor to take into account. Utility sinks that are wide and deep are the most ideal. However, your demands must also be considered while choosing the best utility sink for your house.
To manage its multi-purpose characteristics, a utility or laundry sink is frequently under a specified size range. You can select small utility sinks to save space or enormous ones to accommodate all of your household's cleaning requirements. Determine how you will use your utility sink to identify the proper size for your area.
Here are the most common utility sink sizes:
21-Inch Laundry Utility Sink
This is the smallest and most popular laundry utility sink size, and it is usually in the shape of a rectangle within a sink foundation cabinet. Undermount or drop-in styles are the most frequent.
22-Inch Laundry Utility Sink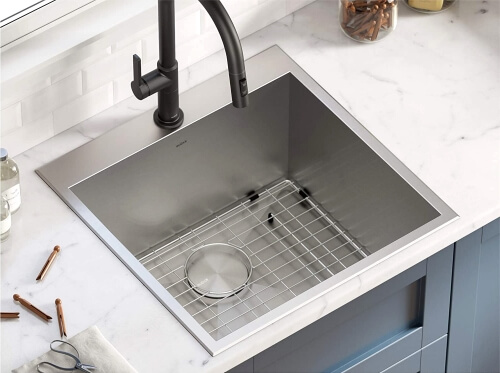 See this utility sink at Amazon [sponsored link]
This is a common size for laundry sinks as they are available in a variety of configurations, including undermount, wall-mount, and drop-in.
25-Inch Laundry Utility Sink
This is another popular utility sink size, particularly because it is the smallest accessible in the majority of farmhouse utility sinks. This size is also popular in wall-mount and drop-in sink layouts.
31-Inch Utility Laundry Sink
A 31-inch utility sink takes up a lot of space, but it can be extremely beneficial if you want to have additional space. Double-basin sinks with one side for cleaning and the other for rinsing or other housekeeping activities are typical at 31 inches.
This is also size with a wider range of material and styling possibilities. It is often bigger than most drop-in or undermount sinks but more compact than most wall-mount sinks that would be suitable for a laundry area.
35-Inch Utility Laundry Sink
This is one of the biggest sizes available in a utility sink, while certain single-basin laundry utility sinks can be as big as 48 inches. Sinks of this size are typically double-basin designs constructed of ceramic or stainless steel.
How To Measure Your Utility Sink Dimensions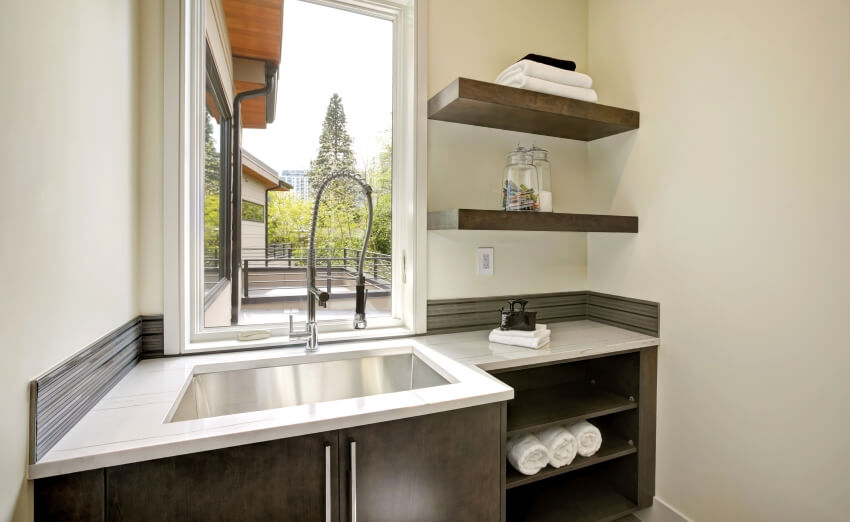 To ascertain a correct fit, you will need to have the length, width, and depth of your utility sink, whatever its configuration. Regarding length, you have to measure from one exterior sink edge to the opposite side (for standard sinks) or from one counter edge to another edge lengthwise (for sinks that are undermount or farmhouse-style).
Moreover, you can measure the width in the very same way, being sure to measure from countertop border to border, contingent on the type of sink. Determine the depth of the sink from the upper end, or where it touches the countertop, to its lowest level. Utility sinks can range in depth from 8 inches to more than 24 inches.
You may also acquire the outer depth of a farmhouse sink by calculating the depth or height of the uncovered apron-front portion.
Determine the diameter or length all over the broadest part of the sink for circular and oval sinks.
After getting all of these utility sink measurements, you can now start looking for the right utility sink for your home. You may read more about our utility sink dimensions guide for more helpful information.
How Do I Choose A Utility Sink?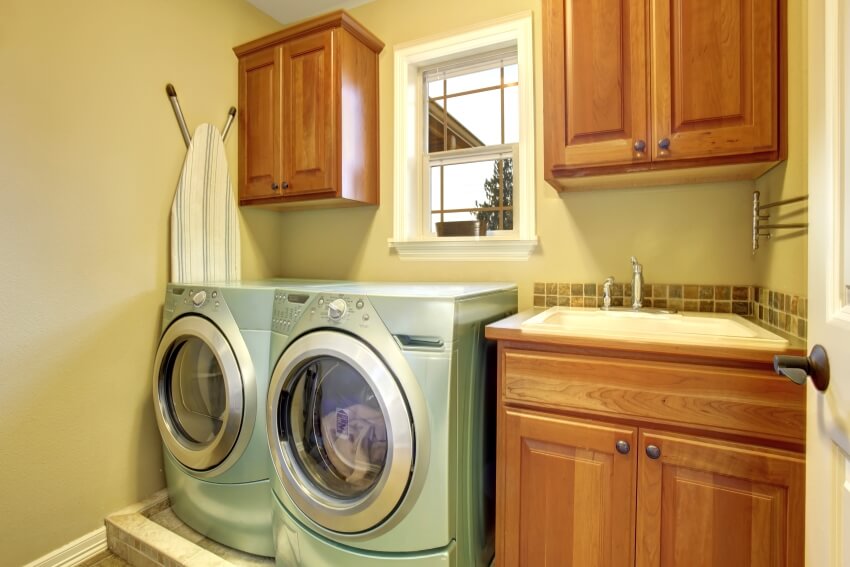 Take Into Account the Installation Method You Want
Because there are several basin types available for laundry sinks, there are also various installation methods. You normally have four installation methods for your utility sink to select from, which are drop-in, undermount, wall-mounted, freestanding, and portable.
Because your sink will be in a continuous and established place in your house for the coming years, you want to be sure you select one that will meet your needs in the long run and take into account any modifications you may desire in the future.
Choose the Right Material that Matches Your Needs and Preferences
One of the most crucial factors in selecting the most ideal utility laundry sink is its material. Utility sinks are available in materials such as cast iron, acrylic, fiberglass, plastic, concrete, ceramic, porcelain, and stainless steel. You can review the descriptions aforementioned to evaluate which one is perfect for your needs and preferences.
Pick the Right Utility Sink Faucet
Finally, when selecting the ideal utility sink, keep the sink faucet in mind. Take into account the durability, design, and affordability of the utility sink faucet for your utility area, just as you would when selecting the best material for fittings throughout your house.
When selecting the best utility faucet, you should also evaluate the valves and their spouts. You can select between aerated and non-aerated spouts. Valves might not make a significant change in the way you use your sink daily, but they can have an impact on the long-term endurance of the utility sink faucet.
Selecting a low-flow faucet for your utility laundry sink faucet is another simple approach to reducing water waste in your home.
To have an idea about which utility sink faucet is the best option, you can review the "utility sink faucets" section that is previously stated in this article.
What Type Of Sink Is Best For A Utility Room?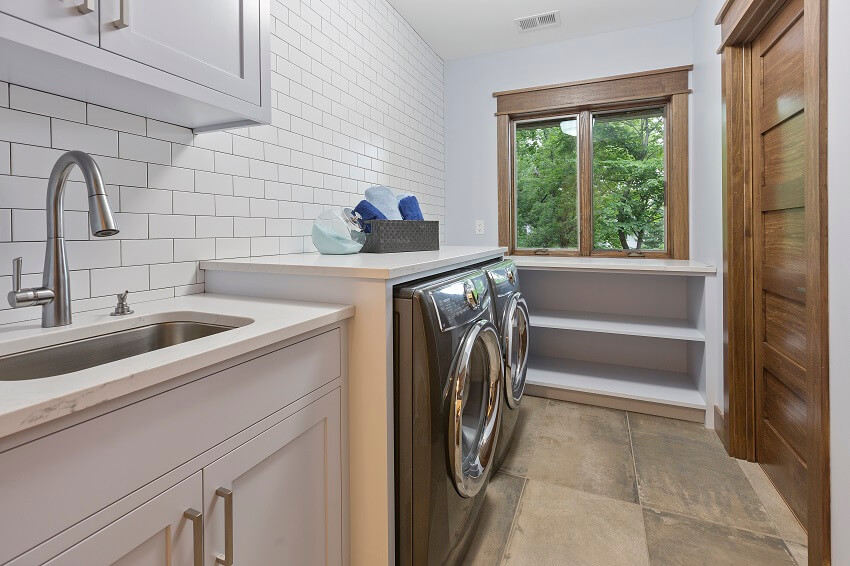 Stainless steel sinks are the most prevalent option for a utility room since they are long-lasting, inexpensive, rustproof, and simple to clean. They are available in a variety of sizes and layouts to meet a variety of requirements, and they are potentially compatible with waste disposal machines.
Furthermore, because of their neutral design, they may be used in almost any utility room color design. Stainless steel utility sinks are arguably the best option for your utility room because they are incredibly durable, low-maintenance, heat- and stain-resistant, and chip and crack-resistant.
What Utility Sink Is Best For A Laundry Room?
A ceramic utility sink is an excellent choice for laundry rooms since there is minimal space for filth and grime to develop, and the glazed top surface makes it difficult for stains to penetrate deeply into the sink surface.
Ceramic utility sinks have an impermeable surface that makes cleaning a snap using merely basic all-purpose cleaning compounds. Ceramic sinks are also the best option for creating a timeless, clean, and neat aesthetic in your laundry room.
However, stainless steel also qualifies as an ideal option for laundry rooms. Stainless steel sinks are an incredible choice for laundry and utility rooms as well since they are very lightweight and uncomplicated to clean. Such sinks have an industrial style and vibe that makes them ideal for a more functional area.
Utility Sink Backsplash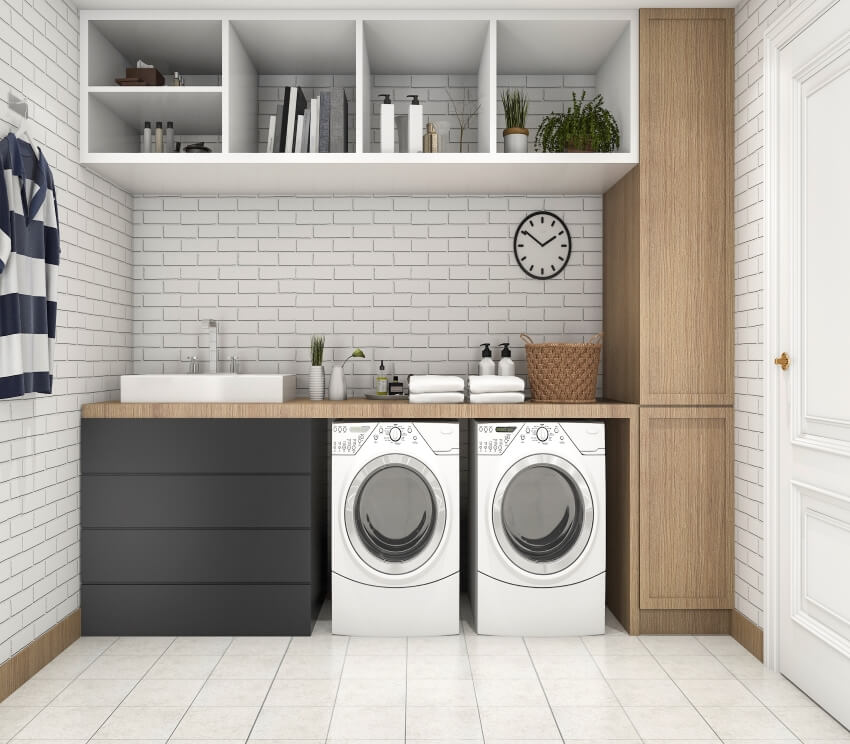 Incorporating a backsplash to your utility sink not only improves the look of your laundry room, but also protects the walls behind the sink from dampness, chemicals, and other possible risks.
With a white beadboard veneer behind the sink, you can breathe new life into your utility room. Beadboard paneling gives a room a classic appearance and goes well with country or rustic décor.
Select panels made of medium-density fiberboard (MDF) for improved water protection, and finish off your beadboard backsplash with composite trimming. A simple white beadboard illuminates the space, while a new paint job provides a burst of color to this patterned backsplash choice.
You can also corrugated metal or metallic tiles to add a highly modern textured backsplash finish in your laundry room. Moreover, you can try installing differently colored plastic panels for a more welcoming atmosphere. If you are a fan of minimalist aesthetics, you can always go for traditional tiles.
How To Clean A Utility Sink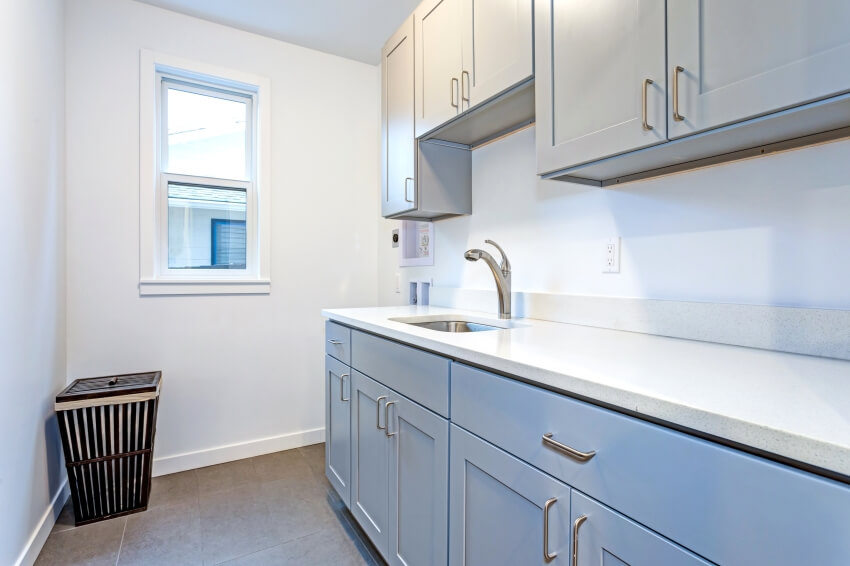 Usually, utility sinks can be already cleaned with a gentle detergent and water routinely.
To eradicate mold-causing germs, wash it with warm water and a few amounts of peroxide or ammonia. However, this is not ideal for copper or bronze utility sinks.
For more difficult-to-remove stains, such as paint, you can try using a putty knife to scrape it away before immersing the sink in water and soap. Some homeowners recommend applying WD-40 and letting it sit for 15 to 20 minutes to remove paint stains, depending on the sink material). Next, using a nylon scrubber, clean away any leftover marks.
Ensure to rinse the sink after every use to eliminate any leftover cleansers or detritus. Carefully examine the material of the sink when washing it, and follow the manufacturer's cleaning instructions.
Visit our types of bathroom sinks guide for more related content.