This beautiful gallery of bathroom styles includes different design types, such as traditional, transitional, contemporary, modern, and art deco, among others.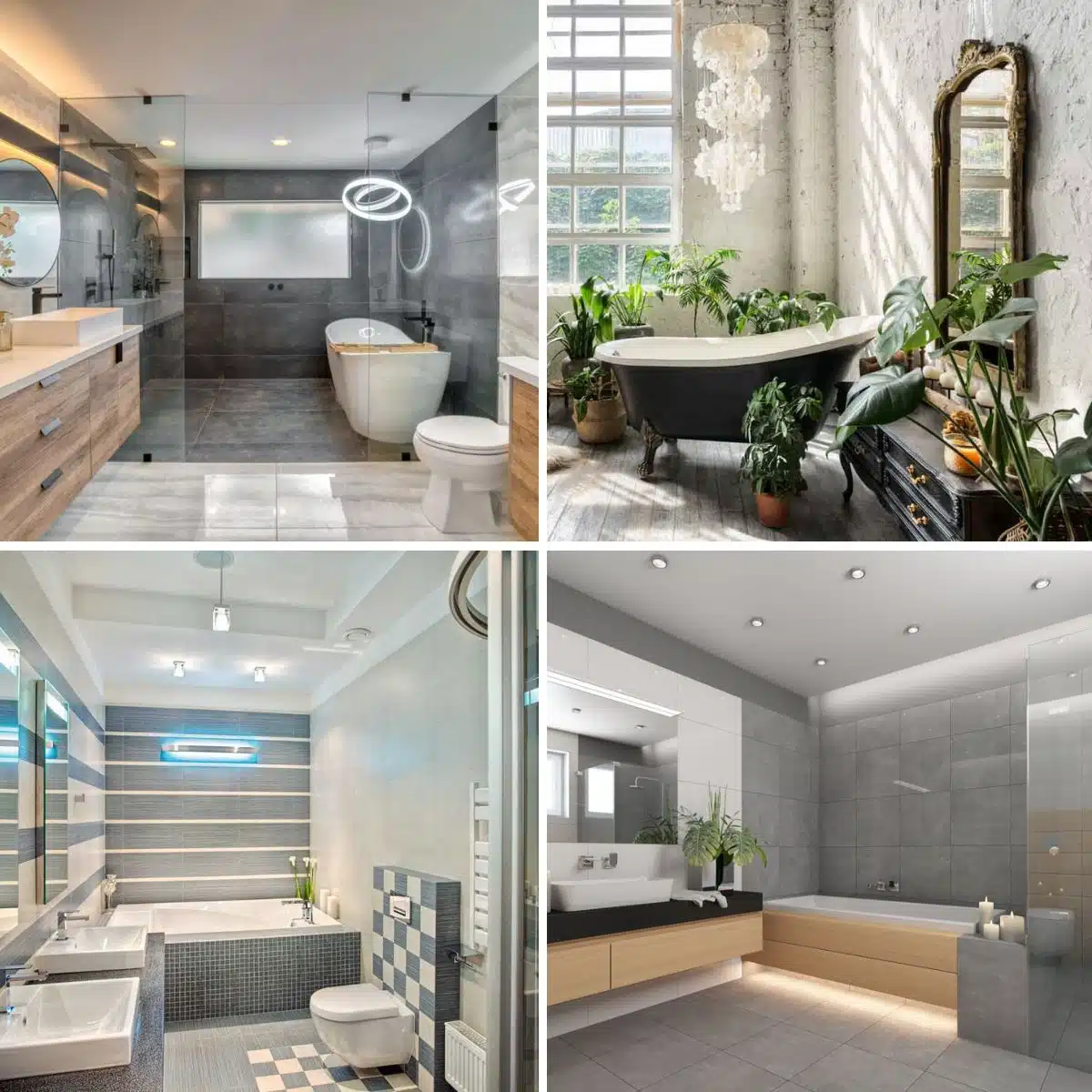 We are sure that you will agree that the bathroom is an essential space where every household member or even guest can rejuvenate and relax after a very tiring day. However, just like the other rooms in your house, your bathroom must be styled according to your design preferences.
In terms of constructing, designing, or renovating your bathroom, keep in mind that there are numerous bathroom styles you can try. To name a few, you can see bathrooms that are traditional, contemporary, farmhouse, coastal, minimalist, etc. One thing is for sure – you can find one style that can fully satisfy your needs and wants.
Types Of Bathroom Design Styles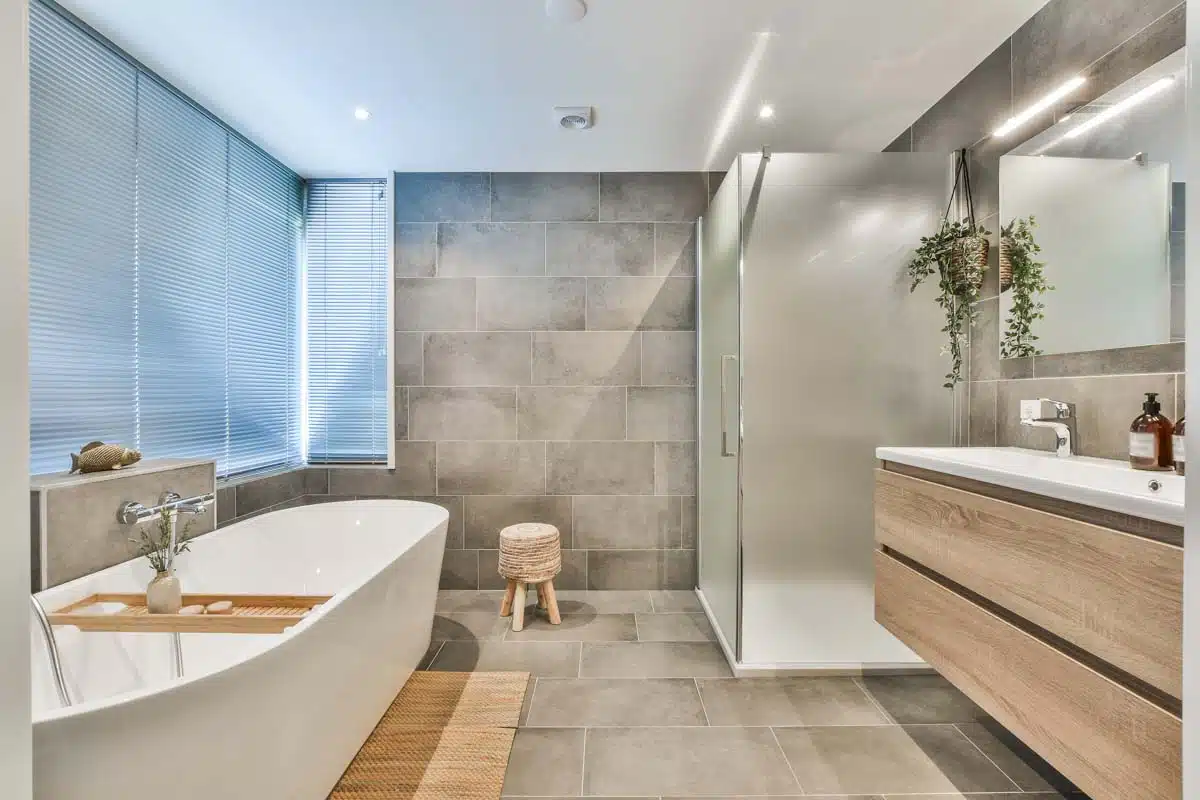 Before planning or remodeling a bathroom space, you have to be knowledgeable of the different types of bathroom design styles. It's important to know their key features and primary design elements, and that's why we providing you with the necessary information to help you find the style that suits you.
Traditional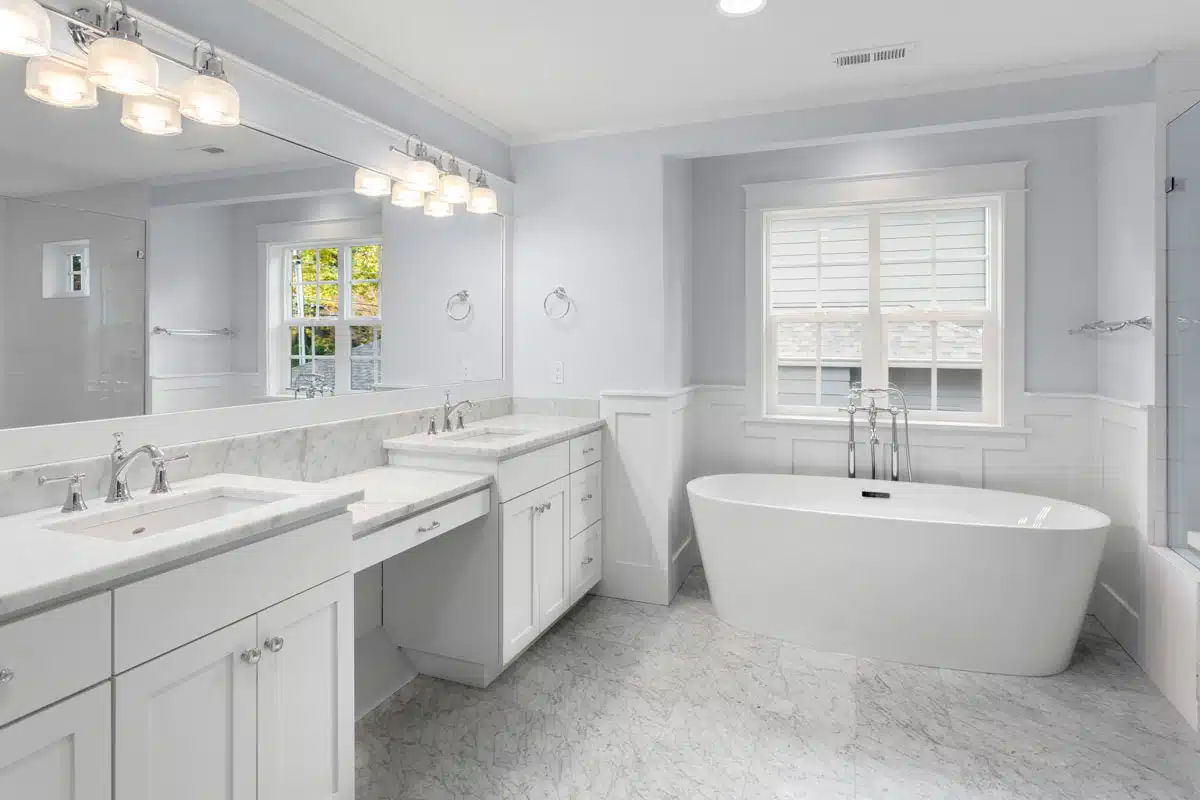 Traditional bathroom styles are typically inspired by design patterns, materials, and furnishings that are associated with particular historical times. Traditional-style bathrooms, in fact, prioritize warmth, functionality, and simplicity. This design arrangement is highlighted by classic tones.
The bathrooms in this style usually have polished wood, complementary colors, and sometimes along with incorporation of glass, ceramic, and marble.
Usually neutral in hue, traditional bathrooms are often cozy, peaceful, and welcoming. Traditional bathroom styles also rely heavily on surfaces. Bathroom vanities are frequently made of natural or faux-natural materials such as stone, slate, marble, or granite. Subway, hexagon, and penny tiles are all common forms of floor and wall tile, ranging from vintage to ancient.
Natural materials are probably the most frequently used in traditional bathroom décor. High-quality hardwood pieces are typically utilized for sink cabinet foundations, benches, or seats.
Metals, in particular, can be a significant element in traditional bathroom style, particularly when utilized for fixtures such as lighting, faucets, and cabinet hardware. Iron, copper, and oil-rubbed bronze are popular materials for this style, providing heaviness and historical uniqueness.
In addition, whites, browns, classic reds, greens, and blues are frequent color selections for both embellishments and general color schemes in traditional-style bathrooms.
Transitional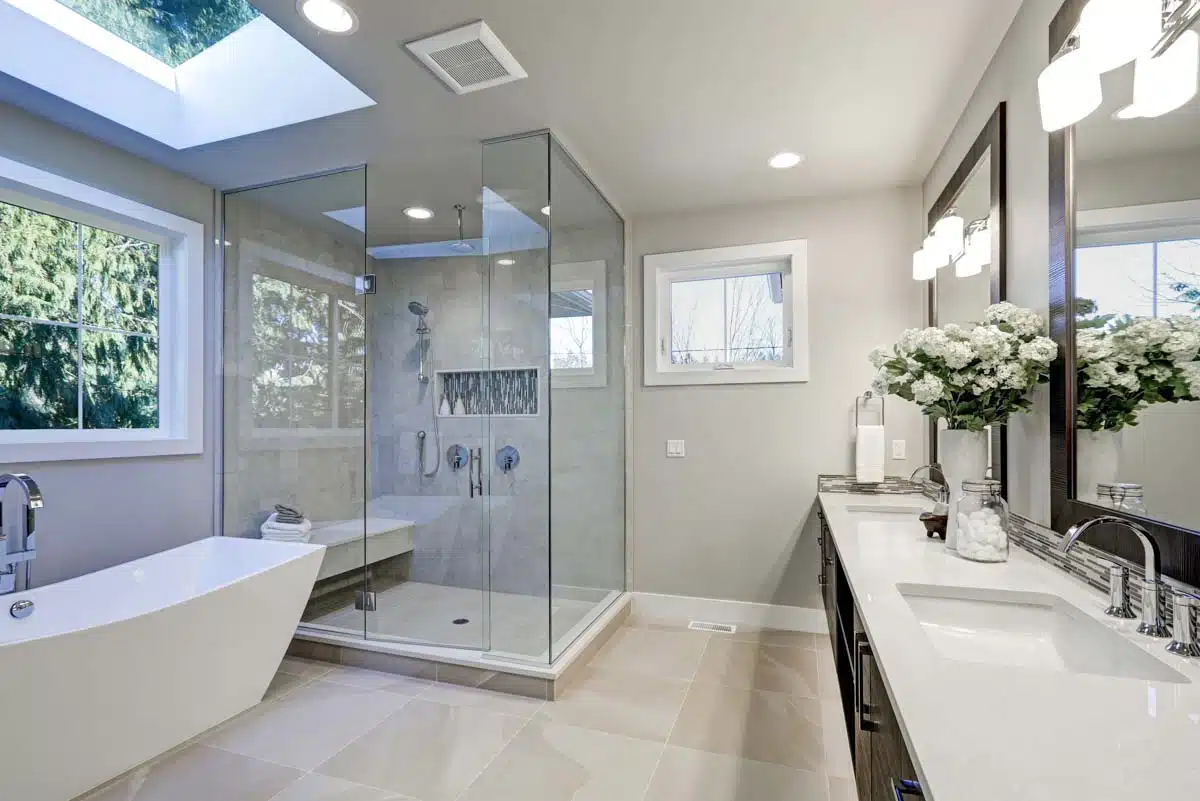 Transitional-style bathrooms combine the finest of both worlds by using both old and modern design features. These bathrooms frequently feature wood, marble, glass, and exotic treatments. Patterned flooring, dark-finished metalwork, and handcrafted door frames and handles will all find a home in the transitional style décor plan.
A bathroom with stoic traditional fittings such as a ceramic clawfoot types of bathtubs and pedestal sink combined with modern-style furnishings in the form of angular, plain cabinets or other storage components is a fantastic illustration of a transitional bathroom.
As objects are obtained over decades, the merging of traditional, vintage, or ancient design features with more cutting-edge ones typically arises naturally in houses, therefore this style is both recognizable and visually pleasing.
Most homeowners choose a central focus from a list of primary design elements for their transitional design theme. Because bathtubs take up a lot of space in bathrooms, they might be an excellent choice for a dramatic point of focus in a transitional bathroom design.
Contemporary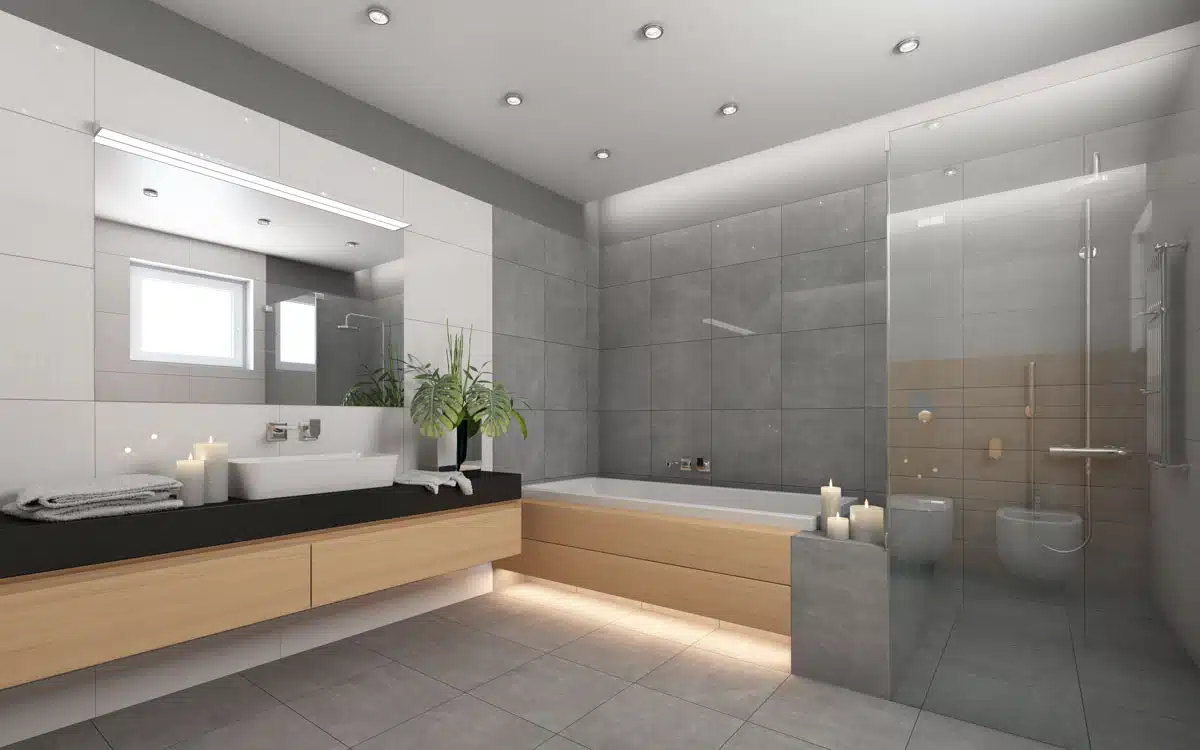 Although contemporary design may acquire several of modern design's ideas and trends, it does not belong to a particular historical era or period of design. To put it another way, contemporary style can refer to any bathroom or home design that uses current "of the moment" elements, creative designs, materials, or décor.
Contemporary-style bathrooms have sleek lines, clutter-free areas of open space, and minimalistic embellishments. This type of bathroom style usually features a lot of polished wood, and metal elements, as well as a minimal and simple color scheme. To establish dramatic contrast, both dark and light elements are frequently applied simultaneously.
Moreover, a contemporary bathroom style is normally based on minimalism, with an emphasis on the details. Thus, you can opt for high-quality door knobs and handles constructed of subdued brushed metals as well as bathroom vanities and floors made of genuine stone, hardwood, or ceramic tiles.
Because contemporary bathroom style is frequently sleek, minimalist, and uncluttered, it is generally viewed to be especially well-suited for compact bathrooms. Although this is accurate, contemporary design is so versatile that it can function in almost any bathroom size and design.
If your room is small, the sleek design and sharp angles of contemporary style can be quite beneficial; nevertheless, the same features can also accentuate a bigger bathroom space.
Ultimately, contemporary-style bathrooms frequently incorporate relevant materials such as composites, laminate, and plastics. Finally, modern-style bathrooms frequently incorporate current-era materials, such as laminates and plastics.
Nevertheless, this does not preclude them from using natural or more classic materials. Even so, due to their current design, contemporary-style bathrooms are more especially suited to combining synthetic or modernized materials than their ancient equivalents.
Modern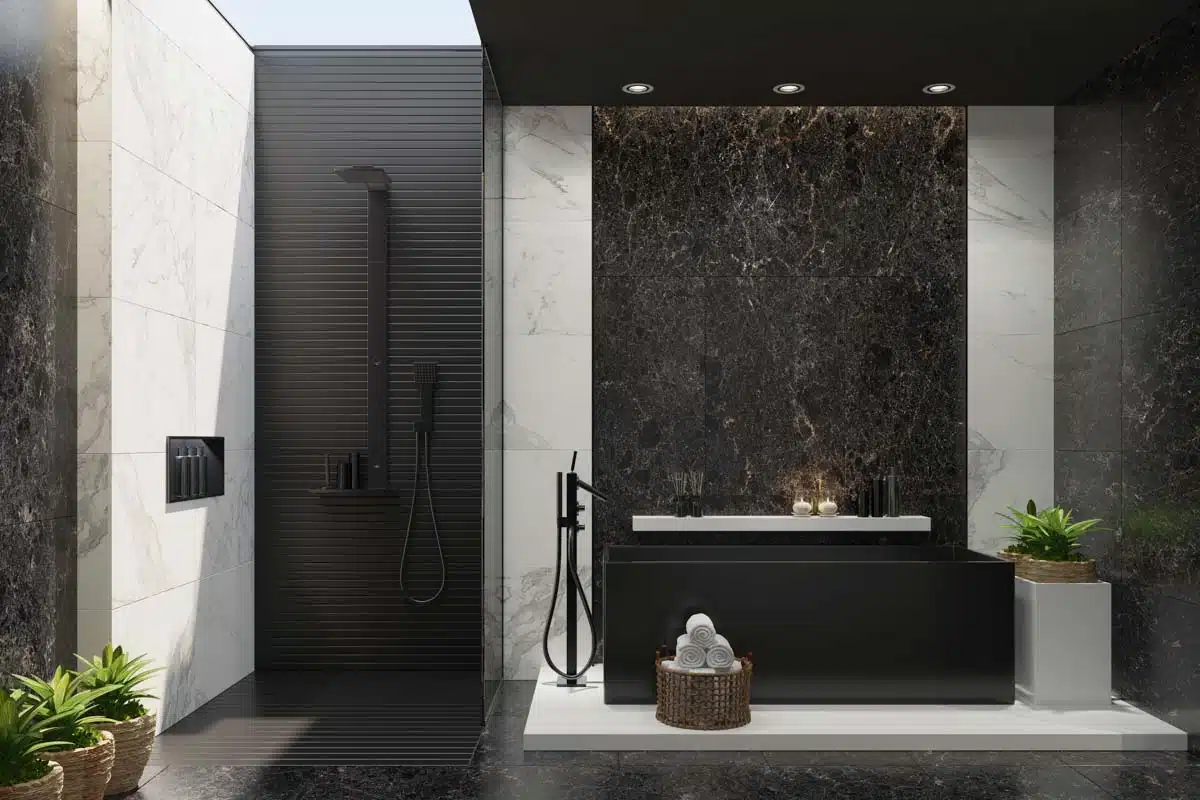 Modern design is widely acknowledged to have originated in the 1920s and 1930s. It essentially emerged in the post-World War II period, as the mid-century modern style began to flourish and gain influence in the Nordic regions of Europe.
A modern bathroom design is usually dramatic, and expressive, yet simplistic, featuring clean and straight lines and clutter-free ambiance. Straight lines are a distinguishing aspect of modern bathroom style and can be found in countertops, sinks, and also artworks.
Moreover, modern bathroom design incorporates high-quality materials like stone, porcelain, mahogany, teak, and marble, along with subtle flashes of vibrancy from art or natural plants.
Sleeker designs are used in modern decor to create a clean aesthetic that is designed to reduce space without sacrificing functionality. To accomplish its aesthetic, modern design also employs stone resins, hardwood, glass, and composite elements.
Colors that are commonly used include tan, white, gray, black, and light brown. In short, the colors would resemble natural stone and hardwood.
A standalone or drop-in bathtub, along with a walk-in shower, are examples of modernized bathroom fixtures that are usually seen in modern-style bathrooms. Sinks and bathroom vanities are frequently wall-mounted and "floating" to conserve space and make the room look more sophisticated.
In addition, towels and carpets are typically the same color as the fixtures and walls or feature geometric forms to contribute to the modern vibe. Furthermore, the light fixtures in a modern bathroom style are usually more diversified, with almost any style that will suit and function well.
Art Deco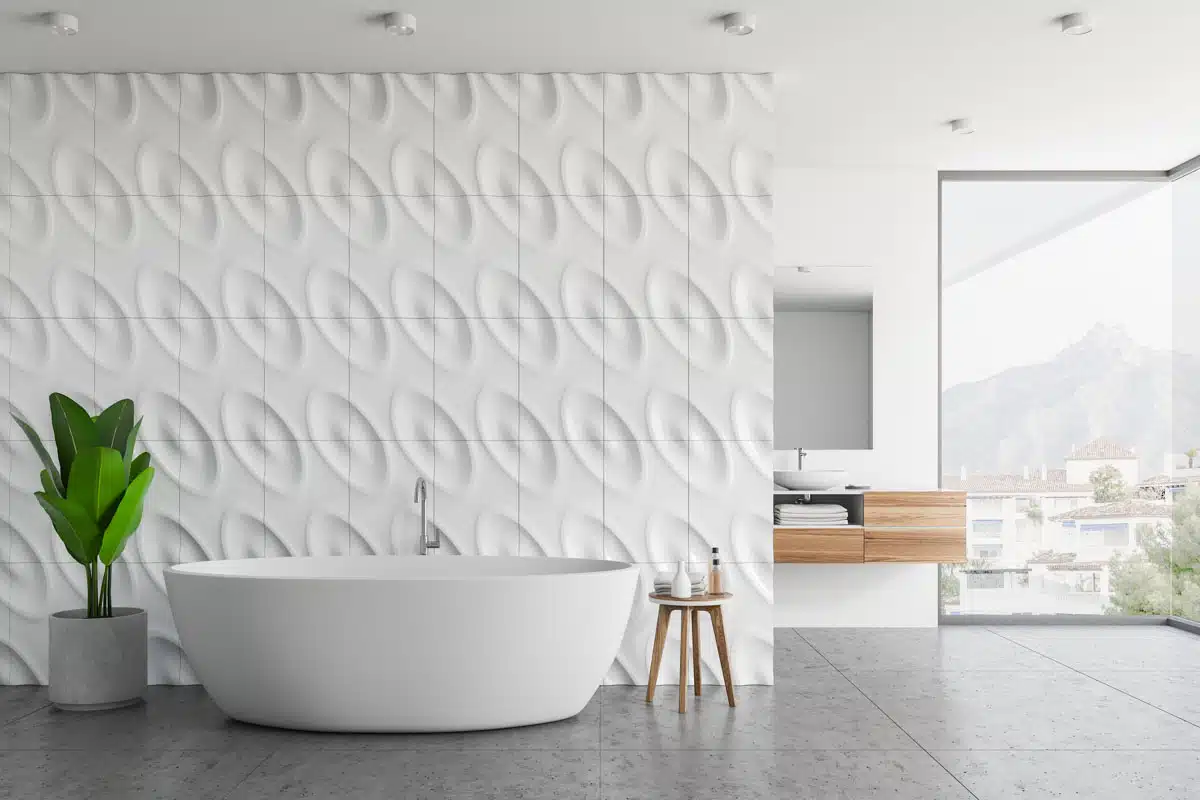 Geometric, curved patterns, and vivid colors are typically used in Art Deco bathroom style to produce eye-catching elements and unique bathroom decorations. Checkerboard tiles are probably the most iconic Art Deco style and make an excellent complement to any bathroom. Freestanding, double-ended bathtubs will also have the most impact in an Art Deco bathroom.
A console sink as well as a metallic silver stand or porcelain stand, for example, contribute to the sleek and eccentric Art Deco bathroom style you want. The lighting fixtures in your Art Deco bathroom style may also help set the mood.
Shining silvery mirror lights or single circular lights with cables may also surround an Art Deco mirror strikingly. Tall cistern-level toilets are also more evocative of the Victorian era and Art Deco design.
You can achieve the aura of Art Deco style by employing particular kinds of decorations in conjunction with high-quality ceramic, sparkling white bathtubs, and suites.
Art Deco black and white flooring and the wallpaper will offer more than a pop of Deco beauty to your bathroom, but there are additional factors to consider. For instance, towel warmers and heaters in chrome or silver materials can also offer a sense of Deco grandeur.
Boho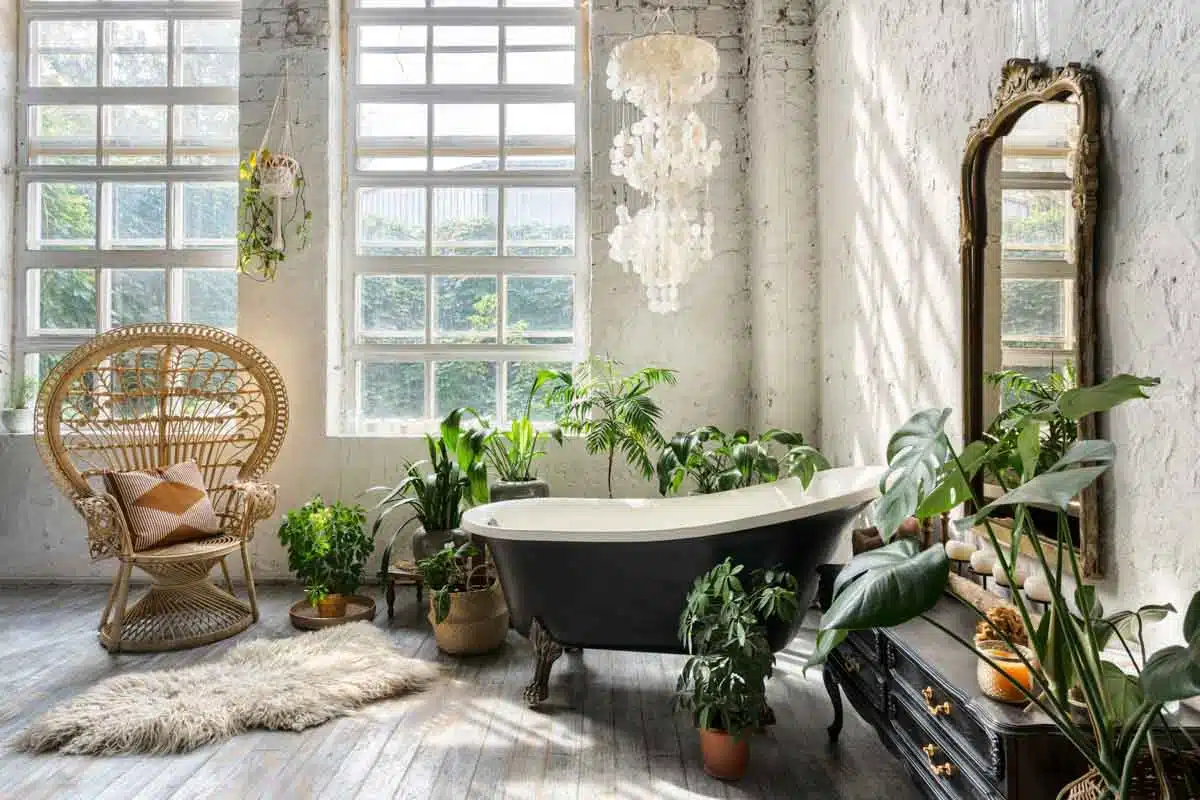 Natural components are normally used to establish an indoor haven in Boho décor. Houseplants as well as earthy tones are some excellent ways to create an eclectic atmosphere in your house. To create a cosmopolitan style, you may choose exotic fabric towels or shining metal pendant lights.
The good thing is that the Boho bathroom style, with its concentration on complex materials, natural materials and structures, rich hues, and a "more is better" vibe, maybe a really cost-effective approach to liven up your bathroom without breaking the bank. Using a variety of accessories, you can get a Boho appearance. No doubt, a generous amount of originality is required.
Handwoven baskets, for example, are a wonderful wall decoration in a Boho-style bathroom. You can even surround your shower with houseplants in the nooks and dangling from the ceiling to recreate an indoor rainforest. You can also build wall-mounted shelves to display bathroom towels, candle holders, and flowers.
Coastal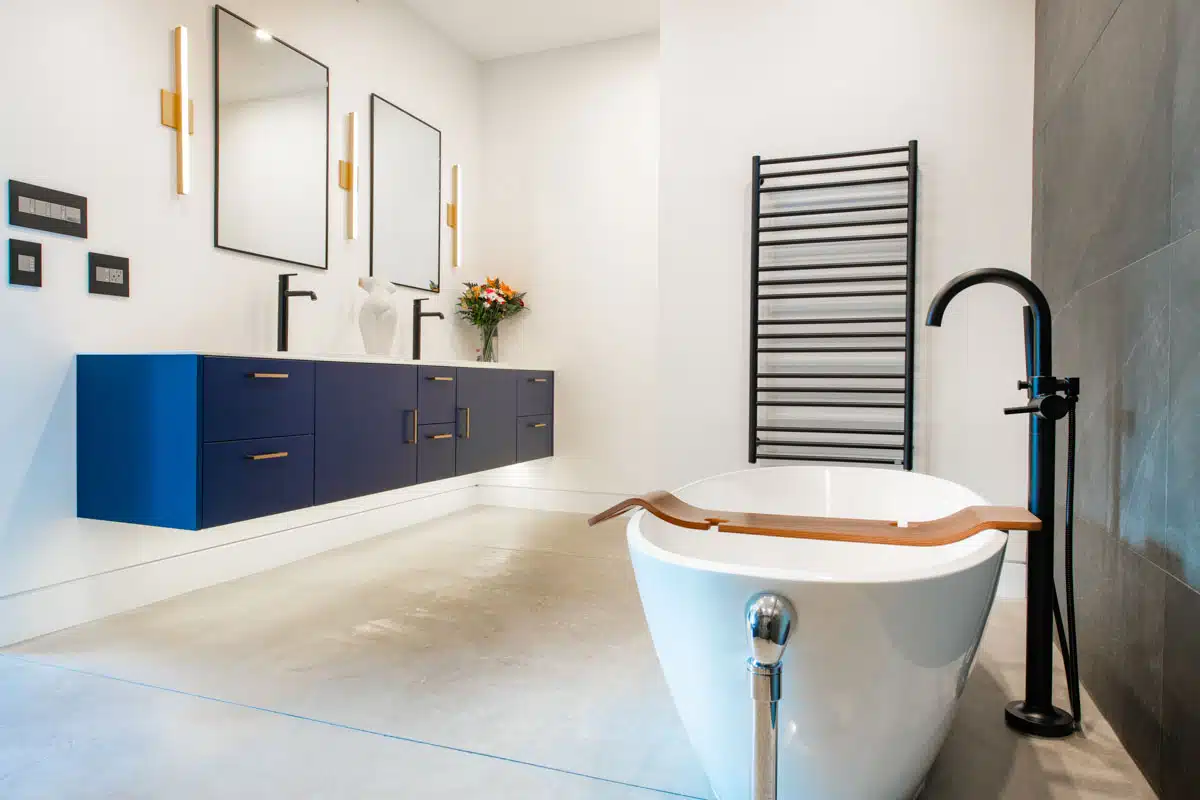 Numerous beach lovers like decorating their bathrooms with seaside features, irrespective of how far they drive to get a taste of the sea air. The color palette is the first thing to take into account when designing a coastal-style bathroom.
Vibrant, light, breezy styles make the most sense for coastal themes thus, looking into a variety of whites and blues that will bring guests and household members to an actual beach would be the best thing to do.
Maritime patterns are another hallmark of coastal-style bathrooms, particularly vivid lines in blue and white. They can be used softly on textiles or accessories to give them a sea-faring vibe.
Seashell soap dishes, beautiful coral or preserved starfish, arranged elegantly on windowsills or drenched in natural daylight, or a sea sponge artfully hanging in the shower may all add a touch of the ocean to your coastal bathroom style.
Cottage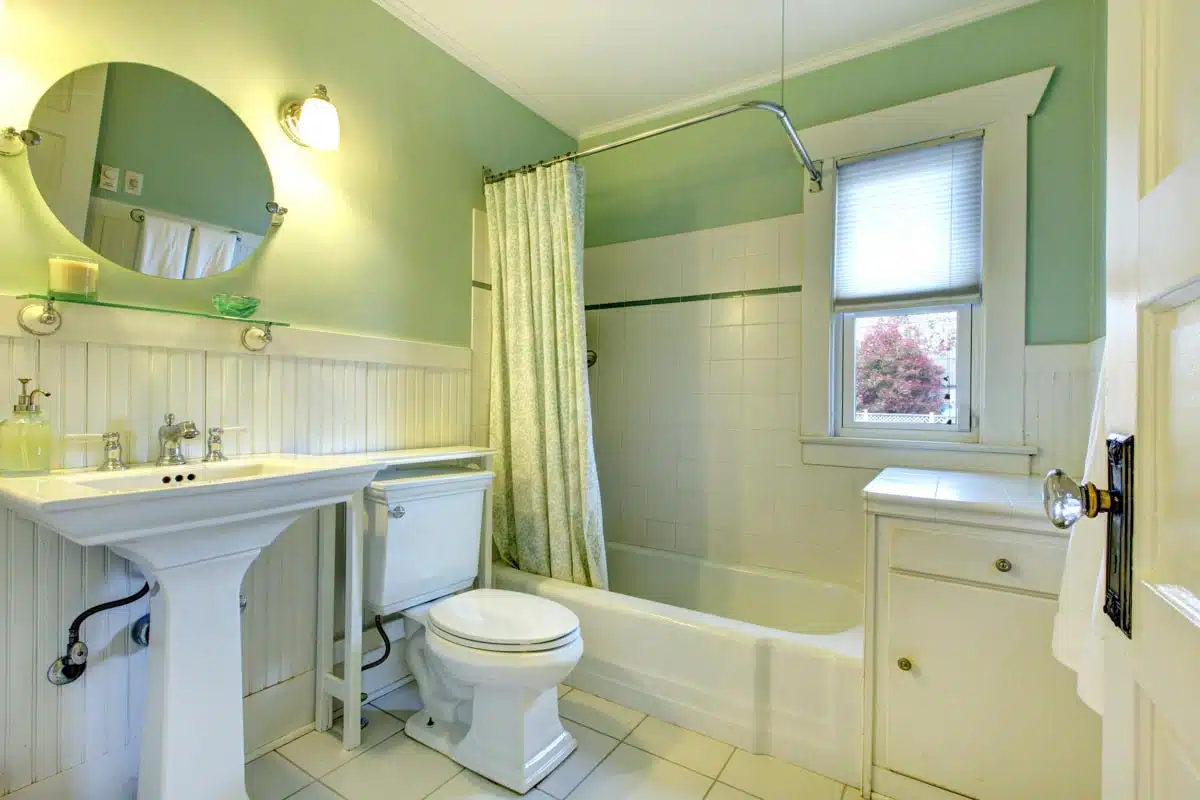 Cottage-style bathrooms, which are influenced by bathroom designs found in vacation and beachfront residences, may give a home an open, cheerful vibe. Beadboard, which is commonly seen on walls and cabinetry, is a defining characteristic of cottage-style bathrooms.
This typical Cape Cod-style woodwork looks fantastic when coupled with vibrant color choices and lots of natural sunlight.
Moreover, this style frequently includes traditional pedestal bathroom sinks. These large bathroom fixtures provide weight to the design aesthetic; they are frequently found in white porcelain with standard metal hardware.
Because cottage-style bathrooms are generally luminous, natural wood would be a great way to give contrast and depth. Raw or stained wood, whether used on bathroom vanities, as trim, or as exposed wooden beams, can offer visual appeal and help to incorporate outdoor aspects into a cottage bathroom style.
In terms of contrast, with a cottage-style bathroom, you should not be hesitant when it comes to mixing and matching materials and textures. Although the overall motif is airy and bright, vibrant patterns or colors on shower treatments, linens, or tiling can brighten up the area, and weathered furniture might hint at a rustic, sea-aged style.
Country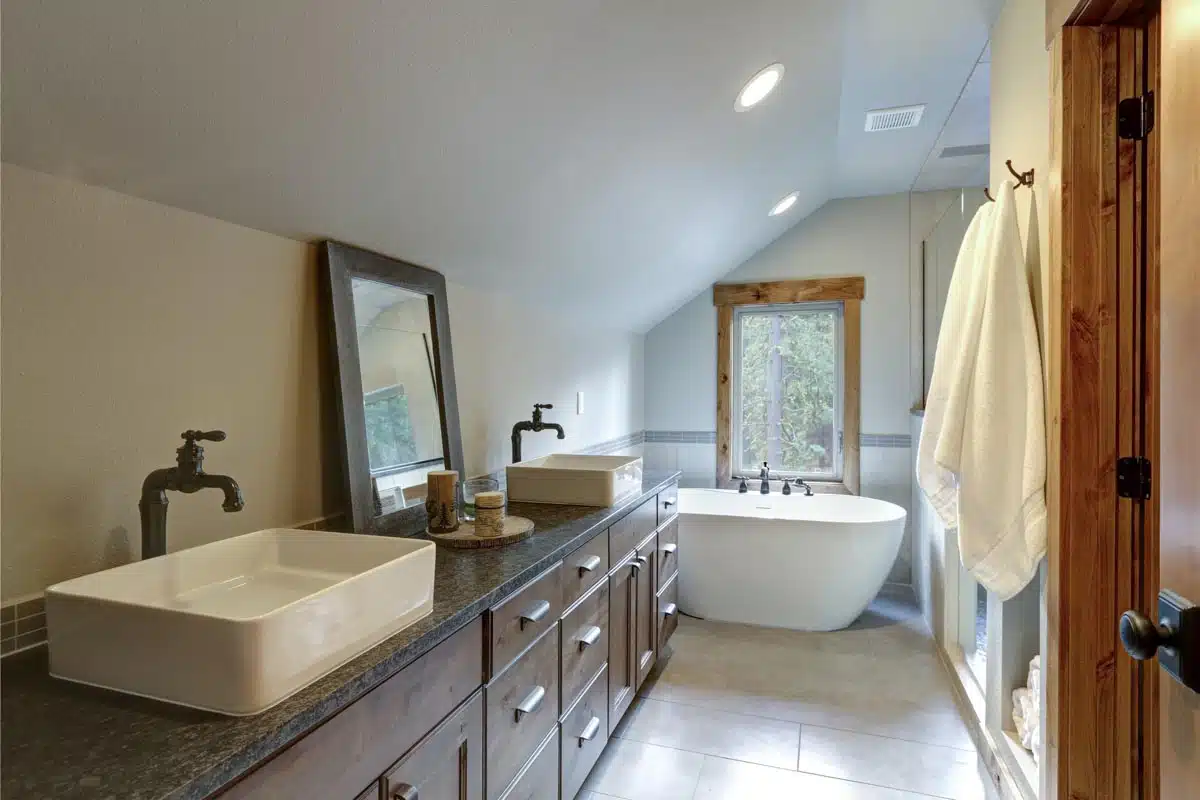 Country-style bathrooms typically have weathered surfaces such as rustic wood and antique metal over costly marble and genuine stone. These bathrooms were designed to survive rural living and lifestyle in the countryside.
In period residences, such spaces were built to last a lifetime instead of being pulled out and changed even when trends change. This implies that they have a timeless beauty about them, with an interesting collection of repurposed furniture and antique treasures.
Rough planks, claw-foot bathtubs, porcelain sinks, and subway tiling are the most readily identifiable aspects of a country-style bathroom. When searching for country-style bathroom designs, you can evaluate the property and its surroundings.
In rural residences, this may include taking into account any peculiar angles and dimensions while designing the country-style bathroom arrangement.
The finest country-style bathrooms often include materials and patterns that emphasize the building's structure as well as the countryside vistas beyond the window.
As you will find opulent treatments and hotel-style furnishings in a country-style bathroom, timber, stone, masonry, and paneling are all crucial elements.
Craftsman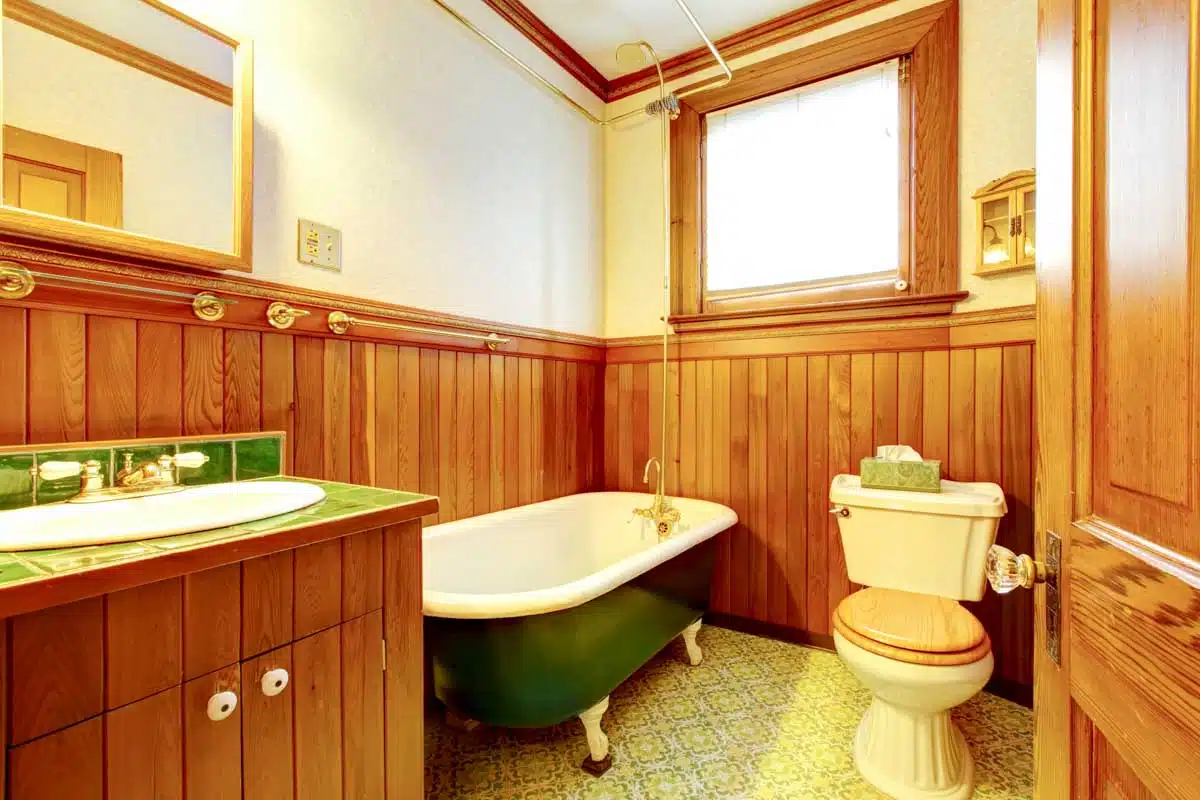 Craftsman style bathroom decor emphasizes handmade and beautifully crafted wood antique pieces with intricate features and embellishments. Craftsman-style cabinets are an excellent illustration of the exquisite workmanship that is so prevalent in this design. A craftsman-style bathroom focuses on quality and endurance.
Craftsman houses were seen as modern and forward-looking, and therefore ripe for such innovation. Except for the grandest houses, bathrooms of the period were quite utilitarian. – Old House Interiors, 1997
Furthermore, craftsman style bathroom designs with excellent quality might feature granite, glass, and metallic details. Traditional craftsman-style bathrooms typically feature freestanding clawfoot bathtubs, two-piece toilets, and basic yet eye-catching cabinets, mirrors, light fixtures, and decorations.
Additionally, craftsman style bathroom fixtures such as faucets can be traditional, antique, or even transitional in treatments like classical chrome, soft bronze, nickel, or copper.
A wonderfully constructed sink in a natural polish or an uncommon material like copper could serve as the central focus, although any sink design would function in a craftsman-style bathroom.
Modern Craftsman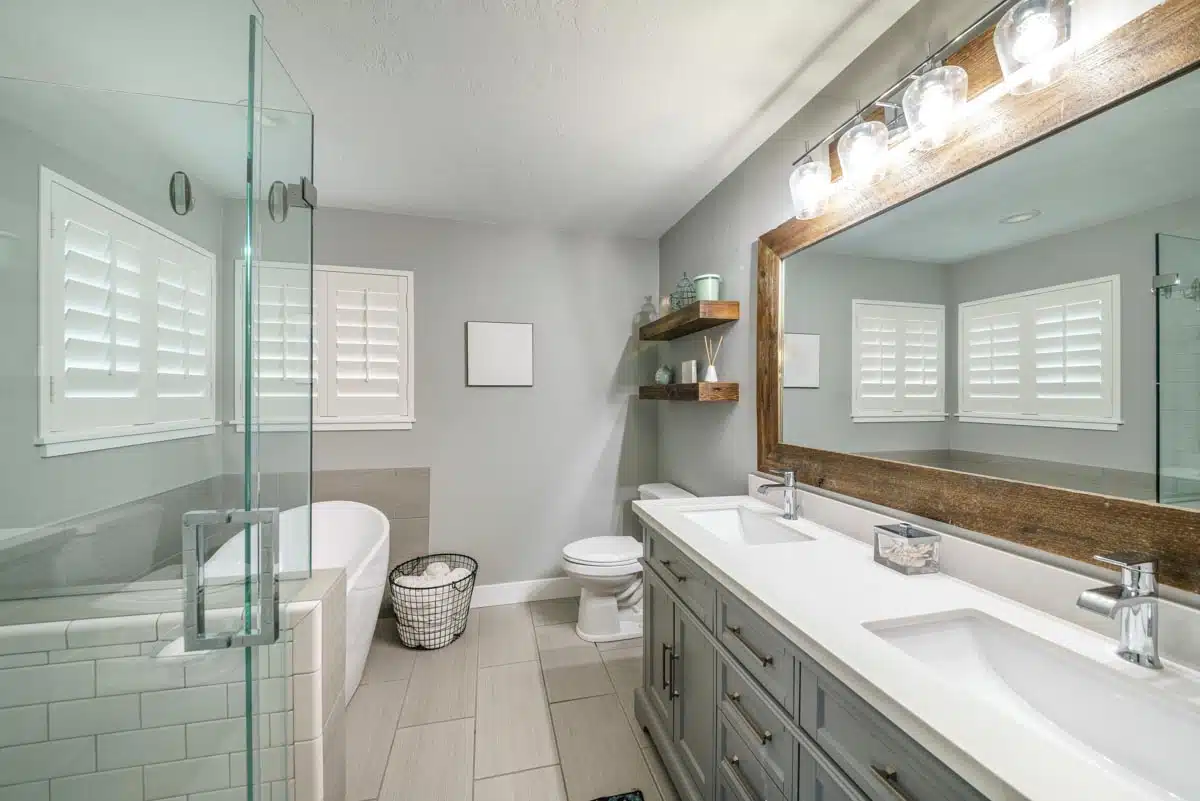 A modern craftsman-style bathroom draws its inspiration from classic craftsman-style homes, but this style primarily merges the design elements and features of the traditional craftsman style with minimalist and modern bathroom decor.
However, natural materials such as stone and wood are still seen in modern craftsman-style bathrooms, and they are normally maintained in their natural condition to highlight their organic beauty.
Moreover, to make the craftsman style more modernized, they tend to have clean lines and sleek design elements. In terms of color, neutral ones such as white, gray, and beige are typically encountered. The bathroom fixtures such as the pedestal sink with minimal lights may be included rather than a huge and decorative bathroom vanity.
Eclectic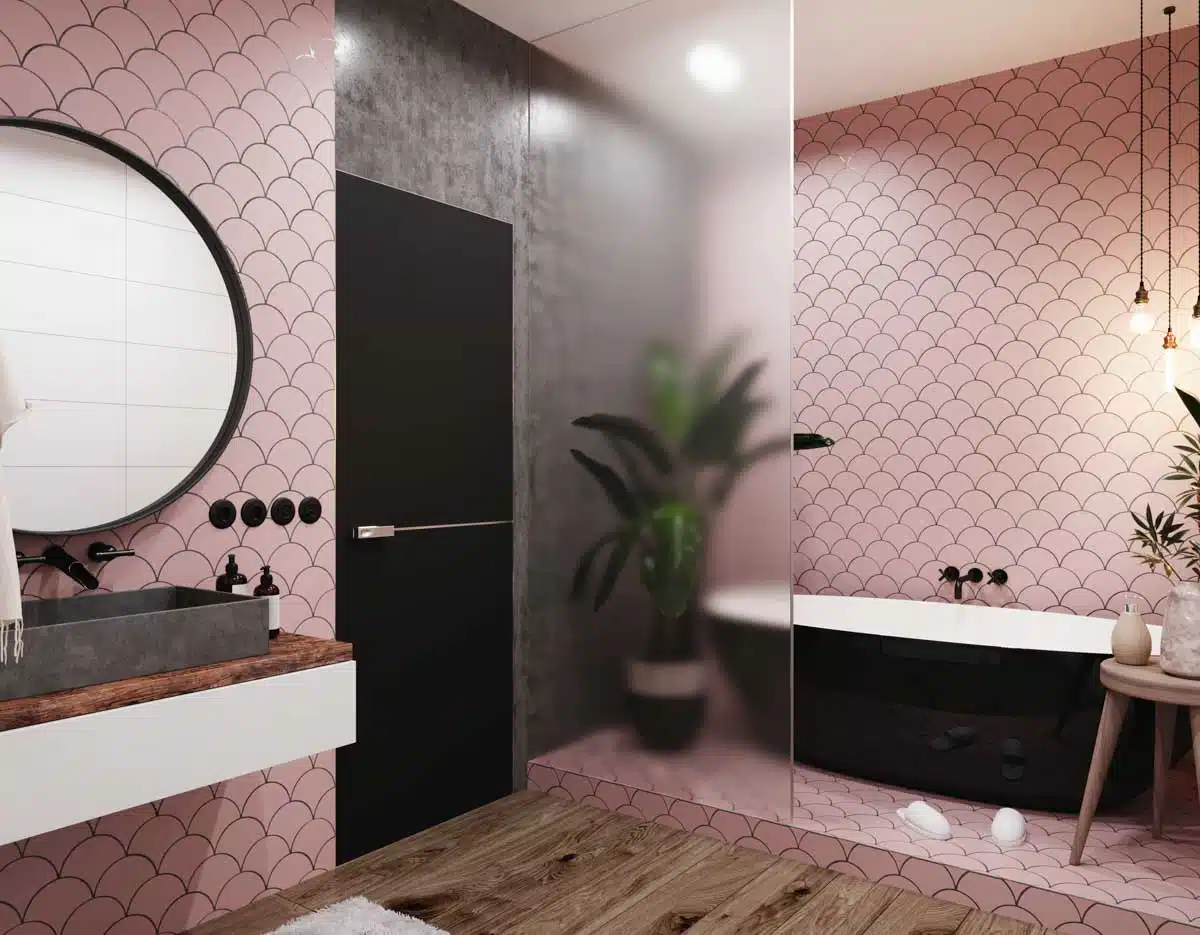 Eclectic bathroom design incorporates a little bit of just about everything. The eclectic-style bathroom's décor is composed of a carefully picked array of design items. Color combinations that are out of the mainstream, as well as a variety of textures, materials, and treatments, are prevalent in this bathroom style.
Hence, if you are going to construct a new bathroom or simply renovate a current one, and your sense of style leans toward the distinctive and fascinating, you will probably want to check into eclectic bathroom design concepts seen online or in actuality.
Moreover, eclectic-style bathrooms may bring together a wide range of styles in one space, combining it all from historical furniture to handpicked art and décor components from various eras, design trends, and decorating techniques.
Eclectic bathroom style is also best defined as drawing influence from a number of design inspirations. In rooms with an eclectic mix, blending and arranging pieces from complementing and contrasting styles typically results in an aesthetically striking design.
Ultimately, an eclectic bathroom style can include a variety of decorative elements, which can be a terrific way to reflect your particular style. Artwork and photos from many historical periods can live harmoniously in a gallery wall-style exhibition with a variety of frames and a combination of color and black-and-white photographs, portraits, and artwork.
European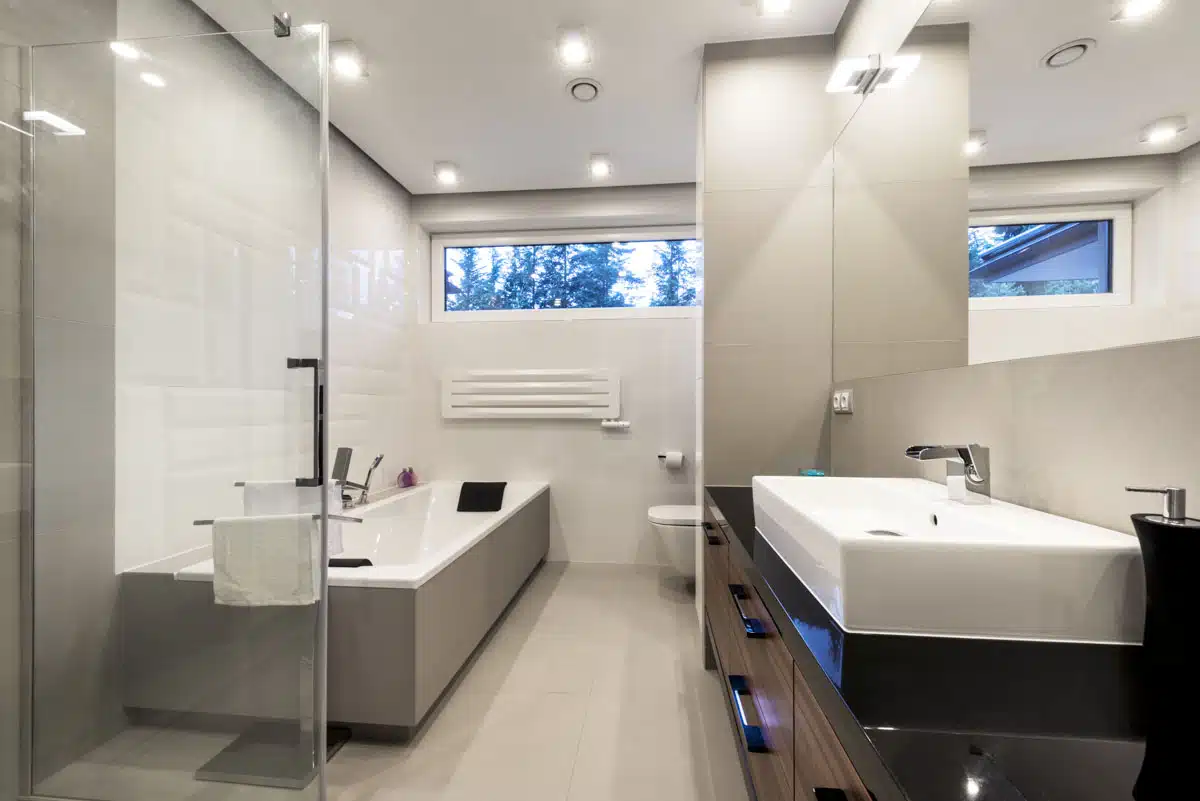 European-style bathroom themes may be used in practically any type of bathroom, providing an aesthetic that is both traditional and modern. The European style is often distinguished by striking geometric patterns and the blend of sharp and meandering designs for furniture and fittings.
Traditional European styles deviated from the classical and originated in the palaces of kingdoms across the continent. This bathroom style is commonly associated with the mid-century modern architectural movement.
Although the European style may function in any bathroom size due to its plain and uncluttered appearance, it might be more appealing to homeowners with small bathrooms. One of the most forward-thinking ideas to come from the modernist style is the pedestal sink, which is one of the most prevalent elements of European bathroom architecture.
Additionally, numerous homeowners choose additional storage within the area like a standing linen cupboard when it pertains to storage solutions in a European bathroom style.
European-style cabinets and storage features are distinguished by their use of doors with minimal hardware and a seamless design rather than intricate carvings or crown moldings found in more classic designs.
The materials used in European-style bathrooms range from high-quality natural materials like hardwood, stone, and granite to synthetic counterparts that mimic the appearance of natural materials. In terms of design or materials used, the accessories in European bathroom designs are often subdued and particular to the primary design concept.
Farmhouse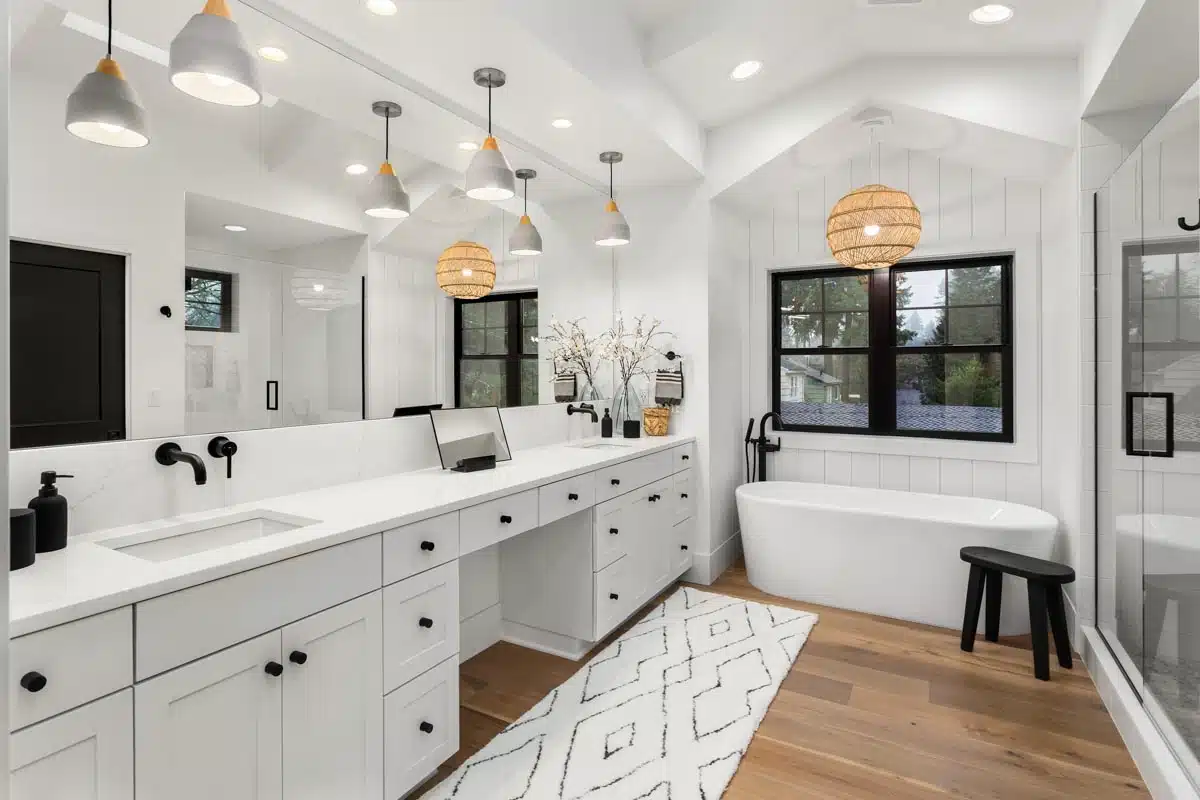 Bathrooms in the farmhouse style are increasingly fashionable these days. Farmhouse-style bathrooms are packed with distinctive touches that are partly rustic and partly country, with a splash of a contemporary look.
Interior sliding barn doors on rails are another classic design feature. Vaulted ceilings with exposed beams, massive quantities of polished wood, and a great deal of white, glass, and contrasting elements are also hallmarks of this bathroom style.
Farmhouse-style baths exude a warmth that other bathing establishments lack. Normally, they will have wooden floors, walls, and ceilings, in addition to cabinets. Other natural elements used in farmhouse design ideas include stone, granite, and marble. They also have a subtle color scheme of warm muted colors that evoke warmth and serenity.
The fixtures that are normally seen in this style are clawfoot bathtubs, brass or copper-made bathroom faucets, and pedestal sinks. The colors are often neutrals such as gray, beige, or white to establish a relaxing and warm ambiance.
Hampton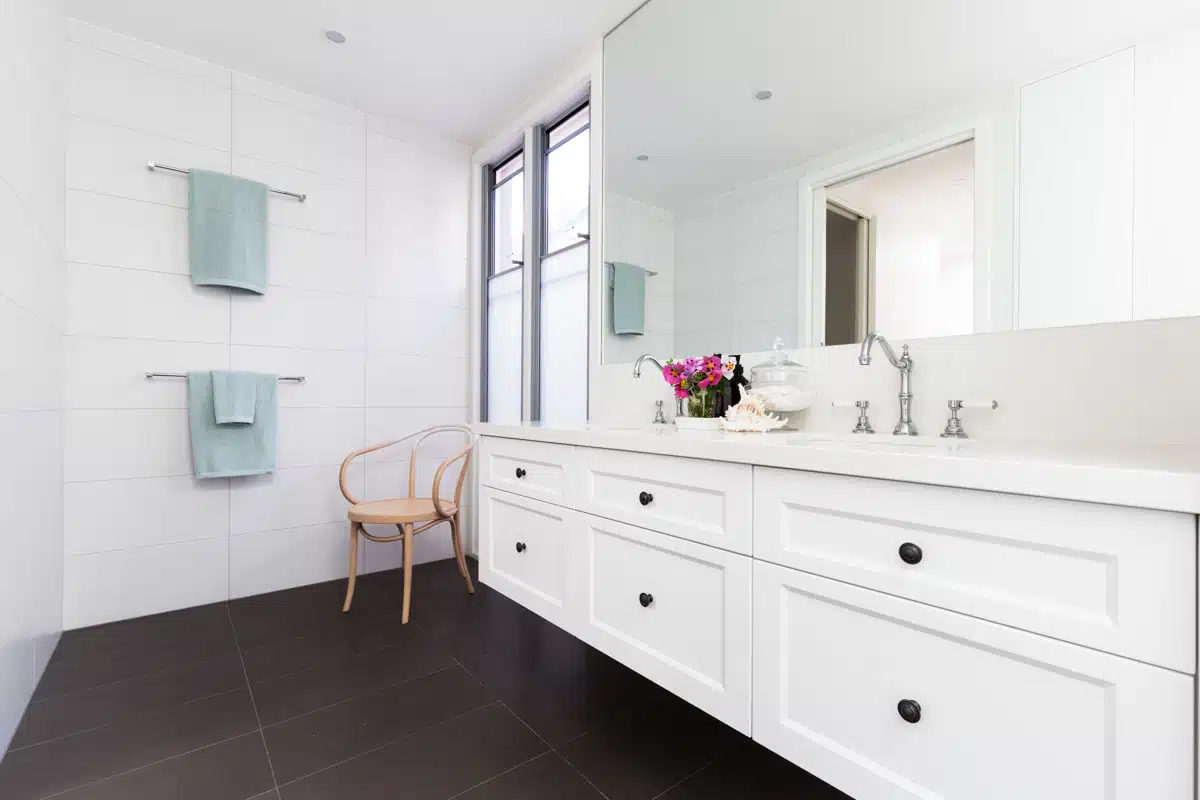 Hampton bathroom style is a common layout style in Australian homes. It is quite bright, fresh, and breezy, which works perfectly with the Australian atmosphere, especially for those who live close to the coastline. The resort-style vibe is relaxed but offered in a classic and elegant manner.
White marble, a neutral color scheme with a tinge of blue, shaker-style cabinets, and a spacious and light-filled space are all key characteristics of Hamptons-style bathrooms. Because the
Hampton bathroom design is open and airy, floating bathroom vanities can create an environment that appears larger. Thus, they can produce a significant difference in small bathrooms.
To make a Hampton-style bathroom, for example, a white freestanding bathtub would be one way to achieve its appearance. They are sophisticated, serene, and romantic.
Some even use a hexagonal, herringbone, or basket woven pattern for the flooring or walls to add interest to the bathroom. A dimmer lamp, crystal chandelier, or a wall sconce next to the mirror are ideal lighting options for a Hampton-style bathroom.
Modern Farmhouse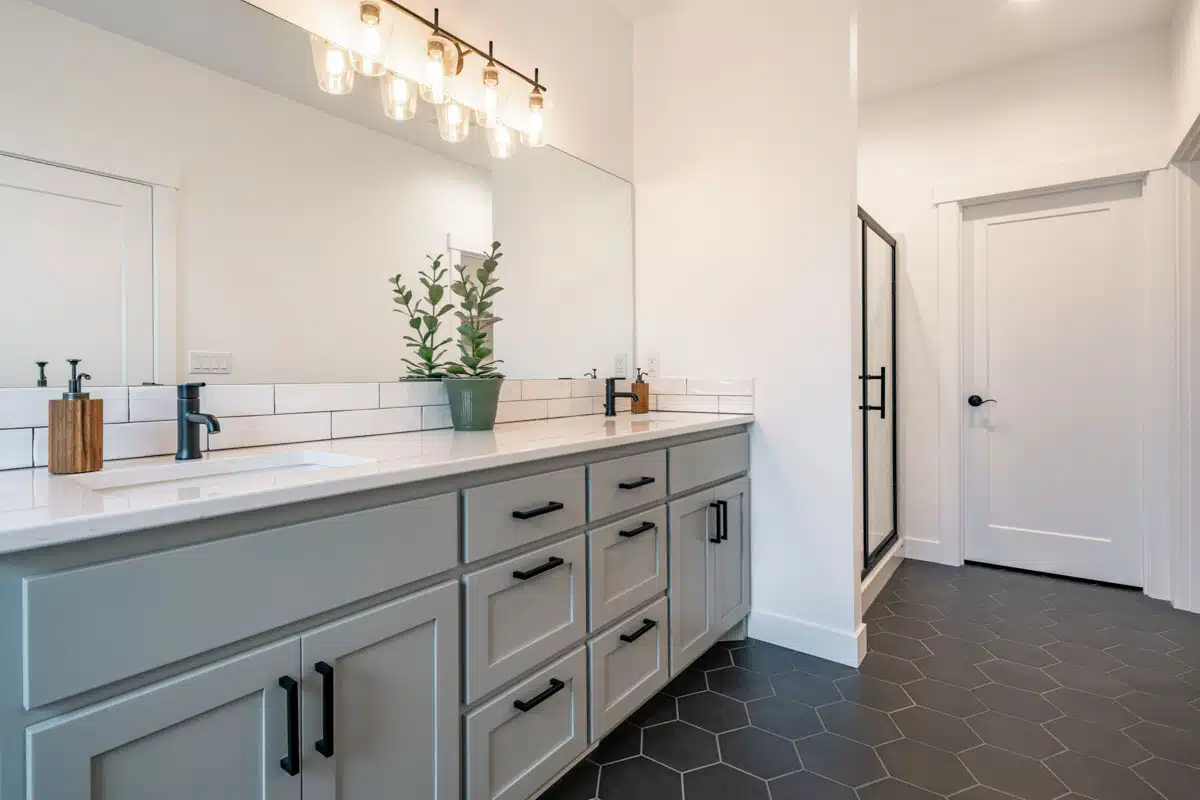 Modern farmhouse styling combines a classic country aesthetic with a more minimalist contemporary architecture. Sleek lines, a minimalist aesthetic, and a more refined feel and appearance are currently popular in this interior design concept.
Indeed, the modern farmhouse bathroom style incorporates a modern lifestyle while adding a rustic touch. This look is defined by neutral color schemes, sleek, refined lines, and oil-rubbed metals.
Although touches of the warmth of wood can add that timeless farmhouse feel to your bathroom décor, combinations of whites, tans, grays, and black can produce a modern appearance.
This bathroom style is appealing because it is both new and trendy, while also producing a casual, utilitarian, and lived-in environment. Homeowners can enjoy all of the conveniences of an advanced lifestyle while also adding a touch of vintage.
In addition, although sage greens and buttery yellows are common colors in earlier farmhouse bathroom styles, the color scheme for modern farmhouse décor is all about neutral shades.
This aids in keeping your space looking new, fresh, and modern. Individuals might also incorporate industrialized elements such as wooden shelving, metal light fixtures, and brushed metal décor and embellishments.
The final touches, though, will be most crucial; the décor you utilize to fully distinguish your home. For example, glass soap bottles or elegant jewelry boxes that combine modern amenities with the vintage appeal will be the crowning glory of a wonderfully arranged farmhouse-style bathroom.
French Country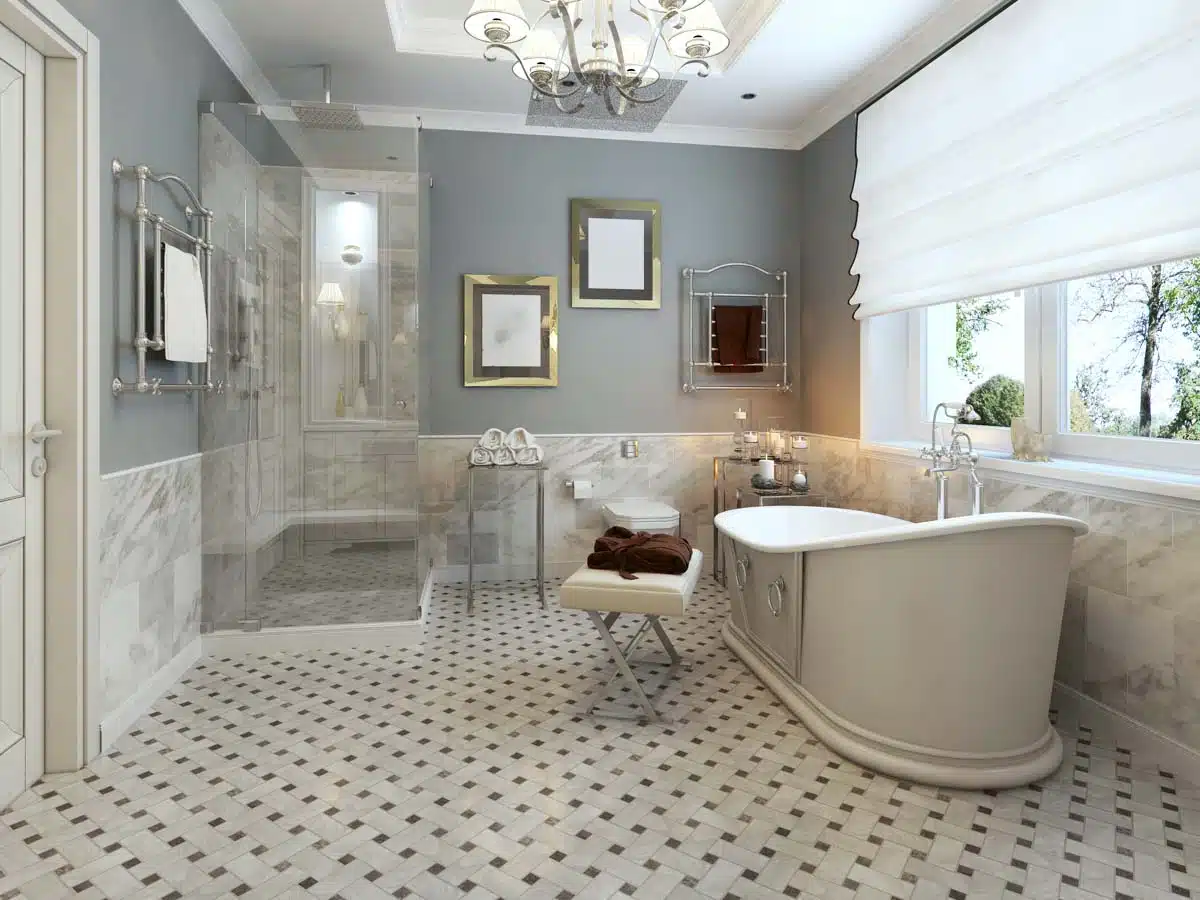 French country bathroom style is influenced by the calm yet sophisticated style discovered in the 18th and 19th-century French country houses. It provides a calming balance of comfort, charm, and beauty.
If you are looking to add a French country bathroom style to your home, the first thing you should think about is the color palette. Mellow blues, greens, yellows, browns, and even natural and earth hues, along with delicate yet vibrant colors — are popular colors for French country bathrooms.
Cutouts, crown moldings, or decorative elevated woodworking are common features of this bathroom style, which resembles cabinets found on dressers, closets, and other vintage furniture pieces.
Furniture can play an important role in the architecture of a French country-style bathroom. Armchairs and benches are frequently antiquities or historical replicas in the form of cultural items, which implies they frequently borrow from Victorian bathroom styles.
Rattan or wicker baskets, in addition to natural wood shelves or storage boxes, can provide a carefree, rustic feel that complements the more formal parts of the bathroom space. You can focus on a dominant color palette for the walls in your French country bathroom style or integrate other design features such as wallpaper or tiles.
Industrial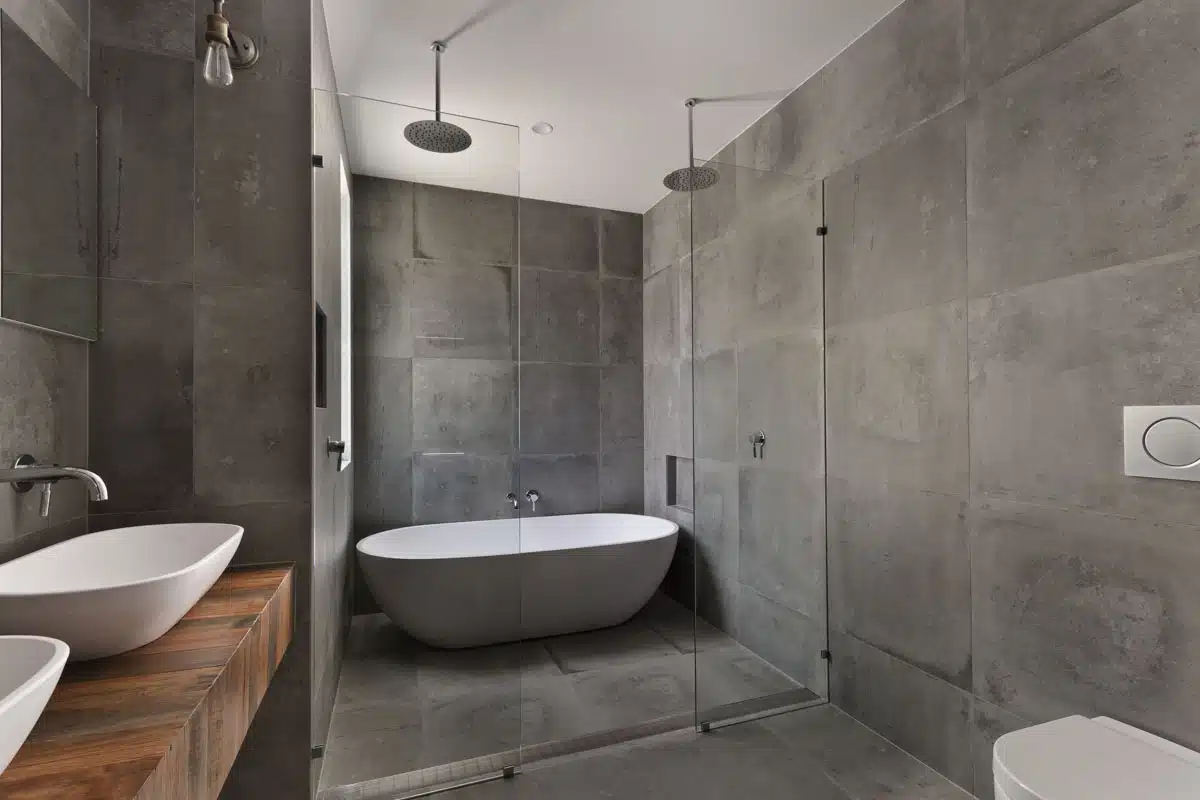 An industrial-style bathroom usually has plain, functional interiors with bare materials and sturdy fittings. Concrete is a common material for industrial bathroom layouts, from flooring to vanities and walls.
Because of its robustness and ability to handle significant activity, concrete would be an excellent option for industrial-style bathroom walls and floors.
The floors and ceilings are regarded as the most crucial aspects of an industrial bathroom's architectural design. You can choose from tile, marble, or concrete flooring, as well as a variety of other flooring options. Gray, white, and black are the most popular colors for industrial-style bathrooms.
When it comes to building an industrial-style bathroom, you need to establish a place that blends in with the remainder of your house, and you might need to include utilitarian or even aesthetically pleasing features including steel doors, galvanized steel tubs, caged lights, stainless toilets, or shower drains.
Japanese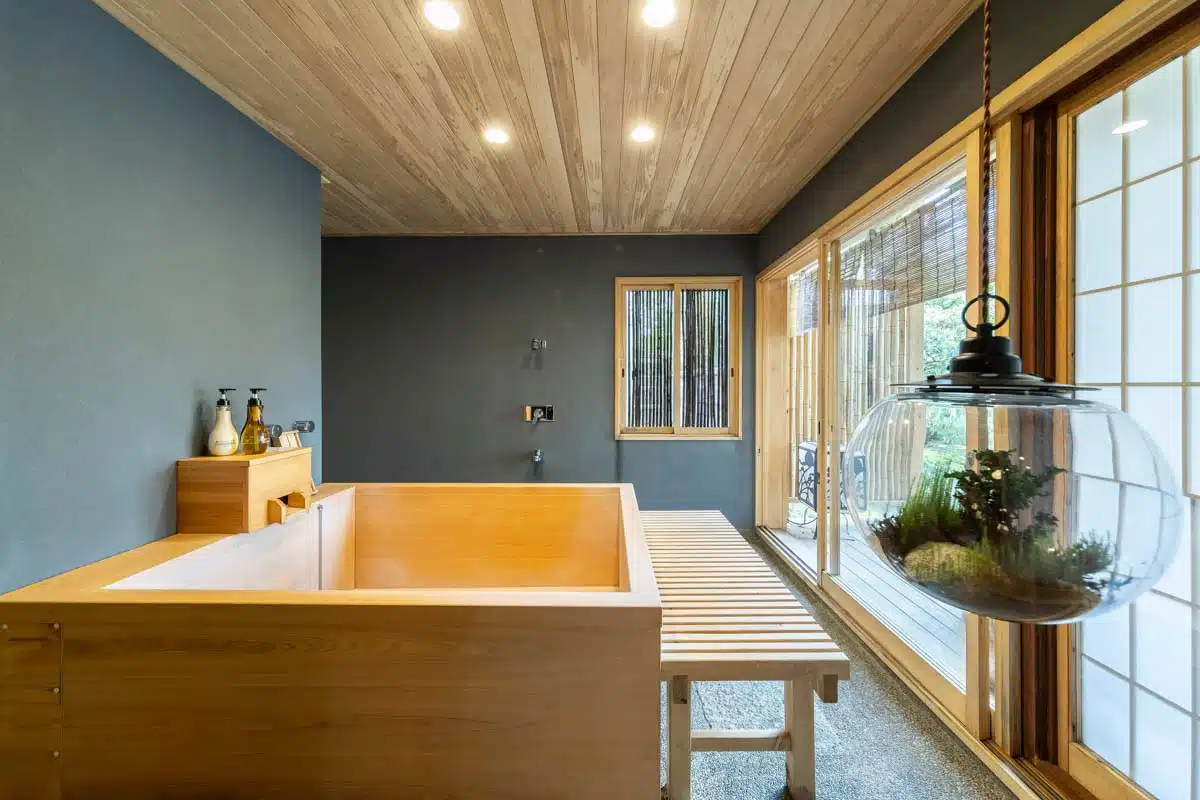 Natural materials are frequently used in a traditional Japanese bathroom style. Raw wood and stone, for instance, are frequently used in Japanese-style bathrooms.
Such materials can be applied alternatively for surfaces such as sink tops and floors, and by including wooden materials and rough-hewn or matte stone, they can successfully bring the outdoors inside the bathroom space.
Moreover, Japanese-style bathrooms might also have rock gardens, fountains, greenery, and other natural aspects, highlighting a closeness to the natural environment.
The furnishings in Japanese-style bathrooms are typically constructed of high-grade hardwoods, which are generally left unpainted or tinted to enhance the wood's natural beauty.
Benches, chairs, and dressing stations are common pieces of furniture that establish a robust but relaxing design style. Shoji and other types of screens are very popular in Japanese bathroom style as well.
The use of meandering curves in other areas of the architecture, such as basins and bathtubs, can counterbalance angular furniture pieces, counters, or pedestals. Bathtubs in Japanese-style bathrooms are frequently bowl- or basin-shaped, and can be made of wood, metal, or porcelain, with dramatic, wave-like contours and considerable design.
Mediterranean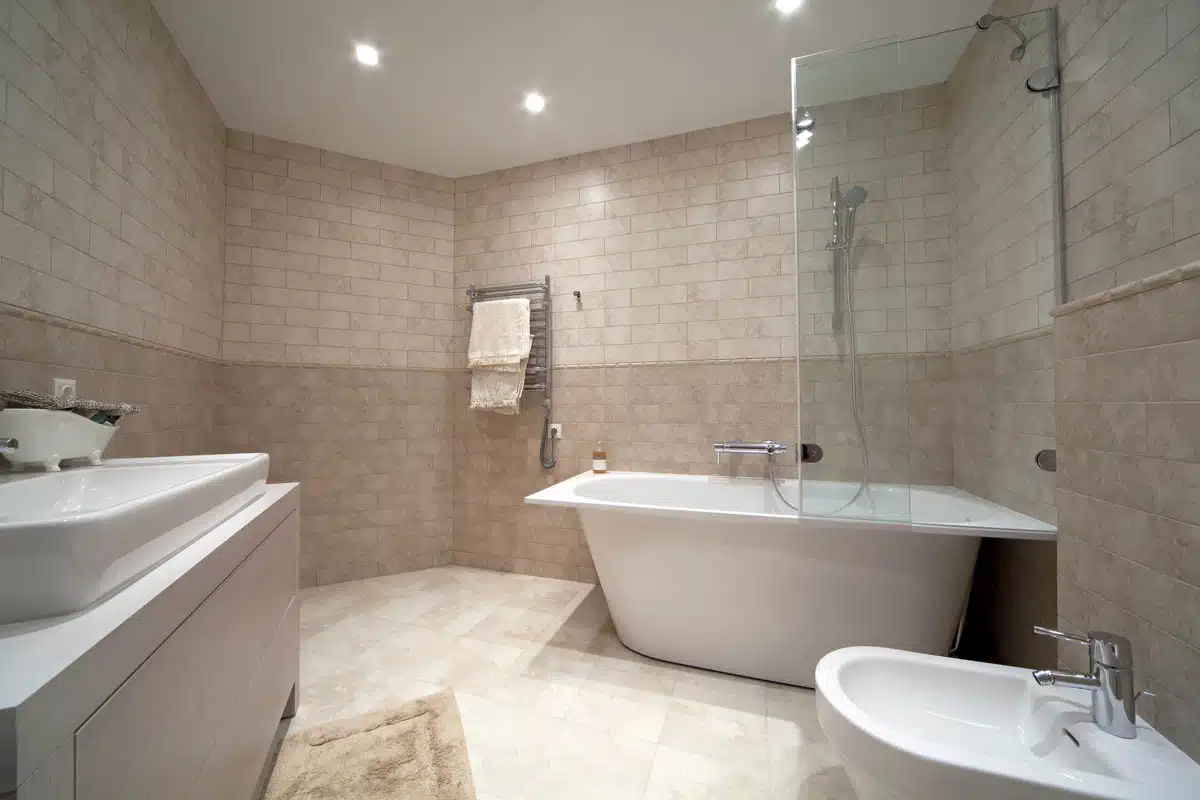 The easygoing, classic, and comfy style prevalent in many homes in countries bordering the Mediterranean Sea inspires Mediterranean-style bathroom architecture. With a unique combination of styles established over the ages, this design incorporates inspirations from Greece, Turkey, Italy, and Spain.
Colors that reflect the organic splendor of the Mediterranean territories are widely used in Mediterranean bathroom design, incorporating deep, earthy neutral colors such as browns and fiery reds, in addition to vivid, sun-washed colors like clean whites, sunny yellows, vibrant turquoises, and dazzling blues.
Tile is the main material that is frequently used in Mediterranean-style bathrooms. Classic terracotta tiles can be seen on countertops, cabinetry, sink surfaces, and bathroom showers.
Another common design feature in Mediterranean bathrooms is the curving or arched entryway for bathroom entryways or shower cubicles.
Mid-Century Modern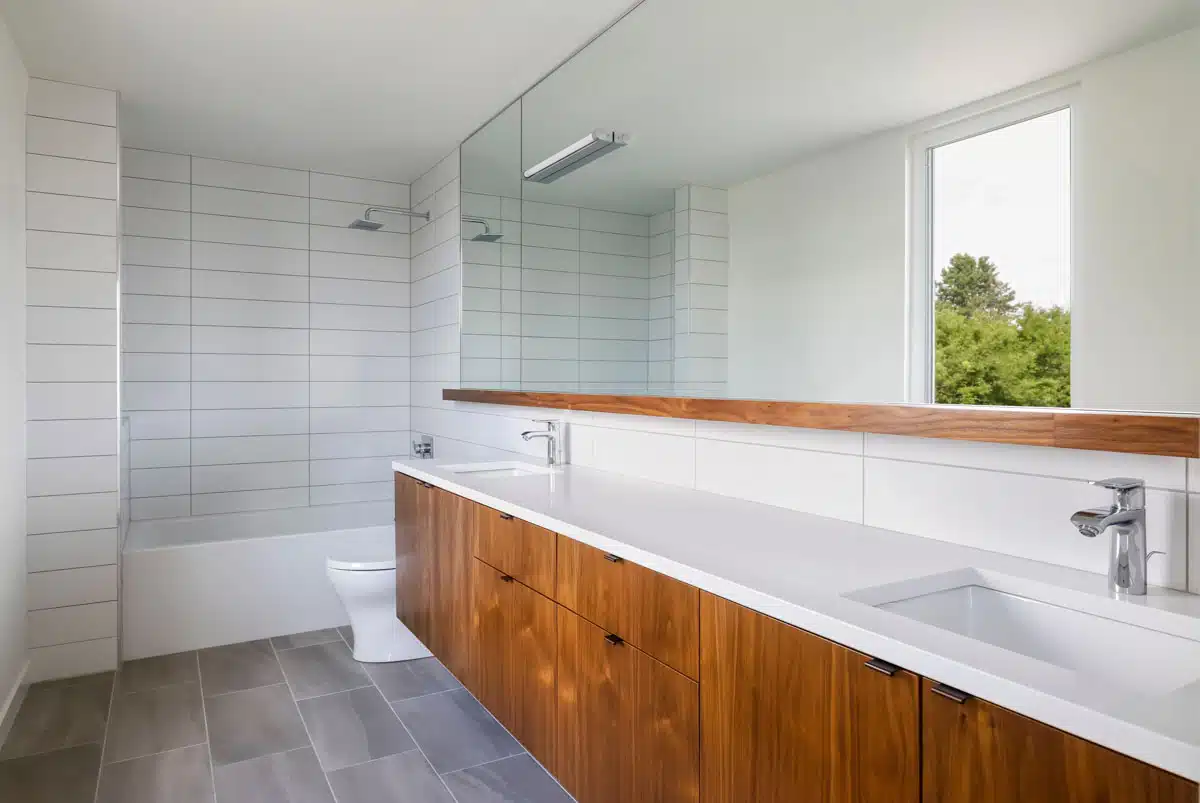 Modern interior design was first acknowledged after World War I, most commonly exhibiting neat lines and simple, sleek, attractive design, and grew over the following decades into what has become recognized as mid-century modern design – a unique style that first originated from the Nordic European nations.
When it refers to the bathroom vanities, the mid-century modern aesthetic emphasizes simplicity. Such streamlined and simple cabinets may contain single or dual vessel-style sinks in a variety of materials and hues in several mid-century modern-style bathrooms.
This popular architectural style features a minimalist look, vivid accent colors, and nature-inspired patterns, all of which work well in bathrooms. When it pertains to flooring and countertops, households with mid-century modern bathrooms frequently opt for a simple aesthetic, with flat, geometric tiling on the walls and either matte or glossy counter surfaces.
In addition, mid-century modern bathroom design is frequently maintained relatively simple, with decorations and wall hangings kept to a minimum in order to keep the entire space as uncomplicated and functional as possible.
Minimalist
Smooth, unpredictable surfaces, modernist lines, and a purposeful lack of adornment and clutter are common features of a minimalist-style bathroom. Fittings are streamlined and subtle, with natural cotton towels and gentle, diffused lighting as common accents.
The minimalist bathroom style is inspired by the simplicity of nature, highlighting the inherent appeal of organic materials including gradually flowing water, attractive hardwood grains, and deep stone textures. The colors are soothing and neutral, with whites, beiges, and grays evocative of cloud and sand, as well as the subdued blue-blacks of seamless river rock.
The impression made by the limited objects in the bathroom is the essence of minimalism. Materials are important, and the layout of each component is highly essential.
Mission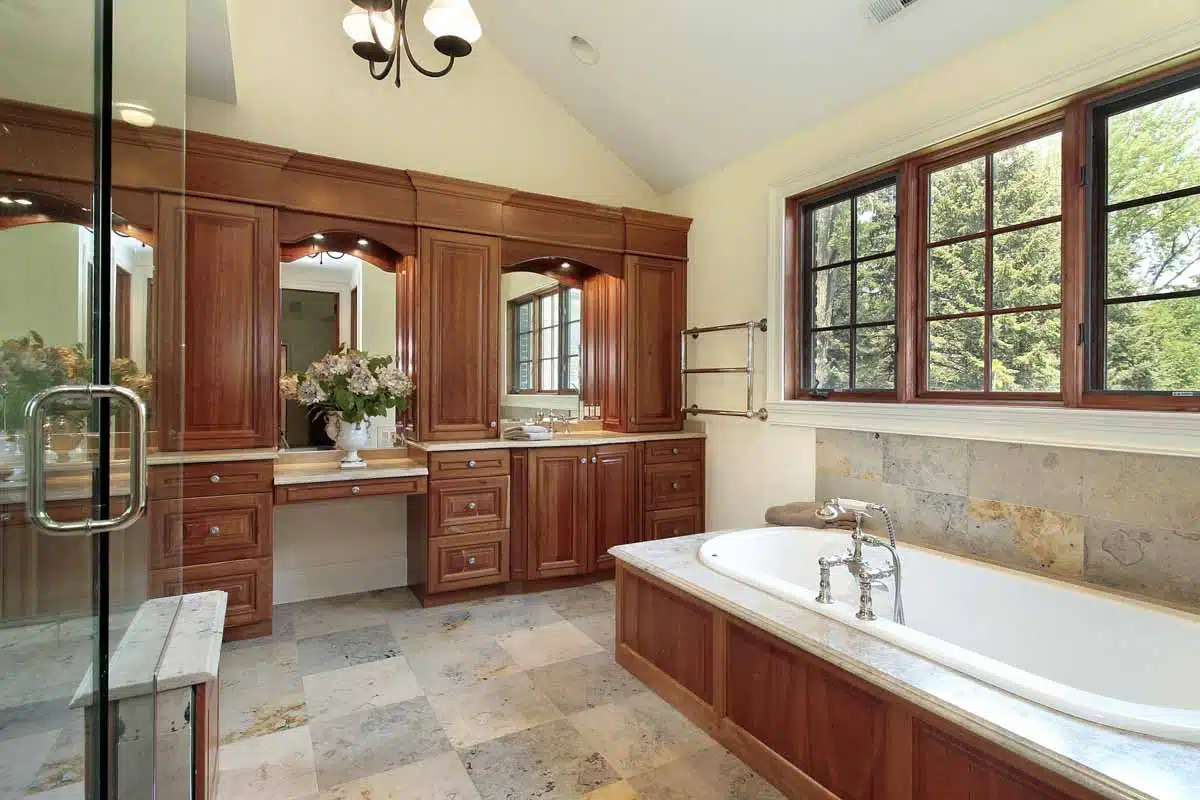 Mission-style bathrooms are often minimalistic, easygoing, and homely since these designs mirror the style's origins, concentrating on structural stability and material integrity. The mission bathroom style honors functionality and craftsmanship, and the furniture items are often made of wood.
Mission-style bathroom vanities, with less emphasis on design components and minor details, stand out against warm, neutral interior schemes, providing a classic, elegant area in the house. Larger bathroom vanities would be ideal so they can dominate the space. With single and dual sink configurations, these designs are also suitable for small bathroom sizes.
Color is indeed an efficient process to affect the layout of a bathroom and establish the atmosphere. As the Arts and Crafts movement emphasizes using materials from indigenous, native sources, such as stone and wood, the mission bathroom style has a more particular color scheme.
Brass, bronze, and iron bathroom hardware pieces are long-lasting materials with a contemporary aesthetic that would complement a mission-style furniture piece.
Moroccan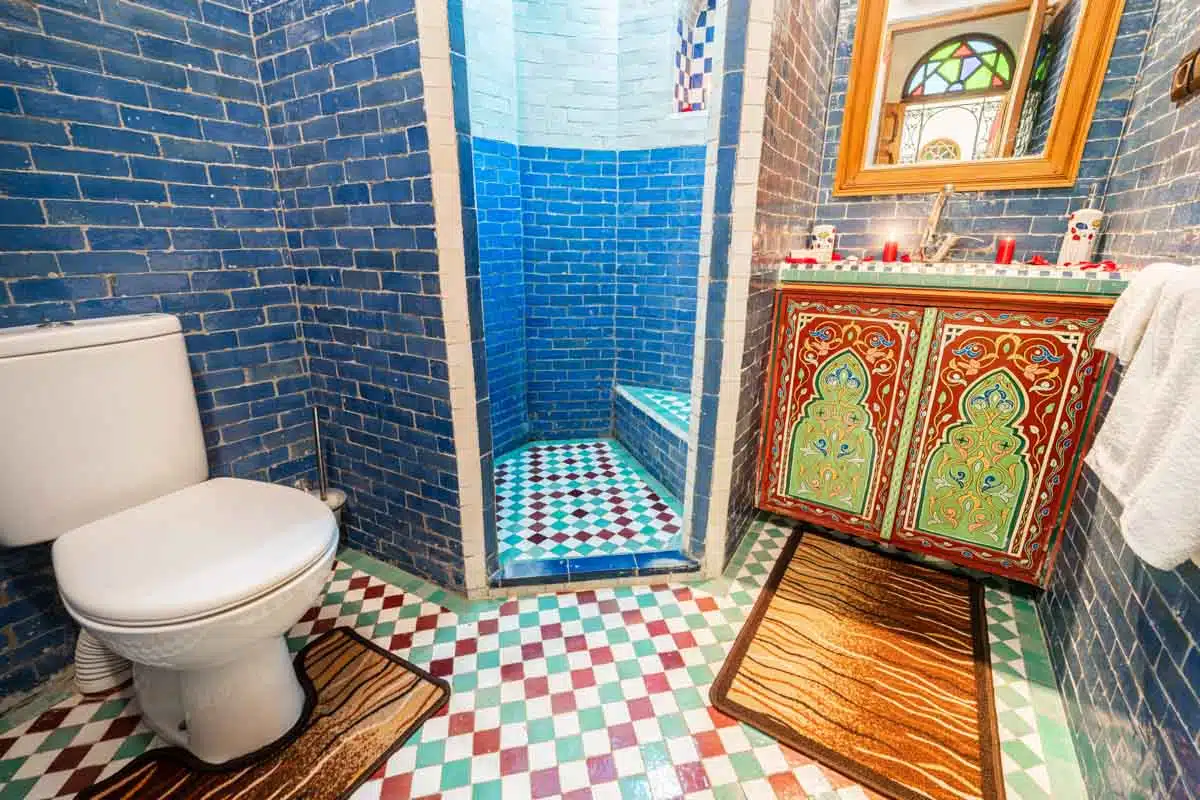 Moroccan-style bathrooms are often found in modern home interior designs. They are inspired by the original design concept of Moroccan homes. Bold patterns, artistic tilework, and bright colors are often applied to produce a luxurious and striking bathroom space.
When it comes to tilework, Moroccan bathrooms often have mosaic walls along with decorative artwork that is inspired by Moroccan art. The bathroom fixtures normally include copper or brass-made faucets, decorative mirrors, and ornate lighting fixtures. The accents used are normally carved wood and metallic cabinet hardware.
Nautical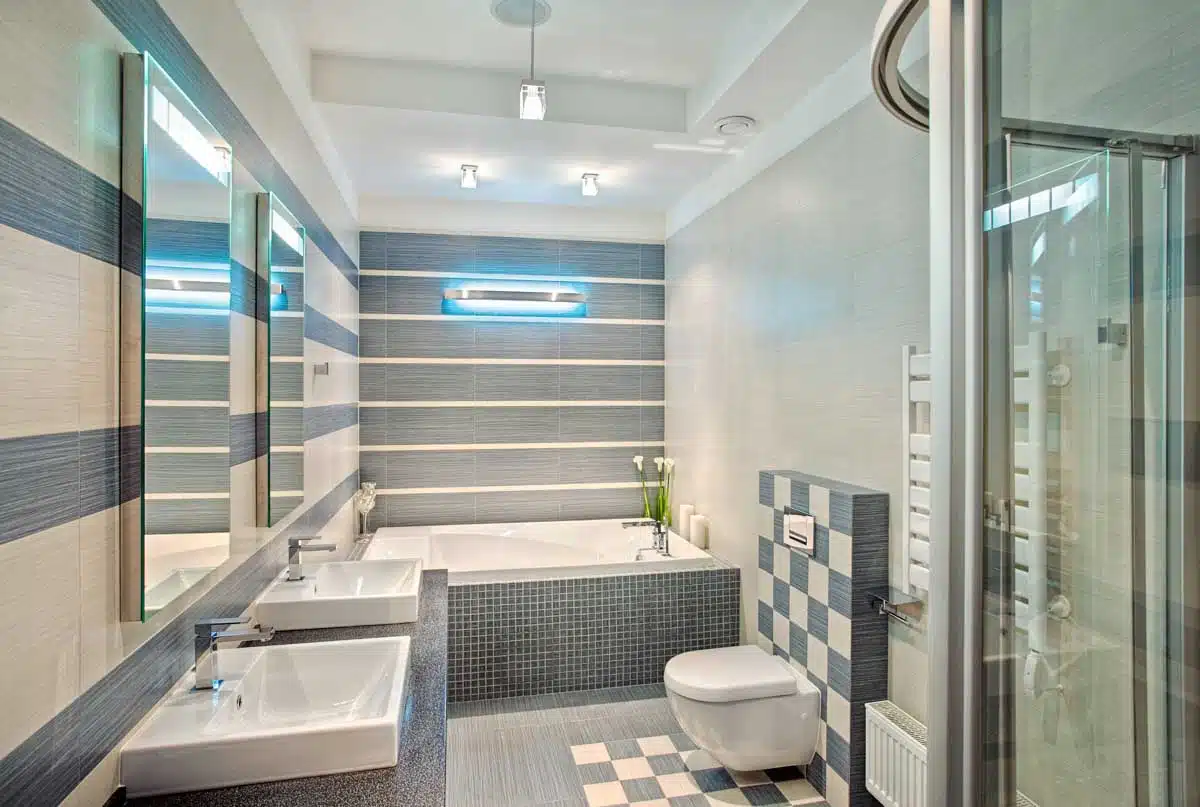 Nautical bathroom decor is ideal if you want to have a 'short trip' to the beach. Sky blues, blue-greens, whites combined with blue, and anything that evokes the water and sky as a backdrop are common hues of nautical bathroom décor.
Freestanding ceramic or acrylic bathtubs are typically the component of choice, and they combine nicely with vanity-mounted sinks to offer a vintage impression.
This bathroom style's elements usually feature wood, genuine stone, and ceramic. Your décor must be nautical-themed, which includes items such as boats, shells, sea creatures, and beach treasures.
Retro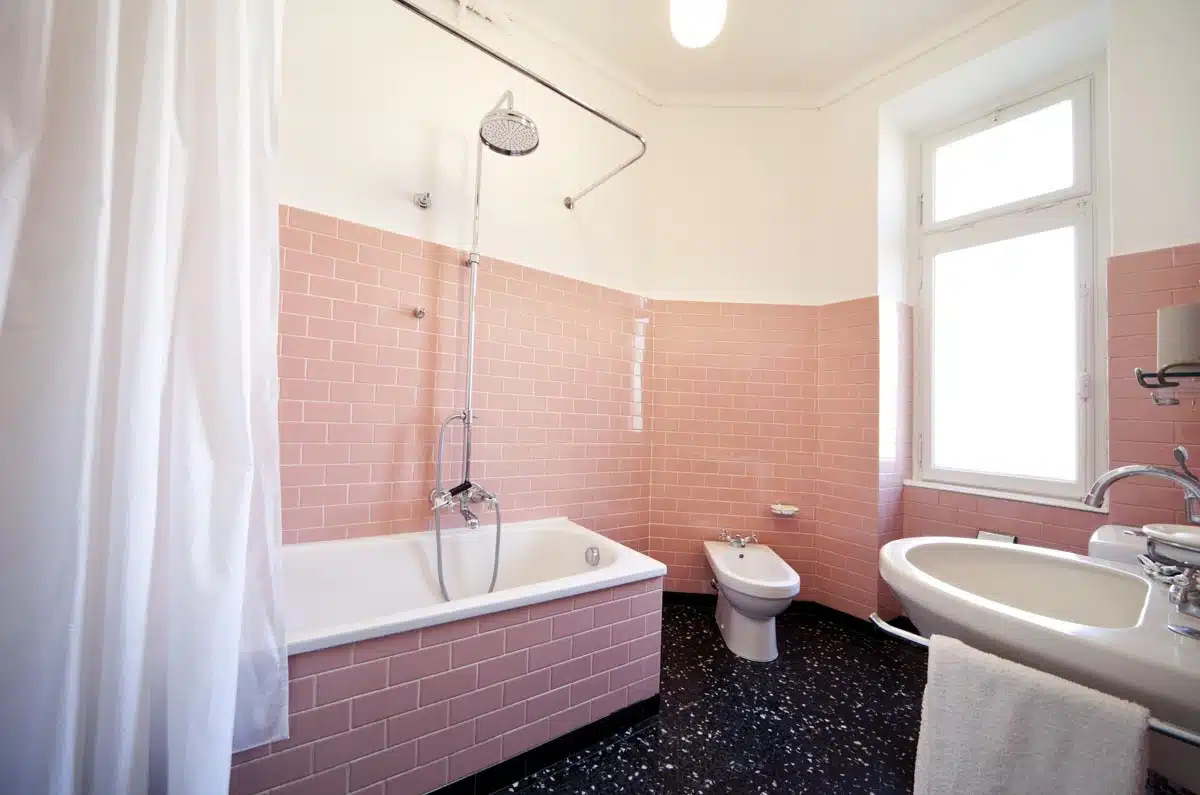 The bathrooms in a retro style normally include design elements that come from the 1950s to 1970s, and it is a famous bathroom style that is found in eclectic home designs.
This bathroom style typically uses vivid colors, striking patterns, and unique artistic details that contribute to the whimsical touch of the bathroom. The bathroom fixtures usually incorporate clawfoot bathtubs, chrome faucets, and pedestal sinks.
Vintage advertisements or pop artwork are also seen in retro-style bathrooms. Moreover, accessories such as rotary phones, vintage radios, or retro-style wall clocks are sometimes added to further emphasize the retro vibes.
Rustic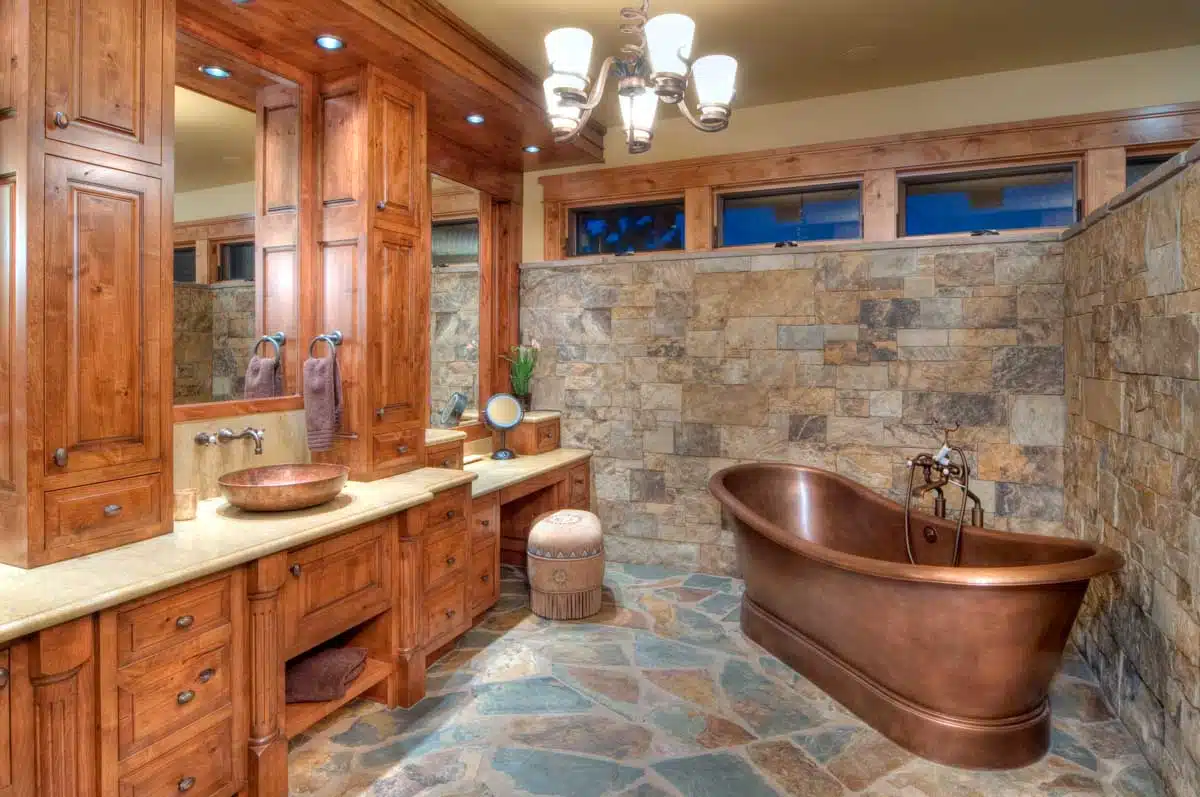 By the use of warm types of linen fabric, natural elements, and organic embellishments, rustic-style bathrooms appreciate and mimic the aesthetic of the outdoors. It is the ideal setting for natural stone flooring, rough-hewn timbers, hardwood cabinets, natural color palettes, and patinated materials such as copper, natural wood, and stone.
Furthermore, rustic design is often influenced by heritage. Antique armoires, natural-material window treatments, antique light fixtures, vintage pottery, barn-style doors, floor rugs, paintings, handwoven baskets, and other design elements with rustic vibes can all be found in a rustic-style bathroom.
Scandinavian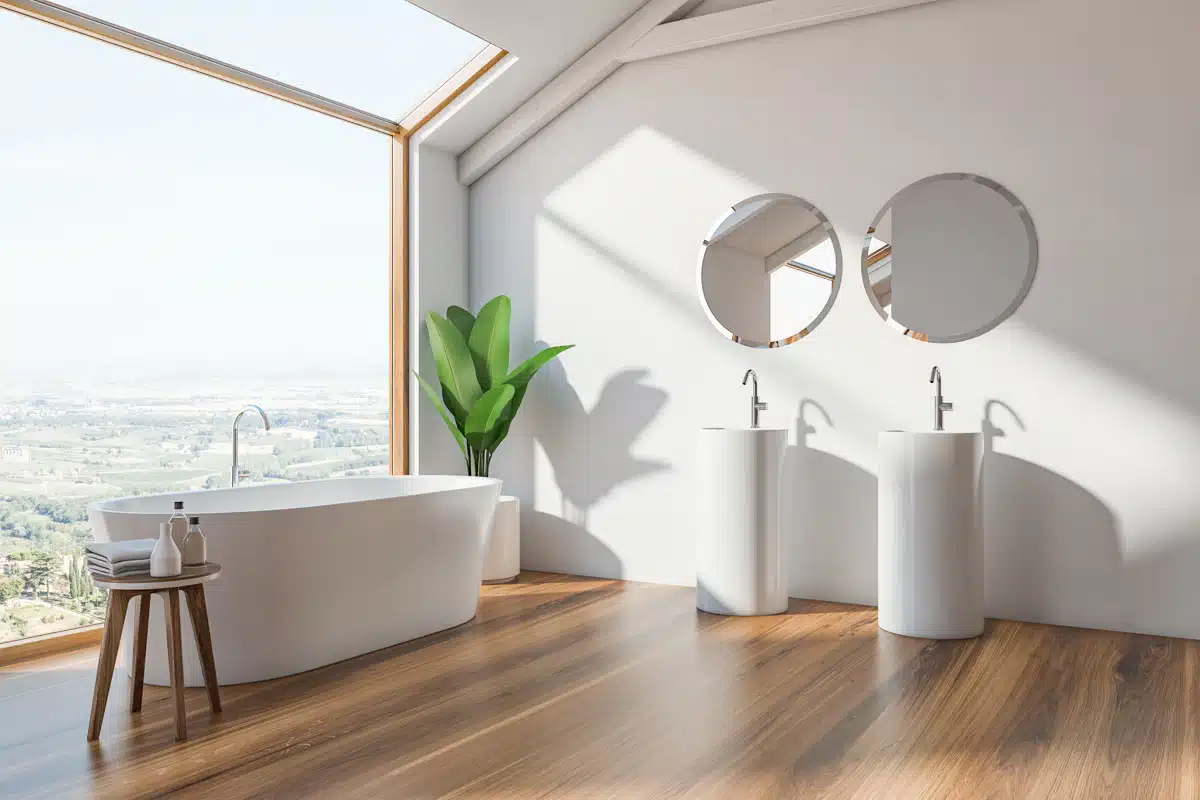 Bathrooms in the Scandinavian design are about minimalism, refinement, and efficiency. Simple lines and a generally straightforward and relaxed casual vibe are emphasized. The Scandinavian style is evocative of modern-style bathrooms because it is devoid of clutter, embellishment, and unnecessary ornamentation.
To unite design elements and create cohesiveness, dark and bright colors are employed in a proportional approach. Colors in Scandinavian-style bathrooms are typically more understated, with white being the most prevalent, frequently combined with wooden elements.
Freestanding tubs are the most prevalent option since they provide more open space and complement more minimalistic design choices. Geometric mats, accessories, and towels are an excellent solution for the minimalist aesthetic of the Scandinavian style.
Moreover, a Scandinavian-style bathroom is frequently regarded as a modern design since there is less wasted area and they can perfectly accommodate a full bath in a tiny space without feeling confined.
Shabby Chic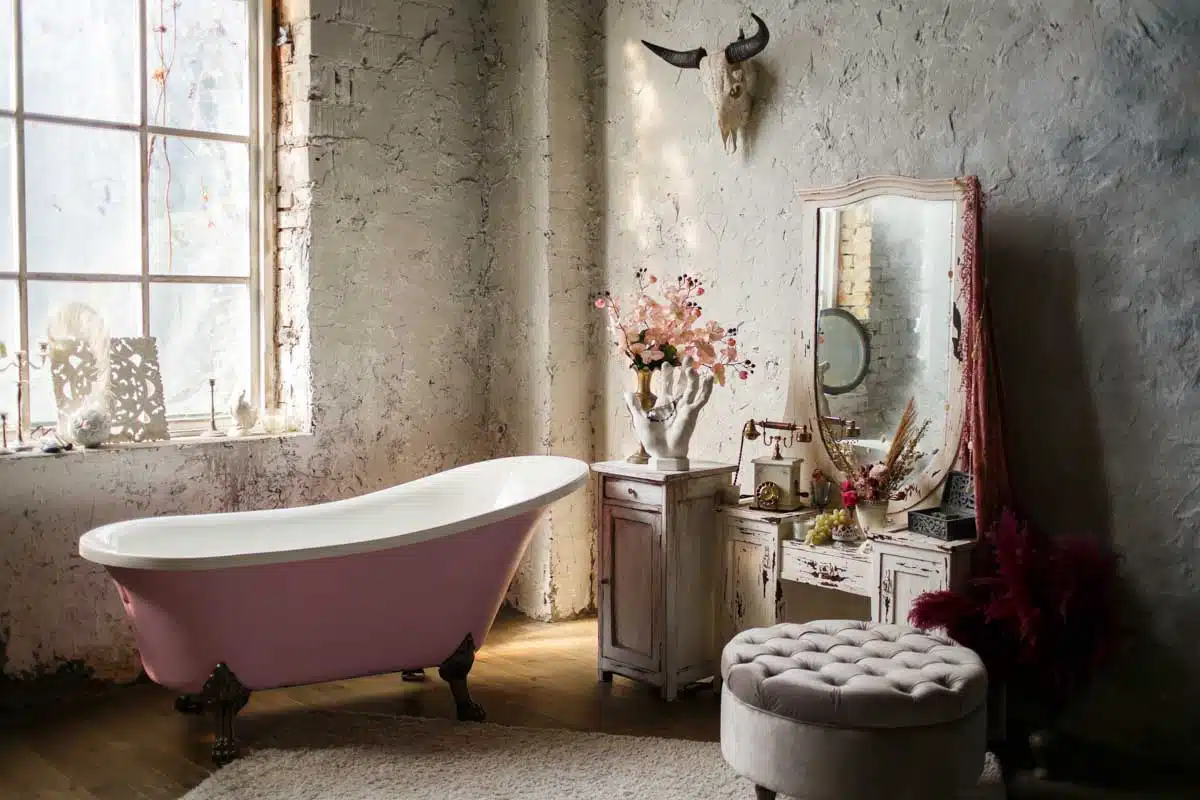 The shabby-chic bathroom design is full of wonderfully romantic elements. This style makes extensive use of weathered white, as well as delicate pastel color embellishments. Luxurious fabrics, flowery patterns and works of art, brushed metal embellishments, and ribbon trimming are common shabby chic design elements.
In addition, a concentration on air, brightness, and open space lends a softly refreshing vibe to this bathroom style format, inviting tranquility and relaxation.
Southwestern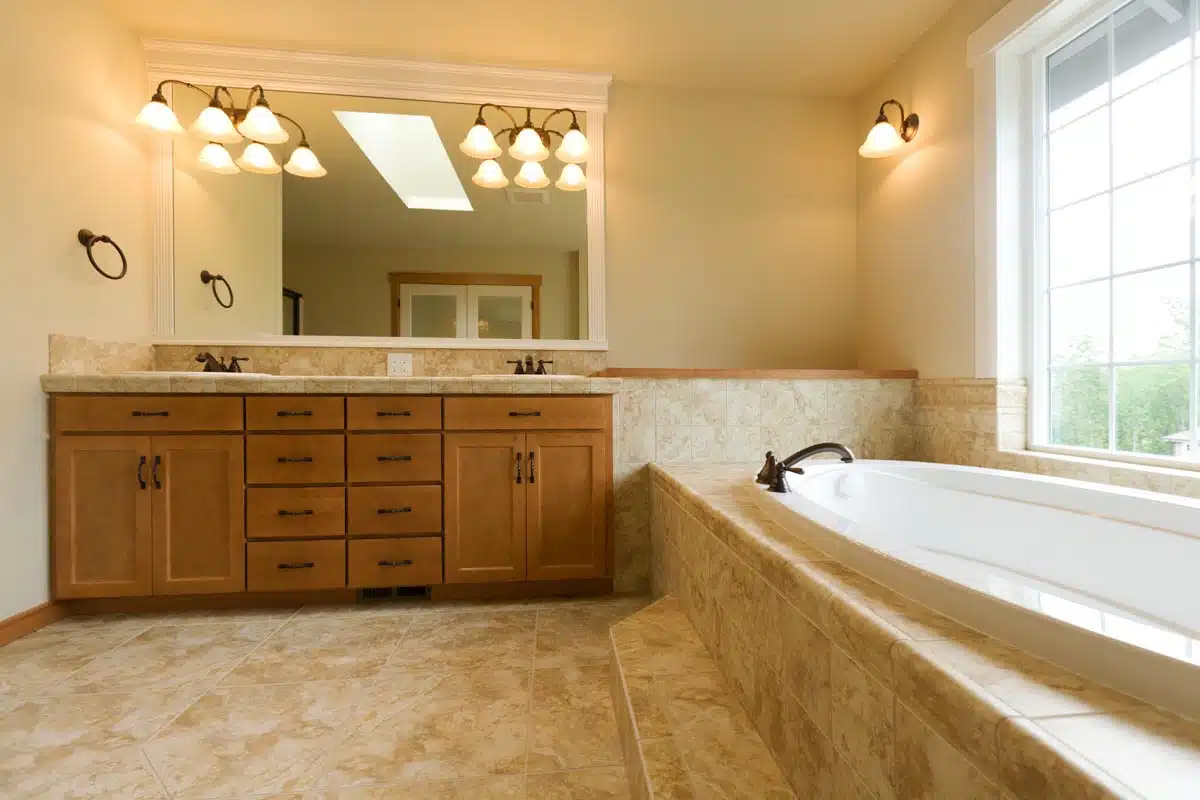 A Southwestern-style bathroom frequently includes Native American components as well as Southwestern-themed accents. Raw timbers, handcrafted tapestries and carpets with a native vibe, natural resources, and organic textures, as well as handcrafted artisan products such as baskets, earthenware, and vases are all featured in this bathroom style.
Southwestern bathroom décor frequently features complex prints and elaborate patterns. Terracotta tile, for example, is a trademark design that is practically ubiquitous in the Southwest — you will find it in almost every Southwestern bathroom.
Spa-Inspired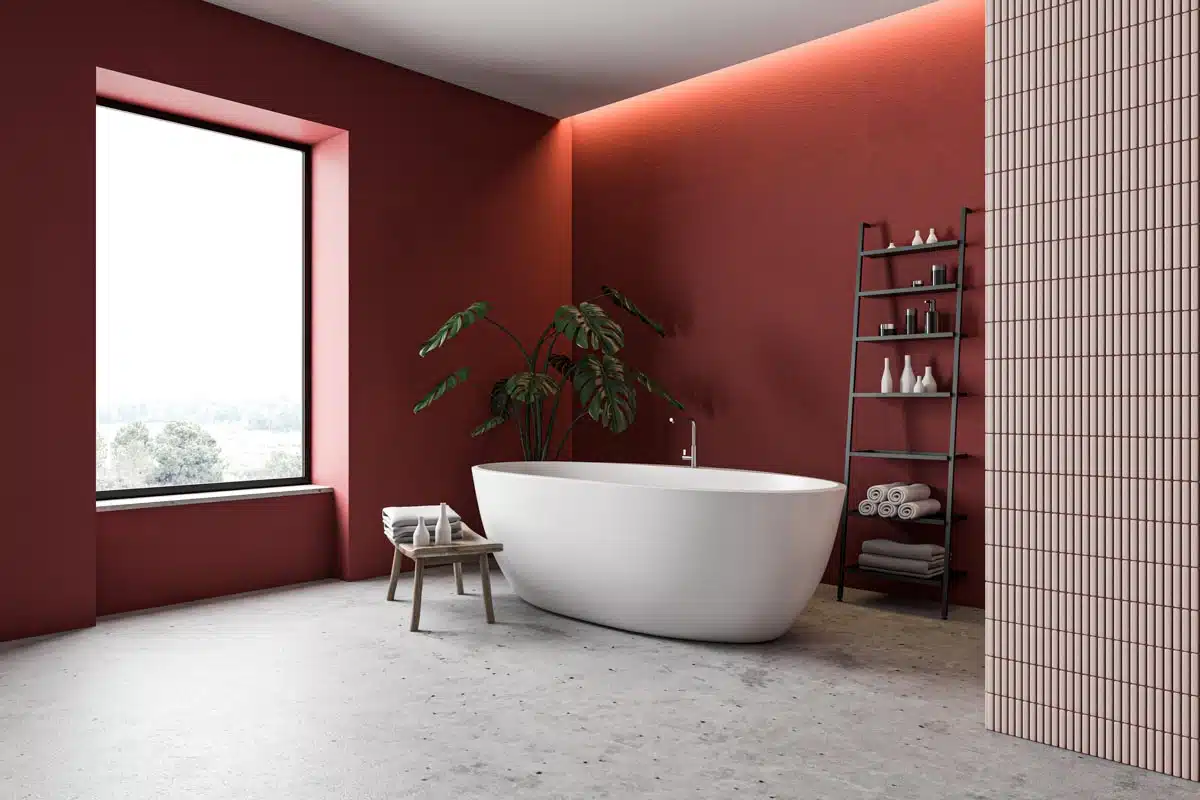 A spa-inspired bathroom style clearly aims to establish a calming, welcoming, and serene bathroom space that gives you a feeling that you are in an actual spa. Clean lines, natural materials, a neutral color scheme, minimalistic decorations, and soft lighting fixtures are all encountered in this bathroom style.
Spanish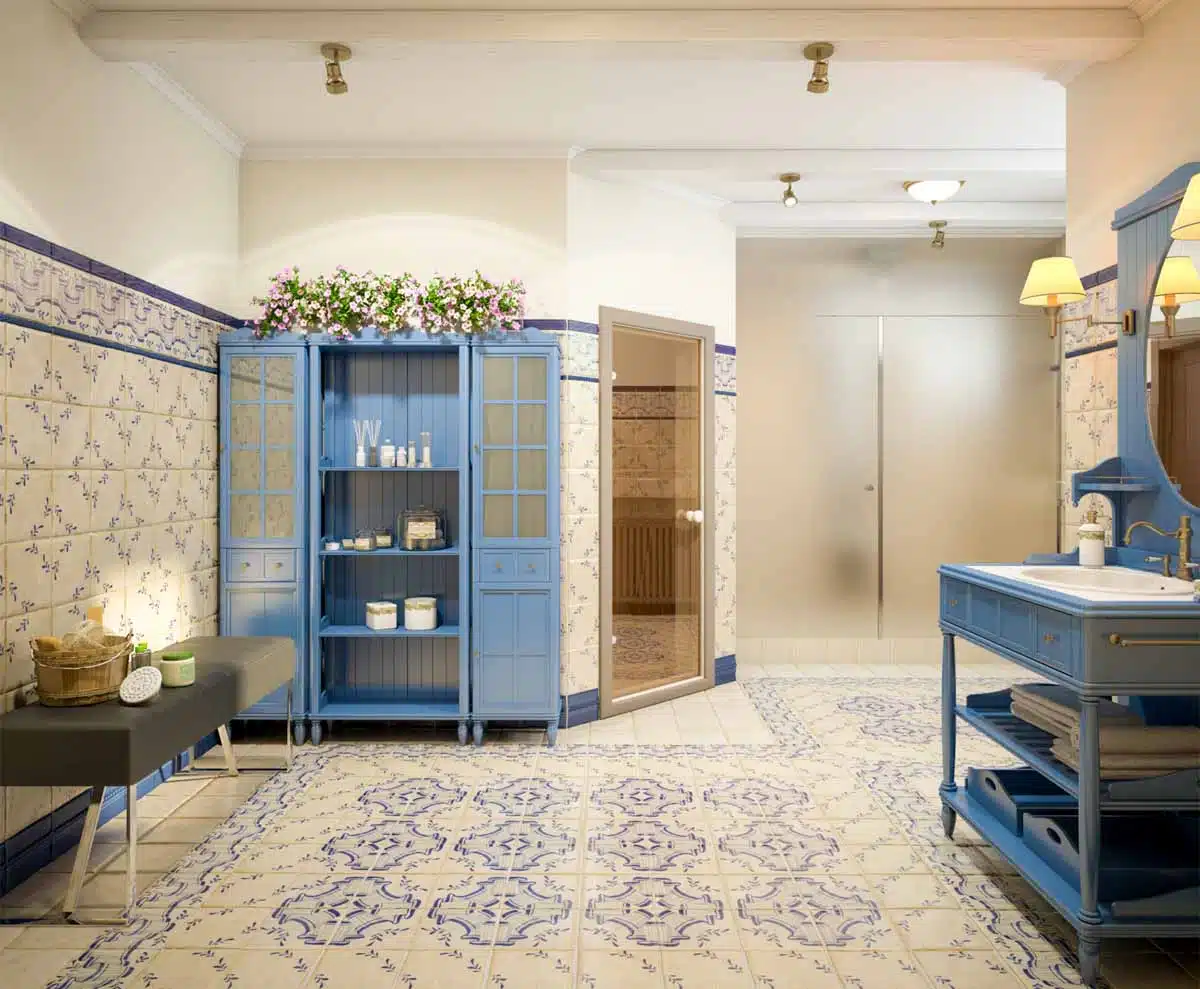 Spanish-style bathrooms, comparable to Mediterranean bathroom style, are meant to bring flair to traditional-style bathrooms. In a traditional bathroom environment, the Spanish style integrates materials including terracotta tiles in elaborate patterns. This style makes use of eye-catching hues such as vibrant red, orange, white, and yellow.
The terracotta floor tiles incorporated into this bathroom design serve as the bathroom's defining feature, so any bathtub type and walk-in shower can be used there. Gold-trimmed accessories and more traditional design features such as candles and elegant sconces, blend well with the Spanish bathroom style.
Tropical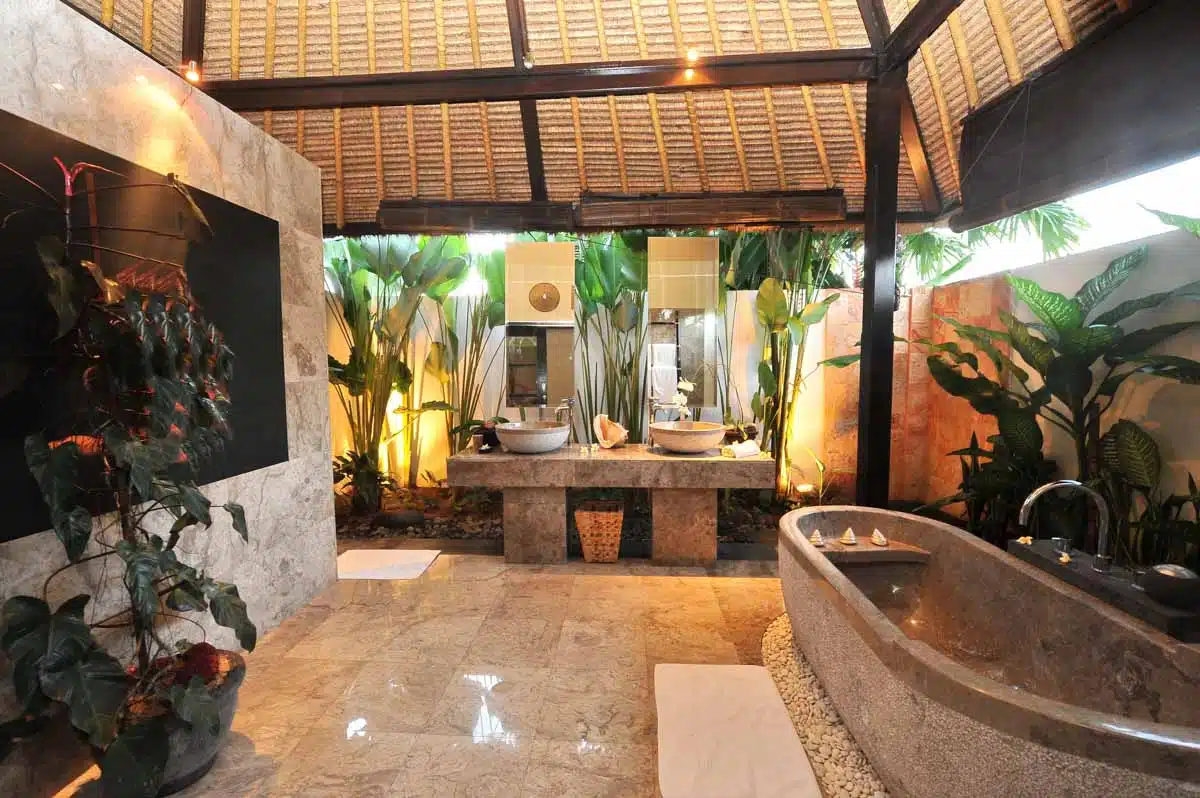 Tropical-style bathrooms typically have a simplistic design concept that emphasizes gorgeous green plants as well as the high-grade workmanship of the elements used all around the bathroom.
Furthermore, genuine stone and polished wood flooring, exposed ceiling beams, an abundance of greenery, and unrefined detailing with a natural twist are all to be sought in this bathroom style. These bathroom ideas are characterized by open layouts with plenty of space and natural light.
Tuscan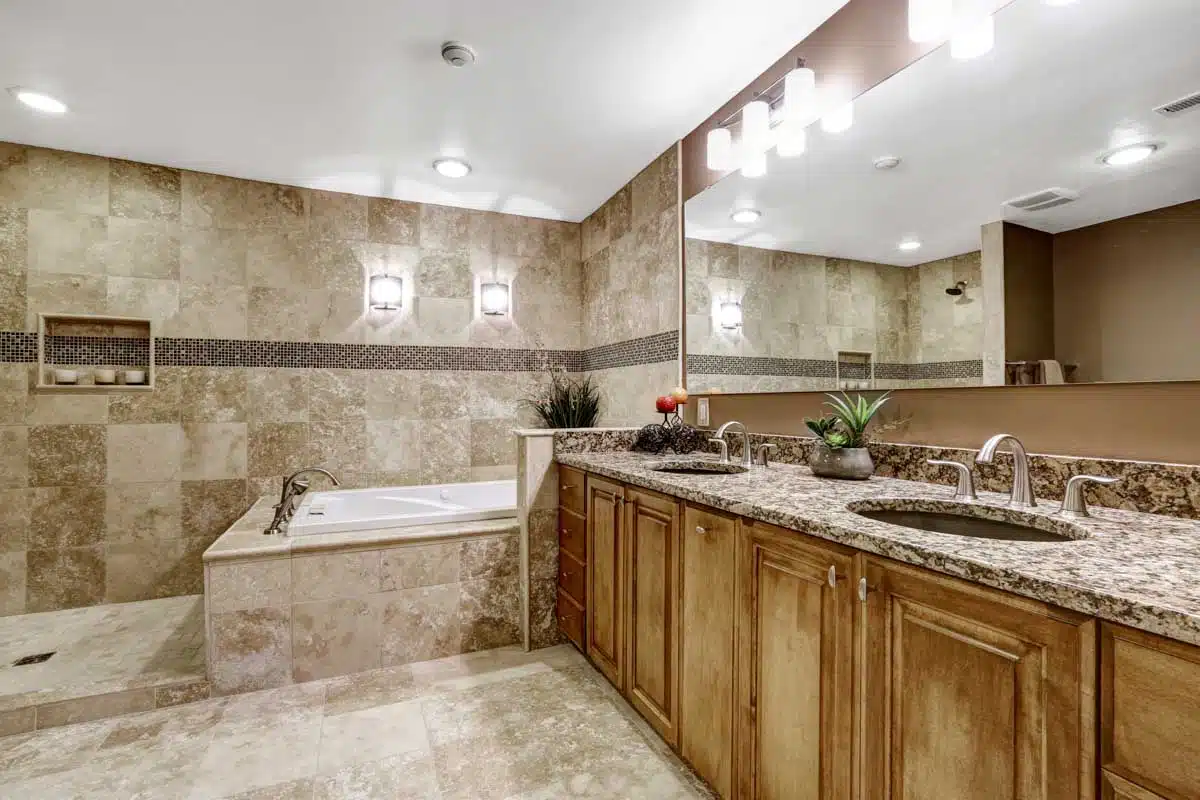 Tuscan-style bathrooms are distinguished by the application of signature colors such as terracotta, ochre, and relaxing Mediterranean blues, as well as matte and weathered surfaces instead of pristine, polished appearances. In a room that resembles a vacation house, the dominant motif emphasizes comfort and relaxing sophistication.
Natural lighting is frequently emphasized in Tuscan-style bathrooms. Window treatments are quite often semi-transparent, bright, and spacious.
Additional natural aspects include window boxes for flowers or houseplants, along with woodsy stools or certain types of chairs made of unpolished wood. Classic terracotta tile or stone floors are prevalent, as are sandy, natural hues and treatments.
Victorian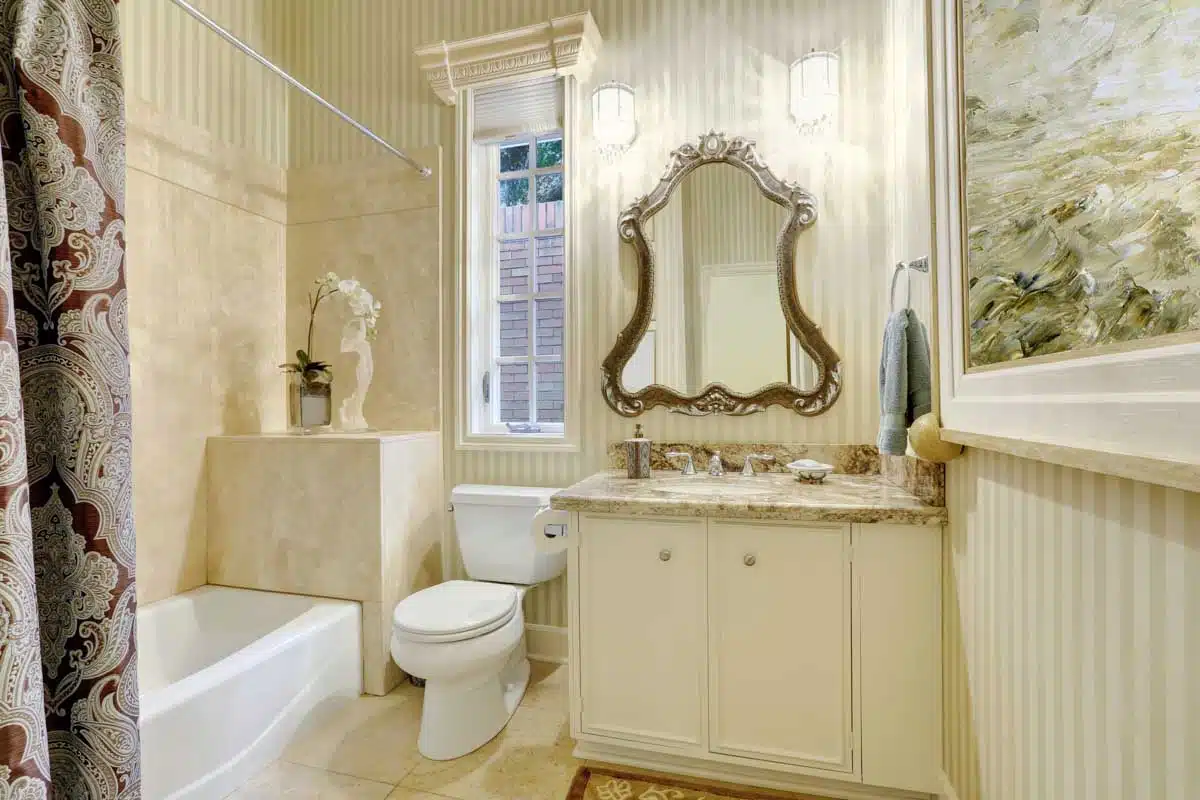 The usual design components in the Victorian-style bathroom include jewel-tone tiles, gold-trimmed accenting, flowery patterns, clawfoot bathtubs, and undermount sinks.
Decorative handles and knobs, handmade rugs, and a variety of colored timbers and finishes are common ornamental elements in a Victorian-style bathroom. White is indeed a major color in a Victorian bathroom and is prominently emphasized by porcelain-made furniture pieces.
Vintage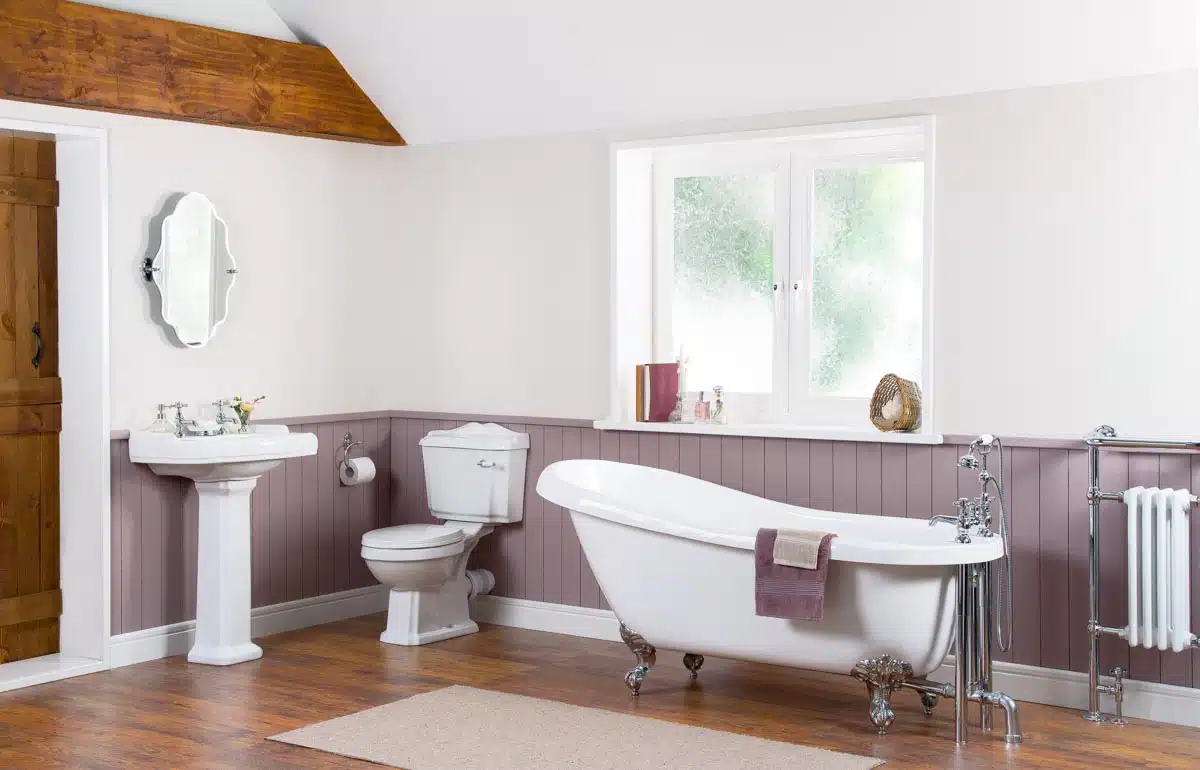 To establish a vintage ambiance, vintage-style bathroom designs sometimes incorporate complex and fanciful wall decorations. Classical elements such as acrylic or fiberglass drop-in bathtubs and pedestal-style sinks are common in these bathrooms.
The contrast between flowery and elaborate wall patterns and tiles for the wall and floors is a defining component of vintage-style bathrooms. Plus, vintage-style bathrooms are always painted in basic colors such as green, white, and red.
Zen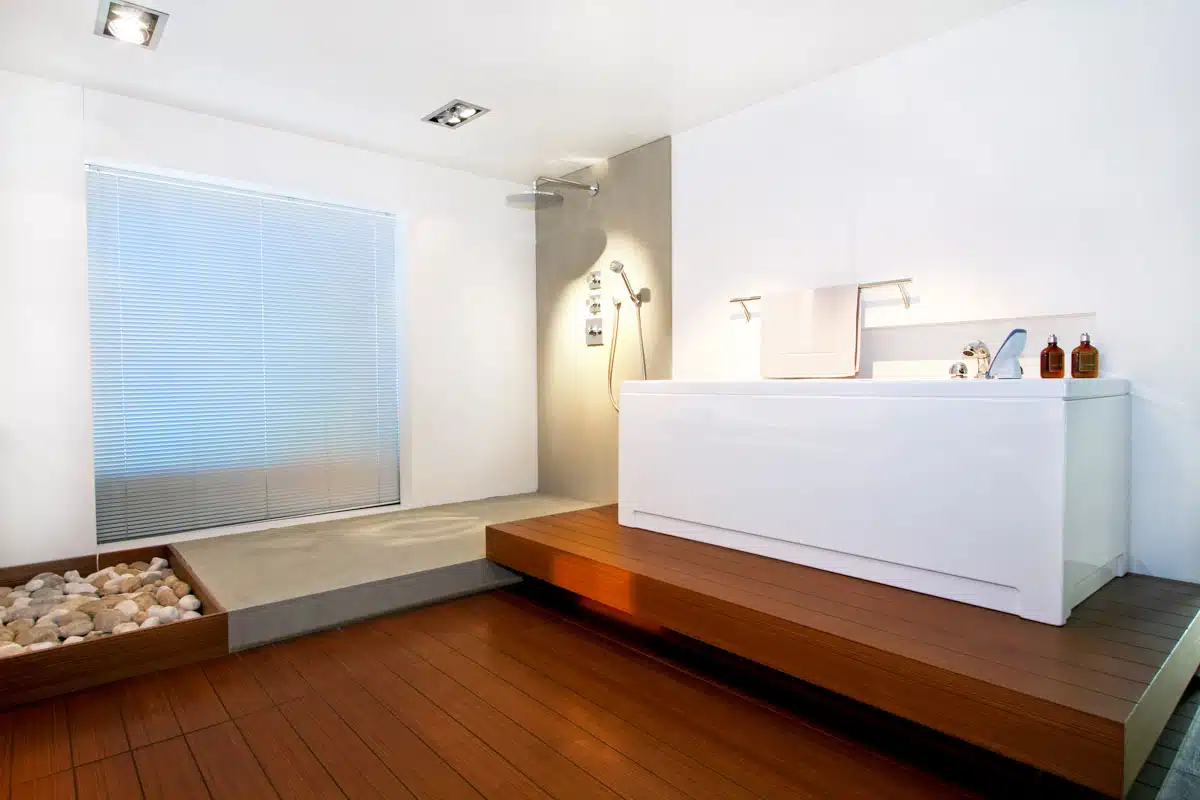 The usage of nature-inspired components is one of the most prevalent and iconic aspects of a Zen bathroom style. Introducing wood elements into your bathroom is indeed an incredible strategy to accomplish this.
Wood connects you to the outdoor space and generates thoughts of peace while remaining neutral and modern within your home.
What Is A Suite Style Bathroom?
A suite-style bathroom is often connected to the bedroom, master bedroom, or bedroom set within your house, which aims to form a private suite.
This style is often encountered in hotels or premium houses. Multiple sinks, a separate bathtub and shower, abundant storage space, and comfortable sets are all found in a suite-style bathroom.
What Is A Jack And Jill Style Bathroom?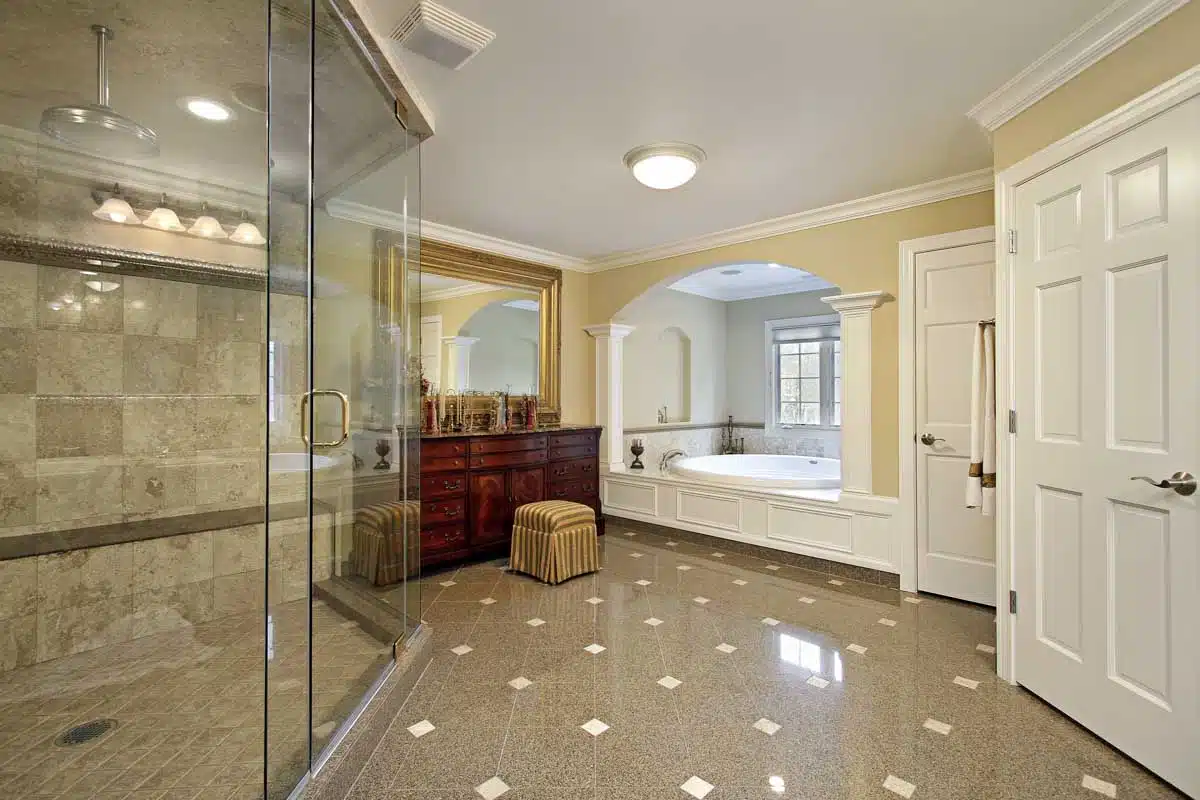 A Jack and Jill style bathroom is frequently located between two bedrooms within a house or hotel. This bathroom style is also usually found in houses with lots of bedrooms. Typically, this bathroom style has multiple door entrances, dual sinks, shared toilet and shower, large built-in cabinets and linen closets, and neutral-colored accents.
Are you considering a bathroom remodel using a new design style? Share what you plan to do for your bathroom renovation project in the comments. See more related content in our article about the best Carrara marble bathroom designs on this page.