Here we share our brass bathroom fixtures guide including the pros and cons, the matching colors, painting and cleaning tips, and if they will go out of style.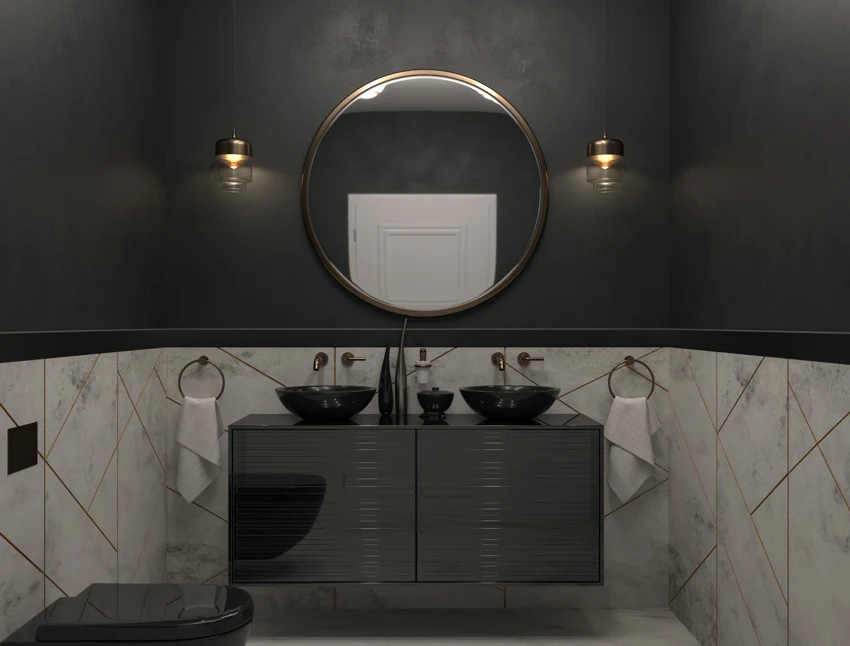 Bathroom fixtures made of brass are not as popular as those made of chrome or matte black. Brass plumbing fixtures, on the other hand, may make a difference in the bathroom for people who want to go against the mainstream. But, brass fixtures, just like other materials, have their pros and cons.
Brass is a safe option for bathroom fixtures since all-brass sink faucets and other brass plumbing accessories survive for a very long time.
They are also resistant to rust or leakage. Hence, it is often worth it to pay a little more for crafted brass bathroom fixtures.
If you are thinking about replacing your bathroom fixtures, keep reading to learn everything you need to know about brass fittings.
Pros of Brass Bathroom Fixtures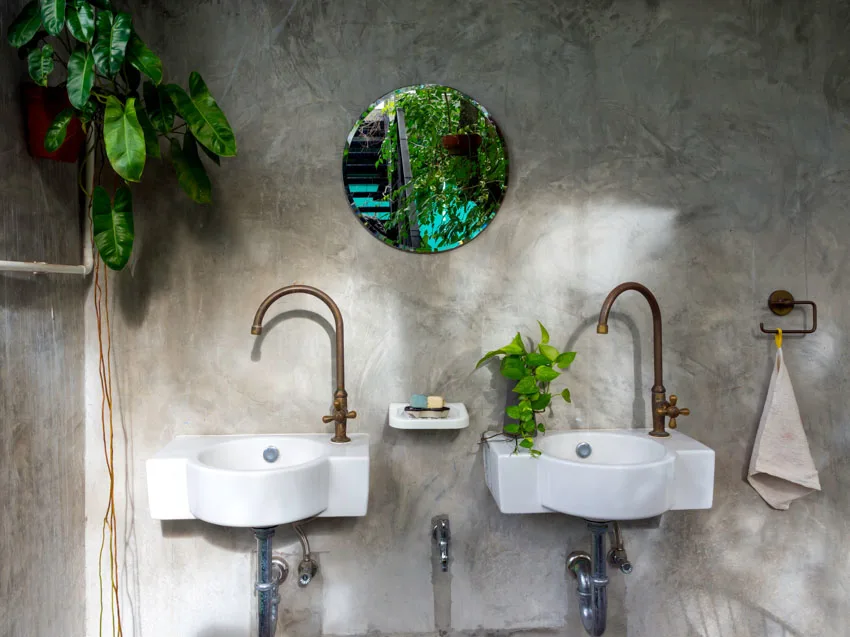 Here we share the advantages of bathroom fixtures that are made of brass.
• Bathroom fixtures that are made out of brass are very long-lasting and durable.
• Brass bathroom fixtures are commonly used for classic or vintage design bathrooms, and they are also frequently used for modern bathroom ideas. This combination can be eye-catching, particularly in an all-white bathroom with wooden embellishments.
• Brass fixtures can also be used to warm up a cool-toned bathroom. Brass can liven up a navy blue or somber grey room to produce a balanced aesthetic.
• Polished brass has a gleaming appearance and effect that is comparable to chrome. It goes well with glossy attachments, which appear to be more widely accessible.
• Brushed brass is subdued and has a somewhat weathered appearance. It has an underlying charm that many prefer over polished brass.
• Brass tapware is available in a plethora of designs and finishes. When used as a wall mixer, this finish genuinely pops.
The juxtaposition with the backsplash above the bathroom sinks can indeed make it stand out, transforming it into an outstanding centerpiece in the room.
Cons of Brass Bathroom Fixtures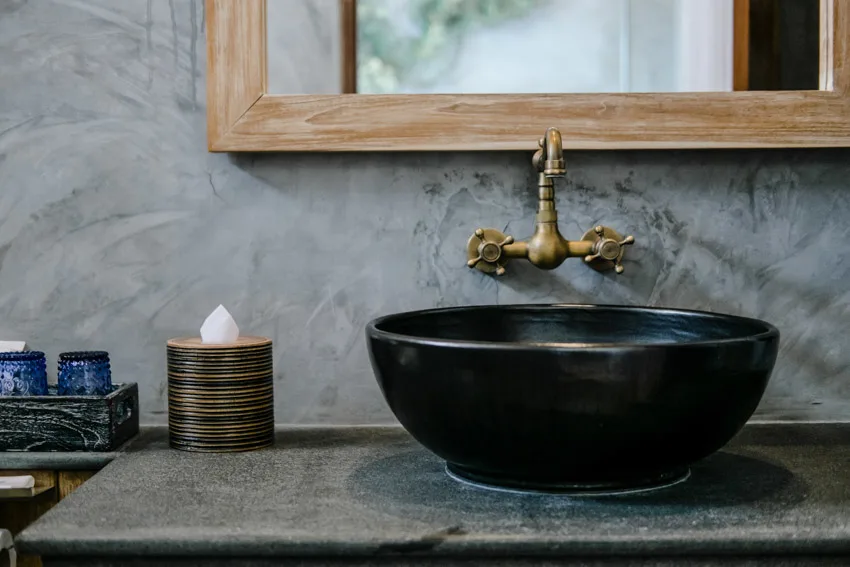 Here we share the disadvantages of bathroom fixtures made of brass.
• Brass fixtures cost higher than conventional finishes. This has the potential to deplete the bathroom's budget.
• Brass-made fixtures might be difficult to combine with brass attachments or brass plugs and drains. Even if they are evenly designed and matched, they might be more pricey than chrome sink faucets or matte black bathroom fixtures.
• Over time, brass will end up losing its exquisite sheen. It might have a tarnished appearance. For some people, this design is appreciated since it provides a warm touch to the bathroom.
However, for others, it might make the bathroom appear outdated and in need of some maintenance and renovation. Thus, choosing a high-quality tapware brand helps assure the finish's lifespan.
Bathroom Paint Colors with Brass Fixtures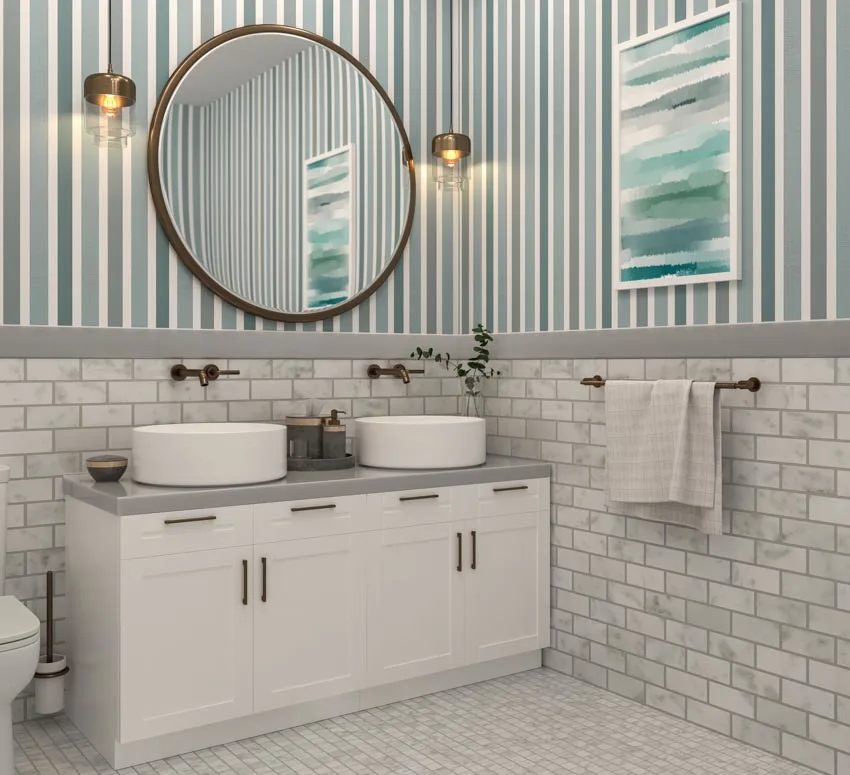 Try Painting your Bathroom with Black and White: Brass adds a touch of warmth to any modern black and white bathroom.
Meanwhile, the use of chrome in these areas might make them feel frigid. Brass accents provide a welcome distraction from the visual demands of a graphic interior, particularly when the metal has developed a patina and the color has begun to fade.
Use Paints with Blue or Green Shades: Brass looks well with strong color palettes including turquoise, emerald, or azure, as well as dark, chilly grays.
Choose one shade from the cooler side of the color spectrum and keep the rest of the bathroom plain and neutral. Brass should not be used with red, orange, or yellow.
Pair Brass with Earth Colors: A natural, textural bathroom interior with thick wool, weathered wood, painted brick, and raw linen complements the brass.
Indoor plants that like direct sunlight with vibrant green leaves give a splash of color. A color palette of white, cream, and green creates a refined backdrop for this luxurious metal, allowing the brass to stand out.
Painting Brass Bathroom Fixtures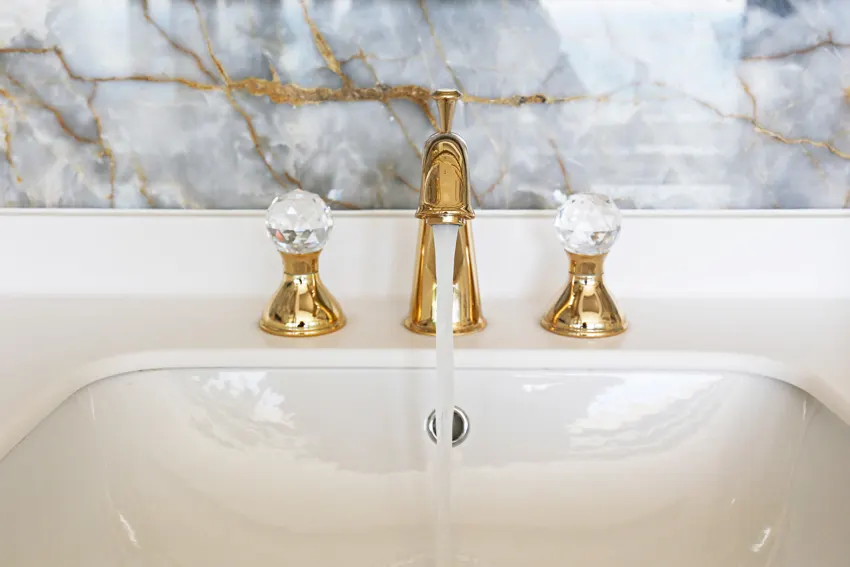 Brass bathroom fixtures could be painted, but the surface must first be prepared. Before painting it, the surface must be prepped by adding a coat of metallic primer.
To paint the brass, you can apply any type of spray paint or acrylic paint. The primer will guarantee that the paint adheres to the brass surface.
If you understand how to do it correctly, prepping brass fixtures for painting isn't difficult or time-consuming. We'll go over everything you need to know about priming brass and how to accomplish it as quickly as possible.
Things You Will Need:
• Soft cloth
• Rubbing alcohol
• Metal primer
Step-by-Step Instructions
1. Wear protective gloves and a face mask.
2. Rubbing alcohol should be used to clean the brass surface. Any grease or dust residue may prevent the primer from sticking effectively to the surface.
So, thoroughly wipe the brass fixture with a cloth and rubbing alcohol. Allow at least 5 minutes for the rubbing alcohol to dry before applying the primer.
3. Tape off the bathroom sinks and walls to avoid getting paint on these areas.
4. Start applying the metal primer to your brass fixtures. If you're priming any type of metal, we highly suggest using a spray-type primer.
Primarily because using a spray primer makes the distribution so much faster and eliminates the need to deal with brush markings afterward.
5. To make the brass surface finer, sand the primer. After the primer becomes dry, sand the surface using fine-grit sandpaper to smooth it out even more.
6. Start applying your chosen paint. Any type of permanent paint could be used to paint brass bathroom fixtures as long as the surface is adequately primed with metal primer first.
Acrylic, enamel, or latex-based paint can all be used to paint brass fixtures. However, certain paint types may need to be sealed after application.
How to Clean Brass Bathroom Fixtures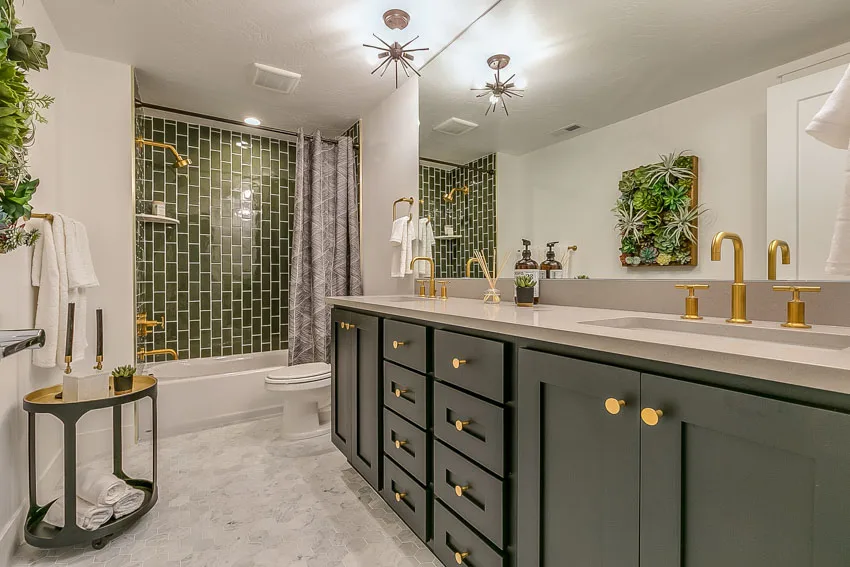 1. Wipe the brass fixtures with a soft cloth after mixing moderate dishwashing soap with hot water. You can also use a mixture of vinegar and baking soda as your cleaning solution.
2. Scrub around the fixtures with a damp, gentle toothbrush, giving special emphasis to corners.
3. Rinse the brass fixture with clean water or wash it down completely with a dampened cloth.
4. Using a microfiber towel, rub it until it becomes dry.
5. To avert tarnishing, use a soft cloth to apply linseed or mineral oil to the cleansed brass fixtures.
Are Brass Bathroom Fixtures Out of Style?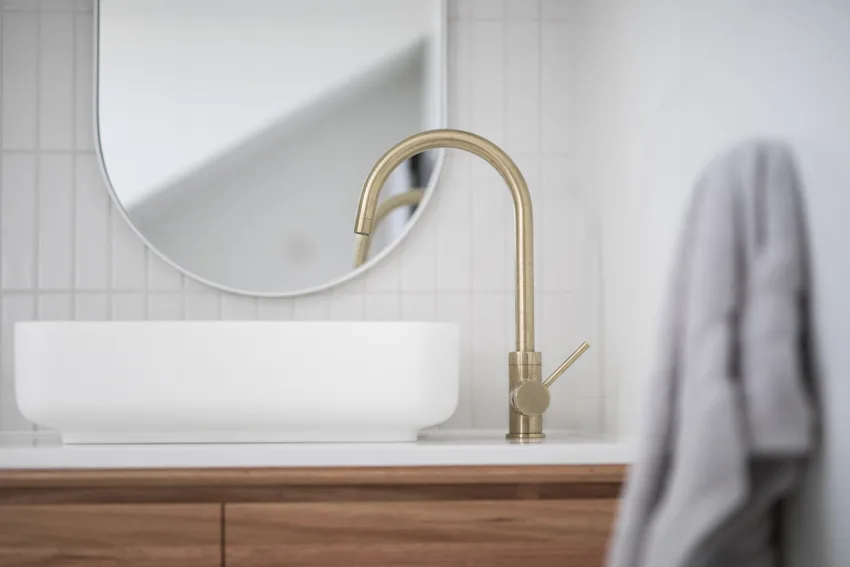 No. Nowadays, brass bathroom fixture finishes are far more contemporary, rendering them indistinguishable from how brass was utilized in the 1980s and 1990s. It is not the brass coloration that is out of fashion, it is the way the brass is being used.
See more related content in our article about concrete bathroom countertops on this page.