These shower curtain alternatives showcase the different types of doors, enclosures, DIY specialized curtains, and shades to use instead of standard liners.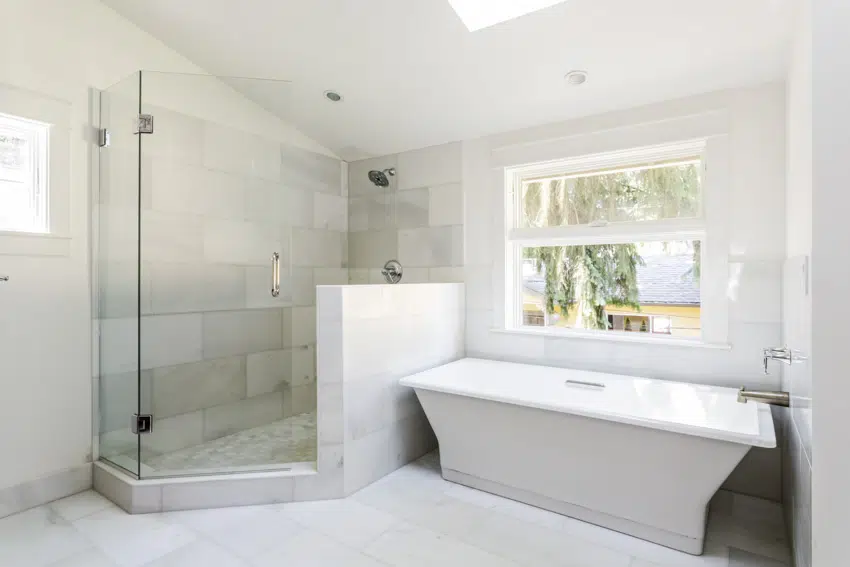 A shower curtain helps keep the water in your enclosure and gives you extra privacy. However, not everyone loves the look of the average shower curtain.
The good news is that these are far from your only option to finish off your shower. There are a number of alternatives to classic shower curtains that you can use with great results.
Glass Sliding Shower Doors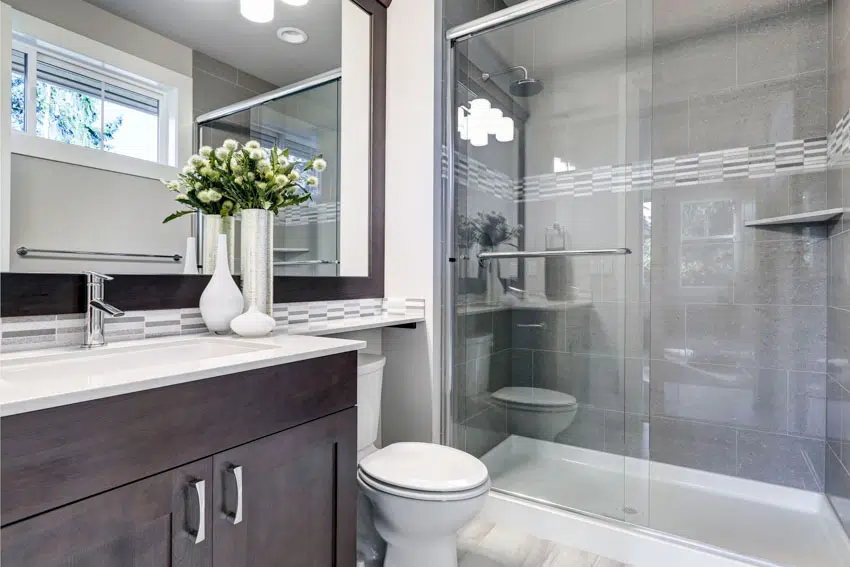 Glass doors are a popular alternative when homeowners are trying to get away from traditional shower curtains. These can be hinged but sliding glass shower doors are a more popular option. As a material, glass is versatile but lends itself especially well to modern bathroom designs.
When you're trying to get a little more privacy, glass might not sound like the way to go. Luckily, there is a way to have a sliding glass door without leaving yourself totally visible while you bathe.
If this is the case, textured or frosted glass is a great way to keep the appeal of glass without sacrificing privacy. To keep your glass looking like new, you'll need to make sure you commit to regularly cleaning your shower door to prevent noticeable buildup.
Hinged Shower Door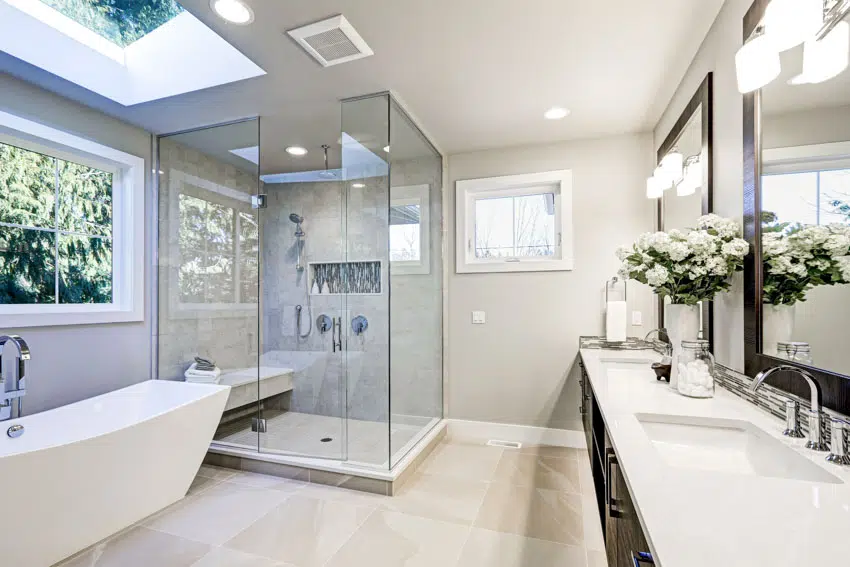 Hinged types of shower doors open the way that most of the doors in your house probably open. Fixed on hinges on one side of the door, these doors swing open and closed as needed.
These are a great way to offer privacy while giving your bathroom a one-of-a-kind appearance. Plus, they're one of the easier options for the installation process.
Of course, this comes with a major downside to space. If you have a smaller bathroom, a swinging door is likely to take up a lot of space when it's open but it can add an elegant touch to a larger bathroom.
Pony Wall With Glass Enclosure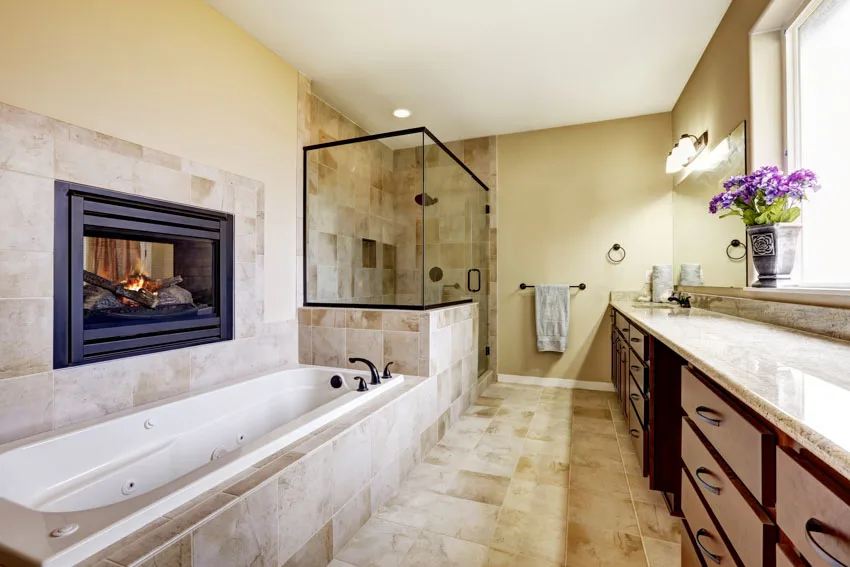 A shower pony wall is another way to describe a half-wall. You can use these as a more permanent solution to a shower curtain. Given that these are a half-wall, it's not going to help keep water in the enclosure very much on its own.
To create a full enclosure, you'll want to use a glass partition to cover the rest of the area you want to be covered. These are often well-paired with a hinged glass door to fully close the stall off but you could also install one as a partition for an open-concept shower.
Pivot Door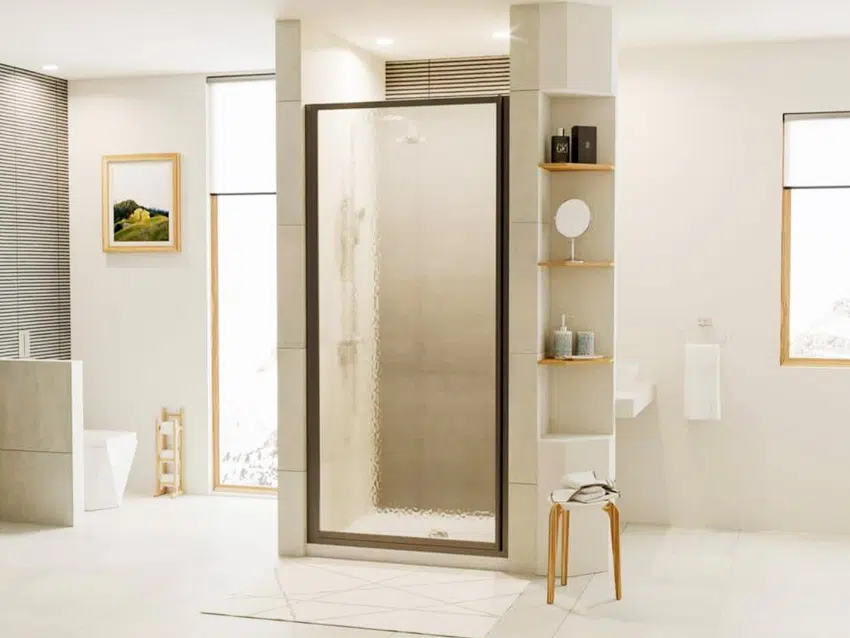 See this pivot shower door at Home Depot [sponsored link]
A pivot door opens the way that many doors do. Instead of sliding out of the way, these doors move on a fixed hinge. Oftentimes, this differs from a hinged door since pivot doors rotate on a fixed point
This is because of hinges mounted to the top and bottom rather than a set of hinges down the side of the door. These are more common with walk-in showers as they're not always possible to install with tubs.
These are often made out of glass or plastic, and you have a few options. If you want something clear, that's a popular choice. Alternatively, if you want more privacy, a textured finish is more popular than a solid-colored door.
There are a few downsides to this. The first is that they're a more expensive model to install, particularly if you don't already have a pivot door. In addition, you'll need to clean this door regularly to keep its appearance, especially if you opt for a glass door.
Doorless Shower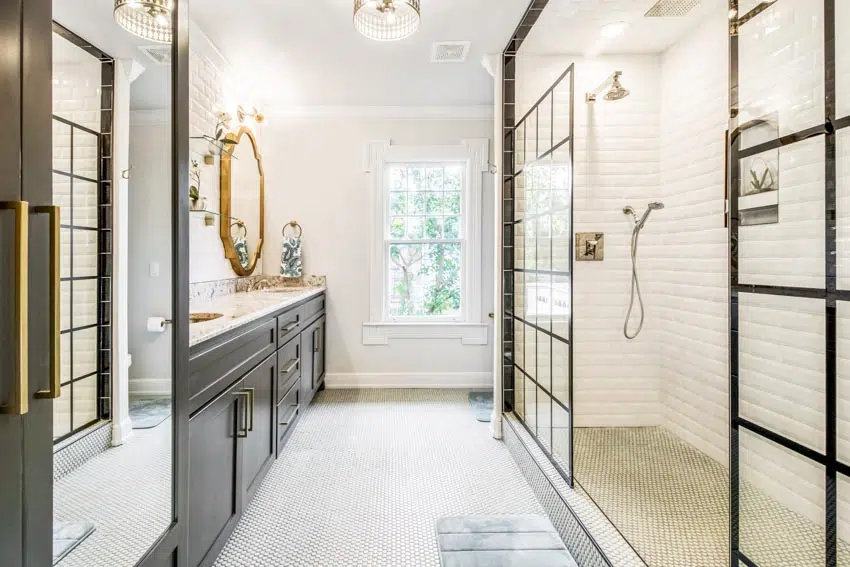 If you want something quite different from the norm, you don't necessarily need a shower curtain or door at all. This is referred to as a doorless shower. As it sounds like, these showers are set apart from the rest of the bathroom but have an open rather enclosed design.
To account for the water, you'll want to add a drain to the enclosure floor to help the water drain. While it might sound like a great way to save space, the design is more recommended for large bathrooms.
In a small bathroom, this open concept shower design may just lead to a generally damp bathroom. In a larger bathroom, it can draw the eye while you still have the layout to give the area its own space in the room.
Sliding Panel Door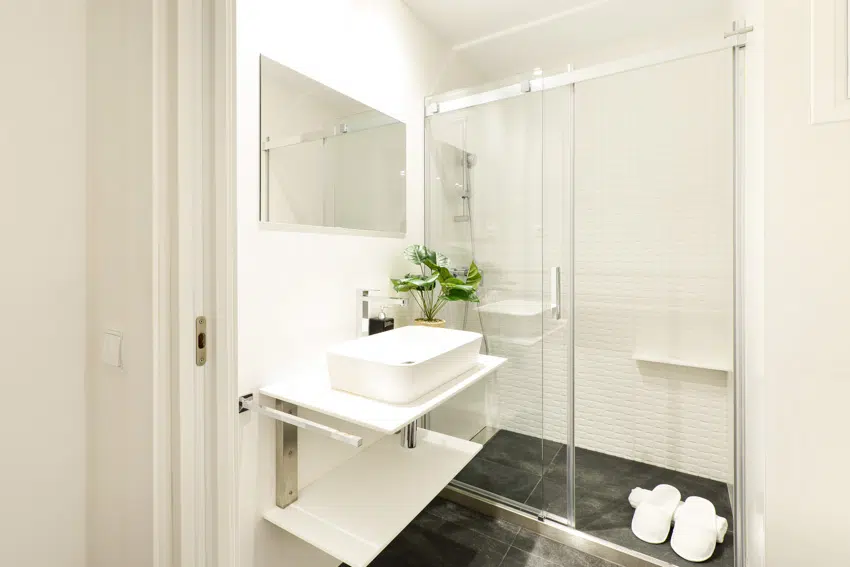 A sliding panel door is the exact opposite of a hinged door. While a hinged door swings open and closed, a sliding panel door slides on a track. When you want it opened or closed, you only have to move along the track to the position you want it in.
Since the door slides rather than swinging open, this can save you a lot of space as well. This is a popular style with glass doors, as we've covered, but you can also find sliding panel doors made out of plastic materials.
The major downside to these doors is that they're more labor-intensive to install than a hinged door or curtain. You'll want to ensure that you keep the track clean so it functions best.
Bamboo Curtains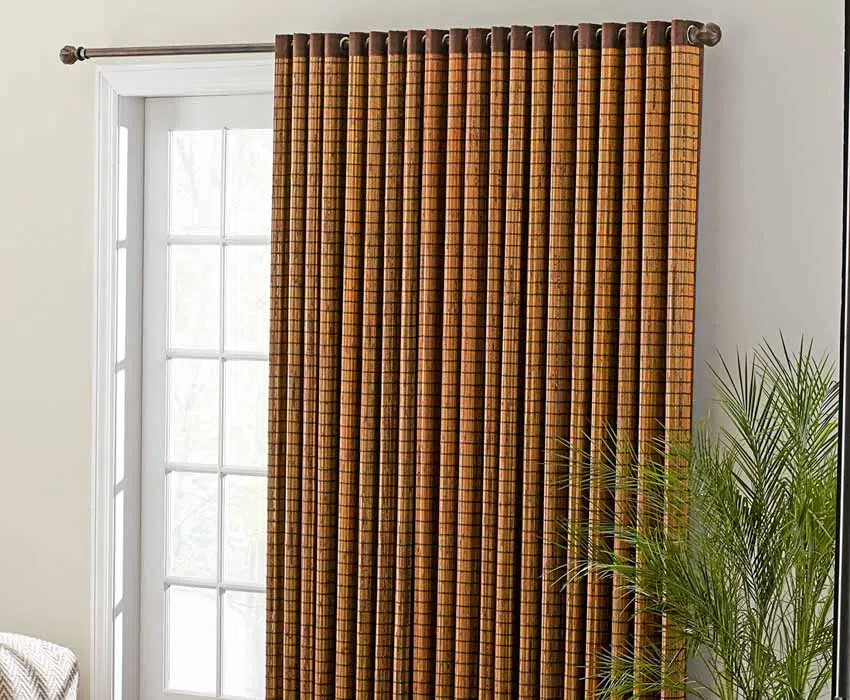 See this bamboo curtain set at Amazon [sponsored link]
Bamboo has found many uses over the centuries. One use that you can take advantage of when you're adding decor to your bathroom is using a bamboo curtain to add a natural touch.
These curtains have a few unique benefits. You'll first notice that they're soft and aesthetically pleasing. The bamboo also lets a lot more light through than a heavier fabric. This works well if you want to complement an open plan in a bathroom or just brighten up the area inside a bit by letting more light through.
Another great benefit of bamboo is how green it is. We're not talking about aesthetics either – using a bamboo curtain instead of vinyl or PVC can help cut down on your carbon footprint a bit.
Hemp Shower Curtains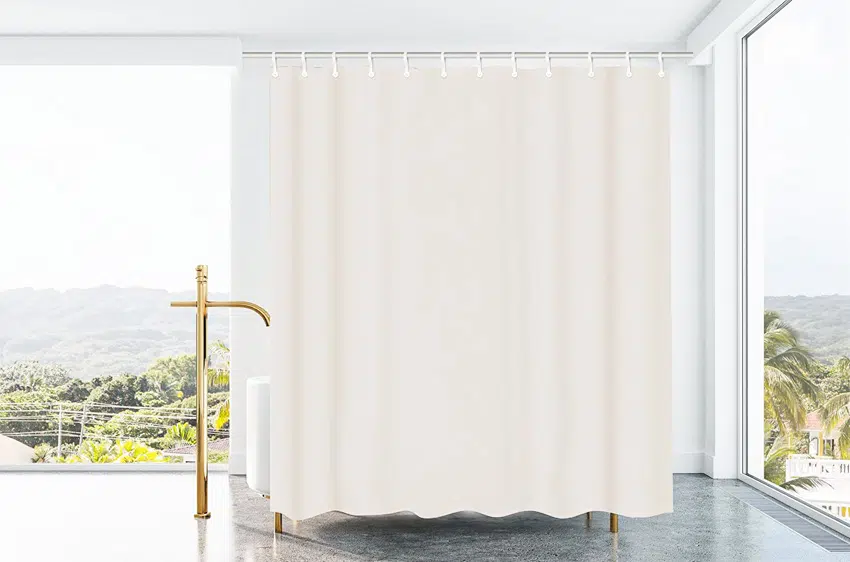 See this hemp curtain at Amazon [sponsored link]
Hemp can be used in many of the same applications that we usually turn to plastic or cotton for. However, it boasts the extra benefit of being environmentally friendly. It's a sustainable option as a curtain.
As a curtain, you won't need to worry about grabbing a shower liner for your hemp curtain. This is helped by the fact that hemp is mold-resistant, although you should still keep a sharp eye for mildew. You can do this by washing your curtain on a bi-weekly basis.
When you notice it needs a wash, you can toss it in your washer but you'll want to keep the cycle on "cold" to avoid shrinkage. All in all, hemp shower curtains are a sustainable option but you'll have to make sure to stay on top of washing them regularly to avoid mildew buildup.
Macrame Shower Curtains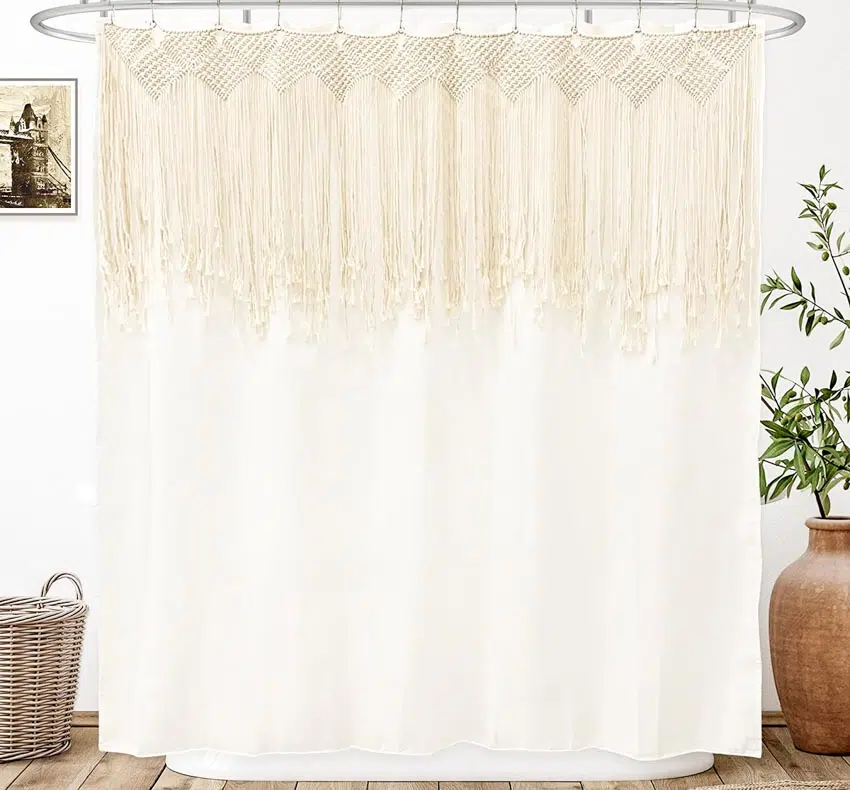 See this macrame curtain at Amazon [sponsored link]
Macrame uses knots to create unique patterns rather than a technique like weaving the material together and it's popular in crafting. As it turns out, you can even use this method for your stall curtain. Don't worry – there are plenty of macrame types of shower curtains available for purchase as well.
These curtains are excellent for a unique, relaxed look in your bathroom. Plus, the nature of these shower curtains can let some extra light through, helping to lighten up your bathing experience a bit. These curtains can look a bit out of place if you aren't careful, so it's a good idea to match them to the rest of your bathroom decor carefully. A common color scheme can help a lot here!
Repurposed Curtains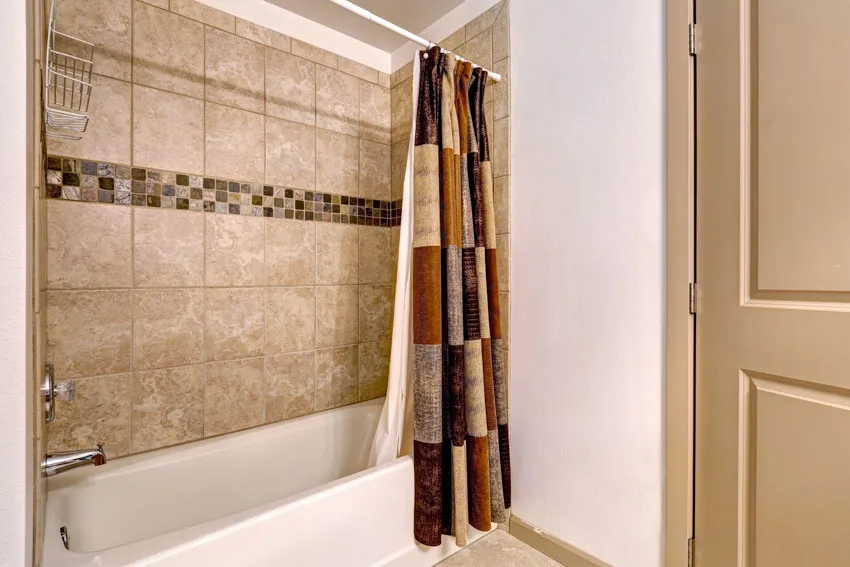 Another environmentally-friendly option is to opt for repurposed materials for your shower curtain. You can add a unique touch to your bathroom by adding a repurposed wood enclosure door, often installed as a hinged door.
By repurposing the material, you're going green by actively helping to reduce waste. This is a great choice when you want something that will stand out. After all, not many people turn to wood when they want to enclose their shower.
The only risk here is using wood in a wet environment. Treat these doors properly to avoid the negative interactions that can occur here, and make your repurposed wood doors last longer. Otherwise, the moisture will damage and warp the wood after a while.
Roller Shades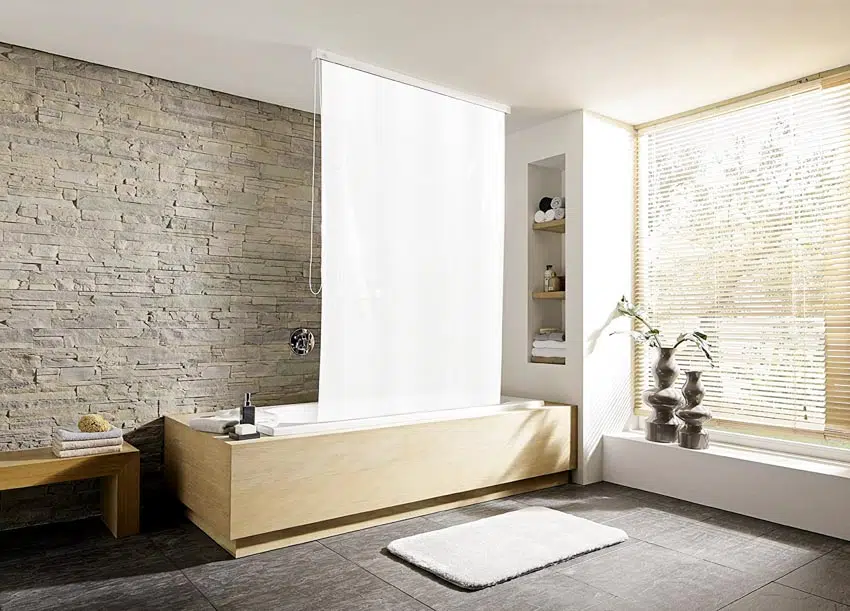 See this tub and enclosure roller shade set at Amazon [sponsored link]
Roller shades work in a very similar fashion to blinds, but a key difference sets them apart. Much like blinds, they lift up and away when you don't need them. Yet, they aren't going to just fold away. Instead, these types of shower shades usually roll up into a housing mechanism.
These are a reliable way to keep your curtains out of the way when you need them to. In addition, the concealed design can help give your bathroom a bit of modern appeal. Once again, to avoid damage to the roller shades, wait until they're fully dry to roll them up and away.
Shimmering Shower Screen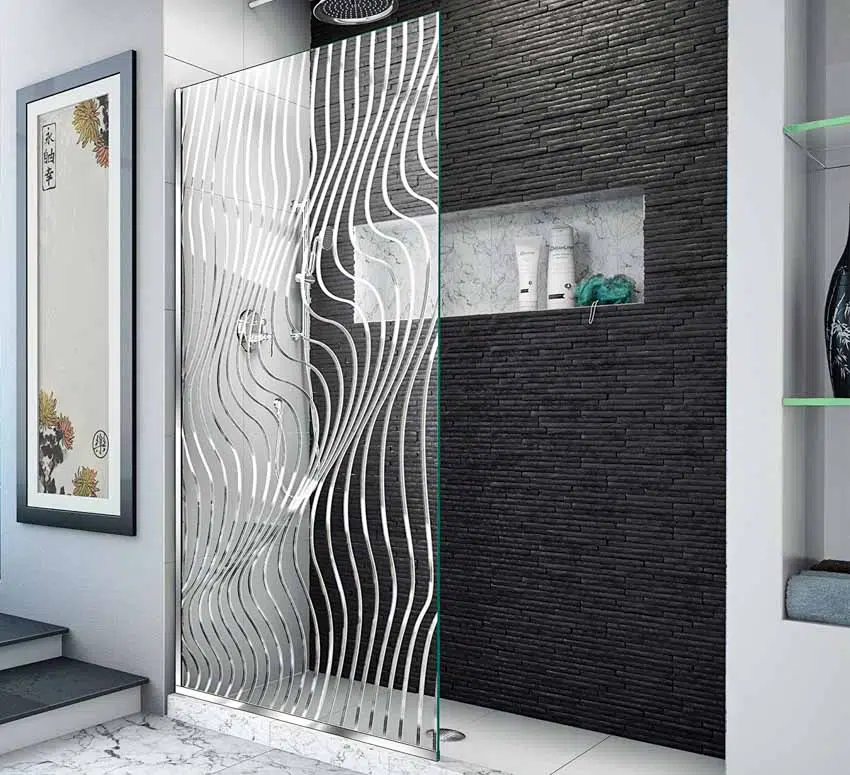 See this stall screen at Amazon [sponsored link]
Not every bathroom has to look the same, and nothing is stopping you from opting for something unique. Shimmering shower screens work in much the same way that a standard curtains would, and you even hang them the same way or opt for a more elegant screen.
The major difference is in how they're designed. Shimmering screens have a glimmering appearance. This can come from a material you can make a door or screen out of, like a metal frame or glass or you can opt for a material closer to a curtain fabric.
The former is often considered more unique since it offers more room for customization but designs with open holes won't contain all the splashes from your showerhead. A frosted glass screen can contain water and offer the same appeal.
Shower Blinds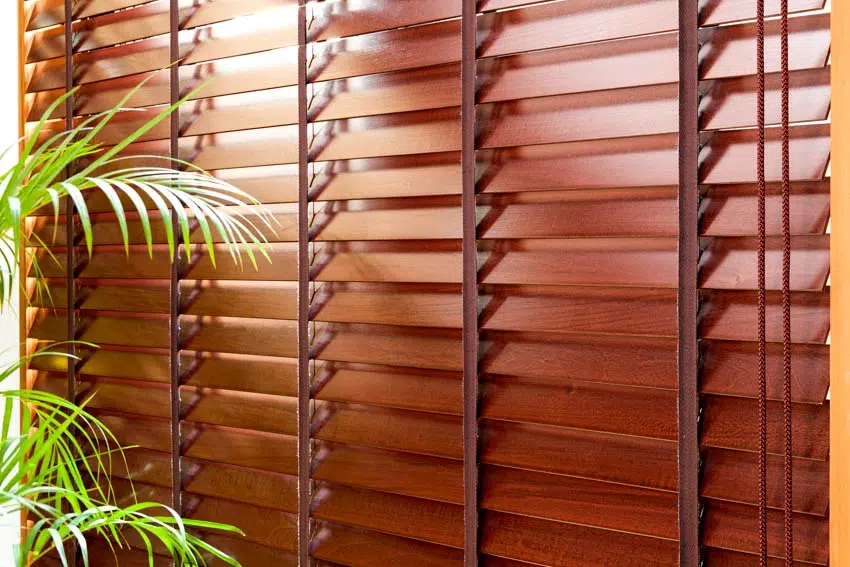 When you put blinds on your window, they cover the surface of the window and roll out of the way when you're ready. A more modern concept, shower blinds don't differ too much from this concept.
Instead of installing these blinds horizontally and pulling them across the enclosure to close the curtain, these blinds drop down like regular window blinds. When you want them out of the way, you can push them up and out of the way.
These are especially useful if you have a combined tub and shower and want the curtain entirely out of the way sometimes. If you have to bathe your pets or children, this can get the curtain out of your hair. The only major downside is you'll need to dry these thoroughly before rolling them up and away to avoid problems like mold and mildew.
Hanging Plants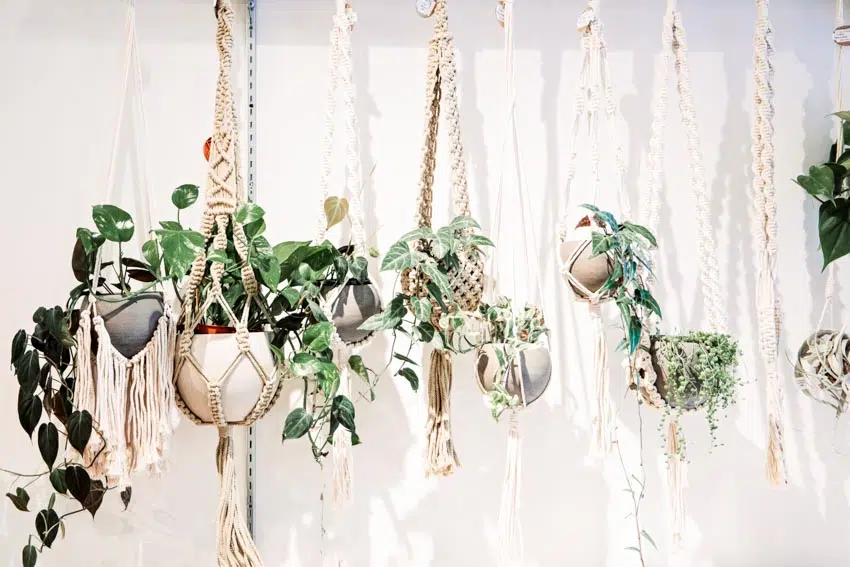 If there's one thing that loves water, it's a bunch of plants! If you really want something natural, you can skip past options like hemp and bamboo and just directly add hanging plants to replace your curtain.
To hang these plants, you can once again turn to macrame. Alternatively, you can create a living wall with plants like ivy or even rely on the tangle of leaves a spider plant offers.
The biggest downside here is obvious. As the plants are alive, you'll need to keep them healthy. If their health declines, you might notice your enclosure doesn't look as beautiful and lively as it once did.
Glass Block Enclosure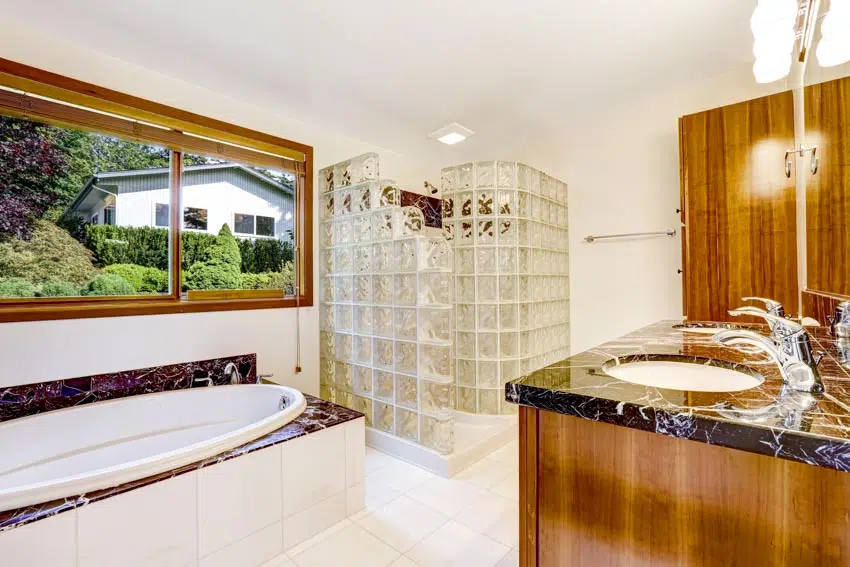 Glass blocks are a more vintage choice to replace your shower curtains. As the name suggests, these partitions comprise a pattern of thick glass blocks. The blocks are thick enough that when you're on one side of the glass, you won't be able to get a clear vision of what's on the other side.
These offer a multi-layered look and purpose. The textured glass blocks clearly come with an appearance all their own, but the design helps retain heat and catch splashes and gives you some privacy. For total coverage in these areas, you can build these divider partitions from floor to ceiling.
See more related content in our article about the different types of shower curtain rods on this page.