Here's the popular types of shower curtains including different styles, liner materials, rods, best option for hooks, and ideal shower curtain fabric.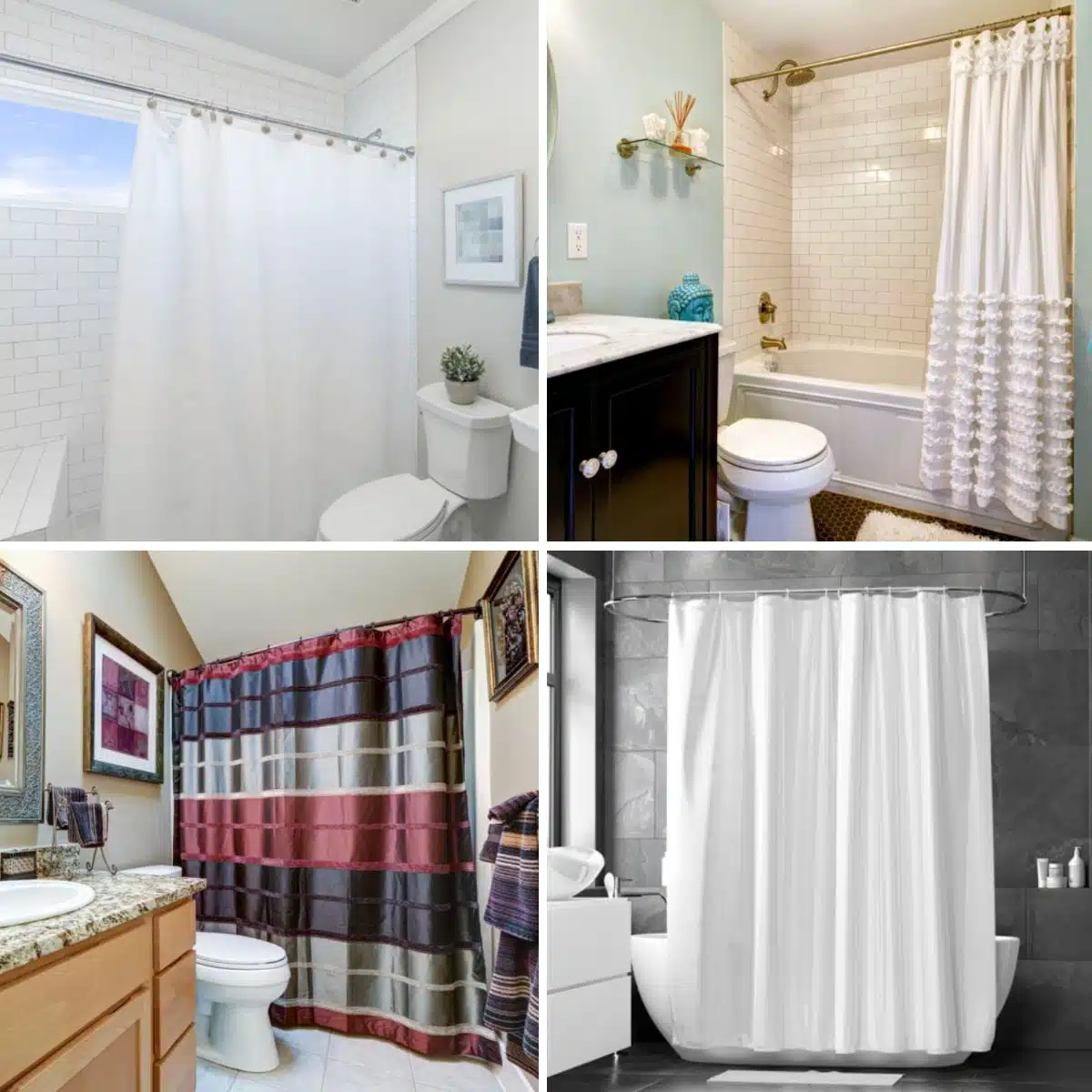 Despite being an essential part of a bathroom, shower curtains are often overlooked. Is it because of the trauma brought in by the movie Psycho, or are curtains just not a chic trend anymore?
This might be due to the rise of glass doors and partitions in bathrooms since besides an open layout, this is the other option to go to besides using these curtains.
Whatever the reason may be, a little exploration of the types of shower curtains will be helpful if you're somehow hesitant about whether you should use curtains or not.
Quicklook: Different Types of Shower Curtains
• Fabric
• Plastic
• Curtain With Magnets
• Mildew Resistant Curtains
• Heavy Duty Shower Liner
• Extra Long Curtains
• Extra Wide Curtain
• Hookless
• Weighted
• Waffle Weave
• Ruffle
• Sheer
• Clawfoot Tub Curtain
• Curtain With Pockets
• Curtain With Snap-In Fabric Liner
Choosing A Shower Curtain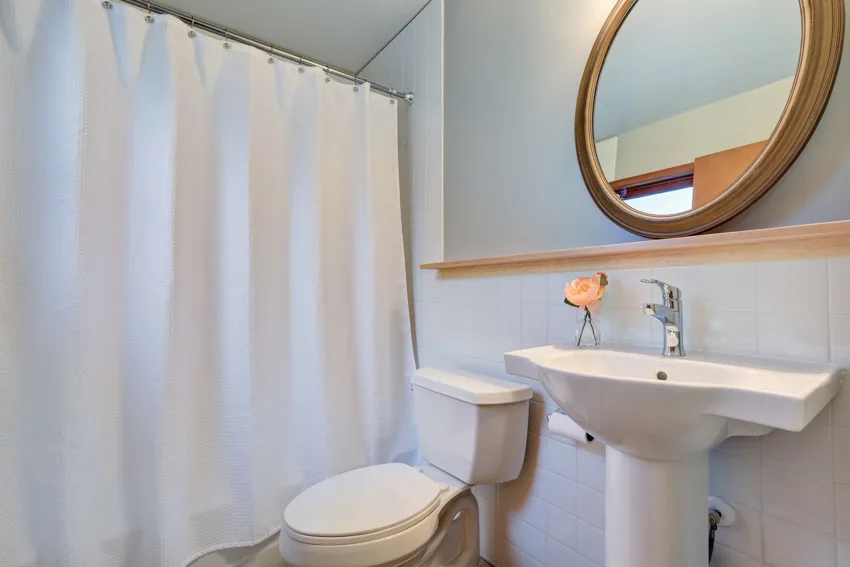 A shower curtain is both a functional and aesthetic choice. It is a protection for your bathroom tiles against moisture and possible water damage. The effectiveness of its function though depends on the type of shower curtain you choose.
When choosing the ideal types of shower curtains, here are some factors worth considering:
Size & Dimension: The shower curtain's size and dimension are considered when choosing the curtain to install in your home. The standard shower curtain size is 72 by 72 inches, with enough room to cover the entirety of your bathtub.
Some shower areas are wider or taller than the average, which is why it's necessary to measure your bathroom and know the dimension of your shower space before buying the curtain.
Tip: Make sure to at least 12 inches on the sides to guarantee that the water won't seep through the edges and add three additional inches to your measurements once you've taken the dimension of your shower area to account for the shower rings and curtain rod.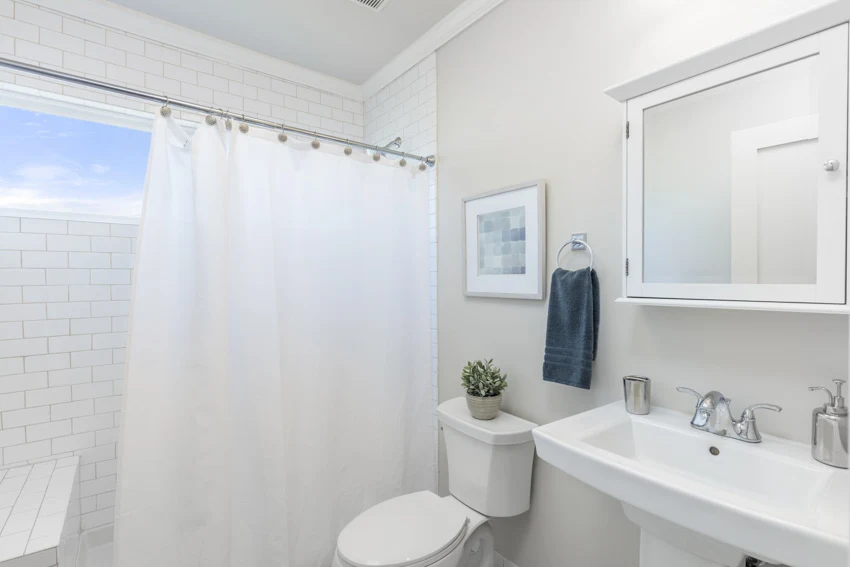 Style & Pattern of the Shower Curtain: Shower-type curtains come in a variety of styles and patterns and many of them are influenced by the material they are made of. From a floral patterned curtain to a transparent one, it's all based on your preference and vision of your bathroom.
Tip: It might be necessary to consider whether you're going to use hooks or not.
Shower Curtain Material: Curtains for showers can differ based on the material they are made from. While it only remains an accessory for showers, it can be considered vital, both for the protection against moisture and for additional aesthetics. The material you choose may be the simplest way to spruce up your bathroom, without spending too much.
Tip: You can use a shower curtain liner to go with your curtains to keep water out.
Fabric Curtains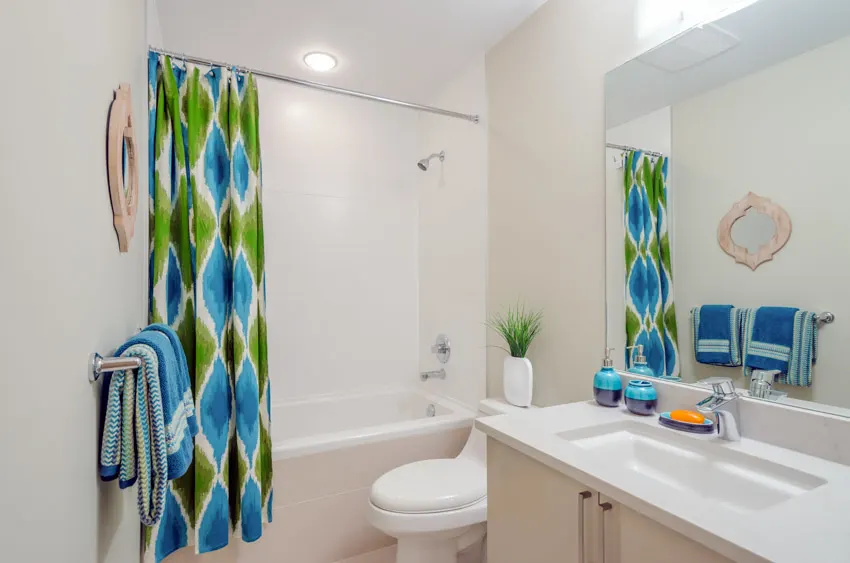 Fabric curtains can come in the form of cotton, vinyl, microfiber, and even polyester. These different fabrics also vary in terms of advantages and disadvantages.
If you are considering them, make sure you explore what they offer and the drawbacks that come with them. In general, though, they are popular for homeowners because of the following benefits they can enjoy from them.
Benefits:
• Wide range of styles to choose from (colors, patterns, and even lengths)
• Easy cleaning and maintenance
• Mostly PVC-free and VOC-free
• Easy to personalize and mix and match
• Eco-friendly
With fabric curtains, you can easily mix and match different fabrics that go well together. For example, a cotton curtain matches perfectly with vinyl lining considering both fabrics are versatile and easy to maintain.
On the contrary, if you want an elegant look for your shower, you can always go for a fancier fabric. This means that there is much room for personalizing and your limit is your preference and imagination.
One of the major drawbacks in choosing fabric shower curtains is that they easily stain, mold, and have a buildup of mildew. This will push you to wash the curtains frequently just to avoid these situations.
Plastic Curtains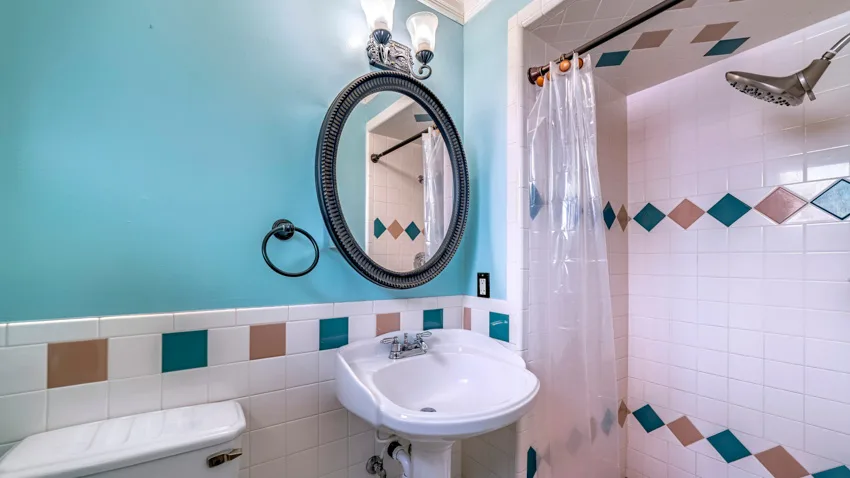 Plastic curtains are ubiquitous in the market, which is one of the reasons that make them easily accessible to the market. Here are some specific benefits you are sure to enjoy once you choose these shower curtains.
Benefits:
• Convenient
• Versatile
• Inexpensive and Replaceable
• Easy-to-clean
• Easy to mix and match
A plastic curtain is convenient and versatile because of several reasons, including how lightweight it is, as well as how easy it is to mix and match and clean with simple wiping. Most of them complement whatever ambiance you have going for your bathroom.
And since they are inexpensive and affordable, you can easily replace them once they're worn out. One drawback is that they are prone to tearing and some of them may contain VOC, which can result in health complications with too much exposure.
Curtain With Magnets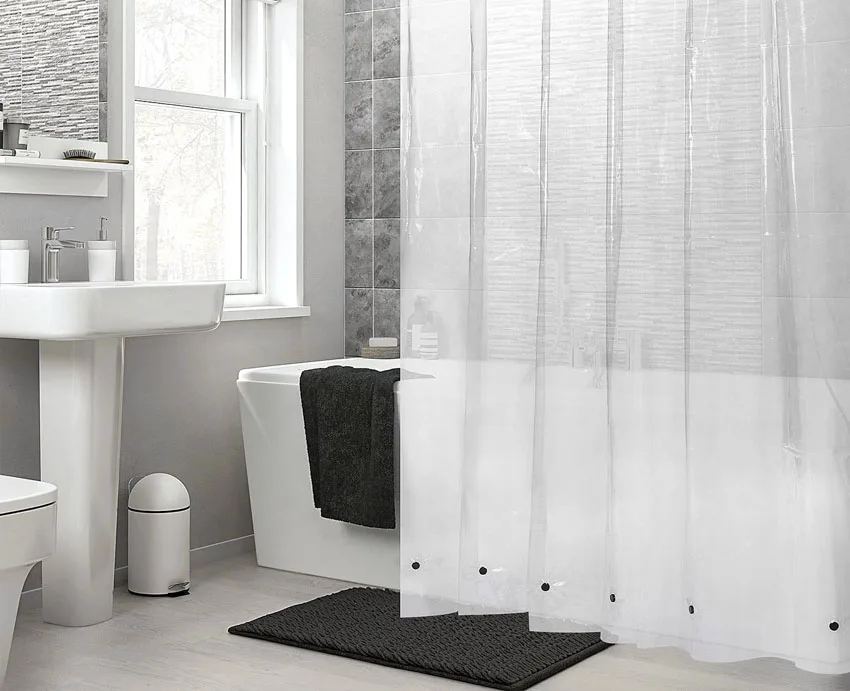 See this shower curtain with magnets at Amazon [sponsored link]
One of the more modern versions of shower curtains comes with magnets to weigh them down.
These curtains can be an advantageous choice given the benefits they provide.
Benefits:
• Heavier and helps keep the liner in place
• Helps reduce the excess water from escaping the shower area
If you want to make your bathroom safer with less chance of anyone slipping and falling in accidents, what you can do is to reduce the collected water pooled on your bathroom floor.
A shower-style curtain with magnets can do this job, keeping the curtain in place and making it difficult for the water to escape the shower area towards other areas in the bathroom. You may encounter a bit of a problem though with the placement of magnets in the future.
Mildew Resistant Curtains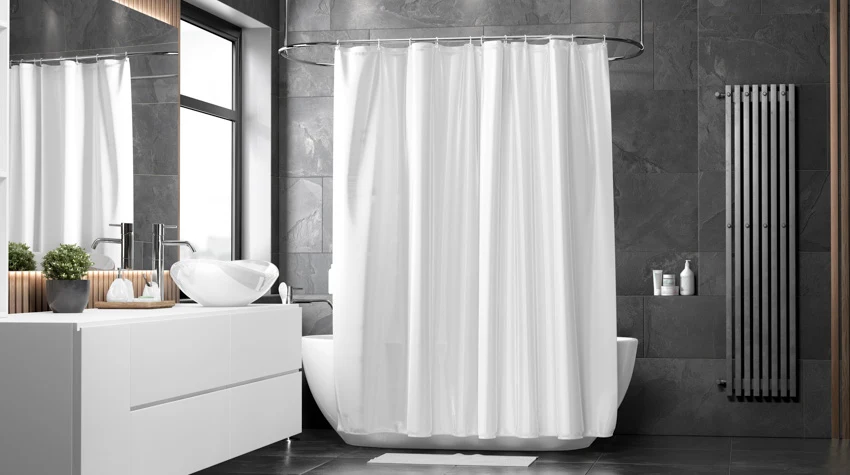 Another option you can have is a mildew-resistant shower curtain, which can offer you several advantages to benefit from.
Benefits:
• Makes cleaning the curtains easier
• Capable of reducing particles and mildew with the water spray when showering
With mildew-resistant types of shower curtains, you won't have any problem with mildew buildup on the curtains which will make them incredibly easy to wash. You won't have to suffer bathing inside a shower area surrounded by mildew, which can be unhealthy. One downside though is that the material has a high probability of having strange odors and VOCs.
Heavy Duty Shower Liner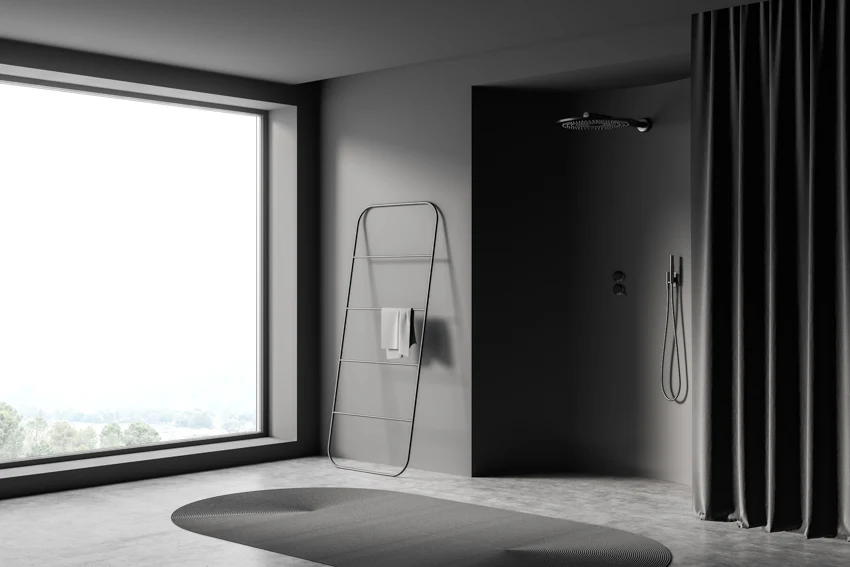 Heavy-duty shower liners are some of the considerations homeowners prefer due to the quality these curtains deliver. These curtains and liners also offer several benefits that will make you choose them.
Benefits:
• Resistant to mildew and bacteria
• Weigh down the curtains in place
• Less a chance of the curtains sticking to your body and being an annoyance as you shower
With these curtains resistant to mildew and bacteria, you can be sure that you're showering in a healthy environment. And since it is a bit heavy, it will stay in place with less chance of the curtains sticking on your body while you shower. One drawback though is the possibility of the curtains having a chemical odor.
Extra Long Curtains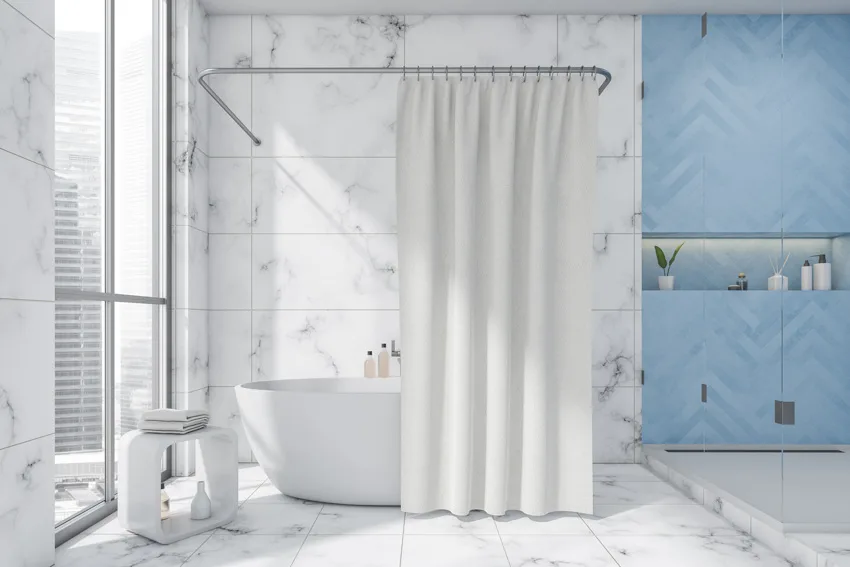 Extra-long curtains are those that measure around 70 to 72 inches in length but there are curtains that actually reach up to 96 inches in length, which usually come in either fabric or plastic.
These curtains are the ideal choice for homeowners who prefer drama in their bathrooms and with showers that have high-set types of curtain rods.
Benefits:
• Aesthetically pleasing
• Delivers more coverage that helps keep the water out
Extra-long types of shower curtains offer more coverage to the shower, successfully keeping water out of the bathroom's dry area. Even if the curtain may drag on the floor if the curtains are installed too low, it is able to look elegant and add aesthetic value to the bathroom.
Extra Wide Curtain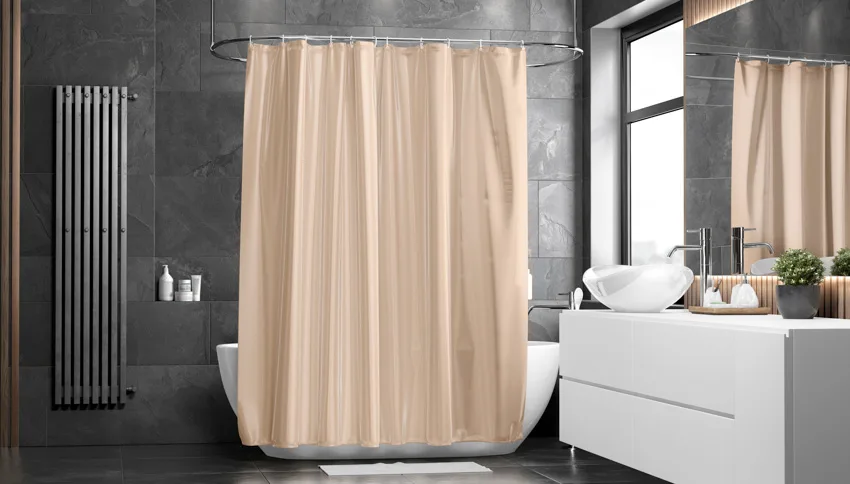 Extra-wide curtains are ideal for shower areas that need more coverage, particularly the following:
• Old school bathtub
• Shower combinations
• Showers with extended curved curtain rod
• L-shaped curtain rod
• Bathtub with a rectangular rod from the ceiling
Benefits:
• No unwanted gap so no wet floors and bath mats
• Improves the bathroom's aesthetics
• Improves showering experience
Available in a variety of fabrics, colors, and styles, extra-wide curtains are able to guarantee that there's no unwanted gap in the curtains, which means that bath mats and floors remain dry.
These curtains though are not compatible with bathrooms that have low set curtain rods. Cotton, linen, and other non-synthetic curtains are recommended to have extra-wide lines for additional protection from the water.
Hookless Curtain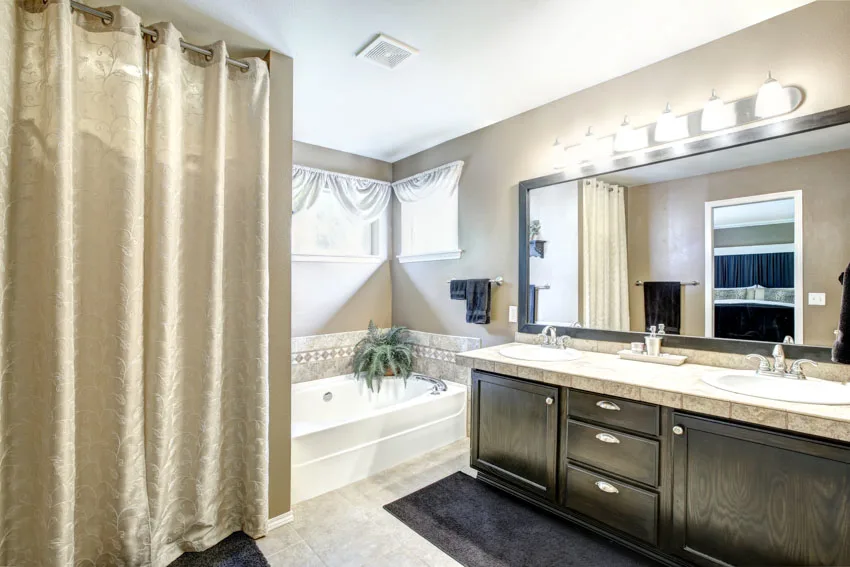 Hookless shower curtains are precisely what their names indicate. They are curtains that do not use hooks during the installation but settle with a thick ceiling-track curtain rod instead.
Perfect for modern-style bathrooms, these curtains can also make use of built-in grommets. More than its modern-looking aesthetics enjoy the advantages they provide.
Benefits:
• Easy and convenient installation
• Many colors and unique patterns
Since hookless curtains do not use hooks, you don't have to spend too much time slipping one hook at a time onto the curtain rods but just slip the curtain easily over the rod alone. And with many colors, patterns, and styles to choose from, you get to have many options.
Weighted Curtain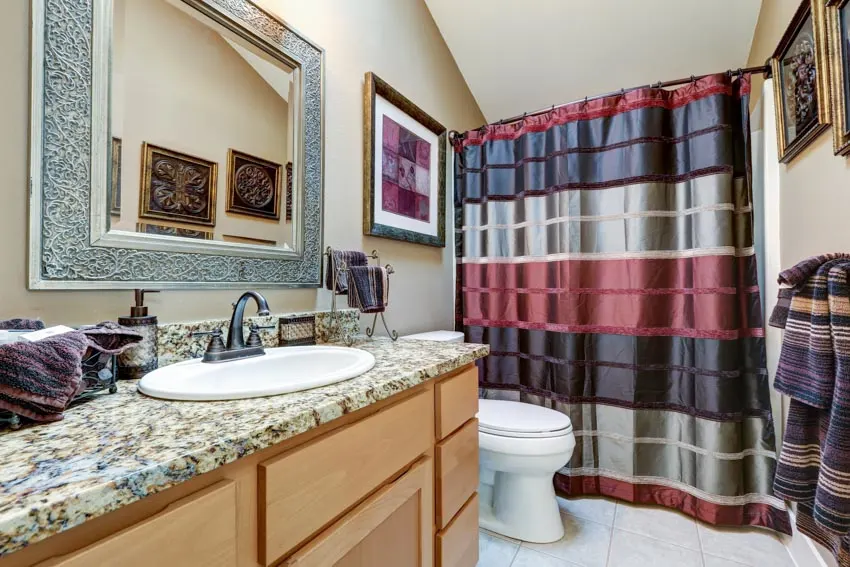 Weighted shower curtains, ideal for seniors and persons with disability, serve as an excellent addition to a bathroom because of the advantages they deliver. They are considered a solution to bathroom problems, from splashing water to annoying tangled curtains.
Benefits:
• Sturdier than standard types of shower curtains
• Prevents excess shower spray and splashing
• Don't tangle or cling to your body when you shower
More than just being waterproof, weighted curtains are durable and sturdier compared to other shower curtains. They have weights sewn into the curtains' hems, preventing them from moving around.
So while most shower curtains are light and can easily be swept by the wind, it doesn't work with weighted curtains. The weights inside its hem allow the curtains to stay in place, preventing slip-ups and possible accidents while showering.
Weighted shower curtains can also prevent excessive spraying and splashing, leading water to the rest of the areas in the bathroom, since the bottom part of the curtains is kept in place.
It is also because of the weights in the hem that the curtains are not blown away to stick to you while you shower. With a dry bathroom and free from sticky curtains, it is a lot safer for seniors and persons with disability.
Waffle Weave Curtain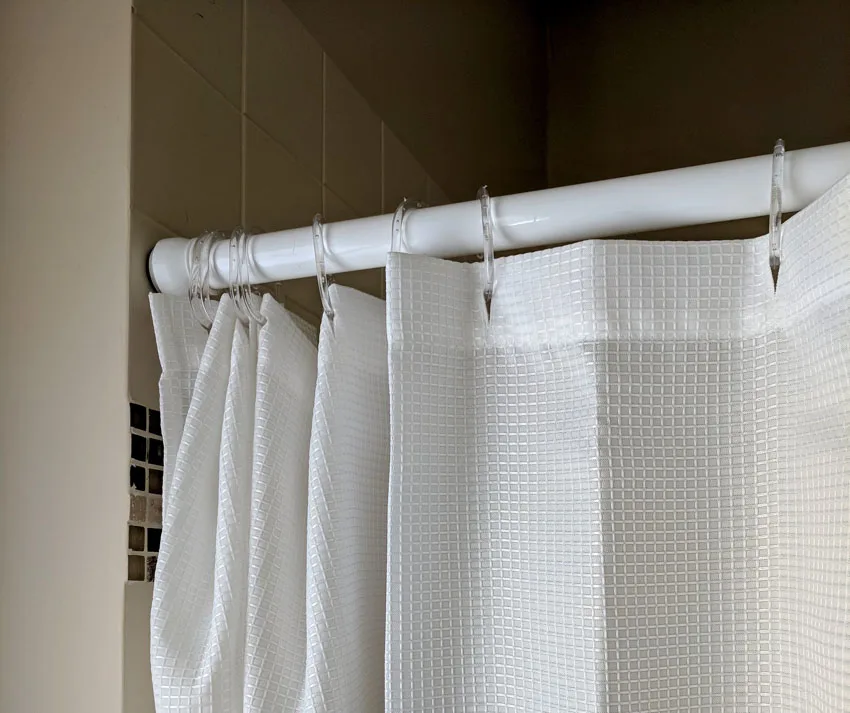 A waffle weave shower curtain can offer you a spa-like or hotel experience that you would only normally experience if you shower in these establishments. The experience alone can make you want to have this curtain in your home but if you're looking for more reasons, there are advantages of these curtains where you can benefit from.
Benefits:
• Reduces water from escaping the shower
• Visually appealing
• Machine-washable
Waffle weave curtains are designed to reduce the water that escapes from the shower and can make the entire bathroom wet. Because of its texture, the curtain showcases a sophisticated and elegant aesthetic.
And since it's machine-washable, it doesn't take too much effort and meticulous process just to keep it clean. But its aesthetic is not for everyone and some may prefer a more homey look for the curtains.
Ruffle Curtain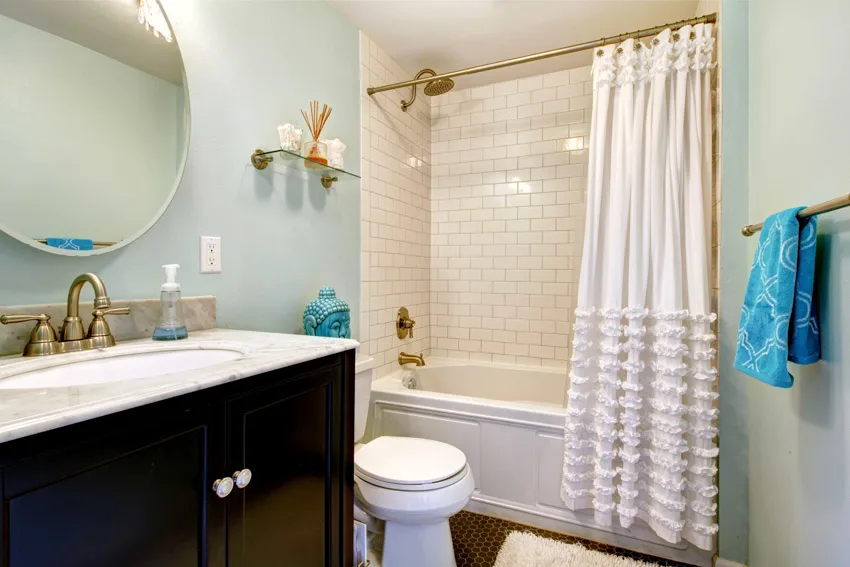 A ruffle shower curtain is an ideal choice for you if you're looking for a feminine element to add to your bathroom. Check out the benefits that this specific curtain offers in order to know if it's the ideal option for you.
Benefits:
• Adds aesthetic value
• Soft and soothing appeal
• Convenient installation
Ruffle curtains are generally soft and soothing, adding a layer of comfort to your bathroom. They can enhance the bathroom's look, adding aesthetic value to the area and improving the space.
If you're looking for something comfortable that can equal what hotels and spas make you feel, this is one good option to consider. It is also easy to install in your bathroom since it's light and then easily slides through curtain rings and hooks. But since the ruffles in these curtains are delicate, they are not machine-washable and can only be dry-cleaned.
Sheer Curtain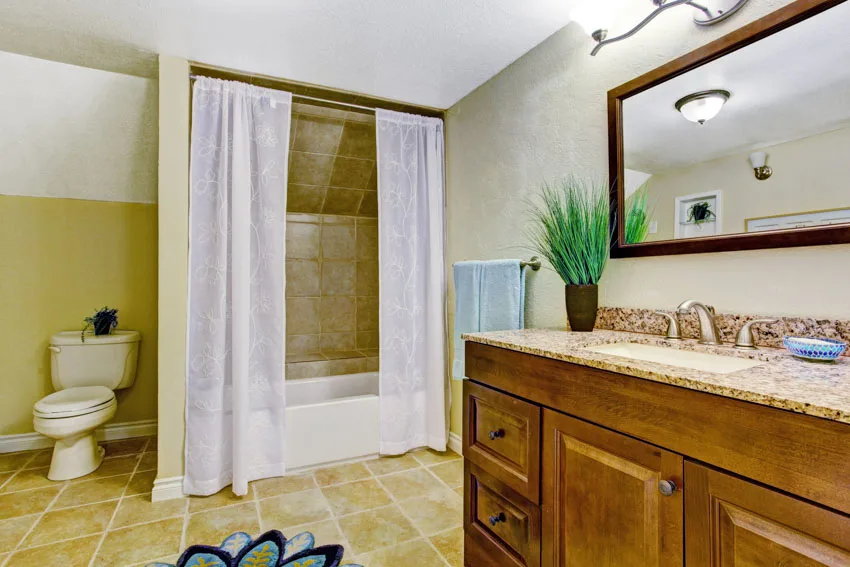 Do you want something unique and risque? A sheer shower curtain can showcase a kind of sexy that also delivers the right amount of privacy to protect yourself while you shower. More than just its looks and aesthetics, make sure you know the benefits and drawbacks that come along with using this curtain.
Benefits:
• Adds glamour and elegance to your bathroom
• Wide variety of curtain sizes and designs
• Easy to fit its size to the shower
• Compatible with most hooks and rings
With a variety of colors, sizes, and designs to choose from, sheer curtains add elegance and glamor to your bathroom. And just like how most shower curtains function, they can also protect your bathroom from water damage.
Clawfoot Tub Curtain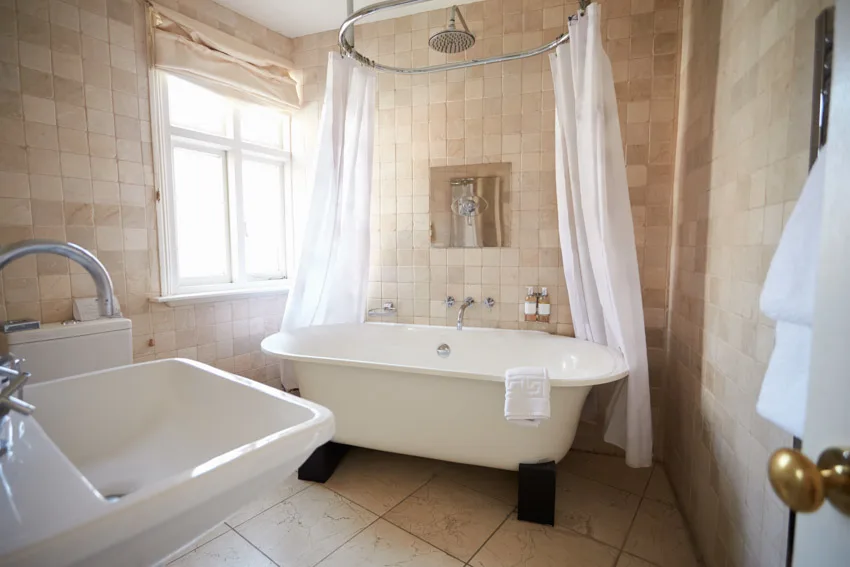 Clawfoot tubs can be difficult to use for children and the elderly, adding a curtain to them might even be more dangerous. Since a clawfoot tub is somehow vintage, most of the curtains that go with it also offer the same old-school and rustic feel. And just like every shower curtain though, a clawfoot tub shower curtain also offers several benefits you can enjoy.
Clawfoot tub is an antique style in which the tub sits on 4 decorative metal legs. – Learn the Lingo of Houses, Regina Brown
Benefits:
• Antique and rustic appeal
• Customized for clawfoot tubs (Most curtains are longer than necessary)
• Wide variety of colors and textures to choose from
Clawfoot tub shower curtains should match the tub you are going to install them in and the other shower curtains are just too long for the tub. And even if these curtains showcase a rustic and antique ambiance, you can still have a wide range of options to choose from (both colors and textures).
You can choose a white textured curtain for a more traditional choice or a curtain in bright and wacky colors if you want something popping or standing out.
Curtain With Pockets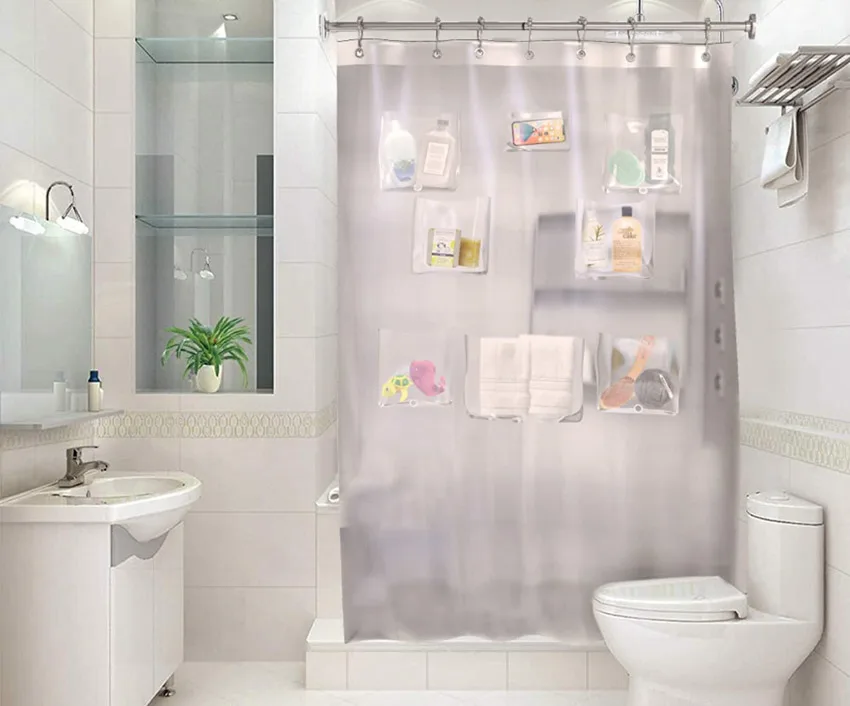 See this shower curtain with pockets at Amazon [sponsored link]
A shower curtain with pockets is one of the most functional options you can have for your showers. Explore the benefits you can take advantage of from having pockets in your shower curtain to make a more informed decision.
Benefits:
Convenient

Practical

With benefits that depend on the material that they're made of
When built with pockets, a shower curtain can also serve as storage for your bathroom essentials, making sure that they're within your reach as you shower. This is why it is a convenient option for you.
Practicality-wise, this particular curtain can easily be turned inside out. And for other advantages you can benefit from, you would need to consider the material that the curtain is made from.
For example, there's an environmentally friendly PEVA curtain with mesh pockets that not only offers convenience but also aids in helping the environment.
Curtain With Snap-In Fabric Liner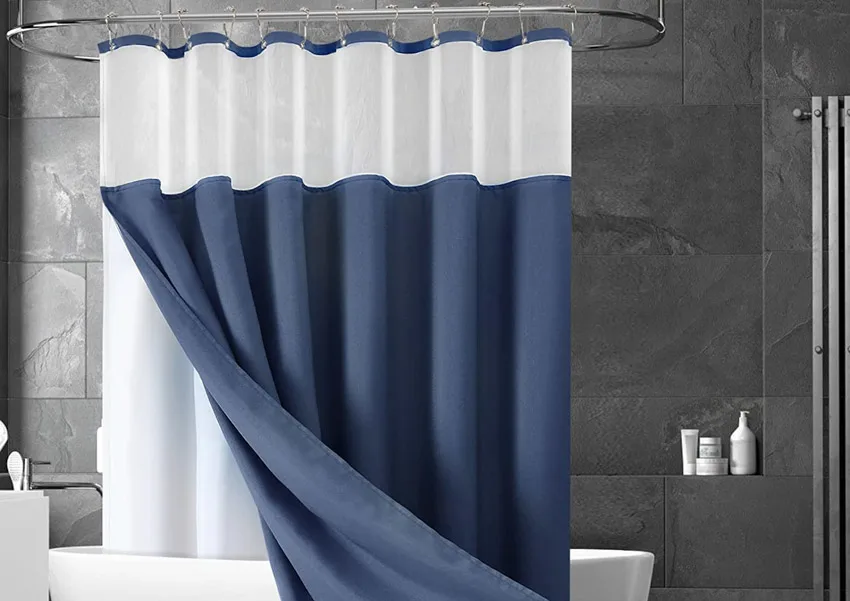 See this shower curtain with snap-in fabric liner at Amazon [sponsored link]
One type of shower curtain you can try out is the one with a snap-in fabric liner that comes along with it. This complete set will allow you to be worry-free in mixing and matching curtains and liners (if they're necessary). If you're thinking about choosing this type of shower curtain, explore the benefits you can take advantage of.
Benefits:
• Convenient
• Functional and decorative
• Machine-washable
A shower curtain with a snap-in liner is a ready-made set that you can conveniently purchase in the market. The curtain easily functions as a protective element that keeps water in and avoid it from sneaking to other areas of the bathroom. The snap-in fabric liner is easy and convenient to use.
Types Of Curtain Liner Materials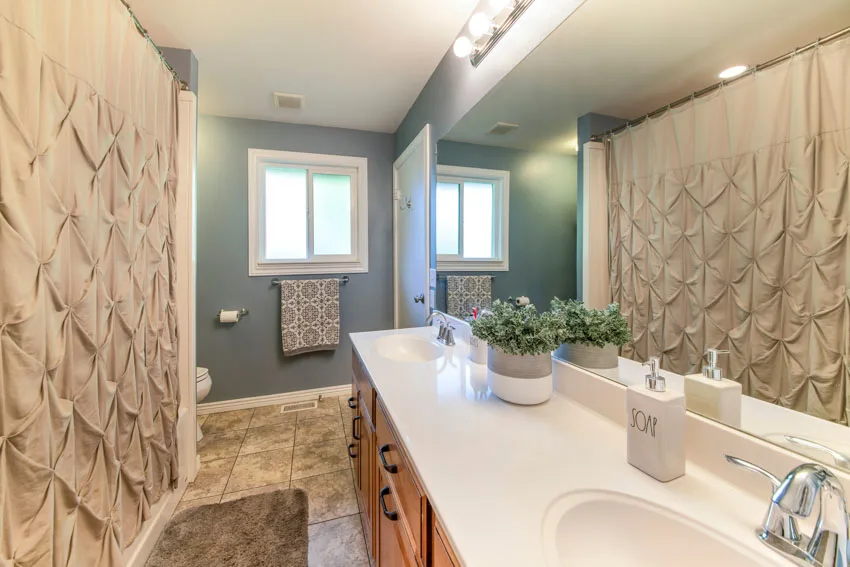 More than just skimming through the different types of shower curtains, you will also need to take into account the types of shower curtain liners based on their materials.
There are different materials you can consider for your curtain's liner and choosing one is vital not only in your bathroom's general aesthetics but also in the advantages you get to enjoy from using a particular material.
If you want a tip in choosing shower curtain liners, here are some of the characteristics that the liner should have:
• Easy to clean
• Easy to install
• Resistant to mildew and mold
• Compatible with most decor and styles
• Has rust-free grommets
Weigh the benefits and drawbacks you will get from specific materials you can use for your liners. From fabric liners to polyester, make a decision after comparing them with each other.
Fabric Liners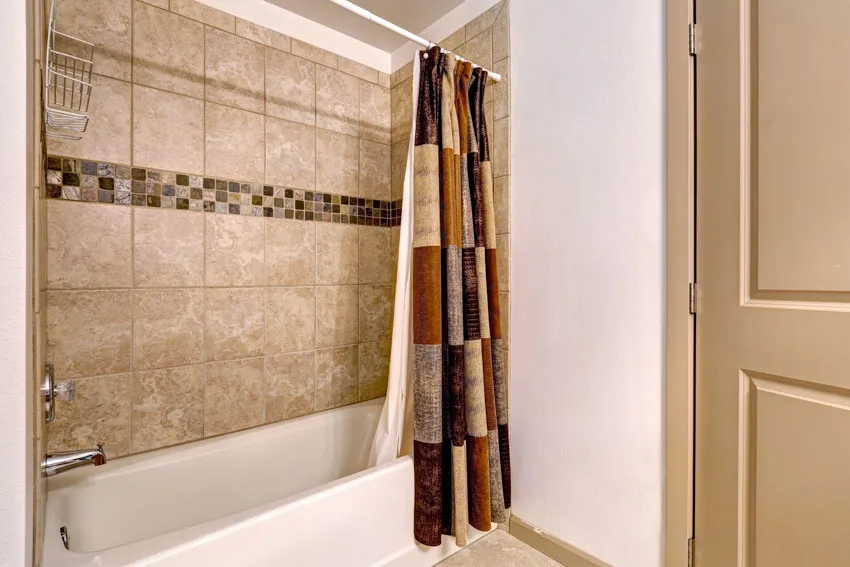 When considering fabric liners, you also need to take into account the specific fabric you want to try out. Two of the most common fabric liners you get to explore are cotton and linen. And from the get-go, one huge advantage is that they're both natural fabrics, making them more environmentally friendly.
Linen: Linen is a natural fabric that's medium in weight and is one of the most common options for a curtain liner. Some of the benefits you can enjoy from linen liners are the following:
• Easily stays dry in humidity
• Naturally insulates
• Durable
• Eco-friendly
Some of the drawbacks in choosing linen is that it's not a waterproof fabric and can easily have wrinkles.
Cotton: Cotton is a lightweight natural fabric that takes is also incredibly popular with homeowners because of the benefits it offers (more than just being environmentally-friendly):
• Durable
• Has a luxurious feel to it compared to synthetic fabrics
• Versatile
• Comes in a wide range of sizes, weights, colors, and textures
Vinyl/PVC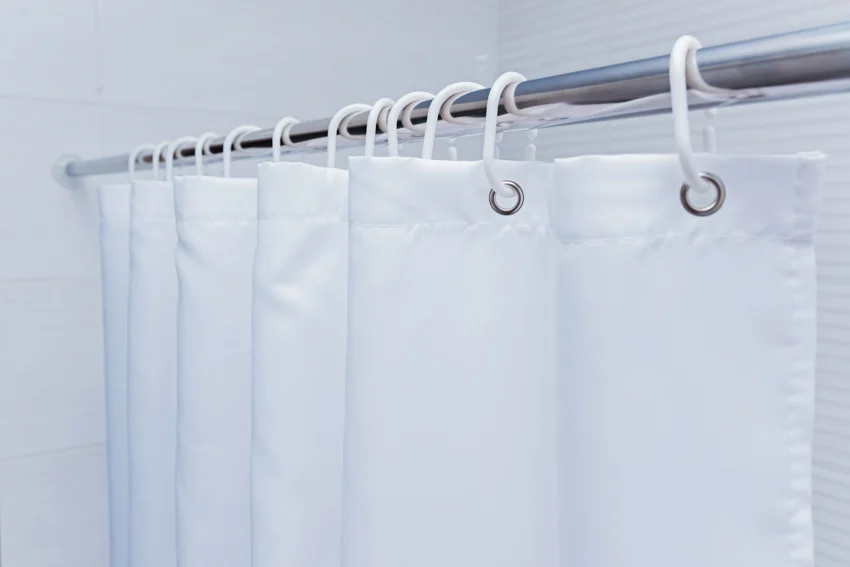 When considering synthetic fabrics for your shower curtain liners, vinyl/PVC is one of the most popular options. While not environmentally friendly, vinyl/PVC offers specific characteristics that homeowners find desirable, including the following benefits:
• Convenient to use
• Easy to clean & low maintenance
• Low cost
• Naturally repels moisture (May be resistant to mold and mildew)
• Wide range of colors, designs, and patterns to choose from
Functional-wise, vinyl/PVC is a great option because it's affordable, easy to maintain, and prevents the buildup of mildew and mold. The major downside though is in its aesthetics, where some of the designs of these curtain liners look cheap and not classy at all.
Polyester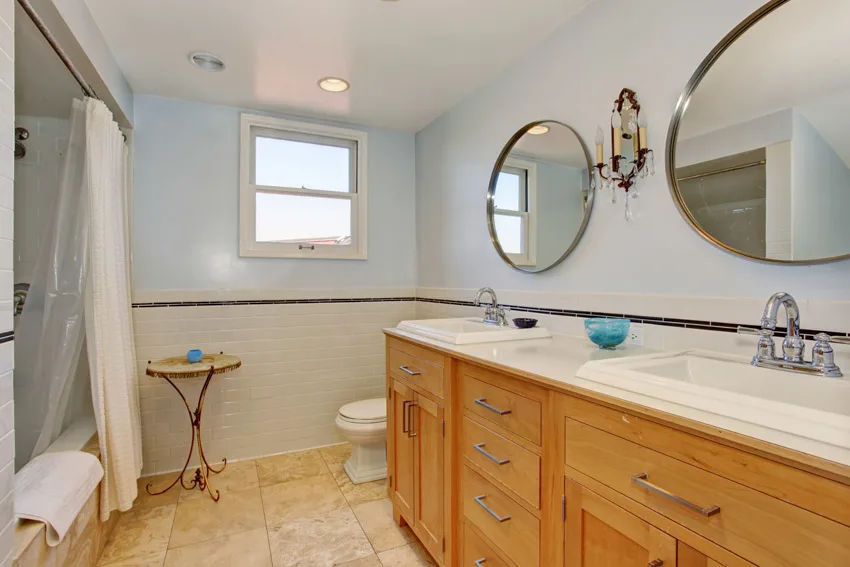 Polyester is another synthetic fiber you can consider, much like vinyl. Also known as microfiber, this fabric can be an excellent option as a shower curtain liner despite its constant exposure to moisture because of the following benefits it offers:
• Waterproof capability (Resistant to mold and mildew)
• Particularly durable
• Easily washable (By machine or by hand)
• Lasts longer
Polyester shower curtain liner looks heavier compared to vinyl and can take high water pressure easily. Just like most synthetic fabrics though, it is not that elegant to look at and not eco-friendly at all.
PE (Polyethylene)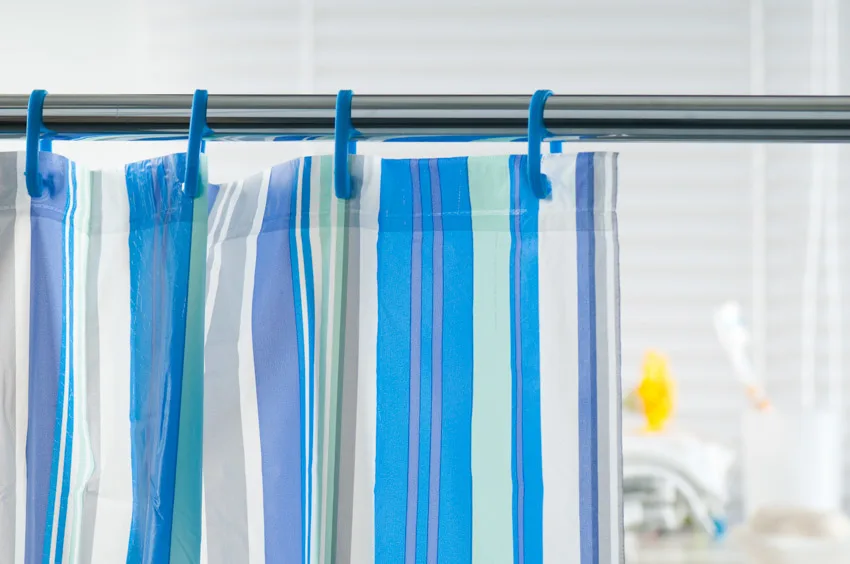 PE or Polyethylene can be an ideal shower curtain liner and works similarly with vinyl. Here are some of the benefits you can expect from using a PE or Polyethylene shower curtain liner:
• Durable
• BPA-free
• No smell
• Waterproof
This particular curtain liner can last longer because of its durability. Being waterproof, it is a good material for areas like the bathroom- constantly exposed to moisture. And since it is BPA-free without the synthetic smell that comes with it, it is also safe for babies and children.
PEVA Curtain (Polyethylene Vinyl Acetate)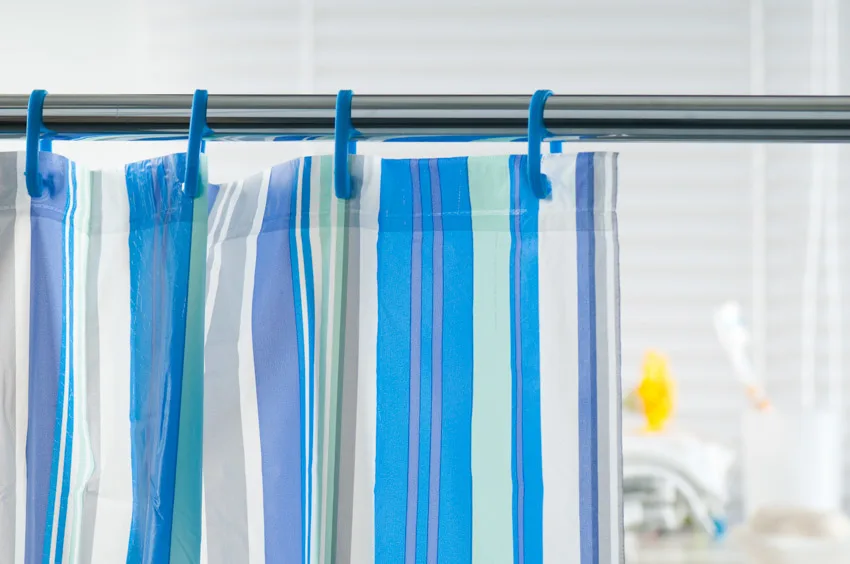 PEVA or Polyethylene Vinyl Acetate shower curtain liner is kind of similar to other synthetic fabric liners like vinyl and PE. Here are some of the major benefits you can enjoy with a PEVA liner:
• Significantly fewer VOCs or volatile organic compounds
• Waterproof
• Contains antimicrobial properties
• Chlorine-free (No noxious fumes and synthetic smell)
• BPA-free
• Durable
PEVA shower curtain liners, despite being synthetic, do not have the unhealthy smell that comes with most synthetic fabrics. They can be considered eco-friendly and children-friendly. And despite being considered soft plastic, they are durable but can cost more than a PVC liner.
Curtain Rod Types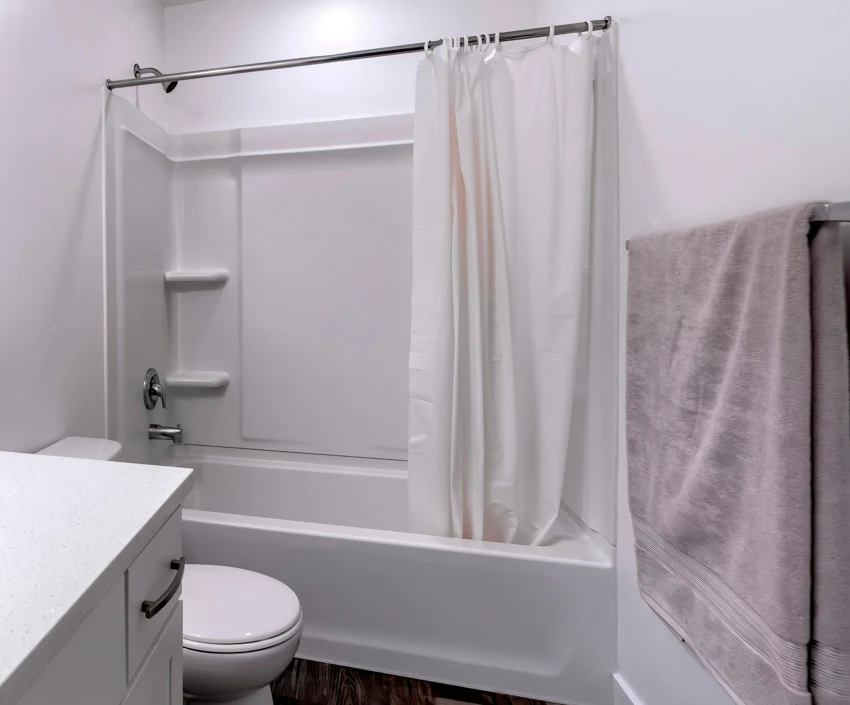 In choosing shower curtains and the liners that can be used together with them, it is also necessary to consider whether you will use a curtain rod or not (adjustable or fixed).
To help you with your choice, here are some of the types of shower rods to check out:
• Straight: The most basic type of curtain rod, going straight from one end to the other. Either fixed or adjustable, it is the most affordable type of curtain rod on the market.
• Double: This simply refers to two curtain rods placed next to another, which can either be two straight ones or a mix of a curved one, depending on your preference. This can also work as a towel rack when you shower, perfect for a small bathroom that only has limited space for storage.
• Rectangle: A bit uncommon, this type of curtain rod hangs from the ceiling to have enough support to hold the shower curtain. This curtain rod though is mostly used for bathrooms with tubs so using it in a shower area is rare.
• L-shaped: Ideal for a corner shower, this curtain rod is to cater to a specific shape and location of the shower. Make sure that when you choose an L-shaped curtain rod, it can fit your bathroom.
For help finding the right one for your shower visit our guide to shower curtain rod sizes here.
Best Type Of Curtain Hooks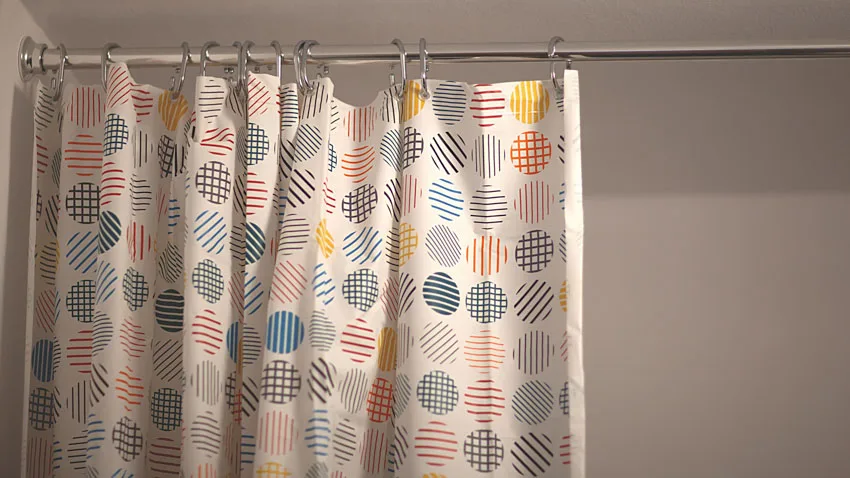 More than the curtain rods, there are also different types of shower curtain hooks to choose from. Explore the different types of hooks to match them with the shower curtains, curtain liners, and curtain rods you are choosing.
• Circular Hooks: Come with clasps that you can open and close whenever you need them too, which is a pretty convenient option.
• C-shaped Hooks: Considered the most common and oldest hook design, these are rings that just like the name, are in the letter C shape. They are easy to install but have the tendency to glide and create some friction.
• S-shaped Hooks: Known as the most durable hook option, these hooks have the top part hanging with the rod and the bottom part connected to the shower curtain.
These are only three of the most common and popular shower curtain hooks you can check out. Choosing the best one will be based on your need and preference.
What Is The Difference Between A Shower Liner And Curtain?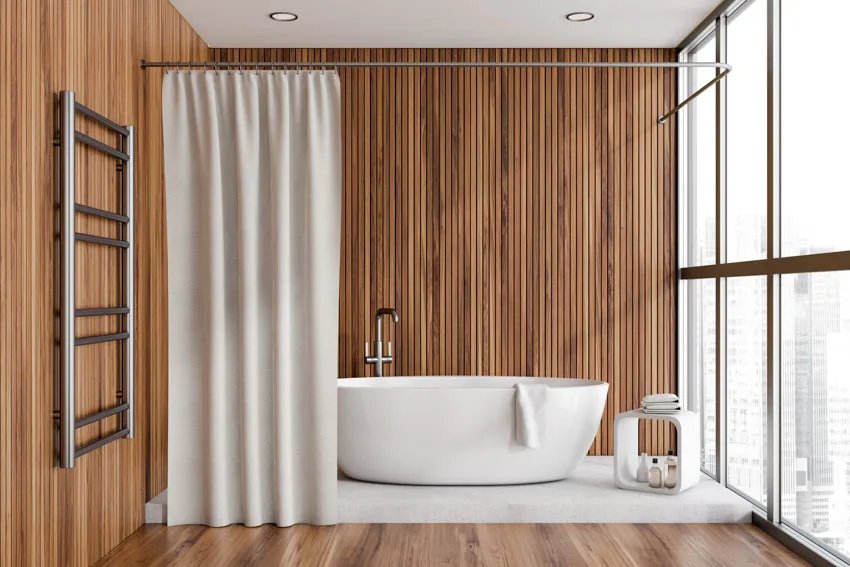 The most basic difference between a shower liner and a shower curtain is that the former is installed on the sides (inside) of the tub while the latter is installed by hanging outside the tub.
The liner is more focused on keeping the water inside the tub while you shower while the curtain is more involved in keeping your privacy as you shower (Besides its usual added aesthetic value).
Besides these major differences, here are some notable differences between shower curtains vs shower liners you need to know about.
| | |
| --- | --- |
| Shower Curtain | Shower Liner |
| More expensive than liners | More affordable |
| Doesn't stop water from splashing out | Stops water from splashing out of the shower |
| Decorative (Many colors/patterns/designs) | Not as decorative as shower curtains |
What Kind Of Curtain Doesn't Need A Liner?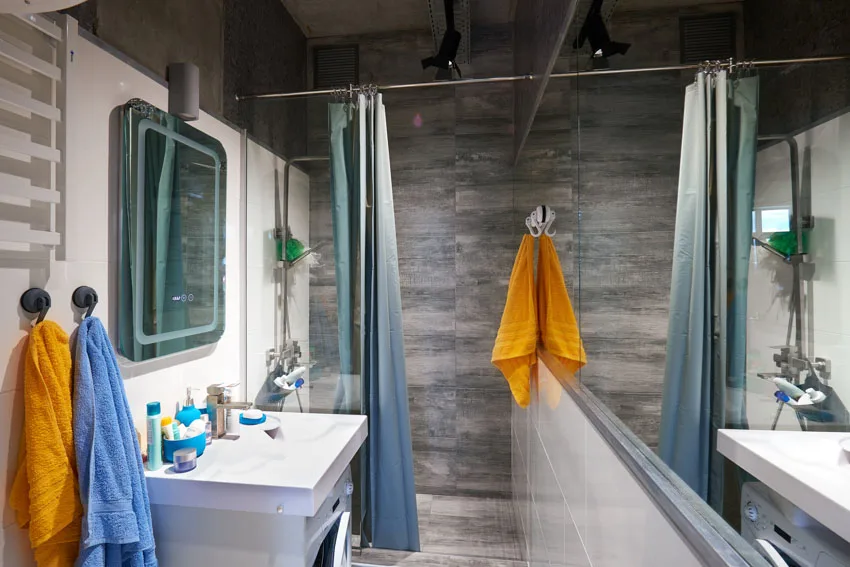 Shower curtain liners are not necessary but they are highly recommended, especially if you want to keep your entire bathroom from getting wet and flooding.
While they may not be needed for synthetic shower curtains, they are needed for those shower curtains that are not waterproof, including cotton and linen shower curtains.
What Type Of Fabric Is Best For Curtains
When it comes to shower curtains, choosing the best type of fabric means you need to take into account the factors you prioritize in your choice. If you don't have a list yet, here are some factors worth considering:
• Waterproof or not: The most logical fabric to choose is a waterproof one, especially with its constant and prolonged exposure to moisture. Most waterproof shower curtains are made from synthetic fabrics, including vinyl and polyester.
• Keeps mold and mildew at bay: While this may be influenced if the fabric is waterproof or not, there are fabrics that are less susceptible to molding despite not being waterproof. Most synthetic fabrics are better at keeping mold and mildew at bay but with proper cleaning, natural fabrics can also work.
• Volatile Organic Compounds/VOC-free or not: Choosing the more environmentally friendly option is always the best one to somehow reduce added waste to our surroundings. In this case, natural fabrics are better than synthetic ones.
• Cost/Affordability: Your budget also plays an important role in your choice and with shower curtains, synthetic fabric curtains are more affordable than natural fabric ones.
Should You Leave The Curtain Open Or Closed?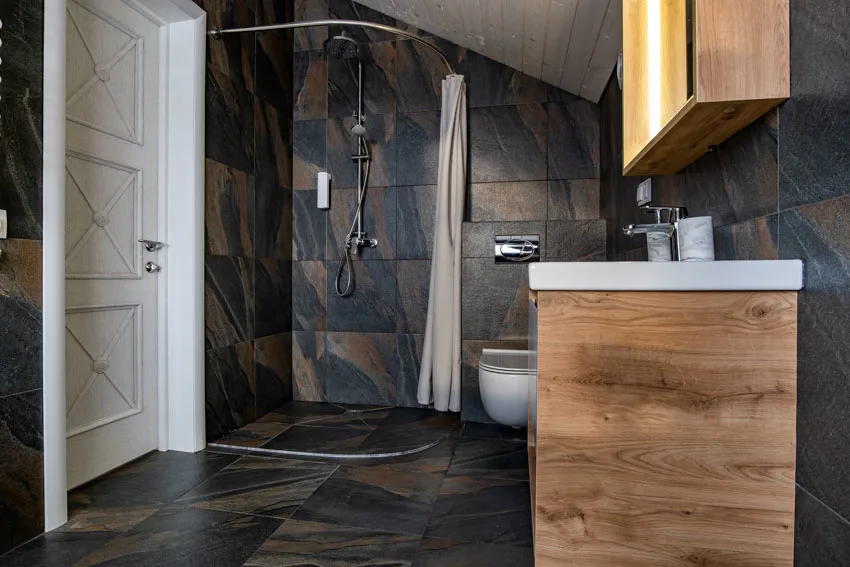 Whether you're not using the shower or currently using it, the best choice will always be to leave the shower curtains close. Close your shower curtain when using it to make the most out of its function, both to facilitate your privacy and to somehow help keep the water within the shower area.
And when not in use, it is also recommended to close the curtains so that they may dry faster and prevent mold and mildew from building up.
How To Measure Your Shower For A Curtain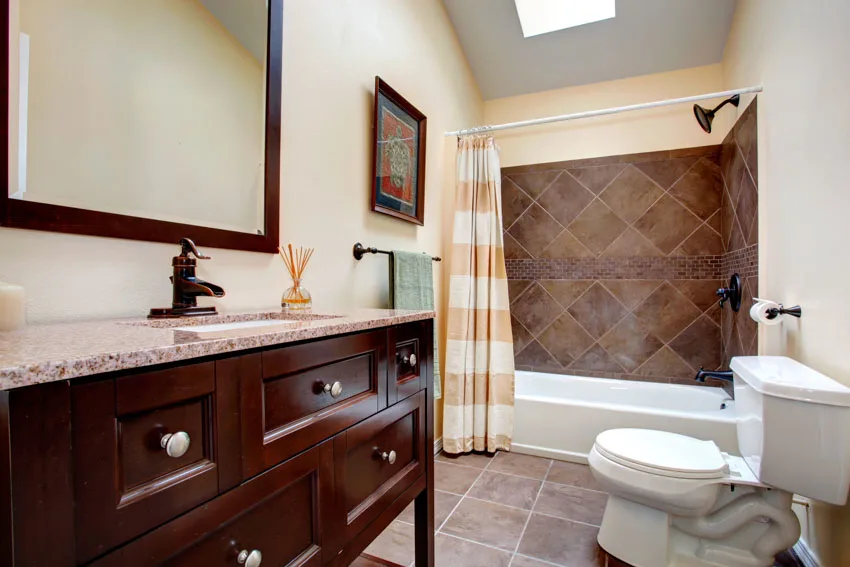 The most common shower curtain sizes include 70 x 70 inches, 70 x 72 inches, and 72 x 72 inches. The measurements will depend on the dimension of your shower area in the first place. Here are other measurements you need to know about:
• Extra tall shower curtains: 70 x 84 inches and 72 x 84 inches
• Extra wide shower curtains: 144 x 72 inches
• Shower stall curtains: 54 x 78 inches
When considering the measurement for a shower curtain, make sure you add a few inches. Add 3 inches to the length of your shower curtains to make up for the shower curtain rod and hooks/rings.
Add 12 inches to the sides of your shower curtains to make sure that the water is contained within the shower area. To help you measure your shower in preparation for choosing a shower curtain, follow these simple steps:
1. Get your tape measure
2. Start measuring the width of your shower area, which is from one wall to the other (Add 12 inches to this measurement)
3. Start measuring the height of your shower area, which is from the top of the shower rod to the wall (Add 3 inches to accommodate the rod and hooks/rings but this can change depending on thick the rod is and how big the hooks are)
What type of shower curtains are your favorite? Share your thoughts in the comments below to let our readers know which type you use in your bathroom and why.
See more related content in our article about bathroom shower sizes on this page.