Here we share our concrete bathroom countertops design guide, including pros and cons, cost, different options, style ideas, and tips to make them stand out.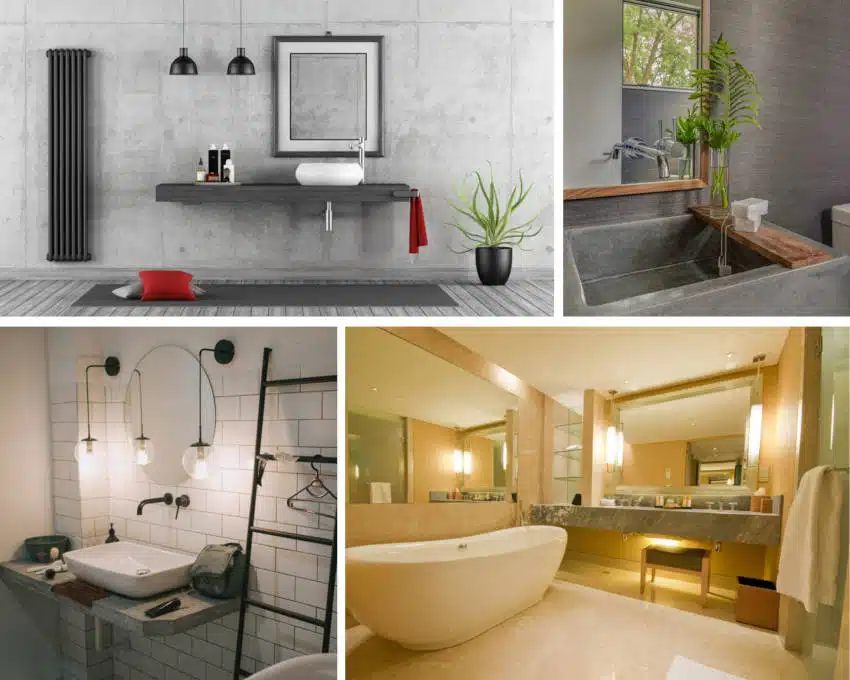 A durable material to use, concrete has been developed not just for industrial use but also for interior design.
And if you think that concrete looks a bit drab to fit interior design, it's now completely different. Concrete countertops have become a staple in minimalist bathrooms.
Here are stylish concrete bathroom countertops you can see today. Check them out, and who knows, you might be able to choose one for your own bathroom.
Quicklist: Pros and Cons of Concrete Countertops for the Bathroom
Pros
Budget-friendly
Customizable
Various Color Combination
Durable
Scratch-proof
Cons
Requires Regular Maintenance
Difficult to Repair
Heavy
Can Be Expensive
Can You Use Concrete Countertops In The Bathroom?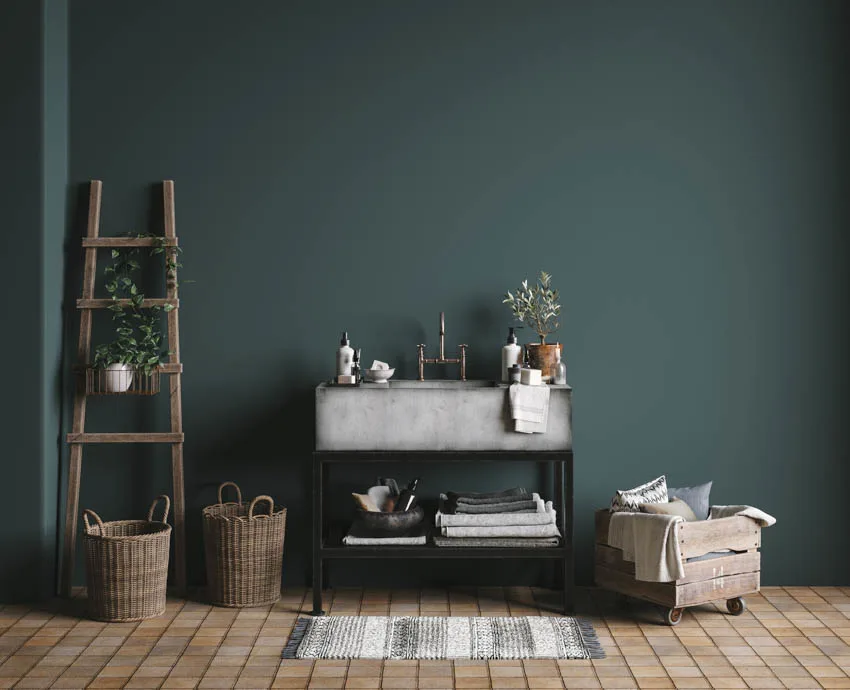 You can use concrete for your countertops in the bathroom! You need to dig deep into your creative side to style it in the best way possible. For starters, though, make sure to consider these factors when you decide on a concrete countertop:
Size of the countertop and your bathroom (Including weight and thickness)

Colors you want to use

The budget you have for the countertop

Design of your countertop (Including details, accessories, decor, and inserts)

Maintenance of the countertop
Concrete is a good choice as a material for countertops; your maintenance costs decrease over time since it deteriorates much slower than other construction materials. [Source: Portland Cement Association]
Concrete Bathroom Countertop Pros and Cons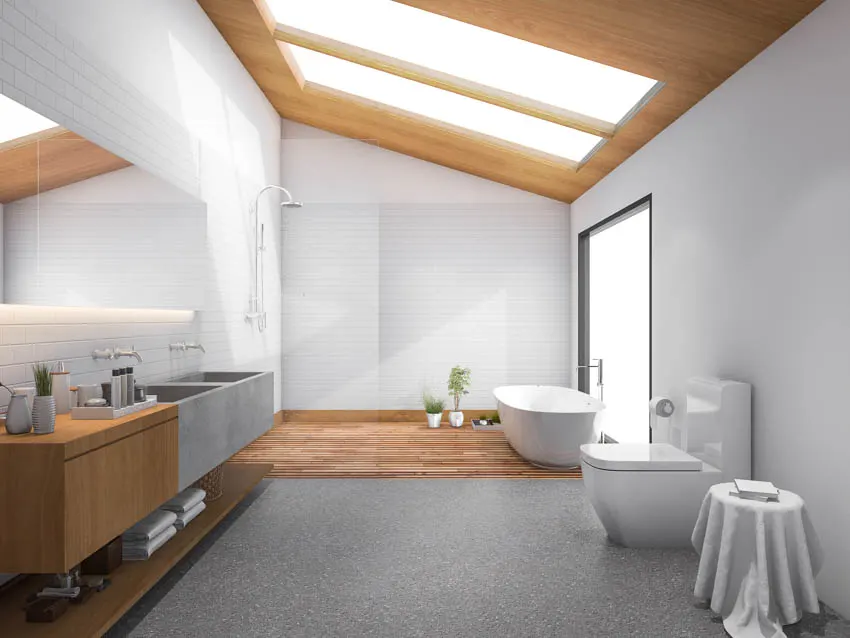 If you are still unsure whether you can go forward and install a concrete countertop in your bathroom, reviewing its pros and cons can help you a lot. Here are what you can consider:
Pros
Flexibility- you can design it to match the dimensions of your bathroom accurately
Many available color options – Custom concrete colors that can match other room finishes or look like natural stone such as grey slate, beige granite or white quartz
Easily customizable – You can use different cement dyes and edge forms to create a unique style
Long-lasting, durable, and scratch-proof
Creative add-ons can be embedded (small items like stones and glass chips)
Budget and DIY-friendly
The concrete countertop in this bathroom showcases some of the benefits you can get from choosing it for your home.
The double-sink concrete countertop has been designed to accurately match the width and length of the wooden vanity on its left. It also adds a little texture to a white and wood-dominated bathroom.
Cons
Might require regular maintenance (including annual resealing)

Repairs can be difficult to do
Flooring must be strengthened to carry the excessive weight of the concrete countertops
It may be expensive (depending on the style and design)
Consider these pros and cons and weigh your options. If you feel it will be a drag to have repairs and regular maintenance, don't choose it. But if the benefits outweigh the cons, why not give it a shot?
Concrete Vanity Top Cost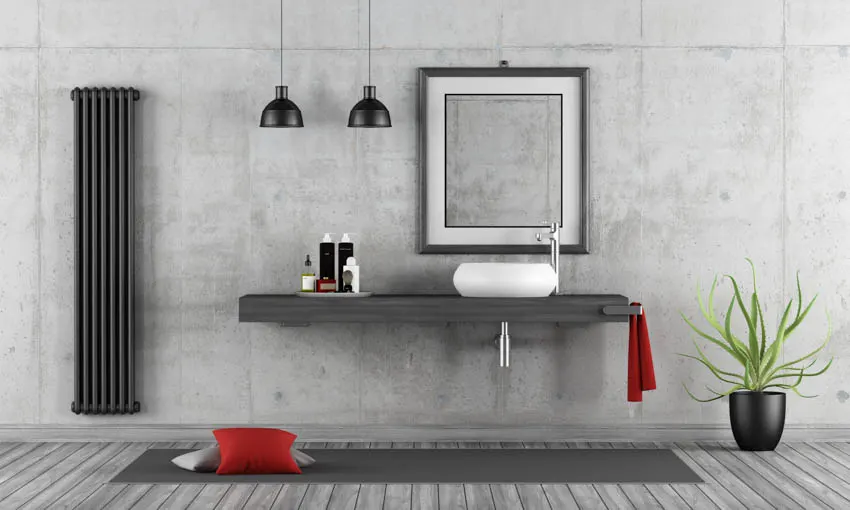 The cost of a concrete vanity top will vary on several factors, including the materials used, size, style, design, and more. It can range from $40 to $60 if you already have existing supplies you can use for its installation.
In most cases, the price for building concrete countertops is $150/sq ft. This includes full service and installation of the countertop.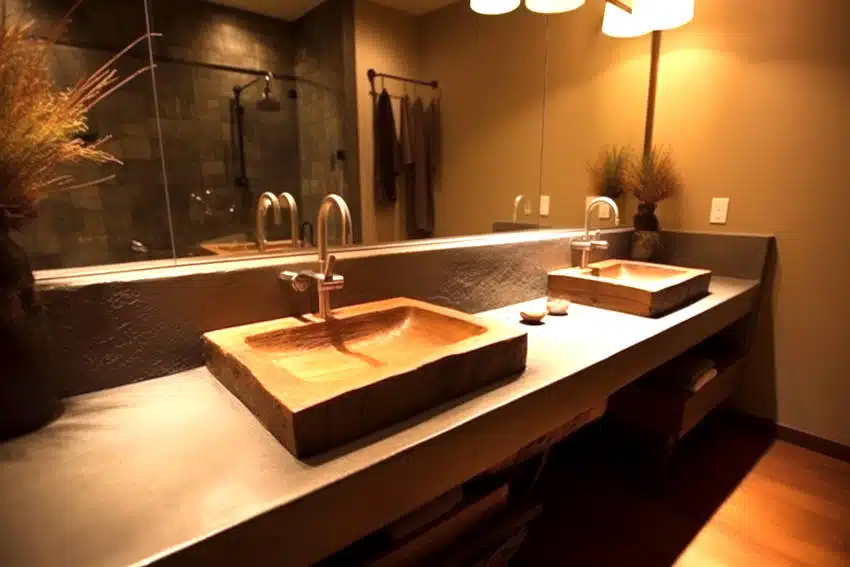 You can go DIY on the project to lower the cost and fit the entire makeover into your budget. Learn as much as you can from online tutorials, and if you have an expert near you, ask for his advice.
"Concrete's superior longevity and indestructibility give it an eco-advantage over shorter-lifespan treatments for walls, floors, fireplaces and countertops." – Annette Stelmack, Associates III, Kari Foster, Debbie Hindman, Sustainable Residential Interiors
You can ask for tips on where you can get materials at lower costs. In DIY projects, you won't have to worry about labor costs too.
Concrete Bathroom Countertop Designs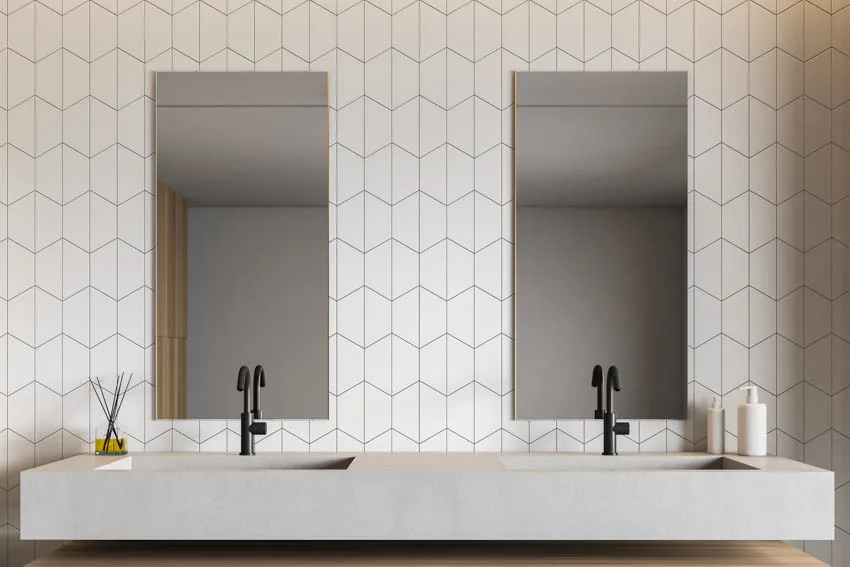 Here are some of the best bathroom countertop designs made of concrete.
Marbled Concrete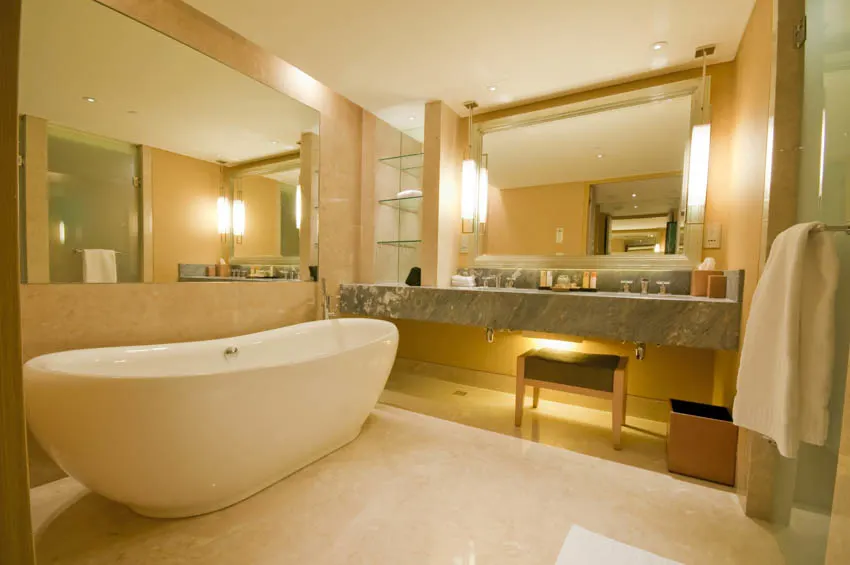 Yes, quartz and granite are not only the surface materials you can see to have marble in bathrooms. Now, even concrete can have this stylish design and be as elegant looking as other more luxurious materials.
This marbled countertop has stylish white streaks and blots that make it fancier. The finishes of the bathroom screams both elegance and comfort at the same time.
The neutral color of the travertine walls and floor highlights the countertop. And the addition of the hanging lights below the countertop adds warmth and comfort.
Modern Concrete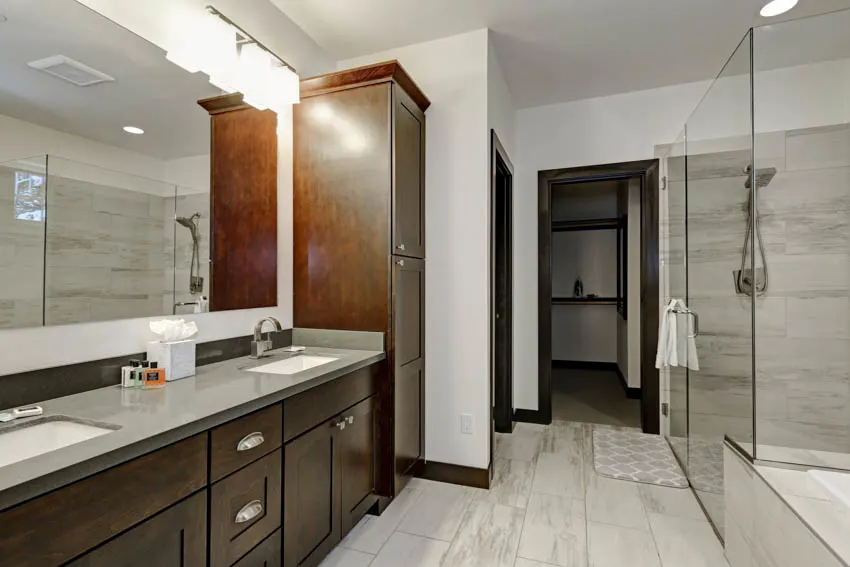 Concrete countertops are not just bare cement. They have gone modern and can look as elegant and sleek as other fancy countertops offered today. Different colors and architectural designs now surround concrete countertops with wall-mounted faucets.
Sleek and Glossy Concrete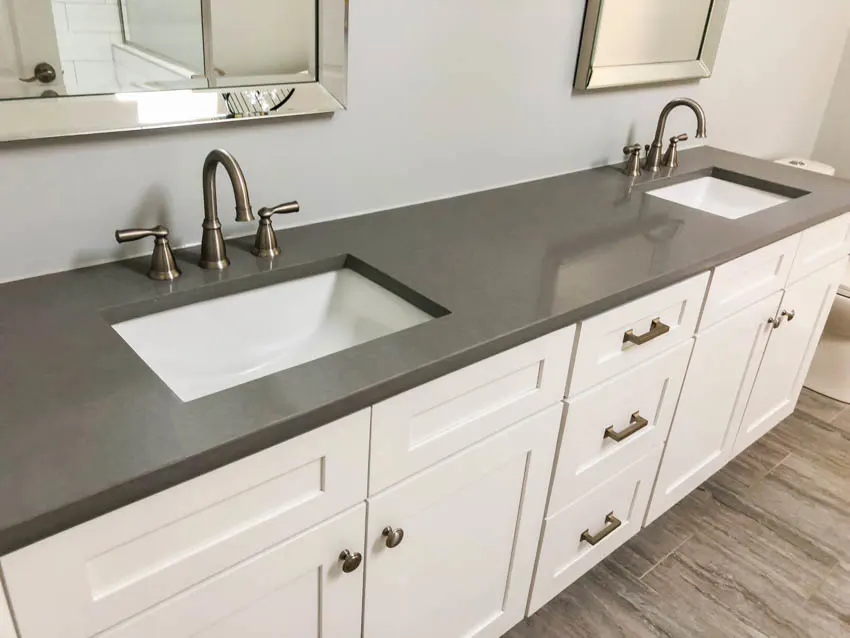 Yes, concrete can be both sleek and glossy, especially regarding countertops. The sleek look of glossy countertops provides a cleaner look, which a bathroom needs in the first place.
"Concrete is another option that has steadily gained ground in the bathroom as well as the kitchen." – Scott Gibson, New Bathroom Ideas that Work
This dual-sink glossy concrete countertop has a minimalist style that adds to the clean charm of this bathroom. The entire ensemble is pleasing to the eye with the engineered wood flooring, white drawers, and cabinets.
Industrial-Rustic Concrete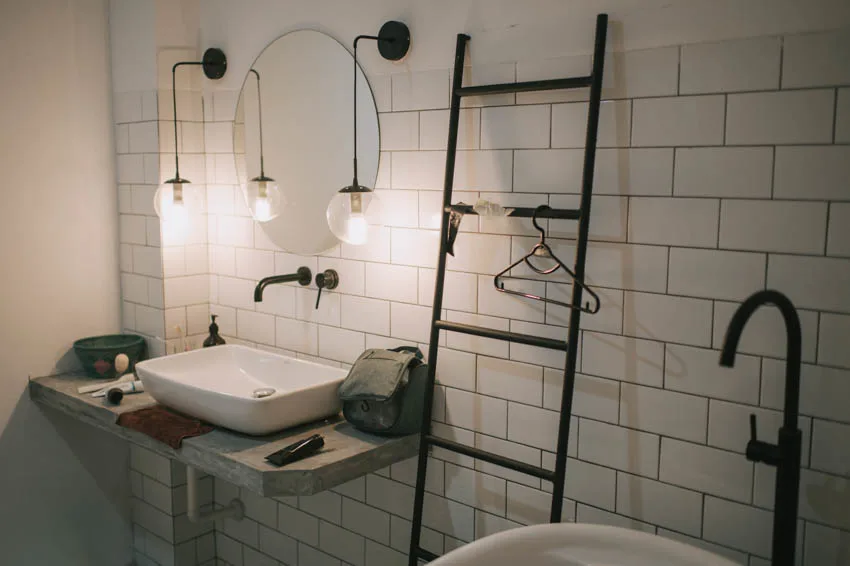 If you somehow want a rustic ambiance in your bathroom, it's also possible with a poured concrete countertop. What you only need is a solid concrete countertop with a metal base. This offers an industrial touch to the vibe, besides it being rustic.
Shine Through An All White Bathroom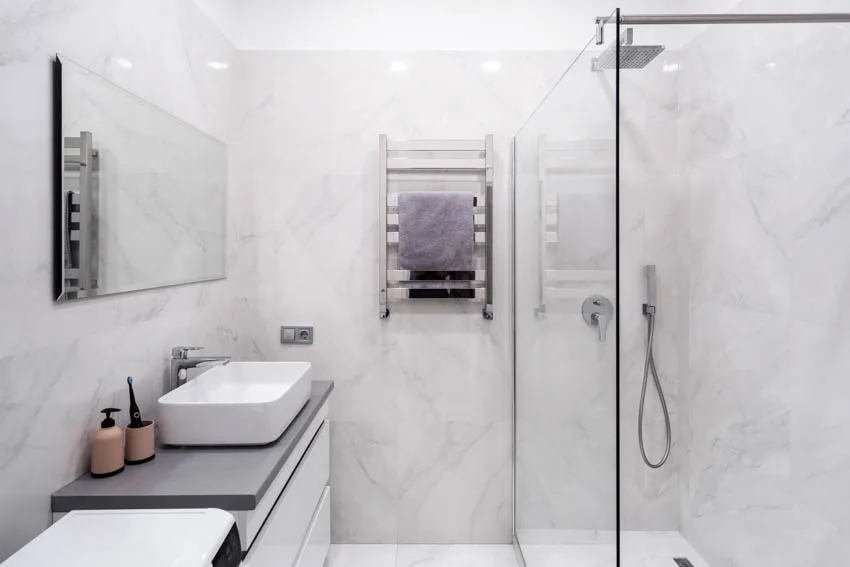 A concrete countertop shines when matched with an all-white bathroom. If you have an all white bathroom, you might want to consider installing a concrete countertop to have a different color accent in it.
An all-white bathroom can highlight a concrete countertop. That doesn't make it the focus of the entire room, though. It simply provides different color accent pieces in the room, which in this case, is matched by the color of the towel on the rack.
Concrete Bathroom Vanity Top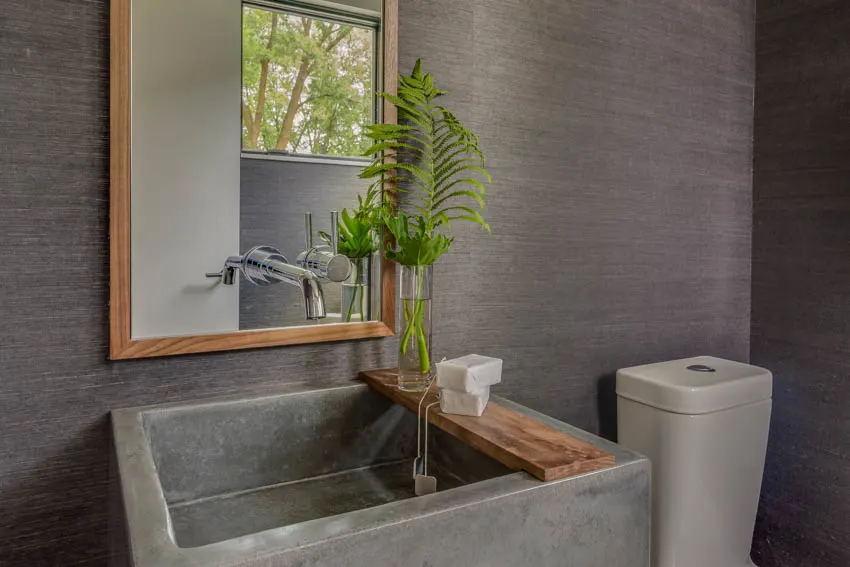 When designing your bathroom vanity, make sure not to forget the concrete countertop in your choices. Read more about different bathroom vanity sizes here.

In the instance that you feel like concrete might be too bare and drab, there are things you can do to enhance your vanities.

You can brighten up your concrete countertop by matching it with elegant colors such as gold and blue. Your rugged vanity top will somehow have this sophisticated look to it.
Add some feminine trinkets near the vanity top if that's not enough. You can use fabrics and woven baskets for a different touch and vibe.
The bathroom above sports a concrete vessel sink with wood plank for its countertop and wood-look tile for the walls that seem solid and chunky. To give it a more homey look and ambiance, the use of wood in the mirror and small plant add a natural element.

See more related content in our article about bathroom remodel ideas on this page.