Here we share the best material for bathroom flooring including pros and cons, pictures and design ideas.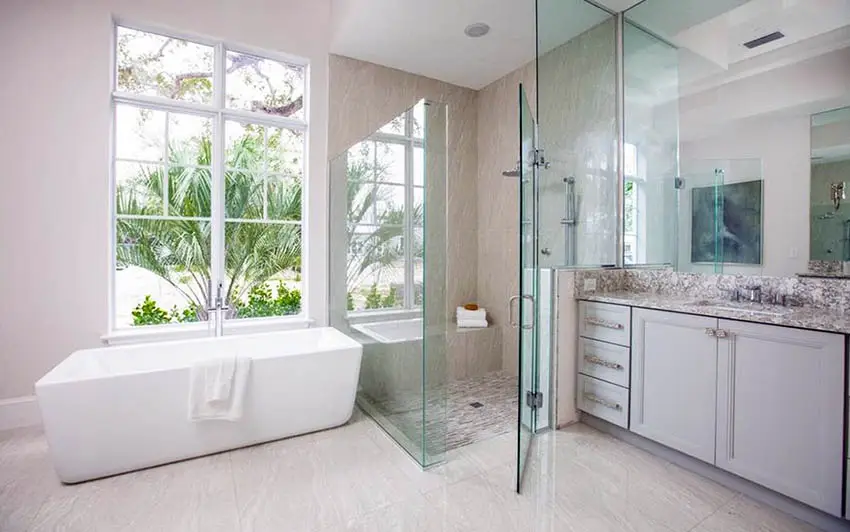 Bathrooms will be one of the more used rooms in the home and the flooring chosen will play a big part on the aesthetics of the place as well as the function of the space. While there are a good number of materials that can be used, does not mean they are all recommended.
Below will be a list of the things that you should think about when you are debating which floor to use, followed by the different types broken down with their pros and cons. Near the end for easy remembering will be the costs of some of the better options. Happy hunting!
Best Flooring for a Bathroom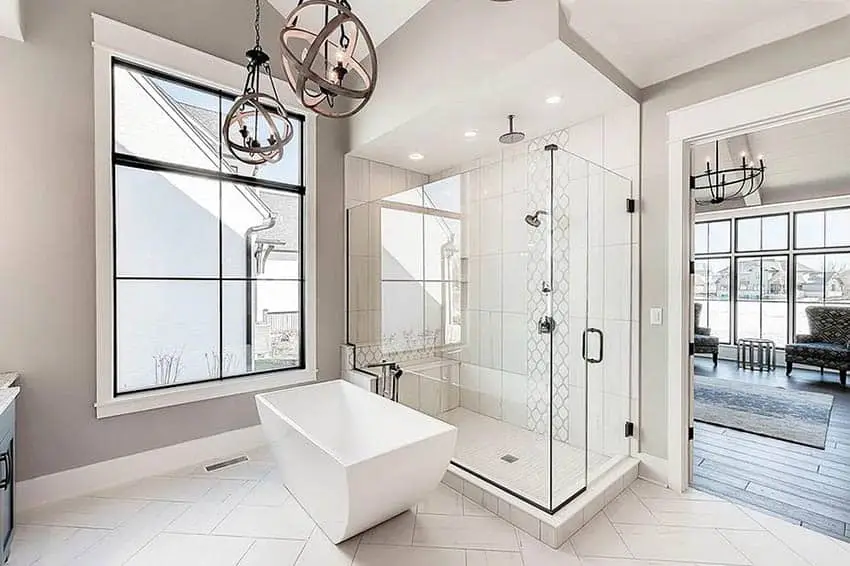 Overall the best flooring for a bathroom will be based on your specific project needs. Take a look at the amount of money you want to spend, the time you have to put into the project , how long you want it to last, and if there is any sustainability qualities you want to include.
Other important things to ask are whether you will be doing the work yourself, or getting installers to replace the flooring? Most importantly, what do you want it to look like? Based on the answers to those questions, some of the qualities of a few materials are below and will help decide the best bathroom flooring for you.
As far as the most popular flooring for a bathroom remodel, the top pick is ceramic tile. Ceramic tiles are waterproof, durable, resistant to stains and affordable, making them excellent choices for most home owners.
All in all there are many good options for bathroom floor tiles and there are no right or wrong answers. Weigh out the pros and cons listed below and before you know it you will have a brand new floor under your toes!
Tiles for Bathroom Floors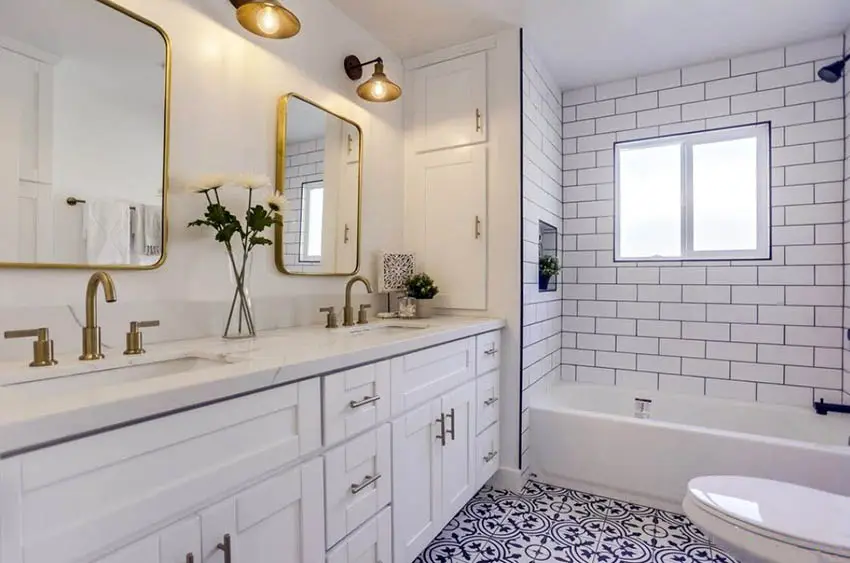 Ceramic Tiles – Ceramic tiles, as all other flooring materials have their pros and cons. Ceramic tiles are available in a vast array of colors, shapes and sizes. This variety allows them to fit into any existing or new, color or pattern scheme imaginable.
Depending on the size and location of the bathroom, you may consider the weight of these tiles. Often tiles are used on a smaller first floor bathroom versus a large master bathroom on an upper level. If weight is an issue you may consider strengthening the subfloor by using a layer of cement backerboard and laying tiles above it.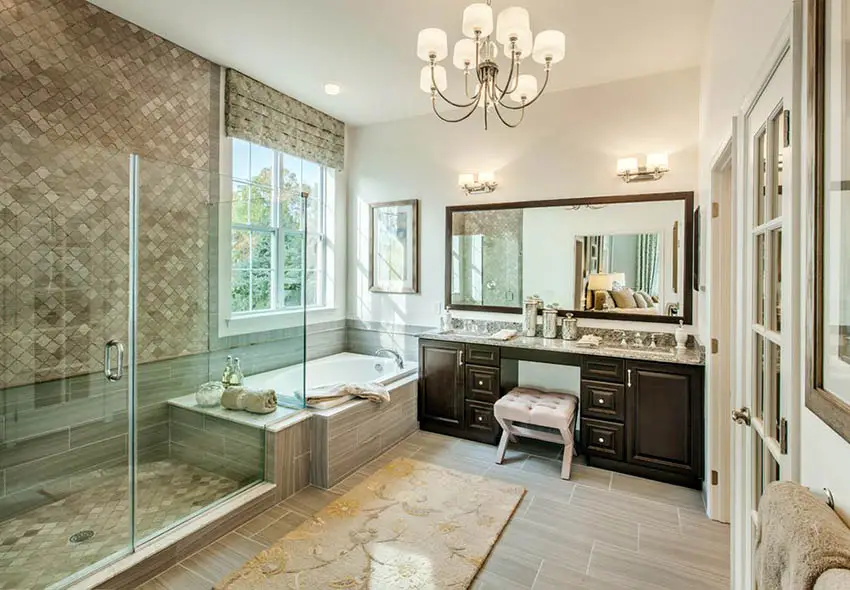 Porcelain Tiles – Knocking the price up just a notch will bring you into the porcelain tile category. These tiles will be similar to the ceramic tiles discusses above but they will have better hardness and will be a less porous material. These will also be a tougher install, adding a few extra dollars to the installation fees that will be needed.
Out of the two tiles mentioned, porcelain tiles are the better application in a bathroom setting due to the lack of porous qualities. Both materials will be easily maintained as well as durable.
This flooring will also be a little cold to the touch, which can be a good or a bad thing, depending on the weather! Check the cost below, but both are pretty comparable to that of the vinyl and cork that is listed.
One big plus of both ceramic and porcelain tiles is that they can be used as heated floors. With the installation of a radiant floor heating system combined with thin tiles that transfer heat efficiently, one can benefit from warm flooring rather than stepping on to cold tiles.
Vinyl Floors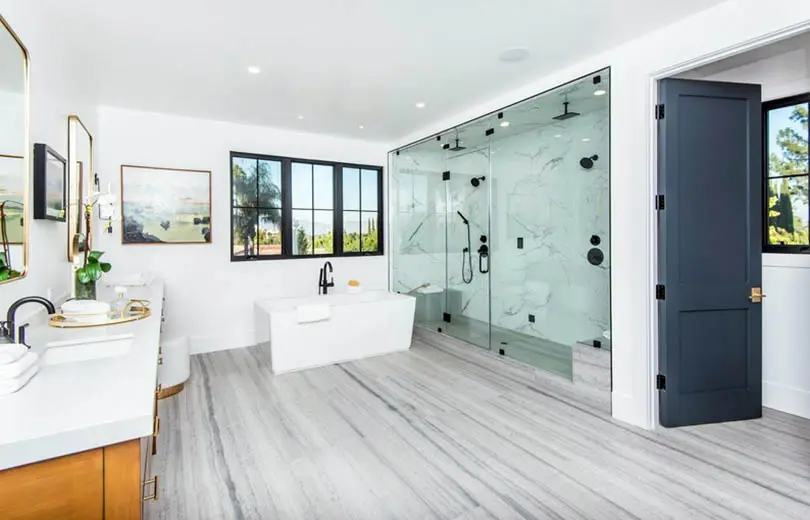 Sheet Vinyl – Sheet vinyl will be the number one option when it comes to vinyl flooring in a bathroom. When water spills are of a high probability it is best to leave as few seams as possible.
The extreme upside to sheet vinyl is that there is a possibility of have almost any style and color. This is because it is so popular that they can get a little creative with their designing.
Sheet vinyl in particular is very good quality because as mentioned it will have minimal, if any, seams and that is the most likely place that the flooring would fail or be incorrectly installed. Though it is not a very do-it- yourself project it will still be worth the extra bucks you pay for it to be installed.
Luxury Vinyl – Luxury vinyl can come in either planks or tiles. This flooring can be either water resistant or waterproof , and their prices will reflect that choice. Luxury vinyl tends to look more like the higher end products, hence its name of 'luxury' vinyl. Vinyl is a material that is relatively easy on the legs and feet unlike harder products like solid wood.
This material also holds the power to be installed over the existing flooring, which can save in demolition costs. Although all that sounds fine and dandy it is also good to keep in mind that this product does not add any value to the home, and if not installed correctly can look cheap. But as with sheet vinyl it is available in a wide range of styles and colors.
Often vinyl planks are made to resemble wood and tiles as stone, both very price conscience alternatives to the real deal.
Both of these products will be a very reasonable price and comparable to the cork and tiles listed. Prices are compared at the end. These often will be chosen in replacement of hardwood and natural stone due to their high prices and lack of water resistance.
Best Cheap Flooring for Bathroom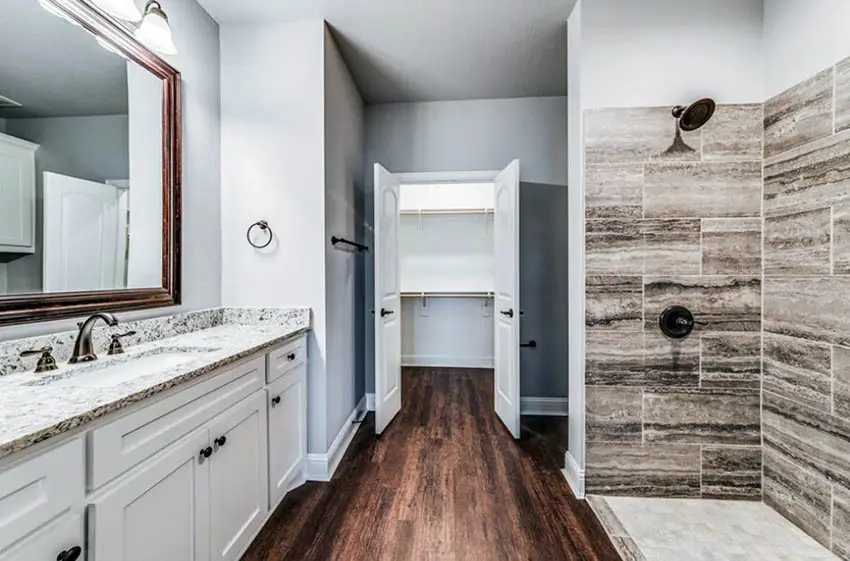 The best and cheapest flooring for bathrooms is vinyl. While this does not add any value to the home, it will also not cost you an arm and a leg (maybe just a few fingers).
When we think of the cheapest flooring that we can get, you will probably assume you will lose some of the aesthetic or quality, but that is not the case with vinyl.
As mentioned earlier vinyl will hold up extremely well when it comes to the water that will be present in the bathroom. In addition, you can get vinyl to look almost however you want it, so no need to give up any aesthetic hopes and dreams when the budget is looking to stay lower.
When talking just price though it is good to mention that both cork and the tiles mentioned are very hard competitors when it comes to the prices of materials suitable for bathroom floors, check below for the cost breakdown of vinyl and similar items.
Flooring to Avoid in Bathrooms
Hardwood Flooring– Hardwood flooring is a beautiful type of flooring, but usually it is not recommended for bathrooms. Most hardwood floors do not have much moisture protection except for a thin top coat. Bathrooms deal with quite a bit of water, and even the slightest bit getting into a hardwood floor plank can cause rot.
To avoid this as best as possible you will need to make sure the planks are installed with no gaps for water to get into, and finishing the flooring on site. It is also important to apply a polyurethane sealant to help protect the flooring. These things will require professionals and rack up the number when it comes time for payment.
If you do decide to go with wood in the bathroom choosing bamboo flooring may be a better choice than other wood species. While natural bamboo is not totally water proof it is more water resistant than other types of wood. However, do be aware that excessive water will cause wood including bamboo to warp and mold.
A great way to get the look of wood without the maintenance hassles is by installing a wood look porcelain tile. Wood look porcelain tile can give you the durability and beauty you want from real wood. Alternatively, vinyl flooring offers a variety wood styles to match practically any type of wood.
Carpet – Now a more obvious flooring material that is typically avoided in bathrooms is carpeting. While this does seem like a big no-no there are still people who use carpet in their bathrooms. In fact, my parents' bathroom is carpeted, and now that I think about that, it is extremely unusual. The reasoning behind this that bathrooms floors often get pretty wet, or has a lot of water spills.
Carpeting will retain the moisture for quite a bit, which will be undesirable not only to step on but also for mold and mildew reasons. If you do wish to have carpet it is suggested to use inorganic material and make sure the pile is low to allow for the cleanest an easiest to dry.
Sustainable Floors
Cork is a very good flooring choice if you are looking from a sustainability standpoint. Not only is it an eco-friendly flooring, but it is also mold and mildew resistant which will be a great factor for a bathroom.
This product is pretty easy when it comes to installation and it is on the softer side for standing and walking. Unfortunately cork flooring is not waterproof, though it is resistant to water which is helpful.
An added bonus of cork in a bathroom is that it will be warm when you step on in, which is always pleasant when exiting or entering the shower. Another downside to it is that it will need to be coated with polyurethane otherwise it could be susceptible to water damage or cracking. That doesn't seem to hefty a price for an eco-friendly, feet friendly, flooring to me.
As previously mentioned bamboo flooring is also a sustainable resource as it is classified as a rapidly renewable source. Bamboo which is actually a type of grass grows much faster than other wood species.
Flooring Cost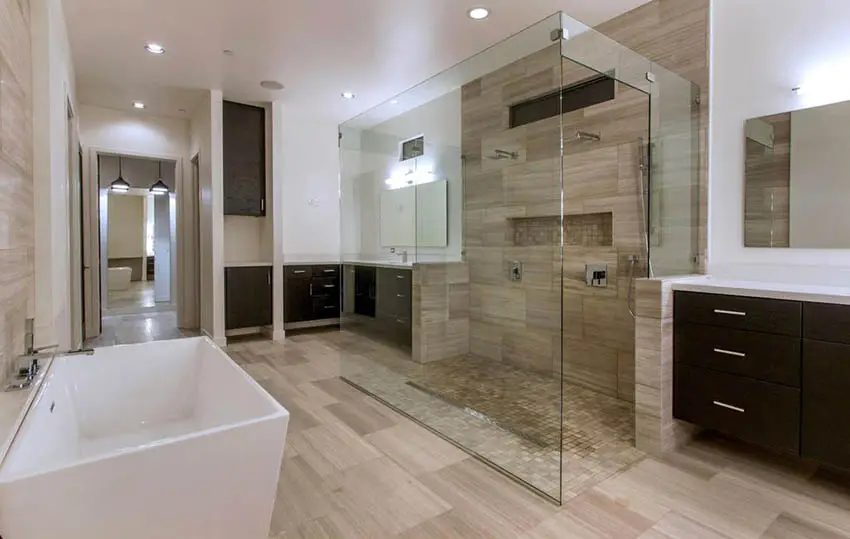 A big factor with any bathroom remodel project will be the cost so here is a little bit of a breakdown for the flooring discussed.
Tiles: Ceramic or porcelain tiles will run you anywhere from $1-$8 per square foot, depending on the quality. Add on $4-$8 for install and you will get an average of about $5.50 DIY, and $11.50 professionally installed.
Vinyl: Luxury Vinyl Flooring will run you anywhere from $2-$5 per square foot, depending on the quality. Add on $1.50 for install and you will get an average of about $6 DIY, and $7 professionally installed.
Cork: Cork Flooring will run you anywhere from $3-$8 per square foot, depending on the quality. Add on $1 for install and you will get an average of about $6 DIY, and $7 professionally installed.
To help you visualize your own designs there are a a variety of bathroom remodel software programs available. These can help you create your own bathroom layouts and bring in different flooring options and finishes to help you get a feel for them in your own space.