Here's our comparison of a shower liner vs curtain including their pros and cons, materials, and the most common Q and A related to shower curtains and liners.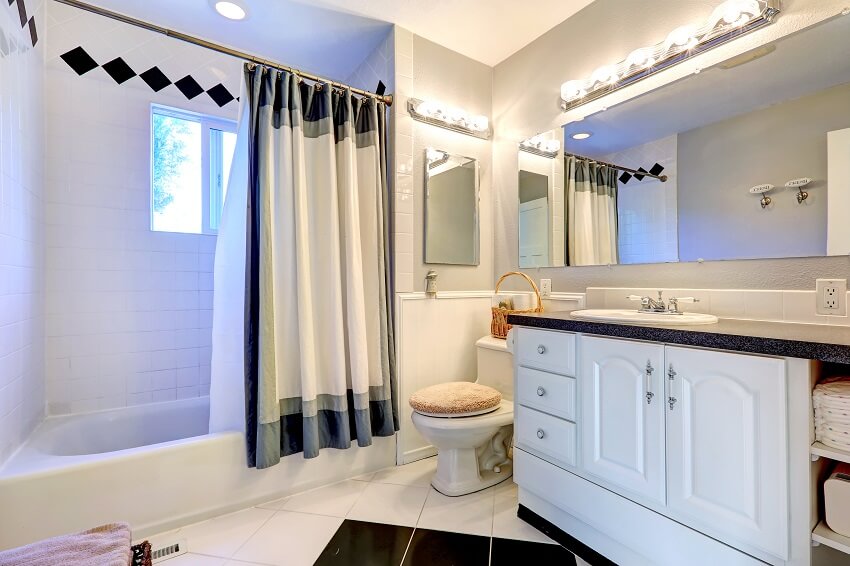 Shower liners and shower curtains are terms that you often see and hear as used interchangeably but are they the same? Yes they are, but up to a certain degree, they also have certain differences.
To cut it short, all shower liners can also double as shower curtains in function but not all shower curtains can double as shower liners.
What Is A Shower Liner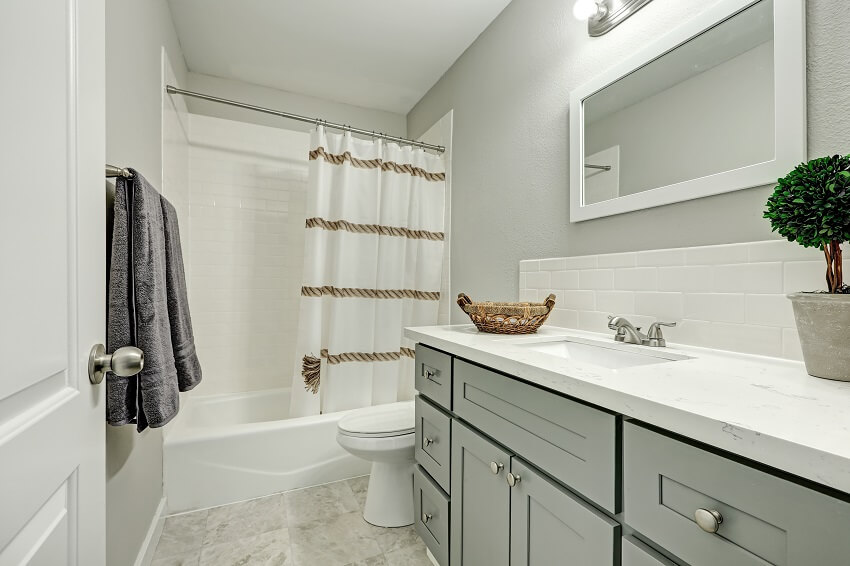 Bathroom shower liners have function at its core. Their main purpose is to keep the water inside the shower area and to stop it from scattering to the other parts of the bathroom. It's typically made out of waterproof materials such as vinyl and polyester; both of which are typically waterproof.
Shower liners have to be inside the shower base or the tub as they were specifically manufactured and put in for the purpose of keeping water from splashing all over the place.
What Is A Shower Curtain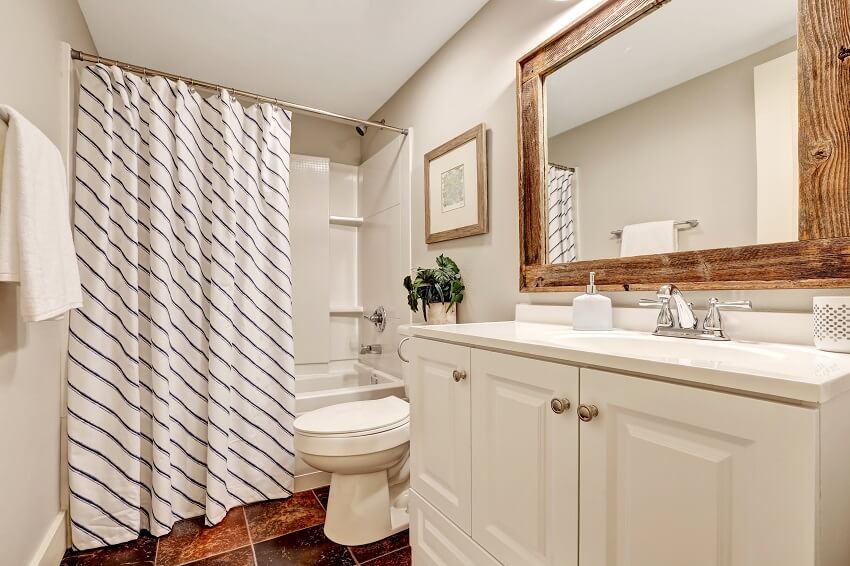 To explain this further, a shower curtain is used to provide some sort of screen of privacy or can even be used for decoration or to visually separate the other parts of the bathroom from the actual shower area. It can be made out of a variety of materials from linen, polyester, cotton, and vinyl.
Shower curtains also typically hang outside of the shower base or the tub and although there may be times that it can double in function by keeping the water in, that technically isn't its main or primary purpose. Read more about shower curtain sizes here.
Difference Between Shower Curtain And Liner
The lines are at times blurred on what the differences are between the two but at its core, it all boils down to function and practicality.
In its essence, shower curtains are mainly decorative with a lot of designs and colors as well as materials to choose from.
Shower curtains aren't necessarily waterproof, or at least that isn't the main requirement.

Shower liners, on the other hand, can only be categorized as such if they succeed in the function of keeping the water in the tub or in the shower space.
Do I Need Both A Shower Curtain And Liner?
It all boils down to preference, but if you're all about a functional aesthetic, then the answer to this would be yes.
With both you can keep your shower or tub area private while at the same time, you get to effectively keep the water in. That's exactly what a shower curtain and liner can bring to the table for your bathroom setup.
This is the most recommended and ideal setup in the bathroom as it's the perfect marriage of function and style. You can keep the water from spreading all over the bathroom floor when the shower or tub is being used while on the other hand, you get to bring the whole look together.
This makes sure that the design is cohesive with the rest of your bathroom aesthetics because of the different styles, colors, and materials that are available in the market right now.
Pros And Cons Of A Shower Liner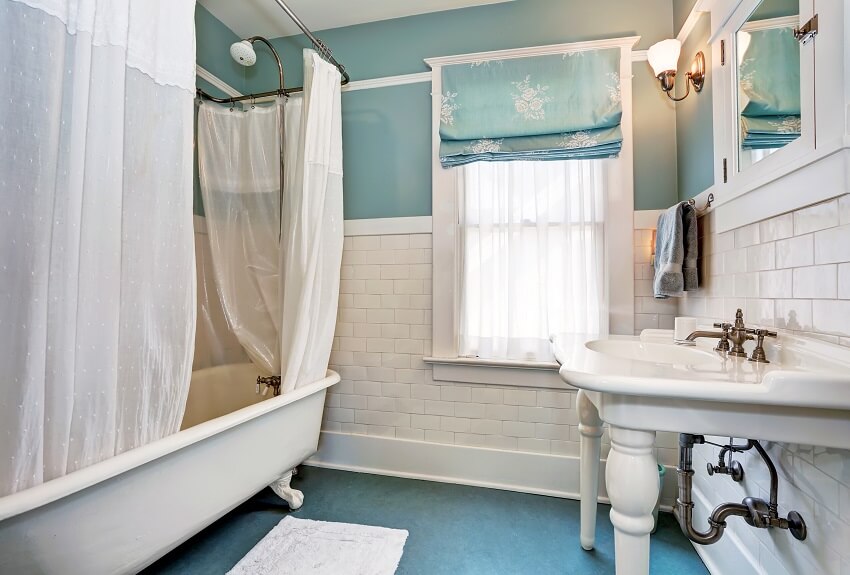 Pros
It's safer if you have children in the house as you get to keep an eye out for them when they're taking a bath, keeping bath time-related accidents and other injuries at bay.
Once it gets dirty, it becomes instantly apparent and you can do something about it right away.
Maintenance is a breeze as the material is waterproof so it works for people who prioritize hassle free sanitation compared to aesthetics.
Cons
Shower liners are a little limited in the design and aesthetics department so they may not always appeal to homeowners visually.
Mildew, grime, and other debris that build up in the tub or in the shower area are instantly visible and you can't hide them if you don't have the time to clean up.
There is no privacy at all in the bathroom so if you happen to be living with roommates, this can be a huge disadvantage as you can't use the space at the same time.
Pros And Cons Of A Shower Curtain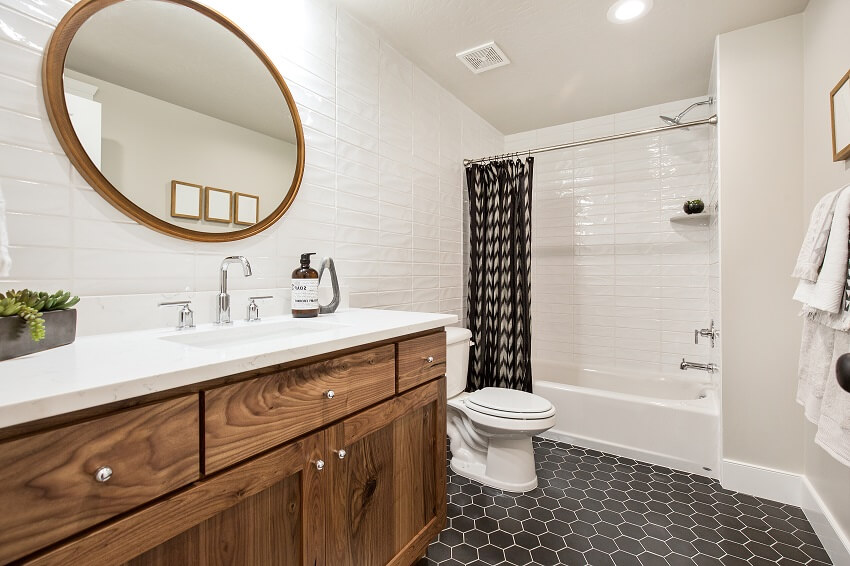 Pros
Bathroom sharing is very possible as opaque curtains in particular allow some privacy for the person using the shower. This means that he doesn't necessarily have to hog the bathroom space in the event that someone else needs to use the sink or the toilet while he's taking a bath.
You only need to keep one thing clean, instead of having to clean 2 bathroom accessories.
Cons
Can be quite prone to water damage as it can have grime, mildew, or mold buildup because the materials they're made of aren't always waterproof.
Shower curtains can be bothersome, especially the unweighted ones, as they don't necessarily stay in place and can blow over, touching you, while you shower.
Pros And Cons Of A Shower Liner And Curtain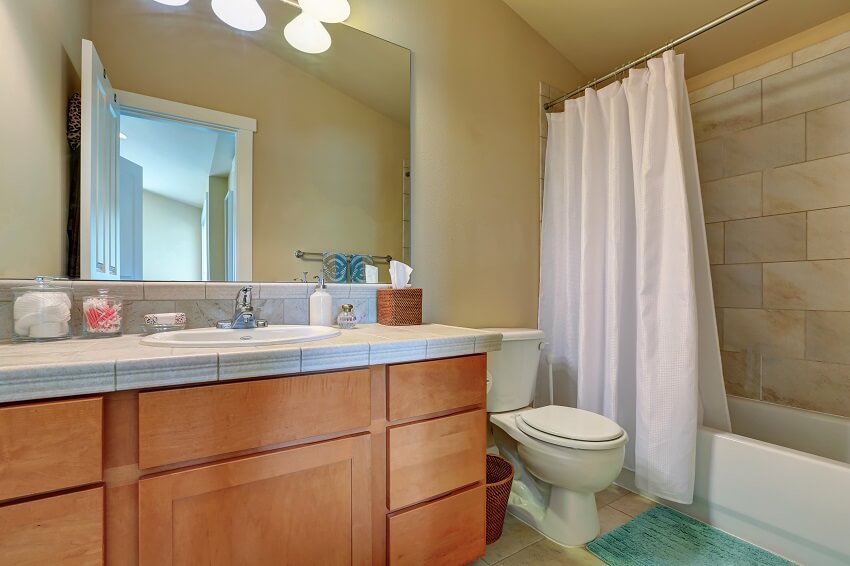 Pros
The lifespan of your shower curtain is extended as it's protected by the shower liner from the usual water damage.
Sharing the bathroom with other people is doable as privacy is ensured, whether the shower curtains are opaque or not.
You have the option to decorate it according to the style and theme of your bathroom without ever having to spend too much money on it.
Cons
The maintenance can be a little tedious as you would have to keep the two items clean while you're maintaining it.
Best Shower Liner And Curtain Materials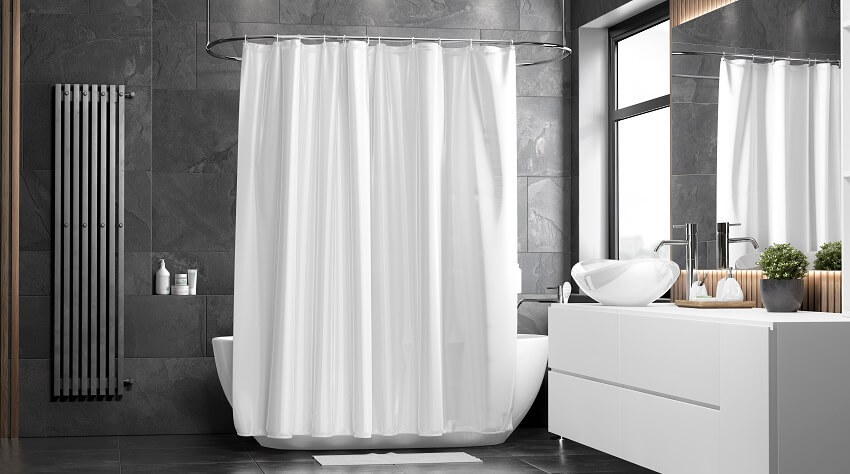 Shower liners and curtains can vary in materials and costs so if you happen to be on the lookout for something to buy for your bathroom, there is sure to be something available out there for your specific taste and budget.
Shower liners and curtains can range anywhere from $10 to over $300, depending on how high end the products will be. Here are some materials to keep in mind.
For Shower Liners
Vinyl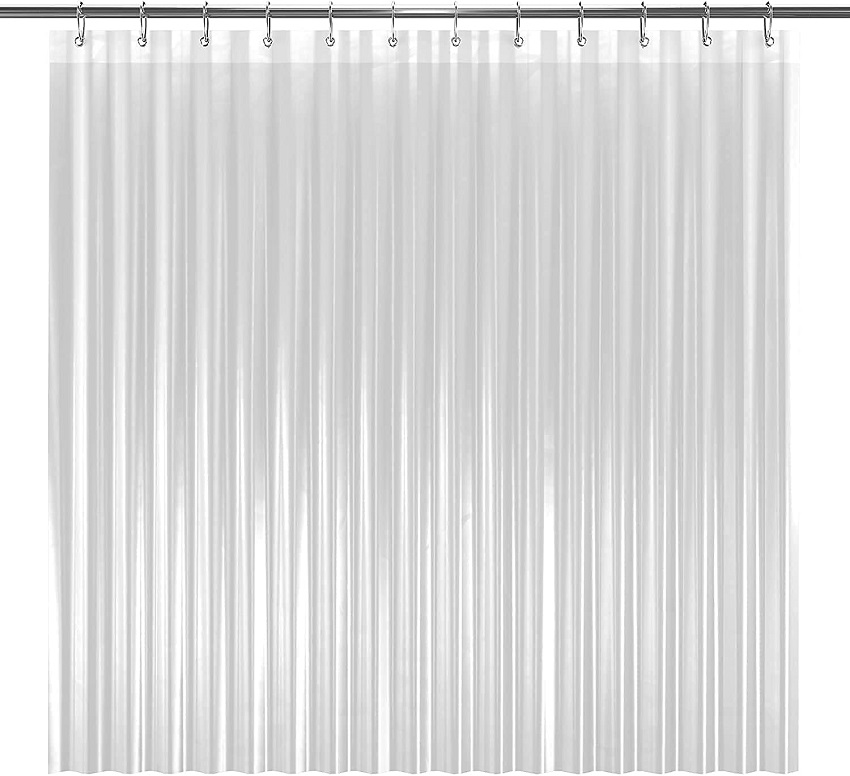 See this Liba mildew resistant anti-bacterial curtain at Amazon [sponsored link]
If you're on a budget, vinyl is your best option for a shower liner. They're generally cheap but at the end of the day, they can definitely get the job done.
Cleaning them up would usually involve just wiping them down. Also, because of the fact that it's so inexpensive, you can easily replace it with a new one or recycle it when it happens to get too dirty.
Go for vinyl that's made out of PEVA instead of PVC as PVC can be toxic.
Polyester
If you're on a budget, want an extra layer of privacy, and are health conscious; polyester can be your best material for a shower liner.
Polyester doesn't have any PVC content at all and is machine washable and is also quite affordable.
This material is also opaque which means you get to enjoy some privacy while enjoying the benefits of keeping the water inside the shower or tub area.
For Shower Curtains
Cotton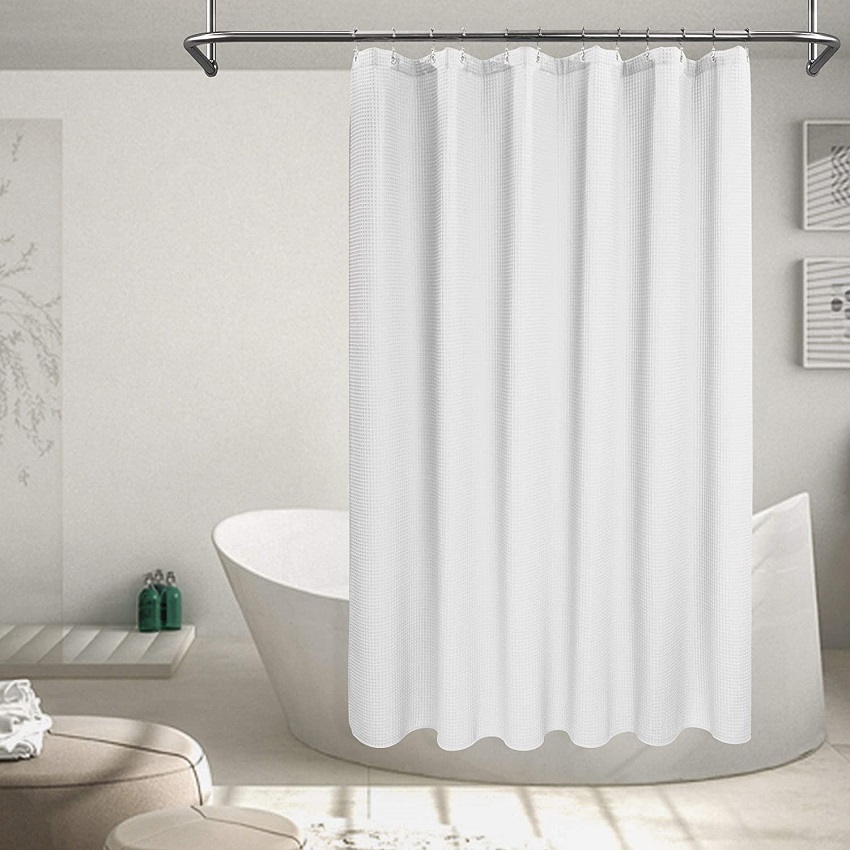 See this Barossa design cotton honeycomb shower curtain at Amazon [sponsored link]
Cotton is the best material to go for in a shower curtain as there are so many textures, thickness levels, colors, and designs to choose from; allowing you to maintain the aesthetics in your bathroom area.
Whatever your bathroom décor may be, you're bound to find a cotton shower curtain that will match it. Keep in mind though that you would need to have a liner installed so that you don't end up ruining it from water damage.
Linen
If you want to upgrade the décor aspect and don't mind spending a little bit more or even the extra task of getting it ironed, you might want to go for linen shower curtains. Linen is far sturdier than cotton which makes it reasonable why they would normally cost more.
Linen tends to shrink when washed incorrectly so take note of the washing instructions before you throw it in the washer. It also wrinkles easily so you would have to iron out the wrinkles to keep its appearance nice and seamless.
Shower Curtain Liner Q & A
Here are the common questions most homeowners have related to shower curtains and liners.
Is A Fabric Or Plastic Shower Curtain Better?

Fabric shower liners are generally more pleasing to the eye and bathroom design. Fabric is also quieter than plastic liners. A fabric liner is also better for the environment and doesn't leach harmful chemicals. However, a plastic liner is much easier to clean and don't require being machine washed.
How To Prevent A Shower Curtain Liner From Mildewing?
Keep the material as dry as possible. This is the best way to keep mildewing at bay for shower curtains. Make a habit out of pulling the liner along the tub so that the shower curtain doesn't get to wet.
Some ventilation will also help and accelerate the drying process so you might want to leave a door or window open to let some air in. for the purpose of keeping everything sanitary, make sure that you get it cleaned or washed at least once a week.
How Often To Replace A Shower Curtain?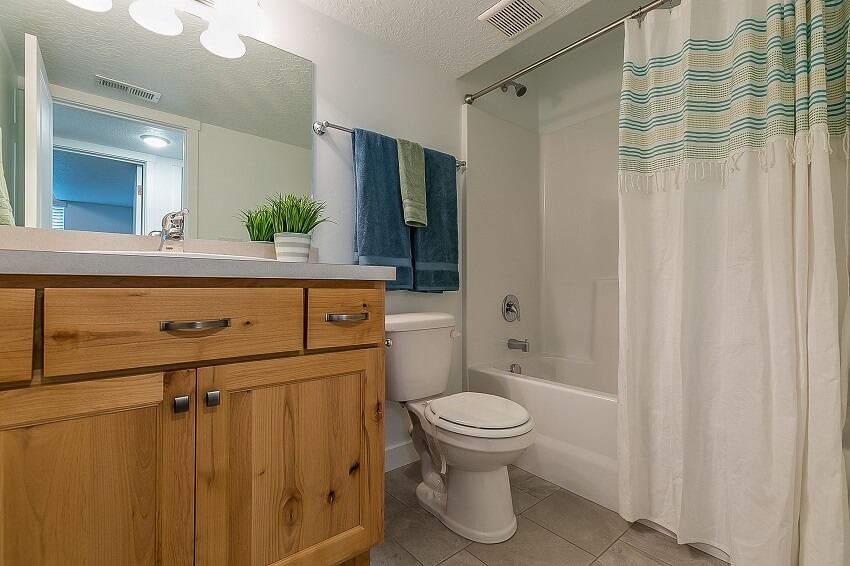 For plastic shower curtains, the typical lifespan is anywhere from 3 months up to a year but the general rule of thumb is that you should get it replaced the moment that you find it difficult to clean out any mold and mildew buildup.
For fabric shower curtains, it can have a lifespan of up to several years and you can extend it even more by using a shower liner with it.
Do Shower Curtains Stay Inside Or Outside The Tub?
Shower curtains stay outside the tub. They were never meant to get soaked in or exposed to water and keeping them outside just makes it easier to accomplish that way. The shower liner is designed to stay inside the tub to repeal water with the curtain on the outside.
For more related ideas, check our guide to the types of glass shower doors.