Learn the best ways on how to decorate bathroom counter including selecting the right countertop, choosing the vanity, and adding accessories.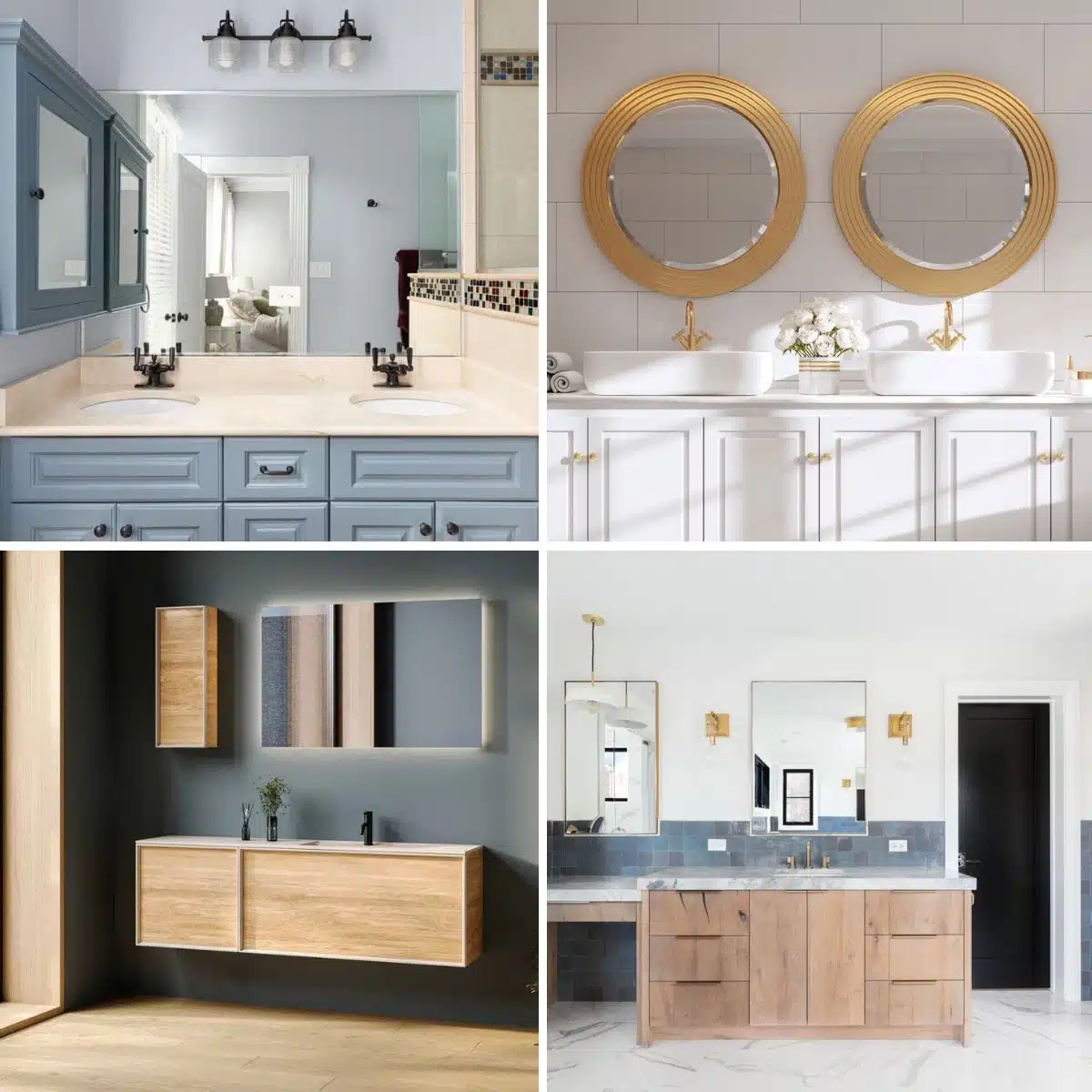 For most people, it is a challenge to decorate their bathroom and produce a design in which every element works together to create a personal oasis in the comforts of their home.
One of the most prominent features in a bathroom is the counter. It sets the tone for the whole design scheme and should be a space sufficient for preparation and storage, decor, and functionality.
It needs material that is durable enough to withstand the bathroom undertaking. Within my profession as an interior designer, I would like to share with you how to decorate your bathroom counter and transform it into a beautiful and functional space.
Utilizing Wall Space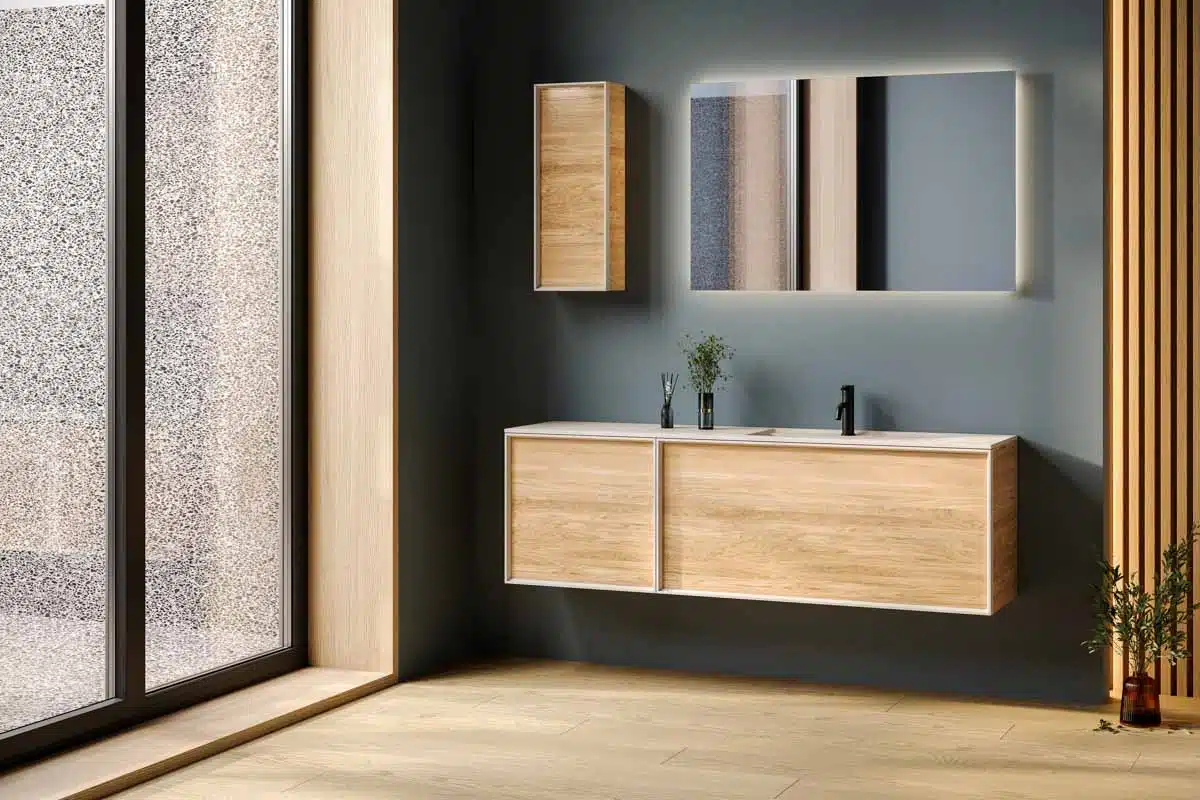 Wall spaces can be a great bathroom storage solution to stay organized. Bathrooms can easily become cluttered; wall space can be a smart way to clear bathroom counters.
For a more modern vanity design, there are wall-mounted vanities which are also known as a floating bathroom vanity. This type of vanity is mounted directly to the wall providing more open floor space for a sleek modern look. They are constructed to have a sink, drawers, and cabinets for storage. The elevated design creates extra space for baskets and organizers.
Free up your bathroom countertop by mounting the faucet to the wall. Utilize wall space in your bathroom by installing a medicine cabinet with a mirror and placing light fixtures over the mirror that lays flush against the wall. You can add a towel bar and hooks on the wall to hang towels and robes. A storage ladder that leans on the wall can be an interesting piece to hang towels.
Attach wire baskets to a bathroom wall to store lightweight toiletries and other bathroom essentials. Install floating shelves to display decorative items and some bath accessories offering a functional rustic aesthetic. You can also mount over-the-door shelves to keep towels and linens within reach.
For smaller bathrooms, every space for storage counts. Incorporating built-in open shelves all over the bathroom walls will provide extra storage space for everyday items or use it to display plants, framed artwork, and other knickknacks.
A recessed shelf or niche can be incorporated on walls near the tub or in the shower area to provide extra space to store soap bars, bath salts, shampoo, hair conditioner, and body wash well within reach.
Incorporating Color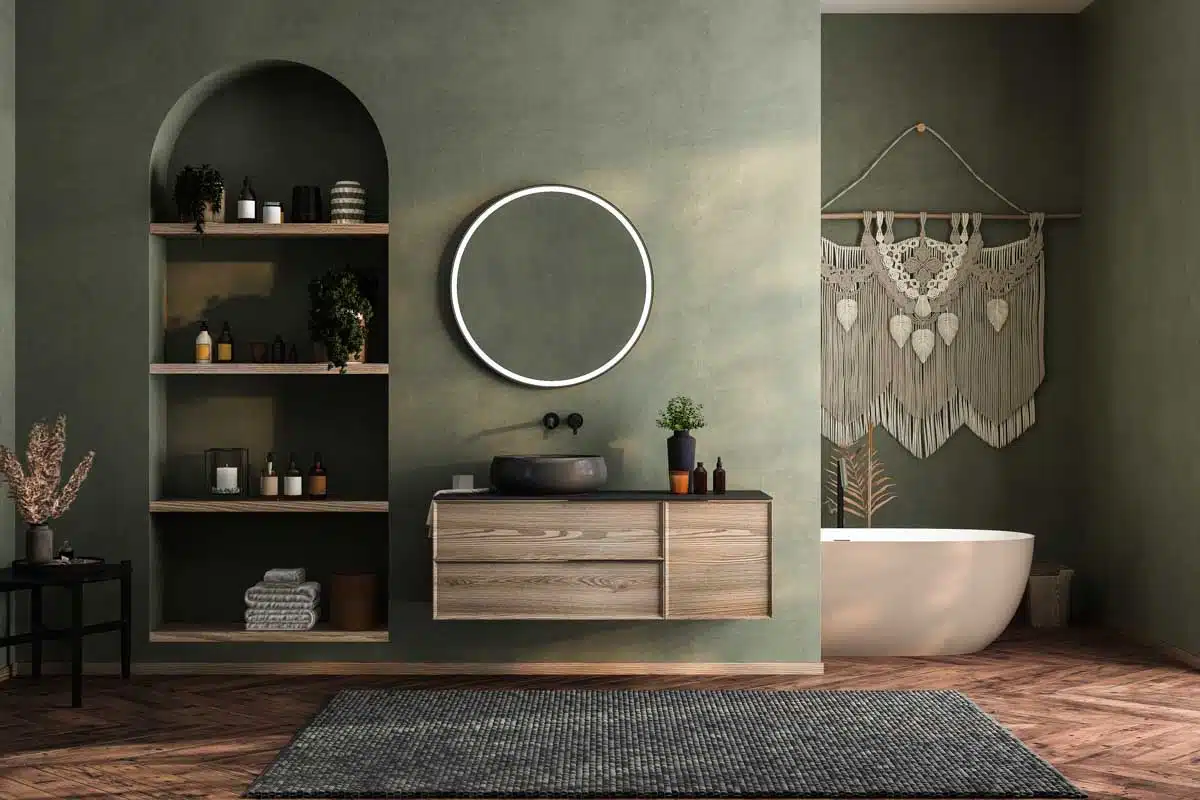 Color is the most essential visual element in enhancing aesthetics in interior design. When choosing which bathroom colors will work together, consider the ambiance you want to achieve.
In creating the perfect color scheme for your bathroom, choose one neutral, one rich color, and one accent color and apply the 70-20-10 color distribution rule. The lightest color in your color palette should be at 70 percent color value followed by 20 percent of the next color while the remaining 10 percent will be for the accent colors.
Another color distribution rule that can help you incorporate colors in your bathroom is to pick one accent color and use it repeatedly at least three times within the elements in your bathroom. These patches of colors that repeat throughout the bathroom create a cohesive flow and tie all the design elements together.
Mixing two neutral colors such as white and black often reflects simplicity and sophistication. White brings a sense of freshness and hygienic feel while black offers a classic and versatile look that can adapt to changing design trends and offers a chic modern look. On the other hand, using two contrasting bright bold hues will give you a more energetic and invigorating color combination.
TIP: To balance vibrant colors choose one neutral color as a base and make it the dominant color. When using two colors for your bathroom color scheme, use seventy percent of the lightest color as your base color and use the other color at thirty percent.
Incorporating Texture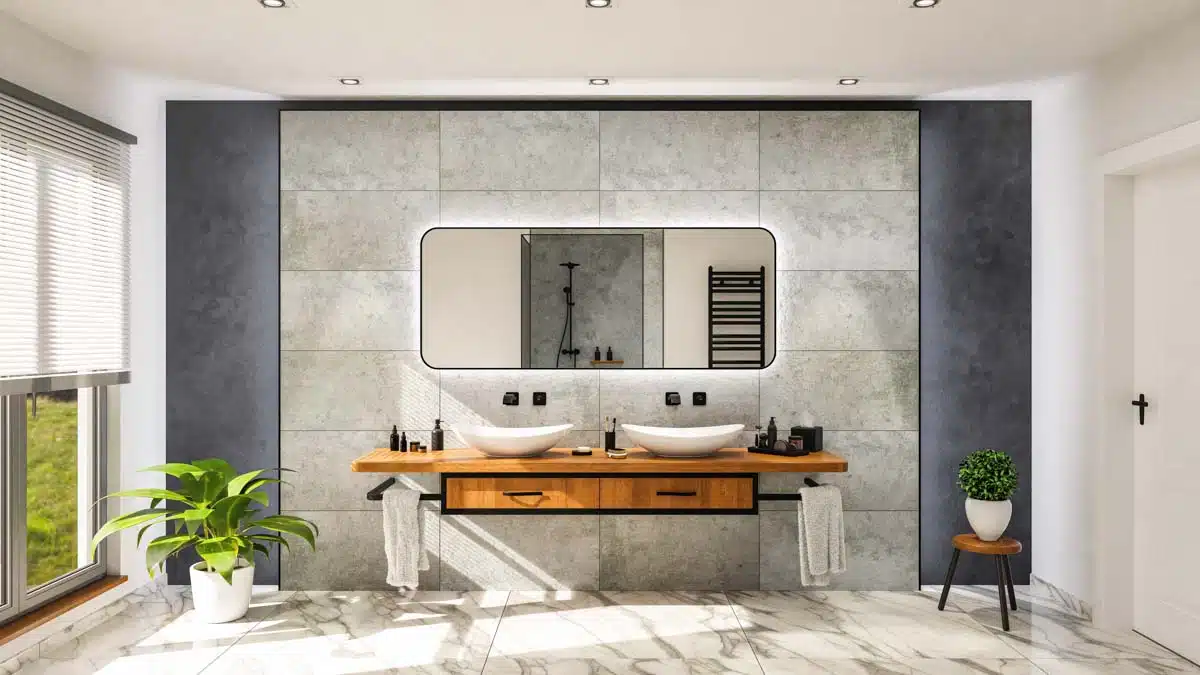 Using the surface structure of the existing elements in your bathroom offers you an advantage when trying to incorporate a tangible texture into your design scheme. Mixing and layering materials as well as integrating contrasting patterns will allow you to achieve the style you want for your bathroom. Tiles with various patterns, shapes, and finishes will provide a stunning textured space that presents vitality and charm to the bathroom's aesthetic appeal.
Choose textures that match your design scheme. For example, a smooth and polished surface offers a sleek and modern charm while a variety of wood combinations with natural grains will create a more rustic vibe.
Ribbed, grooved, or fluted surfaces can be a focal point in your bathroom that creates dimension and visual and tangible texture. Different fixture finishes such as brass, chrome, or matte, add additional character and impact to your bathroom design scheme.
Adding Accessories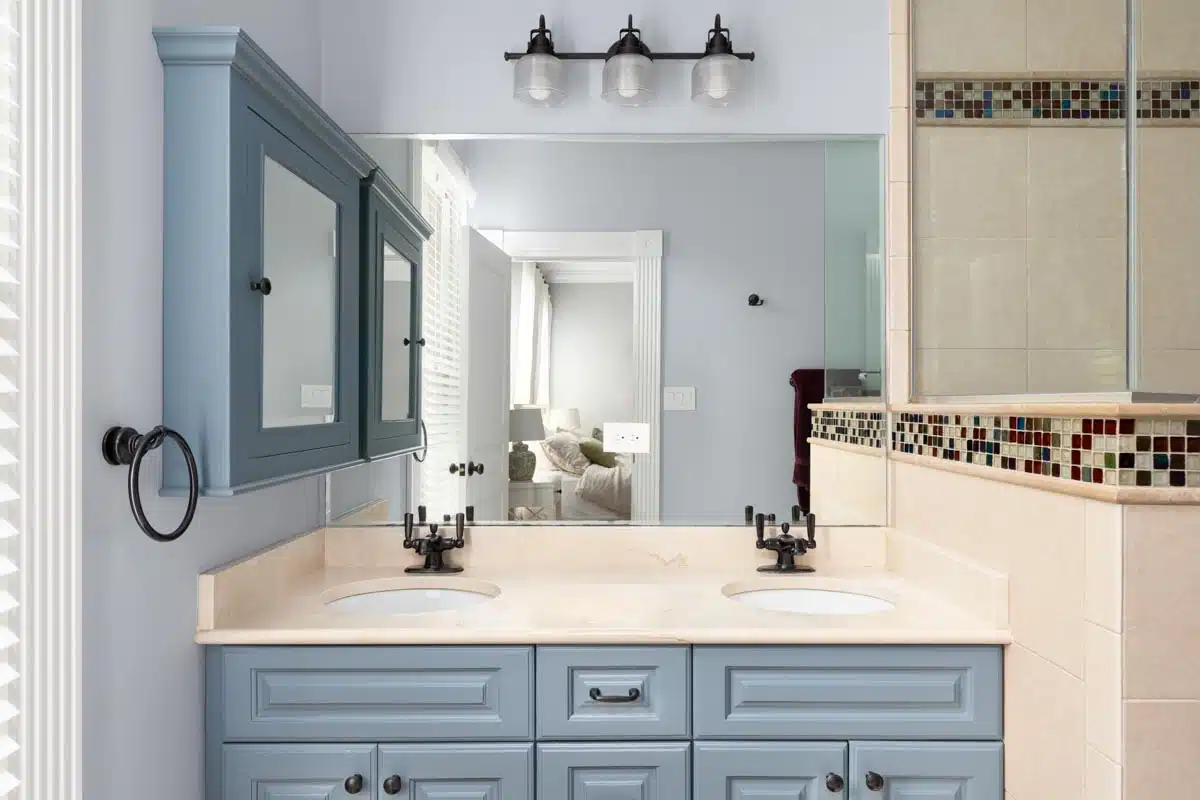 Adding the right bathroom accessories helps keep the bathroom functionally organized, making your daily routine more efficient. It is one of many inexpensive ways to upgrade the aesthetic of your bathroom. Installing quality rain showerheads can go beyond simple functionality and can increase the value of your home.
Lighting fixtures, such as wall lights, ceiling lights, shower lights, and mirror lights not only provide an all-around illumination but also enhance the mood and atmosphere in your bathroom.
Bathroom accessories such as soap dispensers can control the amount of soap you use when washing your hands while soap trays keep your soap dry and prevent soap from soaking in still water. Shower caddies, storage containers, and toothbrush holders keep your toiletry items tidy.
Towel rings and rails come in a wide range of styles and can be both functional as well as decorative. Accessories such as bath towels, rugs, shower curtains, trash bins, hampers, and wall art can add vibrancy and visual interest to your bathroom.
Installing accessible handicapped handrails, grab bars, and non-slip mats can also improve safety and minimize the risk of slipping, especially in the shower area. Innovative features such as an adjustable toilet seat provide extra security for the elderly and persons with disabilities.
Customizing your accessories allows your bathroom to feel more personal and can give your bathroom a unique design look and feel. A personal touch will give your bathroom a serene atmosphere that is calming and relaxing. See more related content in our article about the different bathroom styles on this page.
Hanging Art and Using Décor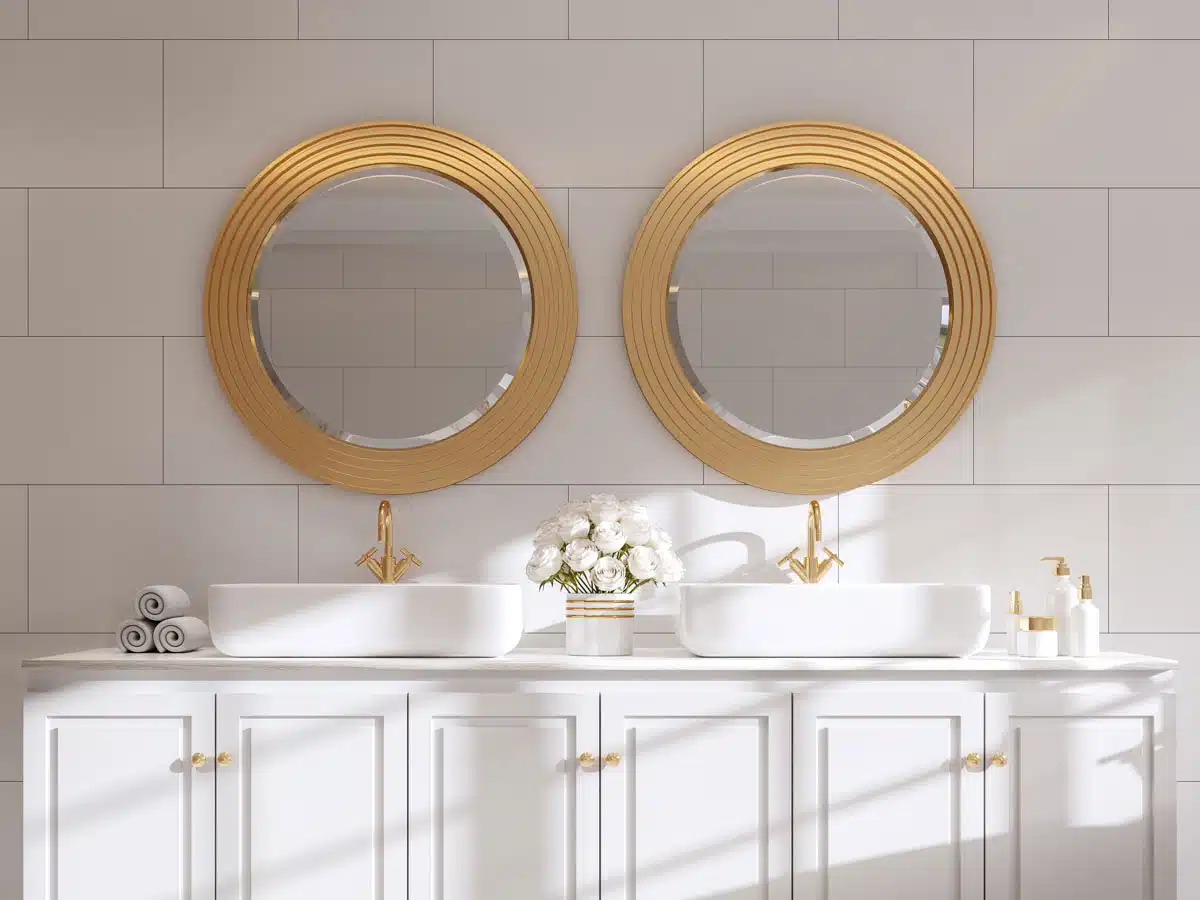 The biggest issue in the bathroom is humidity. There is a lot of moisture and steam being produced especially from the tubs and shower area; this type of environment can damage and ruin artworks.
Moisture can get trapped under the glass, the best options to use are inexpensive pieces of artwork on canvas, wood wall art, and metal prints. These artworks need to be sealed to withstand moisture damage.
Another factor to consider in hanging art in the bathroom is placement. Avoid hanging artworks near the source of water or where they are likely to be exposed to steam. Keep your artwork away from direct sunlight, the UV rays can cause pictures to lose color over time.
Try incorporating an accent wall décor on your bathroom countertop wall that features beautiful tile work and adds texture to your bathroom. Integrate some pattern tiles to create interest in the bathroom, these light-colored patterned tiles will make the bathroom feel larger and can visually increase the height of your bathroom.
Add some natural elements such as wooden stools or a bench, small accents of foliage, and some containers made of organic materials. These design elements add warmth and a welcoming feel to your bathroom. For a high-end modern appeal include some gold and metallic details in your bathroom elements. The right balance of natural elements and modern touches offers a visually dynamic aesthetic.
Adding Plants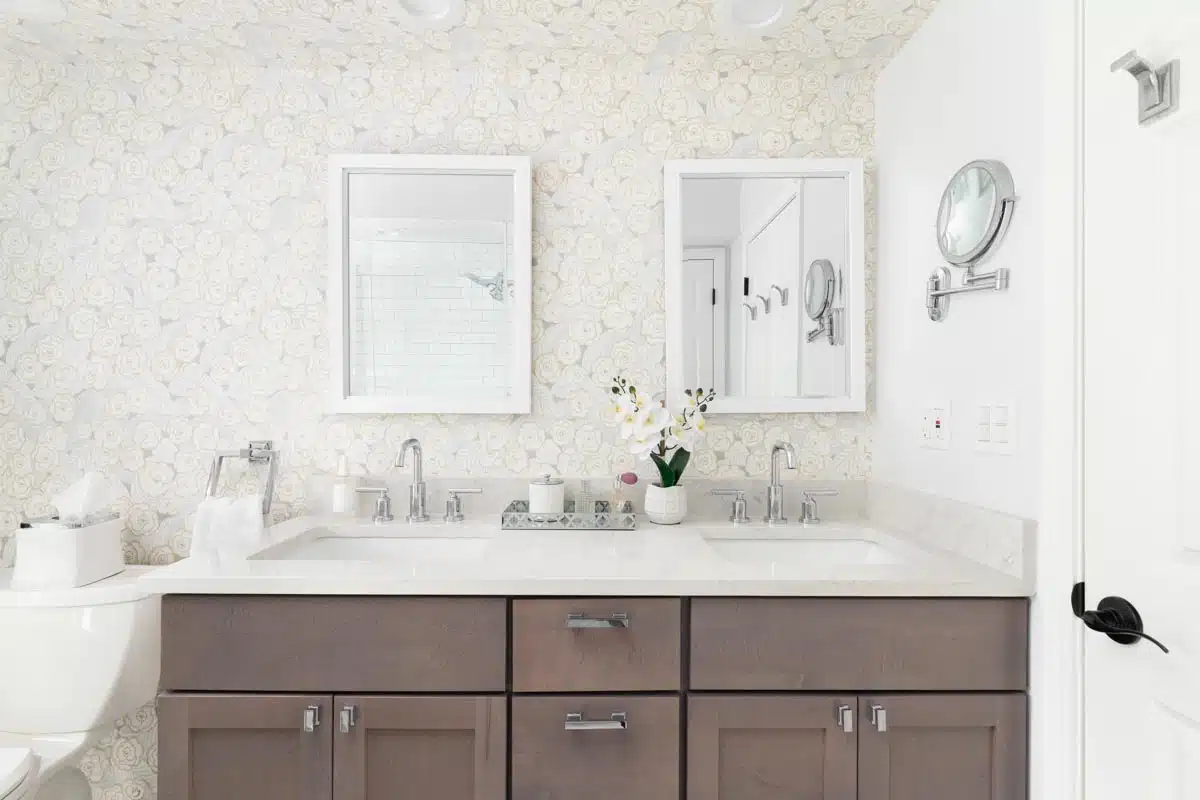 Houseplants offer a relaxing feel and give a peaceful vibe to the house, and the bathroom is one nice place to add plants. Placing plants at the corner of the bathroom countertop is a perfect place to add some cheer to this neglected part of the bathroom.
Another vertical space that is perfect for hanging plants is in the corner of the bathroom. This spot is usually clear of traffic, so you do not have to worry about bumping your head onto the pot. Some of the best hanging plants for the bathroom are ferns because they love moisture and cool temperatures, as well as thrive in low-light environments.
Pothos plants have an attractive vining look and can tolerate low light as well as bright indirect light; plus, they will appreciate the extra humidity in the bathroom. Air plants do not need soil to survive and they live off the moisture in the air; just make sure you do not hang them in direct contact with the shower stream.
TIP: Place tall snake plants under the wall-mounted sinks, this idea is perfect for snake plants since they can hide those plumbing fixtures under the sink.
These houseplants go well with a variety of artworks bringing personality and color to the space. Adding plants in your bathroom allows you to enjoy nature while your plants love the humid environment.
Utilizing Storage Solutions
The main purpose of incorporating a bathroom vanity is to provide storage space for your bathroom essentials. Drawers, shelves, and cabinets are important storage options that will help organize, store, and give easy access to toiletries and other bathroom essentials. Always consider your storage requirements and make sure that there's room for all of your bathroom necessities.
One of the most common storage solutions is replacing a mirror with a mirrored medicine cabinet. Deep bins are perfect drawer organizers and create ample sectioning for all of your necessities within the vanity drawer.
Multi-purpose organizers work great in a cabinet or under the sink space to segregate toiletries and different bathroom accessories. Clear stackable drawers or bins are great for accessing your bathroom necessities with ease and creating a system to avoid overcrowding your countertop.
For a statement piece inside your bathroom that can also be used as a storage solution, use a ladder shelf. This unique storage option offers a charming vibe to your bathroom. You may also incorporate shelves above the toilet for storage and use this extra space to store bathroom accessories, giving your bathroom a chic and neat look.
Incorporating Lighting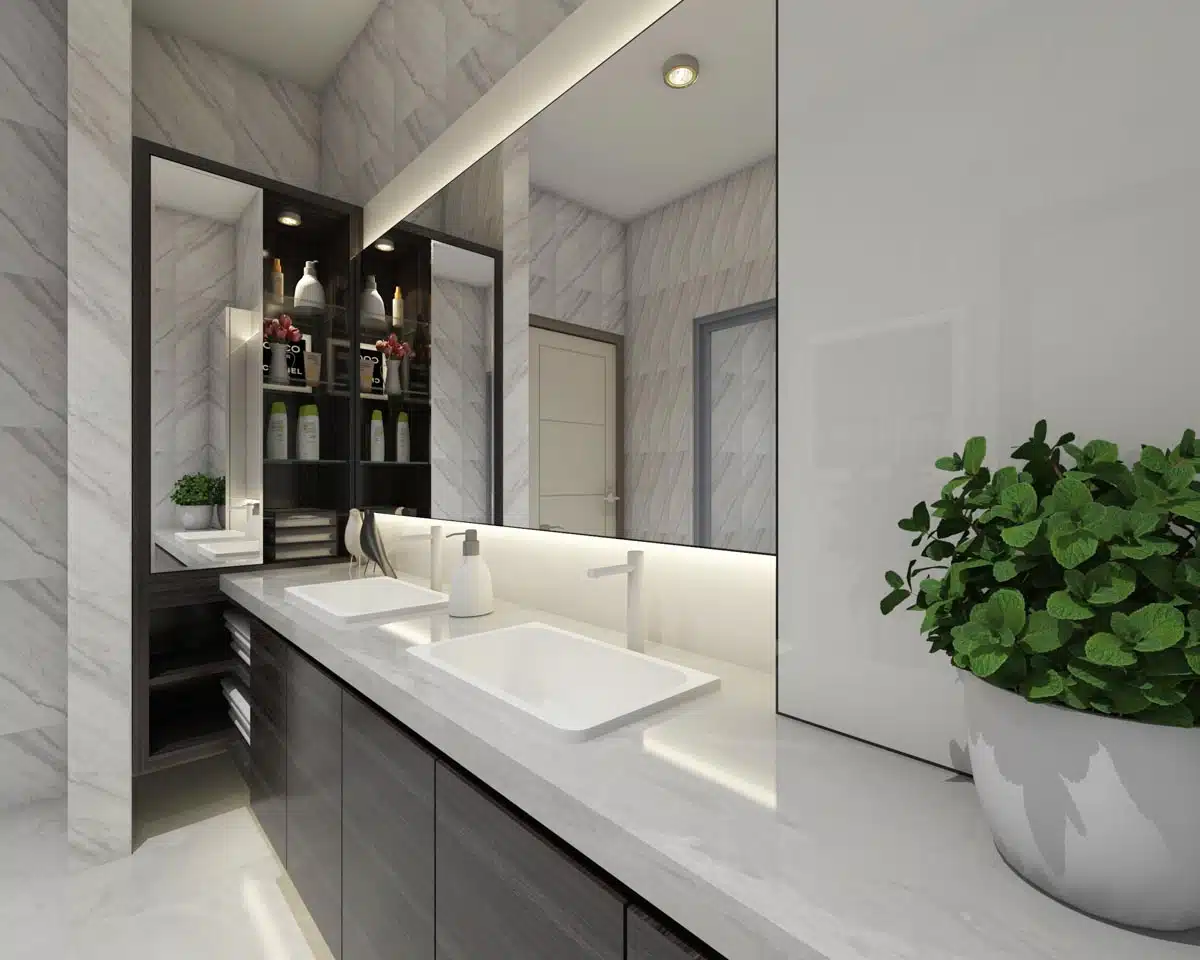 Lighting is an important aspect of any bathroom because it provides better functionality, creates a relaxed and restful atmosphere, and reduces the risk of injury. Since the bathroom countertop is where grooming routines get you ready for the day, adequate lighting, proper light fixtures, and placement will help define the space and enhance essential functions.
There are three ways to guarantee ample light illumination – ambient, task, and accent lighting.
Ambient lighting is the primary source of lighting in the bathroom and offers a sense of warmth to the room. Examples of ambient lighting are chandeliers, track lights, recessed lights, and wall or ceiling-mounted lighting fixtures.
Task lighting illuminates' smaller areas such as the bathroom vanity area where beauty and grooming tasks are being performed. This area needs more intense light which is why the task light should be three times brighter than the ambient lighting.
Accent lighting is more used for adding visual interest to a room. It is incorporated to draw attention to specific objects or architectural features in the bathroom. Accent light can also act as the centerpiece in your bathroom. Incorporating light into the mirror offers a beautiful way to highlight the vanity area.
TIP: Placing lights on each side of a mirror will deliver the best light for make-up and grooming tasks. Mount lights 65 to 70 inches from the floor, at about eye level to allow light to fully illuminate your entire face without casting shadows. For lighting fixtures above the mirror, the ideal height for installing fixtures above the mirror is 78 inches.
Selecting the Right Countertop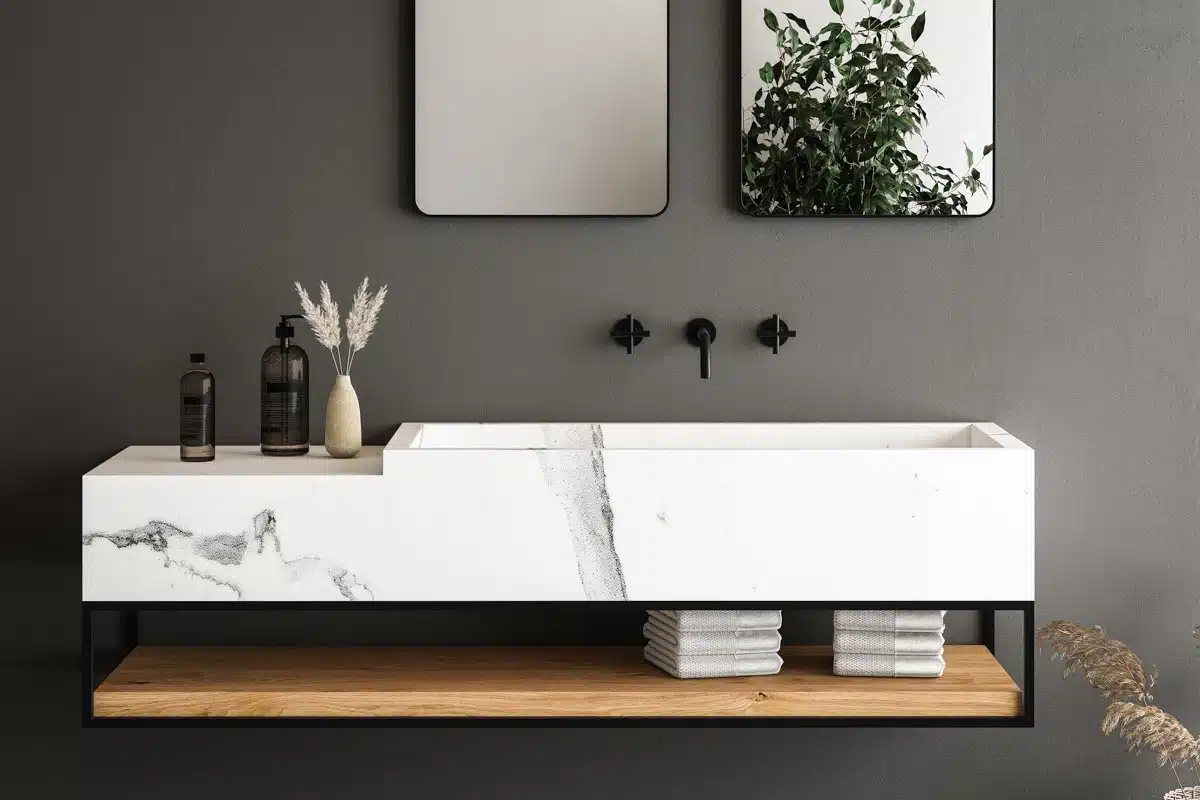 Selecting the right countertop that works well is vital because it is the first thing that draws attention within the bathroom space. With so many options for bathroom countertops to choose from, finding the best countertop material can be overwhelming. Here are our top bathroom countertop materials that we highly recommend:
Quartz is our top choice for bathroom countertops due to its heat and scratch-resistant characteristics. Aside from having a variety of different color options, quartz countertop has overall durability.
Quartz is extremely easy to clean given that it does not stain and does not need sealing or waxing. Quartz has a more consistent appearance and it is not porous. However, it is a bit costly since it is an engineered stone.
If you love a luxurious natural stone bathroom countertop, choose granite. It is extremely durable and heat resistant. However, since granite is a natural stone, it is prone to absorbing liquid as it is a porous material. Granite bathroom countertops require to be sealed regularly.
Granite countertops offer natural beauty, durability, and resistance to heat and scratches. They come in a wide range of colors and patterns. – Interior Design: A Comprehensive Guide, Ayush Agarwal
Other natural stone materials are quartzite and marble. Quartzite is harder than granite, extremely durable, and resistant to scratches, chipping, stains, and heat. As a natural stone, it needs to be sealed frequently. Quartzite countertops have distinct veining and typically come in bold colors. Its main characteristics are durability, stain, and heat resistance.
On the other hand, marble is a popular choice for bathroom countertops for its elegant, unique pattern, and distinct look that also comes in a wide variety of colors. Unlike granite, marble countertops are more porous and require more sealing maintenance to prevent the surface from staining. Marble countertops cost more than granite.
For a more affordable option but with much the same appeal as its natural stone counterpart, we recommend using cultured marble. Made with marble dust and resin, the surface of cultured marble is both dense and durable.
There are also countless options for colors and a variety of patterns to choose from. The most excellent feature of this material is that it can be designed into any shape and size plus it can even allow sink basins and backsplashes to be integrated into its construction. It can be used for a one-piece counter without the grout lines.
Moreover, unlike natural stone, cultured marble countertops are non-porous, easy to clean, and they are resistant to impact and stains. Maintenance is stress-free since these cultured marble countertops are already sealed at the factory.
Another budget-friendly bathroom countertop is the laminate counter because they are simple to maintain and can easily be installed. These laminate countertops come in a variety of different colors and design options. They are non-porous and can withstand heat.
The durability and maintenance of countertops are important because of the bathroom's moist atmosphere and for the reason that bathroom countertops should be able to maintain hygiene and cleanliness as well as have enough space to manage clutter.
Other factors to consider when selecting bathroom countertops are the cost of materials, installation charges as well as transportation time, and fees especially when installing the countertops, yourself.
When installing bathroom countertops take into account the weight of the material since most materials might not be easy to manipulate on your own. Plumbing and cutting holes for the sink and faucet that require precise layout should be done by professionals.
Other factors to take into consideration are the availability and sustainability of countertop materials. Locally sourced materials have a lower environmental impact and keep in mind that delivery delays can cause setbacks for the project. Knowing how the material was manufactured and where it was sourced who help you appreciate your bathroom countertops more.
TIP: Choosing the right bathroom countertop material is more of a personal choice and it identifies your design preference. If you go for the aesthetic appeal of your bathroom, then you can opt for the granite or quartzite countertop material.
If your concern is durability, you may want to consider quartz bathroom countertops. If you are budget-conscious and prefer a low-maintenance bathroom countertop then laminate is the best choice.
Choosing the Perfect Vanity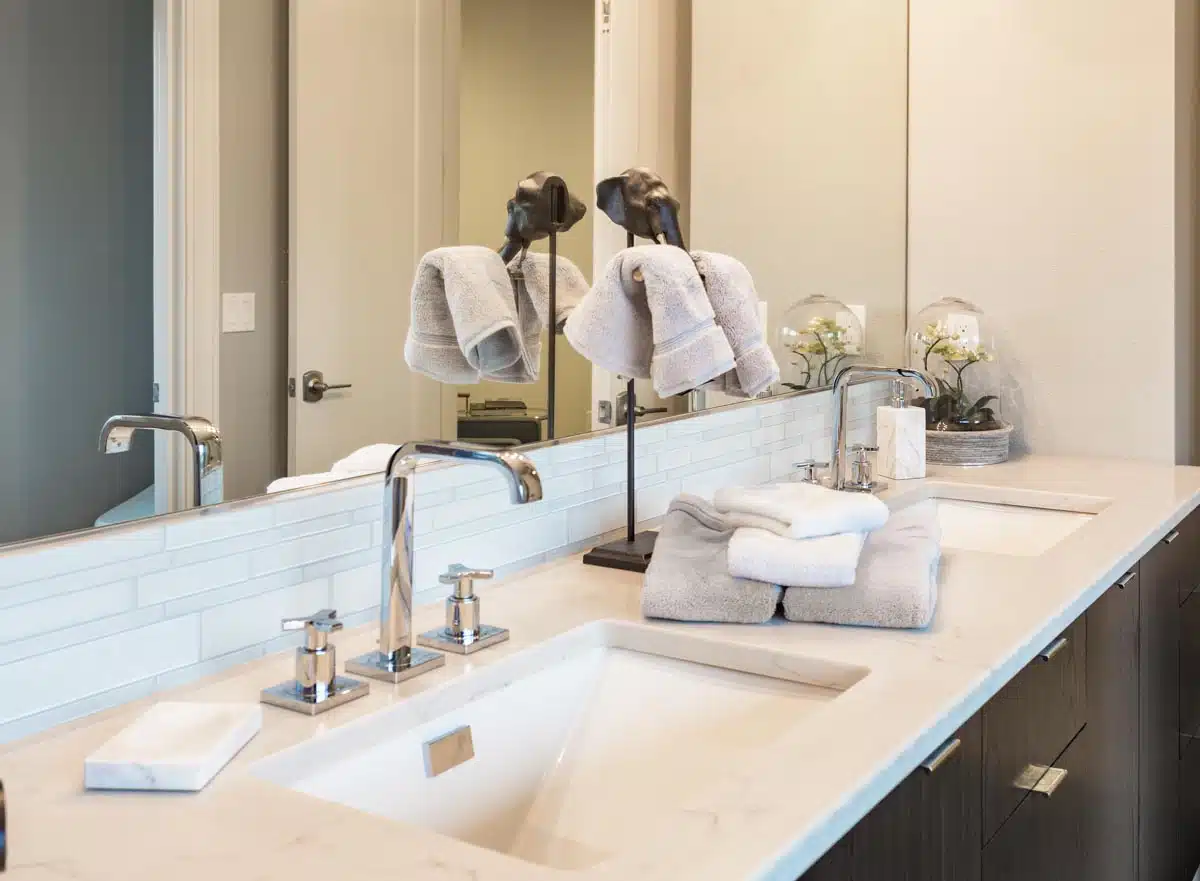 The first thing to think of in choosing the perfect vanity for your bathroom is the people who are going to be using it and understand how the vanity will be used; its purpose and its accessibility.
It is also important to determine the size and layout of your bathroom where you plan to install the vanity. This will help you decide the right dimension, type, and style of the vanity that will best fit your bathroom.
The most common and traditional type is the freestanding vanity. This type of vanity usually has more countertop space that comes with a mounted sink and a large storage space. The freestanding vanity usually has several drawers and a cabinet under the sink for storing toiletries.
On the other hand, the built-in vanity is commonly designed as a double vanity type which is best for larger spaces such as the master bathroom or in a common or shared bathroom arrangement. As the name suggests, this type of vanity has two sinks and usually has more counter space and a lot of additional storage.
If you want the simplest form of vanity, opt for the console sink vanity with a stylish support frame. This type of vanity is commonly used in powder bathrooms or bathrooms with limited space. It has a sink basin and may feature a small countertop space with a drawer and an open shelf for towel and toiletry storage.
For small or irregular bathrooms, the perfect vanity to use is the corner vanity. This type of vanity can provide more counter space and the storage that you need while maximizing your bathroom corner space.
Discovering the perfect vanity will influence and enhance the elegance and style of your bathroom plus it establishes functionality and storage space according to your needs. The vanity countertop also plays an essential role since it acts as a support for bathroom sinks and cabinets.