In this gallery of floating bathroom vanity ideas you'll see the different types of materials, finishes, cabinet designs, and bathroom accessories you can use.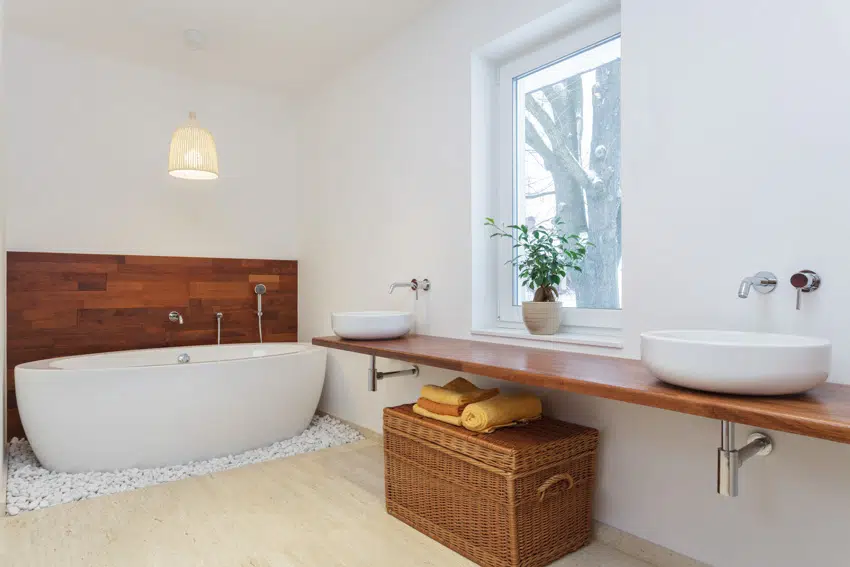 Floating vanities have become commonplace in modern bathrooms. If you have a smaller space or prefer a clean, minimalist look, then floating vanities will fit your needs.
Floating vanities are basically constructed in a way that the base of the vanity counter doesn't touch the floor so that it looks like it is floating. This is especially ideal for those with smaller bathrooms, or those whose bathroom floors are usually damp or wet. Having a floating vanity helps avoid your cabinets from getting damaged by water.
Oftentimes, floating vanities are finished in natural stone or ceramic tiles, giving them a very elegant look that will instantly make the bathroom look and feel more luxurious.
Another benefit would be the additional counter space it gives, allowing you to have a lot of counter surfaces to place your toiletries and other goods.
Floating Bathroom Vanity Designs
There are many ways you can specify your floating vanity so that the design can fit your needs and will be unique to your bathroom. Here are some floating bathroom vanity design options you can mix and match for a stylish look:
• Countertop Material: You can choose from a wide variety of bathroom countertop materials such as stone, quartz, wood, solid surface, stainless steel, concrete, ceramic tiles. Basically, any material can possibly be used for your countertop, depending on your needs!
• Storage: Depending on whether you need storage or not, you need to design your floating vanity's base accordingly. A more minimalist look would probably have no storage underneath or just an open floating shelf.
However, if you need some storage and prefer to hide your clutter, you can enclose the base of the vanity, just make sure that it doesn't touch the ground!
• Sink: The most common types of bathroom sinks used for floating vanities are basin-types, which are typically made of ceramic, acrylic or stone and placed on top of the countertop.
You can also use recessed-mounted sinks, apron-front (also known as Farm sink), and sometimes even a one-piece, seamless design that uses the same material for the sink and the countertop usually achieved using a solid surface.
• Faucet: Depending on the current plumbing conditions, there will be a variety of bathroom faucet types you can use. Specifically, you can choose products that are mounted on the sink, on the countertop, or even on the wall. This may seem like an unimportant feature, but it can actually change the overall look of your bathroom vanity.
• Finishes: There are a wide assortment of fixture finishes one can use depending on the bathroom design style you want. Bathroom faucet finishes and vanity knobs & handles can be changed, and matched with towel bars and shower rods to enhance the design. Materials such as brass, chrome, nickel, bronze and matte black fixtures are popular choices.
• Accessories: Items such as mirrors and lighting also contribute to the overall look of your bathroom vanity, so make sure you play with proportions to create a balanced look.
Here are a couple of floating bathroom vanity design ideas you might want to use in your home.

Floating Vanity With Vessel Sink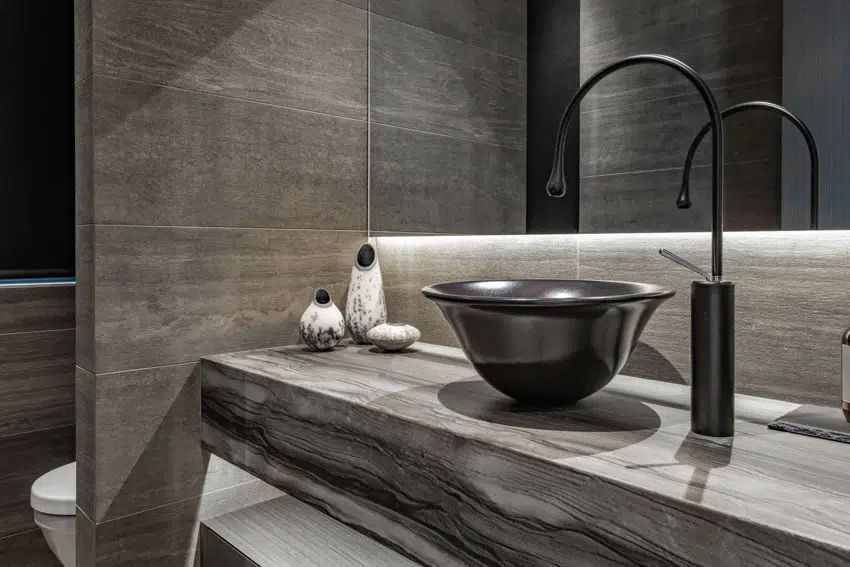 Vessel sinks and floating vanities go together, as the 3D form of the vessel sink complements the simple linear form of floating vanities. A round vessel sink like this image not only creates contrast but also adds a focal point to the area.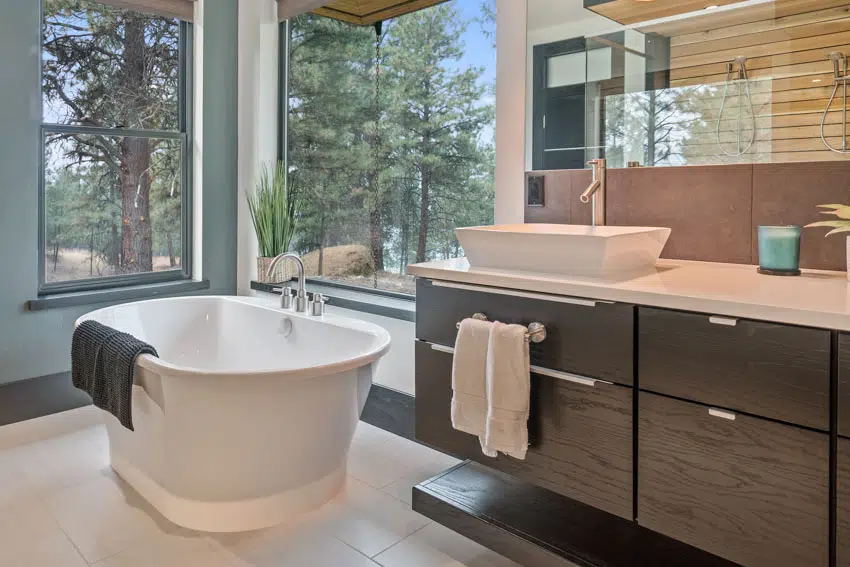 While vessel sinks are often used to add an "accent piece" to floating sinks, there are also options for those who prefer a more minimalistic look. In this example, a rectangular white ceramic vessel sink was used on a floating sink with storage to complement the modern minimalist look of the space.
Rustic Floating Vanity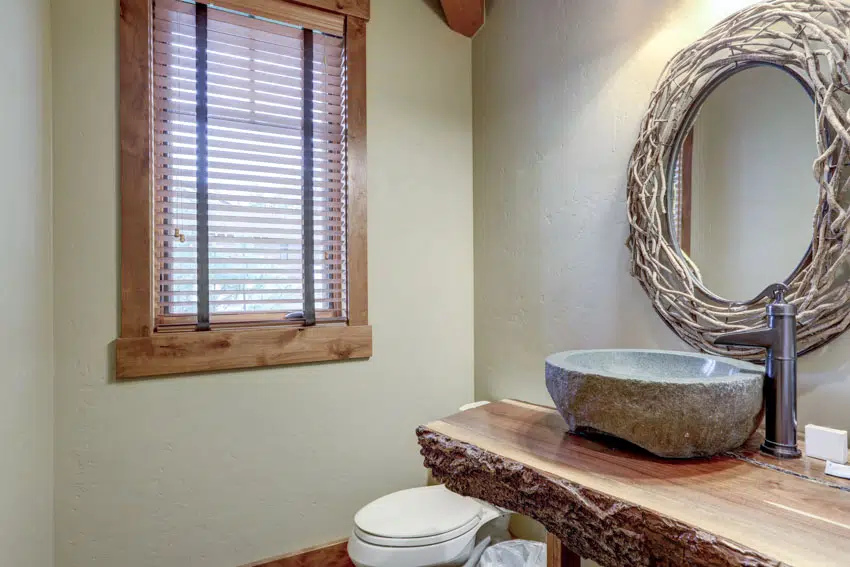 This floating vanity really creates a bold statement with the bold combination of the solid live-edge wood counter and the monolithic polished stone sink. Even the rustic style faucet and the mirror framed with bentwood complement the overall look and create a really exciting design.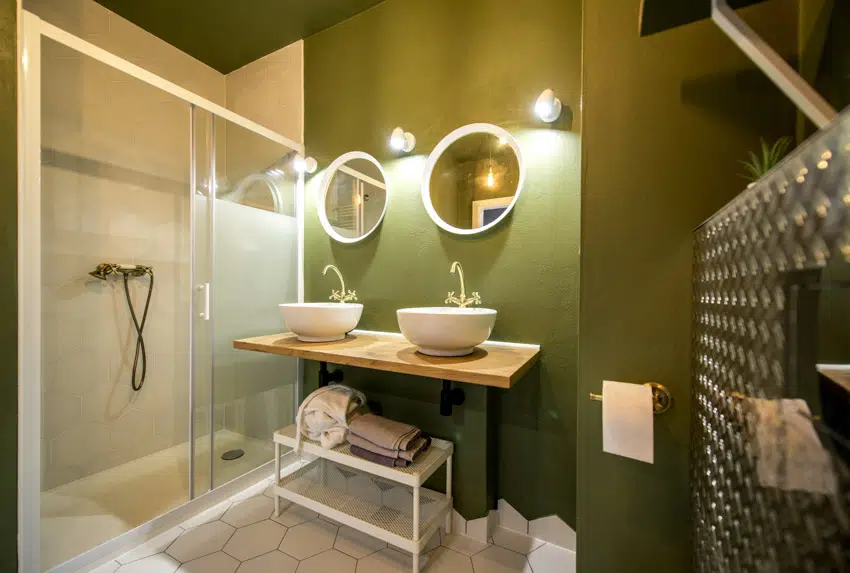 This bathroom features a fun mixture of modern simplicity and a retro-industrial look. The floating vanity is just a solid 3" thick piece of wood in a natural matte finish, with exposed pipes underneath and round vessel sinks on top to help soften the overall look.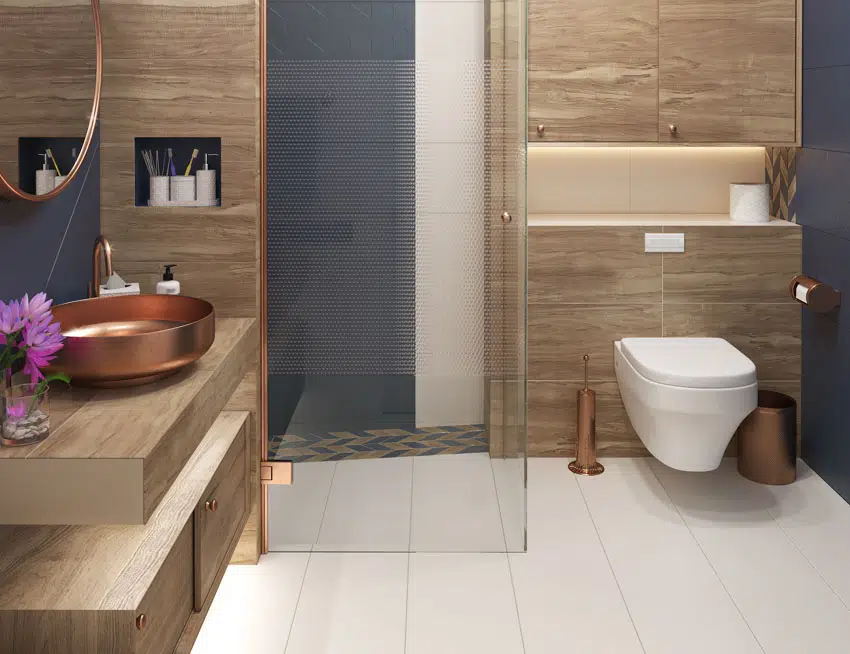 This is an excellent way to combine the modern aesthetic and a classic retro look. By simply adding copper metal accents, this modern bathroom already exudes a different feel. Most especially notable would be the wood-clad floating vanity with a round vessel copper sink that definitely grabs the attention in the space.
Floating Double Vanity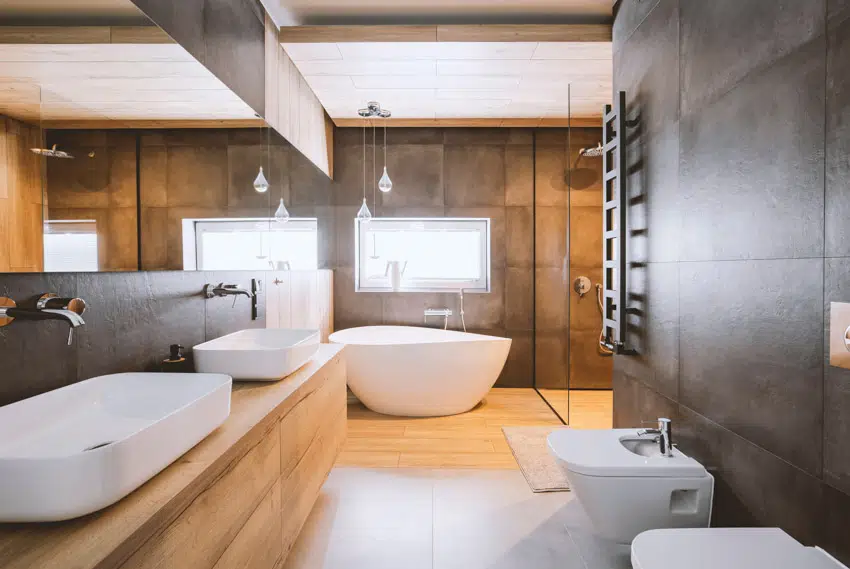 This bathroom is perfect for couples and families with its very spacious floating vanity top. It has a generous amount of storage space underneath, and a wide counter space.
It's equipped with two large rectangular vessel types of bathroom sinks with spread out, wall mounted fixtures so that everyone can be accommodated comfortably at the same time.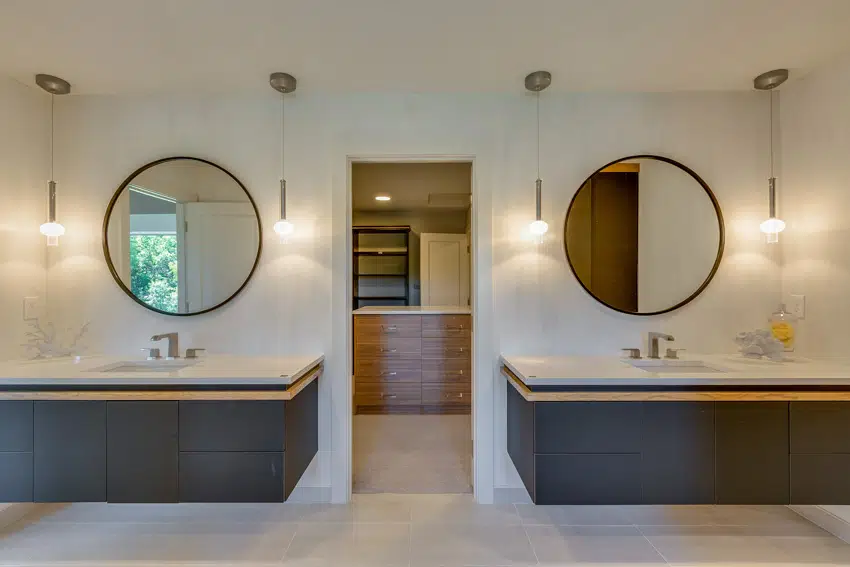 If you're the type who doesn't like to share the counter space even with your family or partner, this modern farmhouse style his and her floating vanity design might be for you.
With undermount sinks the drawers and cabinet storage can be limited directly underneath. However, if you have enough space for it, separate floating vanities are a good idea.
Modern Floating Vanity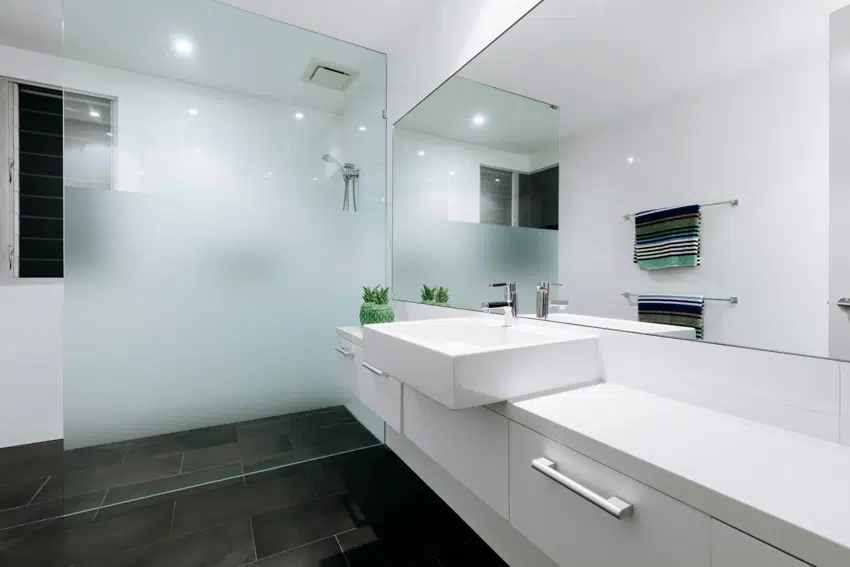 For a nice and clean modern look, an all-white design is among the floating bathroom vanity ideas that might work for you.
If you're a bit short on space, you can under size the depth of the counter, while keeping a standard-sized vessel sink. This also creates a unique look that highlights the sink even if it's white like the rest of the vanity.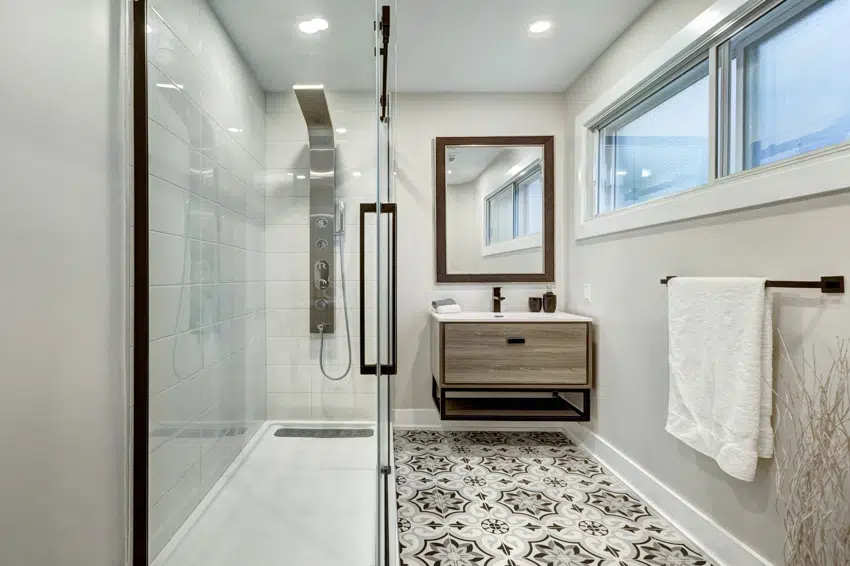 For smaller spaces, a floating vanity with an integrated drop-in sink would be best to make the space feel light and spacious. This vanity also features a small open shelf right below the cabinet for easy-access storage.

This marble floating vanity with white ceramic tile accents has a very clean yet sophisticated silhouette. The soft and simple look matches the contemporary theme of the bathroom.
See more related content in our article about bathroom vanity sizes on this page.