Here we share our hide pipes under bathroom sink guide including creative ideas for vanity cabinets, storage bins, small shelves, potted plants, and wall coverings.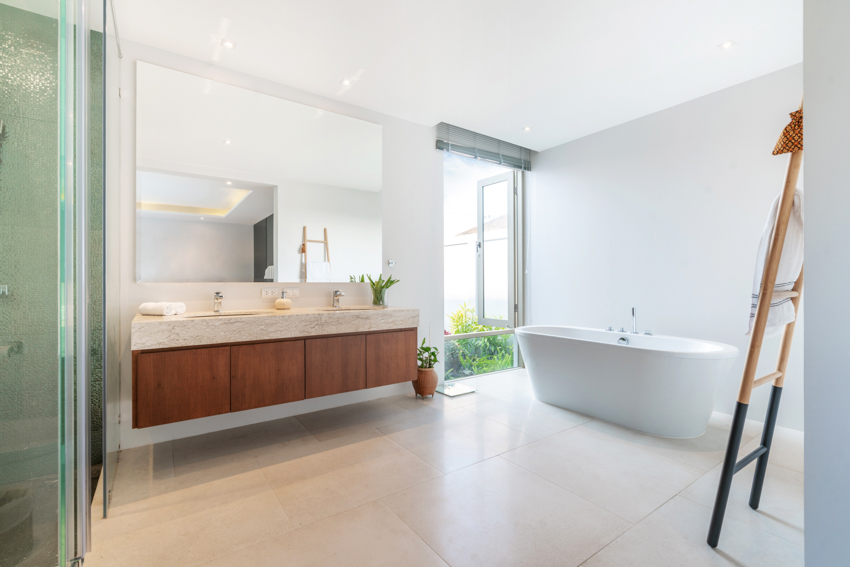 Plumbing is one of the mainstays of a livable home and it's just not something that a working structure can live without. However, there can be instances wherein its visibility can be a bit of an eyesore.
Unsightly drain tanks and pipes that are visible can ruin the aesthetics of your space, particularly the ones under your bathroom sink. If this is a concern for you, we have solutions that you can take a look at in this article.
Hiding the pipes under your bathroom sink doesn't have to be a costly undertaking at all.
As a matter of fact, you'll be surprised to know that you might even have all the tools and materials you need at home without ever having to shell out a single dollar. Here are some creative ways you can explore.
Ideas For Hiding Pipes In Bathroom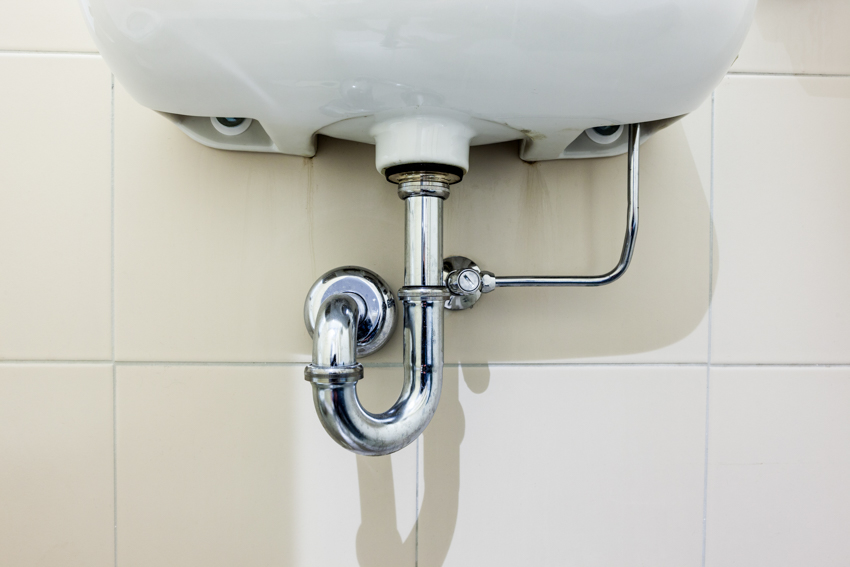 It'll surprise you how a seemingly big problem such as exposed pipes can have very basic and logical solutions. We're mapping them all out for you down below:
Get A Cabinet Installed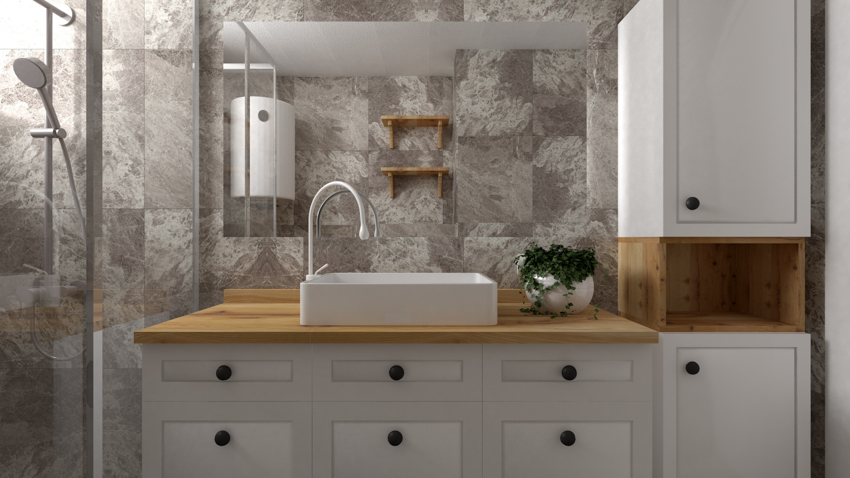 Installing a cabinet under the sink is one of the most common and easiest solutions to hide pipes under bathroom sink.
There are two ways for you to go about this: you can either opt to buy the raw materials and install a sink cabinet from scratch. Take note that you should only do this if you are confident and comfortable with your handyman skills.
If you aren't, the second option would be to go for a store-bought sink cabinet option. Take note of the bathroom sink size so that you can get the right cabinet for it.
You will also need to hire out a contractor whose rates can range anywhere from $100 to $500 depending on the area that you're in. Ready-made cabinet sinks can be bought at as low as $300.
Before buying or installing your sink cabinet, make sure that you precisely measure the area surrounding your sink to ensure that the exposed pipe areas are covered completely. Also, consider how you're going to position the cabinet.
Make a decision on whether you would like your sink to be on top of the cabinet or mounted under it. Have a rough sketch of the layout that you'd like to have for a more accurate installation.
Use A Storage Bin To Hide Your Pipes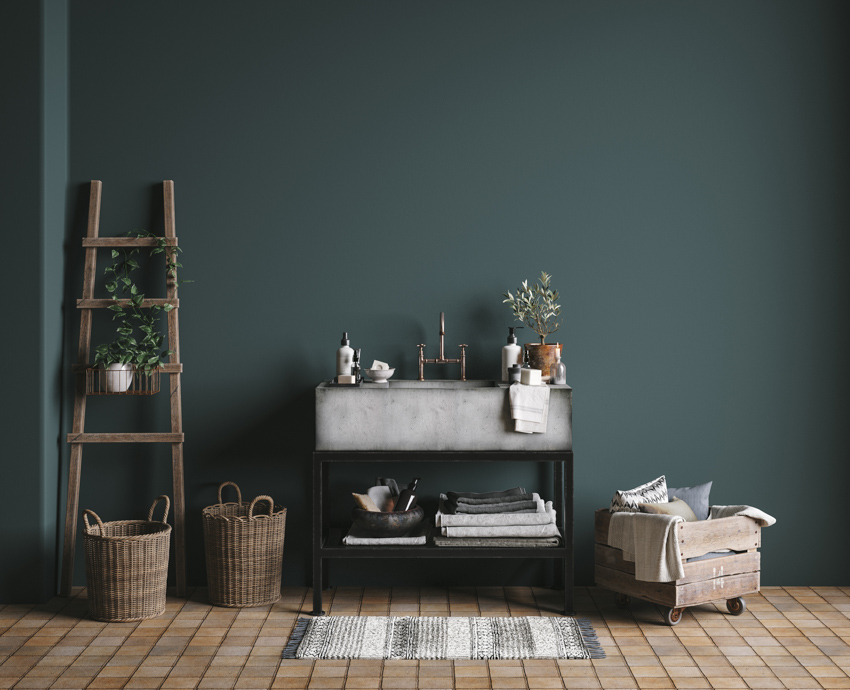 Look for any extra storage bins or small baskets you may have lying around the house. Simply put the basket or storage bin face up to hide pipes under bathroom sink.
If you don't happen to have anything around the house, you can just buy one. You can either opt for a single bin or basket or stack two to three small ones to obscure the view and not make the pipe as visible.
Make sure that you measure it out so that it doesn't restrict your access to the sink area while you're at it.
Install A Small Shelf Under The Sink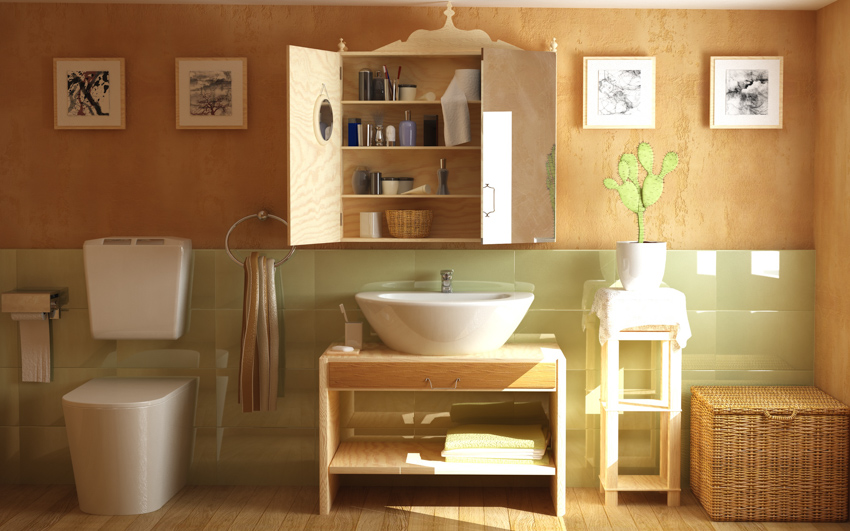 If you happen to be a little handy, you can actually opt to construct a small open shelf under the pipes and store bathroom items to obscure the view. You can do this in as low as $20 as you will only need to buy some wood materials from your local store.
If you aren't particularly handy, there are a lot of ready-made shelves available in furniture stores. Take note of the dimensions so that it fits your sink perfectly and also be ready to make any alterations if you don't happen to find one that will turn out to be a perfect fit for your sink.
Embellish The Area With Some Potted Plants
Potted plants are a great way to hide your exposed pipes under the sink while at the same time liven up your space. Be sure to consider the amount of space in terms of width and height before you head out to a local nursery to purchase the indoor plants.
If you happen to have a garden, you can opt to just repot them in aesthetic pots and bring them in. Opt for plants that thrive in high moisture environments so that they'll thrive and not end up dying.
Build A Faux-Sink Cabinet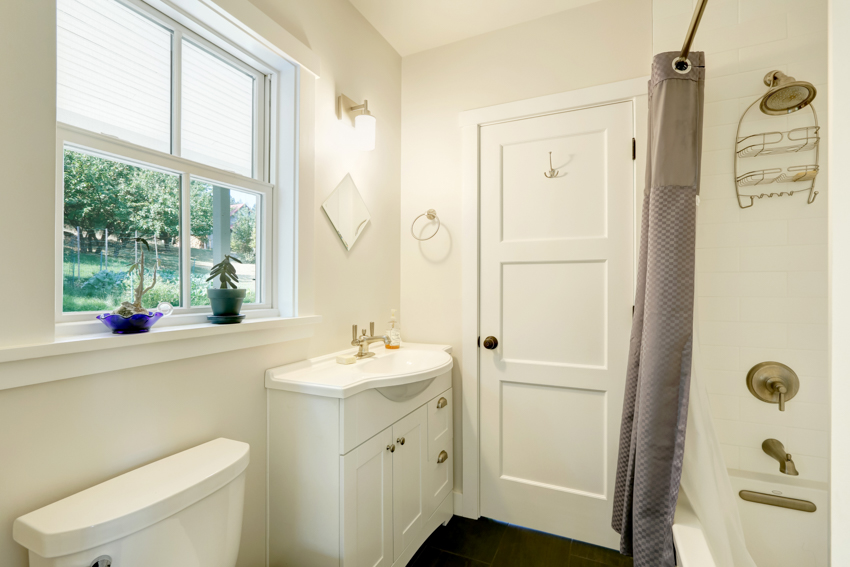 If you want to completely cover up your under-sink pipes, another option to consider would be building a faux sink cabinet around them, completely walling them up.
You can get this done with nothing more than a single drywall sheet and a fresh coat of paint. Allow a 2-inch allowance between the drywall material and the pipes so that it doesn't get ruined in the event of water leakages.
This is a mini-project you can take on that shouldn't take you longer than 4 hours.
Get A Sink-Skirt Installed
See this fabric sink skirt at Amazon [sponsored link]
This is one of the easiest things to do and they don't cost too much, either. You can either purchase one online or if you want to be a little crafty, you can opt to make one yourself.
You will only need some Velcro, a few nails, or even just some durable waterproof tape to get it attached. Sink skirts are also great as storage areas for items that you would want to hide under the sink.
Cover Your Pipes With Pipe Coverings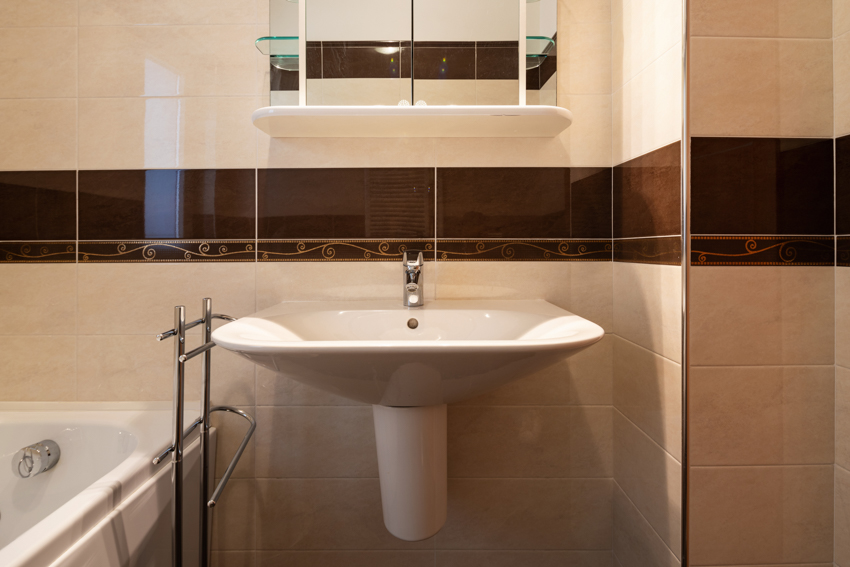 These coverings can either be bought online or from your local store and will only cost you roughly around $10 or less. They're usually either made out of wood, metal, or some type of resin.
Pipe coverings come in a wide range of colors and designs. They can also be very aesthetic if it's cohesive with the design of the rest of your space or when you need ideas for your bathroom remodel plan.
Before making your purchase, make sure that you measure out the length and diameter of your sink pipes so that it has enough space to actually make the pipe fit in it.
Pedestal Sink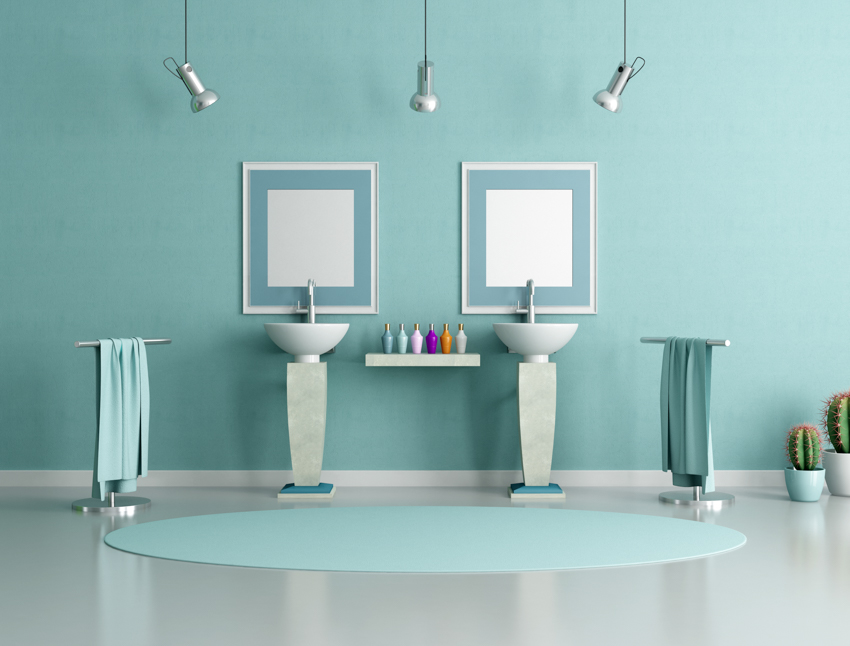 Pedestal sinks are usually standalone and can hide sink plumbing pretty well. But then again, anything is fluid and possible as far as interior design is concerned.
You can still opt to have a cabinet sink installed under it if that's what you prefer.
As this is a higher-end type of sink design, it would be best for you to opt for a contractor to get the job done. They can also make recommendations about the best materials that you can use.
See more related content in our article about the different types of bathroom sinks on this page.