Here's our plaster shower walls guide sharing what they are, different bathroom finishes and types of waterproof plaster.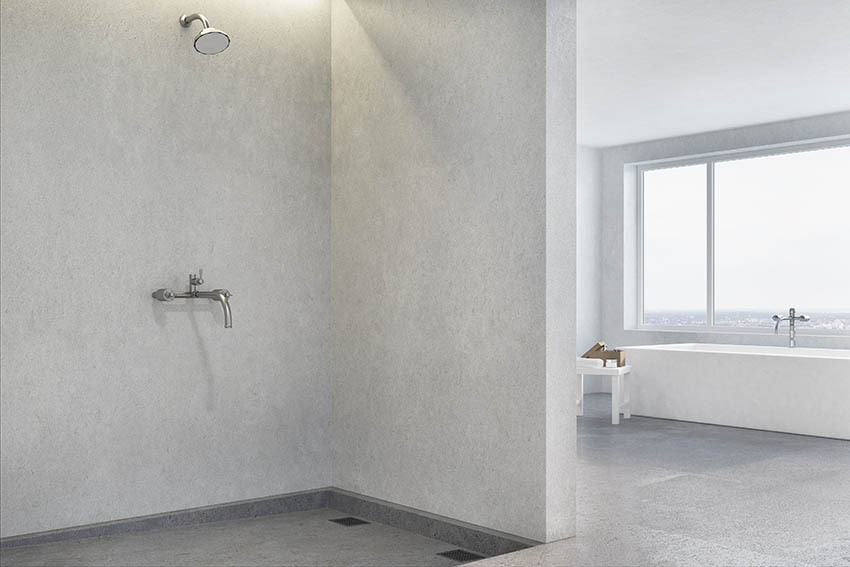 If you've ever wondered about the possibility of never ever having to scrub out grime or mildew or any other type of gunk out of your bathroom tiles and grout, that is actually a possibility.
Plastered shower walls is the answer you've been looking for. As pretty as they may be, they actually bring so much more other than what you see at face value.
What Are Plaster Shower Walls?
To start off, what exactly are plaster shower walls? Plaster is a great substitute to bathroom tile finishes that's waterproof, resistant to mold and mildew, and absolutely recommended for areas in the home that's exposed to a lot of moisture, such as your shower area in the bathroom.
Its process of installation or application is a bit labor intensive. Plasters require two to three coats or at times even six to seven coats and some additional burnishing for it to have truly watertight and aesthetic results.
In some cases, there's also the added application of an oil based soap. This soap is rubbed on the surface of the plaster and the lime in it results to a chemical reaction that forms calcium stearate which is both impenetrable to water and insoluble as well.
Although this material seems new and trendy, it's actually been around for centuries and actually came all the way back from the Arabian peninsula and has originally been known as "tadelakt" which, when translated, means "to knead", referring to the material's pliability upon application.
Plaster Shower Finish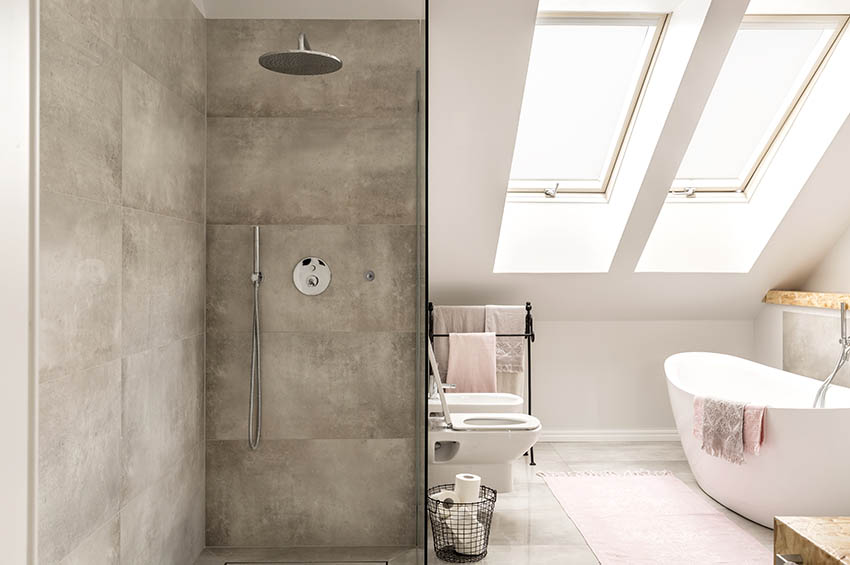 Plaster shower finishing is a process wherein the rough surfaces of the bathroom walls are rendered with plaster to make them smooth and seamless. It's usually comprised of a coarse undercoat of grain materials that are low cost and then topped off with a thin layer of finishing coat made up of finer grain materials.
A plaster shower finish is preferred because it can instantly give your shower area a complete and luxurious upgrade without breaking the bank.
At the same time, it guarantees maintenance will be easier since it avoids the incessant scrubbing and having to deal with the mold and mildew that usually accumulates in between the tile grouts. See our other picks for low maintenance shower walls here.
Waterproof Plaster For Showers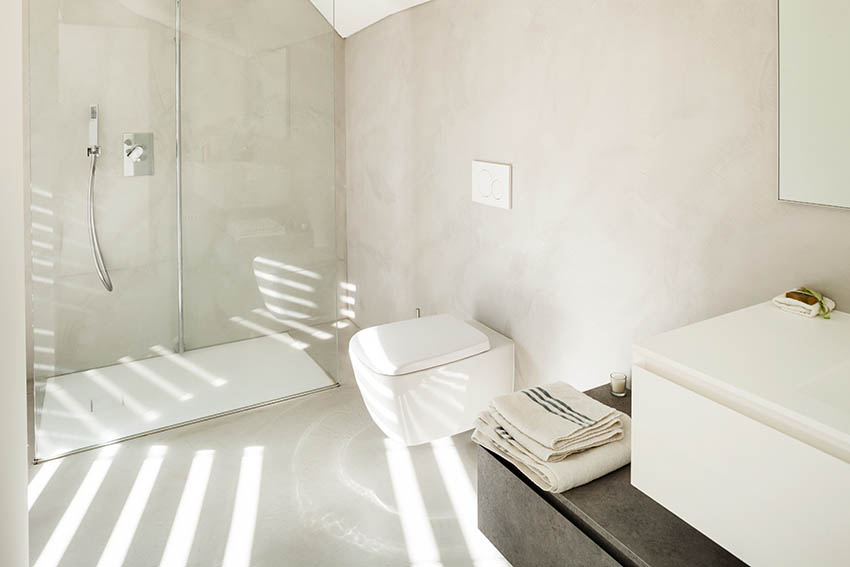 The classifications of waterproof plasters for bathroom showers are mainly based off of the materials that are used during the plastering process. Here are the different types commonly available:
Lime. This is a mixture made out of 1 part sand and 3 parts lime. This type of plaster can both be used as undercoat and topcoat. Lime plaster is notorious for shrinking once it dries out so it's a common practice to use animal hair with it to keep the plaster from cracking or shrinking.
Cement. This is a mixture made out of 1 part cement and 3 to 4 parts water and is typically used as an undercoat. It requires skilled labor to be applied properly and lime or some sort of plasticizer is added to the mixture to make it more waterproof as cement and sand alone can be porous and too coarse. The ratio is usually 1 part cement, ¼ part lime and 3 parts sand mixed with plasticizer.
Gypsum. Gypsum is a material that can be used both as an undercoat and a finishing coat and can actually efficiently replace lime or cement in the plastering process. Gypsum is preferred because of its capability to prevent cracks and shrinkages on the finished surface.
The application of gypsum can be categorized as undercoat, casting, as one coat, as a finishing coat, or as machine applied plaster.
Venetian Plaster Shower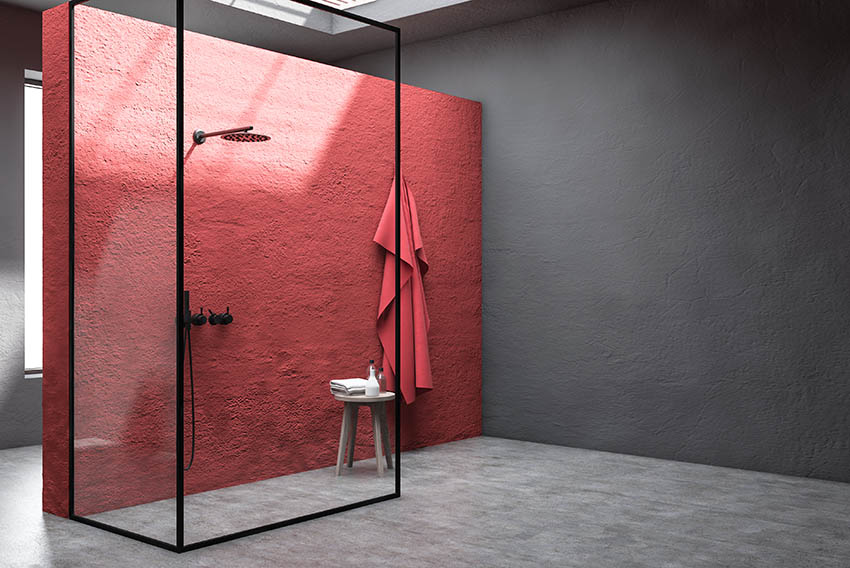 Venetian plaster offers finishes that are both eye catching and elegant. They offer a high end handcrafted appeal and offer a lot of different choices in terms of color, texture, and finish. This is actually a favorite for the shower walls in a lot of luxury homes.
Venetian plaster is grout free so you are assured that maintenance will be easy. It's lime based and has been known to be finished off with a wax coating to help repel grime and mildew, offering a "lifetime finish" that other types of plasters can't really bring to the table.
Venetian plaster is made out of high PH lime so it also has antibacterial properties, which works great if you're particular about keeping your shower area sanitized. It can regulate humidity, allowing it to effectively prevent the growth of mold inside the wall finish.
Any water or amount of moisture that gets absorbed evaporates quickly as the material is breathable which makes it a perfect material for your enclosed or walk-in shower walls.
Popular Types of Venetian Plaster
Some of the most popular types of Venetian plaster are Spatulato, Travertine, Marmorino, and Stencil.
Spatulato – This is a material with a high gloss finish that's quite smooth to the touch. It's also incredibly sturdy and moisture resistant, making it very ideal for bathroom construction. It can come in a lot of different textures and finishes which makes it easy to pair with any type of bathroom design.
Travertine – This material is applied in a single color and is then burnished, giving it a finished look of having two to three tones of color. It has a textured feel and gives off the look of a solid block of stone, which can be appealing if you want a contemporary look for your bathroom.
Marmorino – This material has the selection of a matte, gloss, or satin finish. This is a little more expensive compared to the others as this requires expert application and hence, very skilled and expensive labor. Still, homeowners who can afford it find it well worth the price as the finished product is a polished plaster effect that's very eye catching and aesthetic.
Stencil – Stencil plaster requires craftsmanship and painstaking attention to detail. This is the most customizable of all of the different types of Venetian plaster so if you have a specific pattern or design in mind, then this should be at the top of your list or Venetian plasters to check out.
Tadelakt Plaster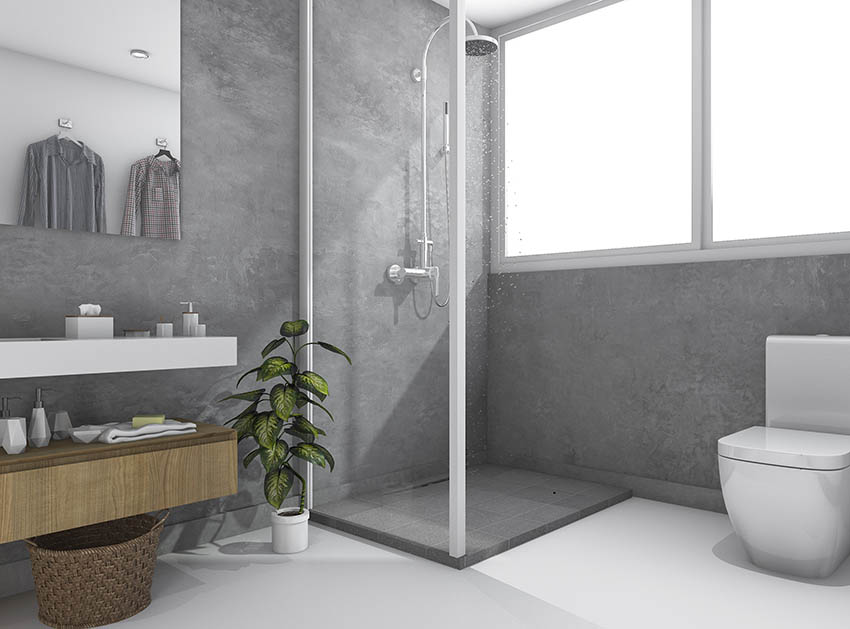 As mentioned earlier another waterproof plaster similar to Venetian is called Tadelakt plaster. It differs from Venetian by mixing in aggregates such as granite, marble and glass.
Tadelakt plaster is also known as Moroccan plaster and has been used originally to waterproof water cisterns for drinking water. It is a lime based plaster which is more expensive than traditional gypsum based plaster techniques. The cost for Tadelakt ranges from $8 to $15 per square foot.
Polished Plaster Shower
Polished plaster is perfect for the shower or for any other wetroom in your home. Once applied to the walls, they become water resistant.
The main attraction of getting polished plaster shower walls is that they're quite resistant to limescale and hard water stains, forever ending your struggles with moldy grout lines in the shower.
Is Plaster Waterproof?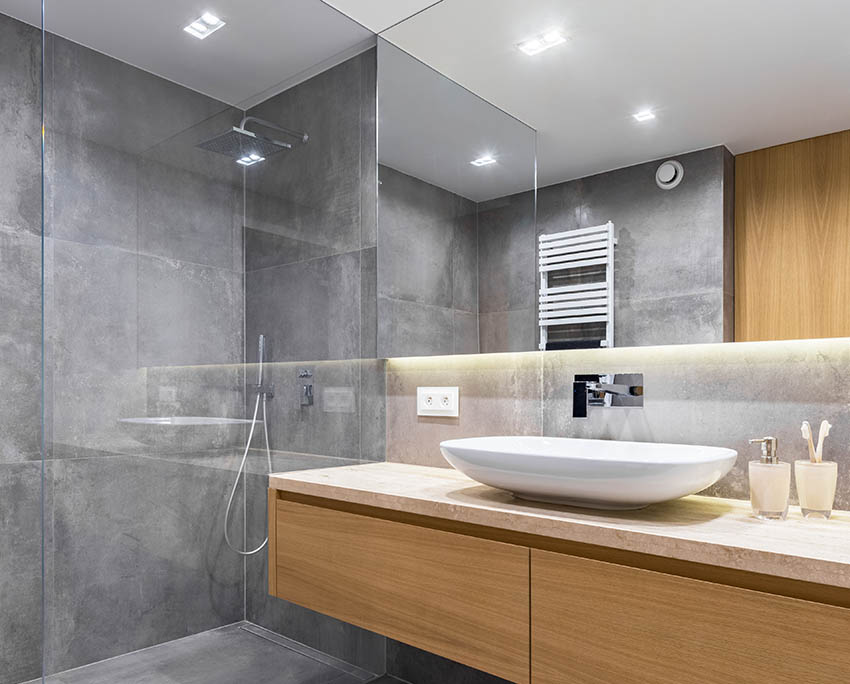 Plaster alone is generally not waterproof as it is a naturally porous material but expert builders take steps to ensure that they have all of the right ingredients in the mix to make them waterproof.
As this is generally a skilled labor that requires years of expertise, it would be best to not attempt to take on plastering your bathroom as a do-it-yourself project at home.
Can You Tile Over Plaster Walls In A Shower
Yes you can. Builders would normally make sure that the plaster walls are completely cleaned and dried before the shower tiles are applied.
Unfit or damaged plaster is typically repaired or removed completely, depending on its degree of damage.
Cracks and any other types of surface damage are repaired before the entire wall surface is leveled.
The wall is then sanded over so that the tile adhesives have something to bond to, and then the primer is applied, prepping the wall for the actual tile application.
For help remodeling a shower you can use one of the top bathroom remodel software apps to help visualize your layout and design.