In this guide you'll find travertine bathroom floor designs with different types, including their pros and cons, design options, costs, sealing, cleaning and updating travertine flooring tips.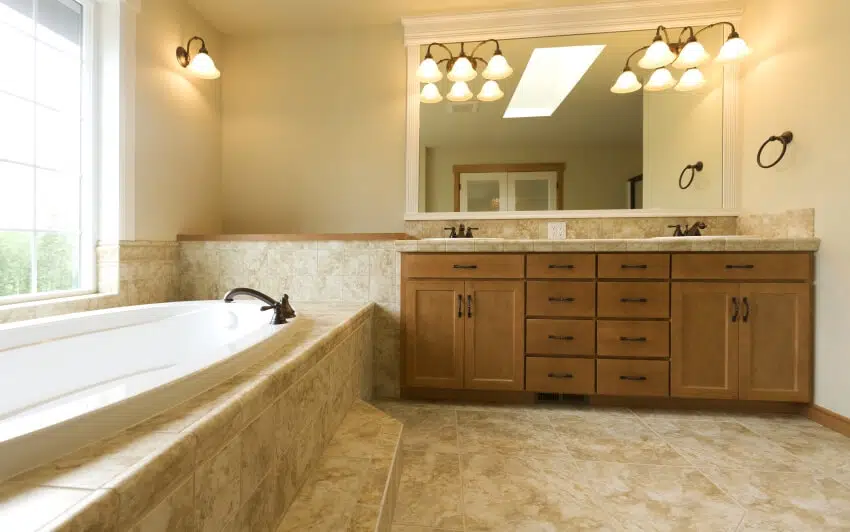 Travertine is a compelling type of limestone. Its marble-like pattern and eye-catching earth-tone colors help in making it one of the most widely preferred construction stones. Traditionally, the majority of travertine used in construction came from the Italian highlands, but most of the tiles that are marketed today come from Iran, Peru, Mexico, and Turkey.
Travertine for bathrooms is currently gaining popularity as many homeowners feel travertine tiles can give a bathroom an earthy feel. Travertine is less costly than marble while providing a comparably elegant impression.
There are different types of travertine available in customized sizes, which adds to its attractiveness. You can get the precise size of the tile no matter how little or irregular the design of the bathroom is. However, is travertine really a good choice for your bathroom? What are its pros and cons? Let us find out in this article.
What Is Travertine Tile?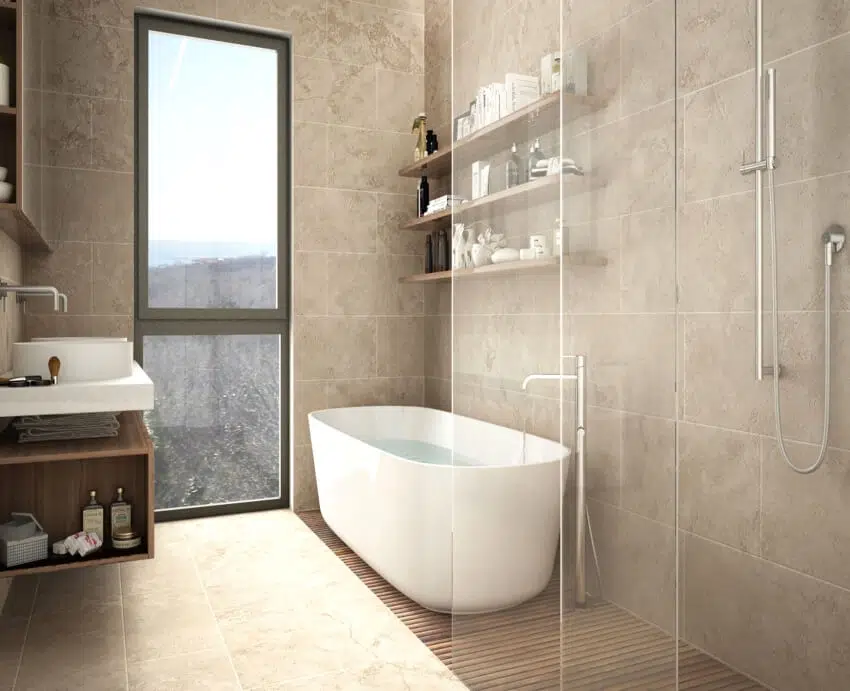 Travertine is a variety of limestone that originates in mineral spring deposits and is also a natural stone. It is less thick and more permeable than some other limestone. Travertine flooring is often available in tile form in a multitude of earth hues.
Travertine tiles have a distinctively uneven or gritty surface in their natural state, but you can adjust the look to suit the design of a room, particularly the bathroom. Travertine flooring is very porous, and most surfaces necessitate sealing regularly to minimize stains and pitting.
Moreover, travertine is often sold in tile format as a flooring material and is available in a wide range of neutral colors such as tans, browns, copper, and beige tones. It is an extremely long-lasting stone, and although it is simpler to maintain than some other varieties of natural stone, travertine is rather heavy.
It is not suitable for all locations. A properly built and maintained travertine floor, on the other hand, can provide a distinct combination of mountain-born charm to interior areas.
Travertine Flooring Pros And Cons
Pros of Travertine Bathroom Floor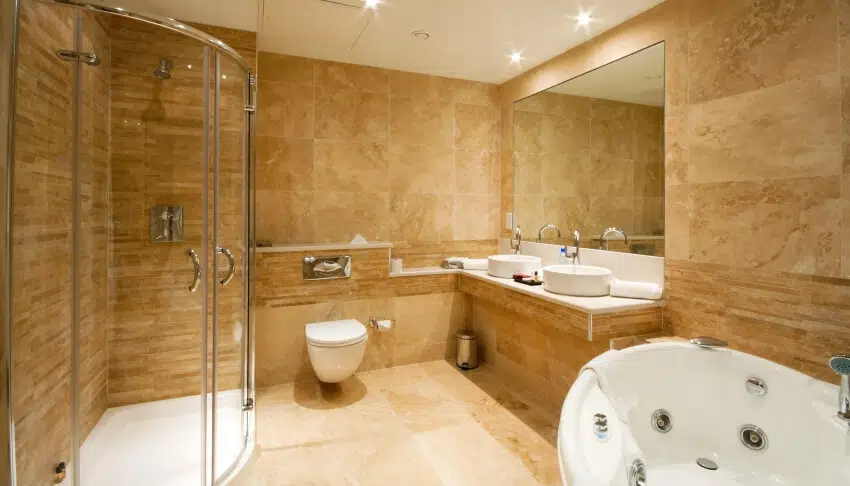 Travertine Bathroom Floors Available in a Wide Variety of Designs and Colors
One of the most appealing attributes of travertine is the vast variety of colors and styles that it offers. Travertine flooring offers a multitude of colors, from white to tan to gold to dark-reddish brown. The subtle color combinations and unique veining of this bathroom flooring material make it simple to create distinctive patterns and designs.
With this type of bathroom flooring, you can select from four different finishes: honed (matte), tumbled, polished, and brushed. The honed matte finish is commonly the most preferred choice, with a seamless and natural appearance, whereas the coarser brushed and tumbled treatments create textured finishes.
Travertine is an Eco-Friendly Bathroom Flooring Material
Travertine is a type of naturally occurring stone made up of silica, magnesium, and calcium. This flooring could give a healthy and ecologically friendly addition to your décor.
In addition, travertine manufacturing techniques use less water and generate fewer greenhouse gasses into the atmosphere. Moreover, the procedure of manufacturing travertine bathroom floors also produces less garbage in landfills and produces no detrimental water or air pollution.
The usage of limestone flooring and stonework stretches back to ancient Rome when the flawless white marble stones were created using Aqua Traiana, a purified water supply. It is more environmentally friendly than laminates. Plus, this natural stone tile can be recycled or repurposed as well.
Travertine is Long-Lasting, Especially if Maintained Appropriately
Travertine tiles are extremely durable; these hard stones are highly resistant to moisture, which makes them ideal for bathroom applications. All you have to do is take adequate care of them. These bathroom floors will not shatter quickly if handled carefully, allowing you to retain the fine quality of your bathroom for many years.
Additionally, travertine provides extra value: the travertine tiles will make your bathroom look brand new. Travertine bathroom flooring is extremely durable and can easily withstand wear and tear.
When you visit some of the historical buildings where travertine was applied, you will notice how this unique stone has endured the test of time by existing for a long period.
Travertine flooring has a higher hardness rating than marble flooring, making it suited for high-traffic areas. In fact, travertine can outlast other natural stones if properly cared for.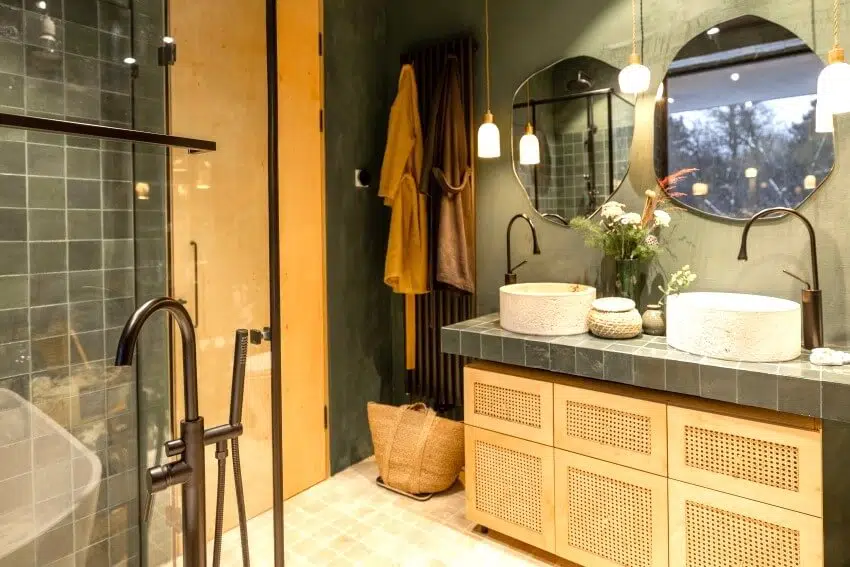 The Texture of Travertine Bathroom Flooring Is Inherently Not Slippery
Travertine's non-slippery properties make it extremely ideal for use in bathrooms and shower areas. Because of its porous surface, it features holes and pits, making it coarse and not as dangerous to walk on. Read more about travertine shower designs here.
It is Very Simple to Replace Travertine Bathroom Tiles
Even if the flooring material is long-lasting, accidents in the bathroom tiles can still occur after several years of use. It may be damaged or destroyed in this manner. Nonetheless, if your travertine bathroom flooring is damaged, you need not be concerned.
With so many travertine variants, it is attainable to locate something comparable to travertine stone rather than identical. Hence, the replacement will be done without a fuss.
Travertine bathroom tiles can be replaced with new ones that have matching shades or colors. In reality, nobody would recognize the distinction. You can also purchase several travertine tiles in the event your current tile becomes broken.
Each Travertine Tile Is Unique and Attractive Due to the Color Variation in the Stone
Travertine stone's intrinsic colors span from gray speckles to rusty red with white streaks and pale brownish hues with cream, tan, and bright red tones. A single tile could feature layers upon layers of pastel hues and designs such as veins and stripes.
Cons of Travertine Bathroom Floor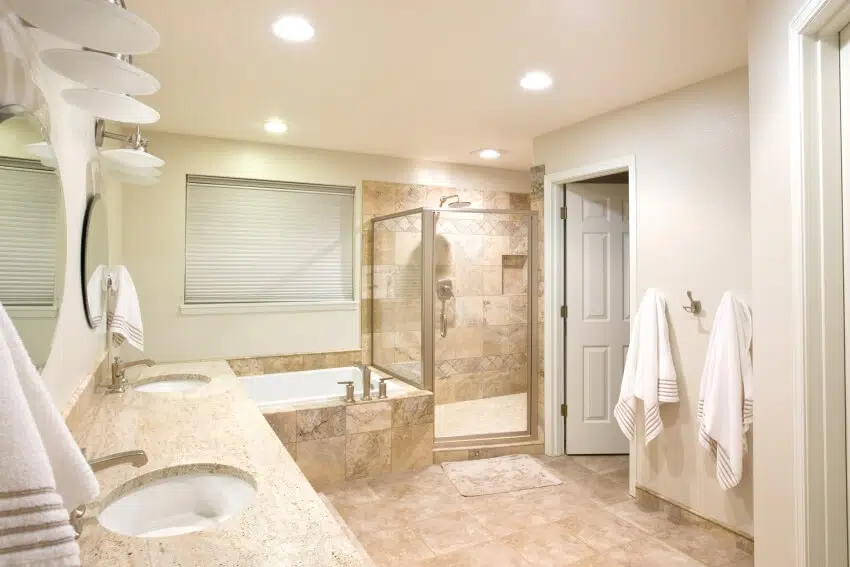 Travertine Bathroom Tiles Can Be Ruined by Excessive Heat and Harsh Chemicals
Travertine is a pretty gentle soft stone. It deteriorates over time and is easily harmed by intense heat. You must exercise caution when using hot water when taking a shower or applying cleaning chemicals since they may erode the calcium deposits in the travertine tile, resulting in staining.
Furthermore, vulnerability to acidic chemicals such as vinegar or alcohol is a significant drawback of this flooring material. Assume you spill citrus or white vinegar over the travertine tiles. In that situation, the acidic solvent might react with the stone's calcium carbonate, resulting in permanent discoloration.
So, when cleaning your travertine bathroom floors, never use harsh chemicals. The cleaning combo of the well-known baking soda and vinegar is also not advisable.
Travertine Requires Extensive Maintenance
Travertine is indeed a porous stone, which implies that it contains holes. Over time, these holes could become wider and deeper, ruining your flooring. As a result, your travertine bathroom flooring will require sealing.
Before grouting, you have to ensure to seal them with a high-quality sealer. However, before sealing, you should also evaluate how frequently your travertine is subjected to moisture and cleaning agents.
Travertine Bathroom Tiles Are Very Heavy
Travertine bathroom tiles may not be the best choice if you want an uncomplicated and speedy tile installation process. These tiles are extremely heavy. As a result, installing them in your bathroom would be complex and time-consuming.
You should also consider the shipping of these tiles from the store where you purchased them to your home. Their shipping costs may be slightly higher than those of other natural flooring materials.
Bathroom Designs With Travertine For the Floor

Here are some of the popular types of travertine used for bathroom flooring.

Walnut Vein Cut Travertine

If you like cooler tones in your bathroom décor, walnut vein-cut travertine floors would be an excellent option. These bathroom floors are a wonderful blend of chilly silver and gray with pleasant beige accents. This vein-cut travertine tile is less linear in form, but it still displays layers and depths of texture and color.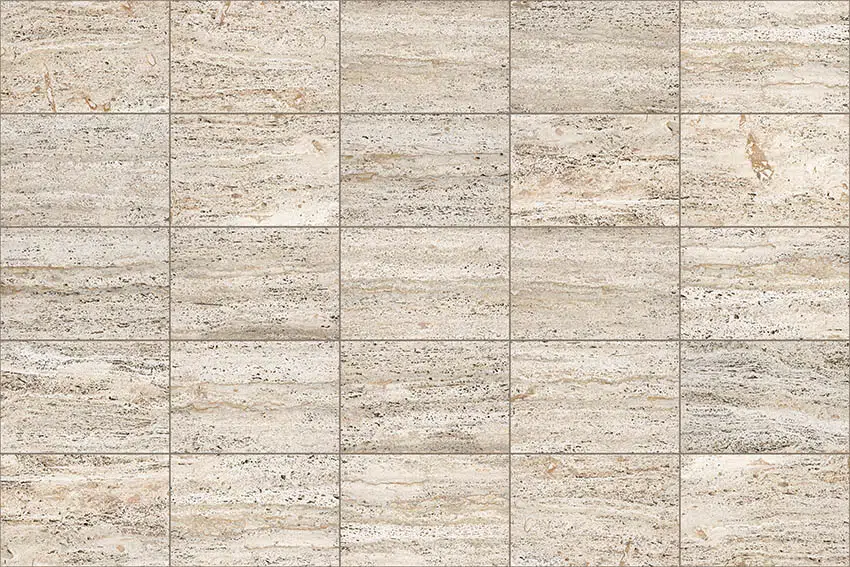 Furthermore, the textures and shades of the travertine wonderfully accentuate the soothing and gentle tones of a bathroom with these floors. The travertine establishes a tranquil tone within the environment and produces a classic layout for you to appreciate for a long time with finely picked elements in balance.
Designers love specifying vein-cut travertine floors for high-end spaces. – interior designer, Ellen Siloy
Tuscany Walnut Travertine

The Tuscany Walnut Travertine bathroom tile, which is extremely rich in character, might be the best option for you if you are looking for bathroom tiles with less linear motion.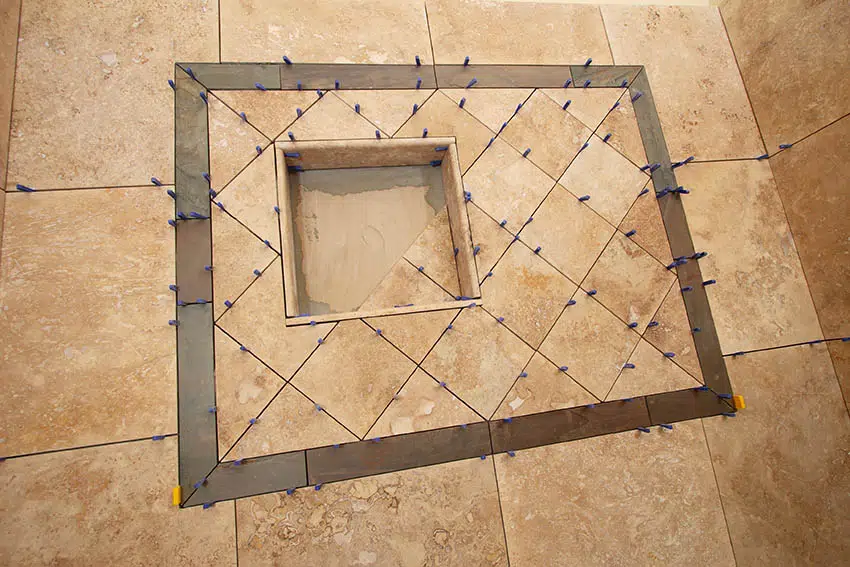 The ripples of creamy beige and touches of walnut on the flooring are evocative of the traditional style you can expect to find in your classic Italian home, making a bathroom a cozy haven at the end of a tiring day.
Durango Cream Travertine

Durango cream travertine bathroom floors might be ideal for a more vintage, old-world vibe. A bright bathroom brings out the textures, individuality, and tones of this stunning travertine tile.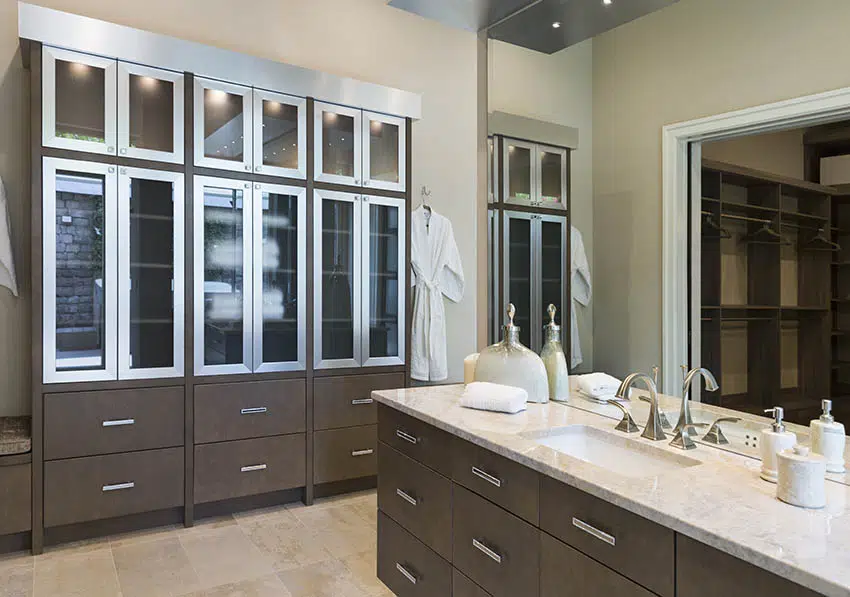 The tile is typically sold as a package and comes pre-cut in a variety of tile sizes, allowing for uncomplicated installation and easy design. The beige and cream tones are extremely classic, and this tile will survive for decades with careful attention and upkeep.
How Much Is Travertine Tile?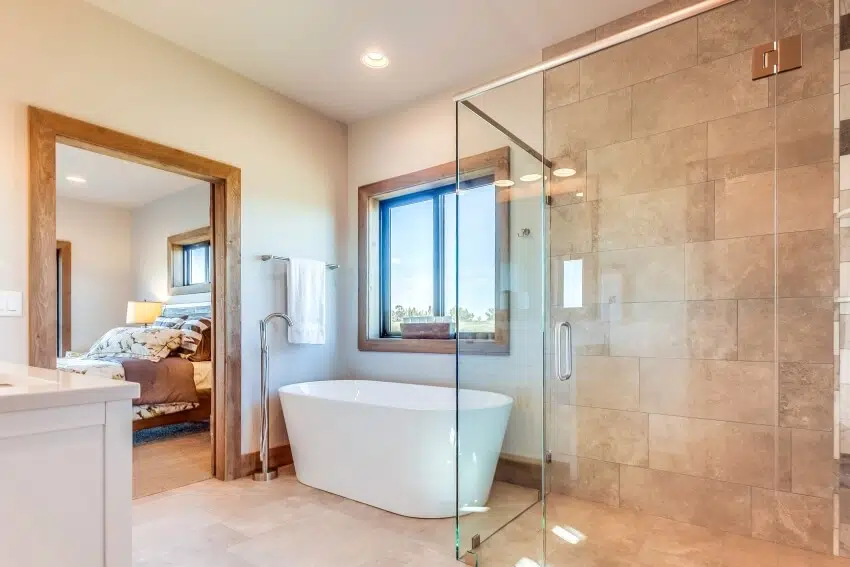 A standard commercial-grade travertine floor tile costs around $2 to $4 per square foot. Although the cost of constructing this type of travertine floor is inexpensive, so are the quality characteristics.
Some of these tiles may have irregular cuts, non-uniform width, and flaws like tiny unfilled holes or broken edges. Within the tile, you may notice major color changes, such as gray or black markings.
Most homes prefer a superior-quality standard travertine tile that costs $5 to $15 per square foot. The cuts on these tiles are more exact than on standard commercial travertine, with clean, beveled edges and a consistent thickness throughout. They were chosen for their constant hue and lack of deterioration, while certain striations or swirls could be visible.
The highest-quality luxury travertine tile typically costs between $20 and $30 per square foot. These tiles, like standard travertine, are properly cut with smooth, beveled sides as well as a uniform thickness throughout.
They are devoid of stains and any holes discovered during the manufacturing process. These are unquestionably the best travertine flooring option for your bathroom.
The travertine floor tile installation can range from $3 to $20 per square foot. Nevertheless, take into account that for smaller projects, your tile builder might demand a minimum installation price.
If you only put tile in a small bathroom, for instance, you might end up spending more per square foot than if you laid tile throughout your house. When getting quotations from various tile installers, address these potential expenses.
Is Travertine Porous?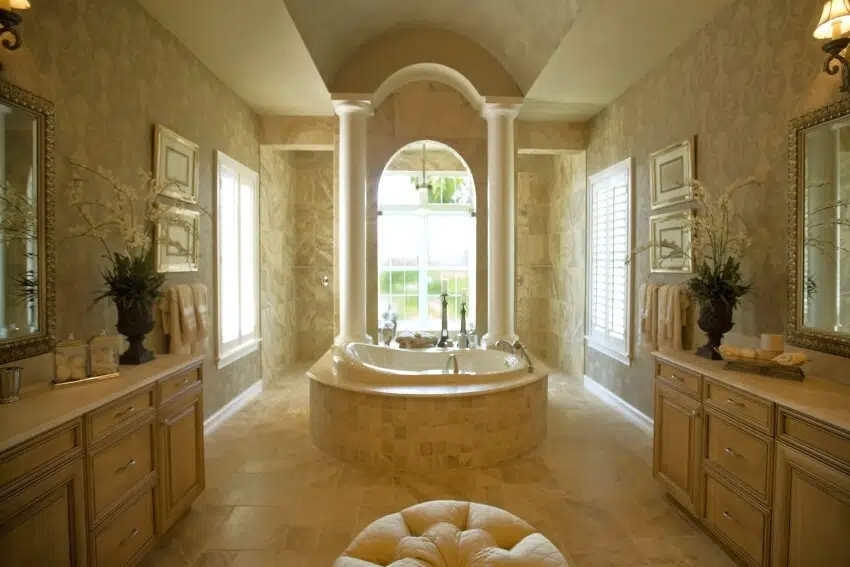 Travertine is, indeed, a porous material. Although the stone's intrinsic characteristics make it a stunning alternative for your bathroom, the uneven surface might attract grime. The natural porosity of the stone also enables it to retain moisture.
Travertine, on the other hand, can be used in a rougher, more organic honed appearance or polished to be glossy and smooth. Artificial fillers are also used in some travertines to assist smooth out the surface. Whatever surface texture you choose, a penetrating natural stone sealer would protect and keep it looking new.
How To Seal Travertine Surfaces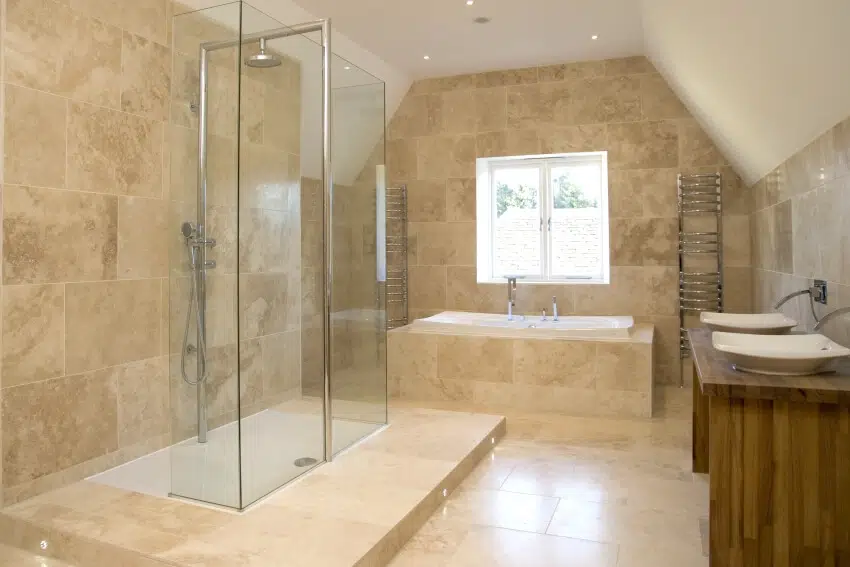 If you think you can do so, you can seal the travertine bathroom flooring yourself. You have to buy the sealer, a professional hand sprayer, and a microfiber mop and squeegee if you do not have these tools on hand yet.
After gathering all of the necessary equipment and products, start following the general steps below:
• To eliminate dust and dirt from the floor, thoroughly vacuum it.
• Fill the sprayer halfway with sealant. Examine the product label for clear directions on how to use it.
• Put the sealer on the travertine flooring in sections. Cover about 4 by 5 inches per section. Please leave it to stand for 5 to 7 minutes after spraying the floor liberally and evenly.
• Using a microfiber mop, apply the sealant. Perform this from side to side within the sprayed area (you should start from the top). Wait 5 minutes before proceeding to the next step.
• Spread the extra sealant to the next section with the squeegee. This is an excellent approach to reducing waste.
• After 5 to 7 minutes of using the squeegee on the flooring, start wiping over the sealed portion with a dry microfiber cloth. This will eliminate any extra product missed by the squeegee and produce a flawless finish.
• Do the previous steps repeatedly until every floor section gets sealed.
How To Clean Travertine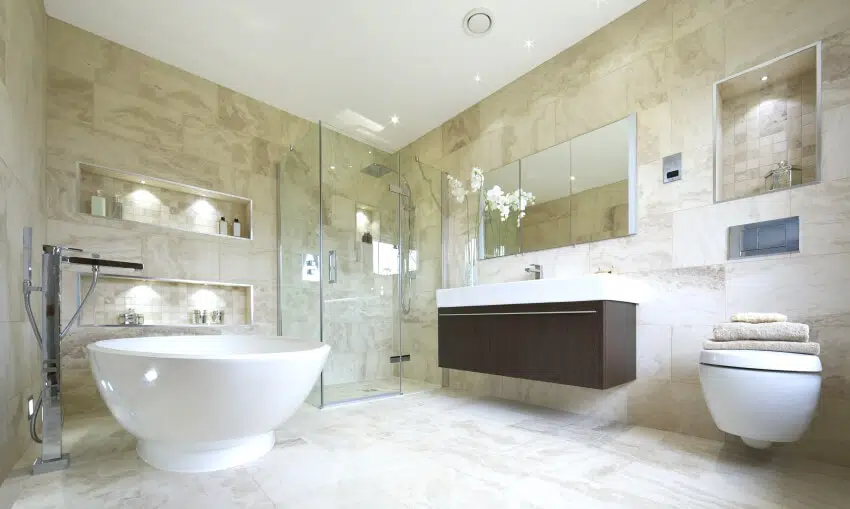 Here are some basic steps you can follow to effectively keep your travertine bathroom floors spotless:
• Sweeping or Vacuuming. You can either sweep or vacuum your travertine floorsbased on your choice and convenience. Nevertheless, it is critical to be meticulous in this step since any loose particles on the surface will be forced into the grout lines during the next stage.
• Mopping. Mop your floors using a basic cleaning solution of non-acidic liquid dishwashing. Simply combine 1 tablespoon of dishwashing soap and 3 liters of warm water to generate a gentle cleaning solution. Once you have this cleaning solution, start mopping.
• Cleaning the Grout Lines. Prepare a baking soda and water paste and spread it to the grout lines with a tile grout brush or just with your fingers. Let it rest for a few hours to intensively lighten the grout and kill bacteria before vacuuming off the crusted cleaning paste.
How To Update Travertine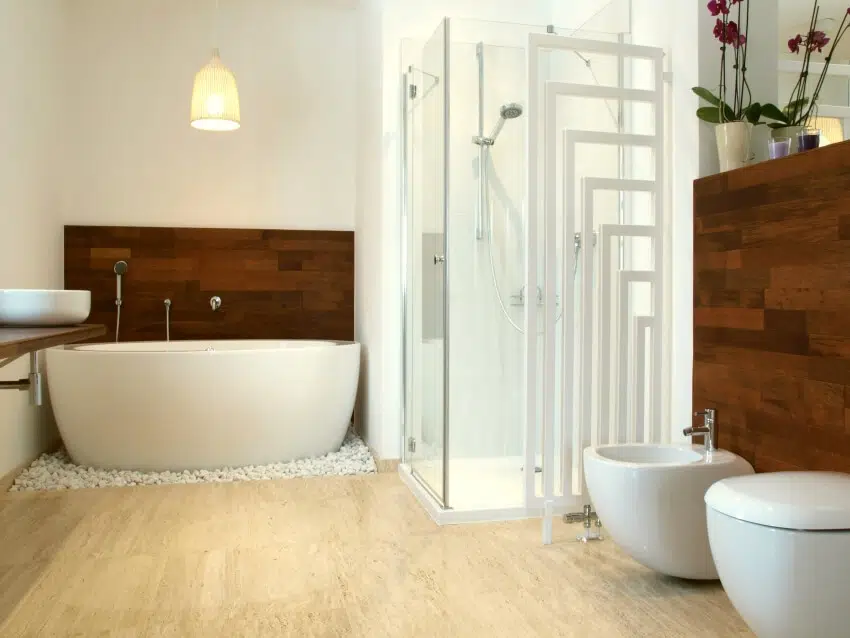 To obtain vibrant, appealing, and up-to-date bathroom flooring, seal, paint, and seal again the travertine tiles.
Here are the steps for updating travertine floors:
• Using a sponge, clean the travertine tiles with dishwashing soap and water. If there are any stubborn stains, gently scrub the area with a soft brush. Make sure to completely rinse and dry the surface. Never use paint on wet travertine floors.
• The stone sealer should be applied to the tiles with a sealant brush. The sealant will protect the travertine paint from various elements and extend the travertine floors' lifespan.
• There are thousands of paint colors that go with travertine flooring available. You have to ensure that the color you chose complements the color of all of the bathroom elements surrounding the travertine tiles.
Additionally, be certain that the paint you use is resistant to water and moisture. Water-resistant paints are available in a variety of brands on the marketplace.
• In this step, you will need a high-quality paintbrush. You may discover various varieties of paintbrushes in your local retailers. Choose one based on your preferences.
Make sure the surface is clean and dry before you begin painting. After that, add the first layer of paint. Remember that a single coat, no matter how thick, will not produce a satisfactory outcome.
• Applying many light coatings is the best option. Allow the first coat to dry for several minutes before adding the second. Distribute the coats until the acceptable color intensity is achieved. The paint must then be allowed to dry for at least 1 day.
• An additional coat of sealant will provide the necessary protection. Apply a fresh coat of sealant on top of the paint and allow it to dry.
Visit our limestone bathroom pros and cons guide for more related content.