Here we share our limestone bathroom designs including their benefits in tile form, pros and cons, and how to use limestone for countertops, flooring & shower walls.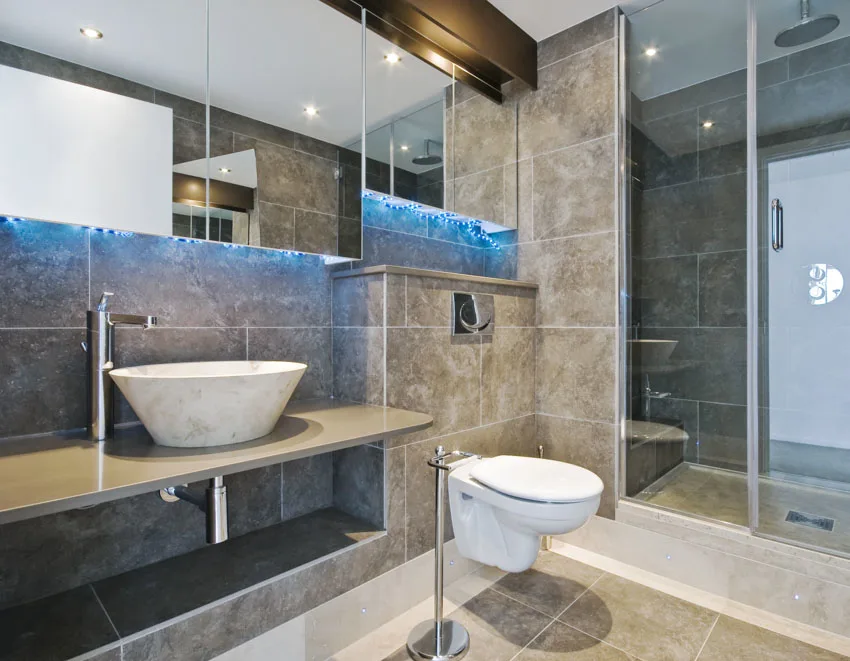 Are you planning on having a full-on limestone bathroom at home? That's absolutely understandable! A limestone bathroom is a stunning option, especially if you want something classy, natural, and authentic all at the same time.
If this is the natural stone of your choice for your bathroom, it is vital that you know as much as possible about limestone and what you can experience when using a limestone bathroom.
Understanding the nature of limestone when installed in this area of the home is important to decide if it's the ideal material to use for your next bathroom remodel project.
Limestone Tiles In The Bathroom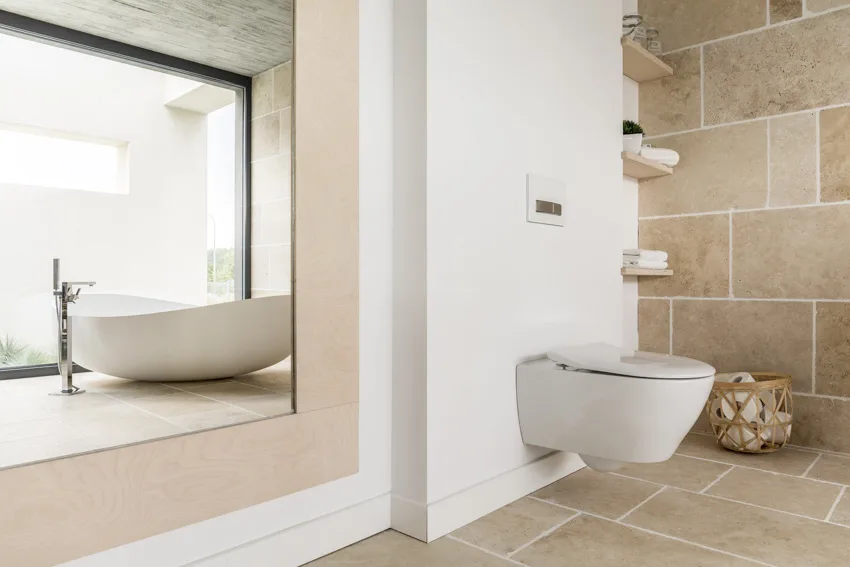 The bathroom is a high foot traffic area with constant high exposure to moisture so is limestone the best material you can use for it? Limestone is a sedimentary rock that's naturally porous.
The material's composition makes it highly vulnerable to damage from moisture and other harmful substances, especially acidic products and solutions. The solution is to seal the stone and fill the pores to help the material be protected from staining and water damage.
Limestone is a soft stone unlike granite and marble, which are considered hard stones. But you can still use this natural material for your bathroom, from the flooring and countertop to shower walls.
Despite being soft, it can be polished in order to protect the material and at the same time show a wonderful shine. If you choose a duller finish though, that can still be done, especially since this natural stone is easy to work with.
Limestone can easily be customized in cuts and colors, and easily be paired with other styles and patterns. You can even combine the natural stone with materials like ceramic tiles and glass tiles, depending on your preference. And with modern bathroom design ideas, radiant heating is an amenity that's popular in luxurious homes and it works fantastically with limestone.
Limestone Bathroom Tiles Pros And Cons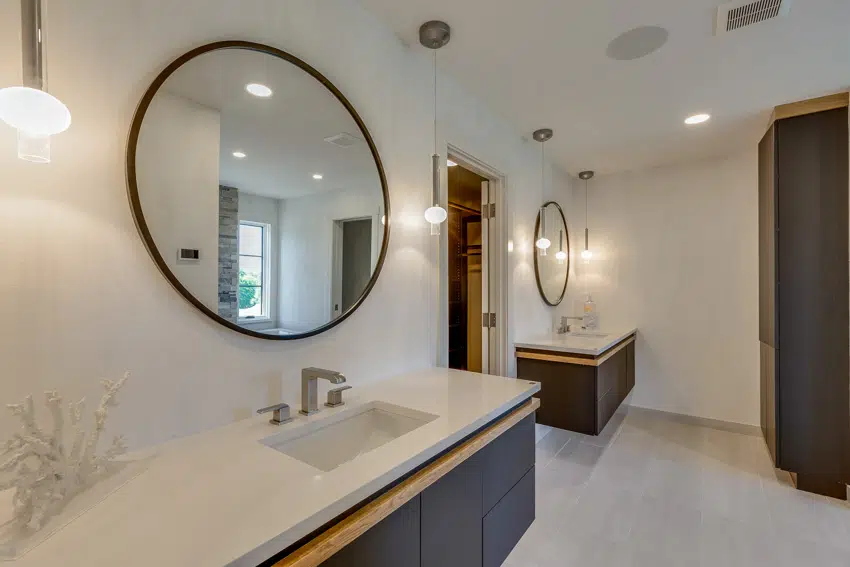 Limestone bathroom tiles can be an excellent addition to your home but before you go ahead and hire some contractors to build your bathroom for you.
Whether you plan to use limestone for your countertop or flooring, you need to explore the advantages and disadvantages you will experience in using this natural stone.
Pros of Limestone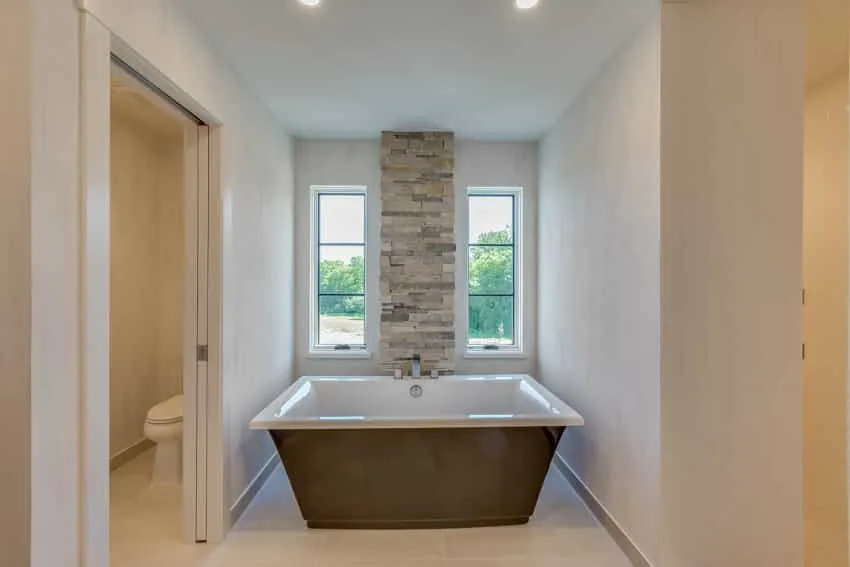 Limestone can offer a variety of benefits for your bathroom despite not being a hard stone, which is what's popular for most homes. Here are some notable ones:
• Unique Beauty and Aesthetics: Limestone tiles showcase an earthy and rustic aesthetic that makes you feel closer to nature, especially with the stone's texture that features fossils and organic minerals settled on the surface of the earth for years.
Since it's naturally light, it is an appealing addition to areas that need brightening like the bathroom. There is a variety of choices when it comes to aesthetics, from light and subtle-colored mosaic limestone tiles to deep red with a matte finish.
• More Affordable Than Other Natural Stones: Natural stones, specifically hard stones, are expensive but limestone tiles showcase the same authentic natural aesthetics but with an affordable price tag that ranges from $4 to $12 per square foot.
• Highly Versatile & Customizable: Limestone is a flexible material you can install both indoors and outdoors. Since it is a soft stone, you can cut it in smaller sizes and different tile shapes to fit the style you have for your bathroom.
• Improves the Value of Your Home: Natural stones, even soft stones like limestone, can increase the resale value of your home because of their desirability. And with an elegant limestone bathroom, you'll be sure to have homebuyers knocking and offering more.
Cons of Limestone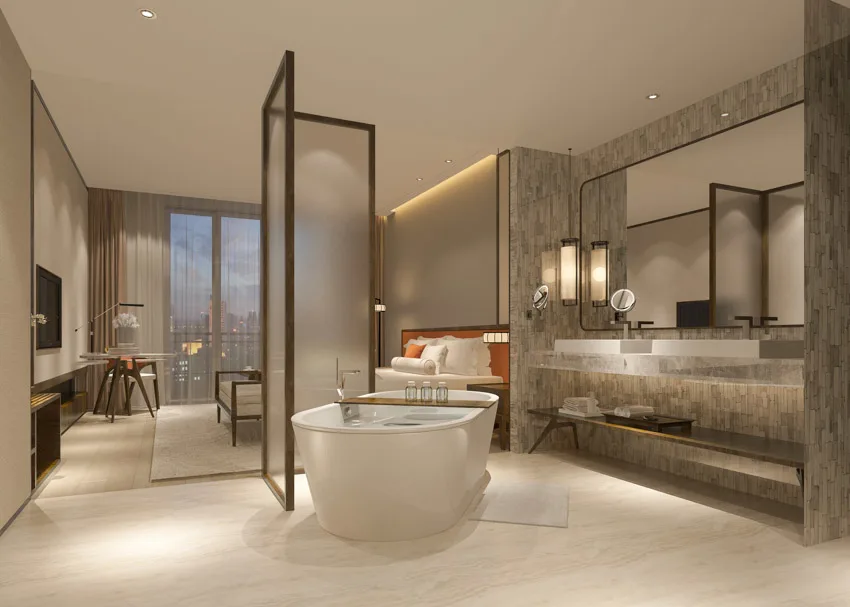 Besides the benefits you can enjoy with a limestone bathroom, there are also drawbacks you need to prepare for. Here are the important disadvantages to consider.

• Heavy & Weighty: Limestone is a natural stone and can be heavy, especially if they are large slabs. Installation and use of the material will require careful handling because dropping the slabs will lead to the material chipping, cracking, and fully being destroyed.
• Regular Cleaning: Daily cleaning of your limestone bathroom is necessary but it also takes special cleaning solutions to be effective. You can sweep with a broom or wipe with a dry mop to clean debris and dirt without scratching the surface.
Vacuuming also needs special handling since doing it randomly and without care can scratch the stone's surface, which is why a handheld vacuum is the only way to go.
• Regular Maintenance: Since limestone is a porous stone, it needs regular and proper sealing to be able to keep its condition and quality. You need to seal your limestone bathroom daily, especially with its constant exposure to moisture. Sealing can also protect the surface from scratching and staining but you need to do this once or twice a year to keep its protection.
• May Need Professional Installation: Because of its weight, the installation and the transportation of limestone tiles will require professional touch and so if you plan to have a limestone bathroom, you may need to hire some hands to do it for you.
• Limited Durability: Compared to popular natural stones marble and granite, limestone is less durable and softer but harder than porcelain, vinyl, and wood, making it not a good option for areas with high foot traffic but reasonable enough option for flooring.
The stone may also crack or scratch if a heavy piece of furniture is carelessly placed or collide with the stone.
Is Limestone Tile Good For Bathrooms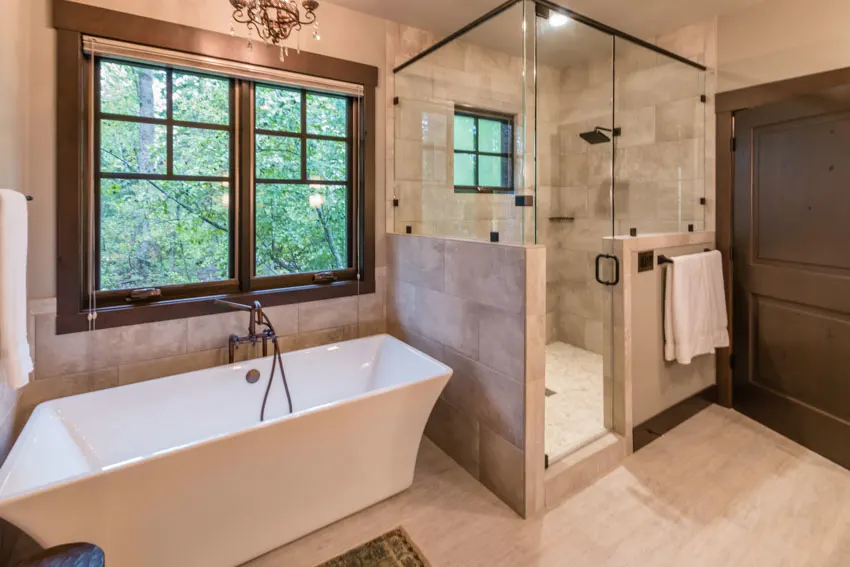 Limestone tiles can be a good option for bathrooms given that the natural stone is properly and regularly sealed. Since bathrooms are constantly exposed to moisture, limestone tiles are technically a bad match because of the stone's porosity.
But it may be a good option provided two things, one is that you choose high-end limestone tiles for your bathroom and two is that you make sure to regularly clean and seal the stone to prevent staining and irreparable moisture damage that can happen.
More than just making sure you have a high-quality limestone and maintaining its quality, you also need to guarantee that limestone aesthetics is what you want to see in your bathroom.
And with limestone's flexibility and a variety of designs and patterns, this may mean a lot of things, including light-colored mosaic tiles or dark-colored veined slabs.
If you want a bathroom that offers warmth and comfort, limestone is a good consideration. Since it serves as a natural insulator, you will be able to enjoy warmth during the winter and cool air during the summer.
You even get to lower your electric bill in the process. This is also the reason why it is a good option for homeowners who are pro-environment. In addition to that, the material does not have additives or chemicals that might hurt the environment.
Is Limestone Durable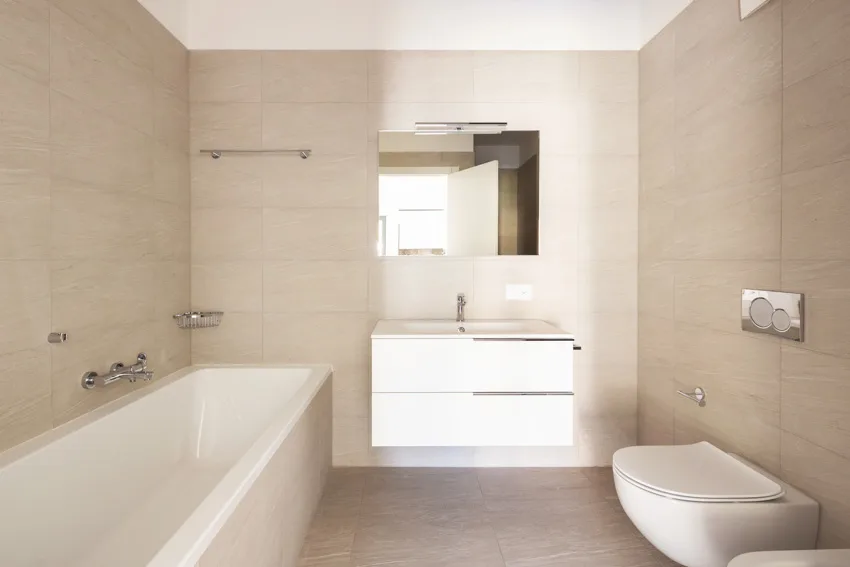 Yes, limestone is durable like most natural stones, whether they're hard stones or soft stones. It may be less durable compared to hard stones like granite and marble but more durable than vinyl and wood.
This soft stone can be used as bathroom flooring and it won't wear down even if the bathroom is an area with heavy foot traffic. You just need to be careful about handling heavy furniture near it since the collision with this can cause chipping and breaking of the limestone.
Limestone may not be the most durable natural stone but it is durable enough to last for years as your bathroom flooring or wall. Regular cleaning and sealing can lead the limestone bathroom to be part of your home for a long time.
Is Limestone Expensive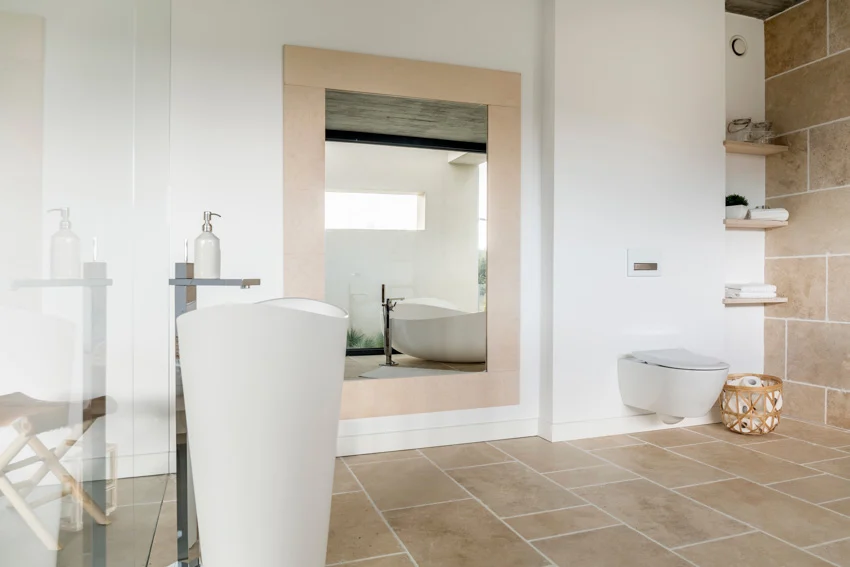 Limestone is more expensive than ceramic, porcelain, vinyl, and other artificial materials but it is more affordable when compared to other natural stones like marble and granite.
The cost of limestone tiles range from $2 to $12 per square foot, depending on the different types, level of impurity, and colors.
Rarer types of bathroom tiles with greater detail, character and colors can increase the price of the limestone. And when they are added with initial treatment, home delivery, and professional installation, the cost will rise to $30 to $120 per square foot.
Besides the initial installation, what can set you back and actually be a deal-breaker for many homeowners is the operating cost necessary to maintain the quality of limestone throughout its years of usage, including grout, polish, and sealants.
Limestone Countertop Bathroom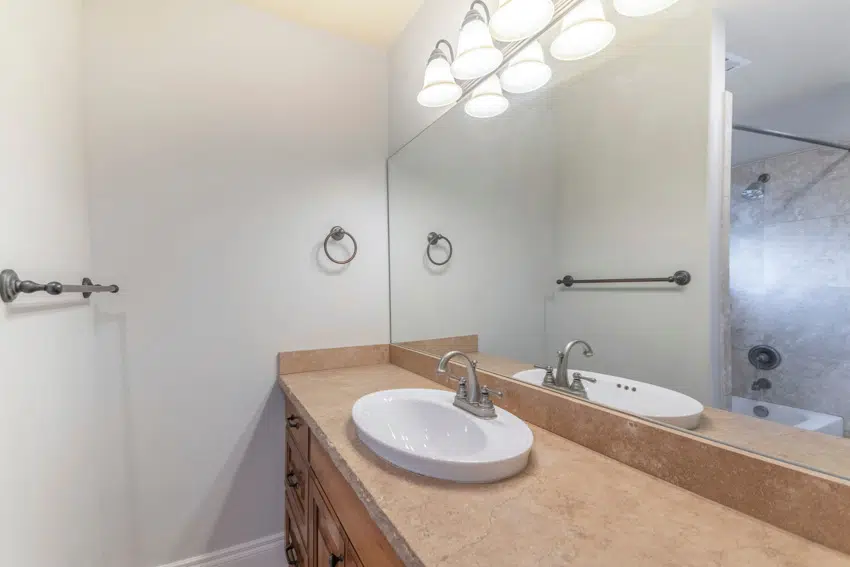 Limestone tiles are a good option for a bathroom countertop, with their unique and primitive aesthetics made from fossils and organic minerals. Having a limestone countertop is very appealing, especially with its wide range of colors, shapes, and patterns.
It showcases a stunning and elegant ambiance that will spruce your bathroom and make you definitely feel like a VIP. They can also have different textures you can choose for your countertop.
A brown-colored limestone countertop, whether it's light brown or reddish, showcases a chic antique vibe perfect for a rustic bathroom. Match it with dark brown wooden cabinets and elegant types of bathroom sinks to complete the package.
A neutral-colored limestone countertop, tan or cream, can also replace this brown-colored countertop. If you want something bold though, a black limestone countertop is a major showstopper. Match this will silver accessories and white pieces of furniture to support the look.
Limestone bathroom countertops do require more maintenance, especially with their exposure to moisture that can cause damage to the stone. Make sure you are ready for the cost of the maintenance, along with the price of limestone countertop slabs which range from $300 to $450.
Limestone Bathroom Floor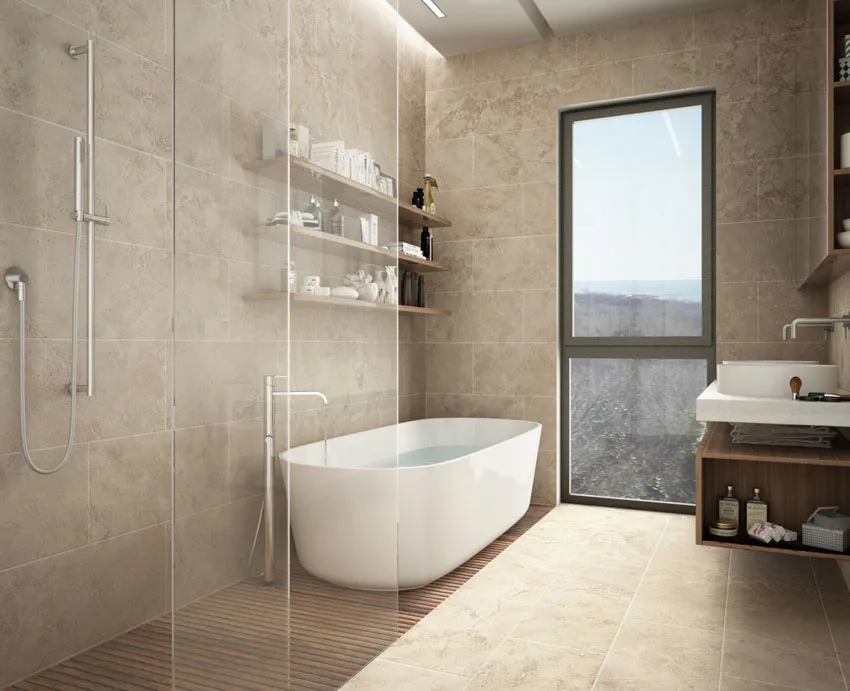 Limestone is also an incredible-looking option for your bathroom floor, especially if you choose the type with visible fossil fragments. And depending on these fragments, the colors will vary and it will be up to you to choose which one is ideal for your bathroom.
While normally light-colored from white to yellow, it can turn black if it has a high amount of organic materials.
There are different types of limestone flooring and their corresponding finishes you can check out. Here are some limestone types worth exploring..
• Square edge tiles (sleek and contemporary ambiance)
• Broken edge tiles (unique edge flooring)
• Pillowed edge (softened and rounded edge)
• Tumbled edge tiles (traditional and primitive ambiance)
Is Limestone Good For Bathroom Floors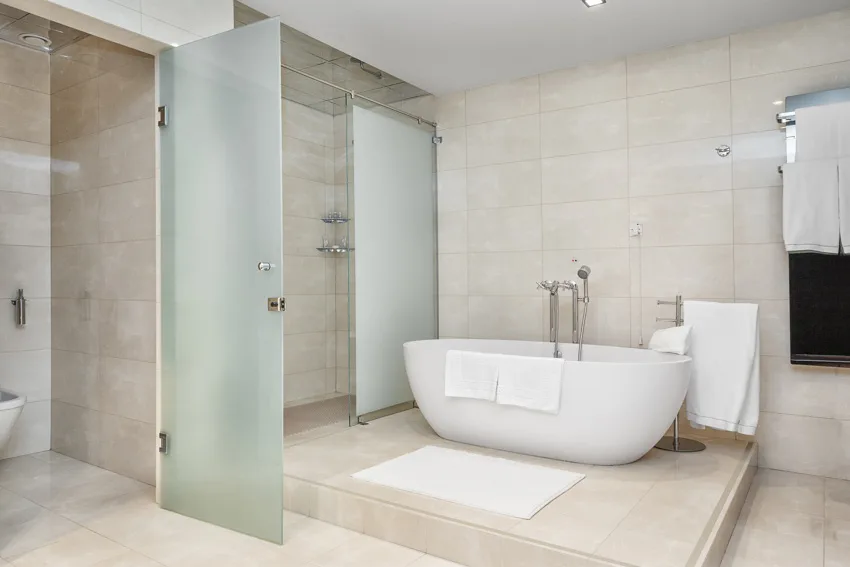 The main issue with a limestone bathroom floor is its durability, especially since this natural stone is porous. And since it is a soft stone, it is soft to touch and less durable compared to hard stones. These factors are not hindrances to installing limestone on your bathroom floors.
A limestone bathroom floor is possible since the natural stone is durable enough to take the wear and tear of a high foot traffic area. It is more durable than wood, luxury vinyl, and other synthetic materials used for flooring.
The trick with a limestone bathroom floor is regular cleaning and meticulous maintenance. While cleaning a limestone is not a complicated task, it needs to be done daily to maintain the stone's quality.
You also need to make sure to seal the material once or twice a year to protect it from staining and irreparable moisture damage.
Limestone Bathroom Shower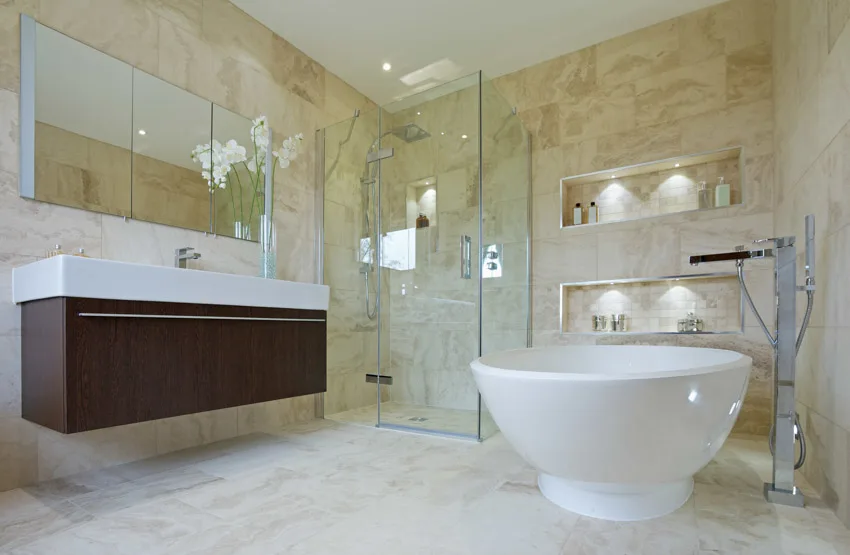 Besides the countertop and bathroom floor, you can also install limestone in your bathroom shower. If you're looking for an incredible wall backdrop, limestone can be considered.
You can install a muted color limestone for your shower wall to have a zen-like ambiance in your bathroom. If you want more luxury, you can go for something close to gold.
If you choose a polished or honed limestone for your shower area, make sure that you have the material restored since the natural stone may lose its original finish after some time. Bear in mind that limestone doesn't shine the same way that granite or marble does, even if you apply high gloss on it.
Is Limestone Good For Shower Walls?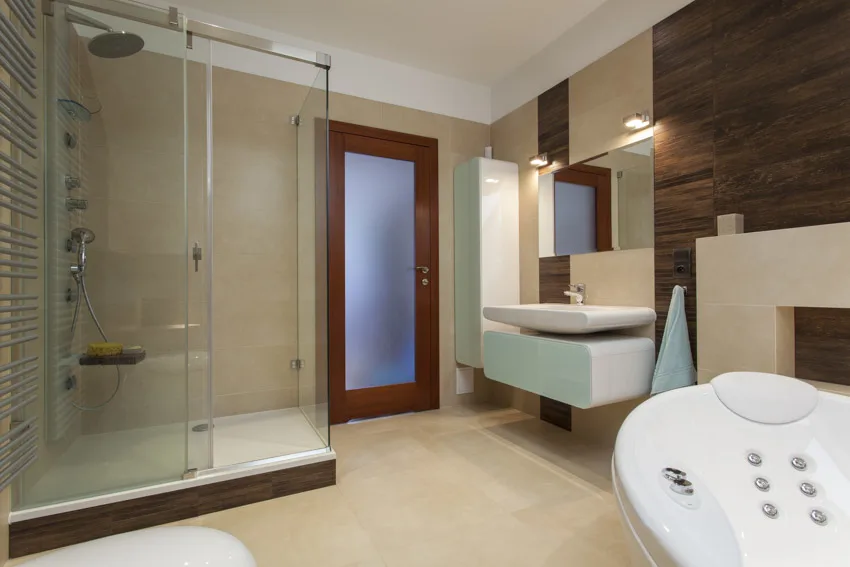 Since the bathroom shower will be constantly exposed to water, you need to properly seal the limestone to maintain its condition for a long time and protect the material from moisture.
With proper care and maintenance, yes limestone can be good for shower walls. So, if you're up to daily cleaning and annual sealing then limestone can be a good option for you.
How To Clean Limestone Bathroom Tiles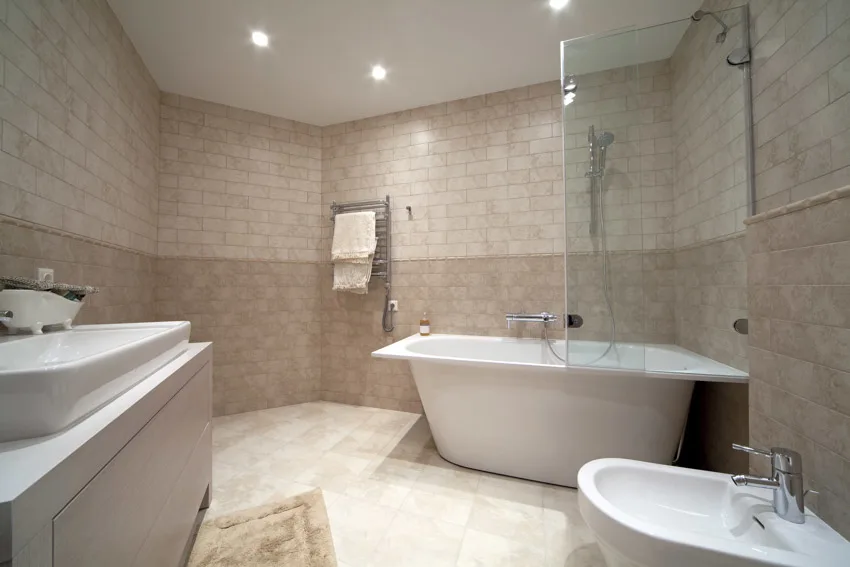 Limestone bathroom tiles are more sensitive, especially to acids, compared to hard stones. This means that you need to be more careful when handling limestone tiles even though they're durable enough in the first place.
More than just the annual (or even twice a year) sealing, thorough and regular cleaning is vital to keep the quality of the limestone bathroom tiles intact.
To guide you in cleaning your limestone tiles, here are the materials you need to prepare before you start:
• Microfiber cloths
• pH-neutral cleaners
• Pail/bucket
• Bristled brush
• Chamois cloth/Squeegee
Here are the simple steps you can follow to thoroughly clean your limestone bathroom tiles.
• Step 1: Spray your bathroom tiles with your chosen pH-neutral cleaner and let them sit for about 15 minutes on the walls and the floor – You can't use acid-based cleaners like vinegar or ammonia with limestone since it can damage the stone's surface so choose a non-acidic cleaner.
• Step 2: Wipe the tiles with a damp microfiber sponge – Wet the microfiber cloth, wipe the cleaner off the wall, rinse the cloth, and wring it out. Continue this process until you clean all your bathroom tile walls.
• Step 3: Get the bristled brush and start scrubbing the floor – Compared to the walls, you can use bristled brush on the floor especially if it's been sealed properly.
• Step 4: Dry the shower – Get a chamois cloth or a squeegee to dry the shower, floor, countertop, and the walls.
See more related content in our article about subway tile bathroom on this page.