Here's our dining room window treatments guide with different designs, textured & seasonal options, and tips on how to choose curtains, shades & blinds.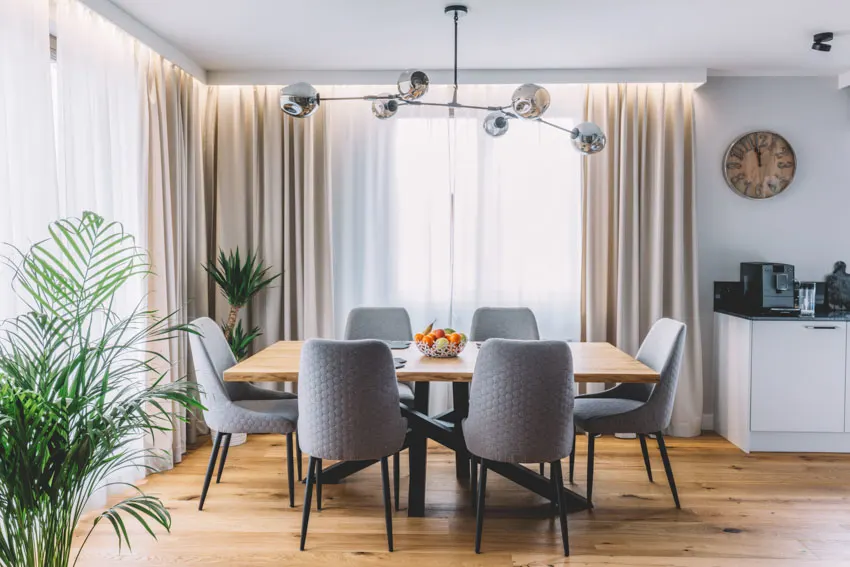 Dining room window treatments are arguably one of the most vital aspects of a home's design. Admittedly, the dining area is the most formal room in the house. This is where family members and friends congregate not just for eating together but also for camaraderie and enjoyment.
Hence, it is critical to outfit the dining room to make it very eye-pleasing and welcoming. Windows are, in many respects, a plain aesthetic canvas. Thus, you can do so much to spice them up and render them appear wonderful. The challenge is that this is frequently uneasy to achieve. There are so many window treatment options to pick from.
That is why it can be confusing when deciding which one is ideal for your dining room window. Fret not! We have prepared some guidelines to help you limit your options. Let us now have a look at these various dining room window treatment options.
Dining Room Window Treatment Ideas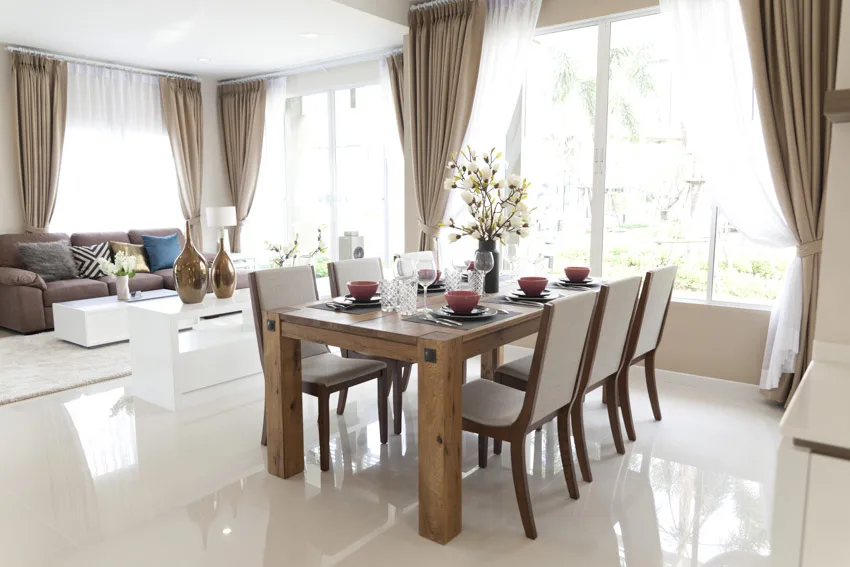 Here we share the best window treatment ideas for dining rooms.
Side Panels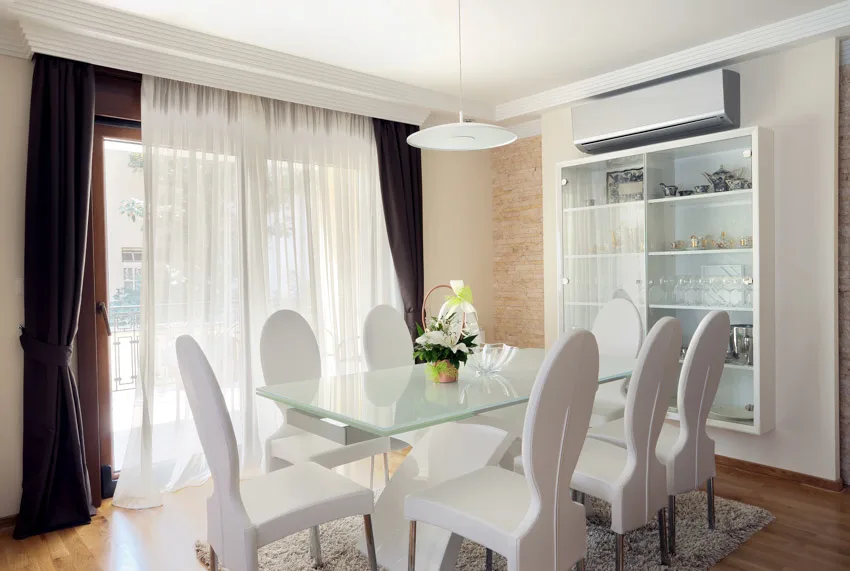 Side panels surround and accent the window, whereas the window shade serves the purpose you desire. When there are side openings from the window coverings, side panels might add an extra layer of functionality.
Bothersome lighting can enter through side openings at times. Nonetheless, side panels can provide sufficient coverage to address the situation.
Drapery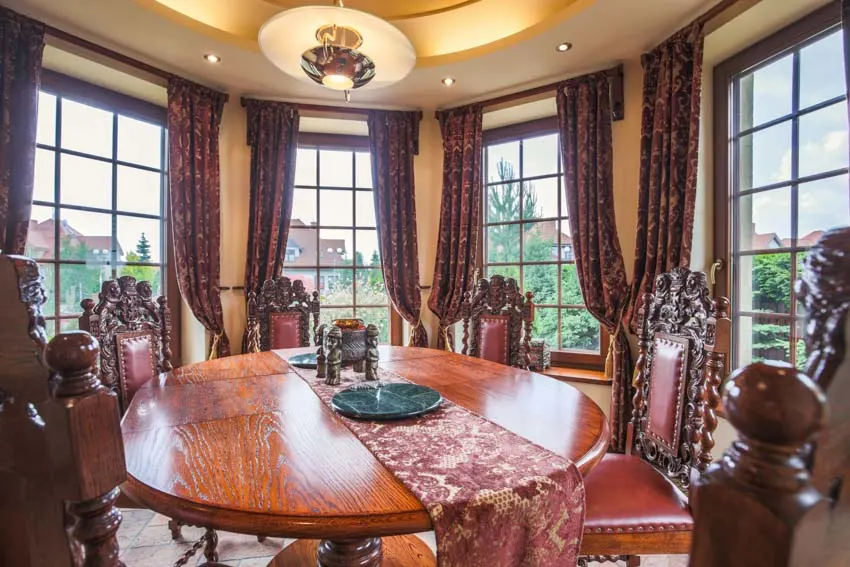 Drapery that is well-thought-out generates an amazing backdrop for an interior and is one architectural feature that significantly adds to the overall design aesthetic of the room.
Oftentimes, draperies that do not match or complement the accompanying colors and furnishings ruin the overall appearance of your home. If someone with an excellent understanding of interior design happens to go into the room where those mismatched draperies are hanging, you might notice how they smirk at the egregious appearance.
When we consult interior design experts about the finishing aspect they frequently emphasize, they only have one answer: draperies. Whether they are window-sized or full-length, multicolored, or single-colored, the aesthetic of a space is just as unsatisfactory without them.
The accessorized draperies contribute to the vibrancy of the picture. The very same improvement they make to your home's interior. On a rainy, windy day, draperies can be your companion. Hence, draperies should always be present and they should be wisely picked and installed.
Once you layer your window treatments, you can get both flair and functionality. While side panels are appealing, complete draperies provide the functionality you want.
And perhaps, you may enjoy the notion of entire panels, but the fabric you desire will not block out enough light. Layered drapery comes into the picture at this point.
When drapery is combined with other window treatments, it may lend interest and complexity to a room. You have a vast range of selections that will complement your side panels and drapes nicely.
Simple, plain draperies look wonderful with patterned blinds, while basic-looking types of window shades look fantastic with ruffled valances. Furthermore, layering contrasting patterns on top of each other might appear crowded and detract from the depth appearance of layered window treatments. Thus, you just have to stick to a single accent pattern and a matching color palette.
Layering draperies over blinds appear great on bigger windows in a dining room. However, any window in your dining room can look very stylish and unique with layered draperies.
Plantation Shutters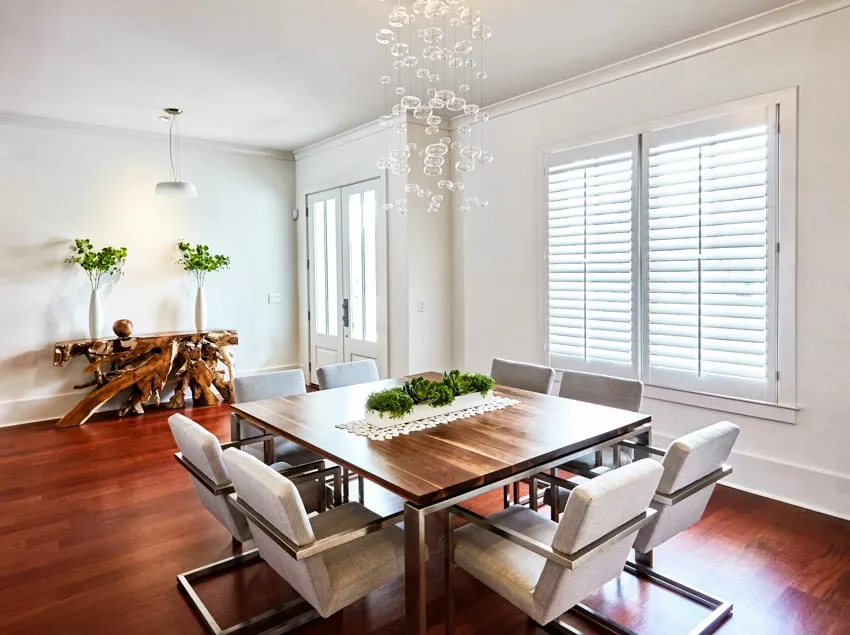 Plantation shutters are named after the Southern states where they became popular due to their attractive appearance as well as their insulating capabilities.
Considering the climatic fluctuations in this part of the nation, the plantation shutters' capability to maintain your dining room's warmth in the wintertime and coolness in the summertime makes them important. Truly, they are not only eye-catching but also functional dining room window treatments.
Plantation shutters are distinguished by their inclined wooden louvers, which are comparable to blind slats. Unlike blinds, shutters are attached to the window framing and can be opened the same as doors instead of using a pull-string.
These are available in a variety of materials, with the most prevalent being MDF and vinyl, which are both robust and inexpensive. Numerous individuals choose classic plantation shutters made of wood like teak, especially for a dining room with a rustic theme where a modern material like MDF would look strange and undesirable.
One of the most significant benefits of plantation shutters is that they are already made to measure, making them simple as a DIY project. These shutters are pre-hinged and contain all of the magnets and magnetic plates in place, making assembly a breeze.
Window Curtains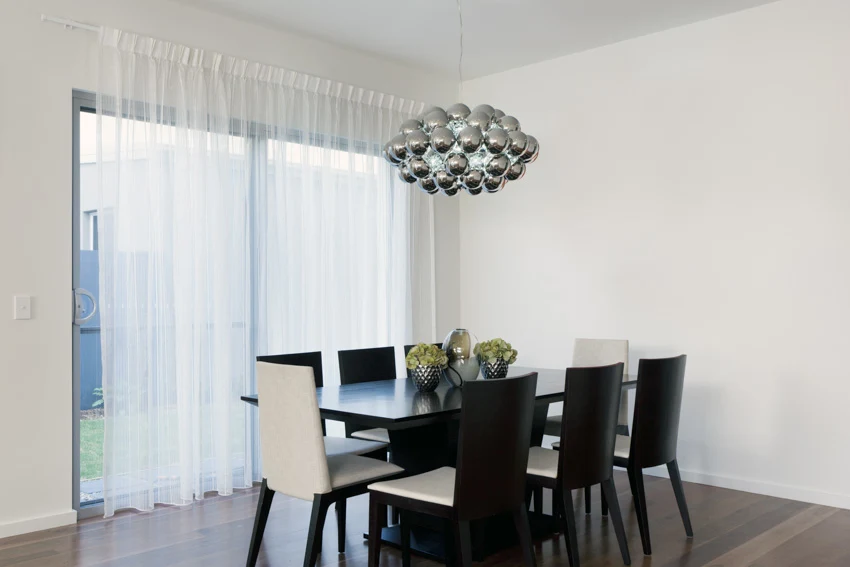 Window curtains are fabric screens that are frequently supplied in sets of two. Types of curtains are available in a variety of lengths, widths, materials, colors, textures, and patterns, making them an adaptable and prevalent option for any dining room.
Small and translucent curtains cover only the upper half of a window above a kitchen sink and are commonly coordinated to a valance over the window's peak. These sheer fabrics are known as café curtains.
Since window curtains are composed of lightweight, often sheer fabrics that have no lines, they are almost certain to be used over another window treatment like a blind or shade in the dining room. This implies that, although curtains do block certain lighting, they do not block all of it.
Furthermore, window curtains are usually suspended from a rod, which can be simplistic and inconspicuous or ornamental and on exhibit, contingent on how the curtains are placed.
There are numerous methods for hanging. Metal grommets, metallic or fabric hooks, and fabric casings on the top or rear of curtain slats are among the most frequent designs.
You can use bright curtain colors to give contrast to your dining area or choose an unusual fabric design to spice it up. Sheer curtains, however, add gentleness and minimalism to the dining room.
Indeed, floor-to-ceiling curtains are a fantastic method to improve the overall look of your dining room. These lengthy curtains are great for a spacious dining room. Curtains that reach from the ceiling to the floor quickly transform a standard dining room into a magnificent and sophisticated area.
While the curtain rods do not span the complete width of your windows, the substantial curtains look great on both sides. You just have to make sure to choose curtains that complement the other elements in the space.
Roman Shades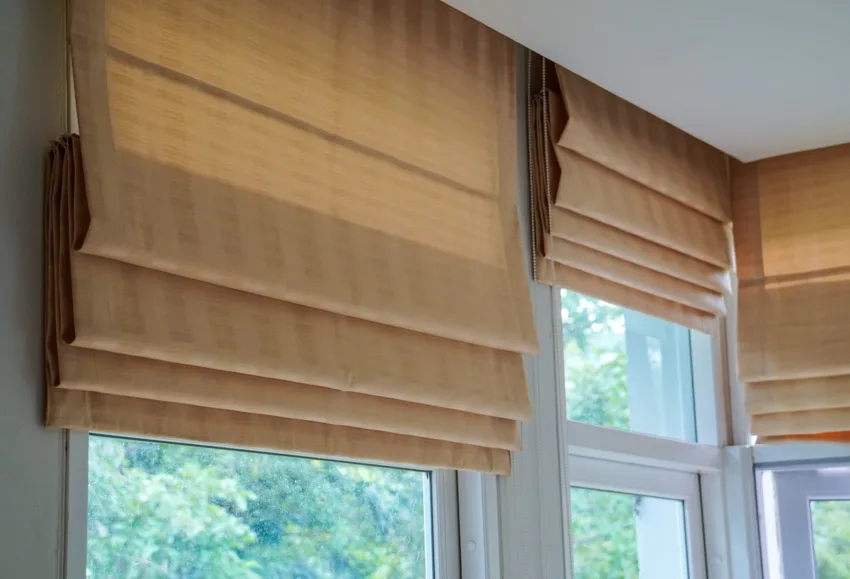 Roman shades are a fancier variation of standard types of window blinds. Roman shades are constructed of fabrics rather than vinyl, plastic, or timber. The fabric folds appear ornate and fashionable, but they are not dominating.
There are also several folding alternatives for Roman shades, giving you a variety of possibilities. Hence, you can easily choose the design that appears best in your dining space.
Modern Roman shades elevate the Roman shade idea in terms of aesthetics and craftsmanship. These contemporary Roman shades are typically available in both rolling and stacking configurations.
The fabric shade rolls entirely into the headrail for uninterrupted viewing, while the rolling version is the only Roman shade on the marketplace without internal lift lines. For added safety in households with kids and pets, the stacking version features zero exposed lines.
With either form, the outcome is an extremely pristine and minimalistic Roman shade with an interestingly clean and uncluttered rear. Modern Roman shades come in a variety of beautiful fabrics, most of which are constructed of 100% polyester for extreme durability and ease of maintenance.
Roman shades have been available for a long time and remain to be widely known due to their timeless design. All you have to do is pick a fabric that ideally matches your dining room decor. Its aesthetic versatility ensures that it will work effectively in almost any theme.
Aside from that, Roman shades lead to significant savings on your energy bills by properly retaining and releasing heat. Furthermore, based on the material you select, you can either allow or restrict filtered light entering your home.
They also provide privacy because they are supplied in individual pieces. Ultimately, Roman shades fold in four variations – flat, European, soft, and plain.
Woven Wood Shades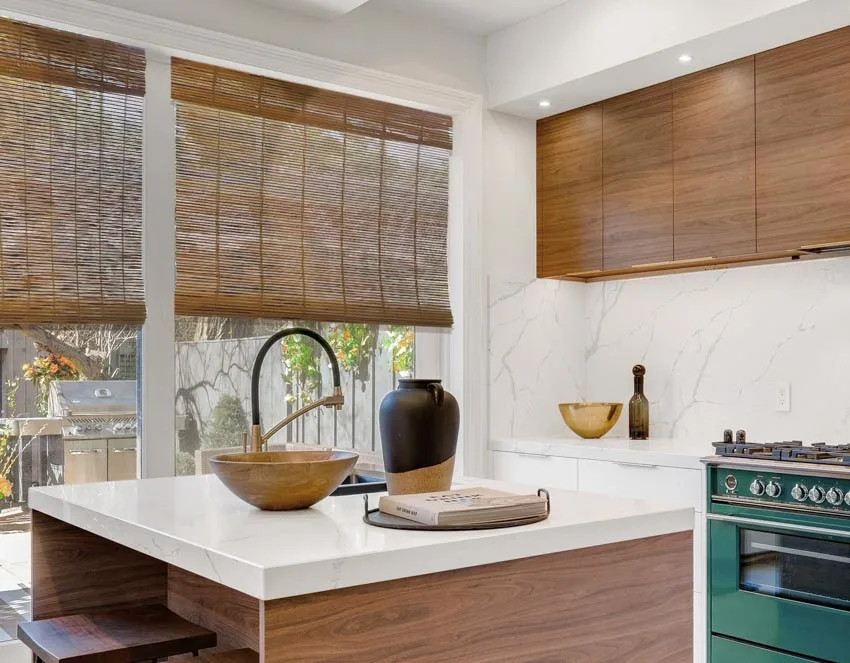 See these woven wood shades for windows at Amazon [sponsored link]
If you want to make a big naturalistic statement in your dining area, the pleasant and natural sensations of woven wood shades might do the trick. You just cannot get any closer to incorporating nature into your dining area with such a vast range of colors, patterns, and textures.
Dark liners can be used with woven wood shades. This is fantastic for increasing seclusion and reducing natural light in any place, especially if you do not want the people outside from watching you while eating or socializing in your dining room.
Woven wood shades shield your dining room from sun exposure. They are designed to completely shield the sun's damaging rays. The kind of rays that, if unprotected, can degrade and harm your precious wooden floors, luxurious furnishings, wall cladding and color, and any precious artwork in your dining room.
Such shades inhibit those rays, prolonging the lifespan of your dining room's exquisite design features and saving you money on replacements every several years.
Furthermore, woven wood shades are often manufactured from natural resources including bamboo, grasses, reeds, and jute, bringing naturalistic flair to your dining room and meeting your need for an eco-friendly interior design.
The aesthetic of these organic materials gives depth and character to any home, providing you with the peace of mind that your woven wood shades are not damaging the environment.
Furthermore, regardless of the color theme of your dining room, wood shades come in several colors to accentuate them. They may take your dining room to the next standard, from lighter to darker tones.
Woven wood blinds are available in a variety of complementary colors. If your dining room's pieces of furniture and colors are neutral, white, or vibrant, consider lighter tones of woven wood shades.
If your dining room has darker, bolder hues and jewel-toned ornaments, you can boost the aesthetic of the area by using dark wood shades or deeper colors of woven wood shades.
Tie-Up Shades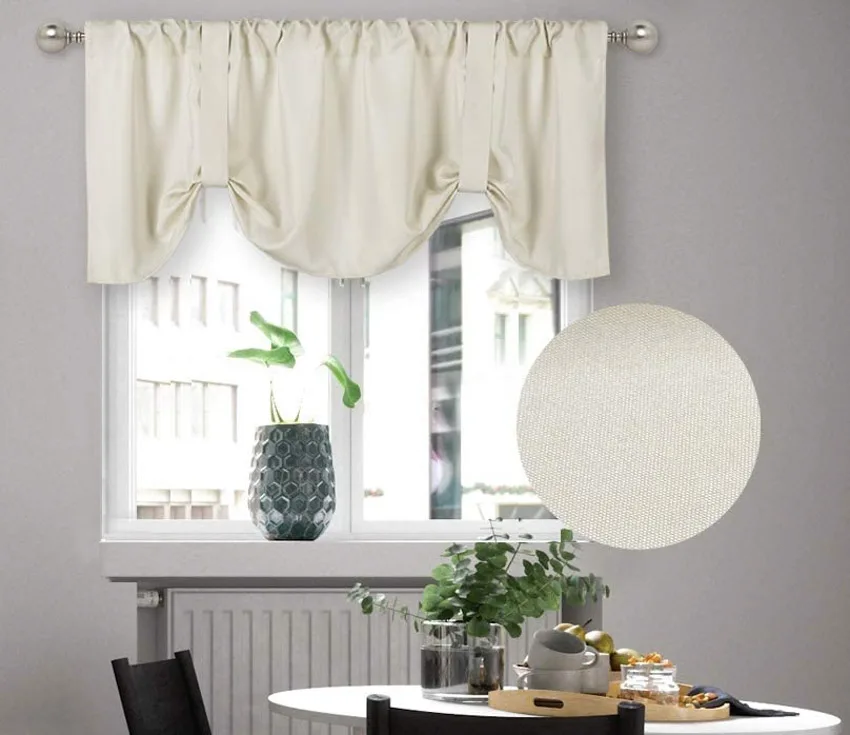 See this tie-up curtain at Amazon [sponsored link]
Comparable to London and balloon shades, tie-up shades are activated by drawing the curtain panel upward from the bottom rather than bringing slats to the sides of the window. To elevate and drop the panel, cords, strings, or clips are linked to the curtain fabric.
Tie-up shades are silky and elegantly drop from the curtain rod. Two or more strips spread across the panel's width generate folds of broad scallops that can be changed into varied lengths for a striking impact.
Additionally, tie-up shades go well with a variety of themes, thus you may create them on your own. The tie-up shades in a dining room can add to a homey yet modern vibe.
Although it may be difficult to draw down and roll up tie-up shades constantly, they certainly seem appealing. Provided their distinct appearance, these curtains will undoubtedly become the focal point of your dining room.
Austrian shades and elasticized balloon shades, which feature shirred folds that form beautiful scallops when elevated, are more intricate forms of tie-ups. The scallops are made by evenly spreading shirring tape across the breadth of the material. These versions of tie-up shades are both appropriate for large dining room windows.
Moreover, tie-up shades look great as freestanding top treatments like valances. They also work well as panels without a top treatment. Combining top treatments with side panels is a timeless look that complements any dining room design.
To include tie-ups into a modern dining room design theme, you can allow your creativity to go wild. You can opt for dramatic geometric patterns in complementary colors. If your dining room design is minimalistic, you can use black and white spirals or broad stripes to attract attention to the window treatment.
In addition, you can choose net curtains with ribbons for a charming effect. Try classical flower motifs for a timeless look. Colorful tropical designs offer a whimsical touch to casual décor.
Horizontal & Vertical Blinds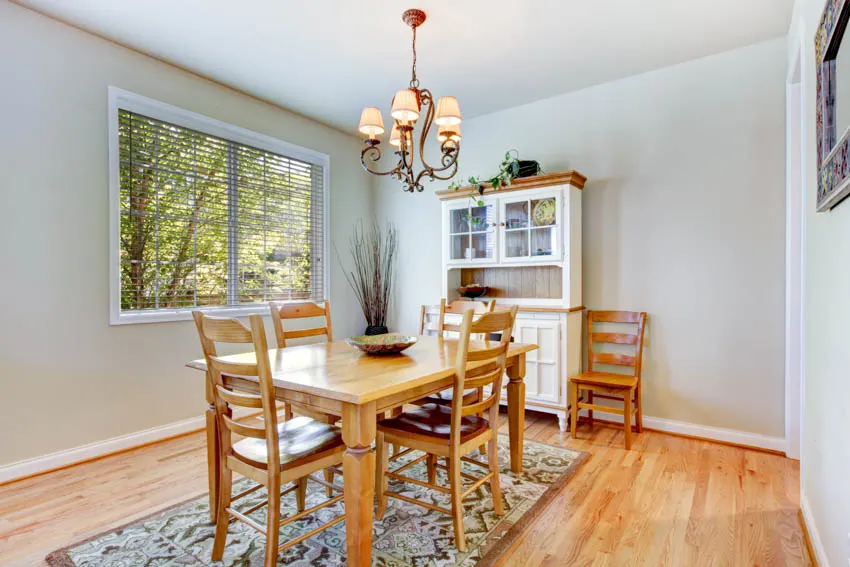 Vertical blinds move side to side, whereas horizontal blinds move up and down. Both of these blinds have a unique opening operation.
Horizontal blinds often use a cord-and-pulley mechanism as they lift from the bottom. Vertical blinds can cover your dining room windows elegantly whereas horizontal blinds get too heavy to physically control for a huge window.
Vertical blinds with lengthy slats are ideal for large dining windows and doors, whereas horizontal blinds are ideal for thinner, smaller, and taller windows. Furthermore, each blind produces a unique visual impact.
Aside from that, the vertical blinds' lengthy slats provide a sense of vastness and height and permit more lighting to pass in when opened or closed than horizontal blinds. When vertical blinds are opened, they produce an exposed window for sunlight to come through and an unhindered view.
Box valances are undoubtedly more about fashion than practicality. That is why matching them with horizontal or vertical blinds would be a great idea. You can select some minimalistic blinds to make the box valances shine out with their appearance.
The valances can be decorated with bright colors paired with white designs, which offer a splash of brightness to the dining room. This is a one-of-a-kind look that your guests will appreciate. With that being said, do not be hesitant to utilize bright colors or dramatic patterns in your dining room window treatments.
Wide Blinds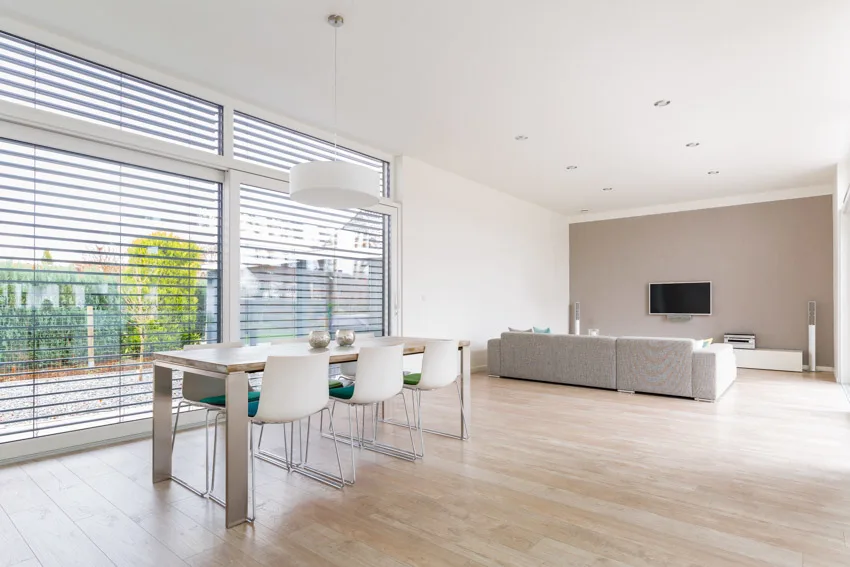 Classic blinds come in a variety of lengths, widths, colors, as well as materials. You undoubtedly would not want to obstruct the sunlight in a space with an abundance of natural lighting. Even so, sunlight adds excellent warmth and brightness to the space.
Fortunately, wide blinds will undoubtedly suffice. Sunlight is always welcome, but it may also be readily blocked with a simple adjusting of the blinds. Furthermore, wide blinds have a clean and modern appearance. You will not be disappointed with the look it will give.
Pull-Down Blinds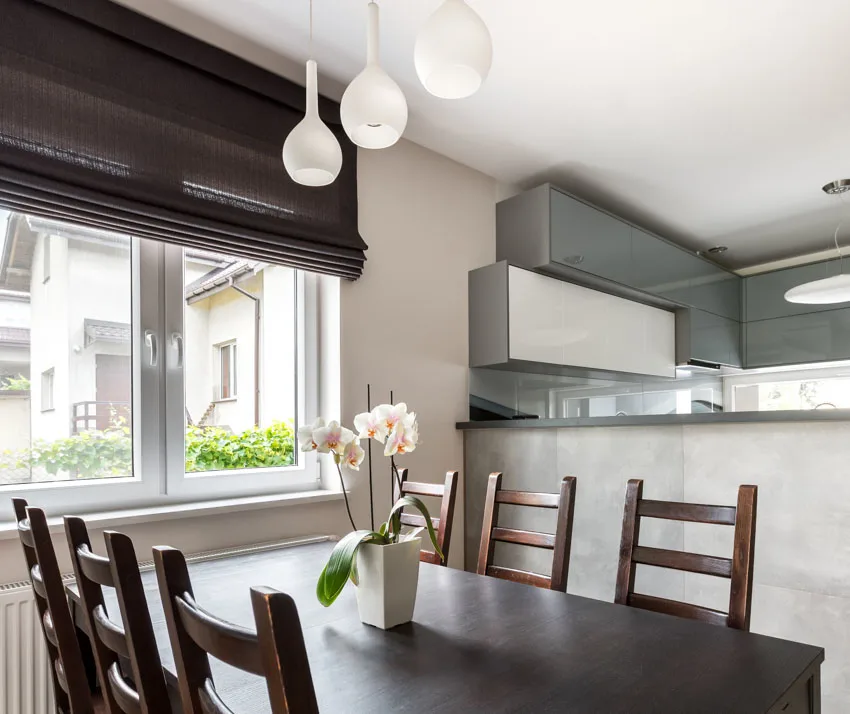 Irrespective of the room, pull-down blinds are among the most traditional window treatments. So do not be afraid to include them in the dining room. Pull-down blinds, nevertheless, are simple, practical, and timeless.
You can just pull the blinds down to create the necessary ambient light whenever it is time to close them. You can also decorate or purchase blinds with colored trimming at the top. The color can significantly improve the appearance of the blinds.
Sheers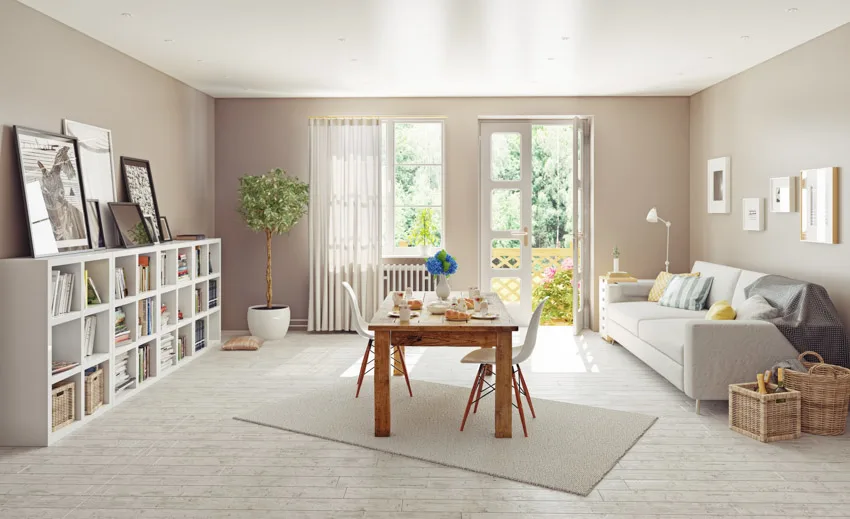 Sheers are delicate fabrics that shade your windows, lessen the lighting in your dining room, and instantly add flair to your architectural design. Sheer curtains provide just the right level of privacy while also complementing a multilayered dining room window treatment.
By softening the area, sheers make a dining room look more attractive. If sheers are not your style, a set of sheer curtains with a mild pattern might suffice. The gentle patterns in the sheers add to the dining room's general atmosphere and design.
Textured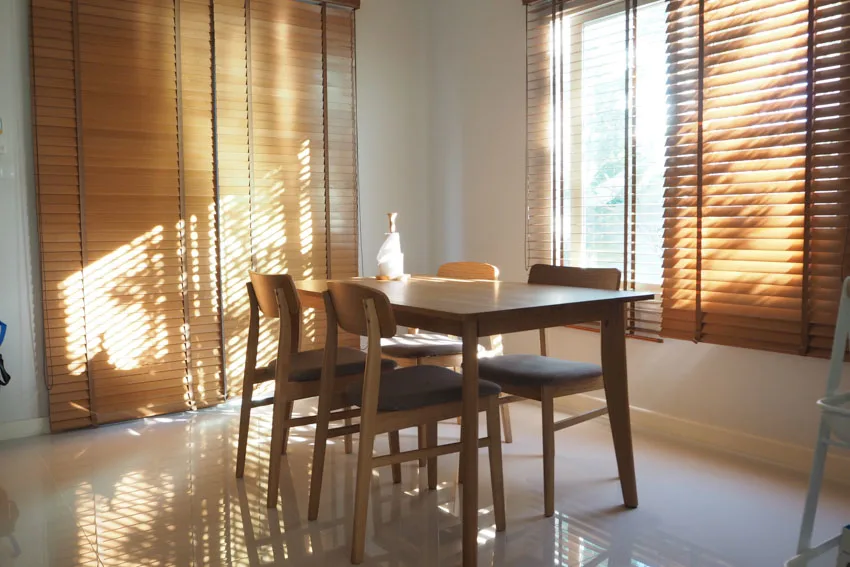 You should not overlook the excellent impact of textured window treatments in a dining area, particularly if they are colored. The appropriate color and texture pairing may create a massive visual effect.
Textured green window curtains offer a splash of color to an apparently neutral-colored area. Green and brown are both natural colors, hence they make a lovely color combination.
Textured window treatments easily give your area a calm and organic ambiance. You can even add liners to focus on providing privacy or insert fabric trimming to further personalize your dining room window treatments.
Seasonal Window Coverings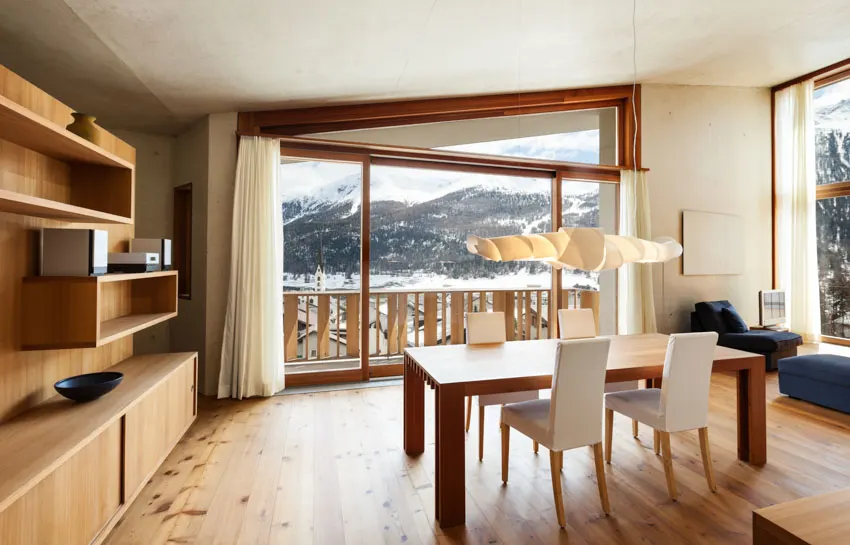 Using seasonal window treatments properly in your dining room will assist in increasing your home's energy efficiency, allowing you to save money on your energy expenses.
Rather than replacing your window coverings as the seasons transition, you can search for an all-purpose window treatment that is energy-efficient in all seasons.
It is recommended that you select a window covering with a higher R-Value, which serves in keeping the chilly breeze out during the wintertime and the hot air out during the summertime.
How to Choose Window Treatments for Dining Spaces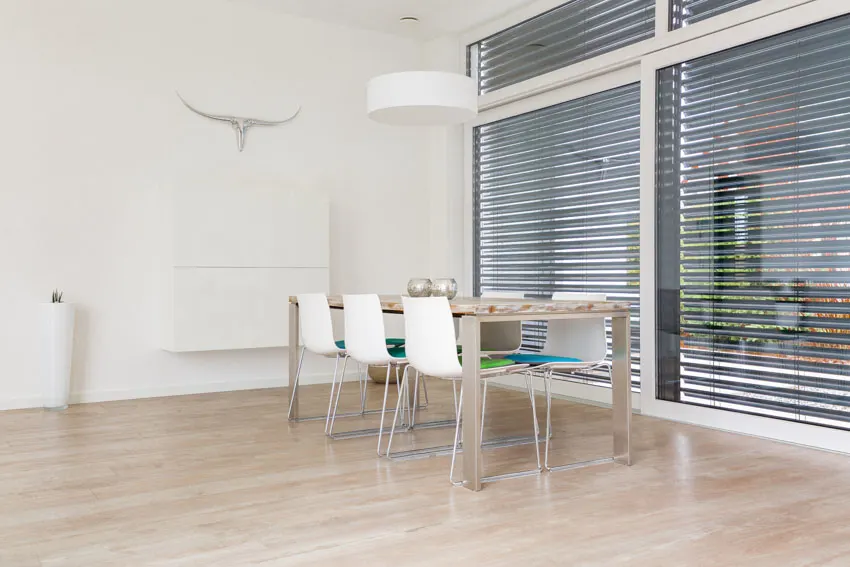 Consider Your Privacy and Needed Lighting: Avoid blocking windows in dining rooms that provide a beautiful view of the outdoors. Tinted window treatment keeps windows clear while shielding them from damaging UV rays that can degrade indoor furnishings and materials.
Nighttime protection from prying eyes is also provided by a variety of advanced window tints. You can easily change the amount and direction of light coming inside with fashionable types of window blinds or curtains.
This is especially useful when harsh light penetrates into your dining area while you are eating. To give indoor privacy, draperies with a thicker liner connected to the backside can be extended widely during the daytime and closed at nighttime.
Determine the Color and Texture You Want: The window treatments you will place in your dining room should be coordinated with your current color scheme. To utilize for your window treatments, choose one to two colors from an area carpeting, furniture, or artwork. A bright pattern or striped window material can bring fresh energy to a boring dining area.
Window blinds handwoven from grass or wood can add a textured and natural appearance. To add more colorful complexity to the window treatments, you might layer them with drapes.
Choose a Style that Complements your Entire Décor: Whether your décor style is easygoing and informal, formal and refined, or anywhere in between, complimentary window treatments are accessible. Exquisite, solemn style is provided by floor-length curtains that stream onto the floor. To add to the drama, cover them with draping window curtains.
Fabric curtain panels can be hung between big windows to add a cost-effective ornamental accent to massive dining room windows. Valances give a splash of color and texture to any design.
Layering Dining Room Window Design Elements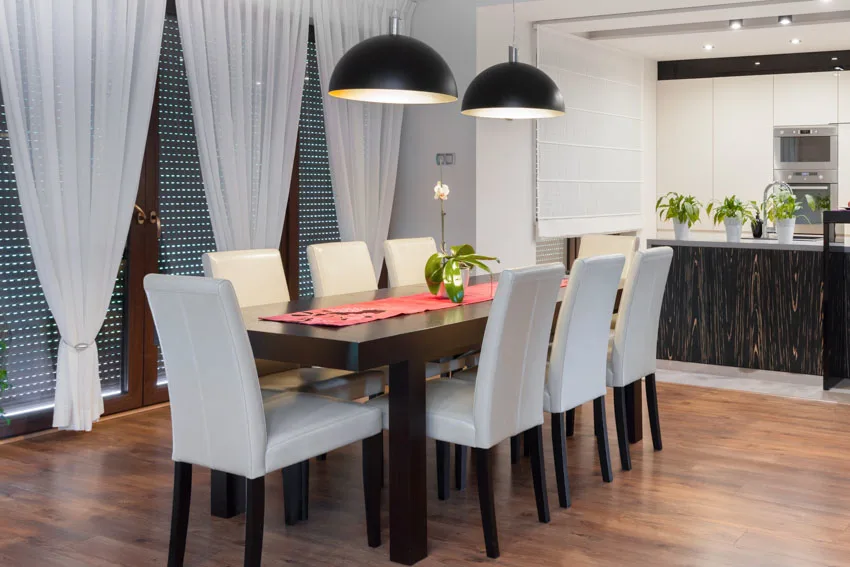 • Textures can be mixed and matched: Plain curtains and window treatments look wonderful with decorative blinds, and shades look fantastic with scalloped valances.
• Patterns should be used sparingly: Layering contrasting designs on top of one another may appear cluttered and detract from the realistic appearance of layered window treatments. Commit to a single accent pattern and a matching color palette.
• There is no such thing as a small window: Layering drapes over blinds appear great on large dining room windows. But even if the windows in your dining room are small, that should not stop you from layering your window treatments.
Picking the Right Curtain Colors for Dining Area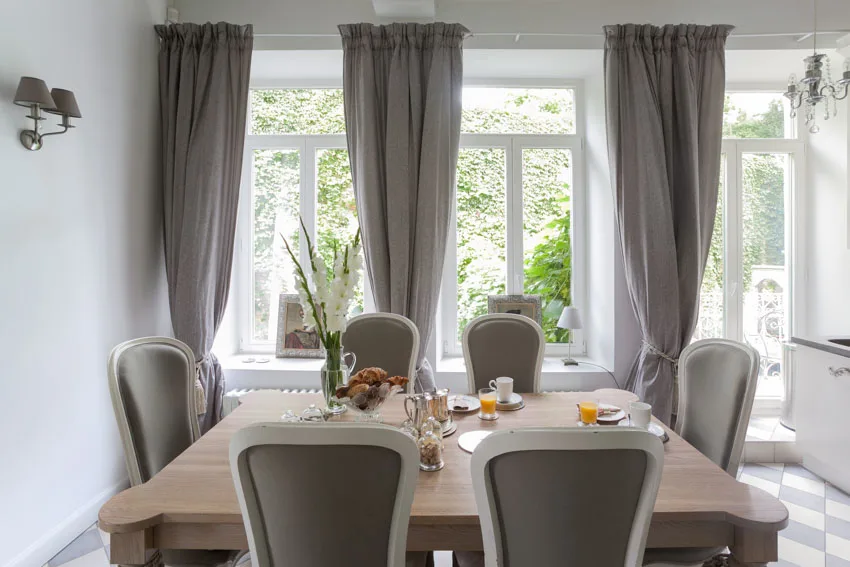 The color of your window treatments must generally match the color scheme of the majority of the dining room's furnishings. You can select window treatments that can either complement or contrast with the décor.
Pick treatments that match the color of your dining room walls for a beautiful appearance. If you want the window treatments to be the focal point in your dining room, you can choose a color that contrasts with your chairs, cabinets, or walls.
For example, if your dining room's motif is brown, you can match it with green window treatments. You can match your theme with practically any window treatment color if your theme is mostly white. Or, if your dining room theme is blue, you might as well pair it with yellow, white, or gray window treatments.
How to Decorate Formal Dining Rooms with Window Shades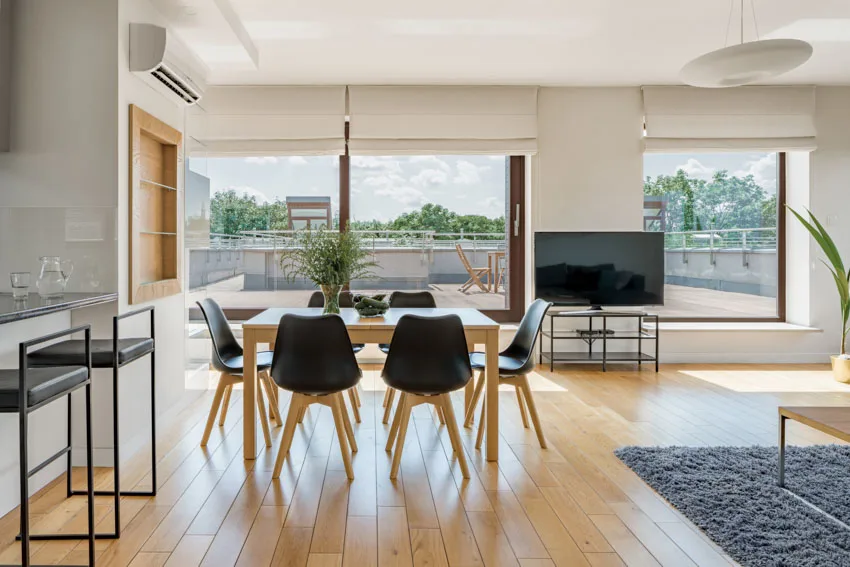 Roman Shades: If you want to organize formal occasions for family members and friends, your dining room window treatment must represent that. Modern Roman shades blend the classic shape and practicality of traditional roman shades with more modernized fabric and pattern selections, making them an excellent window treatment selection for a formal dining room.
You can select the design that best complements your current dining furnishings or concept for the room, with materials varying from cotton, silk, or linen.
Woven Wood Shades: Woven wood blinds may be the perfect option for you if you desire an earthy aesthetic for your formal dining room. Woven wood shades add a pleasant, organic aesthetic to your house and are available in a variety of handwoven materials ranging from grasses, woods, and reeds.
Certain woven wood shades on the market are now motorized. With this advanced feature, you can blend the natural appearance with the convenience of an intelligent operating system.
See more related content in our article about shutters vs blinds on this page.