Welcome to our types of dining tables ultimate design guide, including popular materials, shapes & styles.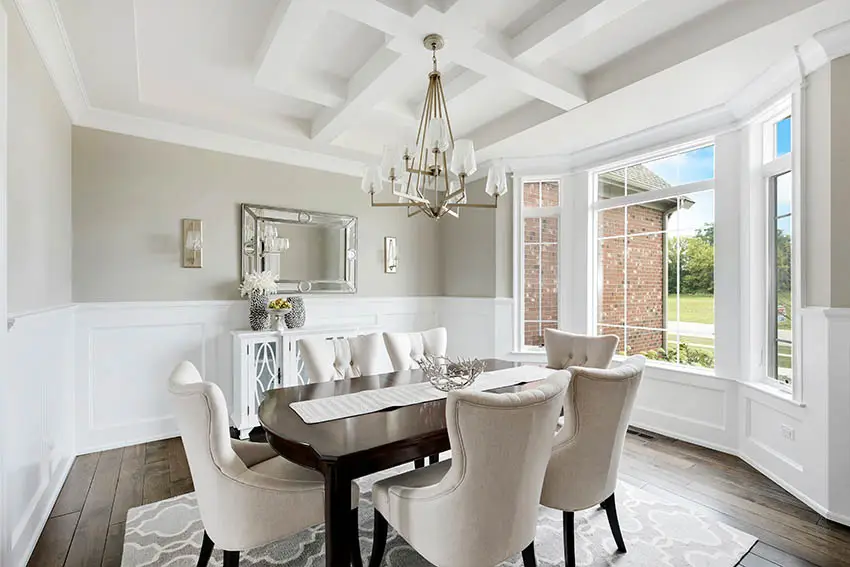 Whether you use your dining table every day or only on special occasions, it's a big investment and worth getting right.
Choosing the right dining table will depend on your interior design style, budget, dining needs and room size. Not only should your dining table comfortably fit your dining area, it should be durable and well constructed.
After reading our ultimate guide to dining tables, you'll be prepared to decide what style, shape, and size of the dining table is right for you.
Table Top Materials
One of the first decisions when choosing a dining table is what tabletop material to use. Often interior design experts recommend you consider several different table materials that suit your particular sense of style.
Then compare them on how they meet your lifestyle needs. For instance, will the table be used every day by a large family? If so then durability will be a large factor in your decision. Here are the most popular materials for dining tables.
Wood
You can't go wrong with a classic! Wood dining tables are beautiful and can last for generations with proper maintenance and care. Solid wood tables are one of the most popular choices.
Some of the best options are walnut, mahogany, maple, oak and teak. Pine is a good choice for those looking for a more inexpensive wood table.
Solid wood tables can be expensive and are susceptible to stains and scratches. Proper maintenance is a must to keep your wood banquet furniture looking great.
Metal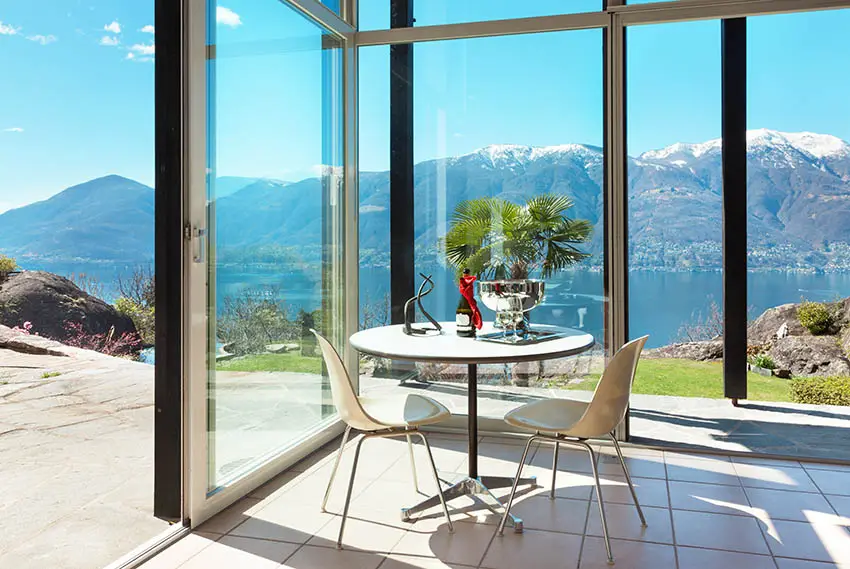 Best suited to industrial spaces, metal dining tables are extremely durable, stylish, and stain-resistant. These types of dining tables are easy to clean and can match with practically any kind of interior design style.
Since metal tables are heavy they can be difficult to move, although one can find lighter metal tables available. They are also heat absorbing which can make them hot to the touch if used outdoors.
Marble & Stone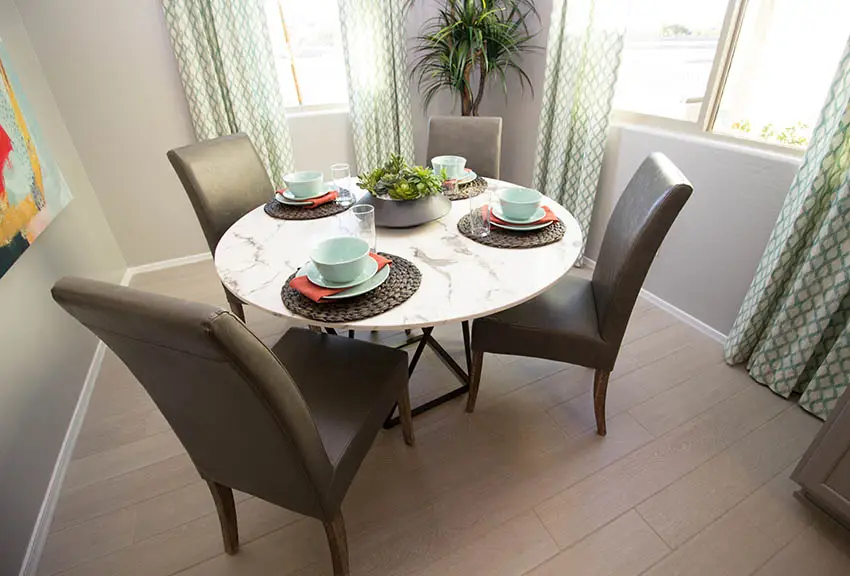 Marble, quartz, or other natural stones are a popular choice for tabletops due to their heat and scratch resistance, durability, and aesthetics. If your dining area is not visually distinct from your kitchen, consider matching your tabletop to your countertops.
Glass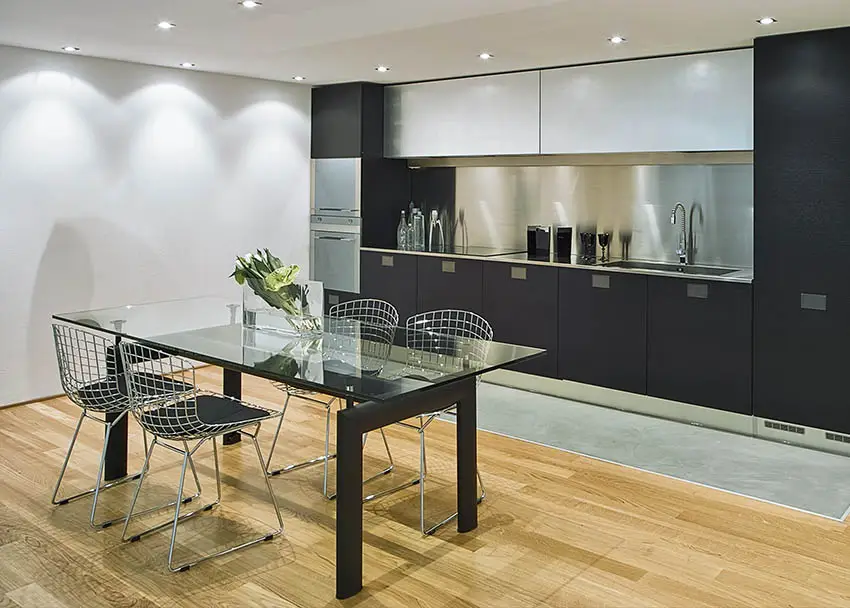 Glass tabletops allow your gaze to travel freely around the room, creating the impression of spaciousness. They are durable, elegant, and understated, allowing other elements of your decor to take center stage.
Glass tabletops might not be ideal for homes with young children, as they quickly accumulate fingerprints. Some glass tabletops can have sharp edges which may not be the best for young children.
Plastic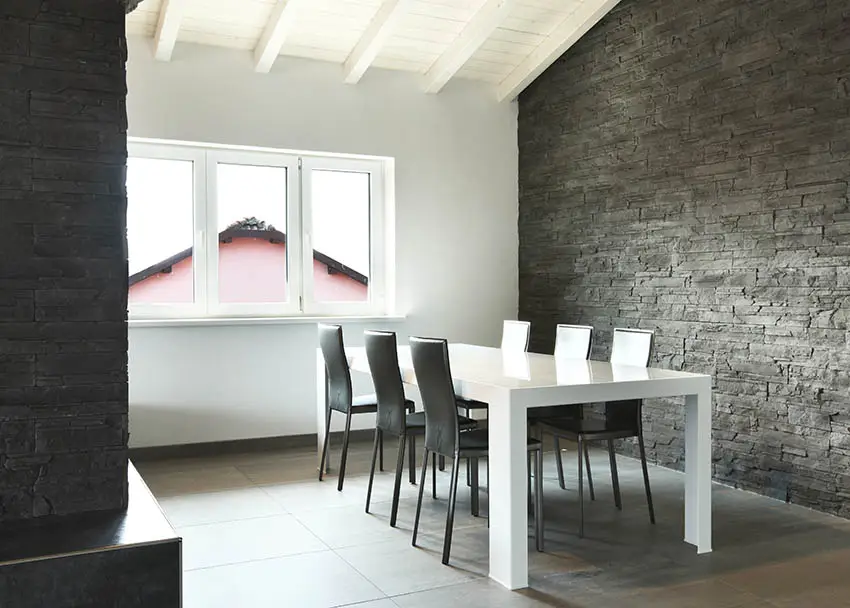 Plastic dining tables are lightweight, easily stored, and won't break the bank. They are also easy to clean, making them ideal for homes with children, or outdoor dining areas.
The downside to plastic is it can be prone to staining if spills are not wiped up quickly. In addition a plastic tabletop may not fit all design styles and can look cheap.
Tile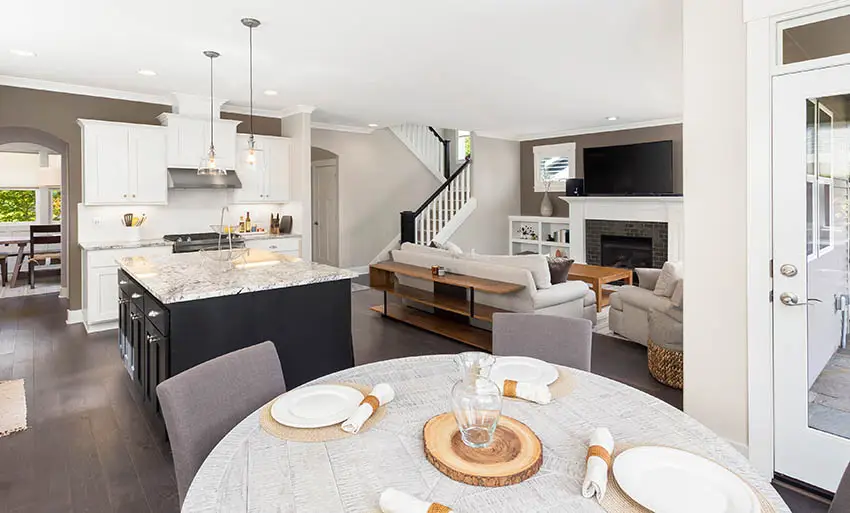 Tile adds a pop of color and visual interest to dining tables and provides a durable surface. You can usually lay hot dishes directly on top of the tile, eliminating the need for a trivet or hot plate.
Tiled tables look great in outdoor dining areas and are resistant to damage from weather and moisture.
Tabletop Shapes
The shape of your dinner setting will may be influenced by the size of your room and how many people you want to accommodate.
Rectangular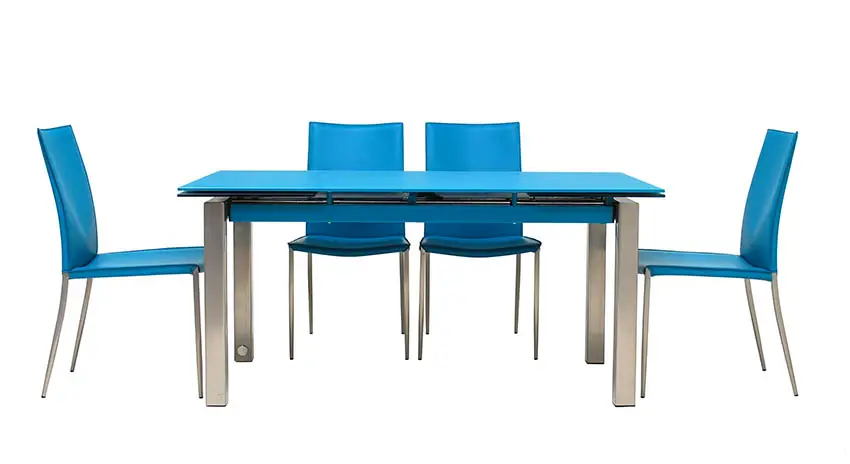 The most popular shape for banquet furniture is a rectangle. They work well with the dimensions of most dining rooms and can usually seat six people, with plenty of room for serving dishes in the center.
Square
Best for small apartments or small dining rooms, a square tabletop will seat four without taking up too much space. In larger dining rooms, add a hutch or sideboard (matched or contrasting) to balance out the room.
Oval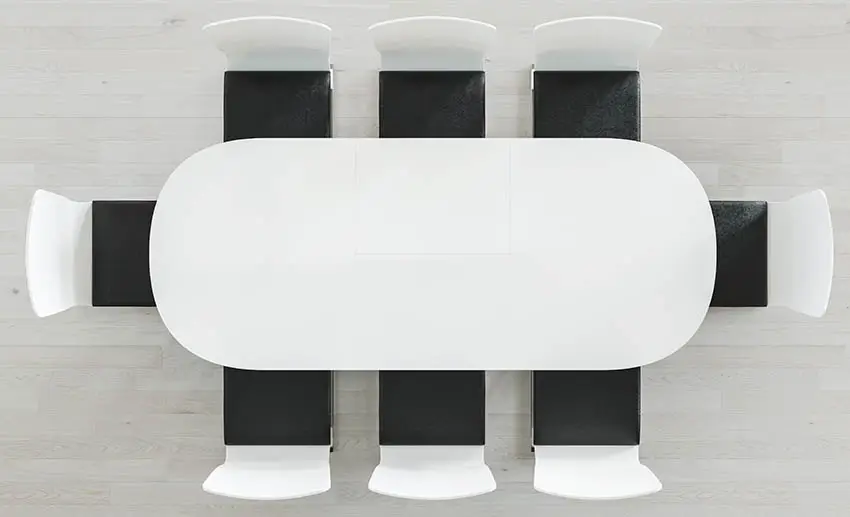 If you need space for six or more diners, but prefer a curvaceous profile, choose an oval banquet furniture. Oval dining tables have a little bit less room for serving dishes but are easier to navigate around.
Oval dining tables are good choices for smaller rectangular rooms with a little less space as there are no corners to get in the way.
Round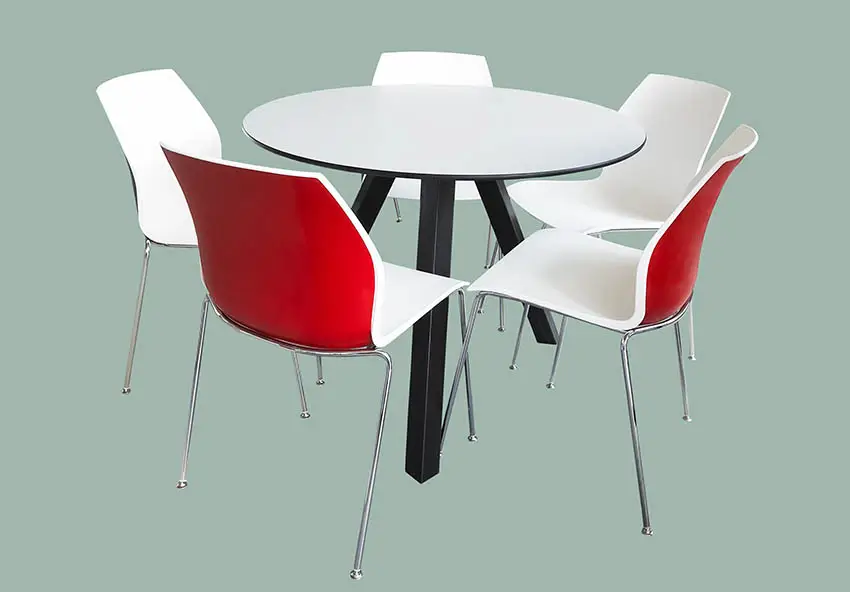 The most intimate dining experience can be found at a round dining tabletop. Plan to serve from the sideboard or the kitchen — there won't be much room on the banquet furniture for anything but place settings.
A round table is excellent for conversations and are often used when extra space is needed.
Freeform
Anything that falls outside the realm of the 'big four' shapes (oval, square, round, rectangular) is called 'freeform'.
Freeform dining tables range from jagged slabs of raw wood to intricately inlaid and geometrically perfect octagons. Tables with non-traditional bases are also sometimes advertised as freeform.
Table Design
Now that we've covered the most popular materials and shapes we'll take a closer look at common dining banquet furniture design features.
Pedestal
A pedestal is supported by one or more columns. They are great for small spaces because there are no legs to navigate around, making it easier to get up and sit down at the tabletop with less clearance.
Single
Single pedestal tables are usually, but not always, round. Oval or rectangular tables that are supported by a single column can be in danger of tipping to one side or the other if someone leans on one of the ends. To avoid this, experts recommend that single pedestal tables be used to seat no more than eight diners.
Double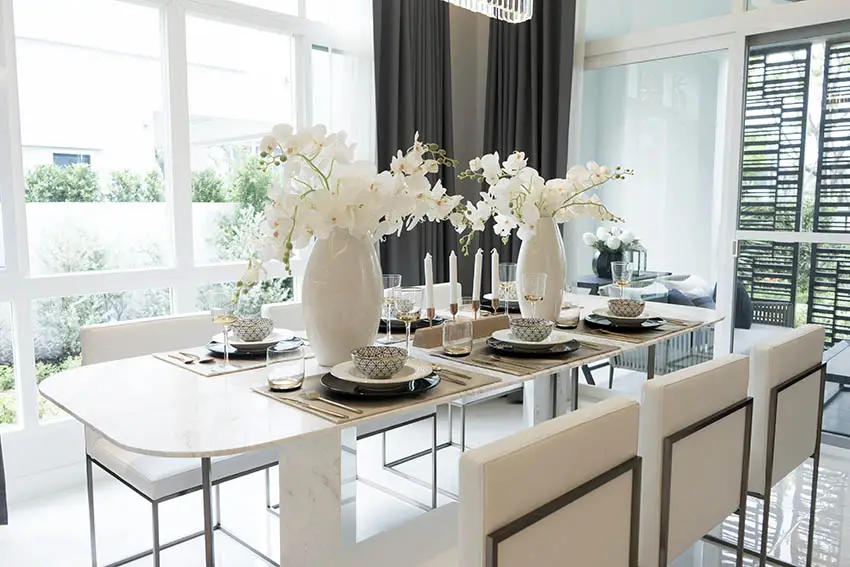 If you like the simplicity of a pedestal but want to seat more than eight people, double pedestals might be for you. Instead of one central column, these tables have two thick columns that support the tabletop.
Trestle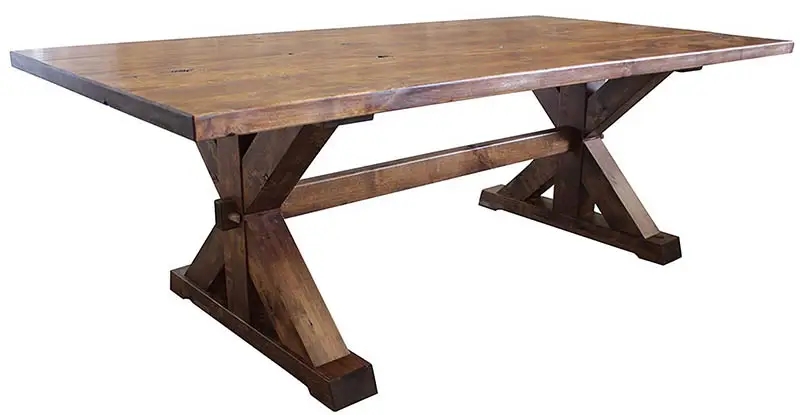 See this wood trestle table at Amazon
These kinds of tables are supported by a specific kind of bracing structure called a trestle, usually one trestle at each end of the furniture. Each trestle consists of a horizontal beam, atop which sits the tabletop.
The trestle is supported on each end by a pair of legs that slope in either direction, away from the central beam. Trestle tables are trendy and aesthetically pleasing.
Before purchasing a trestle table, make sure you can sit comfortably, with adequate legroom, at each end of the table.
Leg tables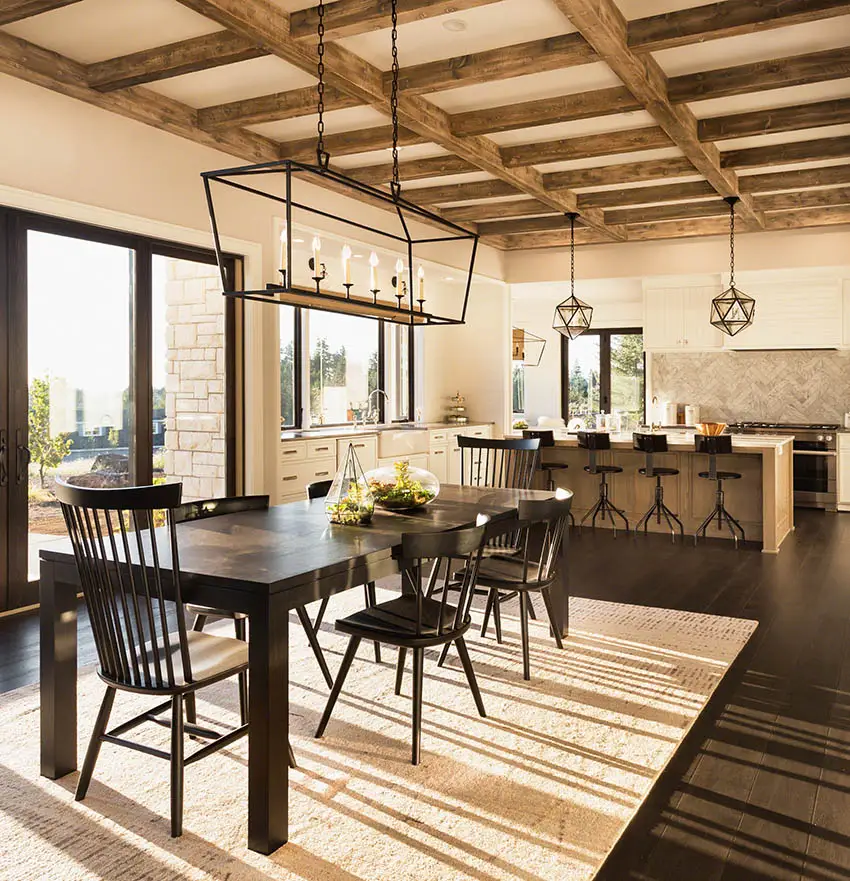 The most common type of leg table is a four-legged tabletop. Three-legged tables are also relatively common.
A 'table leg' is simply a single vertical support. They are usually placed in the corners. One benefit of leg tables is plenty of foot room underneath it.
Expandable Table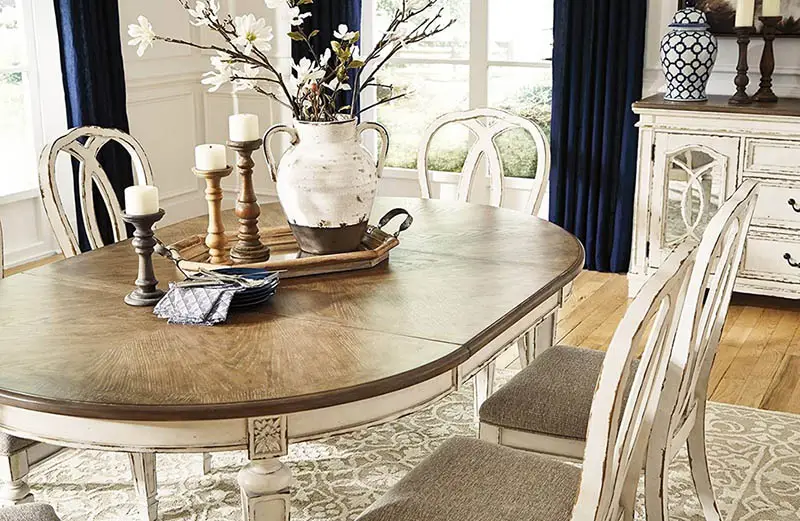 See this distressed wood expandable dining table at Amazon
If you entertain regularly, or want to be able to host the family holiday celebration at your home, an expandable dining table will make this possible, while also being capable of collapsing to a smaller size when company leaves.
An expandable dining table pulls apart in the middle, and extra pieces called 'leaves' are added in the center.
Drop Leaf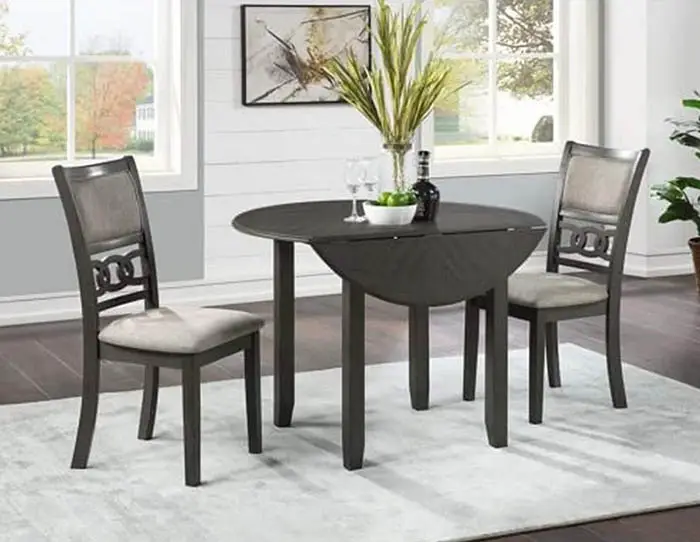 See this drop leaf table at Amazon
Usually round or oval in shape and mounted on a single pedestal, drop leaf tables have a small tabletop with larger hinged leaves on either side.
When the leaves are up and secured in place, a drop-leaf table can be used for dinner service. When the leaves are down, the small surface remains, so it can easily be moved out of the middle of the room to be used as a side table. This makes it a popular choice for smaller spaces.
Slab Top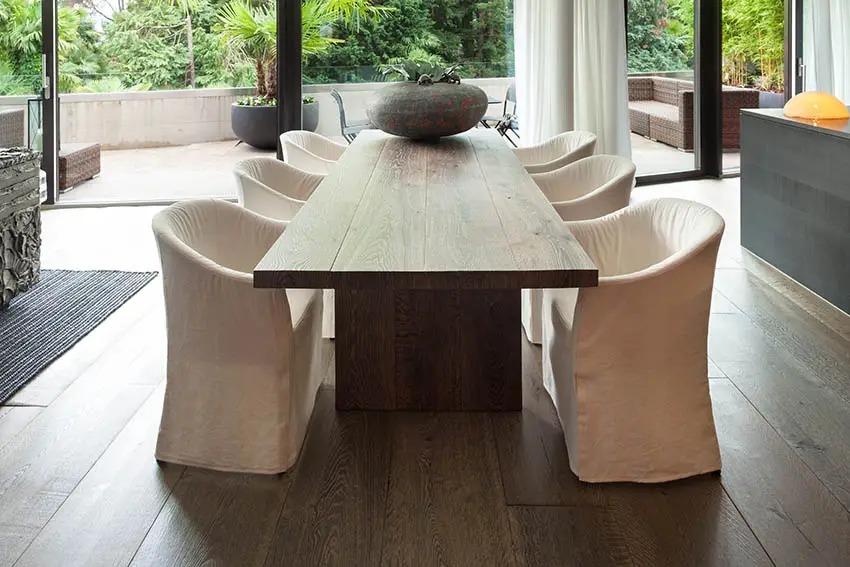 Any table where the tabletop is attached directly to the base (rather than sitting atop a frame) is a slab tabletop. The most popular kind of slab tabletop right now is a wood slab. When a tree is cut using the 'en boule' method, it is split from top to bottom into several thick slices.
Each of these slices is called a 'slab'. The en boule technique preserves the bark (also called the 'live edge'). Each wood slab tabletop will be completely unique.
Wood slab top tables are the centerpiece of any room they are in. One popular recent trend is to mount wood slabs on thin, metal, hairpin style legs.
Refectory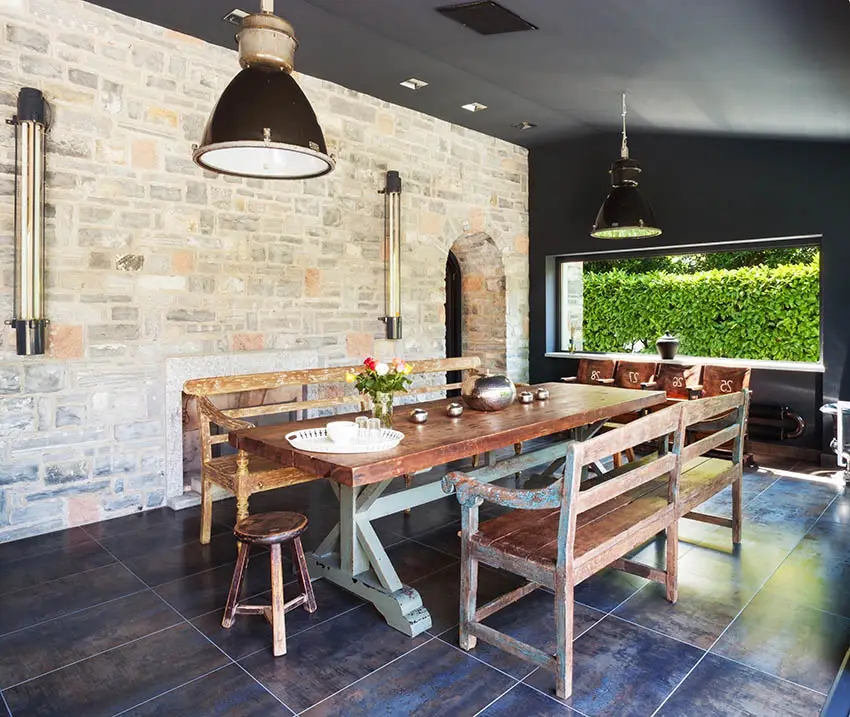 If you have a large family or host big dinner parties, consider a refectory table. A 'refectory' is actually a type of room in a religious dwelling such as a monastery or convent.
The inhabitants usually eat together at one large table, lined with benches or chairs. However, you don't have to observe any particular faith to enjoy a refectory table!
An extendable refectory table has internally stored leaves. The leaves are added to either end of the table, rather than in the middle.
Table Styles
Contemporary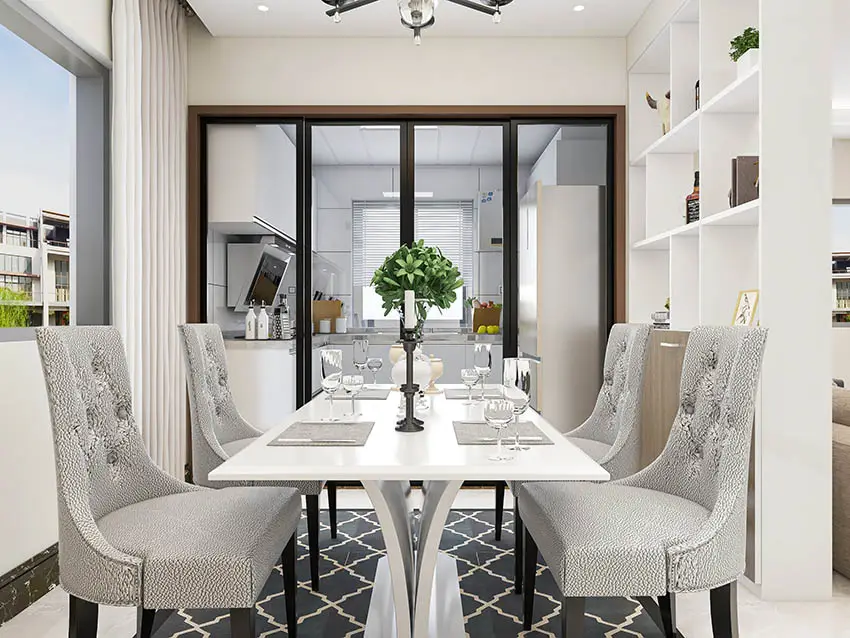 Contemporary dining room tables may be inspired by former trends in furniture design, but never attempt to imitate them. They can be composed of any material or a blend of materials, including plastic, metal, wood, or even concrete.
Traditional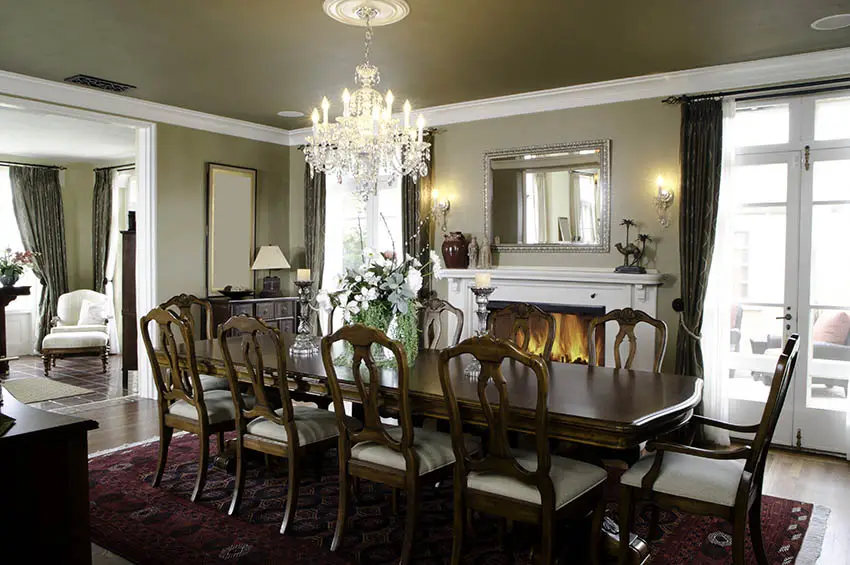 Traditional furniture uses traditional materials — in the case of a dining table, this generally means dark hardwood, perhaps with some metal accents.
Heavy, solid, and reassuring, traditional dining tables often have scroll work or other decorative carvings. They are a safe choice from a design perspective because they will never go out of style.
Farmhouse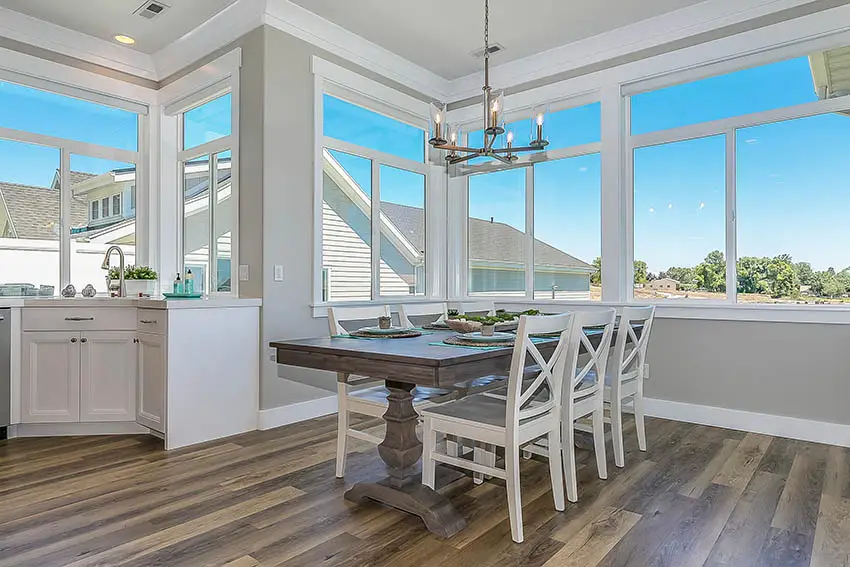 Suitable for feeding your staff of farmhands or just getting breakfast into your kids before the school bus comes, a farmhouse dining table transitions from functional to decorative with greater ease than any other dining table style.
Usually incorporating thick planks of warm-colored wood, farmhouse tables can pair with contemporary or traditional decor.
Shaker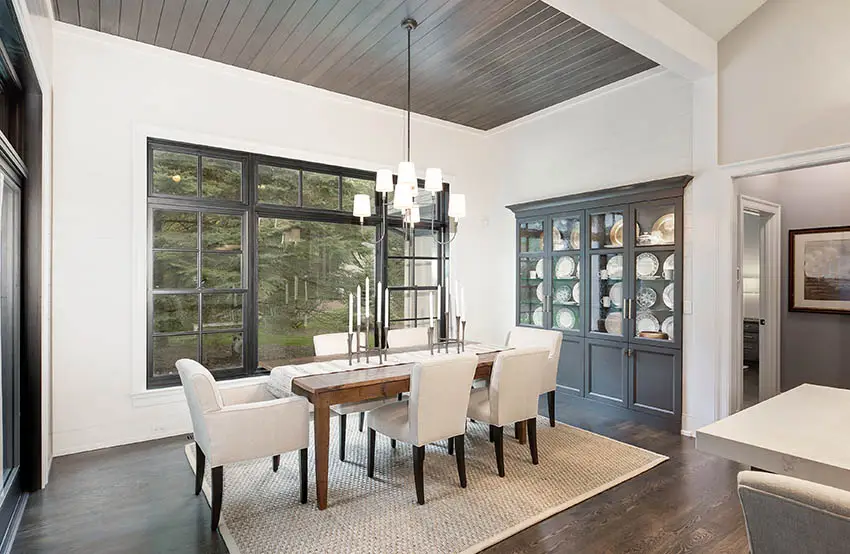 Simplicity, utility, and honesty are the three tenets of a now-defunct religious sect colloquially known as the 'Shakers'.
Their dedication to these beliefs and their desire to be self-sufficient has given the world one of the most iconic styles of dining room furniture — the Shaker table.
Shaker furniture is high-quality, made with robust materials and expert craftsmanship. In the Shaker faith, ornamentation in any context was considered a sign of excess pride and vanity.
Instead of carvings, inlays, or other decorations, Shaker tables are sleek, simple, and usually have four tapered legs. They are most commonly made of maple, although pine and cherry wood are also used.
Mission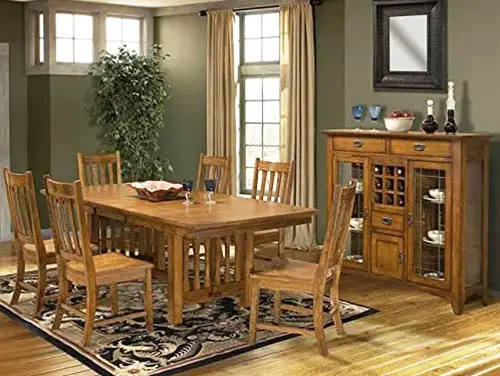 Mission style furniture is commonly confused with Shaker furniture, but there are significant differences. Shaker furniture construction hides the mechanisms of construction as part of its commitment to simplicity.
Mission style furniture highlights the effort and craftsmanship inherent in the construction process by exposing the joints. Both Shaker and Mission style dining room tables will showcase simple designs and straight lines.
While Shaker tables are usually made out of maple, almost all mission style dining tables are made out of oak.
Arts and Crafts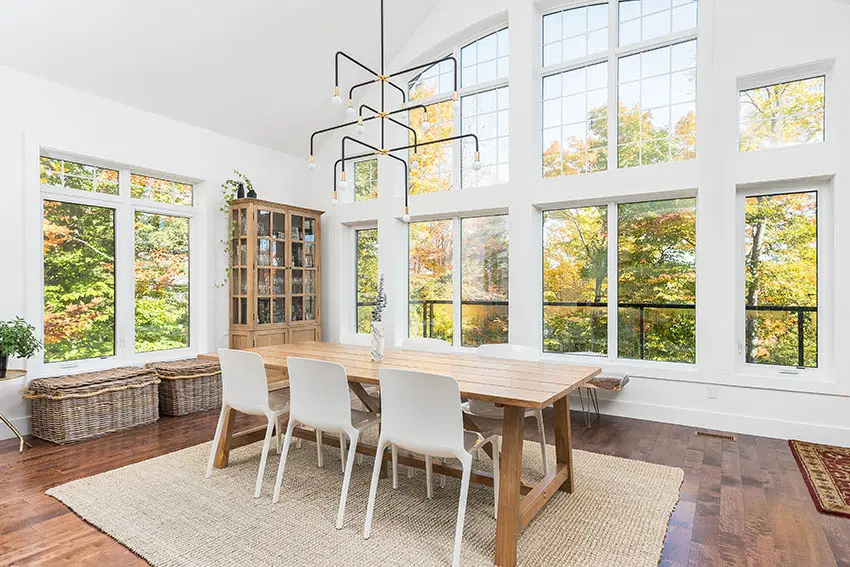 Also called 'craftsmen style', Arts and Crafts furniture is made out of solid American hardwoods. The signature feature of an Arts and Crafts style dining table is a specific type of joinery called 'mortise and tenon'.
To make a mortise and tenon joint, one block of wood has an opening cut into it (called the mortise). The block of wood to be attached is carved away at the top, leaving a 'tenon' exactly the size and shape of the mortise.
The two blocks are fitted together and glued. To avoid splitting, quality wood must be used, and the proportions of the mortise and tenon must be exact.
French Country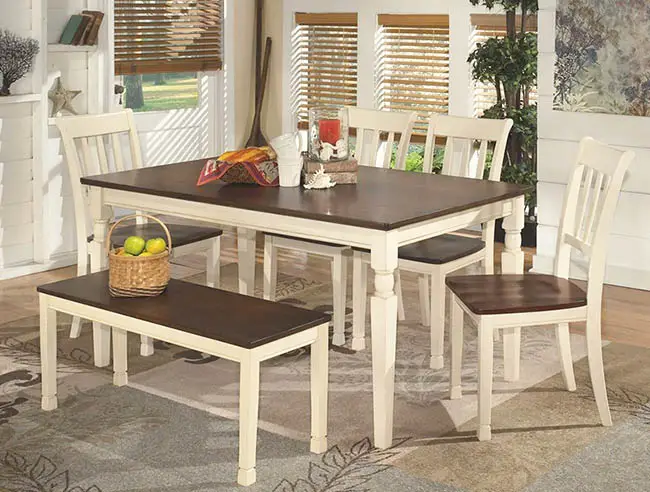 See this French Country style dining table at Amazon
French country style dining tables are inspired by elegant, yet rustic, farmhouses in the Provence region of France.
Curved lines and light carving lend delicacy and visual interest to the highly functional design style. French country dining tables look beautiful and refined, yet comfortable and welcoming. Classy without being ostentatious.
Queen Anne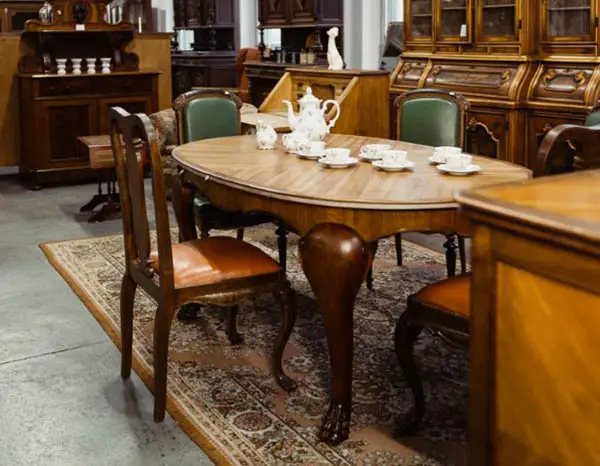 The signature feature of a Queen Anne dining table is the cabriole leg. Cabriole legs curve twice — the upper curve is convex and the lower curve is concave.
The bottom of the cabriole legs end in a rounded 'pad foot' design, also called 'club foot' or 'Dutch foot'. The feet of the table may be carved to resemble the foot of an animal. The curves in the furniture are the major decorative element, though restrained ornamentation may be added.
Usually, the designs are restricted to scallop, shell, and scroll motifs. Traditionally, Queen Anne furniture is made of walnut, though other woods can be used as well.
Modern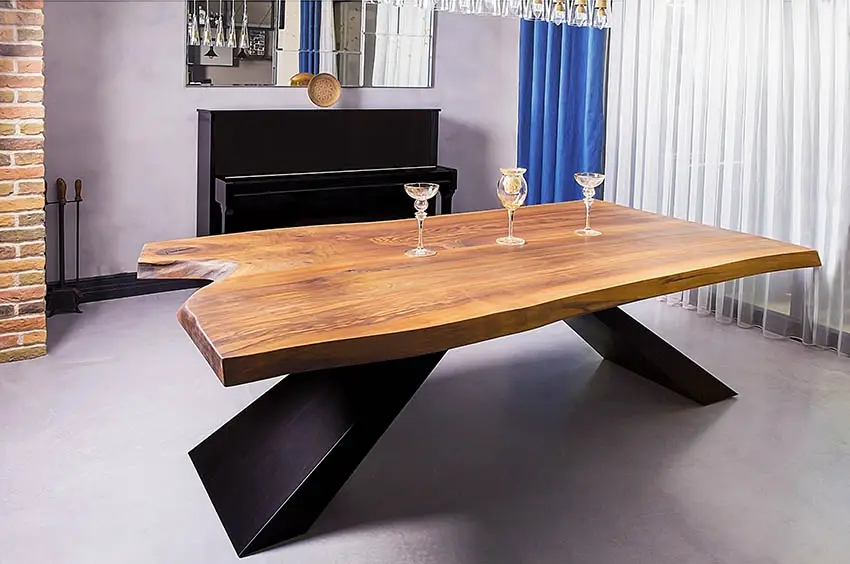 While contemporary dining tables use a mix of old and new materials, modern dining tables often use traditional materials to create new designs.
A classic example of modern furniture is the beloved midcentury modern style. Thin, tapered legs support a thin wood tabletop, creating a sleek and refined atmosphere in the dining room. The material is traditional — quality hardwood — but the design still feels current.
Rustic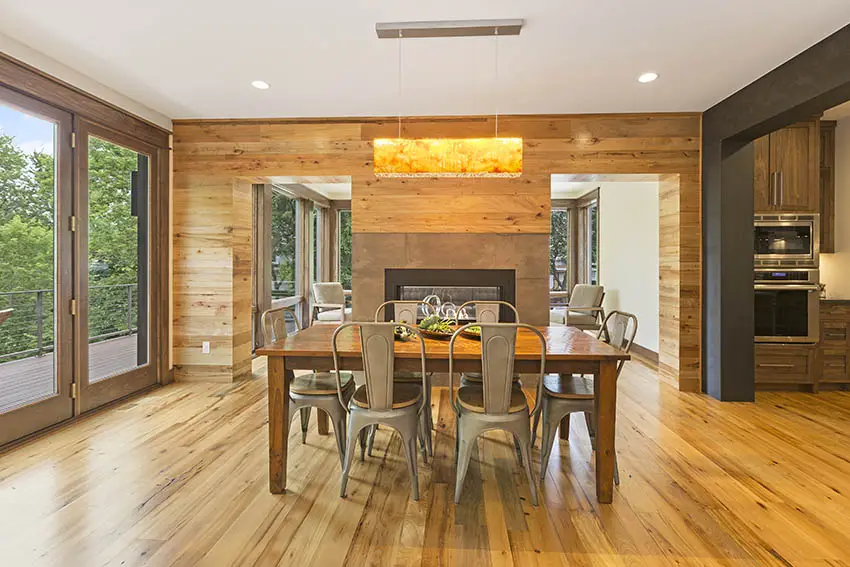 Rustic dining tables don't include newer materials such as metal or plastic. They tend to be oversized and heavy.
Designed to feel solid, reassuring, and cozy, rustic decor frequently includes deliberate imperfections, weathering, or wear and tear.
A rustic dining room table will look like it's been in your family for generations, even if you picked it up online last week.
Industrial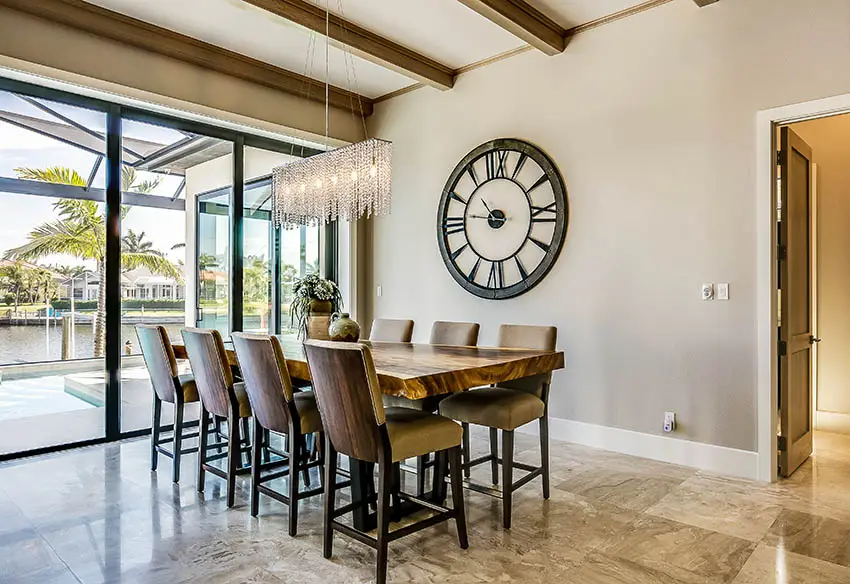 An industrial tabletop can be identified by the type and condition of the material used to construct it. Salvaged or upcycled materials are common, and lend character to industrial dining tables.
Table legs or mounts are usually made from iron or steel. If wood is used it tends to be thick and imperfect. Metal pipes and cables are also commonly used to support industrial dining tables.
Table Capacity
In the restaurant industry, the standard amount of space allotted to each customer is 27".
If you only entertain a few times a year, such as holidays, you can squeeze guests in every 18".
For everyday use, plan for each member of the household to have 24" of space when seated at the table.
Table Sizes
While there are always exceptions to the rules, dining room tables do come in standard sizes.
Each side of a square table is usually between 36" and 44".
Rectangular dining tables are most commonly 72" long, and 36 – 44" wide.
The average round table has a diameter of 36-48".
For a more detailed rundown of size by capacity, check out our comprehensive dining room table size guide.
Types of Table Bases
The base of the tabletop supports the tabletop. Bases can be made from the same material as the tabletop, or a different/contrasting material can be used.
4-leg bases are the most common and well-known, with pedestal bases a close second. More recently, cross-legged or 'X' shaped bases have become popular.
Trestle or sawhorse bases use sloping legs to provide a stable base for the tabletop.
Types of Tabletop Designs
If you've ever tried to cross your legs while seated at a table, only to bump into a piece of wood below the tabletop surface, you were probably sitting at a 'drop-top' or 'framed-in' table.
Usually constructed from wood, the tabletop is placed on top of a square or rectangular frame.
Slab table tops, by contrast, are mounted directly to the legs or base, and consequently have more legroom.
Types of Table Edges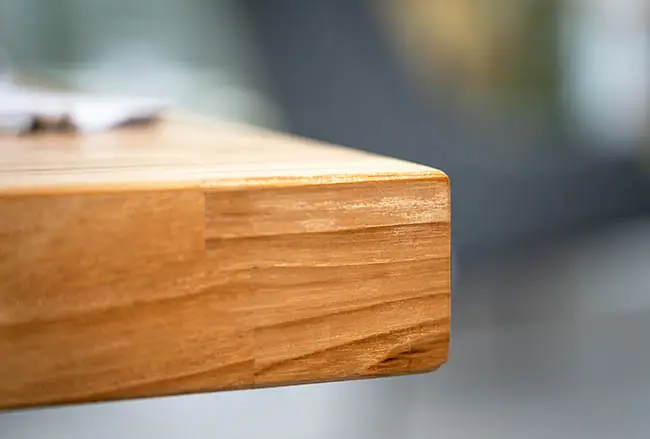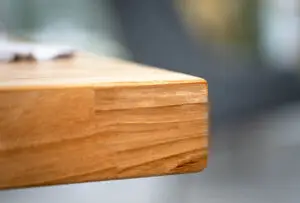 Besides the design style and choice of material, dining tables can be differentiated by the way that their edges are cut.
A mission style or arts and crafts tabletop will have a square edge, meaning the corner forms a 90-degree angle.
When one of the sharp corners of the edge is planed off, this is called a beveled edge.
If the corner is sanded to a gentle curve, this is either a ¾ curve or waterfall edge, with waterfall edges having a deeper and steeper slope.
Specialty edges are also available. Two popular specialty edges are; the Queen Anne edge (two curves, one convex and one concave), and the nail edge (a short vertical drop followed by a gentle curve.)
How to Choose a Dining Room Table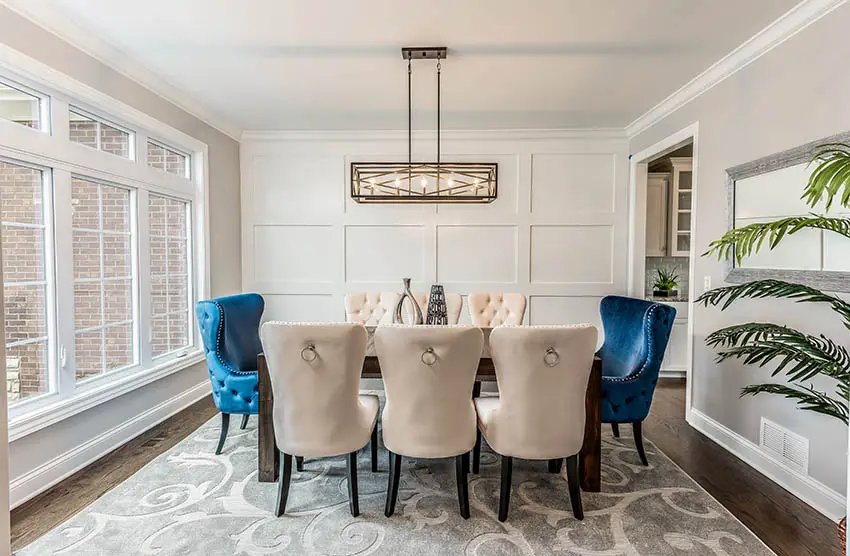 First, measure your dining room. For example, an average dining room is 14 x 16 feet. To figure out what size table the room can support, subtract 5 feet from each dimension.
Assuming there is no other furniture in the room, a 14 x 16-foot banquet furniture would be able to hold any tabletop 9 x 11 feet or smaller.
As a general rule of thumb you'll want at least 3 feet on all sides of a tabletop to ensure there's room to get in and out of your seat.
In addition you'll need about 22 to 24 inches of banquet furniture space for dining chairs to comfortably sit without feeling too crowded. Larger types of dining chairs with arm rests or large seats will need even more space.
Because people come in all sizes, there is no perfect height for a dining room table. What is ideal for one family member may be awkward and uncomfortable for another. Most dining room tables are approximately 30 inches high. – Knack Universal Design, Barbara Krueger and Nika Stewart
Keep in mind that while technically they may fit, darker or bulkier furniture pieces may make the space feel more cramped. Consider the visual weight of furniture such as a tabletop by taping its dimensions onto the floor where it will be placed to get a sense of how it may feel.
Once you've established the appropriate size for your dining room, consider the style of the rest of your home. If the dining room is self-contained, you can play with a different decor than the rest of the house.
If it's integrated, as in open-plan houses, you'll want the dining room tabletop to play nicely with whatever look you're trying to achieve.
If the room is large and bright, a substantial wood or heavy metal tabletop won't overwhelm it. To open up a cramped or dark space, consider a glass-topped table.
Choosing the Right Table Size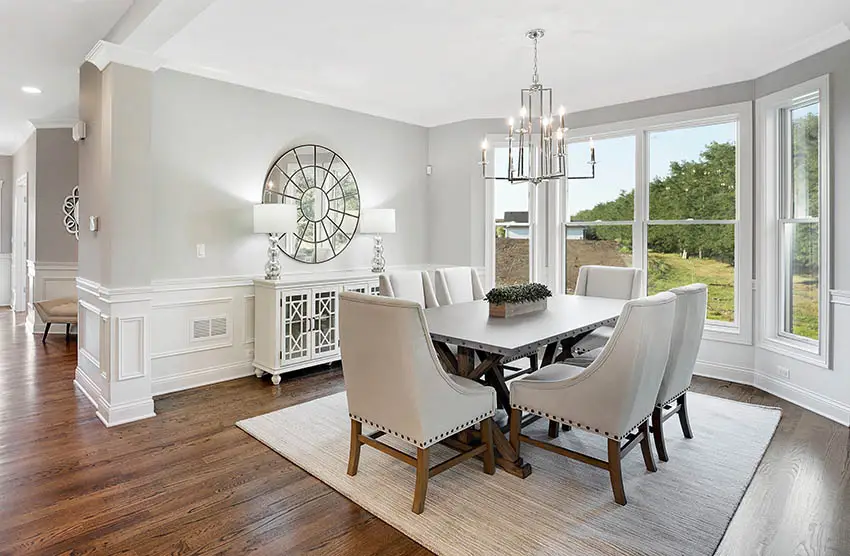 The most limiting factor when choosing a new tabletop is the size of the room you'll be placing it in. To comfortably maneuver around the tabletop, leave adequate space between the back of the chair (when pushed in) and the nearest wall or obstacle.
The minimum amount of clearance needed is 30 inches, but designers recommend you plan for at least three full feet or 36 inches.
However, you don't want too much space, or the tabletop will look too small for the room — stick to 48 inches or less.
A good rule of thumb to estimate the amount of seating you need is to double the size of your household. Two adults will most often entertain other couples, while families tend to socialize with other families of similar sizes.
Choosing the Right Wood
If you're on a budget, a pine tabletop is a good choice. They can sometimes be purchased unfinished for an even lower price.
A coat of stain and polyurethane will give it the look of a more expensive wood, or you can paint and distress it for a chic French Country look.
For a beautiful and long-lasting piece that will be in your family for generations, choose a walnut tabletop.
A good mid-range wood for dining tables is maple, which is one of the hardest woods available and will stand up well to abuse.
Choosing the Right Rug to Place under the Table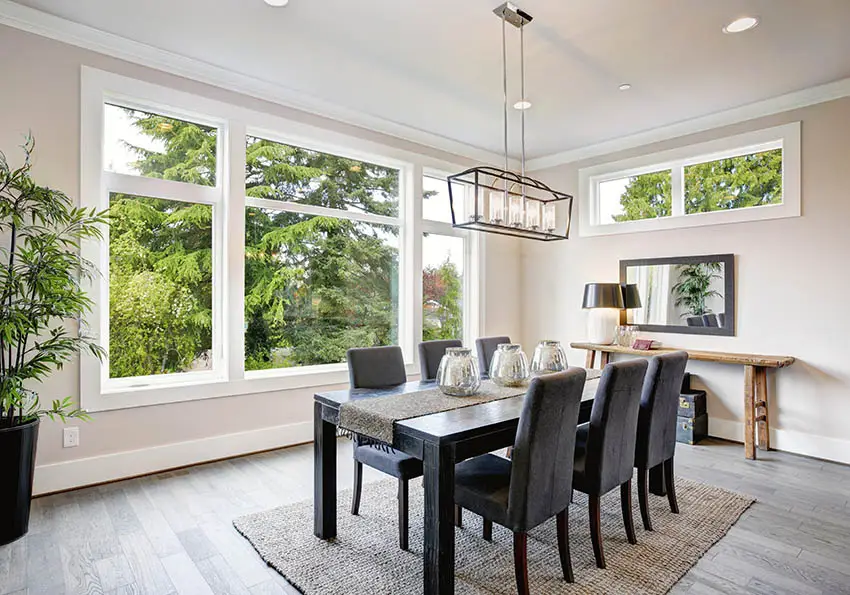 Rugs can be used to define the space underneath the tabletop, whether your dining room has wood floors or wall-to-wall carpeting. A tightly woven, low-pile rug will be the most resistant to stains.
For size, make sure that the edge of the rug is at least 18 inches away from the nearest chair leg when the chair is pushed in. This will allow adequate space for most guests to get in and out of their chairs without catching the chair legs on the rug.
Round Table or Rectangular Table?
It's usually easier to squeeze more chairs around a round counter than find extra space at a rectangular tabletop, and you're less likely to knock elbows with your neighbor.
However, there is less space in the center of a round tabletop — keep this in mind if your kitchen is a fair distance from your dining room, you might wind up walking back and forth an awful lot.
Dining at a round tabletop is a more intimate experience and it will be easier to see the faces of your dining companions.
Round tables are excellent choices for small or square dining rooms. However, they look awkward when pushed against the wall. If you need to get your dining room table out of the way, a drop-leaf or console tabletop is a better bet.
What Table Shape Takes Up Less Space?
Round tables tend to have the smallest overall footprint of any tabletop. Another space-saving option is to buy a rectangular or square table and situate it in a corner.
Console tables are the perfect solution if the tabletop is only needed occasionally — they store in a cabinet or side table and can be pulled out when necessary.