There are many different types of beds, and choosing the right one is an important decision. A place to relax, a place to unwind and have a peaceful night's sleep – that's what an ideal bedroom is for most of us. And so, there is a lot of effort put into making your bedroom an oasis of comfort and peace.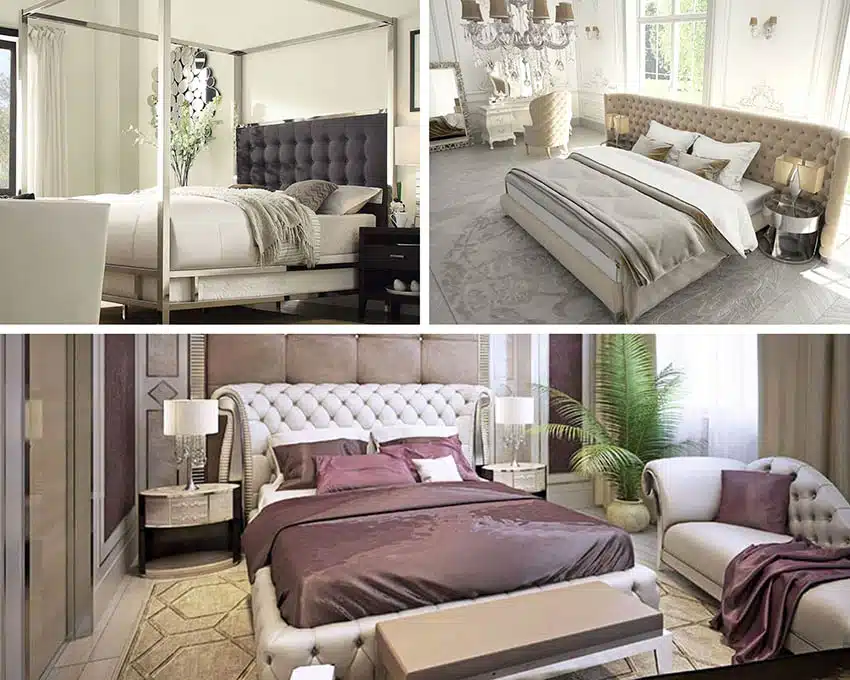 Being the focal point of every bedroom, it's only natural that we begin decorating our bedrooms by choosing the right type of bed frame. From traditional ornate beds to French Provincial, or conventional sleek ones, there are numerous types of bed frames to choose from.
Quicklook: Types of Beds
Platform Bed
Sleigh Bed
Four Poster Bed
Canopy Bed
Storage Bed
Day Bed
Trundle Bed
Bunk Bed
Traditional Solid Wooden Bed Frame
Round Bed Frame
Waterbed
French Bed
Bed Frame Styles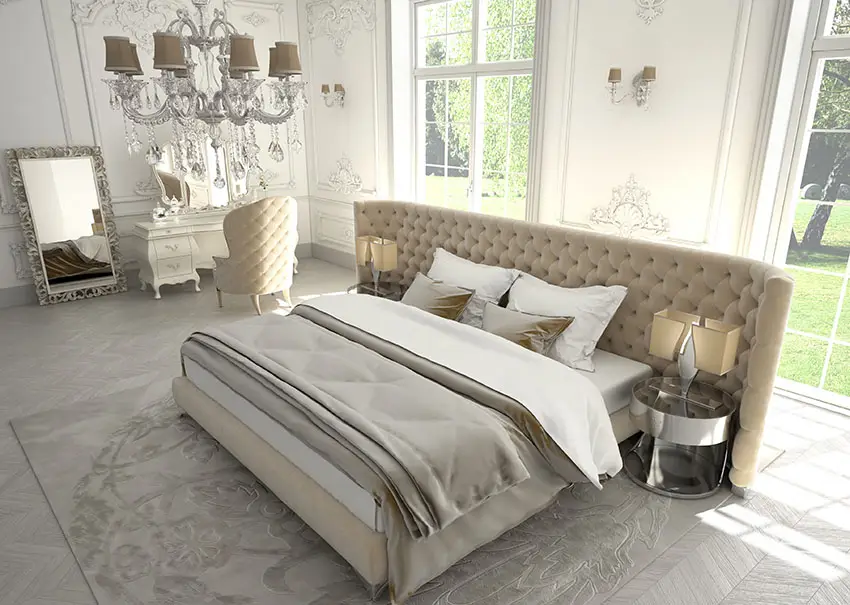 Beds are probably the largest furniture in your bedroom and a large investment so it's important to make sure it provides you the best in comfort and relaxation.
In fact, with so many people getting more and more involved in bedroom décor and interiors, there are quite a lot of criteria to be considered while choosing the bed frame for you. Below is a guide to different types of bed frames and their pros and cons:
Platform Bed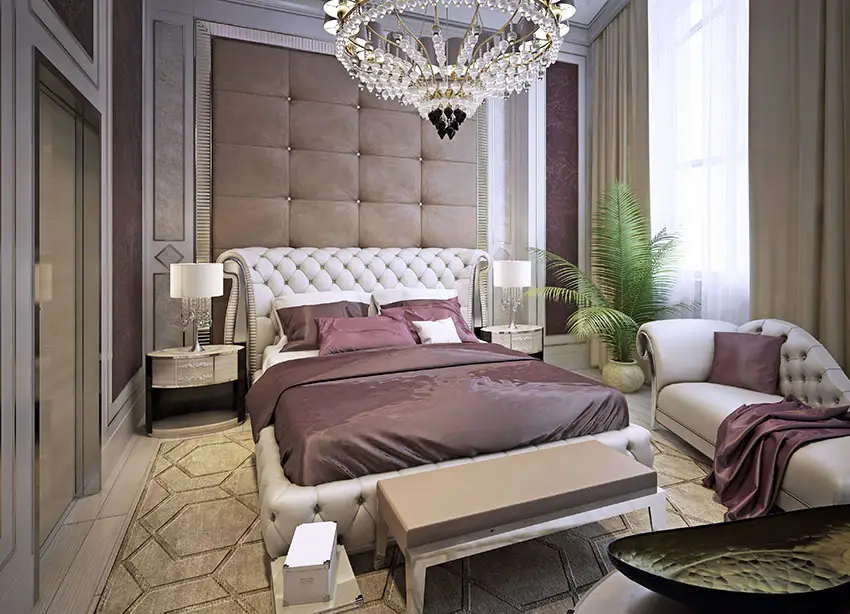 A platform bed usually offers a low profile and foundation-free place to relax. Unlike the traditional bed frame, platform beds do not require a box spring base, which can save you a lot of money.
You can in fact invest in buying a high-quality mattress for your platform bed to get the utmost comfort while sleeping. Also, its slatted base ensures there is ample air circulation, which can help avoid the mattress from being affected by mildew and mold.
This can also mean your mattress will remain cool naturally. Because of its solid surface, every kind of mattress works well for a platform bed. However, the memory foam mattress is the ideal choice.
Platform beds are usually crafted with simple and minimal design elements. Its low-lying base, its most distinctive factor, makes it popularly loved among home décor enthusiasts.
Do Beds With Slats Need a Box Spring? Most beds require a box spring to keep the mattress from sagging and give height to the bed to help one get in and out.
However, platform beds have slats that offer support for a mattress without the need of a box spring. Any type of mattress can be used with a platform bed, including pillowtop, coil, latex, or foam.
Many platform bed models are high enough for under-the-bed storage drawers. This can be useful for storing seasonal clothing or lines such as bedding or spare blankets. Another interesting feature that can be found is a platform bed with a built in trundle bed. This is especially useful as an extra bed for guests.
With its unique appearance, platform beds contribute towards a fuss-free and clean décor. So for all who like sleek and modern furniture designs, a platform bed is the right choice. A lot of new platform beds are inspired by Asian zen designs for bedroom décor that is minimal and elegant.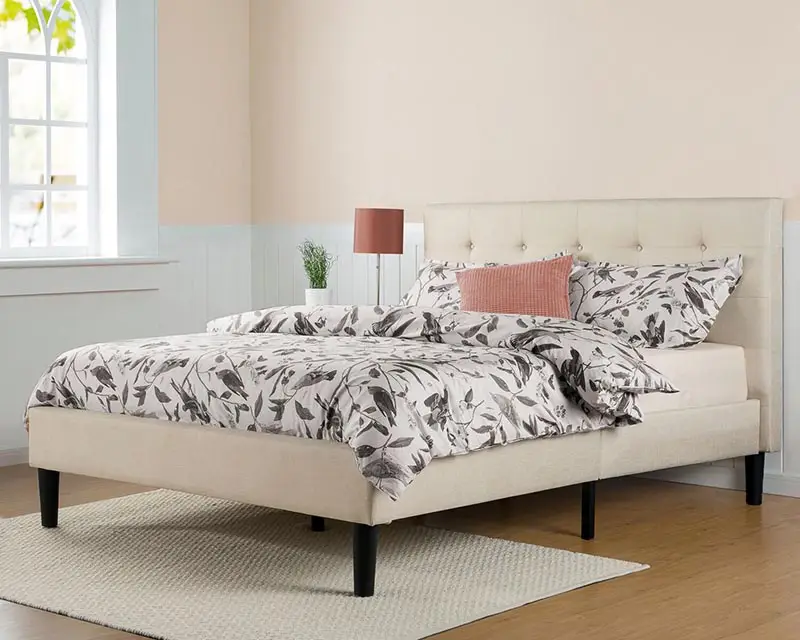 Upholstered platform bed
Pros and Cons of Platform Beds
+ Cost less than a standard box spring bed
+ Doesn't require a box spring for support
+ May provide additional storage space in the frame
– With no box spring the mattress can become firm or damaged over time
Sleigh Bed
If there is a bed frame that strikes a classy and elegant statement, it is a sleigh bed. Sleigh beds come with an outward curved headboard and footboard, resembling a horse sleigh. With its bold design, a sleigh bed easily becomes the center point of every bedroom. Sleigh beds come in a variety of materials, styles, and sizes.
The moment we visualize a sleigh bed, we see a grand bed made of wood with a distinct silhouette. A sleigh bed in its original form comes in twin, queen, and king sizes, mainly made of wood. However, the majority of sleigh beds available are found in the king size.
While many variations in materials are available, a sleigh bed is mainly loved and recommended in its wooden form. The beauty of a sleigh bed surely adds a unique factor to any place it is kept. From dark mahogany wood to light oak wood, sleigh beds can be made in a variety of color tones to suit the décor of your bedroom.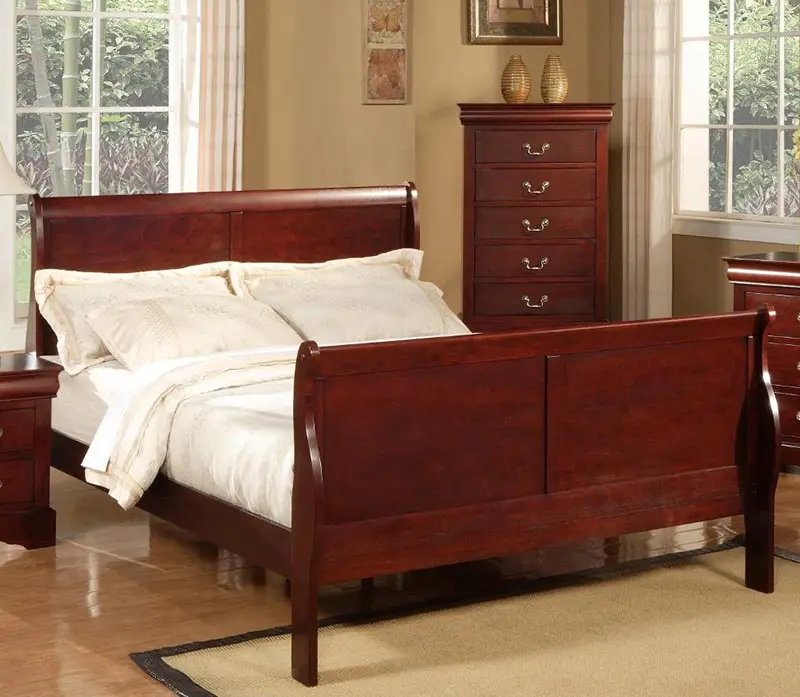 Cherry wood sleigh bed
Advantages and Drawbacks of Sleigh Beds
+ Attractive and makes a great focal piece
+ Sleigh beds are often sold with a matching set (Great for a cohesive bedroom design)
– Sleigh beds can be more expensive than other types
– Due to their large size (king) they can take up a lot of bedroom floor space
Four Poster Bed
A four-poster bed, as the name suggests, comes with posters on the four sides of the beds. The four poster bed design has a classic charm that makes the room feel majestic and mysterious. There are many different style to choose from, including bed frames made from wood and metal.
These types of beds have been around since the early centuries and have been popularized for their structure. Large in size and distinct in shape, a four poster bed is an ideal choice for all those who would like to strike a statement with the bed.
Many four poster beds come with an attachable canopy that can be dressed with lines to achieve a romantic ambiance.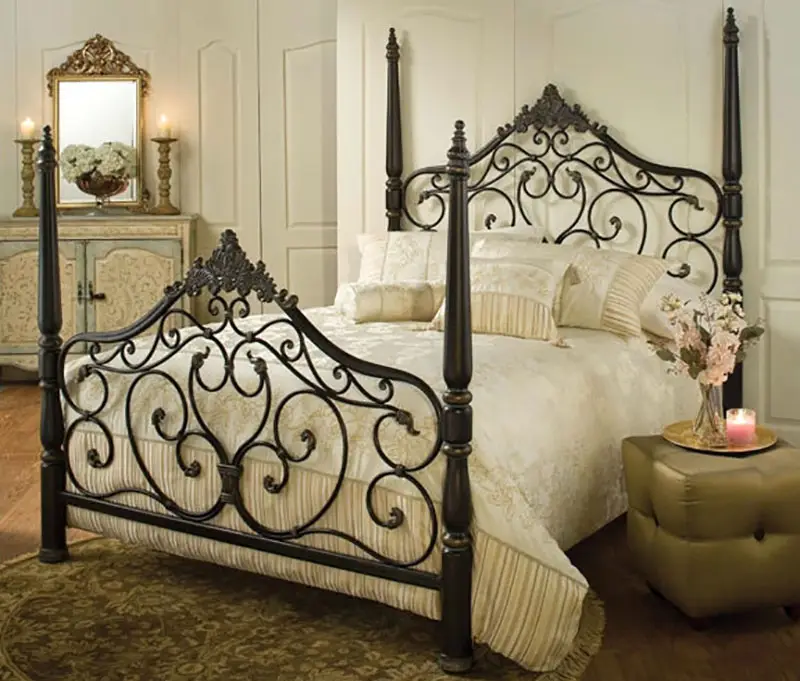 Four poster bed
Benefits and Disadvantages of Four Poster Bed
+ Looks elegant and majestic
+ Models equipped with curtains can help keep out the sunlight
– Canopies can collect dust which needs to be cleaned weekly
– Four poster beds are heavy and may be difficult to take apart
Canopy Bed
A canopy bed frame is quite similar to a four-poster bed. For a canopy bed frame, the rising posters are connected with cross beams to make them look connected. A canopy bed frame is draped with fabric at the sides that cover the bed from all sides.
In this type of bed frame, another ceiling level is created over the bed. The drapes and posters enveloping the bed frame truly give it a dreamy appeal. Canopy beds are popularly used in kid's bedrooms as well as in master bedrooms where you want to make the bed the central focal point.
With its fairy-tale appeal, a canopy bed is surely one of the most popular types of bed frames. Canopy beds being large in size and structure, require a lot of commitment.
They are long time investments and surely need a lot of care and attention to maintain their look and feel. But above all of it, nothing beats the fact that owning a canopy bed is a dream come true for many home décor lovers.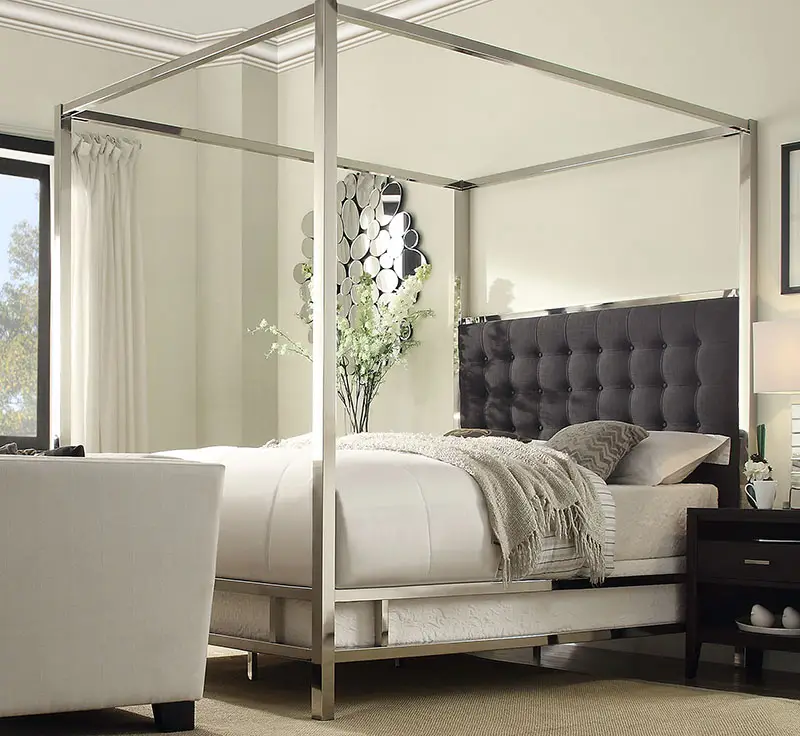 Metal canopy bed
The Good and the Bad about Canopy Beds
+ For those with large windows with bright natural light a canopy bed equipped with large curtains can help keep out the sunlight and let you sleep in.
+ A canopy netting is also used in many parts of the world to keep out insects such as mosquitoes.
– Canopy curtains can collect dust and need to be cleaned weekly
– May make a small bedroom with low ceilings feel to cramped
Storage Bed
No amount of storage is 'too much' storage. So getting some extra storage space in the bed is something most of us feel delightful about. Storage beds are traditional beds with storage capabilities, hence are comparatively costlier than the regular bed types. It is usually made to accommodate storage space within the bed frame.
One of the advantages of a storage bed frame is that it uses the available space very efficiently. You not only use your bed for resting but also for storing essentials.
The storage space in such beds ensures your room remains neat and tidy with no unnecessary clutter. Storage beds are available in various sizes and shapes, enabling the house owner to choose them according to the house's décor.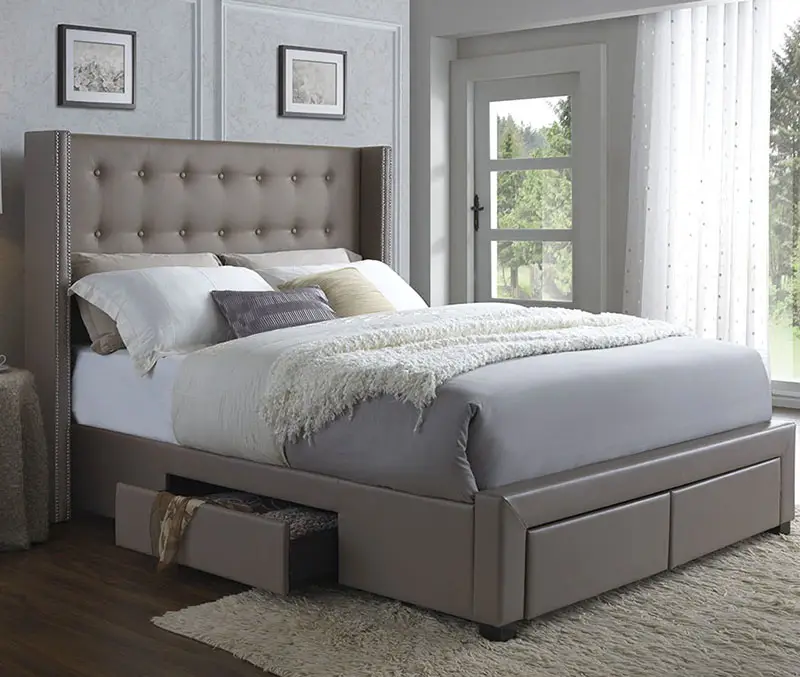 Storage platform bed
The Positive and Negative Points of Storage Beds
+ Efficient space savers with built-in storage
+ Visual appeal that can be matched to a specialized design
– Storage beds can have a higher price tag
– Difficult to assemble, disassemble and move
Day Bed
Day beds are mostly used in spare rooms or home offices for lounging or reclining during the day. Day beds come with a variety of uses, making it one of the most popularly used bed frames.
If your bedroom lacks space, day beds are the best option. They are concise and serve the purpose efficiently.
They have support on three sides, making them great for those who need a place to sleep and sit, study or read. If you use day beds in a living room, they can be the ideal spot to rest during the day or recline and watch your favorite television show.
A frequently asked question is, how big is a day bed? The most common size of a day bed uses a twin bed mattress which is 39″ wide and 75″ long.
Another popular question is, what is the difference between a day bed and a futon? A daybed has its own twin bed mattress, while a futon mattress can be folded to convert from a bed in to a sofa.
For this reason, a futon mattress is often considered uncomfortable to sleep on, while a high-quality twin mattress can provide a good night's sleep.
If you have no separate guest room, day beds are ideal for adding extra sleeping spots for your guests. Also, they come with a lot of customization options, which changes its look as and when required.
Many day beds also come with an underneath trundle bed which is ideal for those who need a separate bed for friends or family.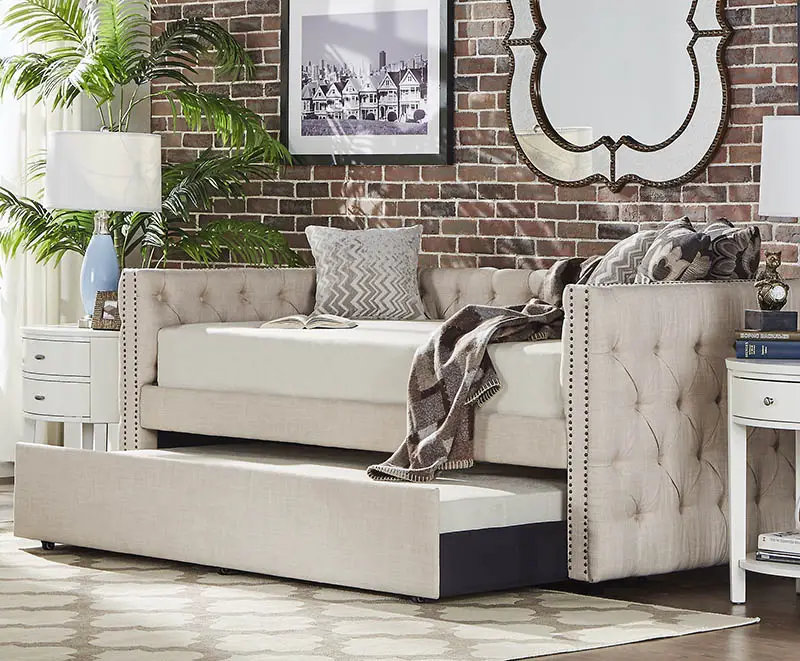 Day bed with trundle
What Makes Day Beds a Great Choice
+ Daybeds can pass as a sofa for those with a smaller floor plan
+ Many day beds have side rails or armrests to let you comfortably sit on them
+ Many types offer under-the-bed storage
– Due to the three sided design it may need a supportive back wall running the length of the bed
Trundle Bed
Trundle beds are quite similar to day beds. The day bed would have an additional drawer, which, when pulled out serves extra sleeping space.
Needless to say, trundle beds are perfect for maximizing the utility of a small space. Trundle beds provide extra space for sleeping and can be used as day beds when not required.
An unexpected visitor can easily be accommodated when you have a trundle bed to add extra sleeping space. Basically, the design allows for a second lower bed with wheels to be slid under the main bed when not in use.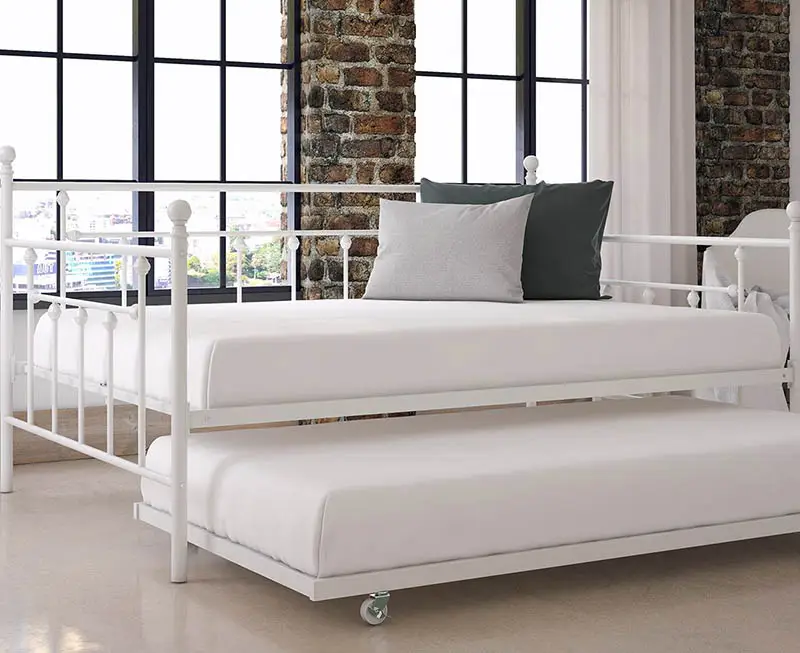 Metal trundle bed
Why You Should Choose Trundle Beds
+ Two beds in the footprint of one
+ Many types have under the bed storage
+ Safer for children than a high bunk bed
– Second bed mattress is smaller than the first which requires a special sized mattress and sheets
– May be inconvenient to pull the lower mattress out
Bunk Bed
Another popular bed frame is the bunk beds. This type of bed frame usually has two or more beds stacked one over the other. Bunk beds usually have an attached ladder and are mostly used in children's rooms.
If you are looking for space savings options in your kid's room, bunk beds are the ideal choice. This type of bed frame lets you have two to three sleeping space in the place of one, by vertically stacking beds one above the other. Bunk beds use the available space efficiently and are fun for kids.
Buying the right bed frame is a well thought decision and can also be a big commitment. Now that you know the different types of bed frames, it will be much easier for you to make the right decision.
Each type of bed frame comes with its own advantages and disadvantages. The first step towards buying a bed frame is understanding the available space.
How much space can you dedicate to a bed? Would you want a king size bed or a queen size bed? If you are looking out for space-saving options then opt for bed frames that take up less space yet provide more efficiency. The second most important aspect to consider when buying a bed frame is its utility.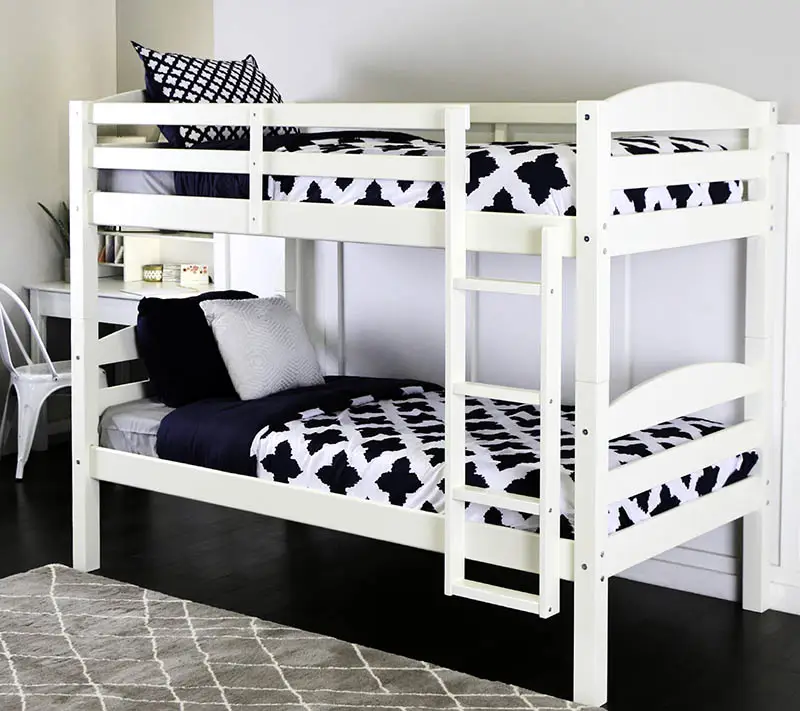 Twin over twin bunk bed
Is the Bunk Bed for You?
+ Separate beds for multiple kids to sleep on
+ A bunk bed provides more room in a smaller little bedroom
+ Kids love bunk beds and it gives them alternative places to sleep, read or study
– High bunk beds may cause injuries from falling
– It's more difficult making the bed
– Getting up and down a ladder may be a challenge late at night
Traditional Solid Wooden Bed Frames
A traditional solid wooden bed frame can cover many different types. Traditional bed styles can include canopy, four poster, half tester, platform, sleigh or various styles.
Typically it is considered a hand made wooden bed with nostalgic properties and a rustic style. However, nowadays, wooden bed frame can be custom crafted to your exact specifications to get the exact look you want. Many models offer much room underneath for under the bed storage.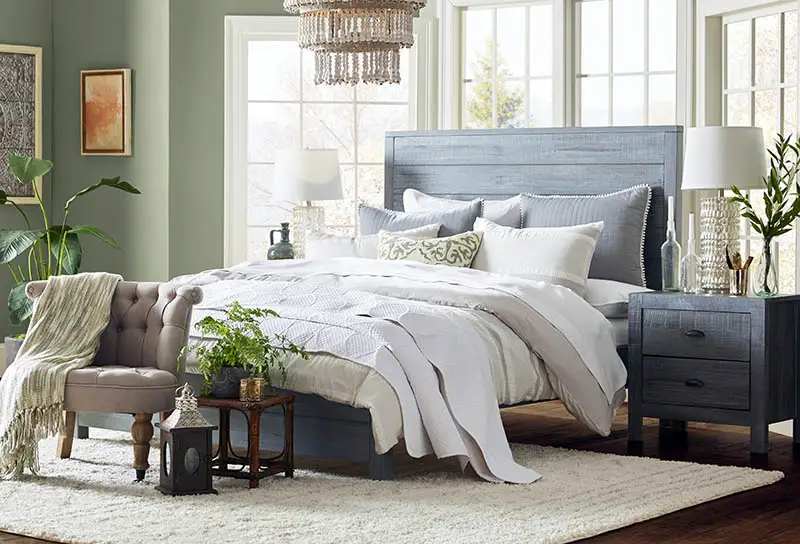 Solid wood platform bed
Why You Shouldn't Choose a Solid Wooden Bed
+ Wooden bed frames are sturdy and can last a lifetime
+ Much less likely to creak than metal bed frames
+ Natural wood provides richness and warmth in the bedroom
– Can be quite costly
– Solid wood bed frames can be heavy and difficult to move
Round Bed Type
There's the round or circle bed for those looking to make an impression and get away from the usual rectangular bed. The round bed definitely goes for originality and can be used for many different design styles such as modern, contemporary and traditional.
Psychologists say a round shape can even help one feel more secure and at ease. (Healing by Design Source)
Many people love a round bed because they can sleep on it facing any direction. Another feature that's appealing is many models offer plenty of underneath storage, which can be a big help for storing extra bedding.
And that brings us to the actual bedding, as it may be difficult to find lines that fit the bed's unusual dimensions.
Furthermore, finding the right place for a round bed in the bedroom can be a challenge for those with smaller spaces. However, there's no denying for those who want to showcase their own unique style, a round bed can deliver.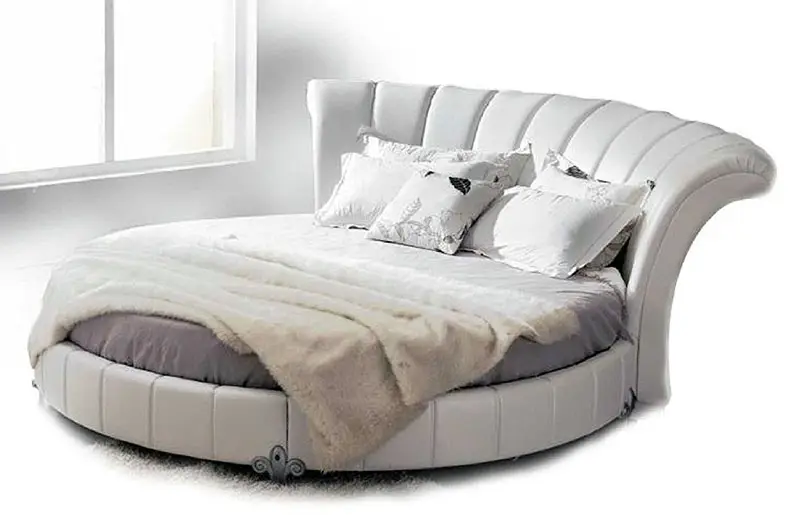 White leather round bed – Source
Strengths and Weaknesses of Round Beds
+ Round beds can show off your unique style
+ Can sleep in any position
– May be difficult to place in a small bedroom layout
– Can be hard to find suitable bedding sets
Waterbed
A waterbed is typically constructed of two types. A hard-sided frame with a plywood deck with a special mattress containing water.
There are also soft sided waterbeds with a frame of foam and a water filled mattress that is designed to fit on a metal frame and looks like a conventional bed.
Water beds are generally constructed of a soft PVC material and can be repaired with a vinyl repair kit upon a puncture. Water beds can be heated via a thermostat that controls the temperature.
The temperature can be set to your preference, with most choosing to maintain close to the average skin temperature of 30 °C or 86 °F.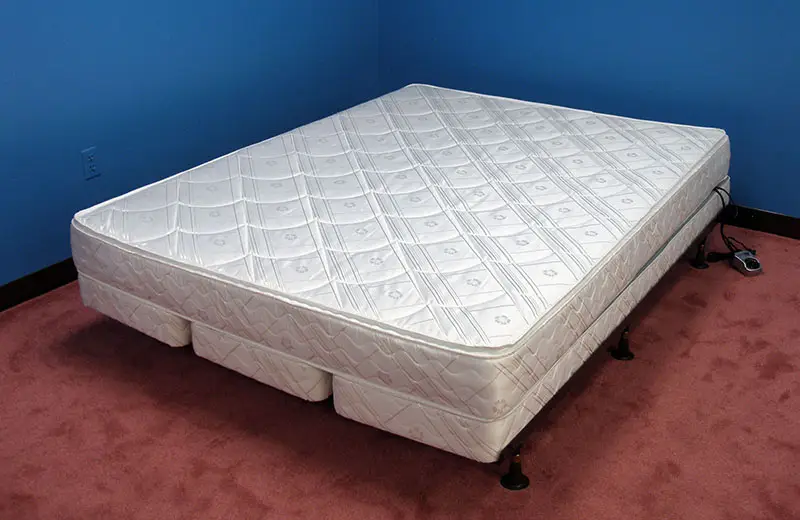 Soft side waterbed with foam rails
Benefits and Disadvantages of the Water Bed
+ The water can be warmed to your desired temperature, making sleeping in the winter more comfortable
+ Relaxes the spinal muscles and may help with those suffering from back aches
+ Long life span (waterbeds often last 12 years or longer)
– Electricity to warm the bed will increase your monthly utility bill
– Different sizes due to water levels may make it hard to cover with standard bed sheets
– Very heavy when filled with water and may rupture if punctured
French Bed
The traditional bed gets a twist of French design in this type of bed. French beds have a traditional bed frame but what makes it different is its ornate design work. French bed frames are known for their elaborate headboards and footboards.
Carved patterns and artwork inspired by traditional French designs, makes this type of bed frame ideal for all those who like a luxurious and regal décor look. French beds are mostly wooden but also can be made of wrought iron.
When staying in Europe, one will often hear the term French bed when booking in to a hotel. This refers to the mattress size, which is typically a little smaller than a standard double bed but still larger than a twin bed.
Many in the U.S. who are accustomed to a king size find the Hotel's French bed mattress a little too small for their taste.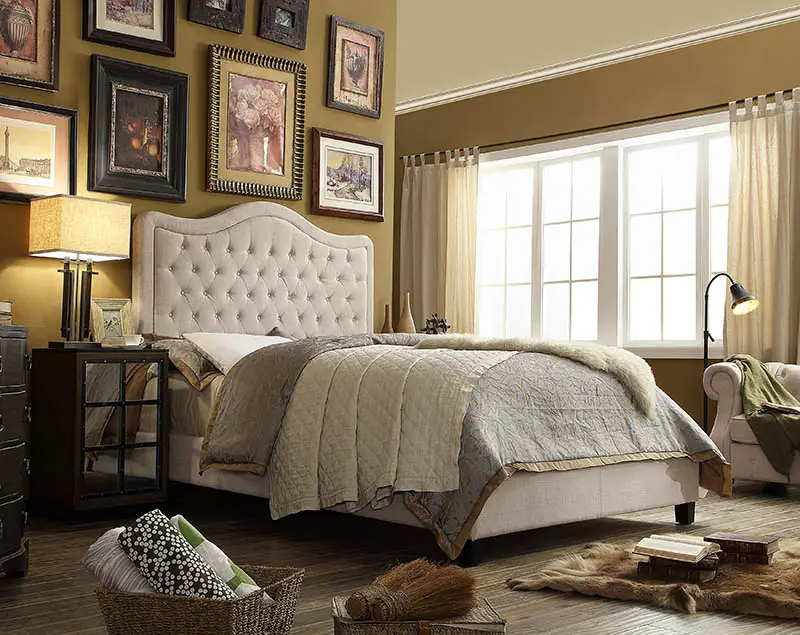 French style bed
Is the French Bed the Best Bed for You?
+ Gorgeous look that matches the French Provincial style
+ Headboard is comfortable for leaning on
– High headboard can be bulky
– Tufted headboard may be difficult to clean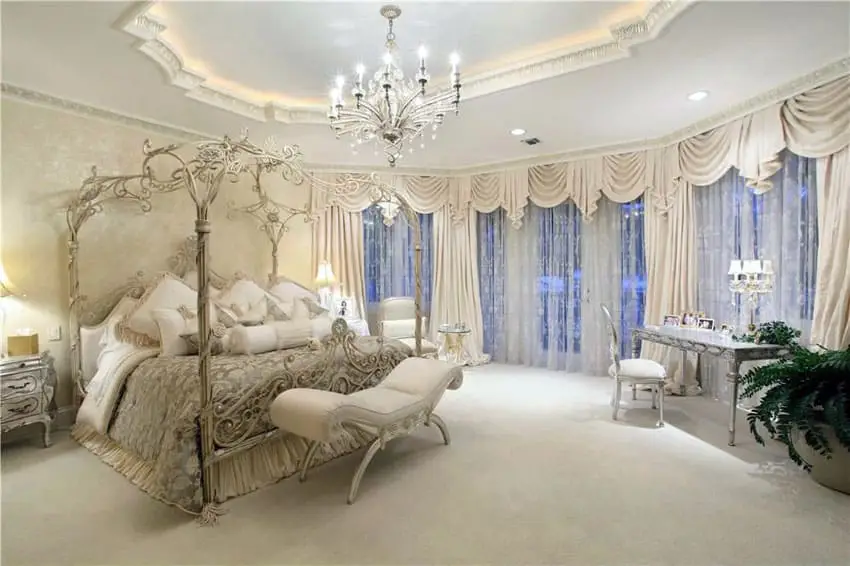 There are many types of beds to meet every need. Whether it's an exquisite sleigh bed or storage bed made of high quality wood is ideal for families that can afford the cost and have enough space in their master bedrooms.
On the other hand, that same bed frame may not be the right choice for renters looking to move from one place to another. What may suit them more would be an economical bed frame that can be easily moved and also saves space.
Similarly, a person with back problems or that is pregnant who wouldn't feel comfortable bending down to get into a bed, shouldn't opt for a platform bed just for its visual appeal.
For them, a traditional high profile bed is more suitable. Once you make a strong decision considering every aspect of your needs, you'll be ready to buy the right type of bed frame.
When selecting a type of bed it's also important to consider the right size for your needs. There are a variety of sizes such as King, Cal King, Queen, Full, Twin and Twin Xl.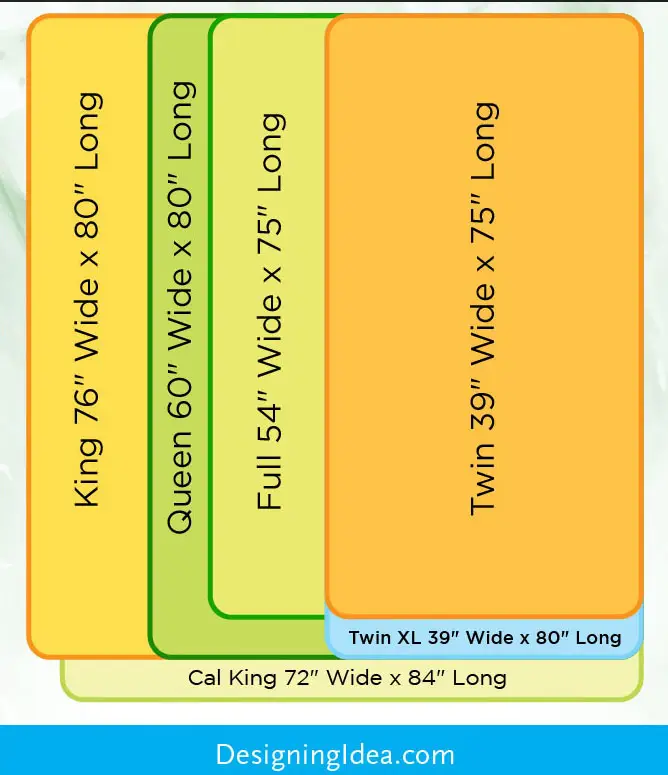 Here is an info graphic to help you see the most popular bed dimensions available. (You can use this inforgraphic on your own page if you link back to this page from your website.)
For more information about choosing bed sizes visit this page.