Here's our bookcase dimensions guide describing the standard sizes for up to a five-shelf bookcase, built-in, and bookshelf dimensions for popular products.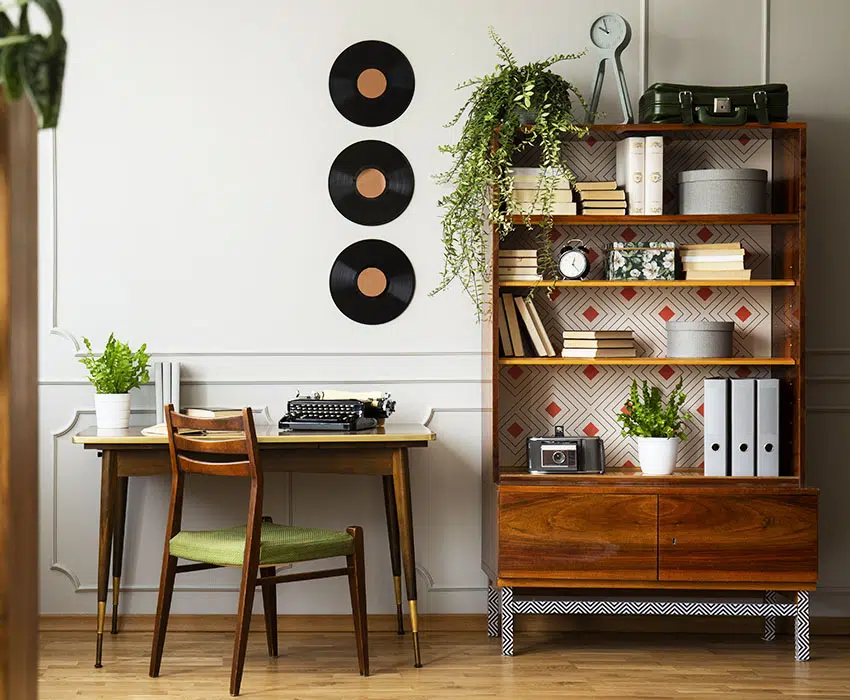 Bookcases or bookshelves are one of the most versatile furniture pieces any household can have. It can be used in the living room to house curated décor and picture frames, and it can also be utilized in the office or bedrooms for all the books and notebooks a household owns.
Bookcases can be vertical, but they can also be horizontal. It can be freestanding or fastened to a wall or floor, available in many heights and widths, in a variety of designs to fit any interior design concept. Some bookcases will even have a glass door to protect the precious things stored inside them.
Standard Bookcase Dimensions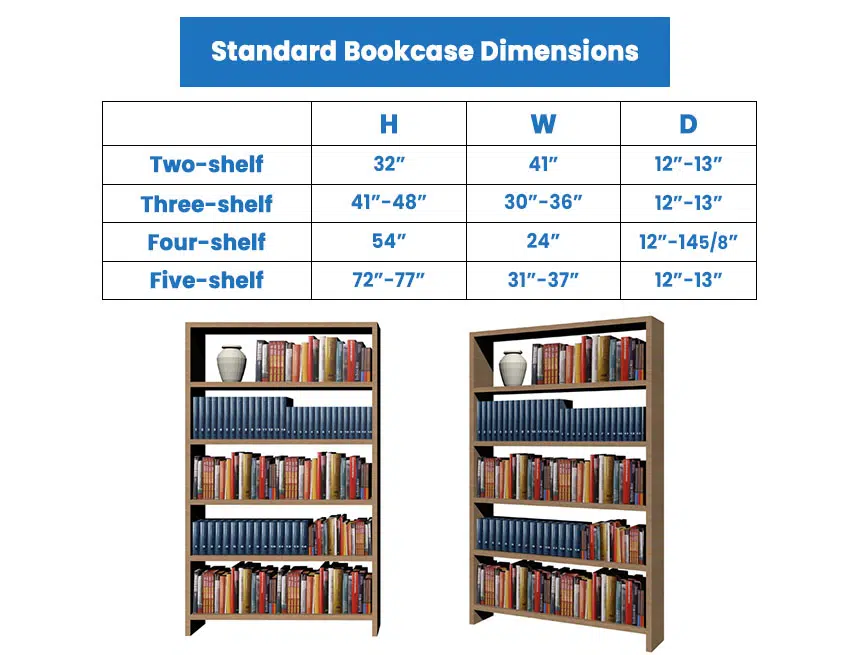 There are many types of bookcases a homeowner can buy. Some are two-shelf bookcases for stuff like CDs and DVDs, and there are bigger ones like double wide bookcases usually utilized by libraries and bookstores.
A two-shelf bookshelf is about 32 inches or 81 centimeters high with a width of 31 inches or 79 centimeters. The depth will range from 12 to 13 inches.
For a three-shelf bookcase, the height will range from 41 to 48 inches or 104 to 122 centimeters, with a width from 30 to 36 inches or 76 to 91 centimeters. Depths will range from 12 to 13 inches or 30 to 33 centimeters.
A four-shelf bookcase is 54 inches or 137 centimeters high. There are typically two variations which are narrow and wide. The width is usually 24 inches or 61 centimeters for a narrow one, while the wider one is 45 inches or 114 centimeters. The depth of a four-shelf bookcase is usually 12 to 14 5/8 inches or 30 to 37 centimeters.
Five-shelf bookcases can be as high as 72 to 77 inches or 183 to 196 centimeters. Widths will range from 31 to 37 inches or 79 to 94 centimeters, with a depth of 12 to 13 inches or 30 to 33 centimeters.
There are also seven-shelf bookcases known as towers since they are narrower with two to five shelves. The heights of these towers can be as high as 84 inches or 213 centimeters.
Standard Bookshelf Depth
The depth of a bookshelf is measured from front to back, and it is essential for the homeowner to ensure that each item stored on the shelf will fit. The usual depth of most décor and books will range from 6 to 24 inches or 15 to 61 centimeters.
For this reason, a bookshelf's depth ranges from 10 to 12 inches or 25 to 30 centimeters. At the same time, spacing ensures that they are not top heavy and stand at 7 to 15 inches or 18 to 38 centimeters.
Built In Bookcase Dimensions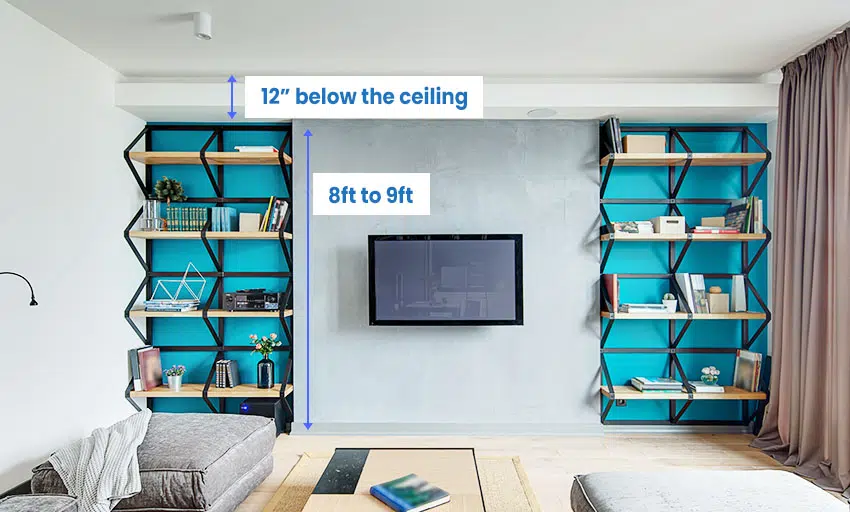 One of the great ways to ensure that any homeowner will have the perfect size of bookcase for their needs is having it made custom and built-in. The lone downside to this option is it is a lot more expensive than store bought ones.
The height of a built-in bookcase will depend on what a homeowner wants, but it will generally be around 8 to 9 feet or 96 to 108 inches. The top shelf of a built-in shelf is usually installed a foot or 12 inches below the ceiling. See our gallery of built-in bookshelves for more design ideas.
IKEA Billy Bookcase Dimensions
The IKEA Billy is a series of bookcases that offers everyone a wide range of bookshelves that will provide function and flexibility. It can be assembled in a combination of ways that will adapt to homeowners' spaces and uses. It is also mounted with fasteners for maximum safety.
The Billy Bookcase can be as tall as 93 inches or 244 centimeters and as small as 42 inches or about 107 centimeters. The widths range from 16 to 32 inches or 41 to 81 centimeters, with a shelf depth of 11 inches or 28 centimeters.
Expedit Bookcase Dimensions
A perfect bookcase for a living room that can be used to house decors of many sizes is the IKEA Expedit shelving unit. It has individual cabbies that are big enough to carry records and coffee table books easily.
This bookcase has a height of 59 inches or 149 centimeters, it has a width from side to side of 31 inches or 79 centimeters, and a depth of 15 inches or 39 centimeters.
Hemnes Bookcase Dimensions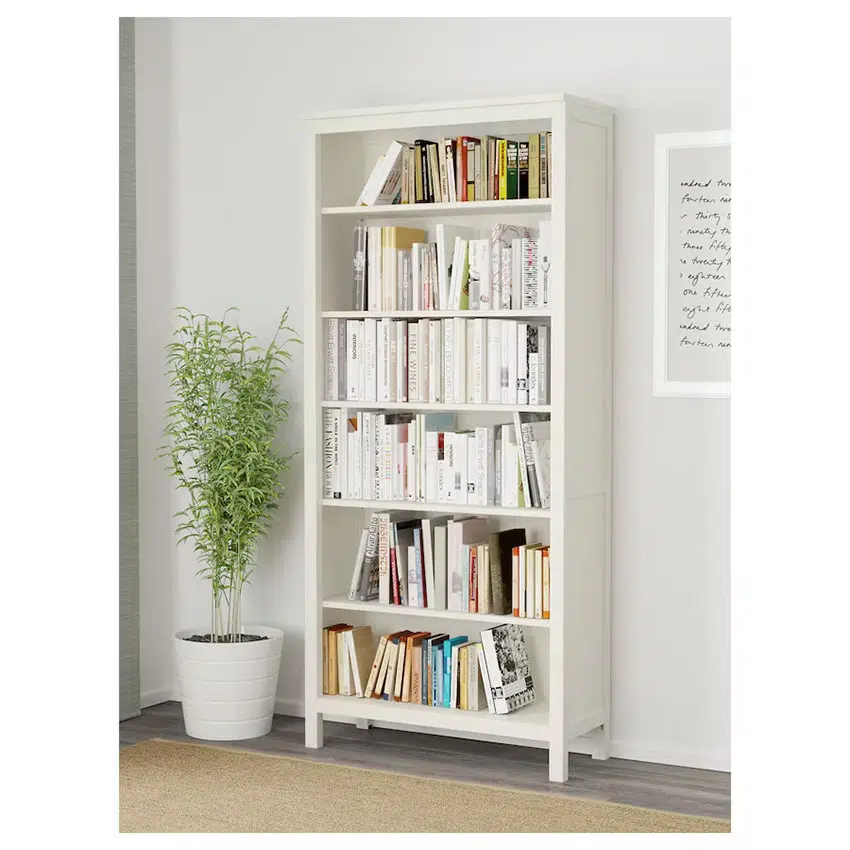 See this bookcase at Amazon [sponsored link]
Another IKEA bookcase is the rectangular Hemnes Bookcase with six big shelves and raised legs for maximum storage space for all their needs. The Hemnes bookcase has one fixed shelf to ensure stability, with all five others adjustable.
It has a height from top to bottom of 77.5 inches or 212 centimeters, a width from side to side of 19.25 inches or 90 centimeters, and a shelf depth of 14.63 inches or about 37 centimeters.
Kallax Bookcase Dimensions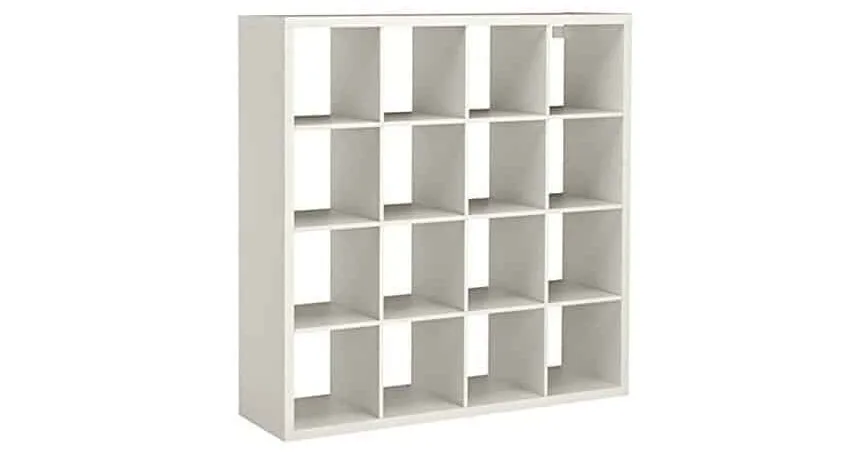 See this bookcase at Amazon [sponsored link]
One versatile bookcase from IKEA is the Kallax bookcase that can either stand vertically or lay horizontally to fit the wants and needs of any homeowner. It has rounded corners and is available in a variety of finishes to suit any interior design.
This shelf has a height from top to bottom of 57.88 inches or 147 centimeters, a width of 57.88 inches or about 77 centimeters, and a depth of 15 inches or 38 centimeters.
Laiva Bookcase Dimensions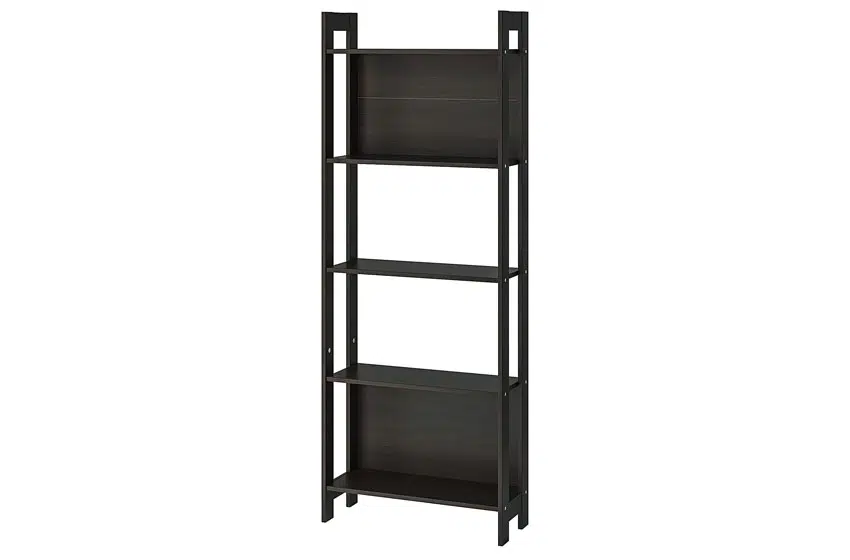 See this bookcase at Amazon [sponsored link]
The IKEA Laiva bookcase is an excellent choice for homeowners living in smaller spaces since its shallow depth will allow it to fit in smaller areas. Two shelves have a wooden back with the two in the middle open for more flexibility.
This shelf has a height of 65 inches or 165 centimeters, a width of 9.5 inches or about 62 centimeters, and a shelf depth of 24.4 inches or 24 centimeters.
Barrister Bookcase Dimensions
The Barrister bookcase is a classic bookshelf for homes looking for a more traditional-looking bookcase. This bookcase has a door on each side, making it perfect for storing precious books and even some fine China any homeowner might want to protect from dust.
It is available in four heights to fit anyone's needs. There are the 34 inches or 86 centimeters and slightly taller ones at 48 inches or 122 centimeters. At the same time, more towering shelves are available in 62 inches or 157 centimeters and 76 inches or 193 centimeters.
Visit our best wood for shelves guide fore more related content.