Here we explore teak wood decking ideas including pros and cons, types of teak wood & materials like boards, tiles and marine decking, price, and best stain options.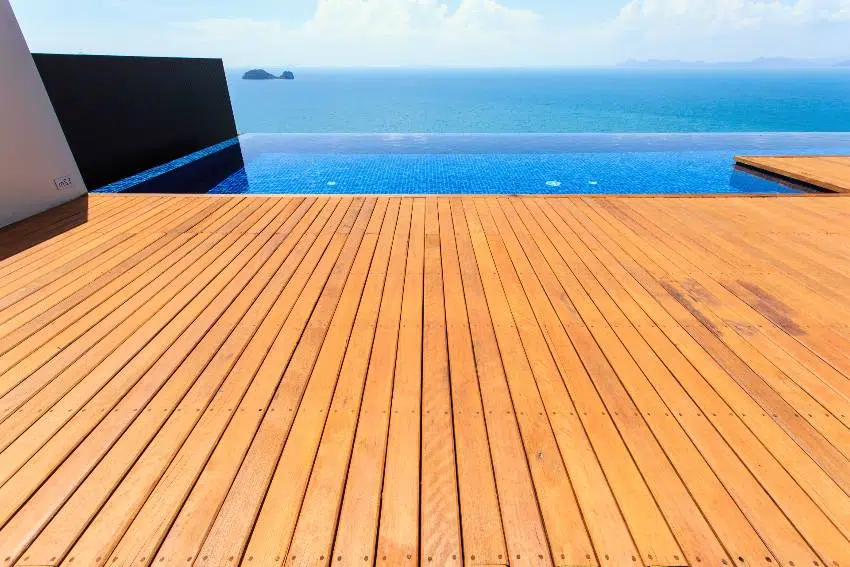 Let's face it, decking can be a difficult task not just in the actual building itself but in choosing the materials to trust. With decks being outdoors and exposed to weather elements, from direct sunlight to raging storms, you will need a strong and durable material that can stand the test of both time and weather. And teak wood is the renowned king of the wood for many woodworkers in this case.
Types of Teak Wood Decking
Native to Southern Asia and grown in South America and Africa, teak is a hardwood that's become popular with woodworkers due to its hardness, durability, and versatility. It is regulated though because of its status as an endangered species. It doesn't change the fact though that it's an incredible hardwood option you can use for decking.
Teak decking is the best option among all other types of wood deck materials you may be considering. When it comes to outdoor furniture and construction, teak is the way to go. Here's the most popular types of teak wood decking available.

Teak Decking Boards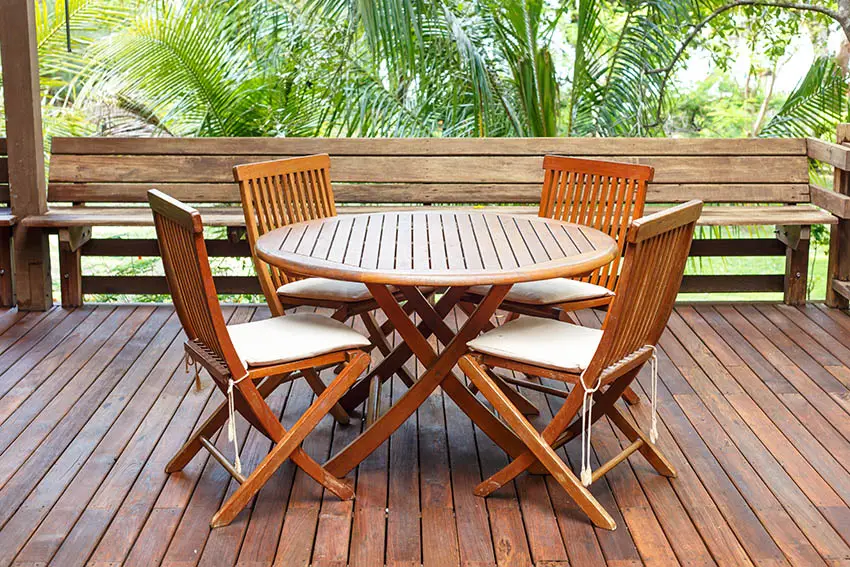 Teak boards are popular material not just for decking but also for building boats. These boards are dependable and suitable for decking and since the wood is naturally hard and durable, teak boards can take the everyday wear and tear from outdoor and weather elements.
Teak decking boards can also be used for furniture (both indoor and outdoor pieces) and other construction and building needs, showcasing the wood's versatility.
You will have an easier time working on teak wood since it can easily be crafted with glues working on it too. And the result will remain high quality for a long time. See types of teak wood outdoor furniture here.

Teak Wood Deck Tiles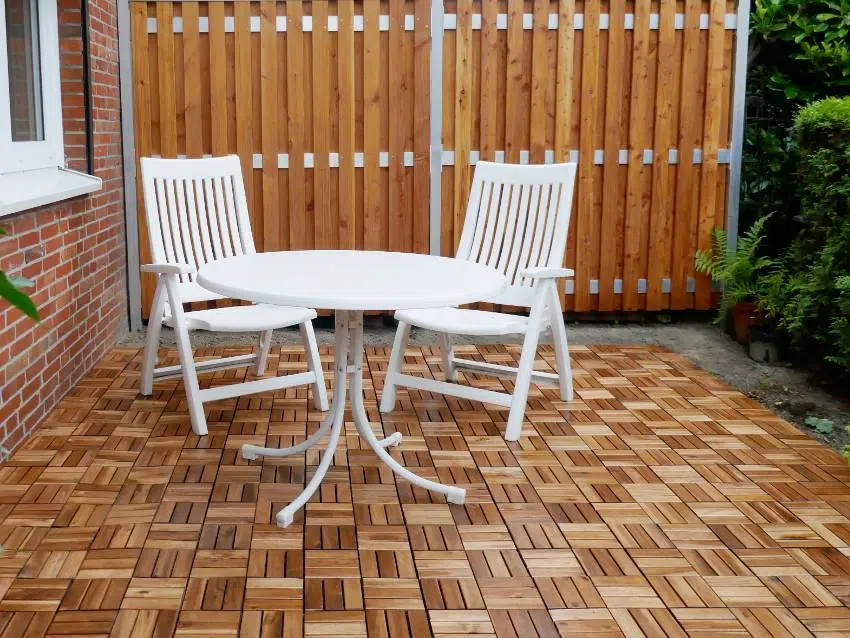 Teak wood tiles are another material that can be considered for decking and other outdoor construction needs. Compared to teak boards though, tiles are usually smaller in size, making them more time-consuming to work with while also providing more room for creative freedom and aesthetics.
With different deck sizes, shapes and patterns to choose from, choosing teak wood deck tiles will give you more options and opportunities for creative designs using these tiles.
Teak deck tiles are DIY-friendly and can either be worked on by professionals or homeowners alike. Two of the types of teak wood deck tiles you can choose from are straight slat tiles and diagonal slat tiles.
Teak Wood Interlocking Deck Tiles
Another type of teak tile is teak wood interlocking deck tiles. These are easy to install that usually come with a quick snap-in process that won't require tools and complicated instructions.
The interlocking design allows you to easily mix and match the deck designs with other tiles in different patterns. You can create a quirky combination of patterns if you want to.
More than just the effortless installation of teak wood interlocking deck tiles, cleaning and maintenance are also effortless. A simple damp cloth and brush can easily be used for cleaning. And with deck tiles that are usually installed outdoors, applying sealer and decking oil are recommended for optimal quality even if they are technically not required for teak wood.
The interlocking design of these teak wood deck tiles can be floated on a flat and stable surface. And since these tiles have a snap-in mechanism, they can also easily be taken up as easily as they can be installed so you can use them in temporary and rental areas. They usually come in a ready-to-use box and so shipping them is also not a problem.
Marine Teak Decking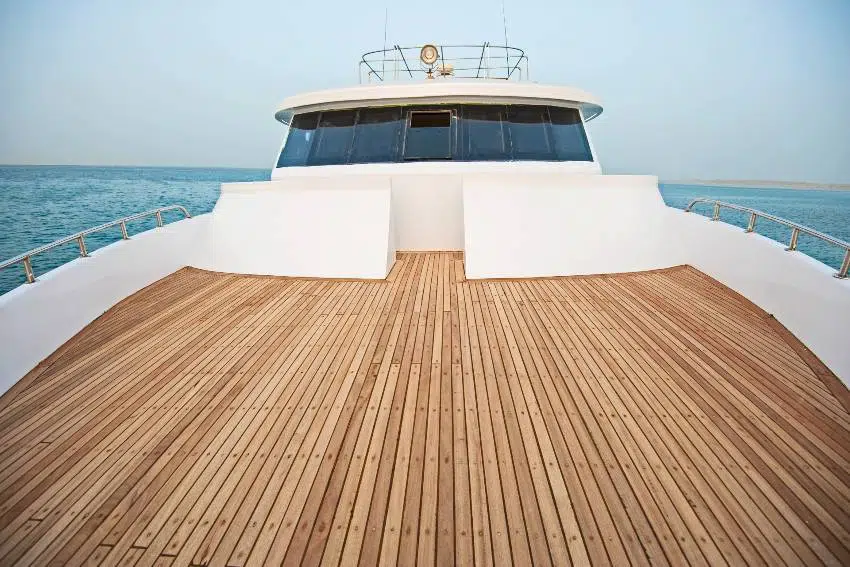 Marine teak decking involves the creation of a sturdy and long-lasting deck along the sea, coupled with the building of high-quality and functional boats. The marine teak decking is stunning and rugged in its aesthetics but you might need the help of professionals for its installation.
Some of the most popular sizes for marine teak decking are ½ x 1 ⅞" battens and 9/16 x 1 7/8 " battens. Being the ideal choice of boat builders, teak offers incredible durability and resistance to extreme weather conditions and elements that would usually be experienced in the sea.
The constant exposure to moisture will also not lead to fungus and mold infestation unlike other hardwood options for marine decks.
Types Of Teak Decking Varieties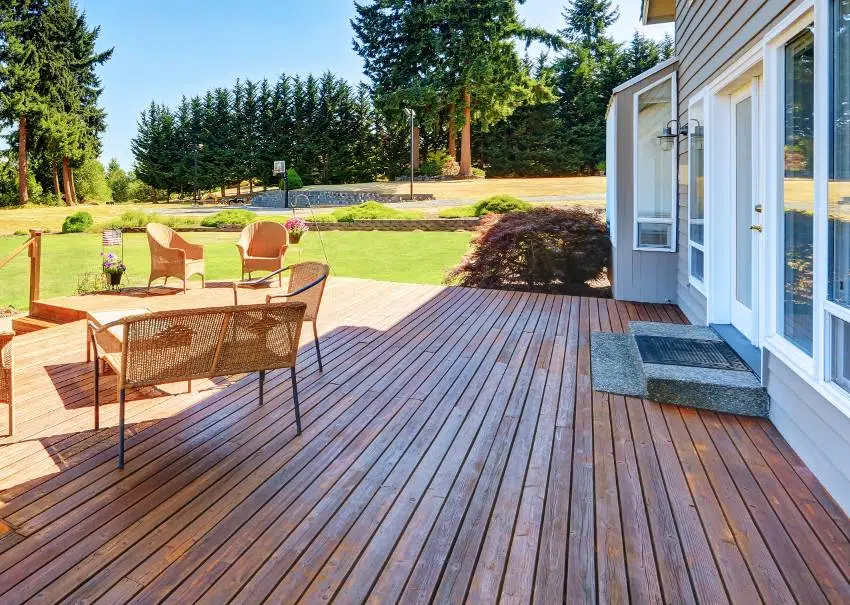 One of the advantages of teak decking is its versatility and that they come in a variety of types you can take into account. Teak wood is extremely popular but also limited in its availability and even the type of teak that's most available in the market is rare in its own right.
While all of them are teak wood, they have their own distinctions that make them different from one another. You only need to explore the different varieties to be able to choose the ideal one for your home deck or other deck needs you have.
Brazilian Teak Decking
Brazilian teak decking involves the beautiful Brazilian teak wood, which is notable for its unique grain pattern with golden brown to mahogany red hues. Just like all other teak decking types, this one is durable and resistant to decay and molding.
The Brazilian teak decking is actually thrice stronger, harder, and more durable compared to Burmese teak decking so if you're choosing between the two, bear in mind that this one is more durable. And the best thing is that they also require incredibly low maintenance so that you won't have to worry much about your deck.
The downside in choosing Brazilian teak decking is the expensive cost that it comes. It is even considered one of the most expensive hardwoods available in the market.
Dahat Teak Decking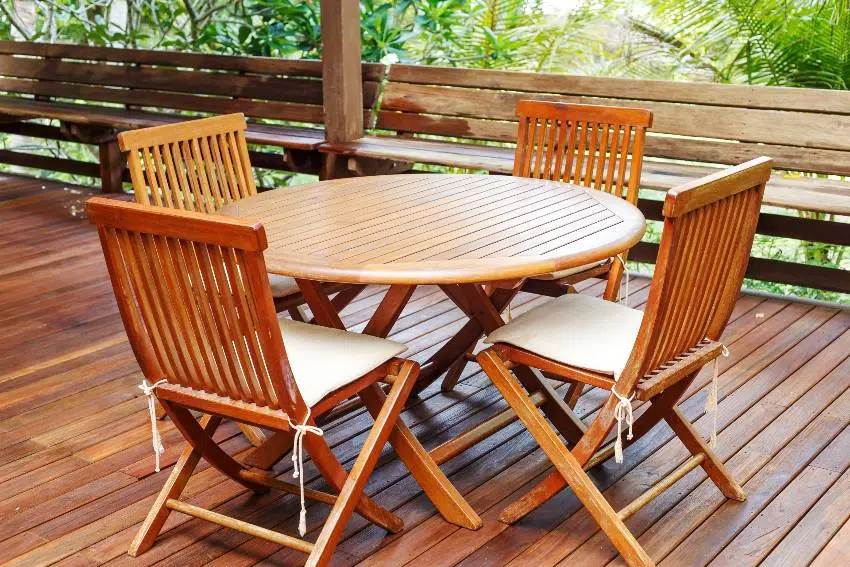 Using dahat teak wood for your deck is also a good consideration. Suitable for both indoor and outdoor use, the dahat teak has stunning aesthetics you can benefit from. It is also highly durable and strong like the rest of the types of teak wood.
Unlike other types of teak wood decking, dahat teak is a sustainable choice considering the fact that it is cultivated, grown, and harvested from plantations that manage them for long-term sustainability. And while you will need to occasionally oil the wood to preserve its natural color, taking for of dahat teak decking is relatively easy.
The downside with dahat teak decking though is that it can be very difficult to find in the market (more than the usual difficulty), making it even more expensive.
Burmese Teak Decking
Burmese teak decking involves the most popular and valuable teak wood in the world market. Hard and durable, this type is native to Myanmar and is notable for its golden brown hue with darker streaks.
Similar to most teak, it is resistant to rotting and molds, as well as other weather elements, making it an excellent option for outdoor construction like decks.
This stunning teak decking option though is incredibly expensive. And compared to other teak wood types, Burmese teak is a bit difficult to work with.
So if you're going for intricate and details patterns, this might not be a good option for you. In addition to that, regular maintenance, sanding, and oiling are necessary to keep it in shape and at its best.
South American Teak Decking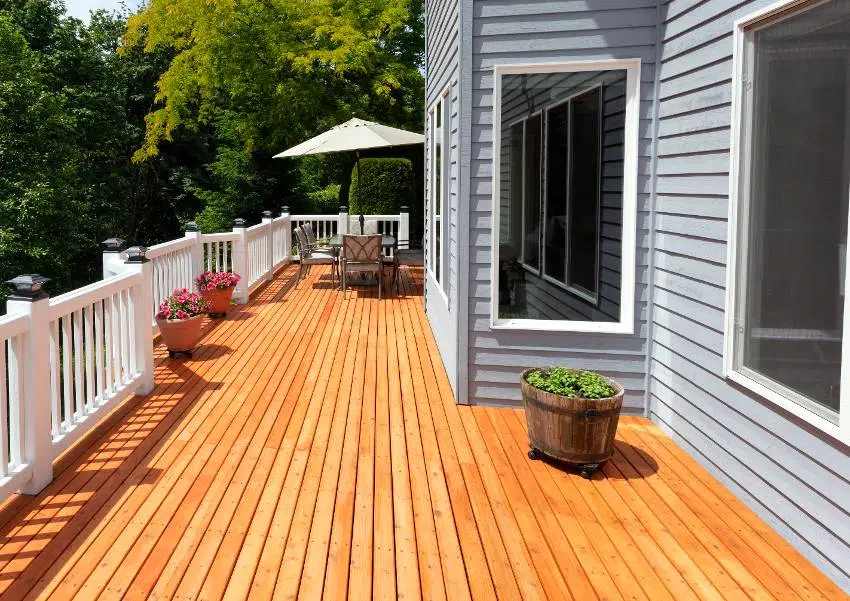 The South American teak decking is a good option for its extreme durability and weather resistance that allows it to function even in harsh climates. This type is known for its ability to withstand extreme temperatures and harsh climates without cracking or warping because of these elements.
In addition to that, it also has stunning rich color with fine grain that makes it aesthetically pleasing to look at. And when it comes to maintenance, it doesn't require sealing and sanding.
The major downside with South American teak decking is its cost since it can be expensive compared to other teak decking types. It is also rarely available in lumberyards and hardware stores.
Teak Wood Decking Price
Teak wood decking is expensive and how costly it is will depend on the type of teak wood you're considering. Some types of teak woods are more expensive than others, depending on how rare they are and their limited availability.
To give you an overall look at what you're dealing with, here are the costs you need to consider in your budget.
• Teak wood – $10 to $15 per square foot
• Teak wood decking (materials) – $425 to $835
• Installation – $475 to $725
Teak Wood Deck Pros And Cons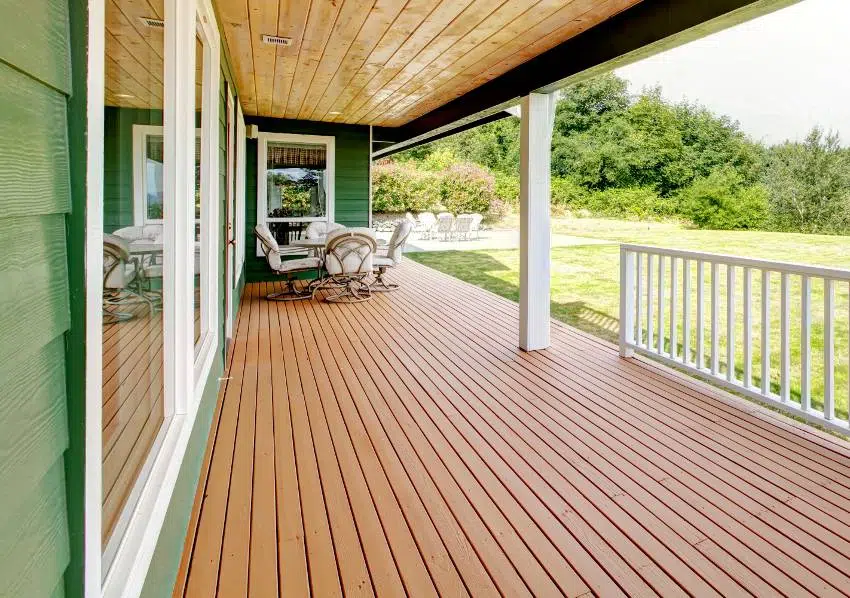 Teak wood is the preferred wood of woodworkers for a reason and it's because of the many advantages that teak has over other types of wood. But in exploring what you can benefit from choosing teak, make sure to take into account the downsides that come with it.
Pros of Teak Wood Decks

No other wood is better suited for outdoor use than teak wood and this is because of the features and characteristics that make it appealing to woodworkers, homeowners, and DIY enthusiasts. Teak wood deck is an incredible consideration and these are the reasons why.
Strong and Highly Durable – Teak wood is guaranteed to be strong and durable, with tight wood grain and a high level of tannins and natural oil.
These factors help in protecting the wood from possible harmful elements, including moisture and UV rays. This is why teak decks are highly beneficial and a good investment since you can be sure to enjoy this addition to your home for a long time.
Hard and Naturally Tough – Teak wood has a Janka hardness rate of 1,070 to 1,155, making it a moderately hard type of wood and bending strength of 14,600 psi, which means that it won't easily bend or warp. It is also not prone to splintering and cracking, making it possible to last a lifetime.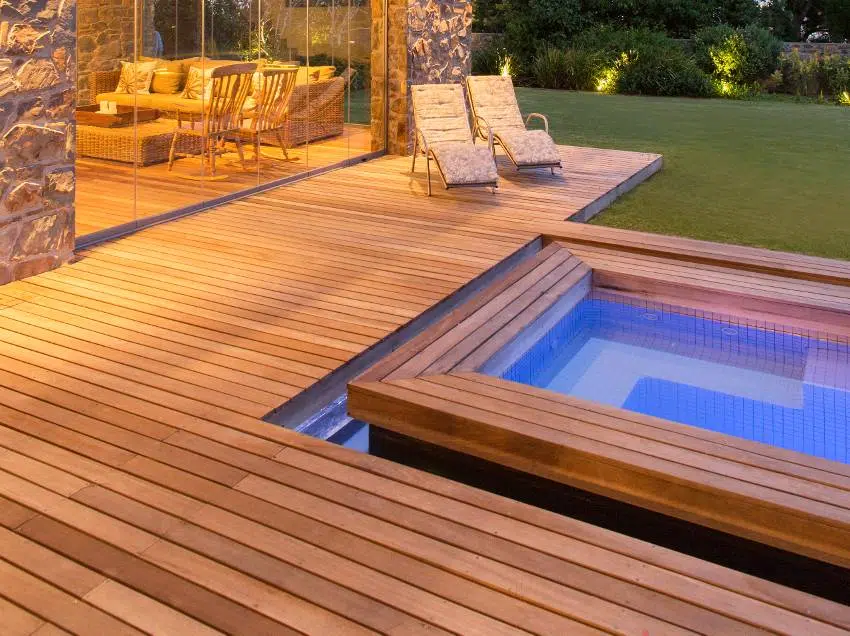 Features A Great Surface – The teak deck features an anti-slip and non-skid surface that will allow you to be able to entertain guests safely and openly.
Over time though, the golden-brown hue develops a fine silver patina. If this is not attractive in your eyes, you have the option to treat the wood to prevent the wood from changing its color.
Excellent Versatility – Besides building a deck, you can complete the entire ensemble in your yard using teak wood, from tables to several chairs for you and your guests.
You even have the option of adding a wood finish or not, depending on how you want to enhance the aesthetics of the wood and how you want to use it to add value to the current decor you have in your deck.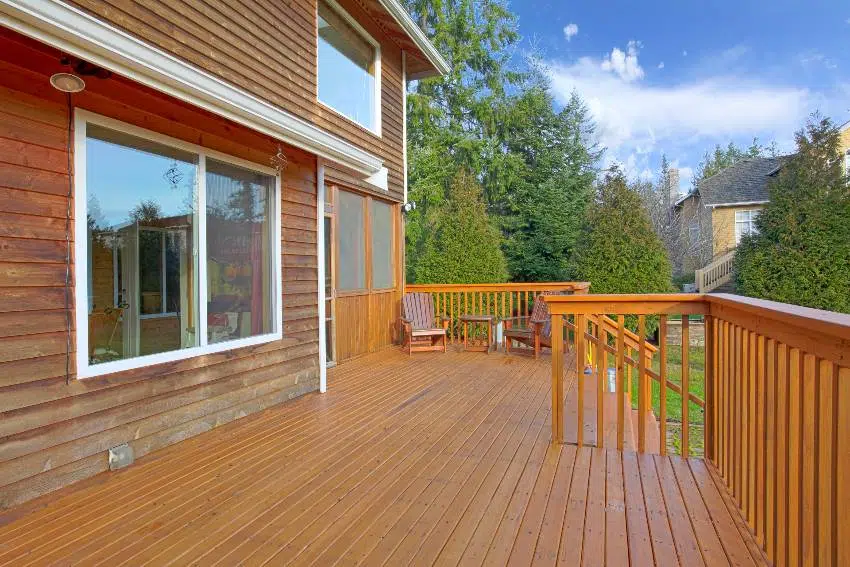 Heat Moderation Characteristics – The teak deck has heat moderation properties that won't be affected or damaged by extreme temperature, whether it's extreme cold or extreme heat.
In fact, teak wood acts as an excellent insulator that you can line your sauna with; teak wood can also be done besides being the deck itself.
Moisture-free (Naturally Resistant to Rotting and Decay) – If you're worrying about decay and rotting, you won't have to when dealing with the moisture-free teak deck.
Teak wood is popular for its high oil content responsible for the wood's durability and resistance to many factors that usually affect or damage other hardwood options.
The teak deck holds well versus fungus and insects (especially termites!). And since the wood is resistant to moisture, you also won't have to worry about molding and rotting.
Little To No Maintenance – Teak decks do not require meticulous maintenance and treatment is actually optional depending on the aesthetics you want it to have.
While many hardwood flooring options require preservatives and sealants for protection, teak wood does not need it. You have the prerogative to apply treatment to maintain its color or use the wood bare on your deck for the elegant and rustic silver and gray hue that it turns to after some time.
Cons of Teak Wood Decks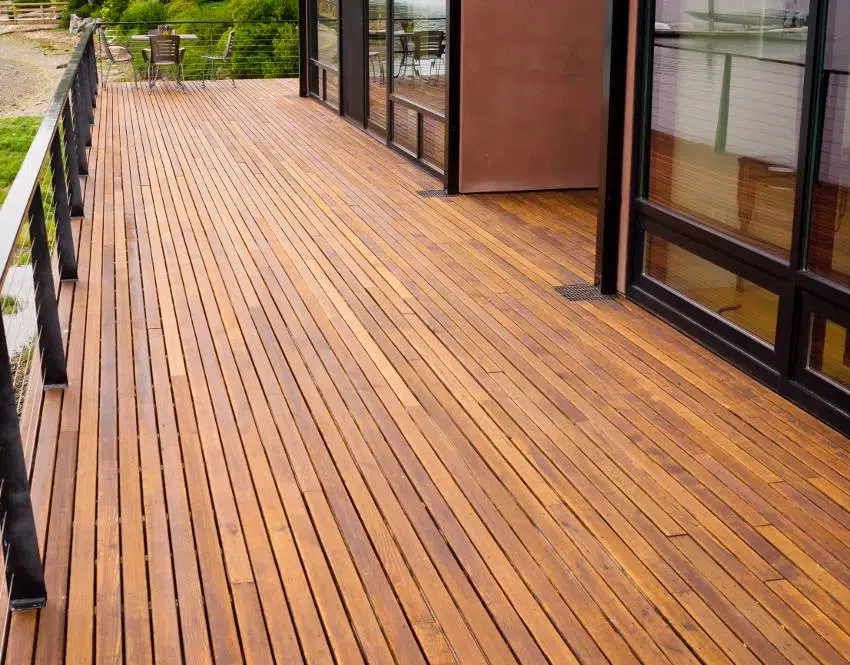 While a teak deck seems like a perfect option, there are also some downsides you need to learn and consider. These drawbacks are actually worth taking into account and can even be a make-or-break factor for your decision.
Expensive Option – Teak is an expensive wood and that's a big factor to consider since you have to match its cost to your budget. There are other teak grades that cost lower but in general, they are still a bit expensive compared to other hardwood options (even twice as expensive!).
Teak can cost around $7 to $41 per square foot, depending on the grade of teak compared to most hardwood that cost between $4 to $8 per square foot.
Limited Availability – The reason that the teak deck is expensive is that the teak wood is hard to come by and procure. Teak falls under endangered tree species because its harvesting led to its current status of being near extinct.
This highly regulated wood is now being cultivated in plantations in order to make it more available to the market. So if you plan on working with teak wood for your deck, finding one is a challenge on its own, and affording it is another hurdle you have to jump over successfully.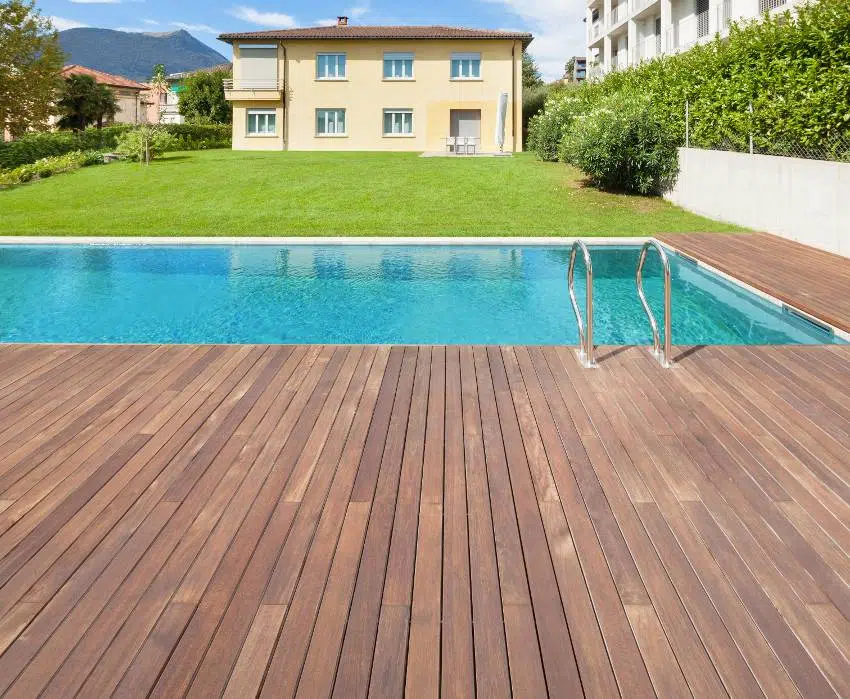 Requires A Particular Kind of Care – It's true that teak decks do not require treatment and application of preservatives just to protect them from some elements. However, it does require very particular care you need to familiarize yourself.
Here are some tips when it comes to caring for your teak deck:
• Pull the softwood elements and leave the hardwood ridges only
• Only use a sponge or soft brush when washing your teak deck
• Most chemical cleaners and bleaches can remove good oil from the teak wood so avoid using them
• Fix a loose wood as soon as you see it
Wears Down Cutting Blades – With how hard and durable teak wood is, building your teak deck can cause your cutting blades to wear down.
While it might be easy to cut, teak wood has a high hardness rating and mineral deposits, which may be responsible for your cutting blades to turn blunt faster when used frequently on the said wood.
Bad Ecological Choice – Choosing a teak deck is a negative ecological choice considering the endangered and near extinction status of the teak tree. Teak takes between 80 to 120 years to mature, which is the reason why this slow-growing tree is regulated.
Some prematurely harvest teak trees only after 40 to 60 years. But this is also the reason why plantations exist in the U.S. all focusing on growing and cultivating teak trees to increase their availability.
Best Type Of Teak Wood Deck Stain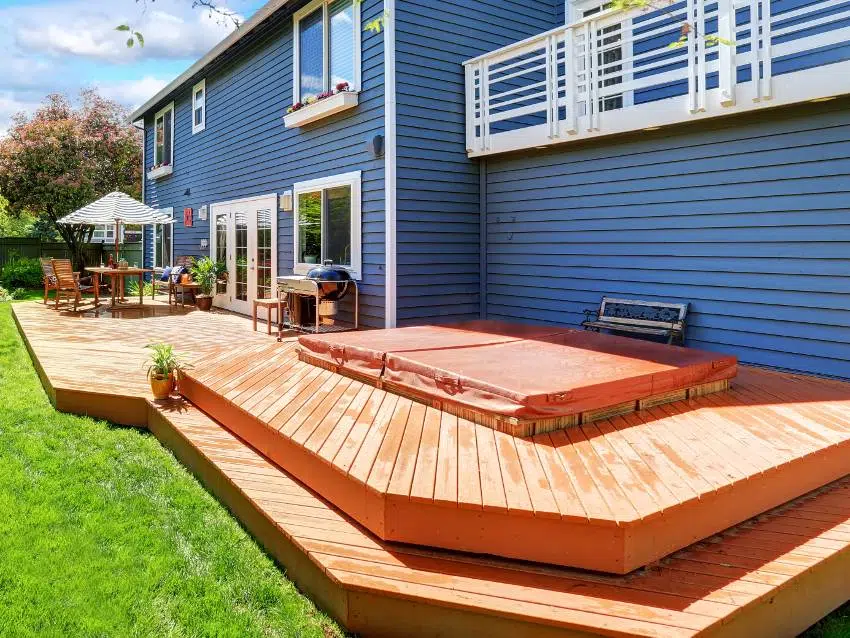 The best type of stain you can use for your teak wood deck is the one that's specifically designed for this type of wood in the first place. Both oil-based and water-based work on teak wood with the former lasting longer than the latter but the latter is more vibrant.
You can decide based on these characteristics alone. Here are other considerations when choosing a teak wood deck stain:
• Golden-brown hue stain – if the color is starting to fade to silver and you want to prevent that from happening
• Lighter-colored stain – if your deck will be often exposed to direct sunlight (avoid heat absorption)
• Semi-transparent stain – if you're working on plantation teak (not cover up stunning grain pattern and texture)
Urethane is an excellent option to consider since it's non-penetrating yet water-resistant at the same time. Applying two layers will leave an elegant shine to it. And make sure to avoid heavy varnishes to prevent your deck from having an unattractive yellow crumbly look.
How To Clean A Teak Wood Deck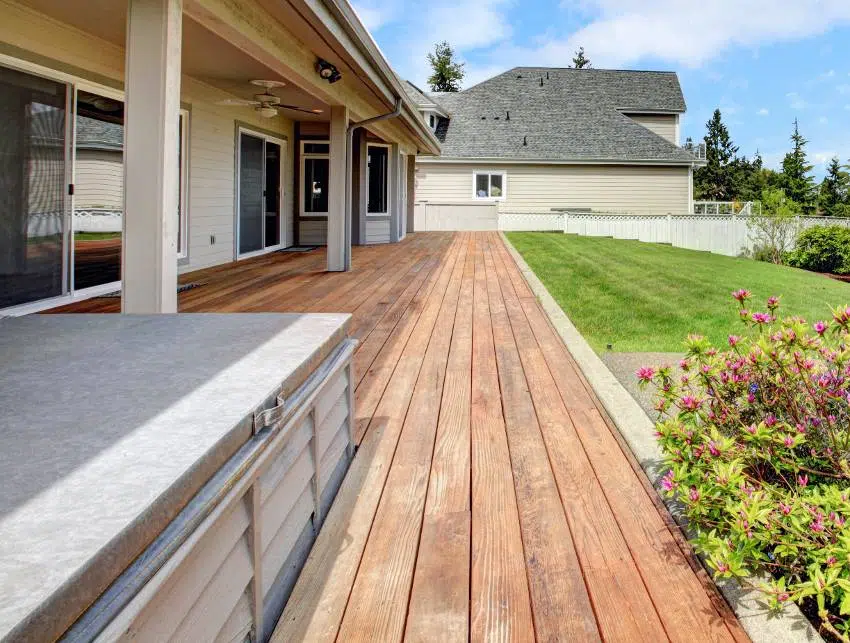 If you need instructions on cleaning your valuable teak wood deck, here are simple steps to follow:
1. Prepare all the tools you will need in cleaning the teak deck
• Broom
• Soft-bristled brush
• Pail of water or water hose
• Warm water
• Microfiber cloth
• Sponge
• Teak deck cleaner
• Teak oil
2. Sweep or brush your teak wood deck and remove all the loose dirt to prepare it for washing (10-15 minutes)
3. Wet the surface of your teak deck with a pail of water or using a water hose and remove trapped loose dirt and light stains (10 minutes)
4. Mix the warm water with your chosen teak deck cleaner, pour the solution on your deck, and start scrubbing using a sponge (20 minutes)
5. Get your water hose and thoroughly rinse the entire deck (10 minutes)
6. Use a microfiber cloth to dry the teak wood deck (15-20 minutes)
7. Apply a layer of teak oil to your deck to add protection and shine (10 minutes)
For more related ideas, visit our guide to teak wood flooring pros and cons and popular styles.