In this patio umbrella sizes guide you'll see measurements from small to oversized umbrellas, umbrella dimensions for pool side lounge chairs, and how to measure for a patio umbrella.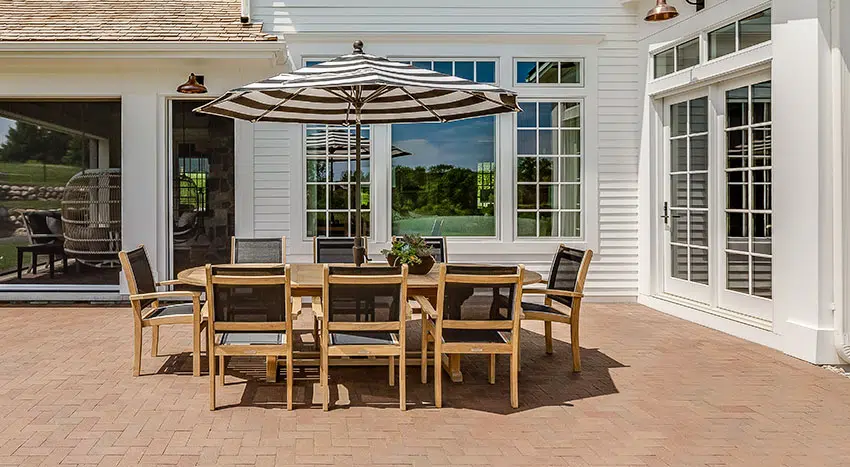 When people think about a patio umbrella they may think about the one attached to most patio tables for the use of residential buildings or restaurants for outdoor dining. Still, there are standalone patio umbrellas that don't require a table to be helpful.
Often, these patio umbrellas are known as market umbrellas used to protect vendors' stands or carts and their customers from the sun, rain, or snow.
Patio umbrellas are made with durability and longevity in mind, made to withstand harsh weather conditions and strong wind. They can be tilting or offset patio umbrellas, available in many sizes according to homeowner's needs.
Patio Umbrella Size Chart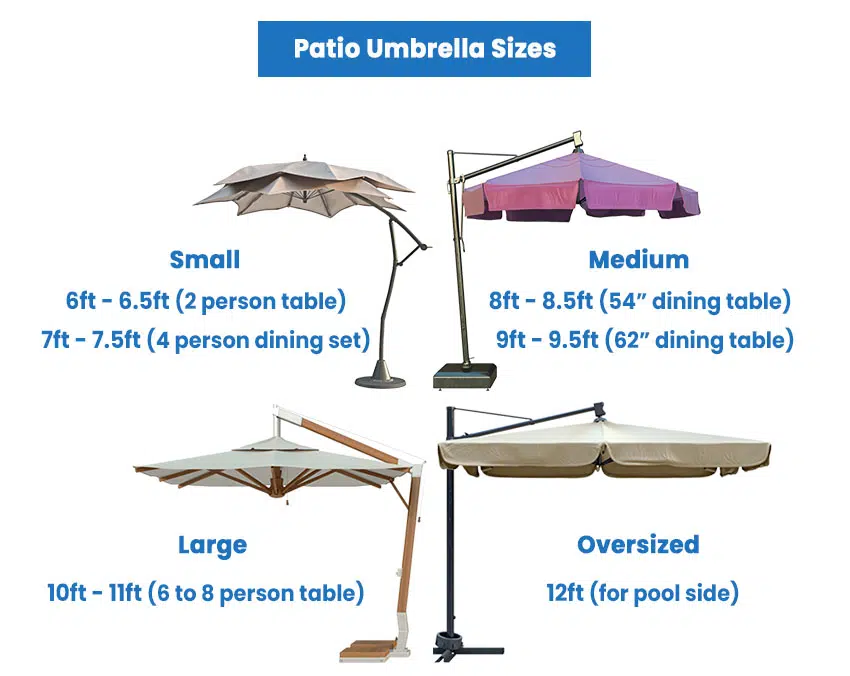 There are many aspects to consider when buying a patio umbrella, but a simple way to look at it is by sizing the umbrella where it should extend at least 2 feet or 24 inches on all sides.
If a homeowner is looking for a patio umbrella for a dining table, it is best to make sure that the umbrella is the same shape as their dining table to get maximum shade coverage. Patio umbrellas come in a spectrum of sizes, from small to large, to fit every homeowner's needs.
Small patio umbrellas are generally 6 to 6.5 feet or about 72 to 78 inches. This size is perfect for small bistro sets with a table and two chairs in front of each other. Smaller 7 to 7.5 feet or 84 to 90 inches patio umbrellas are ideal for four-person dining sets for restaurants or chaise lounges by the pool.
Medium patio umbrellas can go up to 8 to 8.5 feet or 96 to 102 inches. This size will be fantastic for 54 inches or 137 centimeters wide tables, which can seat four to six persons. Medium-sized patio umbrellas at 9 to 9.5 feet to 108 to 114 inches, perfect for a set of chaise lounges or a 62 inches wide dining table.
There are two sizes available if a homeowner wants a giant patio umbrella. First is the 10 to 11 feet or 120 to 132 inches, perfect for a six to eight-person dining table or conversation set.
The most oversized patio umbrella any homeowner or business establishment could get at 12 feet or 144 inches. The size is perfect for the pool, beach umbrella, or any other larger seating areas.
What Size Umbrella For Two Lounge Chairs?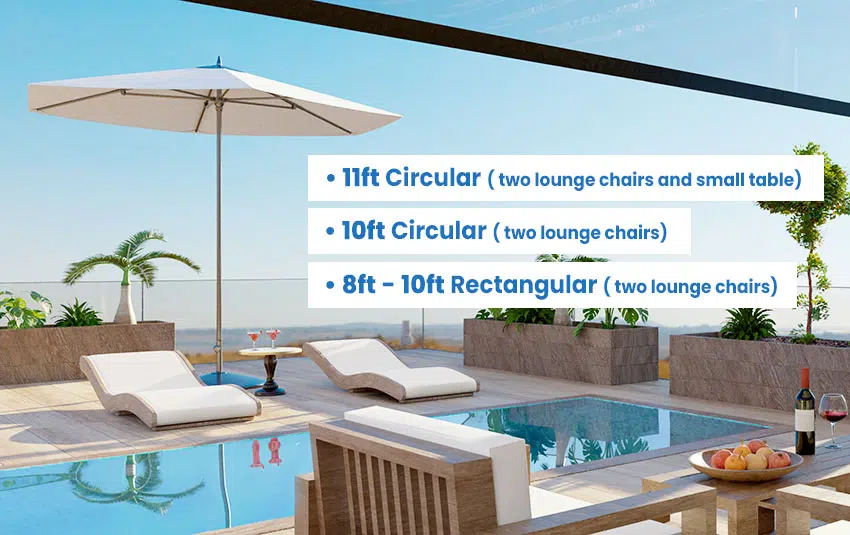 Another foolproof way of deciding what patio umbrella a homeowner should get is choosing according to its use and location.
Each type of patio umbrella will have a unique feature; for example, cantilever umbrellas are there to be used poolside since they will only have a single column mainly on the side. While a center post umbrellas will be perfect for kids' playgrounds at school or parks.
There are many sizes for homeowners who want to put a patio umbrella in between or beside two lounge chairs. The first is the 11 feet or 132 inches circular umbrella that would shade two lounge chairs with a little table in the middle.
Another circular size is the 9 to 10 feet or 108 to 120 inches patio umbrella, perfect for two lounge chairs side by side. A rectangular 8 to 10 feet or 96 to 120 inches patio umbrella will also be perfect for two lounge chairs.
What Size Patio Umbrella Do I Need?
There are many considerations for choosing a perfect patio umbrella that will make or break the space, from proportions to the space area.
The first is measuring the total patio size; for smaller spaces, homeowners might want to cover the whole site as much as possible, while bigger spaces will require sections to be covered. An example is only covering the eating area while free space for foot traffic is left unshaded.
The next factor to consider for size is the purpose and shape of the umbrella. Get a square or rectangular umbrella for slender patios, while a circular will work better at the same size as a rectangular patio umbrella since it will take up less space.
Another thing to consider is tilted patio umbrellas for more extensive areas since they will cover more distance with tilted umbrellas, consider one with an auto-tilt function for easier maneuvering.
How To Measure Patio Umbrella Size?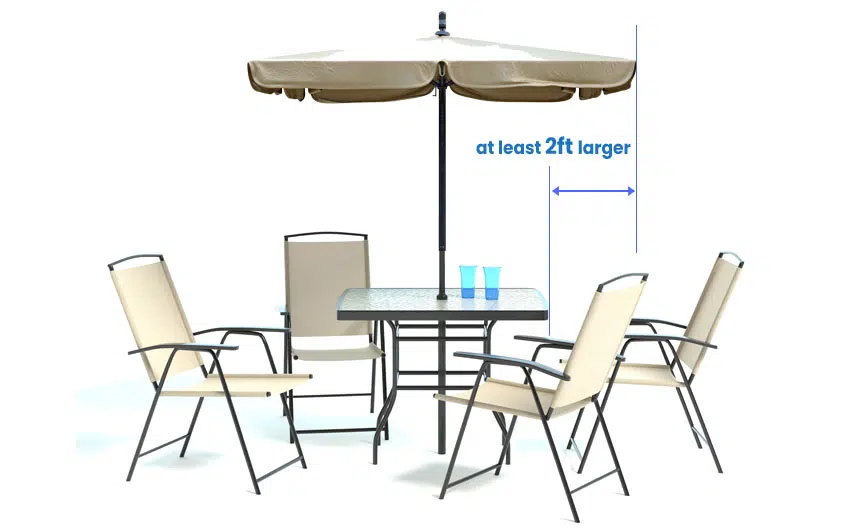 Proportions are another thing to consider to ensure that the patio setup looks like what the homeowner imagined. One way to ensure that is by knowing how to measure a patio umbrella no matter its shape: octagonal, square, or rectangular.
The shape of most circular patio umbrellas is octagonal. They are available in many types, from cantilever to freestanding patio umbrellas, ranging from 9 to 11 feet or 108 to 132 inches in diameter. To measure an octagonal umbrella accurately, measure the length of one rib to the center.
Square patio umbrellas are perfect for use in residential and business establishments because of their versatility and cohesiveness.
Small and square patio umbrellas are six by 6 feet or 72 by 72 inches, while larger ones are 10 by 10 feet or about 120 by 120 inches. To measure square patio umbrellas, measure from one side panel from side to side.
Rectangular patio umbrellas are for extended tables to protect all sides from the sun. To measure rectangular umbrellas, ensure that the patio umbrella is at least 2 feet more than the size of your chosen rectangular table's width and length.
What Size Umbrella For Patio Table?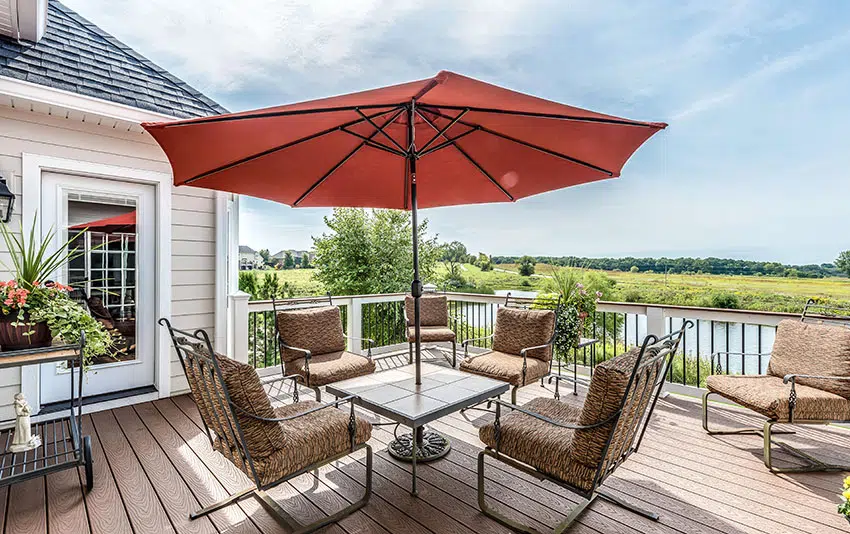 Providing shade for patio tables is the most common use for patio umbrellas. The smallest size possible is umbrellas at 6 feet or 72 inches, perfect for bistro tables with two chairs.
8 feet or 96 inches patio umbrellas will cover a six-seater octagonal or rectangular patio table, while bigger ones at 9 by 9 feet or 108 by 108 inches will cover an eight-seater table.
If you have a 12-seater patio table on your patio, a square 10 by 10 feet or 120 by 120 inches will cover the entire table.
Visit our patio table umbrella size for more related content.