Here's our guide to bathroom rug sizes including different types of bathroom rug dimensions. See the standard, small, large, runner and bath mat measurements.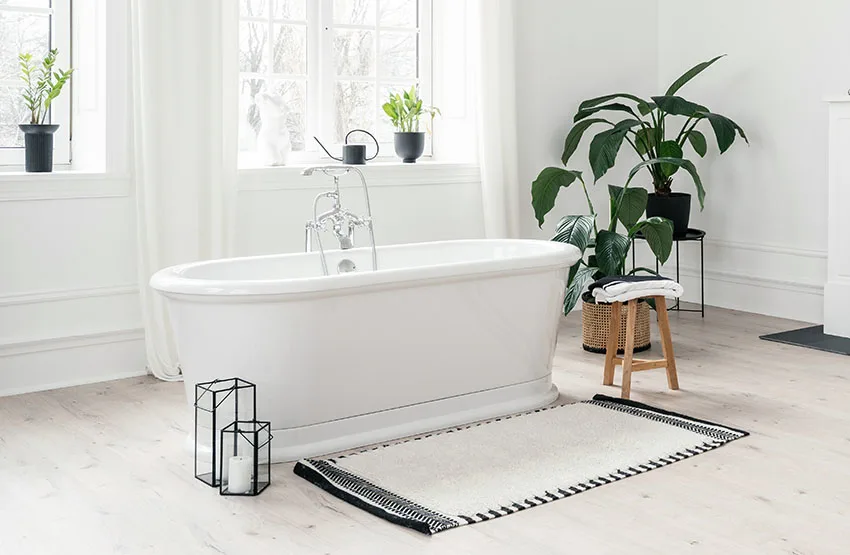 No longer limited to living rooms and bedrooms, bathrooms can be adorned with beautiful rugs as well. With their soft cotton and wool materials, bathroom rugs provide a plush and comfortable surface that protects your feet against the cold and wet floor.
Bathroom rugs can elevate your bathroom experience, but not all rugs are created equal. This article deep dives into the different bathroom rug sizes and how they can best fit your space.
What Are the Rug Sizes For the Bathroom
While bathroom rugs can evoke a welcoming vibe in your interior setup, getting the wrong size may work against your design goals. Below are the different bathroom rug sizes from standard to extra-large.
Standard Bathroom Rug Size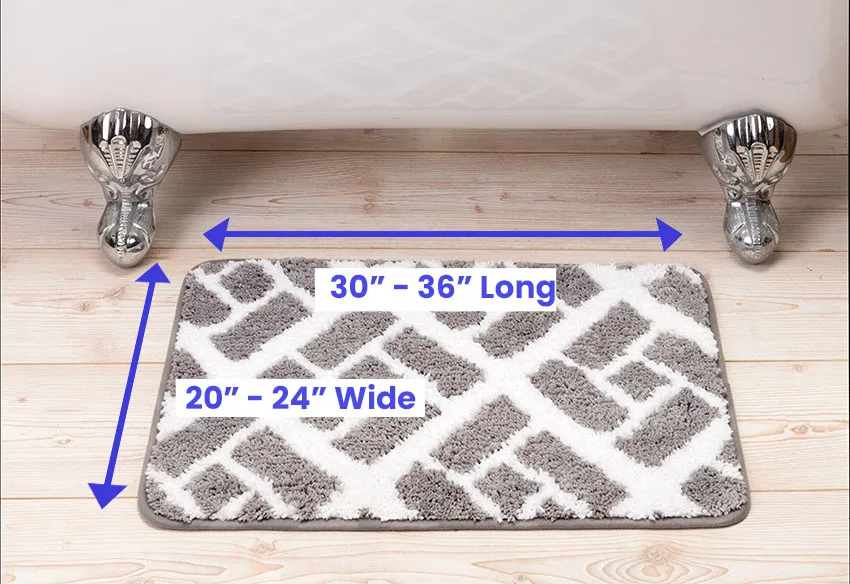 The standard bathroom rug size runs between 20 and 24 inches wide by 30 to 36 inches long. This dimension is proportionate to the average bathtub size of 60 x 30 inches.
A happy medium between small and extra-large rugs, the standard bathroom rug size covers a decent amount of your floor space. You can also place it in other areas like your bathroom vanity.
When in doubt about what size rug to choose, check your bathroom dimensions and layout. Standard bathroom rugs fit snugly in an average bathroom space of 36 to 40 square feet.
Small Bathroom Rug Size
Make every inch count when working with smaller spaces. That said, a small bathroom rug size may suffice for a less spacious bathroom.
Prioritize placing a rug or two in areas that often get wet, like at the foot of your vanity, pedestal sink or outside your tub or shower space. Small rugs measuring around 17×24 inches are perfect for this purpose.
Small bathroom rugs with captivating patterns and shapes can still make a big impact on your interiors. But more than the design, they need to be absorbent and fast-drying. Check out low maintenance memory foam rugs that deter molds and unpleasant odor. Installing exhaust fans also help reduce the humidity in your bathroom.
Large Bathroom Rug Size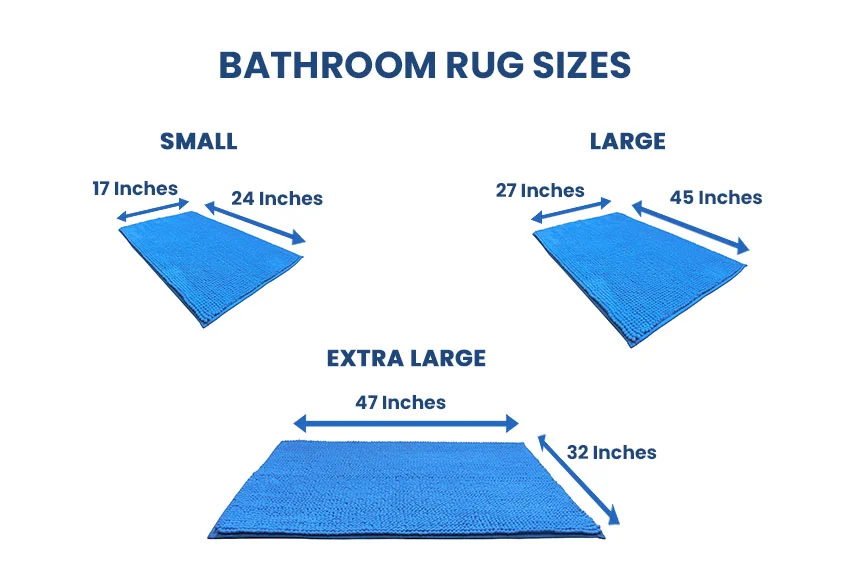 Want to make a statement? You can do so with large bathroom rugs. With a dimension of at least 27×45 inches, they can add a splash of color to your floor while keeping it dry.
More appropriate for bigger bathrooms, the vibrant hues and patterns of large bathroom rugs can bring a luxurious appeal. If you're not a fan of intricate details and vibrant colors, neutral options are also available to complement your beautiful bathroom engineered wood floor or art déco tiles.
Bathroom rugs of this size are also enough to cushion you in case of a fall. With over 200,000 bathroom injuries each year in the US, investing in a large bathroom rug is worth every penny, especially if it has anti-slip properties. You can use rectangular, round or oval bath rugs depending on your choice and flooring design preferences.

Extra Large Bathroom Rug Sizes
Master bathrooms can look boring because of their bare overly spacious floor. One way to bring balance is to install an extra-large bathroom rug.
With a dimension of at least 32×47 inches, a well-designed extra-large rug becomes the focal point of your bathroom, especially when placed in the center. Think boho-chic, Nordic, and other prints. You can also order personalized bathroom rugs that can be as large as you want.
Another upside to extra-large rugs is it may eliminate the need for different bath rug sets or different length area rugs. Again, for a more attractive layout, do not cover the entire floor with a rug.
Bathroom Runner Sizes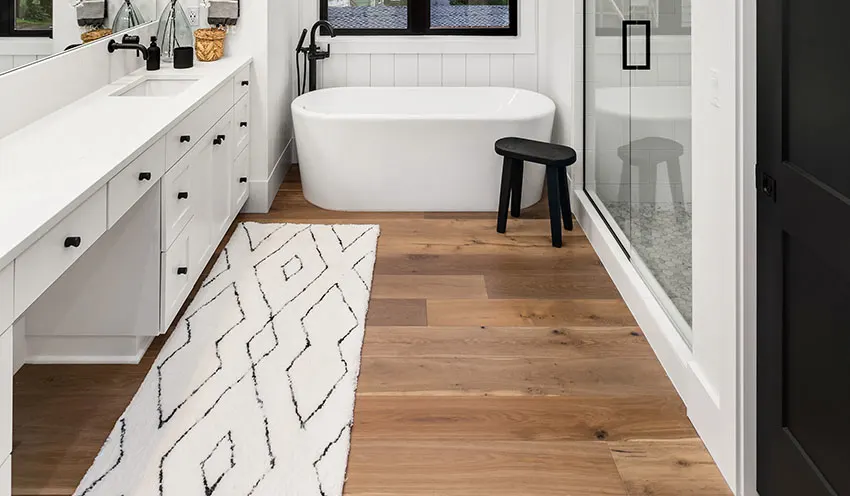 Runners have rolled from the hallway to modern bathrooms and are perfect for installation above hardwood floors or other slippery high traffic surfaces.
By comparison, bathroom runners are narrower than other bathroom rugs and are a good choice for use under vanities or sinks.
Typically measuring around 24 x 60 inches, runners are well-suited for elongated spaces, big or small. You can also find longer runners reaching 71 inches long (about six feet). If your bathtub is across your shower area, you can place a bathroom runner in between to cover your base.
Using beautiful hallway runners with Moroccan or Persian textiles for the bathroom is tempting, but bathroom runner materials need to be more absorbent and less prone to molds. Fret not, as varying patterns and textures of bathroom runners abound home depots and other shops.
Bath Mat Dimensions
Bath mats are more functional than decorative compared to bathroom rugs. They absorb water and help in making your bathroom less accident-prone. For these reasons, bath mats work best if placed at the foot of the bathtub.
Bath mat products vary from 17 to 21 inches wide by 24 to 34 inches long. Since they are placed in specific areas, like the sink, bathtub, or shower, they typically come in smaller sizes.
When choosing a bath mat, it is crucial to factor in its grip, absorbency, and mold resistance. Keep your bathroom floors hygienic by washing your bath mats once a week.
They also come in different materials. While cotton bath mats are popular for their comfort and absorbency, vinyl or polyester mats are easier to dry. They are also cheaper and widely available but can be dull.
If this is a concern, you can opt for more decorative premium pieces that use a combination of microfiber and memory foam. There are also wood and bamboo mats that are eco-friendly and are not slippery, but lack absorbency. Read more about polyester rugs pros and cons here.

Wrapping Up
The best bathroom designs integrate elements that balance function and aesthetics while putting your mind at ease in terms of safety. After all, your bathroom can be one of the most dangerous places in your home, particularly for kids and the elderly.
Bathroom rugs and runners are great when satisfying your bathroom decorative needs. Who can say no to cozy and stylish rug designs? However, bath mats are more conducive for safety and functional purposes.
You can always use a combination of bathroom rugs and sets of carpet mats, especially if you have wider floor space. Although hefty, there is also a rich selection of bathroom rugs or mats that are well-designed and use high-quality materials.
For more related information on how to upgrade your bathroom interiors, you can see our bathroom remodel ideas on this page.