We've put together a gallery of pedestal bathroom sinks, complete with their types, designs, materials, dimensions, faucet, storage, and costs, as well as installation and removal instructions.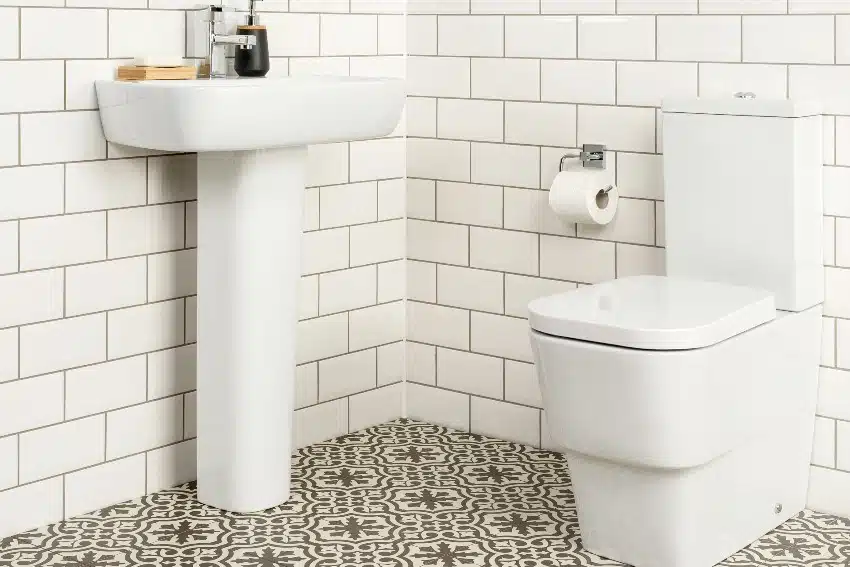 If you're considering a bathroom sink for your home the popular pedestal sink may be worth exploring. While it was a rising trend in the 20th century, it's a timeless bathroom feature that's expected to make a comeback in the years ahead.

Settling on the pedestal bathroom sink means checking out the different key features, as well as the pros and cons that come with this choice. After that you will be able to jump into the detailed process of choosing the pedestal sink that's right for you.
What Is A Pedestal Sink?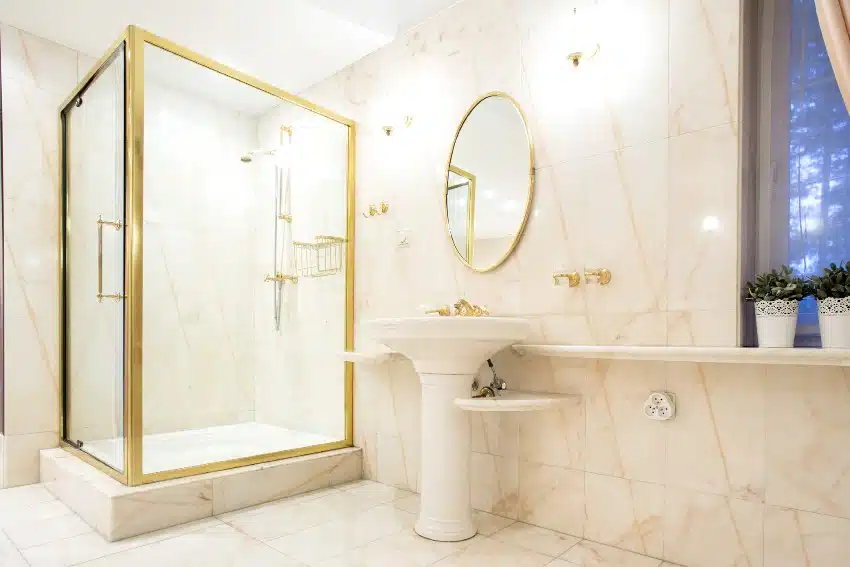 A pedestal sink simply refers to a type of sink that is freestanding and elevated on a pedestal, which is how it got its name in the first place. It generally has two parts, the top part is the basin and the bottom part is the pedestal. The top collects the water and the bottom is the foundation that supports the sink.
Traditionally made from vitreous china and largely made from porcelain, a pedestal bathroom sink has this old-world look and authentically vintage appearance. Because of its practical design, this type of sink is a favorite for small and limited-spaced bathrooms and apartments.
While some designs may include storage options, most don't have room for storage and so you will have to learn how to compensate for this disadvantage. You just have to be smart in how you make the most of the minimal space you have in the bathroom.
One of the notable characteristics of a pedestal sink is the lack of vanity. The support for the sink is given by the small column that acts as the pedestal for the sink instead of the wall it's usually attached to. The sink needs to be properly and securely installed and anchored to the wall.
Pros and Cons of a Pedestal Sink
If you're set on having a pedestal sink in your bathroom, here are some of its advantages.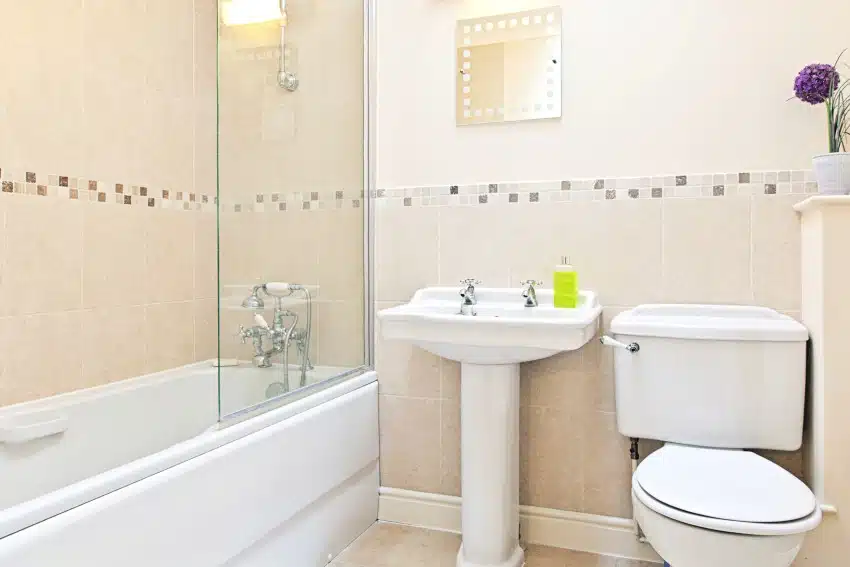 • Durable and built to last – Pedestal sinks are usually made from hard and durable materials that can last for a long time, especially when it's properly cared for.
• Ideal for small spaces – If you have a bathroom with limited floor space like powder rooms, pedestal sinks are great to consider. They typically take up one side of the bathroom.
• Easy to clean and maintain – Pedestal sinks are easier to clean and maintain because of how they are designed.
• Low priced compared to other bathroom sinks – Since this type of sink is easier to transport from the store, it is only understandable that it has lower prices.
Besides these benefits, there are some drawbacks that you need to be aware of before committing yourself to a pedestal sink. In minimalist style, the sink can add class to your bathroom and help make it feel more spacious but it also delivers the following disadvantages:
• Require professional installation – Pedestal sinks may be difficult to install and will require a plumber for this task. And if you want to change your vanity to a pedestal sink, you will have to change your flooring too.
• Features visible piping – If you want a clean look, this may not be a good option because the drainage and supply pipes are often visible.
• No to little countertop space – The design of the pedestal sinks offers minimal counter space for your bathroom. You may want to a dd more shelves and storage space all throughout your bathroom to make up for it.

Types Of Pedestal Sinks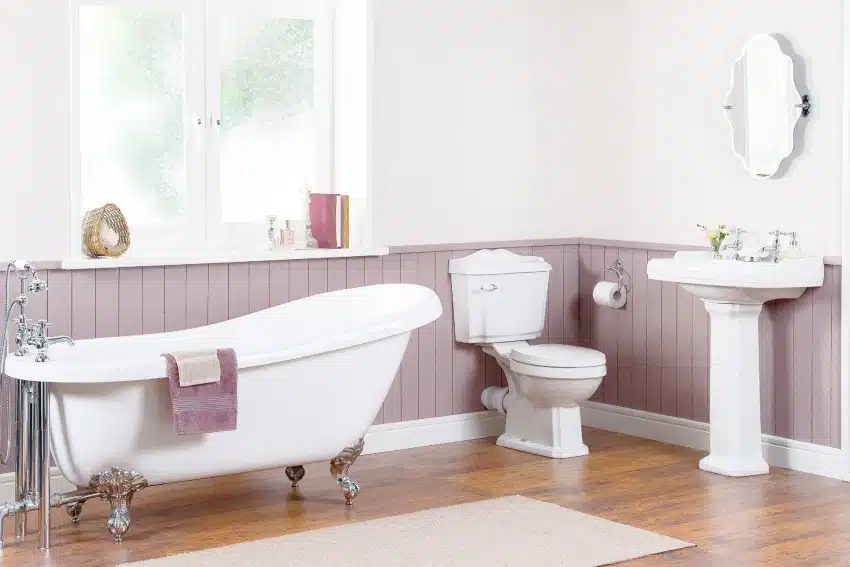 When thinking about purchasing your own pedestal sink, there are so many options you can consider depending on different factors, from the designs, shapes, and colors to the different materials used for the sinks.
Here's some steps on choosing a pedestal sink for your bathroom:
1. Color and Shape – Determine the color and shape that you want your pedestal sink to be in by matching these factors with the current aesthetic of your bathroom. It is best to match them with the color of your bathroom walls and other accessories you have in the space.
2. Matching Style with Usage/Function – Pedestal sinks are very versatile in style and so you won't have a hard time choosing one to fit your bathroom. If you have kids at home using the bathroom, a double pedestal sink can work well.
3. Budget – Consider the budget you have for this change, especially since pedestal sinks may require professional installation and so may raise the cost in the process.
4. Add Accessories – You can choose accessories that will match your pedestal sink to round up the look inside your bathroom. The best accessories to add are a wall-mounted soap dish, soothing lighting, and a wall mirror.
Before you choose a pedestal sink though, make sure you know all the options you can consider. Here are some types of pedestal sinks based on their designs and aesthetics.
Traditional Pedestal Sink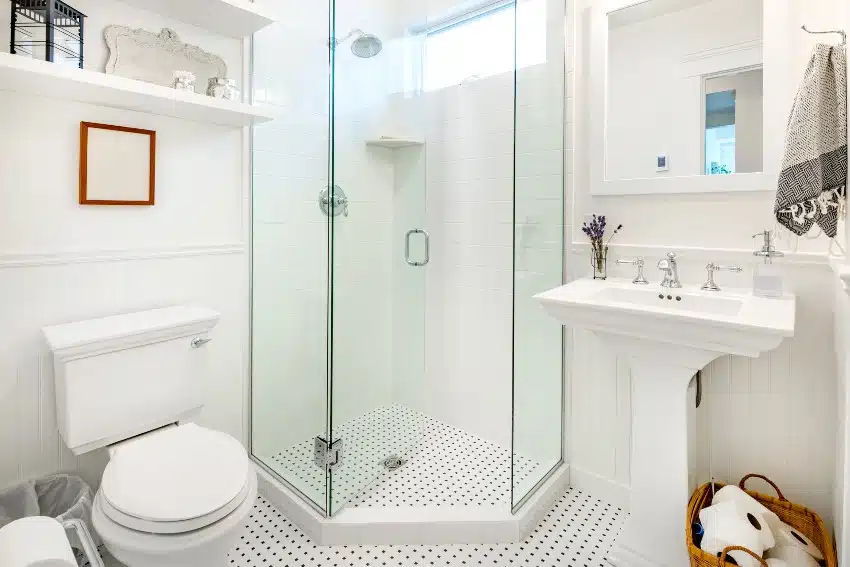 A traditional pedestal sink has this classic and timeless look to it that can work well in different styles, from rustic to modern-style bathrooms. If you want an authentically traditional pedestal sink, you need to look for curves in the basin, as well as decorative taps.
This can be perfectly matched with a boxy and bulky bathroom vanity cabinet, which will make up for the lack of storage space that the sink offers. It also has a clean and neat front that can work well with a modern-style bathroom. This is the great thing about a traditional pedestal sink, it can easily match other styles despite its classic vintage look.
Corner Pedestal Sink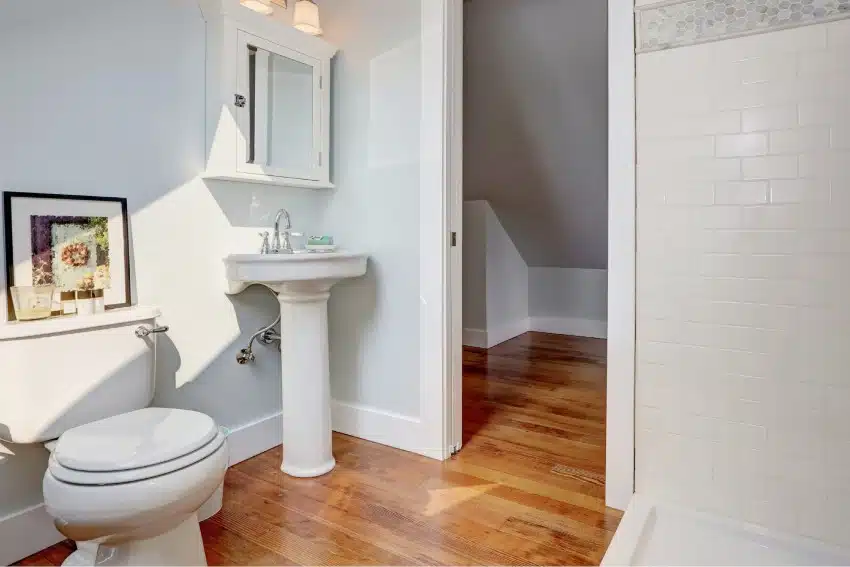 Another option you can take a look at is a corner pedestal sink, which is a perfect choice if you want to make the most out of your bathroom space, especially if you have a corner just lying around. This is ideal for smaller bathrooms, powder rooms, and cloakrooms. Compact in design, this sink can easily save your floor space.
With a single tap hole, a corner pedestal sink has a triangular back that makes it a perfect fit for your bathroom's corner for a clean installation. This shape allows the basin to be neatly tucked away in the corner so it takes up minimal room and space. This type of pedestal sink is a good choice for a small modern bathroom.
Small Pedestal Sink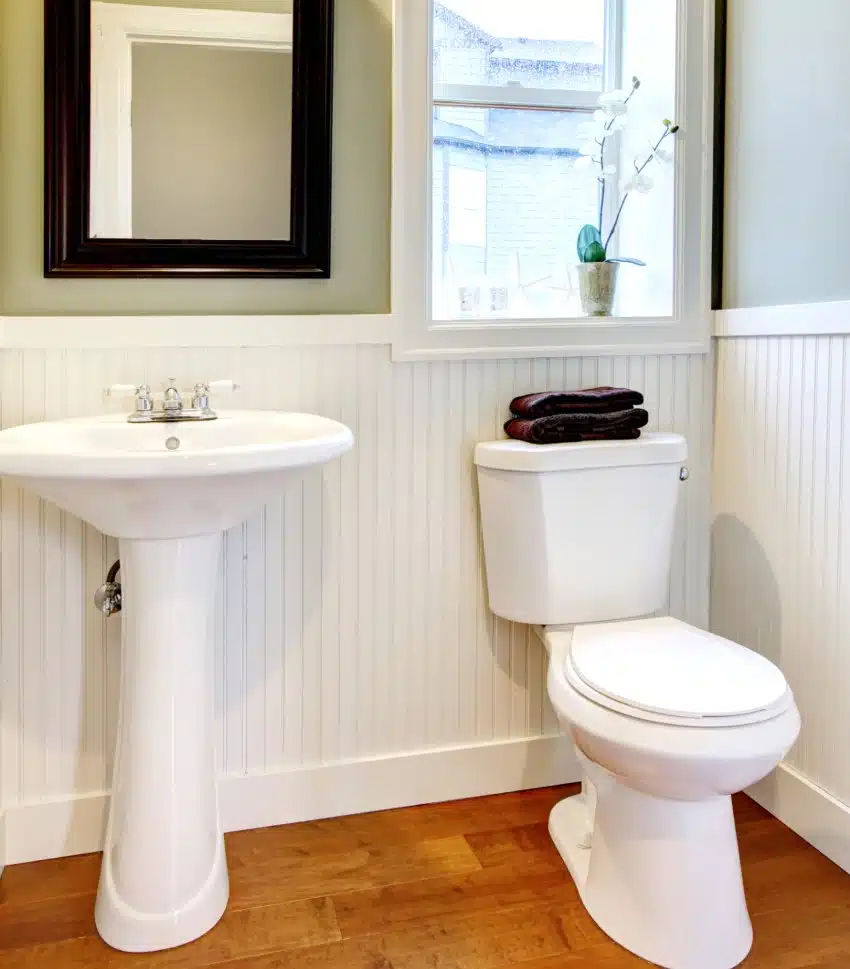 For small bathrooms, you can get a small pedestal sink to easily be accommodated the limited space you have. This type of pedestal sink is often called a cloakroom pedestal basin and offers a cozy feel to the bathroom.
The design of this type of pedestal sink prioritizes maximizing space, which is why it comes with a compact basin and slimmer pedestals. When it comes to dimensions, a pedestal sink can be considered small if it measures around 15.5 inches to 20 inches in length.
Cloakroom pedestal sinks can come with one or two tap holes and so you have a choice to go for pillar taps or even basin mixer taps. They can also easily match traditional or modern style bathrooms so you can style them to fit these schemes.
Large Pedestal Sink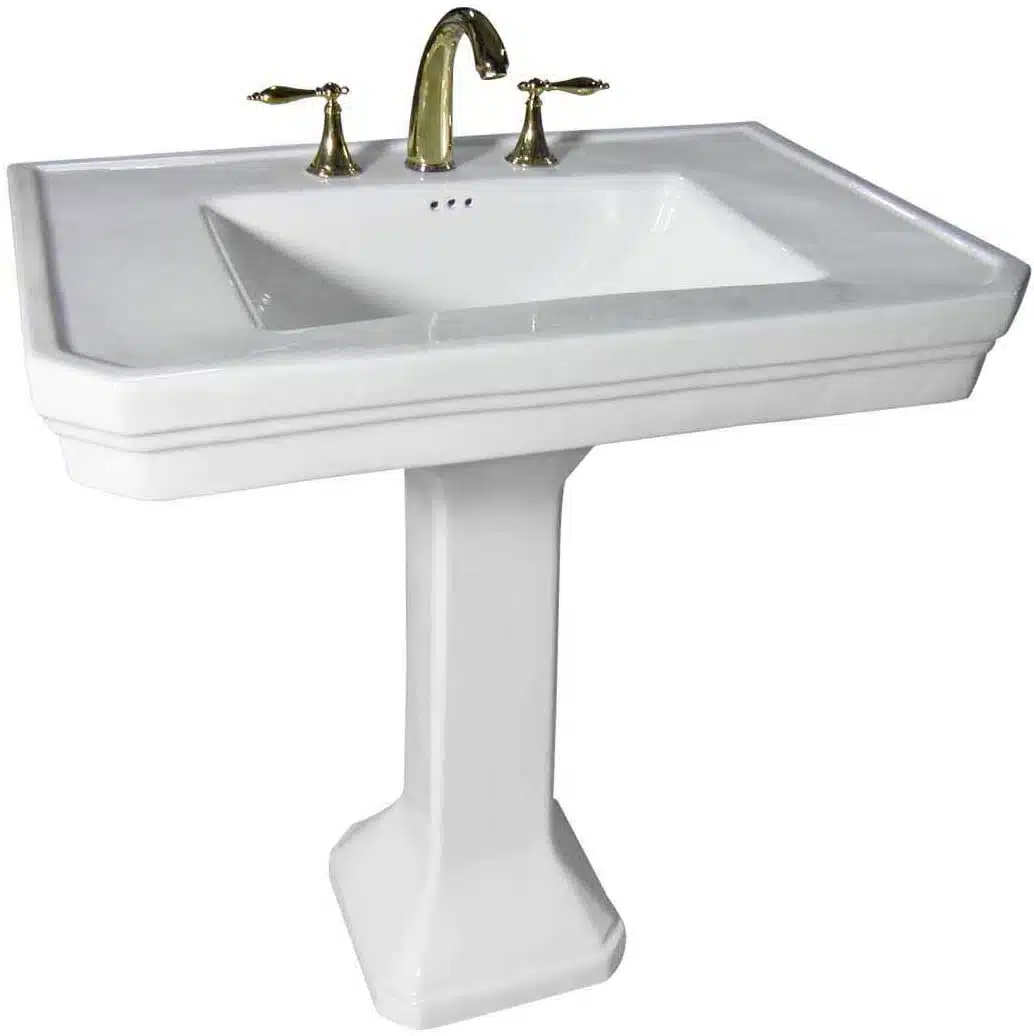 See this large pedestal sink at Amazon [Sponsored link]
The standard pedestal sink measures between 29 to 34 inches in height and 22 to 24 inches in width. If you're considering getting a large pedestal sink, you're looking for one that stands around 34 to 36 inches in height and measures 24 to 28 in width.
While the standard-sized pedestal sink stands around the hip of an adult but taller people may find this height to be uncomfortable, which is where a large pedestal sink comes to play.
A large pedestal sink will also be a better choice if you have a big bathroom since you wouldn't want the sink to look minute compared to the entire size of the bathroom. This may also be referred to as a tall pedestal sink or deep pedestal basin. Read more about bathroom sink sizes here.

Narrow Pedestal Sink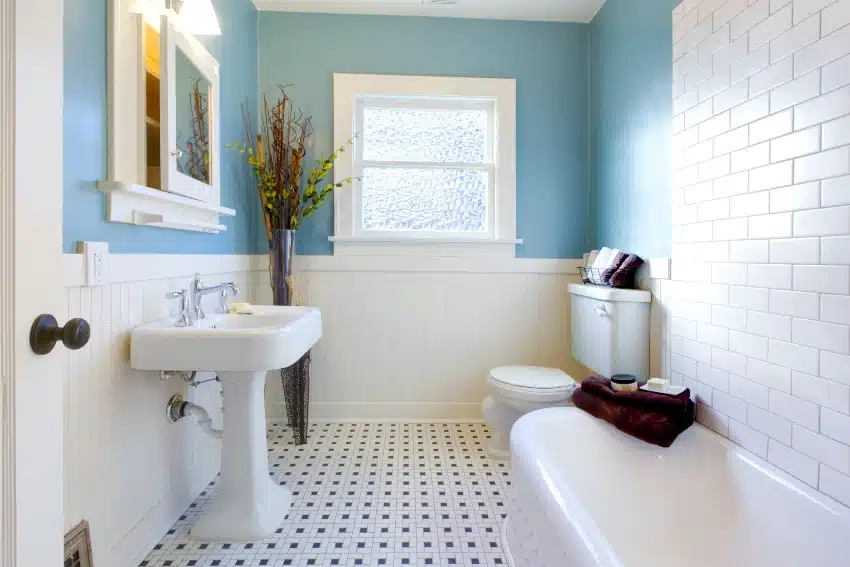 The standard width of a pedestal sink usually falls between 17 and 20 inches (around 14 to 16 inches), and so anything that falls short of that can be considered a narrow pedestal sink. This will be associated with a slimmer pedestal but the length remains in standard measurement, which is around 22 to 28 inches tall.
A narrow pedestal sink will be a good option for a narrow bathroom, with less floor space but considerably normal ceiling space. If you have a free corner you can use, you can look for a corner narrow pedestal sink to maximize the limited floor space you have in your bathroom.
Pedestal Sink With Backsplash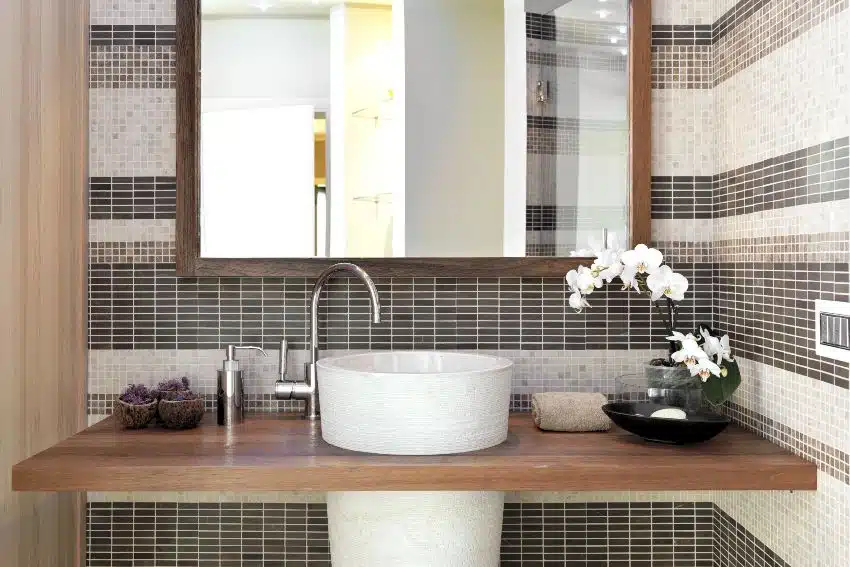 While the standard pedestal sink only comes with a basin and a pedestal that supports it at the bottom, it can also come with a backsplash. This will be perfect, especially for some situations that make it absolutely necessary for a backsplash to be installed, including the following:
• If the sink rests against the wall – There are more chances of water splashing on the wall when the sink rests on the bathroom wall and so a higher chance of damage not just on the wall but also the space between the wall and the sink edge.
• If the basin is shallow – Even if the pedestal sink does not lean on the wall, you will need a backsplash if the basin is shallow and tends to splash everywhere, from the walls to the flooring.
Square Pedestal Sink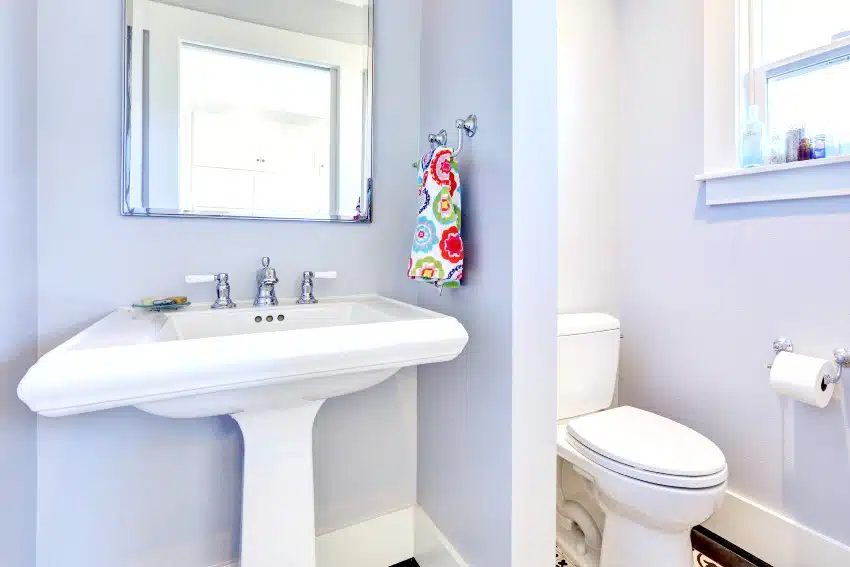 A square pedestal sink is another type of bathroom sink you can choose based on shape. Square is one of the most common and main shapes that pedestal sinks come in, along with round and rectangular.
The downside in choosing pedestal sinks with right angles like square and rectangular pedestal sinks is that they tend to be designed shallower. These sinks measure around 15 to 25 inches in length and 16 to 20 inches in width.
Double Pedestal Sinks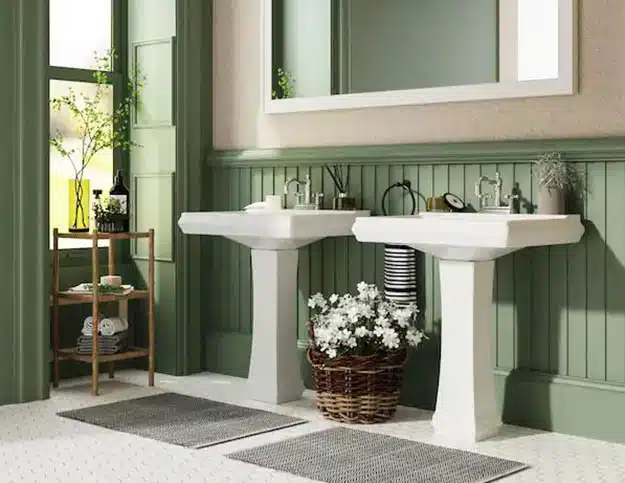 See these double pedestal sinks at Home Depot (sponsored link)
A double pedestal sink simply means that it easily functions as two pedestal sinks, simultaneously accommodating two individuals. Most of the time, double pedestal sinks are made up of two large sinks than two standard-sized ones.
Here are some of the advantages you get with a double pedestal sink:
• Less stress about sharing – Since this sink can accommodate more than 1 person, it is an ideal choice for large families, especially for households with children.
• More countertop space – In contrast to a standard pedestal sink, double pedestal sinks have more counter space you can build extra storage within the unit.
• Visually impressive – Double pedestal sink is too big and grand to be ignored, offering a bold statement wherever you install it. You get a lavish accent element in the bathroom that delivers the wow factor in your home without wasting space in the process.
The downside in choosing a double pedestal sink though is that since you're basically choosing double of a pedestal sink, this means double the effort in the installation, cleaning, and maintenance, as well as double the budget necessary to build it and double the floor space and wall space required.
Pedestal Sink With Shelving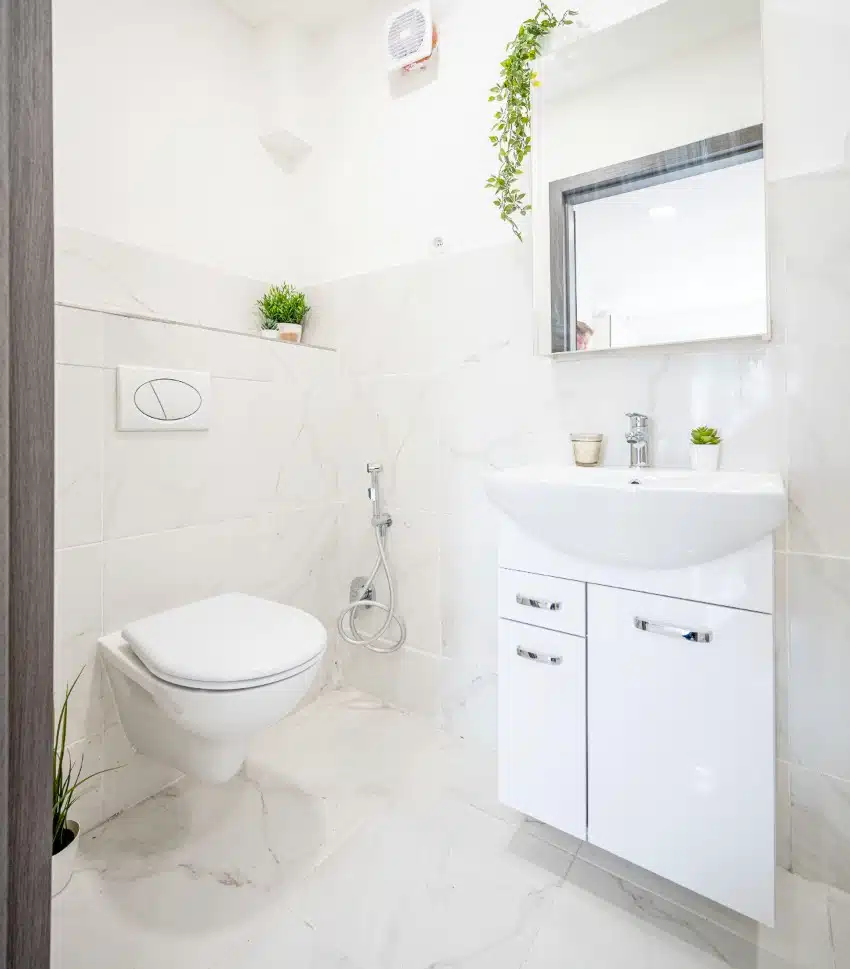 Since the issue with the pedestal sink is the storage space, getting one with shelving can actually work. This can be beneficial, especially if you have nowhere to put your essentials, from hair brushes and tools to extra toilet paper, towels, and bathroom supplies.
You can hang a shelf above the pedestal bathroom sink to compensate for the lack of storage space. This offers easy access to basic bathroom supplies and maximizes the space in your bathroom.
Keep it airy and light by choosing a glass shelf, adding a layer of elegance to the look. You can also choose to shelve under the sink, but this can be a bit tricky for pedestal sinks.
Round Pedestal Sink
Round is one of the most common shapes that a pedestal sink comes in and if you go for a round pedestal sink, expect a deeper basin to use. You can use different materials to achieve this look, from ceramic to oak wood, depending on your preference.
A round pedestal sink offers seamless aesthetics to your bathroom space that can also practically and comfortably fit into a corner of your bathroom. And depending on the specific sink you've chosen, you can get a small and narrow sink or a large and tall basin.
Pedestal Vessel Sink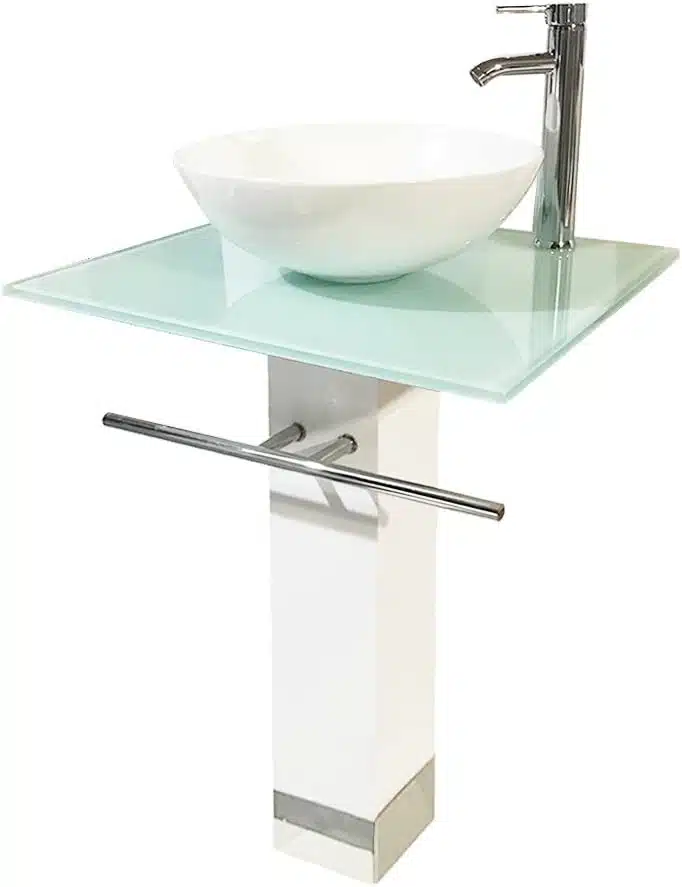 See this pedestal vessel sink at Amazon [Sponsored link]
A pedestal vessel sink simply refers to the integration of a vessel bowl into a pedestal sink. It offers a unique look that you don't usually see in bathrooms anymore, adding character to your bathroom. A vessel sink is a bathroom sink installed on top of the countertop and in this case, it is on a pedestal.
This vessel sink is normally rectangular but it can also come in different shapes and materials. With a pedestal, the bathroom floor is easier to clean compared to when the sink is set on top of a countertop.
If you choose a pedestal vessel sink, you can have a more modern-looking bathroom, especially if you go for a glass sink. While the aesthetics are stunning, there is also a real possibility of the glass cracking and shattering. Ceramic sinks are easy to clean and at the same time scratch-resistant and convenient to have.
Foot Pedestal Sink
A food pedestal sink features a hands-free operation that makes it a tempting option to consider. This means that the faucet is usually operated using a pedal at the bottom of the pedestal. Because of this structural design, this type of pedestal sink is popular in food services, where hygiene is a top priority.
Food pedestal sinks are more commonly made from stainless steel, which is resistant to bacterial growth and corrosion. This setup also makes it easy to clean and operate. If these are factors that you are looking for in a pedestal sink then this type can also be considered.
Pedestal Sink Designs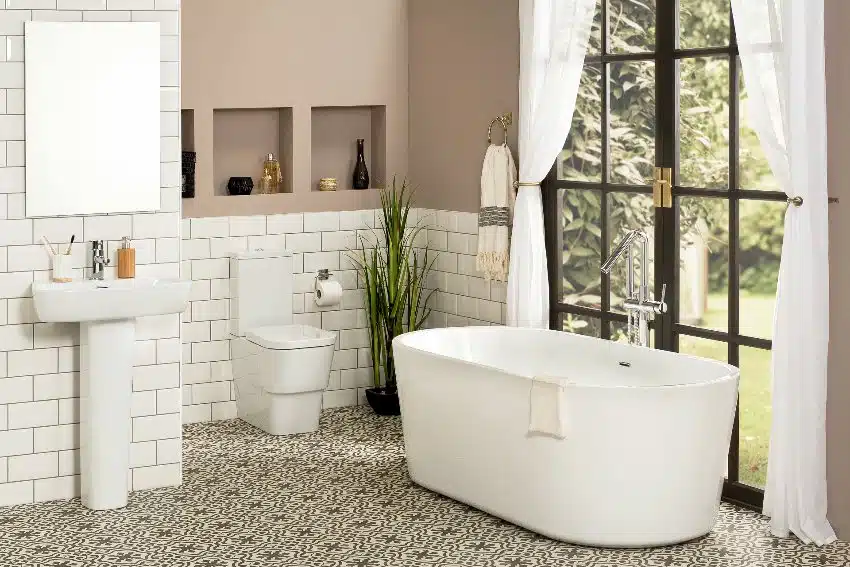 More than just the design and configurations, pedestal sinks can also differ based on their aesthetic styles. You can easily match the pedestal sink you choose with the current style of your bathroom because of how versatile and flexible the sinks are.
Pedestal sinks can definitely be a visual addition to your bathroom's aesthetics but you need to be able to match them with the bathroom's ambiance. Some pedestal sinks may work better than others, depending on the style and theme of the bathroom. Explore the following pedestal sink designs you can use.
Vintage Pedestal Sink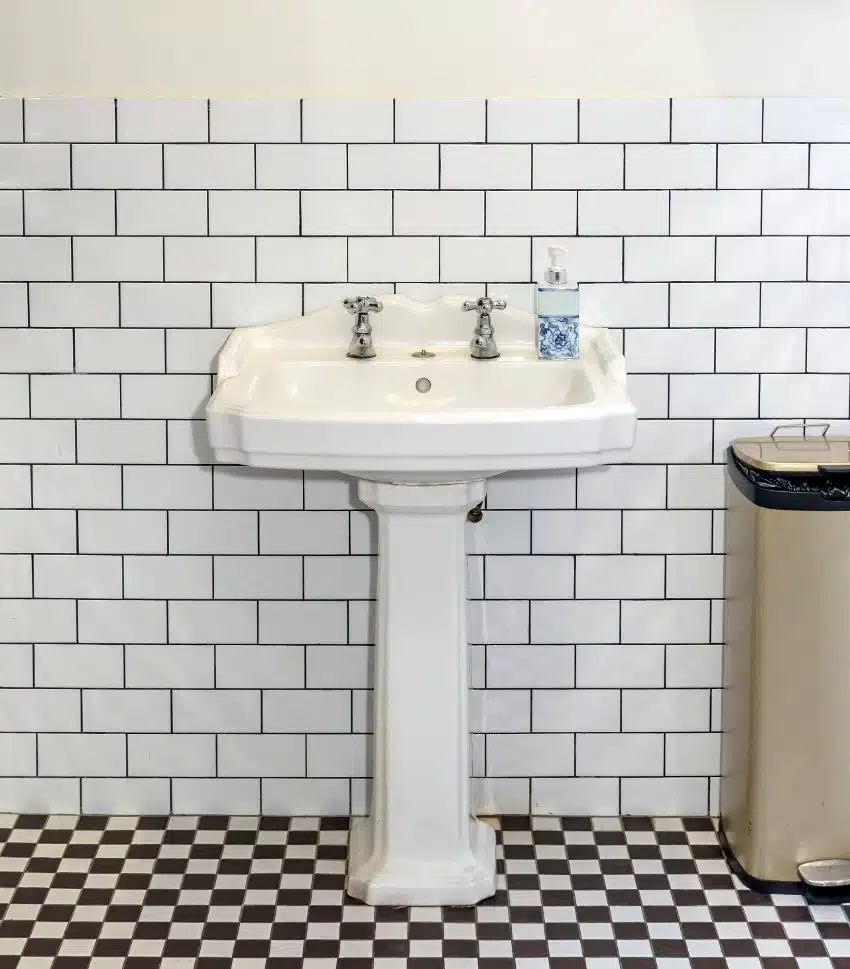 A vintage pedestal sink needs to be true to the traditional aesthetics that started its popularity in the early 20th century. This authentic vintage look is most usually associated with a narrow base but it only serves as an additional element to the sink.
The real support of this type of pedestal sink falls on the special mounting bracket that's installed on the wall and connected to the basin. This is how special and unique a vintage pedestal sink is.
While they may come in different shapes and colors, vintage pedestal sinks can only be authentic if they are attached to the wall using a special bracket so make sure you look for that when you've decided to get one for your bathroom. Finding the bracket as an individual accessory may be a bit difficult.
Farmhouse Pedestal Sink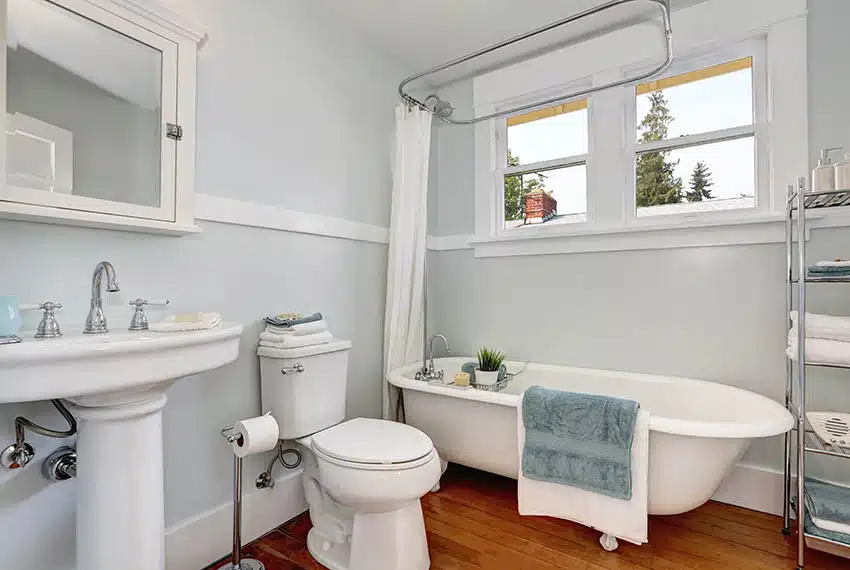 The farmhouse style interior design style focuses on simplicity and practicality, with a rustic charm as the cherry on the top. Embracing the balance between rural architecture and modern comforts, a farmhouse pedestal sink is also a great balance between stylish and coziness.
A farmhouse pedestal sink has this simple but worn and weathered look, giving you that rustic and nostalgic feel. This look is achieved by using natural materials like wood and stone and adding rougher textures and using warm neutrals.
A round reclaimed wood for its basin is a perfect top part of a farmhouse pedestal sink paired with wooden pillars to match.
Contemporary Pedestal Sink
See this contemporary pedestal sink at Amazon [Sponsored link]
A contemporary pedestal sink offers a trendy and stylish look that's popular for the interior design of furniture. It features aesthetics that are entirely opposite of classic or traditional design styles and more similar to modern and minimalist styles.
When doing a contemporary pedestal sink, look for high-gloss basins embedded with clean and minimalist lines. This is the reason why porcelain is a good option for this style of pedestal sink, not just because of its shiny surface and smooth texture but also because of how easy it is to clean and maintain. The smooth surface makes it impossible to hide dirt and grim so you will know what parts to clean more.
Modern Pedestal Sinks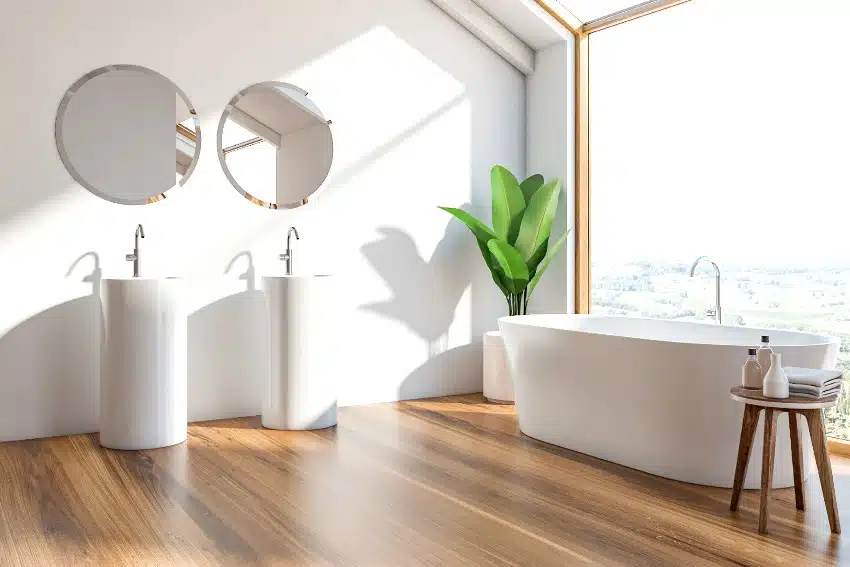 If you're going for modern pedestal sinks, you're choosing smooth and clean lines for your bathroom that delivers minimalist aesthetics. Because of its stunning appearance, a modern pedestal sink can serve as an accent piece or a real centerpiece of your bathroom. This look can also match a contemporary style bathroom so you can choose this type of sink.
Considering a modern pedestal sink can easily be an accent element in the bathroom, it needs to be eye-catchy and easily stand out. One way to accomplish this is by blending sophistication and a modern look, which you can get with a vessel sink. A pedestal vessel sink is very modern and will look great when matched with a handy towel rack.
The style of a vessel sink is very elegant & versatile. Vessel sinks provide a large wow factor, even with their low up front cost. – interior designer Savannah Phillips
Rustic Pedestal Sink
The rustic style is all about the nostalgic and homey vibe that it offers a specific space and this is the same way with a rustic pedestal sink. You can use a rustic pedestal sink in a farmhouse bathroom or an industrial-styled one.
The most popular material choices for a rustic pedestal sink are stone, copper, and bronze since they offer aesthetics that look better with age and time. They even offer better durability as they age. You can check out a farmhouse wooden sink or an industrial-style copper basin that's paired with copper faucets.
Pedestal Sink Materials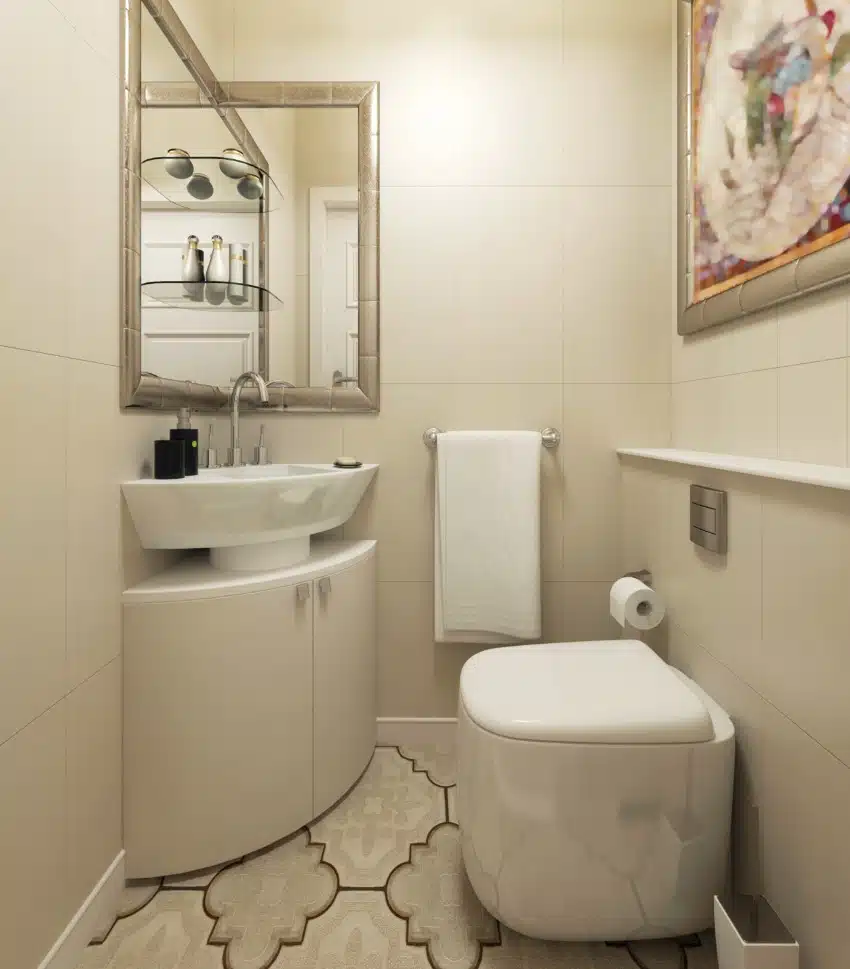 Pedestal sinks can also be differentiated from each other based on the materials they are made from. Fireclay and vitreous china are the most popular materials for traditional pedestal sinks but when it comes to contemporary and modern-styled ones, tempered glass is more famous.
In choosing the material to use for your pedestal sink, it is necessary to consider the budget you have for it. Some materials are considerably more expensive because of their rare availability and difficult transport so make sure to look into their prices too.
If you want to look into some of the most common materials for pedestal bathroom sinks, here are some worth exploring.
Porcelain Pedestal Sink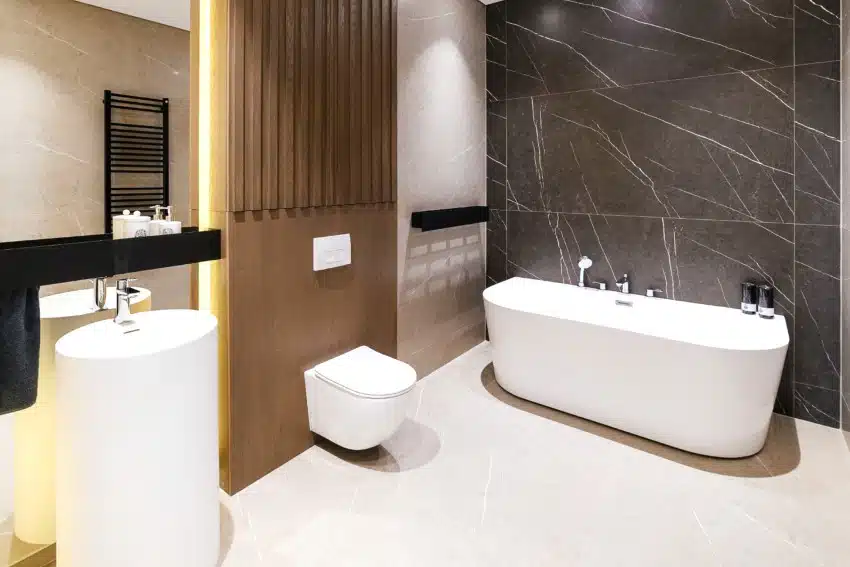 Porcelain is one of the most common and affordable materials often used in the different elements of the bathroom, from the toilets to the tubs. Moderately durable, porcelain is a type of ceramic you can consider for your pedestal sink.
A porcelain pedestal sink has this enamel coating that gives it a stunning shine. If you want a classic look for your pedestal sink that has been working for hundreds of years, a porcelain pedestal sink is a great option to go for.
Besides their classic aesthetics, porcelain pedestal sinks are stain resistant and easy to clean, making them an incredible choice. It has this consistent shine that gives your bathroom a vintage and antiquated look. And since the material retains heat well, it makes a great sink ideal for face washing.
With a wide variety of designs and options to choose from, you can explore many types that also vary in price. Low-end porcelain pedestal sinks can cost around $100 while high-end ones can cost as high as $2,000, depending on design and style.
The major downside in choosing a porcelain pedestal sink is that it tends to scratch, chip, and crack so replacement is a real possibility. It can also get stained and does not sustain high impact so may chip or crack on impact.
Marble Pedestal Sink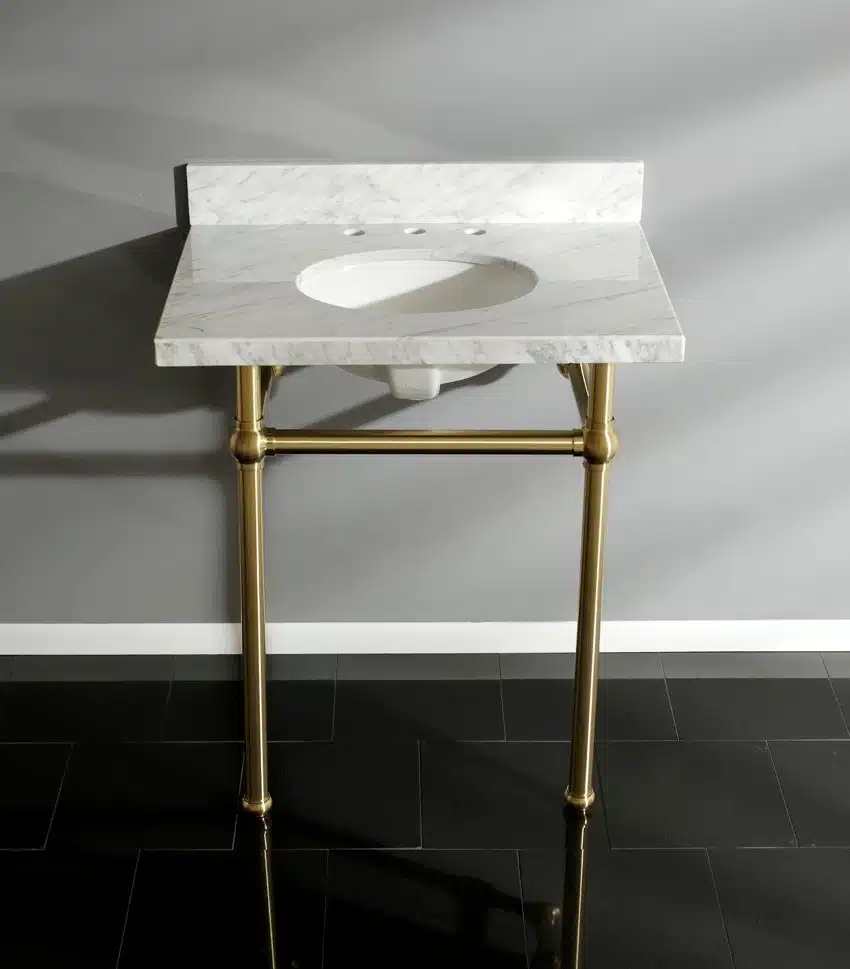 See this marble pedestal sink at Amazon [Sponsored link]
Known for its elegant and classy aesthetics, the marble pedestal sink has this contemporary look that is unique in its own right. The attention to detail in many marble pedestal sinks are notable, not just in the basin itself but also in the pedestal.
A marble pedestal sink easily creates contrast with all the other elements in the bathroom so you can install it and make it an accent piece for the space. You have a wide selection of types of marbles to choose from, depending on your preference.
One option to look into is a Carrara marble pedestal sink, which gives visual value similar to a real sculpture.
Stone Pedestal Sink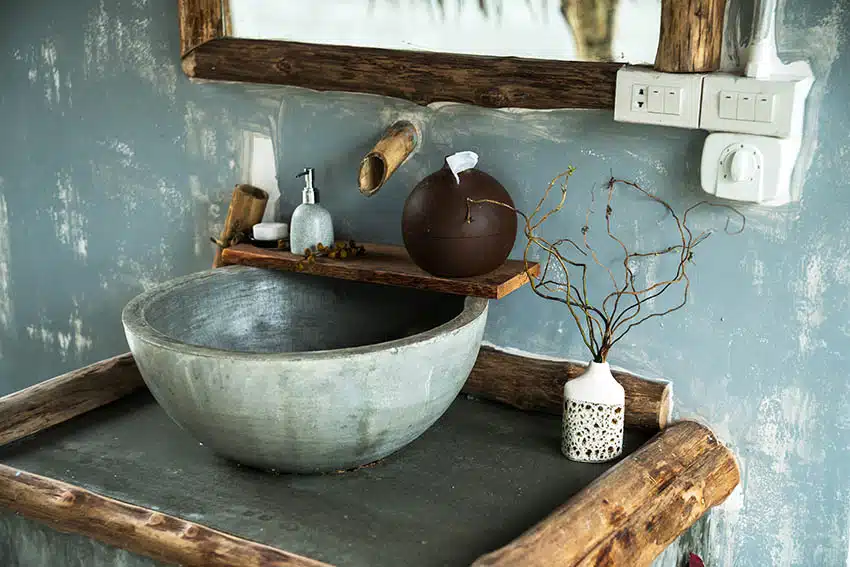 Stone is another natural material you can use for your pedestal sink and is a popular option for many vessel basins. So if you're going for a pedestal vessel basin, getting one made from the stone may be a good option, giving your bathroom an overall great and nice natural feel.
The popular types of stone used for pedestal sinks are granite, marble, quartz, travertine, sandstone, onyx, basalt, soapstone, andesite, and exotic petrified wood.
A stone pedestal sink is stylish, heatproof, easy to clean and install, and can be paired with cultured marble, wood, and stone resin. The material is also highly versatile, with many shapes and sizes to choose from. This also means that you can achieve any style using stone, whether you're going for traditional and rustic or modern and contemporary.
This pedestal sink is also comfortable and easily customizable but since it is prone to water splashing on the surface area, damages can be irreparable when not dealt with. The material is also expensive and so a stone pedestal sink can cost as much as $300 and that is the cheapest of them all.
Copper Pedestal Sink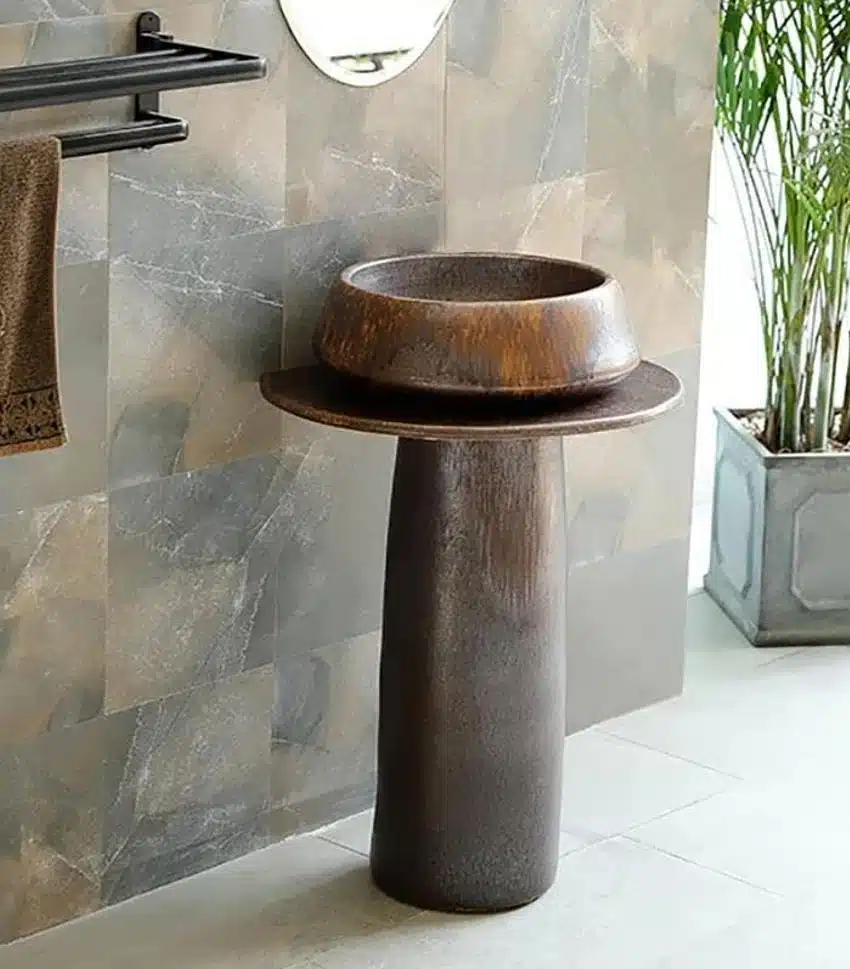 See this copper pedestal sink at Amazon [Sponsored link]
If you want a rustic pedestal sink, one made from copper may be one of the ideal choices. A copper pedestal sink actually looks better as it ages and when exposed to water and air, forming a patina. This patina features a deep shade color adding to the aesthetics of the sink and bathroom at the same time.
This natural look offers a classical ambiance to your bathroom that will make it an appealing addition to your home, along with the following benefits:
• Copper has excellent workability that allows it to be molded in any shape and form you prefer.
• Copper pedestal sinks are both anti-bacterial and resistant to rusting.
• Pairs well with either copper or iron tubs and faucets.
In choosing copper pedestal sinks though, there are also drawbacks that come with it, including the fact that it easily stains with the finish tending to get ruined over time when acidic solutions are used, which is why you also need to avoid using abrasive cleaners.
And while durable, the quality depends on the price points, which can be very expensive since the cheapest ones are already around $500.
Pedestal Sink Dimensions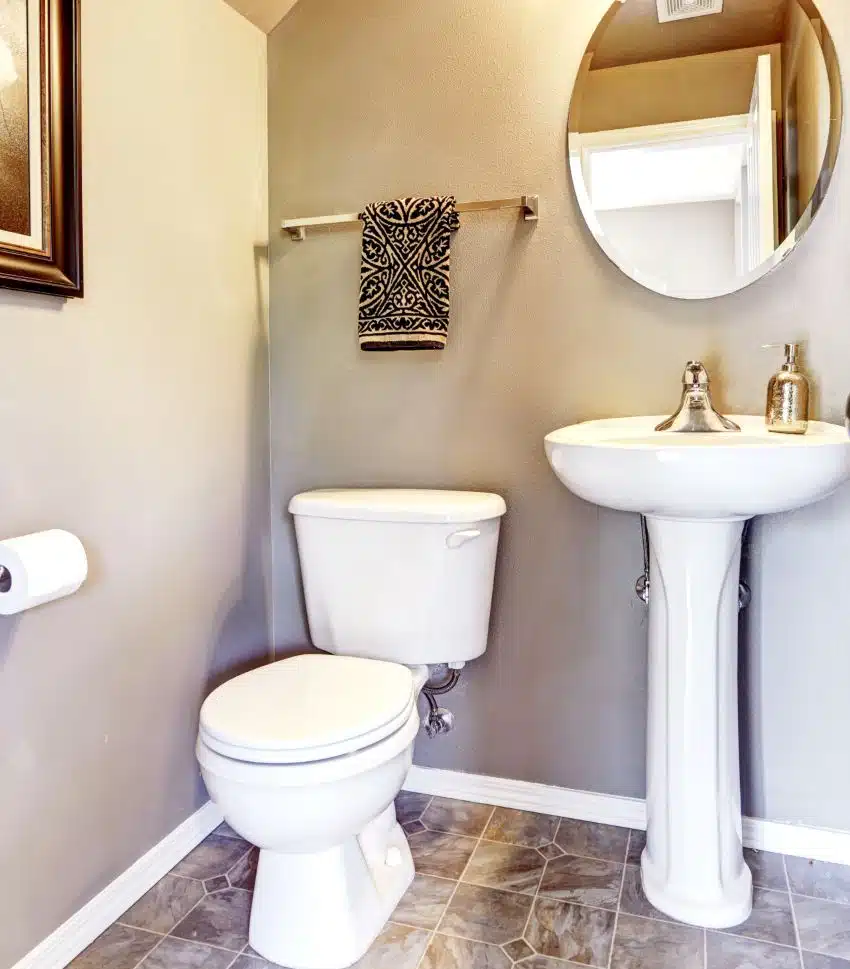 Pedestal bathroom sinks come in a variety of sizes and shapes but there are standard ones that are most commonly used in homes.
For the dimensions, the standard ones fall around 22 to 24 inches in width, 29 to 34 inches in height (together with the pedestal), and 18 to 20 inches in depth. Square and rectangular pedestal sinks are the most common compared to round and oval ones.
Some square pedestal sinks are used as corner sinks and measure approximately 15 inches on the sides. But this is only the top part of the pedestal sink. The bottom half is a pedestal that measures about 11 to 12 inches wide.
ADA Pedestal Sink Size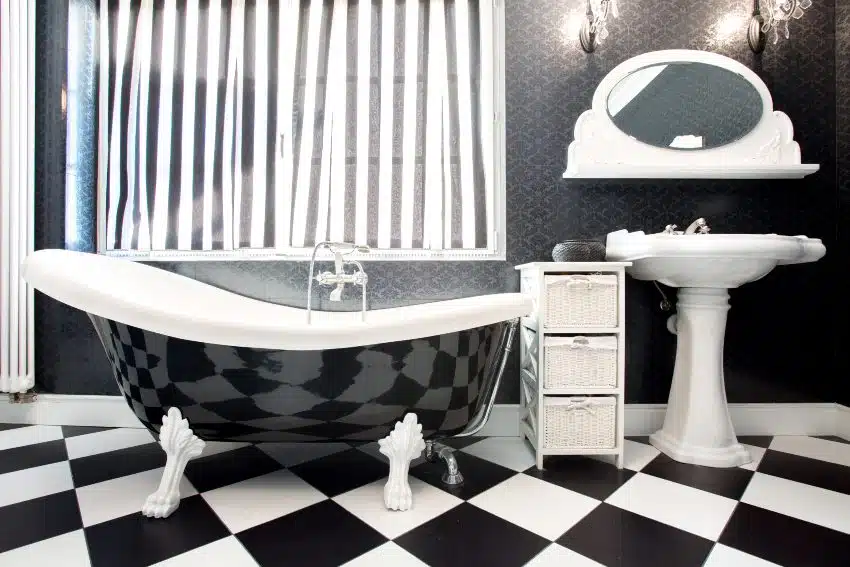 ADA refers to the Americans with Disability Act and if you're choosing a pedestal sink to be installed in the bathrooms of the homes you're building, the sinks need to be compliant with ADA.
This means that a ADA pedestal sink has its own specification that allows it to accommodate persons with disability that help to cater to their limited mobility when using the sink. Pedestal sinks can be considered ADA-compliant if they have the following dimensions:
• Average height: At least 27 inches and no higher than 34 inches off the floor
• Average width: Between 16 to 28 inches
• Knee clearance: 27×30 inches
• Knee depth: 11 to 25 inches below the sink
• Floor space: Clear and unobstructed
• Piped: Insulated under the sink
These specifications help the pedestal sink to be wheelchair-accessible with enough space to maneuver a wheelchair around and the user easily reach for the basin and the faucet, with their knees fitting well under the bowl. The pipes also need to be insulated so that there's no chance of the user getting wet or burned while using the faucet.
Pedestal Sink Height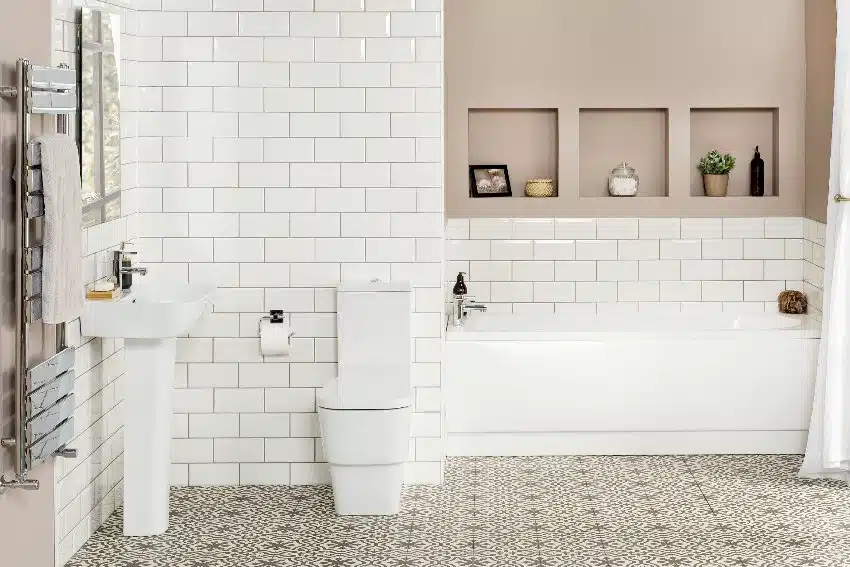 The standard height of a pedestal sink measures around 29 to 36 inches, which technically falls on the hip of an adult. You have quite a bit of options if you want the pedestal sink to be smaller or taller so make sure to explore the market for different heights of pedestal sinks available.
While pedestal sinks may differ in height, the drain height sits snugly at 22 to 24 inches from the finish floor and 4 inches located inward from the water supply line (usually runs out of the wall into the hole in the vanity's back).
Pedestal Sink Faucet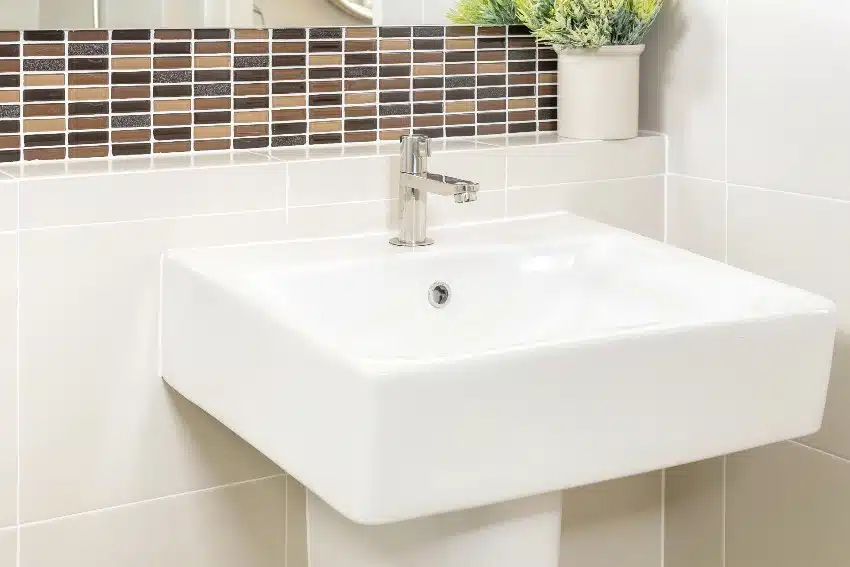 The faucet is one of the most important elements of a pedestal sink and there are many great options to look into. Two of the common faucet setup are the traditional and modern setups, where the former has the faucet set in the center with the handle for cold water on the left and hot water on the right.
The second setup includes single-hole faucets where you can twist one way for hot water and then the other way for cold water. You can also lift it up to have more water volume. You can choose from these two options or you can explore other setups you can find for your pedestal sink.
Pedestal sink faucets are usually made of dense and sturdy brass, where repairs and leaks are minimal because they are designed to last for a long time. Stainless steel may also be considered, along with zinc and zinc alloy but plastic is a clear no. Finish the faucet with chrome for an easy-to-clean and scratch-resistant faucet or bronze for a more durable option.
ADA also has specifications for pedestal bathroom sink faucets, so make sure to take these details into account:
• Mounted not more than 44 inches above the floor with a depth of 20 to 25 inches
• If the sink space has a depth of at most 20 inches, the faucet should be mounted not more than 48 inches above the floor
• Can easily be turned on (by touch, a push of a button, lever, or an electric sensor) even with one hand and preferably by only exerting a force of at most 5 lbs
Storage For A Pedestal Sink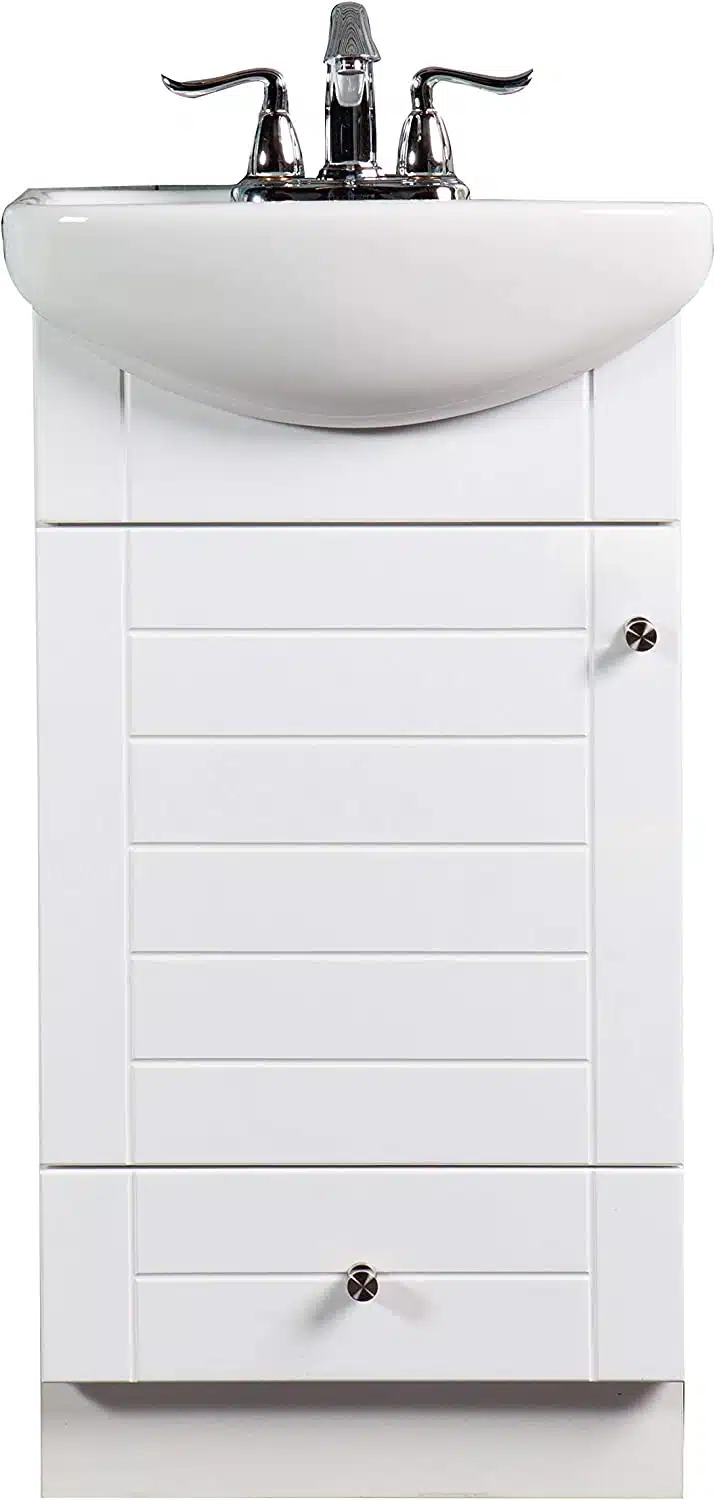 See this pedestal sink with storage at Amazon [Sponsored link]
Storage space is one of the drawbacks you will have when choosing a pedestal sink but this does not mean you can't do anything about it. You will always need storage for bathroom supplies, from toilet paper to extra body wash, and if you're having a hard time thinking how you can make it work with your pedestal sink, here are some ideas worth exploring.
• Open shelves – Install some floating shelves above your pedestal sink to make the most of the overhead space without wasting any floor space. This addition can be both stylish and functional for your bathroom.
• Adhesive hooks and organizers – Stick hooks and organizers above the pedestal sink for more storage space for your towels, tissue paper, and even clothes.
• Wicker basket – Add one in your bathroom for extra storage space, which will look great and at the same time serve its purpose. See our guide to pedestal sink storage for more ideas.
Pedestal Sink Vanity
Counter space is the top disadvantage of a pedestal sink, which is actually what a vanity sink can offer best. The combination of a pedestal sink and a bathroom vanity cabinet can help deal with this major difference and provide you with enough counter space to accommodate hygiene items, from lotions to face-masks.
A pedestal sink vanity is usually bigger and wider, to add counter space in your sink. They can actually range from 24 to 60 inches, depending on your preference. The flat surface can be used to organize bathroom supplies that are easily accessible.
Pedestal sinks are a timeless classic for small bathrooms, and since they have a single slim column and a small basin on top, they are simple to clean and maintain. – interior designer Ellen Siloy
Cabinet For A Pedestal Sink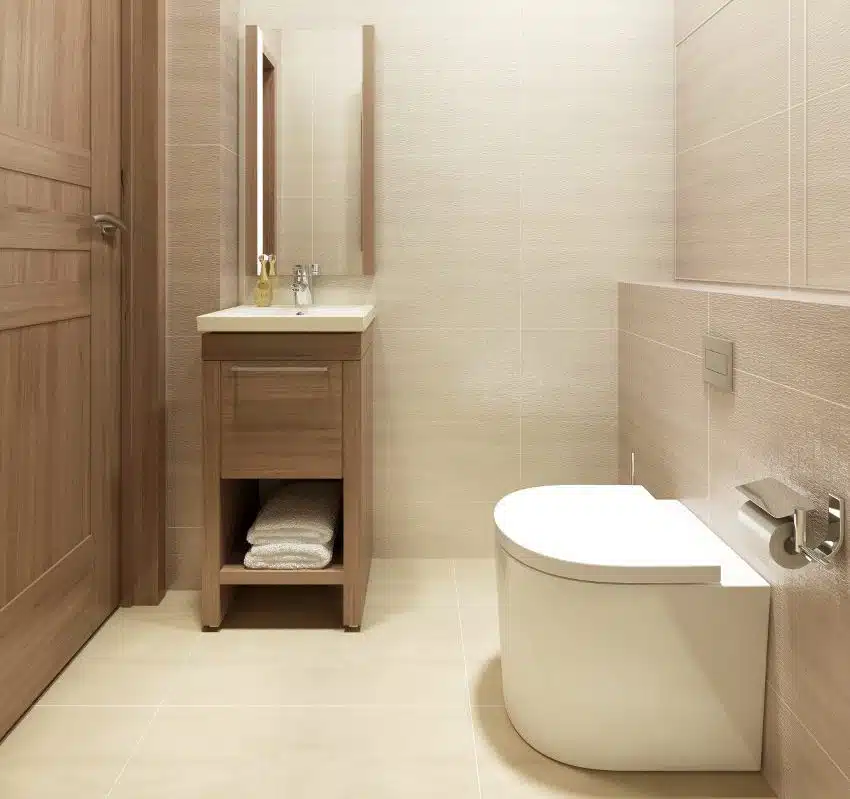 One of the storage options you can consider for your pedestal sink is an overhead cabinet to be installed above it. You can get a standard bathroom wall cabinet or a medicine/pharmacy cabinet, whichever is ideal for your use.
Your standard bathroom wall cabinet can be the storage for the most basic bathroom supplies, including towels, soaps, body wash, and extra tissue. While your pharmacy cabinet will house important medicines, from birth control pills to analgesics.
---
Creating Your Own Unique Style with a Pedestal Sink
We asked interior designer Danielle Porter, for her best tips for creating a unique style with a pedestal sink and this is her response:

If you're choosing a pedestal sink for your bathroom, it's about more than just selecting another plumbing fixture – it's about choosing a statement piece. Whether that statement is one of minimalism, materiality, maximalism, or something else, it's an intentional selection that requires coordination to successfully land your vision.

Clients often come to us, asking how to style a bathroom with a pedestal sink, and our answer is always the same: however you choose! Pedestal sinks are versatile and there is an infinite amount of ways to use them.

While people often fall back on the traditional white pedestal sink approach, below we've gathered a few ideas to get you started.

Whether you're looking for main-character energy or a supporting actor in your space – focus on form and color and then style around it accordingly. After all, the style of a space isn't just one element, it's the culmination of all of the elements in the space – fixtures, finishes, lighting – even those finishing touches.

Don't be afraid of a wallcovering (yes, they're back!) with a dramatic print, textured beadboard, artwork, or light fixtures – they all play into the overall vibe.

For star power in your en suite – start with the sink and then design more subtle materials and finishes that connect to it without competing with it.

For example – say you have a sleek white, bright ensuite bathroom with lots of crispness. A dramatic form with a show-stopping finish like this gold leaf option is just the ticket to keeping your aesthetic and making a statement.

On the other hand – when looking for something beautiful that seamlessly blends into your aesthetic, a simpler form holds its own without dominating the space.

Pairing it with a subtle texture or material that connects to other materials in the room can be just as beautiful but brings about a more cohesive aesthetic.

So, you've chosen a direction – now's time to pair those pieces, and arguably one of the most important is your selection of a mirror. Before you worry too much about size – ensure you know what you need from it.

One inherent issue with pedestal sinks is a lack of storage. In a powder room, this isn't as much of an issue, but getting into a main bathroom can raise quite a problem when it comes to storing the essentials.

Identify whether you need a medicine cabinet that will help hold it all, or if you have a linen closet or other storage (think wicker baskets, built-ins, or floating shelving) you can take a more decorative route. When designing a powder room with a pedestal sink – most clients opt for the more decorative route.

The golden rule when designing space is the 2:3 ratio – when sizing a mirror, I always think about it as the 2-3 ratio. When selecting a mirror, aim for one that is 2-3" narrower than your sink on either side or one that is 2-3 inches larger – depending on the look you're going for.

Aligning the size perfectly can be next to impossible, but keeping the mirror proportional to the sink without overdoing it will make the two elements feel like they are connected, not competitors.
---
How Much Are Pedestal Sinks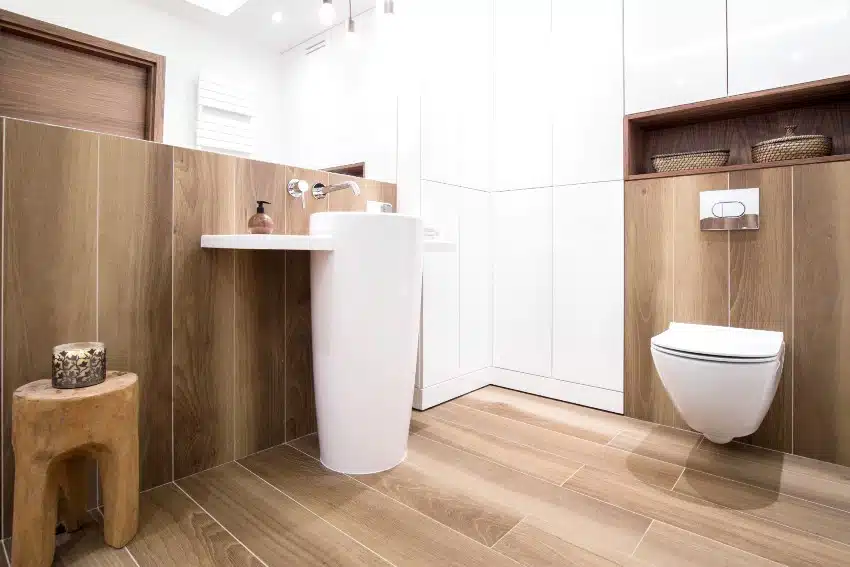 Pedestal sink costs depend on several factors, including the size of the sink, the material used to build it, the design of the sink, added features, and installation and labor fees.
Roughly, you will need to spend around $130 to $800, which depends on the different factors considered for the pricing. To give you a glance at the budget you need to prepare for, here are some major considerations:
• Pedestal sinks themselves – $130 to $730
• Installation and labor fees – Approximately $210
If you DIY the installation of your pedestal sink, you are guaranteed to spend less for it. When it comes to materials, solid surfaces like marble and hardwood are the most expensive ones while stainless steel is the most affordable. Make sure to also consider the style and design and to think about the pedestal sink as a long-term investment in your decisions.
How To Install A Pedestal Sink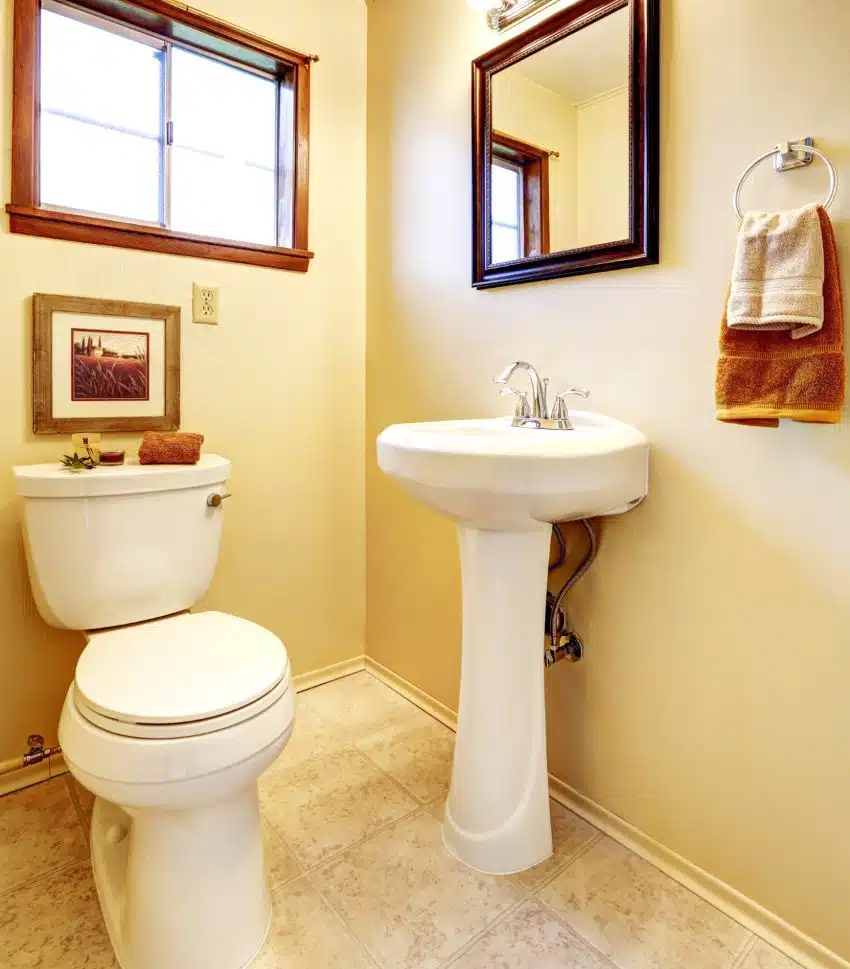 One of the best ways to minimize the cost of your pedestal sink installation is by installing it yourself. Truth be told, it can be a complex task to install a pedestal sink in your bathroom, especially if you need to replace other elements, from the baseboard and flooring to the wallboard. You will also need to be knowledgeable enough in dealing with exposed plumbing.
Depending on the type of pedestal sink you chose, it can either be supported through the wall or the floor. If it's through the wall, you will need to secure hanger bolts on the wall but if it's through the floor, bolts need to be attached to the base of the sink.
Some pedestal sinks even offer better support by combining both wall and floor support for the sink. If you need help installing a pedestal sink in your bathroom, here are simple steps you can follow.
1. Gather all the necessary tools and materials before you start installing the pedestal sink, including the following:
• Pedestal sink with the faucet
• Adjustable wrench, pipe wrench, and socket wrench (with an 8-inch extension)
• Drill
• 2-foot level
• Tape Measure
• Large slip-joint pliers
• Pencil
• Sockets
• Teflon tape
• P-trap assembly and drain assemblies
• Silicone sealant or plumbing putty
2. Make sure that your water is shut off
3. Remove the old sink and disconnect all the pipes
4. Inspect old drain pipes by cutting them open
5. Mark all the locations for your new plumbing (including the reroute) and start installing the new lines
6. Install drywall backers and then your sink (Make sure to close off the wall after)
7. Fit and cut the supply tubes and then connect the drain
8. Turn on your water and check for leaks
The most difficult part of the installation is not the actual pedestal sink but the plumbing. But if you're not confident in making this your personal DIY project, ask the help of professionals just to be sure that it works.
How to Hide Pedestal Sink Plumbing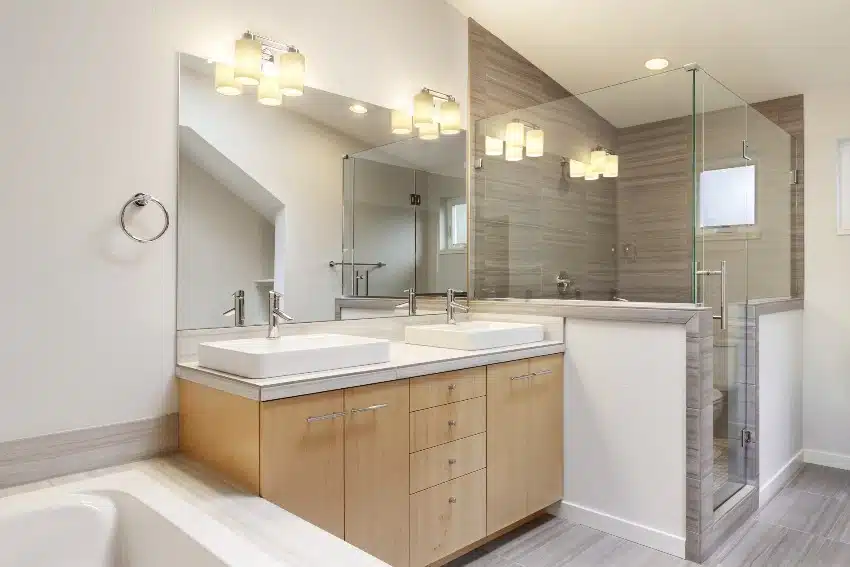 Pedestal sinks are popular for their visible plumbing but this does not need to always be the case, especially since exposed pipes and drain tanks can be unsightly to look at. If you're looking for ways to hide the plumbing of your pedestal sink, here are some ways to do so:
• Cabinet – Install a cabinet below the pedestal sink to hide its plumbing and even serve as extra storage space. Make sure though that the piping is properly measured so that it will fit the cabinet you'll be building around it. Expect $100 to $500 for this entire project.
• Small shelf – If building a cabinet is too much for you and your budget, a small shelf will do. There are pre-constructed shelves you can purchase but if you want the more affordable and practical choice, just purchase $20 worth of wood and build the shelves yourself.
• Storage bin – You can place a small basket or a storage bin to cover the pipes under your pedestal sink. This is one of the cheapest solutions you can do to hide the pipes since you can just check your home for extra bins and baskets lying around.
• Sink skirt – One of the most obvious ways to cover your pedestal sink plumbing is by putting a sink skirt around it. You can either purchase one or just use an old sheet or curtain lying around at home. While it may not be that aesthetically pleasing, you get extra storage space out of it.
• Pipe coverings – If you want a straightforward solution to hide pipes, get and purchase pipe coverings. Available in most hardware stores, you also get to choose the color and material that will match the look of your bathroom. Some of the common choices for materials are metal, resin, and wood.
• Potted plants – While they may not completely hide your plumbing, adding potted plants below your pedestal sink can disguise the pipes and at the same time add a refreshing and natural feel to your bathroom.
How to Stabilize a Pedestal Sink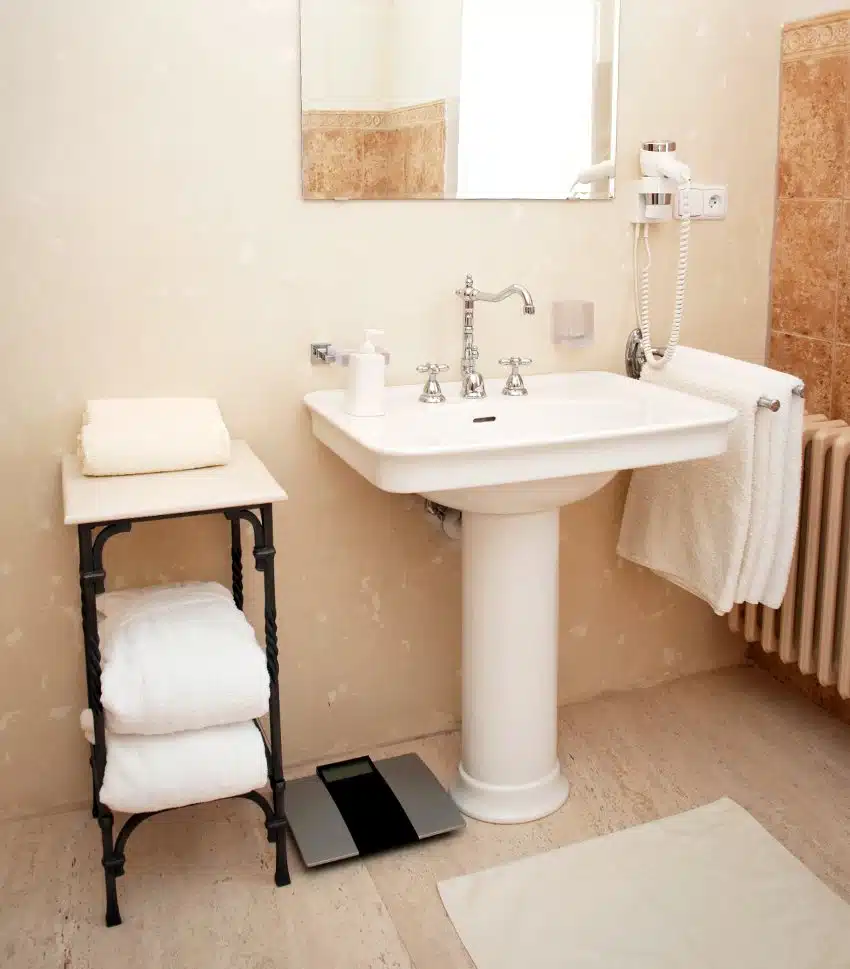 When a pedestal sink is not properly installed, it tends to get wobbly and would need to be stabilized. Pedestal sinks are usually either bolted on the base to the floor, on the sink/pedestal to the wall, or both for support. But because it is bolted, it has the tendency to wobble especially if the floor is not leveled.
To fix this, here are steps to follow.
1. Loosen the bolts – Whether it's bolted on the wall or on the floor, take the bolts out using an adjustable wrench. Make sure to remove all the bolts attached to the pedestal sink.
2. Check the cause of the wobble – One of the probable causes that the pedestal sink wobbles is that something is beneath it so make sure to make and if you find something, take it out. It may also be caused by the house settling or the tiles have cracked. Make necessary repairs on the flooring as you go.
3. Insert a wooden shim – Position the pedestal sink where you want to install it and slide a wooden shim underneath. Use a level to make sure that the sink is even and either insert more or remove the shims based on it.
4. Bolt the pedestal sink with the shim – Cut the excess wooden shim using a utility knife and reassemble your pedestal sink for final bolting. Avoid screwing the bold tight so that the pedestal won't crack.
How To Remove A Pedestal Sink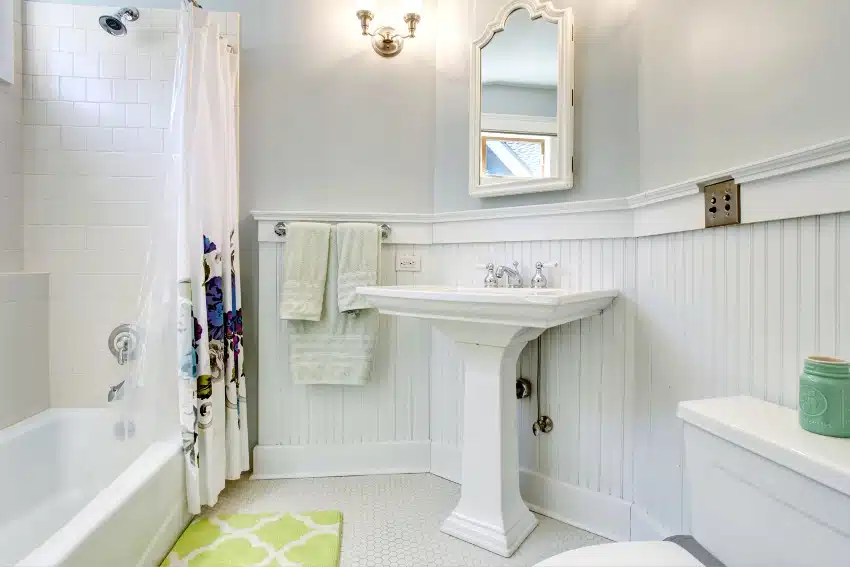 Whether you're getting a new pedestal sink or you're planning to replace it with an entirely different bathroom sink, the task of removing it can be done professionally or as a DIY project. If you choose the latter, here are the steps to follow to take it out.
1. Turn off all water supply valves and unscrew the hose that connects the sink valves to the faucet using adjustable pliers. Make sure to place a bucket underneath to avoid a mess.
2. Use a P-trap to hold the train stub out and loosen the nuts by hand or use adjustable pliers and take them out.
3. Use a utility knife to cut the silicone seal at the back of the sink, located around the bottom of the pedestal.
4. Locate the mounting nuts and use a wrench to loosen them (Make sure to lift the sink and hold it upwards as the nuts loosen) and then place the sink on the floor or table.
5. Use adjustable pliers to remove the faucet and the drain assembly altogether.
6. Use a wrench to unbolt the base of the pedestal from the floor and then remove it.
Pedestal Sink Designs Infographic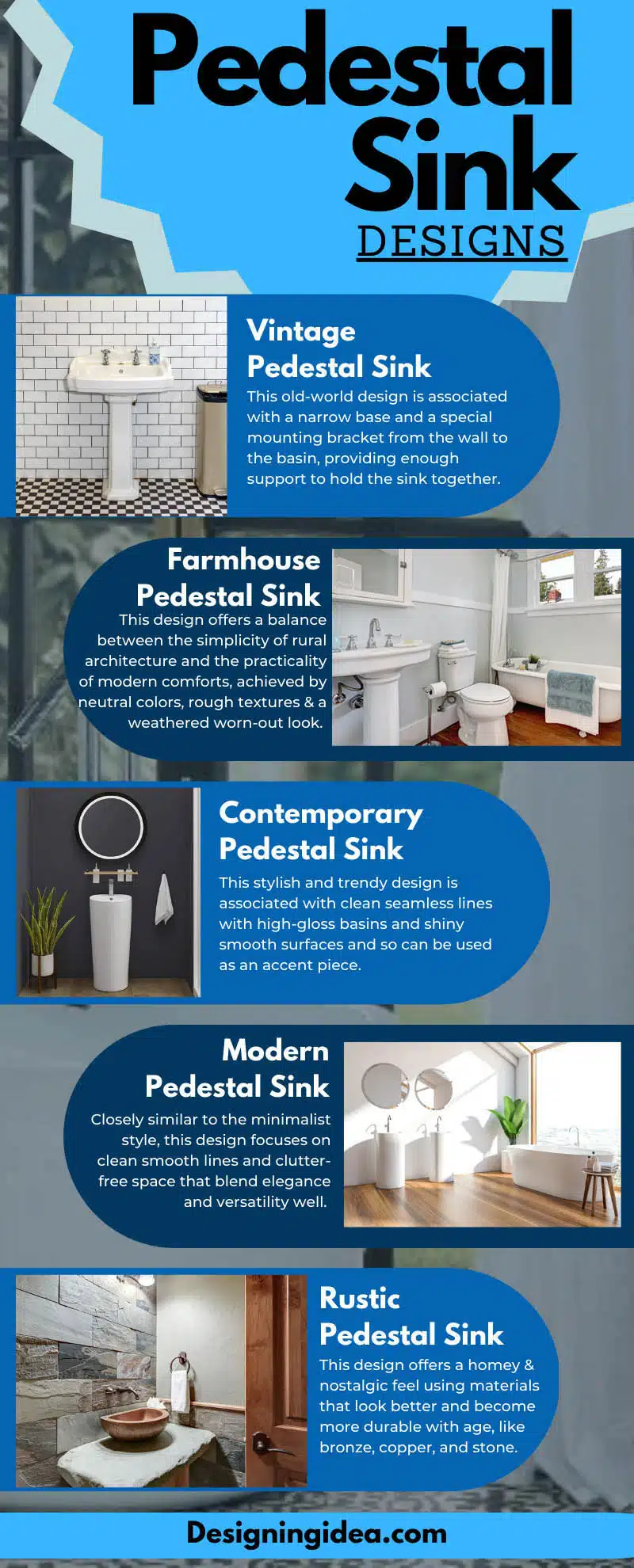 Visit our guide to the quartz sinks for more related ideas and options.