This beautiful gallery of Japandi kitchen styles and designs features cabinets, backsplash, tables, lighting, and island ideas for your kitchen.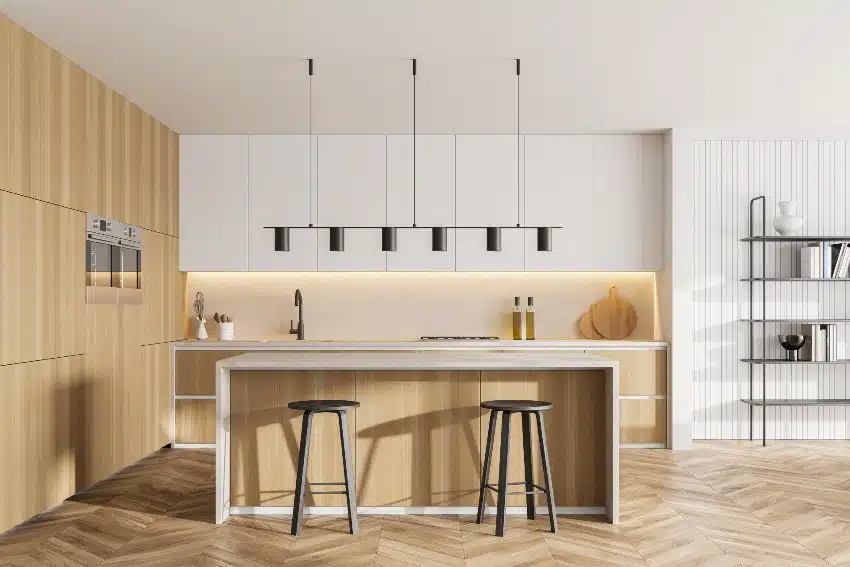 The great thing about interior design is that it's ever-evolving and versatile in application, whether you're sprucing up your living room or your kitchen. Japanese style and Scandinavia style are two popular interior design concepts that offer a similar look, as well as elements. So if you're a bit hesitant about whether to use the Japanese style or the Scandinavian style, you always have the option of mixing both!
With both of these styles focusing on comfort and simplicity, it will not be a difficult thing to combine them. In fact, designers started combining them to make the most of the best features of both styles and called this fusion as "Japandi" style.
If this is a new term for you and this is the first time you came across this mixed style then you need to learn more about it before diving in and eagerly deciding that this is the style you can apply to your kitchen. And this is not surprising since it's a relatively new trend and not much is known about it.
What Is a Japandi-Style Kitchen?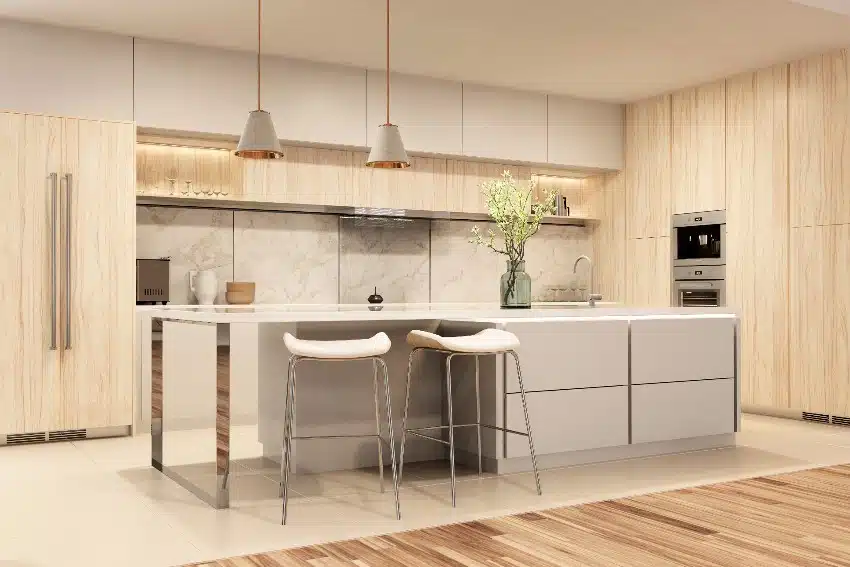 Japandi is the combined term resulting from two words – Japanese and Scandinavian. This interior design style combines these two minimalist styles, focusing on a minimalist look. While both of these styles carry minimalistic elements, Japandi is all about the functionality of the Scandinavian style and the rustic feel of the simplistic Japanese style.
Also known as Japanordic, this style blends form and function perfectly, highlighting bright spaces, clean lines, natural elements, and neutral colors. This results in an inviting and welcoming living space. And the increase in the popularity of sustainability in home decor also played an important role in the rise of this style.
For the Scandinavian style, the "hygge" concept centers on coziness and turning your home into a comfortable and safe space. Meanwhile, the Japanese style delivers the concept of "wabi-sabi", which believes that imperfection is beautiful. There are some more elements that are very different under these styles, including the following: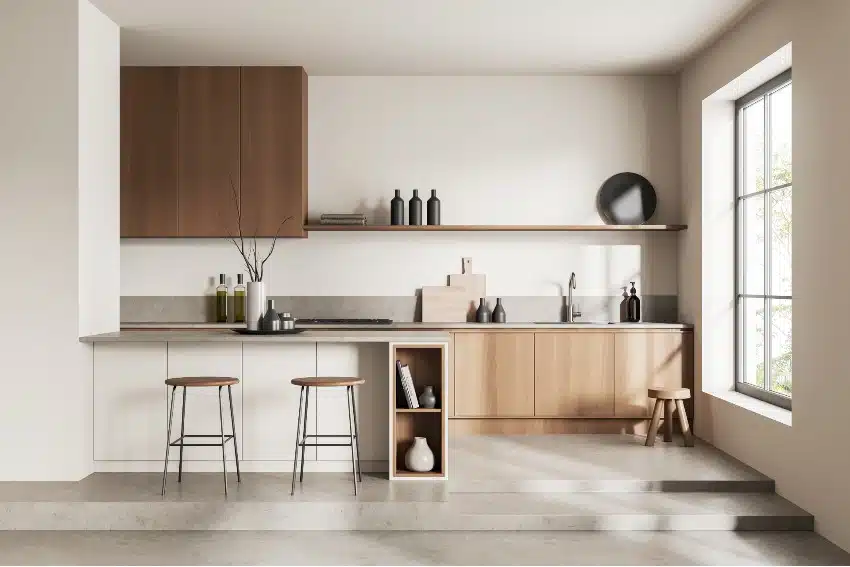 • Natural elements – The Japanese style aims to bring nature inside the home by using large plants and wooden elements, which the Scandinavian style is not concerned with.
• Colors – Scandinavian style uses cool color palettes in its trends while the Japanese style is not very particular with colors as long as they're clean to look at.
• Wood – The Japanese style is fond of using dark wood while the Nordic style tends to use light wood more.
While there may be several differences between the Japanese and Scandinavian styles, they work well together because of how simplicity and minimalism are at their core. They both deliver aesthetics that is easygoing but at the same time stunning and sophisticated.
The fusion of the rustic Nordic and sleek Japanese decor gives it a whole new look, balancing each other and also enabling both styles to stand out.
If you're set on creating a Japandi style kitchen, simplicity is the focus, as well as high functionality and stunning craftsmanship. The details included in the decor, while very limited, are also intentional and well-curated. Here are some of the key elements of the Japandi style that you can explore for your kitchen: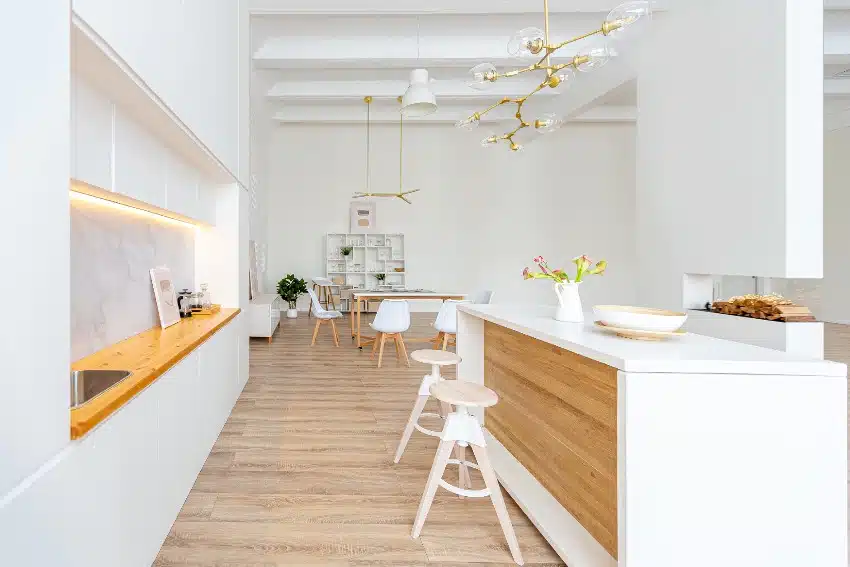 • Minimalism – This concept is almost synonymous with the Japanese style, especially since it values functional and intentional decor, which is driven by simplicity. The lack of clutter is carried over to the Japandi style, along with clean lines and open spaces.
• Sustainability – The Japandi style also focuses on sustainability, in terms of its choice of pieces of furniture and the materials they are made of. Since aesthetics and details are intentionally structured, every piece showcases elegance and incredible craftsmanship.
Natural materials are prioritized, including wood and natural textiles, as well as bamboo, cotton, linen, and rattan. Craftsmanship is showcased through handcrafted decorative items, which are usually made of ceramic, glass, and stone. Choosing this style means you're choosing an eco-friendly aesthetic.
• Neutral Colors – While cool color palettes are prominent in the Scandinavian style and the Japanese style is dominated by a neutral color scheme, the Japandi style uses a mix of light and dark tones and warm and cool tones. The color palettes usually feature warm neutral tones, including cream, beige, and tan.
But it can also include cool neutral tones like gray, as well as natural wood tones like brown and green. The key is to create a color scheme that conveys a calming and tranquil mood for the space.
Japandi Design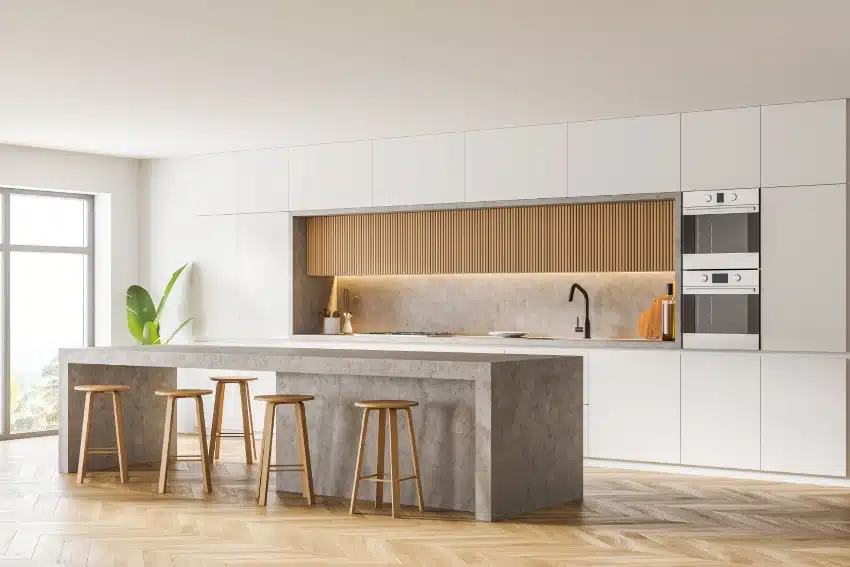 When decorating your kitchen in the Japandi style, it is important to integrate many of the key factors that make this style unique and trendy. The great thing about this style is that you get to use the concepts of hygge and wabi-sabi and experiment with these two.
Besides the application of these concepts, here are simple tips to follow if you want to have a Japandi style kitchen.
• Create a clutter-free space – In achieving the Japandi style, reducing the clutter is absolutely necessary so take out all the unnecessary clutter and make sure that small appliances are kept out-of-sight in cabinets unless they will be used.
You can also use wicker baskets, boxes, built-in storage, and bamboo folding screens to keep items out of sight to take care of the clutter.
• Bring in the feel of nature inside the kitchen – You have three options in recreating the feeling of nature indoors, including using unfinished wood like bamboo, bringing in greenery and plants, and finally using pale or muted green color.
• Pieces and items that will stand the test of time – Look for pieces, either furniture or decor items, that can last for a long time. These long-lasting pieces are the solution to one-time-use culture, which is how they are considered safe and sustainable. The pieces need to be intentional and not just a choice due to your whim, showcasing stunning craftsmanship.
• Keep everything minimal – Simplicity and minimalism are the keys to a Japandi style kitchen. This can be achieved by choosing functional and intentional items so everything inside your kitchen must have a purpose. Make sure that you choose items that also feature seamless lines for a cleaner look.
• Integrate contrast – Japandi style kitchens showcase contrast in their aesthetics, using a balance of light and dark colors, as well as traditional and modern looks. The popular core and base colors for a Japandi kitchen are warm & natural color palettes.
These colors include a mix of warm beige and browns, as well as off-white and soft gray. The contrasting colors of light and dark shades offer a bold look and at the same time create textures.
• Mix up pieces of furniture – Another way to create texture in a Japandi kitchen is to use different pieces of furniture with various colors, textures, and materials. Make sure that you still use sustainable and natural pieces to stay true to the Japandi style.
---
Japandi Kitchen Decor Tips
According to Rachel Razal Padilla, Interior Designer, the Japandi style is built on three main design principles — focus, harmony and tranquility. The key is not only to build a space that boasts of clean, simple and minimalist aesthetics but also to achieve an efficient, fully functional design for a good quality of living.
Follow these design philosophies to create the Japandi style kitchen of your dreams:
Less is More – The principle "Less is More" is the foundation of minimalist design, which includes the Japandi style. According to Rachel, "when designing these kitchens, make sure to keep the furniture, furnishings and decor to a minimum.
Remember, "simplicity is key" to a Japandi style home. Veer away from unnecessary decor and too much ornamentation, but instead stick with the basics and focus on what you only need."
Focus on function and emphasize practicality – Focus on the room's function and purpose and keep in mind what you really need in the space. Japandi style kitchens emphasize exceptional functional design in the most compact way possible.
"Think of utilitarian furniture pieces and items that serve a purpose. There also must be balance between your furniture and decor so that the resulting look of the space will not appear too empty or too dull", Rachel added.
Evoke a feeling of serenity and tranquility – The Japanese design is known for creating "zen" in spaces. When decorating a Japandi style kitchen, it is not just all about the aesthetics but also creating a mood or vibe that makes you feel peaceful and relaxed.
Forego any clutter – As mentioned, Japandi style spaces strongly adhere to the Japanese principles of decluttering your surroundings and letting go of anything unnecessary.
Why so? Because they believe that the "less clutter you have in your living space, the more open your mind will be". Thus, resulting in a more relaxed and peaceful environment. Aesthetics wise, the absence of clutter results in an open space and makes clean lines visually dominant.
"To create a clutter free environment, carefully select your furnishings based on practicality and purpose. Store items inside cabinets to keep them out of sight.
Alternatively, you can put some of your stuff inside modern storage boxes, bamboo screens or baskets to reduce excess clutter", Rachel stated.
Remember sustainability – A significant tenet of Japandi design is sustainability. The main goal of sustainability is to prevent harm and damage to the environment by minimizing waste and promoting the use of renewable resources.
According to Rachel, sustainability can be achieved by using natural materials when building spaces. Natural materials like wood, stone and some fibers are rapidly renewable and can be recycled.
Bamboo, cork, terracotta and natural fibers like rattan, cotton and linen are all sustainable and offer longevity and durability. On top of that, these finishing materials highly suit the palette and aesthetics of japandi style kitchens.
Rachel also encourages buying artisanal, handcrafted items that use natural materials as a decor for Japandi style kitchens. Instead of buying mass produced, knock down furniture, you can try shopping sustainably for a few high-quality pieces that you can showcase in your home.
Think green – Aside from being eco-friendly, Japandi style spaces encourage the use of greenery and plants as decor. These species are typically non-flowering and easy to maintain indoor plants.
According to Rachel, plants are excellent design elements not only for aesthetics but also for practical reasons. "Plants help filter the air, bring in an organic feel to a space and brightens up a space. In addition, the pop of green color in a fully neutral toned environment can instantly produce a refreshing vibe in a room."
"When choosing the right plants to complement Japandi style decor, opt for bamboo, bonsai trees and snake plants, to name a few. These plants do not only thrive well in indoor spaces but also have striking green leaves that can make an impact.
Do not put too many plants because it can make the space look too cluttered, veering away from the minimalist aesthetic that you are aiming for, instead stick with one or two plants", she stated.
For the planters, you can put your indoor plants in rattan or wicker baskets or ceramic and terra cotta planters", Rachel added.
---
Japandi Cabinets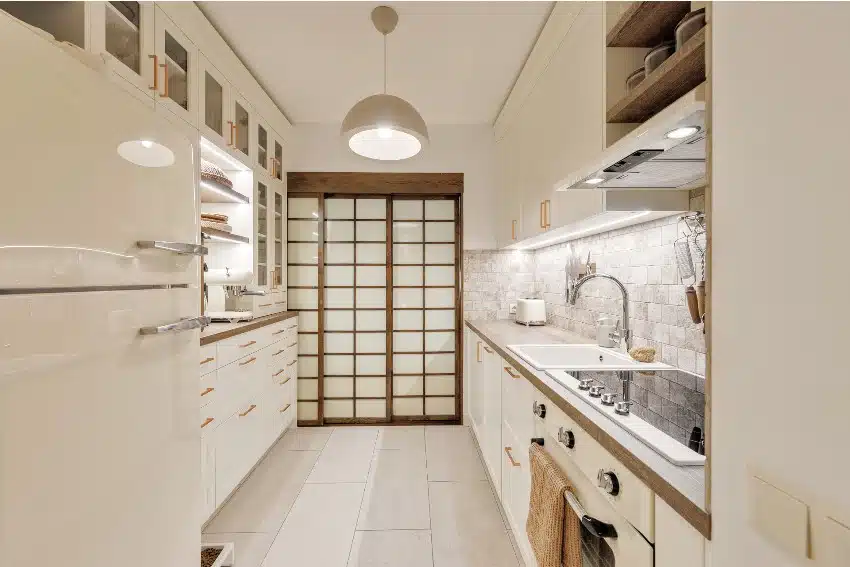 When choosing kitchen cabinets in Japandi style, thinking about hygge and wabi-sabi will be helpful in your decision. Choose a cabinet that brings this welcoming and rustic vibe to your kitchen and at the same time can last for a long time.
Choose a sustainable material for your kitchen cabinets to keep with the natural theme, from a rustic bamboo cabinet to a sustainable softwood cabinet. Avoid using anything with plastic. And if you want to choose something different than cabinets, you can choose wicker baskets for storage.
Another thing you can do is to purchase your cabinets from locally sourced and handcraft-known suppliers rather than from big-box stores. Besides being able to support local furniture makers, you also get to make sure you get a timeless and sustainable piece of furniture.
Besides the materials, the appearance of your kitchen will also play an important role in the general vibe of your Japandi kitchen. Choose a kitchen cabinet that's highly functional but also offers sleek and elegant aesthetics. You can use colors to your advantage and create textures and layers.
Neutral colors are popular in Japandi style kitchens to add warmth. Avoid anything too bright or too bold if you choose to paint your cabinets. You can go for beige, cream, sand, and taupe or pale pink, blue, and green if you want the ambiance leaning more towards the Scandi feel.
And if you want to add dark colors to accent the cabinets, charcoal gray and black will work well. You can even create a bold look (not too bold!) using dark colors like a walnut-colored cabinet, finishes and accessories. It's a bold dark color but stays true to the nature-inspired look.
Japandi Backsplash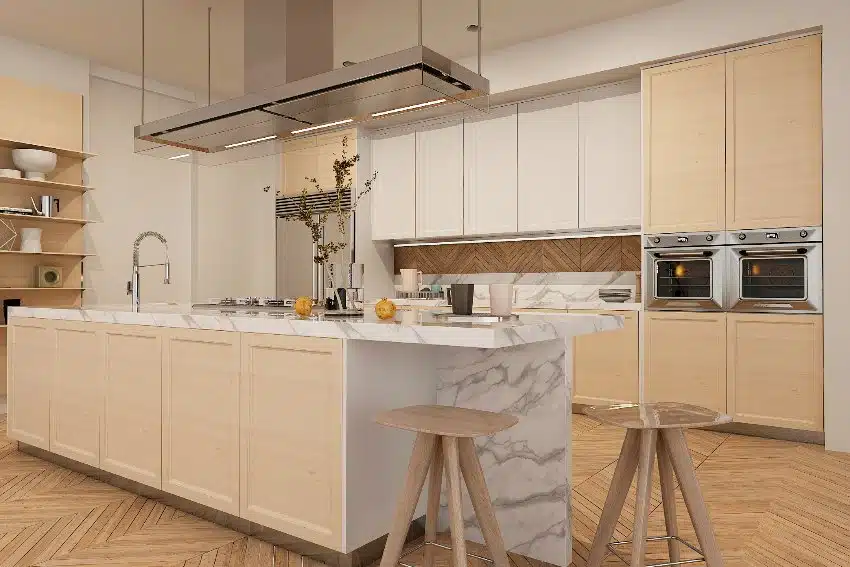 Adding a backsplash in your kitchen can help you protect your walls from cooking spills and accidents. The backsplash can even function as an accent wall at the same time. But when you're dealing with a Japandi style kitchen, make sure you don't get overboard, not just in terms of the patterns of the backsplash but also in terms of the colors you choose.
With a Japandi kitchen, less is more, and this goes the same way with the backsplashes. But this does not mean you can't add patterns and designs. Some of the popular patterns you can use for your backsplash are waves and clean geometric shapes.
The texture is vital in the Japandi style so it would also not work if you choose to leave your backsplash looking too bare. Be meticulous and intentional when you mix the textures and avoid clutter even with the patterns and designs. In addition to that, create a stunning contrast using your backsplash.
Japandi Table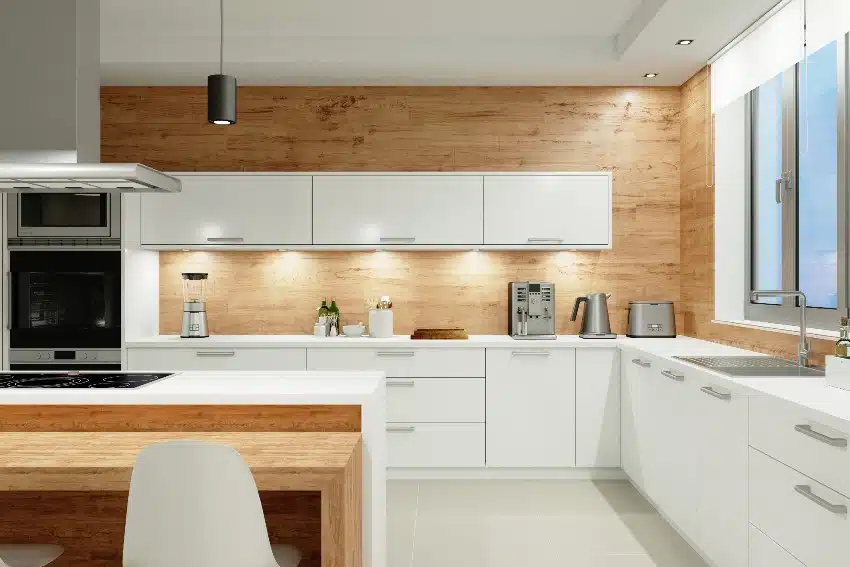 Another element in the kitchen you can spruce up to support the Japandi style is the table. Wood is always an obvious choice for a table in a Japandi style kitchen but you can also choose rattan or bamboo to ensure that you're working with sustainable material.
Just to be safe though, go for a wooden kitchen table with simple clean lines mixed with curves in the corners. The combination of these patterns can easily increase visual interest in your Japandi kitchen.
You have the option of having the wood stained or painted, depending on what you prefer. If you want the natural color of the wood to stand out, whether it's light-colored or dark-colored, staining the table is a better option. If you plan to paint on the kitchen table for a more modern feel, choose muted colors for a more minimalist look.
Similar to your kitchen cabinets, choose to purchase from a local furniture maker. This is a more sustainable option and at the same time will make sure that your kitchen table is handcrafted with stunning details. You can make your kitchen table to be an artisanal piece that will look timeless and can last for many years.
To spruce up your kitchen table, add texture by using a big and cozy rug below the table. Choose a rug that's made from natural materials, featuring different fabrics and textures in the process. The addition of this accessory will make your dining room feel more welcoming and aesthetically pleasing.
Japandi Lighting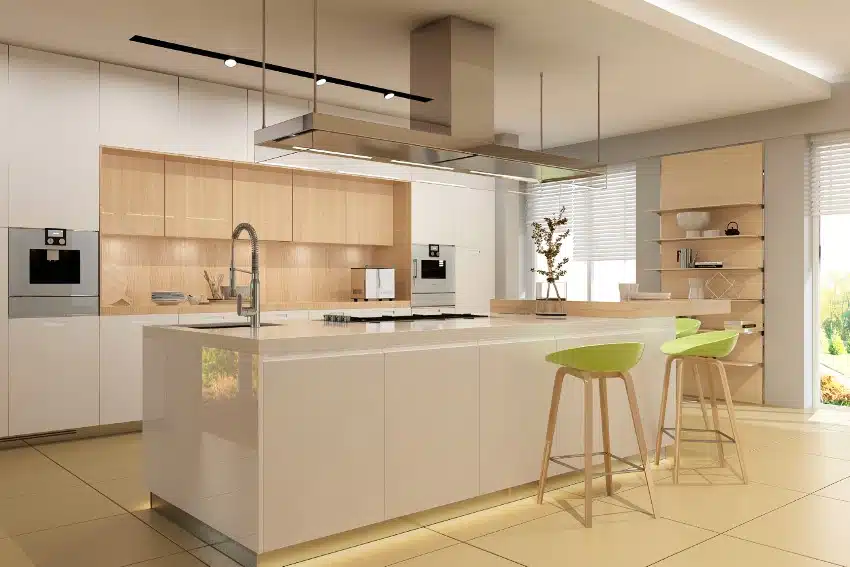 The lighting of a kitchen can immediately change the ambiance of the space so it's not just for the basic function of brightening up the space.
The ideal option for a Japandi kitchen when it comes to lighting is natural light, which can mean bigger windows and using mirrors to reflect light into the space. You must use low-key lighting to match the minimalistic interior of the entire kitchen.
Choose stunning and sleek lighting fixtures, including industrial lights for a more Scandi appeal or retro and hand-crafted pendant lights for a more rustic and warm ambiance. You can also add floor lamps to make the space feel cozier and you can look for lamps with rattan and bamboo in the lighting fixture.
Japandi Island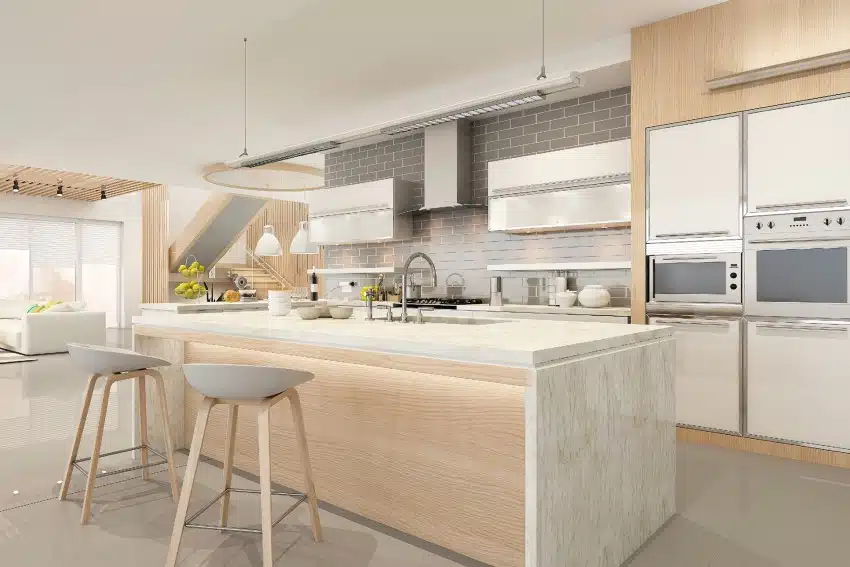 If you plan to install an island in your Japandi kitchen, choose a natural material built to last. In the case of countertops and kitchen islands, this means natural stones like marble and granite.
In your choice though, go for the more sustainable option if you want to stick with the Japandi concept. For a more authentic look, choose a neutral-colored stone that matches the color scheme of your entire Japandi kitchen.
Did we miss any important kitchen ideas related to this style. Share your best tips, paint hues and experiences to provide inspiration for our readers in the comments below. See more related content in our article about the best contemporary kitchen designs on this page.