These slate kitchen backsplash designs share the pros and cons, different styles such as tile, peel-and-stick, modern, popular sizes and slate backsplash ideas.

Every kitchen needs a quality backsplash but you have plenty of options to choose from. One question you'll have to answer comes down to deciding what material you'll use. An option that's well worth your consideration and the popularity it's garnered is a slate kitchen backsplash.
What Is Slate Backsplash?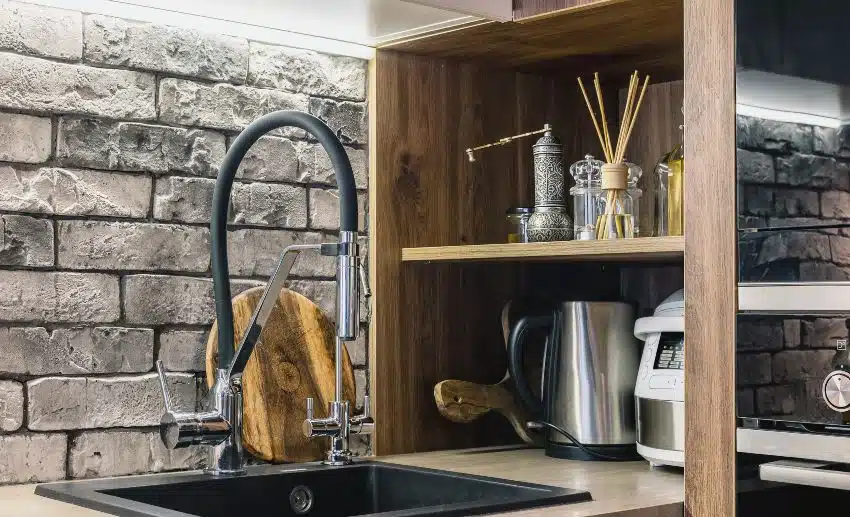 Slate is a natural stone material that is composed of clay and volcanic ash that is combined and compacted to form its structure. Slate is a versatile material to add to your home. You can use it for flooring, wall treatments, countertops, hearths, patio tiles, and even furniture. However, one wall treatment that slate is handy for is a backsplash.
After all, slate is a non-porous, natural stone surface. In other words, it's well-suited to handle everything you might throw at a backsplash plus it offers the additional benefit of offering aesthetic quality.
With protection against water, it's a great material for an area like a kitchen that's prone to splashes, damp spots, and high humidity. These features help slate stand out strongly as an option for a kitchen backsplash.
Slate has also seen both indoor and outdoor uses for centuries. The strength of the material also lends itself well to both indoor and outdoor kitchen backsplashes. In the end, it'll last you quite a while as a backsplash whether you use it inside or out.
Slate Backsplash Pros And Cons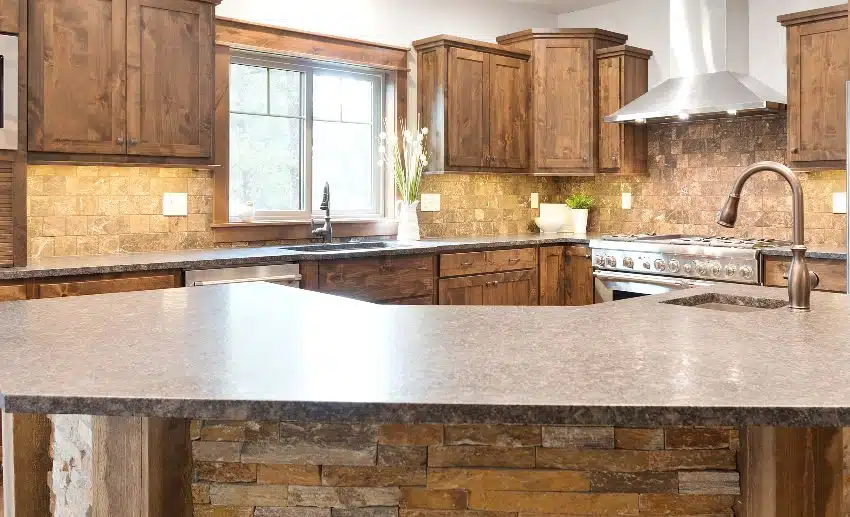 There are a lot of advantages to slate backsplashes but there are also a few disadvantages to be aware of.
Pros of Slate Kitchen Backsplash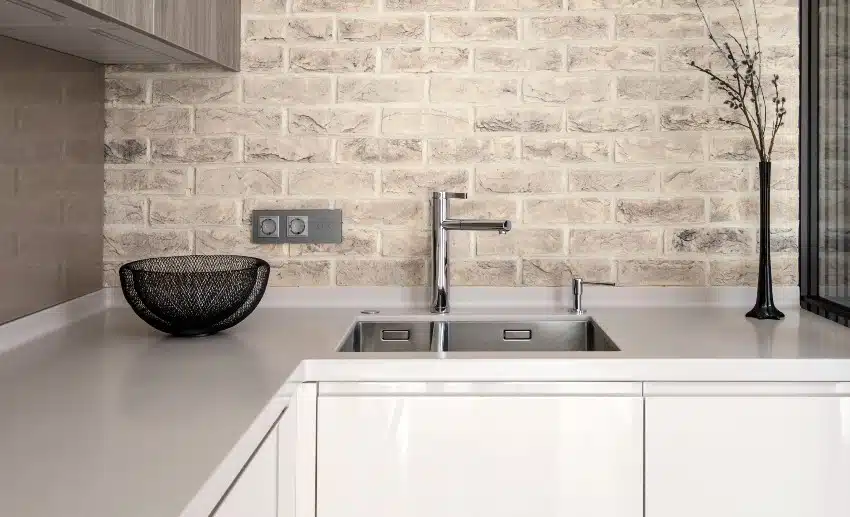 Can work for a variety of design styles – At first glance, the aesthetic appeal of slate is clear. It offers a timeless look that can fit into a variety of decor styles.
Differences in stone colors – This is helped by the color variety slate offers. As a natural material, you can really achieve a one-of-a-kind look with your slate backsplash even compared to other slate backsplashes.
Can be used for interior or exterior applications – On a more practical note, slate is versatile in that it can be used both indoors and outdoors safely. It's waterproof which both makes it versatile for indoor/outdoor use and helps it protect your walls from water damage as a backsplash.
Easy to clean – Plus, it's easy to clean tougher messes like grease off as well and it won't hold onto allergens. As well as water, the material is resistant to fire.
Durable – Slate is known as a reliable material too. Even used in applications like slate roofing, it's a material you can expect to last anywhere from 50 years to 100 or more! Hard slate lasts longer than soft slate.
Cons of Slate Kitchen Backsplash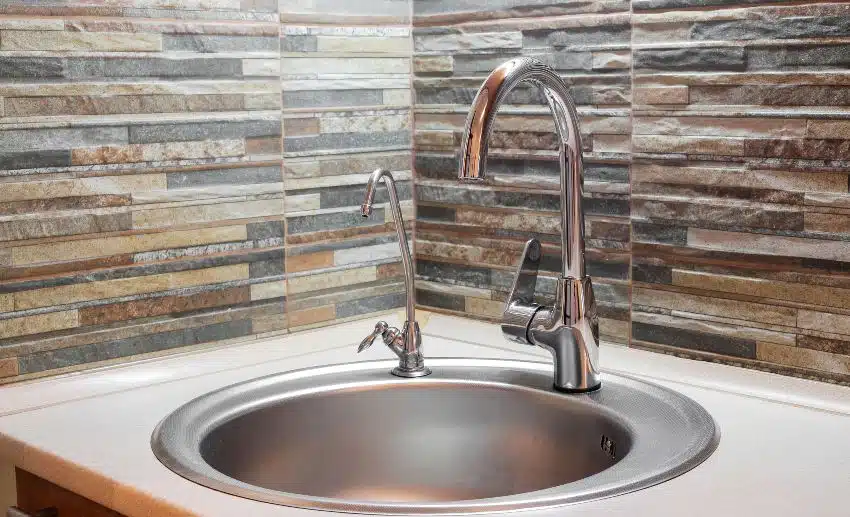 Can chip – You do have to be careful with slate due to how brittle it is. With any significant force, you might find yourself dealing with a chipped or even broken slate backsplash.
Can stain – The material is also rather prone to staining. To help avoid problems with staining, you should seal your slate backsplash.This will preserve the look of your slate backsplash and help to prevent stains. However, you will need to repeat this process annually.
Expensive – Slate can also be a costly choice. On average, slate material costs $5 to $20 per square foot, depending on what you choose. Considering many opt for a professional installation for slate installations, it's easy to see why this would be a notable budget consideration.
Slate Tile Backsplash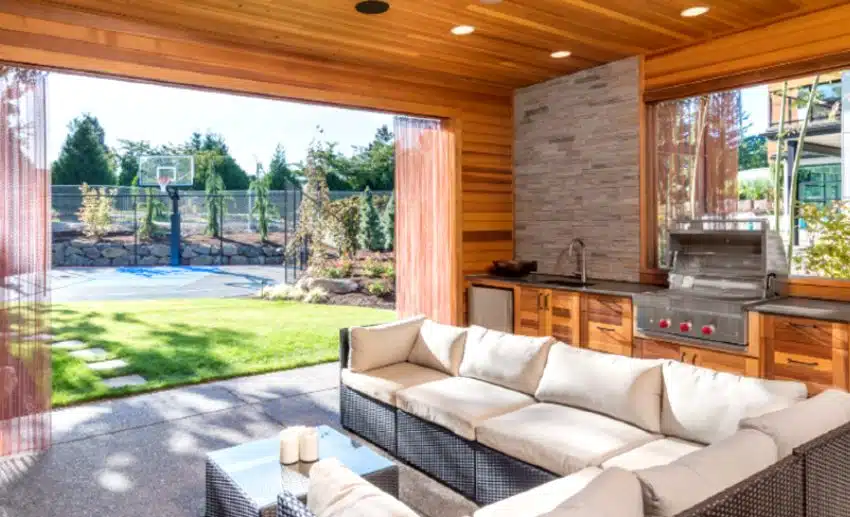 It's an option to add a sheet of slate behind the counter as your backsplash. However, you can achieve even more varied results by opting for slate tiles instead.
One benefit of slate tiles is that you can play with different shapes to create an eye-catching pattern for your backsplash that will draw the eye in your kitchen right away.
After all, you could go with classic rectangular or square tiles or opt for other geometric shapes like hexagons. Plus, you can vary the style in how you arrange the tiles to create a different patterned backsplash.
Since tiles are separate pieces, you can use them to play with colors as well. Unlike a solid piece of slate, nothing is stopping you from varying the tiles.
Black Slate Backsplash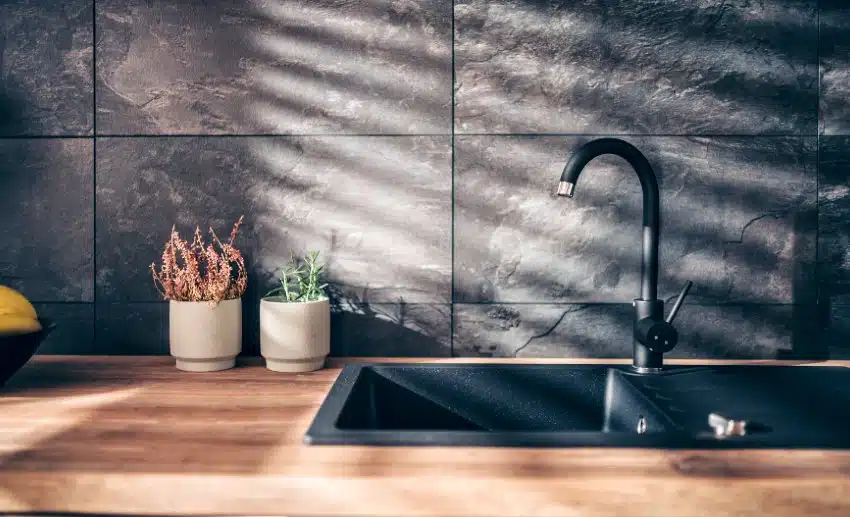 Neutral tones, by their nature, are versatile options. While you aren't likely to have a white slate backsplash, you can still evoke a stark, neutral color with a black slate backsplash. However, if you'd like, it is possible to break up a black slate backsplash with lighter grout lines when you choose to use slate backsplash tiles.
A black backsplash is versatile as well and it fits into a variety of decor styles. It lends itself particularly well to modern decor.
Dark backsplashes are more recommended for homes with light counters or countertops. This creates an effective level of contrast to give you an open feel in your kitchen. If you pair a black slate backsplash with black cabinets and countertops, it can make the room look darker and smaller.
Gray Slate Backsplash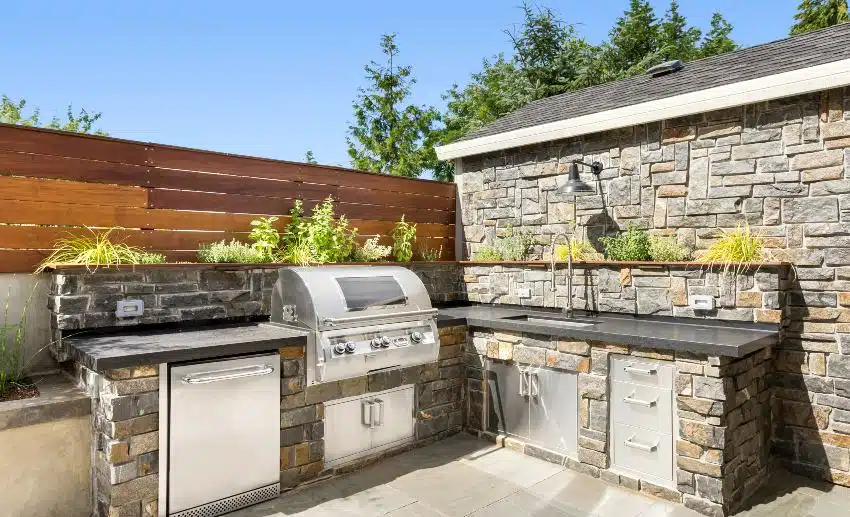 If you want something neutral but a bit softer than a black slate backsplash, you can opt for a gray slate backsplash. You have some variety to choose from here and slate can come in a few different gray tones.
This includes a medium gray, a dark gray with blue undertones, and even gray with green or purple tones to it. The color is often affected by where the slate is sourced from, so some colors may be more readily available at your location.
Like black, dark gray tones can be used to create a striking contrast between your backsplash and either your kitchen countertop or cabinets. On the other hand, a paler gray tone can really open up the space.
Gray is a great color to pair with white in your kitchen if you want to keep a lighter, cleaner look without veering into the sometimes sterile feeling an all-white kitchen can give off.
Multicolor Slate Backsplash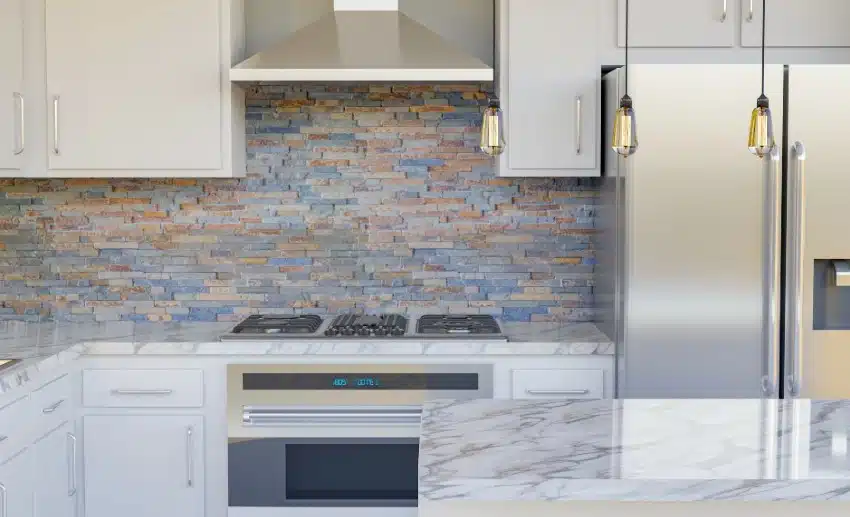 So far, we've looked at a lot of uniform colors when it comes to slate backsplashes. However, you can also opt for a multicolor backsplash if that suits you.
Of course, this can refer to a slate backsplash pairing two different color tiles in a pattern. On the other hand, multicolor slate backsplashes may feature multi-colored slate in a single tile or slab. More often, these types of slate backsplashes are installed in tiles for greater variation.
These tiles are unique and can pair well with warmer, cozier decor schemes. Rustic or farmhouse design preferences pair well with a multicolor slate backsplash, as an example, but are far from the only design approach that goes well with a splash of color.
Modern Slate Backsplash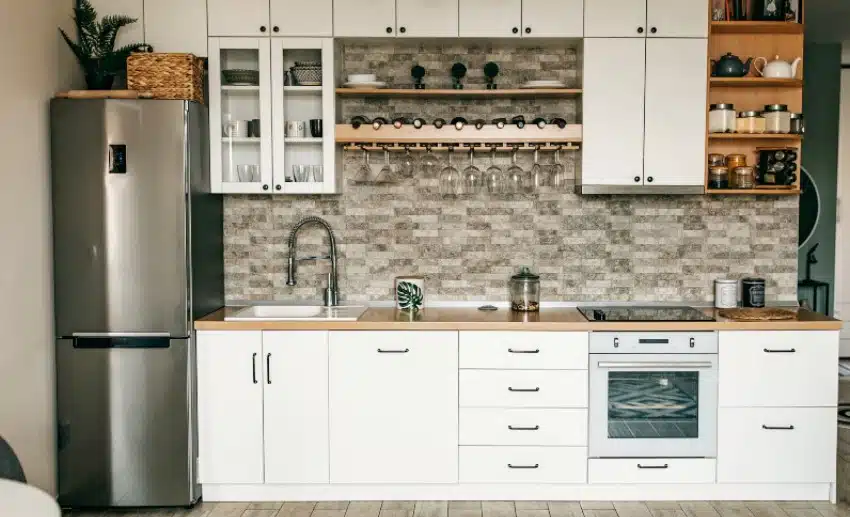 Slate is a great choice for modern kitchens. For one, natural materials like stone are often featured in modern design. In addition to this, the more neutral colors slate comes in are great for fitting a modern color palette.
For something neutral but dramatic that fits into modern design, you could opt for a black slate backsplash. To break up such a dark backsplash and neutral cabinets, you could break up the room with brighter decor pieces like appliances, kitchen sets, or even art pieces.
Slate is also a great choice in modern decor because it offers clean lines. This includes the even top of your backsplash and any grout lines you feature in the tile.
Slate Subway Tile Backsplash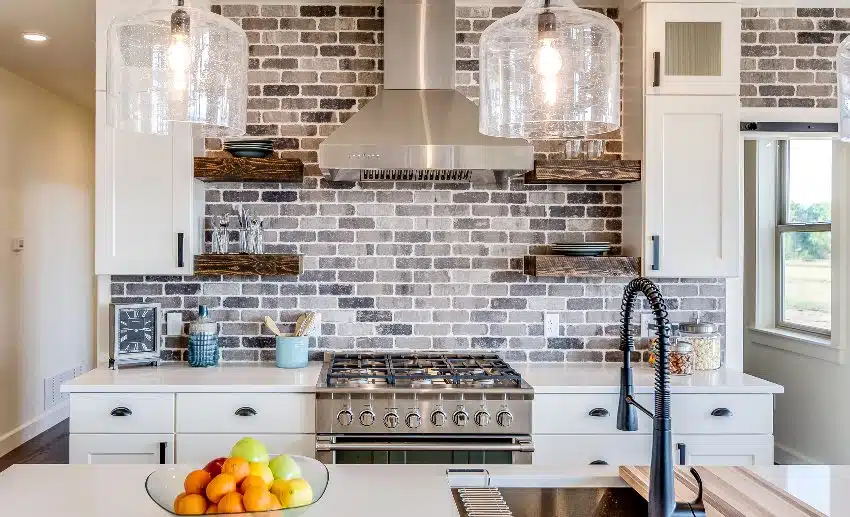 Subway tiles are a popular and classic choice for a backsplash. You can make the design out of any rectangular tile, slate included.
The design, as mentioned, is made up of uniform rectangular tiles. The tiles don't typically line up perfectly with the tile above or below them, though.
Instead, every other row is offset for a staggered appearance. The end result is tiles arranged much like bricks in a wall or like the tile wall of a subway, where the pattern gets its name.
Such a classic tile pattern can fit into almost any decor style too whether you want something cozy and rustic or striking and modern in your kitchen.
Peel And Stick Slate Backsplash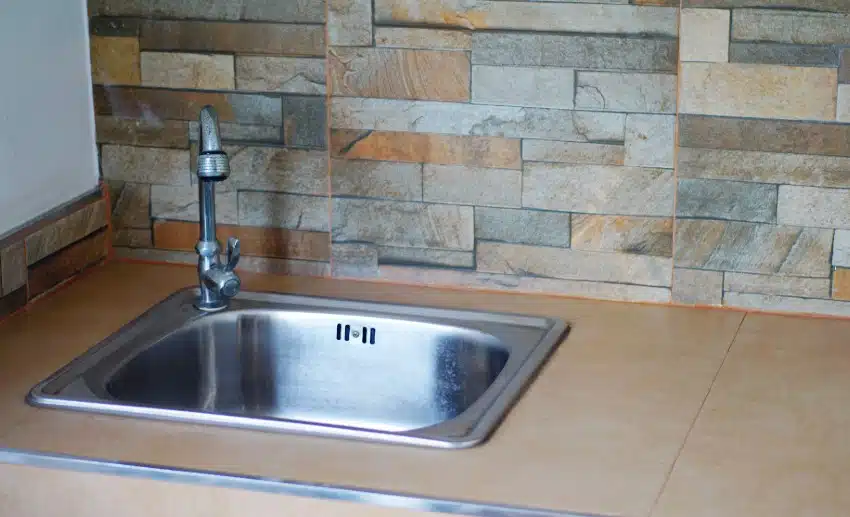 The installation and cost of slate backsplash sometimes stop homeowners from committing to a full renovation. The good news is that there's an option if you're interested in it without quite the same budget or level of commitment.
A peel-and-stick slate backsplash is really a look-alike slate backsplash. Yet, you're trading the natural stone material for ease of installation and lower cost.
See this peel-and-stick slate backsplash at Amazon [Sponsored link]
All you usually have to do with these types of backsplash is to peel the backing off the faux tiles and place them carefully on the wall where you want your backsplash to go. It's a good idea to measure and even use a pencil to mark the wall to make sure that you place the backsplash correctly.
Slate Backsplash Sizes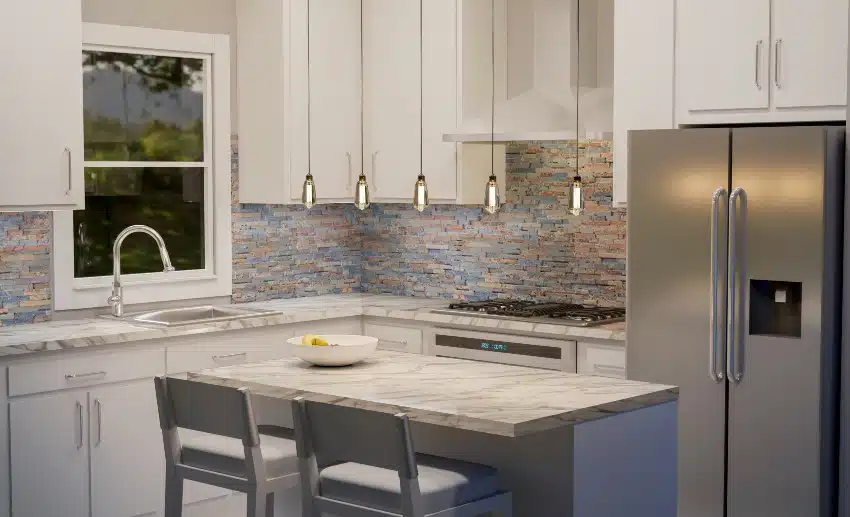 The average backsplash is about three to six inches higher than the countertop. Most often, homeowners opt for a four-inch slate backsplash although the design is sometimes considered outdated.
A more modern option is a full-wall backsplash. When you add these backsplashes, they continue from your countertop all the way up to the ceiling or the cabinets. The backsplash may reach the floor if your countertops don't completely cover the bottom half of your kitchen walls.
4×4 Slate Tile Backsplash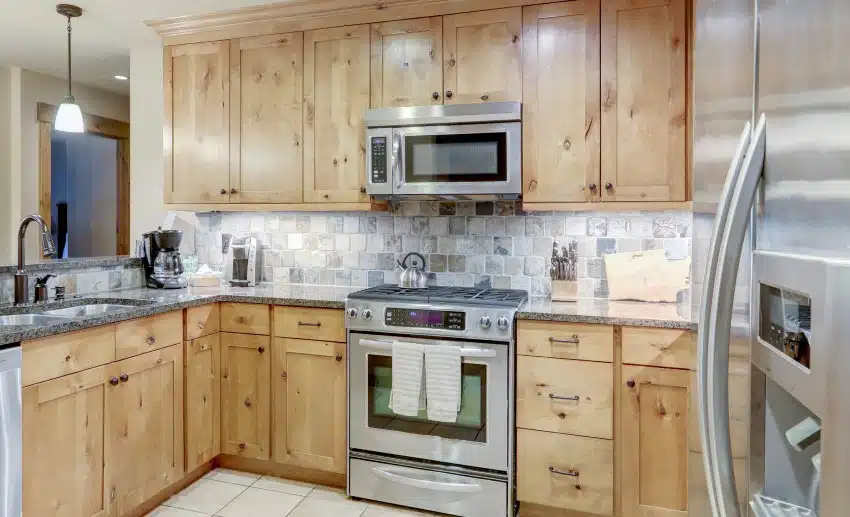 Earlier, we took a look at how slate tiles can really transform backsplash and how you can play with different shapes. For a simple, classic choice, you could choose square tiles. When you opt for square slate tiles, they're often four inches wide and four inches long or, put another way, 4×4 slate tiles.
These uniform tiles are usually set up in a uniform manner. For instance, you won't often see them offset the same way you would position rectangular tiles in a subway tile pattern. This repeated pattern fits well into a variety of decor styles thanks to its simplicity.
How To Clean Slate Kitchen Backsplash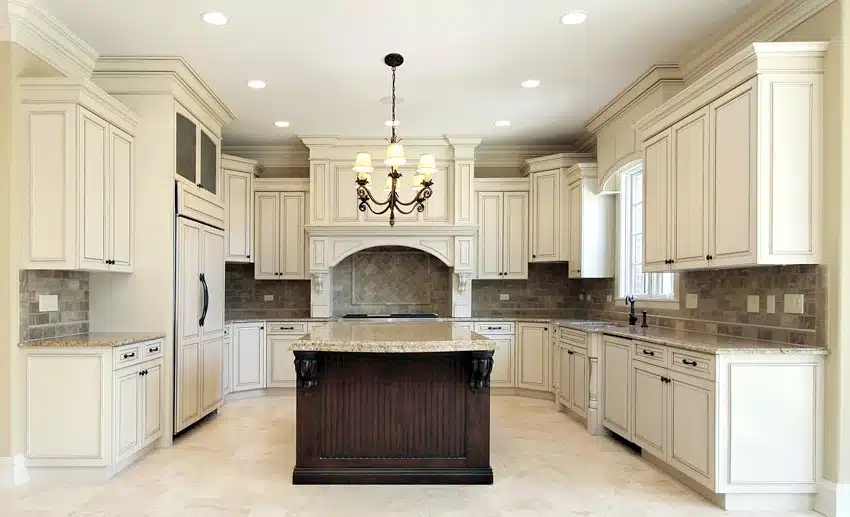 To keep your slate backsplash looking like new, you'll want to make sure you keep it clean. Remember, sealing your slate will help prevent long-term problems like stains. Luckily, cleaning a slate backsplash isn't too hard.
To start, you can use a dry cloth to wipe down the surface. This will help remove any surface debris or dust before you reach for a cleaning solution.
For your cleaning solution, you'll want to mix about two cups of warm water with a few drops of mild dish detergent. Once you've wiped your slate backsplash down with a dry rag, grab a new rag and soak it in the soapy water.
With the wet rag, wipe down your backsplash again, and then dry it with a fresh towel. You may not dry it perfectly but it will air dry overnight.
If you do run into a stain, don't lose hope yet. When you see a stain, create a solution of 50% water and 50% hydrogen peroxide in a spray bottle. Spray the mixture directly on any stains, let it sit for 10 minutes, and then come back to it and scrub it with a soft-bristled brush.
When the stain is even tougher than that, you can use hydrogen peroxide and baking soda to create a cleaning paste. Just add this paste to the stain, let it sit once again, and use a toweled dampened with warm water to wipe it away. The stain should lift right away with the paste!
Can You Paint Slate Backsplash?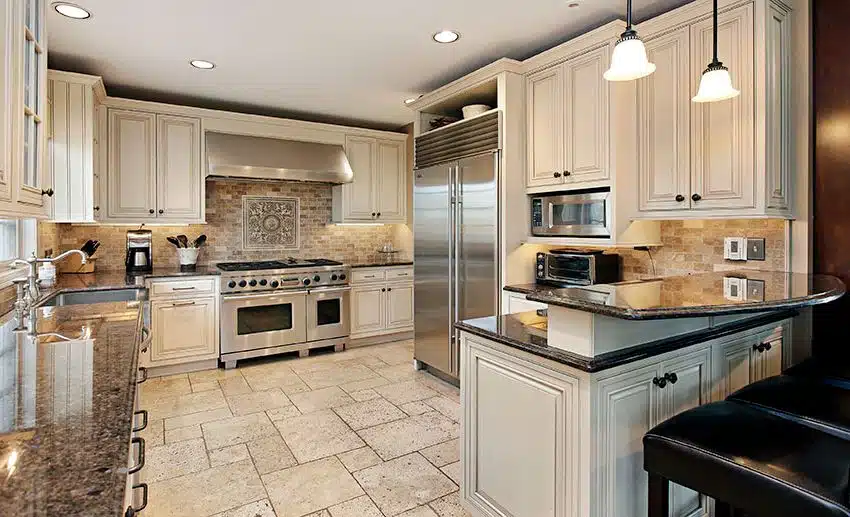 You can paint a slate backsplash but you can't just grab a paintbrush and add a coat of your favorite color. You have to take certain steps to ensure the paint will properly adhere to your backsplash.
To start with, make sure to thoroughly clean the slate. The last thing you want is to paint dust, dirt, or any other debris into place on your backsplash.
To clean it, use the methods we discussed in the last section. If there are parts you aren't painting, make sure to seal them off with painter's tape. It can help to add painter's tape where the backsplash meets the counter and the wall too.
Then, add a layer of caulk to the backsplash before adding a layer of primer. Make sure to choose a primer made for natural stone. This will help your paint adhere to the surface but let the primer dry for an hour before moving on.
Now, you're ready to add your first coat of paint to the slate. Let it dry before adding subsequent layers of paint. It can take up to 48 hours for the paint to dry once the last layer is applied.
Once it's dry, you'll want to seal it. To do this, add a layer of water-based urethane sealant. Let the sealant dry for the next hour and then add another layer. You may need to repeat this process once more.
Visit our slate countertops design guide for more kitchen interior ideas.