Here's our slate countertops design guide including popular colors, cost and kitchen & bathroom ideas.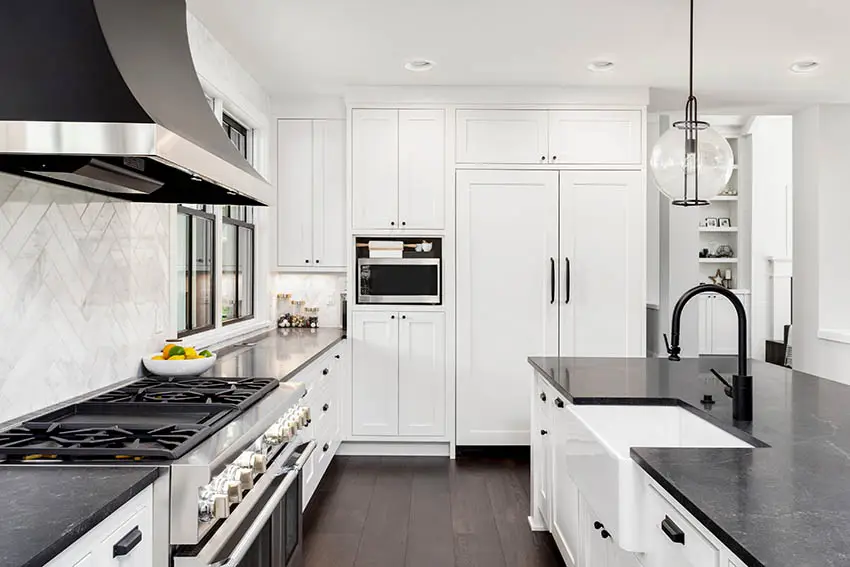 Slate countertops are a great choice in all categories; aesthetics, price, and quality. There are many locations that these countertops can be used in as well as a wide variety of colors that can be chosen.
The go to when thinking of natural countertops is commonly granite or marble. However, introducing a slate countertop can be the best thing you do for your budget as well as adding a unique statement piece to your kitchen or bathroom.
What Is Slate
Slate is a natural material that can be used for a number of applications, including kitchen countertops. Slate is similar to soapstone in its makeup and qualities.
Slate is made up of a few natural materials, such as clay and silt, etc which can vary causing different appearances as well as performance quality. This stone is created over millions of years of pressure and temperature changes to create a distinctive appearance.
The performance quality is based on the grade (high, medium, low), this typically correlates with the price range. Higher grade slate can be extremely durable, non absorbent, stain resistant, and not easily scratched.
Turn around to the lower grades and they can be the exact opposite; weak, porous, easily stained and easily cracked. When looking to use slate for countertops the higher grades that can be sealed are used. Slate comes in a variety of colors and natural patterns.
Where to Use Slate Stone Countertops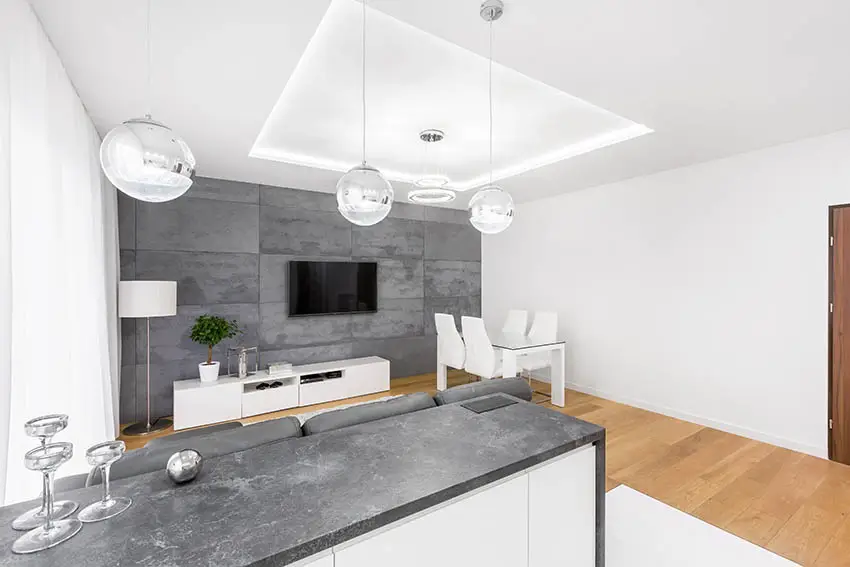 Slate countertops can be used in a number of places. Kitchen countertops and bathroom countertops can become home to the beautiful slate countertops of your choosing.
Slate countertops can also be used at exterior bars and counters as well as other islands or residential applications. The use of slate countertops is extremely versatile and can raise the value of a home when used.
In places with more water present it is important to go with a higher grade so that the surface is non absorbent and will not be ruined by any spilling. This is common in both kitchens and bathrooms. Each is described in more detail below.
Slate Kitchen Countertops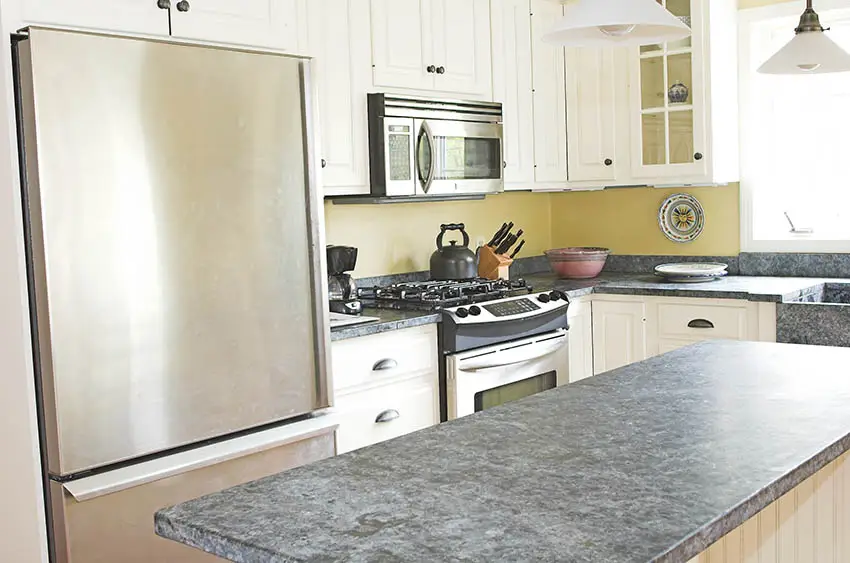 Slate is a fantastic choice for a natural material for kitchen countertops. Slate ranks up there with marble and granite, while being almost half the cost.
Though slate is less than its other natural stones, it does still cost more than man made materials such as laminate or solid surface.
Slate can be pretty uniform giving a clean look to the space while giving a nice unique appearance. High quality slate offers a great amount of durability that is needed for a high use area such as a kitchen.
Slate kitchen countertops can resist heat from pots and pans, moisture from spills, and stains from food or liquids.
Slate Bathroom Countertops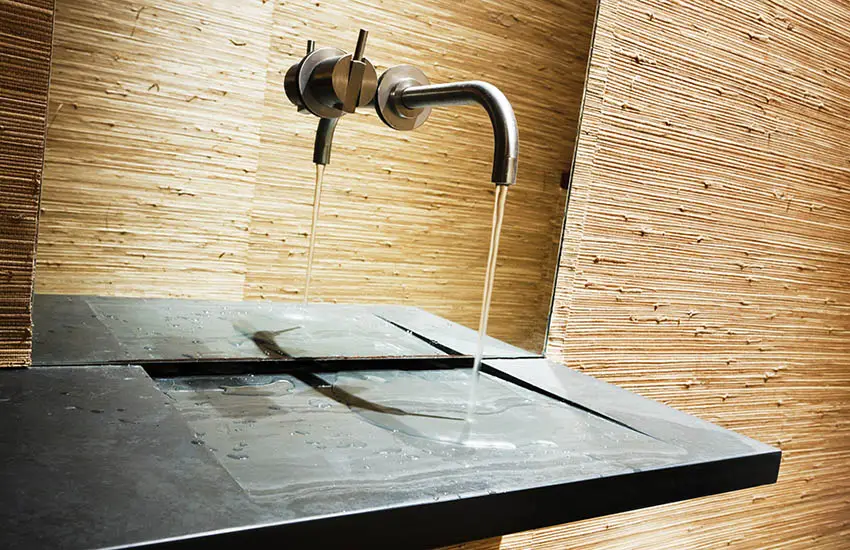 Slate countertops can be and commonly are used in bathrooms as the vanity top. This is a great choice, if the right grade is selected.
Slate can be resistant to any heat from curling or flat irons that may be used for bathroom countertops. Additionally the proper slate can withstand the water from the sink as well as any makeup or soap stains that may try to ruin your surface.
Though the surface is easy to clean, there is a great deal of maintenance that comes with keeping up a natural material such as slate. Keep that in mind when selecting slate.
Slate Slab Countertop Colors
Choosing the color of your slate slabs can not only effect the appearance of the countertops, but also the cleaning requirements as well as the price.
Typically the darker the color the higher the price of the material, as it effects the strength and quality of the stone.
Making this selection carefully can make sure you get the right slate color countertop the first time. Below are a few of the most common slate countertop colors.
Black Slate Counters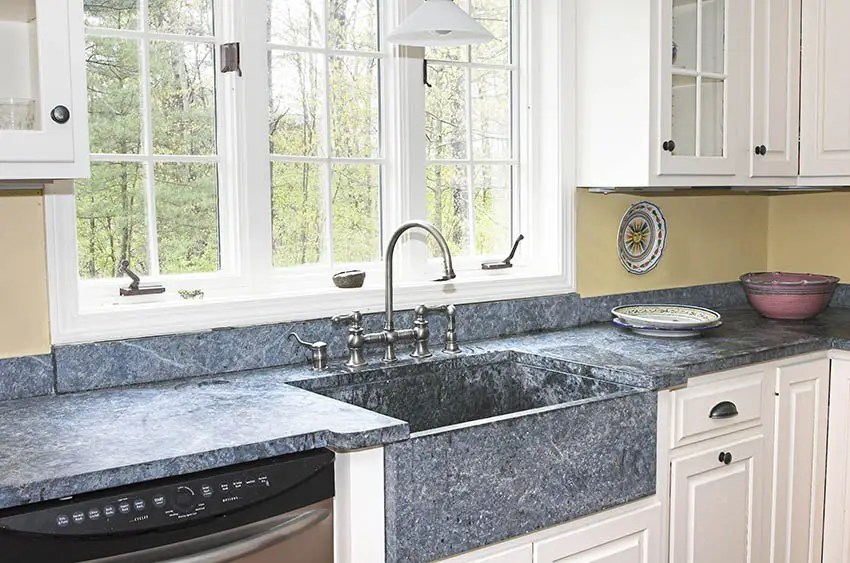 Black slate is also known as chalkboard slate. This is because if it is not finished it can be used just like a chalkboard is.
Black slate is on the higher price range than some of the other colors of slate. Black slate in particular is striking and beautiful, but can show imperfections and stains more than some of the other colors, especially if it is unpolished.
This being said, the black slate is extremely durable and can be used in a great deal of settings.
Gray Slate Colored Countertops
Gray slate countertops are on the lower to middle section of the price range. Gray slate is commonly dark in color with some marbling in appearance.
This is where we get the term 'slate gray' when it comes to determining shades of gray. With the darker color gray slate has good durability and strength.
Gray slate is one of the most frequently used pieces of slate for countertops. Similar to the black slate, gray slate is also prone to showing staining and fingerprints.
White Slate Material Countertop
There really is no true white slate countertops. What could be considered a white slate is typically not purely white, but instead is marbled or speckled with some of the grays or blacks to give a more visually intriguing design.
White slate countertops are susceptible to stains and visible dirt due to its light color. These countertops are a similar price range as the gray slate countertops, middle to lower.
Other Slate Color Varieties for Countertops
While we covered the most popular, more neutral colors, there are a variety of colors that can be selected from.
As the stone is natural though, there is a limit to the colors that are available since they are by definition part of nature. Some of the rarer and more unique colors are as follows:
Green, purple or red: These are rarer colors found in Vermont, and are highly priced due to the strength, visual appeal, and rarity. These colors are absolutely stunning in appearance and are very limited, therefore used in only the most elaborate of projects.
Gray-blue: Basalt is a blue gray color that can have a lot of variety in it. Basalt color slate is a middle to lower price point as well as quality level.
Blue: Blue Slate has more of a drastic blue color than basalt, and can come in a variety of different colors of blue. Blue slate is a middle to lower quality level and a price range.
Browns and greens: Brown and green slate is typically from regions such as Colorado. Rustic Slate and African Slate in particular offer a warmer selection of colors.
These colors are on the middle to higher price range as they are rarer and more unique even though the quality is not as top of the line as some of its competitor colors.
Slate Installation Costs for Countertops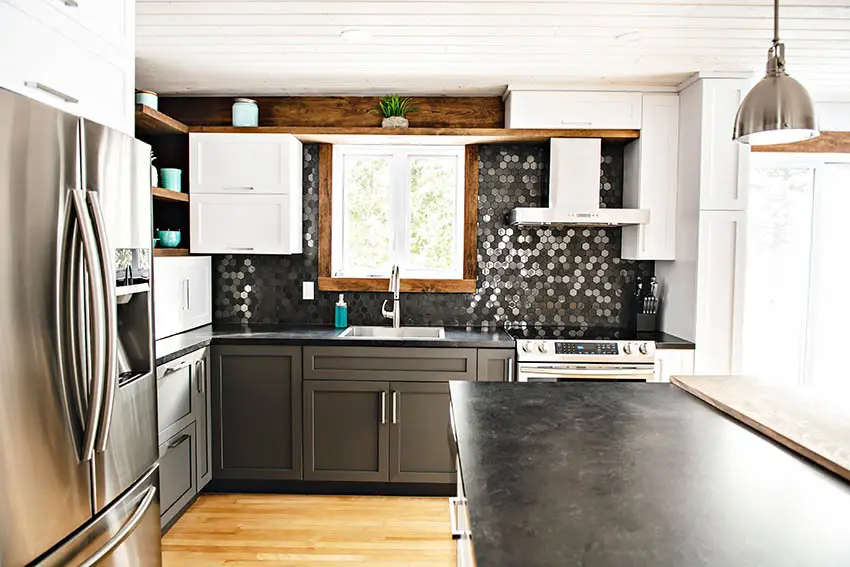 When it comes to replacing countertops, price is a big factor. You need to keep in mind the price of both materials and installation to get an accurate price for the countertops.
How Much Does a Slab of Slate Cost?
Slate slabs in particular costs about $75 to $200 per square foot installed. Typically a kitchen countertop is about 20 square feet in total; sometimes they are broken up into sections based on the locations of appliances. If the slabs are broken up into smaller pieces they can be on the lower end of the price range.
On average for a slate slab kitchen countertop one can expect the price to be around $1500 to $2500 depending on the design.
When looking at slab countertops for bathrooms, those will have significantly less square footage dropping the price down significantly. These are commonly around 10 square feet, running about $1000 to $2000 total depending on the quality. This can change based on sink locations and bathroom size.
Which is Cheaper, Slate or Granite?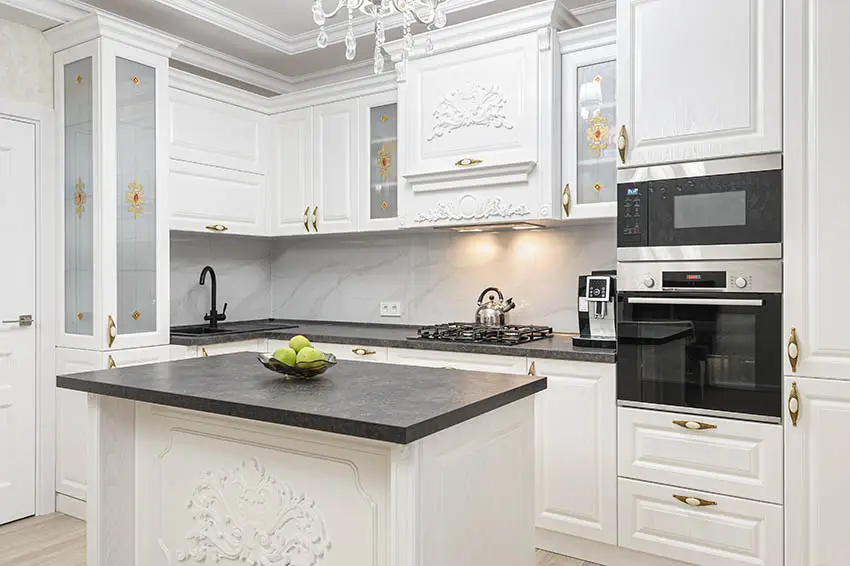 Slate is cheaper than granite. Slate is a great way to keep a beautiful unique countertop with about half the cost.
A fully installed granite countertop could cost upwards of $4000 versus the mentioned $2000 for a slate slab countertop.
Both granite and marble are extravagant pieces of natural stone, but when it comes to price, slate takes the cake.
Slate offers similar qualities as both marble, quartz and granite.You can find black granite, quartz and marble that looks similar to slate.
With the lower initial cost as well as the high quality material slate offers the best return on investment (resale value) to the home when it needs to be sold.
Where to Buy Countertops Made of Slate
Slate countertops can be bought at a number of places. The easiest place to get slate slabs is at your favorite local home improvement store.
To make it even easier you could even buy them online from the home improvement store, where you could set up delivery, installation, etc.
These stores tend to have stock items though, and while they can do custom items, there are still limitations on what they have and can get.
Another way to buy slate countertops, especially when it is part of a larger project is to buy it from remodeling stores and contractors which also have online options. Start by asking questions at any of these stores and they will send you in the right direction.
For more related content visit our gallery of soapstone countertops.