Here's a gorgeous modern ranch house plan with 3 bedrooms, 3 bathrooms, 3 car garage and open concept living room & kitchen.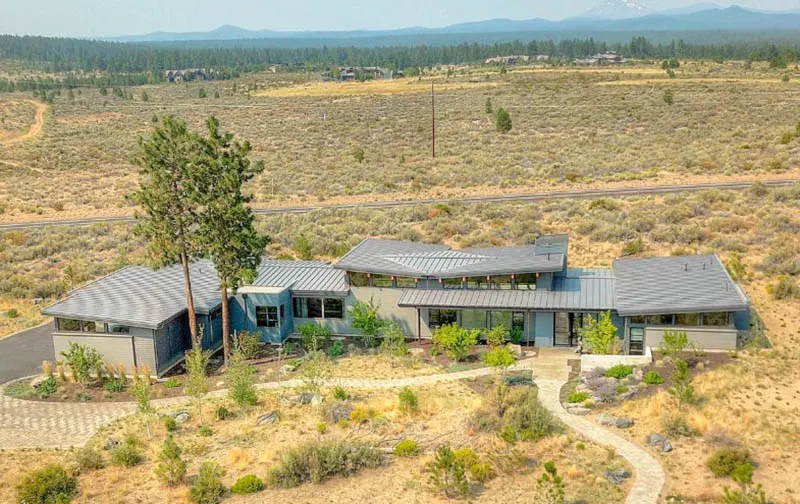 The convenience of having everything on the same floor is what makes the ranch house design a winning choice for home seekers.
In addition, the flowing and wide plan that opens to a spacious patio and an architecture that blends into its surrounding are other reasons why this ranch house is a must-have home.
Flip this rambling traditional style with the contemporary concepts and you get a fresh, practical, and striking design that's a spot-on modern home for today's family living.
Let's take a tour and know more about how the modern hospitality a modern ranch house plan can offer.
Mountain Ranch House Design Features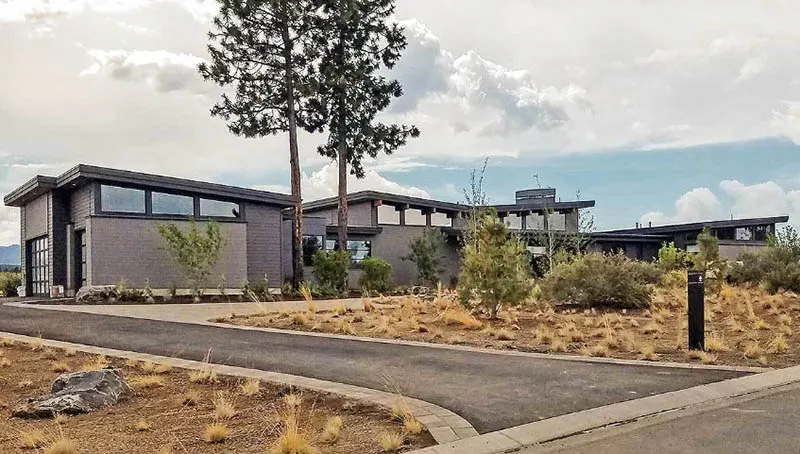 A fusion of cozy and clean, this modern ranch house plan gives you 3 bedrooms, 3 bathrooms, a 3-car garage, and a dedicated master suite set for privacy and optimum comfort. Complete with a kitchen surrounded by built-in furnishings and kitchen cabinets.
In total, you got 3,586 square feet of gorgeous, heated flooring that's worth every dime.
Mountain Ranch House Exterior
Designed to blend with nature, you'll notice the low-pitched roof with ample windows allow natural light to seep through the rooms within.
You'll appreciate the modern architecture, where instead of using stark cold cladding hues, has achieved a homey feel with the organic colors used, not too imposing yet noticeable with its gorgeous layered textured walls.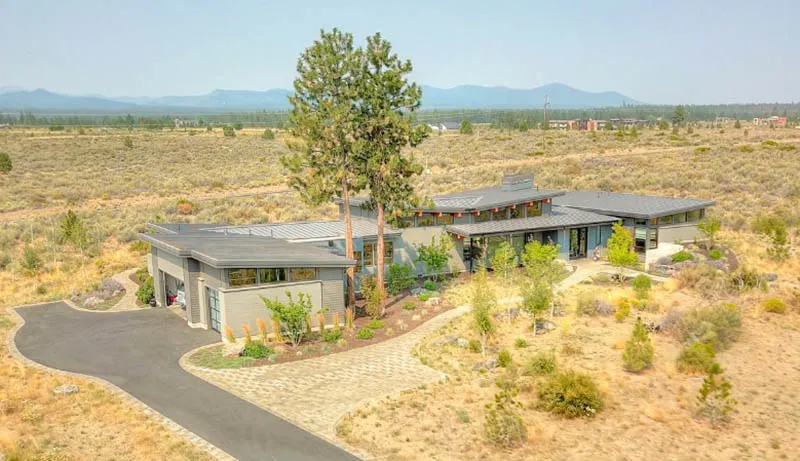 The sprawling design stretches in a lengthwise manner to allow the interior spaces to have access to the natural views, light, and ventilation, maximizing the full potential of your outdoors. A potential to sprinkle or shroud your surrounding property with lush greens or flowering gardens.
Mountain Ranch House Floor Plan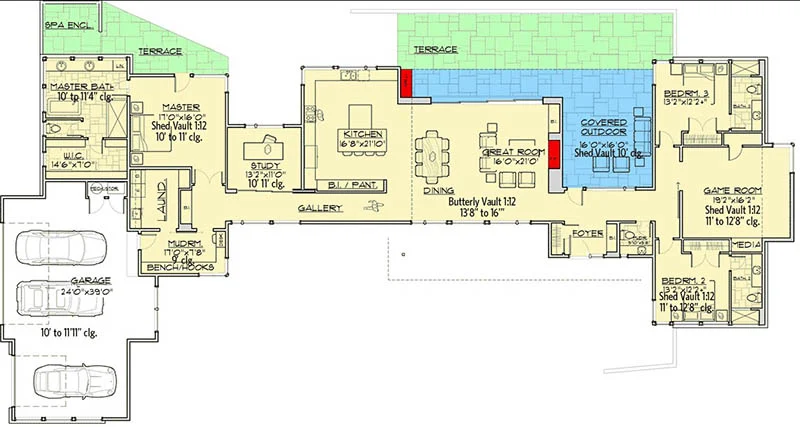 Mountain ranch house plan #54231HU – See this plan here
This modern ranch house plan has a simple and spacious configuration where you can access rooms with ease while clearly defining the private and public areas.
As you enter through the foyer you are greeted with an inviting covered outdoor patio pocketed to provide a semi-private lounge area, that's also accessible through the great room.
With a smooth flow of public areas, you'll see the dining area, kitchen, and great room enjoying one large open space. The upscale kitchen is huge, providing plentiful counter and storage space which makes it possible to entertain a good number of guests at one go.
Continuing through the gallery, you'll pass by a dedicated study area conveniently just a few steps away from a private master suite.
The excellent privacy of the master bedroom that has its walk-in-closet accessible through the built-in master toilet and bath, means you'll get full privacy and convenience.
Of course, a powder room is just beside our foyer, that's easily reachable from both indoor and outdoor public spaces. Another great thing being the master of the house is that you get a spa enclosure located at the backend of your private terrace.
The gallery or hallway leads to a spacious laundry and mudroom space as well, which can get you through the 3-car garage with ease. The strategic plan, allows you to get from your car straight to your master suite unannounced which can come in handy if you've don't want to create a fuss on your arrival.
Like traditional ranch houses, the overall plan is spacious, with ease of movement and easy access to amenities.
Mountain Ranch House Interior Design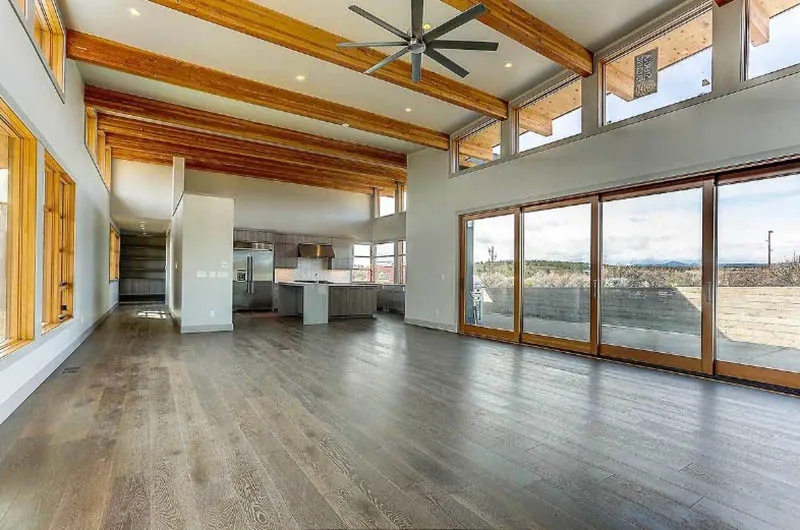 The architecture inside is as amazing as its exterior where you are welcomed by the vast and light-filled space. Thanks to the wide windows and clerestories plus four-panel sliding glass doors that open through the outdoor living. The flexible space means you can host family gatherings, parties and so much more.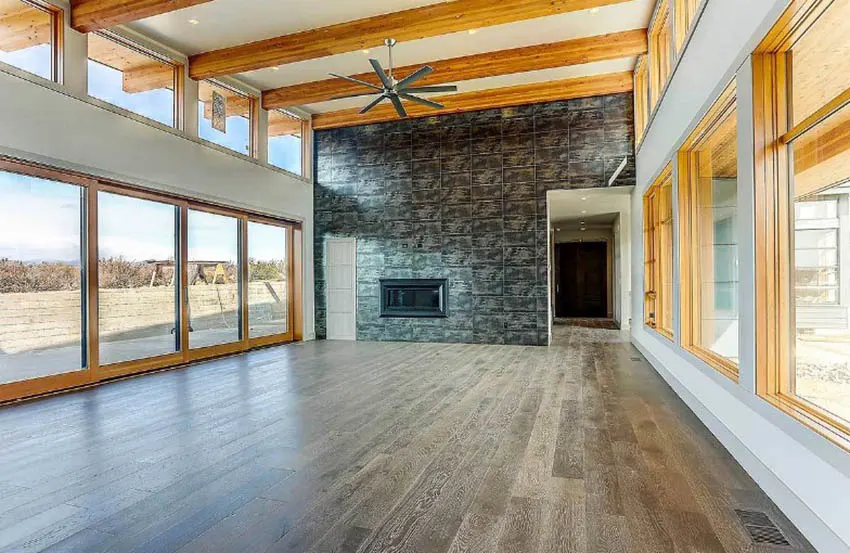 Exposed timber trusses, wood plank flooring, earth-colored tiles and even window frames that match the warm colors make the room look warm and cozy even with such a large space.
Among the desirable features of this modern ranch house, the breath-taking living area is undeniably the main attraction.
Dream Kitchen Design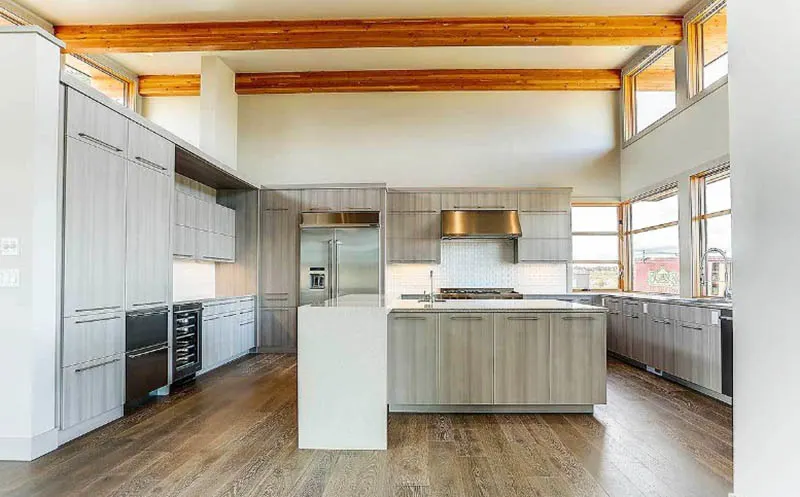 This is a dream kitchen where its spaciousness is not put to waste as you'll enjoy a lot of storage space and strategically located built-in appliances.
You'll also love the waterfall counter conveniently merged with a large center island, just the perfect breakfast hub for the kids and grownups too.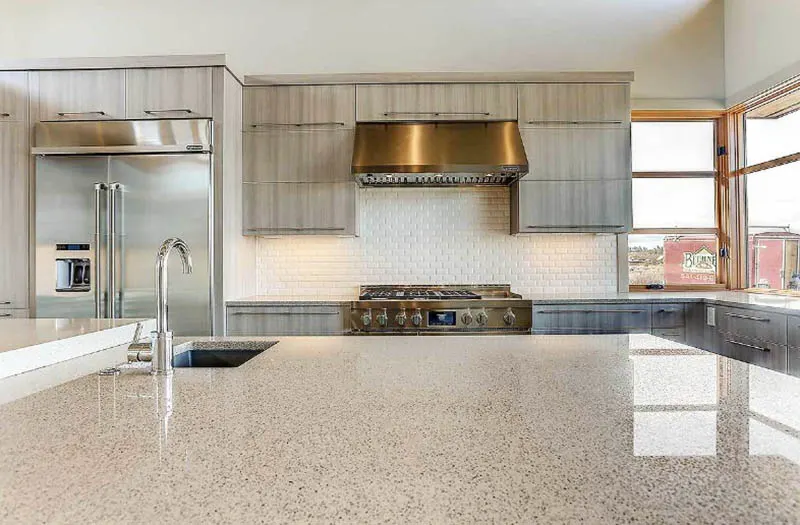 The large quartz kitchen island features a built-in sink and oven under the countertop. Above the stovetop one finds white mini brick backsplash and plenty of cabinet storage.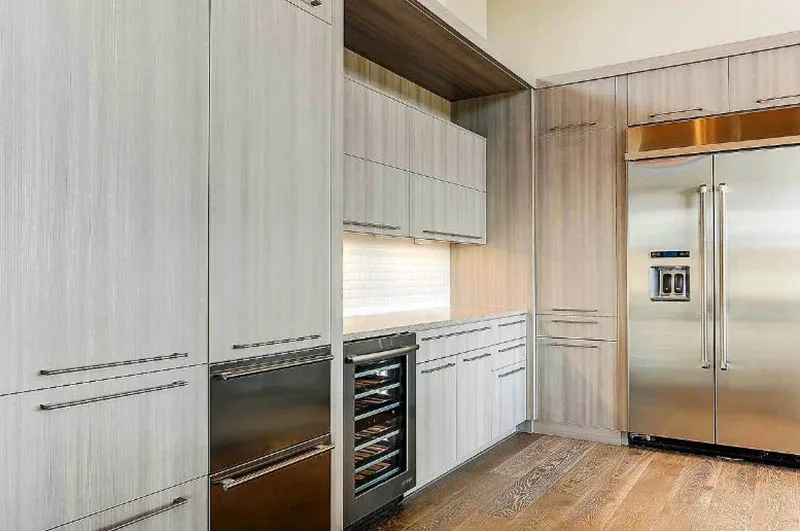 The high custom kitchen cabinets feature a built-in freezer and wine refrigerator.
Study Room / Home Office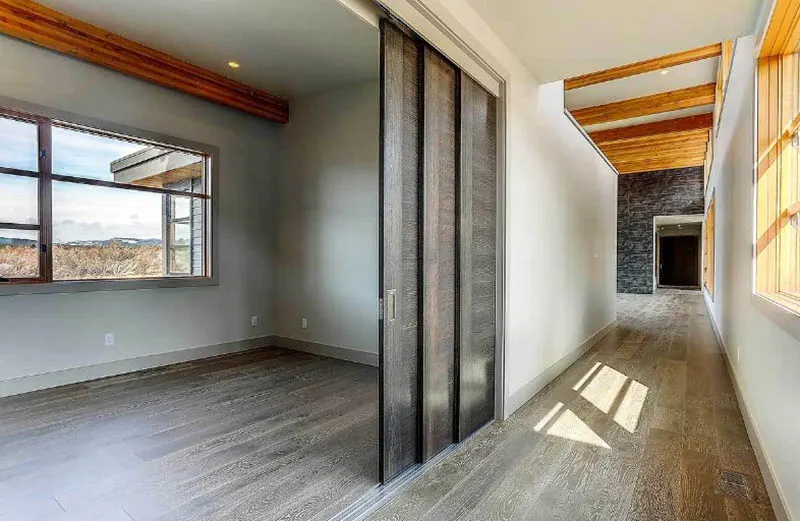 One of the more practical rooms today is to have an extra room for an office or study area. This modern ranch house plan offers just the right-sized private workspace conveniently accessed either straight from the foyer or from the garage.
It is just a few feet away from the master bedroom, making it easier to sneak off to bed after a long day's work.
We are loving the multi-sliding door and just like those in the living area, it slides easily to open up the space when needed.
Mountain Ranch House Bedroom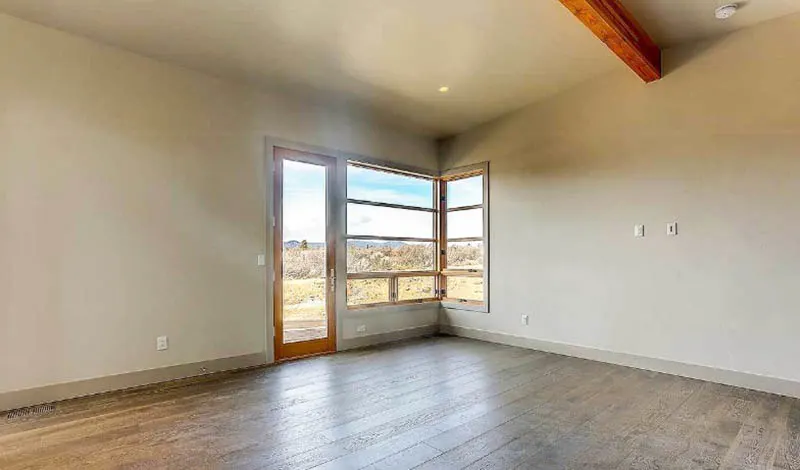 The right and wide bedrooms get a slice of outdoor views courtesy of the corner windows that open up the enclosure. The great thing about the bedroom is that it has that squarish plan which allows better flexibility in arranging your furniture.
Every bedroom has its own full bath and the en-suite bathroom for the master's is an absolute treat. Overall has the same earthen materials and a bright atmosphere as the rest of the rooms.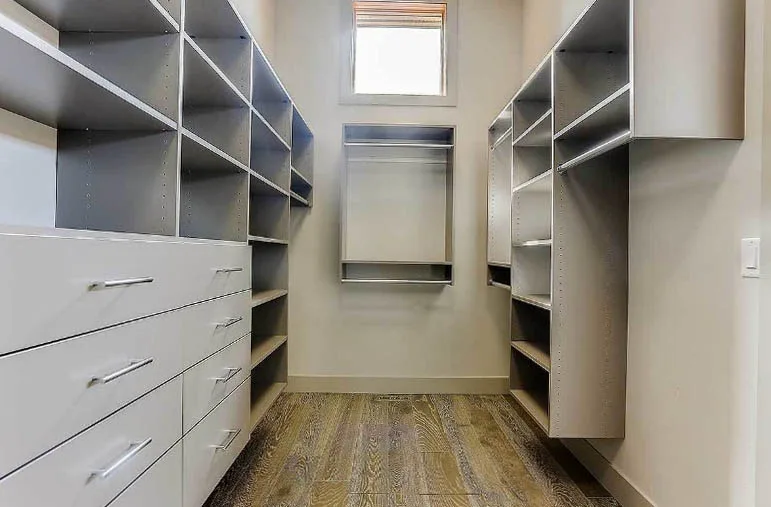 The walk-in closet is so spacious it's a room within a room and can house a large wardrobe on each side.
Bathroom Designs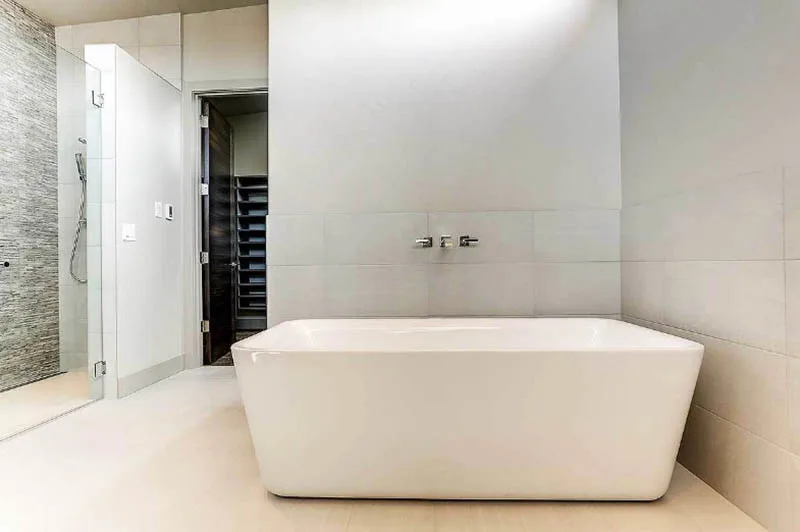 Clean and simple. All the bathrooms have an enclosed shower, the only difference is that the master bedroom includes an inviting bath tub for two.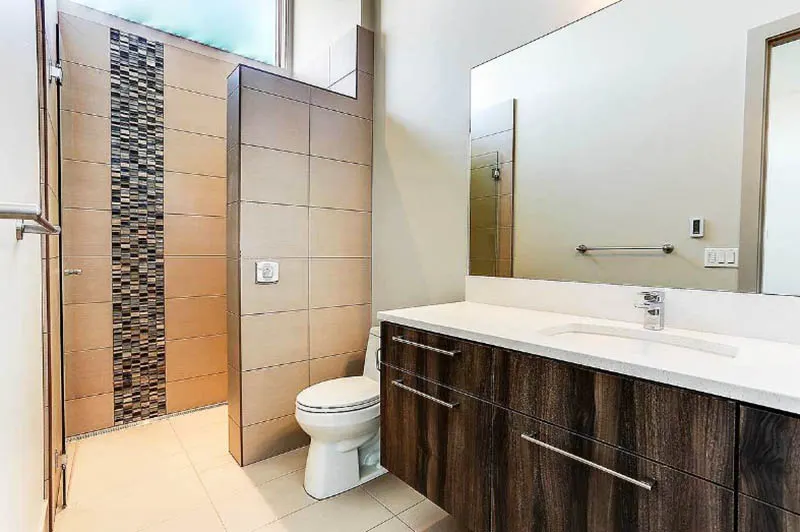 The bathrooms have a straightforward layout with an ample access to the natural light and ventilation, much-needed in a damp environment. While the layered materials such as a feature wall on showers and claddings add warmth to the space.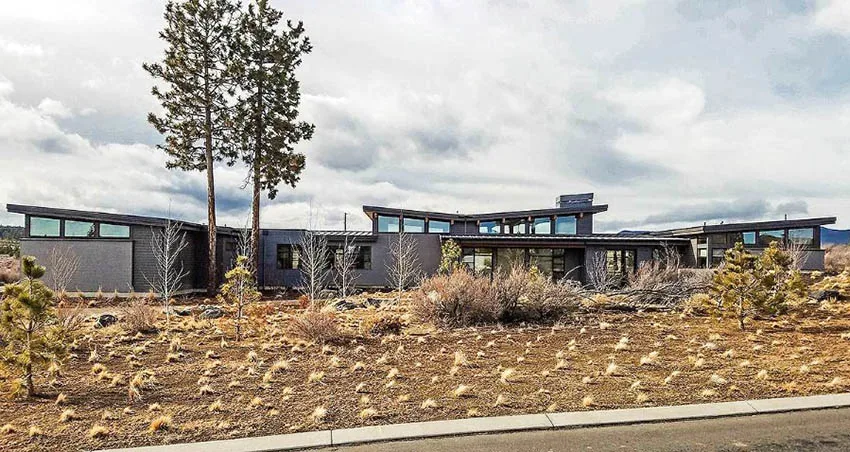 Looking good on all four sides, this modern ranch is designed to have a low profile allowing it to blend with its surrounding terrain.
A silhouette like a picturesque mountain range, you'll love the contemporary design with a touch of the Prairie style, simple craftsmanship that takes into account its natural environment.

Mountain ranch house plan #54231HU – Buy this plan here
Ranch houses are the most popular design style for residential properties in the U.S. and the number of homeowners who want the 1920's architectural style is continuing to rise.