Find out all about this modern farmhouse plan with studio apartment design including details on the main floor layout, 2nd floor, family room, kitchen, and dining spaces.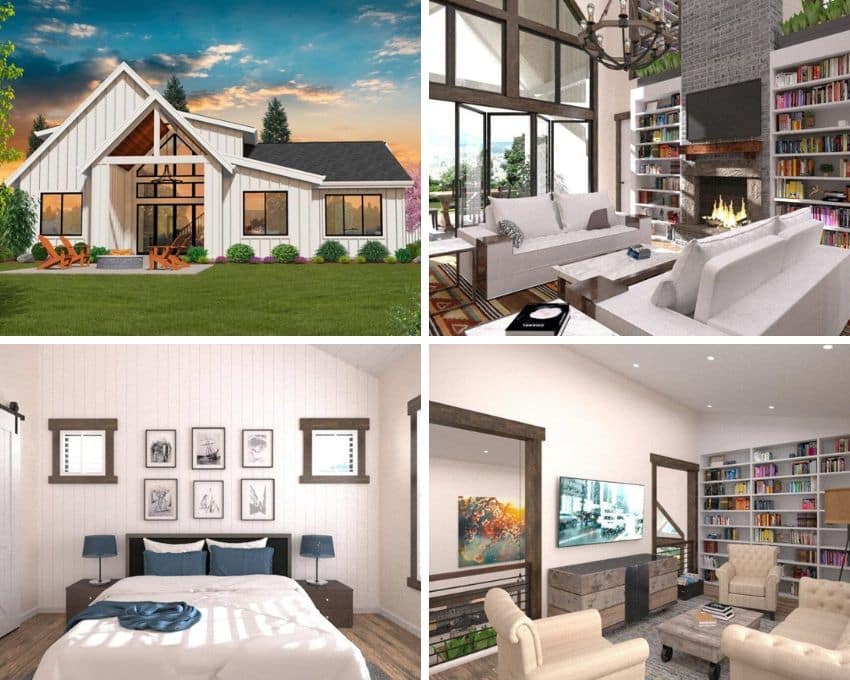 Sometimes you need plenty of space but you still want to make sure everyone has their privacy. Plan 85398MS is a modern farmhouse plan with an attached studio apartment.
This is a great way to have your family home and keep a separate space for an older parent, another family member, or even a roommate or tenant to have their own private space. On top of that, both of these spaces are cleverly designed to meet the needs of the occupants.
Modern Farmhouse Plan Main Floor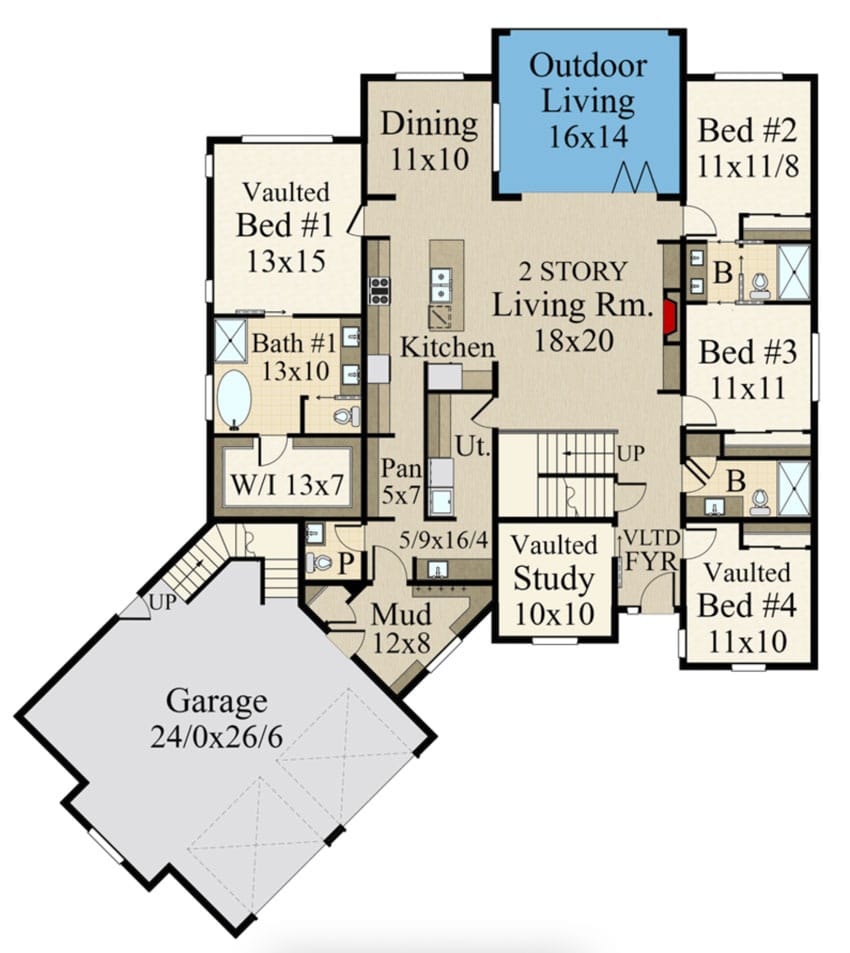 See this modern farmhouse with studio apartment floor plan on this page link.
The main floor of this modern farmhouse layout is spacious and gives you plenty of room for a family. When you first walk into it, you're greeted by a high-ceiling foyer.
An immediate left takes you into a study space but walking straight ahead leads you to the 18-foot by 20-foot living room space.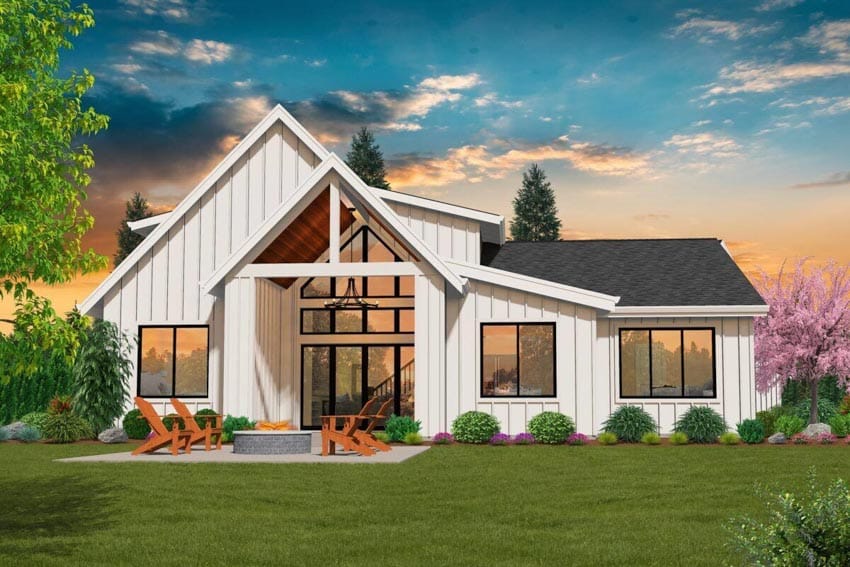 The kitchen is open to the living room, making it easy to entertain in this space and even easier to transition from one space into another. Once you're done cooking, there's a dedicated dining space nearby with space to serve.
The main floor of this modern farmhouse house plan also includes four bedrooms, four bathrooms, and a mud room for extra space as well.
Modern Farmhouse Plan 2nd Floor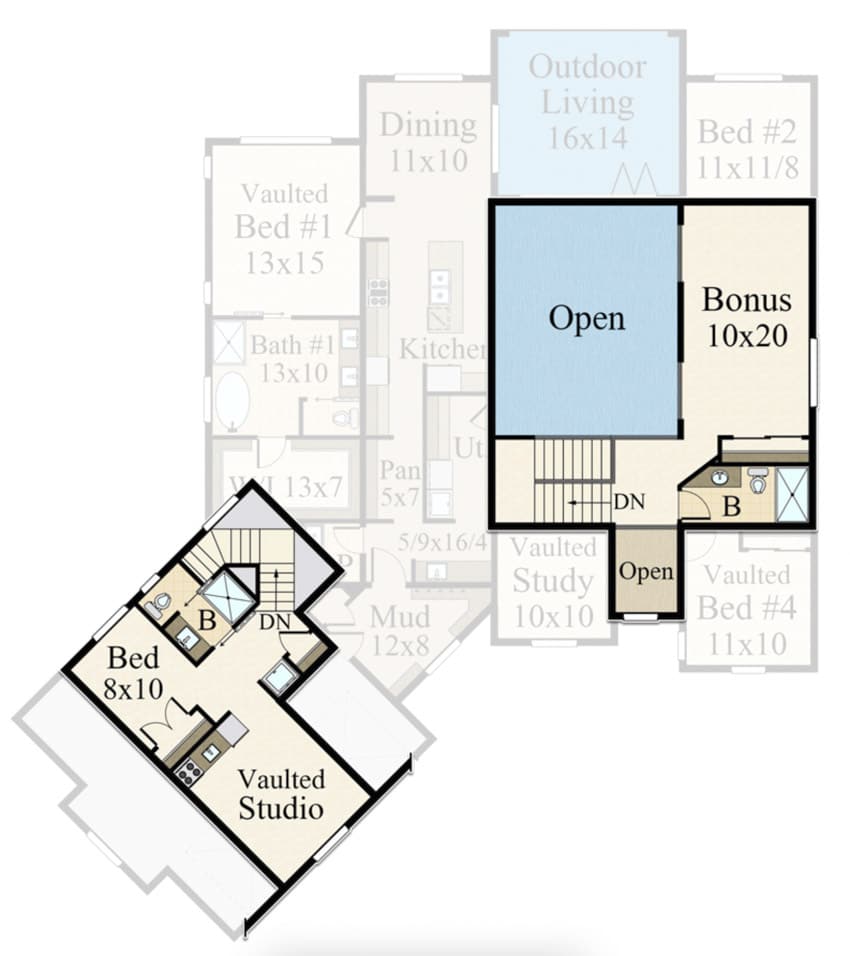 The second floor of Plan 85398MS is made up of two sections. The section connected to the main house is a loft space. This loft space is over the kitchen and dining area, meaning that the living room, foyer, and study all have a vaulted ceiling, thanks to the way this area is designed.
The space in the loft has another bathroom and a bonus room that measures 10 feet by 20 feet. This can offer you additional office space, an extra bedroom, an entertainment room, a hobby room, or anything else your heart desires.
The other section of the 2nd plan of the floor is above the garage. This is the studio apartment space.
Modern Farmhouse Studio Apartment Space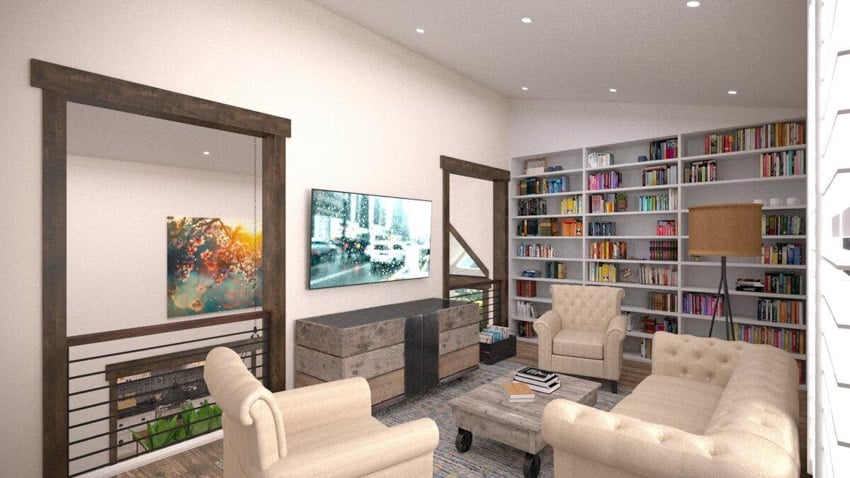 The studio apartment space is on the second floor of the house plan. However, since it's over the garage, it's completely separated from the rest of the farmhouse plan. This offers the occupants of both spaces additional privacy.
Once you walk into the studio apartment space, there are three primary areas. The stairs lead into a shared kitchen and living space. While open to the rest of the studio, there's a nook designed to neatly hold a bed.
Of course, the apartment also includes a bathroom just off from the main space and a "bedroom." This gives someone all the amenities and space, especially when one needs to learn how to set up a studio apartment.
Family Room Space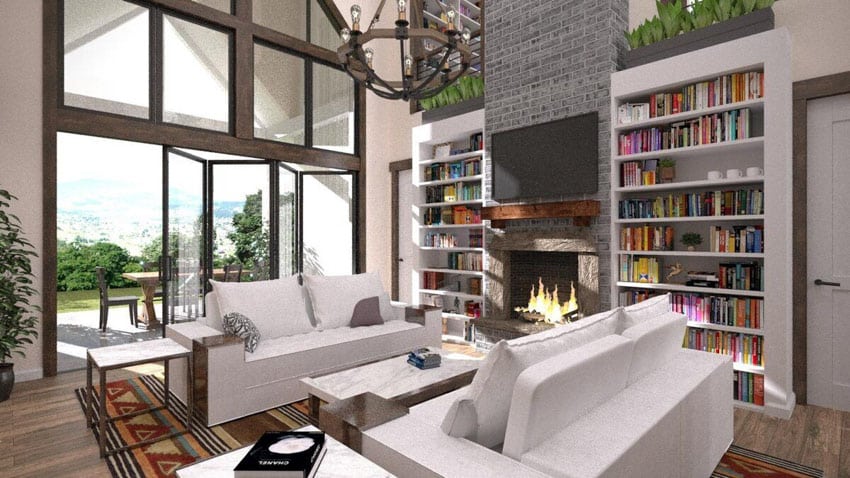 The family room of this plan is 18 feet by 20 feet, making it easy to entertain here or just relax at the end of a long day. If you want to keep the entertainment flowing but need a bit of the great outdoors, you can walk out of the living room right into a 16-foot by 14-foot outdoor living space.
Kitchen And Dining Areas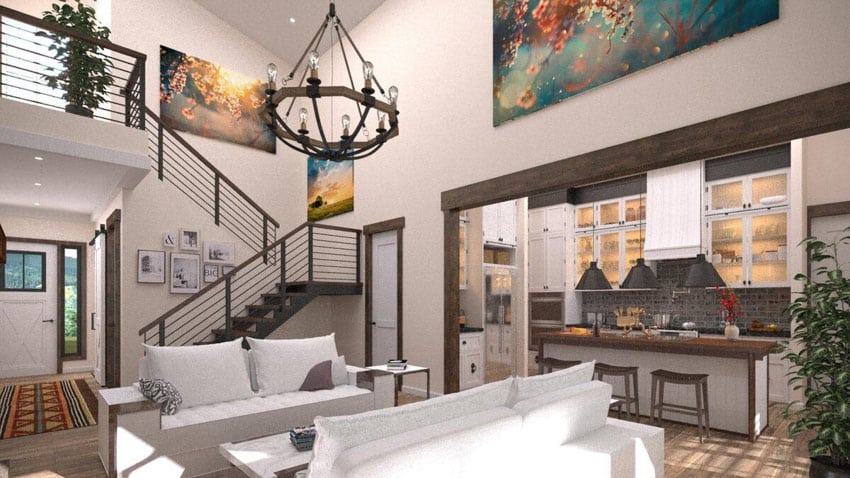 In this floor plan, the kitchen is open to the living room. This makes it easy to entertain and welcome others in the kitchen.
On top of that, the kitchen itself, which uses a modern farmhouse design, is rather spacious and comes with a central island, it's practically designed to share your love of cooking with others. Plus, this island is the perfect size to use as a bar if you'd like to as well.
The kitchen island has become an esstional for any kitchen with enough floor space to support one. – Kitchen Ideas You Can Use, Updated Edition: The Latest Styles, Appliances, Features and Tips for Renovating Your Kitchen, Chris Peterson
The kitchen design offers plenty of storage space as well as ample cabinet space both above and below the counter space. In addition, there's a pantry space off the kitchen that measures about five feet by seven feet.
Bedrooms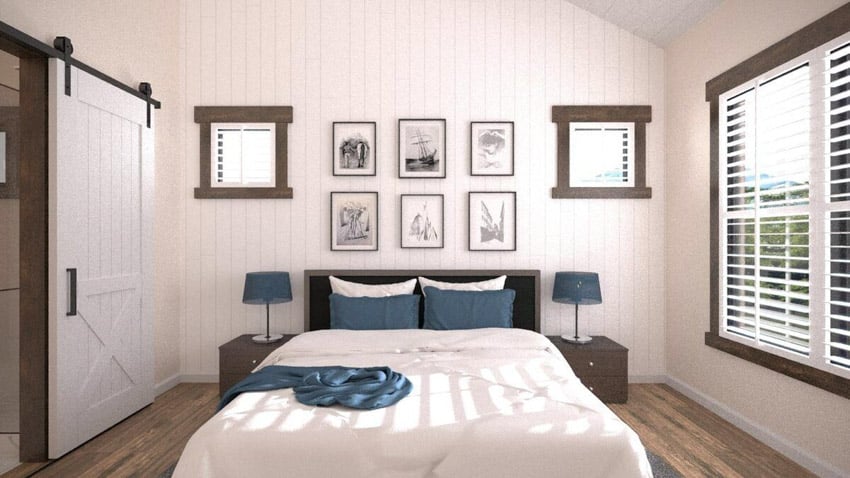 The main floor of the plan features a total of four bedrooms, two of which boast vaulted ceilings. The primary bedroom sits off the dining space and is one of the rooms to feature a vaulted ceiling design.
In total, it's 13 feet by 15 feet and leads right into its own full bathroom which is a spacious 13 feet by 10 feet. It features a double sink as well as a separate tub and shower.
On the other side of the bathroom, the primary bedroom also has a walk-in closet that measures 13 feet by 7 feet. This gives you plenty of room to house your belongings without having to worry about running out of space.
Bathrooms
When it comes to essentials, you have to make sure that you have enough in your home. In total, this plan has five and a half baths. One of these bathrooms is the full bathroom in the studio apartment in the garage. In the house itself, there are four and a half more.
You'll see the half-bath as you come in from the mud room, right off of the kitchen. Another bathroom is upstairs next to the flex space in the loft and another bathroom is off the entryway into the living space.
The others are shared between the bedrooms. The primary bedroom has the biggest bathroom while bedrooms two and three share a jack-and-jill style bathroom.
Garage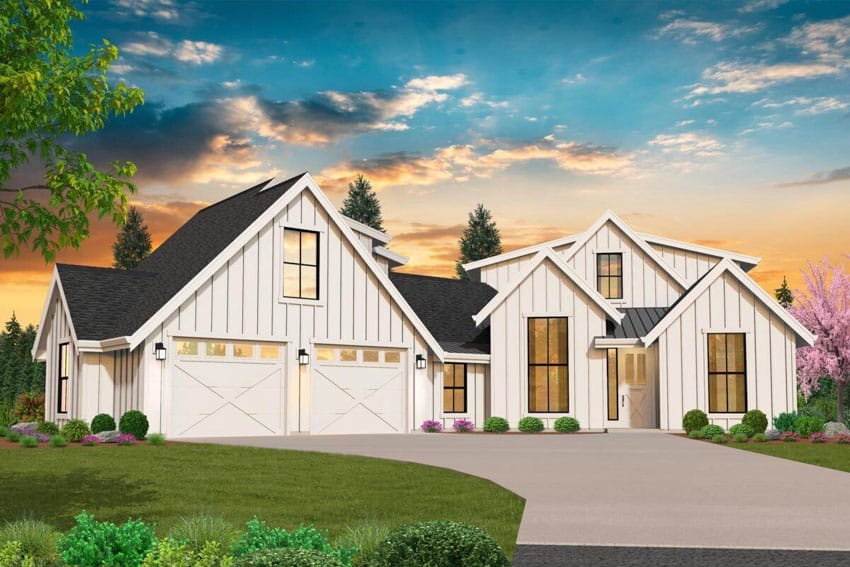 Get more details about this modern farmhouse with studio apartment design plan – at this link.
This modern farmhouse plan with a studio apartment comes with an attached garage so you can keep your vehicles safe from the weather and any other belongings you keep in there safe and sound.
Since the garage is attached, you don't even have to brave the weather from the time you exit your car until you run upstairs to the studio apartment or into the mudroom of the main floor.
The garage measures 24 feet by 26 feet and 6 inches. This makes it a spacious choice for two-car types of garages. All in all, this plan offers a lot of storage space both in the living area and the garage.
Loft Space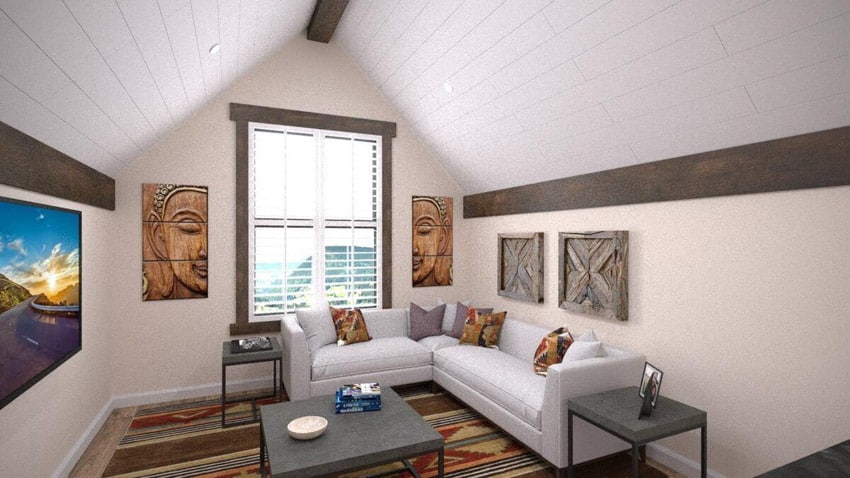 The loft space features a full bathroom and a flexible space you can use for almost anything. Since it's open to the space below, it's not necessarily as private as some of the other bedroom spaces.
However, you can still benefit from using the space in a variety of ways. Maybe you want an extra living space, a playroom for the kids, an entertainment room, or just somewhere to work on your latest hobbies.
This bonus space is 10 feet by 20 feet, so there's plenty of room to adapt the space as you need it over the years.
See more related content in our article about farmhouse vs modern farmhouse designs on this page.