This beautiful barndominium house plan with wrap around porch includes different floor plan layout features, an open-plan kitchen, and living space.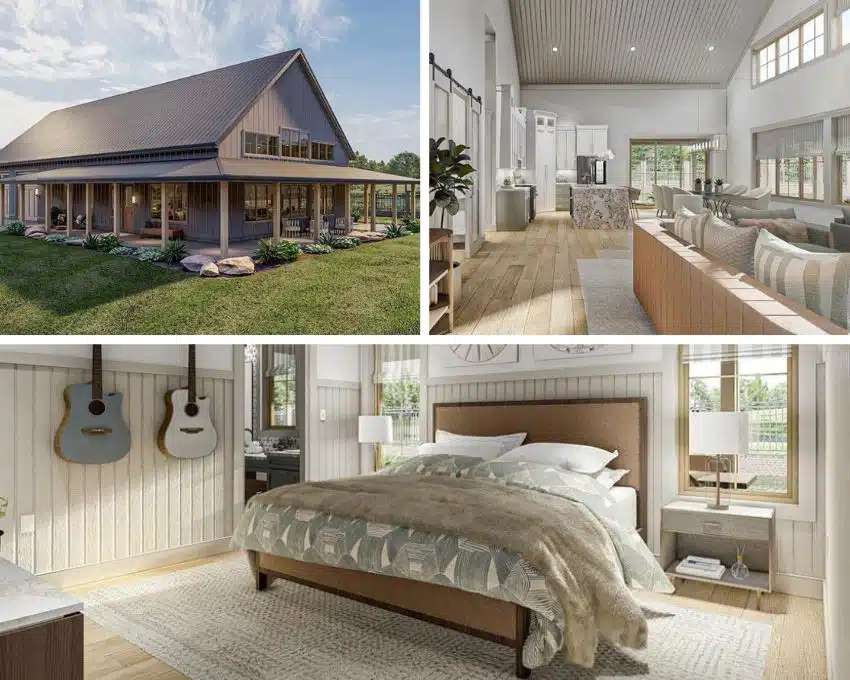 From the outside, this Barnominium house plan with a wrap-around porch looks minimalistic and beautiful. This stylish home plan is made to be simple to build and the space uses its 2,113 heated square feet of space to offer plenty of comfort to you and your family. Plus, the wrap-around porch really takes advantage of the outdoor space this plan has to offer.
Floor Plan Layout Features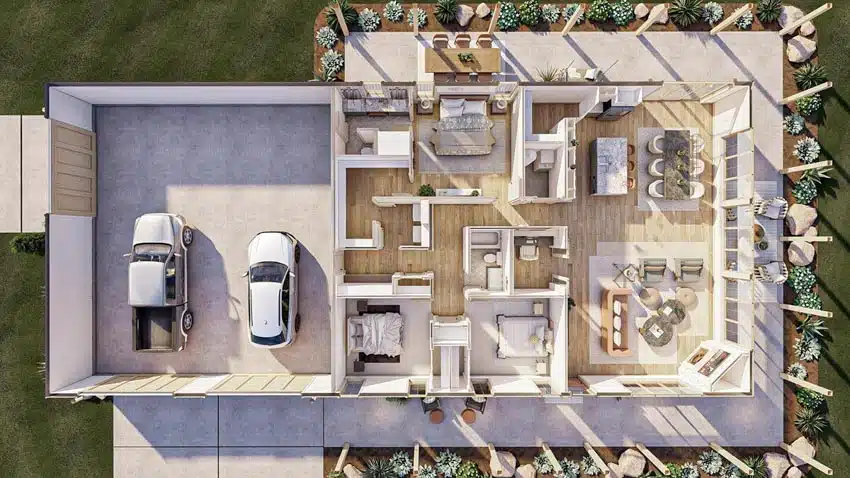 See this barndominium house plan with wrap-around porch floor plan at this link.
This plan looks efficient as you walk up to it and that's no deception. Once you walk inside, there's a lot of space here and it's used wisely. Before you walk in, you'll notice the beautiful wrap-around porch. This gives you plenty of space in this plan to enjoy the scenery and the weather outside in style.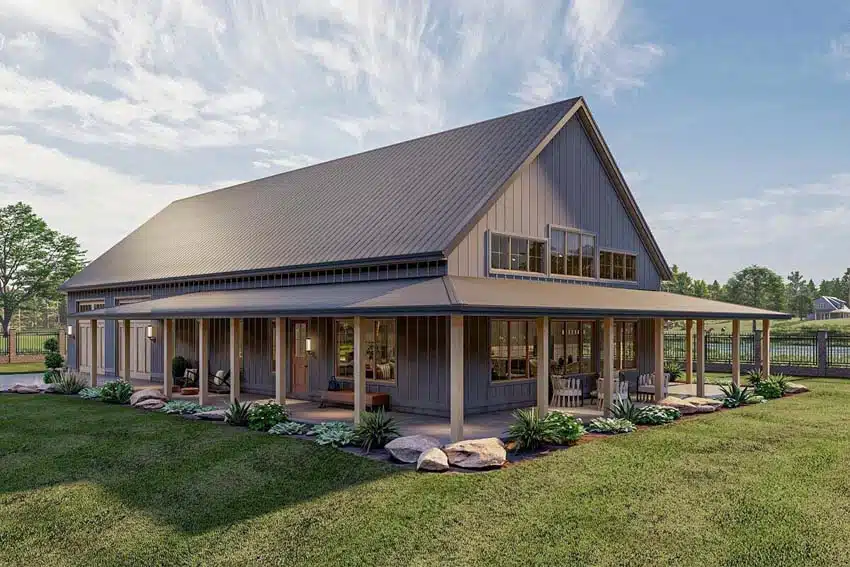 Walking into the house's main entrance, you'll come into an open-plan entertaining and relaxing area. This includes the main living space, dining space, and kitchen areas. This way, you can still entertain your guests while they spend time in the living areas.
On a calmer night, you can just fix your dinner without worrying about stepping away from the living space you were spending time with your family in.
As you walk through the rooms moving toward the back of the house, you'll find an office space as well as a total of three bedrooms, two bathrooms, and a mud room that will lead you out the back door and into a three-car garage found in this barndominium design.
Open-Plan Kitchen And Living Space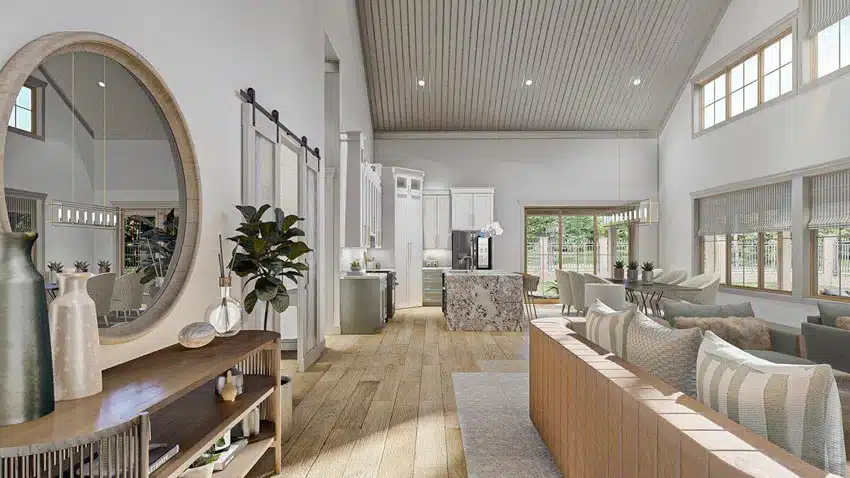 As already discussed, the kitchen, living, and dining spaces are open in this plan. This creates a very natural flow from area to area without walls interrupting conversations as you hang out with family or entertain guests.
To make these areas feel larger and even more open, they all boast 26-foot tall cathedral ceiling as well. The living space is 19'6" by 15'2" with a fireplace and the dining area next to it is 19'6" by 13'6". However, the space manages to remain warm and homey, even with less energy being used.
If you're an avid home chef, you'll be happy to see all the space this kitchen gives you. Rather than being completely open quite like the living room and dining room, the kitchen sports a central island. This gives you additional counter space and storage.
In all, you'll have 14'4" by 9'8" on one side of the island and another 7'6" by 4' on the other side. On top of this, you can take advantage of a 7'1" by 5'1" walk-in pantry with built-in shelving units.
Wrap-Around Porch For Outdoor Entertaining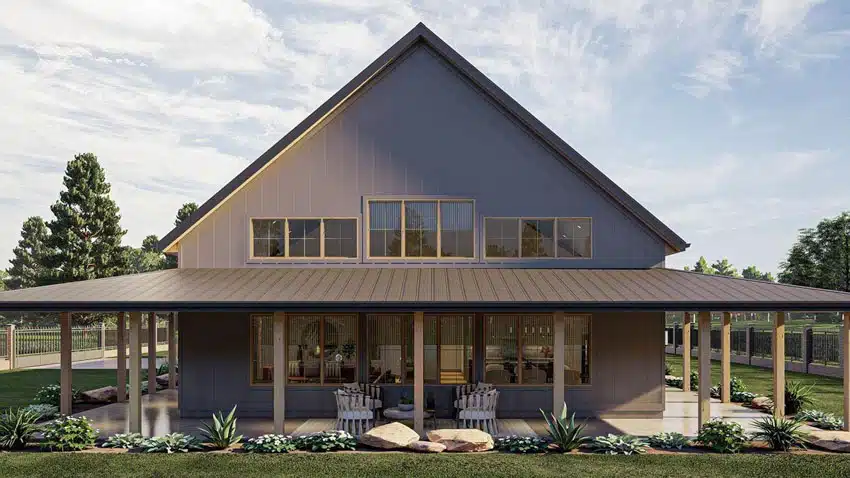 A porch is a great addition to any home if you like to spend time outside barndominium homes. Plan 623113DJ puts an emphasis on this area of your home, offering a porch that wraps around most of the exterior of the home.
This porch is 9 feet deep and features a 9-foot ceiling. This means that you can enjoy the great outdoors and get a bit of fresh air even if it's a bit of a rainy day and you want to stay dry.
The porch doesn't feature a railing and the ceiling is supported by simple columns. This design gives the porch a more open feeling, allowing you to seamlessly transition from comfortable coverage to fully enjoying your landscape.
Three Spacious Bedrooms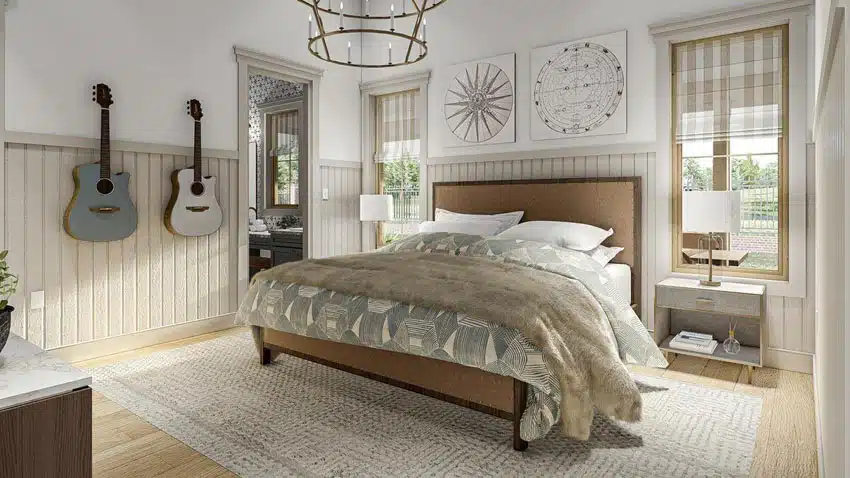 The one-story plan features three bedrooms on the main floor. The primary bedroom measures 14'1" by 14'1". The second bedroom is 12'1" by 12'1" while the third bedroom is negligibly smaller at 12'1" by an even 12'.
The two smaller bedrooms are across from one another with convenient folding closet doors. The two also share a conveniently close bathroom as well as a short walk to the washer and dryer area in the mudroom.
The largest bedroom of the house is seated behind the kitchen and it's the first bedroom you come across if you walk from the front of the house. This bedroom boasts its own full bathroom and a walk-in closet with plenty of space.
Office Space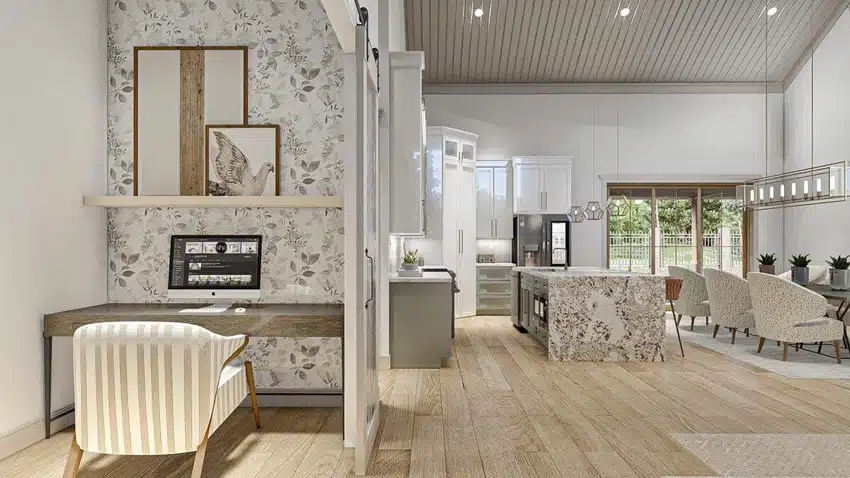 As well as a place to entertain, relax, and sleep, you probably need a space to be productive and get some work done in your house. That's where an office space comes in handy. If you aren't interested in a space to work or take care of online chores like bills, an office space still offers a lot of potential.
Starting a home business might give you the sensation of being adaptable – 50 Reasons to Work from Home, Michael Williams
For example, if not an office space, you can repurpose this room as a hobby room. In all, this space boasts 8'5" by 6'6" and with a sliding repurposed barn door as suggested in this plan, you can easily open it up to the main space as well.
Two Bathrooms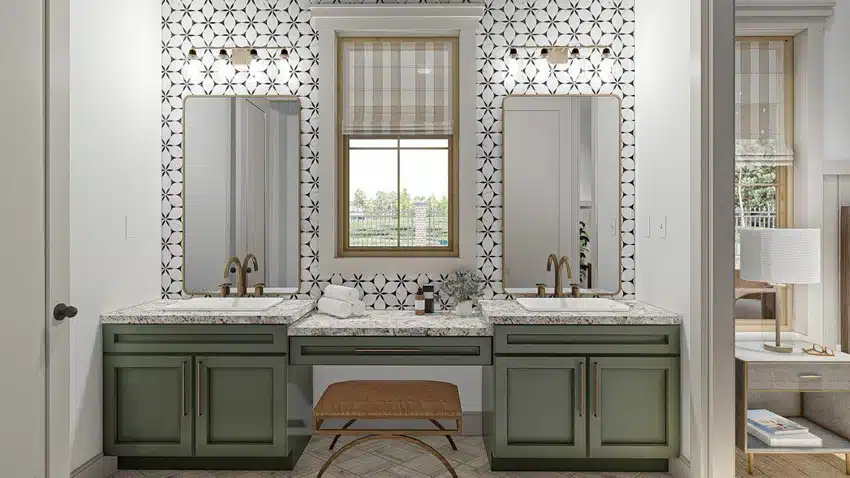 There are two full bathrooms in Plan 623113DJ. There is one main bathroom located in the hall, across from the mudroom while the second bathroom is located within the primary bedroom.
The main bathroom in the hall is conveniently located both for a trip down the hall from the main living areas of this plan and an even shorter trip from the two smaller bedrooms in the home. This bathroom gives you all the amenities including a full tub and shower.
The bathroom in the primary bedroom is made for any couple to comfortably navigate without stepping on each others' toes. It is even equipped with his-and-hers bathroom vanities and a smaller privacy area for the plumbing itself.
Three-Car Garage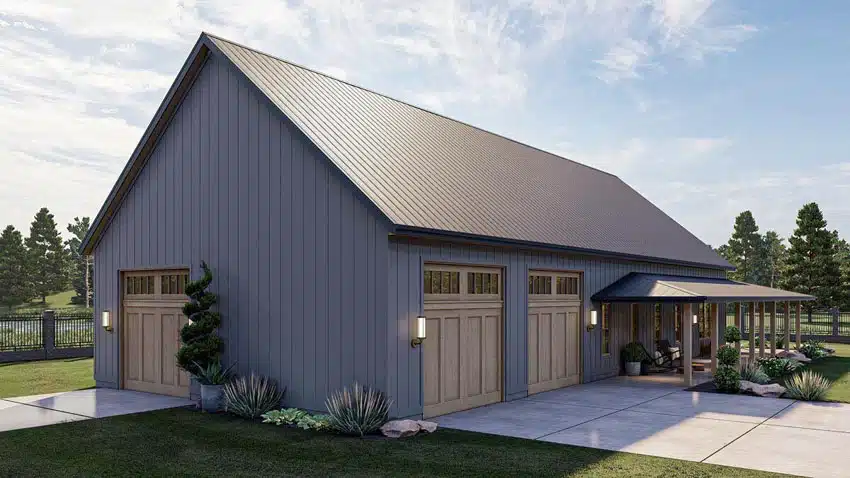 Buy this barndominium house plan with wrap-around porch plan at Architectural Designs.
In all, the garage totals 39' by 35'10" with three 12' by 12' openings to allow for three cars. This is great for any multi-vehicle family or just a hobbyist who wants to keep a small car collection.
The garage is fully attached to the house and you can walk through the door and into the mudroom where there's a bench to kick off your shoes and head into the main area of the house or straight through the walk-in closet to change in the primary bedroom. This also means that if you drive home in foul weather, you don't have to walk through it just to get inside.
See more related content in our article about the different barndominium pros and cons on this page.