Here we share our barndominium homes ultimate guide including details of popular features, kits and prices, as well as how these unique living spaces incorporate barn house plans and other options like basements.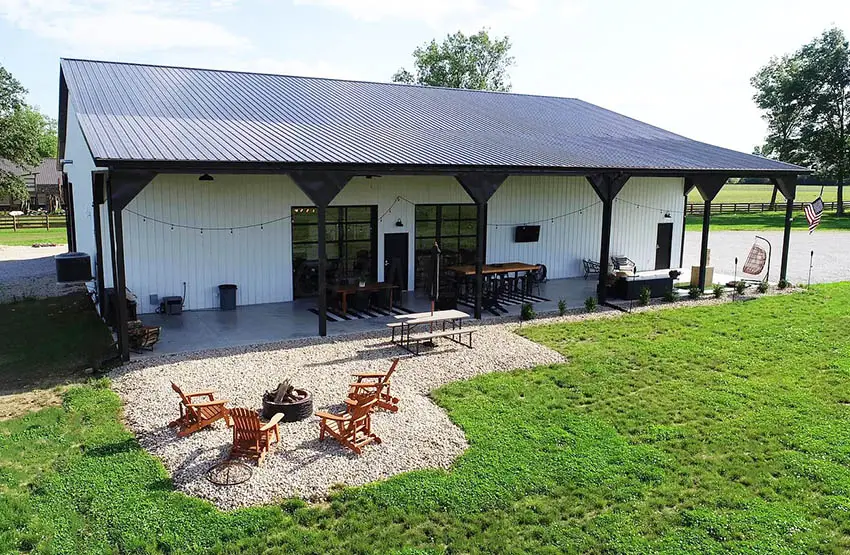 Highly influenced by barn style living, these upcoming Barndominium homes are pre-engineered steel buildings with modular components assembled in a professional shop and moved to the construction site. This efficient building process allows for a seamless transition from design to completion.
Unlike other modern American homes constructed of wooden frames, these Barndominium houses offer utter flexibility, easy maintenance, and open living with affordable rates. However, the most striking feature of the house lies in the flexible planning within the pre-designed shell that is customized as per the users.
These metal Barndominiums come with ample advantages that you would have never thought of. There is no doubt in terms of affordability, durability, and flexibility, while even including ease of construction and ample varieties and design styles.
Since they are constructed of metal, it proves to be comparatively stronger, longer-living and unlike wooden structures, it's not very likely for your Barndominium to get rotted and be easily attacked by pests.
So, what other factors make these homes desirable and highly favorable by homeowners and builders? Let's have a look below to find out why.
What is a Barndominium?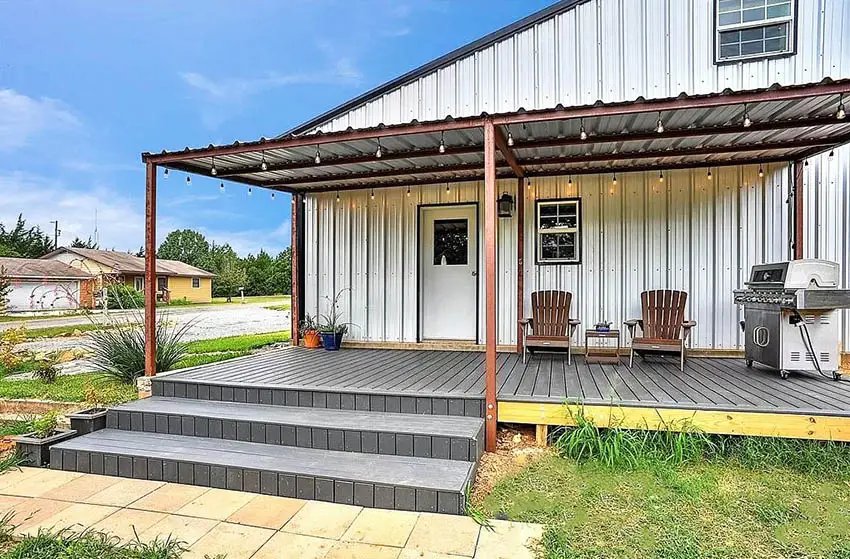 Like the name suggests, barn and condominium are integrated to form a metal or a steel building that has been converted to a livable space. Propagating the 'best of both worlds', they tend to blend the aesthetical appeal of the house with the concept of functionality and durability indoors.
Overcoming the issues of insulation, electrical and plumbing utility, and energy-efficiency, from the traditional-styled barn houses, these homes have been continually proving to be worth buying products across the country.
Barndominium homes have striking characteristics that set it apart from the other metal-framed homes. Although it's likely to be confused with Farmhouse style, Pole Barn houses and Country-side homes, these following points are definitely worth a glance for an easier understanding.
• Open Concept Floor Plan
• Gambrel Roof
• Pre-Engineered Shell
• Energy-Efficient Windows
• Spray Foam Insulation
• Higher Ceilings
• Plumbing
• Engineered Concrete Slabs
• Stained Concrete Floors
These practical homes can be pictured as authentic affordable houses with spacious interiors, pretty picturesque and living equivalent to a barn-style rustic that is modernized and updated. Maybe a living warehouse – that adds a tinge of homeliness and comfort.
Emerging from the traditional functions of warehouses, shops and garages, these homes are now fully-equipped with bedrooms, bathrooms, common areas and entertainment spaces. Isn't that surprising? Yes, you would be amazed to know that these homes now offer utter luxury living with styled interior design themes and styles.
There are many different manufacturers who can help you get the look and feel you want. To make the most of this customization, it's essential to ask the right questions during the design and planning stages.
Don't be afraid to specify fancy flooring, ceiling fans, air conditioning, bathroom amenities, natural stone countertops, kitchen cabinets and perfect window treatments – because these are all meant to be accommodated in this new eclectic home style.
Worrying about how these interior elements can be incorporated in your next Barndominium home? Have a look below at some of the key differences in structure and design that make these homes a unique experience!
Barndominium Interior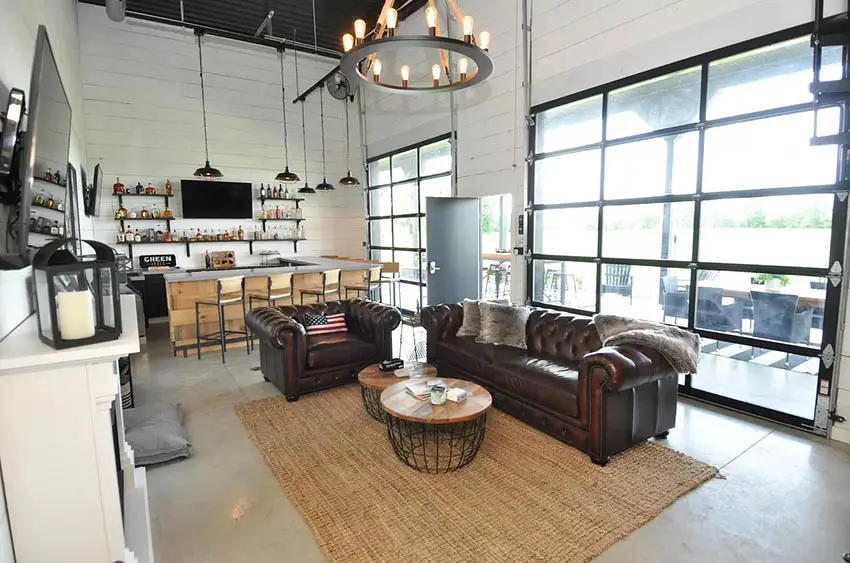 Barndominium living room with garage doors
If you have been picturing a simple warehouse building with a metal shell that is partially upgraded to a Barndominium, you are absolutely incorrect! With the variety of barndominium floor plans available, there's a lot more to it.
With the ever-growing technology in the design industry, these homes are now unbelievably modernized with their massive and appealing looks, that it makes quite a challenging task to figure out its style in the first appearance. The land they are built on can also play a role in the overall aesthetic.
Similarly, the interiors could be equally jaw-dropping with customized services and options available, that would absolutely leave you in awe.
The interior layout could be customized according to your needs – yes that's true! However, when planning the space, some of your rooms might require plumbing services and that is what needs to be kept in mind.
The open concept living space offers plenty of room utilization options with loft design ideas to turn your Barndominium into an absolute rustic charm.
They subtly introduce the outdoor inside by specifying numerous rollup door design ideas, placing massive windows and hardwood decks that give the feeling an inside-yet-outside feel.
The polished concrete or lush hardwood floors compliment the neutral color palette of these homes. Due to higher ceilings, these homes are often decorated with exposed wooden beams or rafters to add a rustic touch to the house. Meanwhile, the concept of energy efficiency is to be topped in windows and overall building envelope.
This design doesn't offer a "typical" style and that is what makes it one of the best options to choose from. They oppose the idea of "one for all" and the builders are constantly offering interior plans that will be customized according to your lifestyle and needs.
Their versatility and utmost efficiency allow you to use these spaces not just as homes, but also as garages, shops, bars, restaurants and even community centers.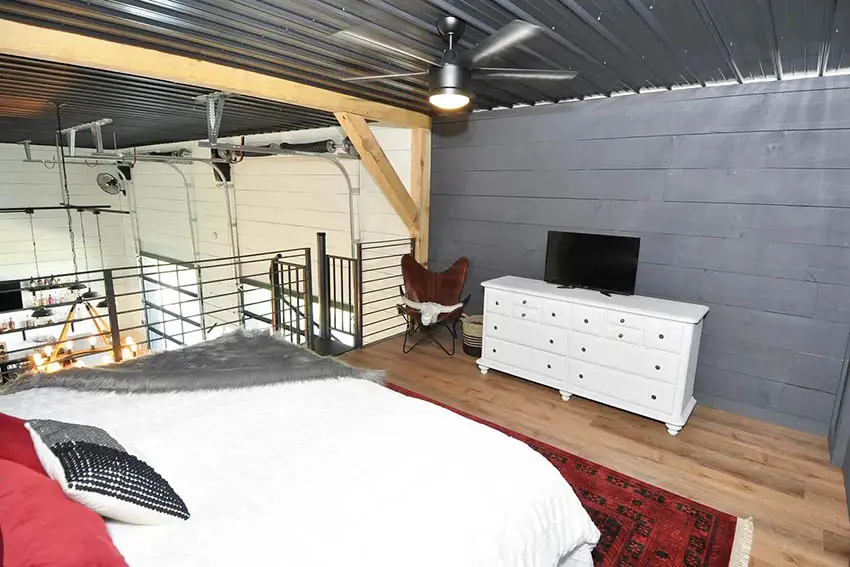 This pictures showcases a bardominium loft that acts as a large bonus room and multi-use space.
Barndominiums define airiness and spaciousness in the building interiors – and that gives the design a solution to expand wherever and whenever as required.
Due to the high ceilings, there is ample flow of natural light into space with optimum airflow and circulation. It is time to say goodbye to a cramped-up feel and overcrowding.
Now if you feel confident about having Barndominium as your next home, you will want to know the house and kit prices for the same. Interested? Have a look!
Barn Home Kits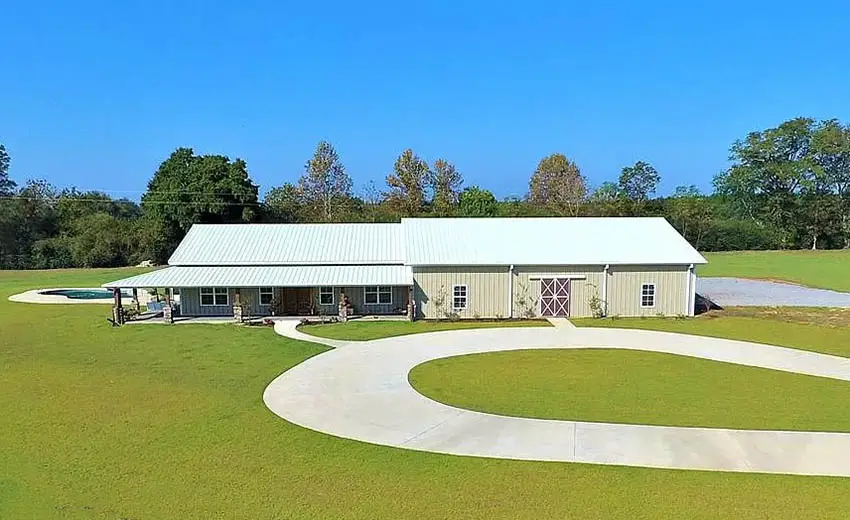 If you are a city dweller and want to move to the countryside, considering the Barndominium kit would be a foremost suggestion.
These kits are a DIY version with comparatively low average cost, far more customization options and apparently a better performing quality.
After all who doesn't want to design their dream home. And with the availability of these prefab modular house kits – all designed by skilled architects with an eye for modern architecture – it's all possible!
The kits are well equipped with main steel framing, secondary framing, exterior sheeting, fasteners, bolts, trims, closures, and stamped building plans. In addition to residential homes, these kits can be adapted for office spaces or even combined with wood framing for a more traditional look.
You could further customize this style by adding on any desirable material you have been yearning for, overhangs, porches, and even mezzanine floors. Readily available guides and brochures created by experienced architects, will help you put up your home and voila! You have your Barndominium home ready.
Cost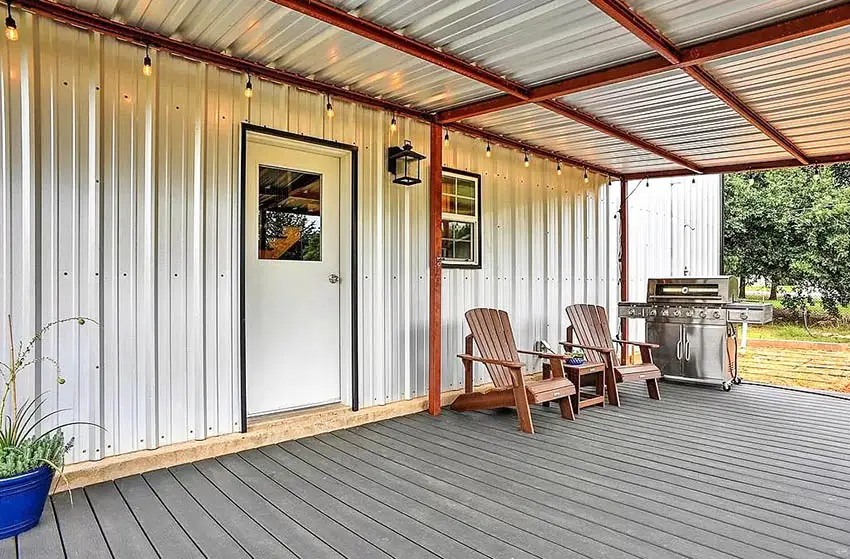 The cost of a Barndominium could be subjective depending on your needs and requirements. In America, a traditional home might cost you somewhere between$170,000 and $300,000 depending on the size and location.
However, as we discussed concerning the affordability of these homes, you should expect to pay $70 to $95 per square foot for unlimited exterior doors, engineered foundation, premium windows, and a metal shell.
Also including high-quality finish and slab, these homes are expected to cost $70 per square foot for a 5,000 square foot Barndominium.
The total cost is highly dependent on three variables – the price of the Barndominium kit, the price of your finishing materials like stained concrete, granite, paint, drywall, insulation and cabinets and the total labor costs to put it up together.
For a lower price alternative one can find container home designs.
Kit Prices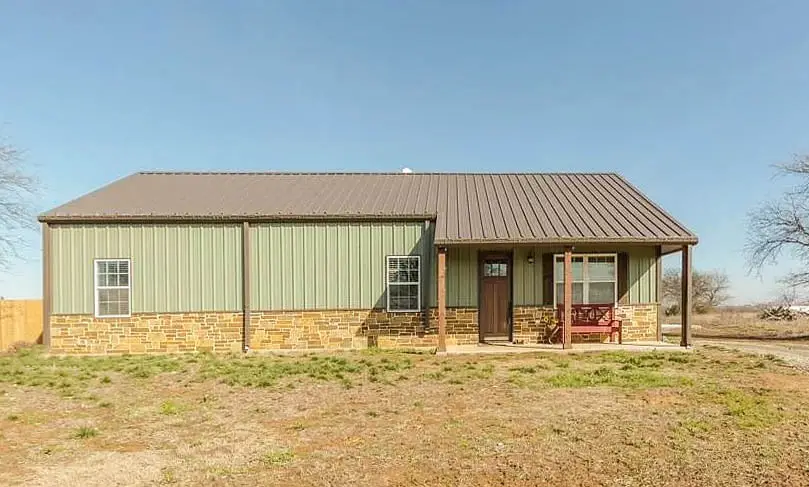 Even though the overall cost might bring up to an average of $75 to $80 per square foot for your Barndominium, it is quite likely to get the work done with cheaper prices as well.
You have an option of building from scratch or buying a prefabricated kit – out of which the latter save you up to 50% of the total costs.
Depending on your location, specifications, and square footage plans, the average Barndominium kit might cost between $5,000 to $70,000. Moreover, if you prefer a covered porch, overhangs, or larger and customized windows, it might cost more.
Barndominiums Cost Vs House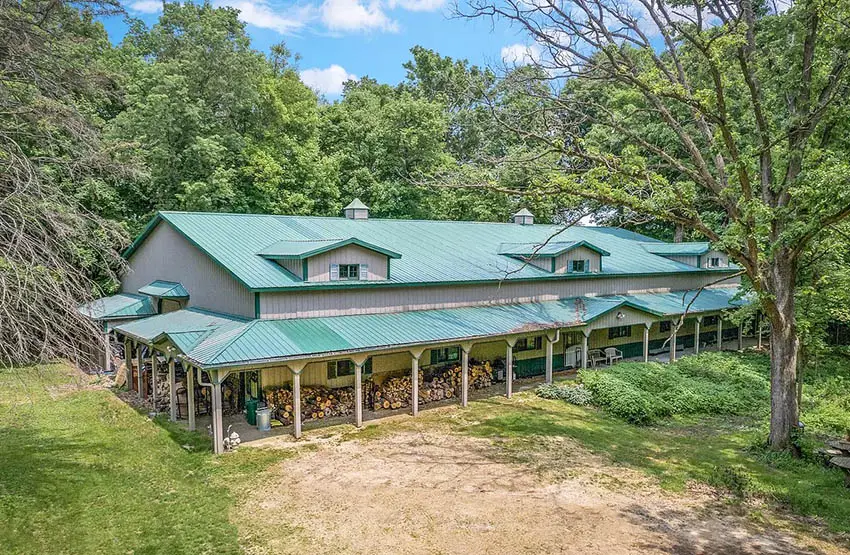 If you are looking to build a conventional home – the price would vary around $290,500 or maybe around $145 per square foot depending on the size, location, and specifications. However, in case of a Barndominium, expect to pay as little as $70 per square foot on an average.
But if you require a basic shell with living quarters, you can probably find prices equal to $20 a square foot. Many large luxury, customized builds cost about $250,000 depending on high-end finish and usage of high-grade materials.
All that is now required is the leftover finishing touch for your interiors, house equipment, adding indoor walls, and finishing it all off.
General Construction Requirements & Considerations
Like building any home, a barndominium has general construction requirements to ensure structural stability, safety, and overall comfort of its occupants.
Know Regulations and Obtain Permits. Often overlooked, permits are not just for compliance's sake but are requirements that ensure structural stability, comfort, and overall building safety.
Obtaining permits before construction prevents you from tearing down your bardominium and saving you money in the long run as you plan your ideal living area.
For instance, a two-story barndominium does provide that extra space for your family or studio, but additional height might exceed the restricted overall height in your locality. This leaves you to have lower heights on the second floor, which might affect your interior projects and placement of furniture.
When planning to purchase an existing barndominium, be sure to check with the owner if permits have been obtained. It is also important to take note that preexisting bandominium were not necessarily built up to code.
Prepare additional costs for your permits. The range can cost along $500 to $2500, depending mainly on location, building size, and systems to be included in the project.
Slab Foundation.The general foundation system for a barndominium is a slab foundation which is made of concrete where the metal posts of the frame are attached.
Generally, the thickness of a slab foundation ranges from 4 to 6 inches, but note that thickness is not only a factor when it comes to the strength and stability of a slab. Check for the quality of concrete, reinforcement used, and soil preparation.
Foundation Footings.The minimum dimension for footings includes 12 inches wide perimeter footing with 12 inches of depth, which can be deeper when frost is a concern. A footing foundation depth of 48 inches below the frost line is generally required for U.S. homes.
Shallower foundations can be specified if using frost-protected shallow foundations, which can go with a shallower depth of 16 inches compared to the more expensive construction of 48 inches. Check for local requirements on footing foundations.
An alternative to concrete footings is deck blocks and concrete blocks, which cost less than conventional concrete. Take concrete blocks and lay them directly on a gravel bed; beams are then rested directly on them. To level, use the string line method.
Steel Post-Frame Design.Regular steel is recommended for posts that generally can withstand 120 Mph or 193 Kph, given that quality construction has been observed.
This means a steel-post frame design can withstand the average wind speed of 193 kph Mph and take on. To improve wind resistance and stability, 40 inches extension to the ground is recommended.
When still opting for wood frames for a small barndominium, use stud frames that measure 2×4 inches with 4×6 or 6×6 inches posts.
Sufficient Insulation. Since barndominium homes are made from metal which generally heats up and gets cold faster than other materials, providing an excellent insulation system is essential. Take note that this can add to the construction cost.
The most common types of insulation used in barndominium structures are roll, radiant, blown-in, spray foam, batt, and fiberglass.
Barndominium Builders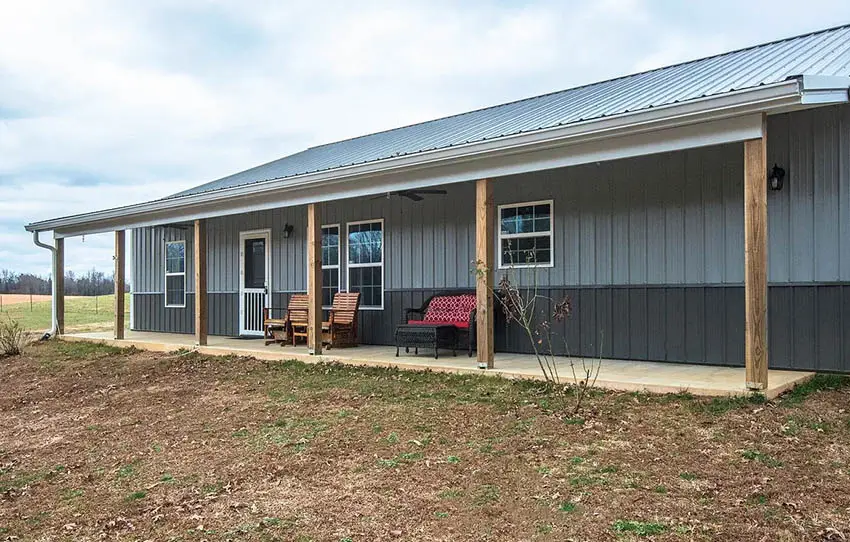 It is quite likely for you to find the Barndominium builders nearby. If you are dreaming of a perfect customized house with the most unique characteristics, a builder will help you guide with the entire procedure.
You would be required to specify the function of your building and based on that will the overall costs and the amount of material required to be calculated. Right from the excavation to the delivery and assembly of materials, builders will take care of your property.
Furthermore, their expert teams will take in-charge of plumbing, sewer systems, electrical, HVAC, and appropriate insulation for the building in addition to roofing systems and façade sidings.
Offering a turn-key solution, these builders have in-house designers and project managers that will also help you with customized stamped floor plans, partial builds and importing materials and specifications.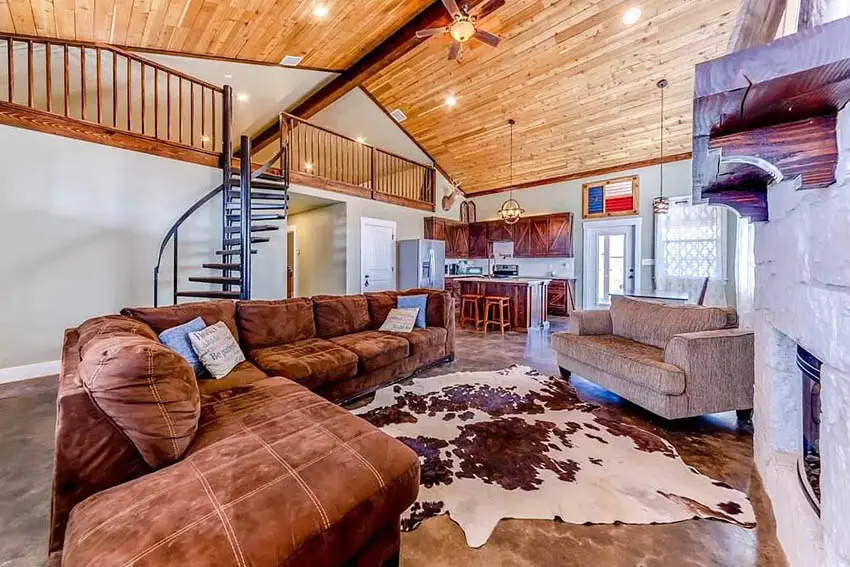 Expansive living room with cathedral ceiling
Most Popular Builders
– Worldwide Steel Buildings
– Metal Building Homes
– Morton Buildings
– DC Builders
– Absolute Steel Texas
– Texas Barndominiums
With the growing demand for Barndominium homes, we are expecting more and more homeowners to prefer this low-cost housing style.
Bardominium Home Plans
You can find online barndominium house plans that provide the complete floor plan dimensions, elevations, foundation, renderings, wall and stair sections, electrical and roof details.
You can select a plan based on the square footage you desire for your home. With a home plan you can contact a local builder who can then help you construct your home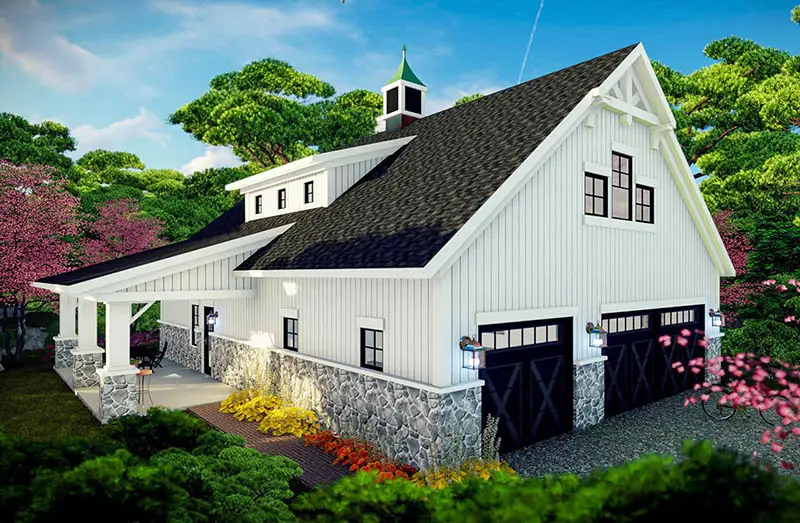 Farmhouse style barndominium with 2 bedrooms and 2 bathrooms – See more details here.
From students to young couples, this is an absolute recommendation if you are on a budget but also prefer longevity and durability. People are always looking for new – and Barndominiums have proudly proved to be a potential alternative to the traditional styled homes.
For more related information visit our gallery of pole barn houses.