Here's our pole barn house design guide covering popular features, kits, cost and some pros & cons.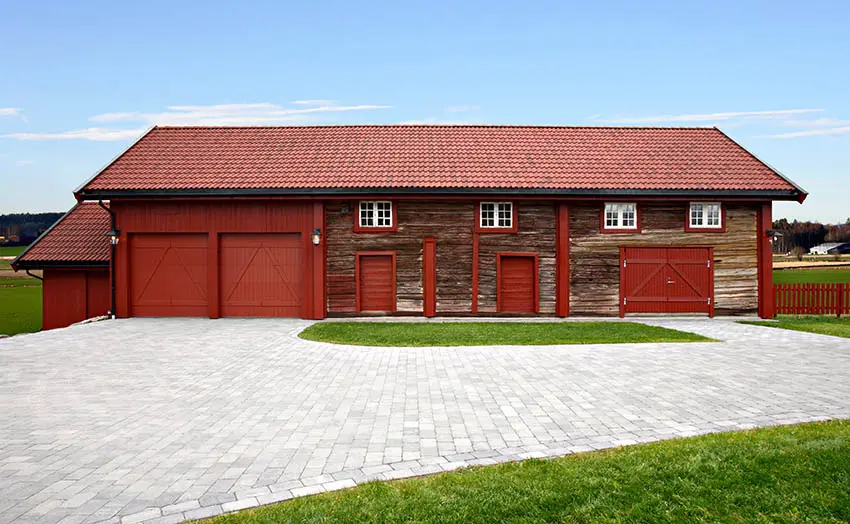 The most authentic and iconic of all – Pole Barn houses are known for affordability and sweeping historical characteristics. They have been a part of America's lush landscape for centuries, but, due to the emergence of much fancier architectural home styles, they seemed to disappear.
Now, with the re-recognition of the Pole Barn houses in America and the homeowners paying detailed attention to the same, we see a sudden demand for these homes across the country.
Now that the barn houses are back in fashion, they have yet taken another toll with an introduction of comfort, warmth, and luxury in the home spaces. Deeply rooted in agriculture and farming, these homes are now redefining their personalities with an utter modernist concept and an eye to detail.
What Is A Pole Barn House
A pole barn house is a structure with a post-frame construction that uses poles driven or secured in to the ground. Post frame buildings use steel posts, solid wood posts or laminated columns rather than the wood studs found in most homes. These poles are the primary means of support for the roof.
Post frame construction can use a variety of different types of foundations to adapt to different weather conditions. The way they are constructed with large supports allows for larger windows and provides more room for insulation making them more energy efficient.
Pole barns were a great solution for farmers who needed an affordable solution for storing farm equipment and supplies. Post frame homes can be built quicker and at less expense than traditional wood framed buildings.
Characteristics of Pole Barn Homes
1. Distinct Easy Recognizable Exteriors
2. Gabled Roofs
3. Massive Ceiling Heights
4. Gambrel Roofs
5. Extended Porches
6. Exterior Wall Framing
7. Wooden exposed beams
8. Stonework
9. Barn Style Windows and Doors
10. Lofts and Basements
11. Open Floor Plan Living
12. Exposed Supporting Beams
Pros & Cons of Pole Barn Homes
Pros:
Customizable designs and sizes to your specifications
Can buy DIY modular home kits
Lower cost to build
Better energy efficiency (More space for insulation)
Faster construction time
Lower maintenance
Cons:
Often homes have no basement
May not qualify for a mortgage on homes with no concrete foundation
May have trouble appraising properly
Local permitting may be an issue
Types of Pole Barn Style Houses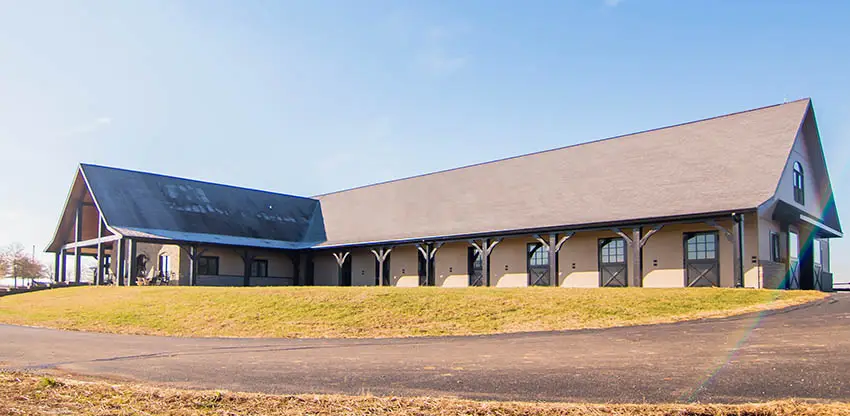 Pole Barn houses enjoy numerous styles when it comes to their specific exteriors and interiors. However, the three most prominent styles are Rustic, Ranch and Modern. The most industrial of all is the Rustic Pole Barn House style that features unfinished textures, rugged interior walls, and exposed metalwork.
Meanwhile, contrary to these are the Modern Barn houses, that characterize the much-updated existing features and further focusing on wellness and clean, crisped lines. In the end, the most traditional of all is the Ranch style homes that are still admired by homeowners and architects around the world. They feature plenty of living and private spaces with outdoor patios connected.
Pole Barn House Kits
Pole Barn Kit prices range from $4,000 to $50,000 respective on the size, specifications, and quality. For a residential purpose, the house kit may rise up to $100,000 considering the wall openings, insulation, roofing, moldings, downspouts, and gutters.
The kits could be further customized depending on the colors of the exteriors, the outer and inner framing and overall sheeting.
Typically, a small-sized garage may cost around $2,400-$10,700, a mid-sized storage space could vary between $7,000-$21,000 and a large customizable workshop at around $14,400-$51,000.
Furthermore, an extra-large residential or commercial facility may typically vary between $49,000-$100,000. If you plan on buying one, note the 30-40-year warranty on the manufacturing, engineer drawings, certification, and anchor bolts.
Pole Barn House Plans
There are many different pole barn house plans you can find online that allow you to select the design and square footage. The plans often come with the layout renderings, home dimensions, elevations, electrical and wall and roof details.
Once you have your plan in hand you can contact a local builder who can help you construct your home on your property.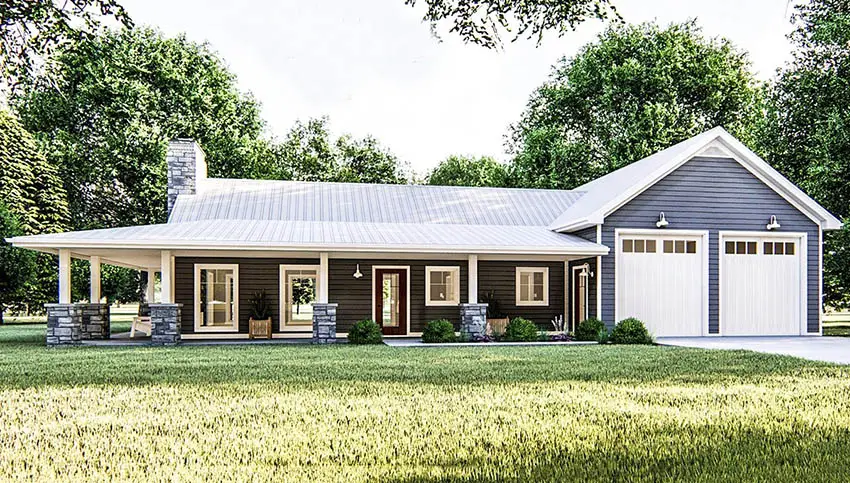 Post frame country style pole barn house with wraparound porch – see more details here.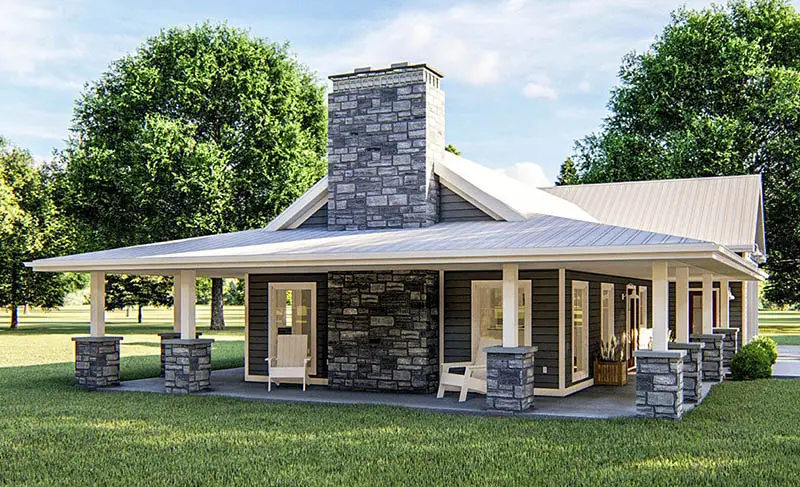 Image of home with wraparound porch, stone columns and stone fireplace.
Pole Barn House Cost
As now we know that the Pole Barn Homes holds an upper hand on the overall affordability, they also are a great solution for easy construction and adaptability. Their reliance on vertical poles for stability overpowers the foundation – thus saving a huge amount on construction.
These Pole Barn Homes are famous to be used as storage blocks, garages, barns, and sheds. But if you want a quality barn style home, we highly recommend you think about spending more to get better finishes and materials.
Pole Barn House Price Per Square Foot
The cost to build a Pole Barn House is $35,000 to $70,000 or $15 to $30 per square foot. The larger and more customizable ones cost around $45 per square foot or $100,000 plus when fully finished.
Additionally, if you cast a concrete slab, it may cost around $6 per square foot to pour. In terms of an apartment or a loft, the cost should be around $25 per square foot. The total is often comparable to the price of a shipping container house.
Breakdown of a Pole Barn House Cost
Several factors are directly linked with the overall costs and surcharges for building a Pole Barn House. To make it easier for your understanding, we will breakdown the further costs into categories and subcategories.
56% of your budget is defined by Site Prep Work ($3,000), Concrete Foundation ($15,300), Major Systems ($35,000) and Interiors Finishes ($70,000).
Landscaping and leveling the Ground = $1,200 to $4,500
Hiring a Construction Manager = $3,000 to $41,000 (they usually take 15%-20% of the overall cost.
Siding Materials = $5,000 to $10,000 for wood and around $10,000 to $15,000 for aluminum.
Insulation may vary around $800 to $2,000 depending on the functionality.
Installing Drywall costs around $1,200 to $2,500.
A metal roof (aluminum or steel) including the labor may cost around $5,000 to $25,000.
Now finishing your Pole Barn home with selective flooring, doors, windows, and paintings may depend on your subjective individual choices.
Pole Barn House Interiors
It is very typical of a Pole Barn House to have large, open, and spacious high ceilings. Due to this tremendous vertical space, these homes always have the advantage to utilize it as a mezzanine floor or introduce wooden rafters or simply create nooks to add that cozy feel to these homes. The color palette is subtle and neutral with a vibrant breezy feel and abundant windows, doors, skylights, and light furniture.
One of the noteworthy features that sets apart a pole barn house is a creative use of the second level of the home. Those are used as bedrooms with majestic dormer windows or simply a living area for the family to sit together and chat. To add efficiency, you could even add storage in these spaces.
Another way to add space to your Pole Barn house is the modification and addition of basement – which of course doesn't come with the kit – but it could be the modern addition to your home. Due to the increased indoor living space they may be a better alternative to a tiny house design.
How Long Will a Pole Barn House Last?
A pole Barn House is considered a permanent structure which lasts about 15-20 years with comparatively mid-expensive maintenance throughout. In comparison with these, the metal building structure stays up a lot longer including overall savings in costs.
These Pole Barn Homes have a charm to it that captures the eye from afar. Their timelessness and authenticity make them a great option in terms of investment and aesthetics. So, are you enthralled about choosing this home style to be your next? Let us know what you think about a Pole Barn House in the comments below.
For another related design gallery visit our geodesic dome house page.