Here we share our types of cabins guide including the different designs, pros and cons, wood materials used, cabin frame & corner styles, house foundations, and cost.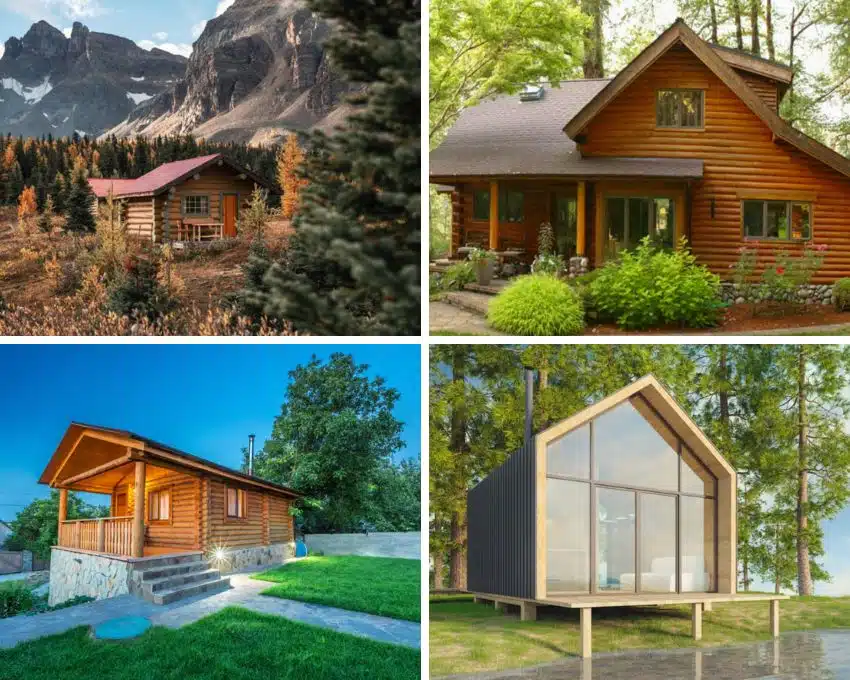 Cabins are humble abodes that perfectly symbolize the unity between man and mother nature. And as technology advances, the rustic wood shelter has become an inviting and unencumbered escape from the hustles and bustles of everyday living. From the adventurous poet to the backpacking fun-seeker, it remains an attractive habitat today.
Types Of Cabins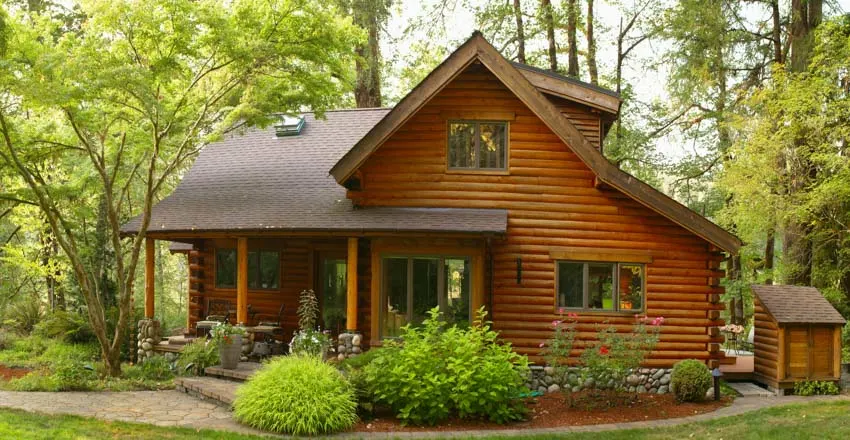 There are many types of cabins and varying construction methods to be used. Here's the most popular types and their pros and cons.

Full Scribe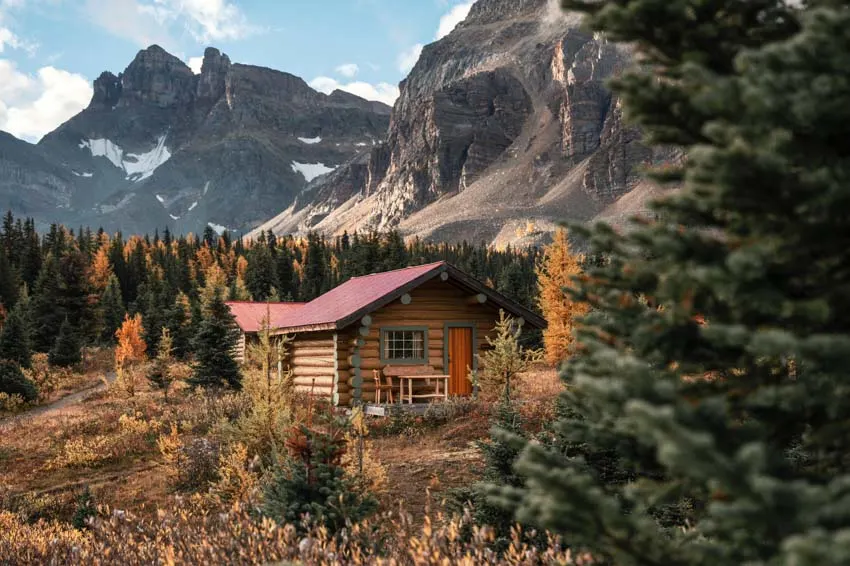 You know you have an entire scribe log cabin if each log is stacked horizontally and securely notched with a hand-cut groove cut or a saddle notch on its underside.
Full scribe types, also known as stacked configuration or Scandinavian saddle notch, provides excellent thermal properties providing a comfortable temperature. In addition, full scribe log types are known for superior strength due to the log's full mass, making it durable for many years.
Pros
• Provides stable temperature for the interior.
• Weatherproof due to the excellent fit of logs against each other.
• Excellent durability and strength
• Relatively simple construction allows faster lead time, taking as fast as 1 to 4 days or 1 to 4 months, depending on the design.
• The simple configuration also means reduced drywall, framing, and finishing as the logs act both as the exterior and interior material.
• There are available full scribe log home kits or packages that owners can avail but make sure to find log packages with 12 to 14 inches of log thickness for higher insulation properties.
Cons
• Since wood naturally shrinks or expands, expect to wait for a few years for the log to settle. When dried, the logs shrink, natural behavior of wood as water dissipates from the material. To maintain a fitting joint, you'll need some adjustments.
Be sure not to "over-scribe" or make the cuts too big to prevent gaps. Wait for a few years, and the notches will close eventually. If gaps are still present on your notches, you can fill them with insulation.
• Unique wood is needed when building in damp areas.
• For utilities such as plumbing and electrical, customized carpentry is needed. See examples of log cabin kitchens here.

Post And Beam Cabin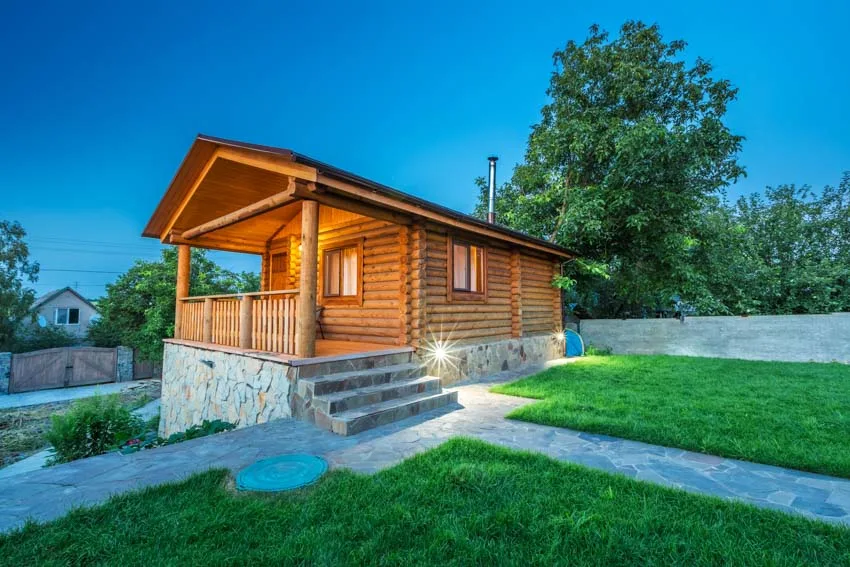 One of the most commonly used log cabin construction methods is post and beam cabin. The building system uses a series of vertical log posts to support large horizontal logs.
The interior beams are left uncovered for that rustic appeal which is the most coveted feature of the post and beam type. Framed walls can also be used for the gaps, straw bales, or cinder blocks, often in running bonds with excellent insulation properties.
Post and beam types of cabins typically use larger logs than most kinds of log cabins and utilizes fewer logs compared to full scribe cabins. The design flexibility is one of the strengths of post and beam cabins, so you can have large bay windows and even steeply pitched roof types which are desirable features of modern types today.
Pros
• It offers limitless design possibilities due to the flexible construction and open interiors, which means any plan configuration can be accommodated with an opportunity for creative designs.
• With no settling issues, you'll have minimal to eliminated gaps resulting in an energy-efficient building shell.
• The flexible design means it can adapt to electrical, plumbing, and mechanical specifications with conventional systems.
Cons
• Prone to insect attack, especially in damp sites, it is best to use cedar logs and other tree species that cannot be easily damaged by wood-boring insects.
• Longer construction time can take at least 1 to 2 months.
• It can have less energy efficiency compared to your full-scribe or chink log types of cabins.
Chink Log House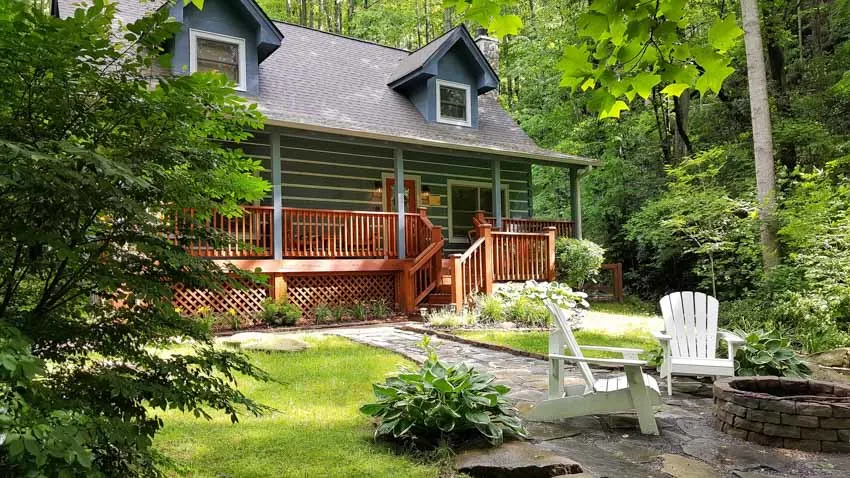 The chink log is characterized by having a plaster-like material caulked between the logs. The principle is similar to bricks, where mortar is placed to fill in the gaps and help bond the logs together.
Remember that there are two types of chinking: cement mortar mixture and synthetic. Cement chinking has better adaptability to movement compared to synthetic mixtures.
Although through the years, there are many improved brands of synthetic plasters that are able to move with the changes as the logs settle and are now becoming popular.
One of the better options for synthetic mixtures is elastomeric chinking, and this rubber chinking has better properties than the traditional cement mixture.
Pros
• Generally, the chick log is less expensive than a full scribe making it a cost-effective log cabin construction method due to the cheaper materials.
• It can be virtually weather-resistant since gaps are filled completely given that quality plaster is used with the right installation techniques are done.
• A great project for DIYers and those who have limited upfront costs.
• One of the oldest methods in log cabin making, it can last over 100 years.
Cons
• Needs periodic repair and maintenance depending on the built quality and materials used during construction.
• Improper or inferior types of chinking methods can be less energy-efficient.
• The plaster strips in between logs may not be attractive to some potential homeowners.
A-Frame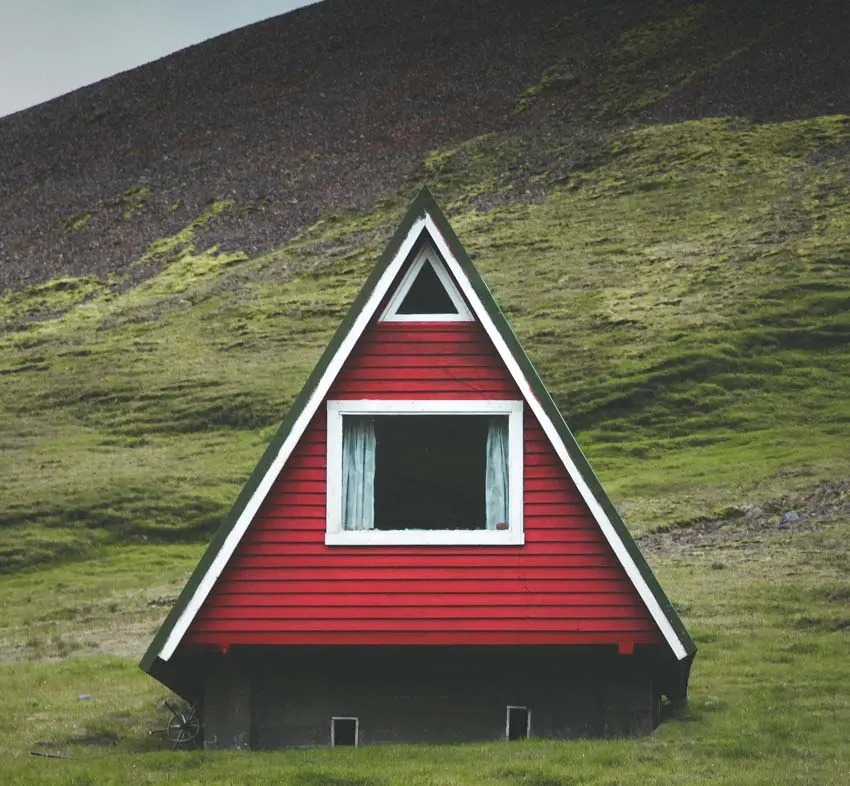 An A-frame log cabin, as the term implies, is an A-shape profile with the roof almost entirely covered and acts as the main exterior sides. The A-shape is great for small to medium-sized log cabins and can offer a loft space for additional living areas.
More than quaint looking, A-frame log cabins' steep profile allows snow and leaves to run off quickly, preventing roof damage.
Pros
• Best design for locations that receive frequent heavy snowing and in wooden areas due to its steep slope.
• Maximum natural light is possible since the A-frame is free on the front and back walls from the roof and other structural framings. You can even place certain types of skylights to add warmth and natural light. It also makes the space visually larger.
• Due to its size and affordability, it is an attractive DIY project. In addition, there are a lot of house plans and A-frame log kits available to start your project.
Cons
• Limited space means constrained design choices. However, this inflexibility is not much of a concern if you plan to have a log cabin that's fit for vacation getaways and not as a permanent residential home.
• The loft space can become an uncomfortable area, especially during the summer months, as heat rises and collects up in the loft area. At the same time, a loft is a place that is hard to keep warm.
Modular Cabins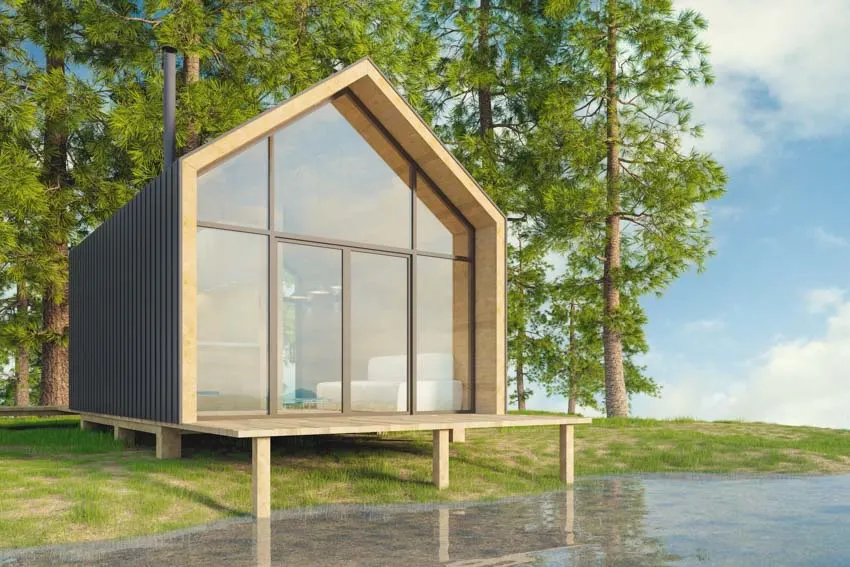 Modular cabins are, in essence, a log cabin that has preassembled elements that come in home kits. Elements such as walls, doors, and windows are manufactured offsite to fit together.
Modular cabins are a type of prefab structure or prefabricated home where a single modular home comes with complete components such as roof, walls, door, windows, and utilities.
Modular cabins can be added onto other elements to extend or to be reconfigured. Unlike their predecessors, they have significantly improved with better flexibility and durability.
There are many new companies as well as architectural studios that offer a wide range of modular cabins that provide much flexibility making the massed produced cabins a wise choice.
Modular log homes can cost around $100 to $160 per square foot, which includes installation and materials. There are prefab types that can cost as much as $250 per square foot.
Pros
• Shortens construction time to around 25% to 50% when planned correctly on the offsite and on-site project management. Modular or prefabricated kitchens can be installed quickly to help prevent downtime.
• Available design models to choose from, eliminating the overwhelming process of choosing the design.
• Since it saves you on construction time and labor cost, expect to save around 10% to 25% on overall construction cost.

• Easy assembly means you can transport or move your log cabins anywhere.
Cons
• These massed-produced types of cabins should be assembled according to the manufacturer's instructions as a small mistake of a module component can have serious structural flaws and get compounded.
• The design constraints and not being fully user specific may not fully satisfy your lifestyle or preferences. Since companies offer similar models to other clients, expect to have a similar-looking log cabin-like yours in other parts of the country.
• Inferior to quality hand-hewn log cabins. Overall hand-crafted log types are usually far superior in aesthetics and durability to preassembled log cabins.
• Large and bulky components can be a challenge and expensive to transport. When building in a wooden area, local materials might be more practical as compared to shipping components from the manufacturing plant.
Hybrid Style Cabin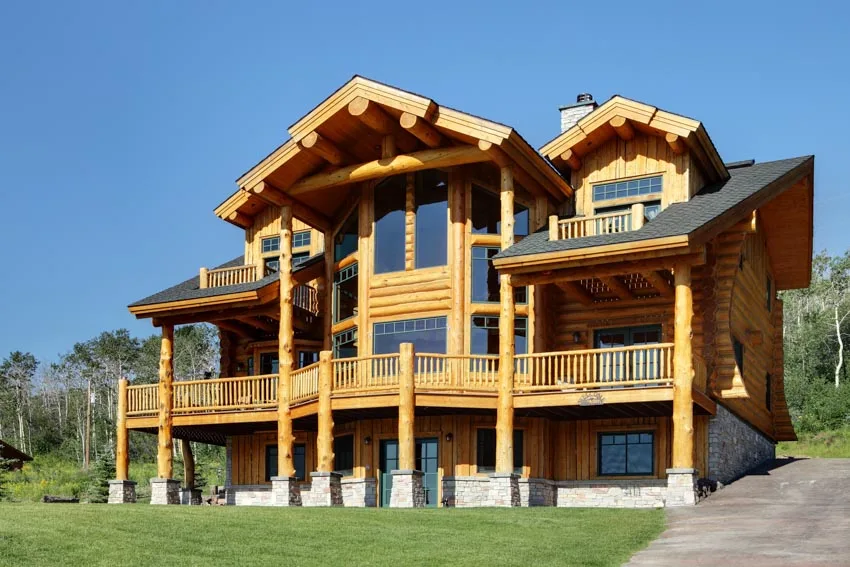 As the term implies, a hybrid style cabin is when two or more types of log cabin styles are combined to create a unique combination. Moreover, you get a combination of other materials such as the more conventional ones such as glass, shingles, or even faux stones are used.
Most hybrid-style cabins lean towards a more modern aesthetic but still retain their rustic cabin log signature.
Pros
• As not constrained to a single particular style, homeowners can choose to take particular characteristics or construction methods from other types of cabin logs that are advantageous to their design.
• Control of cost compared to other styles that use purely heavy wood timbers. Simple framing can also be used in service or utilitarian areas.
• A choice for lighter materials means you can have higher ceiling clearance or height without increasing your structural footprint.
Cons
• A challenge of a hybrid log type is choosing the best elements that go along when it comes to structural systems and how your log cabin would look as a whole. With so many options to choose from, it can be overwhelming for homeowners.
Types Of Trees Used For Cabins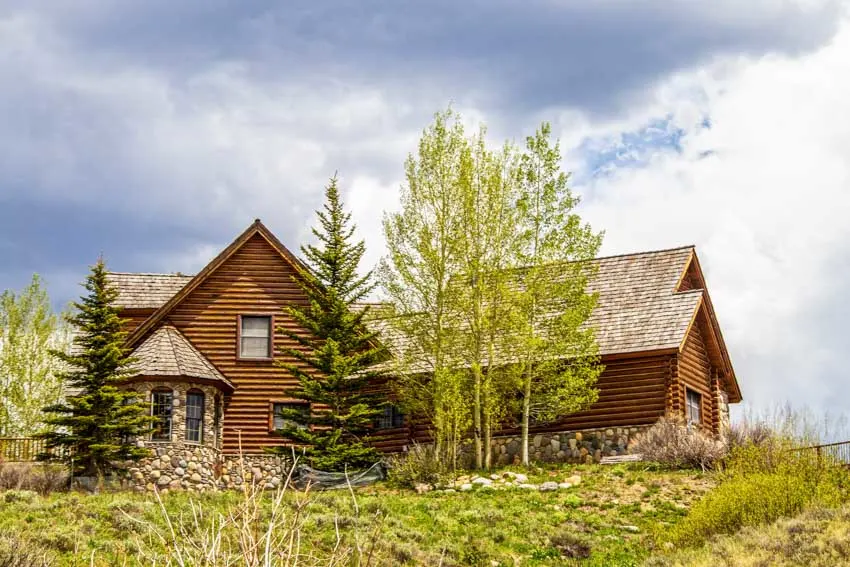 From the myriad of tree types, there are only two dozen wood species used for log cabins, and the most commonly used for log cabins are cypress, redwood, oak, pine, cedar spruce, and oak.
Remember, though, that each wood species has distinct qualities and wood grain design that could make one species superior to another for certain applications. Tree types with similar names, such as red or white oak, red, white, or yellow pine, and red or white cedar, can have different properties.
As a general rule, softwoods have a higher R-value (resistance rate of heat flow) than hardwood, making the classification of softwoods a better choice. Softwoods have an R-value of 1.41 to 2.54, while hardwood is .71.
Douglas Fir: Douglas fir is synonymously known as the Christmas tree in the log cabin building; it belongs to the western species that ages to a rosy red color before turning yellow.
The Douglas fir tree reaches majestic heights and has a high strength-to-weight ratio, making it an excellent choice for log homes constructed in storm-prone, high-wind, or earthquake-prone areas.
Its strength and durability make it ideal for structural beams and long-span applications. The wood also holds nails and plates well, making it an excellent choice for rafters.
The high-density wood specie is a wise investment if you want a structurally sound log cabin for many years to come, despite the fact that it can increase your upfront cost.
Western Red Cedar: Western Red Cedar has twice the dimensional stability of most common softwoods. Its low density and shrinkage factors contribute to its stability.
Western Red Cedar has a natural reddish-brown hue, but it accepts a wide range of finishes because it is virtually pitch and resin-free. Western Red Cedar, when properly finished, will last for decades, even in the harshest of environments.
Along with its gorgeous appearance, western red cedar has a unique aroma that comes from the naturally occurring thujaplicins from its heartwood. Not only is the chemical aromatic, but it is also toxic to decay-causing fungi and is one of the sturdiest wood species making it ideal for any location.
Red Pine: Red pine is a great decision for a log home because it stays exceptionally strong when properly maintained. Cedar will be able to withstand the outdoors better on its own when compared to pine. Pine just needs a little more attention, and it will perform fine.
Many people choose to incorporate this wood into the design of their home but often don't use it for the entire project. Plus, red pine grows abundantly and is going to be an economical choice for wood species.
White pine will be stronger when preventing decay and insect damage but is more expensive because it doesn't grow with the same habits as red pine.
Frame & Corner Styles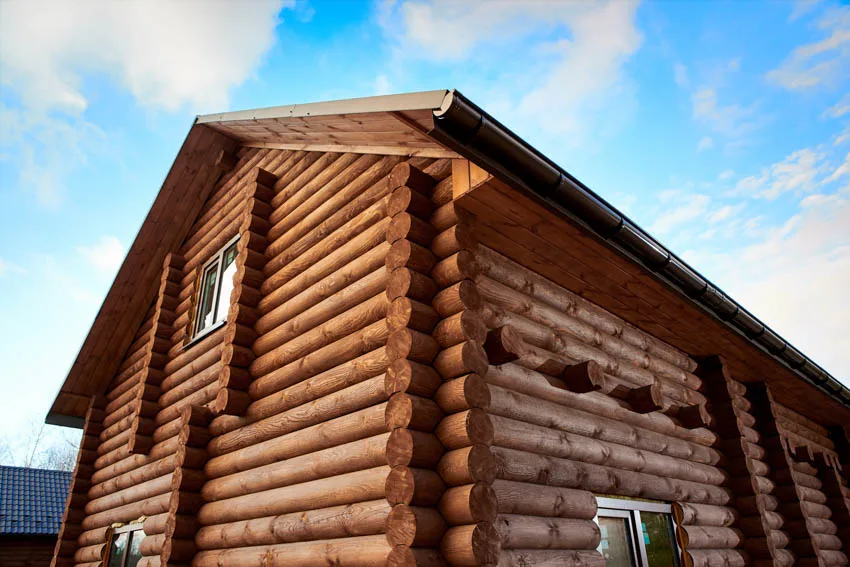 Milled Logs: Milled logs are characterized by their uniform profile and diameter where the corners are cut into a specific shape such as round, square, or D-log profiles.
As the name suggests, it is cut using a planer or wood mill, which produces a smooth and uniform finish. The great thing about milled logs is that you get a flat uniform finish for your interior making it easier to plan and include modular types of furniture styles and furnishings.
Another great advantage of milled logs is that they are faster to assemble since you have a precut log with flat surfaces, making a flushed fit when the logs are placed on each other.
Milled logs are typically bought by the linear foot, with lengths ranging from 8 to 16 feet. Longer logs are heavy and difficult to transport. In any case, between doors and windows, walls are usually broken up into shorter-length logs.
For longer spans, you can join logs when aiming for an entire stretch of wall or include an intervening wall which is a break between the logs.
Handcrafted Log Cabin: A distinct characteristic of a hand-crafted log cabin is the varying diameter at its corner or along the length of the wall. The hand-hewn look is typically filled with chinking bands in between logs which can be for structural or aesthetic purposes.
Each piece of log is meticulously chosen to fit adjacent logs making the construction process longer than milled or post and beam log types.
The process can take months, depending on the complexity and square footage needed. When disassembling hand-crafted log cabins, each log is numbered, making it a challenge for transportation.
Despite the downsides, hand-crafted log types are still one of the most popular design options chosen by homeowners because of it's unmatched artistic flare.
Log Siding: Log Cabin siding is characterized by a thick panel siding that resembles the traditional siding but with a curved surface on the exterior and a flat side facing your interior walls.
With simple installation, it makes it a cost-effective construction, and since 75% less wood is used, you'll save more on your material cost.
Milled log sidings can come with a full log with a tongue and groove end match system giving it a seamless look without the need for nails or screws. The typical trim for the log siding is the 4 x 4 D trim, but there are other profiles that you can avail of.
Types Of Cabin Foundations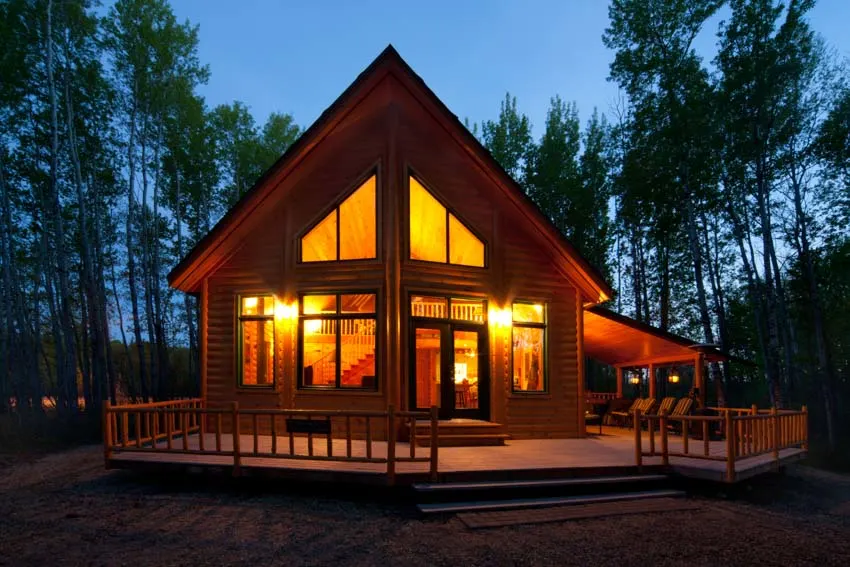 The choice of your cabin foundation is one of the most critical decisions when building a log cabin. There are types of cabin foundations with each varying in suitability, strengths, and downsides.
Concrete Slab Foundation: A concrete slab house foundation offers flexibility and less complex construction. You do need stable soil to prevent uneven surfaces for your concrete slab to rest on. Grading the soil is a process that needs cutting or filling the ground to create a leveled surface. This prevents sinking, which can lead to cracking of the surface.
Best for clay soil as gravel, sand, and a vapor barrier between the soil and concrete. To have a stable base, the concrete is laid on a perimeter footing and concrete stem wall. A minimum of a 4″ thick slab should be poured, but a 6″ thick slab can be used if you plan on having heavier loads.
For areas with constant frost, it is recommended to place frost walls or piling to prevent cracks due to varying temperatures.
Pier Cabin Foundation: A pier foundation is made up of concrete cylindrical columns (piers) that are buried in the ground to support the weight while also elevating it off the ground. The piers are strategically placed to distribute the load evenly.
The majority of pier foundations have a concrete footing beneath treated lumber. The depth is usually 4 feet with about 6 inches of gravel to allow for drainage, but this can vary depending on whether your frost line is higher or deeper.
Even though this isn't the industry standard for all locations, it's best to make it the bare minimum because it will cover the frost line in most cold climates.
Pier foundations work well with sloped terrains as you can adjust the heights of your columns based on the sloping ground.
Basement Cabin Foundation: They are also called crawl space log foundation, which is characterized by having a lower level that can be fully or partially raised from the ground level. Basically, the basement foundation is a combination of both a slab foundation and a crawl space.
There are many advantages of raising a level partially as it allows air circulation during the hot months, and the extra space can be used as a living or storage space. The crawl space can also house mechanical equipment making repairs and maintenance more accessible.
Though basement foundations are not advisable for areas with high water tables and unsettled soil and can cost more than your slab or pier foundation due to the added excavation needed.
How Much Does A Cabin Cost?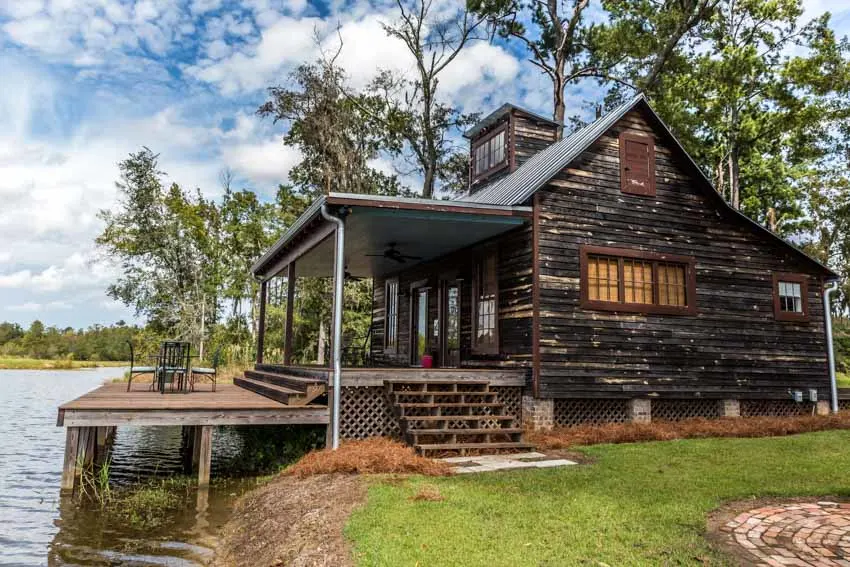 The cost of constructing a cabin typically ranges from $125 to $175 per square foot, but it can be as low as $100 and as high as $300 per square foot. For areas where the cost of living is higher, the labor and materials cost more which can go beyond your $300 per square foot.
Prefab prices, including installation and materials, can range from $80 to $230 per square foot. Builder-grade materials are less costly, while high-end materials and fixtures will shoot off the cost per square foot.
Due to economies of scale, modern prefab units and smaller layouts are also on the higher end of square footage pricing. In other words, a 100-square-foot cabin will typically cost more per square foot than a 500-square-foot model.
Are Log-Constructed Cabins Durable?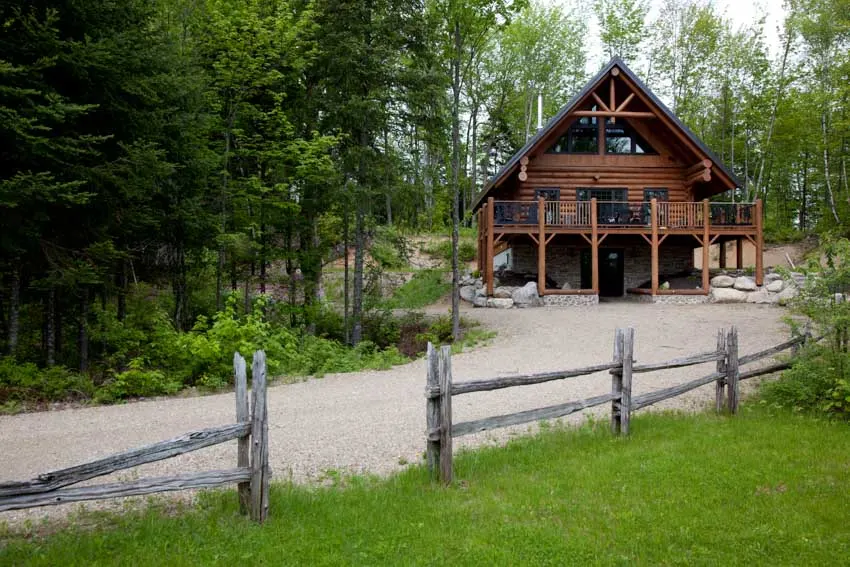 The short answer is yes, and log cabins are durable. If one log constructed church in Russia is still standing after 1,700 years, then we can say that investing in log cabins can last long. In America, the Nothnagle Cabin, built by Anthony Neilson, a Finnish settler, was declared by experts as the oldest log cabin within its original location.
A log cabin is the essence of a much slower – paced and more simple way of life. The whole lifestyle of log cabin living embodies an air of romance. – Log Cabin Classics, Robbin Obomsawin
Like any other structure, durability depends on many factors, but in general, most types of cabins are more durable than concrete homes due to the thickness of the wall. Another factor is that they are made of log woods that can expand or contract depending on the temperature conditions.
Thicker Walls: Modern and newer versions of log cabins are of exceptional quality; they're dense, strong, and completely solid, and it's these massive walls that give log homes their strength.
In fact, a log home was ripped off its foundation by flooding, only to be discovered floating intact in the floodwaters, demonstrating the strength of log homes.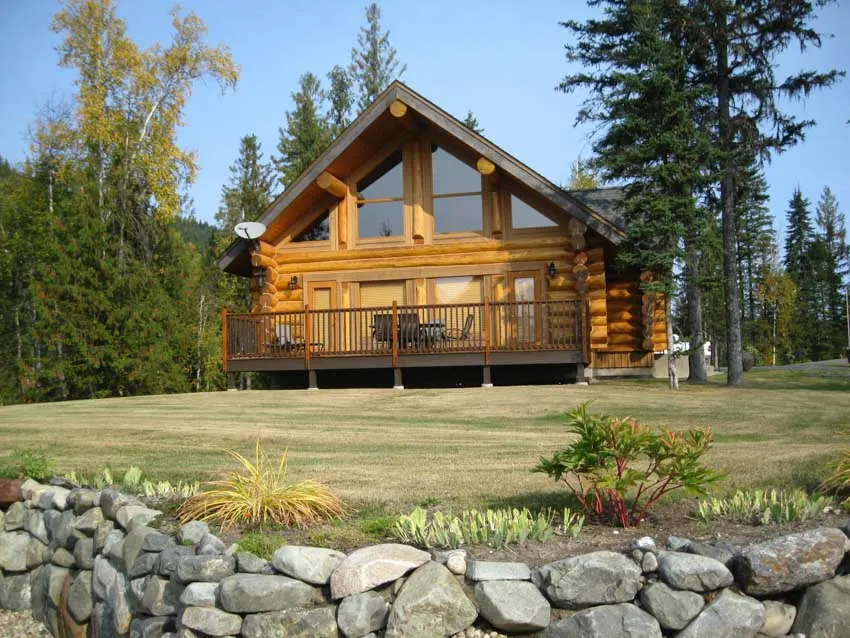 Can Stand Up to Fires: Hurricanes, for example, can cause flooding and fire as a result of the wind and water on power systems and other dangerous utilities, and tornado-carrying supercells bring with them the constant threat of lightning strikes.
If you live in the west, wildfires can also be a factor to consider, but regardless of the cause, log homes can withstand fires better than traditional homes. Because the logs used in a log home are so large and dense, they can't be used as a fuel source in a house fire.
They're too heavy and dense to catch fire at house-fire temperatures. In comparison, some materials, such as drywall, have autoignition temperatures as low as 500 degrees Fahrenheit.
Earthquake: Log homes are much better at withstanding earthquakes for the same reasons they are better at withstanding wind and flooding.
Because each individual wall can support its own weight as well as the weight of the roof, the walls of a log home are unlikely to fail except in extremely powerful earthquakes. According to reports, a log home located 1000 yards from the epicenter of a 5.7 Richter earthquake sustained no damage.
Are Cabins Made of Logs Insulated?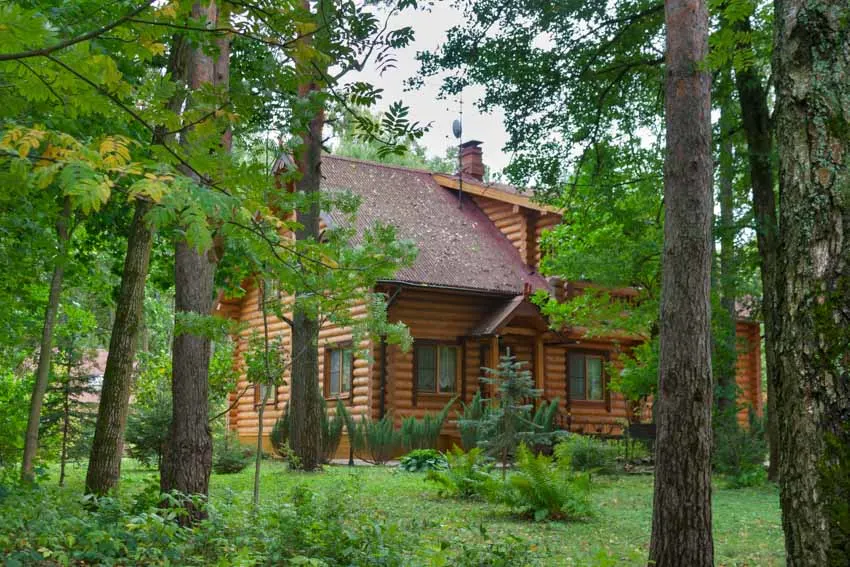 While log cabins are perceived to have great insulating properties, not all types of cabins perform equally when it comes to insulation; however, log cabins offer better insulating properties than conventional construction types, which makes them suitable for particular climates.
The R-value is a measure of the level of how heat flow resists varying materials. Generally, wood has a high R-value rate compared to other building materials such as concrete but not all wood species are the same and as discussed in the types of wood species for these structures, softwood yield a higher R-value rating compared to hardwoods.
To get the best computation for your insulation value, multiply the thickness by the R-value of the wood specie. For instance, a pin log has an R-value of 1.4 per inch, so a typical log of 6 inches will have an 8.4 R-value.
Other elements should be considered as log cabins are not built from logs in their entirety, such as the roof and floor. You should also consider these when estimating your insulation.
Another factor to consider is the construction method used. A full-scribe log cabin will have better energy efficiency compared to a half-log siding.
To ensure an energy-efficient home consider the following:
• Adopt a whole-house systems strategy.
• Making use of passive solar design elements
• Cut, sand, and possibly insulate logs with high-density polyurethane.
• Stack and bolt log every two feet to keep them together.
• Choose Fir, Pine, Cedar, and Spruce if you want minimal shrinkage.
• To seal gaps in log walls, use plastic and caulking.
• Install deep roof overhangs to keep the majority of the rain off the log home's walls.
What Are Log Cottage Kits?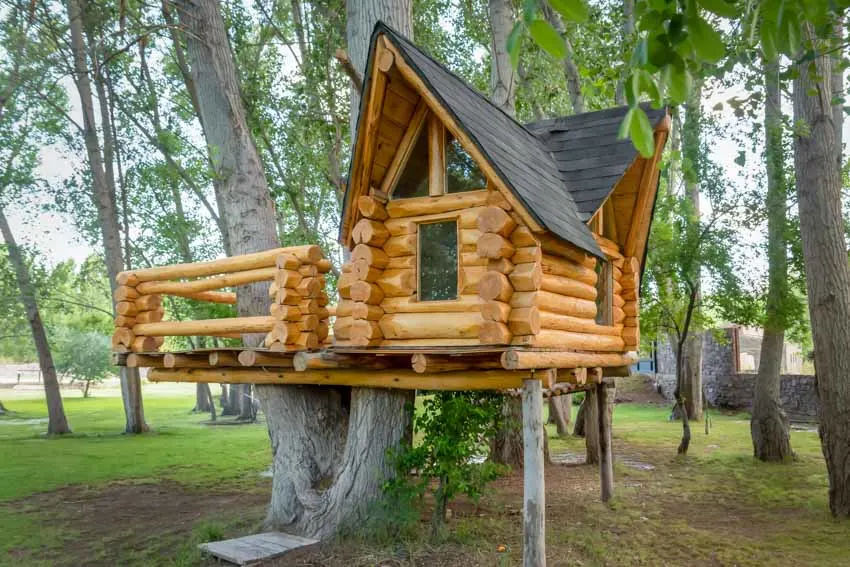 Log cabin kits are precut construction components needed for the basic structure of a log cabin. This set of components comes with its own blueprint or building plans that will instruct the assembling process.
The blueprints are usually presented in a way that non-technical people can understand. These companies provide preassembled sections that will be built for pre-designed rooms and designs.
In the U.S., there are over 30,000 log cabin kits being manufactured annually. These kits make it easy for anyone to build their dream log cabin without investing in time-consuming DIY or self-built log homes.
Without complex planning, even the novice builder can assemble a log cabin in just a few months, as a log cabin built from scratch can take around 280 days which is almost a year.
The log cabin kits are delivered on-site and can cost around $50 to $80 per square foot. There are modern and high-end types that offer customization but will increase the base price from $80 to $230 per square footage.
Remember, though, that you'll need to pick the best foundation along with appliances which are costs to consider on top of your log cabin kit.
What Is The Difference Between a Log Home and a Cabin?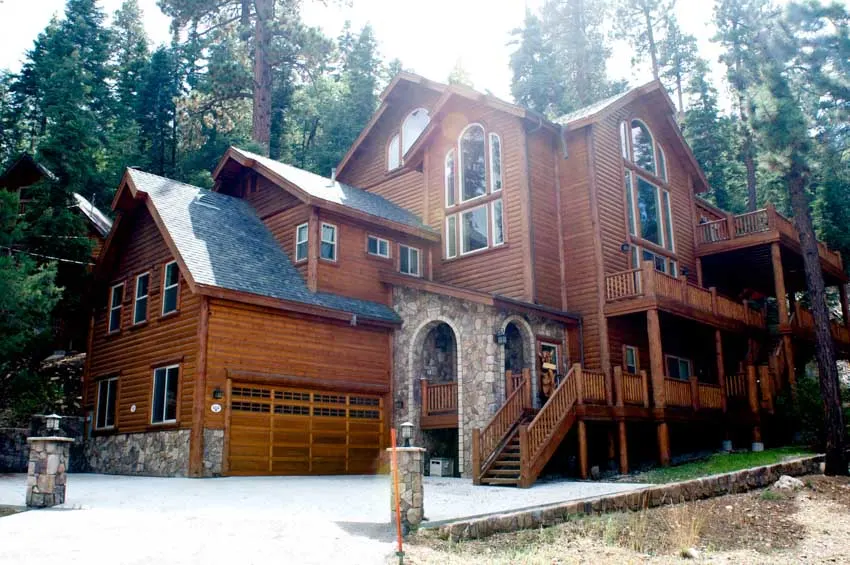 The primary difference between a log cabin and a log home is their footprint area. Log cabins are smaller and have a cozier feel; think of a hunting cabin in the middle of the woods, whereas traditional log types are without electricity or even plumbing.
Most types of cabins usually have one to two living spaces with one room used as a multi-use area. Thus you'll have less privacy compared to your log home.
Log homes, in contrast, have larger rooms and have baths, typically having an average of 800 square feet or more. They can be single-level or with a loft, basement, or even two floors. They can also provide alcoves, a small balcony, and other projections beyond their base layout.
What Is The Difference Between Stick-Built Vs Log Cottages?
The materials used are distinguished between stick-built homes versus the different log types of cabins. Although both are built on-site, which means no modular or pre-manufactured components are used, the difference lies in the size and construction methodology in building the said structures.
As the term implies, stick-built or "site-built" homes are by building a wooden-framed structure one stick (timber) at a time. On the other hand, Log types use full scribe logs or half-logs without the need for framing.
Both wood construction methods have their pros and cons. As discussed, log cabins offer better insulation and durability due to the thickness of the logs. On the other hand, Stick-built construction is advantageous in providing flexibility to the interior walls; since exterior walls are load-bearing and take much of the structure's weight, inside walls can be reconfigured.
See more related content in our article about the best log cabin interior paint colors on this page.