In this A-frame tiny house guide you'll find details about what it its, design, pros and cons, interior & exterior elements, prefabricated kits, and A-frame house plans.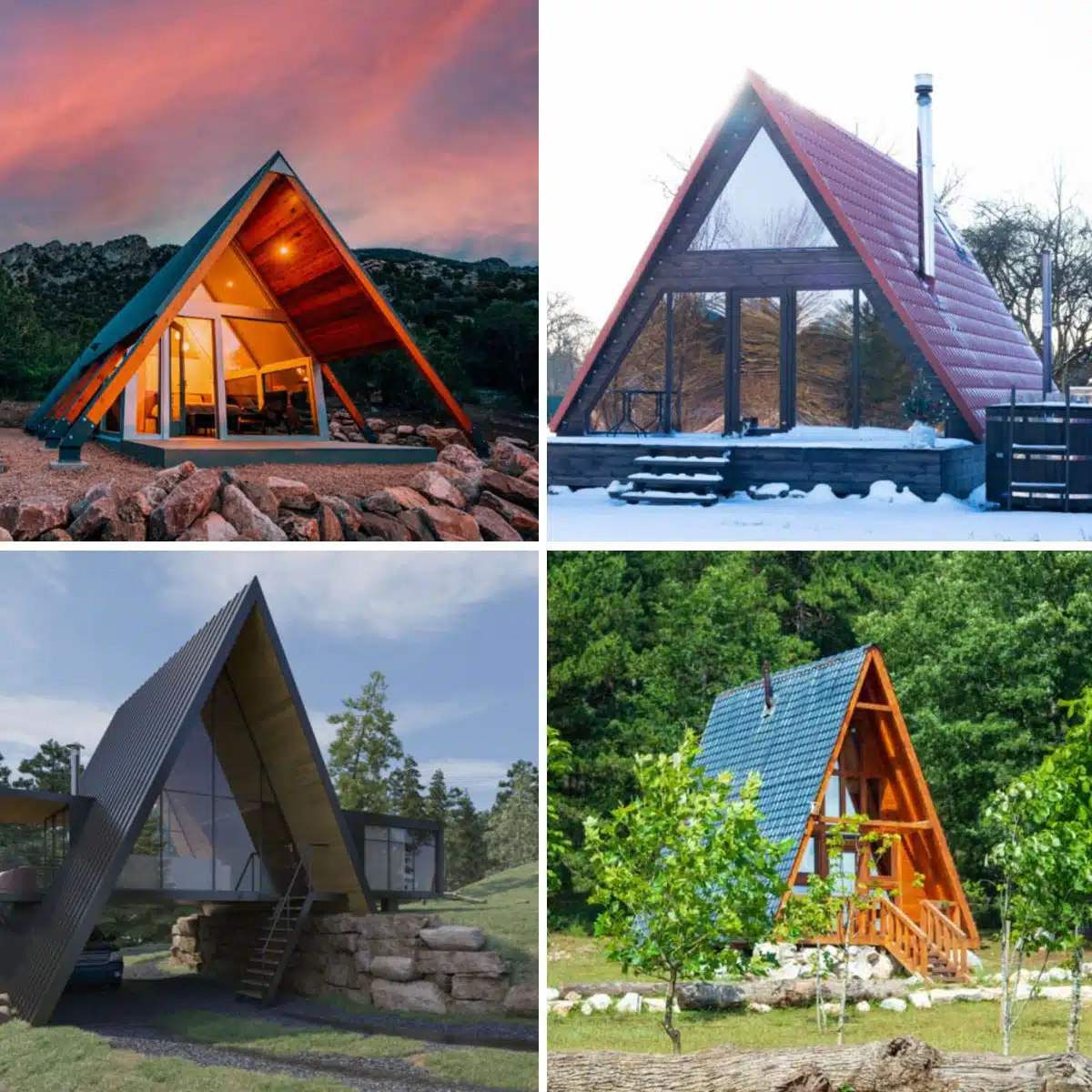 Iconic A-frame tiny houses are quirky and cool. They have become quite popular over the years, especially for vacation homes. This home style or design fits right into vacation homes as they blend in well with nature such as mountains, tall trees, and so much more related to nature.
This design was first made popular back in the year 1934. After WWII, A-frame homes became even more popular. After all, they were relatively easy to build.
What Is A Tiny A-Frame House?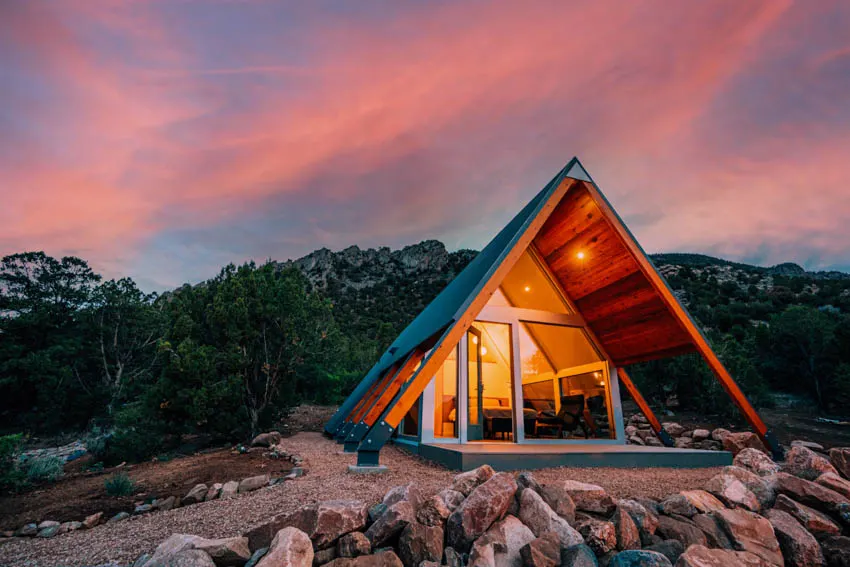 A tiny A-frame house is a housing style that is typically characterized by steep angles along the roofline. It makes the roofline resemble a sharp triangle, or the capital letter A.
Hence, the name for the frame. This said roof-line will usually begin close by the foundation line until the two sides of the frame meet right at the center at the top of the roof or of the house.
Triangular shaped houses are also referred to as 'A-frame' houses. Many can be found in mountainous or resort areas. – Feng Shiu Basics for Real Estate Agents, Kathleen K. MacKenzie
The thing about tiny A-frame houses is that they tend to be more compact. They are usually loft types or bungalows that have a smaller footprint on the first or the lower floor. This is the reason why A-frame houses are popular among tiny homes or secondary vacation homes.
It's relatively easy to build, very aesthetic, and has all of the cabin design elements one can look for in a tiny house. It comes as no surprise why so many tiny houses come in A-frame designs. They make sense. Also, in terms of functionality, they bring in more light and ventilation.
A-Frame House Design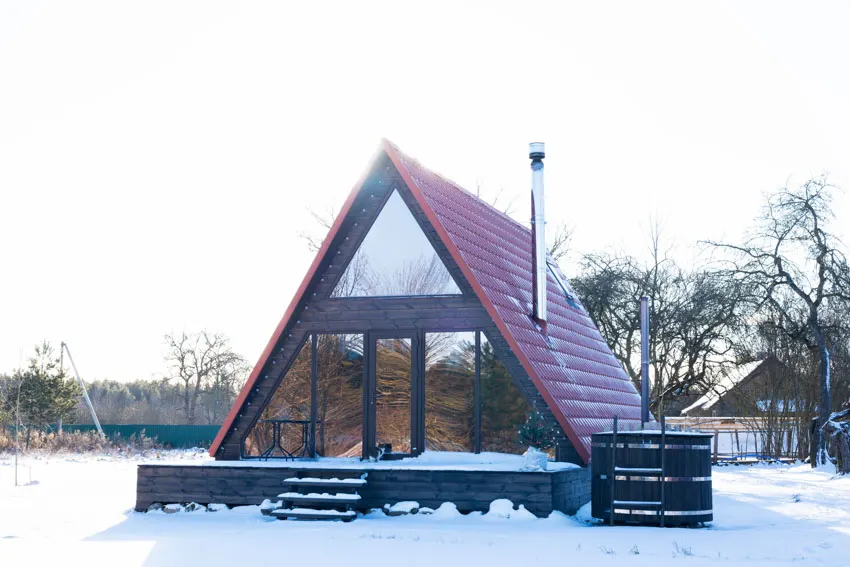 The design of an A-frame tiny house is fairly simple to understand. It's so simple that a team of two capable people can build it out themselves. Larger houses will require more people, of course. However, for tiny houses, a team of two people should be able to get the job done with no issues at all.
It has no external walls. An A-frame tiny house has front and back walls. However, what makes it unique and stand out from the rest is that it has no vertical external walls.
This gives vaulted inclined ceiling design types the feeling of a large and grand interior space without trying too hard. You also get your hands on large open space areas. The width of the interior space is a major plus. It compensates for not having exterior walls.
It has roughly around 20% more exterior surface. Compared to other housing designs that offer far more living space, A-frame houses have 20% more exterior surface or external walls. What this means is that it is far more exposed to the elements.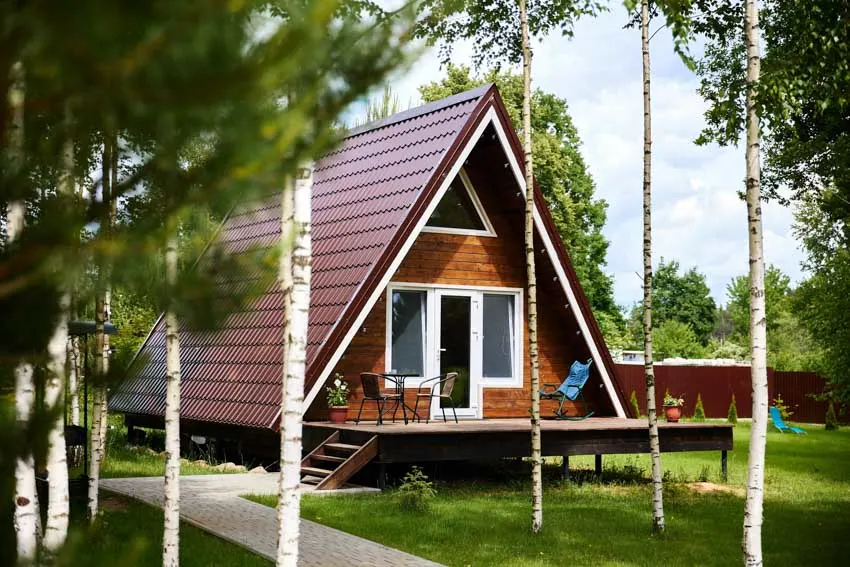 Although this is the case though, this also technically means that you will in turn be using 10% fewer materials for the rest of the construction components such as the floors and the internal connections, as compared to a regular house.
You will use up 10% less material in building your connections, you get to make the house more airtight, and more importantly, you get less heat loss during the colder months.
Since you get so much more roof, this means that your degree of insulation is automatically and naturally more efficient. The cost of installing metal roofs will cost way less compared to installing cladding on walls. This also means that the maintenance will cost less and will be easier.
You can't stand on its roof. It's just way too steep to accommodate anyone on it. Although this is the case, this can be a strength because what it means is that nothing will ever accumulate on the roof: not dead leaves, snow, or any type of plant debris.
Even winds will have a hard time trying to get a grasp on this type of roof. On top of all this, the steep roof is the perfect design to get solar panels installed so if you want to build your tiny house with a renewable energy source, this is the perfect design to go for.
Pros and Cons Of A Tiny A-frame House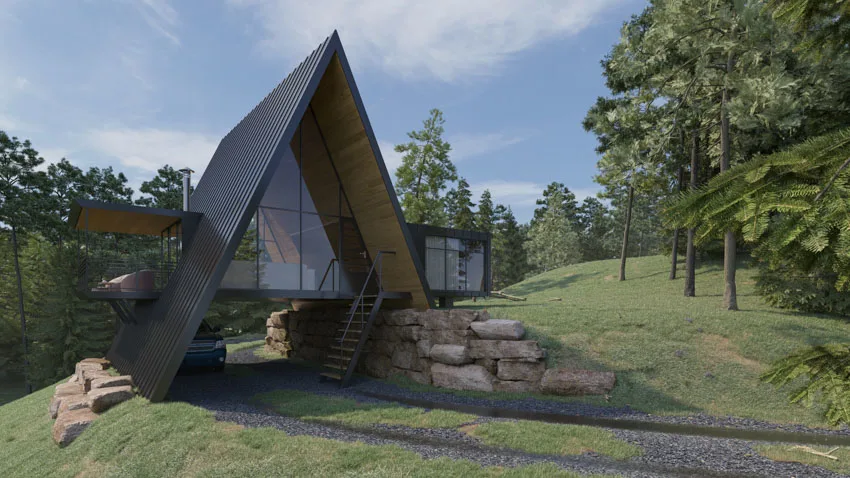 Here's the advantages and disadvantages of this home styles starting with the pros:
Pros of an A-frame Tiny House
Durability: This type of house design is well-grounded. You will find that it will almost always be in its element regardless of the climate and weather conditions. However, it is particularly efficient in areas that have warmer climates.
This can be attributed to the smart engineering that comes along with the construction of tiny A-frame houses. Despite the rather thick and compact-looking walls, what you can rest assured of is that they deliver excellent thermal insulation and climate control.
During the cold winter months, the heavily steeped roof doesn't allow the snow to pile up on top of it. It just automatically slides off. This means that there is less risk of the roof collapsing because it doesn't take on the full weight of accumulated snow for months and months.
Varied designs and layouts: With an A-frame tiny house, you get to have certain creative liberties as the concept of it provides enough space for you to play around with not just the designs but the various construction solutions at your disposal as well. There are lots of things you can do for both its exteriors and interiors.
For example, the design of the frame alone allows you to effectively conceal utility lines within its walls. Its ability to come equipped with ventilated wall cladding will also allow its interior to breathe, encouraging ample ventilation throughout the house.
This means you can forget about mold, mildew, fungus, and other inconveniences brought on by high humidity because that wouldn't be an issue at all with an A-frame tiny house.
It's eco-friendly: Builders would typically use eco-friendly materials for the construction of tiny A-frame houses. They are particularly selective of the timber being used, along with the rest of the materials for the house. This isn't only great for the health of the home dwellers; this also increases the home's curb appeal as well as overall ecological value.
You can build it yourself: A-frame tiny homes can usually be assembled out of pre-made kits. It's simple to put up that even just two people can do it between themselves.
Since they are more inexpensive compared to regular home construction they are frequently used for adu design to create a work from home office or airbnb rental home.
Although this sounds like a huge win for capable DIYers, this can be a downside for people who haven't done their research and who don't have the knowledge about building houses. There have been certain instances wherein people have become overconfident and built their tiny houses without due and proper preparation.
If you don't think you are capable enough to not just build a house but take care of all of the other nitty-gritty details that come along with it, it would be best to leave it up to the professionals.

Cons Of A Tiny A-Frame House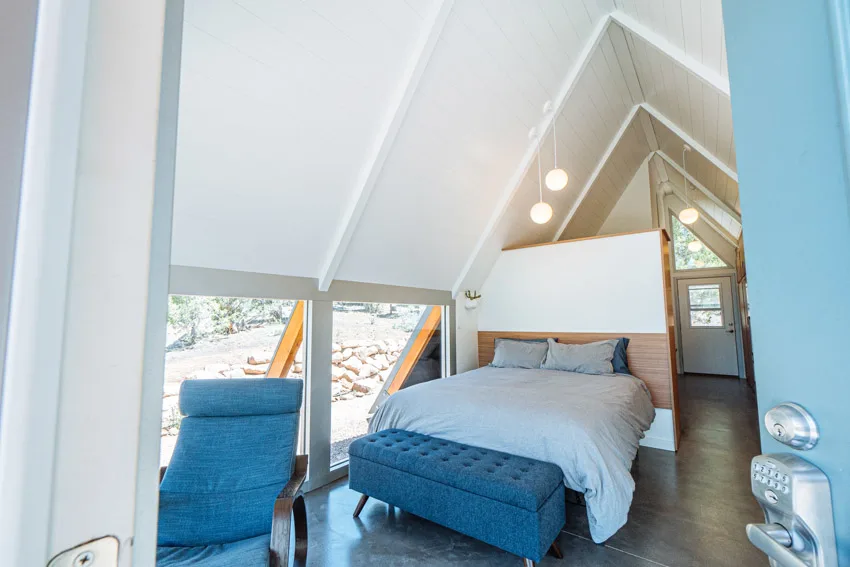 Limited living space: This is one of the major and most notable downsides of getting an A-frame house design. It offers limited living space. These houses usually offer only a single-story or a loft-type design.
It means that there happens to be a lot of wasted space at the top of the house. This is mainly due to its steeply sloped walls. This makes it ideal as a tiny house for smaller families or couples who don't have any children but larger families wouldn't be able to live comfortably in this type of design.
Heating and Cooling challenges: Due to it design warm air will accumulate in the higher parts of the home. This results in a warmer upper area and cooler lower living space. This will require increased heating and cooling bills unless some preventative measures are taken.
No external walls: The design of the home is what gives it its charm but it doesn't appeal to all people. No external walls means your interior is slanted including your windows and will result in challenges with decorating, furniture placement and loss of usable square footage.
Inside An A-Frame House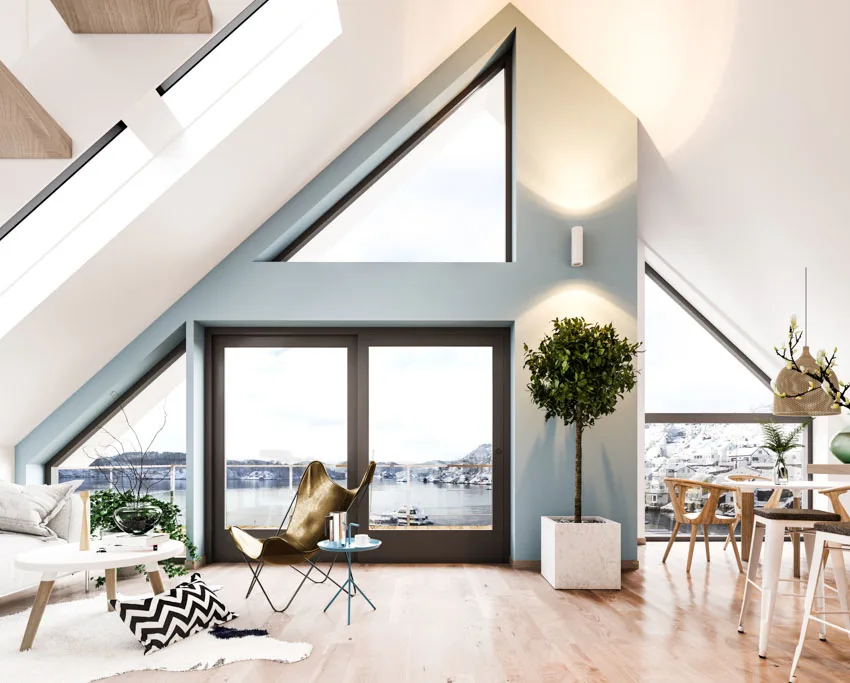 Space can be tight as there isn't any conventional storage space available. It's fair to say right off the bat that the interiors of an A-frame tiny house will be naturally tight or limited.
If you have a big family or if you happen to have a lot of stuff in and around your house and you require a lot of storage options, you might have a lot of challenges. There aren't a lot of vertical walls (or any, for that matter).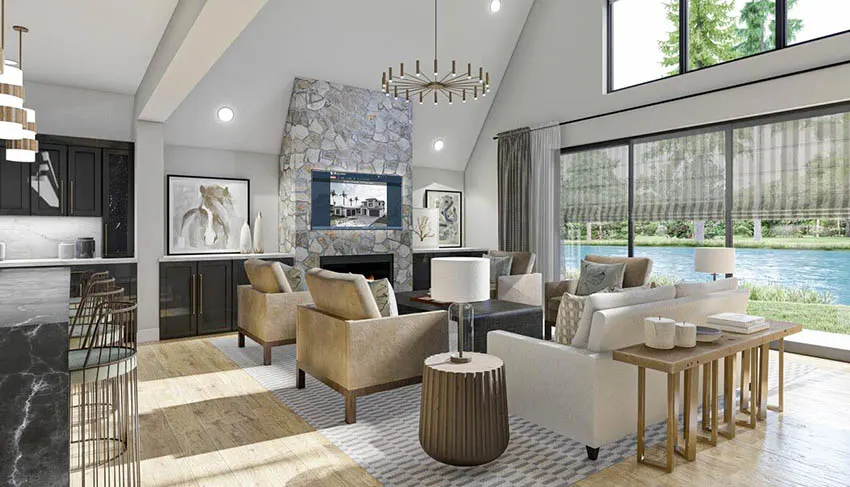 See this modern a-frame house design on this page [sponsored link]
The A-frame means that there will be a lot of unused space close to the floor. This is oftentimes a lost opportunity for added storage space. Still, although challenging, with a little bit of creativity, it is something that you can remedy accordingly.
An a-frame design generally offers challenges for climate control for certain regions. If you are inside an A-frame tiny house, you may have trouble with climate control due to its roof design. Since heat rises it can mean a very hot upper level and a cooler lower level.
This can be especially compounded in the summer and winter time. One solution to this is to add ceiling fans to help circulate the air to other areas of the home.

It's important that installed thermal insulation is top-notch and is something that you will be able to easily maintain. Installing a ductless heating system is another way to control temperatures throughout the home.

Because there is just so much more surface area for the roof, it makes it easier to insulate it. It's also cheaper as opposed to cladding vertical walls.
During the cold winter months, you are also guaranteed added safety because it means that the snow will not accumulate and cause your roof to collapse under the weight as it will slide right off.
A-Frame House Exterior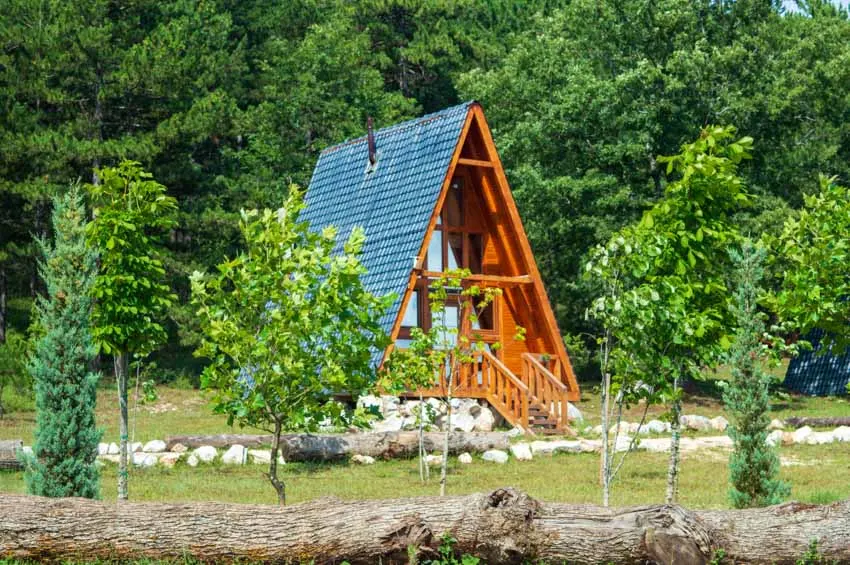 Its exterior features and details are some of the most unique things that make A-frame houses stand out from the rest of the other tiny house designs. Here are the most notable ones so far:
Simple construction: Its concept is simple and easy to understand. There aren't any vertical walls. What it has is a front and back wall that's diagonally inclined, and also doubles over as roofs.
For tiny houses, it's even so much simpler as it usually won't require a huge team of people to bring together. Other similar easier construction house projects include yurts and geodesic dome designs.

Strong exterior shape: It has a very iconic A-shape that is also responsible for its name. it's a very strong and durable exterior shape that can hold its own. Although not all people may be a fan of its steeply roofed design, you can't discount its durability and strength. It's a type of house frame that's built to last until the end of the day.
Durable under harsh weather conditions: Tiny A-frame houses can withstand extreme heat or extreme cold and snow. It's durable enough to stand strong regardless of what the climate might throw at you because of its strategic A-line shape.
Retro style: The A-frame exteriors are a classic and it appeals to homeowners who are into old-style looking houses. They look great and charming and there's a unique aesthetic to the pitched roof.
A-Frame House Kit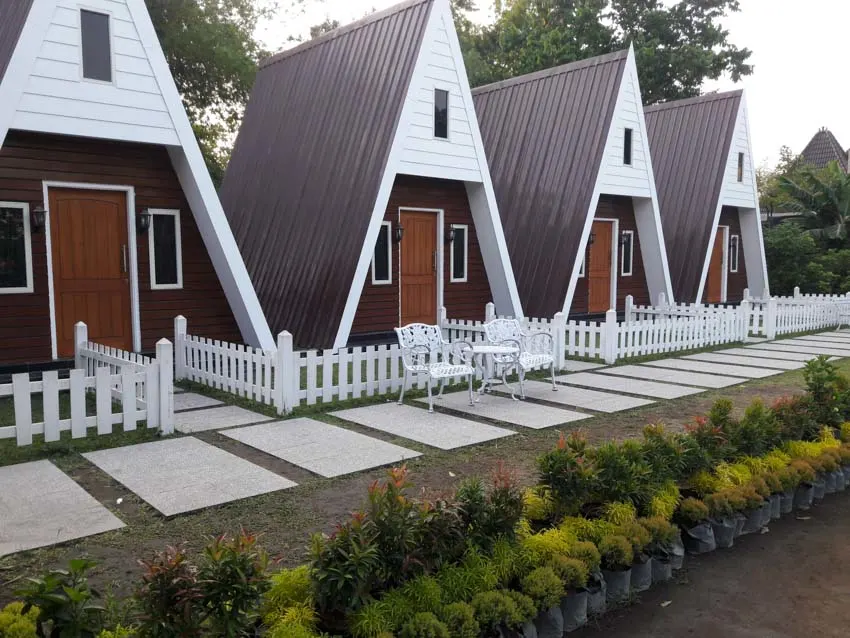 Pre-fabricated kits for A-frame houses are widely available. They're easily scalable and easy to build up or put up together as well. They are easy to install and they can work with a wide variety of environments.
Homeowners can usually save more money with these prefab kits as opposed to building homes the conventional way or building homes from scratch. These kits are designed to save money and energy.
The roof is the perfect setup to get solar panels installed. This can save up on utility costs and it can be great for the environment as well. During the hot months, the living space tends to stay cool because it's on the lower levels of the house.
These kits typically come with open floor plans and this will allow you to customize the interiors according to how you would like them designed. Plus, its uncomplicated design makes it very possible for you to get large scenic types of windows and high ceilings without the high price tag that goes along with traditional construction.
The cost for these kits may vary but they are typically in a range of $7000 and up. This is a fraction of the cost of traditional house construction.
More than that, building your own tiny home isn't nearly as difficult as you would think or expect. You get to customize every detail and bring your personality and design preferences into the space while you're at it.
A-Frame House Plans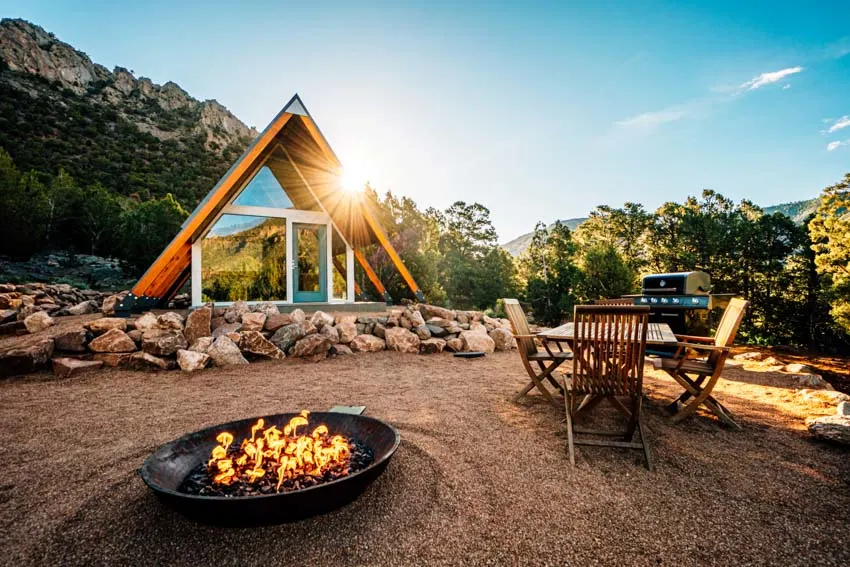 When it comes to picking out you're a-frame tiny house plans, the first thing that you need to consider would is what your needs and top priorities are in the first place.
The steep slope can dramatically make a huge difference when it comes to crucial elements such as your furniture placement, as well as your storage and décor options.
Here are some of the best A-frame tiny house plans to consider:
Deek Diedricksen's Transforming A-frame tiny house plans: The price for this house plan is in the price range of $29.95. Its size is 100 square feet. It costs approximately $700 to $1200 to build.
What's unique about this A-frame tiny house plan is that it has a side wall that opens up, creating an additional semi-outdoor sleeping option or a covered patio; whatever happens to be your preference. It's the perfect plan for when you want to bring the outdoors in.
This house plan is particularly suited for DIYers who aren't all that experienced. It's incredibly easy, affordable, and simple to build. If you bring in the possibility of using salvaged materials, you can lower the construction costs even more.
Architectural Designs House Plans: These house plans include the foundation details, floor plans, exterior & interior elevations, building cross sections, roof plan, Electrical layout (when available), and other specifications for finishes & materials (when available).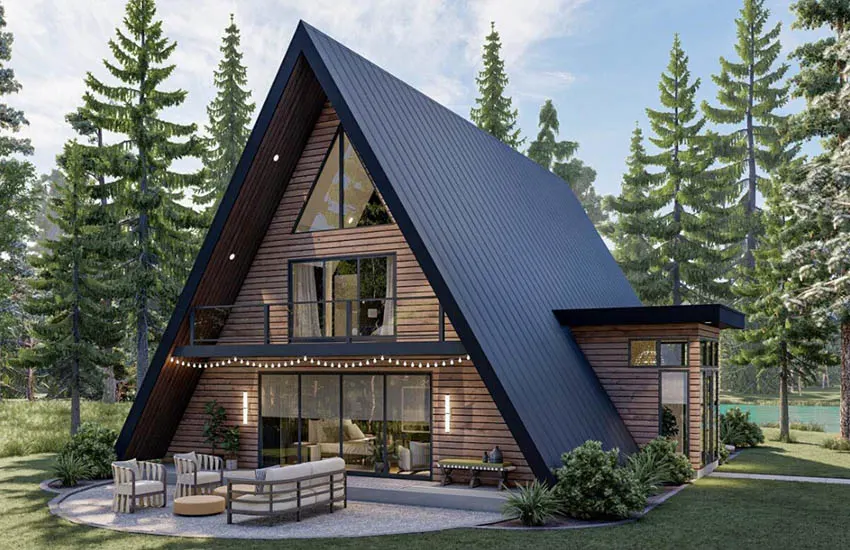 See this 2 bedroom, 2 bath, modern a-frame house design plan here [sponsored link]
Alexis' A-frame tiny house plans: This price plan is $290. Its size is 306 square feet. It costs approximately $11,500 to build. This house plan has one side designed into a dreamy wall of windows.
It allows in not just a lot of ventilation but also a lot of light. It's wide open and airy with almost no interior walls at all. It has a very open-spaced layout. It has every feeling of a tiny cabin home if that's what you're into.
A-Frame House On Trailer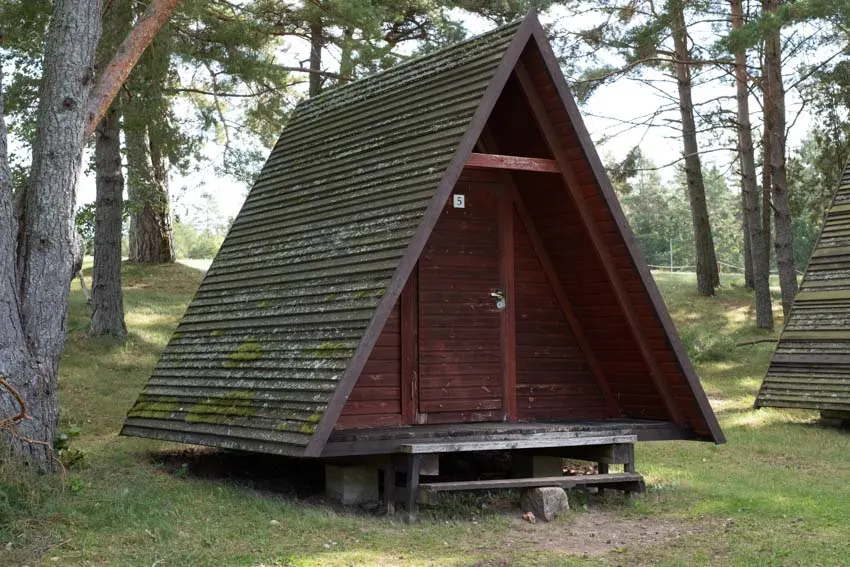 Putting an A-frame tiny house on a trailer is a great idea for several reasons:
• It is extremely difficult to find flat deck trailers that are 30 feet long or longer.
• Flat decks are very expensive.
• Building a frame from scratch for you're A-frame tiny house might be a little too much
Here are some things you need to keep in mind when you're buying a trailer for you're A-frame tiny house:
Axle rating: The first thing that you need to check out on the trailer you're buying is if the axles on them are rated for the kind of weight that you will be putting on them in the first place.
If they are unable to carry the load, they could break or you could get fined for it. The axle rating can usually be checked on either the VIN plate on its frame, or on a tag on the actual axles, or you can measure it out yourself if you want to be a bit more exact.
Thoroughly get the trailer frame inspected: Keep an eye out for holes, cracks, or bends in the metal. Anything is fixable but when you're buying a trailer, it's just so much better for you to steer clear of any possible issues in the future.
Ownership certificate: You need this document for your trailer to be allowed to be legally on the road in the first place. You can always file for a new ownership certificate but take note that this can be challenging so it's always better to request it from the one you're buying the trailer from in the first place.
It must be able to hold your A-frame tiny house: You will need to do your research and familiarize yourself with certain types of metals but it's worth investing your time and efforts in at the end of the day.
Certain trailer frames may be built with smaller pieces of metal and may not support certain weights. Do your research accordingly and always go for frames that can hold over 8,000 lbs or so just to be on the safe side.
A-Frame House With Loft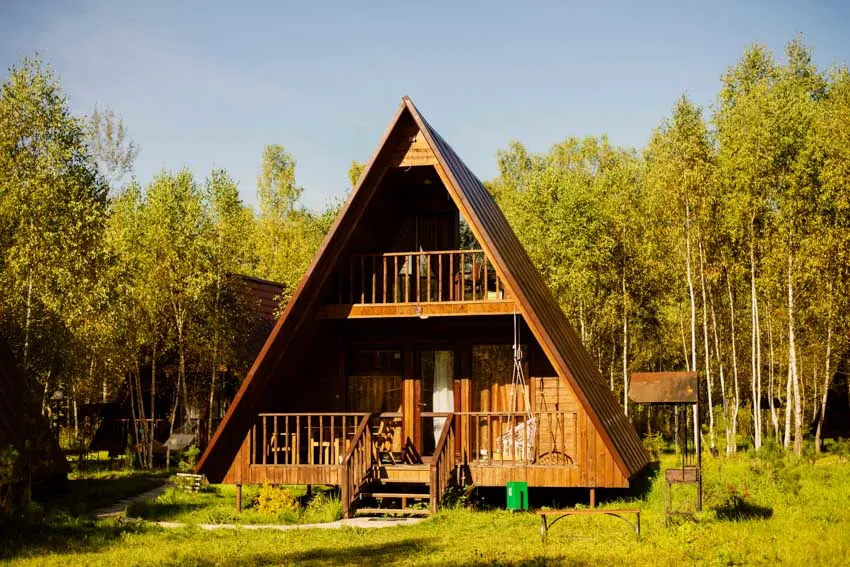 One of the best ways for you to maximize you're a-frame tiny house is to usually go with a loft. Lofts are perfect for A-frame houses because of the steeply pitched roof that comes with the structure. They were originally used as a storage place that had vertical stairs leading to an upper story that isn't completely a second story.
It makes full use of the upper part of your A-frame house so you have a bit more flexibility with how the upper space is used. Some would prefer to turn it into an open-spaced bedroom while others turned it into some time of lounge area or a TV area, even. The thing is, it's completely up to you. It allows you to play around with the space.
Since A-frame houses come with huge windows and lots of natural light, adding a loft to your tiny house would mean that you also get a lot of daylight in the process. This can freshen up and brighten up the space without spending too much additional money on external construction.
There are, however, a few downsides to this. You need to be more creative with your storage options as you will be using every inch of available upper space in your A-frame housing structure.
You are also bound to get higher utility bills while you're at it because huge windows and an upper story would mean that you will require more heat or more cold depending on the season.
If you want to replace your windows to make them a bit more energy efficient, you would have to shell out some money for it as well. Lofts also offer minimal privacy especially if you're sharing with roommates.
Cost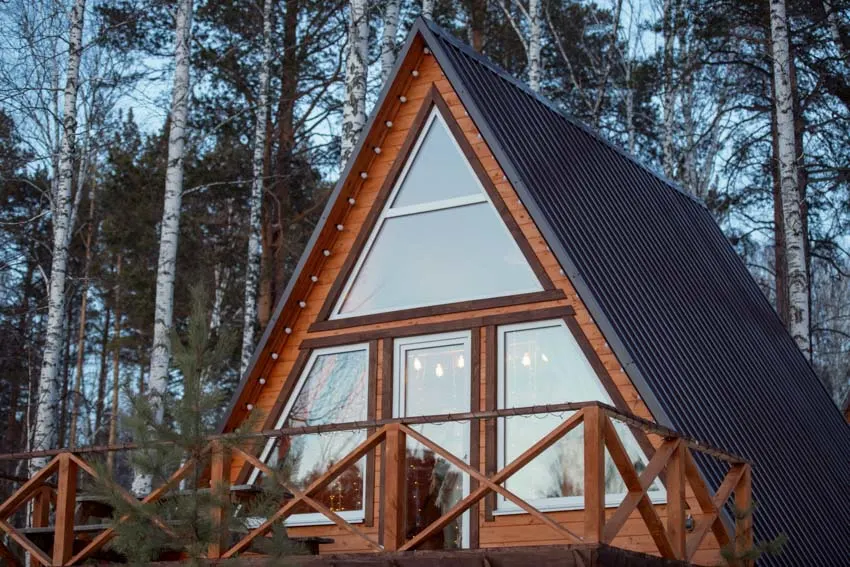 Building an A-frame tiny home will depend on the actual size per square foot. It can range anywhere from $100 to $200 per square foot for your materials as well as for labor. Some can range upwards of $300 per square foot. It all depends on the contractor that you go with.
You may also go with the more convenient A-frame kits but just know that the kits can go with much higher price tags, some ranging from $400 to $600 per square foot. Read more about the standard tiny house dimensions here.
A-Frame Home Builders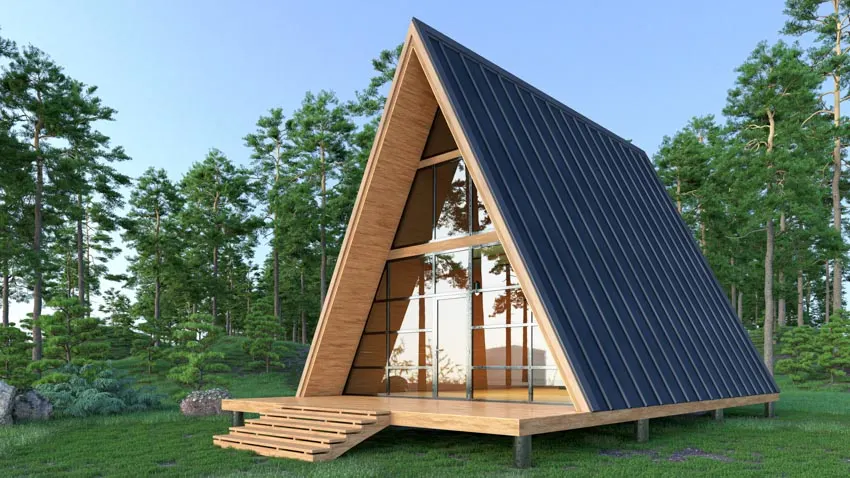 Here are some of the best A-frame housing builders and kits that will simplify the building process for you and allow you to build up your tiny home in record time:
Ayfraym Prefab A-frame Cabin: This is a modular housing kit that can have floor areas as large as 1,943 square feet of interior floor space. But of course, you can always scale it down as they have smaller kit models.
This A-frame structure typically comes with two stories. It's one of the most handsome and luxurious kits in the market and something worth looking into. Depending on the model you would like to go with, it will usually take you anywhere from 4 to 6 months to get this completed.
MADI Home Flatpack: If you want an A-frame housing with a modular design that offers quick installation, this is the kit to beat. You can set this cabin up in as little as 15 days. It is adaptable in any environment but it is especially great for woodsy areas. It can come in single, double, or triple units.
AVRAME Duo Series House Kits: This A-frame building kit has gorgeous aesthetics. It offers 4 different floor plans which means that you get to pick one that aligns with your floor plan as well as with your budget.
This company also happens to be an industry leader in making sustainable kit homes that have a minimal carbon footprint. It also comes with a modifiable loft that you can customize depending on your specific needs. If you want to build your A-frame home without breaking the bank, this is a great house kit to consider.
See more related content in our article about log style houses on this page.