Here's the details about unglazed porcelain tile, including what it is, different types like floor, mosaic, penny, & subway tile, pros and cons, and differences from glazed tiles.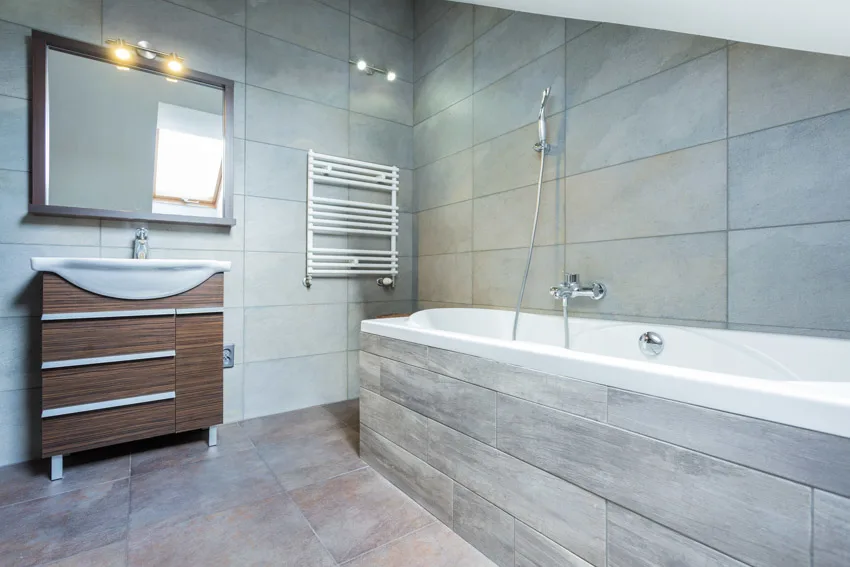 Porcelain tiles are commonly used as home-building materials and that's for a good reason. Made from clay, porcelain has a uniform texture and color which was constructed to be more durable by exposing the tiles to higher temperatures. Compared to ceramics, porcelain is considerably more durable and more expensive.
There are many different options for porcelain tiles (based on the style and manufacturing process) you can choose for your home. You can go for either glazed or unglazed porcelain tiles, depending on your preference.
While most of the porcelain tiles you can see in the market are glazed, you have the option of going for unglazed porcelain tiles. But before doing so, make sure you know what types of tiles you're choosing and what to expect.
What Is Unglazed Porcelain Tile?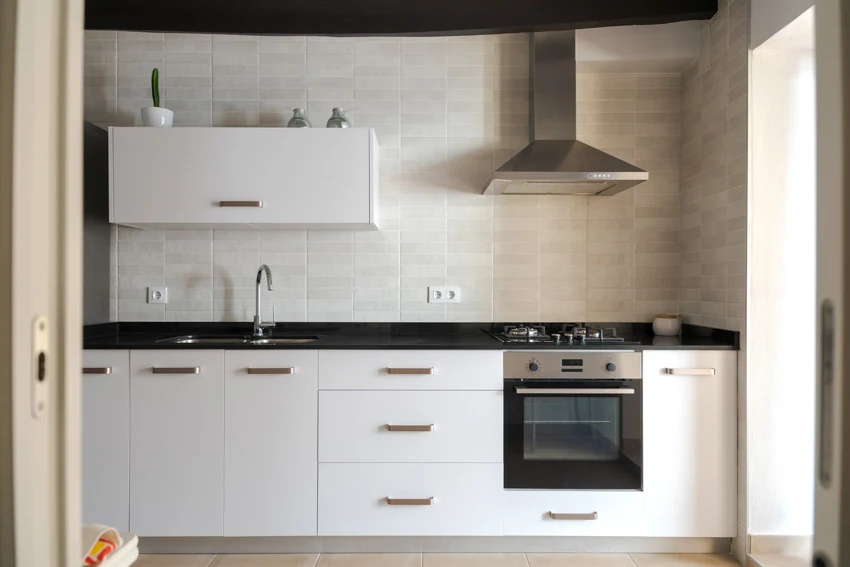 Compared to standard glazed porcelain, an unglazed porcelain tile is a clay tile that was created by leaving the surface uncoated before putting them into and firing the kiln. Without the outer coating, the tiles won't have that shiny surface that porcelain tiles (glazed) are popular for.
Unglazed porcelain tiles have this earthier and more natural aesthetic because the patterns formed on them are naturally created from the minerals found in the clay. Pigments can also be added but most of these unglazed tiles are more natural compared to glazed porcelain tiles.
Technically, glazed porcelain tiles have this glossy and shiny look but they are named not for their appearance but for the liquid glass or enamel coated in the surface of the tiles for an added protective layer. Since unglazed porcelain tiles forgo this part of the manufacturing process, they settle without the coating or the "glaze" making them unglazed.
Unglazed tiles come with a matte appearance but they may also come with polished surfaces. And even without this liquid glass coating, these unglazed porcelain tiles may have this shiny and reflective look. They can have a high sheen and mirror-like surface despite not having the glaze used in the other type of porcelain tiles.
Unglazed porcelain tiles, without the standard liquid glass protecting coating, tend to absorb liquid more and stain more if they go without high-quality protective sealant. You will need to reseal these tiles every and then.
These tiles are often chosen for the following places and applications:
• Commercial Spaces: Unglazed porcelain tiles are durable enough to be exposed to heavy footfall, which you can expect in commercial spaces including airports and hotel lobbies.
• Slippery Areas: Popular for their textured finished, unglazed porcelain tiles are naturally slip-resistant, making them an ideal choice for areas that tend to become slippery when wet, including bathrooms, laundry rooms, outdoor patios and pool surrounds. The tiles need to be excellently sealed to protect the material from possible moisture damage and staining.
• Outdoor Areas: Unglazed tiles are denser and thicker which will make them ideal for outdoor spaces (e.g. garden patio) exposed to weather elements that will require a specific level of durability.
Types of Unglazed Variety of Porcelain Tiles
Here's a quick breakdown of the popular types of unglazed porcelain tiles.
| Tile Type | Quick Summary |
| --- | --- |
| Unglazed Porcelain Floor Tile | A durable and thicker tile option that's slip-resistant and can be used indoors and outdoors. |
| Unglazed Porcelain Mosaic Tile | A decorative option with intricate patterns and designs, often used for backsplashes and walls.. |
| Unglazed Porcelain Penny Tile | Small, penny-sized tiles that can be used for flooring, backsplashes, or to create decorative designs. |
| Unglazed Subway Tile | A classic, rectangular-shaped tile that is commonly used for kitchen and bathroom walls and backsplashes. |
Unglazed Type Porcelain Floor Tile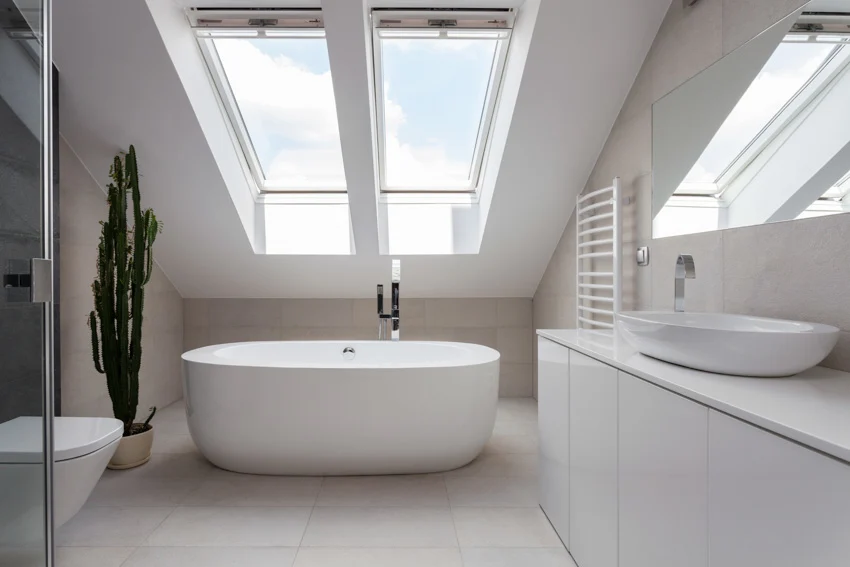 When it comes to floor tiles, durability is a key consideration that should be on top of your priority list. With durability in mind, porcelain tiles will be a better option than ceramic tiles for your flooring. Whether glazed or unglazed porcelain tiles are ideal for your floor is an entirely different matter.
Unglazed porcelain floor tile is a better option than its glazed countertop since the material is notably denser, thicker, and more durable.
Unglazed porcelain floor tiles can take wear and tear and heavy footfalls better than their glazed countertops. These durable tiles would last longer and can even be installed in areas with heavy foot traffic.
Unglazed Mosaic Tile Made of Porcelain Material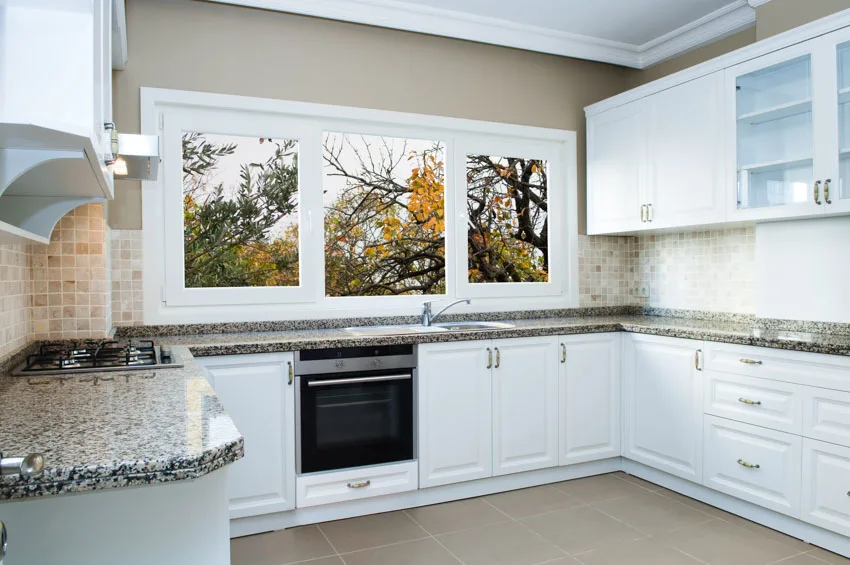 Mosaic is a style or design that includes piecing together small pieces and parts to form an elaborate pattern or work of art. The tiles are cut into many smaller pieces to effectively form the patterns you want. Besides the option to customize the pattern and design, mosaic tiles add visual interest and depth to a design.

With unglazed porcelain mosaic tile, cutting the tiles may take a bit more effort since the materials are denser and thicker to work with. It will also take a bit of a creative touch to build a masterpiece.
If you're going to use unglazed porcelain tiles though, you may be limited in your options when it comes to style since many of them are centered on a rustic and traditional look. See pictures of mosaic tiles for shower floors and walls here.

Since unglazed porcelain tiles can absorb water, you might think twice about using them in the kitchen and bathroom. Sealing them is also absolutely important which may be a bit tricky with mosaic tiles but it's still worth the try.
Porcelain Penny Tiles Without Coating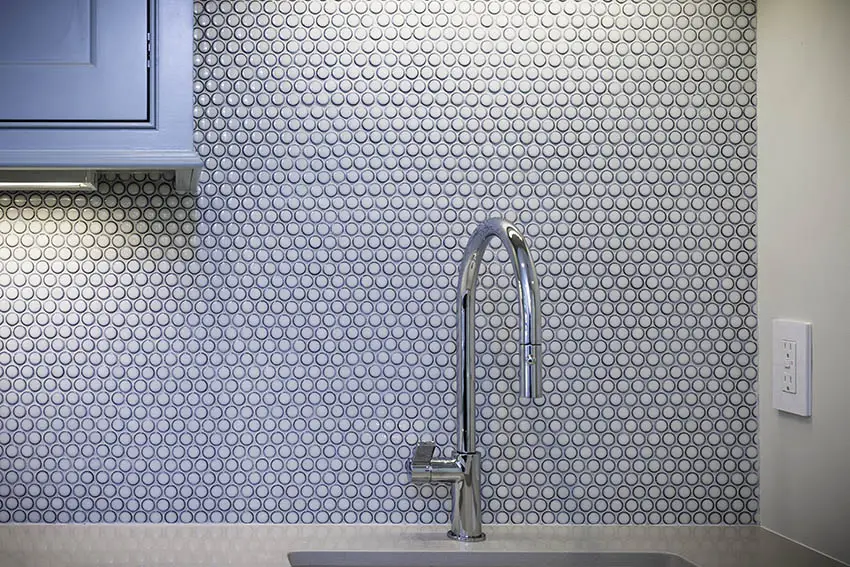 Penny tiles, just as they are named, are tiny tiles that usually come in round shapes. This is why these tiles are also known as penny round, despite the close to hexagonal shapes they come in. And yes, you can also use unglazed porcelain tiles for your penny tiles.
Like the difficulties you may encounter with mosaic tiles, unglazed porcelain penny tile will need thorough and meticulous sealing just to be sure that the tiles are well-protected (Especially if you're installing these tiles in the kitchen or bathroom).
Cutting them and shaping them into "pennies" usually is not necessary as they often come in large 1ft by 1ft tiles. Aesthetically though, these unglazed porcelain penny tiles can add visual impact in your home, wherever you plan to install them.
Penny tiles are versatile because of their size and they can even be available in metal, glass, and ceramics. If you choose unglazed porcelain penny tiles, you can make your life easier by purchasing ready-made mesh backing with an established pattern that has been meticulously sealed.
Unglazed Subway Tile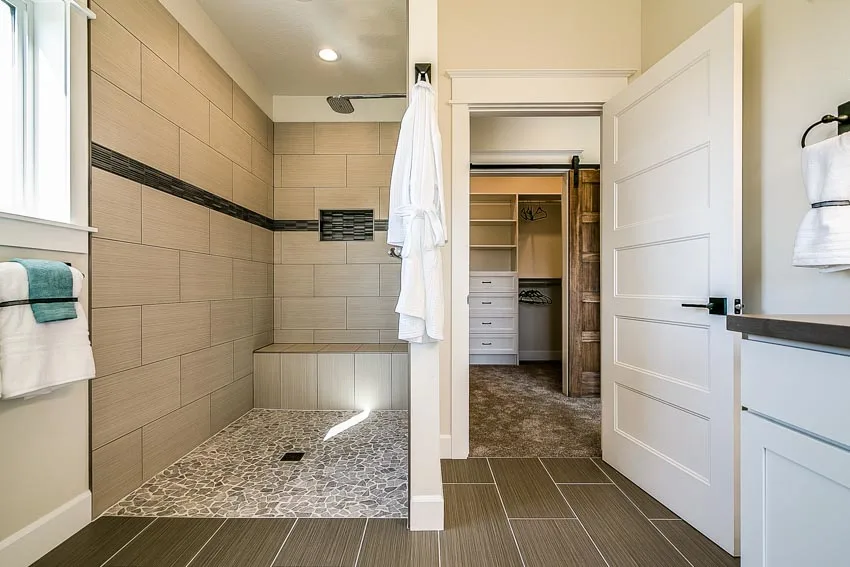 Another way you can up the ante for your unglazed porcelain tiles is by turning them into subway tiles. Based on the early 1900s New York City subways, these subway tiles are known for their white and rectangular look paired with a high-gloss coating.
The high-gloss coating is the distinguishable characteristic of these tiles since they were used to brighten dark subway stations. While unglazed porcelain tiles more commonly come in matte, they can also come with a gloss finish despite not having that "glaze".
Unglazed subway porcelain tiles look classic and traditional, adding visual interest to the room they are installed in. The uniform look offers a clean yet trendy aesthetic that can be flexible to other styles you can use for certain types of room in a house.
Pros and Cons of Uncoated Porcelain Type Tiles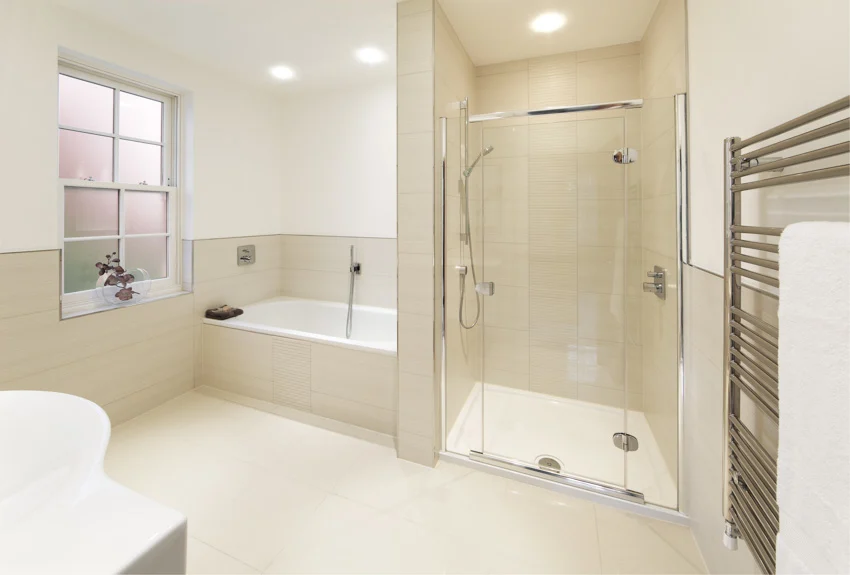 Unglazed porcelain tiles are the less popular type of porcelain tiles you can use for your home. While not often used at home, they are the preferred option for many business owners.
But if you're thinking about using these unglazed porcelain tiles for residential use, you will need to take into account the advantages and disadvantages that you will get from using these tiles at home.
Pros of Porcelain That Is Unglazed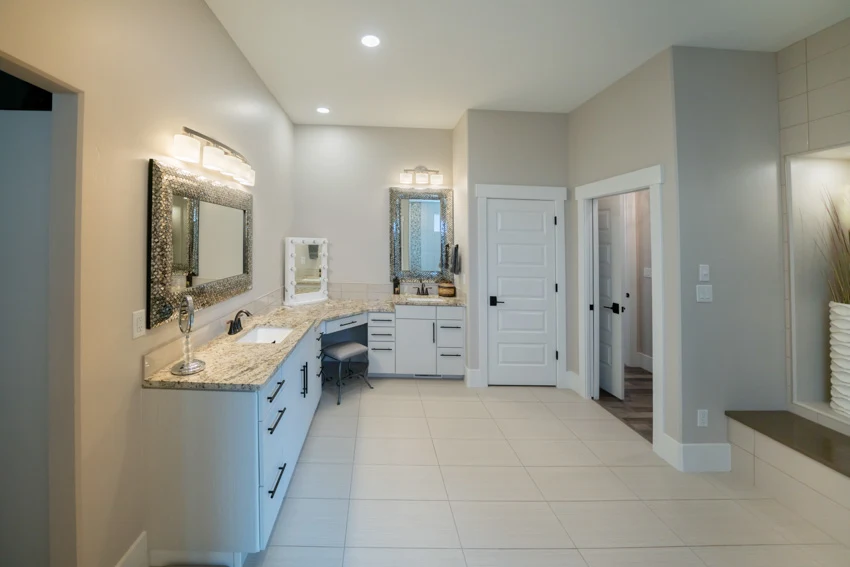 Unglazed porcelain tiles may be less popular than their glazed counterparts but that doesn't mean that they are less effective as a construction material.
• Natural-looking Aesthetics: Unglazed porcelain tiles have this more natural surface since they are free from enamel or liquid glass, which also makes them ideal for rustic-style and laid-back homes.
The earthy and rustic look comes from the aesthetics and colors developed from the mineral deposits in the clay. And they can go well with all other styles, decor, and embellishments.
• Thick, Dense, and Scratch-resistant: These unglazed tiles are thicker and denser and so would be more durable too. This is why these porcelain tiles are among the better types of flooring materials, particularly for areas with high foot traffic. With their durability, the tiles are hard enough that the scratches won't penetrate the surface.
• Slip-resistant: Unglazed porcelain tiles are known for being naturally slip-resistant since they go without enamel or liquid glass as their coating. Because of this characteristic, the tiles make a perfect material for outdoor areas and commonly slippery spaces.
• Easy to Preserve & Maintain: While generally difficult to maintain, the unglazed tiles are easier to handle and preserve. You only need white vinegar for grease and stain cleaning and combine it with a gallon of water.
Cons of Unglazed Tiles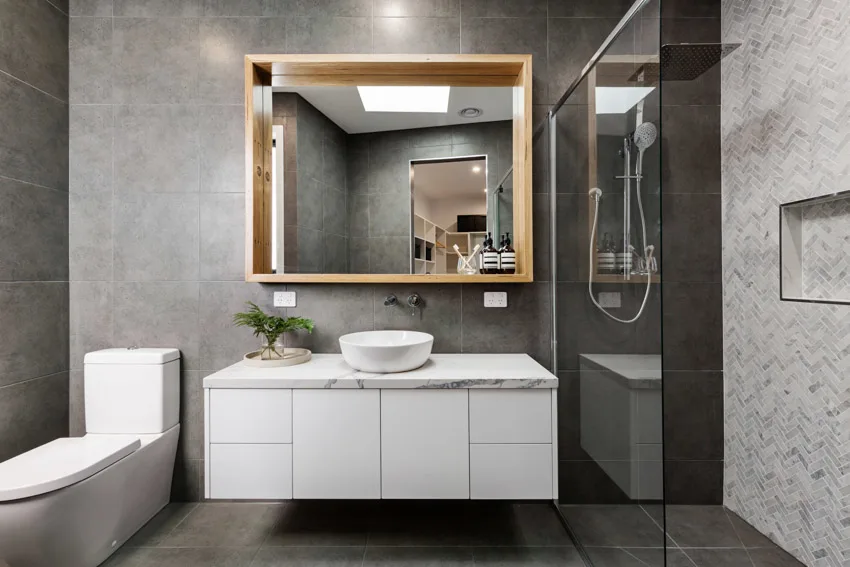 There are many benefits you can expect from unglazed porcelain tiles but there are also several drawbacks you have to learn and be prepared for.

• Prone to Moisture Absorption and Staining: Since unglazed tiles remain porous that they can absorb moisture and stains, sealing the material to protect the tiles from moisture damage and stains.
• Heavy and Dense: Porcelain tiles are thicker and denser than ceramic tiles and unglazed ones are even thicker than glazed tiles. This means that unglazed porcelain tiles are dense and heavy, making them a bit difficult to work with.
• Difficult Installation: Since unglazed porcelain tiles are dense and heavy, it will be difficult to install them. Cutting them will take much more effort and laying them out properly will also need more strength. In fact, you might need the assistance of an expert to install these tiles properly.
• More Expensive: In general, working with porcelain tiles will require you to have enough budget. And while their costs are not outrageous, they also don't come cheap, especially with unglazed porcelain tiles. You might even be charged for the installation if you don't know how to work with these unglazed tiles.
Glazed Vs Unglazed Tile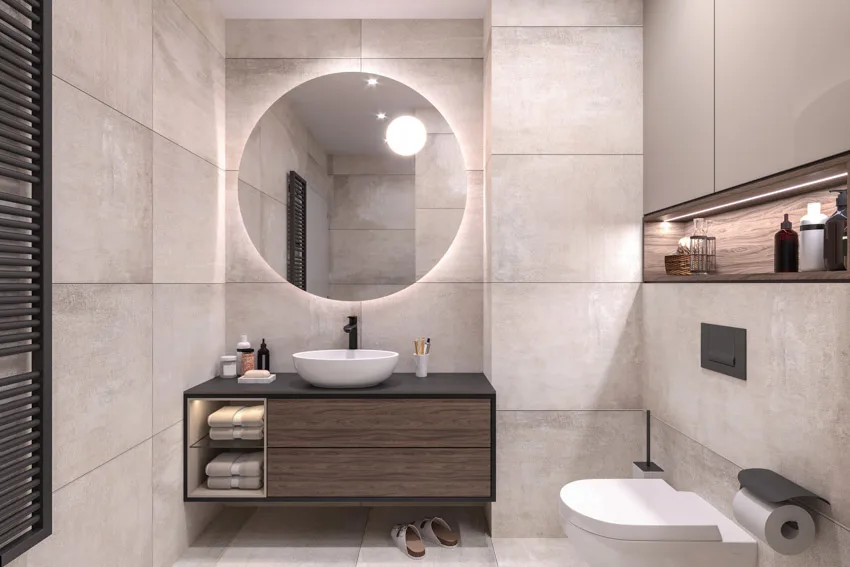 Porcelain tiles can come in two main forms, glazed and unglazed tiles. In working with these tiles, you need to have an overview of what you can expect from the materials you've chosen.
To give you just that, here is a sneak peek of the difference between glazed porcelain tiles and unglazed porcelain tiles.
| | | |
| --- | --- | --- |
| Factors to Consider | Glazed Porcelain Tiles | Unglazed Porcelain Tiles |
| Manufacturing Process | With additional firing process layered with liquid glass coat | Without the additional step with coat |
| Ideal Application | Indoors (Mainly residential) | Outdoor areas (Commercial) |
| Surface Texture | Tends to be slippery | Naturally slip-resistant |
| Resistance to Stains & Scratches | Stain-resistant but with scratches tend to be visible | Scratch-resistant but are prone to stains |
| Thickness | Thinner and less dense | Denser and thicker |
| Variety of Options | Large variety of selection | Limited availability of style |
| Types of Tiles Available | Never full body porcelain tiles | Always full body porcelain tiles |
Manufacturing Process: One of the most major differences between glazed and unglazed porcelain tiles is a single step in the manufacturing process. While they are both compressed and tightly fired at an extremely high temperature, unglazed porcelain tiles skip one important process.
This involves the application of liquid glass or enamel on the surface of the tiles before firing them up. The unglazed porcelain tiles become "unglazed" because of the lack of this protective coating of enamel and liquid glass (usually 5 to 7 microns thick).
Physical Components: Unglazed porcelain tiles are considerably denser and thicker than glazed porcelain tiles. Because of their thickness, these unglazed tiles can be a bit difficult to work with, from cutting shapes to laying them out.
With this, you can handle glazed porcelain tiles better and you might want the help of an expert if you're dealing with unglazed porcelain tiles.
Durability: This factor is one of the priorities that many homeowners consider to be top of their lists. You need to be able to balance aesthetics with durability for a well-rounded performance and advantage.
Since unglazed porcelain tiles are thicker and denser, they are logically more durable. Naturally, they are resistant to scratching and slipping.
An important thing to remember about unglazed porcelain tiles is that they need to be sealed and then re-sealed after some time. Unlike glazed porcelain tiles that remain non-absorbent for life, unglazed porcelain tiles need to be treated to deal with their porosity.
Maintenance: When it comes to maintenance, glazed porcelain tiles have it easier since you won't need to seal and re-seal them to protect the tiles against stains and water damage, unlike unglazed porcelain tiles.
Glazed porcelain tiles also rarely get stained and unless you seal your unglazed tiles, it will take much more effort to clean unglazed porcelain tiles than their glazed counterparts.
Ideal Application: Unglazed porcelain tiles are thicker and denser, and they have a better handle on daily wear and tear and high foot traffic.
In addition to that, they are also naturally slip-resistant. This is why they are perfect for the following:
• Commercial areas (Hotel lobbies, retail stores, and cafe flooring)
• Public spaces (Train stations)
• Outdoor spaces (Parks)
• Outdoor wet areas (Spaces surrounding the pools)
Glazed porcelain tiles, on the other hand, are thinner but have more protection from stains and moisture. This makes them the best option for indoor spaces and those areas daily exposed to moisture in your home, including the following:
• Washrooms
• Laundry Rooms
Types and Options: Glazed porcelain tiles are available in a wide selection of designs and patterns, especially since they can be printed by inkjet machines. Unglazed tiles, on the other hand, are more natural and only available in their earthy and authentic look.
How to Seal Porcelain Without Any Coating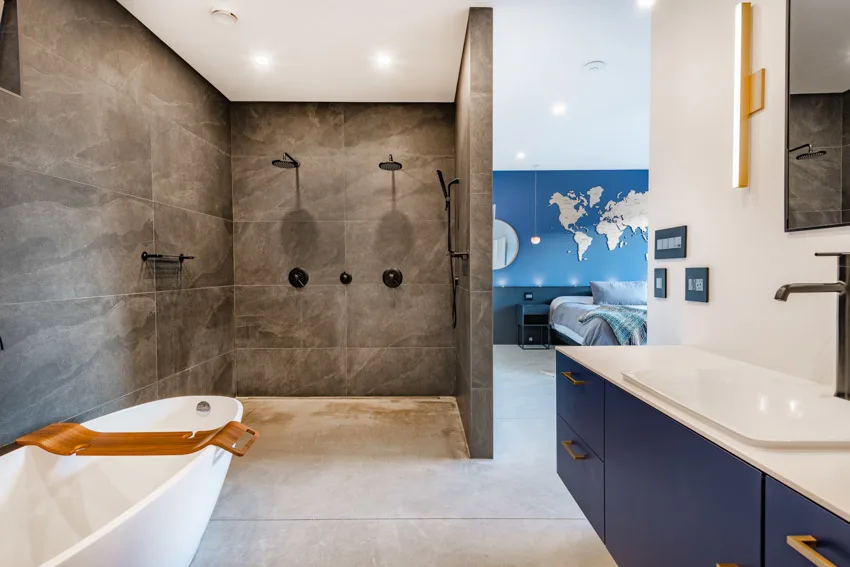 Sealing the unglazed porcelain tile is important to prevent possible moisture damage and stains in the future. This is one of the drawbacks that unglazed porcelain tiles have against glazed tiles.
When you seal your unglazed porcelain tiles, you can use them even in spaces that are often exposed to moisture, including the kitchens, bathrooms, and shower areas.
If you're sealing the unglazed porcelain tile yourself, you need to know how to do it in the first place. Unglazed porcelain tiles need to be sealed using a liquid tile sealant of your choice and you should accomplish this task during the installation process.
In your sealant choice, make sure to consider whether you want to keep their flat look or you want other textures, which you can choose through the sealant (Gloss and non-gloss options).
To help you seal your unglazed porcelain tiles, here are the simple steps to follow:
• Step 1 – Layout the unglazed porcelain tiles on the floor: Use a tile adhesive to lay the tiles down and make sure that they are spread down (either ⅛ or ¼ inch from each other) using a notched trowel. Use your tile cutter to cut the edges of the tiles and let them set overnight.
• Step 2 – Apply the sealant: Get your paintbrush and dip an inch or two into the sealer and slowly and meticulously brush into the surface. Make sure to keep the strokes short and in one direction. Avoid the spaces between the tiles.
• Step 3 – Let the sealant dry: After the first coat, let the sealant dry for an hour or two before applying the second coat. After the second coat, let the sealant dry overnight.
• Step 4 – Grout the tiles: Use a flat rubber trowel or a grout float and press the grout into the lines. Allow it to sit for 10 minutes before wiping the lines with a damp sponge to remove excess grout.
• Step 5 – Allow the grout to cure: Wait for a week for the grout to completely cure before re-coating with the sealant. Follow step 4 again and completely let it cure for another week.
How to Clean Porcelain Without a Coating of Glaze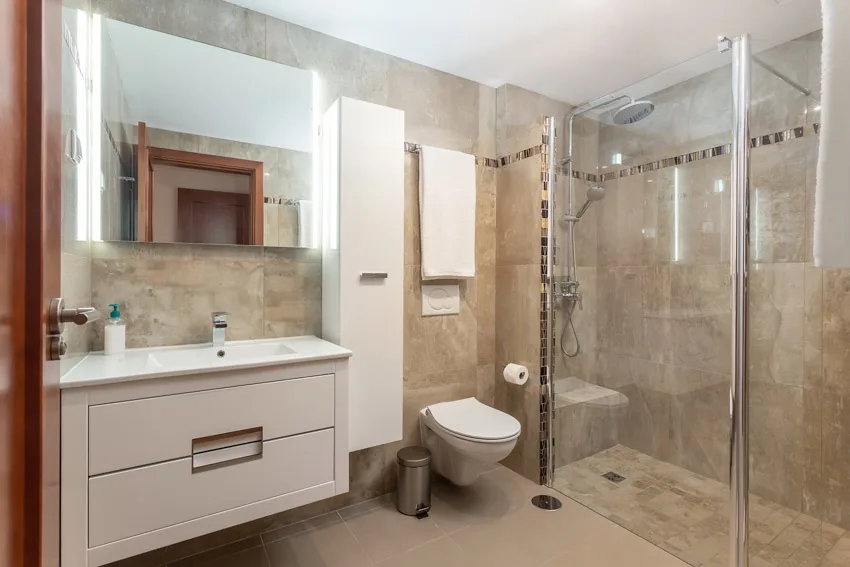 Compared to other materials, porcelain tiles are considered easy to clean. This is the same when it comes to unglazed porcelain tiles. But there are specific cleaning methods that are ideal to be used for this type of porcelain tiles.
Here are the simple steps to follow.
• Step 1: Gather everything you need – Make sure you have the following items:
Stiff broom

Bucket

Clean cloth

Scrub brush

1 cup white vinegar

1 tsp. Dishwashing liquid

Water
• Step 2: Clean the unglazed porcelain tiles with a stiff broom – Use your stiff broom to sweep on the surface of the tiles to make sure that you create enough friction to remove all dirt that got collected.
• Step 3: Create your homemade cleaning solution – Combine 1 cup of white vinegar and a gallon of warm water in a bucket. Mix the 1 tsp of dishwashing liquid in the vinegar-water solution (Do not add the dishwashing liquid while the water is running to avoid creating too many suds).
• Step 4: Wipe over your unglazed porcelain tiles – Dip a clean cloth in your cleaning solution and make sure to wring out all the excess liquid before wiping the surface of the tiles and removing all the grime. Re-wet your cleansing cloth frequently.
• Step 5: Dry your porcelain tiles – Get a clean and dry cloth to wipe the surface of your unglazed porcelain tiles dry.
Can You Use Unglazed Type Tile in the Shower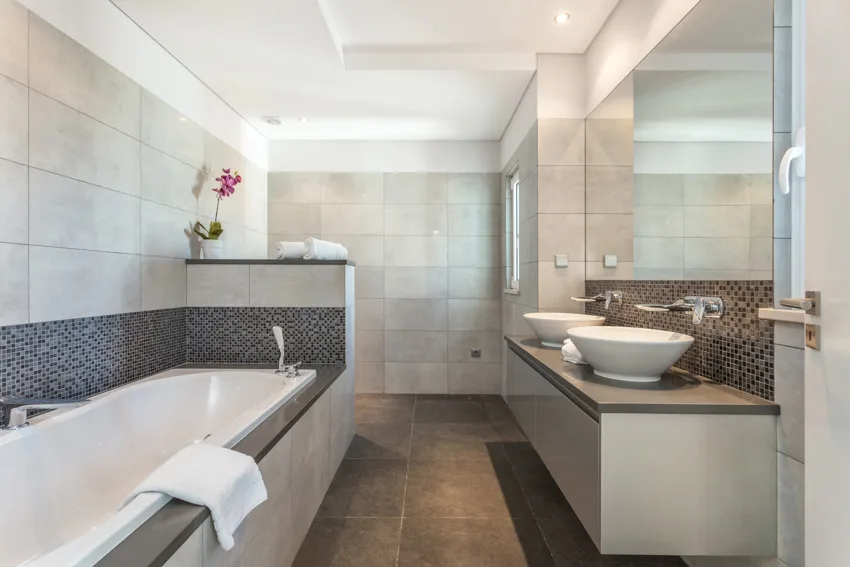 Porcelain tiles are popular for being durable and used in areas that are often exposed to moisture. This goes the same way with unglazed porcelain tiles even if they are not coated with enamel or liquid glass that serves as extra protection for the tiles.
Unglazed porcelain tiles are actually ideal for spaces exposed to moisture like the shower area because of their naturally slip-resistant surface. You won't have any issue with the possibility of slipping on the floor when wet. Daily wear and tear won't also be an issue since these tiles are particularly dense, thick, and durable.
If you're worried about the porosity of the material and the possible water damage and stains from too much exposure to moisture, that won't be a problem if you seal the tiles.
While they remain porous and tend to absorb liquid unlike their glazed counterparts, they can be protected from water damage and stains. You just have to make sure that all the porcelain tiles are appropriately sealed and when the time comes, re-seal the tiles for their continuous protection.
See more related content in our article about granite flooring on this page.