See Saltillo tile floors including what it is, different types, design ideas, where to use them, cost, sizes, and Saltillo tile installation tips.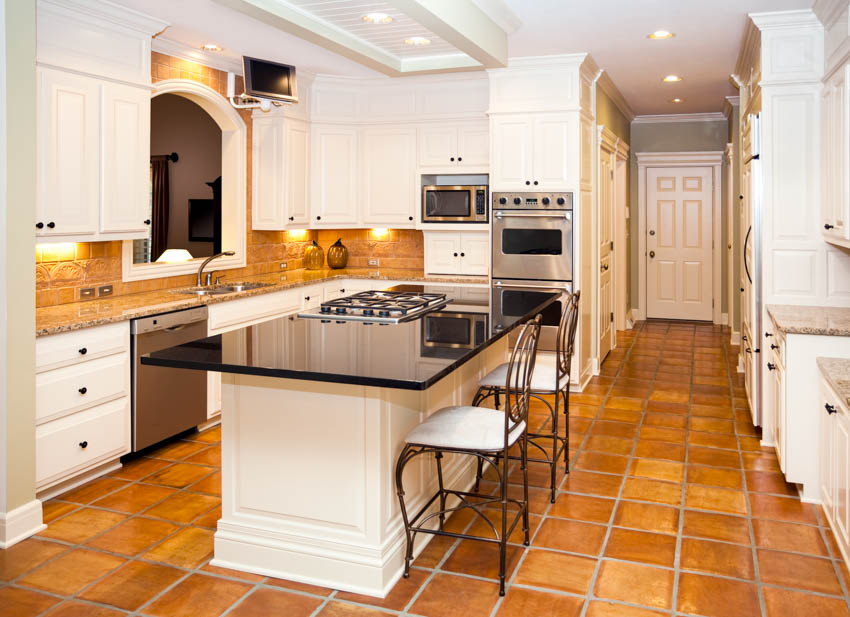 Saltillo tile is a prevalent option for residential flooring in Mexico and the southwestern United States. These tiles are an all-natural and ecologically friendly material that is manufactured from clay and often sun-dried and gently kiln-fired.
Indeed, Saltillo tile is also a natural fit for flooring, patios, walls, and other applications. Saltillo tile not only provides warm tones in orange, red, or yellow, but it is also smoother and softer, making it excellent for barefoot within your house or in your outdoor space.
What Is Saltillo Tile?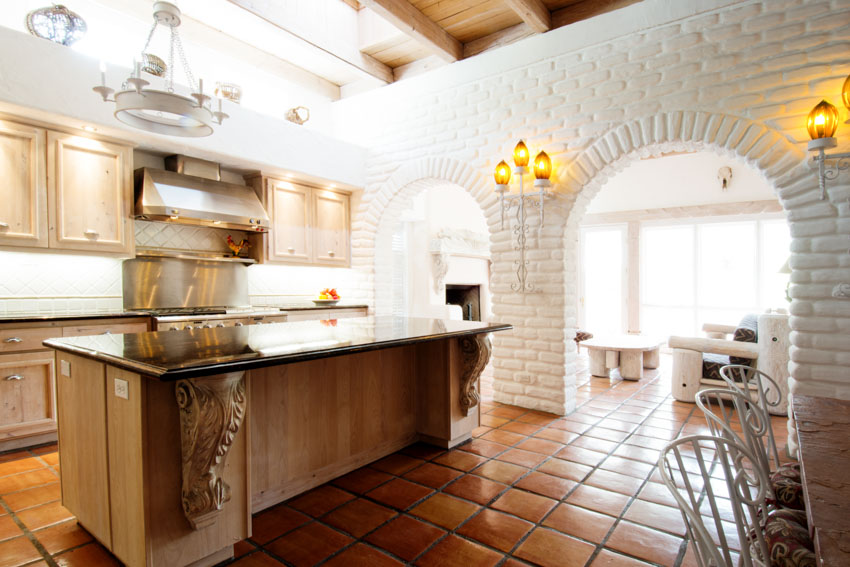 Saltillo tile is a form of terracotta tile that originated in the Mexican city of Saltillo. It is among the city's two most well-known commodities, while the other is the region's multi-colored woven serapes. Saltillo tiles are currently manufactured throughout Mexico, and high-fire Saltillo-look tiles, many of which are imported from Italy, vie with the terracotta classics.
The manufacturing method of Saltillo tiles allows for a solid extent of natural color variation, giving houses a warm and lived-in sense. Saltillo tiles, sometimes known as terracotta tiles, have a natural top texture and warm red or orange hues.
The procedure of manufacturing the tile necessitates sifting the clay beforehand, and the overall quality of the tiles is heavily dependent on how effectively the clay was purified.
However, because each tile is handcrafted without the aid of machinery, imperfections are to be foreseen. These can involve chips, lumps, pits, or subtle waviness, all of which enthusiasts of the tile deem essential to the material's rustic appearance.
Since these types of floor tiles are frequently sun-dried, you may occasionally find an animal footprint as well. Moreover, Saltillo tile, with its rough surface, is suitable for areas that require a non-slip surface. Saltillo tile flooring comes in a variety of forms and sizes.
Types Of Saltillo Tiles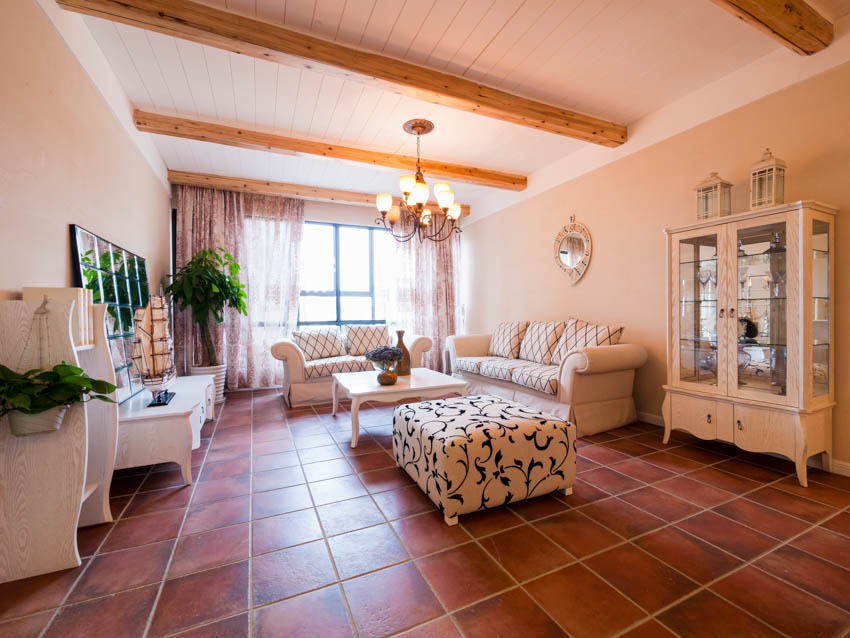 Here are some of the different Saltillo tile designs available:
Mexican Saltillo Tile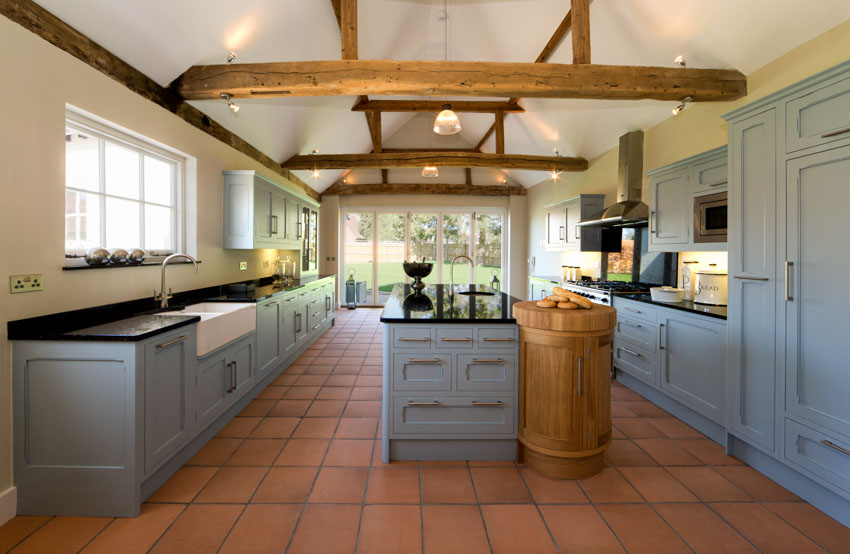 Mexican Saltillo floor tiles are terracotta that has not been sealed. They are handcrafted in Saltillo, Northern Mexico, from local clay with a distinctive natural mineral composition that makes the tiles incredibly resistant when burnt in special kilns.
Moreover, Mexican Saltillo tiles are produced by hand and fired at a moderate temperature. The clay is therefore hand-packed into wooden shapes and sun-dried. These tiles are placed in wood-burning kilns after they have dried and are baked for a whole day.
Furthermore, the Mexican Saltillo tile is an excellent choice for residences who desire to emulate the architectural styles of Mexico, Spain, or Southwest America. Their beauty is remarkable, and their quality is extremely durable and extremely resistant to moisture. As a result, it is appropriate for wet spaces such as bathrooms, kitchens, pool decks, and certain types of patios.
Some Mexican Saltillo tiles vary in shape and texture, with wavy features and diverse sizes and colors of orange, yellow, and red. They give every room an earthy appeal, with gentle yellowish, pinkish, and reddish tones, bringing warmth to every space.
Saltillo tile can indeed make high-quality floors, but one factor to be aware of is its significant porosity. This is partly because of the product's construction, which produced a textured surface. Since it is a porous form of tile, it requires a strong sealant to avoid damage.
In addition, if you want something more homogeneous in tone, shape, and size, there are also machine-made Mexican Saltillo tiles available on the market. See more ideas in our Spanish style kitchen designs article.

Modern Saltillo Tile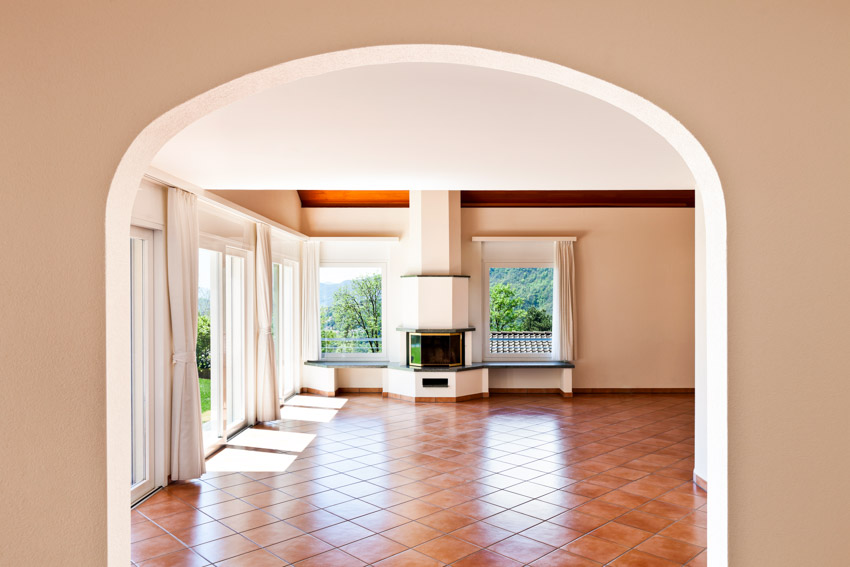 Saltillo tile is well-known for giving any home a distinctive Spanish flair. Its gorgeous brown terracotta coloring and exquisite cuts have elevated it to the status of a timeless classic. Nonetheless, although most people consider Saltillo to be an old-school material, you should be aware that there are also modern-styled Saltillo tiles.
Saltillo tiles themselves are not modern-looking, but you can always style them to make them look modern. For instance, you can mix them with an all-white theme with sharp accents. Saltillo tiles can also be combined with industrial-style decor.
However, the deep brown of Saltillo tile can be overwhelming in most modern spaces. Thus, the easiest solution to make Saltillo tiles look more modern is to mix them with wood stains that complement them. This is a design concept that works best in wider and more expansive areas.
Hexagon Saltillo Tile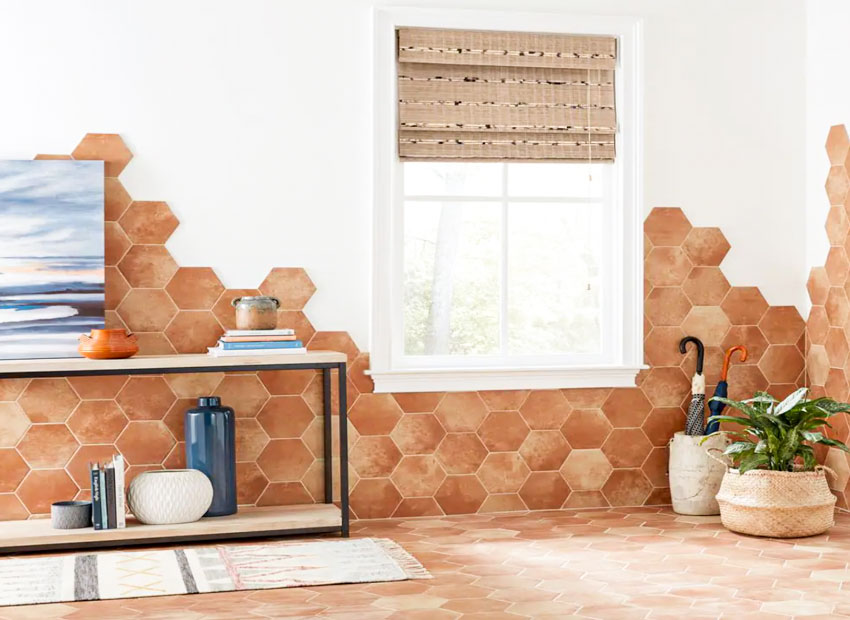 See this hexagon Saltillo tile set at Home Depot [sponsored link]
Hexagon Saltillo tiles are a favorite option for patios and other outdoor spaces. Hexagon Saltillo tiles are a preferred flooring option for modern, country French, and Mediterranean-style homes. This Saltillo type is hexagonal in shape.
Hexagon Saltillo tile is a popular choice for individuals who wish to add a Southwestern or Spanish flair to their property. This Saltillo tile shape is known for its beautiful terracotta bronze tone, and it is both timeless and sharply exquisite.
Octagon Saltillo Tile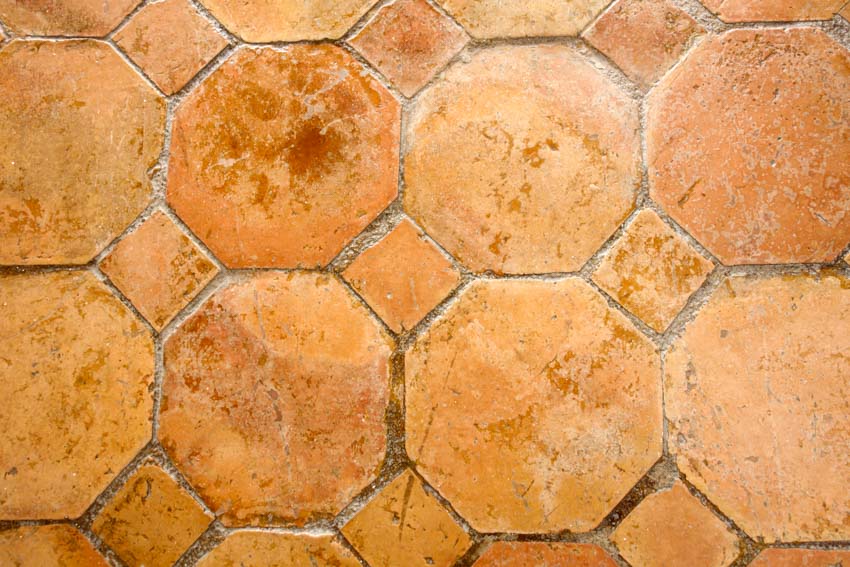 The stylish octagon Saltillo floor tile is ideal for both old and modern homes. Octagon Saltillo tiles are indeed an eye-catching and extraordinary accent to any house and are ideal for incorporating flair and originality into your kitchen, corridor, living room, or patio.
The octagon Saltillo floor tile is great for designing a space that is classic, minimalist, and classy. These exquisite tiles can evoke memories of the Victorian era.
Although the smaller-sized octagon Saltillo tiles are a popular choice for vintage-home renovations, the bigger-sized octagon Saltillo tiles may be integrated into older houses for an updated aesthetic or installed in modern homes for a unique modern twist.
Faux Saltillo Tile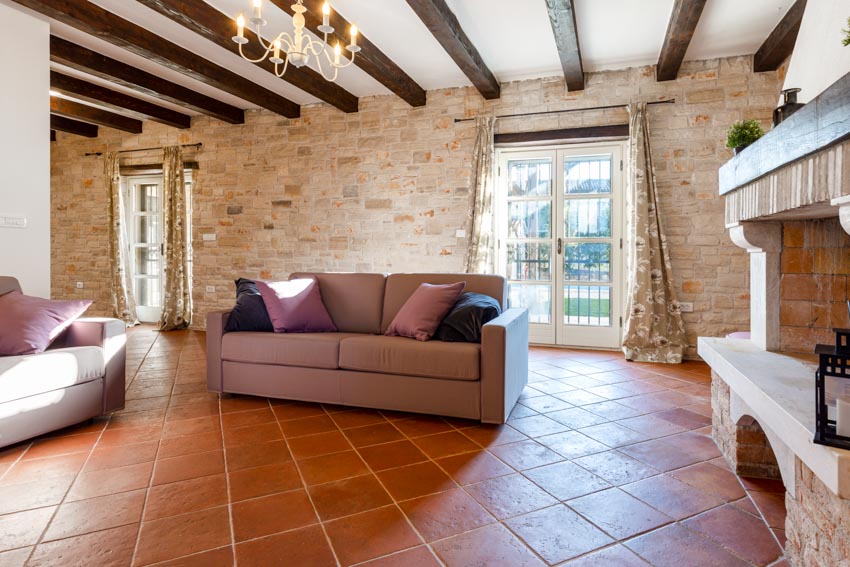 As opposed to genuine Saltillo tiles, faux Saltillo tiles are typically available in lightweight sheets with a simple interlocking pattern. With this low-cost solution, you can bid farewell to costly materials and awkward grouts and say hello to the appearance of luxurious Saltillo tiles without the cost.
There are various alternatives that replicate Saltillo such as laminate floor tiles with a picture of Saltillo tiles on top of them. Concrete tiles are yet another realistic Saltillo appearance alternative.
You can even construct these all by yourself at home using concrete poured into a mold that imitates the shape of Saltillo, and you can also paint them to make them even more realistic.
Where To Use Saltillo Tiles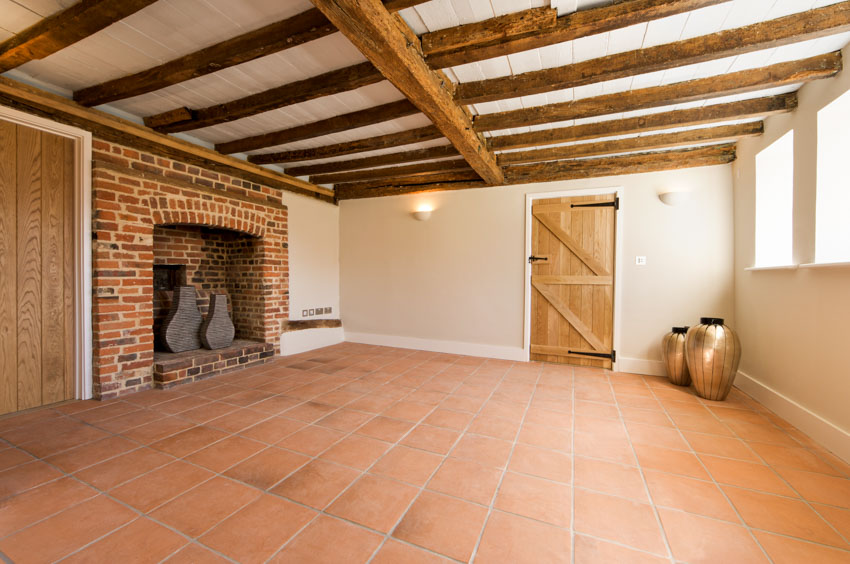 While Saltillo tiles are frequently used indoors and outdoors there are some places where they're seen most.
Here are some of the best uses and design variations for different areas of the home.
Saltillo Tile Kitchen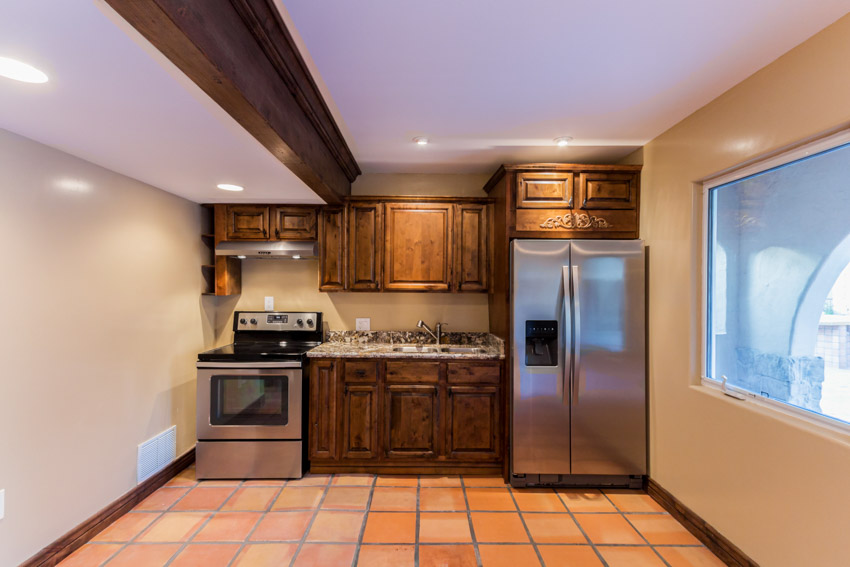 Saltillo kitchen tiles come in three different finishes: traditional, manganese, as well as antique. There are certain colors for each finish that go wonderfully with the final finish. If you want to provide your kitchen with a traditional style, you can use warm hues such as gold, orange, red, and yellow based on your preferences.
If you want to create an old-world look in your kitchen, those dark Saltillo tiles with vintage hues are great. Such antique-finished kitchen floor tiles display rust and terracotta patterns. If you want them to look more antiquated, you can use darker grouts. The manganese finish, on the other hand, is great for homeowners who want to remodel their kitchens.
Saltillo tiles are indeed among the promising types of kitchen flooring because they are simple to keep clean, moisture-resistant, and long-lasting. Aside from that, it has a remarkable potential to enhance the look and feel of your kitchen space.
Because they are no longer limited to 12 × 12 square shapes, you can choose the size and preferred shape based on your requirements. Whether you are installing a new kitchen or revamping an existing one, Saltillo tile flooring is ideal for kitchens since it can completely transform the aesthetic.
Saltillo Tile Living Room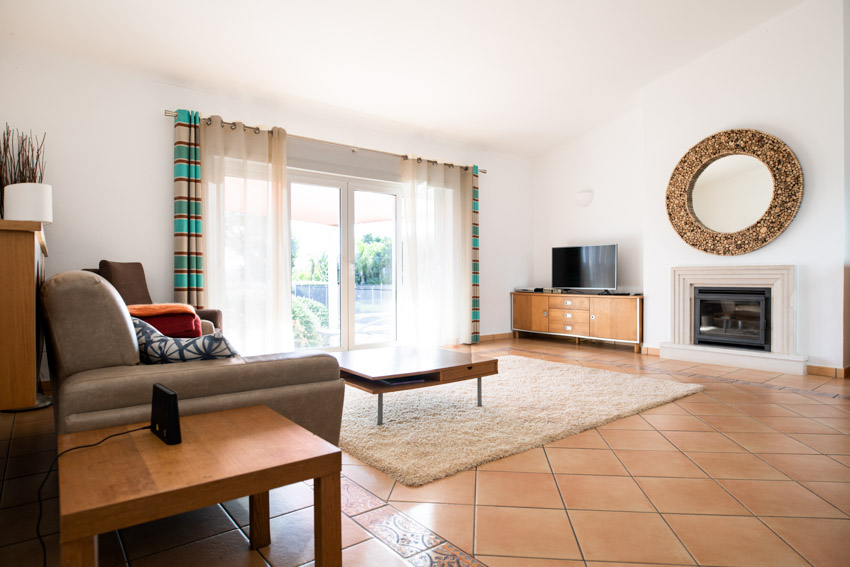 Inside your house, your living room is the place to socialize with families and friends. Fortunately, the natural warmth of Saltillo tiles creates a cozy environment to unwind, watch movies, and organize family and group gatherings. You can bring the distinct charm and beauty of Saltillo tile flooring to the heart of your home, where living takes place.
Because your living room is a heavy-traffic area that requires frequent cleaning, you should consider the longevity and simplicity of cleaning the tile you choose. Thankfully, Saltillo tiles provide fantastic value by being the greatest all-rounder in meeting all of your needs.
If you want to give your living room an exquisite Spanish vibe, you can take into account using Antique style Saltillo and embellishing it with stone walls as well as hardwood boards. You can pick Saltillo tiles in manganese finish for contemporary vibrant living spaces, which are ideal for showcasing your colorful décor with their stunning light and dark brown tones.
Classic terracotta Saltillo tiles, along with dark wooden furnishings and walls painted in a neutral tone, can give your living room a minimalist and natural vibe. Large hexagonal tiles are also appropriate for large living rooms with large-scale furnishings.
They come in a variety of floor tile sizes and thicknesses, making them suitable for any size of living room. You can also incorporate a hand-painted Talavera tile insertion in your Saltillo tile arrangement for a more dramatic look.
Saltillo Tile Bathroom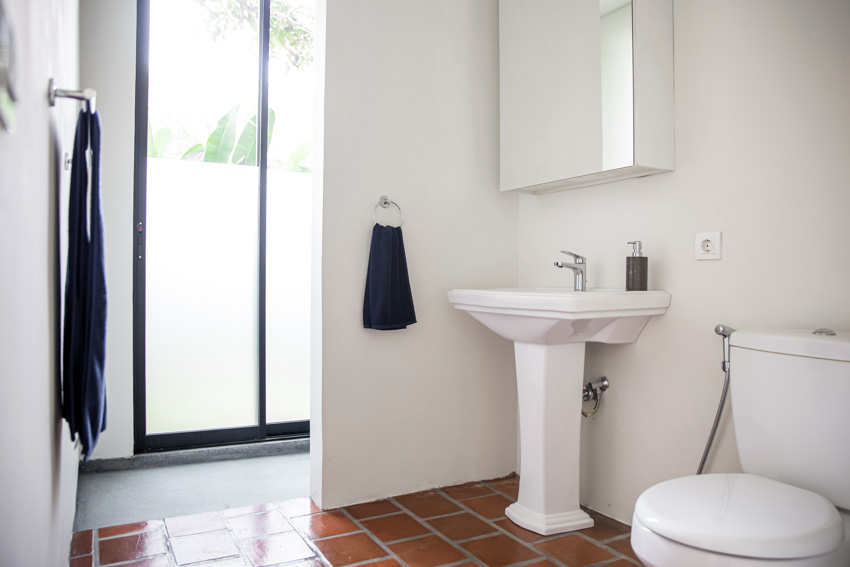 Saltillo tiles are among the finest bathroom tiles obtainable since they are attractive, long-lasting, and handmade. It also contains all of the necessary characteristics for bathroom flooring, like being water-resistant, slip-resistant, easy to clean, and hard-wearing.
Aside from that, you can personalize your bathroom by installing wall tiles that match the Saltillo floor tiles to complete the design. See more bathroom floor tile ideas here.

Outdoor Saltillo Tile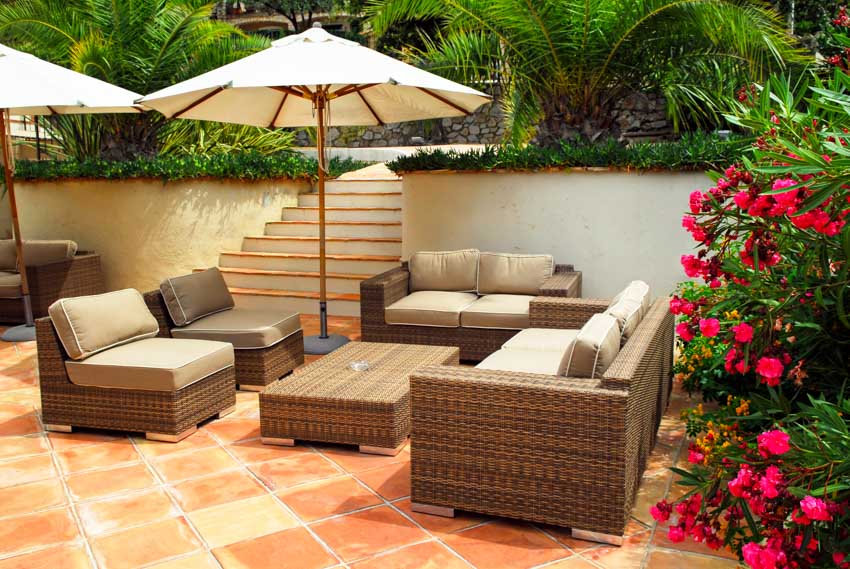 Saltillo tile flooring in your outdoor living space creates the ideal environment for connecting with nature at home. Saltillo tile is a high-quality outdoor tile that may transform any space into something picturesque and serene.
Because each tile is handcrafted, each design is distinctive and cannot be found elsewhere. Your guests will be astounded to see how Saltillo outdoor tile harmoniously merges with nature and creates a fantastic atmosphere for outdoor living.
If you want to give your patio a rich appeal, you can combine traditional Saltillo terracotta design with distinctive Talavera tiles. Manganese finish is suitable for residents who are trying to modernize the look of their outdoor space.
Saltillo outdoor tiles with a modern style are usually obtainable in lighter or darker hues of brown, depending on your interests. Nonetheless, all Saltillo outdoor tiles are also low-maintenance and simple to keep clean.
Saltillo Tile Cost
When it comes to Saltillo tile, homeowners should anticipate having to pay between $6 and $7 per square foot on average. In the United States, homeowners continue to choose this type of flooring frequently. It is appreciated for its distinct design and ease of upkeep. Although true Saltillo tiles have no finishing or glazing, certain manufacturers might apply a finish before they are installed.
Furthermore, the costs for this widely known flooring tile can soon rise. If you try to install it yourself, the cost will just rise further. It is strongly advised that the installation be performed by an expert.
Before settling on which specialist to hire for the task, gather at least three estimates. The majority of estimates are normally provided without charge.
Here are a few brief pointers to help you with your buying and installation of Saltillo tile.
• Invest a little more money than you intended. If there are any technical issues or delays during installation, these extra funds could come in helpful.
• Pay a visit to a few various Saltillo tile retailers. Determine the lowest potential cost for the flooring.
• During autumn and early winter, Saltillo tile prices typically decrease. This is an excellent time to look for new Saltillo flooring.
Saltillo Tile Sizes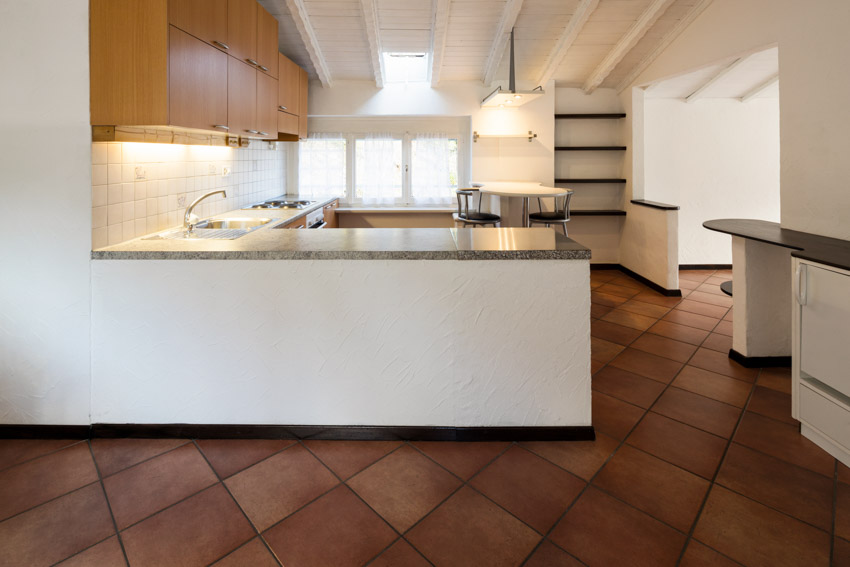 Saltillo tiles come in a variety of shapes and sizes, including hexagons, octagons, squares, and rectangles. Each Saltillo tile shape is available in the following sizes:
• Hexagon Saltillo Tile: 5 inches, 8 inches, and 12 inches
• Octagon Saltillo Tile: 8 inches and 12 inches
• Square Saltillo Tile: 3 inches, 4 inches, 5 inches, 6 inches, 8 inches, 10 inches, 12 inches, and 16 inches
• Rectangle Saltillo Tile: 3 inches by 6 inches, 4 inches by 8 inches, and 6 inches by 12 inches
Saltillo Tile Installation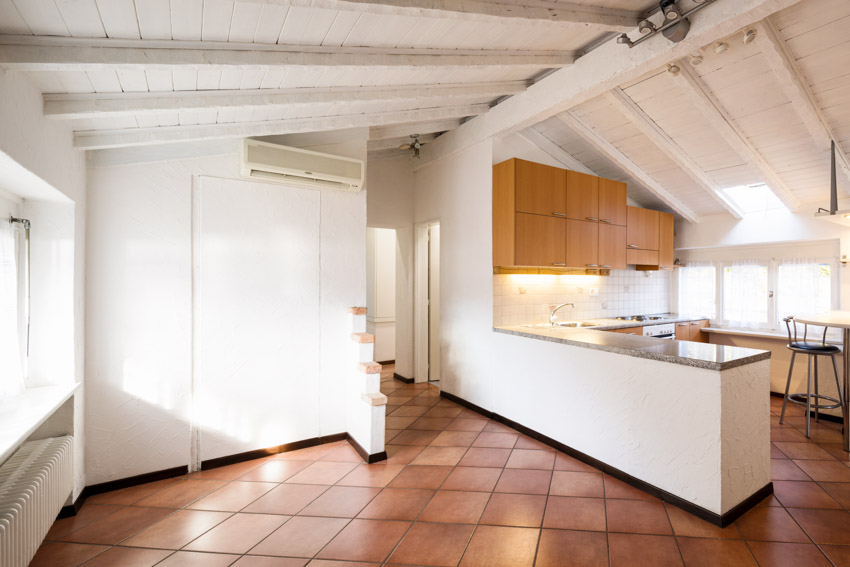 Saltillo tile is laid in the same manner as other varieties of floor tile, with thin-set mortar glue applied over a level substrate of cement panel or concrete. Several aspects, however, make the Saltillo installation more challenging. Each tile is 'back-buttered' with a thick coating of the adhesive before being laid onto the ground, in addition to the glue distributed onto the level substrate.
Back-buttering is the process of applying a thin-set glue to a tile right before it is installed. Back-buttering eliminates air pockets and fills any natural openings or high points in the tile's backside. It also enables builders to modify the tile height to put all of the tiles on the same level.
The breadth of the grout joints is also a possible issue with Saltillo tile. Huge Saltillo floor tiles, especially traditional square tiles, have extremely large grout joints. Aligning tiles with broad gaps is far more difficult than aligning tiles with tiny joints.
Before grouting the tiles, the tile surfaces are treated with at least two coats of sealant after they have been laid. The sealant protects the tile surfaces from stains caused by grout. After the grout has dried, the whole floor is resealed to guarantee total protection and coverage.
Furthermore, without sufficient experience dealing with porous terracotta tiles, novice do-it-yourselfers may find Saltillo tiles extremely challenging to install. Tiles with pores like Saltillo tiles are more likely to absorb grout or mortar water. Once this occurs, installation can become a burden and take far longer than it should.
Fortunately, some Saltillo tiles are already offered pre-sealed. Pre-sealed Saltillo tiles will render installation considerably easier for individuals who are unfamiliar with handling sealants.
Here are the general steps on how to install Saltillo tile floors:
• Clean and Prepare the Working Surface: Ensure that your working surface is flat, dry, and fully equipped for sealing. The tiles themselves should also be thoroughly clean. Perform any essential adjustments, repair, and correct any damaged or irregular ground surfaces.
Moreover, ensure that the surface is devoid of wax, grease, and other contaminants. Remove any moldings, appliances, or obstacles that may be in the way of tile installation. Inspect the door jambs to ensure that the tile will fit after it is laid. If applicable, a cement board underlayment can be used.
• Start Applying the Thinset Mortar: Let the thin-set mortar adhere to the floor after preparing the area where the tile will be installed. For installation, solely thin-set mortar should be used, not cement mortar. Thinset mortar must be troweled onto a section of the flooring, concentrating on small areas at a time.
• Lay the First Saltillo Tile: Locate the midpoint of the space before laying the very first Saltillo tile on the floor. Afterward, using chalk, create two lines, one from the center points of two contrary side walls and one from the center points of the other two walls. The intersection will be the room's central focus.
• Continue Laying the Remaining Tiles: After using the center tile as a guide, begin installing the remaining tiles. You just have to ensure that you will use enough mortar to keep the tiles in place.
Once you have installed the tile, start pressing it. Leave enough space between the tiles to create grout lines. If any tile needs to be trimmed to fit on the ground, do so gently with a wet saw to ensure that the tile does not get ruined.
After the fourth step, grouting and sealing would be the next steps. Continue reading below to know the steps on how to grout and seal Saltillo tiles.
Saltillo Tile Grout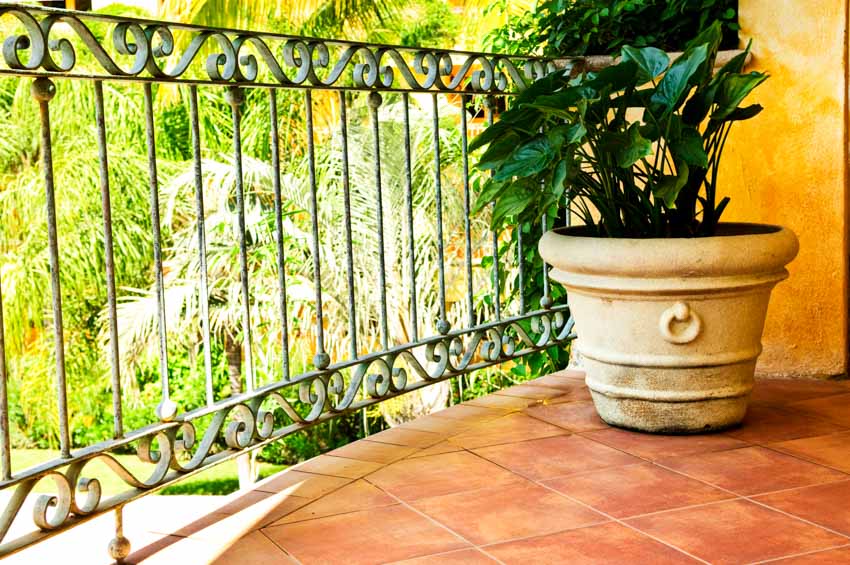 Grout is used to cover the gaps between Saltillo tiles. It keeps the Saltillo tile from slipping out of place. You must read and follow the instructions given on the packaging of the grout.
The key advantage of the grout is that it inhibits water from entering the Saltillo tile seam. The grouting procedure must be completed correctly, with no stains, cracking, or other damage behind. Here are the basic steps on how to grout Saltillo tiles:
• Remove any debris or dirt from the grout joints between the Saltillo tiles with a clean broom or functional vacuum.
• Prepare a quantity of grout mix according to the grout maker's recommendations for the area to be filled.
• Distribute 3 to 4 cups of the grout solution across the grout joint on the Saltillo tile's surface. After that, use a sponge grouting trowel to push the grout into the spaces between the tiles by moving the solution back and forth along the grout joints at a 45-degree angle. Continue filling in the joints until the grout mixture is solidly compacted and aligned with the upper corners of the Saltillo tiles.
• Repeat the grout application process until all of the grout joints are filled.
• To remove the cement haze from the Saltillo tile's surfaces and to smooth the grout, start using a soft sponge that has been repeatedly cleaned with warm water. Allow at least 48 to 72 hours for the grouted joints to settle before adding grout sealant.
Saltillo Tile Sealer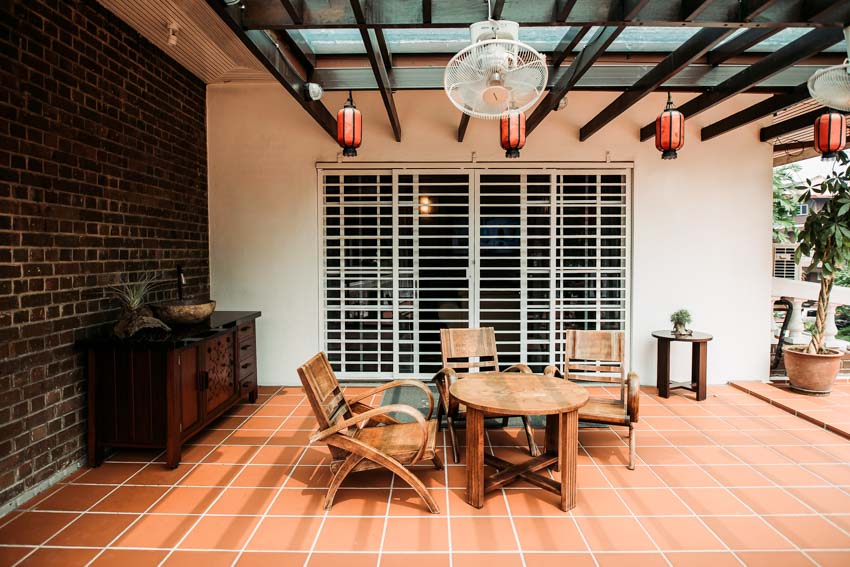 There are two kinds of sealer for Saltillo tiles – a topical sealer with a high or low gloss, as well as a penetrating sealer with enhancers.
Sealing is the final step in Saltillo tile installation. To accomplish this, you have to apply a final layer of sealer to the grout floor surface to prolong the lifespan and luster of the Saltillo tile and to create an additional layer of protection against minor scratches. Allow several hours for this to dry before using the floor.
However, you will only seal the Saltillo tiles if they are laid on high-traffic areas like kitchens, living rooms, or patios. If you think the location where the Saltillo tiles will be installed will not encounter a lot of foot traffic or damaging elements, sealing may be optional.
Saltillo Tile Stain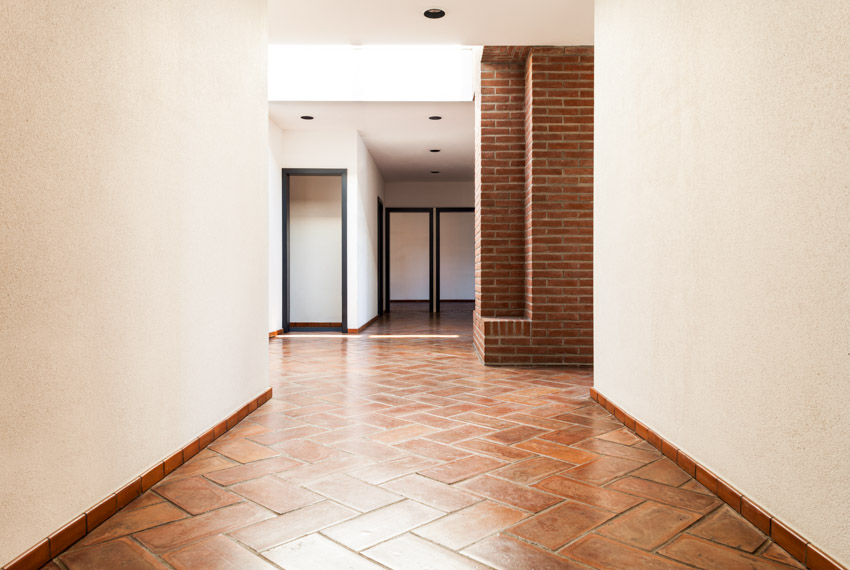 When staining Saltillo tiles, attention to detail is essential for long-term durability and beauty.
Here are the general steps on how you can stain Saltillo tiles:
• To keep the stain from smearing and seeming too thick, dilute it with 3 cups of water to 1 cup of stain.
• Divide a yellow grout sponge in half to ensure that it fits exactly in your hand. Take note of the two rounded corners at the end, which you will use to effectively manage the stain and keep your overlapping as little as possible to keep it away from the grout.
• Eliminate extra stains from the grout with a wire brush and hot water.
Saltillo Tile Stain Colors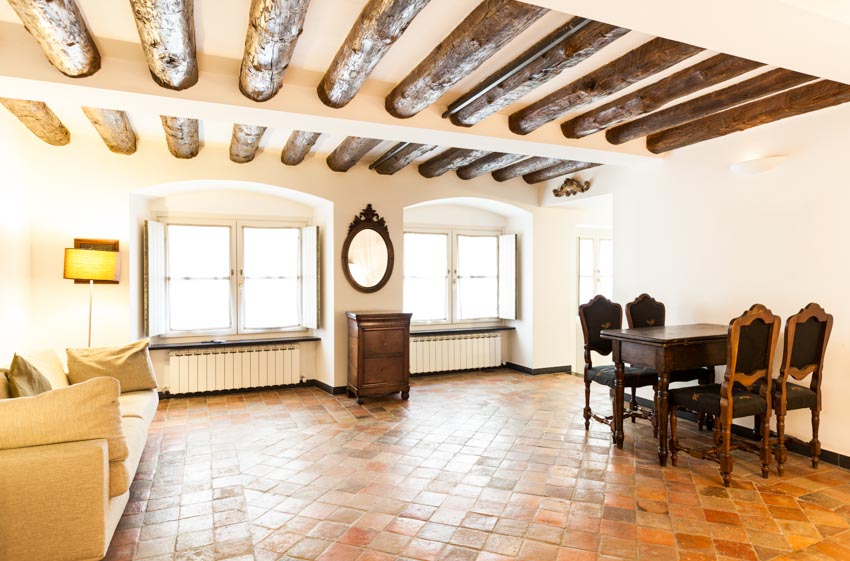 The majority of Saltillo tile stain colors cause your tiles to be one or two shades darker than their natural hue. Such stain colors can dramatically transform the appearance of your tiling. Here are some of them:
• Brick Orange: Homeowners who want a more classic British style but already have Saltillo tiles installed in their house should take into account brick orange stain. The best approach to achieve this appearance is to choose a stain shade that is three to four shades darker than the Saltillo tile you currently have.
• Black: Saltillo tile is most often recognized as a brownish and orangey tile color with a mild tone. A black stain, on the other hand, is an excellent method to update and add interest to a Saltillo-tiled house.
• Gray: Gray Saltillo tiling is a relatively new architectural trend, and it starts to gain popularity. If you wish to stain your Saltillo gray, you have to ensure that you seal it first. Truly, adding gray stains is a quick approach to make sure your house maintains a modern and streamlined appearance.
• Gold: The gold stain for Saltillo tiles is stylish, and many homeowners as well as interior designers are loving the gorgeous warm glow it gives off. The final result of applying gold stain to Saltillo tiles is a house with a warm, friendly atmosphere that is not overpowering.
• Pinkish Red: The pinkish or rosy tones that Saltillo tile gives might occasionally be appreciated by embracing them rather than avoiding them. Pinkish-red stains have a strong, rather edgy appearance.
How To Clean Saltillo Tile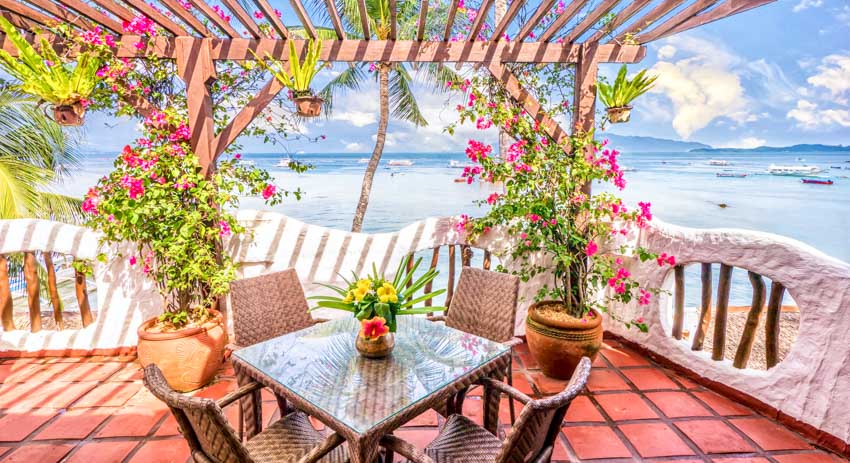 Here are some guidelines and tips on how to clean Saltillo tiles:
• When it pertains to routine maintenance, Saltillo tile is quite cooperative. Saltillo tiles may be cleaned simply with mild soap and water. However, you have to clean it regularly to maximize the tile's longevity.
• Saltillo tile floors should be regularly swept and vacuumed.
• After removing the dust and small particles, you can simply mop the floor with mild soap and water.
Take note: Do not use acidic cleaning agents or undiluted vinegar.
In addition, examine the floor and look out for any cracks or spots that might necessitate repairs. Apart from that, polishing might also be needed to keep the Saltillo tile clean and shiny.
Colors That Go With Saltillo Tile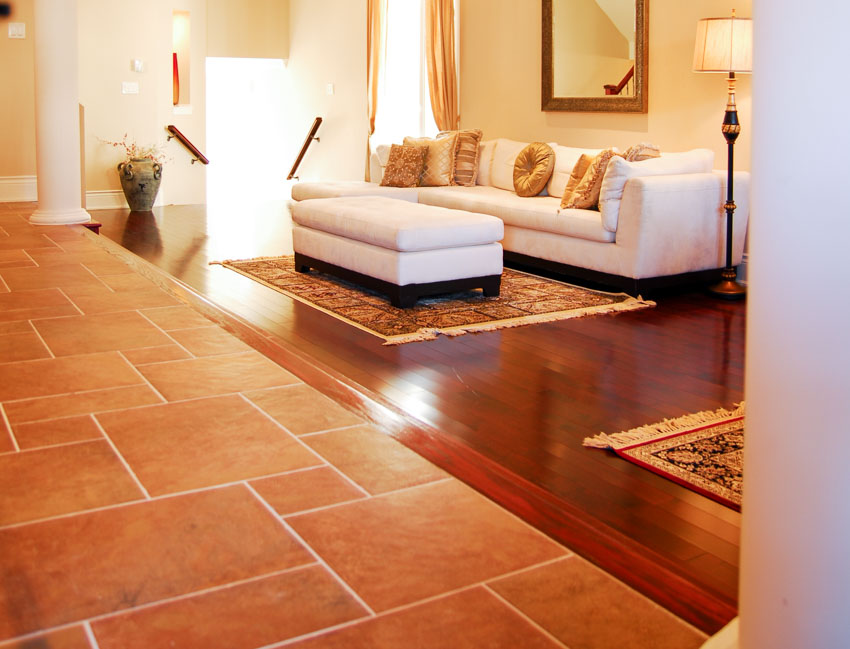 White in various shades would be the most dependable color choice for matching with Saltillo tile. Nevertheless, to add a splash of color, you can contrast the neutral tones of Saltillo tile with:
• Pink
• Blue
• Green
• Brown
• Beige
• Gray
However, if done correctly, bold hues such as red and yellow can also match well. Any application of Saltillo tile can gain an advantage from a basic understanding of design and color principles.
Warmer colors combine beautifully with warmer colors, whereas cooler colors go better with cool colors. With this knowledge, you should know that there are numerous methods to mix and coordinate color combinations and yet achieve enjoyable results.
Is Saltillo Tile Outdated?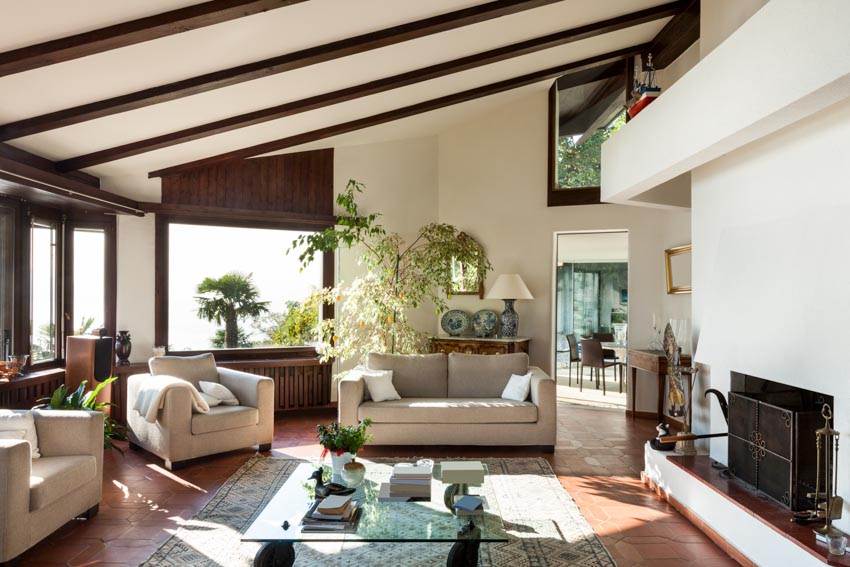 Generally speaking, no. Saltillo tiles are ageless and classic. They do not get old and they do not belong to a particular period like some other tile designs. In fact, Saltillo is a highly sought-after, timeless flooring option for both modern and traditional-style houses.
What Is The Difference Between Terracotta Tile And Saltillo Tile?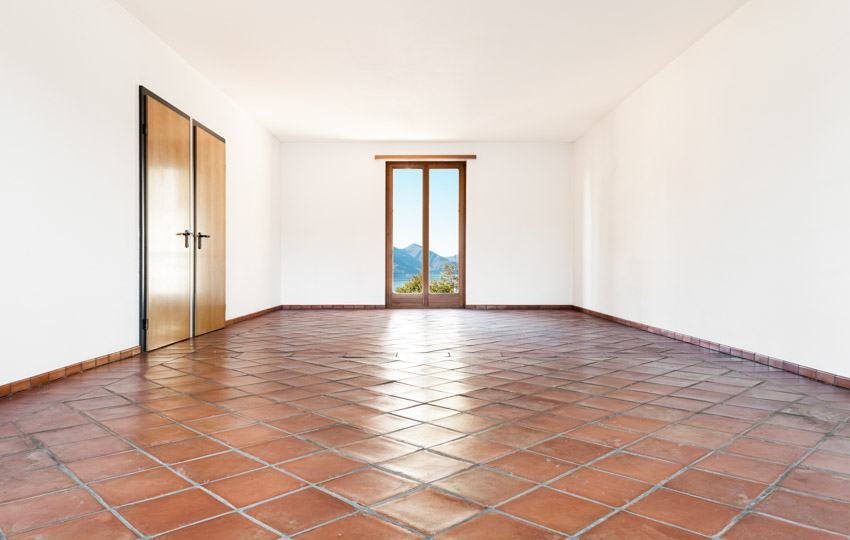 In a nutshell, all Saltillo tiles came from Terracotta clay, whereas not all Terracotta tiles are Saltillo tiles. Saltillo tiles are made solely in the Mexican town of Saltillo. For example, just as sparkling wines can only be called Champagne if they are made in France's Champagne district, sun-dried terracotta tiles can only be termed Saltillo if they are created in Saltillo.
Saltillo tiles are handcrafted from naturally produced clay in the area and then sun-dried. After that, they are burned in a kiln. Terracotta, which means "burnt earth" in Italian, can pertain to any type of natural clay that has been shaped into tiles, dried, and fired in a kiln.
Saltillo tiles typically have those natural mineral deposits known as 'lime pops' that expose themselves with time and are often missing in Italian clays. Furthermore, because of its machine-made production technique, Spanish, Italian, as well as French terracotta are typically more durable.
Terracotta tiles are typically produced in two ways – machine-made or handmade. Both approaches will serve the customer nicely as long as the material is correctly fitted and the end user's preference matches the product's intended usage. The main advantage of machine-made extruded terracotta is that the clay is crushed and cut to the right size, resulting in a robust, solid end product.
A handmade material, such as Saltillo, normally takes a lot more clay throughout the manufacturing process and is produced in the same way as children make clay pots. The clay is packed into wooden or porcelain frames that determine the size of every tile.
To preserve the strength of each tile, the material's thickness must rise as the size of the tile expands. There are also machine-made Saltillo tiles on the market, but they are rare.
Indeed, Saltillo and Terracotta tiles are both suitable for flooring applications. They go well with certain home designs such as Mexican, Southwest America, and the Mediterranean, although they may also be modified to work with other types of décor. Some individuals even use it in their log cabins.
Whether you select Saltillo tiles or another sort of terracotta, they appear well in naturalistic environments or more rustic themes, and these tiles are widely known for covered porches as they have a more organic feel to them than stone or even other kinds of glazed ceramic.
See more related content in our article about the types of flooring for interior design on this page.