Here's our gallery of stacked stone design ideas for a variety of rooms and applications.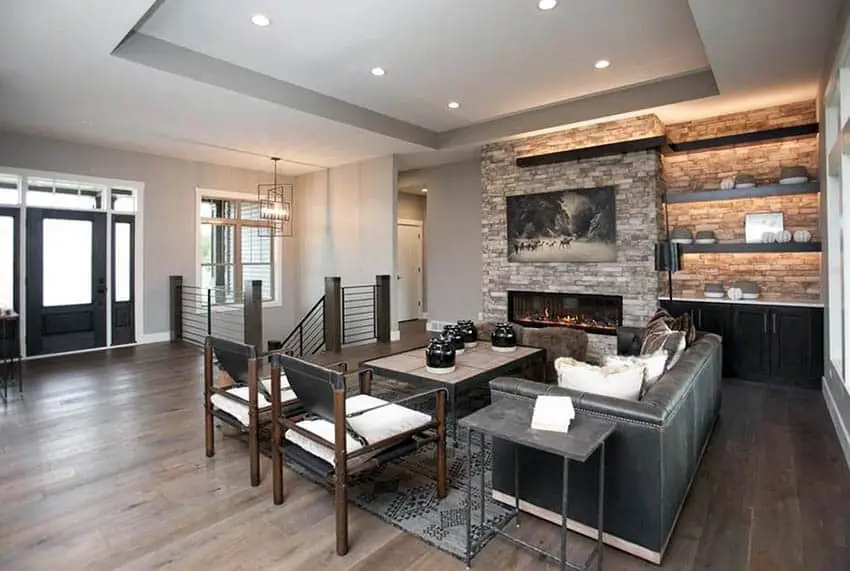 What is stack stone? It is a relatively older building term meaning quite literally that it is the stacking of stone along a vertical surface – a wall – or creating the vertical surface out of the stones that are placed one above the other. In the past they were built outdoors to separate territories or show boundaries, sort of like a fence.
In present day times the stacked stone technique is used as more of an accent piece in homes, in places like backsplashes, fireplaces or wall décor. This is a method that is used in both indoor and outdoor spaces as well as commercial and residential applications; a very versatile method for sure.
As a tribute to the past materials where they used irregular stone that was found in nature, most stacked stone is a variety of shapes, sizes and even colors. This gives the accent wall a very unique look and makes it somewhat of a focal piece.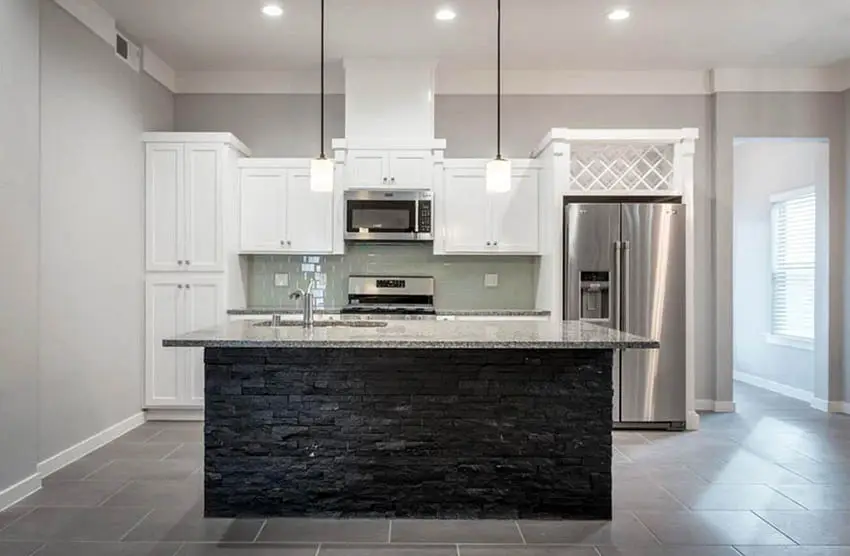 These stones are usually hand cut, but can be precut, both of which are highly recommended to use a professional for install. Stacked stone applications are not always made out of real stone either. There are applications that use faux stone as well as a veneer, so that the technique can be used for a variety of different project and spaces.
Dry Stack Stone vs Wet Laid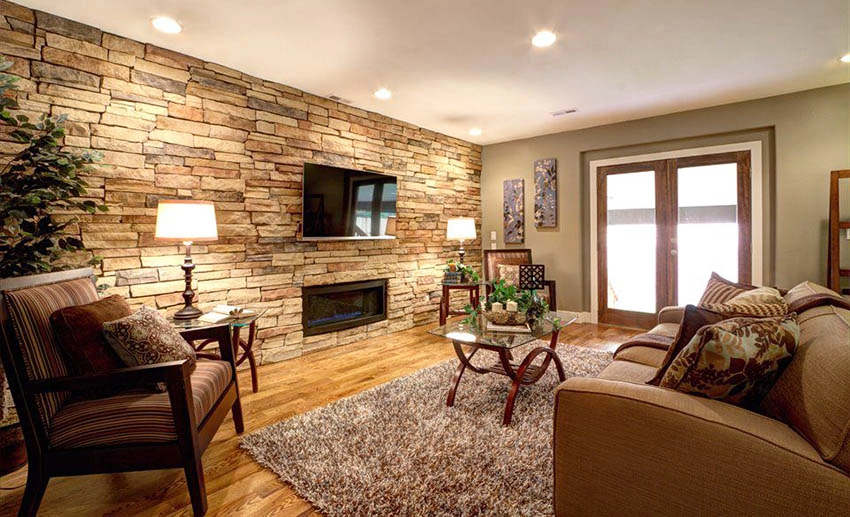 There are multiple ways that stacked stone can be laid. The two main techniques are dry stack and the wet laid process (Also known as the mortar method). The method chosen directly affects the stones that can be used, or if the stones are chosen first, the install method may be less of a choice at that point.
The process of dry stacking the stone is when the stones are laid so that gravity is taken into account and the stones are strategically placed so they interlock. For outdoor applications there is a natural gravel base that will help keep the stones in the proper placement.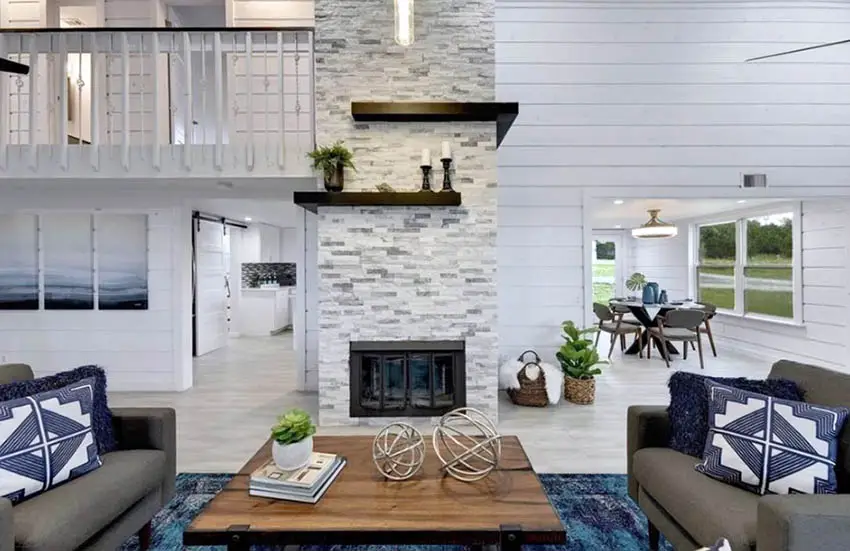 The wet laying method will be similarly strategic in knowing the gravity and interlocking where possible, but the wet laid method uses a strong concrete base and mortar within the wall. These will make the wall less likely to be able to drain which can require other accommodations.
The main difference between the two methods is the use of mortar (which is basically brick glue – it is a mix of sands and cements, similar to concrete). The wet laid stone is less likely to move over time. Both applications – if laid correctly – should last for many years.
Stacked Natural Stone Cost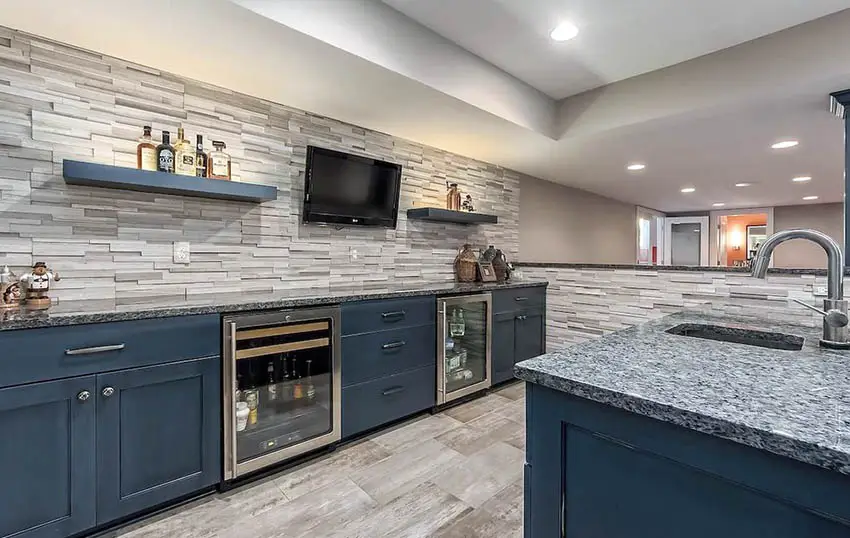 The most important thing to note right off the bat is that all prices will change based on the location and the season; this is something that happens with pretty much every material so it is good to check in local stores and with local contractors on the local prices.
The best time to get prices is fall to early winter due to it being the off season, even if you are not doing the project right away, a good money saver is buying in the offseason. On top of that the type of stacked stone chosen will have a great impact on the price tag. Some of the choices are below.
Dry stacked stone materials cost from $6 to $10 per square foot. Installation is an additional $6 to $9 per square foot as well, putting the total at about $12 to $19 per square foot of material.
Wet laid stacked stone materials cost from $7 to $12 per square foot. Installation is an additional $8 to $12 per square foot as well, putting the total at about $15 to $24 per square foot of dry material.
Stacked stone veneer materials cost from $8 to $11 per square foot. Installation is an additional $6 to $10 per square foot as well, putting the total at about $14 to $21 per square foot of veneer.
Stacked Stone Tile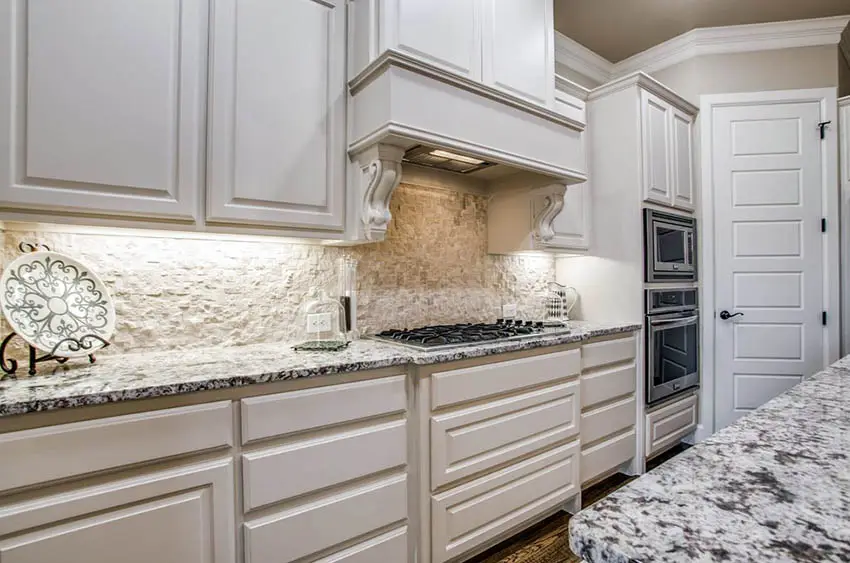 Stacked stone tile is just one of the most generic names for "ledger panels", "ledge stone", or "Stone veneer". All of these things are virtually the same thing, and are most common in indoor applications, especially bathrooms and decorative surfaces. This tile system is pretty much maintenance free and is both texturally and visually interesting.
A veneer is a thin layer of a material covering another. An example is columns are covered with these stacked stone tile veneer. The tiles are the veneer that covers the column. These panels and tiles can come in anything from natural stone, travertine, slate, quartzite, etc. These can be a DIY project unlike the traditional stacked stone since they are installed like tiles.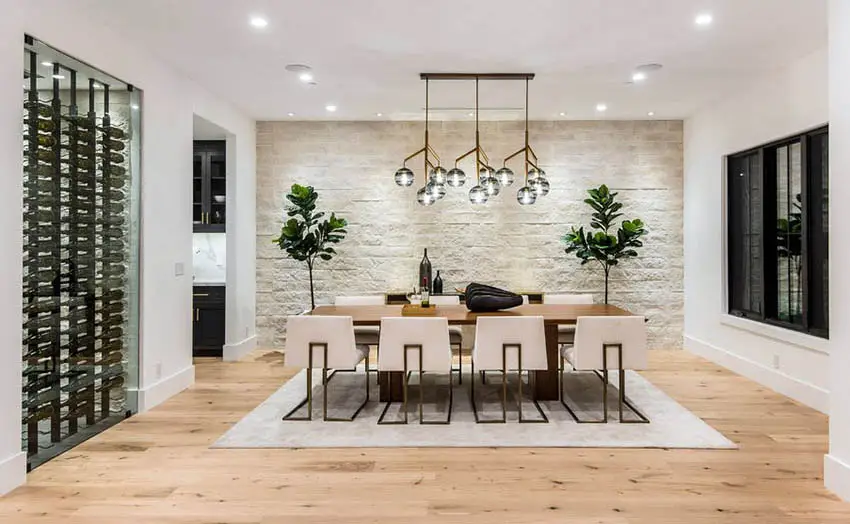 Another type of material is stone cladding which is basically simulated stone that is a facade constructed with real of faux stone.
Faux Stone Walling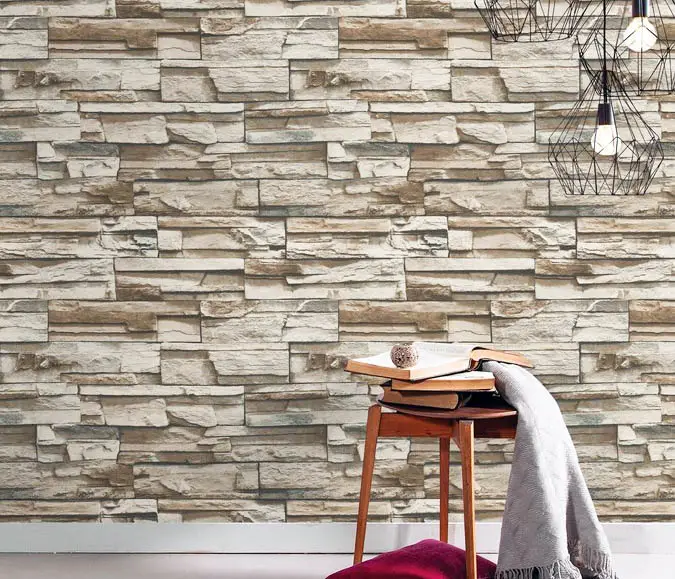 See this faux stacked stone wallpaper at Amazon
Faux stacked stone, as the name suggests, is not really stone at all. This is a substance made from Portland cements and other pigments to add color to appear like stone. Faux Stacked stone is used for money saving reasons, since it is a premade, man made product that can be quickly manufactured. Faux stacked stone also does not weigh quite as much as real material which can be another pro to choosing faux materials, if there is a weight concern in the project.
Stacked Tile Backsplash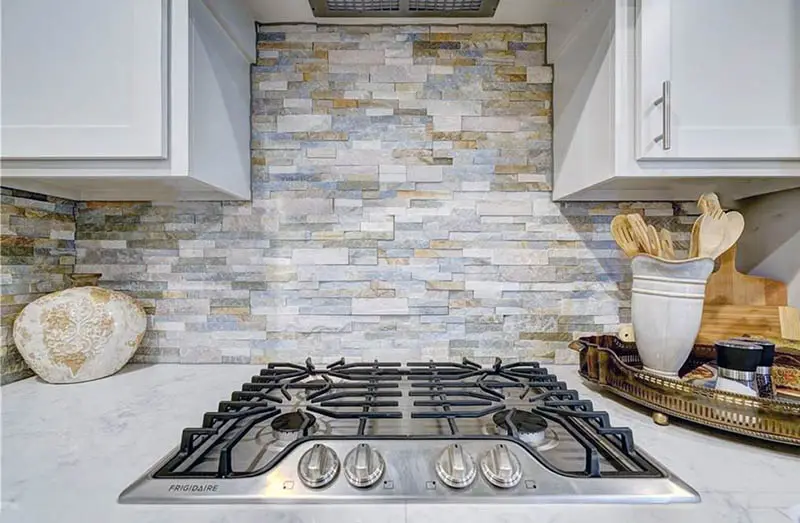 Backsplashes have become all the rage in recent times. They have become where the accents are places and money is spent. Having a stacked stone backsplash can pairs smoothly with natural stone flooring if selected correctly. Not only that but the natural element of the stacked stone backsplash can pairs with the countertops as well as cabinets in the kitchen. These are easily done with veneer tiles that are relatively inexpensive compared to what it will look like.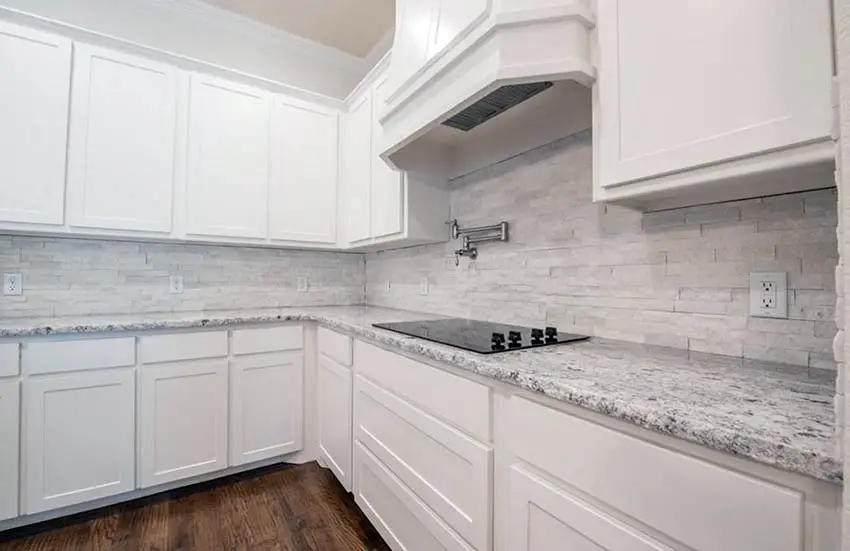 This kitchen goes for an all white theme using a white stacked stone backsplash combined with white cabinets and granite.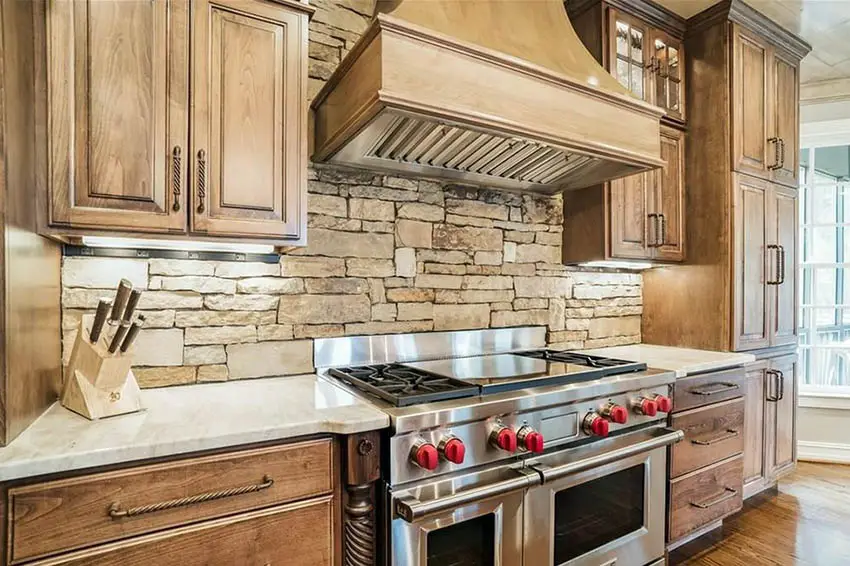 This rustic design opts for a kitchen backsplash constructed from rough stone that compliments the beige marble countertops and solid wood cabinets.
Fireplace with Stone Wall Overlay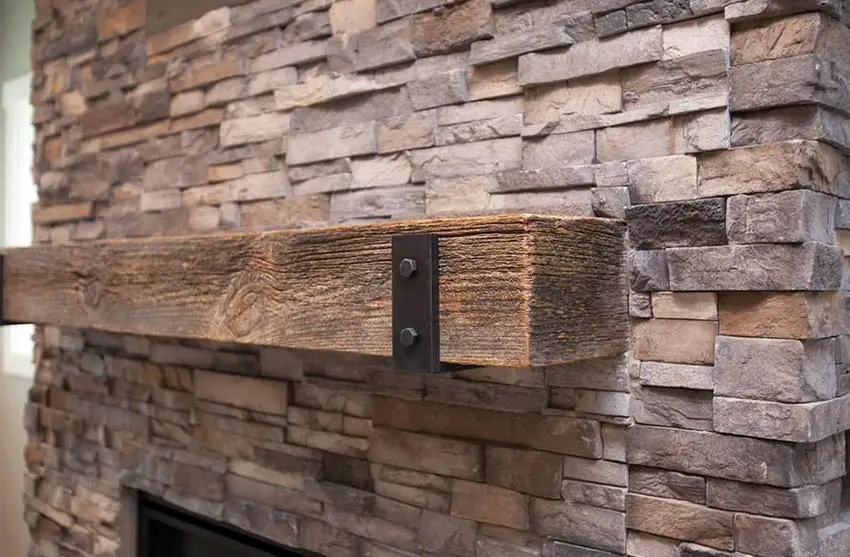 Another one of the more popular places to apply a stacked stone wall application is at the fireplace. This addition can turn a small dingy fireplace into a unique focal piece for the room. This does not have to be an expensive project either, with the veneer and faux stone options, the fireplace can look like a million bucks, but cost way less. There are other additions you can add to the fireplace as well like different trims and patterns to focus on different parts of the fireplace.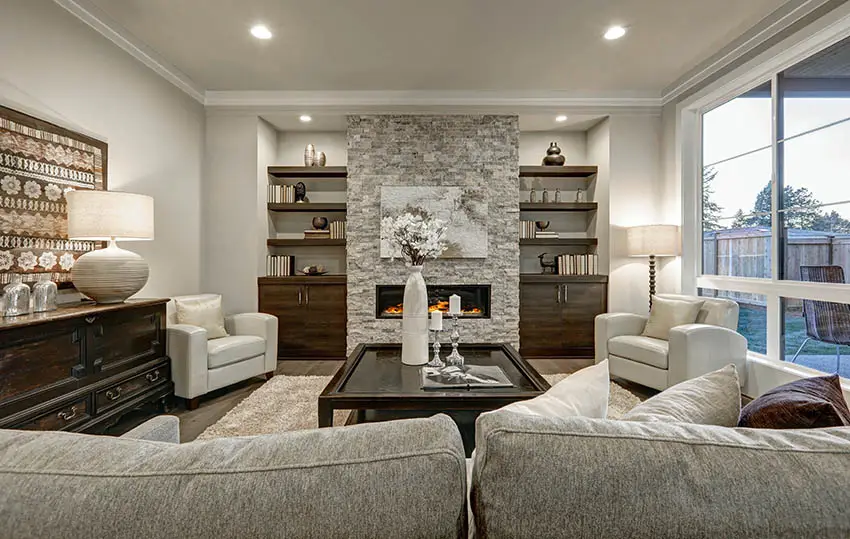 Kitchen Island with Stone Paneling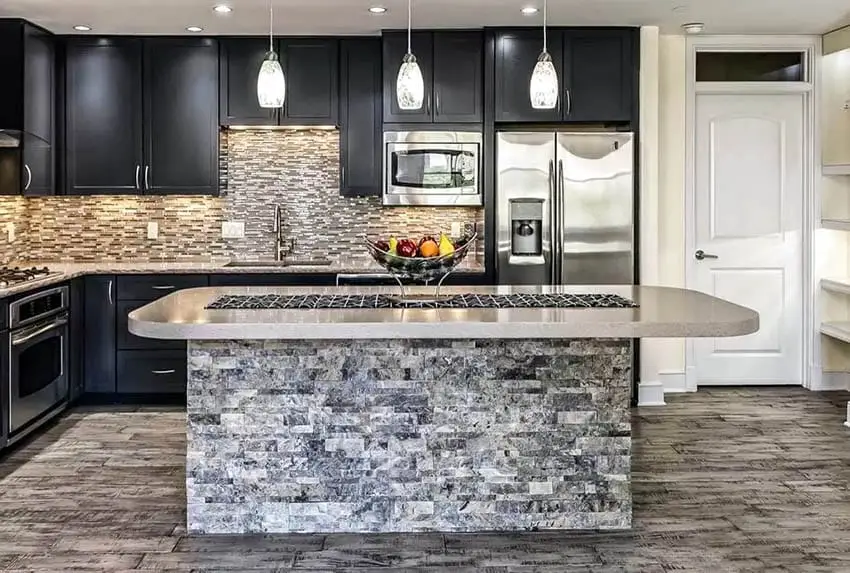 Adding stacked stone veneer is a great low cost DIY project that can add a lot of character to your kitchen design.
Wall with Rockwork Design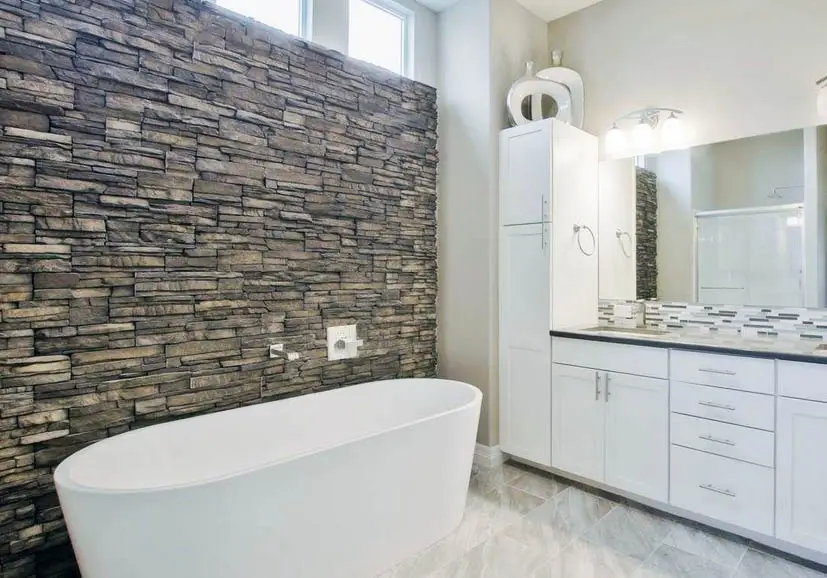 Sometimes paint or wallpaper is not enough, stacked stone is a great alternative. This option can be used both in commercial and residential spaces, allowing a natural way to bring it together. Tying these stones with outdoor elements will bring a relationship with the indoors and outdoors. Not only that but bringing the natural stone feature will make the space more inviting and natural. Home builders and those remodeling their homes often uses these materials to create inviting bathroom designs and spa like luxury showers.
Can you put stacked stone on drywall?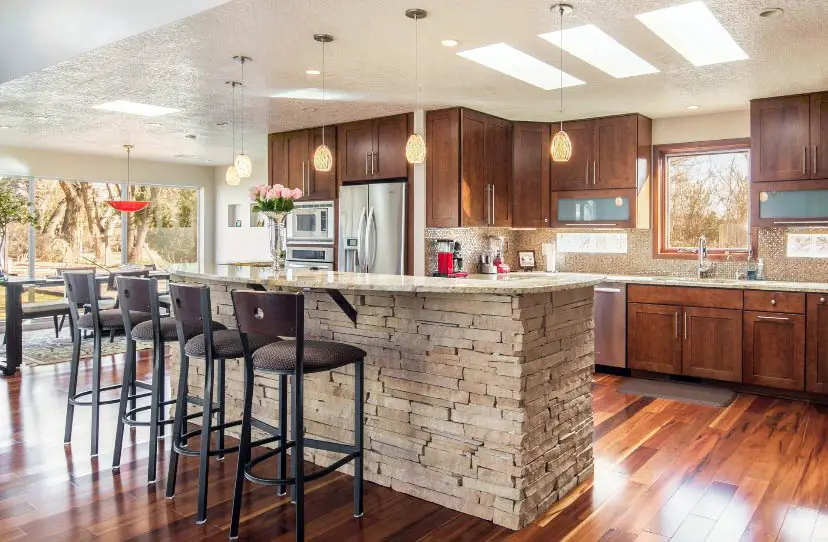 Drywall is not a suitable substrate for stacked stone. Options that it can be placed on are cement based substrates such as cement board, brick, or block; there are even some wood substrates that can handle it if it has been prepared with metal lath or a scratch coat.
Why? The main concern is the weight of the stone, drywall just is not strong enough to handle the 10 plus pounds per square foot. In addition to the weight, using the wet laid method clashes with the paper like material that drywall is made of. This can cause moisture in the walls, which is not something that is wanted, as it could cause mold or mildew.
Well what can we do about it? There is an option to fix this situation without starting from scratch. Try covering the drywall with a thin layer of cement wallboard. This will give the wall structure as well as have a cement based surface to apply the stacked stone to. It is important to note that the cement board needs to be structurally sound, make sure the screws are long enough to go through both the board, the drywall and into the stud.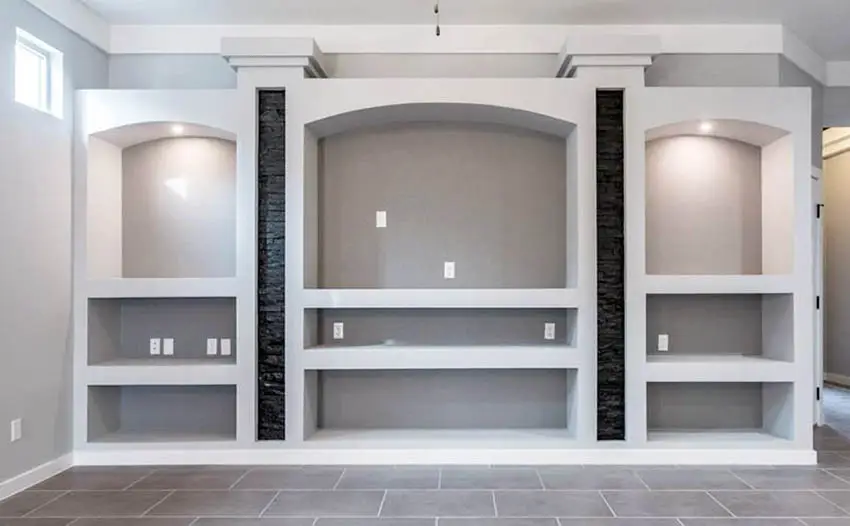 As another alternative you could use one of the many veneer stacked stone materials available to achieve the same results without the weight.
How to Install Stone Veneer on Walls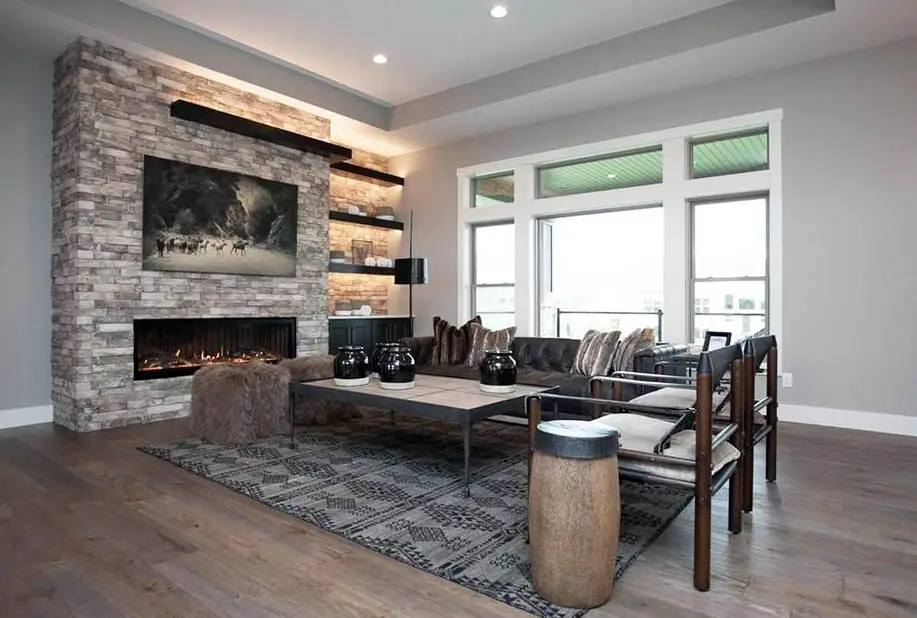 First when installing stacked stone you will want to make sure you are using a suitable substrate. As mentioned above, drywall is not one of those; cement, block, CMU, cement board and steel are some good options. You also need to have the correct tools and materials. Having a trowel, thinset, level, tilesaw and sponge handy will save you from an extra trip to the store.
Once all the preparations are made start with applying the thinset to the wall or surface as well as to the panels you are placing to make sure there is not an uncovered areas. Apply the tile and make sure it has a good seal with the surface, continue with the rest of the pieces with desired pattern. Tiles spacers or and predetermined pattern can be helpful here. Sponge off and clean off any extra thinset.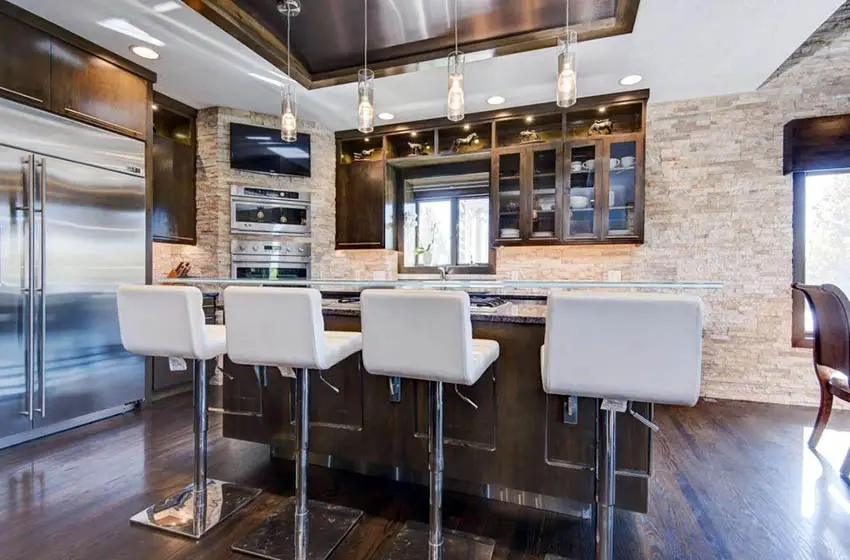 Once the wall is complete to your liking you can either seal it (not necessary for interiors but can be a personal preference) or it is complete. For stacked stone that is not veneer it is recommended to get a professional installer. For more related ideas visit out accent wall colors gallery.