Here we share the best foyer paint colors to make your home stand out and become a welcoming place for friends and family.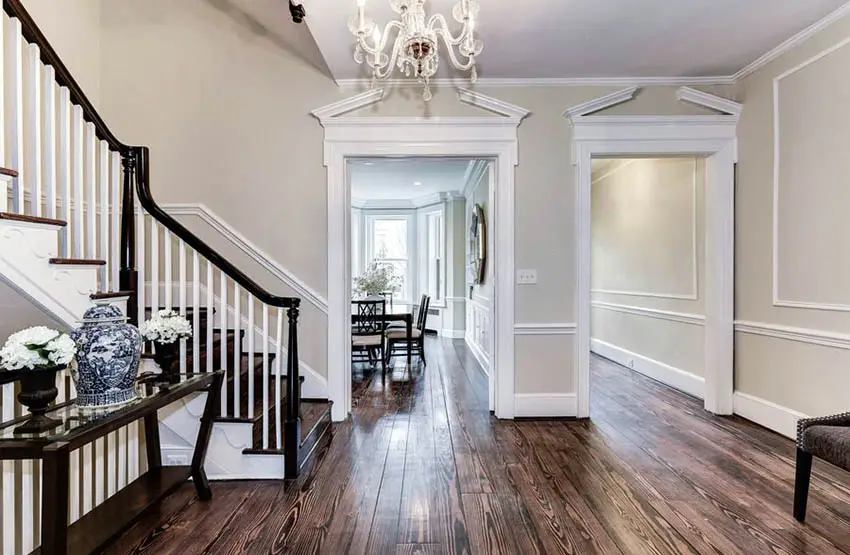 The foyer isn't just the place where you drop the mail on your way in the door after a busy day. It is the first space that you or your guests see when they enter, the space that says welcome home.
Since this space is often small and simply furnished, your paint color will dictate the mood and feel of the foyer and set the tone for the rest of your home.
That doesn't mean that it has to match the rooms adjacent to it, attention to detail and some tips from a designer will help you decide what you want your home's entryway to say about you.
Choosing Foyer Paint Colors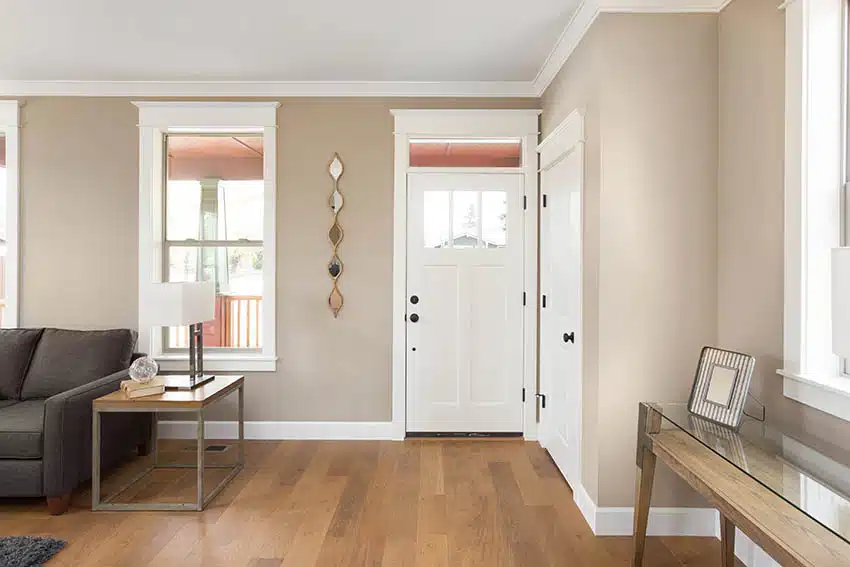 The foyer is the lobby of the home that should give off a warm welcoming feeling that makes an impact on you and your guests to feel relaxed when coming inside the home.
As the home's first point of impression, the foyer should also be a space that reflects and highlight the homeowner's personality. It is a place that welcomes anyone with soothing surroundings, glamour, and cozy vibes.
It is an entry space that creates an opportunity where anyone can settle down and offer a place where our energies coming from outside transition into a more contained energy when returning home. One of the keys to making all this possible is color.
Painting the foyer with something light neutral and fresh off-white shades will draw the eye to the walls making the space in between feel more expansive while adding a touch of warmth that reflects light beautifully.
A soft white paint color like China White by Benjamin Moore is a versatile shade that reflects natural light beautifully and offers an inviting and spacious feel to a foyer.
Warm neutral shades will make the entryway feel welcoming with the perfect combination of gray and beige.
We recommend some of the best greige color collections:
by Sherwin Williams – Mindful Gray, Repose Gray, and Accessible Beige
by Benjamin Moore – Revere Pewter, Edgecomb Gray HC- 173, and Balboa Mist
by Behr – Stonewashed, Ashen Tan, and Sculptor's Clay
Creating an accent wall with bold colors in a foyer is a great way to make a statement and add drama while offering the feeling of coziness.
It can help define the space and serve as a preview of what's to come in the rest of the house.
Some examples of splashy paint colors that will work well with foyers are Brilliant Blue by Benjamin Moore.This could be used for an accent wall paired with contrasting lighter neutral shades.
This color allows you to layer other bright accent colors from other accessories and furnishings while keeping the rest of the elements neutral for balance.
Another accent color is the Newburg Green by Benjamin Moore which is a perfect color to highlight other elements with shades of coral and olive green.
The Antique Pewter by Benjamin Moore pairs well with wood furnishings, and varying shades of silver accessories.
Its gray hue has smooth undertones of olive that creates a cozy vibe for your entryway.
The use of dark color tones for your foyer can bring the mood down and eliminates a smooth transition between the outdoors and indoors.
However, if you want to embrace the dark dramatic colors the foyer is a great place to start. It can offer a powerful experience that can let you achieve the feeling of openness and a welcoming vibe as you enter the rest of the house appearing more spacious in contrast.
How to Brighten A Foyer
Have Good Foyer Lighting
The light and dark of it. Have you ever seen a dark foyer? It isn't always the most welcoming. But that isn't the paint colors fault! It is the fault of adequate lighting. If you don't have any natural light, you want to make sure that your lighting is bright and welcoming.
Lighting is also an important factor to consider for your foyer since this is a place that needs to be bright and welcoming. A warm and gentle glow such as a soft white color LED light with a temperature range of 2,700K or a lightbulb with 500 and 1000 lumens is often the standard choice for foyer lighting.
Chandeliers, pendant lights, and ceiling lights are some of the best foyer lighting ideas that add stylish aesthetics to the entryway. Make sure you consider the width, height, and hanging height when choosing these types of foyer lights. It is also important to be aware of the type of connection required as well as considering the color, and its style.
An overhead light might not provide enough light so consider wall sconces or tall, slim table lamps to provide enough light to check your lipstick in the mirror or easily see which pair of shoes is yours as you rush out the door in the morning. Now that you have good lighting, we can talk paint color.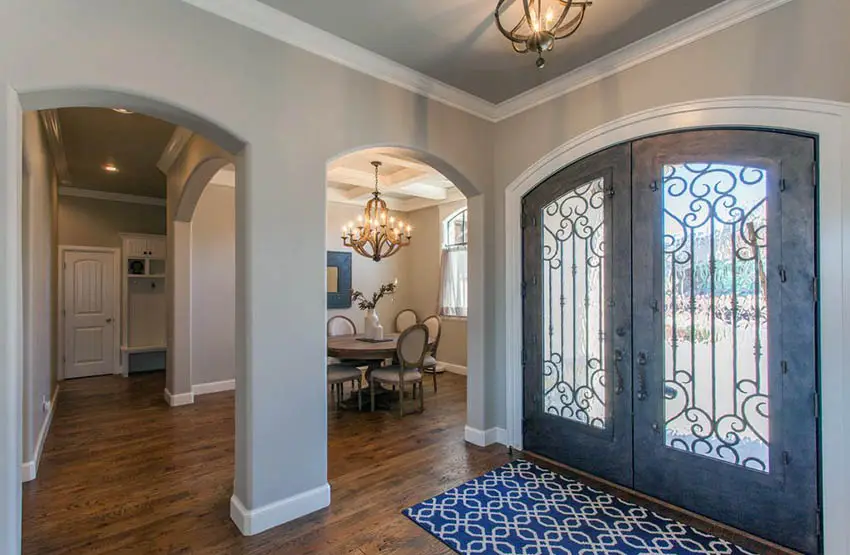 Enhance Neutral Foyer Colors
We so often seen light, soft neutrals in foyers, and with good reason. They are easy to work with and are often what was already there so we just live with it, leaving the foyer as an afterthought, once we finish redecorating the kitchen or living room. Don't just leave the builder-grade paint on the wall.
Give your neutral some life! A gorgeous, light grey, or greige (grey and beige combined) like the low clouds of a romantic winter snow, makes your foyer look light and fresh and pairs well with both light and dark furniture.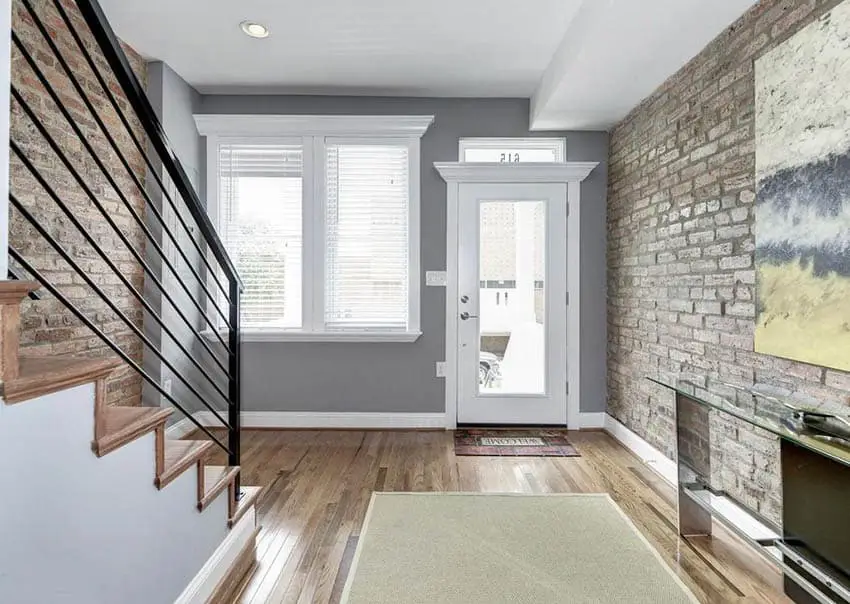 For more drama, use a deeper grey, like the dark clouds of a summer thunderstorm. It is still a neutral but gives your space a little bit more depth and a sophisticated edge. For those matching wall color with wood floors the best shade will depend on the type of wood and its color.
Adding Bold Colors to the Foyer Design
If you just love color, don't be afraid to go with a bold pop of it in your foyer. A spicy tomato red, summery coral, or rich, peacock blue are all great colors for your foyer.
These colors might be a bit much if you put them in a larger space, but in a small foyer, they provide the perfect amount of punch and personality. Have a little bit of fun with this small space and breathe new life into it with an unexpected hit of color.
These bright colors play well with any décor as they transition you from the hectic outside world into the warmth and comfort of your home.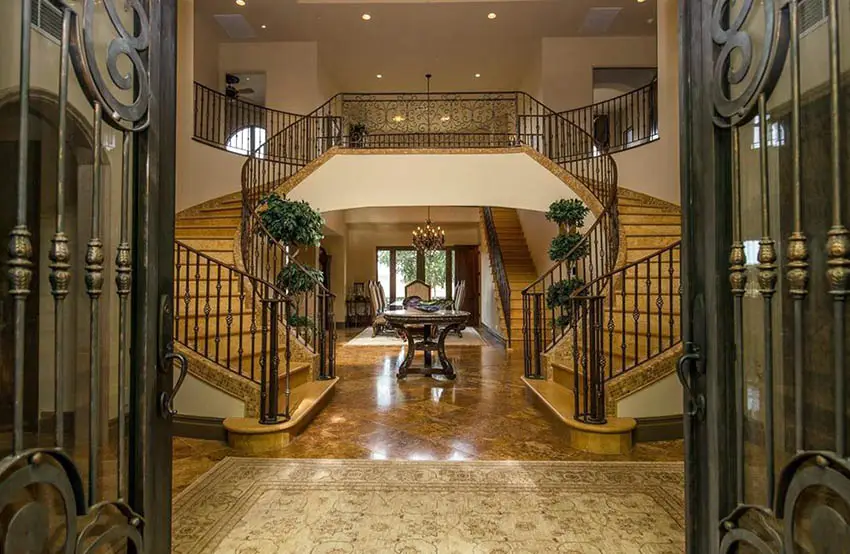 Dark Foyer Ideas
Think neutrals are boring but aren't really a fan of bright colors?
A dark color in your foyer allows your mirrors and lighting to sparkle and can make your space appear larger because the walls will appear to recede. If you want something truly unique, that makes a statement, go dark.
Dark brown, like melted chocolate, or the rich purple of a ripe eggplant, so dark it is almost black. Deep, rich, edgy, modern but timeless, not trendy but always current.
This entry foyer with dual staircase design features a dark wrought iron railing with lighter stained wood steps for contrast.
These colors really bring home the ideas of warmth, safety, and comfort. Be sure to test swatches on the wall so that the colors don't look muddy or dull. And as always, lighting is of the utmost importance so the space doesn't look like a dungeon.
An oversized mirror on the wall opposite the door or a mirrored occasional table really brings the drama home and helps bounce light around the room.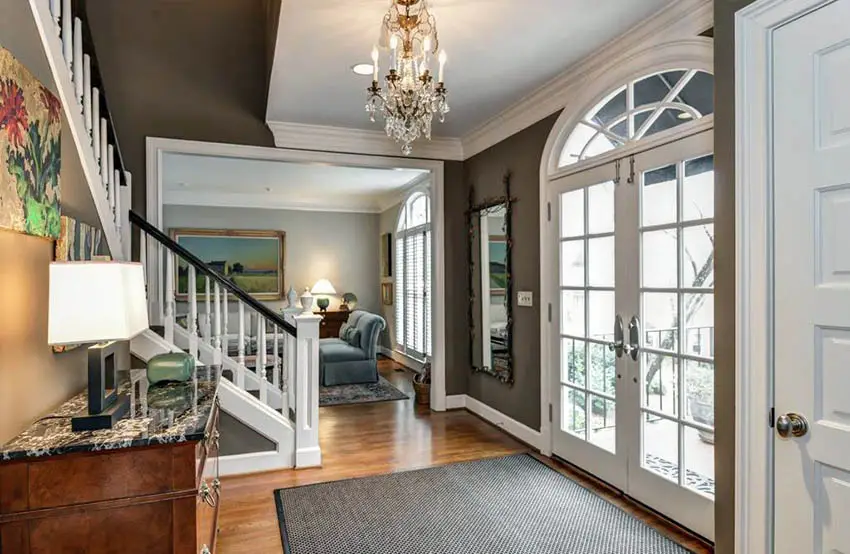 Take it from the designers, don't overlook your foyer, good design extends to all the rooms of your home!
Don't accept that oatmeal builders-grade paint, go for the luxury of dark, rich colors, the exciting pop of bright color, or the peaceful neutrals to create a beautiful transition from the outside world to your home.
Want more ideas? Visit this gallery for even more foyer ideas including a variety of paint colors and design styles.