Here we share how to match wall color with wood floors, including the best paint colors for light, medium, and dark flooring designs.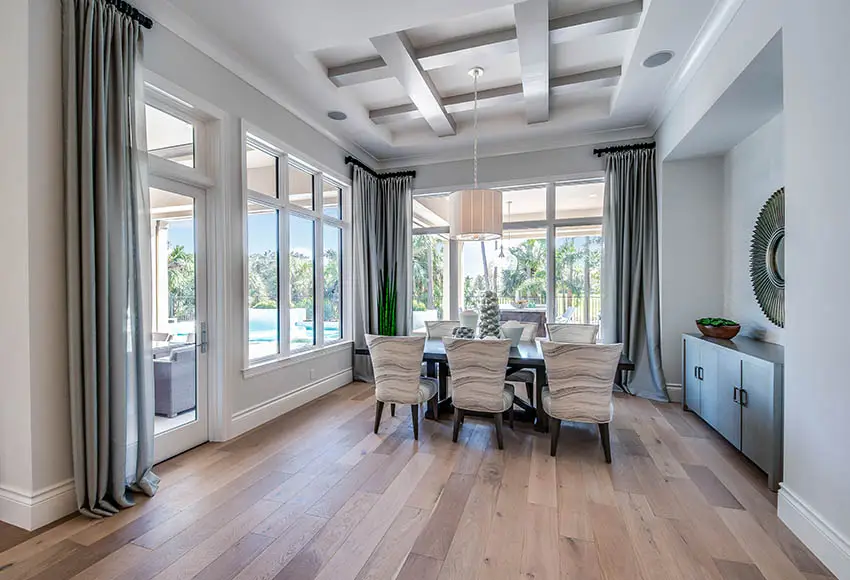 Floors and walls are two of the largest surfaces in a room, and because of this, they must complement each other. Choosing the perfect wall color to match with wood floors can be quite confusing because of the wide variety of paint choices available in the market. A single paint brand can offer hundreds of versions of a single color family.
Regardless of the species, pattern, and finish of your wood floor, you need the perfect wall color which will not only help enhance its beauty but also help reflect the vibe you want for your space.
In this article, we will explore the best wall colors you can use to match wood floors – whether it may be light, medium or dark colored.
Colors to Pair with Light Wood Flooring
Light wood floors vary in color primarily depending on their species. But another factor that gives them different hues is the type of stain used in their finishing. In general, light hardwood flooring is often white (bleached), grayish, or light yellowish in color.
Light wood floors may either have a cool or warm undertone. Cool toned wood are those that have taupe or grayish undertones, whereas warm toned wood is those that have red, orange or yellow undertones. Read more about colors for gray floors here.
Some examples of light color varieties that have cool undertones are white oak, maple, and ash, while some varieties that have warm undertones include birch, beech, and hickory.
Solid wood floors have been used for centuries and never seem to lose their charm and warmth. – Construction Calculations Manual, Sidney M Levy
Choosing the right wall color to match your wooden flooring will depend on the type of undertones present. The general rule is that wall colors with cool hues complement cool toned wood floors, while wall colors with warm hues complement warm toned wood floors.
However, this does not mean that you can't go the other way around. If you want a different visual effect for your space and want to create contrast, choose the opposite hue of your floor's color temperature — warm toned wood with cool wall colors and vice versa. Here are some of the best wall colors for light wood floors:
Whites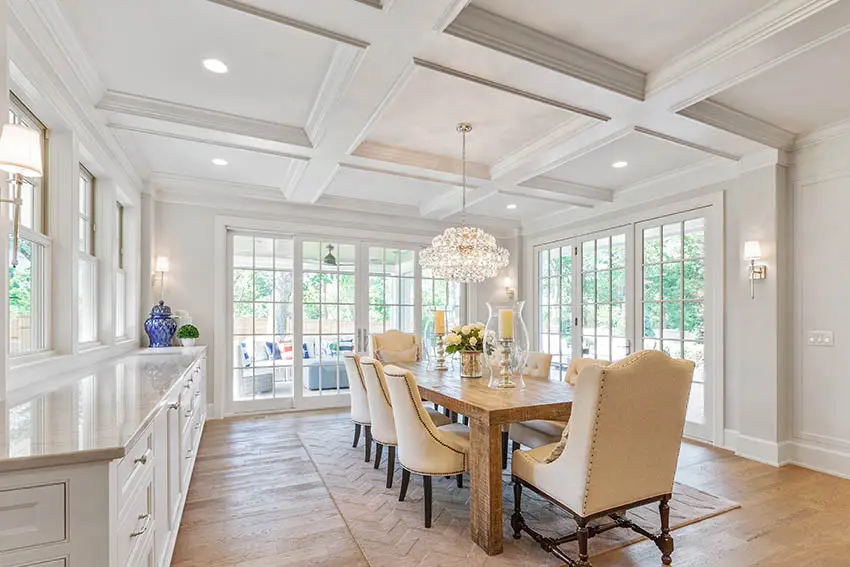 The color white is a classic and favorite choice for interior wall colors. It is actually one of the most versatile choices as it can go with any wood floor — whether it may be light, medium or dark.
Pure white wall paint works with lighter wooden flooring; however, some homeowners find it a bit stark. In some cases, pure white walls can also give a "hospital" vibe. If you are not a fan of ultra bright white walls, you can tone it down to an off white shade to give it a softer look.
Fortunately, the color white comes in different varieties and paint manufacturers offer them in hundred different versions. Most white paint comes with small amounts of pigments, and if you look closely, this gives them cool or warm undertones.
Beige, for example, has a warm undertone to it because of the presence of yellow tints. Other shades of white that belong to the same color temperature are cream, egg shell, and parchment white.
On the other hand, frost white, porcelain and snow are classified as "cool whites' because they have a tinge of blue, gray or brown in them.
To determine if a white paint has a cool or warm undertone, place a sheet of white paper beside your paint swatch. Undertones become more noticeable next to pure white.
Regarding the rule we have previously mentioned, opt for white paint with cool undertones if your floor has a cool tone . Likewise, use warm white paint for the walls if your floor has a warm tone.
Neutrals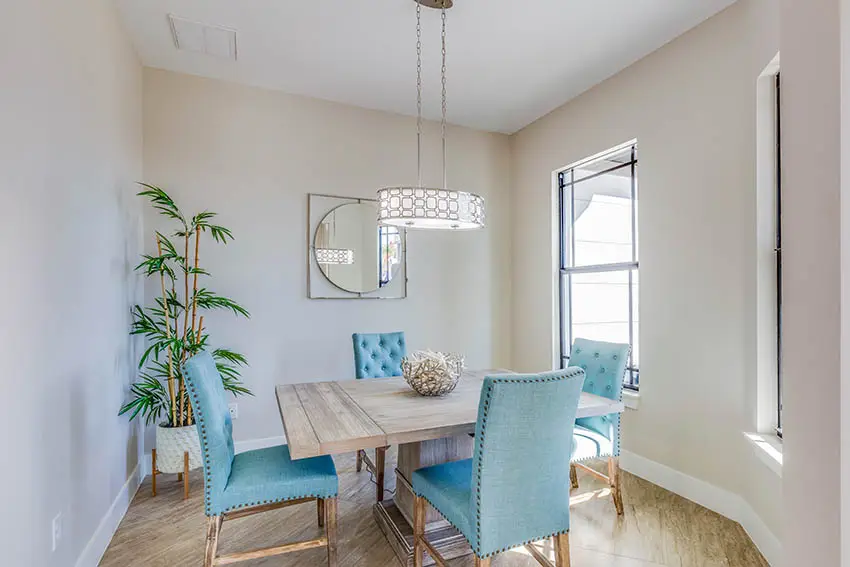 Neutrals are another type of color that goes well with wood floors. Colors like shades of brown and gray work as wall colors not only for light wood floors but even for mid to dark wood. Other examples of neutrals that work great with light wood floors are greige and taupe.
Similar to white, neutrals can either be cool or warm toned, depending on the pigments present in producing the paint.
Light grays and cool grays are the best gray paints to match with cool toned light flooring. In comparison, mid shades of brown are the best paints to pair with warm toned light flooring.
If you want a more dramatic effect, add depth and dimension to your color palette by contrasting your light floor with dark neutrals such as black, black-brown, or charcoal gray. The darkest neutrals look striking with both warm and cool tone flooring.
Another way to match neutrals with a lighter-hued floor is to opt for a paint that belongs to the same color palette as your flooring — for example, light ash flooring and smoke gray walls or light walnut flooring and tan walls.
To effectively pull off this look, make sure your wall color is at least two shades lighter or darker than your light wooden surfaces. In such a way, there is still variation and layering.
Cool Hues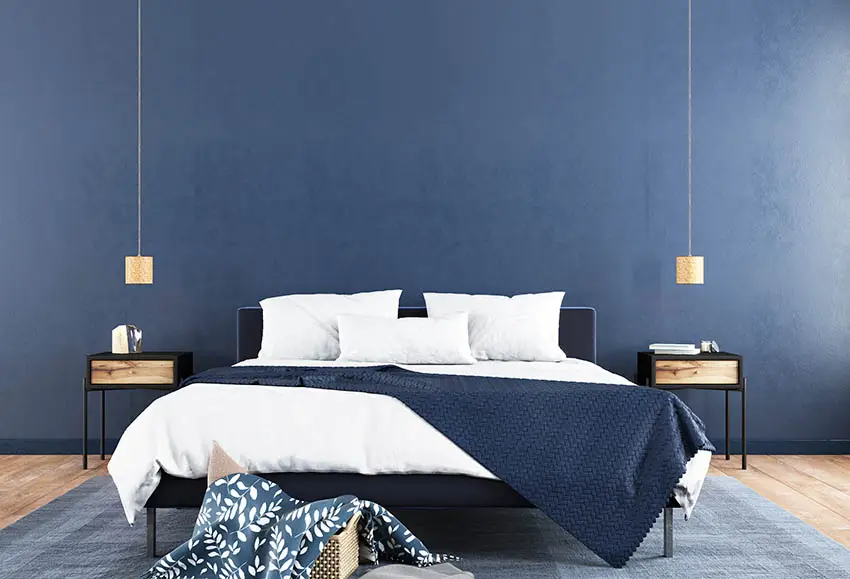 Cool hues like blue, green and violet are another group of colors that match well with light wood floors. But as mentioned, these colors compliment wood floors that have cool undertones.
These colors are perfect if you want to add a pop of color and create a refreshing vibe to your space. Cool colors also include grayish greens and bluish grays.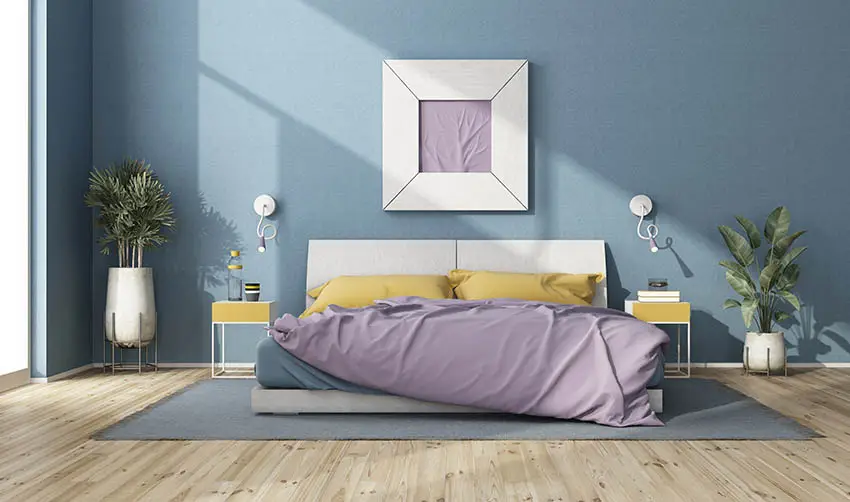 Depending on the style of your home, you can choose pastels or jewel tones as wall colors for light wood flooring. If your home has a traditional inspiration, you can go for the darkest values to pair with light wood floors , as it creates a very rich and formal look.
Icy pastels, on the other hand, are great wall colors for light-hued wooden flooring in charming cottage-inspired homes.
Warm Colors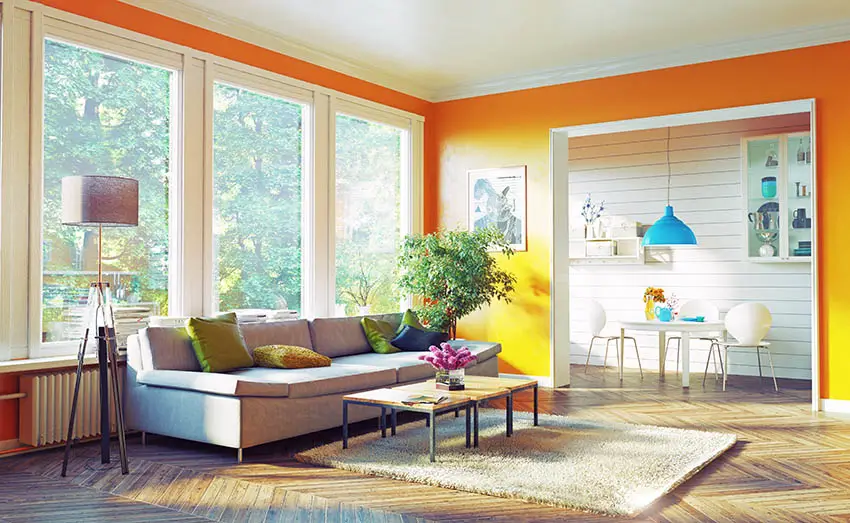 Warm colors like red, orange, and yellows are other excellent wall color choices for spaces with light wood floors. But then again, these colors only complement light wood flooring with warm undertones, such as beech and light red oak.
In general, warm colors are more suitable in common spaces like living rooms, family rooms, dining areas, entrances, and kitchens. They generally imbibe a welcoming feel and promote or stimulate the appetite.
Unlike cool colors, they are less used as paints for interiors, but as long as they suit your taste and your furnishings, you can use it as a wall color.
Opt for a medium bright to dark paint when pairing lighter wooden flooring with a warm undertone with warm walls. Warm colors with intense values remain vibrant even when paired with a light colored floor. Some examples of warm colored paints which work best include pumpkin, mustard yellow and wine.
Wall Paints for Medium Colored Wood Floors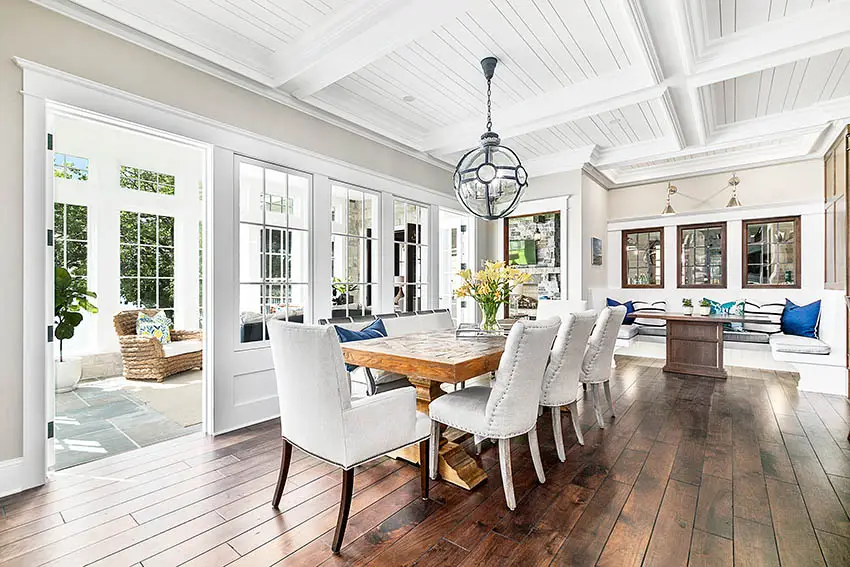 Medium wood floors are those that have colors in between the spectrum. Overall, medium wood floors work with both light and dark wall colors.
Similar to light shades, medium-colored wooden flooring can also be classified as warm or cool, depending on the undertones present in them.
Two of the most popular medium toned varieties are Cherry and Oak. Cherry is a type of hardwood that is smooth-grained and has a warm reddish brown color.
It is considered the most prized wood species used in furniture and kitchen cabinetry in America. Cherry is also used as a flooring material because of its durability and reliability.
Oak, on the other hand, is another type of hardwood used in flooring, furniture and cabinetry. Often used in traditional inspired designs, oak is prized for its strength and beautiful uniformed grains.
Popular varieties of oak include White Oak and Red Oak. White oak is a bit light beige to medium brown in color, while red oak has pinkish to reddish hues.
Here are some of the colors that you can match with medium-wood floors:
Neutrals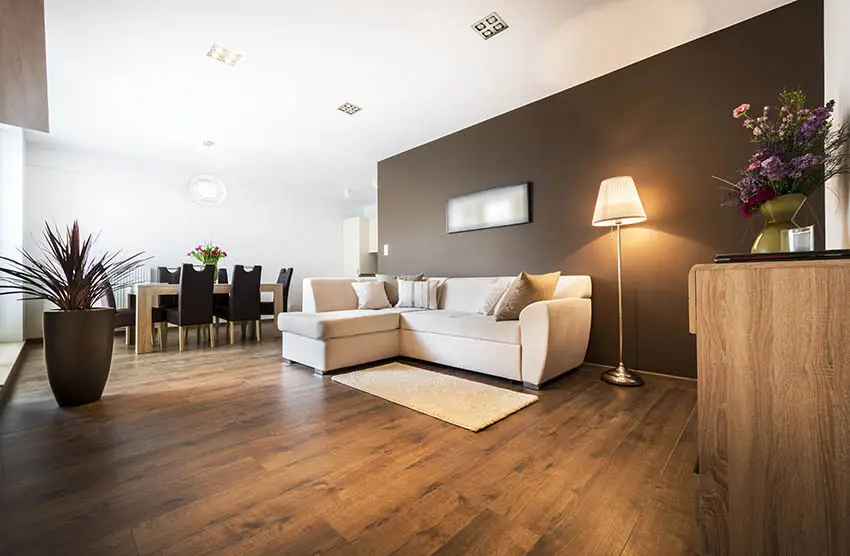 Neutrals still make it at the top of the list for the best wall colors to match with medium wood floors. Colors like white, beige, taupe, shades of brown and gray all go well with wood floors in general because they create a perfectly balanced look.
Shades of white can sometimes make a space look a bit dull, so if you want to add a bit of color to your space but do not want saturated hues, one option you can try is to go with shades of brown.
Pairing shades of equal values or intensity can help render a low contrast in a space. Medium-toned browns like Tan and Sand are two of your best bets as wall colors for medium-color flooring. These lovely shades help enhance the natural warmth of wood grain and bring a cozy feel to the space.
Greige is another example of neutral that goes best with medium-toned flooring. Considered to be the "new neutral," this versatile shade is a combination of beige and gray.
Greige walls combined with medium-hued shades offer the perfect background for introducing other accent colors to the space, such as warm yellows and oranges.
For Cherry Hardwood Floors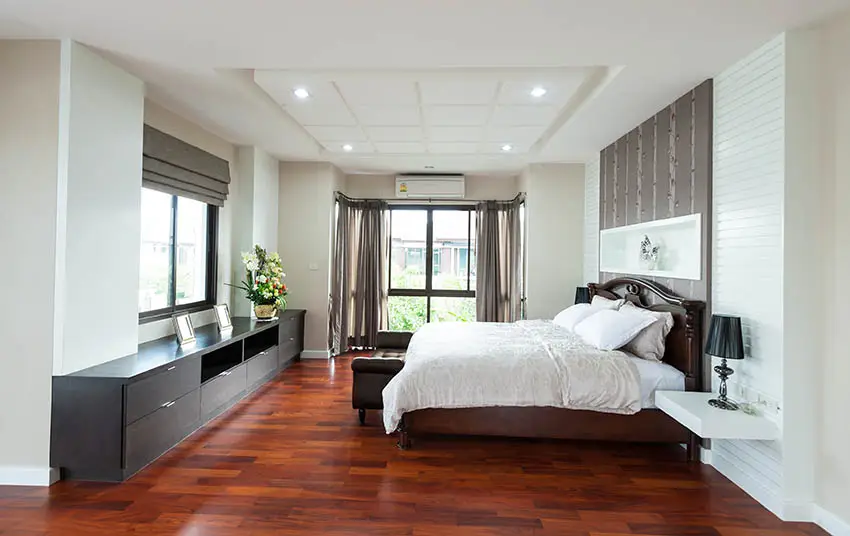 Cherry wood floors have a very striking and beautiful color. Because of this, it deserves to be highlighted in a space and the last thing that you want to do is choose a wall color that will clash with its rich undertones.
To complement its beauty, you can pair it with a nice light colored paint for the walls. Shades of white, for example, enhances its undertones and allows it to stand out in a space.
When choosing the right white paint to go with cherry hardwood floors, just make sure to go with a warm toned white or those that have a tinge of yellow to it like beige, as it matches very well with red.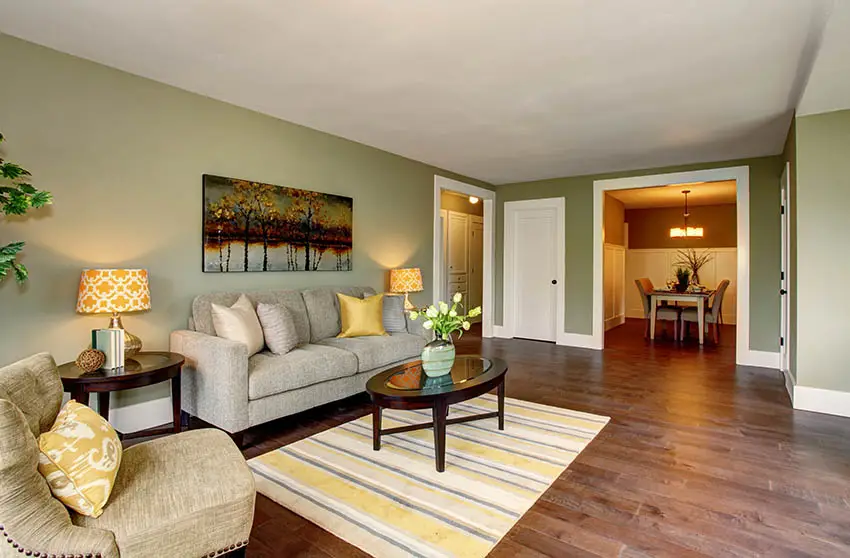 A light shade of green like mint or sage is another color which you can explore as a wall paint for the popular medium wood, Cherry.
Green and red are considered to be complementary colors, which makes the former a natural choice for cherry hardwood floors if you want to create a striking contrast in the space.
If you are not a fan of green, another cool hue like a very light shade of blue can also be paired with Cherry hardwood floors.
Since blue and green have the same color temperature, light blue walls also bring in some contrast to the space and balances out the overall palette.
If you want to add some more warmth to your space, another option which you can try is orange.
Terracotta, pumpkin and tangerine can sound a bit overwhelming at first, but when juxtaposed to the luxurious reddish tones of cherry hardwood floors, the resulting overall look is not only rich but also has a very welcoming feel.
Oak Floors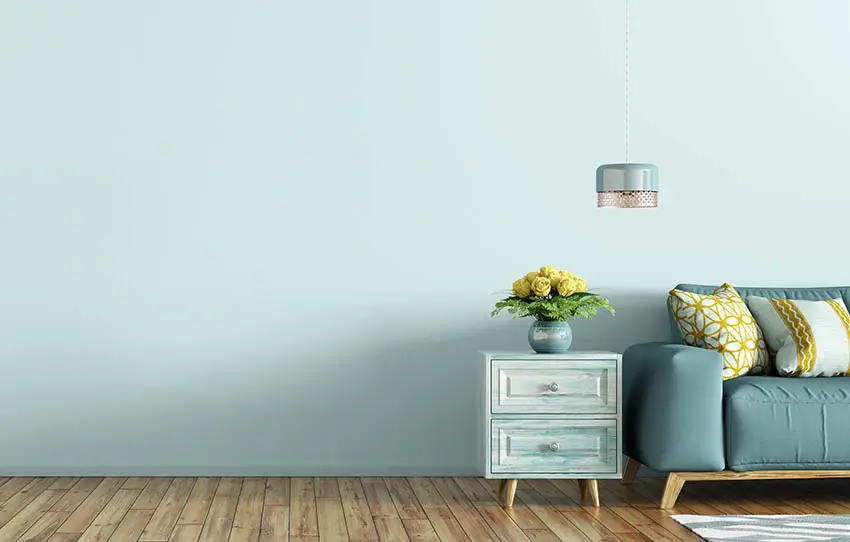 Oak hardwood provides numerous options for wall colors, depending on the variety used.
Red oak has a warm reddish tone to it and can be paired with a muted or medium shade of yellow or orange.
Wall paints like apricot or yellow help create a warm feeling room and promotes a cheerful vibe. However, if you are bold enough, you can also go for red walls to match with oak hardwood.
Alternatively, cool colors can also be paired with red oak floors. A light or muted shade of blue can help tone down and balance the warm undertones of medium wood floors.
White Oak, on the other hand, has a more "bleached out" appearance. Depending on the finish used, its color may range from light tan to medium brown. This particular type of wood floors are best paired with pastels and dark colors.
Going with pastels create a soft, charming vibe, while dark wall colors render a strong contrast and project a classy, formal look. Some examples of pastels and dark colors that work well with white oak floors are mint green, misty blue and charcoal.
Flooring in Dark Wood
One of the best advantages of having dark wooden floors is the flexibility it offers when it comes to design. Dark wood floors are so versatile that they work well when paired with colors at both ends of the spectrum.
Light wall colors are your best bet if you want to create contrast with dark wood floors, while dark wall colors are the ideal option if you want a palette which will complement its warm tones.
Choosing the right color to go with dark wood floors will ultimately depend on which of these visual effects and design attributes you want to stand out. Read more about paint colors that go with dark wood floors here.
Below are a list of the best wall colors which go with dark wood floors:
Light Colors Walls that Contrast with Dark Floors
Light colored paints can help tone down the richness of dark wood floors. These colors are also an ideal choice if you want to make your dark wood floors the focal point of the space.
White and Beige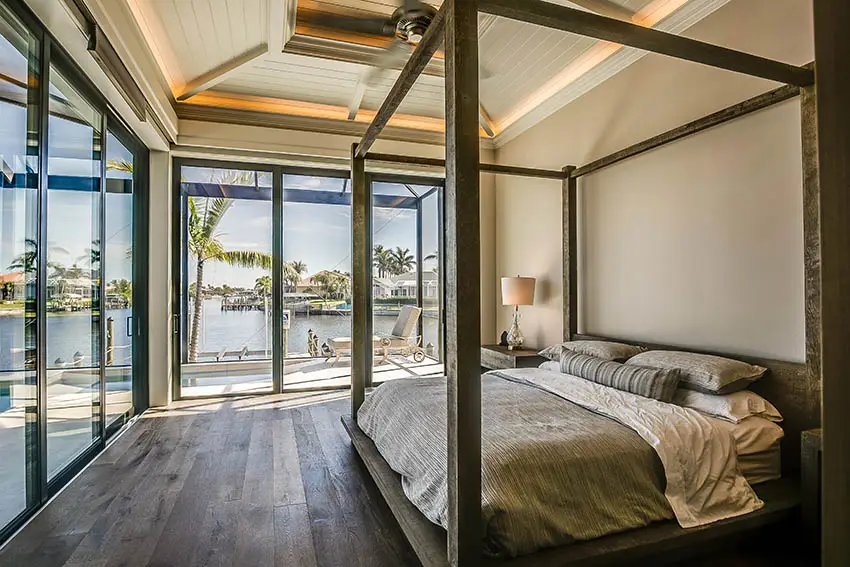 White and beige are two of the most popular wall colors used with dark wood floors. These two colors are not only a classic choice but can instantly help brighten up a room, while making it look "clean", crisp and airy. In addition, they also work wonders in making a room feel a lot more spacious.
White and beiges are typically used as wall colors if you want to create contrast between dark wood floors. White offers neutrality that contrasts so well with dark wood floors, whether it may be in a rich reddish hue, a dark yellowish tone, a warm chocolate brown or a deep black shade.
Beige , on the other hand, is a good alternative to white walls. Some homeowners find white walls a bit too sterile, plain or dull.
Beige has a creamier tone with a slight yellow tinge and a slightly warmer feel. Beige walls work well with dark wood floors, leaving an inviting atmosphere and creating a cozy ambience.
Not only can white and beige walls balance the richness of dark wood, but it can also enhance its undertones and make it appear brighter.
Both wall colors can be used in a wide range of design settings whether traditional or contemporary.
However, if your house has a contemporary, modern or minimalist style, pair your dark wood floors with white wall paint. Whereas, if your home has a traditional motif, opt to pair your dark wood floors with beige walls.
Other shades of white and beige that contrast well with dark wood floors are cream, ivory, ecru, ultra white, off white, pearl white, seashell white and frost white. You can find a wide range of these colors from popular paint manufacturers and home improvement stores.
Soft Grays and Cool Grays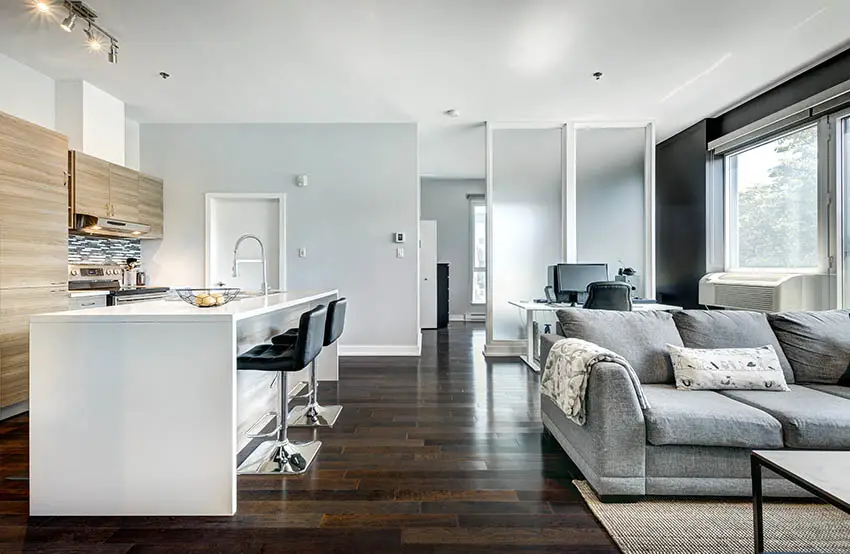 Another neutral which contrasts well with dark wood floors are light shades of gray. Soft grays like harbor gray, smoke gray and pewter can help enhance the natural undertones of dark colored wood.
Soft and cool grays wall paint paired with dark wood floors, provide a good background to introduce other accents to an overall color scheme of a space.
One of the best advantages to this color combination is you can mix and match accessories easily. In addition, this color combination can render a dramatic effect to a room and give it more depth and dimension.
Light shades of gray are considered to be the new alternative to white and work best for modern and contemporary spaces that have dark wood floors.
Pastel Colors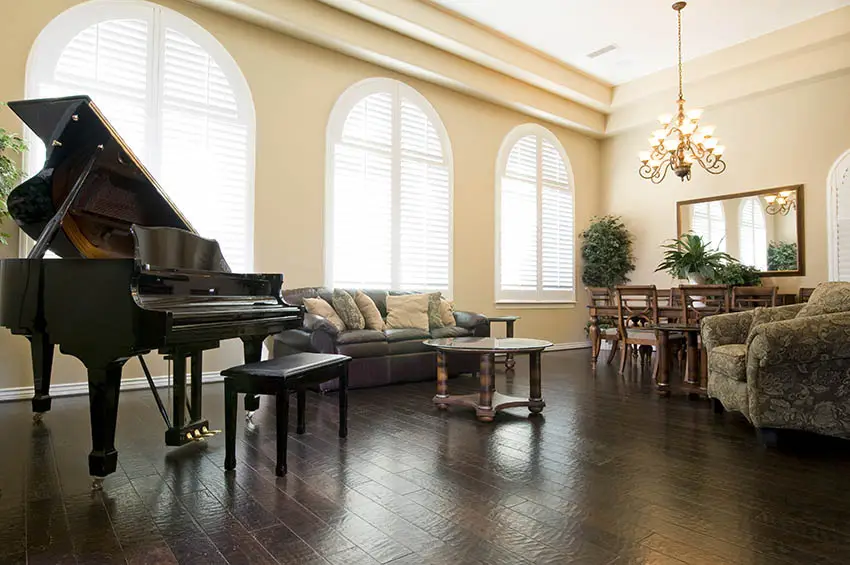 Dark wood floors can easily make a space look too "heavy" and one way to soften and tone them down is to use pastel colors for the walls. A pastel color may either have a cool or warm undertone to it and both can add an inviting charm to a space with dark wood floors.
Some pastel colors that work best with dark wood floors are mellow yellow, primrose pink, mauve, coral, mint green, robin's egg blue and powder blue.
Pastel colors are also your best bet if you want to add a bit of color to the space without committing to bright, intense and vivid hues.
Since they are light, they can also help make a space feel a lot more bigger, so make sure to try them as wall colors for small rooms that have dark wood floors.
One of the best pastel colors that work best with dark wood floors are soft yellows. The color yellow in general can liven up a space and add a cheerful ambiance to it.
This makes it the perfect combination to dark wood floors which usually have the tendency to make a room feel too overwhelming. Pastel yellow walls are also a great way to brighten the color of dark wood floors.
Powder blue and light blue are other examples of pastel colors which pair well with dark wood floors. Instead of adding a lively element to a space, the color blue, in general, can help create a calm atmosphere and renders a refreshing feel.
You can try out this hue if you want to make your dark wood floors the focal point of your space since light blues will not compete with their richness.
Pastel colored walls paired with dark wood floors are also the perfect color palette for cottage inspired homes.
Medium to Dark Colored Paints that Complement Floors with Dark Finishes
Dark-colored paints can help enhance the luxurious look of dark wood floors. These paint colors are the perfect choice to create a dramatic effect in a space.
Muted Shades of Green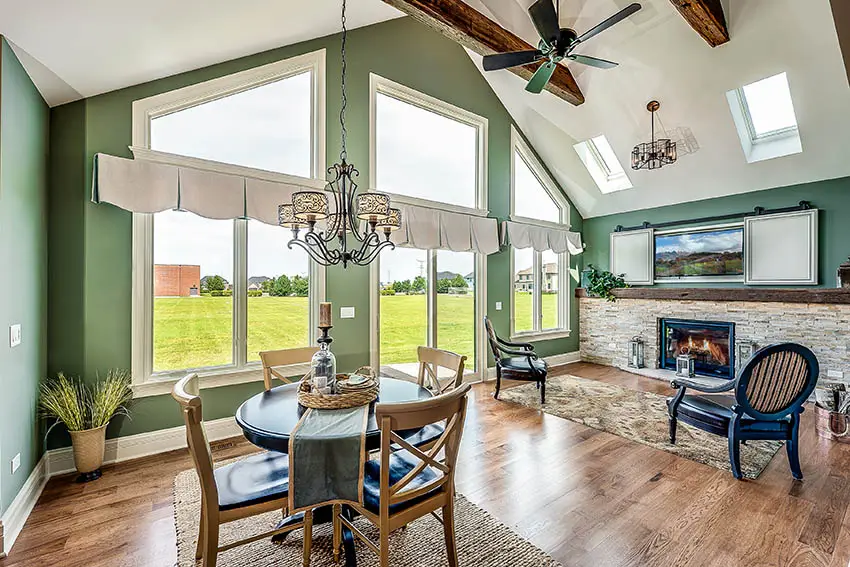 In general, muted colors complement wooden floors but one of the best hues that work with this palette is green. Green and brown go well together because they produce an "organic" feel to a space.
This pairing reminds us of nature, combining the right amount of warmth with a cool toned hue, which in turn renders a naturally cozy ambiance to a room.
Muted shades of green are those which are toned down with a bit of gray , such as sage, moss or olive. These colors help enhance the richness of dark wood floors without making the space feels too overwhelming. This pairing is ideal for traditional and contemporary spaces.
Shades of Brown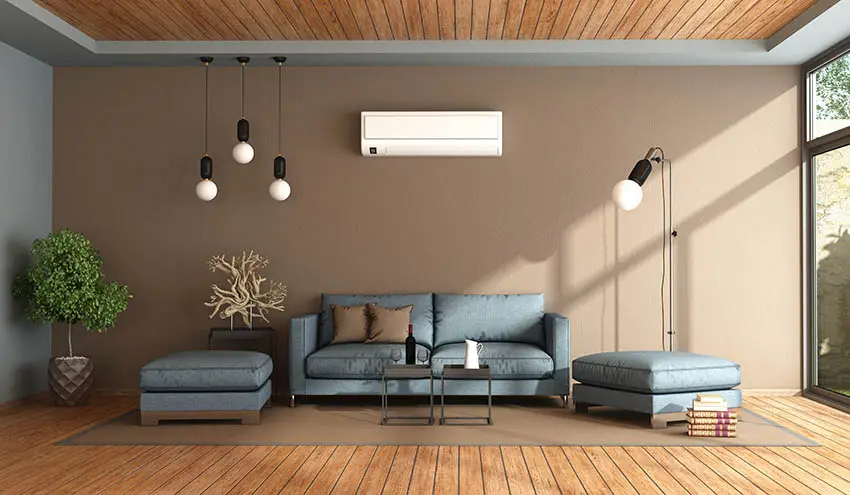 The color brown in general is one of the best colors which you can use to create a monochromatic scheme. Just to give a bit of background, mochromatic color schemes make use of one hue in different shades and tints.
In interior design, monochromatic color schemes are often effectively achieved by taking a color then toning it down to a lighter shade or adjusting it to a darker shade , then applying the resulting varying shades to the different finishes in the space.
Let's say you have dark espresso wood floors, you can either go with mocha walls and medium toned wooden furniture.
Monochromatic color schemes, in general, tend to make a space look either dull or too overwhelming.
When using shades of brown as a wall paint to pair with dark wood floors, make sure to provide diversity in terms of the layering of the colors and variation in terms of materials and texture.
Pairing shades of brown with dark wood floors produces a harmonious overall look in a space. Together, they create a sense of warmth and a cozy and very homelike feel to space.
You can try out this color combination for interiors which are country, traditional or contemporary. They are also ideal for large spaces or homes that have open lay-outs.
Some of the best shades of brown that pair well with dark wood floors belong to the light to mid spectrum — specifically light mocha, tan or sand.
Deep Jewel Tones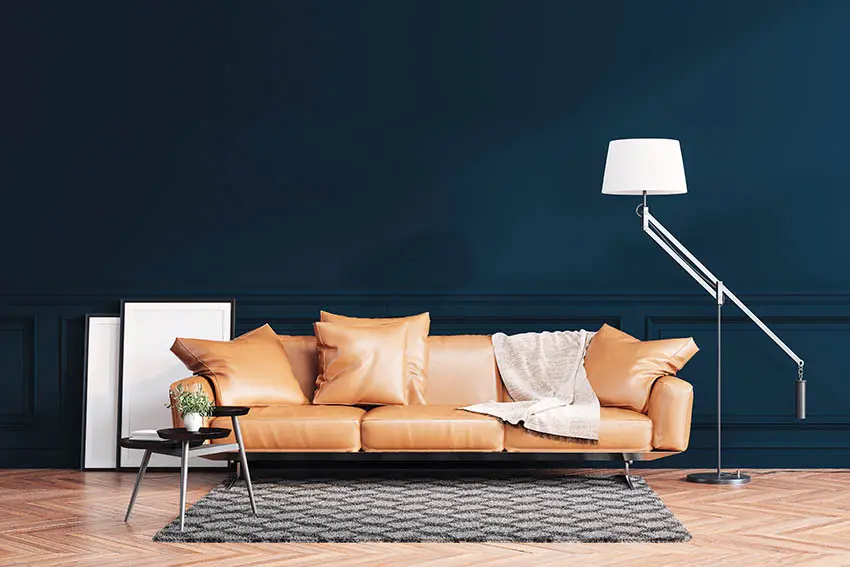 Pairing dark wood floors with deep jewel tones are your best wall color option if you have a traditional or historical home. This color combination is also perfect if you envision a period style inspired abode that projects formality with a bit of luxury.
Deep colors help enhance the warm undertone in dark wood floors, while at the same time creates an ultra rich, dramatic and stately look for your home.
Some examples of deep and rich tones that work well with dark wood floors include wine red, maroon, plum, navy, teal, moss green and emerald.
One of the best advantages of using these colors is that they can give a "pop" of color to a space, without being too overwhelming.
Pairing them with dark wood floors can be a bit tricky to pull ff, so make sure to add in some sort of balancing hue to your color palette to prevent the space from looking too gloomy. A light colored visual element or introducing a different texture can help break off the color scheme.
Aside from old world inspired spaces, country homes and traditional interiors, you can try this rich color combination for large rooms like family halls, living rooms or dining areas. We do not recommend them to be used in small spaces because too much dark colors can make them feel more cramped.
Tips For Choosing Wall Paint for Wooden Floors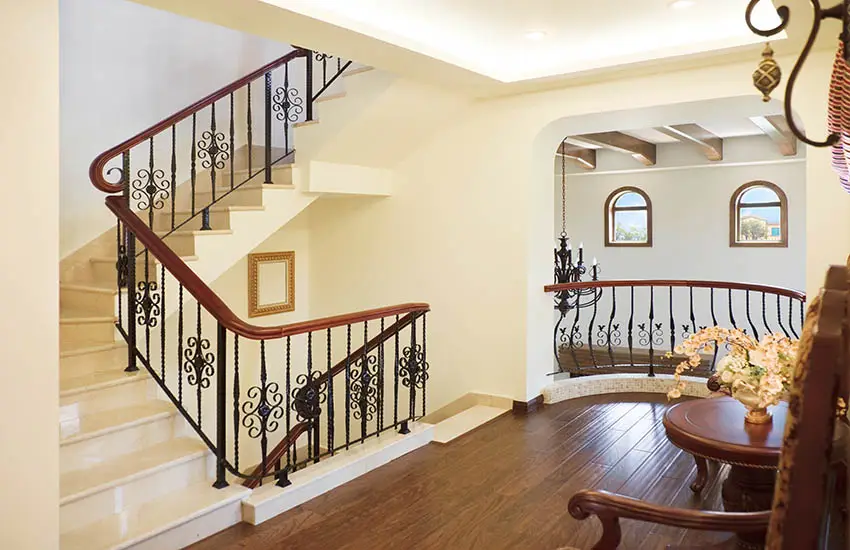 Determine the undertones present in your wooden floors. The undertones present in the type of wood that you use for your floors can be used as a color guide for choosing the right shade of paint to go with it.
No wood is plainly solid brown in color. If you examine it closely, you'll find that wood usually has a base color that is highlighted with tinges of hues.
Depending on the species, lumber grains, mineral streaks and stain used in finishing, these undertones can range from beige, shades of brown, red, pink to golden yellow.
These undertones may either be classified as warm or cool. Wood with warm undertones have inherent reddish tones, a yellowish base or an orange tinge. Whereas, wood with cool undertones have varying shades of gray and brown that show over its surface.
You can easily narrow down your paint choices when you already know the type of undertones present in your wood floors.
The general rule is that your walls must match the color temperature of your wooden flooring. For example, reddish lumber flooring are best paired with warm wall colors, gray wood floors are best paired with cool wall colors, etc.
You Can Never Go Wrong with Neutrals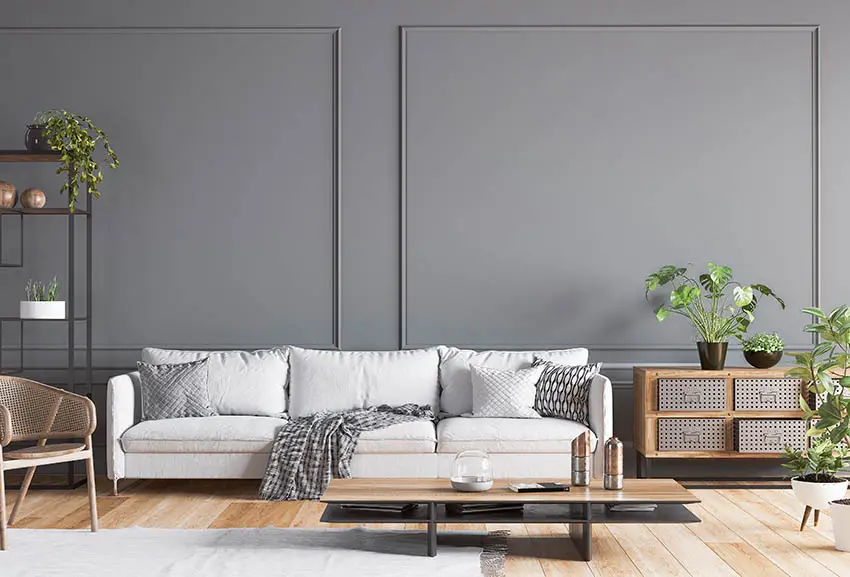 Irrespective of the undertones present in your wooden floor, they will coordinate well with a neutral shade of paint.
Neutral colors like white, off cream, beige are all go to shades for a lot of interior design styles and they can work with a variety of floor colors too.
Using a neutral shade for your wall to match with your wooden flooring also provides you the opportunity to introduce some more colors to your palette through your accessories, furnishings and furniture.
Choose an Analogous Color Scheme
Analogous colors are groups of three colors that are found next to each other on the color wheel. For example, red – red orange – orange or yellow – yellow green – green. These color schemes can be used if you want to add a pop of color to your space.
Choosing a wall color related to the undertones in your wooden flooring will complement it beautifully. For instance, if your wood floor is golden yellow, choose a warm shade of butter yellow for the walls.
Go Bold Using Contrast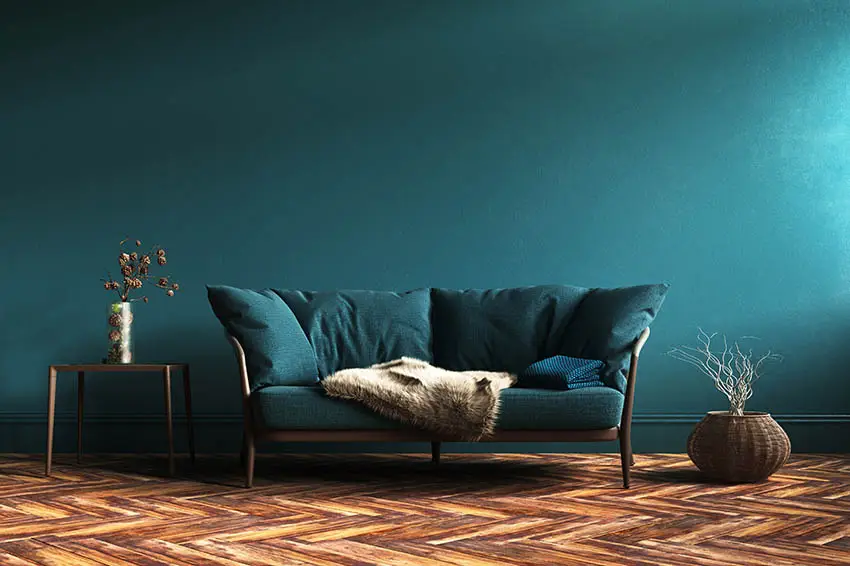 Contrast is one of the key attributes that make a design stand out. If you want to add depth and dimension to your space, use a wall color that will contrast with your wooden flooring.
To determine the colors that will contrast well with your wooden flooring, you first need to identify the undertone of the lumber. Next, find the opposite shade of it in the color wheel, and use that for the walls.
For instance, if your wall has a reddish color, use green for the walls. A good muted shade of green like olive will contrast beautifully with cherry hardwood flooring. Another example would be lilac walls to match yellow toned wooden flooring.