Here we share our types of vases design gallery including the different styles, shapes, materials, tips on vase fillers, arrangement, and how to take care of flowers in a vase.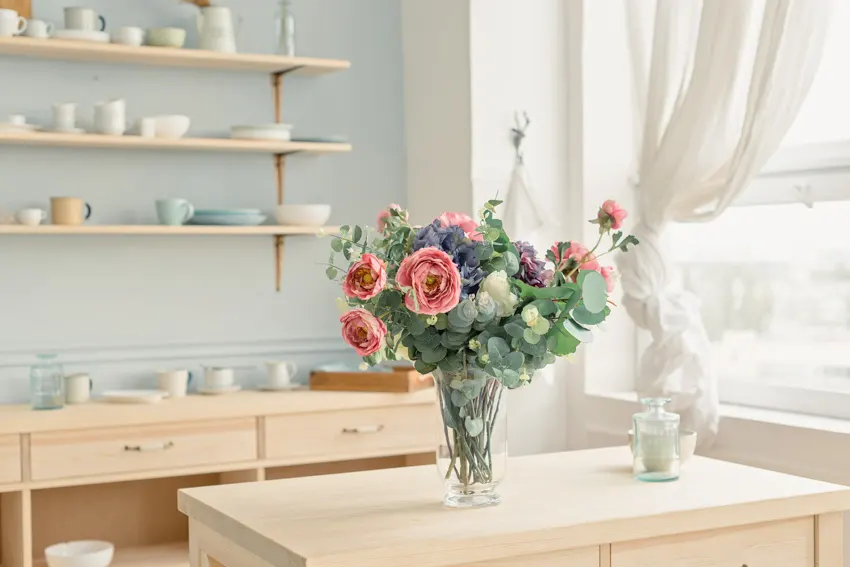 Vases are the perfect complements for flower arrangements be it at home or in your commercial space. Whether you're picking out blooms for your own home or you're planning to give them out for someone special, it can be overwhelming trying to pick out the perfect vase for the perfect arrangement.
There are a wide range of vase materials, styles, sizes, shapes, and colors. There are so many of them that it can be really difficult to choose the right option for your particular needs. We've included a detailed list of the most common types of vases.
Alongside them, we've also researched helpful hacks and tips on how you will be able to get the most out of each style as you start incorporating them into your home's main décor.
Floor Vase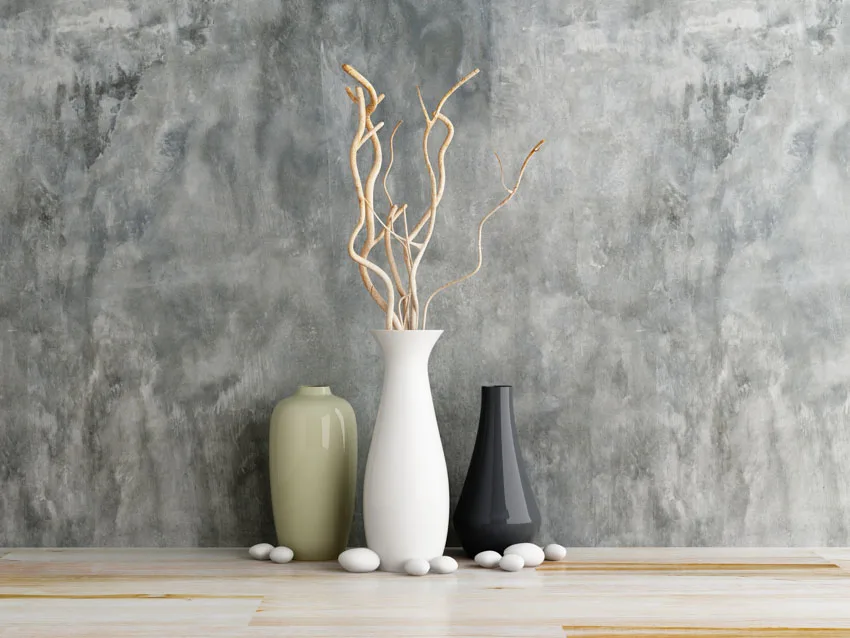 Floor vases typically come in large sizes. The reason for this is that they're meant to be placed directly on the floor, as the name suggests. They can come in a wide range and can be anywhere from one foot to three feet tall. It all depends on a wide range of factors.
One attraction or appeal that floor floral containers have is that they make for great entryway design elements in the home. They work particularly well in pairs, especially when you have them placed on both sides of a larger piece of furniture or opening. The visual symmetry that they create is quite aesthetically pleasing and can draw the attention of the eye from the ground up.
These are capable to hold live plants. However, they are more commonly used to hold a variety of dry fillers for textures. They can be cut bamboo stalks, willow or birch branches, dried and preserved stalks of wheat, and so much more.
Jug Vase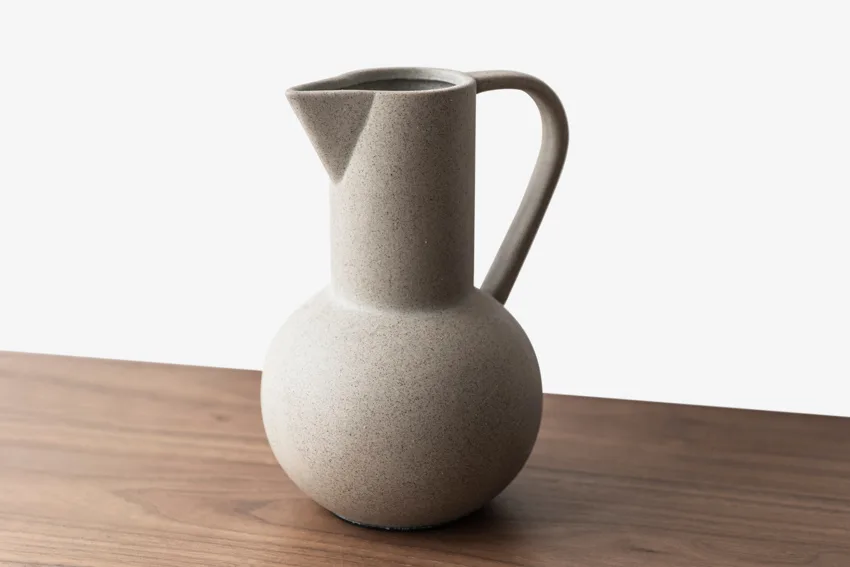 Jug vases are interesting because they're the types that have handles on them, as with a regular jug. This particular feature makes the jug vase useful because it happens to be easy to carry.
These are perfect as farmhouse décor elements and can bring in that feeling of being out in the country inside your home, no matter where you may be. Extra-large jugs are perfect when placed on the floor.
This gives them plenty of room to be the focal point of the space and allows them to look their best. You can put tall branches in them, or anything you can think of. Smaller-sized jugs that display smaller flower arrangements also look great when spaced alongside large jug style floral containers.
Decorative Vase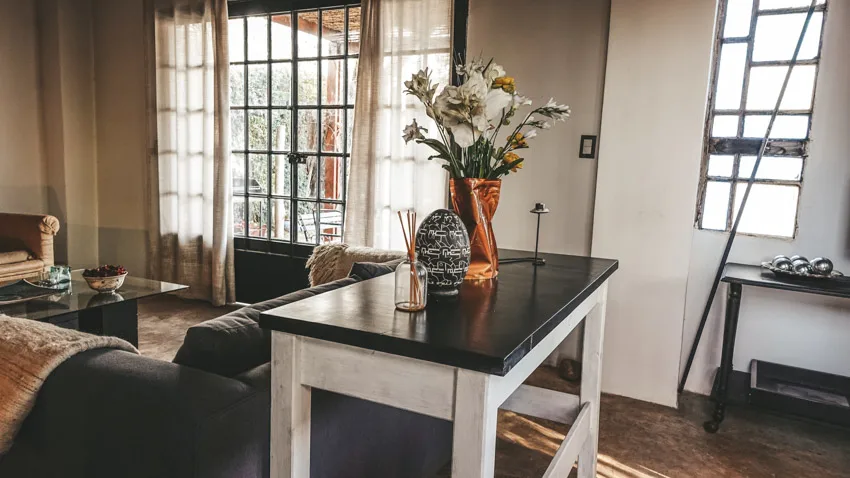 Decorative vases can be functional but their main purpose is to contribute to the design element in the room that you're placing them in. It's usually commonly seen arranged in groups in the living or dining room area or on some sideboard somewhere.
These can also add points of interest for a hallway or corridor or even on some type of console table. If you need fillers for empty shelves, they will also fit right in.
When placing them as part of your room décor, it's important to go big and bold. Make a statement with interesting colors and feel free to experiment with certain color palettes. If you want a more refined or cohesive look, you can opt to group similar containers together.
You can group them in different styles if you're shooting for a stunning and unique centerpiece tablescape setup. These are innovative and can modernize your home in all of the best ways.
Centerpiece Vases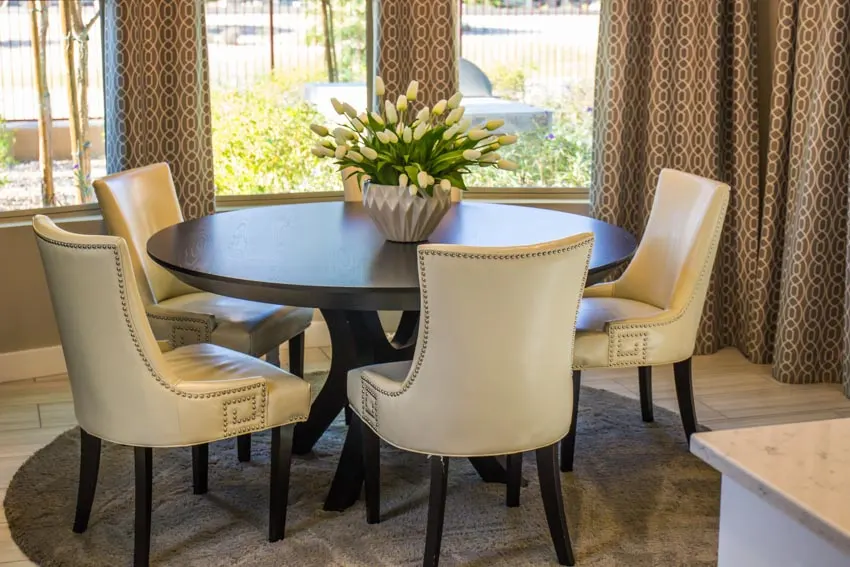 Centerpiece vases are pivotal in dictating what the overall theme of the table, or even the entire room will be. It's a highly important vase to display and can usually be found in the dining table set. If you want something to anchor your design down, you can bank on thse to get the look.
They can set the theme as well as bring in substantial design elements for the space. Depending on what you're going for, you can play around with centerpieces for the dining room table. You can either bring in color, a focal point or main accent, or a neutral accessory.
You can add some candles alongside it for more formal dinner settings. As for the vase fillers, you can play around with grains, spices, dried beans, grass seeds, crystals, and so much more.
Wall Vase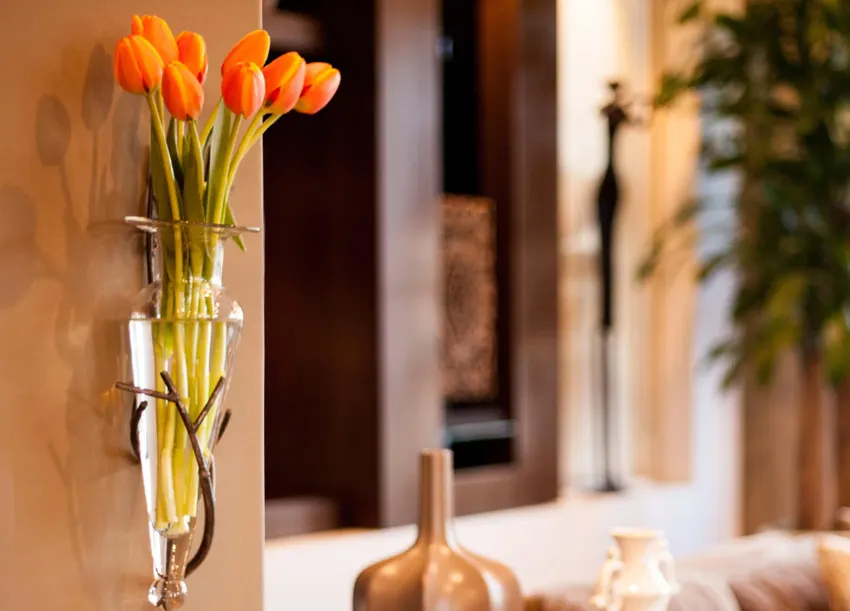 See this wall vase at Home Depot [sponsored link]
Vases aren't just limited to being standalone. They can go far beyond just the horizontal spaces in your home. You can make use of your vertical space by getting your vases mounted on your walls. These are very convenient.
On top of the fact that they take up no floor space at all, they also keep these floral containers (oftentimes breakables) out of reach from your children and pets. This prevents mishaps inside the home and makes for much safer decorative elements. they come in all sorts of shapes, sizes, colors, and materials so your options are practically limitless at the end of the day.
Another great thing about such decor pieces is that they come with frames where they're mounted from. This is a great opportunity to build on to the design and the aesthetic of the wall vase as well as add in other decorative elements that would not have been possible on regular ones.
You can add vines, string lights, and other creative ideas you can think of. These vase mounts are usually made out of some type of metal. This makes for a sleek and sophisticated appearance.
It's usually a smart idea to put two wall vases in the middle of a large piece of artwork. It's an idea that interior decorators use all the time and something that you can also apply to your walls at home.
Table Vase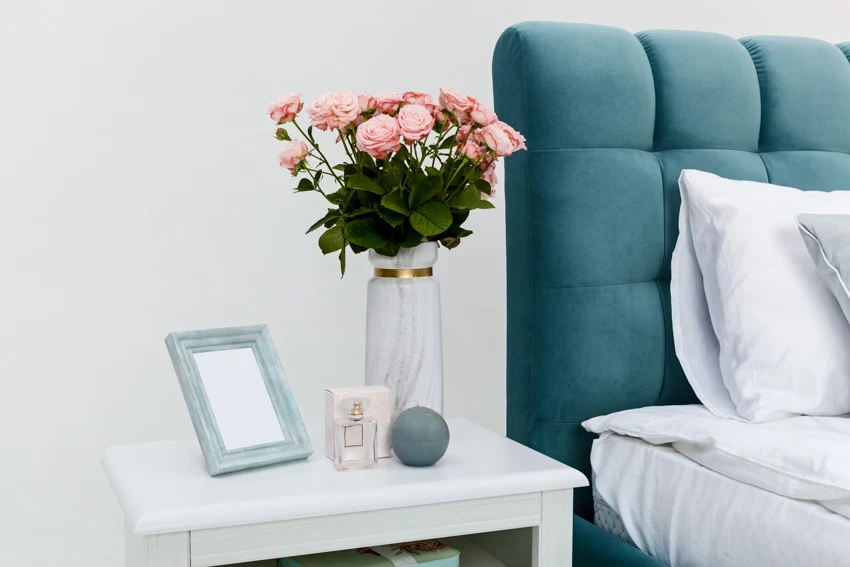 The purpose of a table vase is straightforward. It's meant to neatly arrange flower arrangements in the home and to be displayed on a table. It's a handy decor piece that serves its purpose well.
The term table vase is a bit generic as they can come in all sorts of sizes. When picking out a table vase to include in your setup, it's important to pay attention to dimensions.
You have to make sure that the size of the vase you pick out will complements the table size, along with all of the other things you decide to arrange on top of it.
Pedestal Vase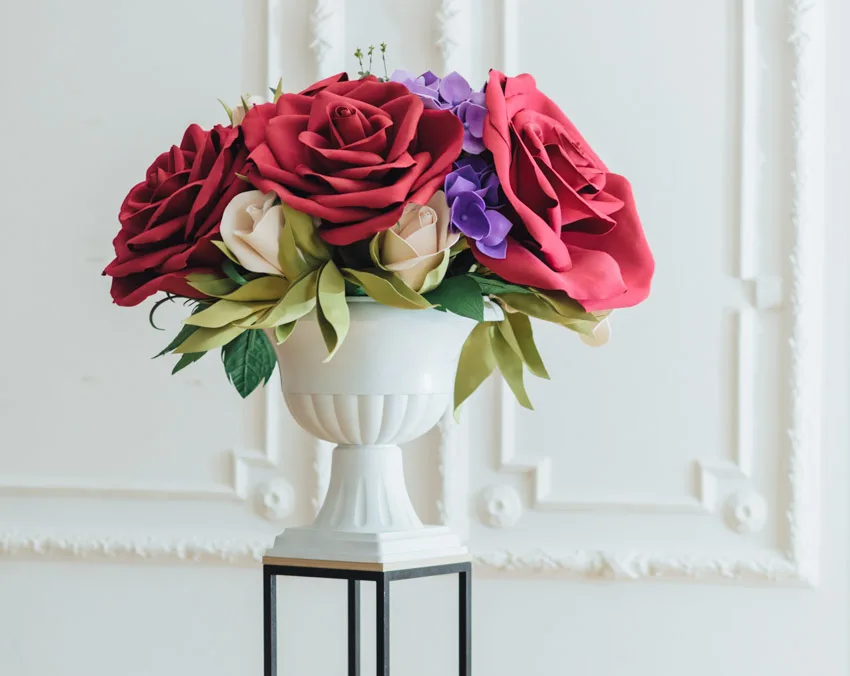 Pedestal vases can refer to a myriad of different vase types that come with a pedestal as a base. There will be a lot of instances wherein the purpose of the pedestal is purely for decorative reasons.
However, some pedestal vases may offer more by way of functionality. Pedestals are typically wider and what this means is that they offer added stability for some vase types.
These can come in different shapes, from giant floor ones to the mini bud types, as well as everything else in between. Any type of vase can be put on a pedestal vase for added height and stability. If the interior décor theme you're shooting for is somewhere in the antique or Victorian theme, the pedestal vase may come in handy.
Although these days, it isn't uncommon to see them in modern and minimalist spaces as well. Surprisingly, they can be quite versatile and it all depends on how you set them up along with the rest of the other elements that you would like to include in the space that you're decorating or setting up.
Plant Vase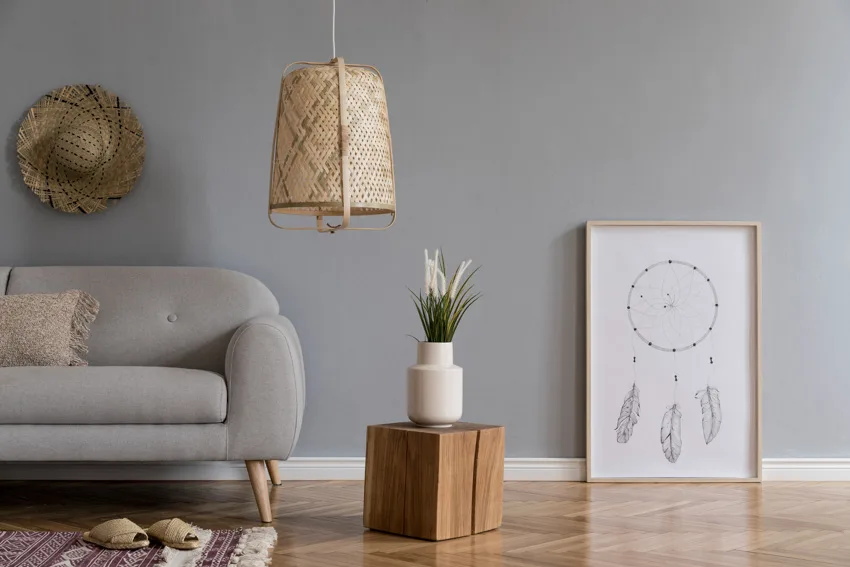 You can grow almost anything in any type of vase or container. So to say "plant vase" would mean that it's a catchall term for all vases in general. A plant vase, however, has special features that accommodate healthy growth for live plants.
For example, it usually has drainage holes at the bottom. This is to make sure that the soil in there doesn't run the risk of root rot over time.
Vase Shapes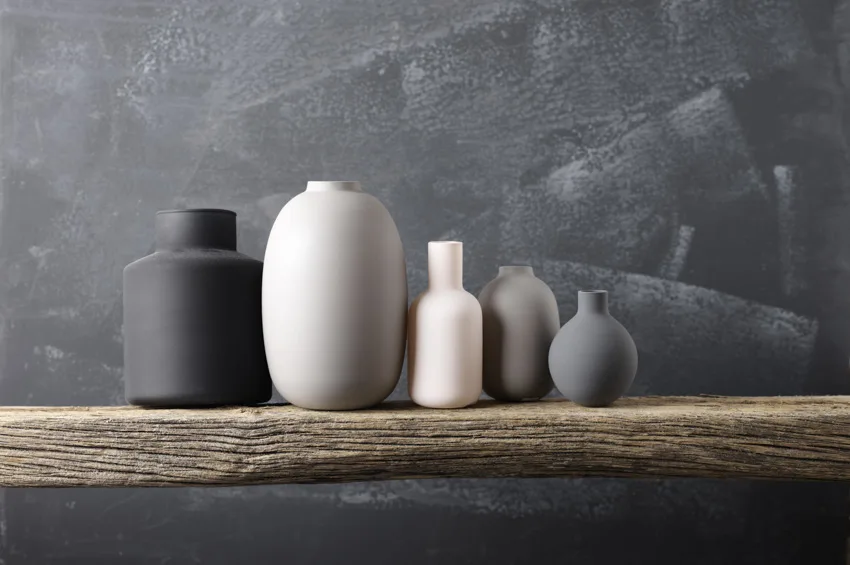 Here we share the different shapes and their common uses.

Bouquet Vase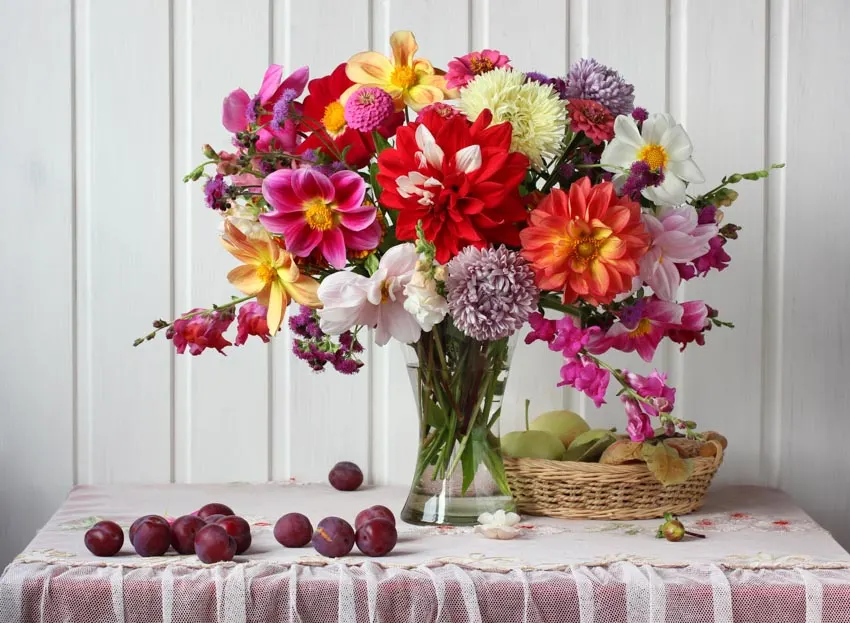 Bouquet vases are one of the most popular types of vases out there. This comes with a pretty good reason. The design of this vase style has fresh flower arrangements in mind all the way through.
The design is great when it comes to supporting the weight of thick stems and large flower blooms. It has a very stable and sturdy base, a wide middle area, and a tapered mouth. These details in the vase's structure are great at ensuring that the flowers are always kept upright.
They are also great at securing them and making them look beautiful all of the time. These are oftentimes medium-sized. This means that they can be used just about anywhere if you want to liven up your interiors at home with a fresh bouquet.
Whether you want them to be the main point of attention by placing them on a center coffee table, or a little out of the way by placing them on a window sill somewhere, they will fit right in.
Bottle Vase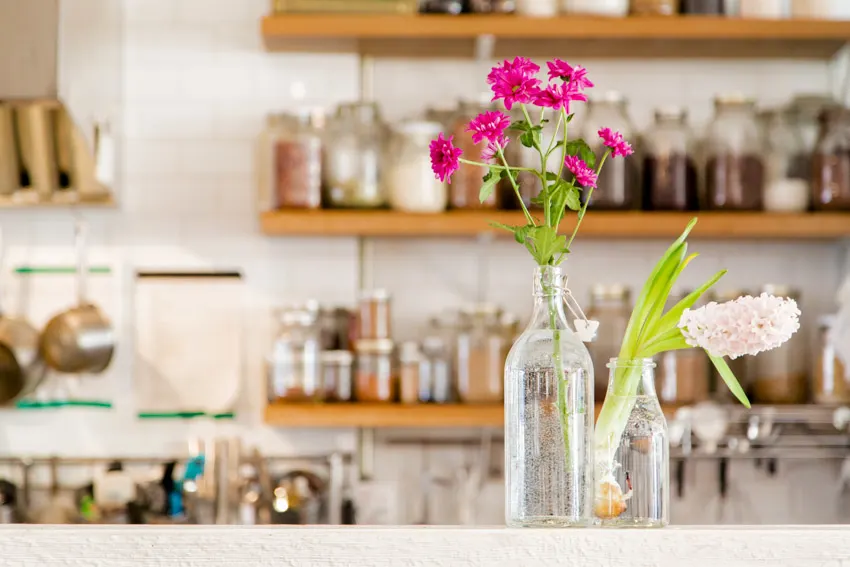 Bottle vases are pretty straightforward. As the name states, they're shaped like bottles. They have cylindrical and straight bodies that taper into a narrow mouth, just like common bottles are built and designed.
Although the basic anatomy is pretty simple, they can come in a wide range of styles. These can be created with a specific aesthetic in mind or they may have lived as bottle containers for something else in their past lives and then they've been repurposed as vases further down the road.
One of the charming interior design strategies is how a vintage or antique old bottles have been repurposed into such functional containers. They work well with rustic-themed or boho style décor.
These are usually made out of glass but there may also be other pieces that are made out of other materials such as resin, porcelain, or even ceramic. These other materials are a little harder to source though as most of them are made out of glass.
Cylinder Vase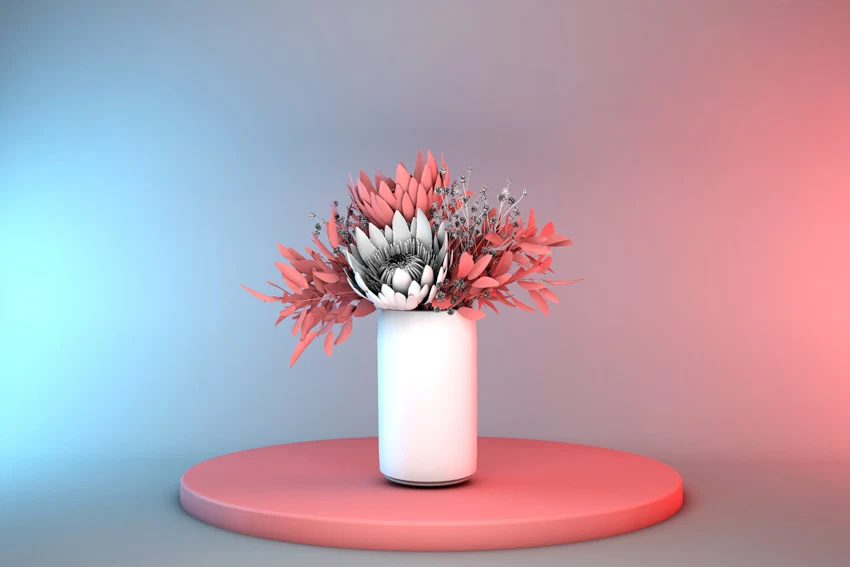 A cylinder vase is the type of vase that's recommended for people who are quite fond of the classics. To be honest, very few other types of vases out there can compete with the looks and functionality of a basic cylinder vase.
Because it's typically one of the taller vases out there, it has a subtle elegance that can amp up the elegance of the entire room that you're placing it in. If you are fond of very tall arrangements, a cylinder vase will be something you will enjoy.
When you have a cylinder vase in a room, it can easily be the center of attention without even trying too hard at all. The best recommendation you will ever get is for you to keep a clear cylinder vase or two somewhere in the house.
This will make it easy for you to make quick flower arrangements and displays as well as play around with the vase fillers at the bottom without worrying too much if it's a vase type that will fit right in with the rest of your interior décor. You can rest assured of the fact that it will get to fit right in.
Rotund Vase
A rotund vase closely resembles a gourd vase with the difference being that a rotund vase can forego the neck completely. It usually has a very stable and round bottom. This style can either have a tapered neck and mouth or a direct opening at the top, slightly narrower than the bottom.
It can come in a wide variety of shapes and sizes but are oftentimes best in larger sizes. It isn't uncommon to see rotund vases used as floor vases.
Rectangular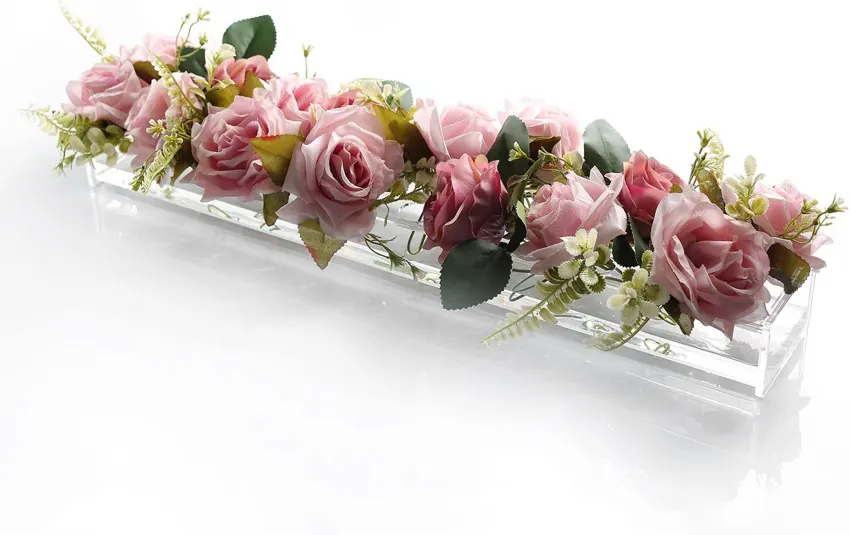 See this rectangular glass vase at Amazon [sponsored link]
A rectangular vase is a really popular option for homeowners who prefer a more modern décor theme. There are two main types: a low pan rectangular vase that works well with big flowers, and a rectangle that's in a long cubic form that can work with much thinner flowers.
These are known to have wide openings and the bottom halves may either be parallel or just very slightly more narrow than the top. They also have sharp angles and lines, which gives them a very edgy and contemporary look.
You can add a few flowers with shortened stems or make a nice bed for succulent plants. Take note that when arranging your blooms, you need to aim for a low center of gravity to run fewer risks of tipping the vase over.
Pot Vase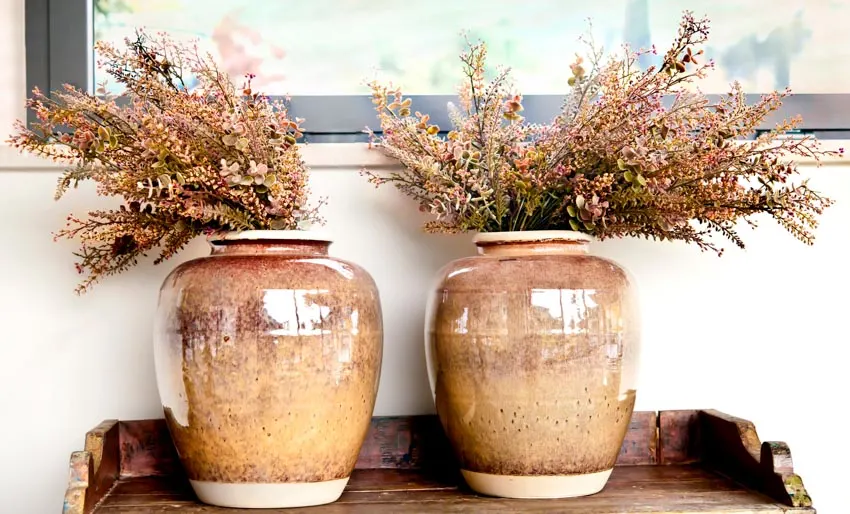 A pot vase is one of the more common floor vases you will find in most home interiors. It has a stable base and a slightly wider body, and it slowly tapers off to the top to end with a narrow mouth.
Pot vases are great when you have large and heavy blooms you would like to showcase. This vase can also accommodate bigger live plants. Just make sure that you have enough dry fillers right at the bottom of the pot to encourage irrigation.
These can be made out of any material you can think of but they can commonly be seen in pottery works, ceramic, porcelain, and other heavier and sturdier materials than glass.
Gourd Vase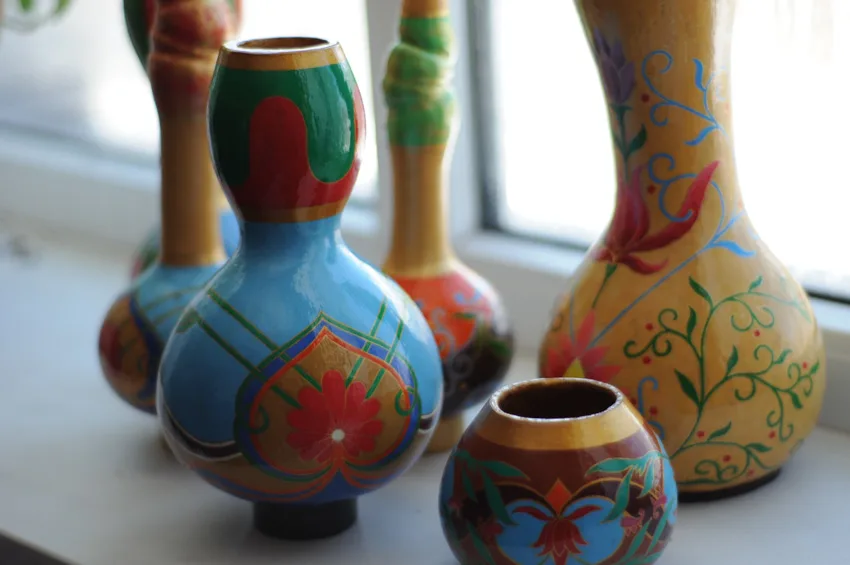 A gourd vase is as straightforward as the name goes. It's shaped like a gourd. It usually has a wide and rounded bottom that tapers up to a narrow and elongated neck to the mouth or opening. It's one of the oldest styles of vases out there.
The longevity of the style does make sense. After all, it has balance. It's so cleverly shaped that it is very highly unlikely to tip over, even if it may be holding heavy flowers, branches, and the like.
Also, its narrowly tapered mouth can bunch your flowers and other fillers tightly together. This keeps the form the arrangement in top shape and very organized. And throughout this time, its wide base keeps everything stable.
Even though these are shaped peculiarly, they have been known to mix well with any interior décor so they're very flexible in terms of design and what they complement.
This isn't something that plenty of other designs will be able to readily offer as they are usually suited for one or two types of design themes for the interiors.
Square Vase
Vases are great and all that but certain shapes aren't that stable and with the added weight of the blooms of the flower bouquets at the top, they may end up tipping over. This is where square vases come in.
They are far more stable and far sturdier compared to rounded ones. Because of their symmetrical shape, square vases are oftentimes very short when it comes to height. But the bigger ones can be huge, to the point where they can already qualify as floor decor.
Another appeal is their clean lines. It's very stark and sharp and if you're the type who likes to incorporate a sense of order and balance into your interior's aesthetics, adding decor pieces can turn out to take it home for you at the end of the day.
Because they often have very wide mouths, they can give you lots of flexibility and room for the blooms they can hold for you while you're arranging them inside the vase.
Hurricane Vase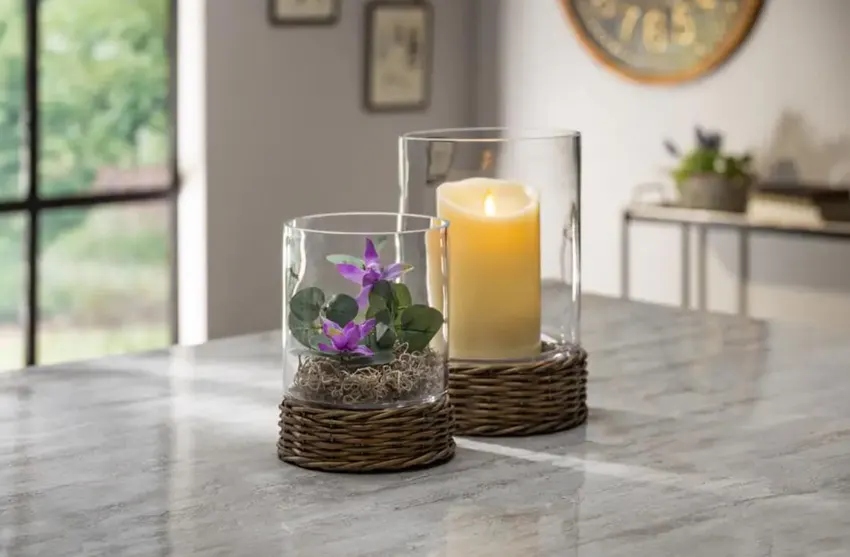 See this hurricane vase set at Home Depot [sponsored link]
A hurricane vase's name is derived from hurricane lamps. These lamps are a bit old fashioned and their main feature is that they're made out of a tall glass mounted on a base. The wicks at the bottom of the lamp are protected by the glass towering above them.
Hurricane vases are shaped similarly so when it all comes down to them, they are shaped like lamps. This is also the main reason why these functional decor aren't commonly used to contain flowers; they are used to hold candles instead.
This is also one of the main reasons why hurricane cases are regarded as candle vases. Some candle options you can play around with are tall pillar candles or multiple small floating candles with interesting vase fillers sunk into the bottom of the glass vase.
Bowl Vase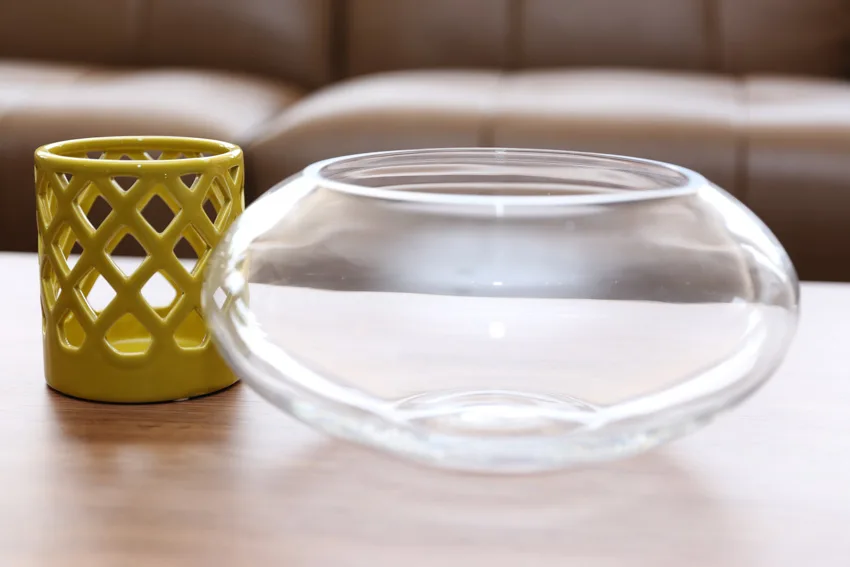 Bowl vases are awesome if you want to be a little more experimental with your flower bouquets. You can have them as fresh bouquets or as dried preserved ones. Imagining them in a bowl might not exactly come to mind at first, but this is a look that we highly recommend.
No matter what your theme or décor might be for your home, you can rest assured that a bowl vase and its flower arrangement will complement it accordingly.
One thing to remember is that some extra time and effort may be required when prepping your flower stems. You will need to cut them shorter than usual. This is so that you can keep them securely in place.
A bowl vase has a very wide mouth. This means it can't accommodate lengthy flower stems. pieces are designed to have narrow mouths, though but it all depends on which particular vase type you get your hands on.
These are the most common types you can see in the market these days. They have the added advantage of giving you a little more freedom to be creative in decorating it as you can add on dry filler elements.
You can have pine cones, sea shells, sand, acorns, marbles, crushed glass, and so much more. You also have the option to kick it old school and show off the flower stems immersed in water. If you want to go with the more ornate options, there are also styles made out of porcelain, ceramic, and so much more.
Bubble Vase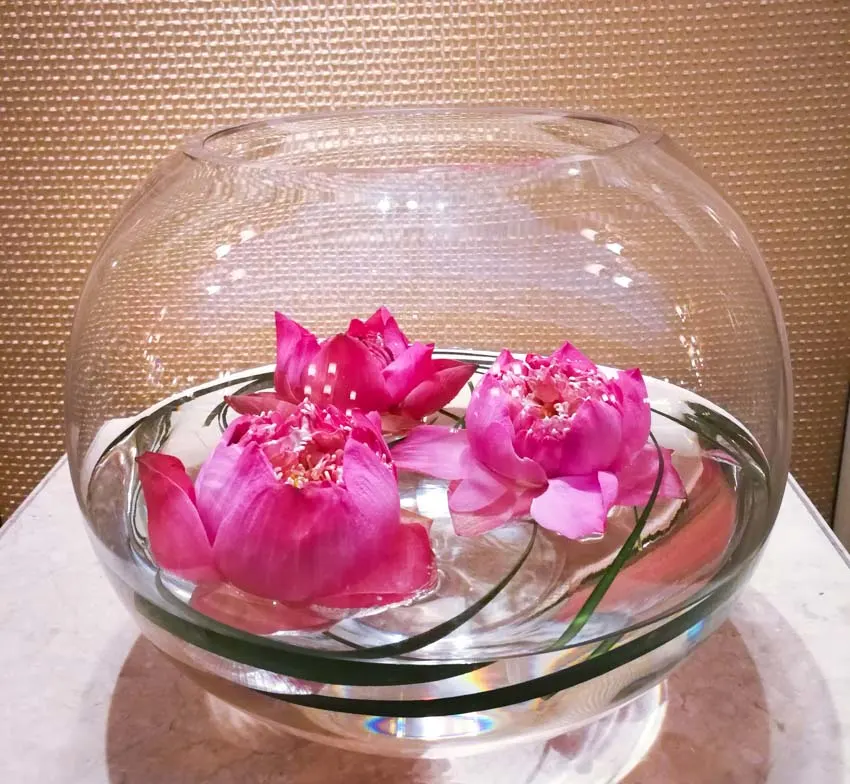 A bubble vase is a close kin of the fishbowl. It also closely resembles it. It looks exactly like a bubble. A bubble vase can offer a very stylish wash or showcasing flowers, plants, plant arrangements, or even rock gardens.
Other variants may closely resemble a typical vase with the difference being that the design is that they have multiple bubbles in the middle. For flowers, a slenderer bubble vase is best. For other things, it would be best if you stick to the wide-mouthed fishbowl type.
Urn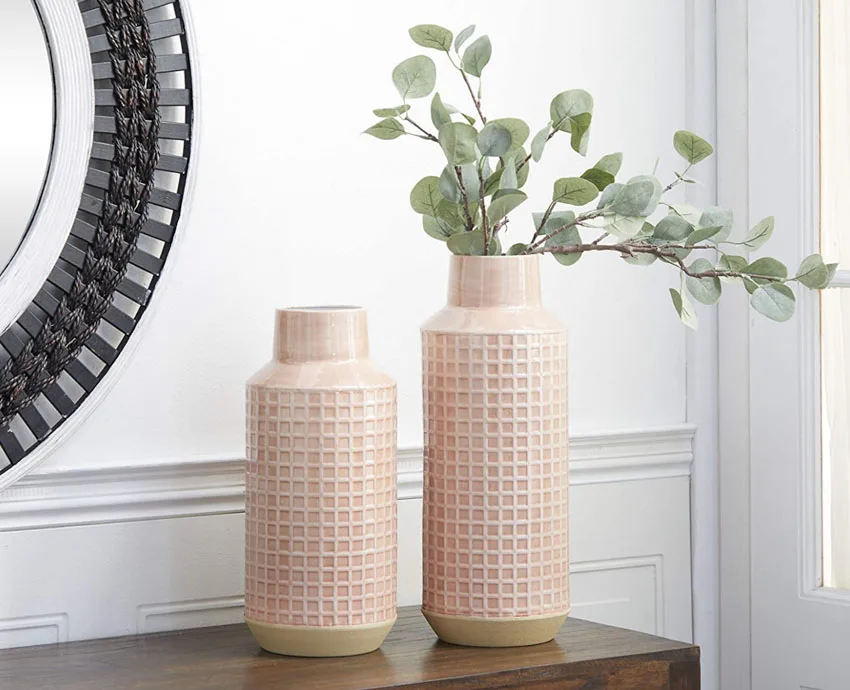 See this urn vase set at Amazon [sponsored link]
Urn vases sound a bit drab and morbid but the name doesn't do them much justice. This vase type can be very decorative and ornate. It can come in handy if you want to dress a certain area up in your home.
It comes in two types: the first one has a base that resembles a pedestal and it slowly tapers into a wide mouth. The mouth is the widest part of the vase.
The other type has a wide middle with a narrow mouth and base, similar to the urns we commonly see. These can work very well with larger and heavier flower arrangements regardless of variety.
This is because they offer the added advantage of sturdier bases and mouths that are big enough to accommodate large and thick stems while providing enough support to stop them from drooping. They are perfect as centerpiece containers, especially for larger types of tables.
Bud Vase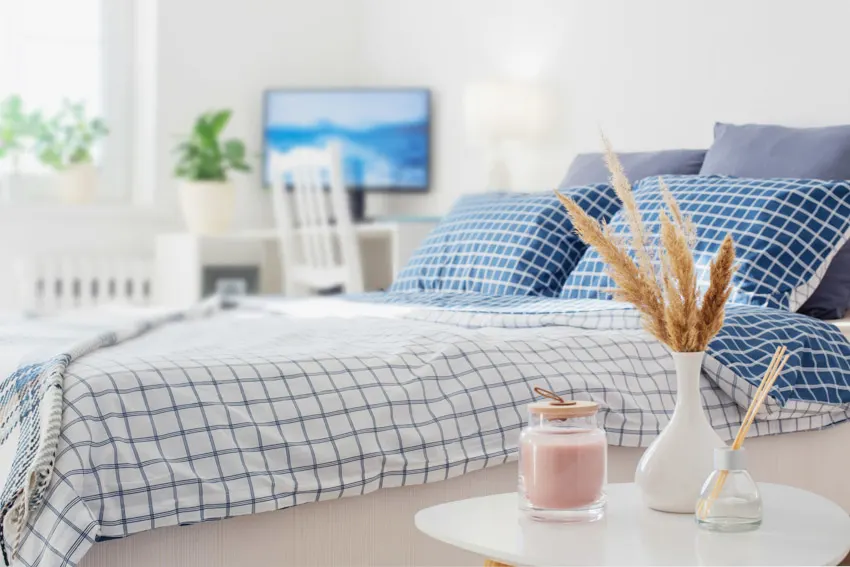 If you want to find a vase that's designed specifically to hold smaller or even single-flower displays, the bud vase might be the container or vase you're looking for. They can be arranged for aesthetic purposes as multiple bud vases in various positions.
This is an interesting visual effect that you can strategically use to fill up your interior spaces at home. If you have gaps to fill, for example, you can put them in that blank or negative space and you can be rest assured that they will liven it up.
This makes these decor pieces highly versatile. They are great items to have at your disposal especially if you happen to be looking for eye-catching décor that grounds the aesthetics.
Bud vases are ubiquitous these days. They can be found in every type of material you can imagine. They can also come in interesting and unique shapes and colors.
There's a quaint charm and appeal to them because of the options available and their small and dainty size. They can look great as a side piece somewhere or as center table pieces that don't eat up a lot of space.
Trumpet Vase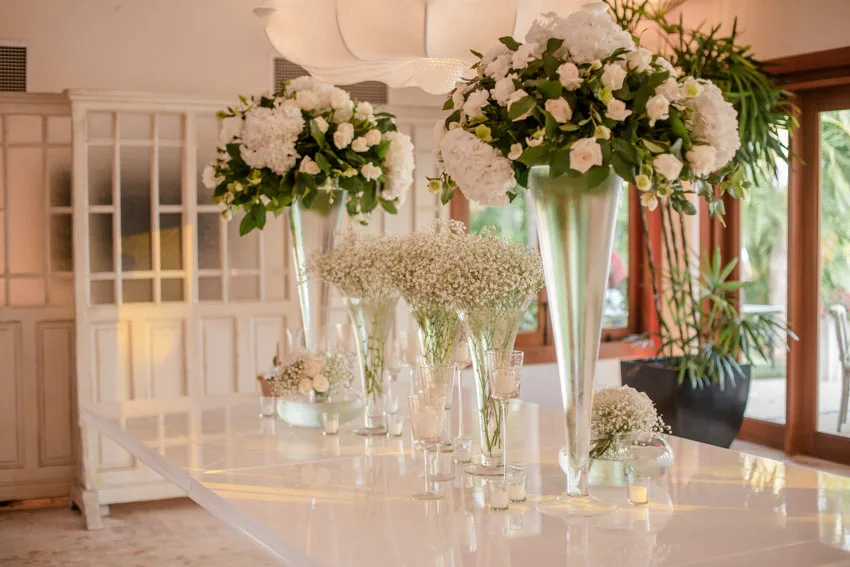 Trumpet vases are more elegant and ornate than the usual ones in and around the home. This is often the main reason they are used as main centerpieces on the table. They can amp up a formal gathering or soiree.
They're particularly recommended on main tables as they take up very little space due to their sleek and slender features (very much like a trumpet). And it is also because of its unique shape that it can hold a lot of flower displays without hogging all the space on the table.
This type of vase shape is very similar to the cylinder vase but the difference is that a trumpet vase's mouth is flared outward, making it much bigger or wider. It can come in a wide variety of materials but the best option is usually glass. It's perfect for holding long-stemmed blooms for added drama.
Amphora Vase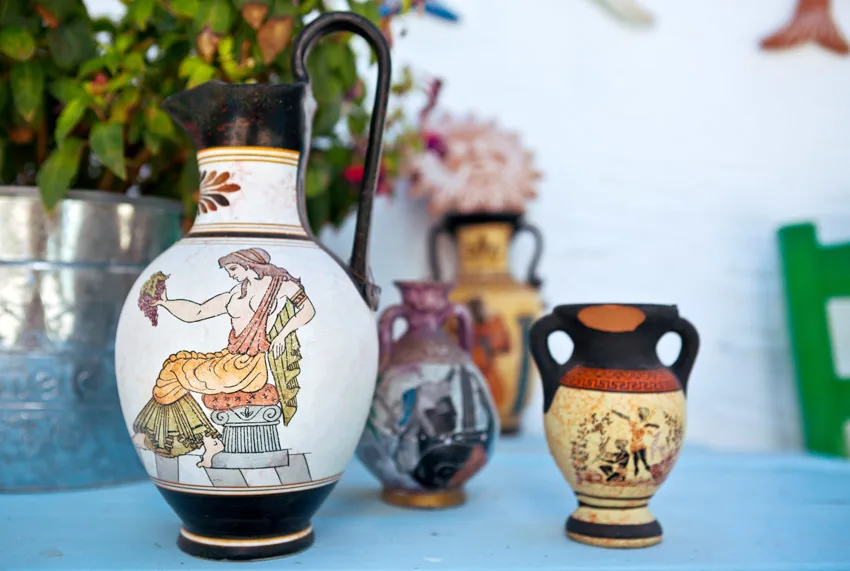 An amphora vase is a traditional Greek vase or container that was originally meant to hold wine, dried goods, oil, and so much more. The modern ones you see these days are pieces that have double handles, and they are more commonly used as decor elements in the home.
They can come in varied sizes, with the bigger ones placed directly on the floor. They are also oftentimes made out of ceramic or porcelain, with intricate artwork being hand painted on their outer façade. Because of their heavier and costlier materials and at times, antique value, amphora vases can be quite expensive.
However, modern manufacturing advances paved the way for affordable manufacturing. We now have models made of cement, stoneware, or even resin. So if you're working with a limited budget, don't rule this vase out just yet because there are other, more affordable versions.
Pail Vase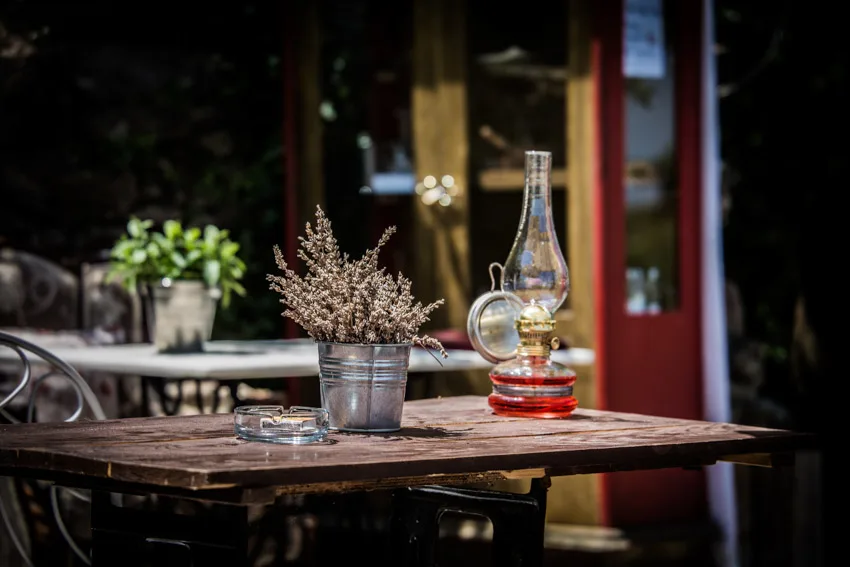 A pail vase is also sometimes nicknamed a bucket vase. This is another stunning vase option if the décor style you want to explore in your home is the farmhouse aesthetic.
Most bucket or pail vases have handles as they are typically upcycled items but some types don't have a handle. If you want a look that's a little bit more authentic though, it would be best to go with a pail vase with a handle attached to it.
Most of the pail vases out there are made out of some metal or tin. They can develop some patina as they age or over time—some homeowners rather like the added charm that the patina brings in.
If you aren't a huge fan of the aged or weathered look though, you always have the option to go ahead and paint them. Larger ones can look nice on the floor, whereas smaller ones can be placed on tables, window sills, or just about any place you can think of in or around the house.
They usually match well with bright and cheerful flowers but a word of caution, if you want to prolong the lifespan of these pail vases, it would be best to line them with a waterproof liner. They have massive openings right at the top, which can accommodate massive flower heads and arrangements.
Compote Vase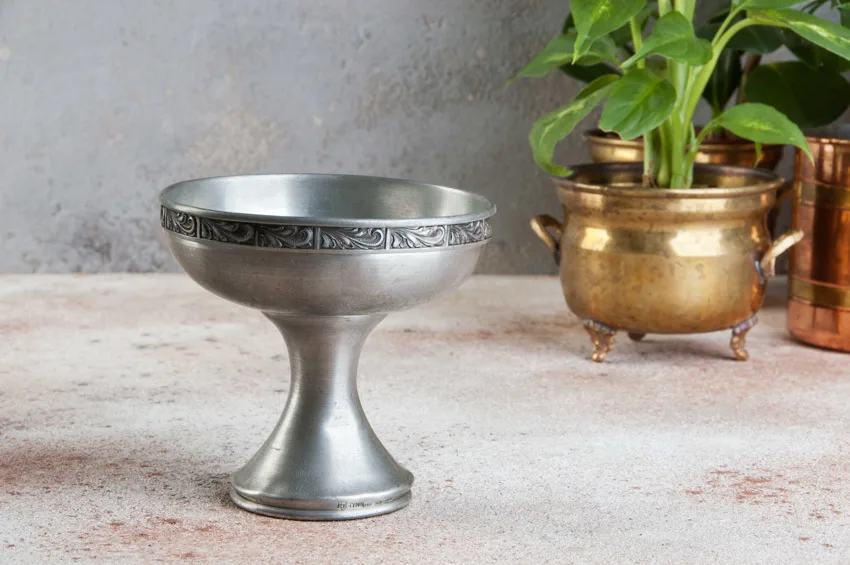 A compote vase is an elegant design that resembles an oversized and overly wide wine goblet. It has a sturdy base, a narrow middle (similar to a goblet or wine glass), and a large mouth.
If you want to add style and elegance to your spaces, this vase can be perfect for you. It can be made into a wide variety of materials but the common ones we've seen so far are made out of glass or metal. If what you're after is a rustic or vintage or antique type of aesthetic, a compote vase will be able to fit right in.
Novelty Vase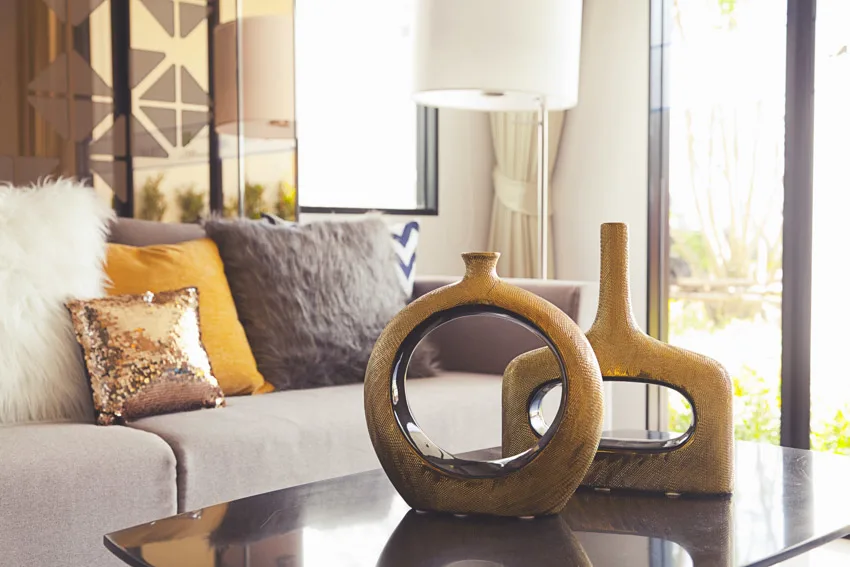 Vases serve a certain functionality but even if that is the case, they are also great mediums for art. Craftspeople and artists love working with such design pieces. This is mainly because there are so many possibilities to play around with creatively. They get to create a functional piece of art that may be used daily.
This results in a wide range and variety of novelty pieces created and readily available. These can be made and molded into anything, from animal shapes to human faces, logos, and any other oddity you can think of. These pieces are also oftentimes customized or made to order. You can have anything you desire or prefer.
On top of all this, if you want to show off your style preferences and personality, you can customize your novelty vase with special paintings on the exteriors or even stickers.
Vase Materials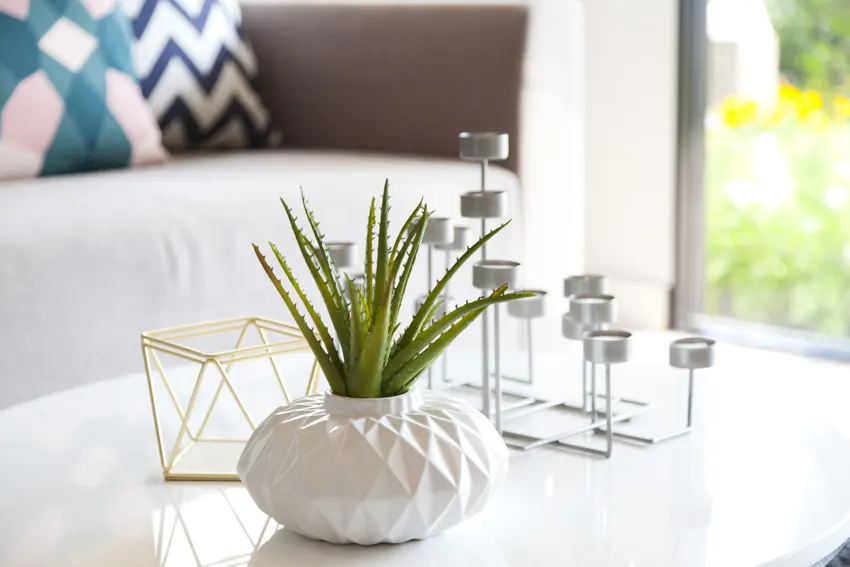 Here we share the different materials of vases and their uses.
Glass Vase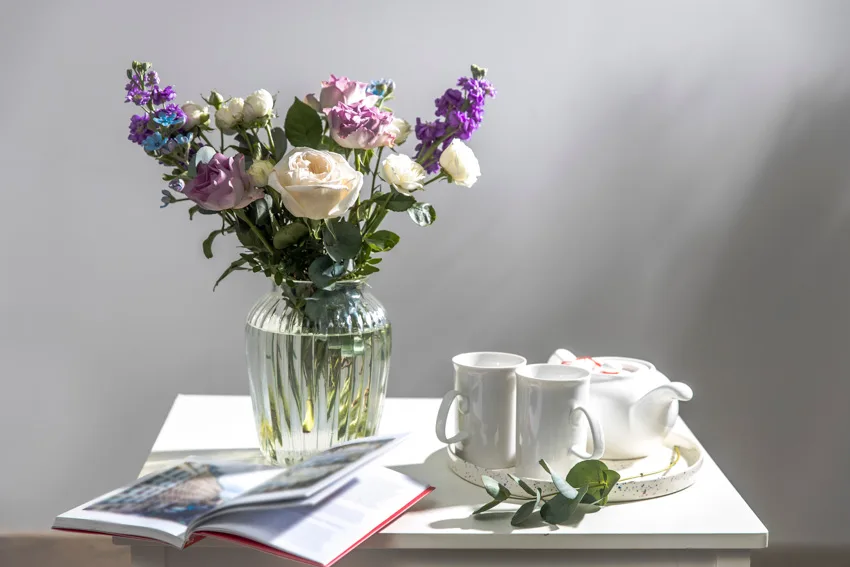 Glass vases usually come in clear or colored varieties. Both of them will look amazing so it all depends on what your preferences are. These look amazing when natural sunlight hit them. It can liven up the space and make it appear brighter.
Clear ones are great for fresh-cut flowers. There's an added design element with the stems being visible at the bottom. This is one of the best types of vases to DIY so if you like experimenting, these would be the best way to go.
Milk Glass Vase: Milk glass vases are repurposed from old milk bottles. They usually have long necks and a wide mouth brim. With this type of setup, you allow not just your blooms but a portion of their stems to shine as well. A milk glass vase works with rustic décor or something a bit more feminine and delicate.
It has a delicate style that can make it complementary with any time of décor theme that you can think about. If you want to create an artistic tablescape plan, a milk glass vale can be a really interesting addition. If you want to create a vintage moment, you can even try arranging them in a metal carrier, similar to how you see milk bottles delivered back then.
Hand Blown Glass Vase: One of the fancier versions of vases would have to be hand-blown glass vases. Every element in this type of vase has been handcrafted and charming.
Hand-blown glass is of course very expensive. But despite the high costs that typically come with it, many people would argue that they are worth the high price tag.
Creating a hand-blown glass vase can be very time-consuming. These are few and far in between and should you get your hands on them, make them the centerpieces on your kitchen island or dining table.
Mason Jar Vase: Similar to bottles, jars or mason jar vases can be another type of container that can go through aesthetic upcycling. Although they may have lived a past life meant to contain pickles, and pretty much any other food item you can think of, they make for really attractive decor pieces when upcycled.
They're suitable to hold pretty much anything and everything so if you are the type who likes to play around with vase fillers, they can work for you. Mason jar vases can traditionally be seen as a traditional countryside décor element. They are usually staples for craftspeople, artisans, and glass aficionados.
They can be made out of common glass, but some variants can be made out of stoneware, or even stainless steel. At the end of the day, it isn't just mason jars that you're limited to. Any jar can be transformed into a beautiful vase if you so will it.
Crystal Vase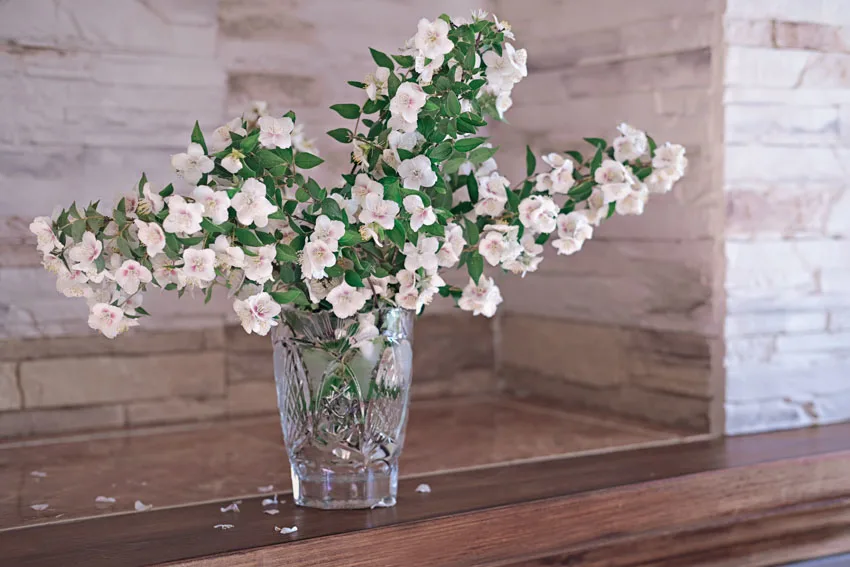 Crystal vases are special. They have a way of refracting light and then exuding rays of light that look like rainbows. They make for excellent glassware materials but so much more for vases.
When filled with water and blooms and then placed in an area with an interesting light source, your crystal vase can easily be the centerpiece for any tablescape.
Ceramic Vase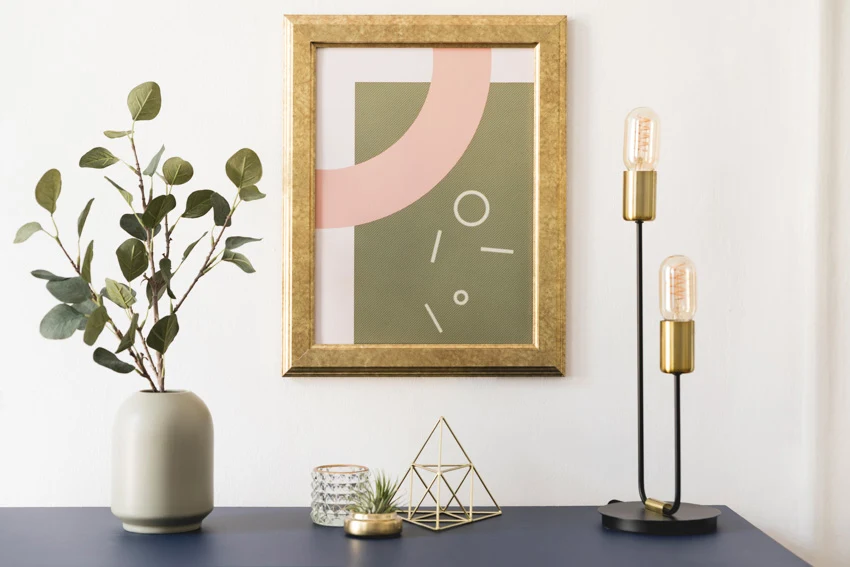 Ceramics is one of the most popular materials used for vases. It would be fair to say that they rank second to glass as popular vase materials. Ceramic is highly durable, easy to clean, and scratch resistant, and it technically lasts a lifetime.
If you happen to be in the market for artisanal and made by hand, ceramic vases come in all sorts of shapes, colors, glazes, and just options in general.
One downside to ceramic vases, though is that they aren't watertight. This means that you might need some waterproofing such as a plastic liner to keep the water inside for the fresh flowers you're storing in the vase.
Wooden Vase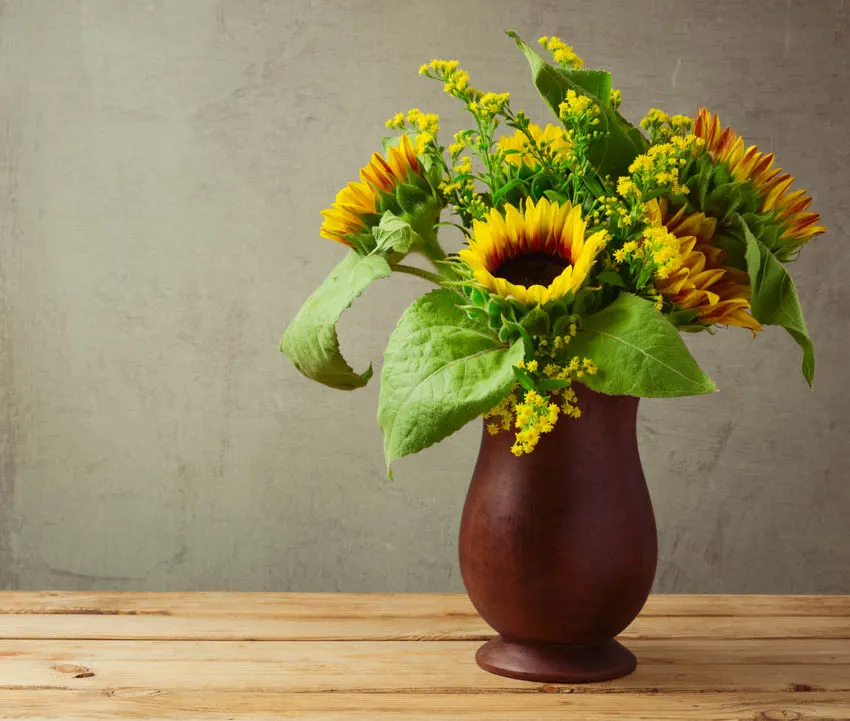 Wood isn't necessarily the first material you think of when you think of vases but there actually available in the market right now. They're organic and natural, and they have gorgeous swirl types of wood grain patterns in their appearance.
Some can be painted or stained but raw wood can also look great. They need to be waterline, so try to keep that in mind.
Terracotta Vase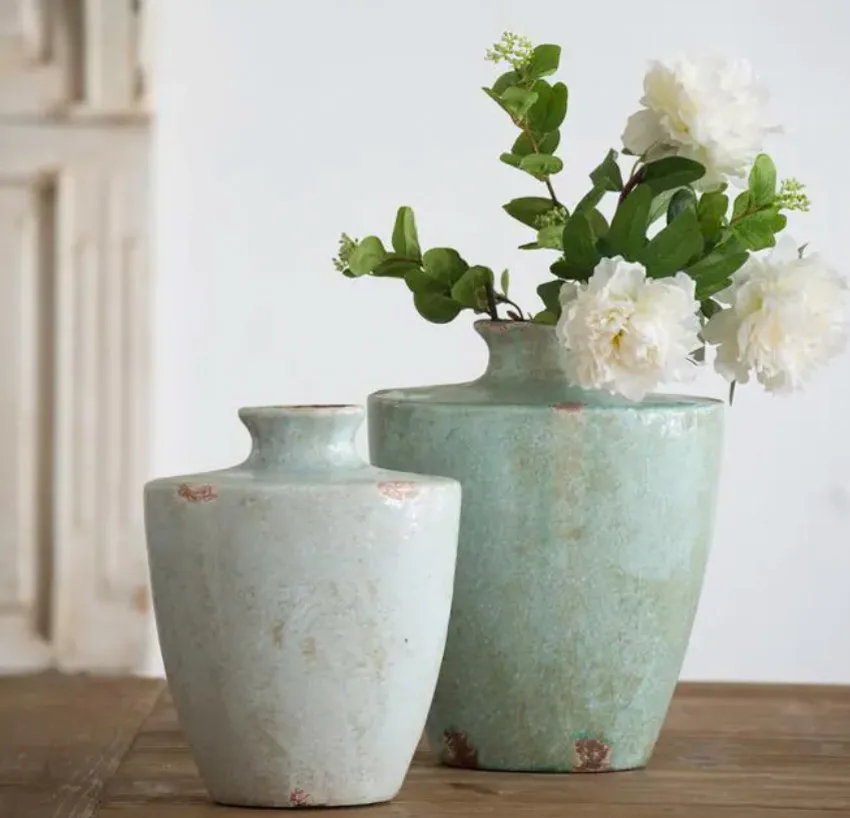 See this terracotta vase at Home Depot [sponsored link]
Terracotta vases have a classic orange color that beautifully pairs up with your plant pieces, fresh cut, or lives. Although most terracotta pieces are generally orange, some come in other colors such as black and white.
Since terracotta is a type of earthenware, it doesn't hold water well as it's porous so it's used more as a pot with soil and live plants instead of a vase.
Plastic Vase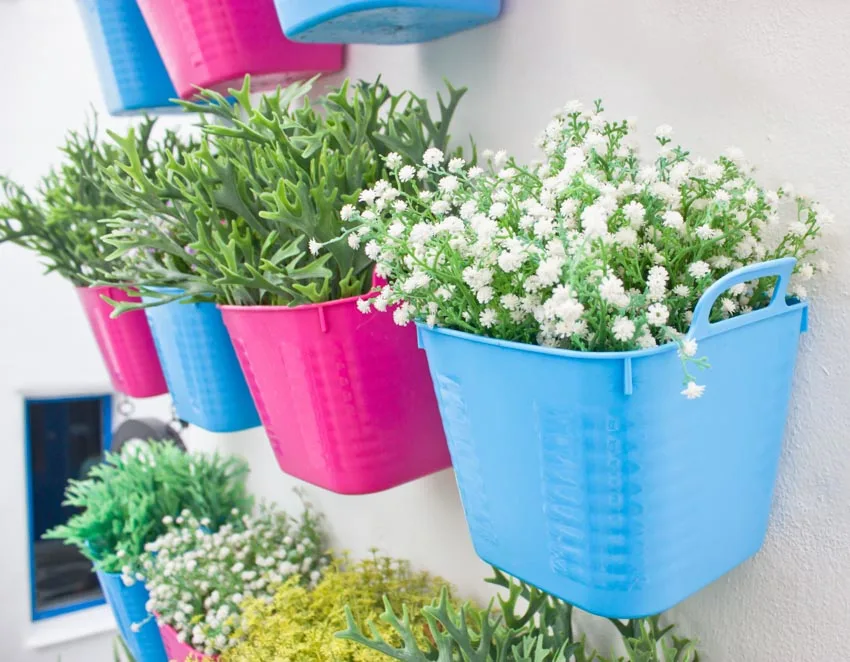 Plastic vases are cheap, can be DIYed or recyclable, and they can come in a wide variety of colors and shapes depending on what you're after. They can be made out of old plastic bottles that have been upcycled or bought from the store.
Anything can be made out of plastic these days so they're pretty flexible and can mimic any type of aesthetic and look you can think of.
Metal Vase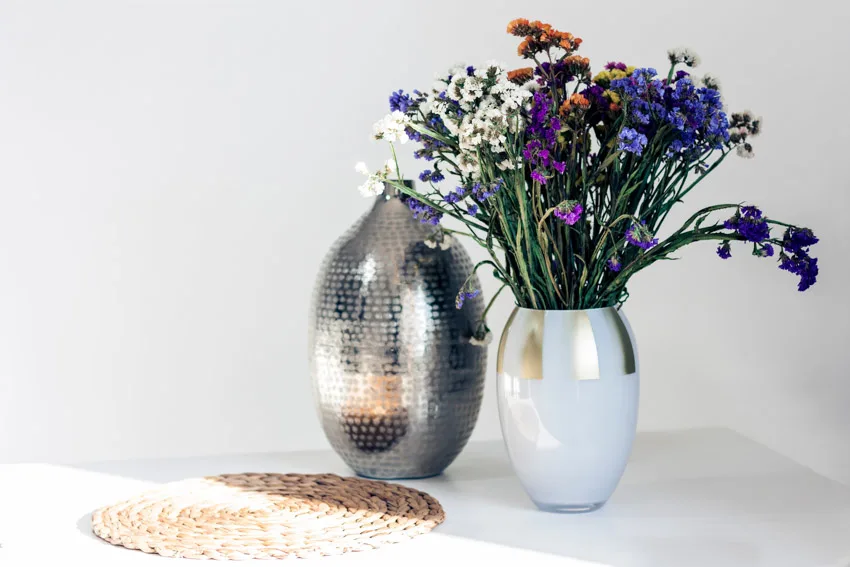 A metal vase can be perfect for you if the aesthetic you're after is rustic, farmhouse, or something similar. Metal vases fit right in with a bucket and pitcher vase types.
Depending on the design of the specific metal vase that you have in your hands, some pieces may even fit in well with more modern and contemporary designs. They can come in various materials such as steel, aluminum, tin, stainless steel, copper, brass, or more.
They in general aren't all that suitable to hold water all on their own. Metal tends to corrode and rust but you can counter this with water liners inside your metal vases.
Stone Vase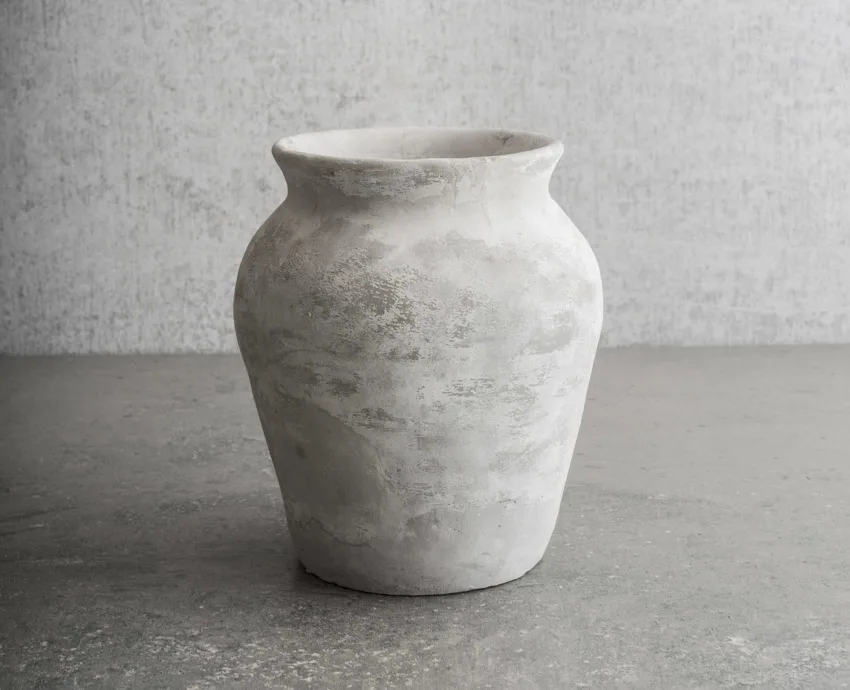 Stone vases or stoneware is another type of ceramic vase but with the added benefit of being waterproof. It means you wouldn't need to waterproof the vase at all.
Although clay is a naturally porous material during the firing process, when it goes through vitrification, it effectively seals all of the holes in the clay that make it porous. Vitrification happens when stoneware is fired at much higher temperatures compared to other materials that are similar to it.
They are highly resistant to wear and tear. They won't scratch or chip easily. They are also typically heavy. This means they won't tip over under the weight of heavier flower arrangements.
Cloisonne Vase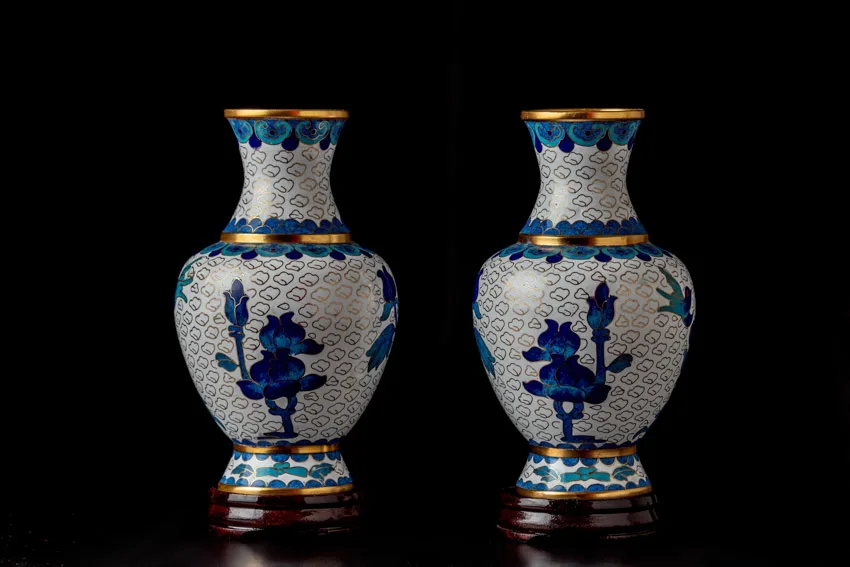 A cloisonné vase is manufactured interestingly. It's usually made out of either thin copper or silver wires that have been soldered together. These fired-up wires then create the cloisonné, or the "cells", that are then filled with crushed colored glass fused into the enamel covering the pieces.
It's an enameling process where the fine wires are technically delineated. An enamel paste is applied to the object before it's fired and polished.
Vase Fillers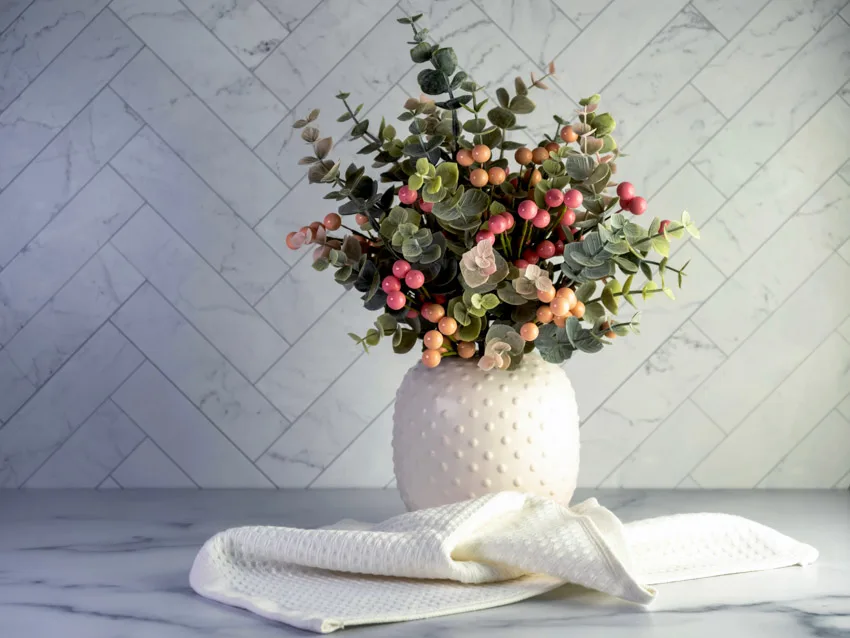 Vase fillers are oftentimes a good mix of natural and synthetic materials. They can include pebbles, sand, shells, salt crystals, marbles, beads, colored glass, and so much more.
There are also other filler materials such as acrylic cubes and acrylic water that you can play around with. They can simulate the look and feel of real water without replacing it as much.
You need more than just flowers to get a vase filled. Vase fillers are great for when you want to add depth and volume and elevate the appearance of your flower arrangements overall. Vase fillers can also be used to anchor heavy flower arrangements down.
How To Arrange Flowers In A Tall Vase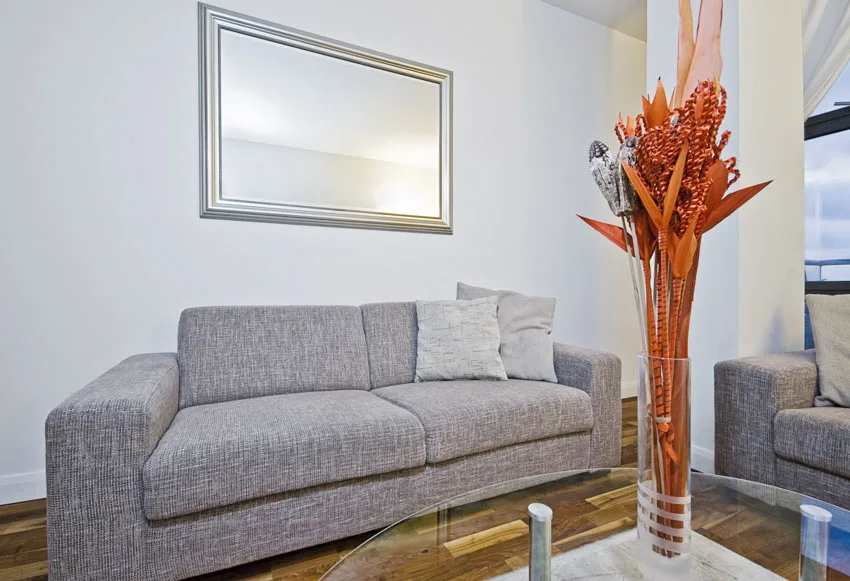 Arranging flowers in a tall vase will require much more effort than when you're doing it in a small vase. Even if that were the case, it is usually worth the effort. Tall vase flower arrangements look great when displayed for special occasions and when you're entertaining.
They hold a certain sense of elegance and sophistication. So how exactly do you do it?
• Start by prepping your flower stalks: Remove any excess leaves below the vase's water level. Leaves that are submerged in water for long periods can rot. If the flower stems have thorns, make sure that you get them removed as well, as they can piece and damage the other flower stems.
• Prepare your vase: Make sure it's thoroughly clean. Fill it with fresh, clean water and add in a small dash of household bleach. It's weird, but it helps keep the flowers fresher for longer.
• Line the vase with your filler leaves: Carefully arrange them inside it to make them look organized.
• Cut your flowers: Cut your flower stems at a certain angle. This ensures that the individual stems will absorb the flowers optimally. If you have woody stems such as roses, you can split the stems in the middle for about 2 cm to encourage more water absorption.
Also, ensure that the flowers are double the height of the vase. This is from the flower's top to the stem's end. Use a tape measure or some ruler if you have to.
• Arrange the first half of the flowers with the original stem height: Cut 10 cm off of the stems of the remaining flowers and arrange them on the outer layers of your flower arrangement. This technique will make it look like the flowers are just bursting out of the vase.
• Remember that flower arrangement is all about balance: The height of your flower pieces should always be at least one and a half times higher than your vase container. With taller arrangements, it should be twice the height of your container. You can always go higher, but never lower.
How To Take Care Of Flowers In A Vase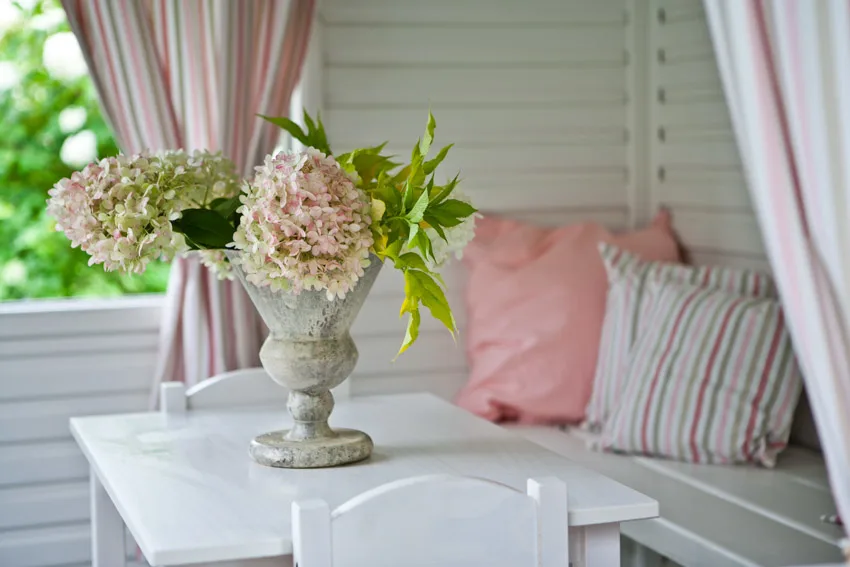 There are many simple ways for you to take care of flowers in a vase so that they last longer. Here are some of them.
•Make sure that there are no leaves or foliage below the waterline: This will not only cause rot but can also prevent the flower stems from absorbing the water they need to last longer.
• Make sure your vase is perfectly clean: Clean it thoroughly, and when filling it up with water, add the extra step of dissolving a pack of commercial flower food. This mixture has antimicrobial agents, sugars, and a pH acidifier that feeds your flowers and minimizes microbes in the water.
• Make clean cuts when cutting your stems: Make sure that you use sharp scissors or knives when you cut them. Also, cut at an angle so that there's more surface area for the flowers to absorb water. Teared-up or crushed stems can restrict water uptake, so ensure they're very cleanly cut.
• Rehydrate your flowers before arranging them: Submerge the stems in a bucket of room-temperature water up to the flowerheads. You can take the extra step to ensure this water has flower food. Place this bucket in a cool and dark place for about 2 hours or overnight for best results, and then you can proceed with your flower arrangement in a vase.
See more related content in our article about dining room essentials on this page.