This design gallery showcases terracotta floor tiles including what it is, its characteristics, edge profiles to consider, glazed & unglazed tiles, and the pros & cons of terracotta tiles.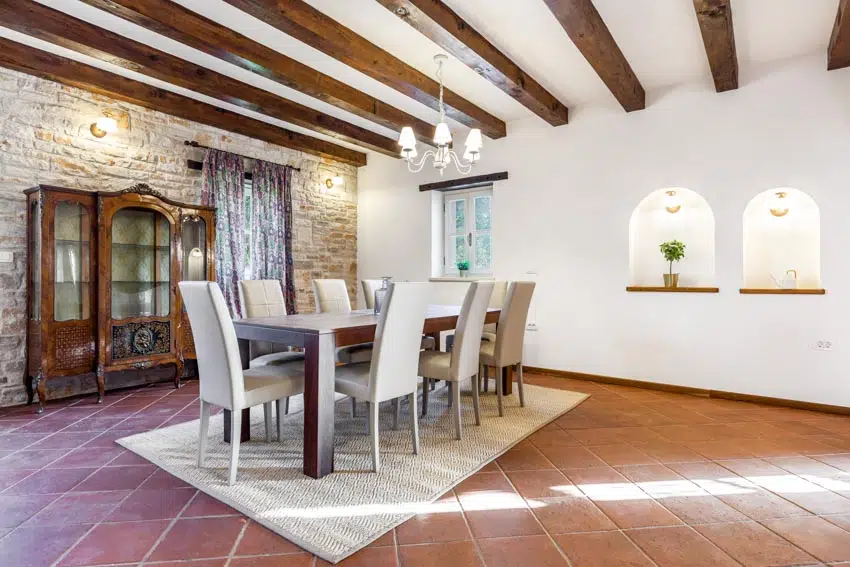 When you hear the word "terracotta", what comes to mind? For sure one of the first things that you imagine is China's mysterious terracotta army. And this, in itself, will tell you that terracotta goes all the way back in history and its appeal is still ever present today.
Besides being used to create an artistically realistic army or to build roofs in space, terracotta can also be used as flooring tiles. While terracotta may be a thing of the past created from the perfected millennia-old technique, its popularity today is rising again, especially with the rising trend of overhauled homes with earthy and rusty tiles.
What Is a Terracotta Tile Floor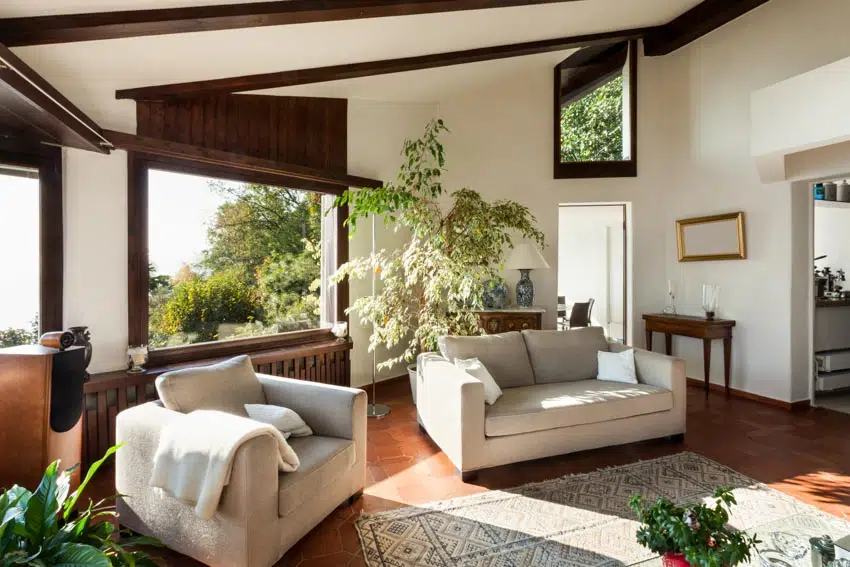 The word "terracotta" actually means baked earth in Italian, which it literally is. Considered one of the oldest ceramic tiles, terracotta is an element of the ancient world, with its beginning dating back to 3000 B.C.E.
Some trace it to around 10,000 years B.C. in China. It was in the 14th century and at the end of the Roman empire that the popularity of terracotta tiles also declined. And 15th-century Europe primarily in Italy and Spain, brought it back again in full force.
From there it was used in a variety of ways, from turning it into medallions to being used as decor, until it slowly declined after because of the rise of porcelain tiles.
With an old-world charm and rustic vibe, terracotta became a favorite for many homeowners because of its unique and historical aesthetics. Considering many remnants of the past in terracotta still exist, it can definitely last for a long time as long as it's taken care of properly and diligently.
And if you're actually considering terracotta tiles as you spruce up your own, make sure to explore everything there is about it since it's more than just a symbol of the old world.
Characteristics of Terracotta Floor Tiles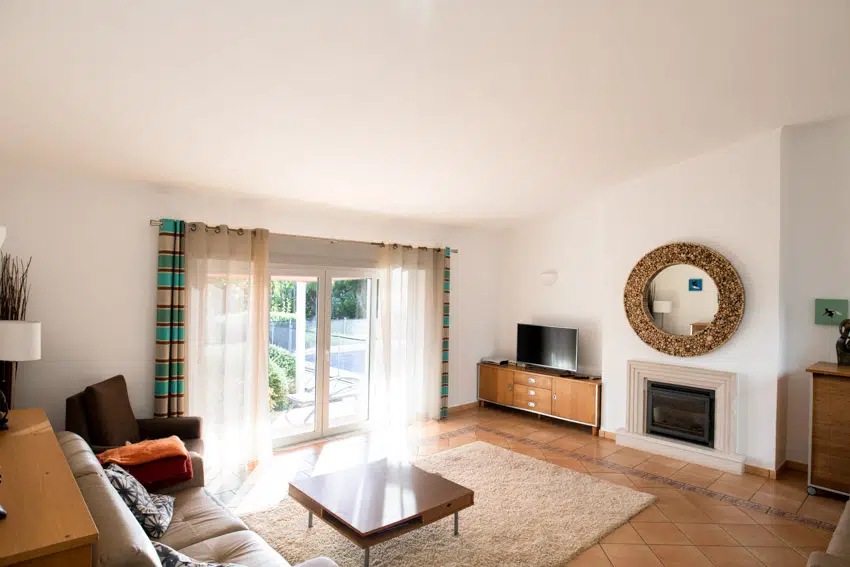 Terracotta tiles can be used for your home's walls, flooring, and countertops but they're not something you can work on easily without some experience. You need the help of experts to install them appropriately for your home.
To understand terracotta tiles better, here are some components of terracotta that you have to know about.
• Widely varied durability: The durability of terracotta types of floor tiles is widely varied. Terracotta tiles can get incredibly durable as their glazed and treated versions but also be very fragile and easily crack in cold environments because of being unglazed and untreated.
• High water resistance with treatment and glazing: Similar to natural travertine, terracotta tiles are porous and so require getting sealed and glazed. And since this makes the tiles a bit slippery, make sure the floor has an anti-slip surface.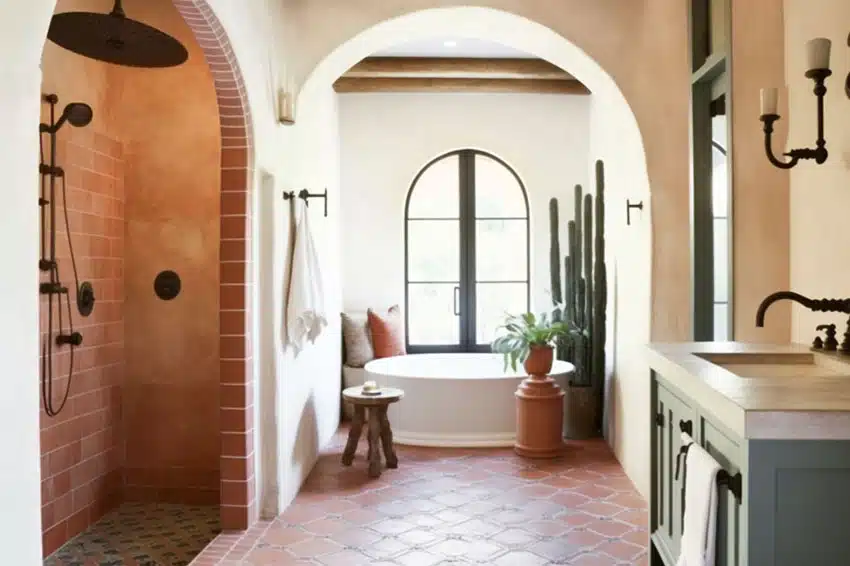 If you choose to do otherwise, make sure you don't expose your untreated and unglazed terracotta tiles to moisture.
• Cost: Terracotta tiles cost around $3 to $7 per square foot and having them installed by experts will set you back $1.25 to $2.90 per square foot more so make sure you have enough in your budget for these amounts.
• Maintenance: With porous flooring materials like terracotta, sealing is the first step to accomplish. You can use a commercial sealer or linseed oil and turpentine solution, depending on your preference. Use beeswax for a shiny protective finish.
• Installation: You can install your terracotta tiles if you're dealing with machine-cut glazed ones but unglazed and handmade ones need the delicate touch of experts.
Terra Cotta Tile Cuts To Consider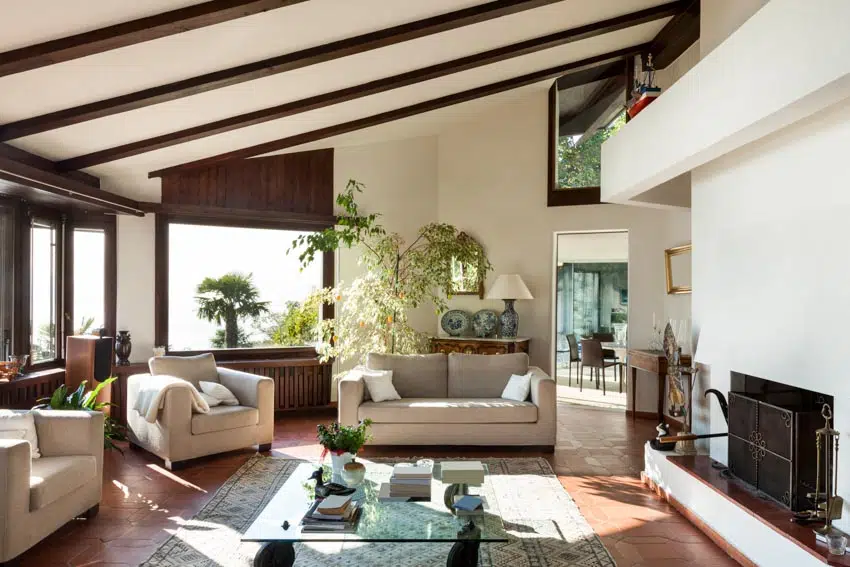 When exploring every aspect of terracotta tiles, you'll encounter the different ways in which they are cut. Here are the two main cut styles:
• Machine-cut: The most common of the two styles, machine-cut tiles are more cost-effective and consistent in terms of color and shape. More selection is available and installation is easier because of their exact shapes.
• Handmade: Considered to be more delicate, handmade terracotta tiles are crafted by artisans' hands and so will vary in shape and color.
Much more expensive and mostly found in the Mediterranean and in Mexico, these terracotta tiles have unique shapes that made them a bit difficult to install and work with.
Pros and Cons of a Terracotta Tiled Floor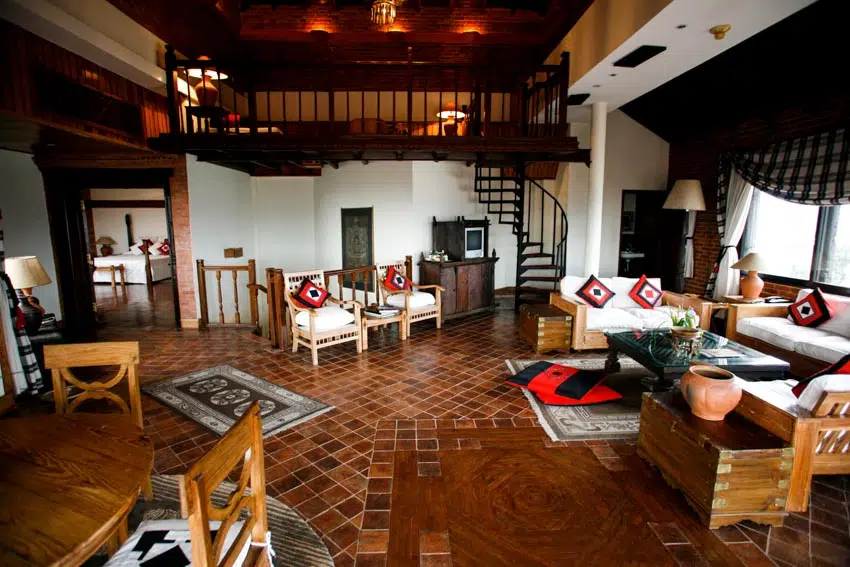 To further explore your compatibility with terracotta tile flooring, the next move to make is the weigh its pros and cons. If you will be able to carry on the drawbacks that come with the benefits of having a terracotta tile floor then the next step would simply be to have one installed.
Pros of Terracotta Tile Floors

• Stunning earthy and rustic aesthetics
• Relatively affordable so it won't be painful to your pocket
• Widely varied in floor tile sizes, colors, designs, and textures
• Incredible resistance to wear and tear
• Extremely low maintenance
• Basic cleaning process (Mop, soap, and water)
• Eco-friendly, sustainable, and reusable
• Durable once sealed and glazed
• Versatile in designs and can be used for traditional, rustic, contemporary, and modern styles
Cons of Terracotta Tile Floors

• Porous and so can easily absorb water if left unsealed and unglazed
• Regular sealing is necessary
• Difficult to repair once the tiles are chipped or cracked
• Cold climate can lead the tiles to freeze and crack
• Installation for handmade tiles can be tricky because of their unique shapes
• Discoloration of the terracotta tiles is possible
Glazed Terracotta Brick Tiles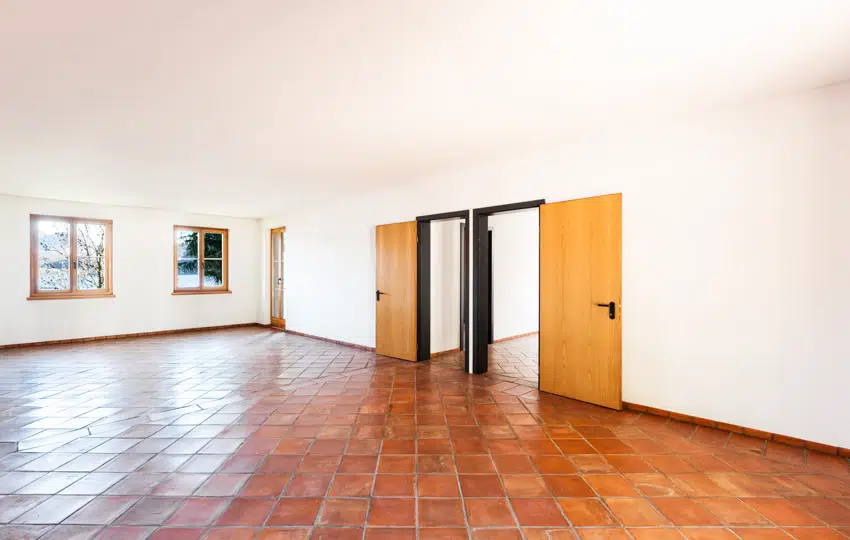 If you're looking at a terracotta tile that's been colored or has this transparent coating then you're looking at a glazed terracotta tile. You have the option of having your terracotta tiles glazed if you want to add a layer of protection against moisture and liquid on this porous material.
The protective coating gives the terracotta tiles a stunning glass-like surface and is applied to the second firing process. You can choose from a variety of glaze levels, including semi-glazed and high-glazed.
Glazed terracotta tiles provide the following benefits to enjoy:
• Prevents mildew growth and staining
• Creates a waterproof surface
• Prevents possible water damage
On the downside though, you also need to expect the following drawbacks:
• More expensive than unglazed terracotta tiles
• Hides the natural beauty of the terracotta
• Can be slippery and so requires a non-slip surface
Unglazed Terracotta Floor Tiling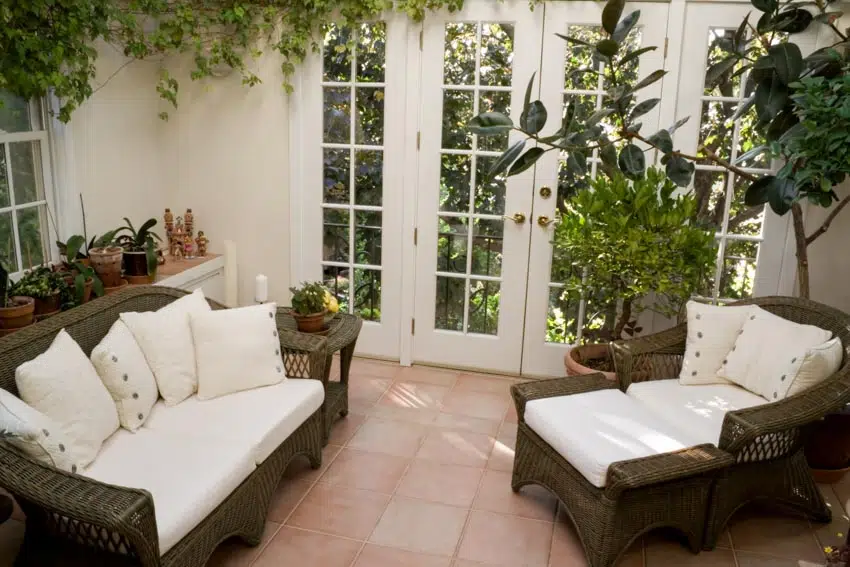 With unglazed terracotta tiles, you won't see the shiny and glass-like protective coating that's prominent with their glazed counterpart.
While you can opt to have unglazed terracotta tiles, make sure to still have the material sealed to have a level of protection against moisture. If left unsealed and unglazed, the terracotta tiles will be their most fragile and vulnerable version.
And the reason why homeowners may prefer unglazed terracotta tiles over glazed ones is due to the following benefits:
• Features a more natural and earthy look
• Less expensive
• Not slippery and so won't need to add a non-slip surface
Terracotta Porcelain Tile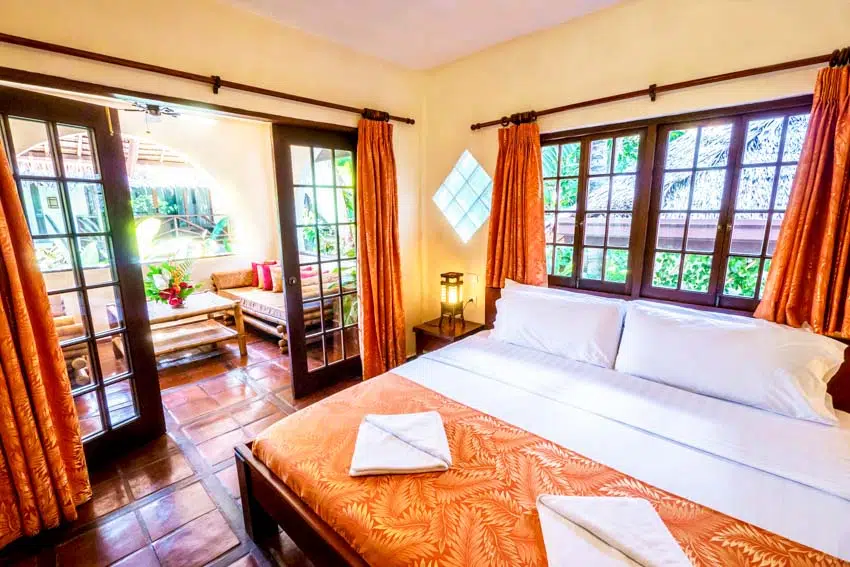 If you want that terracotta look but don't want all the other characteristics that come with terracotta tiles, one thing you can do is choose terracotta-look porcelain tiles. The aesthetics of the terracotta tiles are rustic and seem to have a depth of history filled in each of their pores.
It might be a bit of a challenge though having to maintain authentic terracotta tiles, especially since you have to regularly seal them to protect them from moisture. This is not the case with porcelain tiles though.
And with the advancement of ceramic product technologies, you can now get the best of both worlds by benefiting from the durability and low maintenance of porcelain tiles and at the same time the stunning and unique aesthetics of terracotta tiles.
Terracotta Ceramic Tile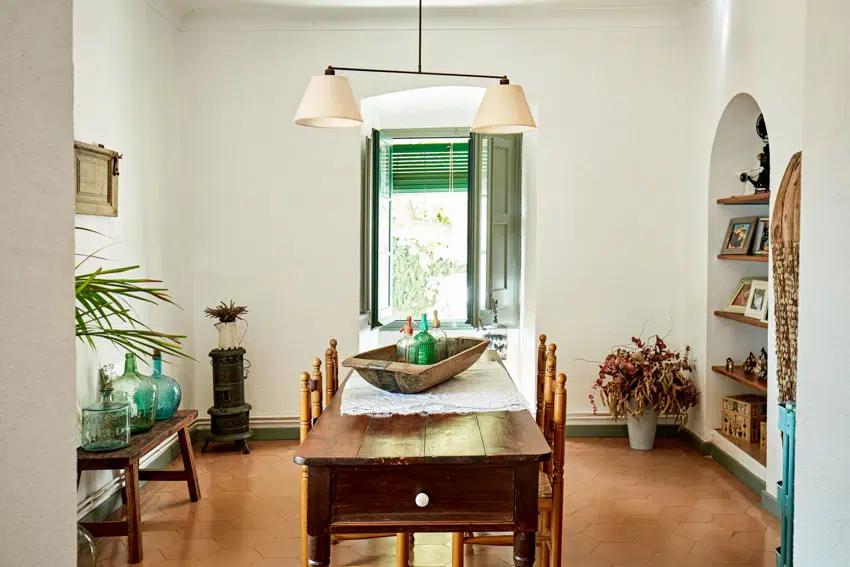 Terracotta tiles are technically ceramic tiles since they are made from clay. There are many ceramic tiles that are not terracotta but they can also now mimic the aesthetics that come with it.
Similar to porcelain, ceramic tile flooring can now have the aesthetics of terracotta tiles, if you are not fond of the natural characteristics of terracotta.
Terracotta Tiles for Outdoor Spaces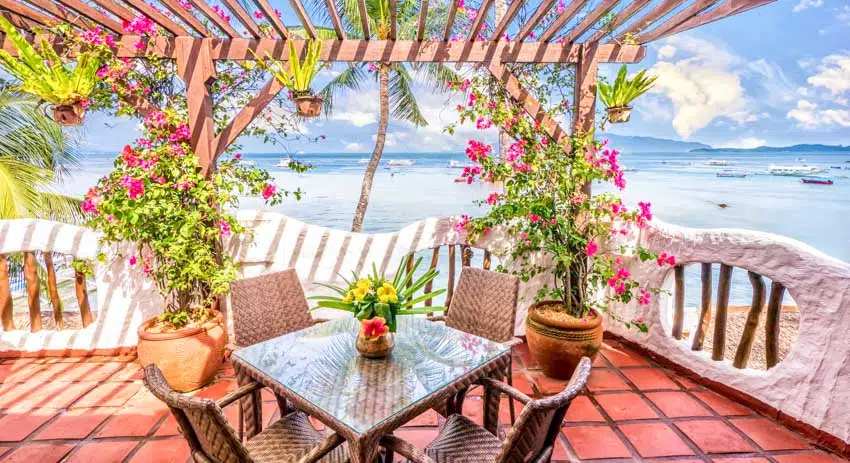 While terracotta tiles can be used both indoors and outdoors, you need to take into consideration the different factors that can affect how the tiles will function for you. When choosing terracotta tiles to install outdoors, make sure to go for the sealed and glazed ones.
There is a high chance that the tiles will be subjected to daily wear and tear from weather elements, including wind and rain. If you want to make the tiles last longer in your porch or garden, make sure to add all the possible protection you can do for these tiles. Sealing and glazing them will do exactly that.
Tile Designs for Terracotta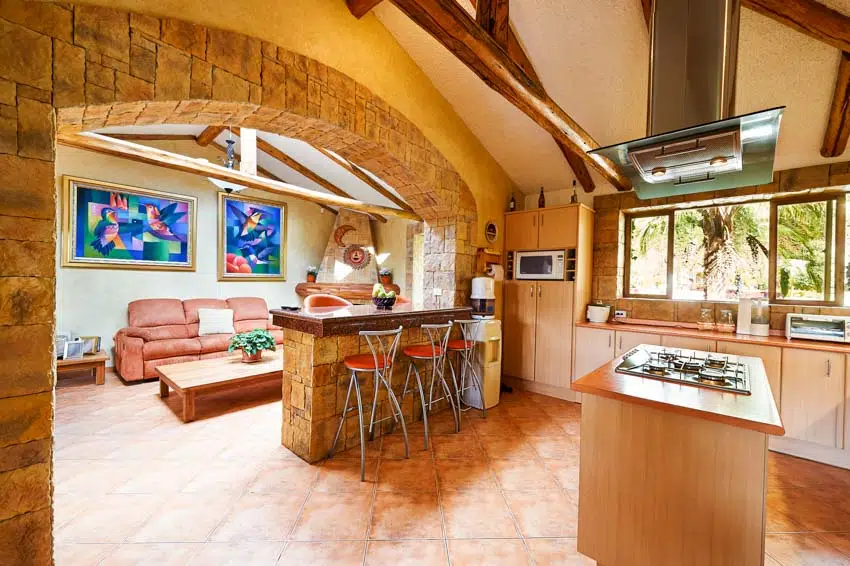 Now that you're set on adding terracotta tiles to your home, you will need to choose the design that will look great and contribute to the general style you have at home.
Considering you are thinking about using terracotta tiles, this means you either like the splash of drama offered by these tiles or you're into something rustic and nostalgic.
And while it's true that terracotta tiles have this old-world charm, it doesn't mean that the designs are limited to that traditional and rustic styles. To help you decide, here are some incredible designs to consider.
Terracotta Hexagon Tiles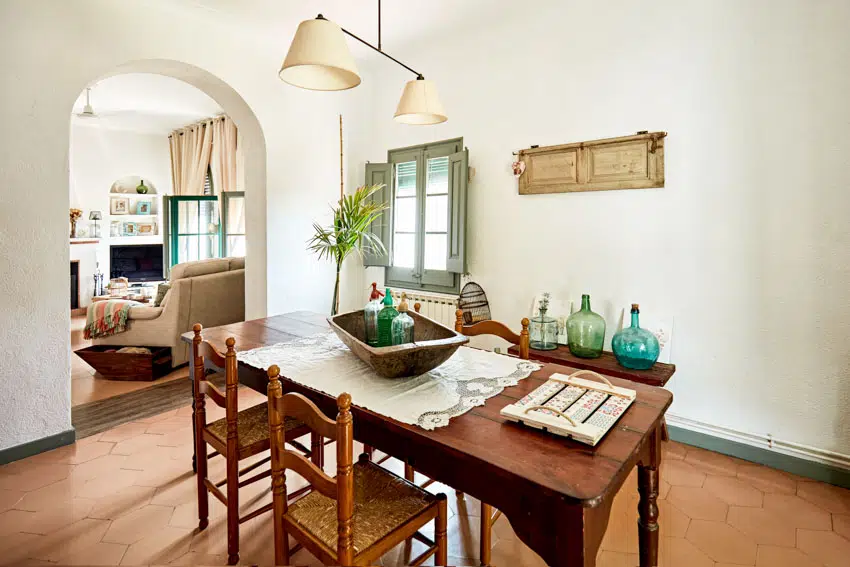 A Mediterranean-style version, hexagon terracotta tiles are simply terracotta tiles that are shaped in hexagons. This preference is considered timeless and rustic, considering the first terracotta tiles have been created in this shape.
Installing them on your floor, whether in the living room or in the bathroom, features added aesthetic value as you put together the pieces of hexagon tiles.
While it may be considered traditional by many, you can turn it into a stylish and modern look by pairing it with mosaic tiles. The area where you install both styles will seem like an artistic display of shapes and geometric elements.
Terracotta Red Tiles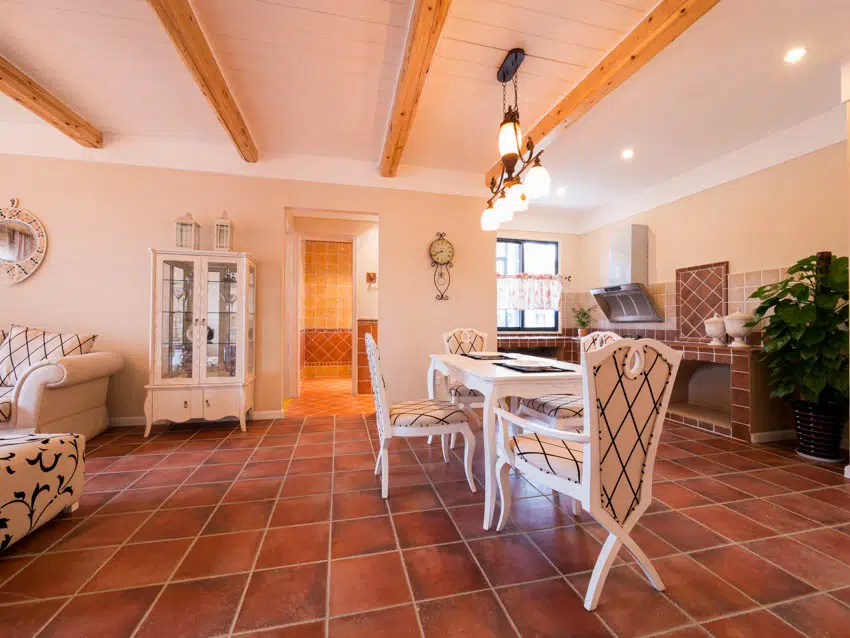 Terracotta tiles are widely known for their red color and this is another traditional design you can use if you're into something quite authentic and old-world. If you want something to take you back to the past and feel the weight of history, red terracotta tiles are the right option for you.
Pairing them will be a bit of a challenge since not everything will look good with red but if authenticity is your priority then the effort that it requires will be worth it. These classic terracotta tiles can even take you back to homes with terracotta roofs in Spain.
Terracotta Black Tiles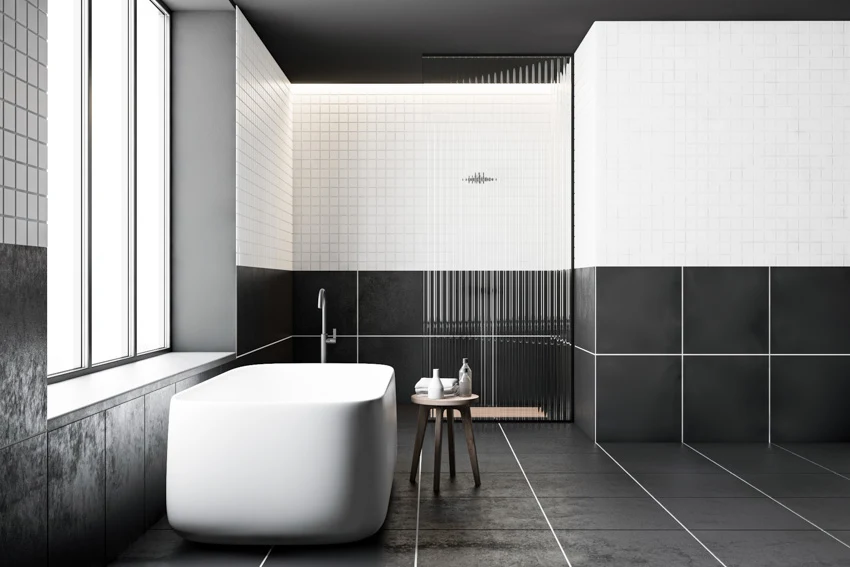 If you want to get out of the mold that most put terracotta tiles into, go for the bold black terracotta tiles. The exact opposite of the traditional and standard red terracotta tiles, their black version offers a unique aesthetic experience that will stand out with any guest you plan to entertain at home.
Black terracotta tiles have this "blackened" and "burned" look that somehow looks both clean and rugged at the same time. They usually come with grouts that also have darker tones in color, matching the blackness of the tiles and giving them a uniform and deeper hue.
Terracotta White Tile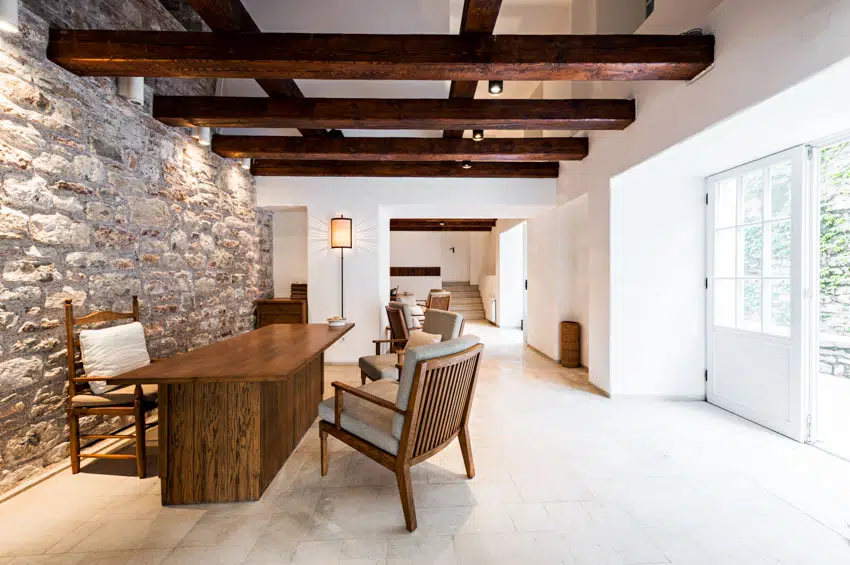 Not your traditional option, white terracotta tiles come from the fact that many ceramic tiles have this color. Durable and affordable at the same time, these tiles will be a great addition to your modern-style home, whether you choose to install the tiles in your living room or bedroom.
While not a common choice, white terracotta tiles are elegant to look at and so would elevate any space you choose to add them to.
The clean and canvas-like color will be more open to color and style matching. And so you won't have to worry about choosing the right color to match the tiles with.
Terracotta-Made Hand Painted Tiles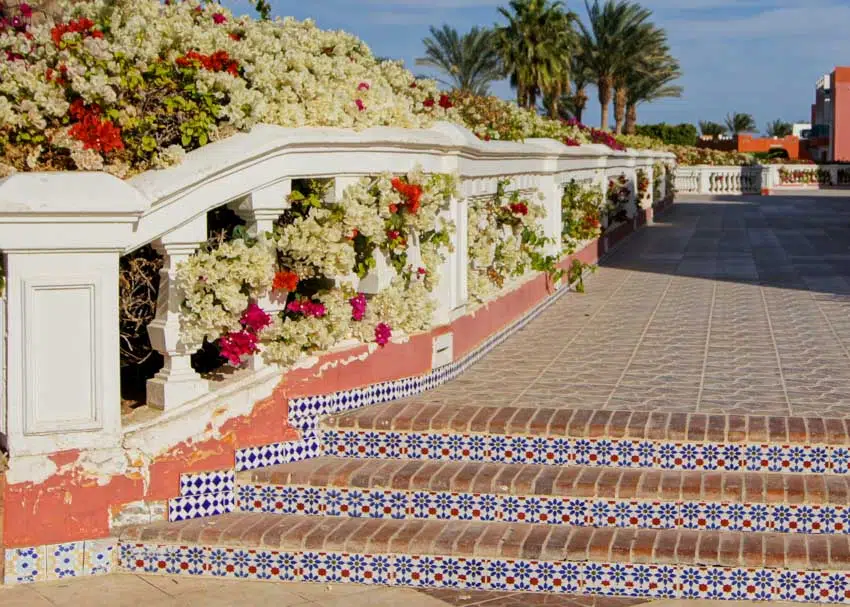 Nothing makes an object more valuable than adding a personal touch to this. This is precisely what it means when a terracotta tile is hand-painted or hand-glazed.
Hand-painted terracotta tiles are the ones that came across the hands of talented artisans with years of creative experience and inspiration under their belts. And these years will clearly be reflected in the designs they paint over the tiles.
Besides the added aesthetics to it, hand-painted terracotta also has improved resistance to water and staining after the painting job. These traditional terracotta tiles will feature a variety of colors depending on the artisan but it also means that they might be a bit difficult to pair with when it comes to styling.
Terracotta Reclaimed Tiles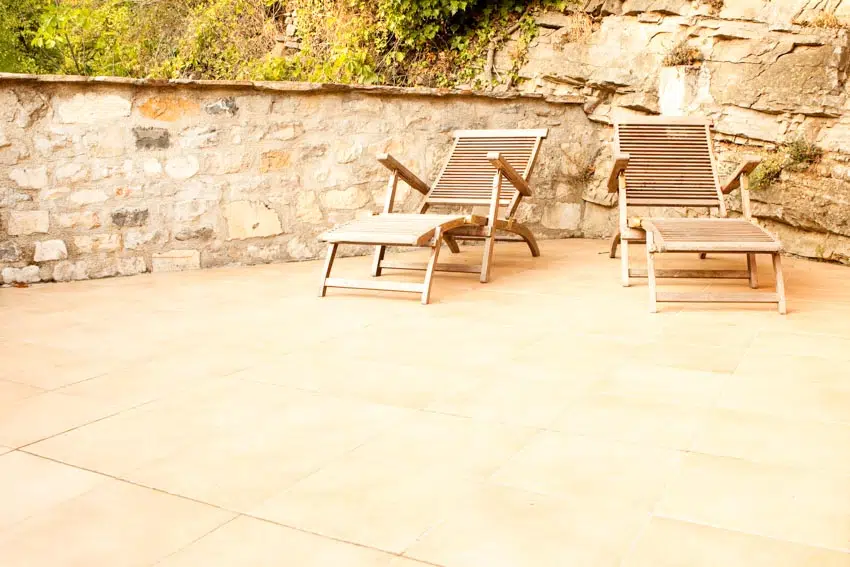 Terracotta tiles are eco-friendly materials primarily because they are reusable and sustainable. This is why it's not surprising that you will be able to encounter many reclaimed terracotta tiles in the market.
The best thing to do once you decide on reclaimed terracotta tiles though is to make sure that they are not damaged and to clean and polish them until they look brand new. Most of the tiles come from old buildings so do not be surprised to find many imperfections in the tiles.
If you believe that these marks add character to the tiles then reclaimed terracotta tiles are perfect for you. Make sure you're aware though that the maintenance and upkeep of these tiles may be expensive.
Terracotta Bullnose Tiles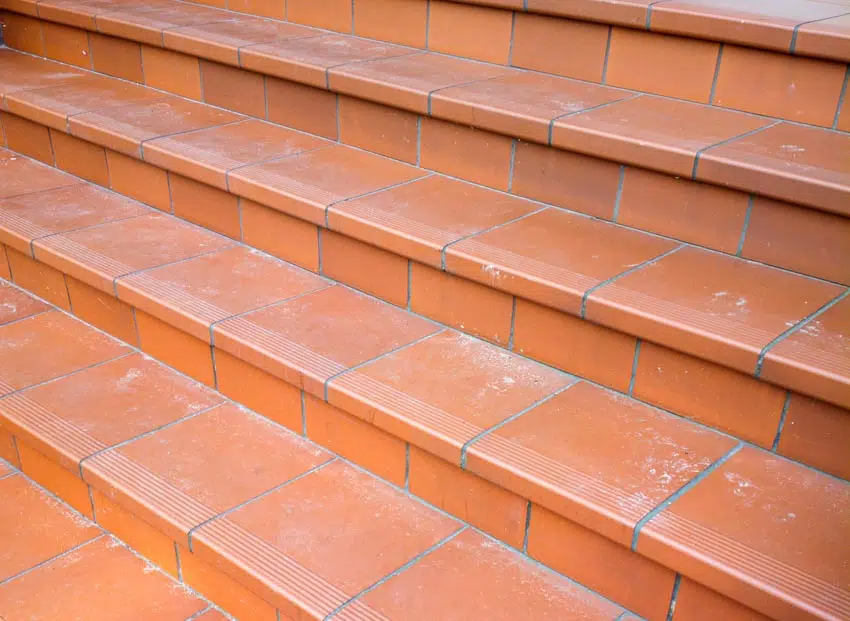 If you have a limited budget allocated for your terracotta tiles, it will not be a bad thing to go for pre-edged ones. Terracotta bullnose tiles would look wonderful in your home.
Whether you plan to use these tiles for your new kitchen island or rustic bathroom vanity, getting the terracotta tiles along with the bullnose edge profile with save you the trouble of having to work on the edge or paying someone to do it for you.
Since bullnose edge profile tiles come pre-made, you also won't have issues about not doing them right and having the curves not balanced on other tiles.
Mexican Terracotta Type Tiles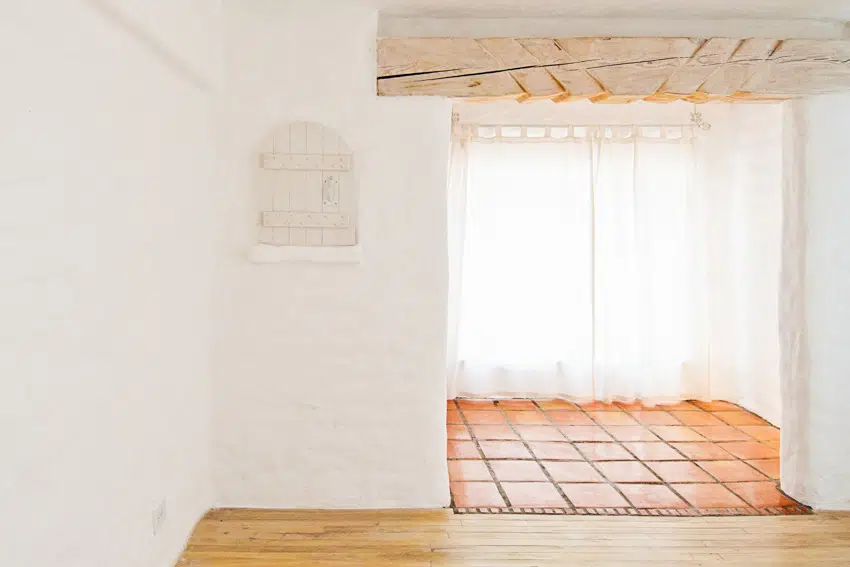 Mexico is a country that treats clay and tile making as the people's local craft so it's not surprising to find incredible terracotta tiles in this place. In fact, many hand-painted and hand-glazed terracotta tiles are created and designed by artisans from Mexico.
While they may have unique shapes that installing them will be quite a challenge, Mexican terracotta tiles are special and can even be considered collectibles. This is why they are also a bit more expensive compared to machine-cut terracotta tiles.
If you plan on installing Mexican terracotta tiles at home, hire a professional to do it for you since they require a bit of a complex installation process.
Modern Terracotta-Style Tiles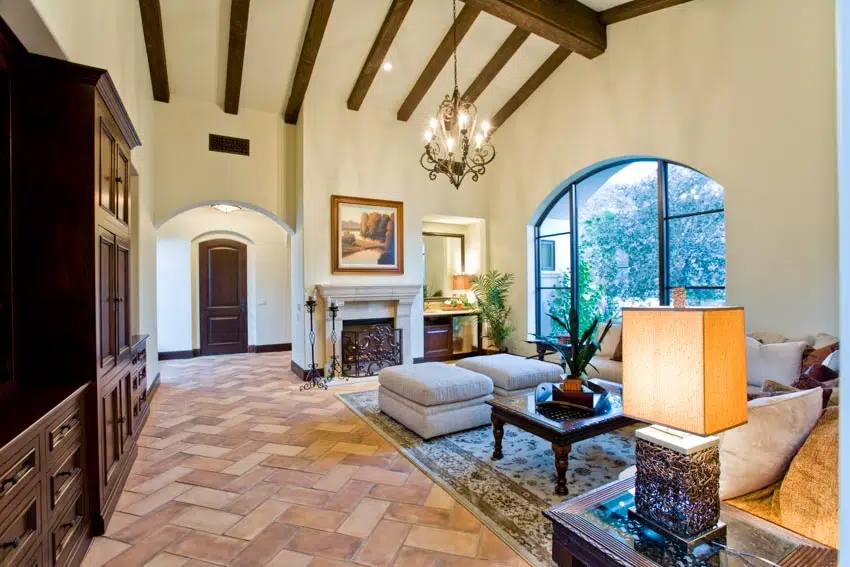 If hand-painted terracotta tiles are more rustic in style, machine-cut terracotta tiles are more modern. With clean lines and uniform shapes, modern terracotta tiles offer more versatility in compatibility and style.
If you have a modern-style home, normally, terracotta tiles will stand out due to their traditional and rustic aesthetics. This will be an entirely different matter though if you're working with these terracotta tiles.
Where to Use Terracotta Clay Tiles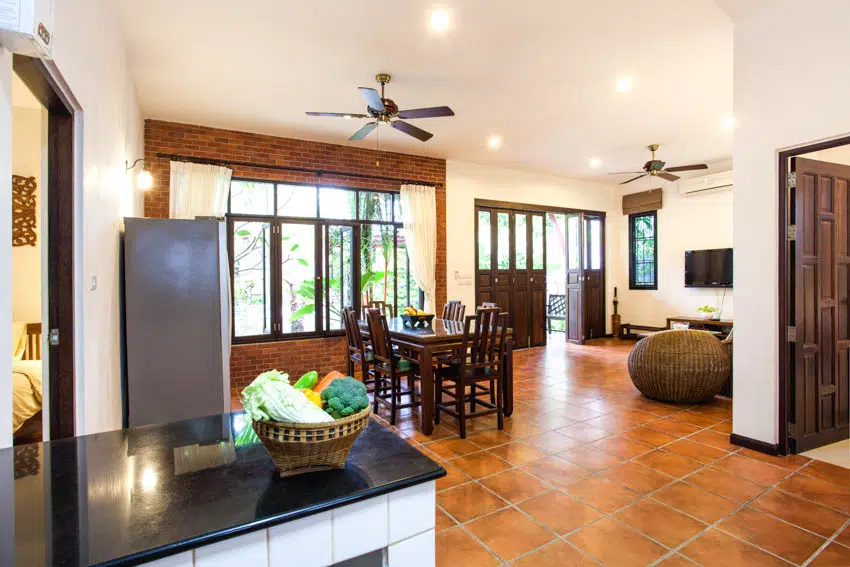 When installing terracotta tiles at home, the location will also be a vital consideration. Since these tiles are technically porous in nature, they are prone to absorbing too much water which may lead to permanent damage.
This is the reason why terracotta tiles are more recommended indoors rather than outdoors where the tiles will be subjected to weather elements. Freezing temperatures can actually lead to the tiles cracking.
Terracotta tiles can be installed anywhere in your home and you only need to match the style of the space you're working on with the ambiance that terracotta tiles are delivering.
Terracotta Kitchen Tile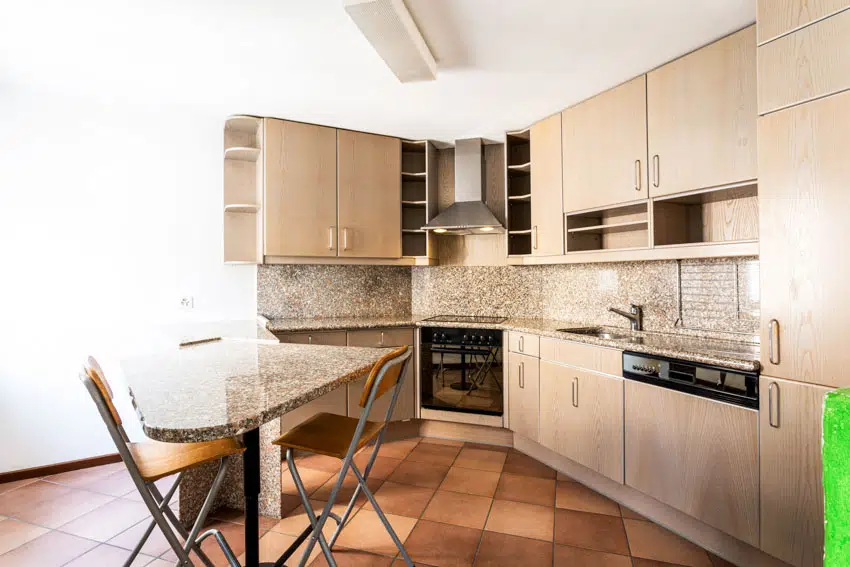 The kitchen is a battlefield where fire and water are both used in meal preparation. Because of this, it's important to use materials that will be able to stand constant exposure to these elements.
And even if terracotta tiles are highly porous, they can still be installed in the kitchen. The trick is to seal and glaze the tiles to protect the tiles from elements that can harm them.
Terracotta tiles will be a great addition to your kitchen, especially if you want your kitchen to have one of the following styles:
• Rustic style
• Farmhouse style
• Mediterranean style
Whether you plan to use terracotta tiles for your kitchen flooring or countertops, the material is durable enough for daily wear and tear. Make sure though that you seal and glaze the tiles, as well as maintain the high quality of the materials.
Terracotta Bathroom Tiles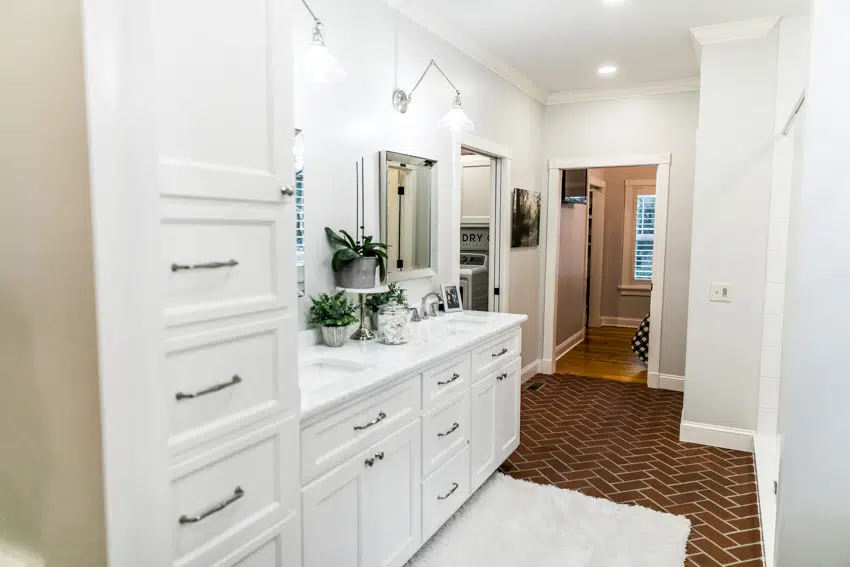 Besides the kitchen, the bathroom is an area that's often exposed to moisture, which is a bad thing for porous materials like terracotta. Impervious to water, glazed terracotta tiles will be a wonderful flooring for your bathroom.
These tiles can be elegantly paired with wooden cabinets and a mosaic wall, which balances each other in terms of aesthetics. Terracotta tiles can also be used as a contemporary and sleek addition to the bathroom. In fact, you can mimic the ambiance of a luxury spa just by using terracotta tiles in your bathroom.
Make sure you use red terracotta tiles not just for the authentic look but also for the warm hue and inviting vibe. See more types of bathroom tile ideas here.
Terracotta Living Room Tiles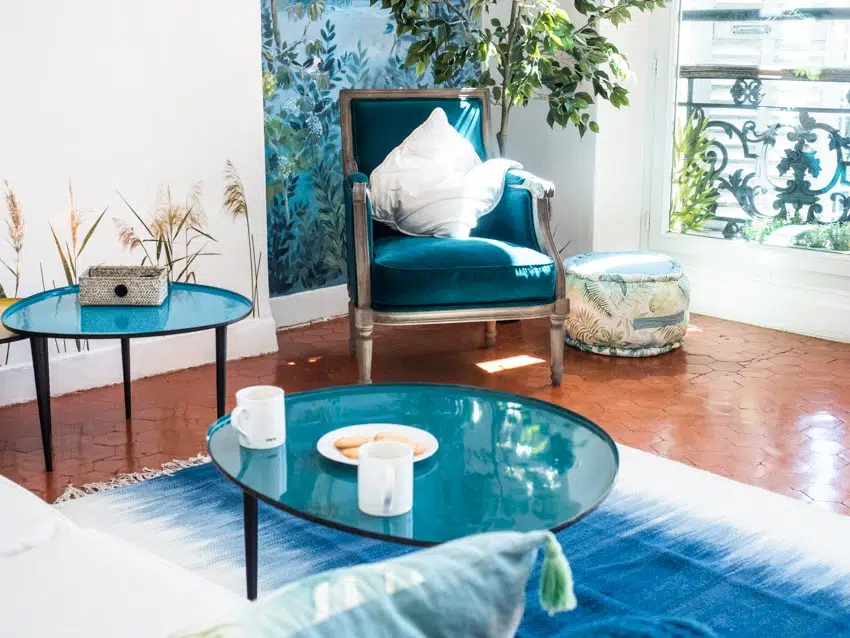 The living room is the space for entertaining guests and you will want to create an inviting and welcoming feel to it. With terracotta tiles, you can easily use the rustic and traditional vibe that these materials deliver.
You can even turn your living room into an art exhibit by going all-out authentic with hand-painted terracotta tiles and matching artistic elements to it.
You don't have to use terracotta tiles as flooring and if you really want to make a stunning first impression, you can use hand-painted terracotta tiles for a wall accent.
Terracotta Patio Tiles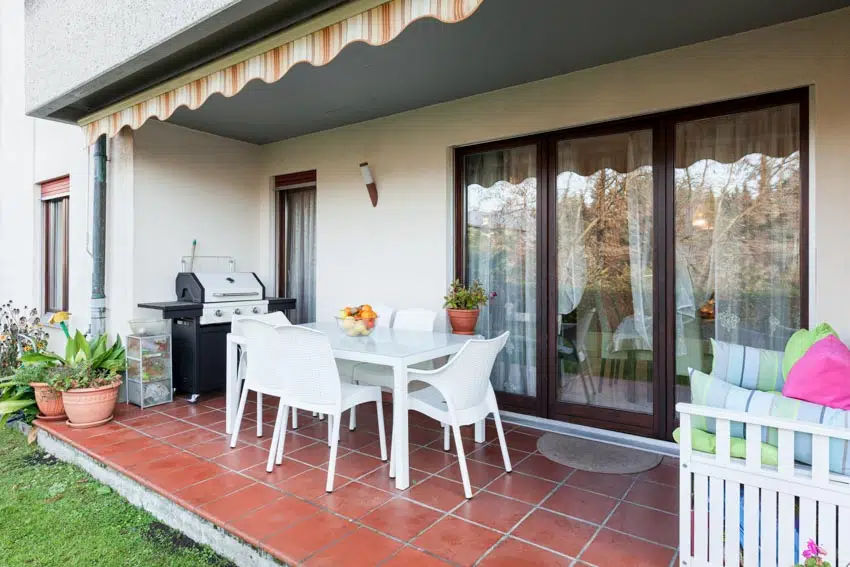 Terracotta tiles are recommended to have limited outdoor applications but it doesn't mean that the tiles cannot be installed outside the home. You can install terracotta tiles on your patio despite being subjected to daily wear and tear and exposure to weather elements.
This will be a lot better if your patio is still positioned under the roof to protect the terracotta file floor from rain and other similar elements. Using terracotta tiles in your patio will be a bad idea if you live somewhere in a cold climate since the tiles can freeze and crack.
If not, feel free to just make sure that the tiles are well-protected through sealing and glazing them so you won't have to replace them often. See more pictures of Spanish tile patio designs here.
What Colors Go with Terracotta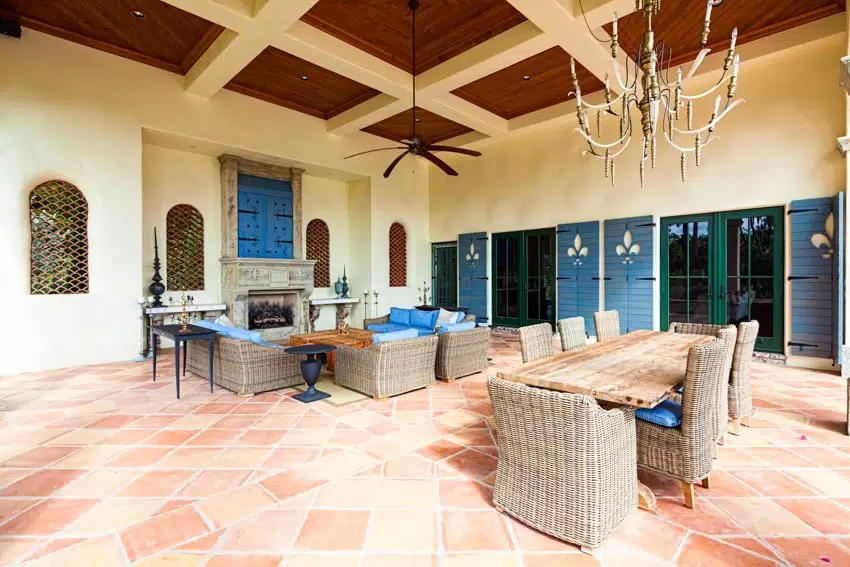 If you choose terracotta tiles for your flooring, you will need to find colors that will look compatible with these tiles. While there are different colors that terracotta tiles come in, red is the standard and most common color of terracotta tiles. To match these terracotta tiles, going for neutral colors to pair these tiles with is the best option.
To work on your walls and match them with the terracotta tiles, here are some colors and respective paints that would look wonderful with them.
Off-white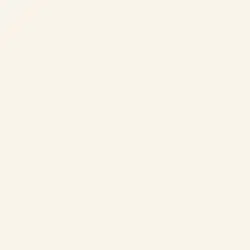 Farrow & Ball Slipper Satin (No.2004)
Benjamin Moore Classy Gray (OC-23)

Sherwin-Williams Creamy (SW 7012)
Beige, Taupes, & Brown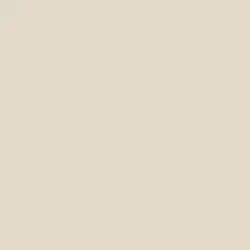 Sherwin-Williams Accessible Beige (SW 7036)
Clare Paint Coffee Date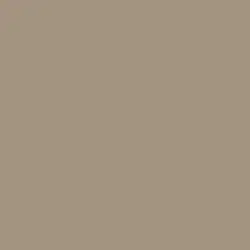 Farrow & Ball Mouse's Back (No.40)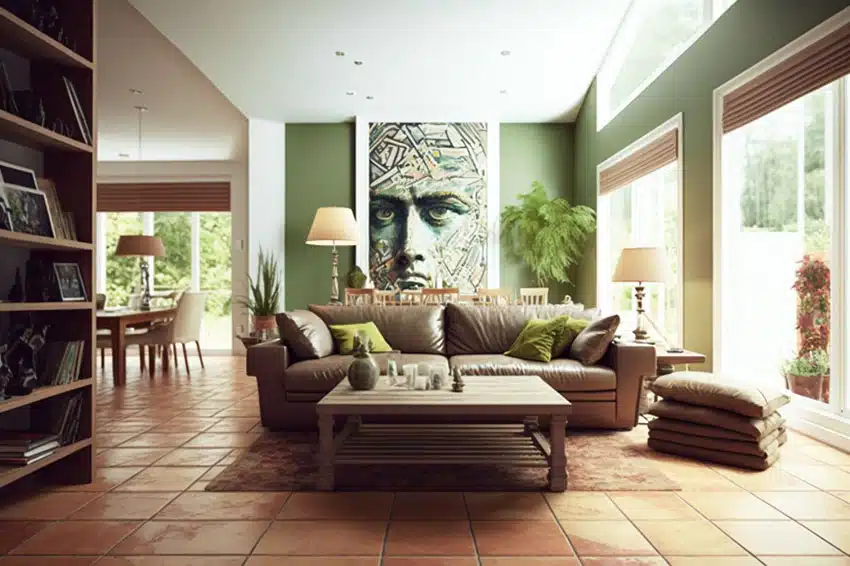 Muted Greens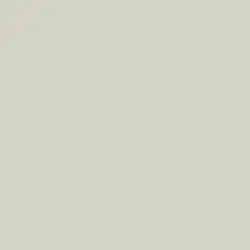 Farrow & Ball Mizzle (No.266)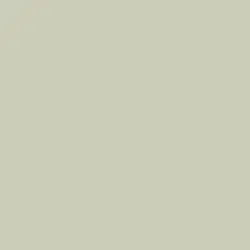 Benjamin Moore October Mist (1495)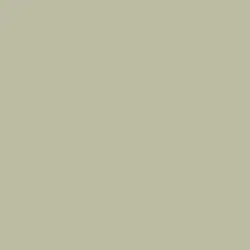 Rust-Oleum Tate Green (371674)
If you want to be spot on when it comes to matching your tiles with colors in the room, choose the terracotta tiles you're planning to install first. Match them appropriately, especially if you're going to choose bold colors for these terracotta tiles, including white and black.
Tile Grout Colors for Terracotta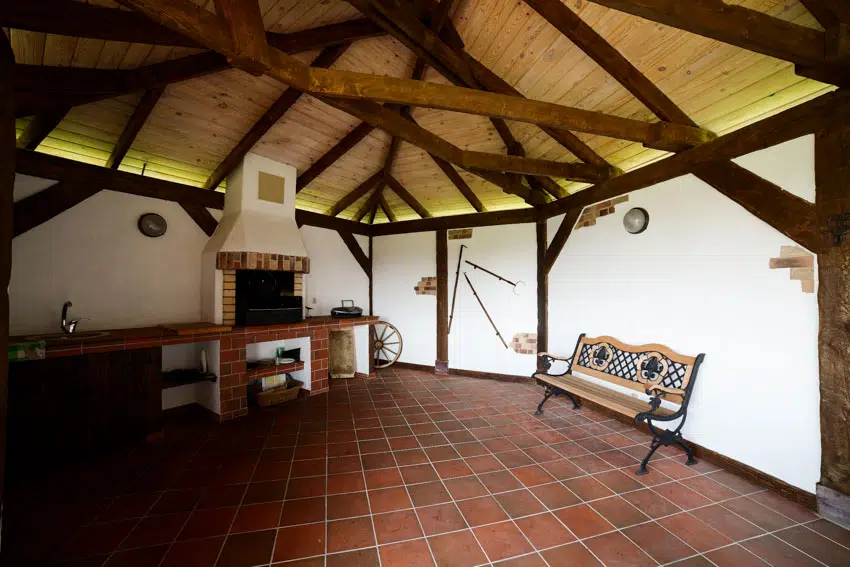 Besides the color of the terracotta tiles and other elements around them, you will also need to consider the colors of the grout.
Some of the most common options to consider are the following:
• Earthy tone
• Rose
• Burnt-clay color options
How to Clean Tiles Made of Terracotta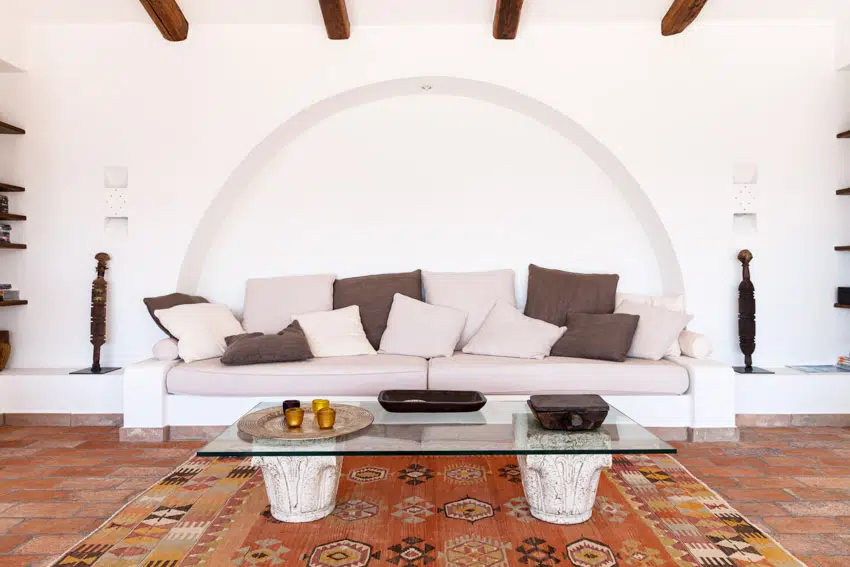 Cleaning your terracotta tiles is important to make sure that they can last for a long time. To help you with this task, here are cleaning tips to follow when dealing with terracotta tiles.
1. Wash the terracotta tiles with mild dish soap in warm water and scrub lightly with a sponge or mop weekly.
2. Make sure you wrung out both to avoid water excess that can result in water damage.
3. Regularly vacuum the terracotta floor with a soft-bristled brush but do not use the vacuum attachment.
4. Remove spills as soon as they happen to avoid further water damage.
5. Use a neutral cleaner and avoid harsh solutions like those that contain ammonia, vinegar, and acids.
6. Thoroughly rinse and remove any chemical residue from the cleaner used.
7. Make sure to thoroughly dry the tiles after cleaning, you can use a dry mop, towel, or rag.
Sealing Baked Earth Tiles
In maintaining your terracotta tiles, cleaning them regularly won't be enough. You also need to seal the tiles, especially if you notice some of them have broken seals. Don't forget to glaze them after too for additional protection.
To help you with this sealing task, here are simple tips easy enough to follow.
1. Choose the ideal sealant and sealing method for you (You can ask for some advice from experts).
2. When applying the sealant, make sure to protect the baseboards with masking tape.
3. Apply just the right amount of sealant and cover all the necessary areas that need sealing.
4. Make sure to wait until the terracotta tile floor is completely cured. This can take up to 72 hours or just read the instruction that comes with the sealant for the exact number of curing hours.
Two of the types of sealants you can use are the following:
• Wax sealants: These sealants do not soak all the way through the tiles and in the end leave residue on the surface. If applied in a high-traffic area, they can get discolored after some time.
• Water-based sealants: Thinner compared to acrylic sealers, these sealants are able to soak deeper into the terracotta tiles and take care of problems and issues with dust particles and discoloration
• Acrylic sealants: Odorless compared to other sealants, acrylic is popular for grouting, jointing, and caulking and they are also easily paintable and can be used for terracotta floor tiles.
Terracotta Vs Saltillo Tile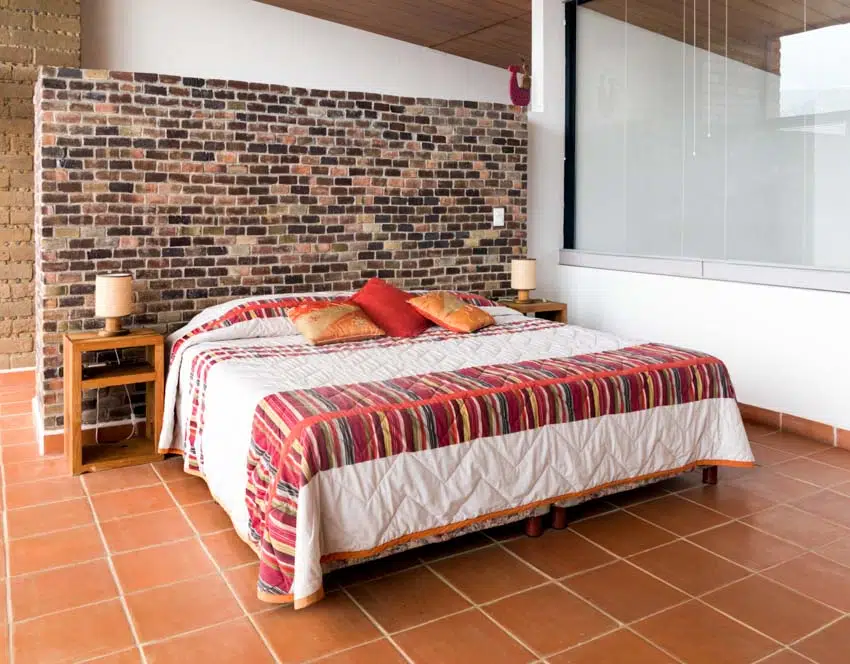 Saltillo tile is a specific type of terracotta tile so if you're going to compare saltillo with terracotta, you can say that all saltillo tiles are terracotta tiles but not all terracotta tiles are saltillo tiles. Here is a glance at the differences between these two tiles.
| | | |
| --- | --- | --- |
| Aspects to Consider | Saltillo Tiles | Terracotta Tiles |
| Origin | Mexico | All parts of the world |
| Cut style | Handcrafted only | Handcrafted or Machine-cut |
| Shape | Each tile is unique | Much more uniformed for machine-cut |
| Installation | A little difficult due to uneven shapes and lines | Easier for machine-cut |
| Variety | Limited | More options to choose from |
Some of the specific characteristics of saltillo tiles include the following:
• Made in Mexico
• Handcrafted and unique in their appearance
• Features earth-toned colors including naturally occurring red clay
• Made and fired at a relatively low temperature
Saltillo tiles have indoor and outdoor applications, both residential and commercial. They are popular as decorative walls, backsplashes, countertops, and flooring. For outdoors, they can be installed on your patio but only if the patio has a roof over it.
If you're considering saltillo tile floors for your home, here are some of the advantages and disadvantages you can weigh in to be sure that this is the ideal type of terracotta tiles for you.
Pros of Saltillo Tiles

• Eco-friendly: Biodegradable and organic, Saltillo tiles are made of pure clay compared to other terracotta tiles.
• Affordable: These tiles are more cost-effective compared to their alternatives.
• Unique pieces: Saltillo tiles are handcrafted one by one and so one tile will be unique and different compared to others.
• Easily conceals dirt: You won't have to worry about the tiles looking dirty all the time since these tiles can hide dirt well.
• Features rustic and old-world feel: Saltillo tiles provide warmth and an inviting feel you will want your home to have. If you want your home to feel traditional and rustic, these tiles will be wonderful to add to your flooring.
Cons of Saltillo Tiles

• Complicated to install: Since the saltillo tiles have unique shapes and sizes, they can be difficult to install and might need the help of an expert to do so.
• Uneven and not uniform: Each tile is handmade by an artisan and would not be the same as any other tiles and while this can be a good thing, it means that you will also find it hard to match it with other tiles.
See more related content in our article about the Spanish style kitchen designs on this page.