Below we share some of our best kitchen staging ideas to help you maximize your home's resale value.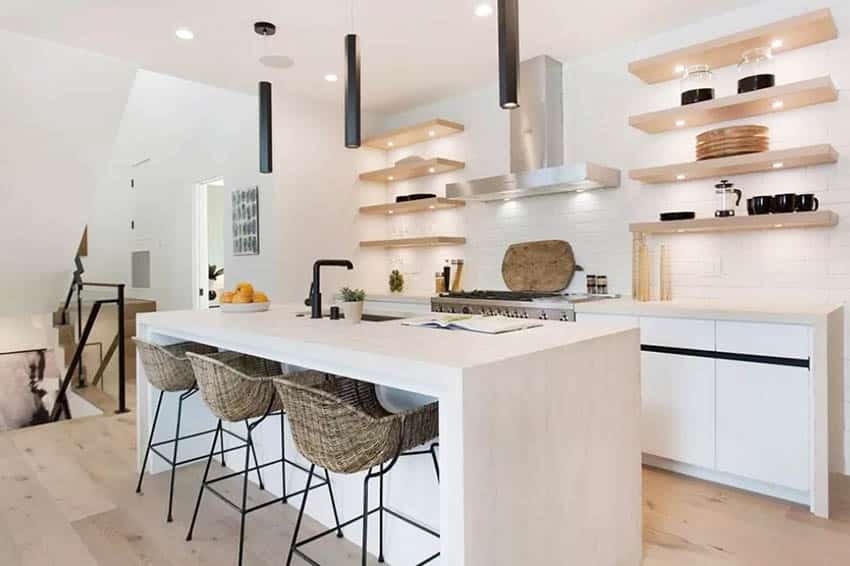 Staging your kitchen before listing it on the market can determine how quickly your home sells. The kitchen is one of the most important rooms in the home and its condition has a huge impact on potential buyers . A remodeled or updated kitchen can drastically improve how quickly your home is on the market and the amount a buyer is willing to spend.
Kitchen Counter Staging Ideas
The Kitchen is the heart of every home. Whether you are planning to sell your home, or you just want to create a warm, bright and spacious space for entertaining, it is always good to know some styling tips.
Before you can stage your kitchen counter you need to check your counter if there are things which needs to be repaired, re-grouted, refaced and sanded.
Repair countertops that are chipped. If your kitchen counter is made of granite, you can repair any chipped sections with an epoxy instead of opting to replace the entire slab.
Re-grout tile countertops. Dull and discolored kitchen countertop will easily have a new look and feel by re-grouting.
For laminate kitchen countertops, an easy fix to breathe new life to your counter is to resurface or to paint over them instead of replacing your dated laminate countertop.
For butcher block counters, it is best to sand and oil your butcher block countertop so they are in the best shape and will have a fresher look.
Once you have done some improvements with your kitchen counter, you are now ready to stage your counter.
Kitchen Island Counter Staging Ideas
If you have a kitchen island, there are a few things you can do to make it even more appealing such as mixing and matching centerpieces at varying heights, shape and textures.
You may also display fruit and flowers of the season. Display some of your favorite dinnerware or kitchen pieces with those fun patterns and shapes.
Go with a theme – coordinate containers to hold your collection or group items with similar color. You may also group items in your kitchen island in a tray even if the grouping does not have much in common – it makes it feel more intentional.
Kitchen Table Staging Ideas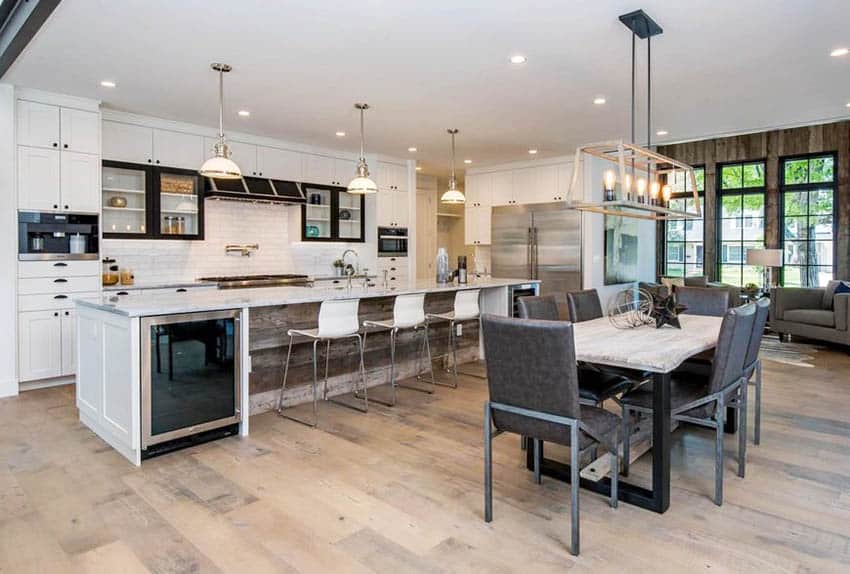 The kitchen table or dining room table will always be a place to touch base or have a meaningful conversation over meals. A bare table can be cold and uninviting, so it is always great to set up your table with a few place settings enough to inspire and decorate with accessories in order to create a welcoming table arrangement.
Focus on the seating and seating arrangement, it is always important to show that there is enough space where people can comfortably sit and add seating if there is a need to.
Lighting does a lot, and so it is important to keep your dining area bright and breezy. It is best if there is a great deal of natural light coming into the dining area as it brings warmth into your kitchen, making it more welcoming. Instead of using heavy window treatments, try using sheer drapes or blinds.
Outdated kitchen lighting fixtures needs to be updated and replaced by modern or classic style lighting fixture to add more to the room's ambiance. Add dimmers or upgrade to smart light bulbs which can be controlled with your phone for a more dramatic effect.
For an upscale touch, install under-cabinet LED strips to highlight your countertop and serve as task lighting.
Staging Kitchen Cabinets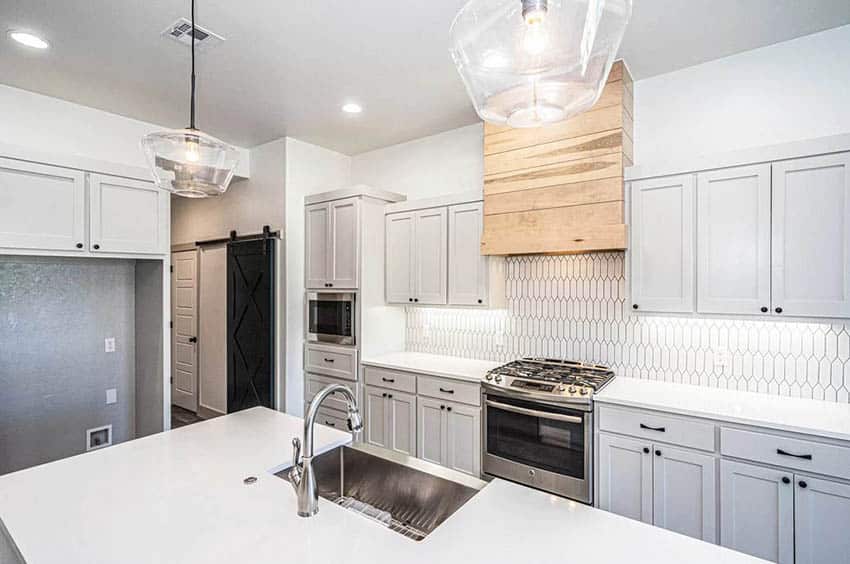 Updating your kitchen cabinets is the best way to give your old cabinets a makeover. Furnish them with a fresh coat of paint which will give an entire new look and add color to your kitchen.
Choosing the Right Paint
Before painting your kitchen cabinets and drawer faces, choose the right paint to use for your type of cabinet whether it is wood, laminate or metal.
Wooden kitchen cabinets are the best type of surface to paint. If your cabinets were previously painted with water-based latex paint, you might want to stick with the same type of paint.
Remember that you can opt to use latex paint over oil-based paints; but if your cabinets have been finished with latex paint, oil-based paint would not adhere well if painted over latex. If in case you are not sure of which type of old paint was used, latex will be a safe type of paint to use.
Acrylic latex-based paint is odorless, durable and can be easily cleaned up with soap and water. It is also best to go with a semi-gloss paint for easy clean-up than if you paint your kitchen cabinets with flat or eggshell type of finish.
Kitchen Cabinets Hardware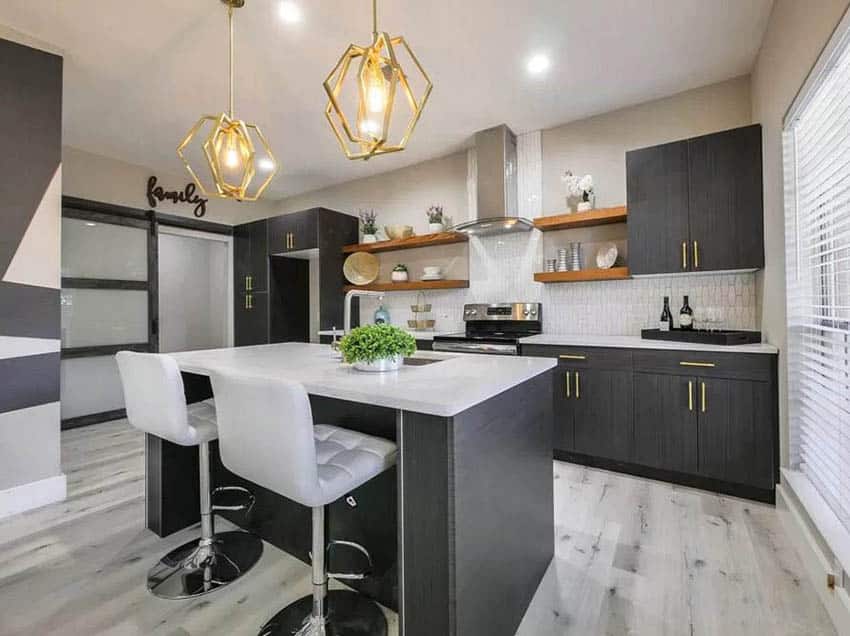 One of the most effective kitchen staging ideas you can implement is to refresh your cabinet hardware. You can either refinish your old cabinet hardware or buy new hardware which will add to your kitchen's new look.
Choose kitchen cabinet hardware that fits your personal style and should match your kitchen theme and the type of door cabinets you have. Also consider the color of your kitchen cabinets when deciding on the hardware.
Top Kitchen Cabinet Hardware Choices

Contemporary Metal pull hardware are elegant and functional such as stainless-steel knobs which compliments almost any kitchen type cabinets.
Brushed Brass hardware gives the kitchen a touch of warmth.
Long, Smooth Tubular Kitchen Pulls compliments contemporary and modern kitchens
Vintage and Antique Knobs
English Brass
Solid Copper Knobs
Bronze Cup Pulls
Soft Close Hinges and Slides
Two sought after features are soft close kitchen cabinet hinges and slides which are often used in contemporary designs. The hardware system allows for the kitchen cabinet doors and drawers to close softly and silently, thus reducing the noise in your kitchen.
Drawers slows down with gentle automatic ease when it is at its last twenty-five degrees of closure. The soft close feature is also kid safe and extends the life of your kitchen cabinets and drawers.
Open Shelving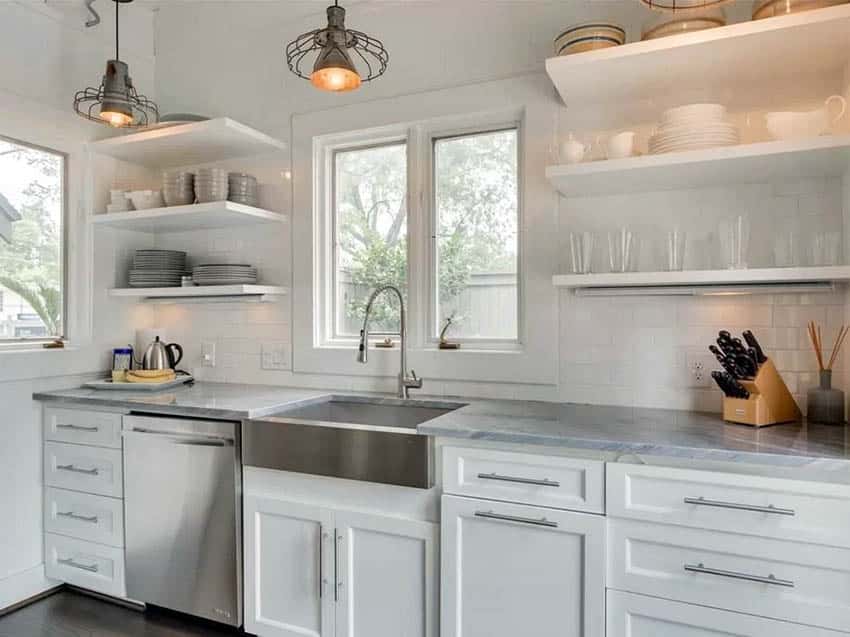 Open shelving is one of the major design trends that sets your own kitchen and decorating personality style and a way to display your most attractive kitchenware, glassware and ceramics instead of hiding them away in cabinets.
Keep things interesting by stacking your most kitchenware with varying heights, color coding kitchen items, stacking ceramics in repetition in each row and incorporate some artwork and plants.
Kitchen Appliances
It is important to reconsider your kitchen appliances and make sure that they have matching style and finishes, or at least they are all the same color. Integrate your kitchen appliances with your kitchen cabinetry and make sure it compliments your kitchen design.
Declutter Your Kitchen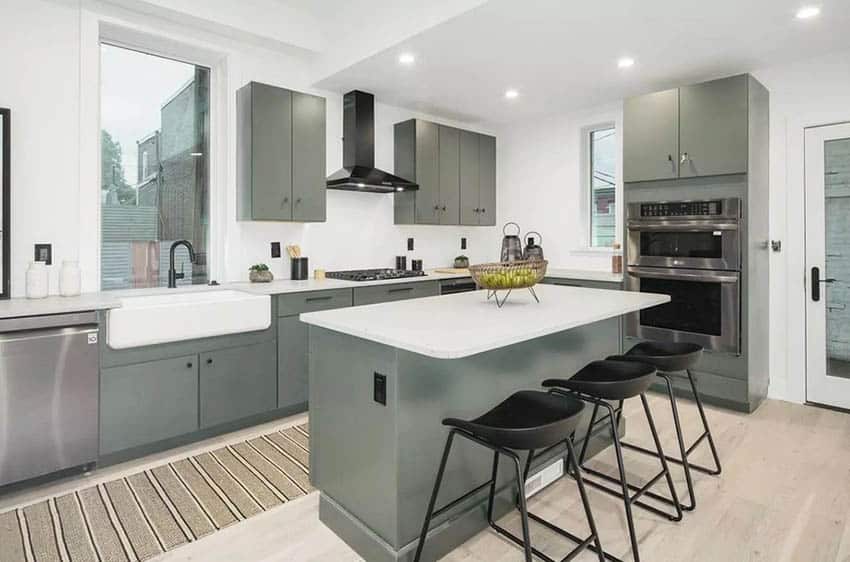 Kitchen counters should be clutter-free – it is always best to have a fresh and clean space. A crowded kitchen counter may appear that there is not enough storage space. It is also not very welcoming and not aspirational at all, for potential buyers or for your guests.
It also good to depersonalize your fridge, take down fridge photos, kid's art, magnets and store it away for safekeeping. Everyday appliances like coffee maker, toaster and blender does not need to be on display and needs to be stored away.
Bring in decorative touches – If there is a windowsill in your kitchen, bring in herbs and plants in order to add some fresh element into your kitchen. Display a bowl of fruit, dry goods and a cookbook on the counter. Get more tips on how to declutter kitchen counters here.
Organizing Your Kitchen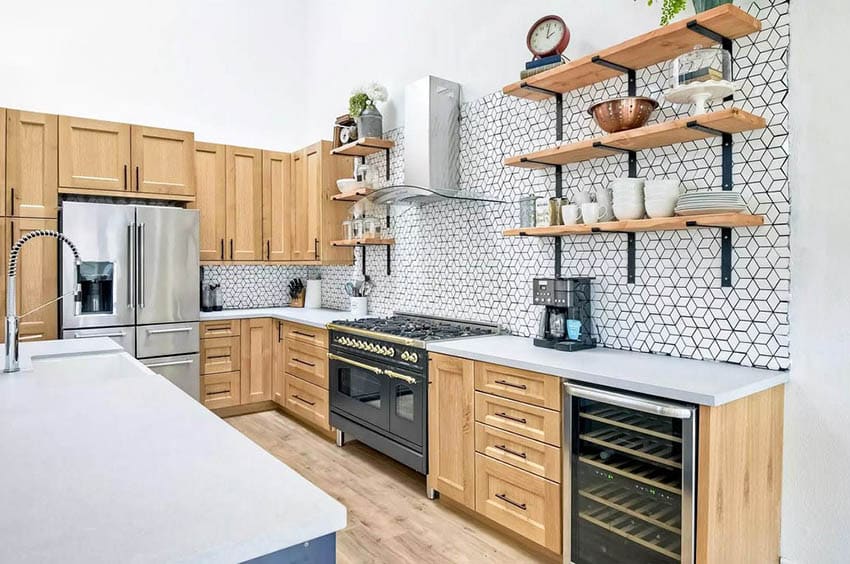 Organizing your kitchen means to have an efficient and functional space to cook and entertain. It is also important to have a clean cabinets and counter which is free of clutters in order to enjoy being in your kitchen.
Use clear containers to store items inside kitchen cabinets such as sauce mixes, gravy mixes, cereals, gelatin, pudding mix and pasta.
Use drawer dividers which allow you to place a spot for each cooking utensil and keep other miscellaneous things, in order to easily find things when you need them.
By defining the zones in your kitchen will make everything easily accessible. Group cabinet and drawer items which are alike into zones:
Classify and group "Everyday Items" which includes plates, bowls, basic glassware, cups, cutlery and serving ware.
Put together "Cooking Items" and place them near your oven or range. These items may include pots, pans, dishes, cutting boards, baking items, measuring cups, measuring spoons, mixing bowls and wooden spoons.
Arrange "Accessories and Storage Items" near the fridge such as Tupperware, food storage items, food wrap, Ziploc bags, tin foil and other "to-go" items.
Classify items and group them in a "Coffee and Bar Zone" such as coffee cups, coffee pot, coffee accessories, wine glasses, shot glasses, and other bar accessories.
Dry good, spices, large kitchen equipment can be placed and arranged in the pantry.
Cleaning supplies, hand soaps, recycling and garbage bags need to be put together under the kitchen sink.
Sort and group your special items like holiday or other seasonal items which you typically use when hosting or other special serve ware and keepsakes.
Make sure that you position all your items correctly when arranging them; keep items you use often at eye level and those you use a little less and be stored further away or can be placed up higher.
Make use of the wall spaces in your kitchen or ceiling rack to hang pots and pans to free up cupboard space and install magnetic knife holders. Mount a rack for spices and for fresh hanging herbs. Install hooks underneath cabinets to hold mugs or other kitchen gadgets above the countertop.
Living in a Staged Kitchen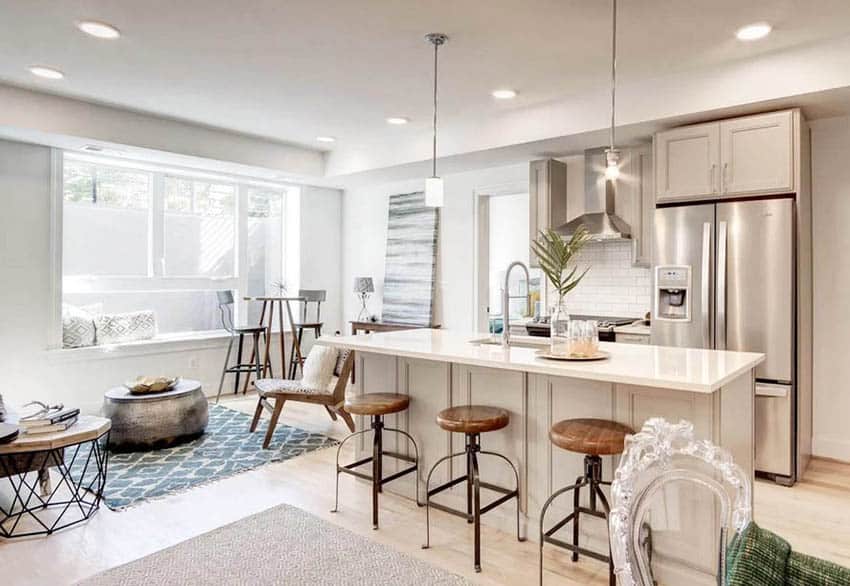 Even if your home is not on the market, learning to stage your kitchen can be very rewarding and of course, can make a big difference when selling your house.
Hanging artwork or photos on the wall gives a homey feeling. Creative placement of runner or rugs add depth, dimension, pattern and color to the room.
Aim for a light and bright look, maintain the staged look and keep everything spotless clean and well-organized. Lastly, living in a staged home may not be easy and may not come naturally, but if you can adjust and get in on the challenge, it can be a lot of fun and may turn out to be a great and memorable time altogether.
Finally, if you want to help your real estate listing stand out without having to purchase expensive decor or hire an interior designer there are a variety of virtual staging software programs that can help.