Here's our dining chair dimensions size guide including standard seat height and width for the dining room, home bar and kitchen.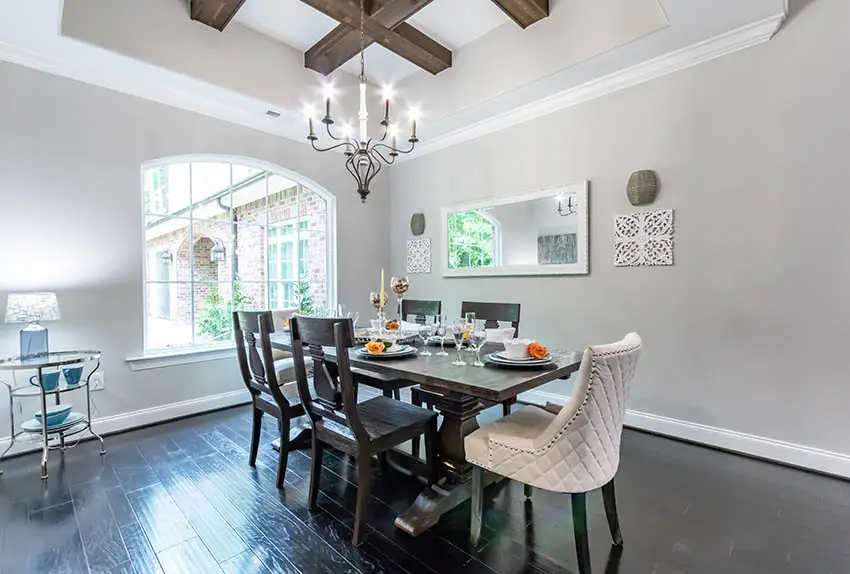 Matching the height of your table to the height of your chairs is important for aesthetics, comfort, and utility.
For comfortable and practical dining experience, the table should be at a comfortable height when seated. The guest should be able to rest their forearms on the table.
This requires approximately one foot between the seat chair and the table top. To determine what kind of chair to purchase, measure the height of your table and subtract one foot. Look for types of dining chairs with seats at that height.
Standard Dining Chair Dimensions
The standard dining chair dimensions are between 32 and 34 inches tall, with the seat 18 inches from the floor. The standard width of a dining chair is 16 – 20 inches.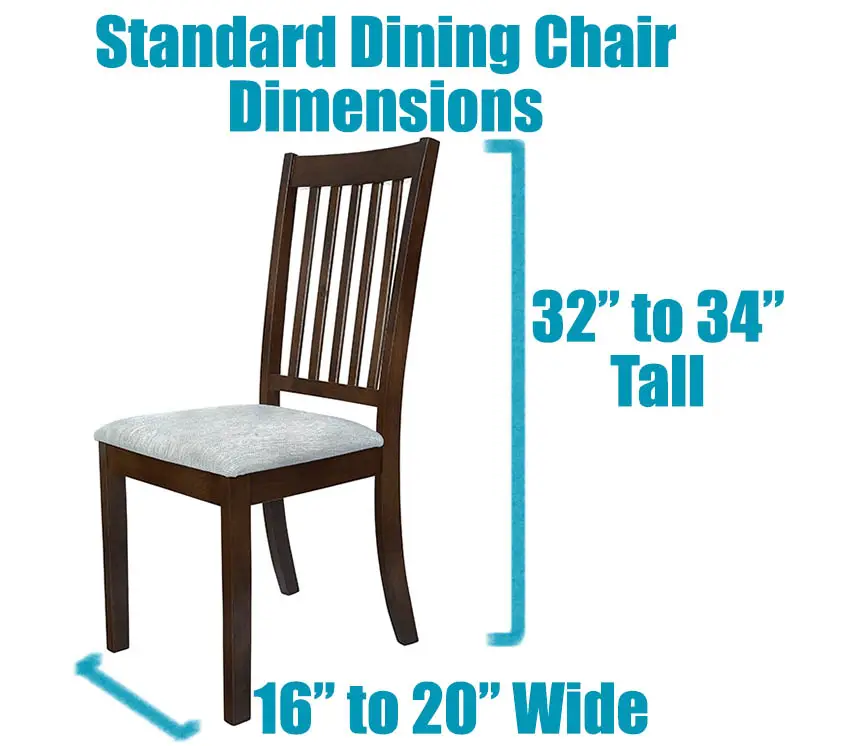 Dining Chair Height
The appropriate height for your dining chair is dependent on the height of your table.
Standard dining tables tops measure 30 inches from the ground. Counter-height tables are 36 inches tall.
Most chairs for sale are labeled as either standard-height or counter-height. Make sure you double check before making a purchase because it is not possible to use standard-height chairs at a counter-height table, nor the other way around.
Standard Height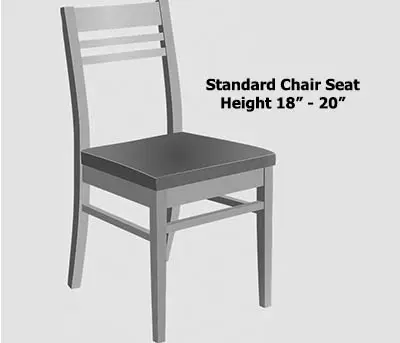 The seat of a standard dining chair is usually 18 inches off the ground. Standard-sized tables are 30 inches high, allowing 12 inches of leg clearance from an 18 inch seat.
For the back of the chair, 12 to 16 inches of support is recommended, as measured from the seat top. A chair back height of 32 – 34 inches is standard if measuring from the ground.
This supports the lumbar region of the back while still allowing adults to twist and turn, and without putting uncomfortable pressure on the back of the head.
The exception to this rule is high-back dining chairs, which can be much taller, and are best suited to formal dining rooms.
Chair Width
A comfortable chair can significantly improve your enjoyment of meals. Width is one aspect of comfort to consider when selecting new dining chairs.
The minimum width for a comfortable seat is 16 inches. Chairs smaller than this often feel flimsy or inadequate, and don't encourage lingering to enjoy a meal.
Chairs larger than 20 inches across are likely to interfere with your seating arrangements. Each diner requires sufficient space to use utensils and eat without knocking elbows with their neighbor.
The absolute minimum amount of space each diner needs in 18 inches, which is only suitable for a crowded family holiday meal. For everyday dining, 24-26 inches of space per diner is recommended, plus an additional 6 inches for getting in and out of the seat.
If you measure from one table leg to the other and divide by 32 inches, the result is how many people you can comfortably sit at that side of the table on a day-to-day basis.
Seat Height
The first task to complete before purchasing new dining room chairs is taking a look at your table. Specifically, the underside of the table.
Is there a piece of wood connecting the legs? This is called an 'apron', and is part of the structural integrity of the table. It's also a danger to you and your guests if you get the wrong sized chair.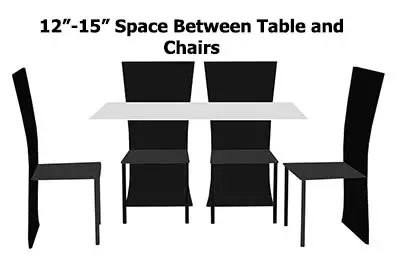 To avoid knocking your knees, the seat of the chair should be at least 12 inches from the apron. If the table doesn't have an apron, the 12 inches of clearance should be measured from the underside of the tabletop to the top of the chair seat.
If your dining chair features arms, ensure that the arms and seat can be pushed under the table and apron, if present. This helps keep your dining area tidy when not in use.
Ideally, there would be seven inches of clearance between the top of the arm and the bottom of the table. Less clearance and your guests may feel thwarted by a chair that can't get close enough to the table. See ideas for different types of dining tables here.
Chair Depth
An important factor for comfort is the chair depth. The standard dining chair should be 15″ to 18″ deep. This measurement is strictly for dining chairs, generally constructed more compactly than other traditional accent chairs with an average depth of 21″ to 24″.
To help make your chair more comfortable, select products with upholstery, a softer surface like leather, or use pillows. Also, consider models with rounded backs to enhance comfort.
Kitchen Chair Height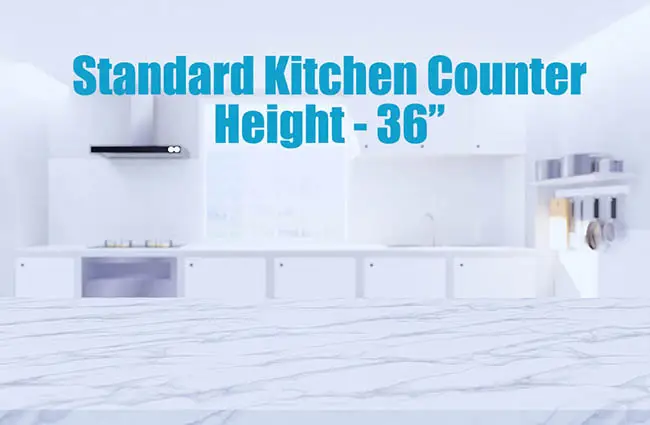 Kitchen chairs should follow the same height rules as dining chairs. 12 inches between the underside of the table and the top of the chair is considered to be the minimum allowable amount.
Kitchen chairs generally have a seat 18 inches off the ground. Not only does this allow adequate leg room, it puts most diners at an appropriate height for eating off a standard kitchen table.
For barstools there are two primary sizes. These are counter height bar stools or spectator height bar stools.
A regular kitchen counter height bar stool has a seat about 24″ to 26″ from the floor and a total height of 35″ to 36″. On the other hand spectator height bar stools for a bar height countertop have a seat height that is 33″ to 34″ and total height between 45″ to 48″ tall.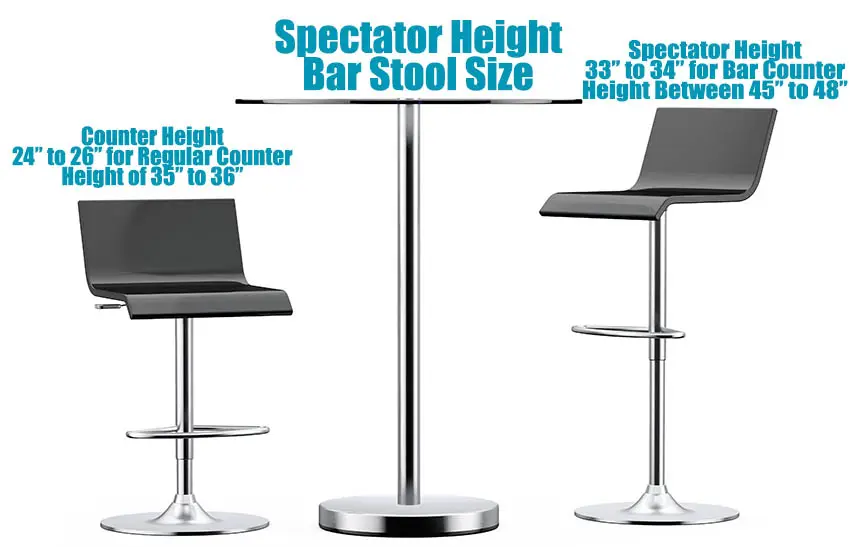 Table Height Chairs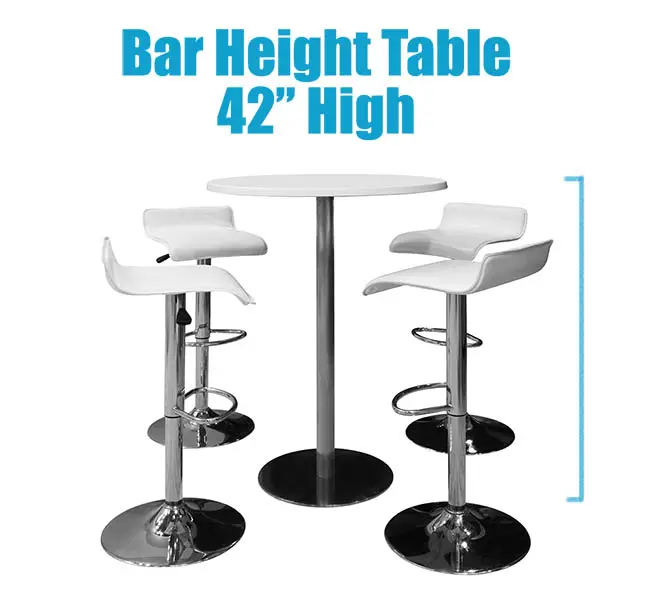 In the case of a bar style table, which stands about 42 inches tall, a seat that is 30 inches off the ground would be perfect. For a counter-height table, generally around 36 inches tall, a 24 inch seat is recommended.
While using occasional chairs or slipper chairs as an unconventional alternative to a dining chair may sound like a good idea, these types of seating are not designed to be used at a table.
A standard-height table is 30 inches tall and pairs best with a seat that is around 18 inches from the floor. Read more about dining table dimensions here.
What Height Chair for 30 Inch Table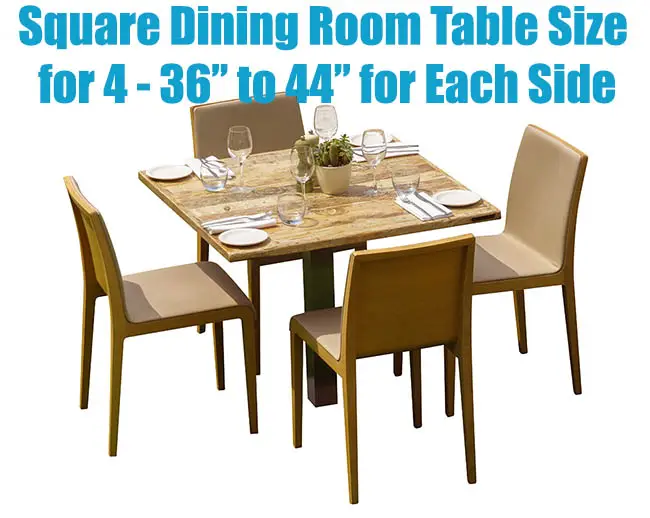 A 30 inch table is also called standard-height. The table top is 30 inches from the ground. Your guests need 12 inches of space between the chair seat and the table top or apron.
The chair back can be any size you like, but the best chair for a 30 inch table will have the seat located 18 inches off the ground.
Chair Height for 36 Inch Table
Counter-height tables are grouped together by their height — 36 inches off the ground. A chair made for a 30 inch, standard-height table isn't going to work.
Instead, look for a chair with a seat that is 24 inches from the ground. This will boost your guests to the correct height for a 36 inch table, without compromising their comfort.
Bench Height for Table
Benches are a popular and attractive choice of seating that are particularly popular in informal dining rooms, open plan living areas, and casual kitchen tables.
You should be able to sit comfortably on the bench without feeling squeezed, and to push the bench under the table when it's not in use. The best height for a bench that will be used for seating at a dining or kitchen table is 18 inches.
Do you have any questions or comments regarding these dining chair dimensions? Let us know in the comments below. For more related content, see our gallery of how to mix and match dining chairs.