Here's our spectator height bar stools buying guide including popular sizes and options.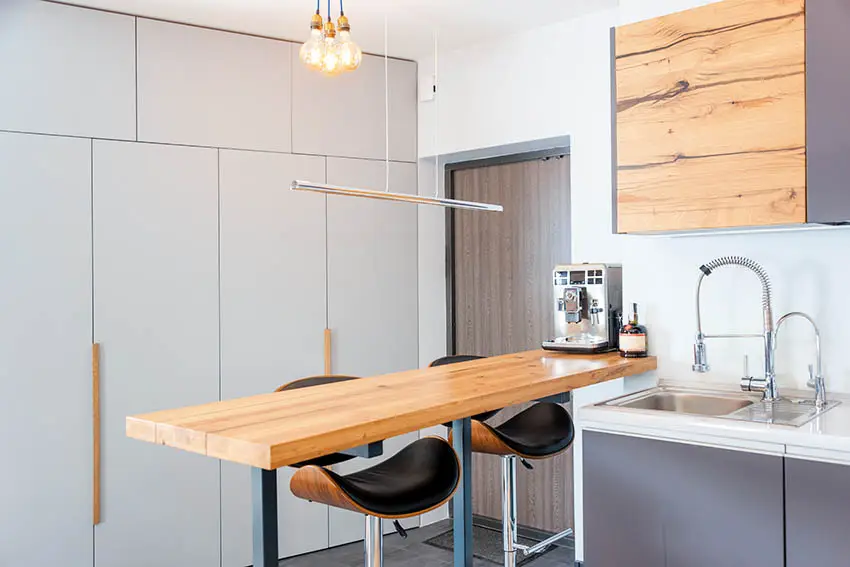 Spectator height bar stools bring home the classic vibes of the 1950s and 1960s pool halls, pubs and diners, that were used to maximize space seating in commercial establishments.
These attractive space-saving seats are practical investments for your kitchen and home bars that can provide comfortable seating when entertaining family and friends.
What Are Spectator Height Bar Stools?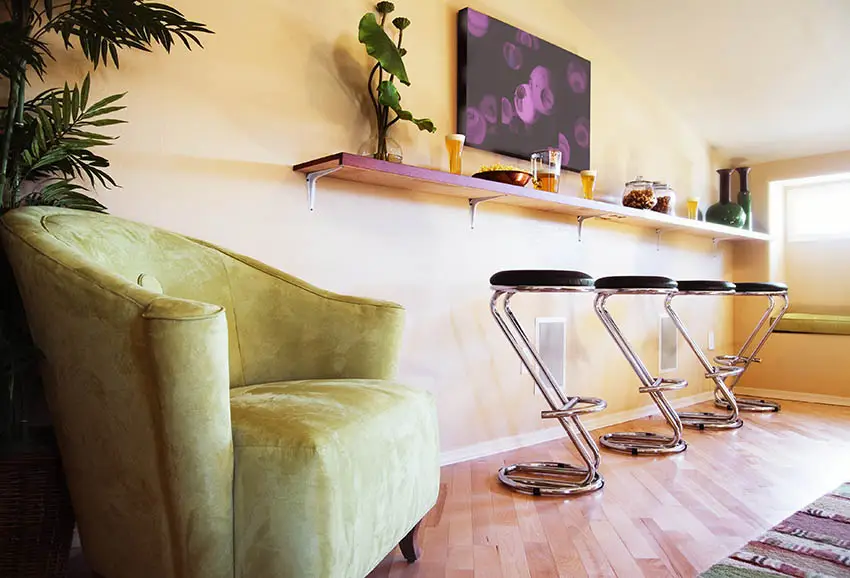 Spectator height bar stools are typically about 33" to 34″ in height and were first created for pool halls to provide better viewing of the table. Many spectator height bar stools have adjustable height to provide for different size countertops as well as the ability to swivel.
They originally came with a chrome finish, however, you can now find them in practically any finish desired. In addition many models have different upholstery depending on ones needs.
These types of bar stools are ideal for kitchen breakfast bars, man caves or home bars with countertops above the standard 42" height.
Spectator height bar stools work best with countertops that are 44 to 46" inches in height. This amount provides about 10-12" in between the seat bottom and the underside of the counter.
Spectator Height Bar Stool Sizes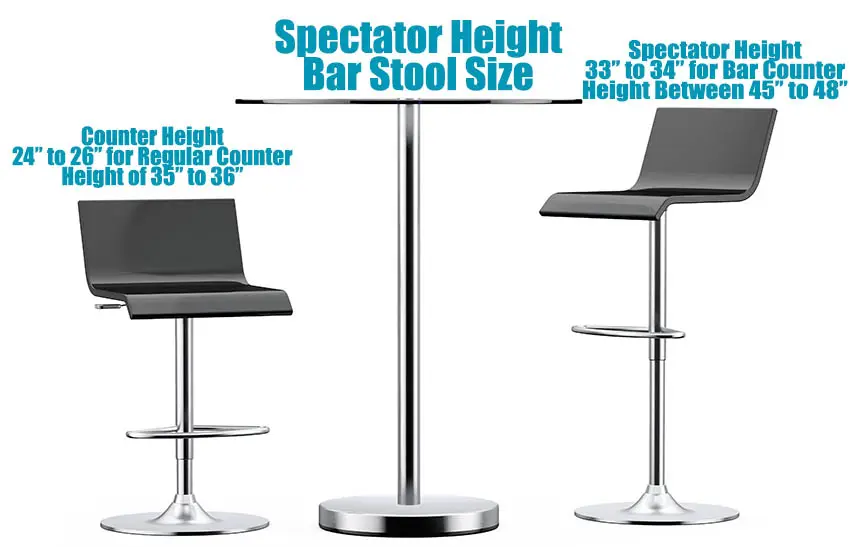 Who wouldn't want a comfortable seat? Knowing your bar stool heights and corresponding table or countertop height is the best way to have a relaxing seat.
Spectator bar stools come in a variety of designs and materials, but before deciding which design would look good in your interior, be sure to know what chair height you need.
Unless of course, you've got an adjustable bar stool that you can conveniently change its chair height.
There are actually four heights for chairs:
Chairs 17" to 18" with a kitchen table of 28" to 30" in height
Counter Height 24" to 26" for a counter that stands 35" to 36" high
Bar Height 28" to 30" for a bar with a 40" to 42" height
Spectator Height 33" to 34" for bar counter that stands between 45" to 48"
Spectator height bar stools have the highest chair height among the four to relieve strain on your feet a footrest is provided with a 12" or 320mm maximum height. Read more about the standard sizes for kitchen countertops here.
Top Spectator Height Stools
The following are carefully selected spectator bar stools that features comfort and functionality with quality and value for your money.
DMF Height Adjustable Velvet Bar Stool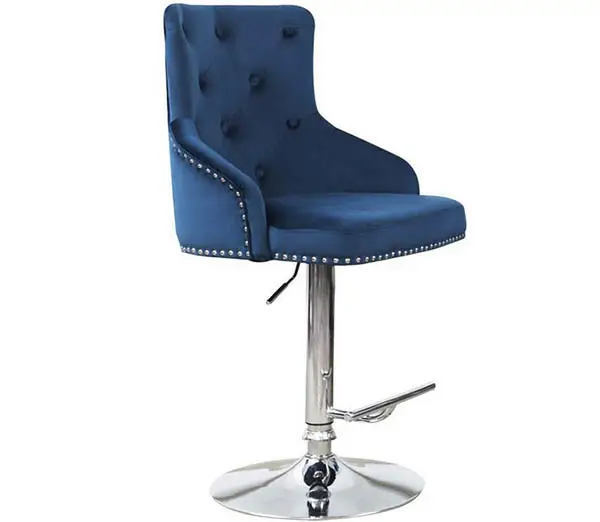 See this blue velvet swivel spectator height bar stool at Amazon [sponsored link]
Comfortable elegance that's tufted in velvet. Experience the comfort and elegance of sofa seats to your home bar or kitchen space with DMF Height Adjustable Velvet Bar Stool.
A perfect seat to enjoy hours of food and wine without straining your back, thanks to the 16.5 inches wide and 20.5 inches height high back design. The ergonomic bar stool can support up to 250 lbs that's around twice the average weight of an adult at 136.7 lbs.
On top of your metal support, this top spectator height has cushion dimensions of 19.7 inches in width, 17.3 inches in depth, and 4 inches in height.
Strike a conversation or two in any direction as you please with its 360-degree swivel feature. And you won't worry about stumbling through the wee hours as you've got a very stable 16.5 inches wide metal base support.
What's more, it comes with an adjustable chair seat so you can have the perfect height you are most comfortable with. It's easy to assemble where it comes with an easy-to-follow instruction manual just in case you get stumped in installing one of its accessories.
All DMF Height Adjustable Velvet Bar Stools are quality made and checked but in any case, you got damaged parts or have quality issues you can return the product within 30 days and a full 1-year warranty is provided to ensure our clients.
Cab Adjustable Height Bar Stool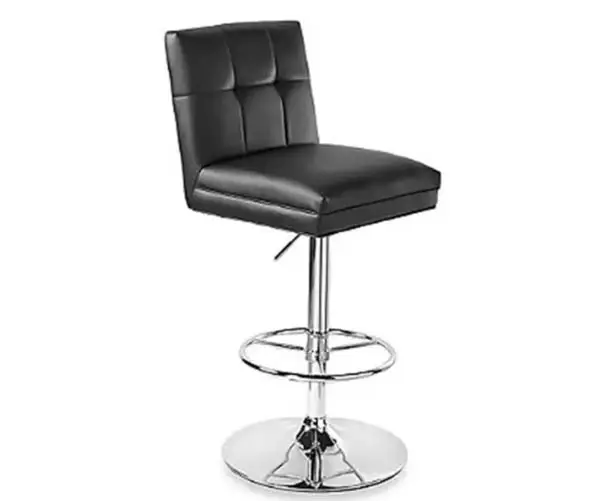 See this adjustable spectator height bar stool at Pier 1 [sponsored link]
Simple sophisticated comfort in elegant black leather and metal support. This spectator bar stool is a classic look that can make any space look expensive and classy with its black leathery cushion and tufted backing.
It's the perfect match to your minimalist kitchen, industrial-themed bar area, or transitional-themed space. Aside from the striking black leather padding, you'll love the full backrest and 360-swivel making it a flexible and relaxing seat.
It has a simple rectilinear form with 21 inches width, 21" Depth, and 46 inches height and can be adjusted to suit your counter height. The bar stool can support up to 200 lbs of height way more than the average adult weight of 136.7 lbs.
Bronn Swivel Adjustable Height Bar Stool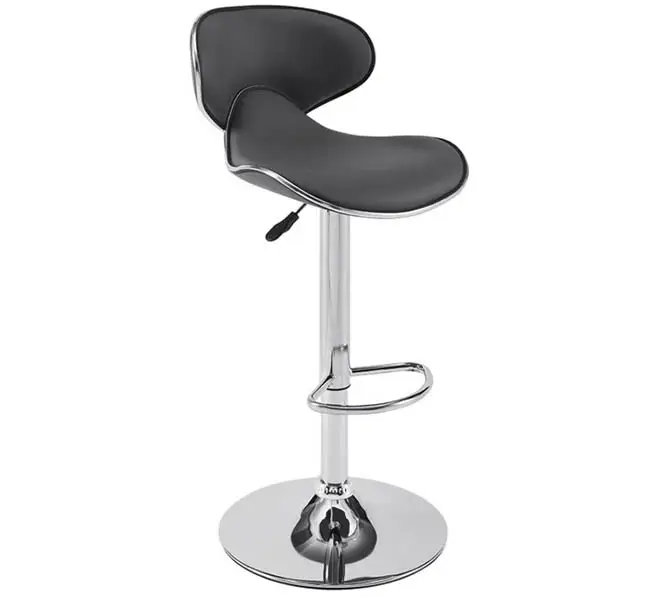 See this contemporary spectator height bar stool at Pier 1 [sponsored link]
Give your kitchen island or bar area a stylish treat with this curvy and sexy Bronn Swivel Adjustable Height Bar Stool. It has all the right curves to support your lower back and bum and a footrest to add comfort.
The simple yet chic spectator bar stool has a 34.38 inches height, 18 inches depth, and a comfortable 20 inches width.
Moreover, you can adjust the height for your comfort while a 360 swivel makes it easier to switch conversations with anyone. The metal trumpet base makes it a stable sit while not taking much of the floor space.
The sculptural look of the Bronn bar stool fits almost any contemporary kitchen or bar area. It has a leather black finish and chrome-colored frame support making it easy to match both the moody themed home bar or fresh white or beige schemed kitchens.
Faux Leather Adjustable Height Swivel Bar Stool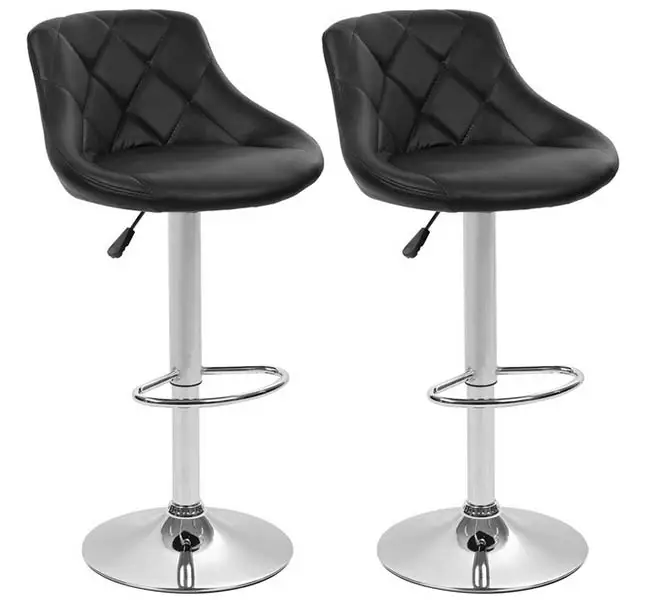 See this pair of faux leather adjustable height bar stools at Amazon [sponsored link]
Your affordable casual swivel bar stool in faux leather. The tufted cushioned spectator bar stool is an inviting chair that just beckons you to sit down and relax through the day.
With an SGS (Société Générale de Surveillance) safety certification you know you don't have to worry about anything. The quality-made spectator bar stool is not only safe for its users but also has an anti-skid rubber ring at its base support to prevent scratches or damage to your floors.
With rubber protection between your floor and your chair. It also means you don't have to deal with the annoying screeching on your floor when moved making it a perfect bar stool when you are renting on the upper floors.
The Faux Leather Adjustable Height Swivel Bar Stool stands at 40 inches with a length of 19 inches and a comfortable width of 15 inches. It can be adjusted up to 8 inches to match the height of your counter. You purchase two stool bar chairs.
Brage Living 4-Legged Chrome Backless Metal Round Seat Adjustable Height Bar Stools with Footrest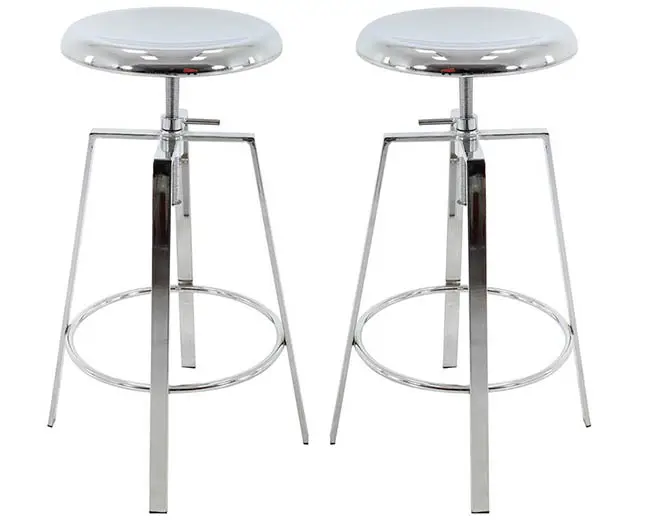 See this pair of adjustable chrome bar stools at Amazon [sponsored link]
This spectator height bar stool gives you a look at the classic retro style that's refined to create a more minimalistic silhouette. The clean and sleek profile is crafted with purely metal in chrome finish and contoured for comfortable seating.
A ring footrest is provided for added comfort and you'll also love the rubber feet padding that protects your bar stool and floors from scratches.
The bar stool is structured with four legs for stability while having a lightweight chair you can easily configure and move around your space.
From table to bar counters, the 360-swivel chair can be adjusted from 26.75 inches to 32.75 inches.
For more related ideas check out our gallery of the types of chairs for interior design.