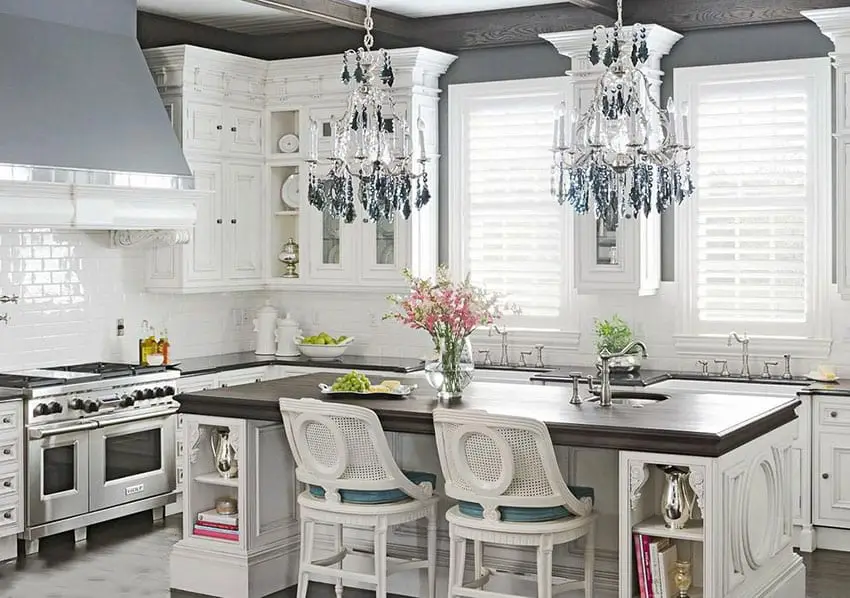 This is our gallery of gorgeous kitchen islands with breakfast bars. A breakfast bar in the kitchen can be a great way to bring friends and family together and is great for eating a quick meal or entertaining. A true kitchen breakfast bar has a 12 to 16 inch counter overhang to offer room for legs while also providing plenty of space for table settings and meals. Breakfast bars can be elevated or remain at the same height of the kitchen island. Below you'll find a variety of breakfast bar styles to help you get ideas and find the one that's right for you.
In the picture above the contemporary luxury kitchen showcases beautiful hanging crystal chandeliers that allow this breakfast bar island to shine and attract attention. Adding a sink in the island provides more space for food preparation. This furniture island is stylish for its classic custom made design; as well as practical with more storage space design. White subway backsplash tile and white classic style inset panel cabinets with dark counter and stainless steel appliances gives this kitchen an added elegance.
The kitchen is not only a place to prepare food but is also a place where the family gathers whether to enjoy a quick meal or to engage in casual conversation. Nowadays, entertaining guests also usually involves people congregating inside the kitchen. The multiple purpose that this room offers make it a significant part of the home which requires attention in terms of planning and design.
To add functionality to your kitchen, an addition of a breakfast bar is an ideal solution. It is the ultimate multitasking inclusion to any home.
What is a Breakfast Bar Island

A breakfast bar is either a full kitchen island or a countertop overhang with a height that has enough room for the legs and a size that can accommodate ample room for meals.
A typical breakfast bar counter has a standard height of 42 inches (107 centimeters) and a depth/countertop overhang of 12 to 16 inches (30 to 40 centimeters). The seating space for each person is normally at 24 to 30 inches (60 to 70 centimeters).
The total length of your kitchen counter will determine the number of seating you can accommodate within the space. For example, if your kitchen counter is 120 inches long, then that means it can accommodate 4 bar stools (120 inches divided by 30 inches) See examples of custom kitchen islands here.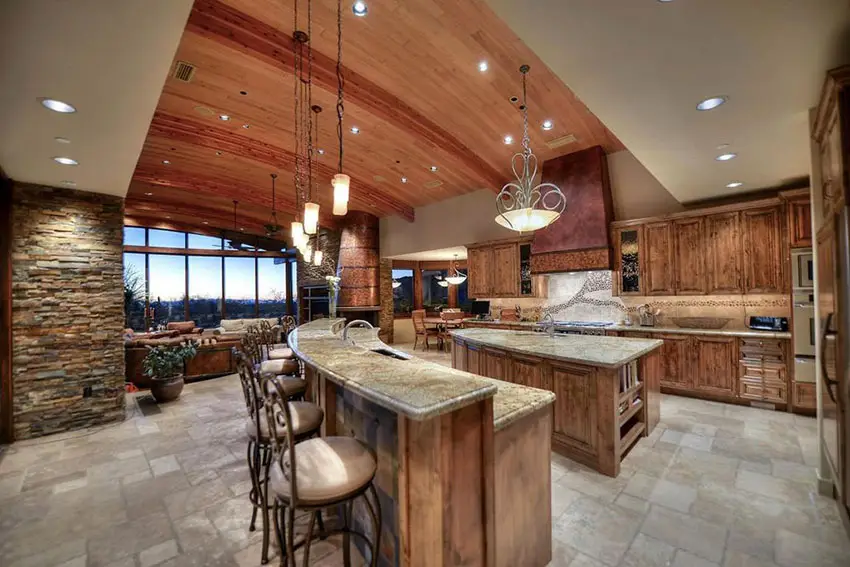 This Tuscan Italian inspired kitchen features a rustic mix of natural textures. It features a raised breakfast bar island with marble countertop. The cushioned wrought iron bar stools, natural stone flooring, glass paneled picture window and pendant lights show great emphasis of a traditional Tuscan kitchen design. Other standout elements include a wood plank ceiling with exposed beams, light tone stained solid wood cabinetry, matte finish ceramic tile backsplash with custom made design.
What are the benefits of a kitchen breakfast bar?
There are several advantages of having a breakfast bar in your kitchen. One of which is that it provides a casual space for dining where you can grab a quick meal or even enjoy an informal dinner. It is a convenient addition especially for homeowners who have a busy lifestyle as it requires less time for work flow traffic within the home – prepare your food in the kitchen and sit on a stool to eat it in the same area. It also serves as an additional seating space to entertain guests.
Since the kitchen is naturally an area where people gather, the breakfast bar is also an ideal place to do homework with the kids, enjoy conversation, read a book or even do work on your laptop. It serves a great purpose, whether it may be for a personal or a family activity.
In some cases, the breakfast bar also serves as an extra countertop for meal preparation. If the space permits, it is furnished with a sink or a cooktop. Similar to the uses of a kitchen island, it may be utilized for specialized tasks such as baking.
Aside from the function it offers, it can also contribute to the aesthetic value of your home as it can be designed in a lot ways using a wide array of materials. When furnished with a stunning bar stool, this area can serve as a great focal point in your kitchen.
Types of Kitchen Breakfast Bars
A kitchen breakfast bar may either be an overhang from the existing counter or a separate center island. In a traditional set-up, the center island is the most popular choice for a kitchen breakfast bar. If the counter space is large, it may either be designed as a full dining space or may be divided as a prep area with a sink or a cooktop. For smaller kitchens, a good space saving technique for breakfast bars if to use a fold down table mounted to a wall. This serves a great benefit in maximizing a small home as there is no need to assign a separate dining area. A free standing breakfast bar is also a cost friendly solution for other kitchen layouts.
There is actually no limit as to how a breakfast bar should look like. Just keep in mind that when designing it, consider the overall style of your kitchen. The type of seating is also an integral part of the breakfast bar. Choose stools that are comfortable. Bar stools come in different color, sizes, form, style and material, select one that is not only functional but is also cohesive with the look you are aiming to achieve.
For example, if you want your chairs to complement your rustic inspired kitchen, choose one that has wrought iron legs and a cushioned chair with a patterned fabric in warm earth tones. If you want to achieve a more classic look, chairs with a luxurious fabric upholstery and wooden legs will work perfectly. While if looking for that trendy modern vibe, opt for bar stools which have a sleek high gloss finish and metal legs.
Kitchen Breakfast Bar Ideas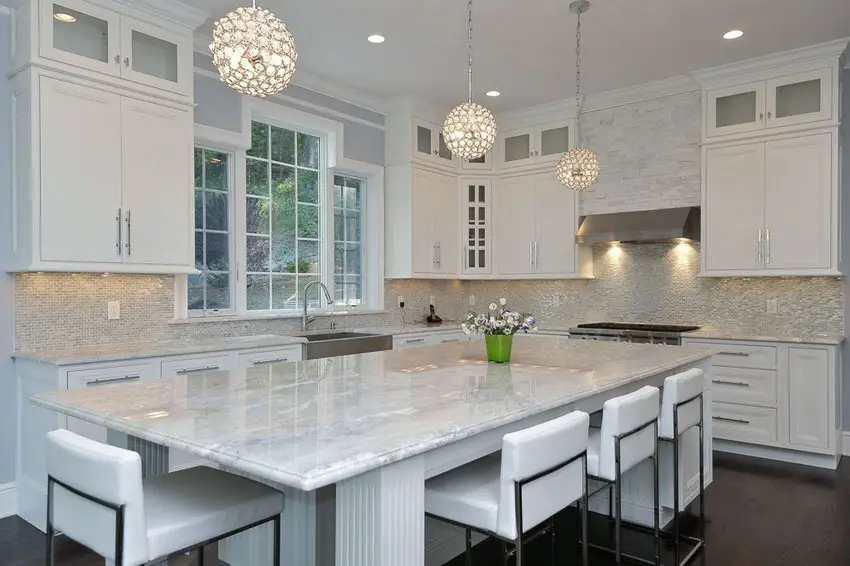 This elegant kitchen is designed using white raised-panel cabinet with white wave granite countertop, under-mount sink with a modern tile backsplash and stainless steel appliances. The awesome island breakfast bar is great for entertaining guests or for kids to do their homework while Mom prepares home-cook meals. It has an open space underneath for more leg room and additional storage space. Modern style pendant lights and under-cabinet lights can help make food preparation a lot easier.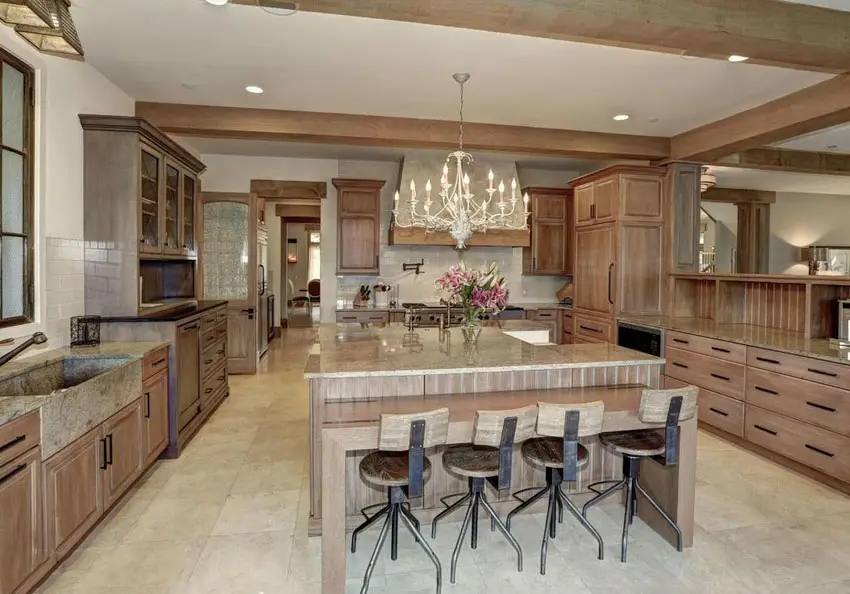 A mix of flat and raised-panel solid wood cabinet in a light stone shade, limestone floors, polished beige marble countertop and a breakfast bar dining island presents a familiar characteristic for a sophisticated kitchen. A white candle light chandelier ties up the overall style of the decor.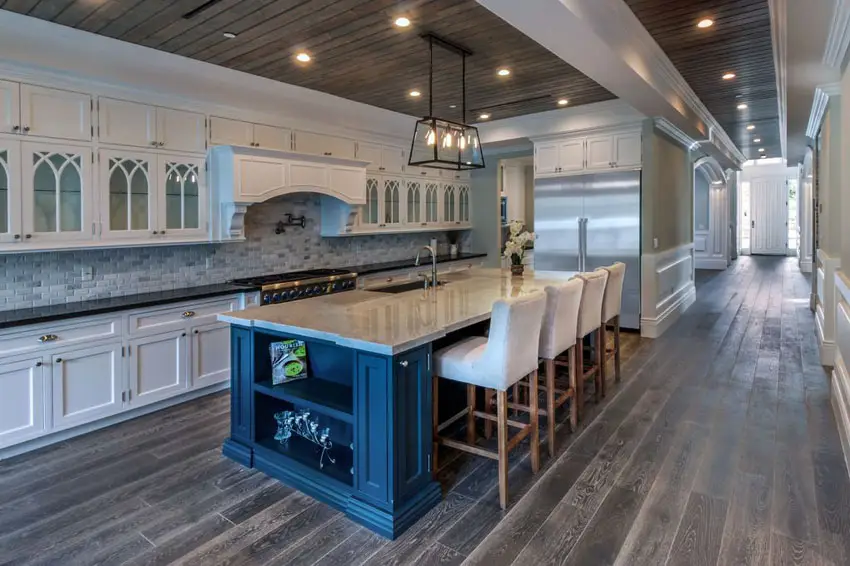 Although the size of this kitchen is spacious, a galley style counter works efficiently providing a generous hallway leading to the residence's main entrance door. Classic traditional white inset cabinet doors paired with glass front wall hanging cabinets give a more open feel. Carrara marble top for the dining island with blue color cabinets for extra storage and offers an interesting focal point. The gray oak flooring which extends all the way to the front of the house, stainless steel appliances and stone tile backsplash adds a modern touch all together.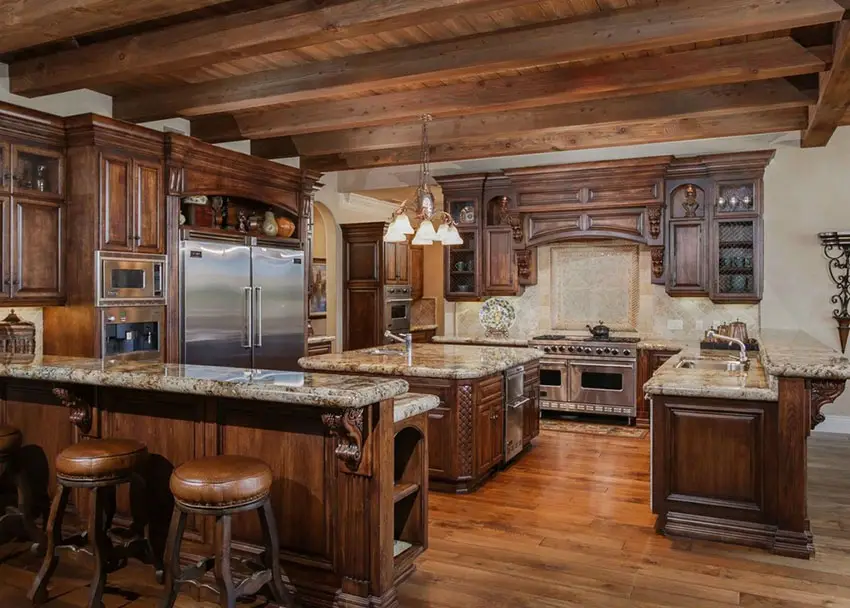 Timeless crown molding, dark wood tone with raised-panel cabinet is an epitome of a Tuscan style kitchen. Marble countertop, natural stone backsplash, solid wood ceiling beams, wood flooring and hanging pendant light warms up this luxurious Tuscan style kitchen. The different height breakfast bar counter allows the host to entertain and socialize while preparing meals.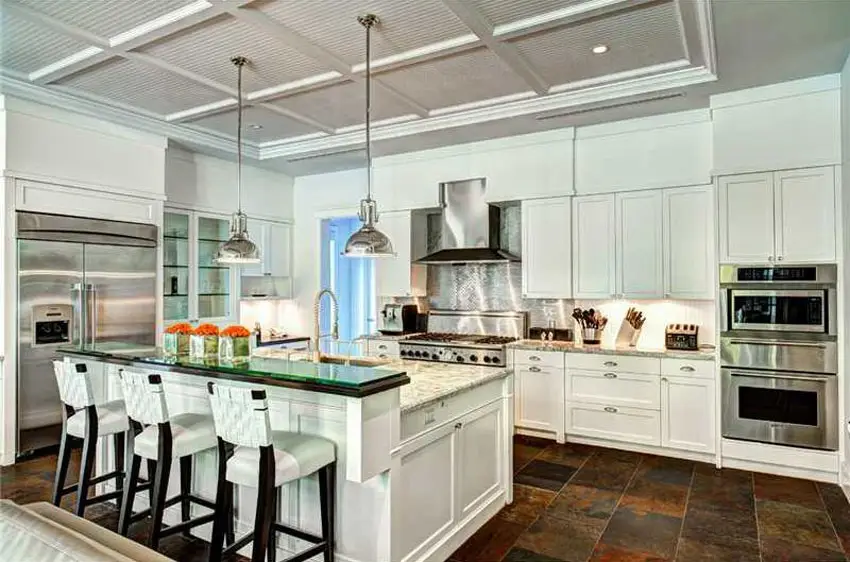 This white Shaker style cabinetry with polished marble countertop is still a classic design for a kitchen. Stainless steel appliances, accessories, industrial lighting and metallic backsplash provide a modern twist. Raised glass countertop for the breakfast bar is very functional, durable and stain resistant. Copper rust slate tile flooring showcase a rich color palette, pattern and texture.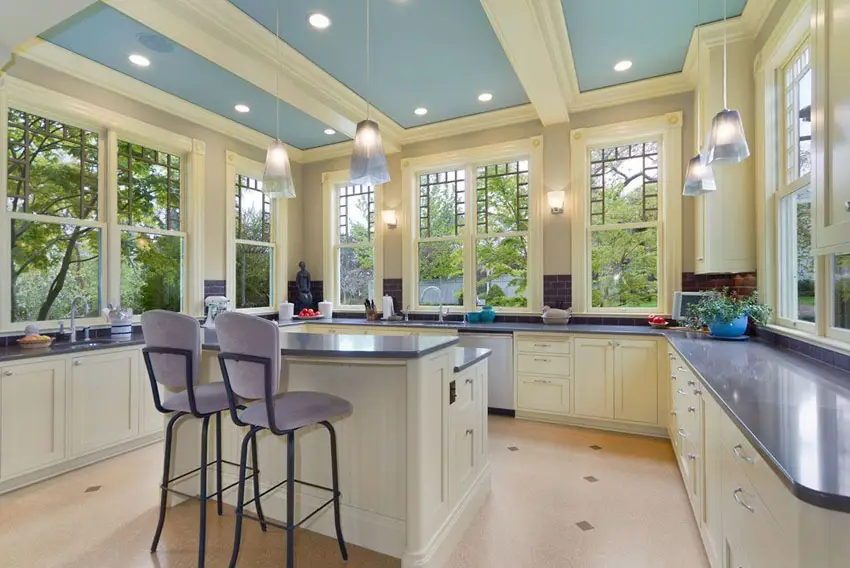 Playing around with colors is fun. Cream colored kitchen cabinets with a shaker style design with matching window frames and ceiling beams lengthen this kitchen area. Dewy blue color painted ceiling gives more height and a perfect fit for the raised breakfast bar, high chairs and chic vintage pendant lights. Recessed ceiling spotlights and wall scones provides ample lighting for food preparation. Blue engineered quartz countertop works best for their stain, scratch, and heat resistance to name a few. Sleek custom patterned ceramic tile is super easy to clean.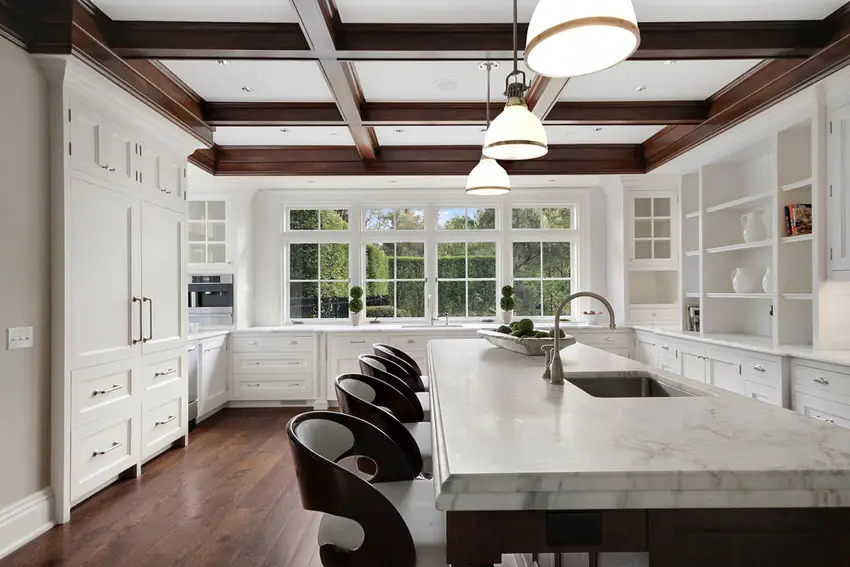 Elegantly beautiful, this dark tone wood coffered ceiling blends well with the warmth and charm of the solid wood flooring. White inset Shaker cabinets with white Carrara marble counter gives this kitchen a tasteful and modern palette. The dark tone solid wood island counter with sink and oversized pendant lights provides more countertop space for dining, food preparation and adds contrast to the white chromatic scheme.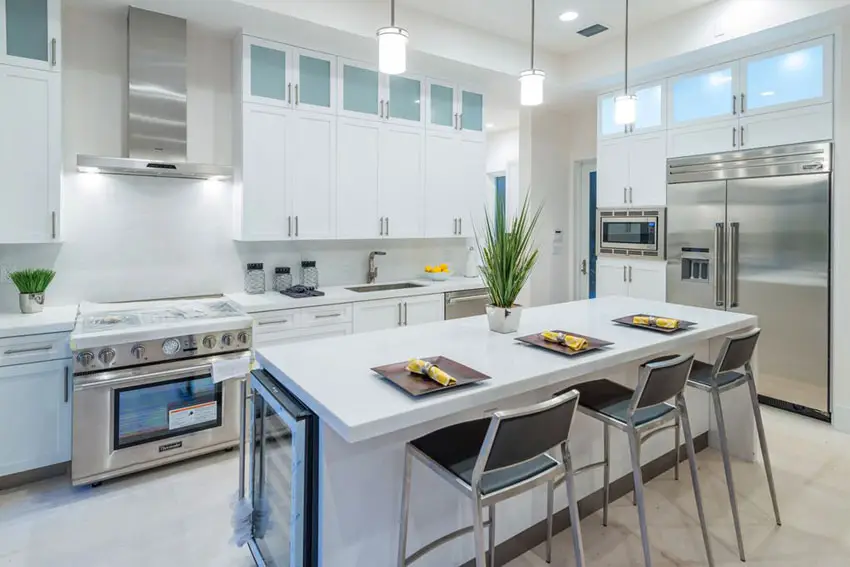 This contemporary white scheme kitchen with white Corian solid surface countertop gives this kitchen a sleek modern style. A classic Shaker design cabinetry and custom design wall hanging cabinets which extends up to the ceiling has glass front for a light and open feel. The breakfast bar provides a space for the beverage center to be tucked neatly away adding more character to this kitchen island cabinetry. Stainless steel appliances, high chairs and pendant lighting fixture enhances a modern style ambiance.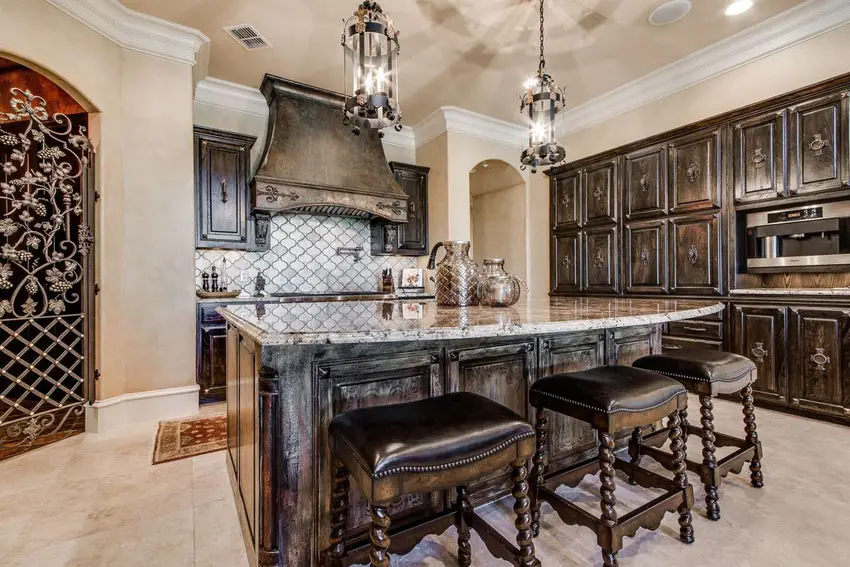 Mediterranean style kitchen design incorporates wrought iron door with intricate design, rustic dark tone solid wood cabinetry with granite countertop and mosaic tile backsplash which reflects the charm of the region. Soft cream hues for the ceiling, walls and floors provide an elegant and dramatic contrast. Curved counter of the island bar, spiral bar stool legs and a traditional patterned carpet depicts a prominent Mediterranean influence.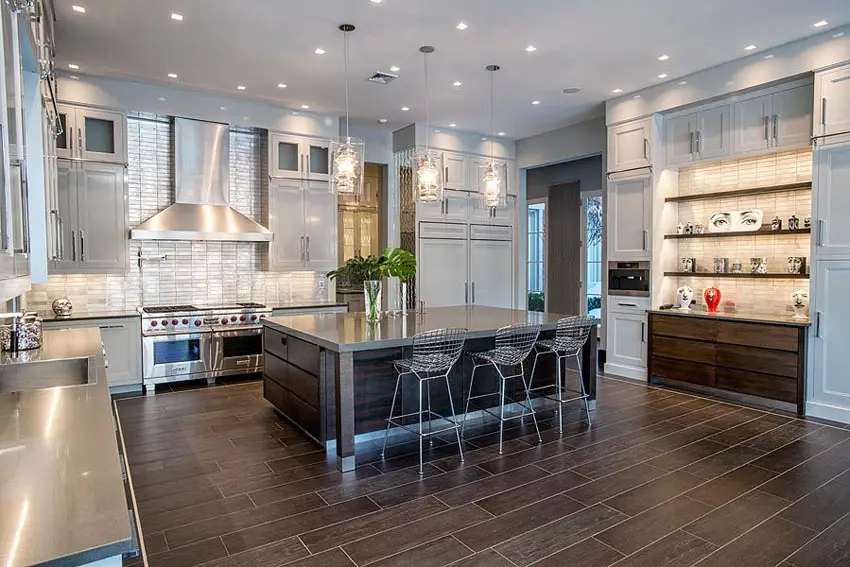 Stainless steel counter to ceiling backsplash, wall mounted chimney type range hood, sleek appliances and countertop levels up the gloss factor and industrial look of this contemporary kitchen. Dark tone wood display cabinet shelves and custom floor to ceiling cabinets blends seamlessly with the wood base cabinetry of the breakfast bar island and the faux wood glazed porcelain tile flooring.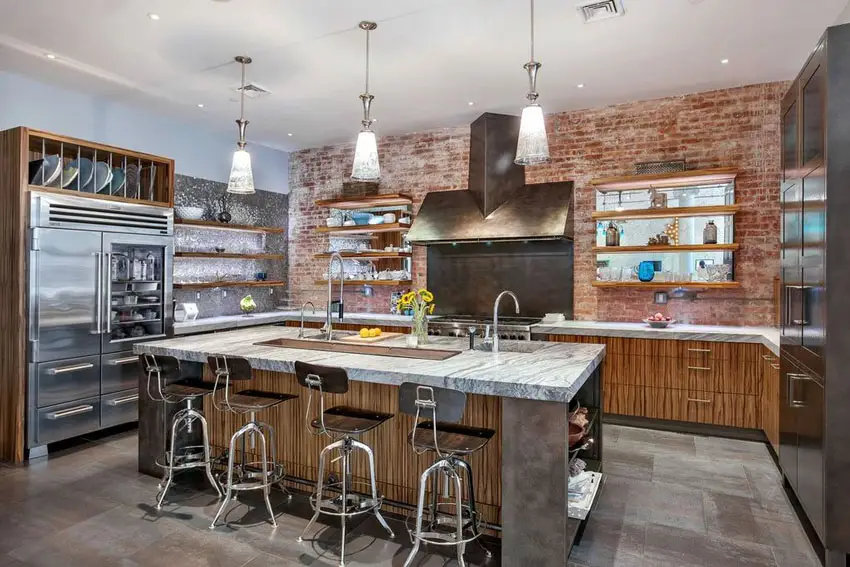 A contemporary kitchen with an eclectic style, shows a rustic accent brick wall with pass-through shelves for display and allows connection with the other areas of the house. White marble countertop , chimney-type wall mounted hood, stainless steel appliances, metallic mosaic tile backsplash , industrial bar stool, flat-panel cabinetry with Zebrano veneer finish, delicate pendant lighting and porcelain floor adds a modern scheme to the design. This island counter is very functional and provides an added storage space.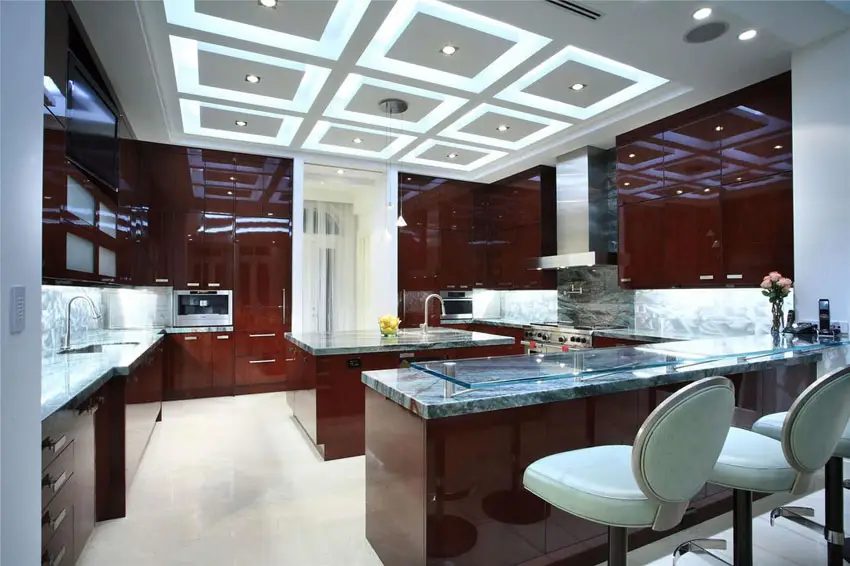 This contemporary kitchen showcases a flat-panel floor to ceiling high sheen dark cabinetry. There is a good source of general lighting from the ceiling and under cabinet lights. Polished marble backspalsh and countertop adds texture. A modern floating glass table over the breakfast bar island is a space saver.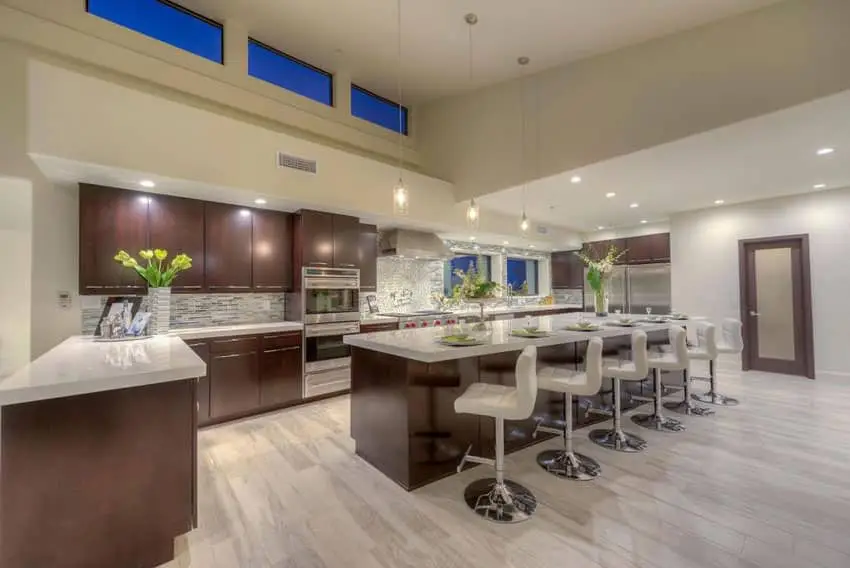 This long breakfast bar island is a perfect stage to show off that new recipe. The oak laminate flooring and matchstick tile backsplash gives texture and contrast to the white quartz countertop and flat-panel dark tone wood cabinetry to this contemporary kitchen.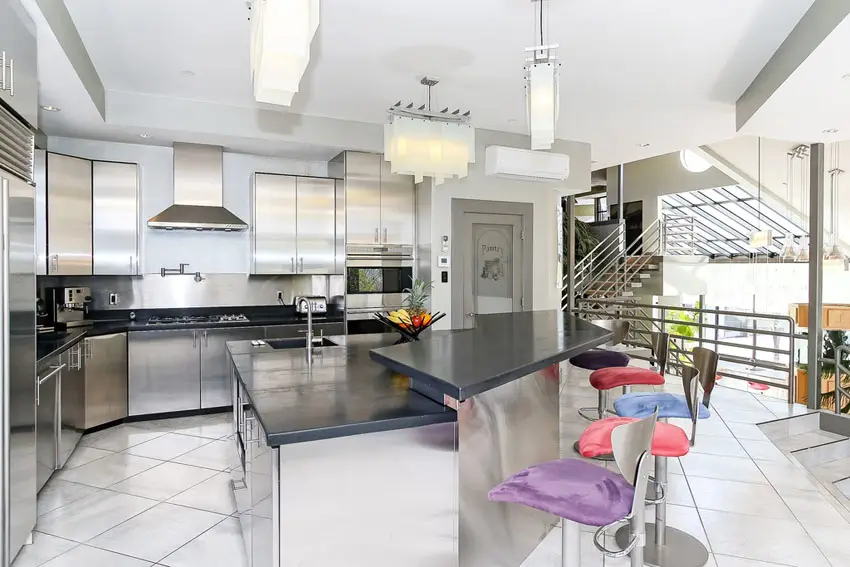 Custom made raised breakfast bar counter with honed granite countertop adds a twist to the stainless steel kitchen cabinets and appliances. Multi-color bar stool cushions provide a vibrant and lively contrast to the white ceramic tile flooring.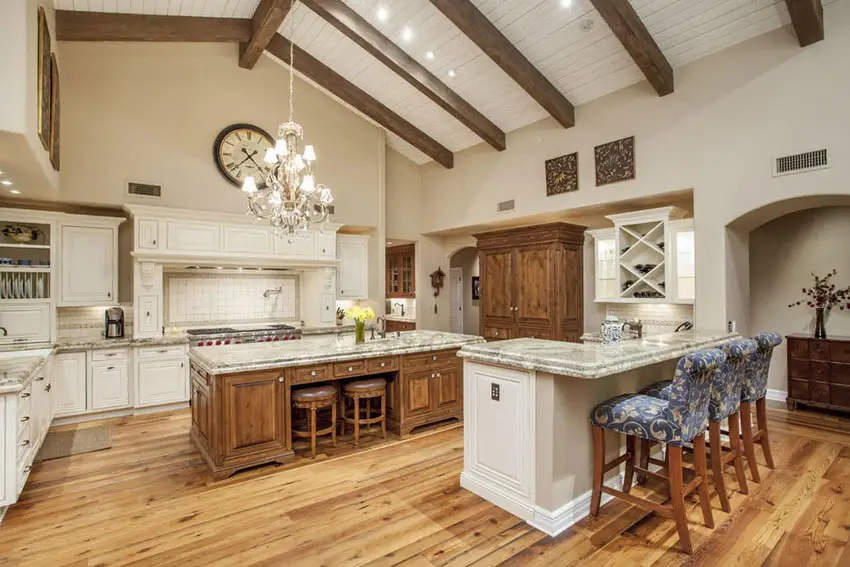 This contemporary kitchen offers two dining areas, from the raised breakfast bar peninsula or the central island. The design showcases a high vaulted ceiling with solid wood beams that blend well with the solid wood flooring. River white granite countertop and white cabinetry with white ceramic tile backsplash gives this kitchen a classic ambiance. Crystal chandelier adds elegance to the space.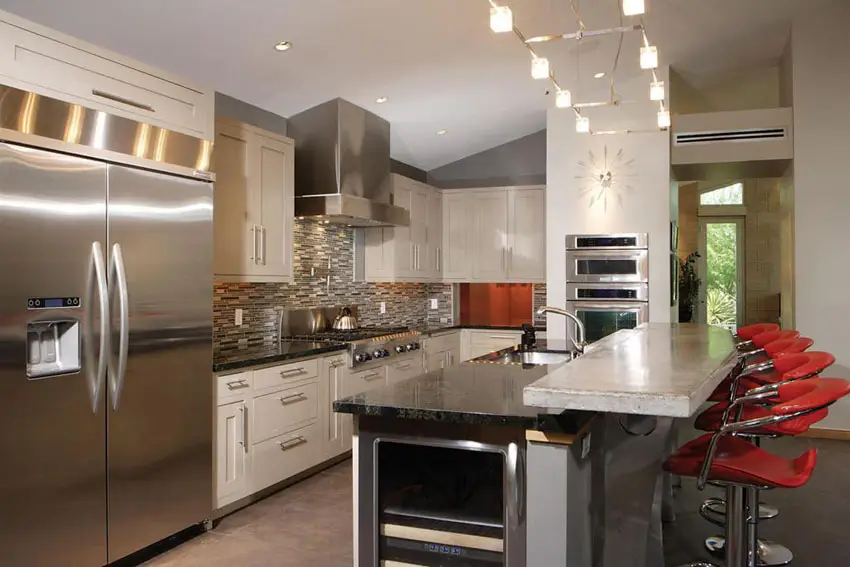 A contemporary U-shape kitchen with white Shaker style cabinets, multi-color matchstick tile backsplash, stainless steel appliances and dark polished granite countertop offer a high-end appeal. The raised breakfast bar made use of a recycled countertop for added texture.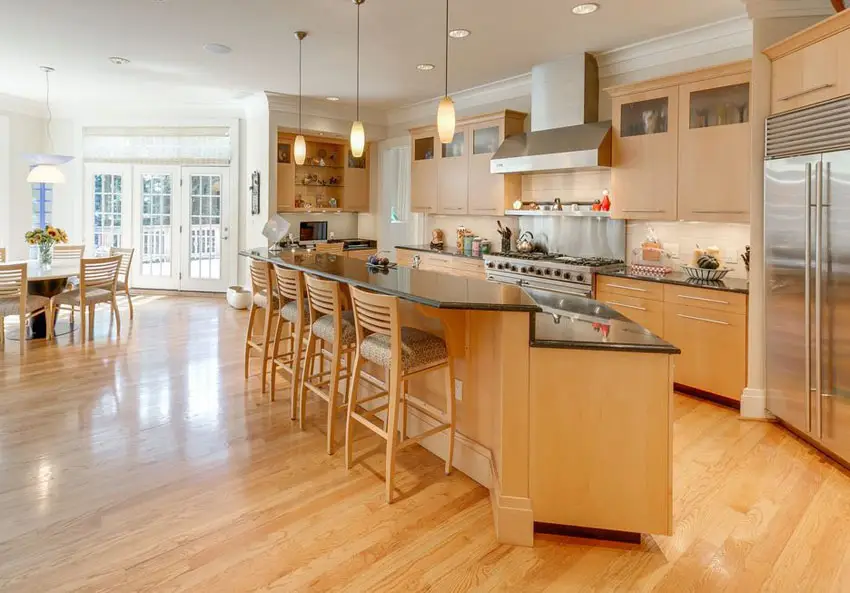 This Transitional style kitchen uses a neutral cream color across the flat-panel cabinets, raised breakfast bar island and honey colored engineered hardwood floor. Absolute black granite countertop, stainless steel appliances, dining chairs and bar stools with simple lines, classic pendant lights and minimal accessories provides a sophisticated feel to fit a modern lifestyle.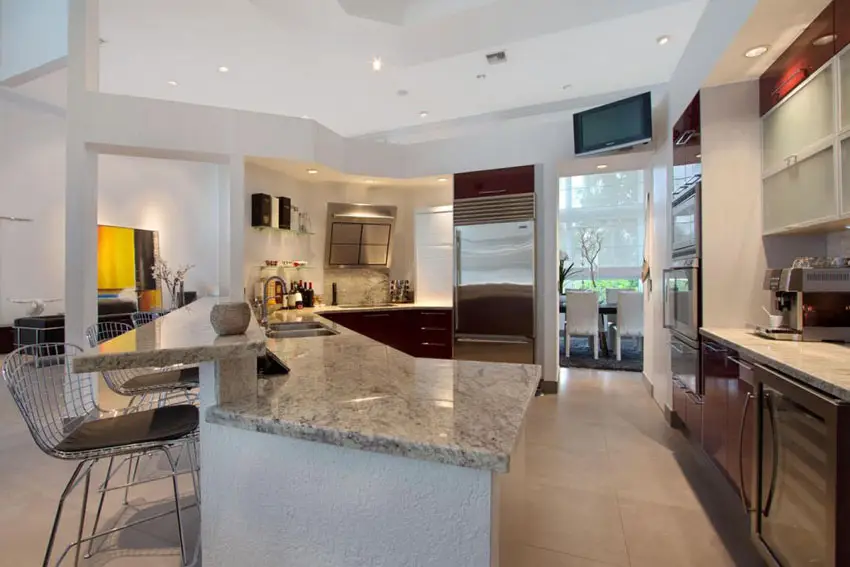 A trendy modern kitchen with custom shape Bianco Romano granite breakfast bar island is perfect for casual entertaining of guests. Contemporary kitchen cabinetry and stainless steel appliances flawlessly compliment the design theme.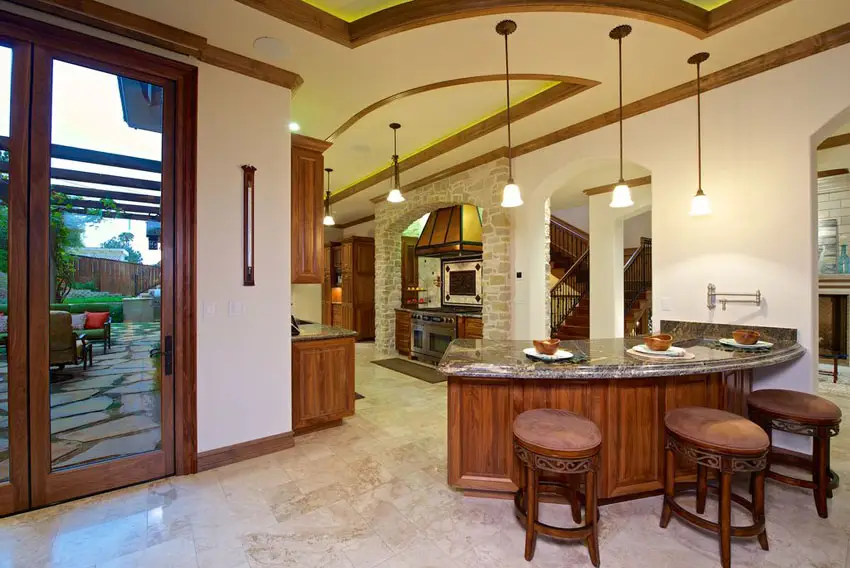 An open plan kitchen showcases different work zones in order to maximize efficiency in this spacious area. Each work zone has appliances and fixtures according to use such as preparation, cooking, baking, serving, eating, cleaning and even a coffee area. The breakfast bar counter is set to the side of the room to better entertain and serve guests.
Breakfast Bar Countertop Ideas
A cozy and simple kitchen island with bench seating and a butcher block breakfast bar island. The raised butcher block bar is ideal for eat-in dining or for those who wish to help prepare food. The remainder of the island has a beige granite countertop with a built-in oven, stovetop and plenty of room for mixing ingredients, baking and other kinds of food preparation.
The classic Shaker style cabinet is painted in two color palette – traditional white and distressed grey for the bar island. The warm medium tone hardwood flooring, modern pendant lights and beige color wall gives a French country feel design. The stainless appliances, cushioned bar stool, and fully upholstered couch by the sitting area provide a perfect balance between country and contemporary scheme.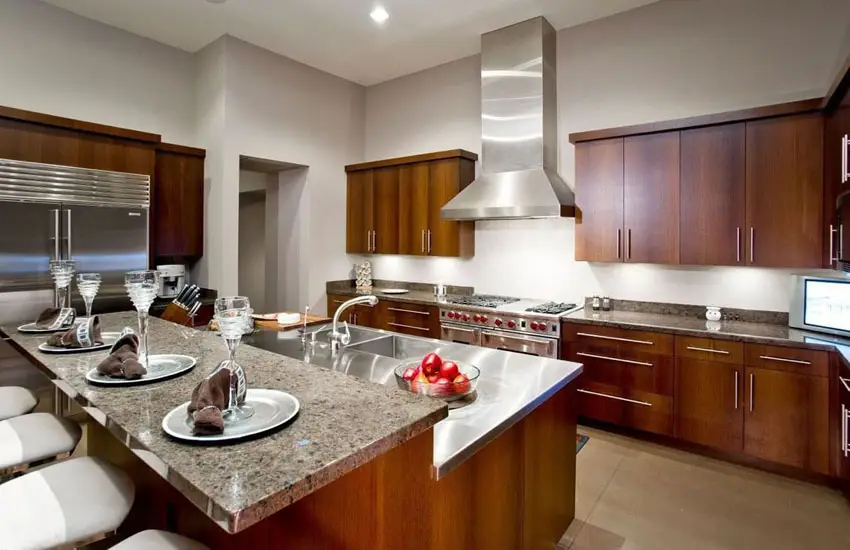 European style flat-panel cabinetry in veneered wood finish has a sleek streamlined look. Raised granite island breakfast bar is combined with a stainless steel countertop with a double-bowl sink. Stainless steel appliances, laminate flooring, granite countertop with low backsplash and plain white painted walls shows a typical minimalist style with great functionality.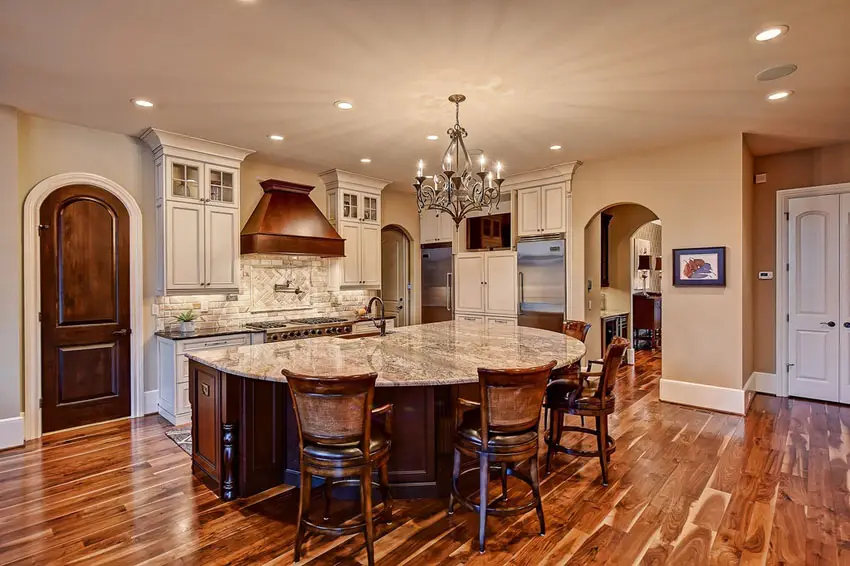 This Tuscan inspired kitchen is designed with crown molding, inset framed white cabinetry combined with a dark tone semi-circle island with polished beige marble countertop. Natural stone backsplash, copper range hood, arch doorways, beige painted walls, medium tone hardwood floors, iron candle light chandelier and dark hardwood dining bar stools bring together all elements of a Tuscan style kitchen.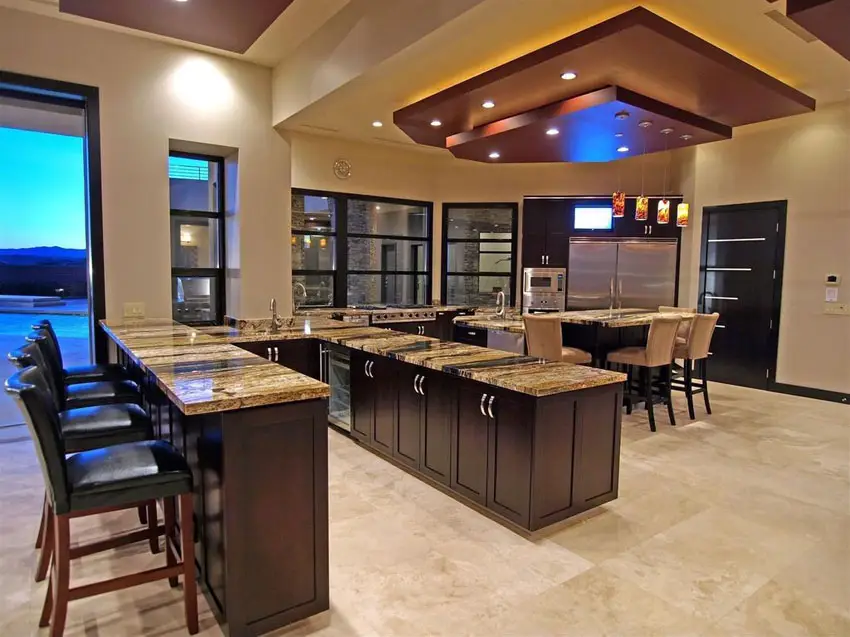 For this design a luxury kitchen peninsula separates the kitchen from the breakfast bar island creating an additional space for food preparation. Polished granite countertop, Shaker style cabinetry in dark tone wood finish, travertine flooring, wide paneled glass window, pendant lighting and stainless steel appliances makes this kitchen elegantly modern.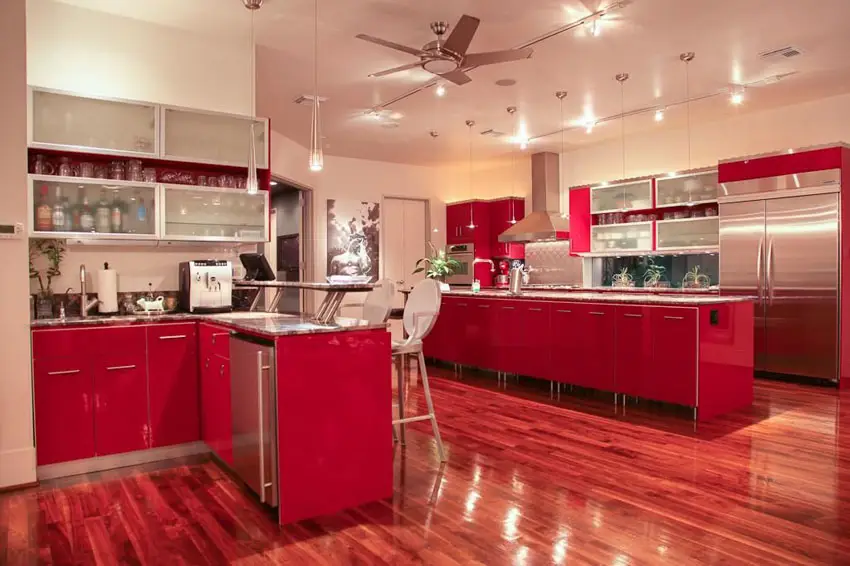 This sleek modern kitchen features red high-gloss finish cabinets with stainless steel appliances and high-pressured laminate flooring. Raised breakfast bar dining counter conceals a wine and drinks cooler and functions as a room divider which separates the main kitchen area from the eating area; creating a perfect sitting area for entertaining guests.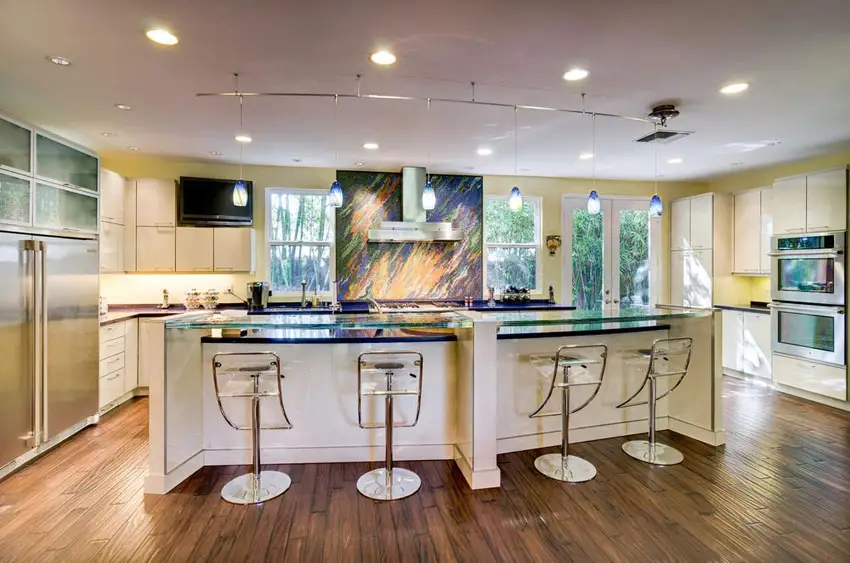 This trendy modern kitchen design showcases a raised breakfast bar island with glass countertop, laminated flooring, chrome finish bar stools, stainless steel appliances, white flat-panel thermofoil cabinetry and gorgeous dual color pendant lights. The painted glass sheet backsplash is the main focal point of this luxurious kitchen.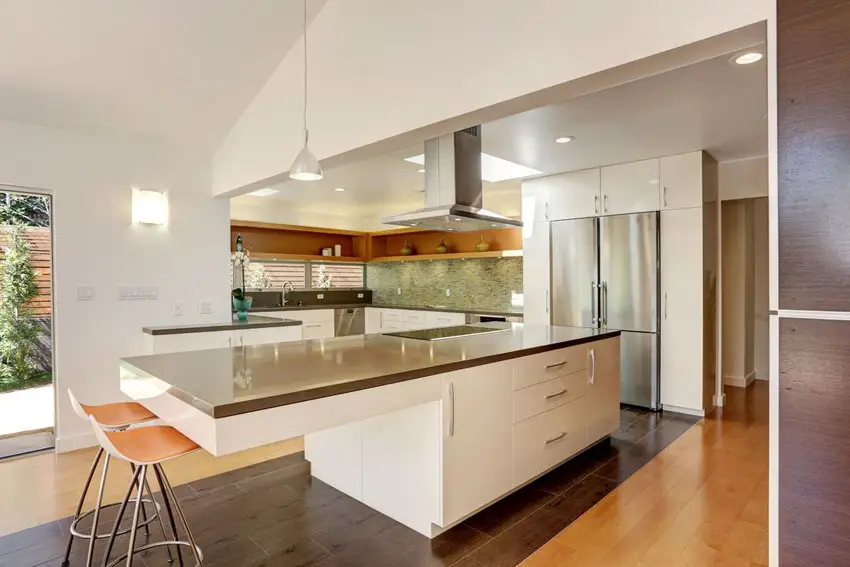 Kitchen islands with breakfast bars come in many shapes, sizes, layouts, and styles. This modern eat-in kitchen offers a distinct design with ample leg room for guests. The kitchen features white high-gloss thermofoil flat-panel cabinets, with simple and sleek veneer laminated open wall hanging cabinets and a stainless steel countertop. The appliances, ceramic tile backsplash, and two-tone fauxwood flooring showcase great visual interest and elegance to this modern kitchen design.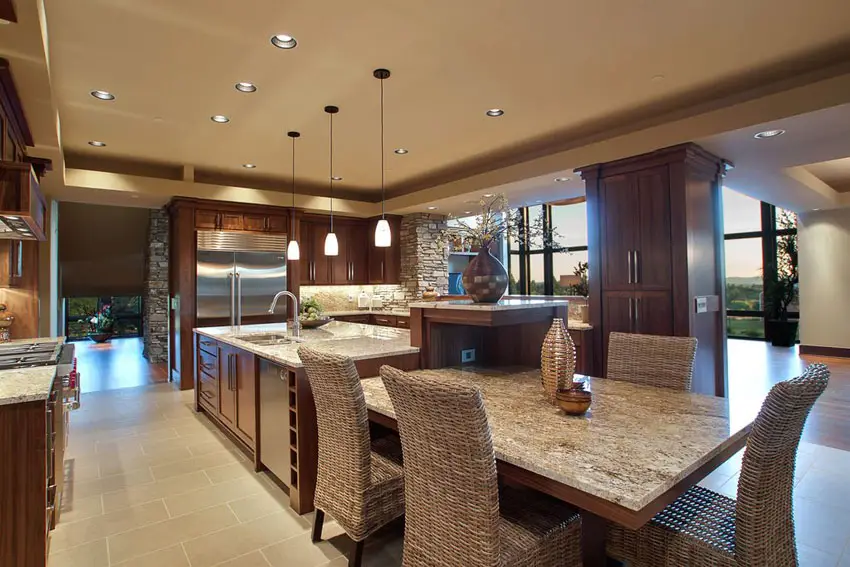 This luxurious traditional kitchen features floor to ceiling medium tone raised-panel cabinets combined with almond gold polished granite countertops. The large kitchen island with seating has an under mount sink and an end breakfast bar dining area. Cove ceiling with recessed spot lights and pendant lights adds drama and warmth to this kitchen. Natural stone flooring creates an elegant classic touch.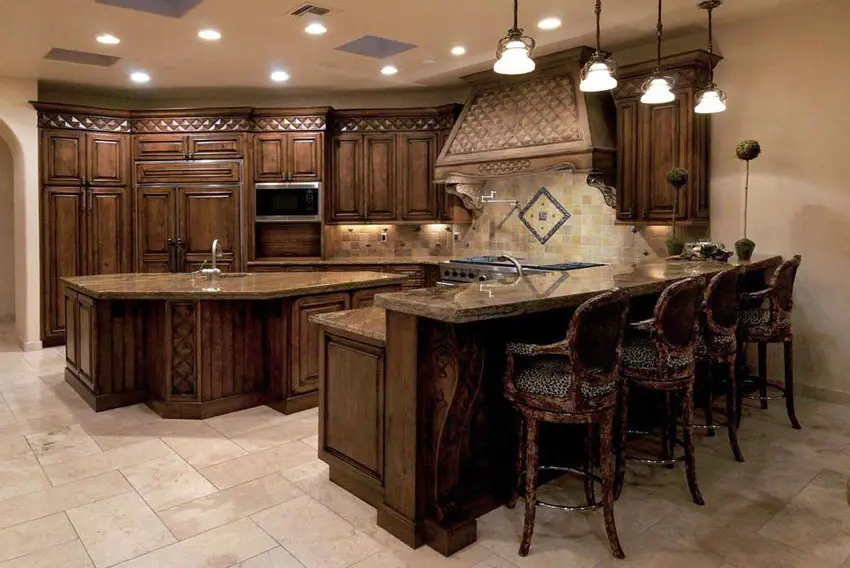 A dark cabinet Mediterranean inspired traditional kitchen. Earthly colors of the porcelain flooring, mosaic tile backsplash, polished granite countertop, raised-panel heavy, dark wood cabinetry with diamond carved design and crown moldings, which extends to the design of the range hood gives the space a rustic warm feel. The island with under mount sink provides a spacious working area for food preparation. The breakfast bar with heavy solid wood and primitive design retains the Old World elegance.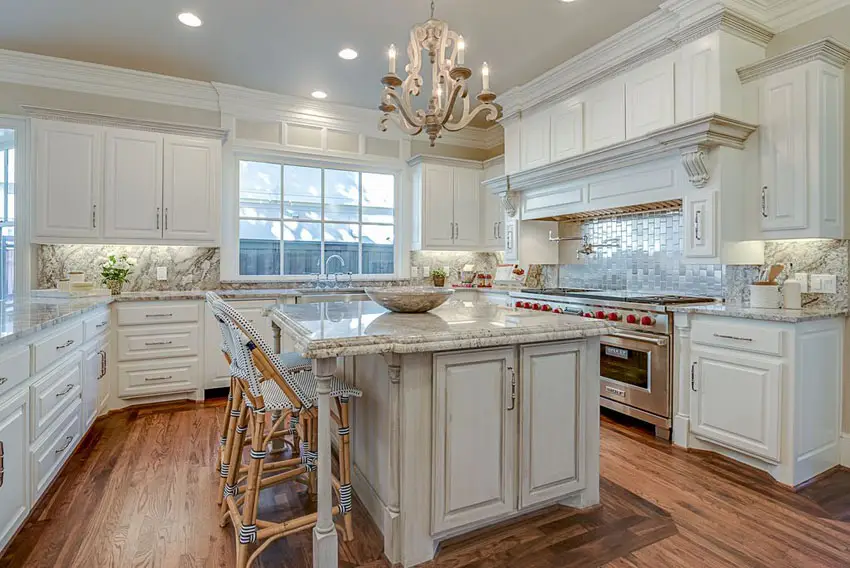 A traditional kitchen with classic white raised-panel cabinets and crown molding blends well with the Aspen white granite countertop and travertine backsplash combined with subway white wall tiles. The breakfast bar island with distressed white raised-panel cabinetry and baluster support adds functionality to this kitchen. Two-tone patterned wooden flooring, candle light chandelier and stainless steel appliances provide accent and balances the color scheme.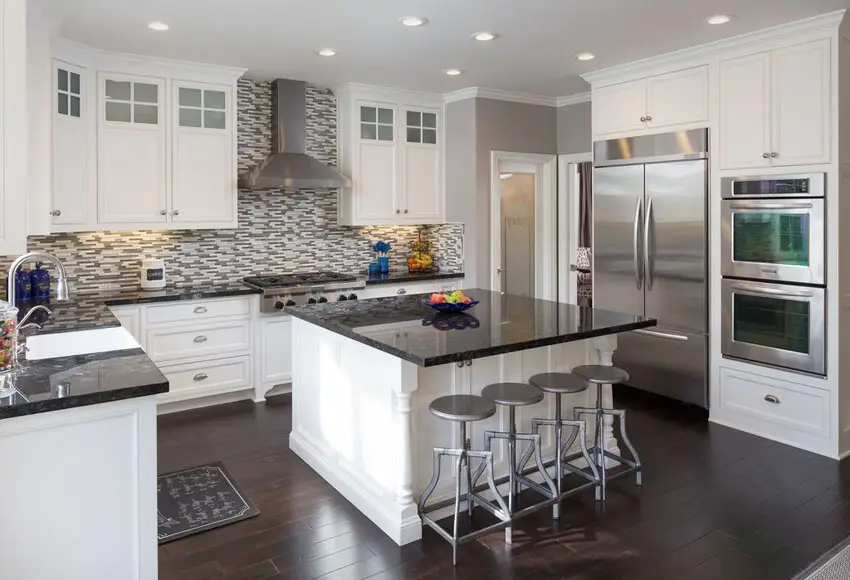 A traditional U-shaped kitchen with crisp white framed cabinets which extends up to the ceiling combined with glass front stands out against the dark tone wood flooring and black granite countertop. Modern stainless steel appliances, silver powder coated kitchen stools, neutral colored mosaic backspalsh compliments the scheme. The large island counter provides a gorgeous focal point.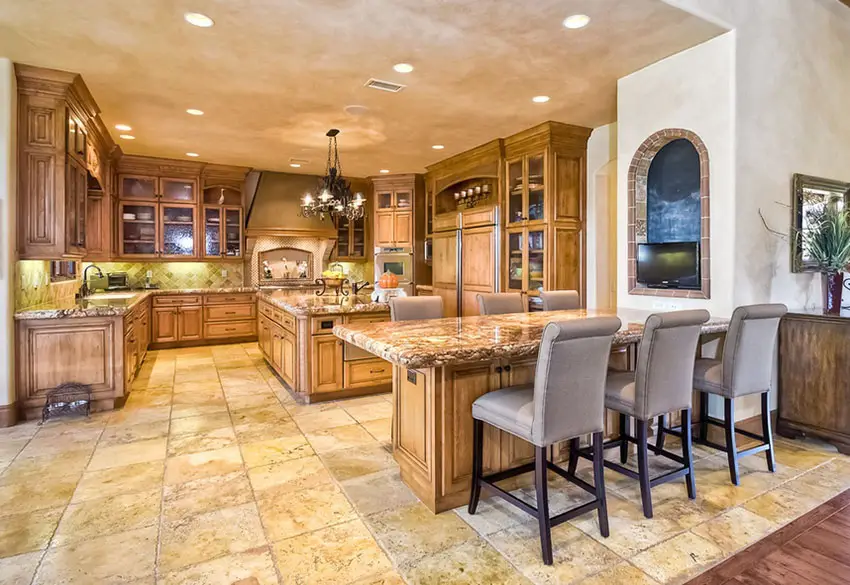 This lovely Mediterranean inspired kitchen design offers plenty of room for dining from its large double sided breakfast bar peninsula. Big enough to accommodate up to six people comfortably the breakfast bar has a light wood cabinet and a beautiful brown granite countertop. A center island provides an effective kitchen work triangle separate from the eating space.
Breakfast Bar with Sink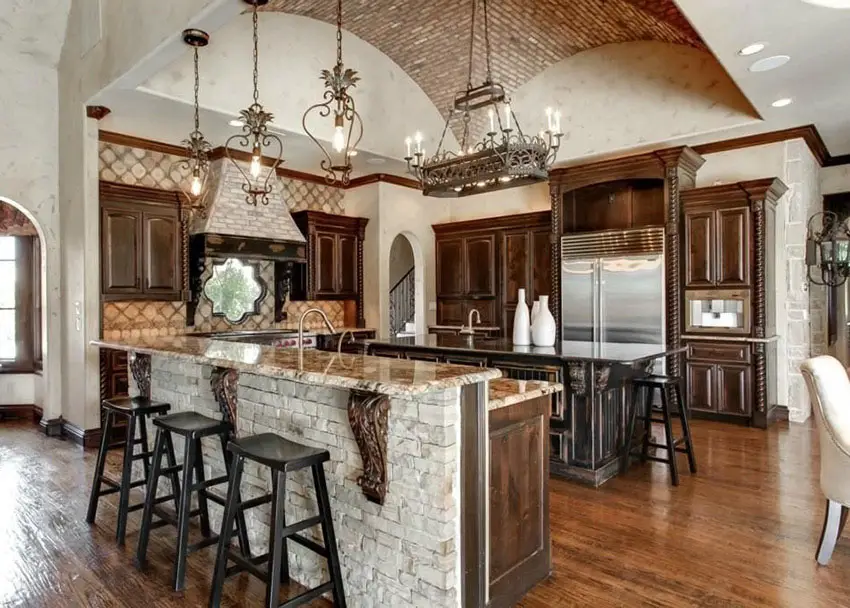 A hallmark of a Mediterranean style design – crown moldings are incorporated as support for the raised breakfast island bar with natural stone backing. The solid wood dark tone finish raised-panel decorative kitchen cabinet uses crown molding as cornice.
This double island kitchen design has a second center island has a distressed grayish black finish with smaller crown molding supporting a jet black polished granite countertop. Mosaic tile backsplash and granite countertop in beach-like sandy tan color depicts a Mediterranean seascape. A medium tone hardwood flooring adds more warmth to the room.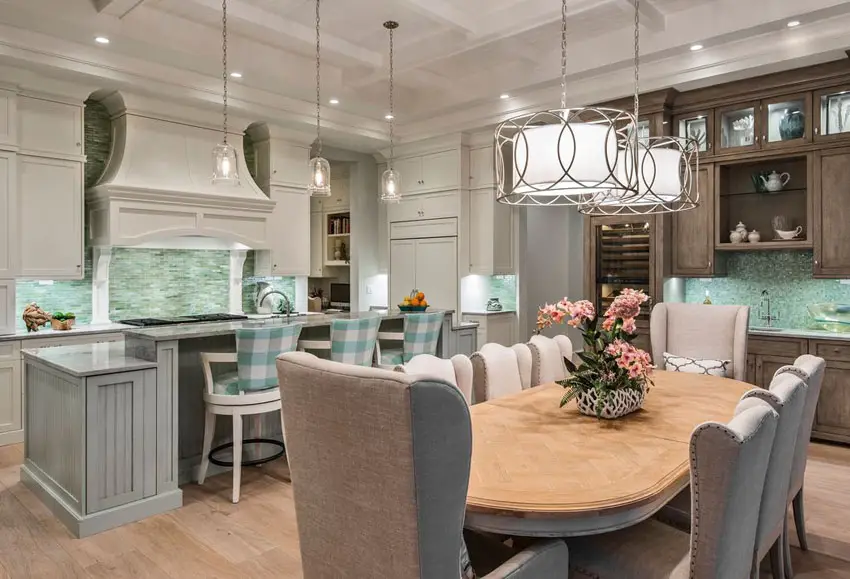 A comfortable and welcoming open concept design is perfect for entertaining family and friends. A traditional inspired chic cottage style kitchen with raised, beadboard cabinetry island breakfast bar offers a lot of space for food preparation and dining. White framed inset panel cabinets which extends to the ceiling gives this kitchen a bright and clean feel. A display cabinet in medium tan color finish with glass front provides a warm accent and balance to the design and color scheme. Cool sea green matchstick and mosaic ceramic tile backsplash, glass pendant lights and modern silver frame drop lights makes this kitchen look very high-end.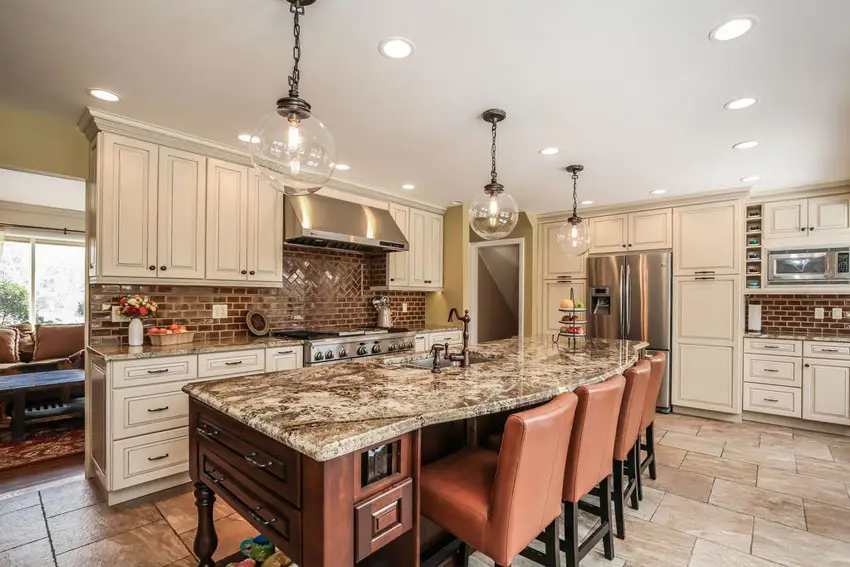 A traditional kitchen inspired by a transitional style which allows ease of movement between kitchen and living room. A dining island with polished marble countertop is designed for a more functional center piece – for food preparation, additional storage space and a pub-style seating and dining space. Porcelain flooring and glazed brick backsplash features textural element. Glass bowl pendant lights, rustic sink faucet, stainless steel appliances provide a touch of embellishment.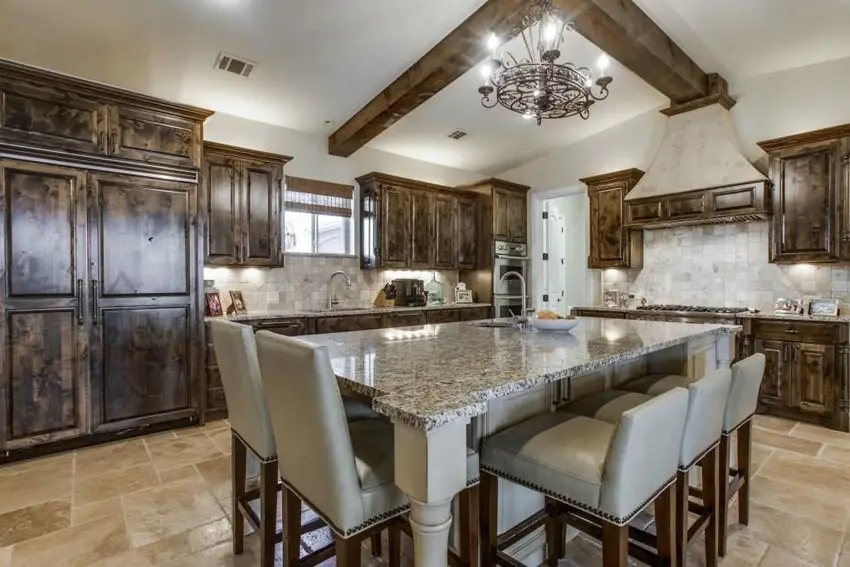 Pictured above is a traditional L-shape kitchen layout with the old world charm and elegance of a Mediterranean inspired kitchen. The space features the Mediterranean theme through the use of dark stained raised-panel cabinets. The sandy beige colored porcelain flooring mixed with the whitewashed natural stone backsplash compliments a bright and welcoming feel.
Polished granite countertop, the sleek look of stainless steel appliances and the antique white color of the leather upholstery of the dining chairs gives this Mediterranean style kitchen a light modern feel. The large dining island with white framed inset cabinet and wrought iron chandelier ties up every design element.