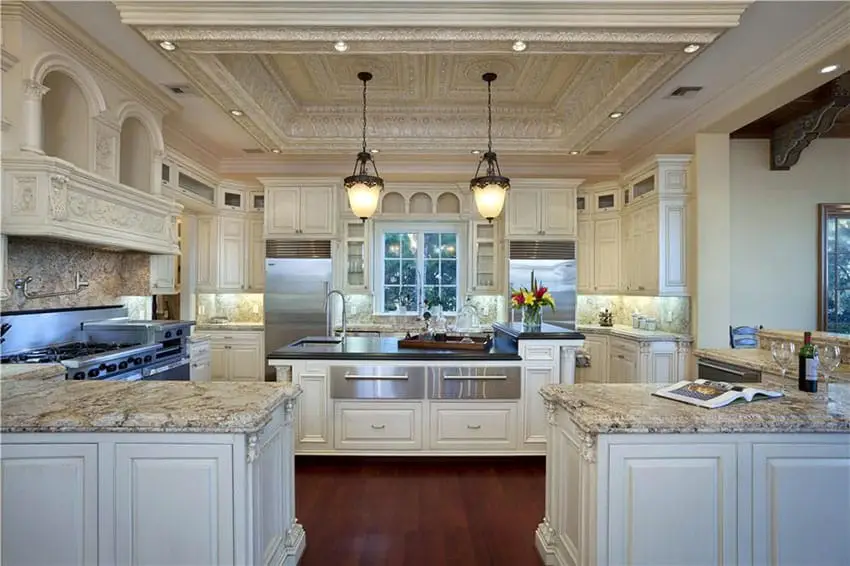 This gallery showcases gorgeous kitchen peninsula ideas from a variety of design styles. A peninsula is an island that's connected to a wall of the home. Kitchen layouts that are not large enough to accommodate a stand alone island can benefit from adding a peninsula.
This can provide additional counter space for food prep and eat-in dining. Below are an assortment of kitchen layouts with peninsulas to help you find the one that's right for your specific style.
The image above features a beautiful cream cabinet kitchen with wrap-around granite countertop peninsula. Decorative molding and a detailed tray ceiling give the space a sense of elegance, while the tortoise shell pendant lamps and recessed lighting provide plenty of illumination.
Additional high-end details make this space stand out, such as the maple wood flooring with cherry finish and the luxury stainless steel appliances. The long dining peninsula provides plenty of opportunities to entertain and gather around the kitchen space.
"The kitchen is the heart of the home." We all know very well that the kitchen is the center of the house because it is a place where we eat and a space to gather as a family and bond with friends.
With the wide range of activities within the kitchen, it requires careful planning to ensure the best possible layout and functionality we can get.
There are several types of kitchen layouts that we can choose from, namely the u-shaped kitchen, the L-shaped kitchen, the galley kitchen, and the one wall kitchen. These layouts may be modified by adding a peninsula or an island to maximize every inch of kitchen space.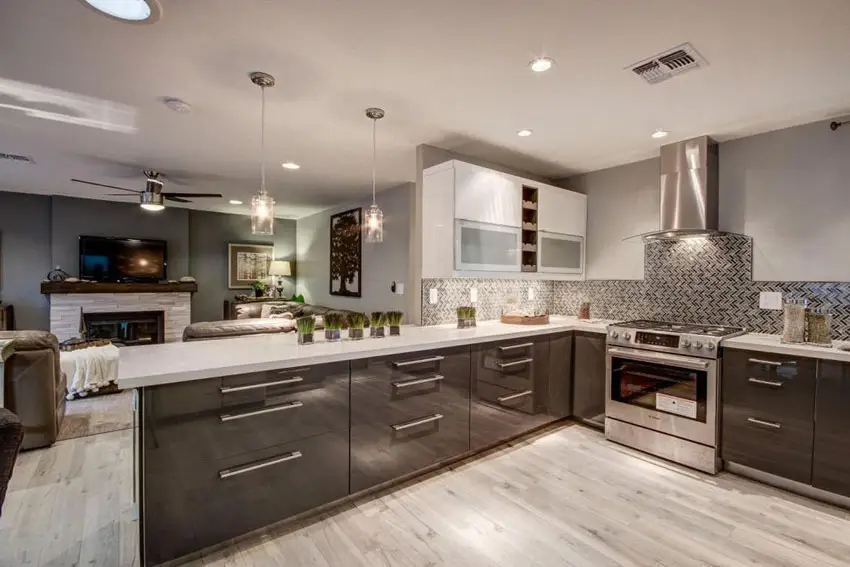 An open concept layout allows this beautiful long l-shaped peninsula with snow-white quartz countertop to create a division between the kitchen and living room.
The white oak floors, which extends from the kitchen to the living room, blend well with the dark tone hi-gloss flat panel cabinetry. Geometric design tile backsplash creates a hip and trendy design scheme.
L Shaped Kitchen with Peninsula
It not only adds aesthetic value to your home but is a space-efficient solution to improve the working conditions within the kitchen.
They can both serve similar functions and have wide versatility. But how do we know if an island or a peninsula suits your home?
The island is a functional addition to a kitchen, usually found in the middle of the kitchen. It also acts as a stunning accent piece because of the variety of finishes that it can be furnished with.
Islands work best for big spaces that accommodate the appended freestanding working counter separated from the kitchen's existing layout.
When added to an L-shaped kitchen layout, it maximizes the space and interaction by directing the work flow into a 4 way direction.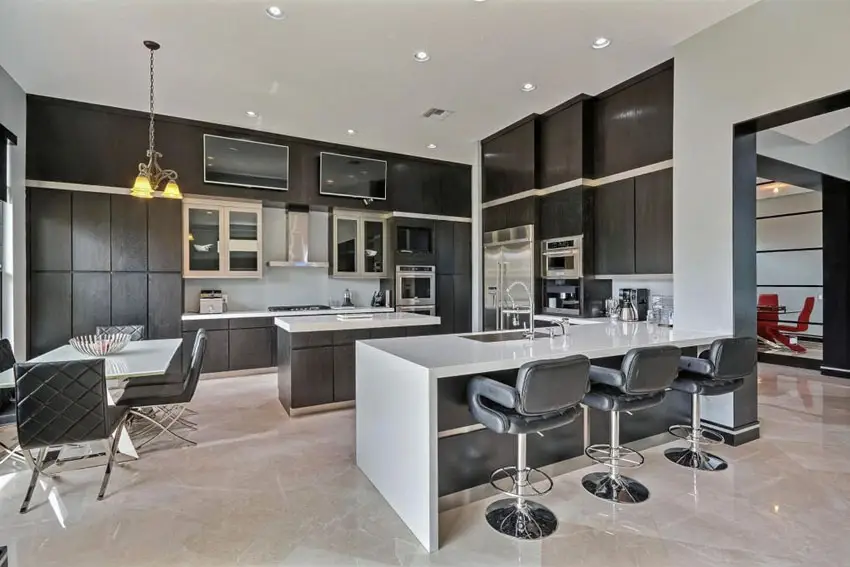 This modern kitchen uses an open concept design incorporating dark tone flat panel cabinetry in veneer wood finish and wall panels which extend up to the ceiling to complement the high ceiling. White quartz countertop and a waterfall peninsula balances the modern color scheme.
Polished marble flooring, stainless steel appliances, modern dining furniture and bar stools completes the modern style trend.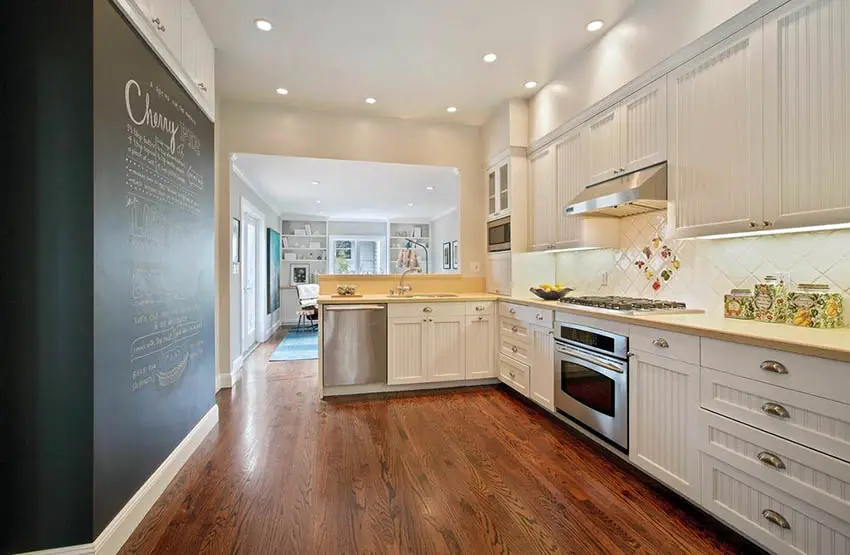 An L-shaped kitchen design with a peninsula generally has a layout with one wall of beadbard cabinets and a peninsula making up the seating area.
This design features a raised breakfast bar peninsula fronting the living room. The kitchen itself is designed with white beadboard cabinets, wood flooring and a creative chalkboard accent wall.
U Shaped Kitchen with Peninsula
When used in a U-shaped layout, it shortens the distance between the different working stations in the kitchen. The kitchen island may be used as an additional working counter, an informal dining space or an extra storage. It is usually furnished with a sink or sometimes a butcher block or a kneading surface to cater to specialized tasks.
On the other hand, the peninsula is basically a connected island with one of the sides attached to the wall. It connects either to a U-shaped or an L-shaped kitchen and may serve the same purpose the island has.
Unlike the island, the peninsula is more practical to use in small spaces because they do not necessarily need floor space in installation.
It works well in optimizing all types of kitchen layouts and may be attached to any existing kitchen counter space. It improves circulation and traffic flow in 3 sides making work more efficient.
The peninsula kitchen can cater to several tasks such as meal preparation, a cooking station, a wash area, an informal dining area, a bar or a breakfast nook.
It can be used to install additional cabinetry and extend storage. It also works well as a divider for open plans separating the kitchen from all other areas in the house.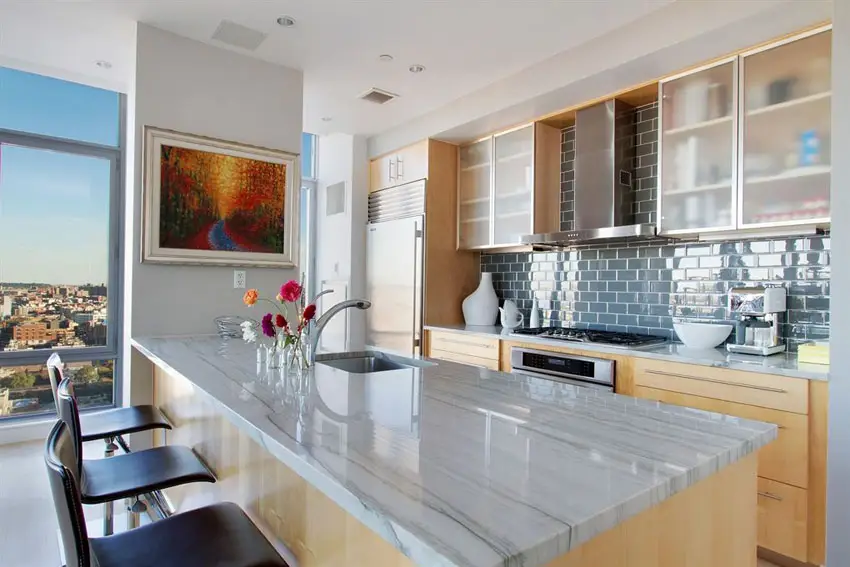 Overlooking the city, this kitchen space has picture windows that effectively brings in natural light and provides a beautiful backdrop.
This small contemporary apartment features a Marmara white marble countertop and a breakfast bar peninsula with under-mount sink, gray subway tile backsplash which extends up to the ceiling.
It also has light tone flat panel cabinetry with smoked glass front panels, stainless steel appliances and ceramic accessories. The lighter tones of the base cabinets contrast nicely against the darker colors of the bar stools, gray quartz counters, and glass subway tile.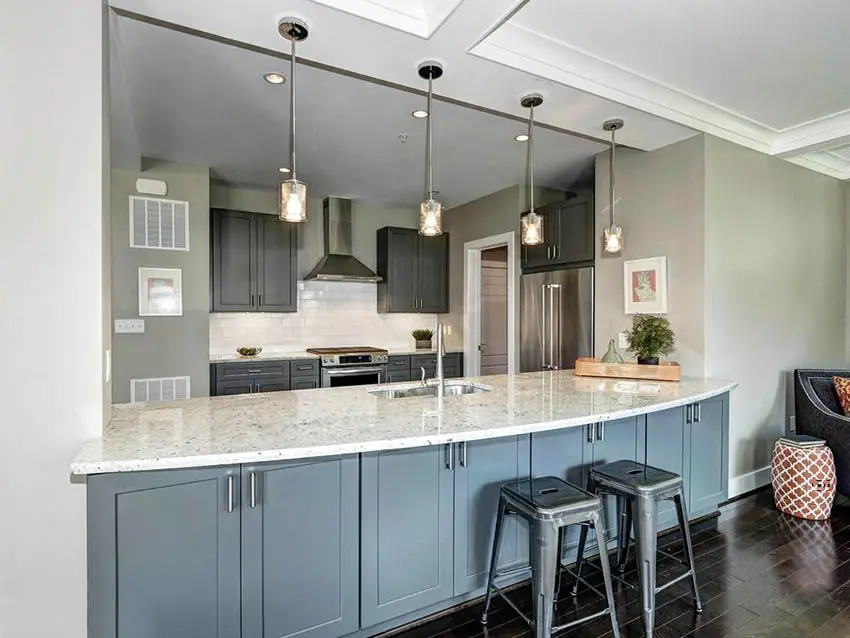 This U-shaped kitchen provides a long peninsula with plenty of room for seating and under counter cabinet space. The two tone cabinets offer a peninsula painted blue and main cabinets in dark brown.
A large white granite countertop looks out to the living room, making this an effective layout for those wanting a more open plan design without losing counter space.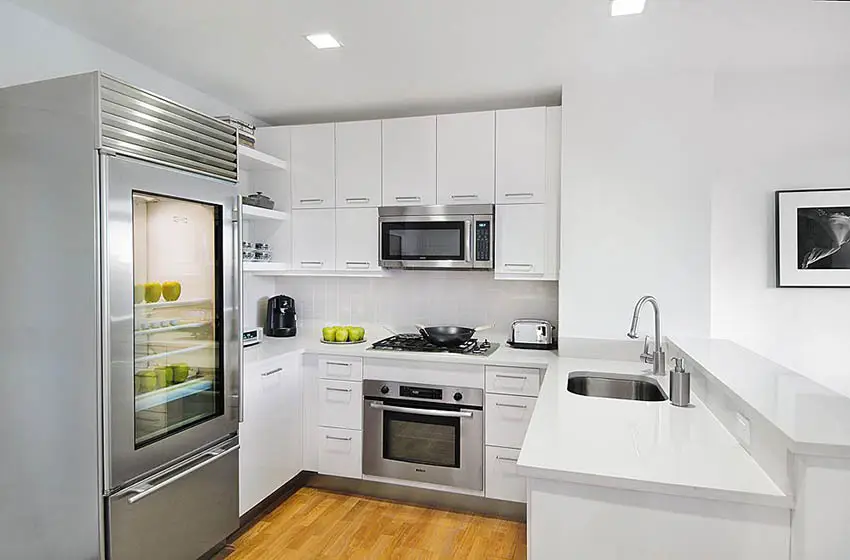 This small contemporary u-shaped kitchen with peninsula packs a big punch in a compact floor plan. With its raised breakfast bar peninsula it makes the perfect spot for eat-in dining or entertaining guests while you prepare or cook food.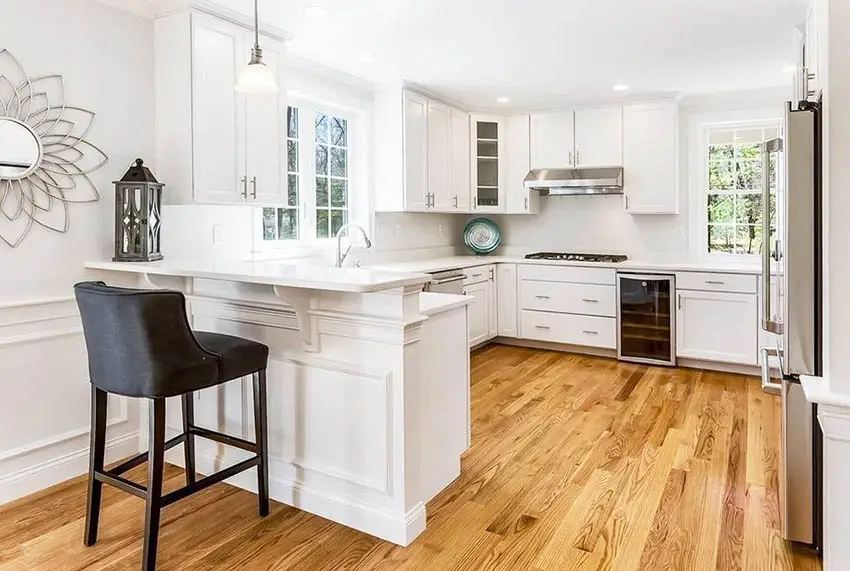 This u-shaped kitchen with peninsula features white shaker style cabinets and casement windows. The peninsula with breakfast bar countertop provide a space for eat-in dining. French windows allow plenty of natural light to keep things bright and uplifting.
Small Kitchen with Peninsula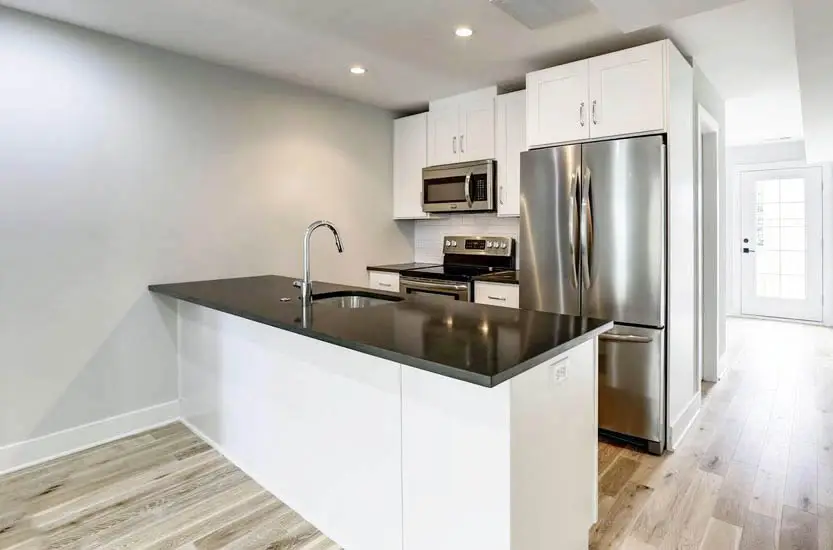 If you have a small kitchen and want to make every inch count, then the peninsula kitchen is the right choice for you. When there is no clearance for adding an island a peninsula makes perfect sense. With careful considerations, there is no limit to how you can get your peninsula kitchen to look like.
The height is adjustable and it doesn't need always need a full base. Lower its height against the existing kitchen counter and you get a stunning breakfast nook for your home or if you want some contrast, you can raise it higher to get a bar to entertain guests.
Furnish it with a wooden countertop and you instantly get a chopping station and meal prep area. Set a granite surface on top of it and have a distinctive focal point for your kitchen.
The possibilities are endless, both design wise and functionality-wise. The task you want to use your peninsula kitchen for will help you determine the appropriate finish material.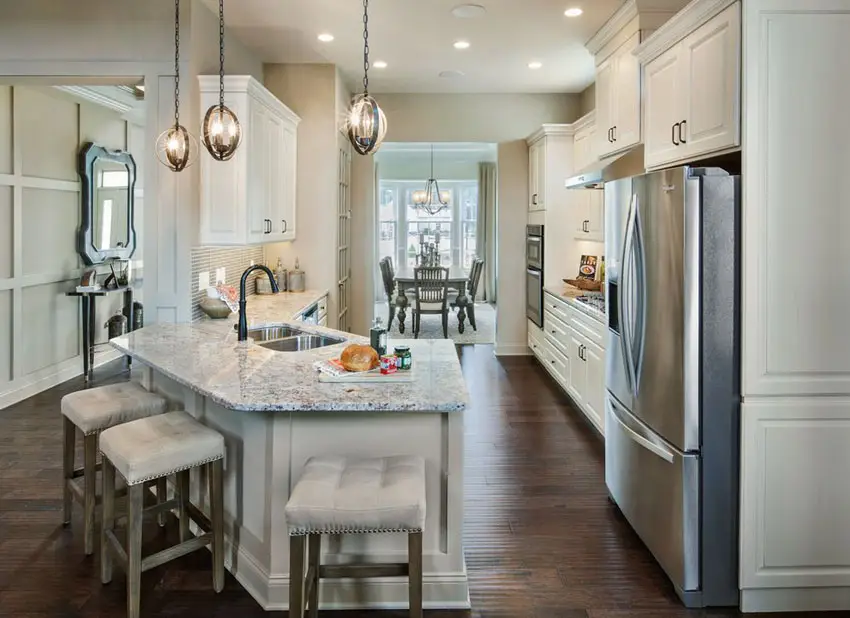 An open concept kitchen design with traditional white raised panel cabinetry and stainless steel appliances. The angled peninsula provides more working space and adds a place for entertaining or to have a quick snack.
The cushioned bar stools can sit three people comfortably while having a nice conversation. Pendant lights over the peninsula are perfect task lighting for kids doing their homework while Mom prepares a special home-cook meal.
Dark tone tile flooring blends well with the polished marble countertop, giving this kitchen a warm and homey feel.
Kitchen Peninsula with Seating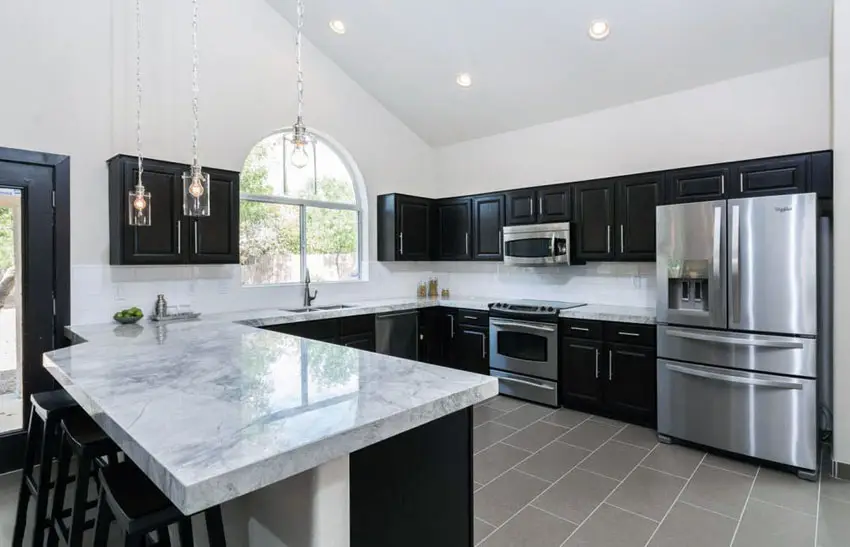 A fully renovated u-shaped transitional kitchen features modern neutral color scheme. Dark tone cabinetry, stainless steel appliances, mini pendant lights enclosed in glass and gray tile flooring completes the modern style design.
The Calacatta Carrara marble counter which extends to the peninsula acts as an informal dining area and storage area for items and accessories.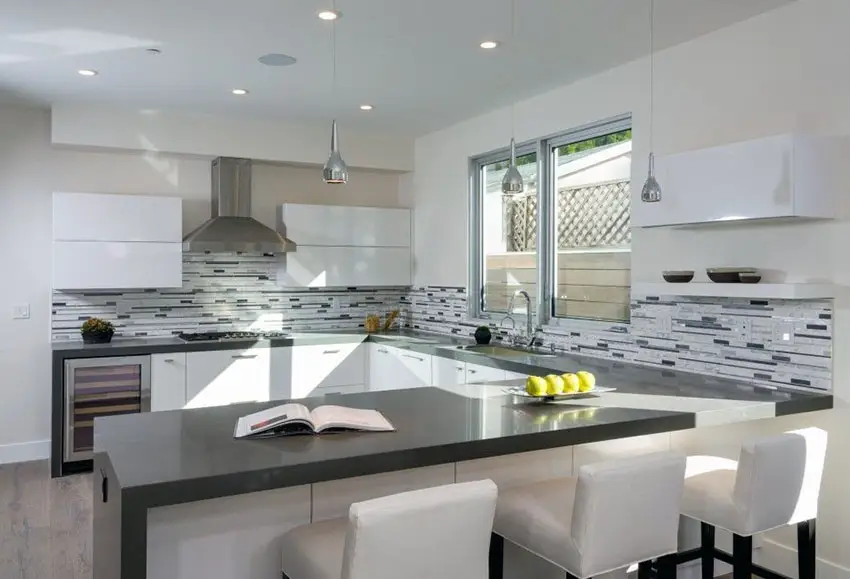 This modern kitchen offers a gray and white theme with a u-shaped design layout. The peninsula provides space for dining and is topped with a gray quartz.
Guests can enjoy their meal while sitting on white leather armless stools. The chrome teardrop pendant lighting, mosaic tile backsplash, and white laminate cabinetry provide a luxurious look to the space.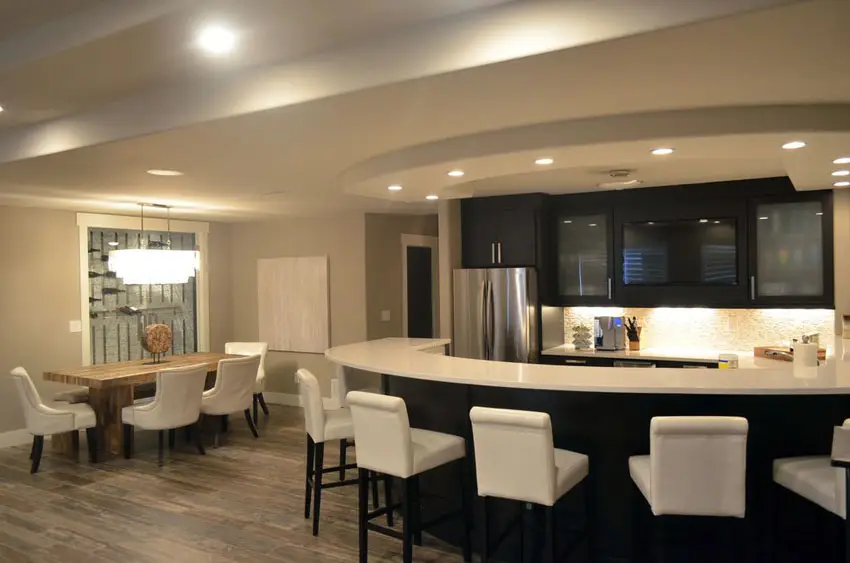 This contemporary kitchen design features a curved dining peninsula with white quartz countertop is reflected by the coved ceiling design with recessed lighting.
Dark tone flat panel cabinetry with smoked glass front cabinet doors blends perfect with the stainless steel appliances, oversize chandelier over the dining table and modern cushioned dining chairs and bar stools. Neutral color for the walls and ceiling combines perfectly with the dark tone cabinets.
A problem with a curved design is that it takes up more floor space. However, it can help accommodate more kitchen dining.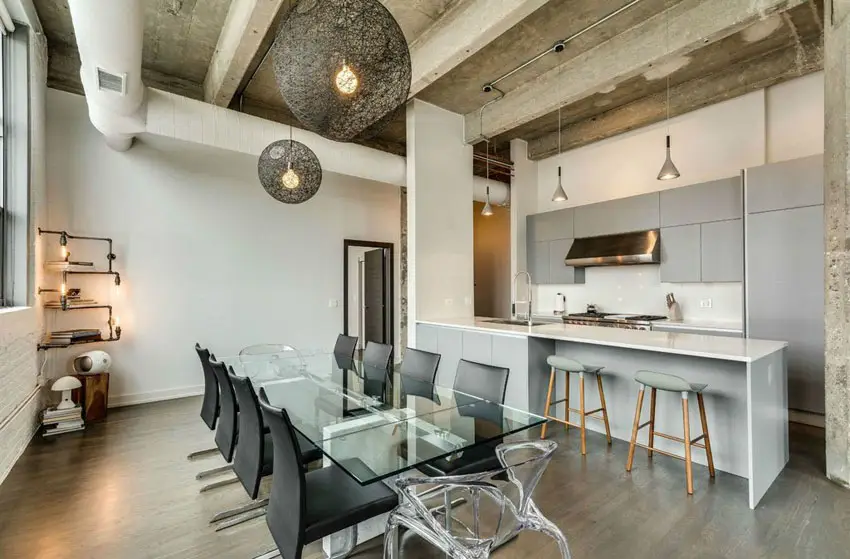 More like a kitchen island with seating this peninsula is attached to a supporting wall for this open concept loft layout.
This kitchen's contemporary and industrial design features a neutral color scheme of white, gray and black, stylish pendant lighting fixtures, stainless steel oven and range hood, modern furniture made of glass, chrome and leather.
The flat panel cabinetry, waterfall peninsula and medium tone wood flooring completes the design scheme. A large floor plan offers many more design options.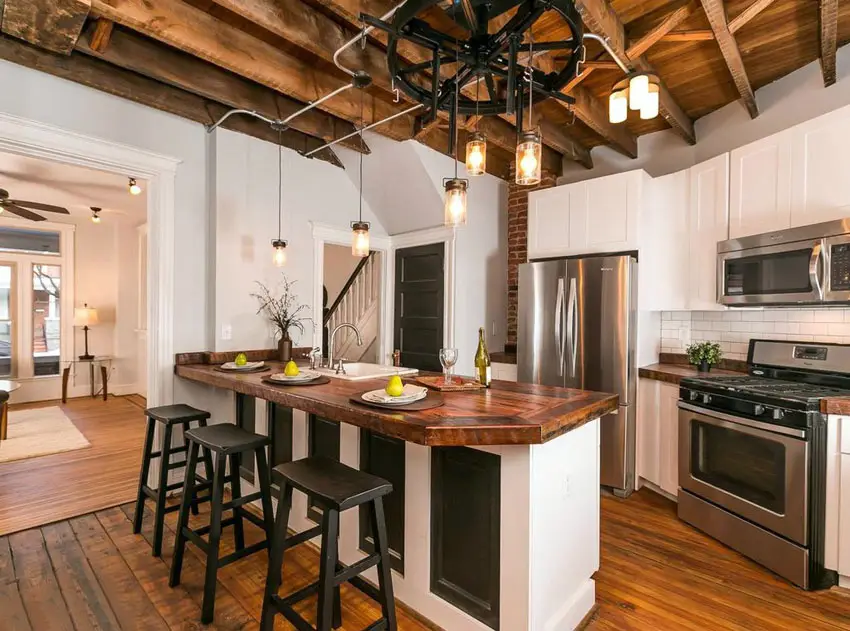 Rustic country inspired kitchen features medium tone wood flooring, exposed wooden ceiling, butcher-block-style wood countertop, brick walls and backsplash, Shaker style cabinetry balanced by the stainless steel appliances and modern custom pendant lights.
A multi-functional kitchen peninsula with sink provides extra working area and serves as an informal dining area. The oversized wood countertop provides tons of workspace and room for storage for dishes and pots and pans.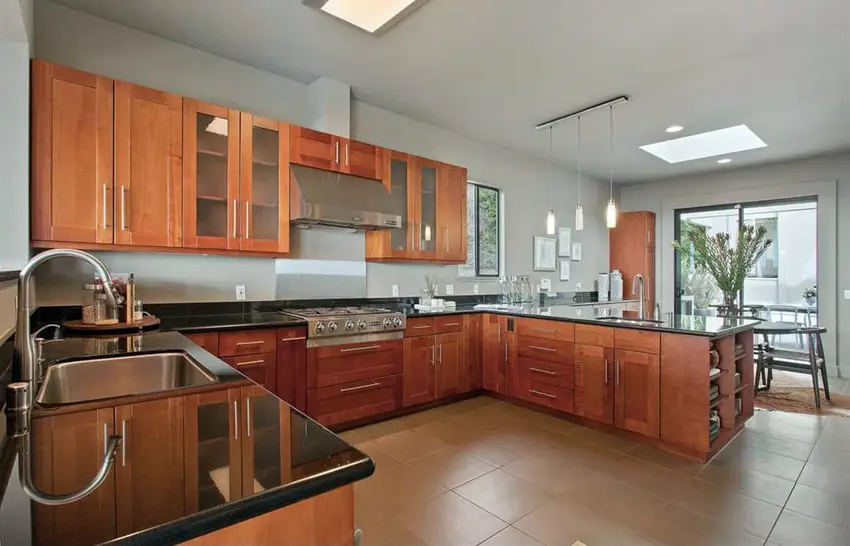 This F-shape Craftsman kitchen layout incorporates a large multi-functional peninsula with under-mount sink provides a stylish extension for food preparation, informal dining and extra storage space.
Classic medium tone Shaker cabinetry with glass front panel, jet (Absolute) black granite countertops and medium tone tile flooring associated with stainless steel appliances suggest a contemporary design scheme.
Peninsula and Island
This traditional kitchen features both a peninsula and island design. Kitchen ideas that are large enough can benefit from a peninsula with appliances such as a dishwasher, warming rack, or oven.
A peninsula countertop can also be great for cooking prep with access to a sink and faucet for washing dishes, pots, and pans.
This kitchen has classic white raised panel inset cabinetry, Boreal granite countertop and medium tone wood flooring.
An ornate traditional chandelier over the kitchen island provides a perfect task lighting. An angled peninsula with a submerged sink provides more working space for food preparation.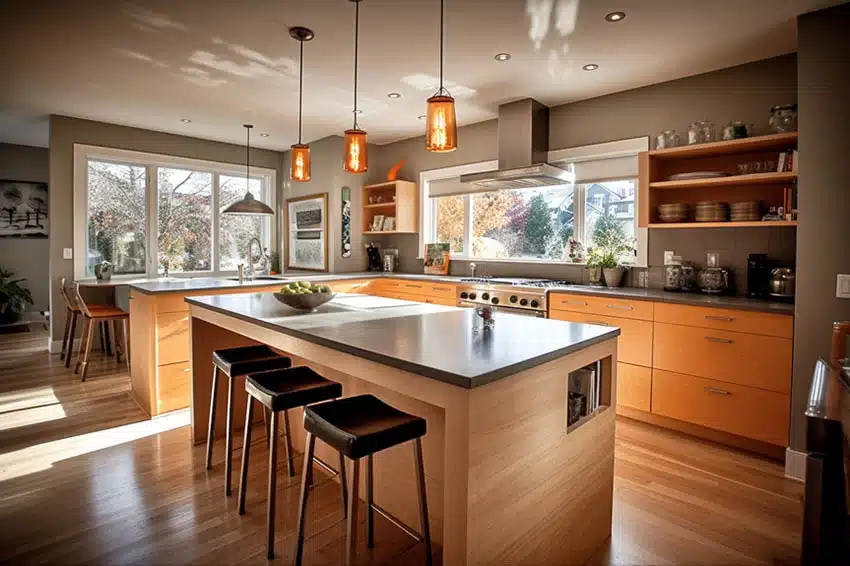 This peninsula acts as a separator between the kitchen and the dining room area. It houses the sink and sits to the side of the oven to create an effective kitchen work triangle. The large island offers eat-in dining and cookbook storage on the sides.
Peninsula and Wall Support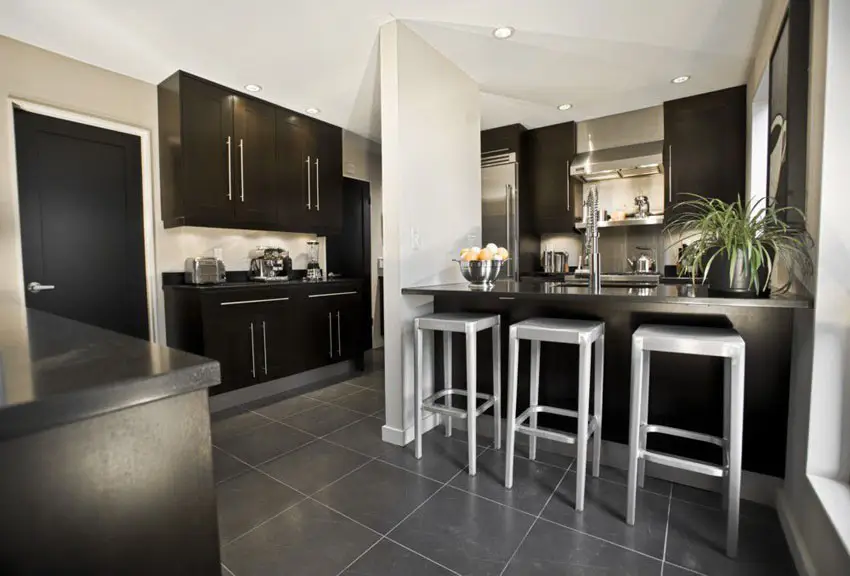 Designed for a masculine taste, this modish kitchen features neutral color scheme using a dark tone Shaker cabinetry, black solid surface countertop, gray porcelain floor tiles, stainless steel appliances and white high stools with sleek and simple lines.
The kitchen peninsula attached to the wall support is an effective way to open up a closed-gallery kitchen design and provide a larger feel.
Opening up the kitchen creates a wonderful extra seating area for entertaining, dining and serves as a customized division between the kitchen area and living room.
The price of a kitchen remodel is generally one of the best ways to spend money on the home. According to the National Association of Realtors one can recoup up to 75% of a complete home remodeling project. Source: NAR
Center Peninsula Design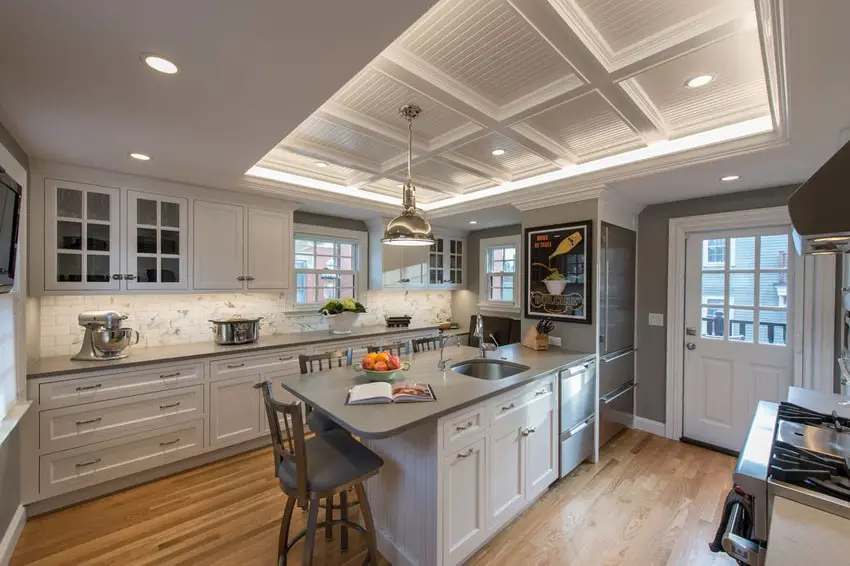 The coffered ceiling adds height and depth to this contemporary kitchen design. By adding a peninsula, the layout allows an integration for extra storage cabinetry and a customize space for the dish washer and refrigerator.
This peninsula with quartz countertop and under-mount sink also serves as an informal dining area and creates a beautiful division for this kitchen.
The light tone laminate floors perfectly compliment the neutral color scheme of the walls, ceiling and cabinetry—an industrial pendant lighting fixture ties in with the stainless steel appliances and accessories.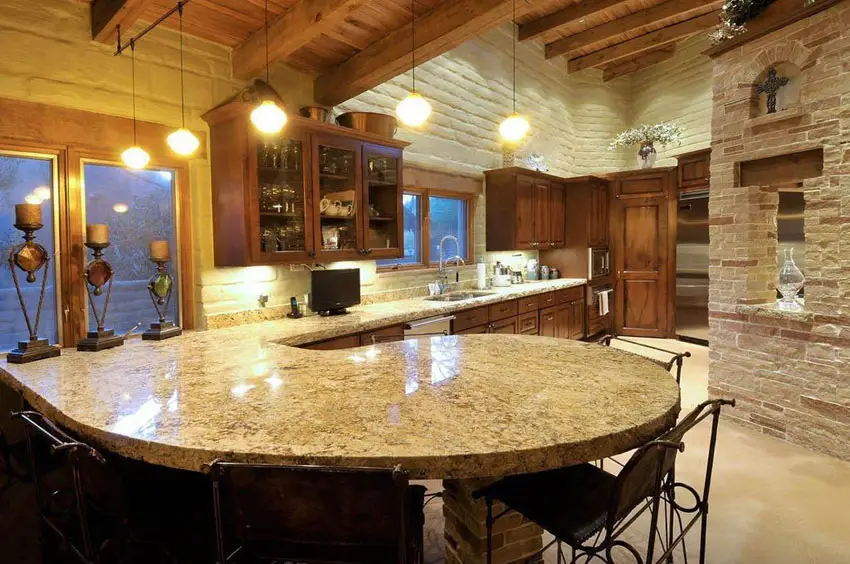 This rustic kitchen design features a new venetian gold granite countertop that extends to the round peninsula. Kitchen peninsulas with unique shapes can become a focal point and the center gathering point for conversation and entertainment.
wood beam ceiling, stone wall finish, medium tone solid wood cabinetry, natural stone flooring and mini pendant track lights completes this cozy kitchen space.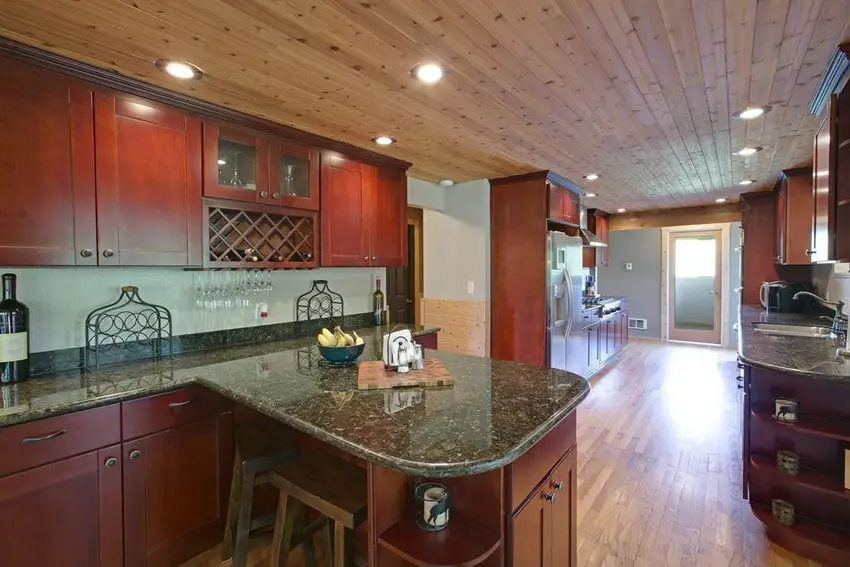 This galley style kitchen has different work zones maximizing the long kitchen space. A small peninsula creates a break within the space, serving as a dining area and providing extra storage space.
Wood ceiling panels conforms with the wood flooring. Medium tone Shaker cabinetry with Ubatuba granite countertop adds texture and depth.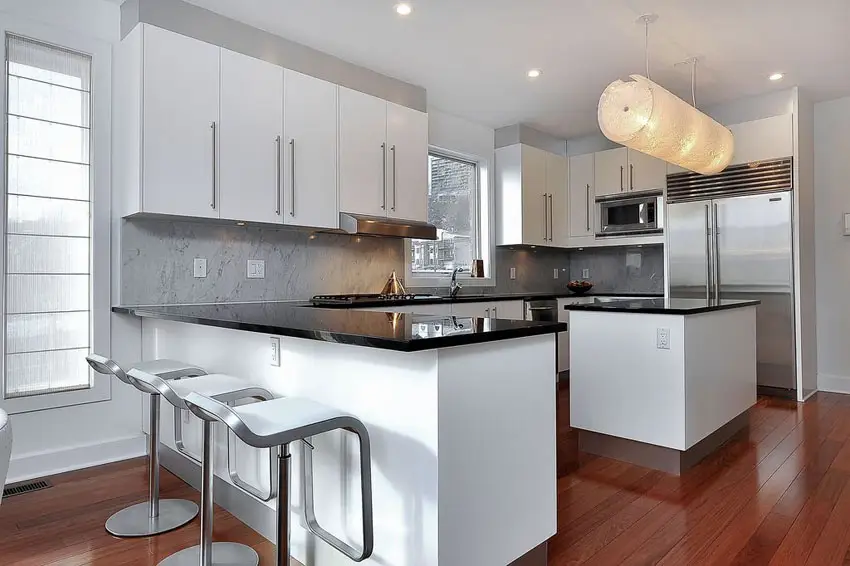 This modern style kitchen features sleek and simple lines of the cabinetry using flat panel doors, jet black granite countertop, marble backsplash, stainless steel appliances, modern pendant light and piston stools with leather seats. The cherry wood flooring adds as an accent design element.
Peninsula with Portable Island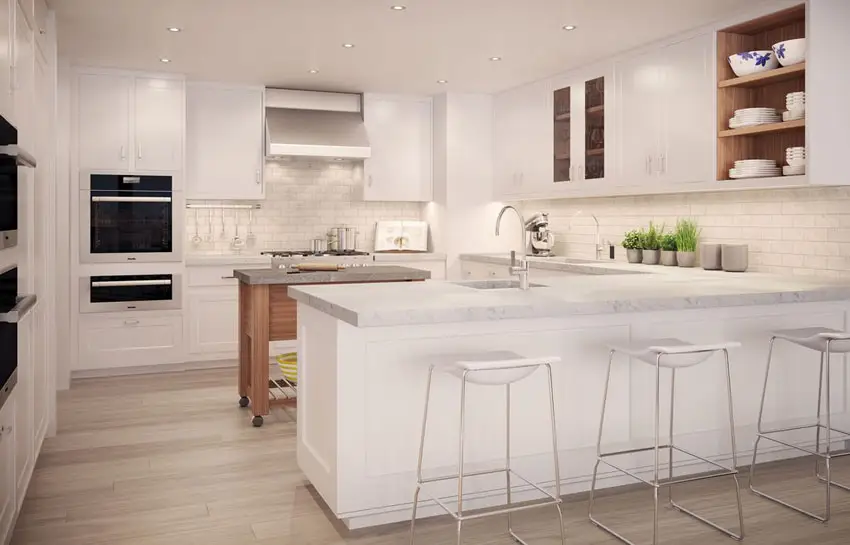 This modern elegant kitchen doesn't need much color to bring out a gorgeous design. Light tone flooring, classic Shaker cabinets, white marble countertop, subway tile backsplash, peninsula with under-mount sink, stainless steel appliances and accessories completes this monochromatic color scheme.
A portable rolling island and open shelves in medium tone wood veneer finish gives this kitchen an accent color.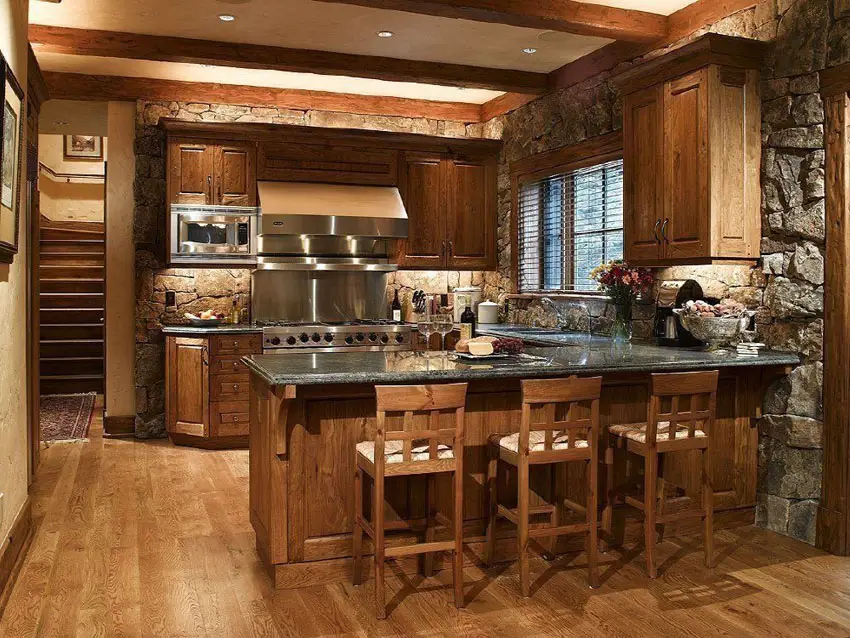 This rustic wood kitchen design incorporates a stone wall for added texture. Exposed wood beam, medium tone raised panel cabinetry and oak flooring, sapphire blue countertop which extends up to the peninsula balanced by the stainless steel appliances give this kitchen a warm and cozy feel perfect for preparing a hearty home-cooked meal.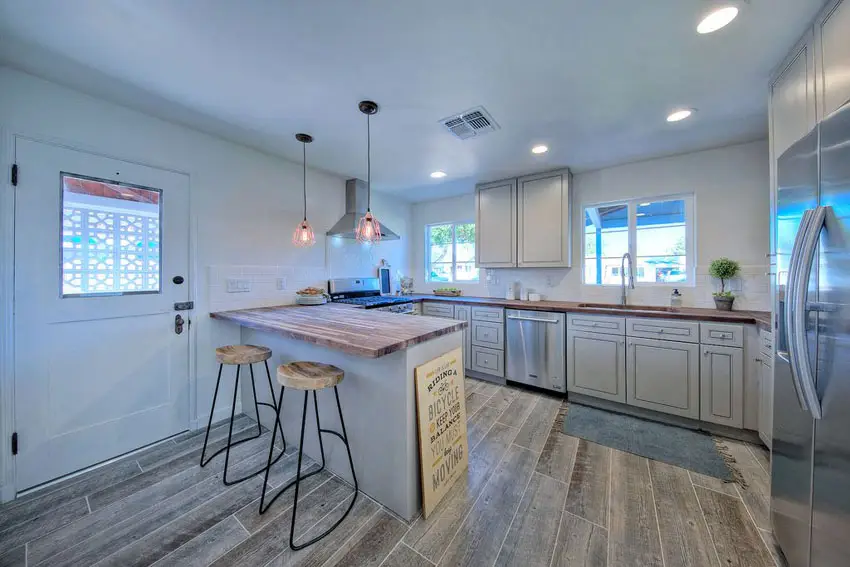 This cozy cottage style kitchen with peninsula offers a small space where diners can eat in on wood countertops.
Spruce wood flooring throughout the space looks attractive and provides plenty of contrast for the off white cabinetry.
Some of the best kitchen peninsula ideas originate out of the need to work with an unusual sized kitchen layout. This design utilizes a curve peninsula to adjust to the small amount of living space.
The transitional style inspired kitchen features black painted walls, jet black granite countertop, medium tone tile flooring and globe pendant lighting fixtures over a curved peninsula.
In addition there's recessed panel cabinetry with glass front panel doors, stainless steel appliances and leather upholstered bar stools to create a compact and elegant kitchen design scheme.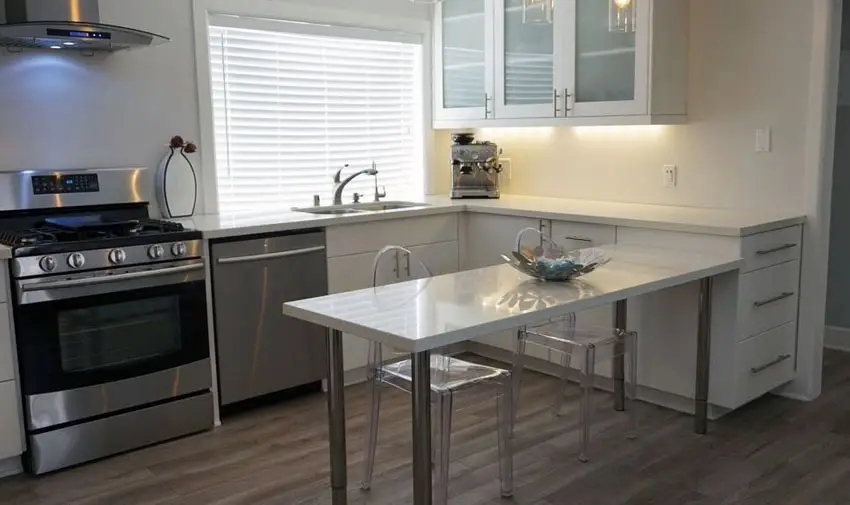 Small spaces can benefit from thinking outside the box when it comes to kitchen peninsula ideas. Incorporating a peninsula with Corian counter into the design of this small contemporary kitchen adds more work space and functions as an informal dining area all at the same time.
White color scheme for the walls and flat panel cabinetry is balanced by the stainless steel appliances and light tone wooden floors.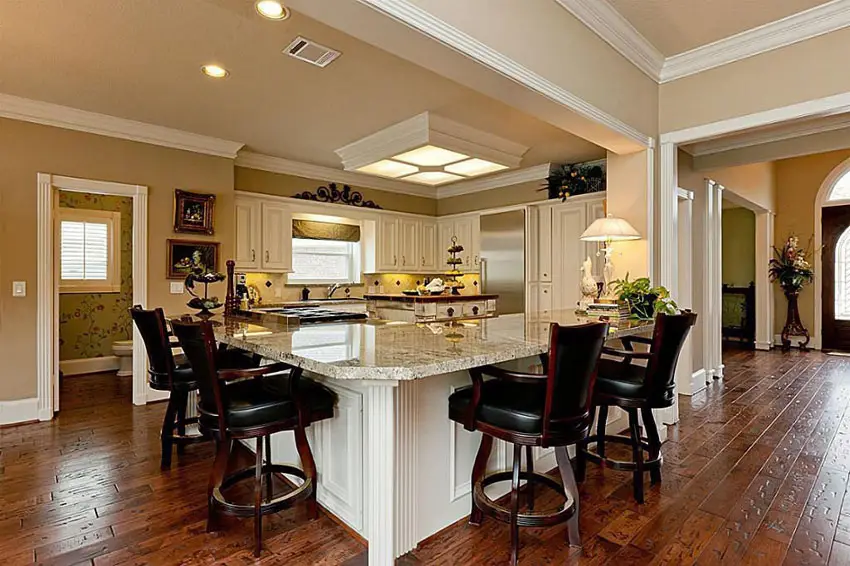 An open concept layout allows an L-shape kitchen peninsula with new Venetian gold granite countertop to be integrated.
This design provides extra storage space, functions as a dining area perfect for entertaining, and adds more space for food preparation. A boxed ambient lighting fixture and faux wood flooring create a custom design scheme.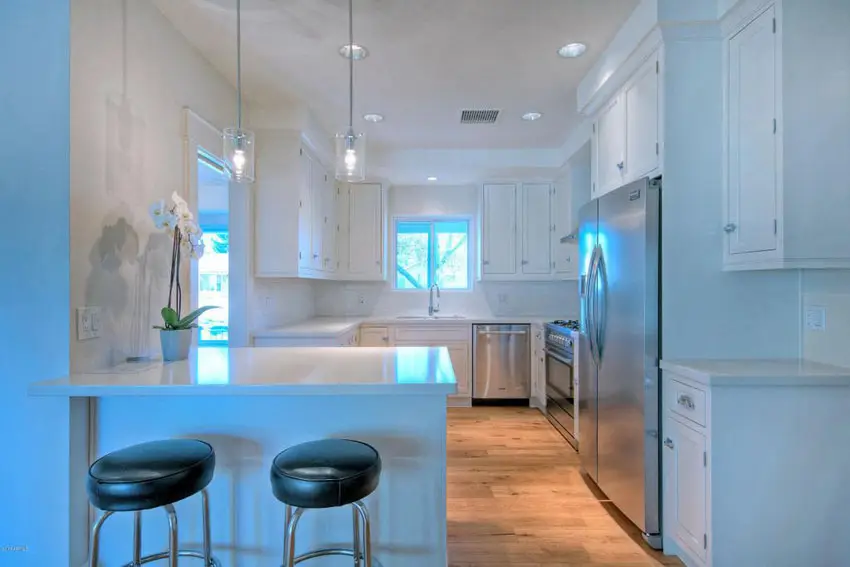 Classic white recessed inset cabinetry balanced by the stainless steel appliances, glass pendant lights and black leather bar stools creates a modern style kitchen design.
Medium tone wood flooring provides an accent color to the otherwise mono-chromatic color scheme. Incorporating a small peninsula with quartz countertop, adds more space for food preparation and extra seating for dining.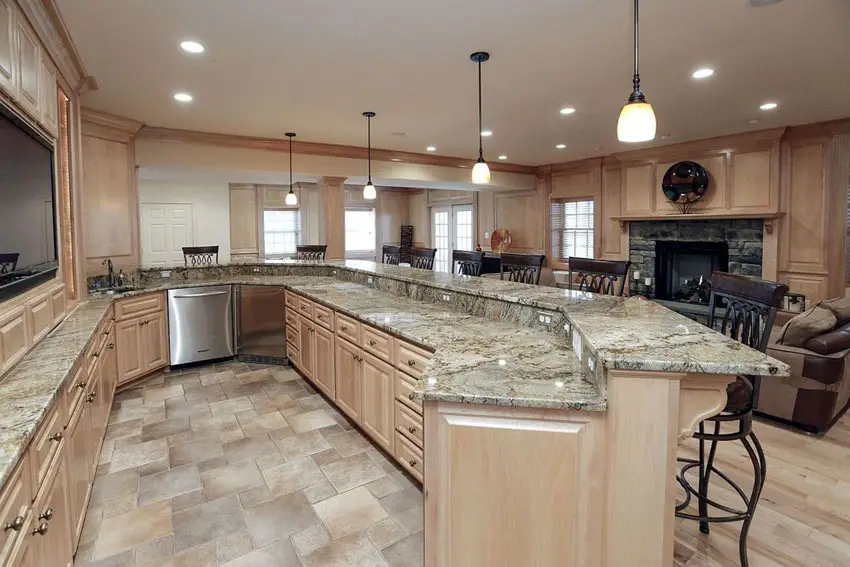 This traditional style kitchen features a long raised peninsula perfect for a large informal dining and hides food preparation from view. the tow tier design also functions as a divider between kitchen and lounge area. Raised panel cabinetry with light tone wood color makes this room elegantly grand.
Polished granite countertop adds texture and integrates a neutral accent color. Natural travertine stone floor is perfect for heavy traffic while the wooden flooring in the lounge area gives a warm homey feel.
Pendant lights over the peninsula give ample lighting for dining and food preparation. Period style high chairs adds some accent and the stone fireplace provides a cozy focal point.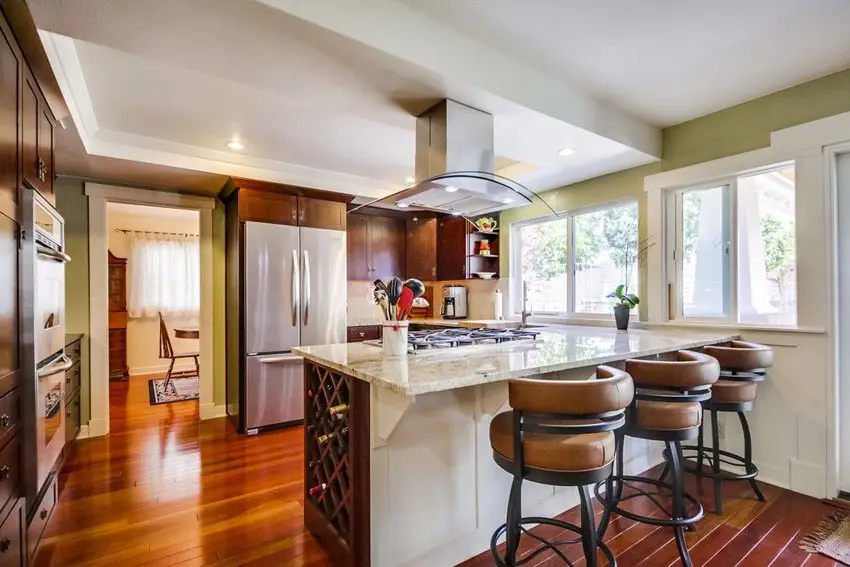 A traditional style inspired kitchen features warm color scheme used for the wood cabinetry and flooring balanced by the stainless steel appliances. The side of the peninsula has wine bottle storage. Next to the seating area is a useful pass-through window which can help facilitate outdoor dining.
The kitchen peninsula with Santorini white marble countertop provides a chic design for the wine rack and built-in cooktop. It also serves as an informal dining space and the cushioned swivel barstools adds extra seating for entertaining while doing food preparations.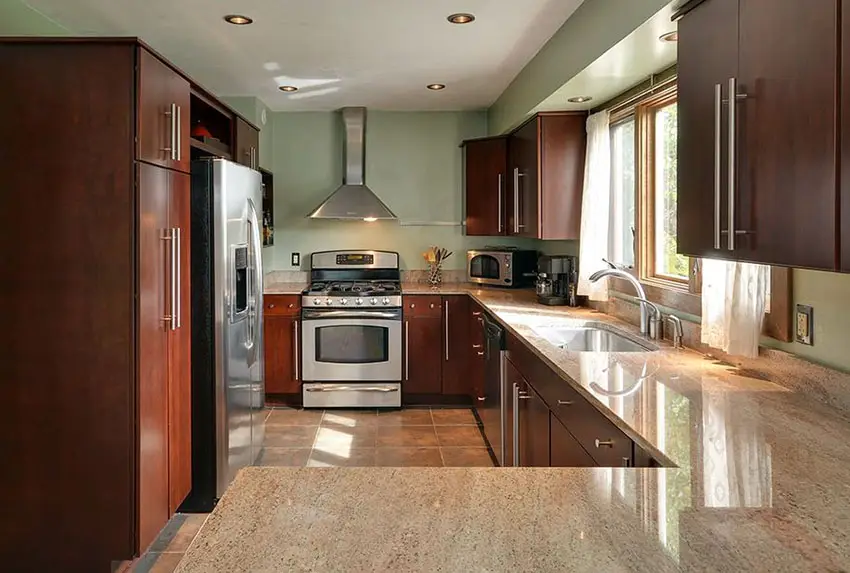 This kitchen peninsula design with cherry cabinets has room for seating just out of sight. The lovely ivory fantasy granite countertops adds an attractive contrast to the dark hue of the wood cabinetry and tile floors. A large cabinet pantry is easily accessible from the peninsula countertop.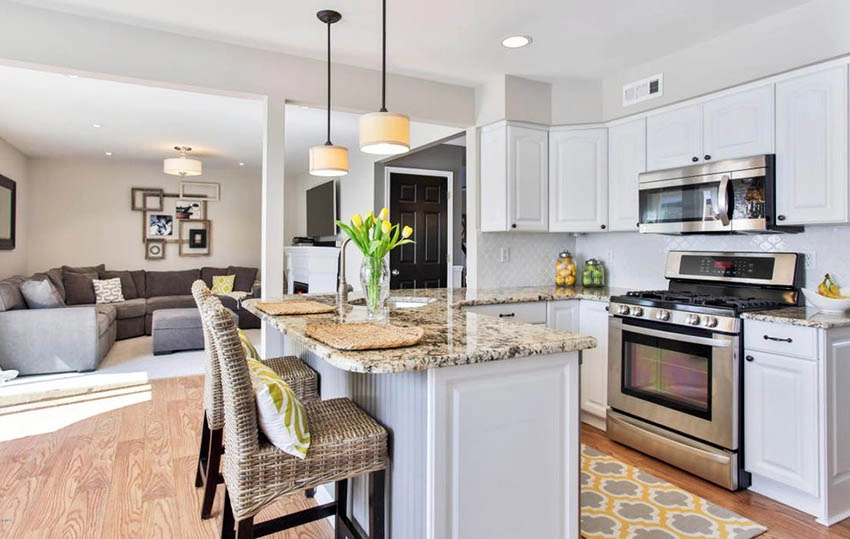 This small cottage kitchen with peninsula has a u shaped design that provides space for eat-in dining. The room features beige granite countertops, white raised panel cabinets, and patterned rug over wood flooring.
Two Penisula Design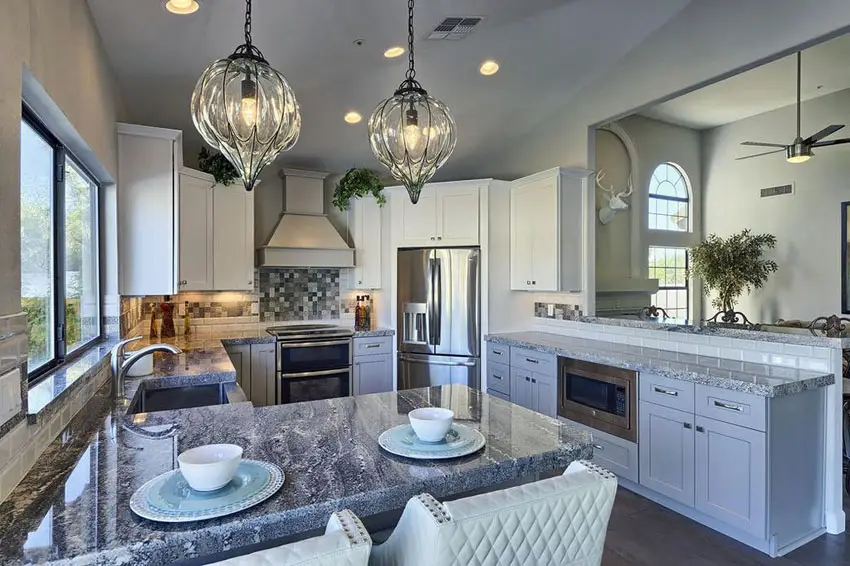 This chic traditional style peninsula kitchen features two different peninsulas with one acting as a two tier for kitchen dining and the other as a table.
It features Monte Cristo granite countertop, classic Shaker white cabinetry, white subway and mosaic tiles are used for the backsplash, and porcelain tile flooring.
While elegant glass pendant lights, stainless steel appliances, and tufted fabric high chairs completes the design scheme. A small peninsula functions as a breakfast nook.
This traditional white cabinet kitchen uses its small layout with the help of a peninsula to provide additional food prep and dining space.
The peninsula has a raised kitchen breakfast bar side for dining and a lower cook preparation side. The counter is a light color granite that compliments the white flat panel cabinetry and crown molding.
Regarding design tips for a small kitchen layout, it's essential to consider its purpose to maximize the benefits. Not only will you need to consider the flow of traffic, but you'll also want to ensure that the countertop offers the space for proper meal prep.
With limited space, you may have to shorten the countertop overhang. However, if you plan to have seating, a minimum countertop overhang of 10″ is needed with 12″ being the recommended size if room allows.