Here we explore copper kitchen countertops including their cost, pictures and their pros & cons.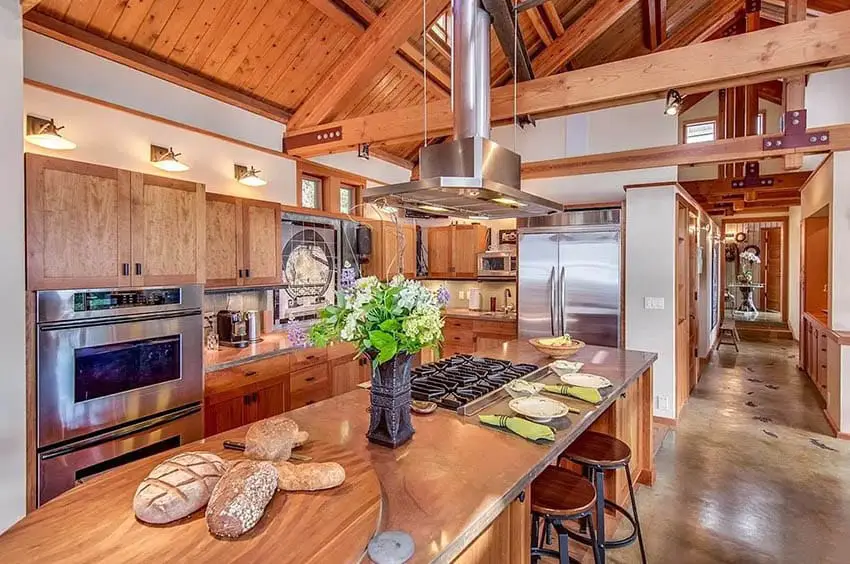 The copper kitchen is back, and it's here to make a statement. In the last decade, copper has become an increasingly popular material choice within interior design. This much loved metal that made its debut as an accent and accessory, is emerging from the side-lines to take center stage as a statement piece in kitchen interiors. And it's not hard to see why copper kitchen countertops are sought after.
To begin with, the rich auburn color of copper is synonymous with a warm, inviting space. It oozes glamour, style, and attention. The practicalities of copper are also a huge selling point. Its malleability means it's ideal for crafting bespoke units, and its antimicrobial and antibacterial properties mean it removes any nasty bacteria on its own.
Copper Countertops Cost
The cost of your copper countertop will naturally vary depending on where you live, the type of copper chosen, size of the job and so on. Generally though, you're looking at a minimum cost of $70 per square foot for the materials, and of course if you're not installing the top yourself, the labor costs too. The latter charges for smaller jobs can start from $500.
Pros and Cons of Copper Countertops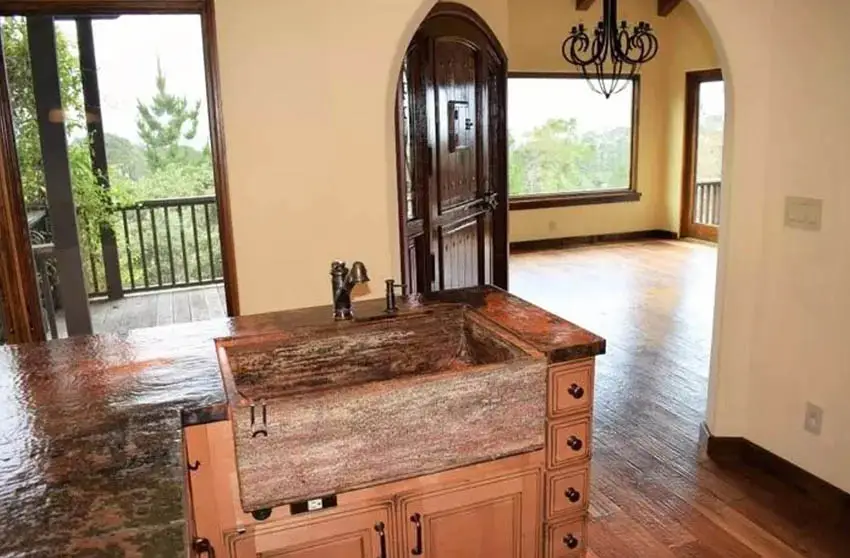 Before you sign on the dotted line and purchase your countertop, it's critical to understand the pros and cons of your impending decision. After all – it is an investment, and it's likely that you'll be living with your choice for some time.
Here's a few things you should consider before you purchase:
Pros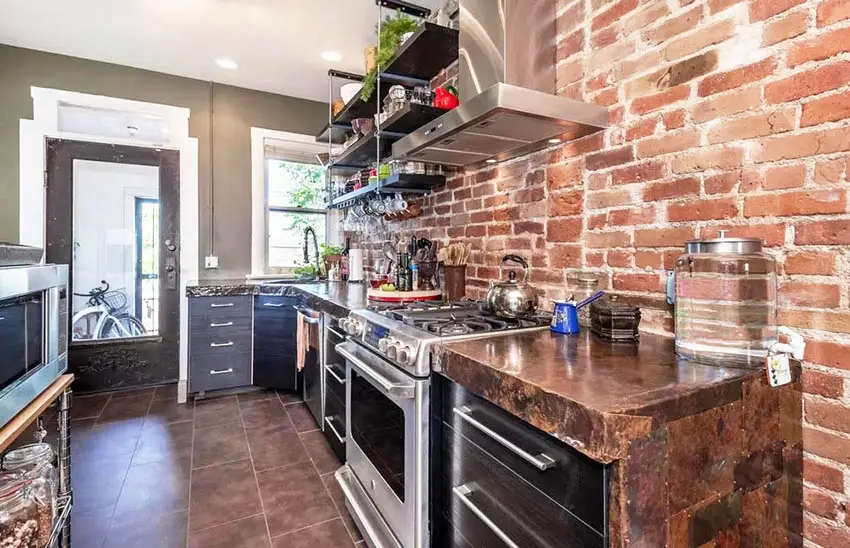 Antibacterial properties – Copper has antimicrobial and antibacterial properties, which means it has an inherent ability to kill bacteria – a handy quality when it comes to the kitchen. It's also simple to clean – a mixture of lemon juice and salt is all it takes to get your countertop looking dazzling.
Durability – It's durable, which means it won't corrode over time. A copper countertop will be a good investment piece to last for years to come.
This design features a copper kitchen breakfast bar for eat-in dining.
Sustainability – It's 100% recyclable. Copper is a sustainable material, so if the reality of your bold copper countertop proves too much to handle, you can rest assured that once it's hit the scrap yard it won't go to waste.
It's copper – Apart from being a rich, elegant color on its own – the natural properties of the metal are particularly sensitive to oxidation. The result is a transformation of the metal to a more green, blue and reddish color. This is called a patina and arguably adds to the character of your kitchen, reflecting your true lived experience.
Cons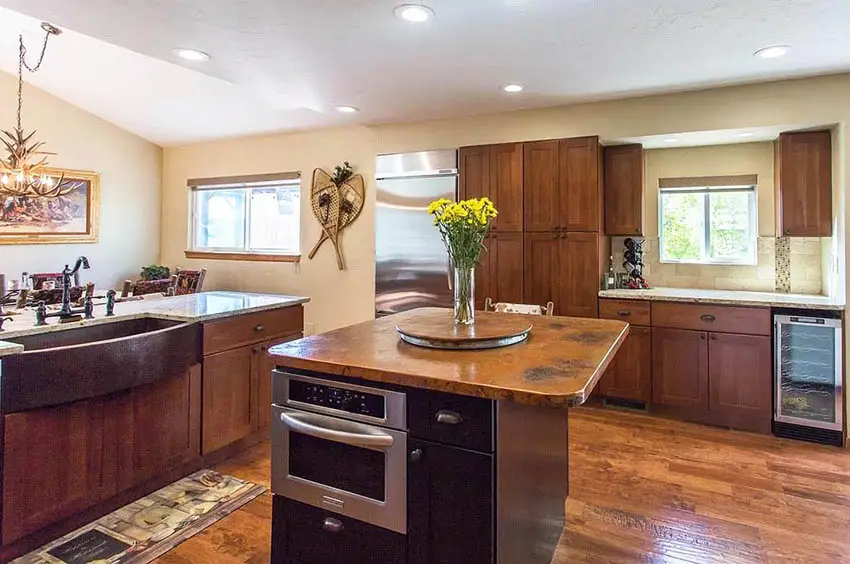 It can be easily damaged – While the malleability of copper is ideal for molding the material to fit where required, the extent of its malleability leaves it vulnerable to dents and scratches. Some may think this adds to the character, but if you're looking for a polished, ever smooth finish on your countertop, this won't be for you. If you want many of the benefits of copper but with more durability, stainless steel countertops may be another option.
It's copper – Yes, this is indeed Deja-vu. There's no getting away from the fact that the 'living surface' of copper means it is going to discolor. If this bothers you, then you should really consider whether copper is the right material for your project.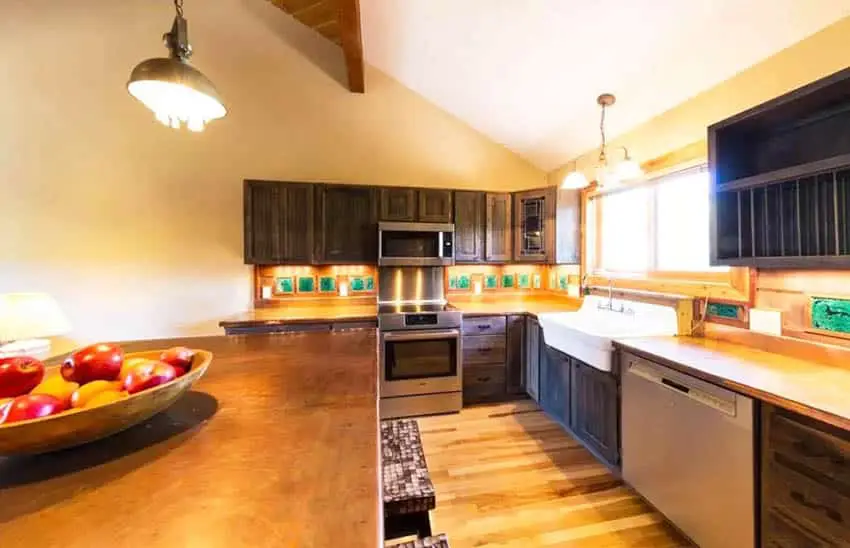 It's noisy – The metallic nature of copper means that when it comes into contact with other metals, for example pots and pans – it can be noisy.
Can be high maintenance – If you're striving to maintain the original shine of your countertop, you'll need to seal it. There's lots of guidance of how to do this online, but you just need to be prepared to research, and invest time into ensuring it's sealed correctly. Once the countertop has been sealed, arguably it should only require occasional maintenance.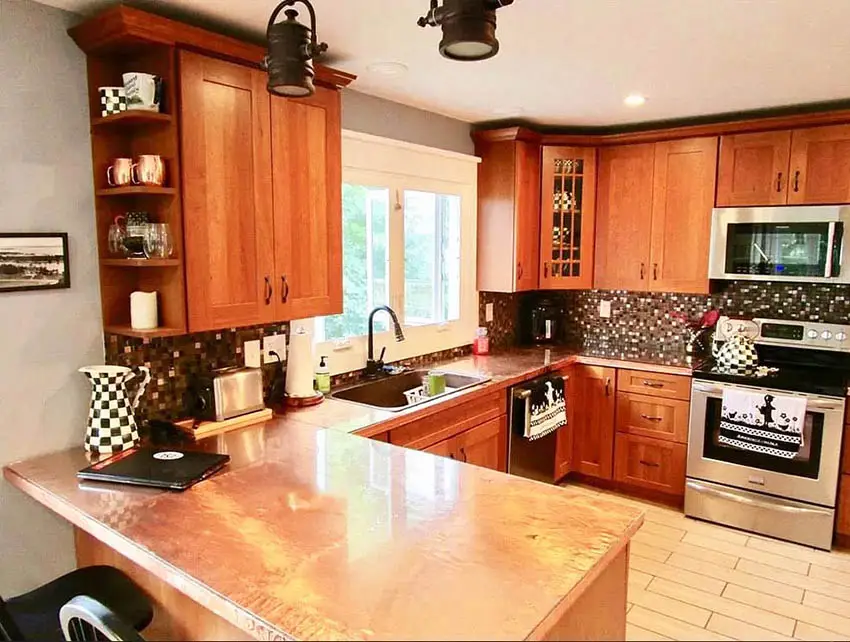 A kitchen peninsula topped with a copper surface gives this design a lot of character.
Installing a copper kitchen countertops will no doubt transform your whole space, so it's important that you feel completely happy with your choice. It really boils down to your tastes and what you want from your kitchen.
Do you want your kitchen to be a conversation starter? Or perhaps you simply value the real, 'lived in' look that this beautiful metal exudes?
Consider your values too. You may well appreciate the rustic look, in which case you don't need to feel so anxious about keeping the countertop scratch less. If you're the complete opposite, it really depends on how committed you are to taking the time out to maintain it, and clean it, whilst retaining your own sanity too. Good luck, and we hope some of you take the plunge and become copper converts!
For more types of kitchen countertops check out this page.