See the different granite countertop edges including their pros & cons, edge profile pictures, most popular countertop edging ideas, and how to choose a granite countertop edge.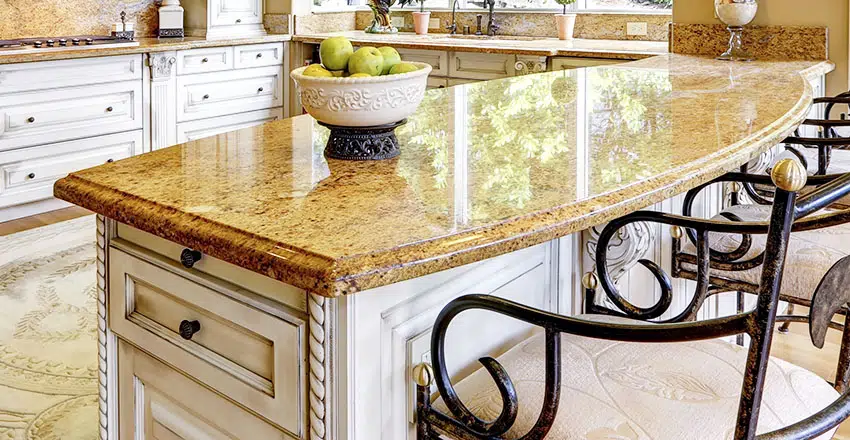 Granite countertops are one of the favorite options for many American kitchens and it's for a reason. Aesthetically, these countertops are popular because they stand out and elevate your kitchen or bathroom. And one of the elements that add to their aesthetics is the edges of the countertop.
More than just an element of your granite countertops aesthetics, the edges can also be an important factor when considering their cleaning methods. In addition to that, safety also needs to be considered.
A good example of this is that if you have children at home, you need to avoid sharp edges that can hurt them. This is why it's important to choose the right edge for your granite countertops.
Granite Edge Profiles
While it may seem like a minor part of your granite countertop, there are actually several edge profiles you can consider. This is the reason why it can be a bit overwhelming to choose only one among all the other options.
When choosing the edge profile ideal for your granite countertops, consider all the practical concerns you have, from your cooking experience and lack of space to the safety of children and pets.
The best method may seem tiresome but it's sure to be effective, which is going through each option you have and taking note of their advantages and disadvantages.
Bevel Edge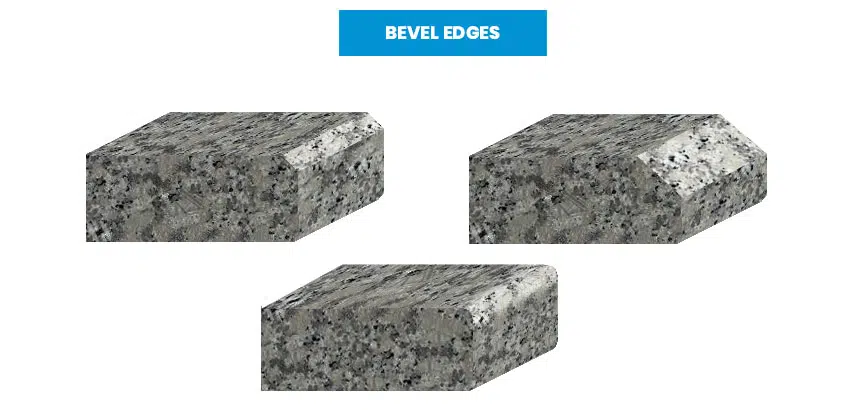 The bevel or beveled edge is distinctive due to its 45-degree angle slant that also drops towards a right angle and takes out the square edge that normally comes with these countertops.
This edge profile is a popular choice for traditional kitchens, especially if you're looking for an edge that offers a great impact and offers an extra dimension to your countertop.
Pros of Bevel Edges

• Easy to clean and maintain – Spilled liquids on the countertops run unto the floor, making the mess easier to clean and deal with.
• Adds visual interest – The unique 45-degree angle adds a geometric flair to your granite countertops that may not be detailed but still provides more texture to the aesthetics.
• Offers excellent variations – Beveled edges can come in different options, including ¼ and ½ beveled edges.
• Compatible with both traditional and modern styles – The edge's geometric look can easily match different styles.
• Highly customizable – More than just being less prone to chipping as well as being more comfortable, beveled edges can also be personalized based on your needs and preferences.
Cons of Bevel Edges

• Not child-safe – Beveled edge countertops have sharp edges that can be quite dangerous for children.
• Slightly more expensive – The beveled edges can cost a bit more compared to other edge profiles you can consider.
1/4 Bevel

With a 45-degree downward slope angle, the ¼ beveled edge adds a subtle elegance to your granite countertops.
Considering its angle, it easily catches the light which adds brightness and a more airy feel to the space. This beveled edge type is ideal if you don't really like a rounded edge but need some shape to your countertop edge.
This ¼ roundover countertop may be very simple but it's capable of maximizing the visual thickness of the countertop. And if you're going for a modern kitchen with clean and sharp lines, this is the beveled edge to go.
1/2 Bevel Round Edge

Also known as the half-beveled edge, the ½ bevel round edge offers a more extended angle, which will be beneficial from a flat special like this. This cut is a bit standard with many installations of granite countertops.
Similar to its quarter-beveled edge countertop, the half-beveled edge measures a half-inch radium that adds to the more modern appearance of the granite countertop.
3/8 Round

The ⅜ slightly rounded beveled edge is one of the polished and flat beveled edge options you can have. Adding to the roundness of the countertop, this beveled edge profile has a soft look but at the same time features a simple and clean aesthetics.
Straight Edge (Pencil)

The straight edge (pencil edge) offers the simplest and most direct look, which features a fresh 90-degree right-angle cut. Technically, a straight-edge profile does not feature sharp corners but is slightly a bit rounded to avoid possible injuries and damage to the granite countertop.
Pros of Straight Edges

• Simple and modern aesthetics – The straight edges of the granite countertops contribute to its sharp and modern look and can, in general, suit any space. If you're going for something minimal in aesthetics, this edge profile is the way to go.
• Cheap to cut – Since the cut is pretty direct with straight lines and 90 right angles, it will be easier to form compared to edge profiles with curves and weird angles.
• Easy to clean and maintain – Cleaning the granite countertops with these edge profiles is pretty easy and straightforward.
• Blends well with the different elements of the room – Compatible with both thin and thick slabs of granite, the straight edge profile is so simple that if you want to add an accent in your kitchen and make it stand out, this will easily blend with the room and actually help the accent element stand out better.
• Easy to customize – The straight edge profile on the granite countertop is flexible enough to be customized so you can round up some of the edges if you prefer.
Cons of Straight Edges

• Dangerous for kids – With the 90-degree angle, the straight edges have sharp corners that may be dangerous to kids.
• Too minimal for some people – This edge profile is not for you if you want some drama on your granite countertop.
Bullnose Edge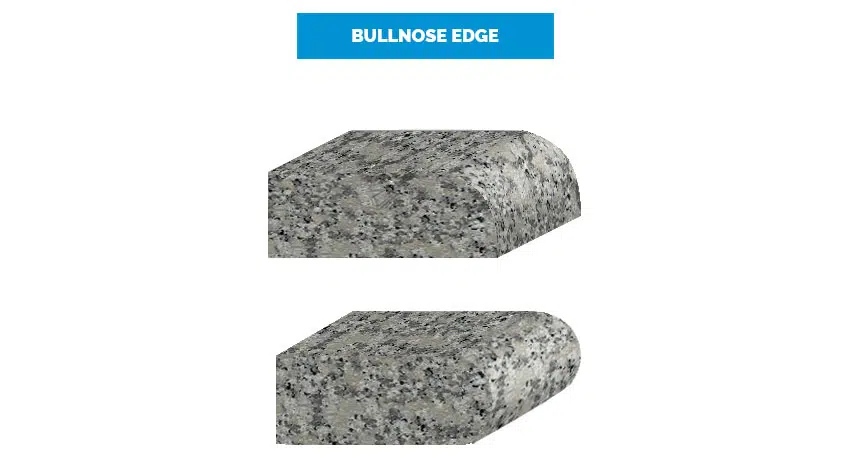 A bullnose edge is a profile that features a completely rounded look that easily matches traditional to rustic and farmhouse kitchens. This edge profile is popular for easily matching all styles and designs. Compared to other rounded edges though, bullnose edges actually start a bit on the back of the granite countertops.
Pros of Bullnose Edges

• Features a sophisticated and very soft look – With a rounded edge that appears on the top and bottom, the bullnose edge can be an elegant addition to your granite countertops. This edge profile can actually make your granite slab look thinner and more elegant.
• Kid-friendly – Since bullnose edges are rounded, you won't have to worry about sharp edges injuring your children at home.
• Easy to clean – Compared to a straight edge profile, a bullnose edge profile won't allow the spill to trickle down the floor. The spill will instead follow the rounded edge, making it a lot easier to clean.
Cons of Bullnose Edges

• Water can trickle all the way to your kitchen cabinets – Since the edges are rounded, there will be no stopping point that can help stop the water from going from the sink area to the kitchen cabinets. This can be an issue, especially if you have wooden cabinets that can be damaged by moisture.
• Too traditional – Some can use bullnose edge as a transitional element but many see it as more of a traditional style than modern and contemporary.
Bullnose edges can either be full or half, depending on your preference. Full bullnose edges are considered more expensive compared to half bullnose edges.
Full Bullnose

A full bullnose edge features a curve that goes all the way around the top and bottom of the granite countertop. Without the sharp corners, this edge profile is safe for children and highly compatible with various styles of kitchen countertops. These edges can also be used in small kitchens.
Full bullnose edges tend to allow liquids and crumbs to slide all throughout underneath the granite countertops and even cause spills into the cabinets. These situations make the edge profile an element that can allow mess in your kitchen, which is annoying and not easy to clean.
Half Bullnose

Half-bullnose edges, compared to their full version, are easier to clean since spills and crumbs will slop down straight to the floor and you can just clean the floor in the end. This is beneficial, especially since spills won't go to your kitchen cabinets and won't create disaster in your furniture.
This type of bullnose edge looks well with granite countertops and it's a great option if you're going for modern-styled kitchens and have a limited budget to consider.
A half-bullnose edge is not a child-friendly option because of its sharp bottom edge. And while it is a widely preferred edge profile, some homeowners consider it too boring and simple to add to their trendy kitchens.
Dupont Edge

Also known as the inverted ogee edge, the Dupont edge features a convex radius you can pair well with your traditional-styled kitchens.
The double-tiered cut allows a straight and curved to be used where the straight part is on the top of the granite countertop and the bottom part of the granite edge is curved. The 90-degree angle ends downwards on a rounded edge.
A common choice for a marble countertop, the Dupont edge can easily be applied on granite countertops if you chose to.
Pros of Dupont Edges

• Allows the granite countertop to stand out – Dupont edges allow other elements in the kitchen to stand out easily because of its sharp-angled edge.
• Fits well with style where intricate details are vital – These edge profiles are perfect for kitchens in classic Mediterranean and French styles.
• Brings luxury to the kitchen – If you need a bit of elegance added to your granite countertop and kitchen, choosing these Dupont edges can do the trick.
Cons of Dupont Edges

• Expensive – Dupont edges are considered premium edge profiles and actually cost more compared to other edges.
• Uncomfortable while cooking – If you have the tendency to lean over your granite countertop when cooking, this can be a bad match since the top edge is sharp and can be uncomfortable for you.
• Easily traps dust and food – This edge profile features a ridge where dust and food can be trapped and so will take more effort and time for you to clean.
Ogee Edge

Considered one of the premium edge profiles, ogee edge is a fancy option you will see in the bathrooms and kitchens of casinos and fancy hotels. It is the most popular option along all premium edge profiles.
Pros of Ogee Edges

• Features luxury and opulence – Ogee edge is the epitome of luxury when it comes to edge profiles for your granite countertops. It delivers a classic and decorative look that will take you back to the Renaissance period. You will need to match this edge though with luxurious granite countertops, which can push you to have a more meticulous maintenance process for it.
• Flexible curves – You can structure the curves in your ogee edges based on your preference, whether you want to go for the subtle line or a deep and dramatic curve.
• Compatible with traditional and rustic kitchens – Ogee edge adds flair to the kitchen it's installed in and with its curves, it fits well with these styles of kitchens.
• No additional cost – If you want to use this premium edge profile in your granite countertops, it is usually included in the mix and you can have a higher value for your kitchen without spending more.
Cons of Ogee Edges

• Awkward to clean – With an S-shaped form, the ogee edge profile is a bit difficult to clean and maintain so you may want to consider this first before using one.
• Can look too much – If you're more into subtle and minimalist aesthetics, the ogee edge on your granite countertops can actually look over the top.
• Not recommended for smaller kitchens – Using an ogee edge on your countertop will make it feel and look heavy, which is not a good option if you have a small kitchen.
• Not compatible with modern kitchens – Since the ogee edge is all curves, it goes not look well with modern kitchens that are all about clean lines and corners.
Eased Edge

Another popular edge profile, eased edge is notable for its soft and rounded edge that gently falls towards the floor. This edge profile has a bit of a curve that softens the sharp edges of your granite countertop.
Pros of Eased Edges

• Ideal for small spaces and kitchens – Eased edge profile makes your granite countertop look compact and smoother, making it an excellent option for small kitchens.
• Kid-safe – Considered to be the safest countertop edge option, eased edge has a rounded edge either only on the top or both the top and button of the granite countertop.
• Highlights the stunning aesthetics of the granite countertop – These eased edges are simple and subtle in appearance, allowing all other elements in the kitchen to stand out, including the granite countertop.
• Ideal for classic and contemporary styles – Since eased edge has curves, it fits well with classic and contemporary kitchens.
• Easy to clean – Without intricate edges, eased edges on granite countertops are easier to clean since they won't hold and trap spills and dust.
Cons of Eased Edges

• Can be a little boring – This edge profile is not an excellent option if you like to add drama to your kitchen because of its simple and subtle look.
• May be uncomfortable to the hand – A granite countertop with an eased edge has a bottom edge that feels sharp to the hand, which will be uncomfortable if you're fond of touching the edges of your countertop.
Waterfall Edge

A waterfall edge features a chiseled edge and a straight square edge from the countertop towards the floor. The concept of this edge is like a waterfall that falls from the countertop towards the floor on a cliff. This edge profile is popular for many kitchen island designs.
Pros of Waterfall Edges

• Turns your granite countertop into an accent element – With a waterfall edge applied on the kitchen island, this turns this part of the kitchen into the room's focal point.
• Seamless style – Granite countertops with waterfall edge profile look clean and seamless, adding visual value to your kitchen.
• Easy to keep clean – Since the waterfall edge allows spills and crumbs to fall directly toward the floor, cleaning and maintaining the kitchen is way easier.
• Adds texture and detail to your granite countertops – The reason why this edge profile is popular in ornate homes is that the edge is triple-tiered that features three convex arcs, adding intricacies to the aesthetics of the countertop.
• Kid-safe – Without sharp corners, the waterfall edge is safer compared to other edge profiles you can use for your granite countertops. These edges will be safer for families.
Cons of Waterfall Edges

• Expensive – Waterfall edges involve complex cuts that may actually increase the cost of the installation of the edge profile to granite countertops.
• Won't work for every home – Intricate in style and design, this particular edge profile may not be a good fit for a minimalist-styled home.
Granite Edges That Are Most Popular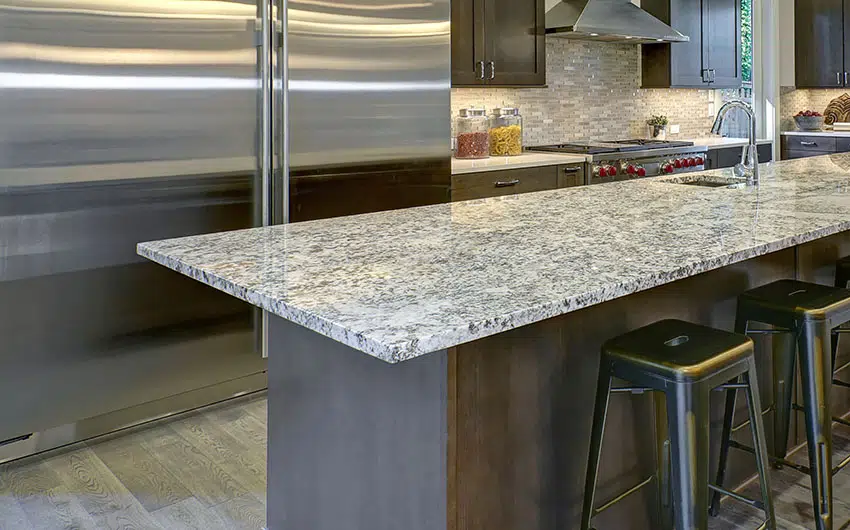 If you're still overwhelmed and hesitant about what to choose, exploring the most popular edge profiles for granite countertops is a good step to take.
These edge profiles are popular for a reason and you can consider them as a starting point.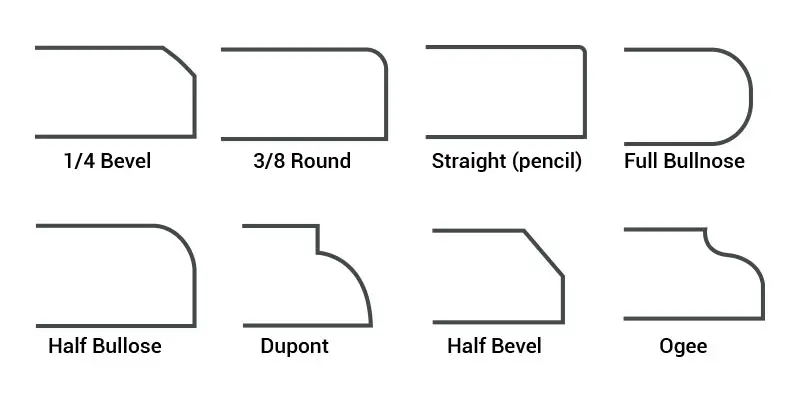 Here are some of the most popular granite countertop edges you can take into account.
• Beveled Edge – Ideal for traditional and modern kitchens, this edge profile is simple in look with a 45-degree angle and sharp point on the corner. And while it looks expensive, it is affordable to install on your granite countertops. The crisp and clean lines add visual value to your kitchen.
• Eased Edge – Classic and minimalist, eased edge has smooth corners and if you want to take out the sharp edges but retain the square shape, this is the ideal option for you. These granite edges look clean and fresh with their simplified design and are also easy to clean and low maintenance.
• Chiseled Edge – A chiseled edge has a distinct sparkle and texture that looks natural to the stone and is a popular option for bathrooms. If you're looking more for an informal and rustic ambiance, this edge profile is an excellent consideration.
• Bullnose Edge – Featuring a unique and rounded look on the edge and border, the bullnose edge is usually applied to a thick slab of countertop so if that's what you have in your kitchen, you can check out this popular option.
This type of edge will make your thick countertop appear thinner around the edges. And you also have the option of choosing full bullnose or half-bullnose, depending on whether you want the bottom edge left flat or not.
• Ogee Edge – Consider the most popular premium edge profile, the ogee edge features an intricate edge style that makes it a popular choice for many homeowners with ornate kitchens.
The curves of this edge profile easily stand out and can be regarded as sophisticated and elegant. You can choose ogee edge to add a luxurious feel to your granite countertop and the kitchen in general.
How Do I Choose A Granite Edge?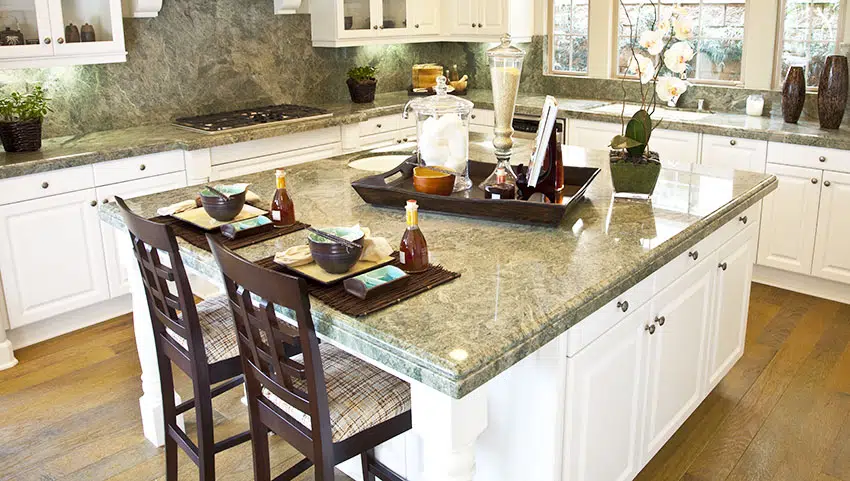 When choosing the ideal edge you can apply to your granite countertop, there are many factors you need to consider to make a well-informed decision. Here are some of the most important tips to keep in mind.
• Budget – If you're sprucing up your kitchen with a granite countertop, you're already spending some bucks, and customizing the slab of stone can increase your expenses.
This is why if your budget is limited, stick with the standard edge profiles rather than going for the premium ones. At the end of the day, the quality of your granite countertops matters more than their edges.
• Home's interior style – There are specific edge profiles that can only work for a specific interior style. Modern style is more about angles and lines while traditional and transitional style is all about curves. And intricate edges like ogee edge can only be matched with ornate homes with dramatic interior decor.
For a minimalist-styled home, the simplest edge profile you can consider is the eased edge. For more details and intricacies, go for beveled and bullnose edges.
• Practical factors – One of the most important considerations with edge profiles is if they are safe for children and pets. If you have young children, avoid edges with sharp angles that can possibly cause harm and injury.
In addition to safety, cleaning and maintenance are also taken into account. If you don't have the time for a thorough cleaning, choose edge profiles that support an easier and more convenient cleanup process.
What Is A Standard Edge On Granite?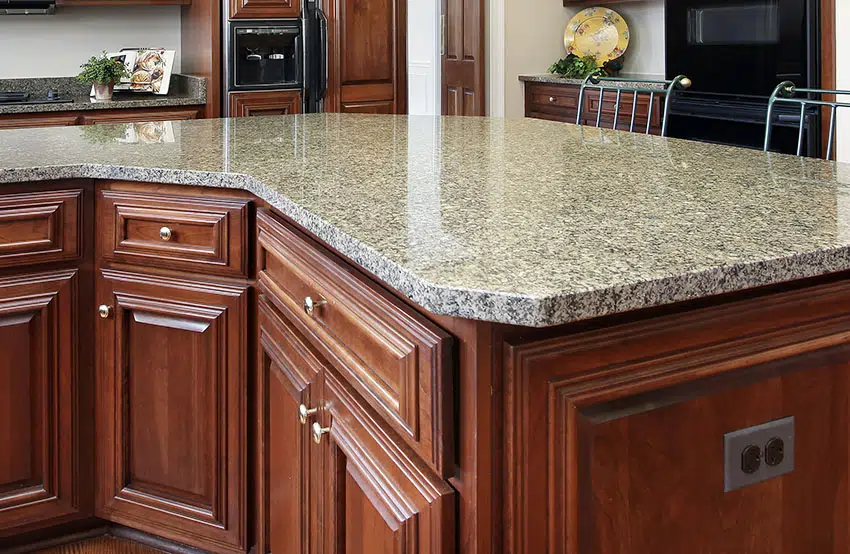 The standard edge profiles you can use on granite countertops are the ones that are easy to cut and affordable to install (they usually come with the granite countertop). Some of the standard edges to choose from are the following:
• Bevel edge (½ bevel edge & ¼ bevel edge)
• Straight edge
• Eased edge
These edge profiles come free without any additional cost you need to pay the fabricators. These are the options you can explore if you have a limited budget to spend.
What Is The Most Popular Edging For Granite?
If you're wondering about the most popular edge profile for your granite countertop, you would also need to take into account other factors. In general, though, the most popular granite countertop edge you can go for is the half-bullnose edge.
This edge profile is flexible enough and can be ideal for both traditional and modern kitchens. In addition to that, the edge also facilitates easier cleaning and maintenance since it stops liquid from seeping into the kitchen cabinet that might destroy it.
What Edge Is Best For Granite?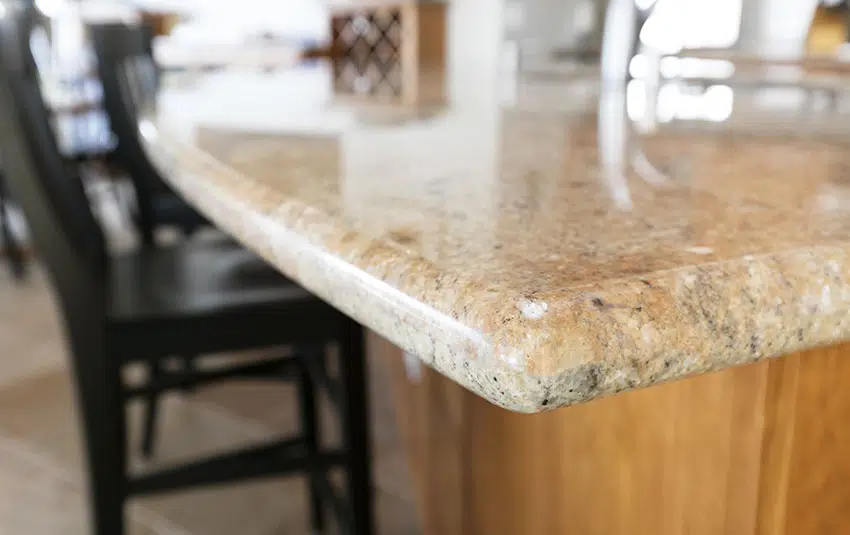 Considering the best edge for granite countertops, it might be a bit difficult to point out without knowing other factors in the mix. If you want a starting place, go for the most popular granite countertop edges among homeowners.
They are popular for a reason and exploring those reasons will help you decide. Here are some of the edge profiles and their respective advantage among other edges.
• Eased edge – If you want a clean look (It comes with a square flat surface and rounded edges)
• Full bullnose edge – Ideal for contemporary-styled kitchens (It comes without edges and makes the countertop appear thinner)
• Half bullnose edge – Smooth and round surface showcasing a large cross-section of the granite countertop
• Ogee edge – Ideal for kitchens with intricate and ornate interior decor (Comes with both concave and convex arcs)
How To Fix A Chip On A Granite Edge
Granite countertops are durable and can look timeless in your kitchen and home but they are not indestructible. When banged or hit with heavy objects, they can actually chip and get damaged. And the most vulnerable part of your granite countertop with chipping is its edge.
The sad thing is that it will even worsen if the chip is not fixed and taken care of.If you need help fixing a chip in the edge of your granite countertop, here is some information with simple steps to follow:
• Clean the area – Before you start fixing the chip on your granite countertop, make sure that your working area is clean. Clear all clutter and use the appropriate granite cleaner to make sure that the area is ready for your project.
• Place a masking tape around the area – Mark the area you need.to work on so that you have a guide on how much gel epoxy you will use.
• Use a color-matched gel epoxy to fill in the chipped area – Make sure that the gel epoxy matches the color of your granite countertop before applying the gel on the chipped area.
• Apply a hardening spray – After applying the gel epoxy, use a hardening spray over it and make sure to wipe any excess spray on the surface area.
• Let the epoxy dry completely – Check the manufacturer's instructions on how long you would need to wait before the epoxy completely dries up. Optional: You can add a cyanoacrylate glue to speed up the drying process if you don't have the time to wait.
• Remove excess gel epoxy – Use a razor blade to cut out extra epoxy on the countertop's surface. Just make sure to angle the blade properly.
• Sand the area – Using a sandpaper or steel wool, buff the area to get rid of bumps and rough patches on the surface resulting in a smoother finish.
• Polish the area – A granite sealer will work wonders on your granite countertop, protecting it from possible future chipping and giving its colors more shine.
Share your favorite type of granite countertop edging in the comments located below. For more related content visit our guide to granite slab size on this page.