In this gallery we share kitchen bay window ideas with an assortment of types and design styles.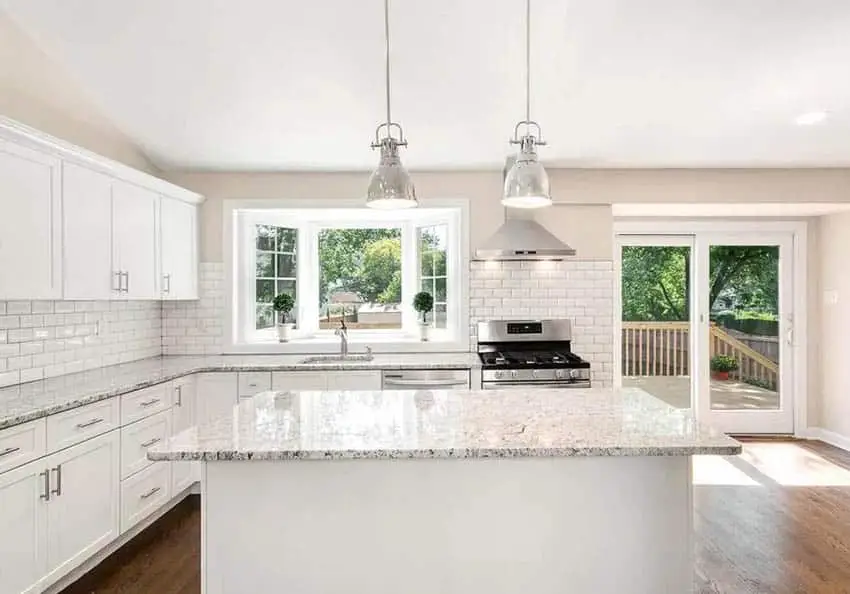 We often see bay windows in dining rooms, living rooms and bedrooms, but not so much in the kitchen. Bay windows have been around for a long time, originating in the mansions from the English Renaissance period.
While initially a mere ornamental feature that helps maximize daylight, it has been transformed to become more functional because of the additional space it gives.
Bay windows in the kitchens are often smaller, but they do provide an additional nook/shelf which you can use for display or storage, and is simply a nice feature to have to make your kitchen look brighter. They are frequently used in kitchens with a more traditional design style.
The French style bay window pictured above matches the existing doors and windows in the space. The window opening is a little above the sink, making it a great area to use as display shelf for the plants. See more types of windows here.
Kitchen Bay Window Over Sink
Windows are always a welcome feature in any kitchen. It improves the ambiance of the space, and it makes it easier to see and work in the kitchen during the day, saving you electricity cost.
The most common application of kitchen bay windows is in front of the sink area, above the counter. It helps provide natural illumination, and provides a space of a small shelf on its nook, which is really handy for placing plants or drying kitchen items.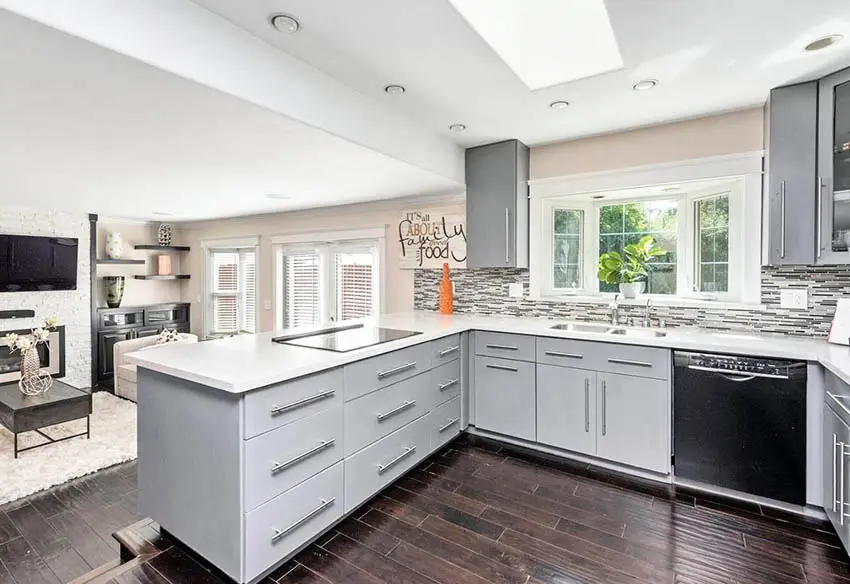 This kitchen window over the sink matches the style and color of the other windows in the house. These bay windows have integral blinds, so the shutters are sandwiched between two glass panels in the window, giving you a dust-free shade when the sun gets too strong.
Kitchen Bay Window Seat
For some, the most attractive part of bay windows is the additional space it gives you for a small sitting area. This can also be applied to kitchen bay windows, provided that you have enough wall space for its opening.
A cozy window seat is a nice place to read or relax and soak in the sunlight. If you don't have enough space for a bay window with seat, you can always go for a smaller bay window appropriate for you kitchen size.
The best use of bay windows is making use of the additional space for seating. This large French Style bay window installed a built-in bench to take advantage of the additional floor space. It has removable seat cushions and decorative pillows to complete the look.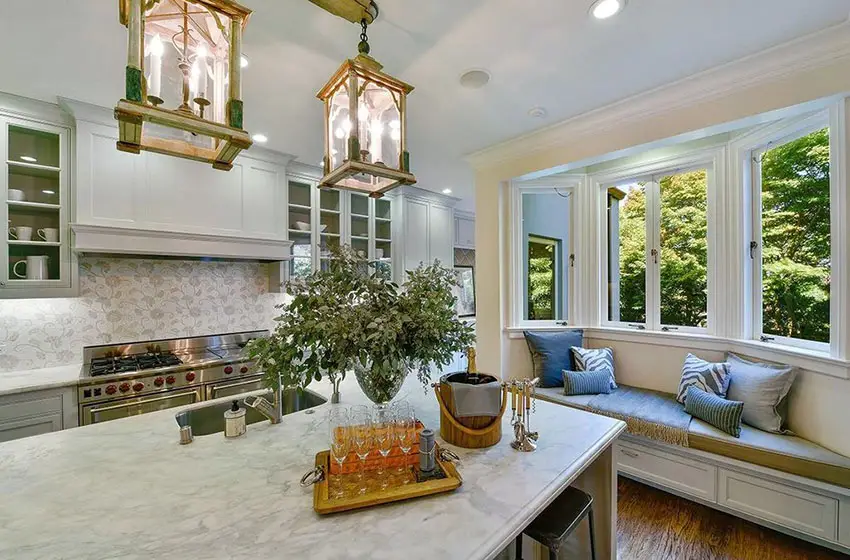 Aside from a built-in seating, you can also use the space underneath the built-in bench as storage space. This lovely bay window seating area in this kitchen installed drawers to maximize the space in the area.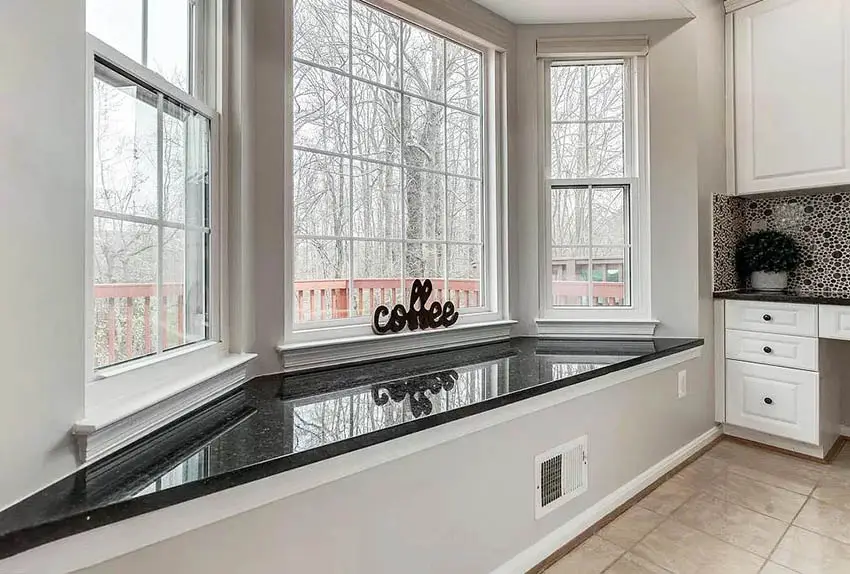 If you're not a fan of the idea of putting cushions in the kitchen, how about adding a matching granite top on the bay window seat/bench area? The smooth surface is durable enough to be used as a seat, and at the same time, can also be used additional kitchen surface. You won't have to worry about moisture or stains with an easy-to-maintain granite top.
Types of Kitchen Bay Window Treatments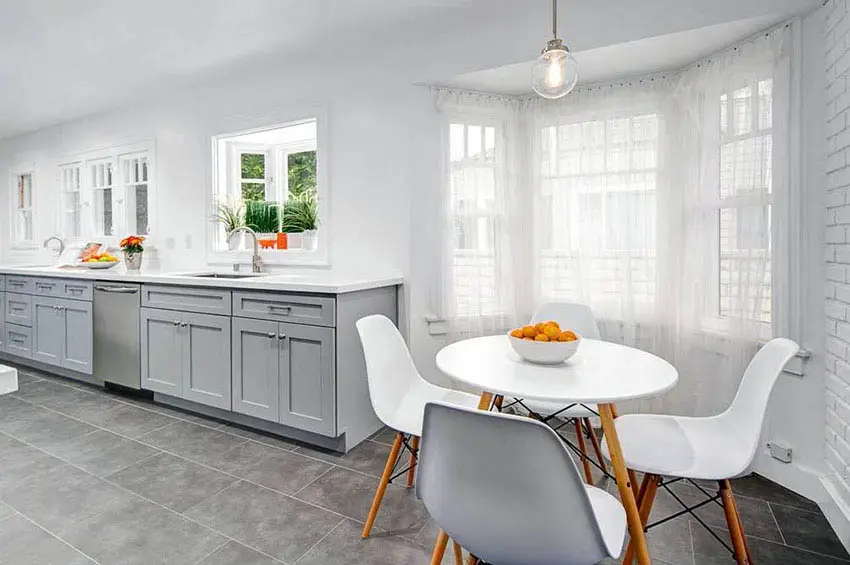 Do remember, that if your bay kitchen is west-facing and you don't have trees or any source of shade, the afternoon sun could be a little too strong. In these cases, consider installing window treatments to your kitchen bay windows.
Any window treatments made for bay windows would work – curtains, shutters and blinds – as long as they are sized appropriately. A few of the best ones to use are:
Roller shades
Cellular shades
Wood shades
Valances
Plantation shutters
Cafe curtains
Roman shades
Wood blinds
Small Bay Window for Kitchen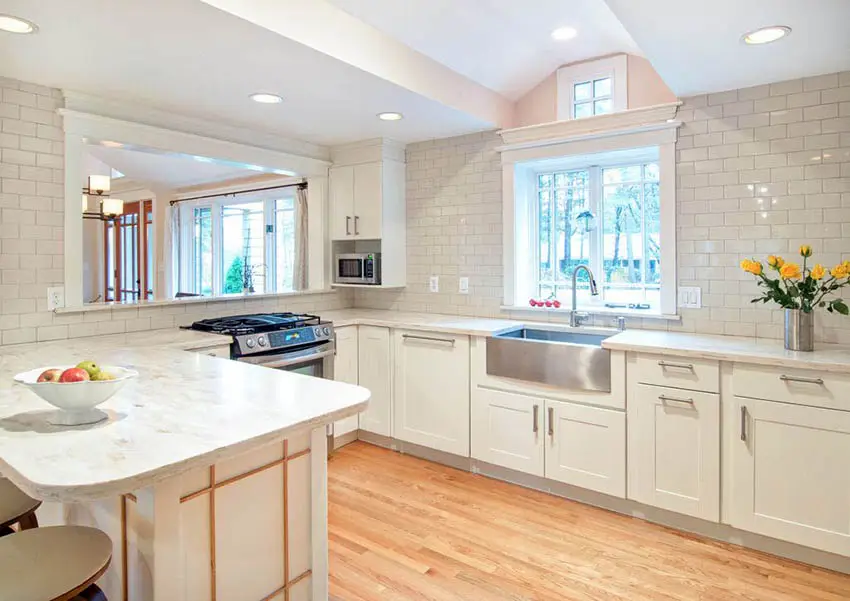 This is a wood-framed small bay window placed behind the kitchen sink. The window sill was finished with white granite so that it's safe from moisture exposure, for a more durable surface.
Kitchen Bay Window Designs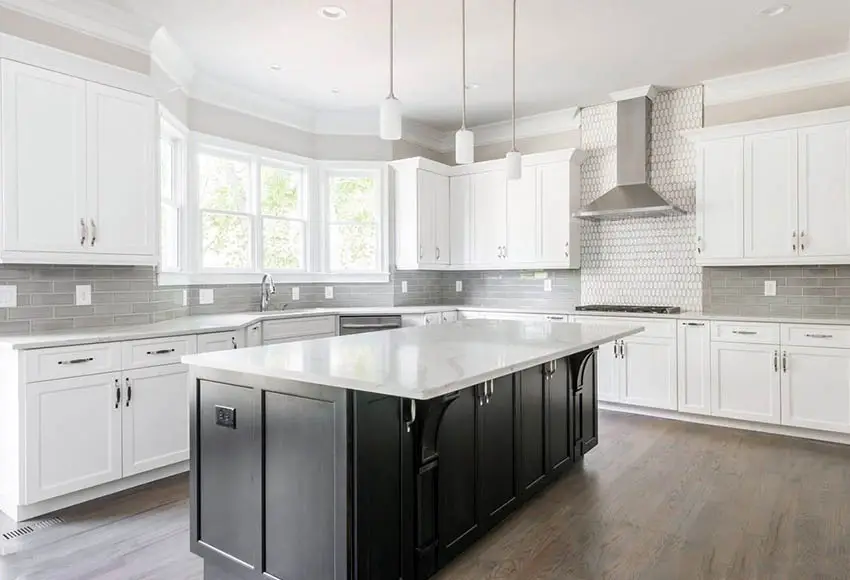 What's unique about this bay window is that instead of a window that protrudes out of a straight wall, this one follows the shape of the window. This results in a similarly-shaped counter right below the window. This uses a white wood-framed casement type window that matches the Neo-Classic look of the kitchen.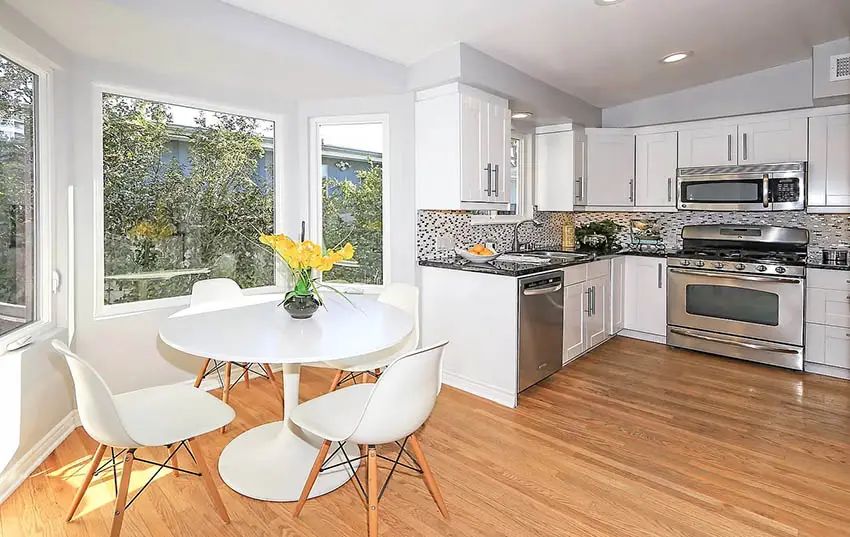 This inviting kitchen dining nook with bay window looks out on to the home's garden. A large bay window offers plenty of natural light and helps brighten the interior design.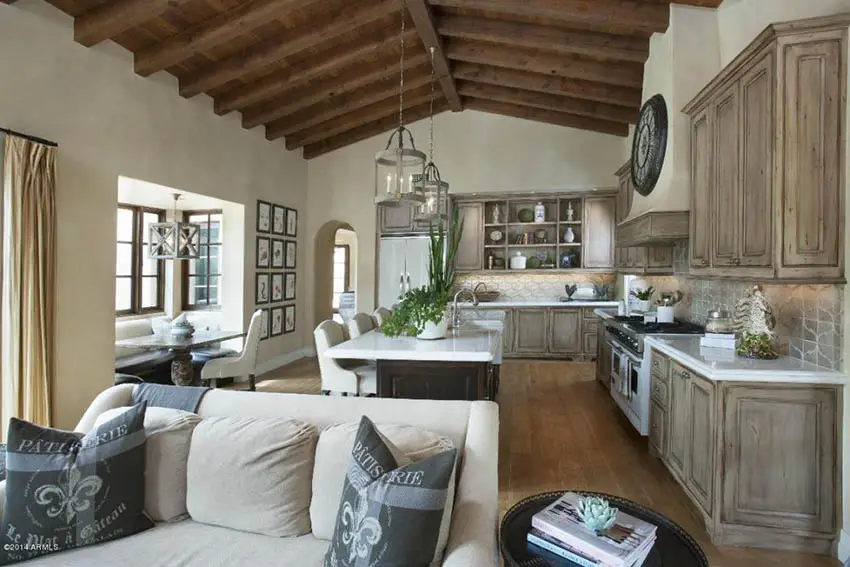 For this rustic Mediterranean kitchen-dining area, a small breakfast / dining nook was placed by the bay window. The bay window area's space was used for a built-in banquette to maximize space.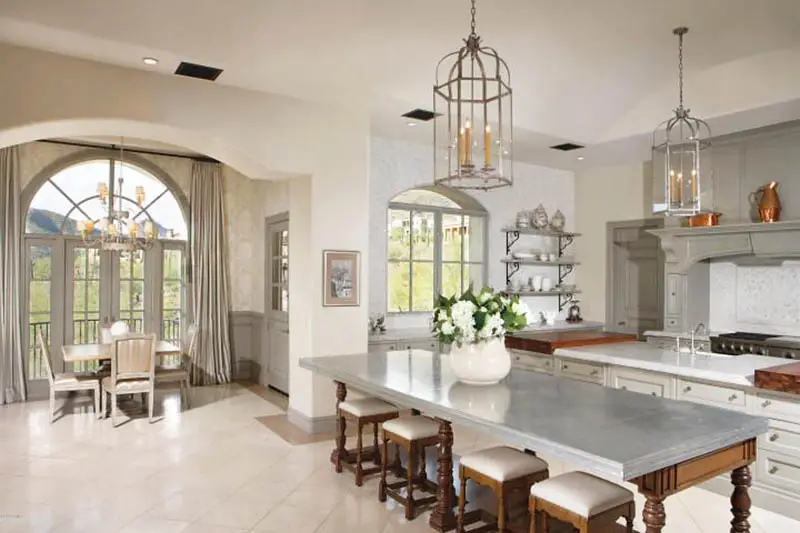 This French style bay window matches the existing arched doors and windows in the house. This is placed on a wall with a nice view so you get to have better indoor lighting and a relaxing outdoor view from the kitchen.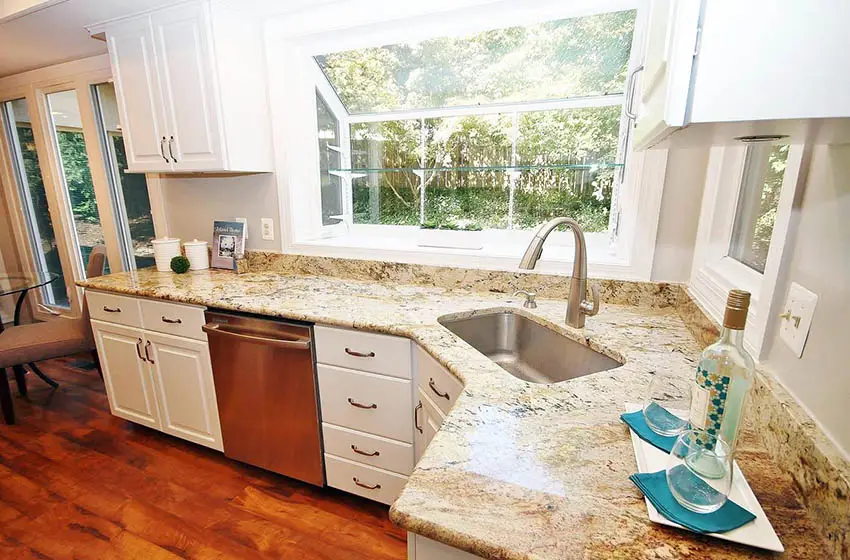 This is a very unique/contemporary bay window design. While typical bay windows only have three sides, this one has four – 2 on the sides, one on the center and another one at the top. A bracket type glass shelf was also installed in the bay window area, making it a functional small space.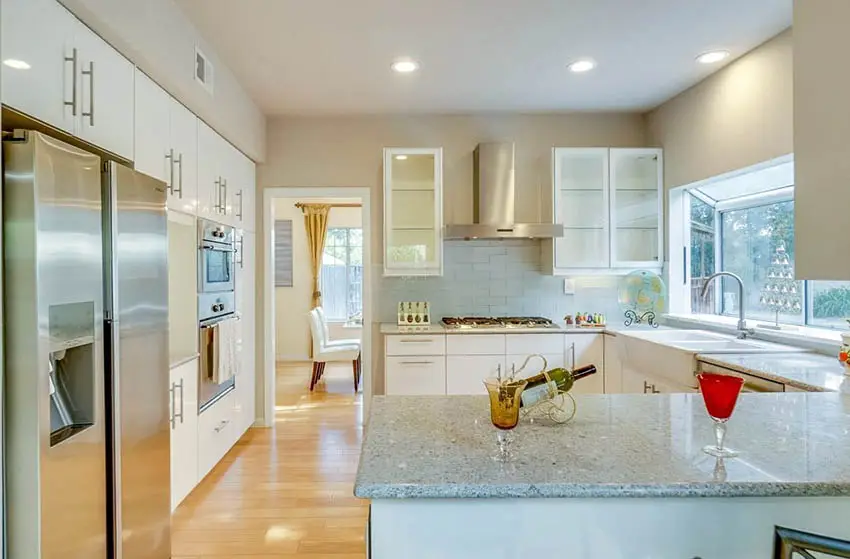 This modern kitchen uses the same bay window style as the previous. This particular bay window is wider than usual bay windows, and has frosted coating on the topmost glass panel to control the light coming in.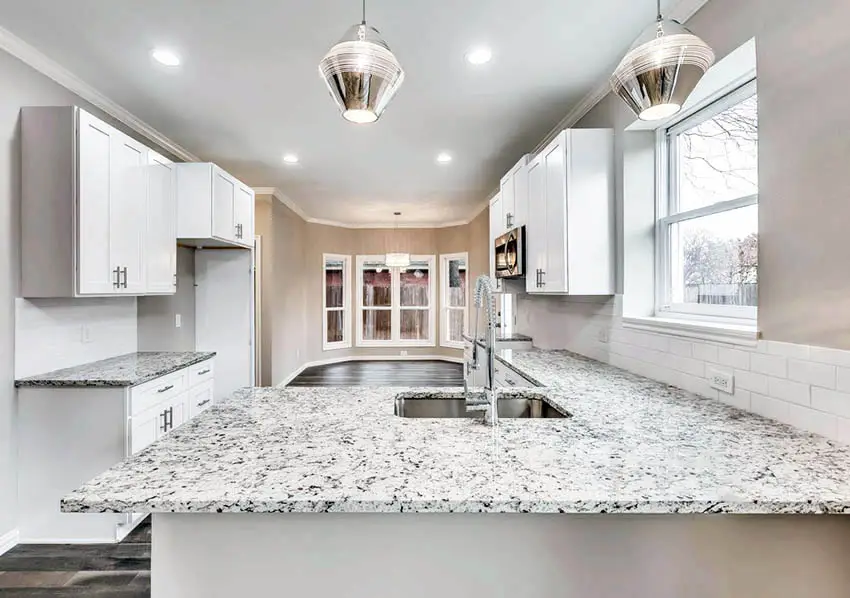 The bay window area in the dining nook of this kitchen gives a different dimension to the space. The concave walls would be perfect for round table set-ups, or a banquette dining layouts.
Bay Window Cost
The cost of a bay window will depend on the material, size, and the installation costs in your area. They cost more than ordinary windows, and are typically around $1200 to $3500. The cost of the installation alone typically runs from $300 to $600.
Bay windows are available in many different materials such as metal, wood, vinyl, just like normal windows. If you have other existing windows in the kitchen, it is best to choose a style or color that matches the other windows or the overall architectural style of the house so that it blends in.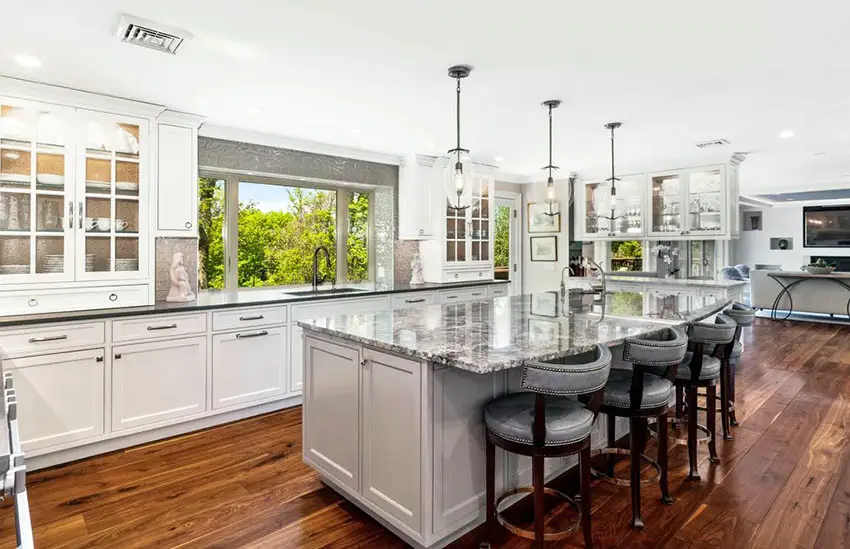 This bay window is made from powder-coated beige metal frame that matches the color palette of the kitchen. The window sill is at level with the countertop, making it an "extension" of the counter surface.
For more ideas check out our gallery of kitchen pass through windows here.